Clothes with loud animal prints first became popular in fashion in the 70s, the time of disco and great cultural change. It was a time when almost everything new and outrageous was welcomed, so it is no surprise that the animal print fashion became popular then.
The eras changed, and animal print clothes have come and gone several times and in different forms over the decades. Today the animal print patterns are making a partial comeback, with the cheetah pattern more prominent than others. Still, not everyone is willing to wear on a daily base something that might offend animal activists, even if the pattern is a print.
So what's the next best thing of boldly showing of your animal print appreciation? Through your makeup, of course. So,  the cheetah pattern is in, and you can use it, along with whatever other animal patterns you like, in all of your favorite eyeshadow combos, but as you will see, mixing in different styles and textures can give you some amazing results.
Let's take a look at some eye-popping makeups that can help you awaken your inner beast.
1. Leopard, Tiger, And Cheetah, Oh My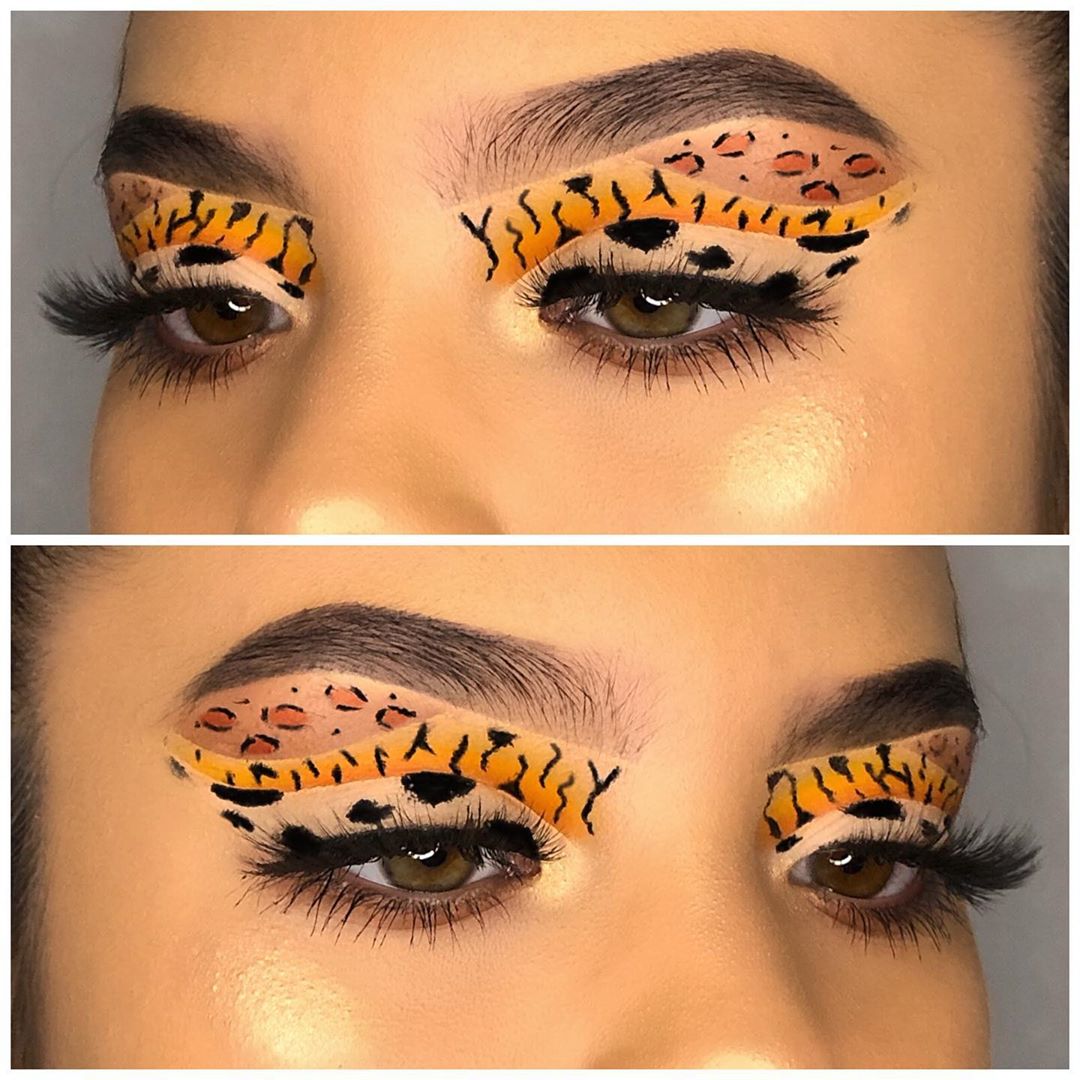 Can't choose which of the big cat patterns to choose from. Do them all. You can do each section of the upper eyelid in different patterns and keeping with the same color tone to get this uniformed triple threat of animal pattern.
2. Smokey Cat Eye with Golden Cheetah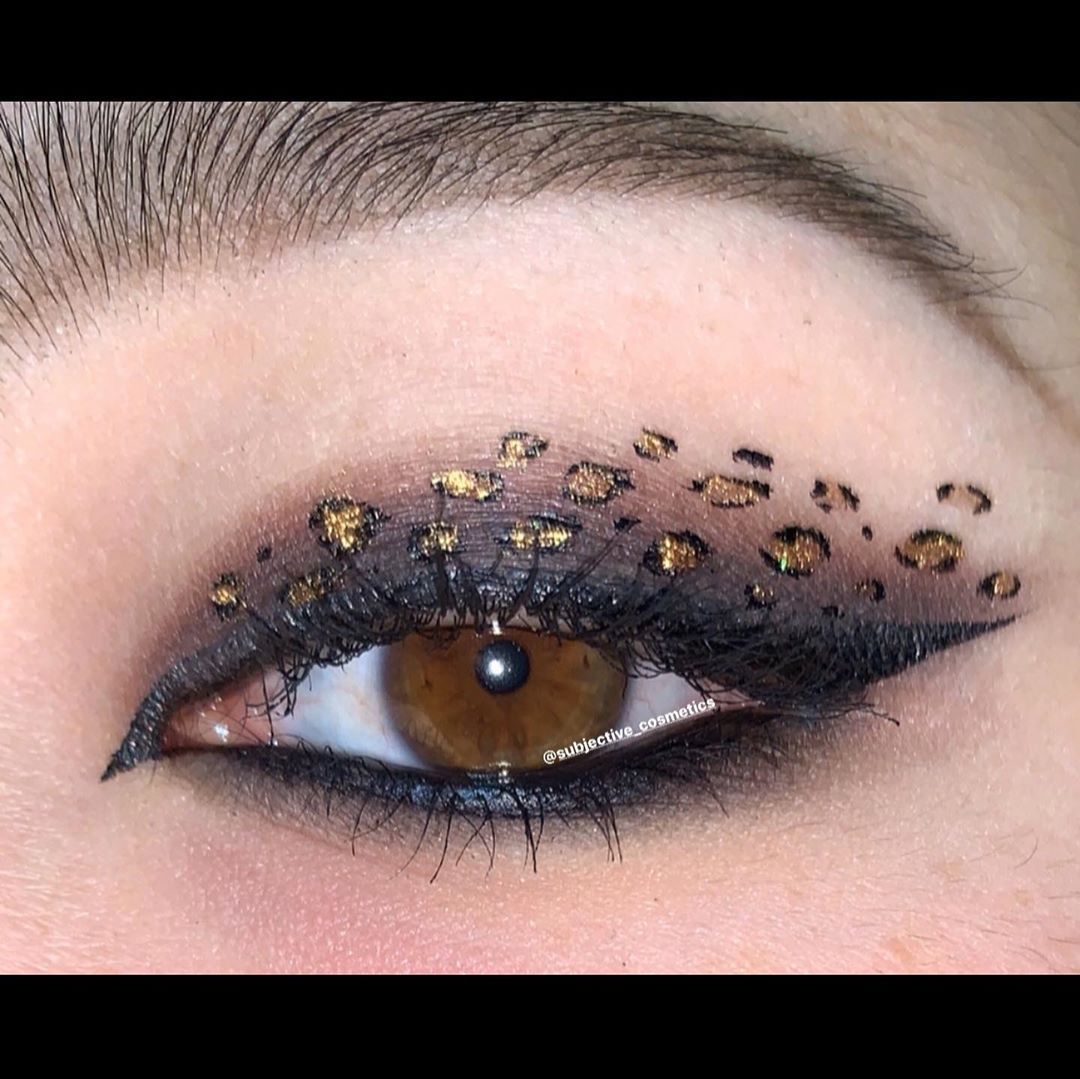 Trying to find a way to give a new twist to the black smokey cat-eye without turning it into something completely different? Here's an idea for you that's both subtle and eye-catching, in a classic combo of black and gold. Sparkle a few golden Cheeta dots over the black smokey makeup and you're ready to pounce.
3. Sunny Caribbean Cheetah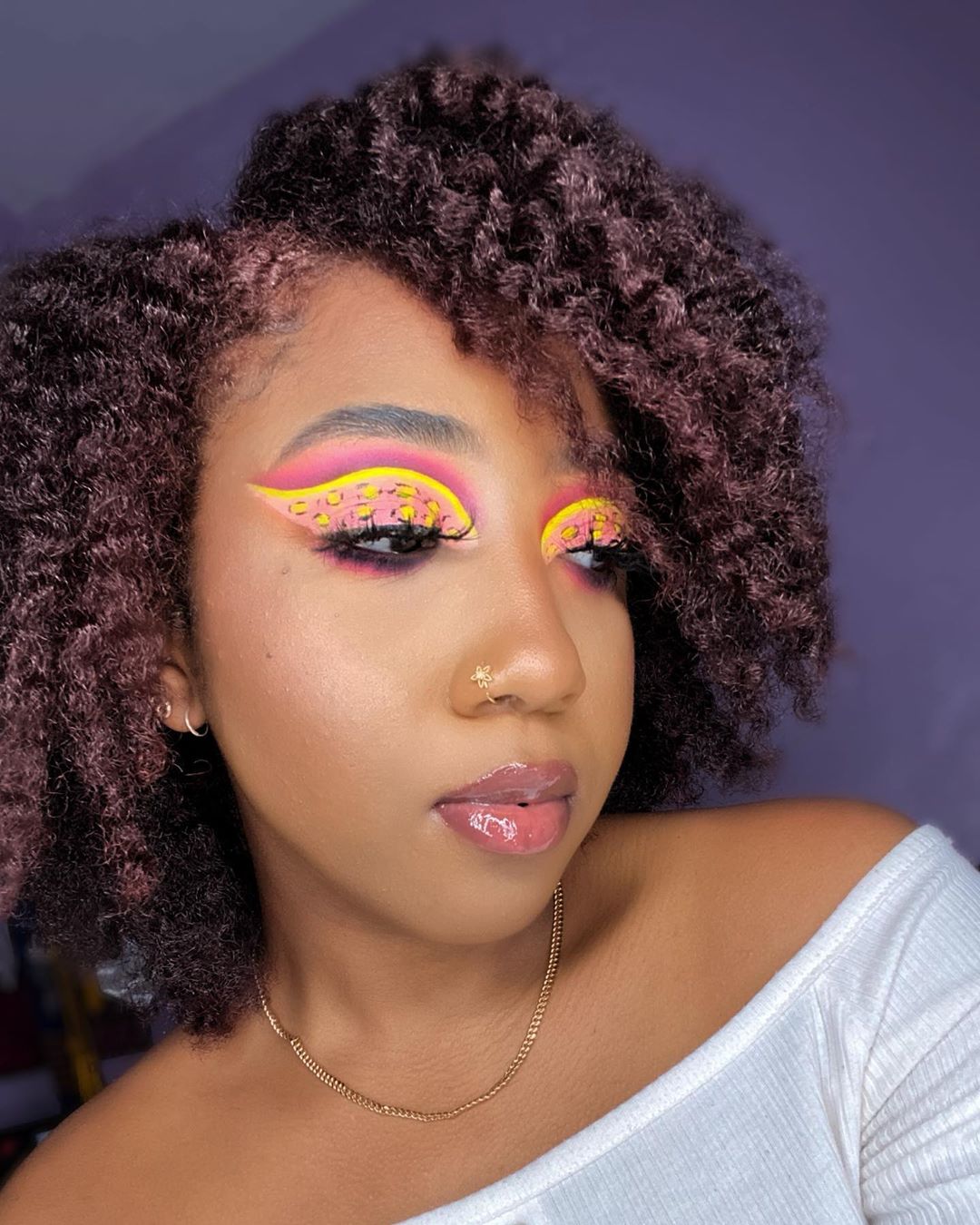 We mentioned that you can play around with the colors of the pattern and we didn't mean only in shades. This first example is a vibrant fun pattern with neon yellow cut crease line and dots, under a blend of pink. It's a cheerful little combo, Caribbean nations would certainly appreciate.
4. Cian and Coral Cheetah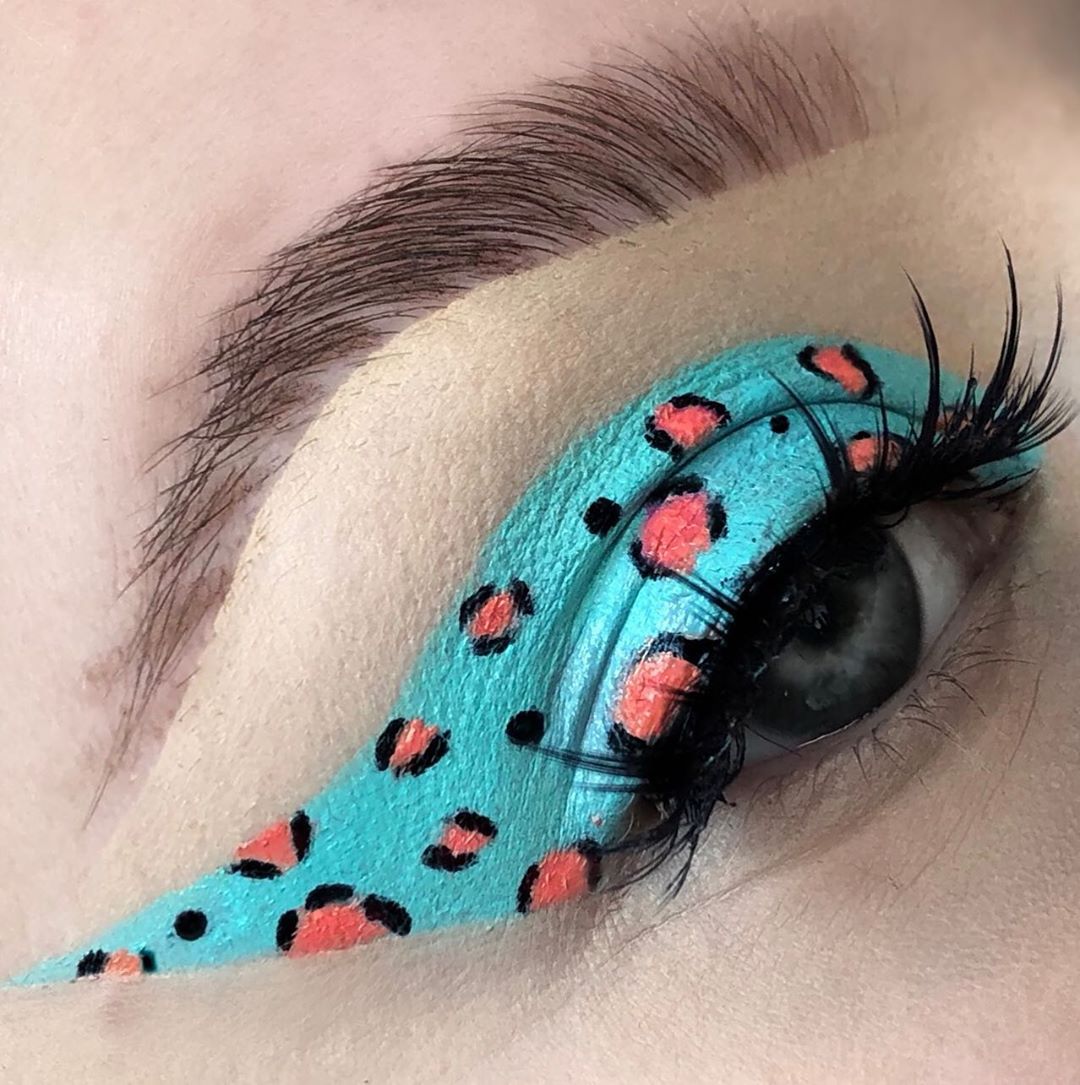 We haven't seen a photo negative of a cheetah, but this one sure reminds us of one. An interesting thought to check out if you want. However, the color combo in this makeup sure is pretty and the straight wing just adds to the edginess of the look.
5. Fading Cheetah Pattern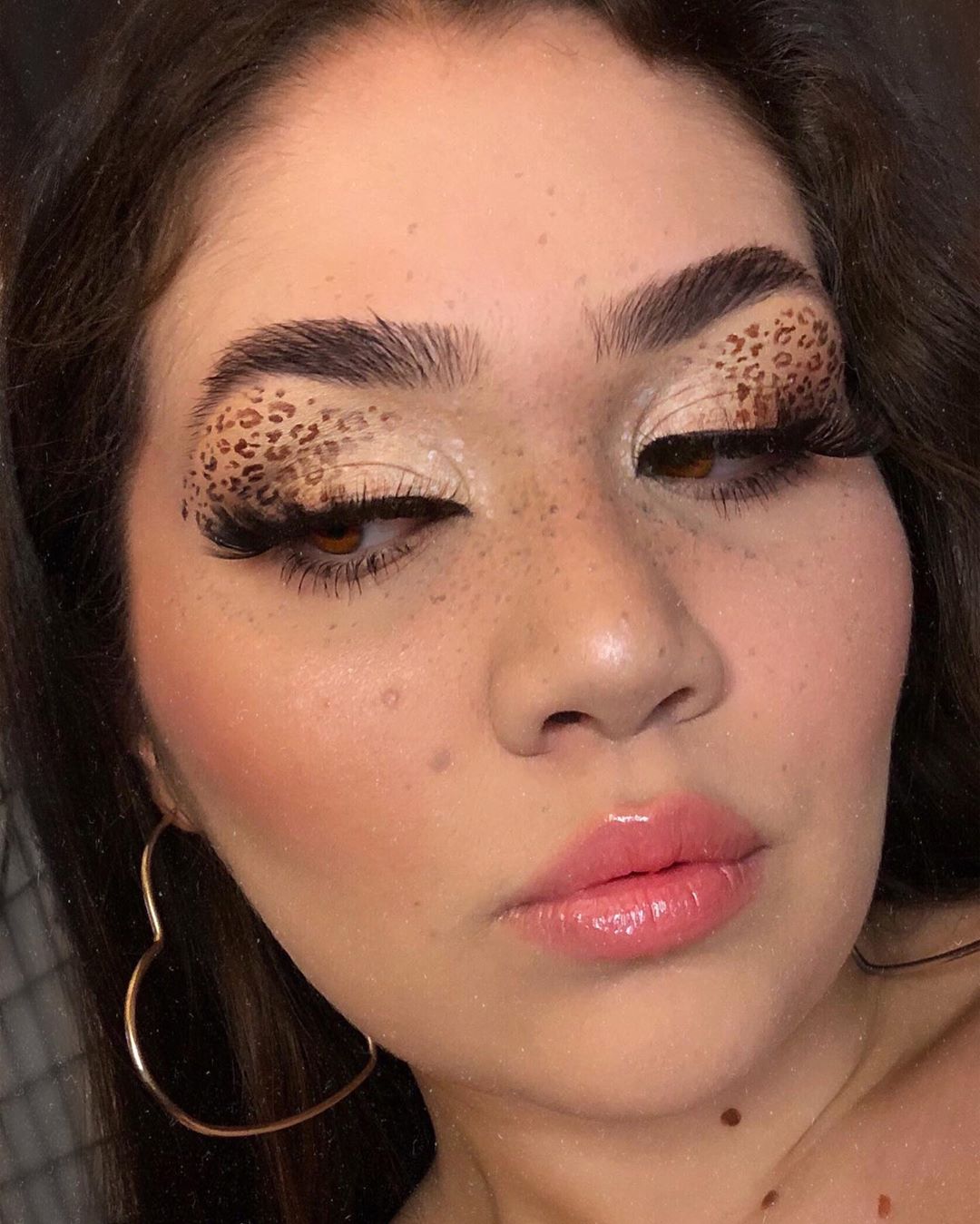 You don't need too much to make an impact. You can use some beige eyeshadow and create a fading cheetah pattern from the inner lid all the way to the brow highlight. Bold eyeliner and lavish lashes complete the look.
6. Cute Dot Print WIth Pink Cut Crease And Matching Cut Brow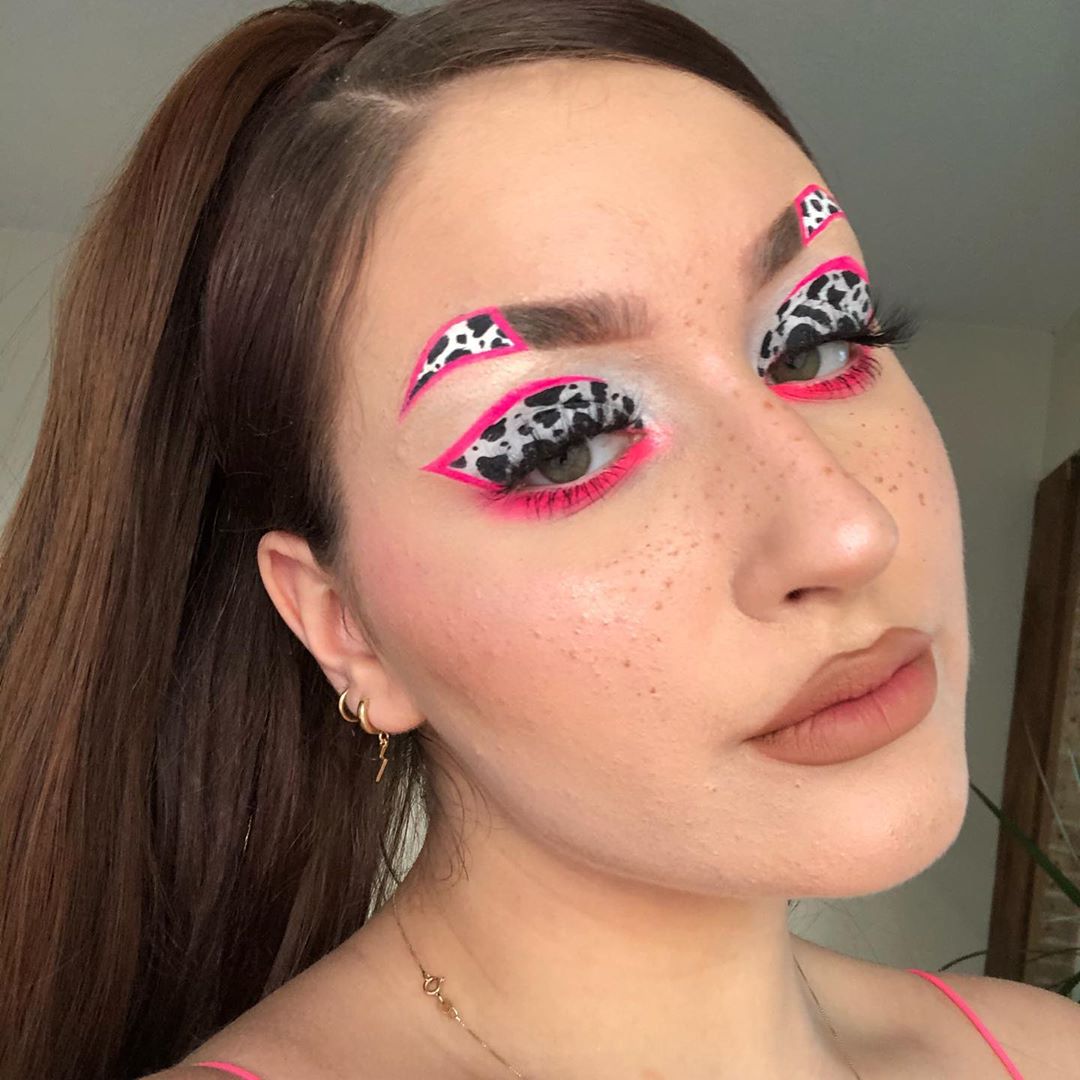 Another trendy pattern this year is the dalmatian or cow pattern. However you like to call it, this one is strictly black and white, but you can play around with it, like here. Adding a neon floating eyeliner wing with a cut brow in a matching pattern. Fun, right?
7. Floating Eyeliner In Rainbow Cheetah Pattern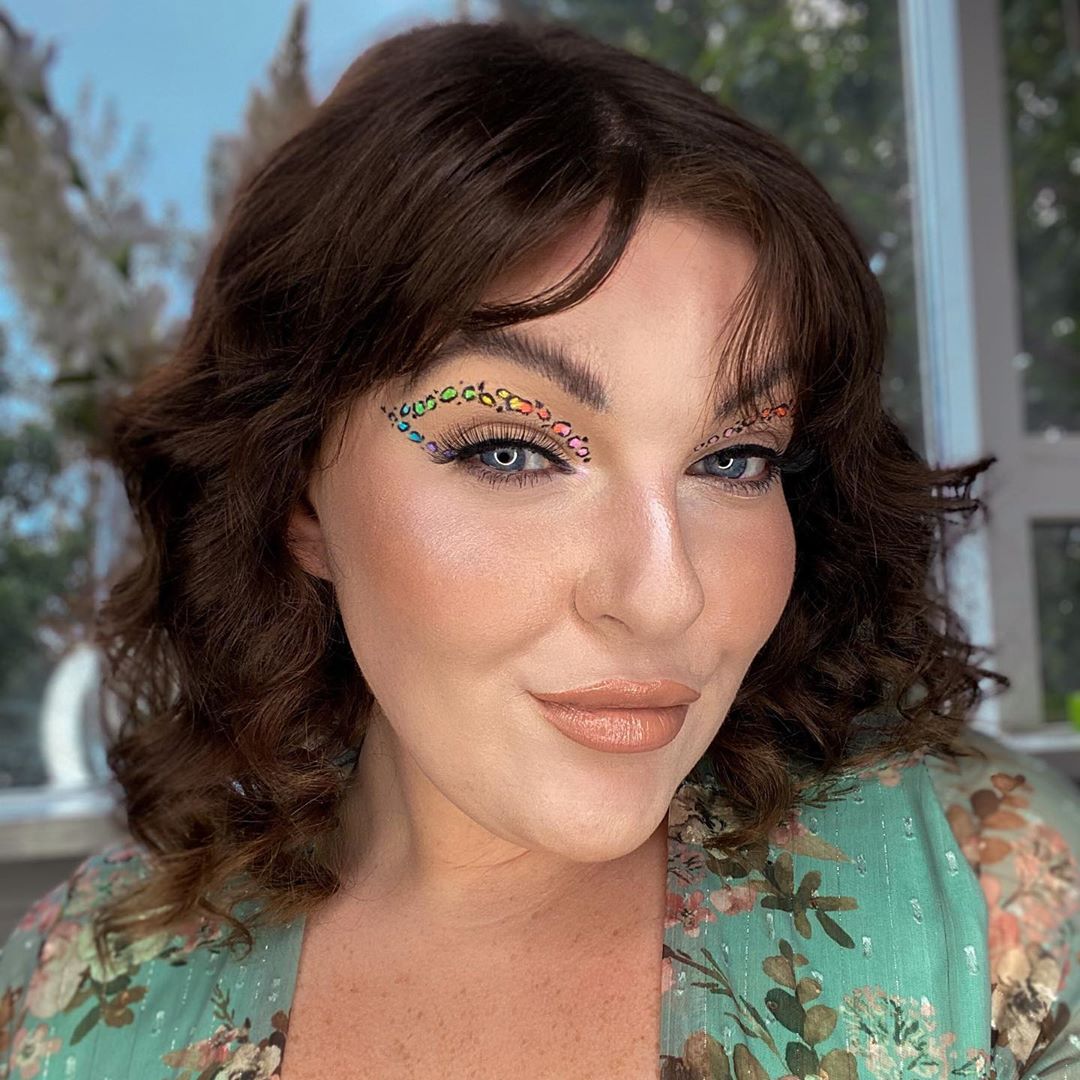 Are you ever in the mood for putting all the colors of the rainbow on your makeup, but don't want to be too loud with your look? There are plenty of ways to do that and plenty of ideas out there as well, especially since the Pride movement really got going. This idea is to make a line of cheetah patterned ovals along the crease and then paint each with a different color. The result is this precious rainbow cheetah floating eyeliner.
8. Cut Crease Peach And Orange With Golden Touch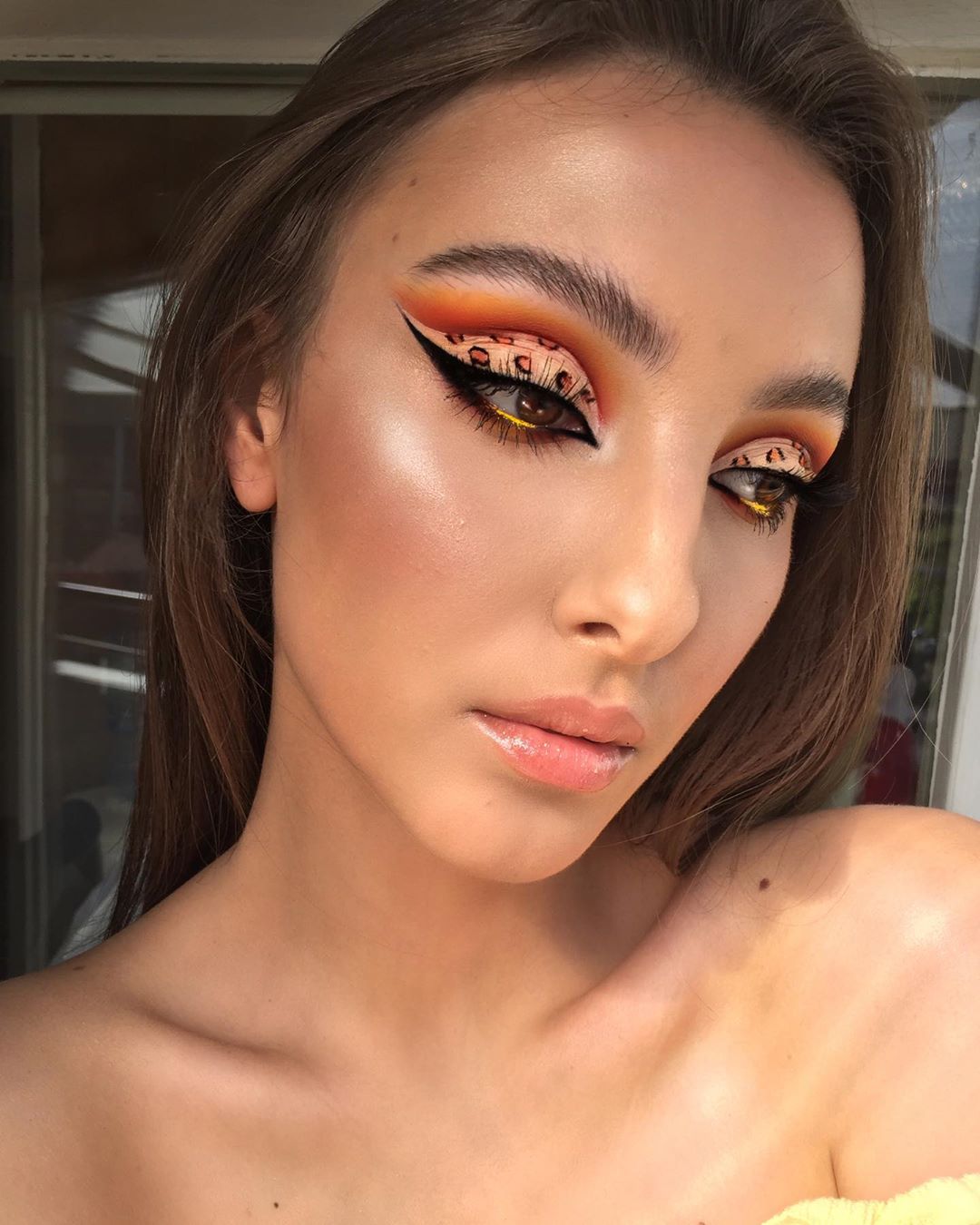 This is also another more common look that's been made a lot better by simply adding cheetah patterns to the look. With pale beige on the eyelid and burner orange-amber blend above the crease, the cheetah pattern spots complement this look perfectly.
9.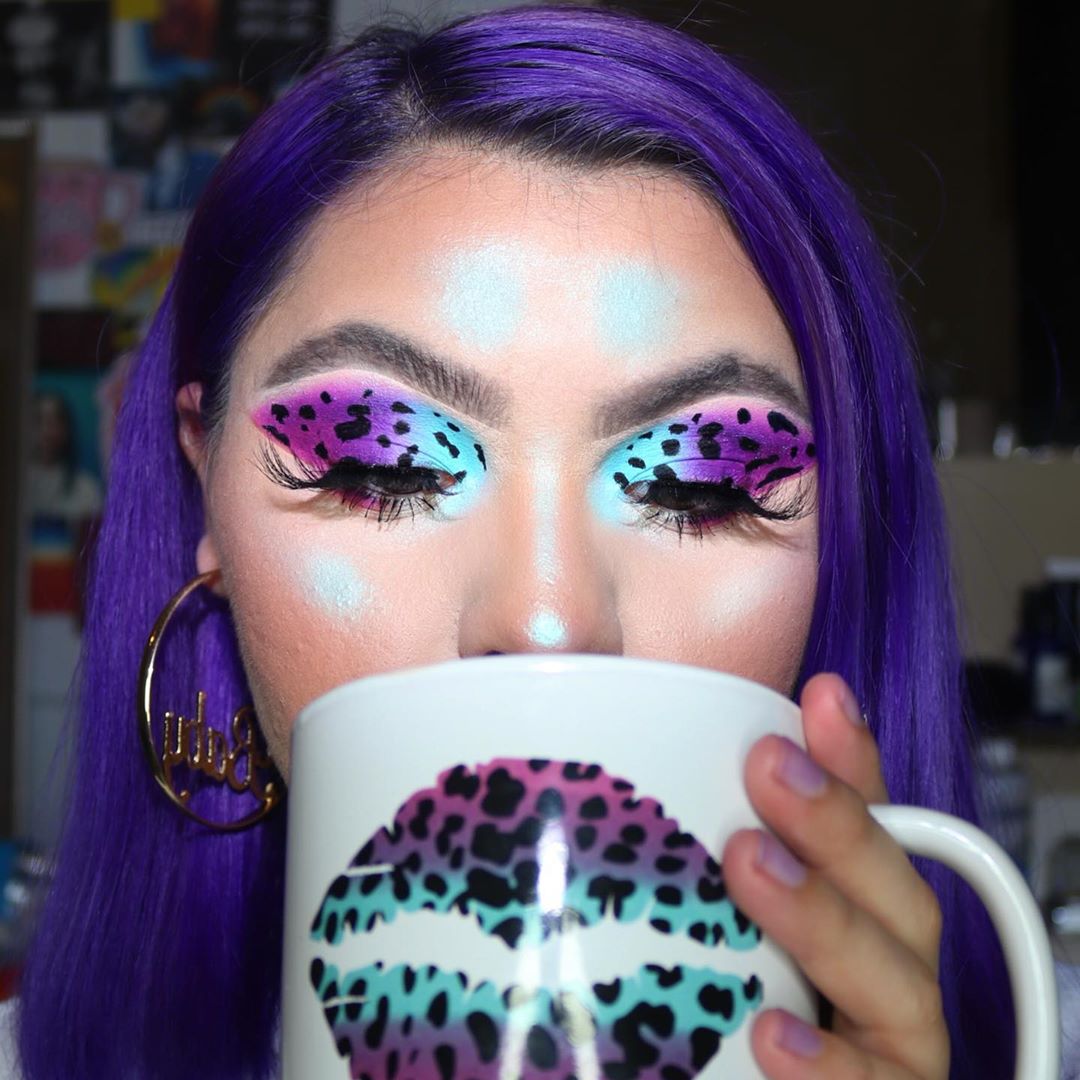 Some aren't big fans of the neon colors, but there are combos that blend so well together that the end look is somewhat balanced out. Like this blue, purple, and pink combo. Adding the black dots just makes sense.
10. Pink Cheetah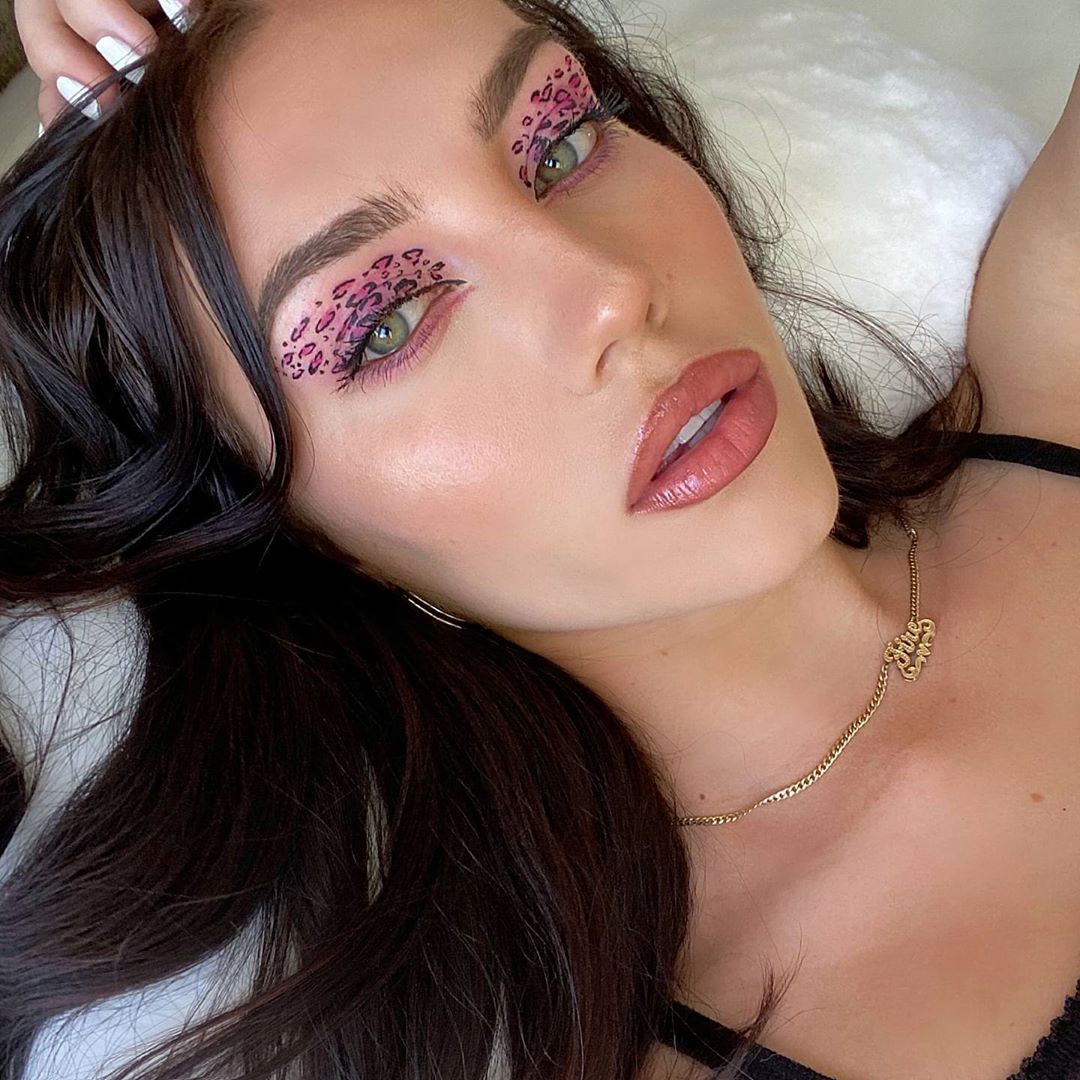 Just because some women like pink, doesn't mean they're soft and can be pushed around. Would you mess with this pink cheetah lady? And the best part about this makeup is that you don't have to blend the shades. One-color base and darker shades for the pattern gives you the perfect makeup with a lot of dimension.
11. Zebracorn Horn Makeup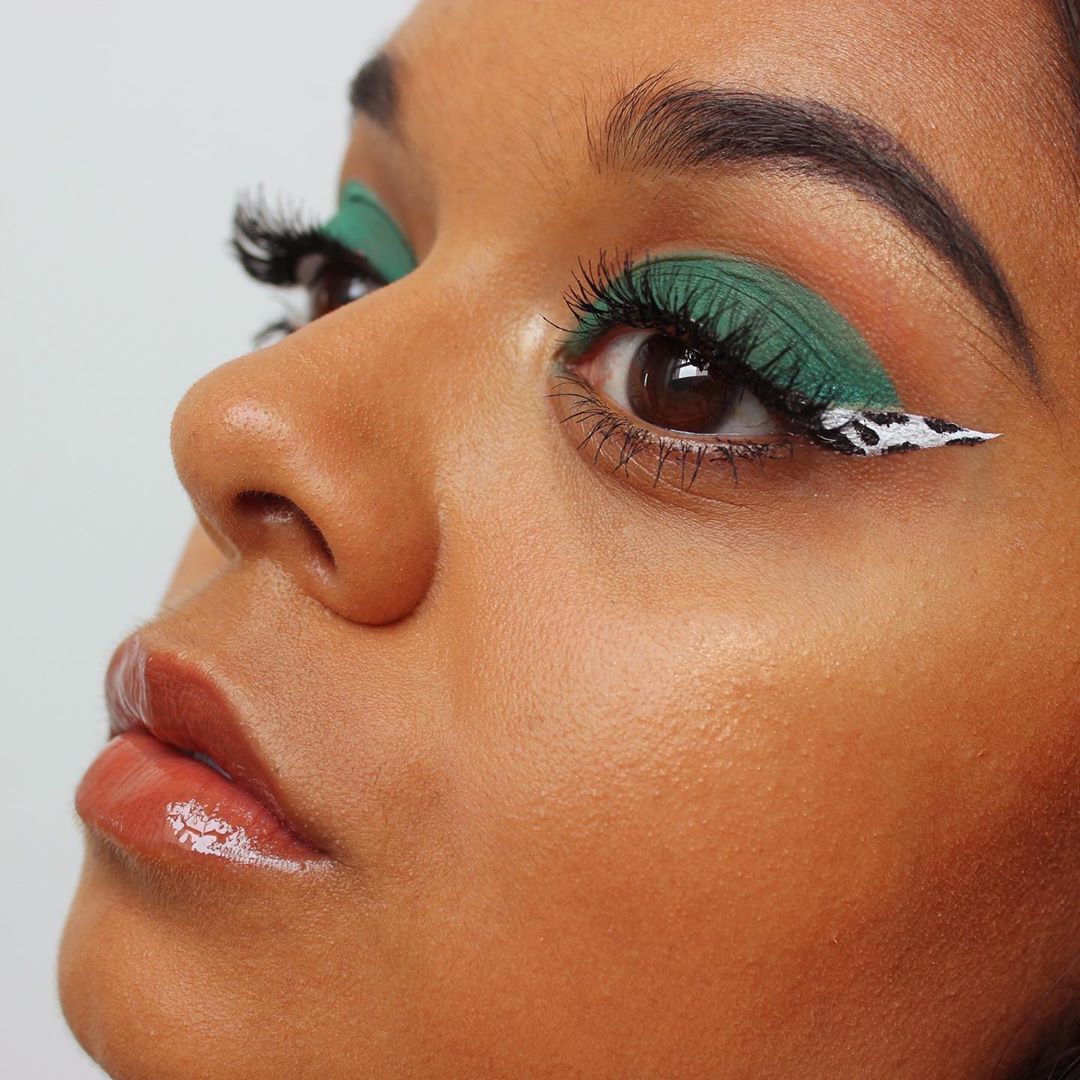 Remember the makeup trend of unicorn horn eyeliner? Yes, it was fun while it lasted, but if you want to revisit it with a new twist, here's an idea: instead of creating the cat-eyeliner with a twisty pattern resembling a unicorn horn, put an animal pattern instead. You can leave the eyeshadow plainer, or do a color combo. Either way, this one of the more subtle ways to do this makeup.
12. Flat Tiger Stripes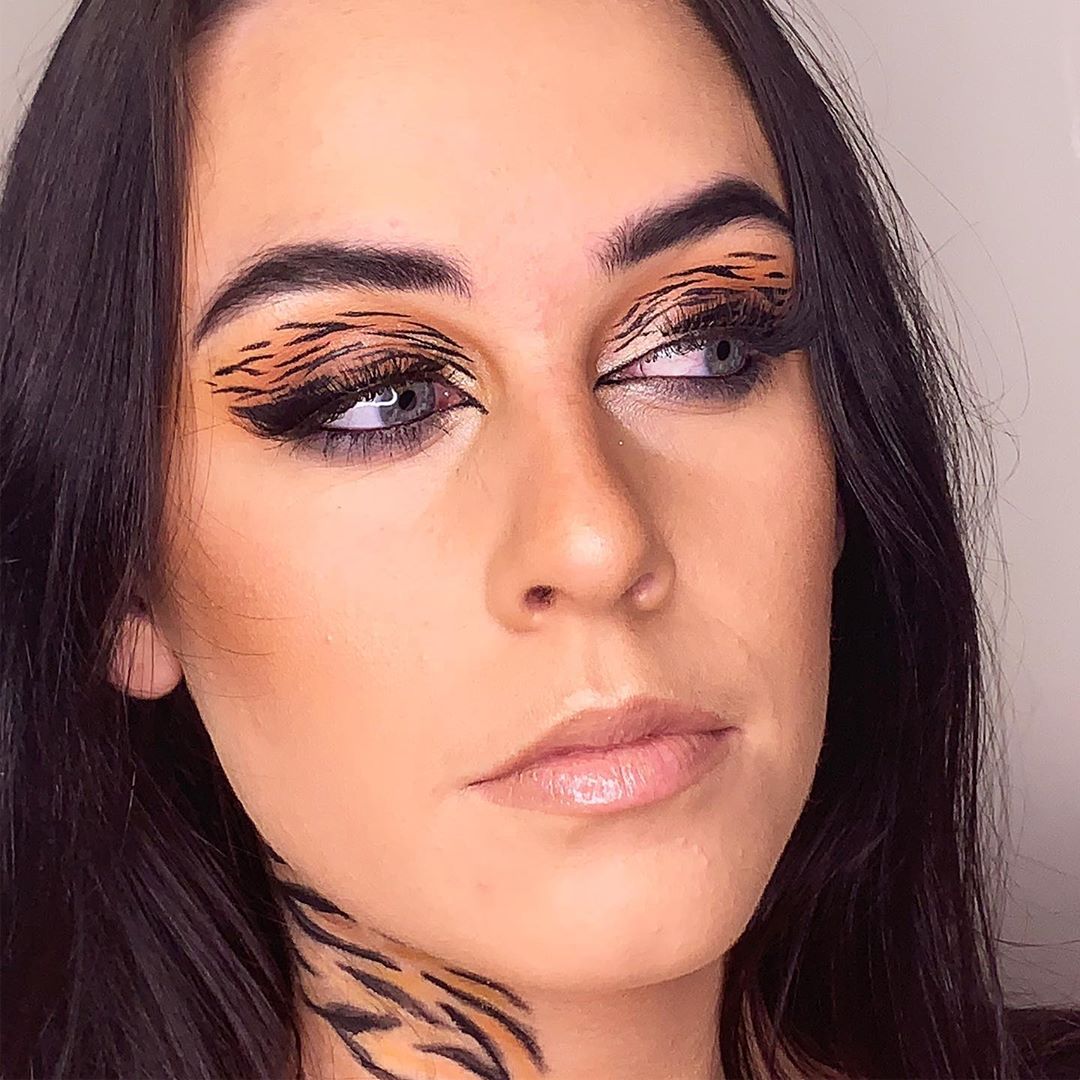 Even if the cheetah pattern is king this year, you can't deny the majestic look of those tiger stripes. Following the line of the eyeliner instead of going up-down complements, this looks so well and it's really fun to do.
13. Blue And White Glitter Cheetah

Photo: instagram.comIf glitter makeup lovers were feeling left out, fear no more. Here is a sweet cheetah pattern idea to try. Great for looking just dazzling at a winter party.
14. Hidden Two Tone Cut Crease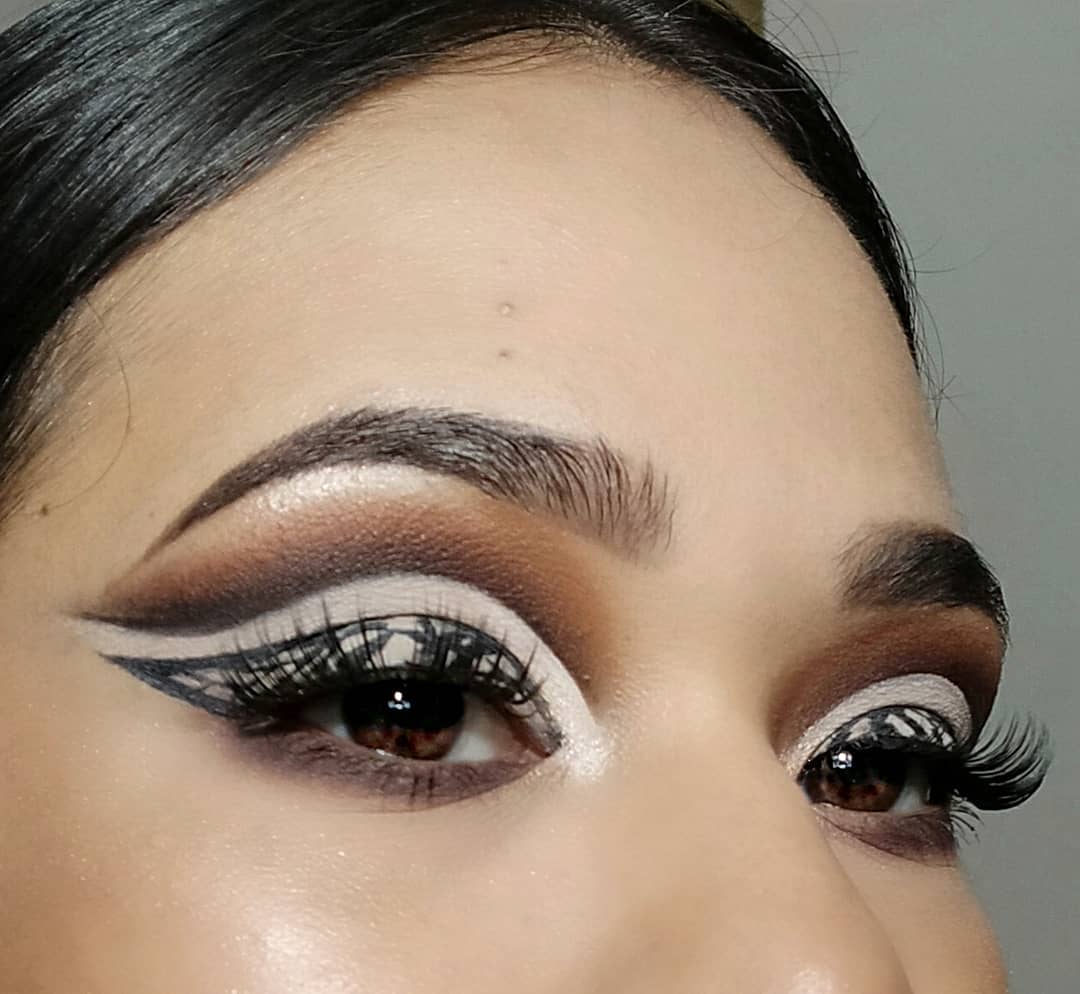 Now, this makeup is something you need to look out for. It really is a hidden beast in there. The animal pattern is one so subtly on the upper eyeliner that it blends into the natural tone white and brown cut crease makeup. Perfection.
15. Green Cheetah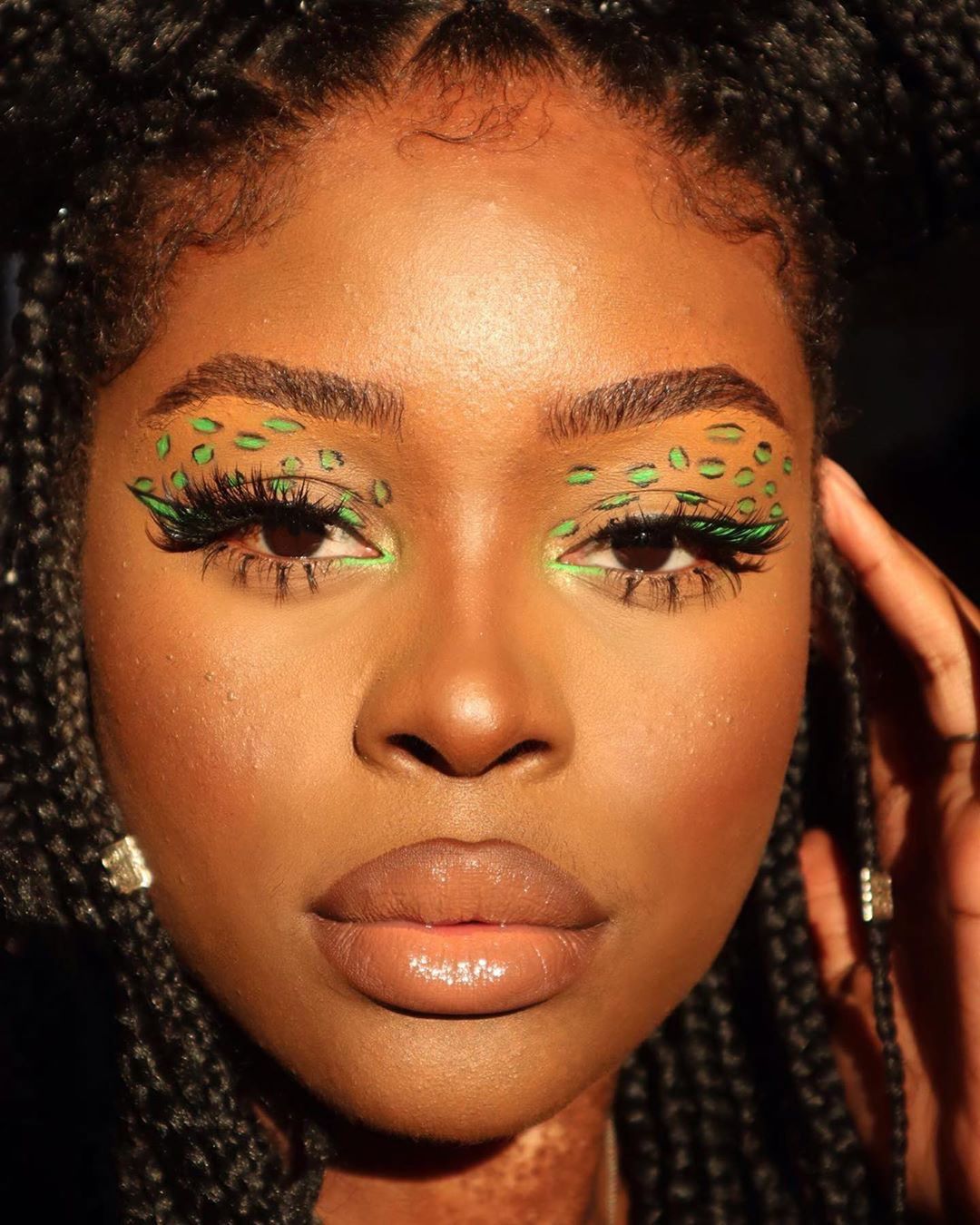 We know that this is similar to the Pink Cheetah makeup, but we just wanted to show you that you can make it even simpler and easier and look phenomenal. Without any base, just do a few cheetah circles and fill them with whatever color you like. Add a full eyeliner wing and a dab around the tear duct and you get this.
16. Zebra Pink Makeup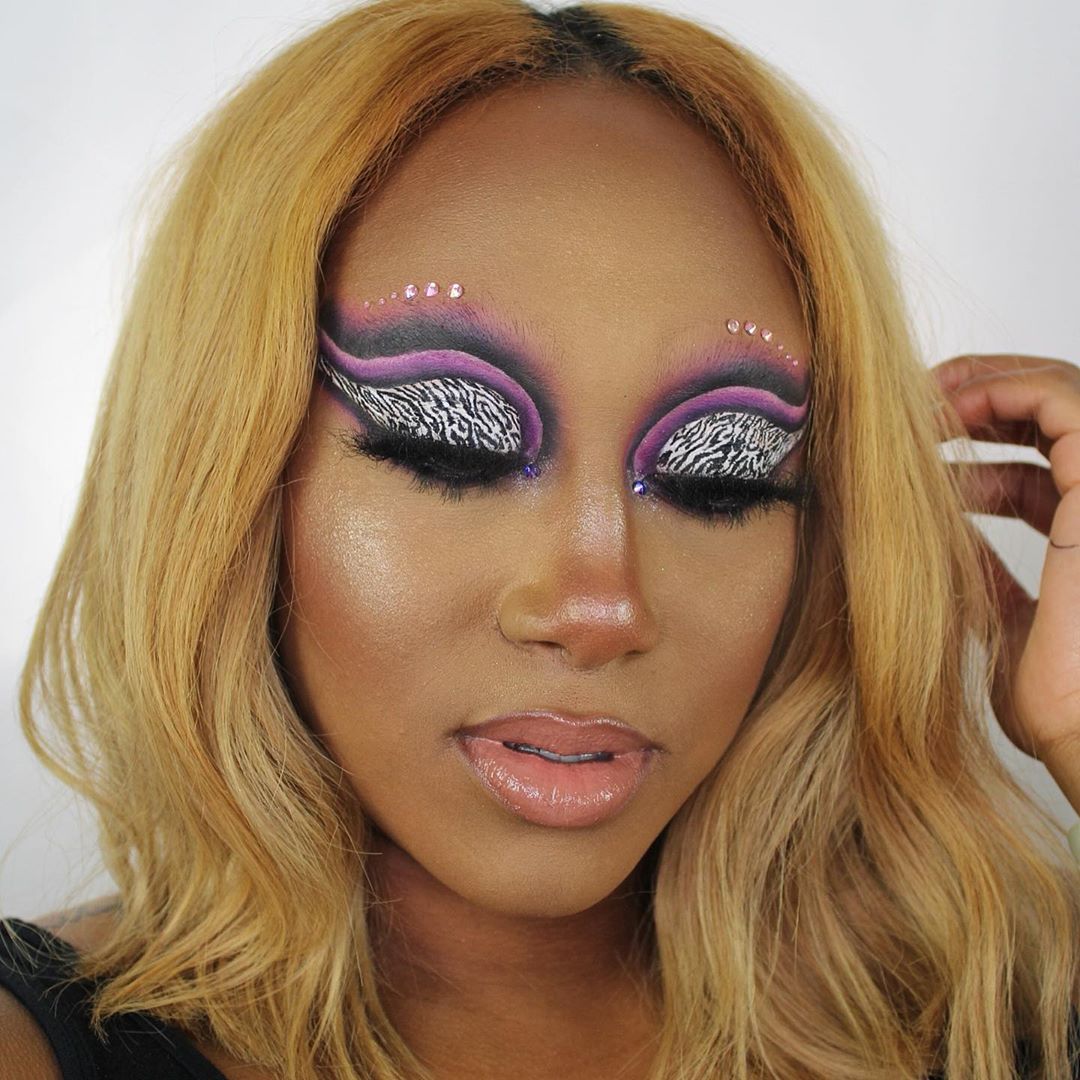 So, yes, the zebra in a pink pattern in a bit of an older trend, but we had to include it here because this fresher version looks soo good. It goes to show you that even if something is not trending anymore, doesn't mean you can make it work. Zebra patterned eyelids with cut crease and black-lined eyebrows., with baby pink rhinestones completing a true queens look.
17. Earthy Cream Makeup With High Leopard Pattern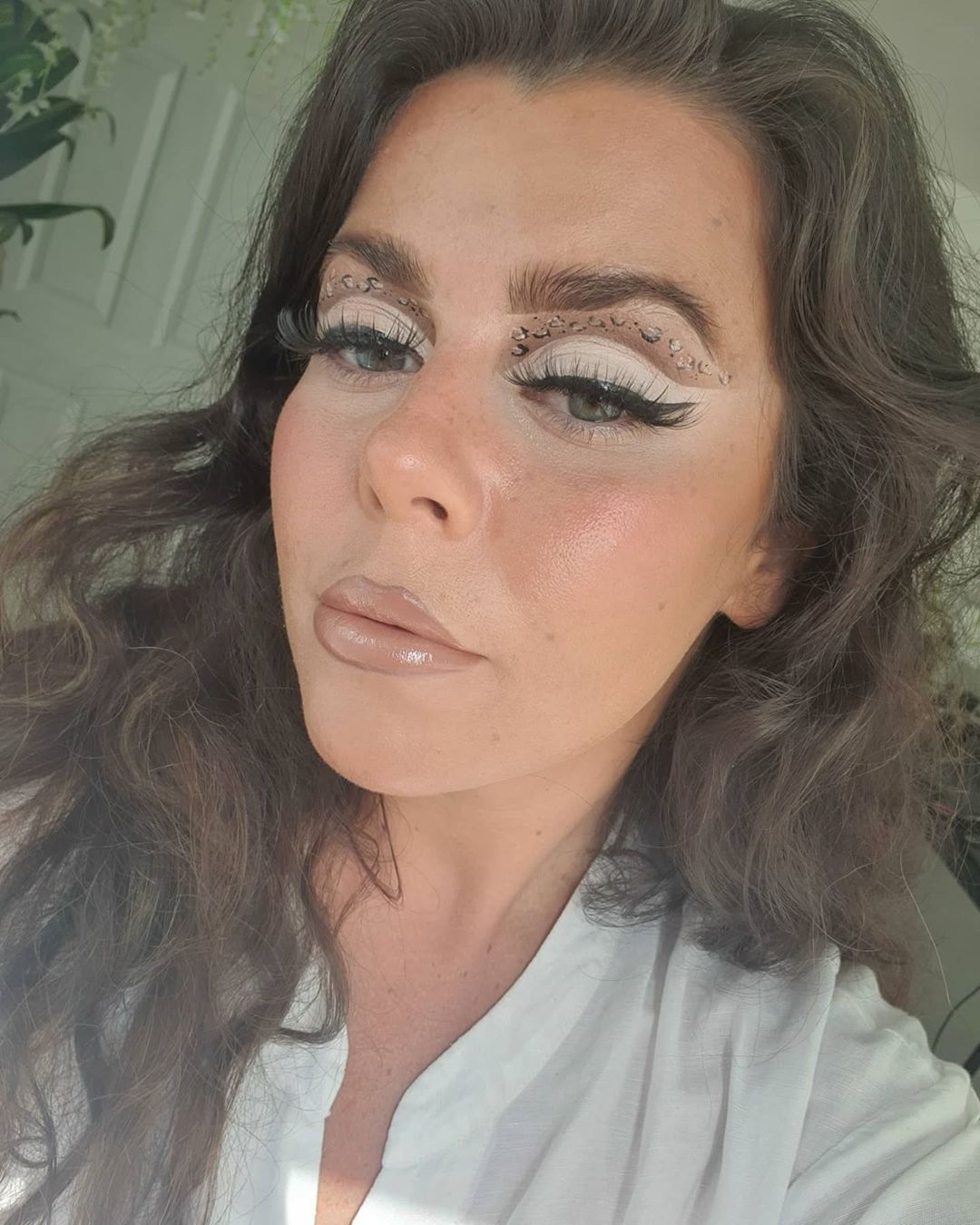 Most of the makeup we've shown you so far, the pattern was usually on the eyelid part. This one shows that the pattern can look good even if it's on the highlight. Done in earthy tones, with golden touches on the pattern, this makeup is a striking, yet toned down animal pattern to look out for.
18. Zebra NearA Water Makeup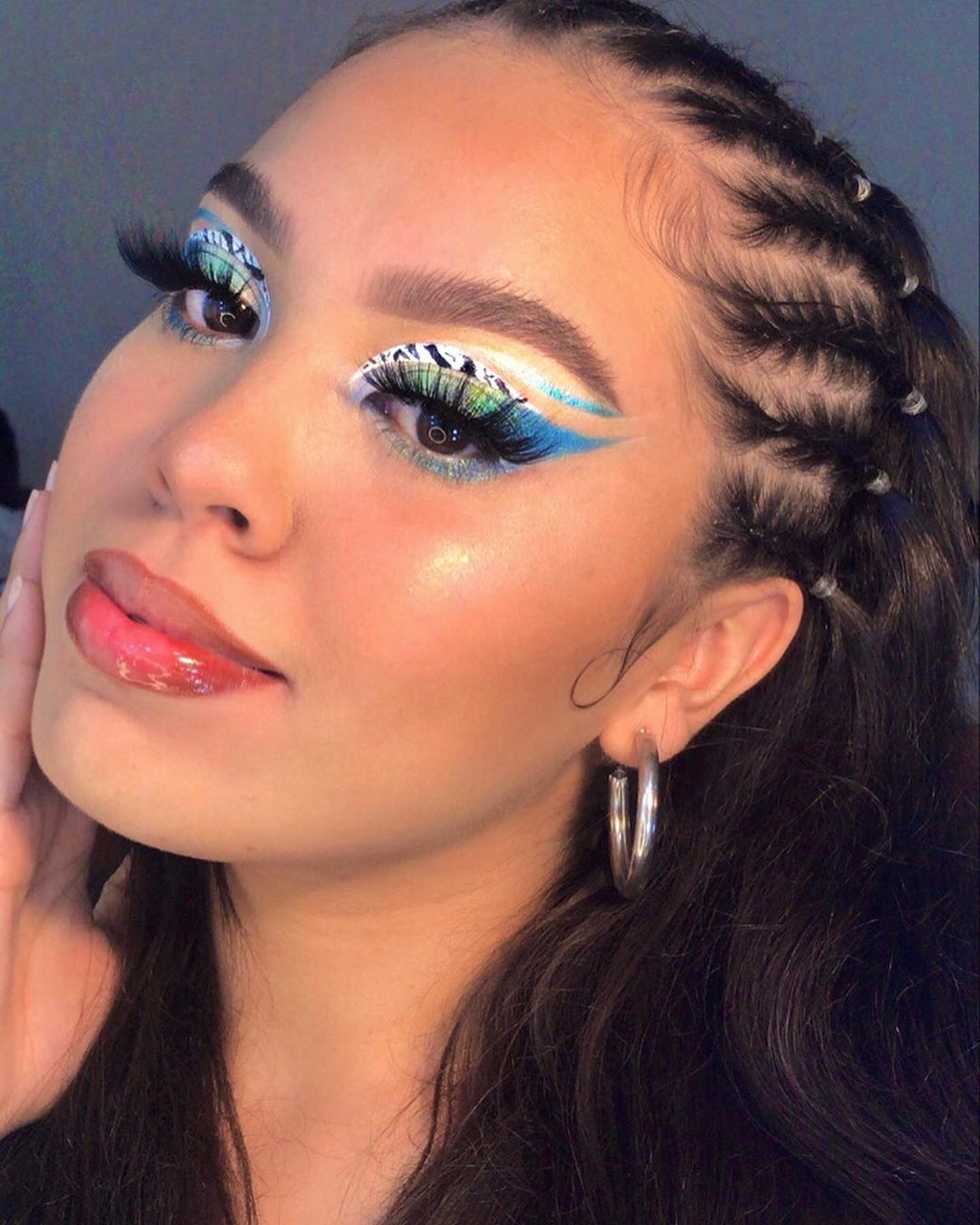 Animal patterns, considered to go along more with earthy tones can blend well with other color themes and combos as well. Like this striking ocean makeup combined with a streak of zebra pattern. The striking contrast makes it pop that much better.
19. Ocean Tiger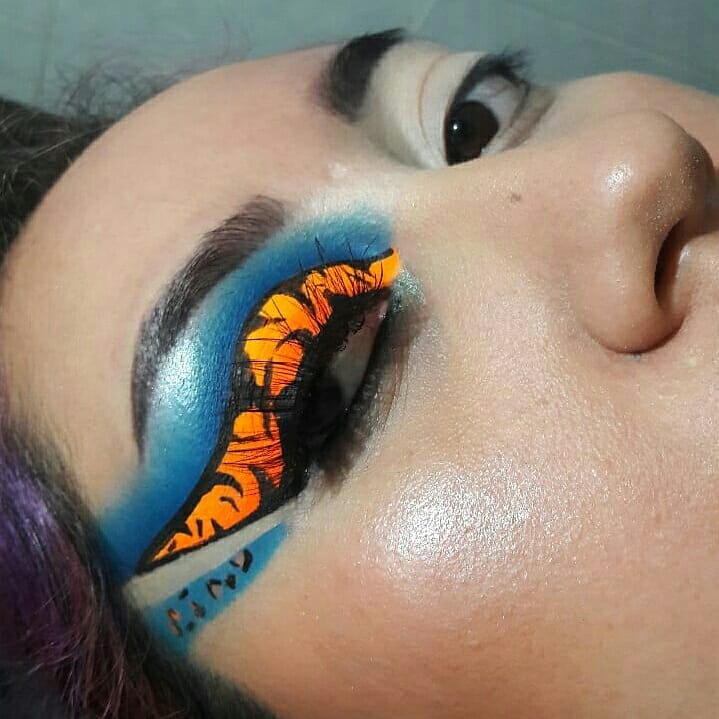 Using colors with striking contrast done right can lead to having a quite striking makeup. That is certainly the case with this makeup look, where a vibrant tiger pattern is surrounded with watery blue hues. Well, tigers love to swim, after all.
20. Pray, Predator And Lizard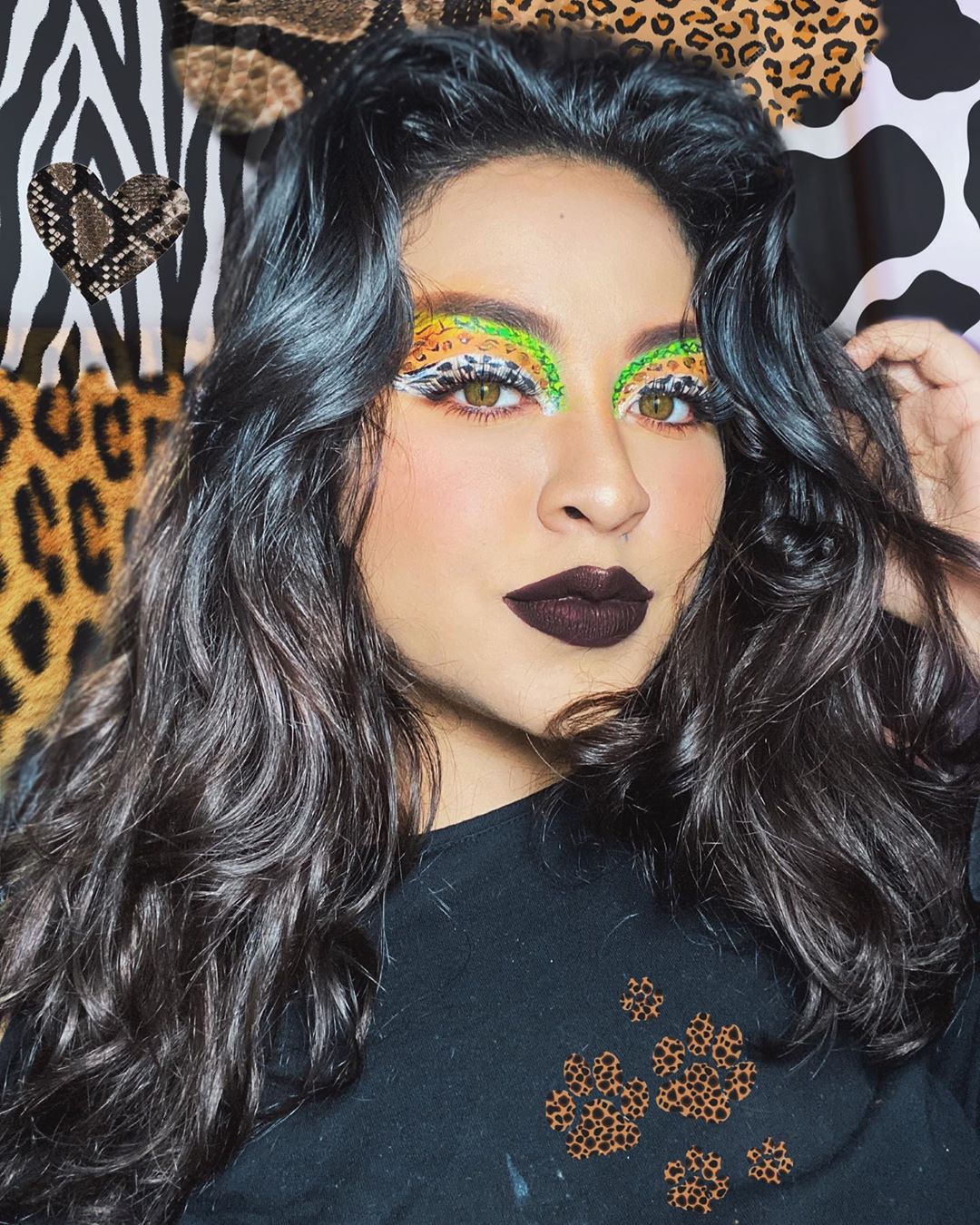 For our last makeup idea, we wanted to show you this very vibrant, different patterned makeup, that will definitely turn heads. Here we have a black and white (zebra or a cow), a leopard, and a lizard pattern, one on top of the other, each layer making the other one pop. And if you're hesitant to try it out, remember, Halloween is coming.
That's all the animal patterns we have for you for now. We hope you liked these ideas and would try it out soon. Which trend would you like to see make a comeback? Leave us your thoughts and ideas in the comments below.