That the no-make-up look is a fake is no mystery. It really is just a look that can only be done with makeup and a lot of it, mostly. For a glowy, new look, no one just wakes up. That is unless they manage to get eight hours of sleep every night somehow, escape discomfort at all costs, and not eat a spicy Cheeto or two sometimes. Everyone has problems-pores, dark under-eye circles, blemishes, etc.-so, of course, every now and then we all need a great concealer, nude lip, or great eyebrow pencil. In that, there is no guilt.
This look goes straight toward the traditional makeup looks of "Instagram" that we see a lot now, bold brows, complete coverage base, winged mascara, you know what I'm talking about. The bare minimum is simply "no makeup" makeup, relying more on the implementation measures than the number of items.
Here are 15 tips about how to apply the fresh-faced look in order to see exactly how to carry the look to life in your own bathroom mirror!
1. A touch of white eye shadow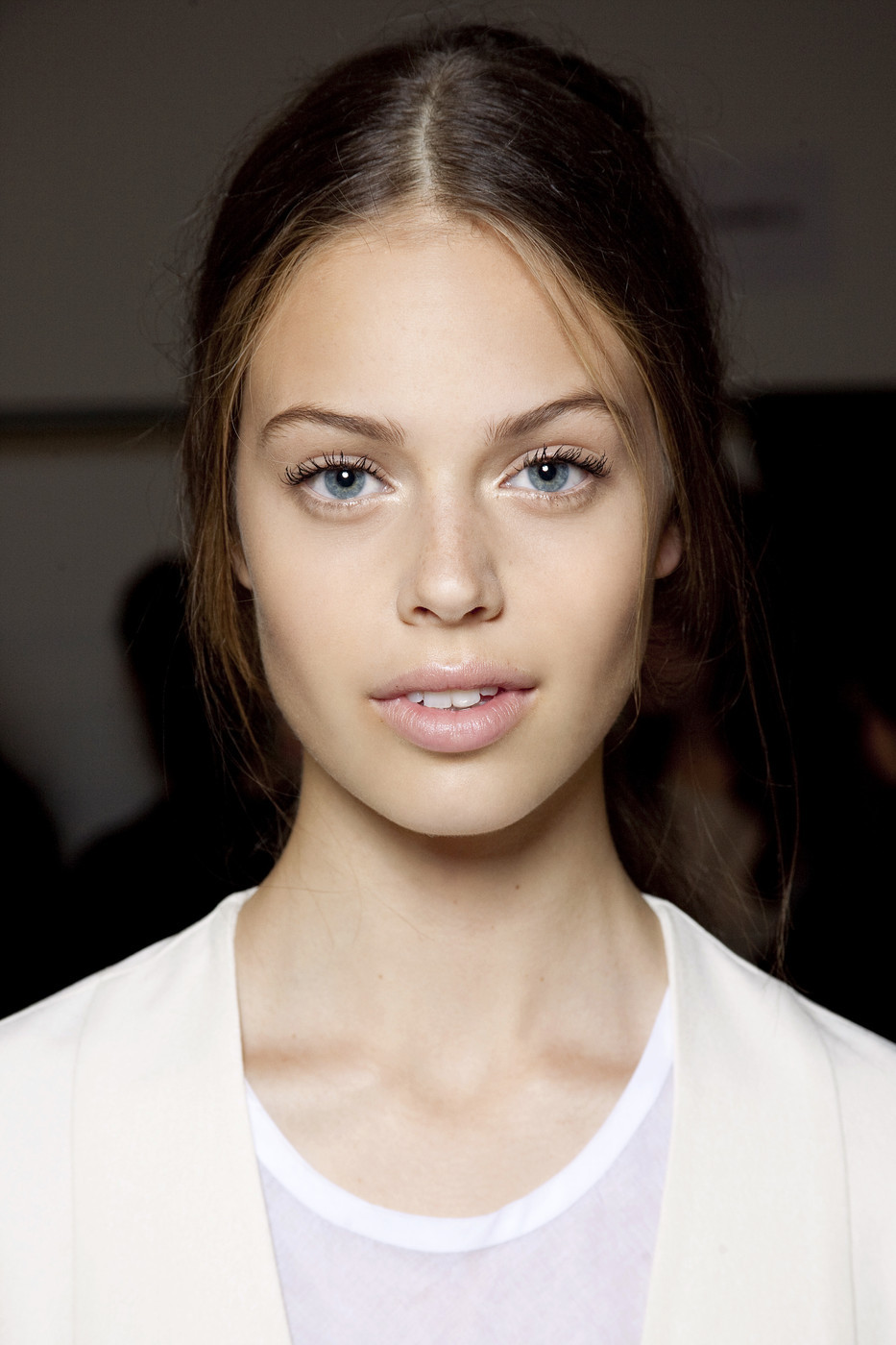 If you want to go bare-faced but still want to glow, an easy way to achieve that is to ditch the rest of your makeup and only use a white eye shadow as a highlight. Sweep it in the inner corner area.  For a shimmery, glowing look you can add a little bit of highlight on your cupid bone, and some natural lipgloss.
2. Bronze your face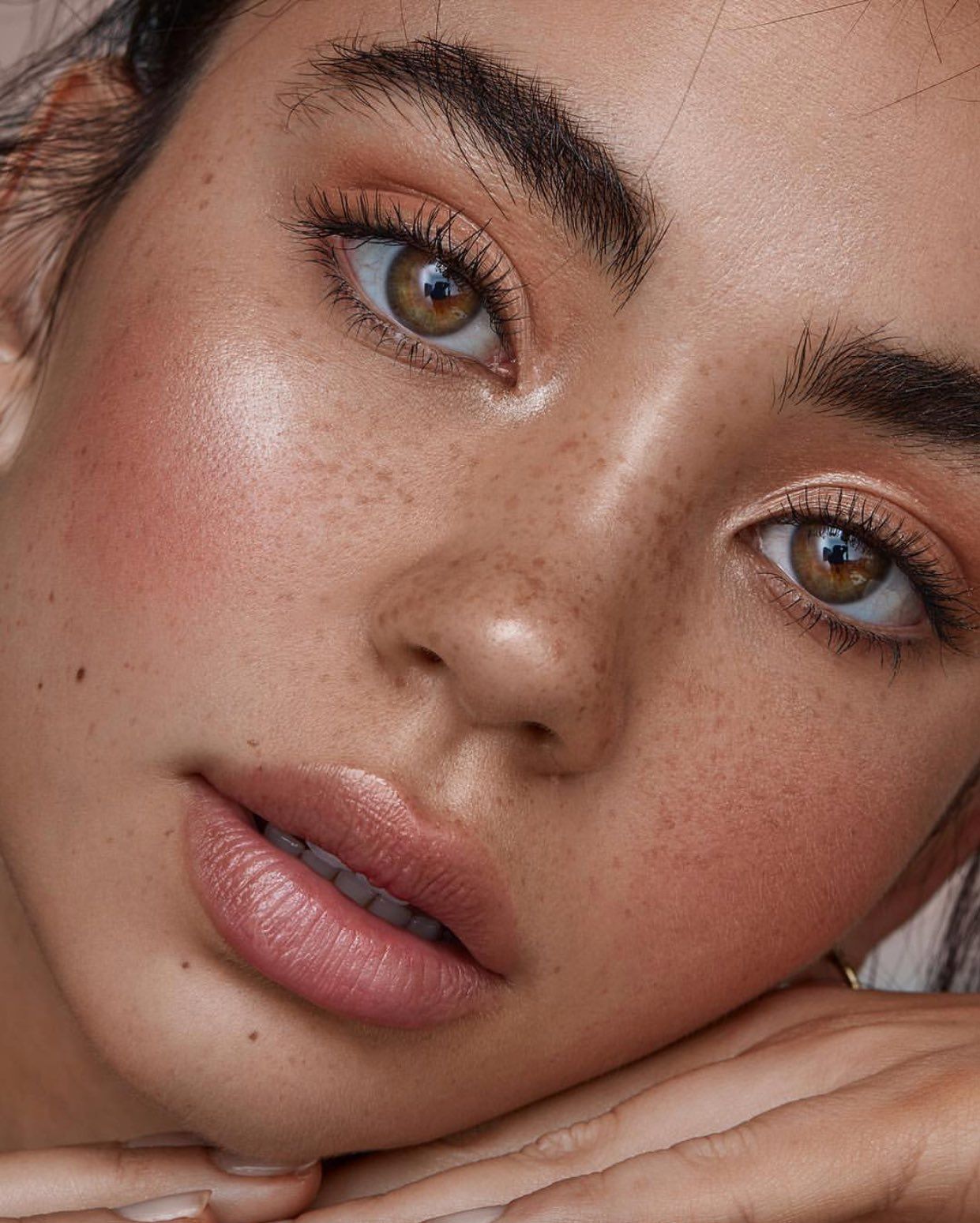 To successfully achieve that healthy glow all year round, apply bronzer in the hollow of the cheekbones and on the temples, as well as on the eyelids as an eyeshadow. This intensifies the regard. Now that it's summer, you might want to look like you spent an afternoon on the beach and caught a ton of sun. Bring that reddish glow to your cheeks by using a brick-red blush. Swipe it across your brow bones and lightly down your nose to give yourself an authentic glow.
3. Smog eye shadow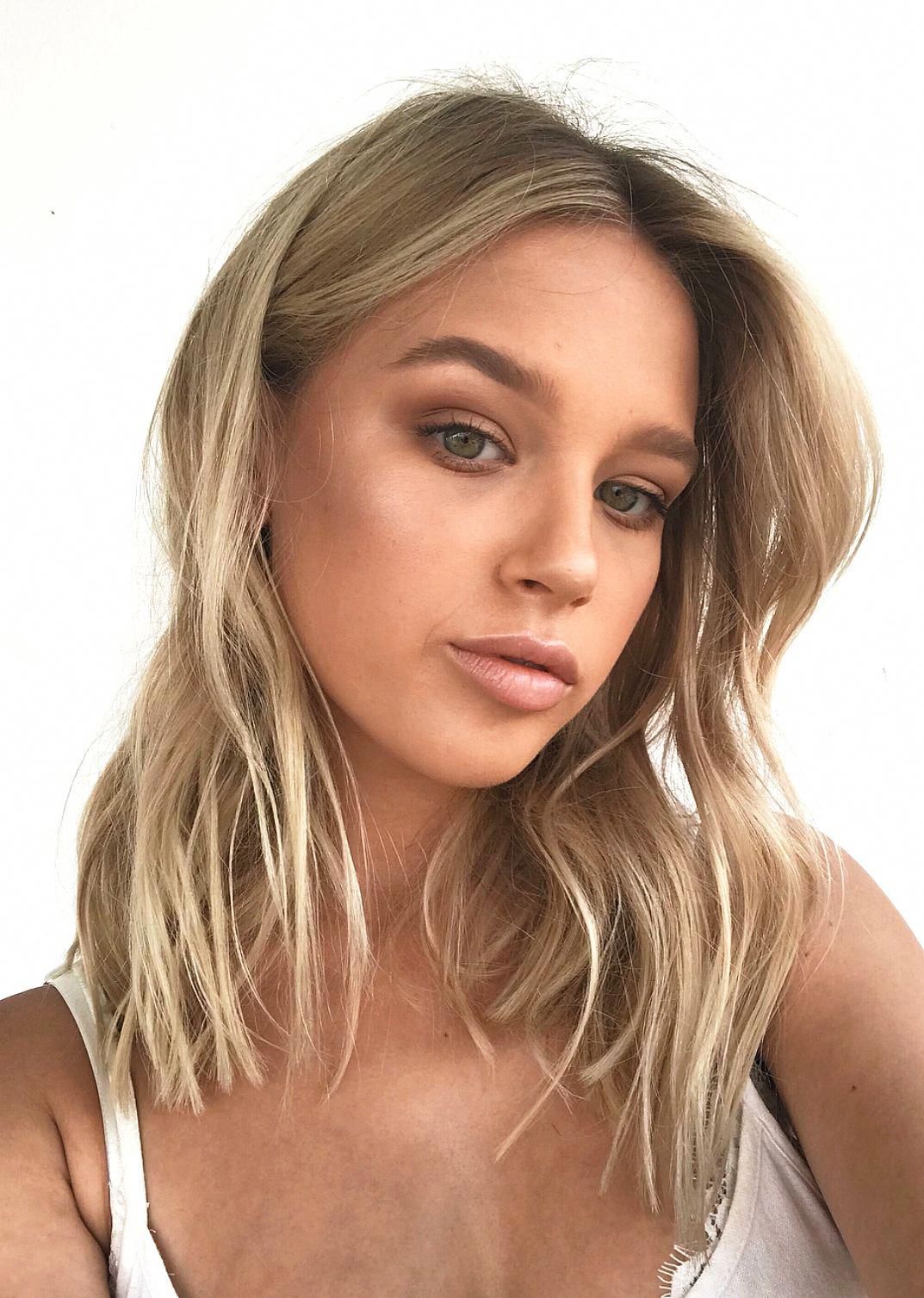 To give yourself just a tiny bit of definition, try browning your eyelids with a shade two hues darker than your skin tone. The end result is warm and subtle, with a little bit of interest. The best way of achieving this look is to use contouring shades. Finish the look with a lipgloss for an extra-natural look.
4. Little contour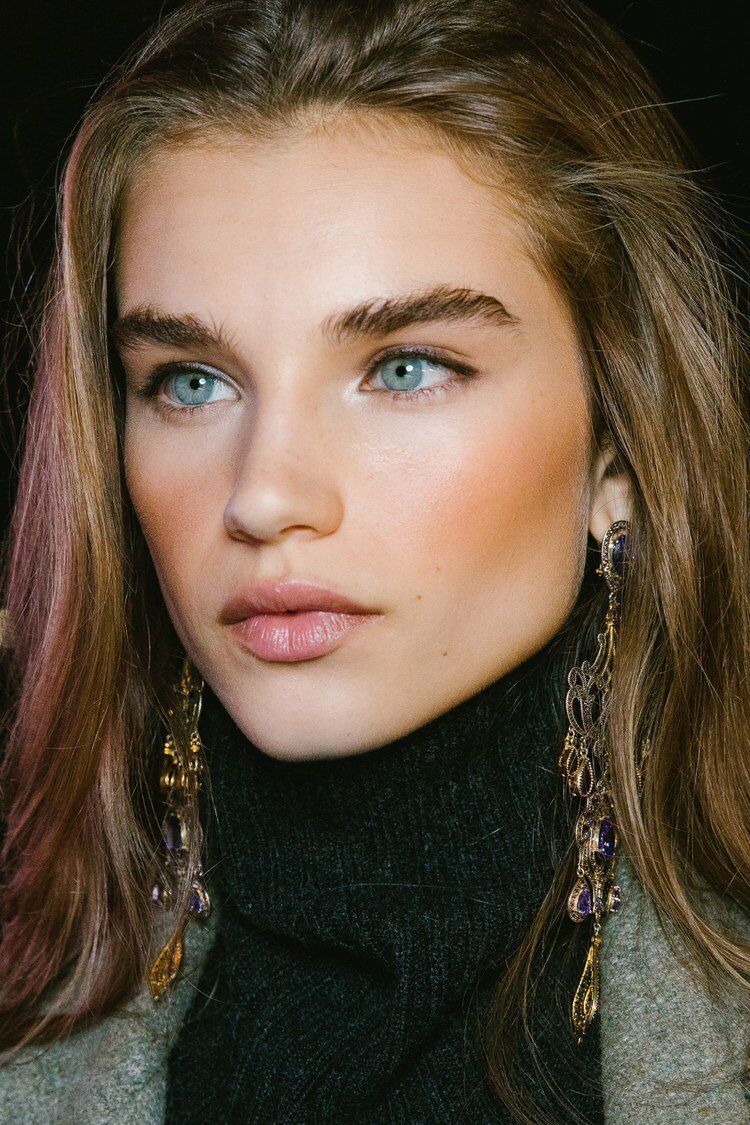 To give your cheeks a more defined look, contour out their hallows. Use different brown shades to shadow, to make it look more natural. Along the way, accentuate your brows. No matter how thick or thin your brows are, if you feather the inside corners of them you get this beautiful mussed-up, carefree look. Just gel those feathered hairs into place so they stay that way all day.
5. Delicate cat-eye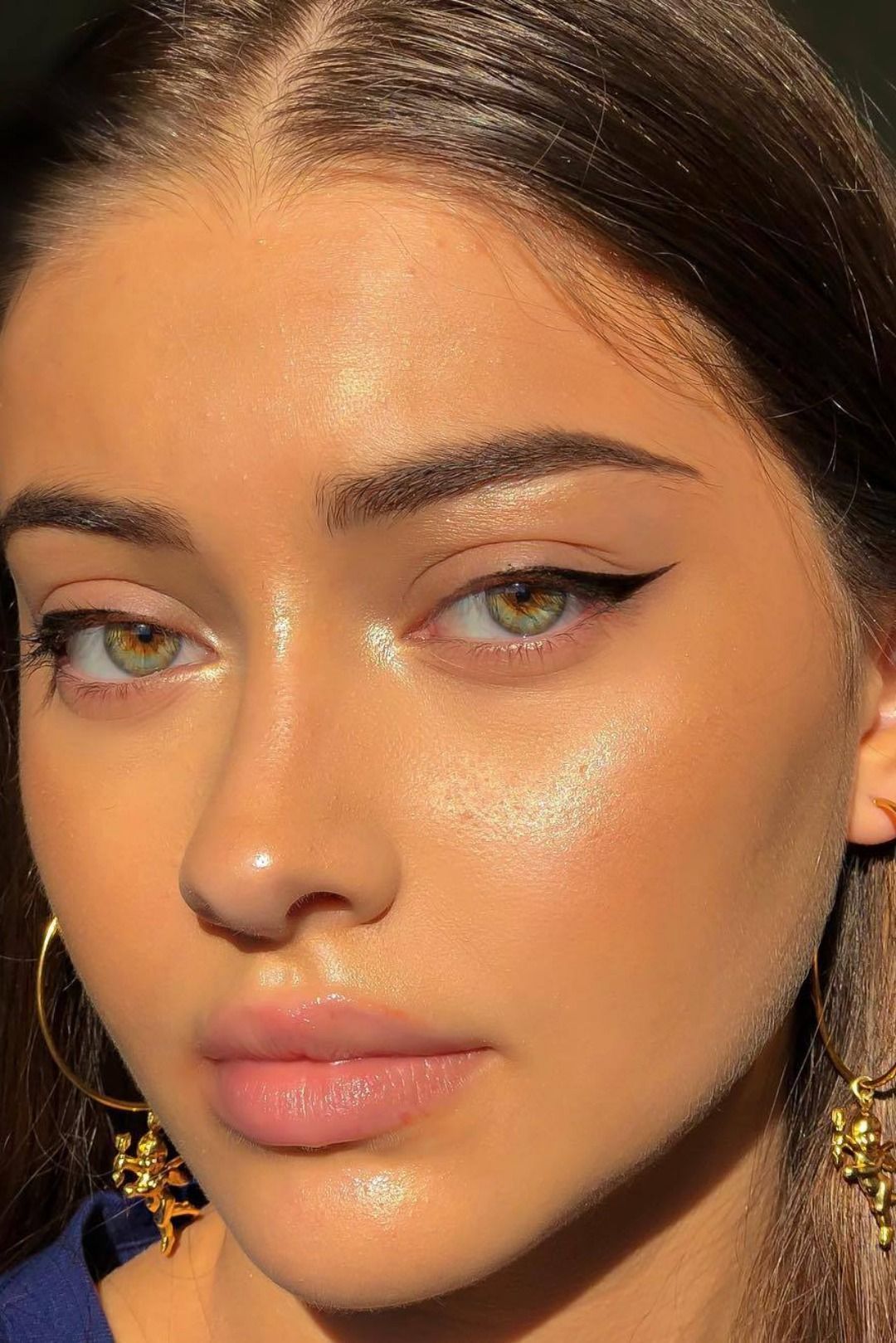 If you don't like leaving the house without your eyes refined, allow yourself to add some eyeliner, but keep the line super thin and very close to the lash line. All you want to do is define, not get retro or creative. Curl up your lashes, but skip the mascara for this one. Add a little shine on the highlighted parts of your face and you are done for the day.
6.  Pink Blush
If you want to look like you just came back from a brisk walk, dust peach blush right on the apples of your cheeks. A tiny bit of color goes a long way. Warm-up your eyes and add blush on your lids. And for the finishing touch, put lipstick of the same color.
7. Delicate blue cat-eye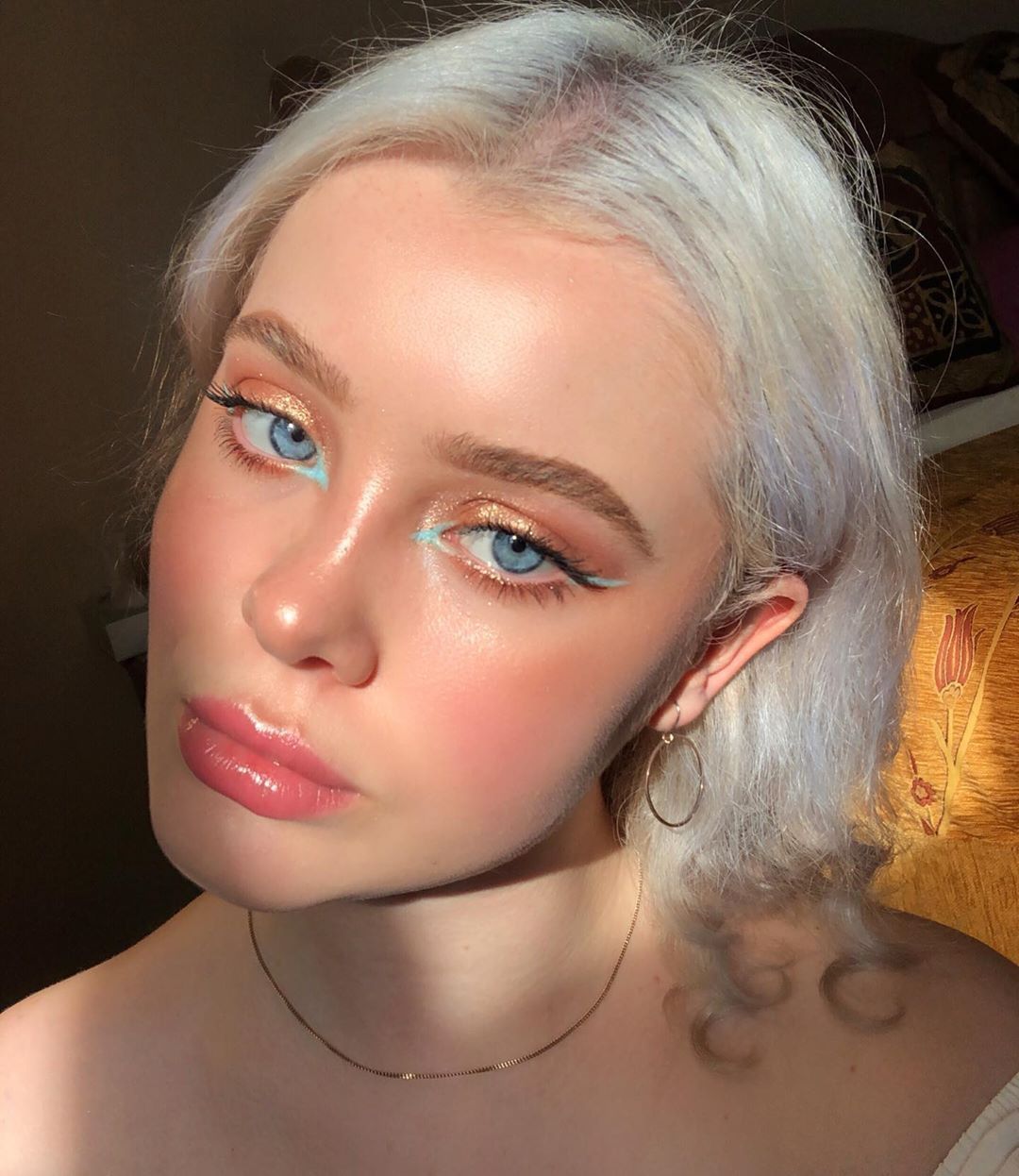 Another great way to define the shape of your eyes without using too much makeup is to use a subtle, bright color eyeliner just to shape and sharpen your eyes. That way they get that pretty, sullen look without too much eyeliner marks or shadow blending.
8. Bushy brows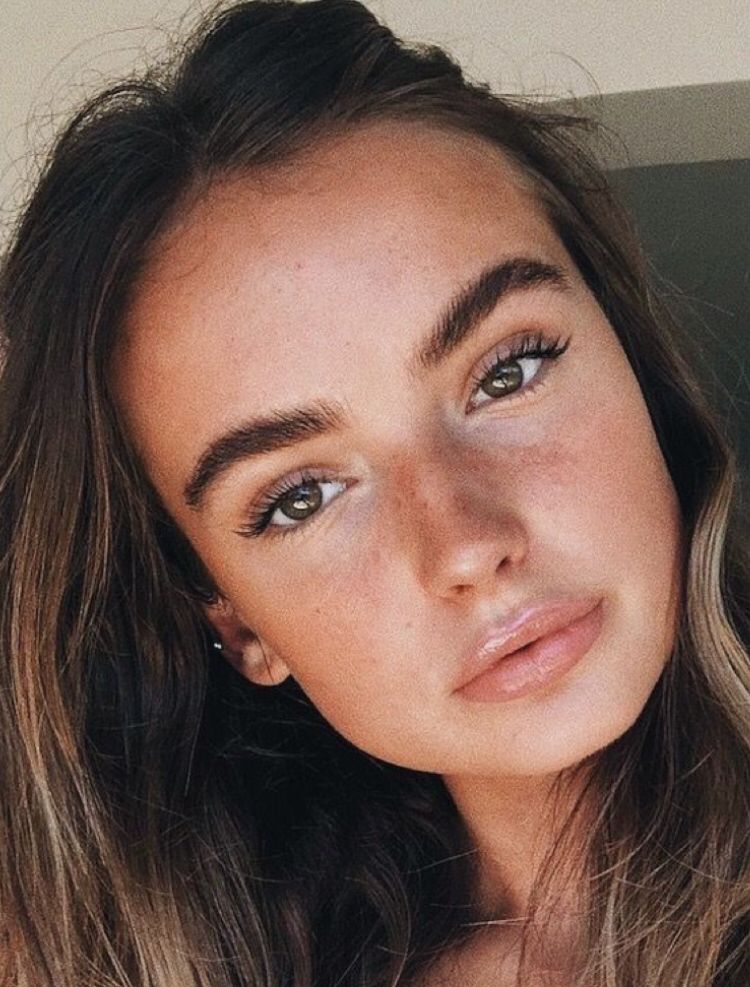 Rather than slicking down your brows, add some interest to your look by bushing out your arches. Simply brush them in opposite directions and make them look just a little bit wild, keeping the look in place with just a little bit of brow gel. Add a little mascara to liven up your eyes and finish the look with a clear lipgloss.
9. Highlight the face
Accentuate your beautiful skin by adding shine on your cheeks. Your skin will look so dewy and natural, beautifully shining in all the right places. Grab your favorite highlighter, and put it onto your cheeks with two fingers for a dewy, radiant look. Put it onto your cheekbones and right underneath your brows to have the light hit it in the prettiest way.
10. Glossy lids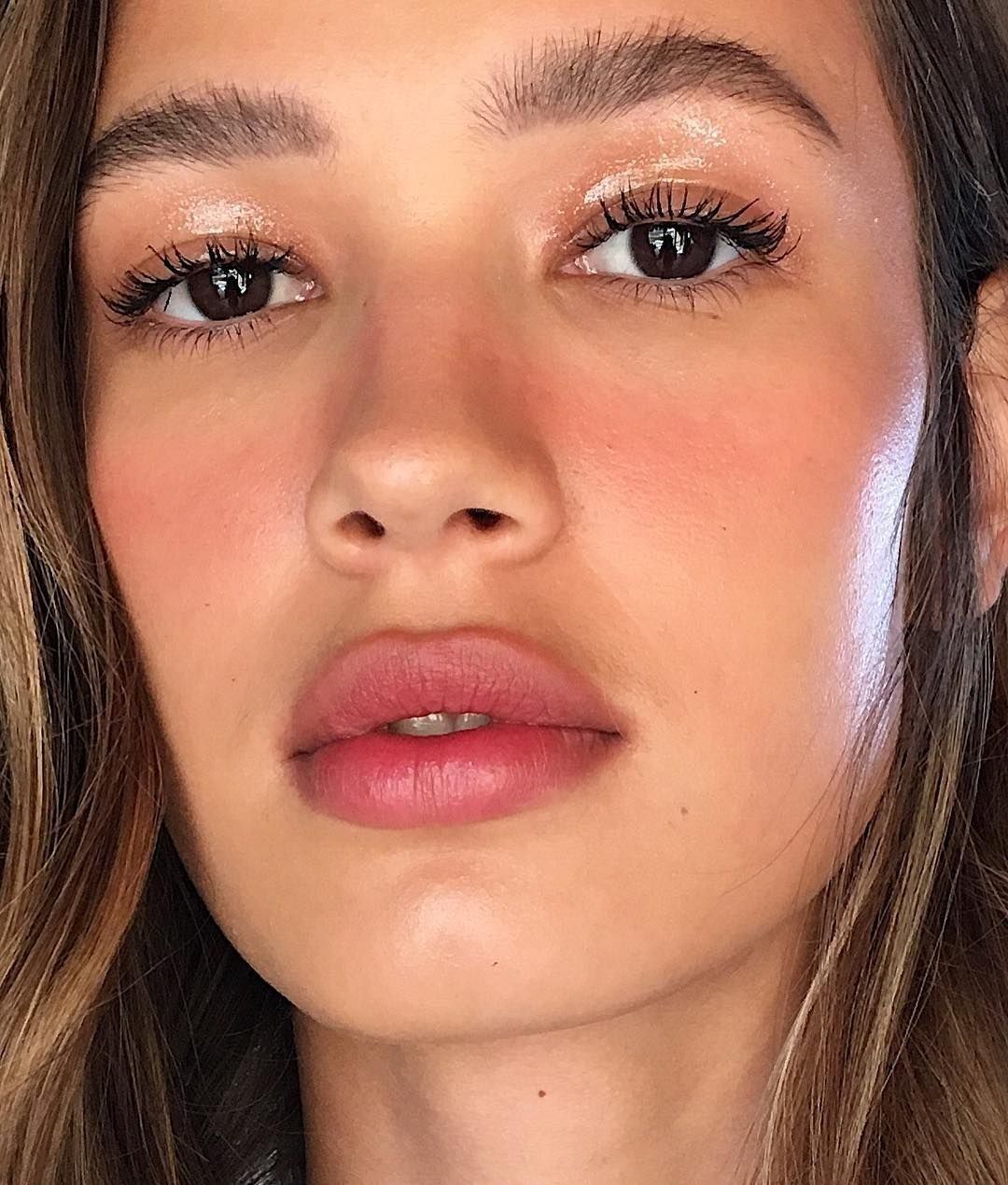 If your favorite no-makeup look revolves around glosses and dewy complexions, then this idea is for you. Glossy lids are the perfect companion for that natural, dewy makeup look. Perfect for summer days and a great way to accentuate and highlight your eyes. Just add gloss to your eyelids rather than cheeks. It will look romantic and misty without being too overdone.
11. Juicy pink lips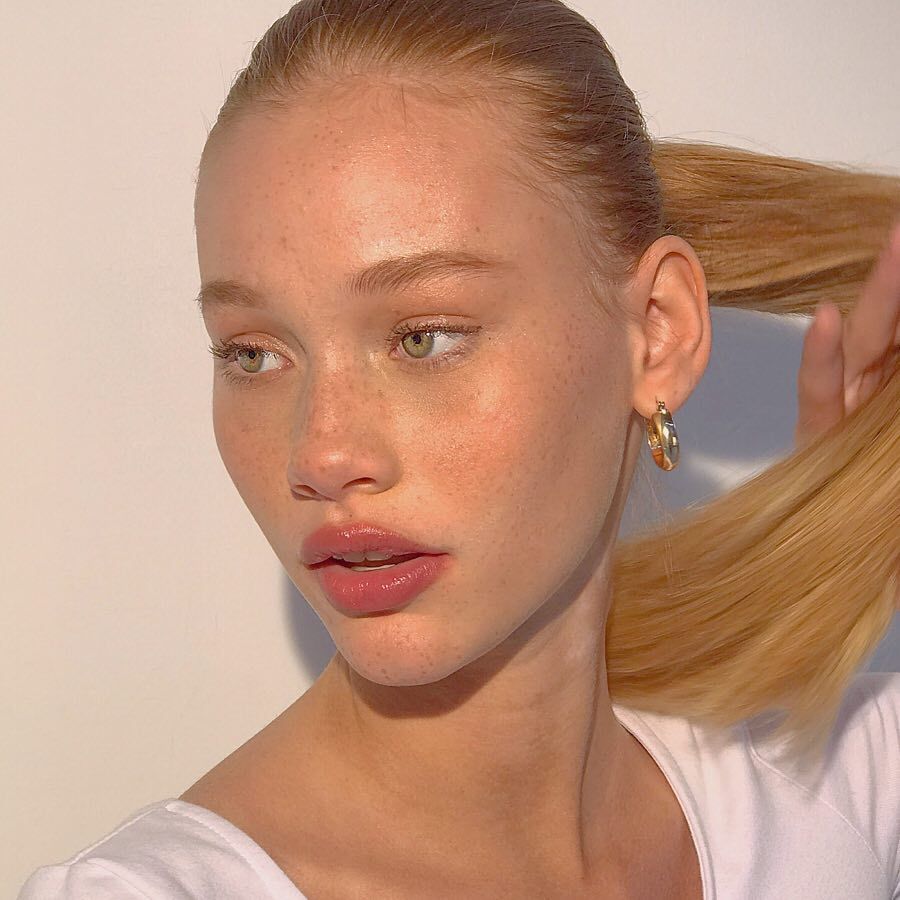 If you want pink but more defined lips, skip the peaches and the nudes and instead go for a deep, mauve-like rose. Put your lips on the spotlight and create that natural, dewy effect. Less is more, believe us!
12. A touch of mascara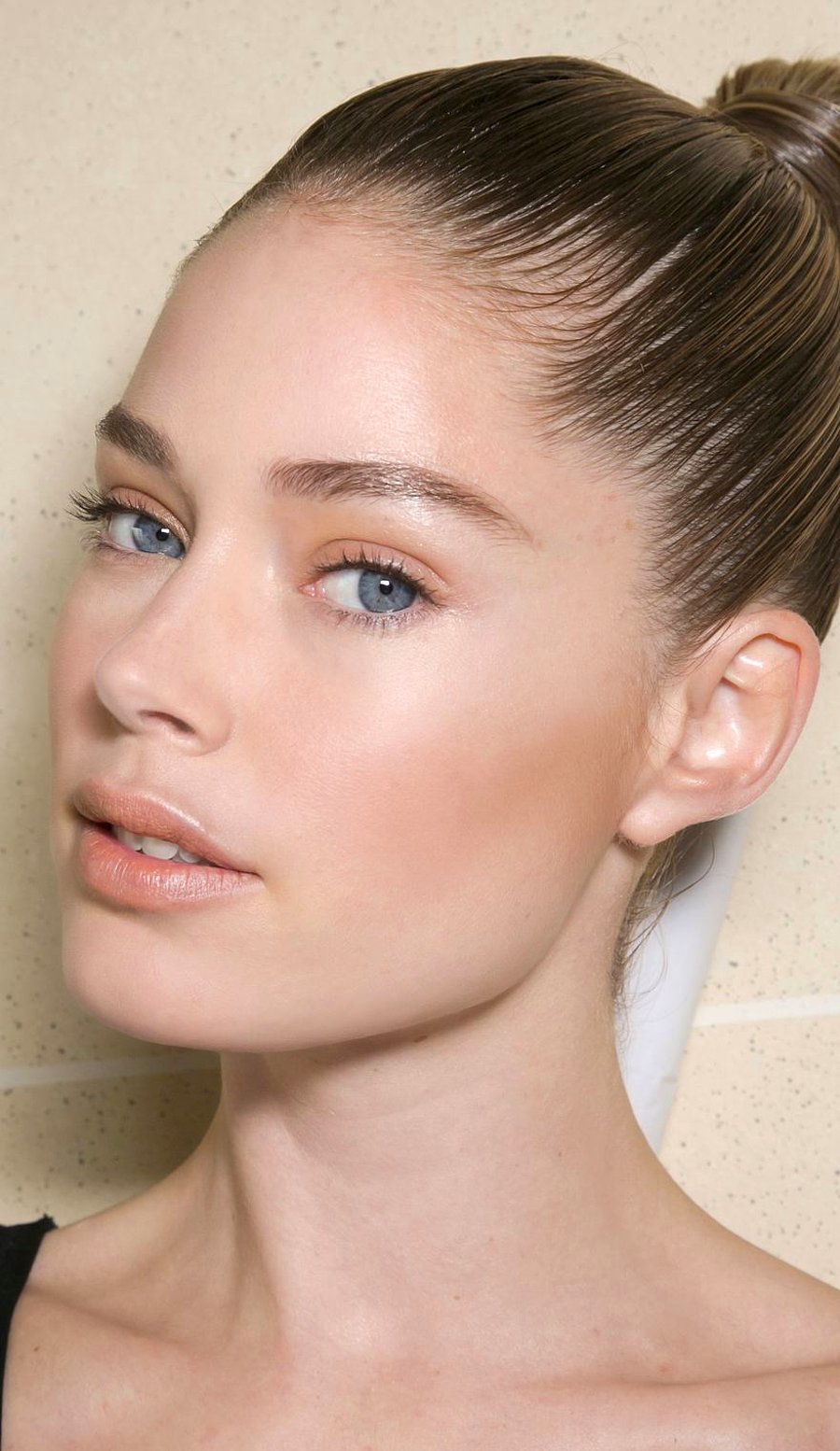 For a no-makeup look, it is crucial to stick to a natural complexion, simply using a good concealer to hide dark circles and any other blemishes. After you do that, curl up the eyelashes and put some mascara. The mascara accentuates the eyes and gives life to the overall face. To achieve the natural look, don't overdo your mascara. It makes such a big difference for achieving the natural, no-makeup look.
13. Clear lip gloss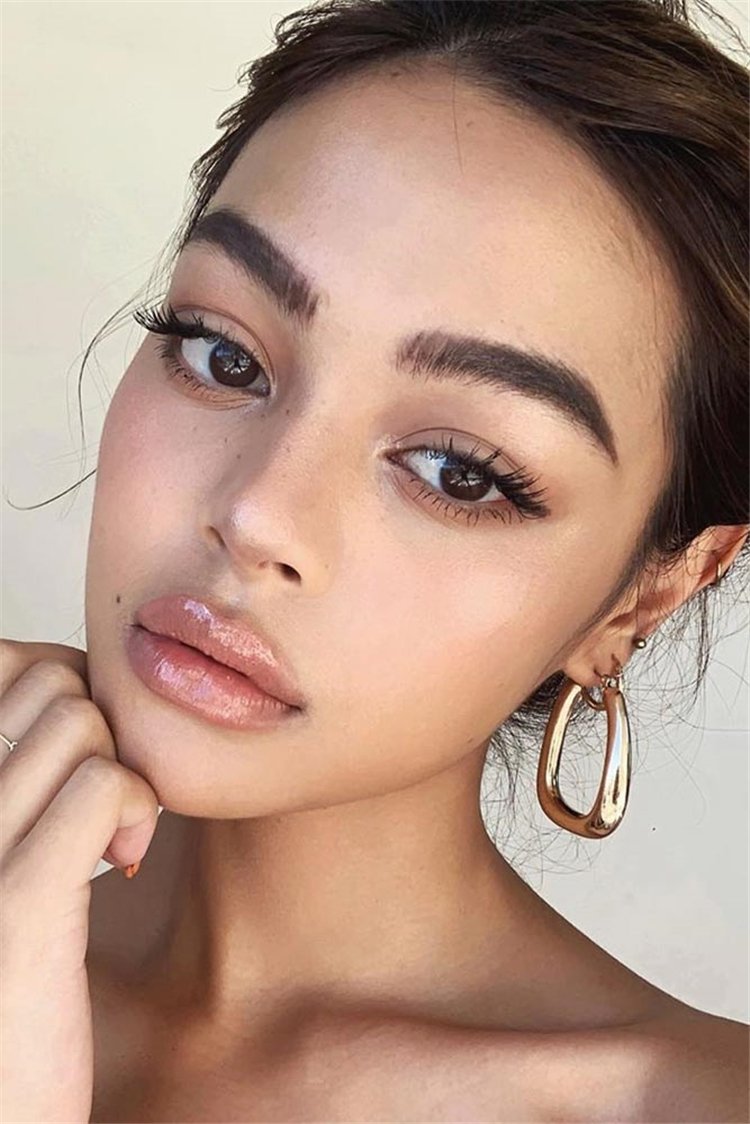 If pink palettes are too frilly for you and you're bored with the tried-and-true brown look, try creating the ultimate natural "no-makeup" look with a touch of mascara and clear lipgloss. Your makeup look will be fresh and dewy, and your lips hydrated and beautiful.
14. Delicate smokey eyes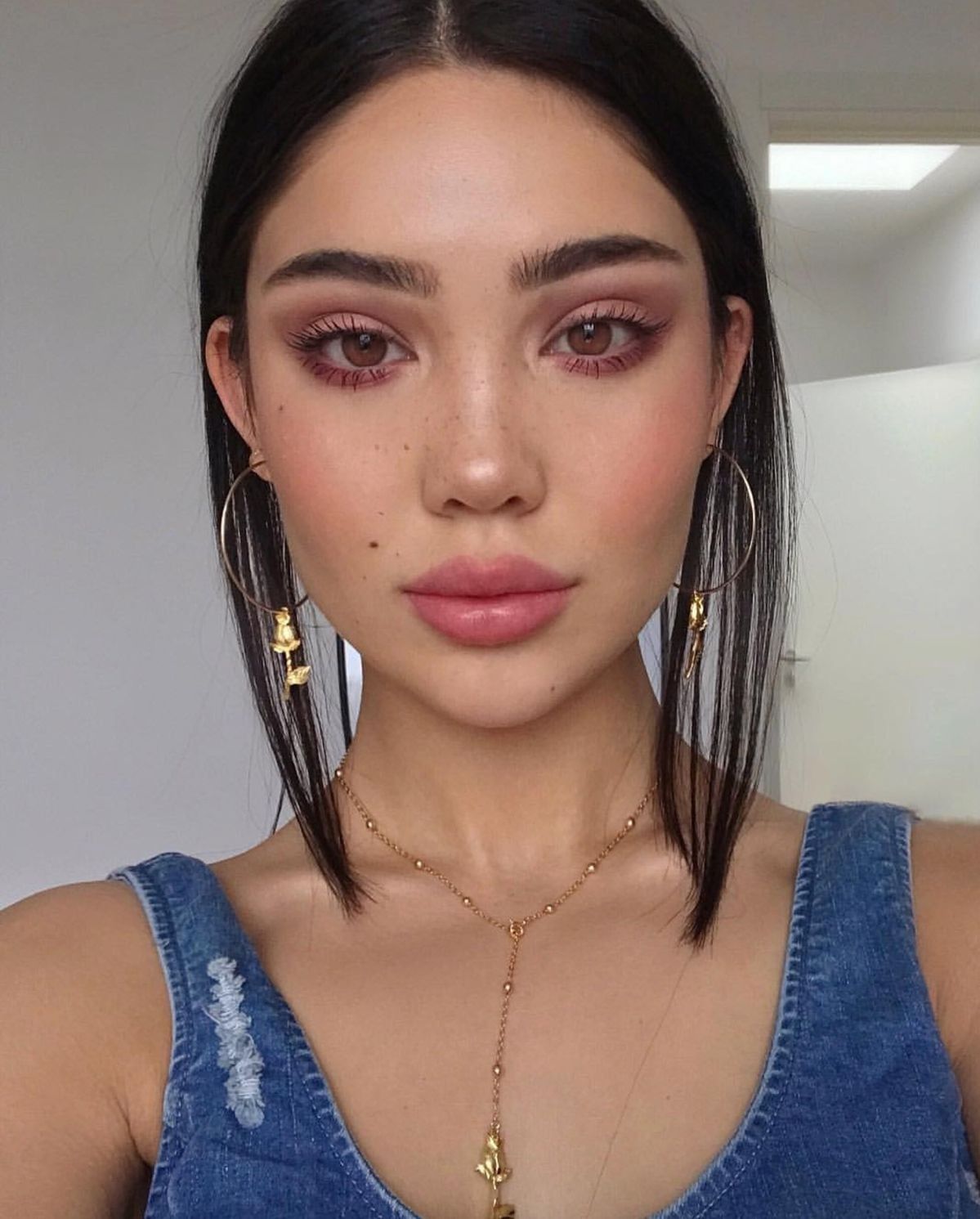 If you don't necessarily want to look completely bare-faced, but would rather rock a subtler makeup look, then this idea will get you there. Spotlighting cream brown shadows and peachy lips, it still adds color to your face but with a fine hand. Add a little highlight on your nose, and blush up your cheekbones. A super-natural way to wear makeup without looking over-the-top.
15. Sunkissed effect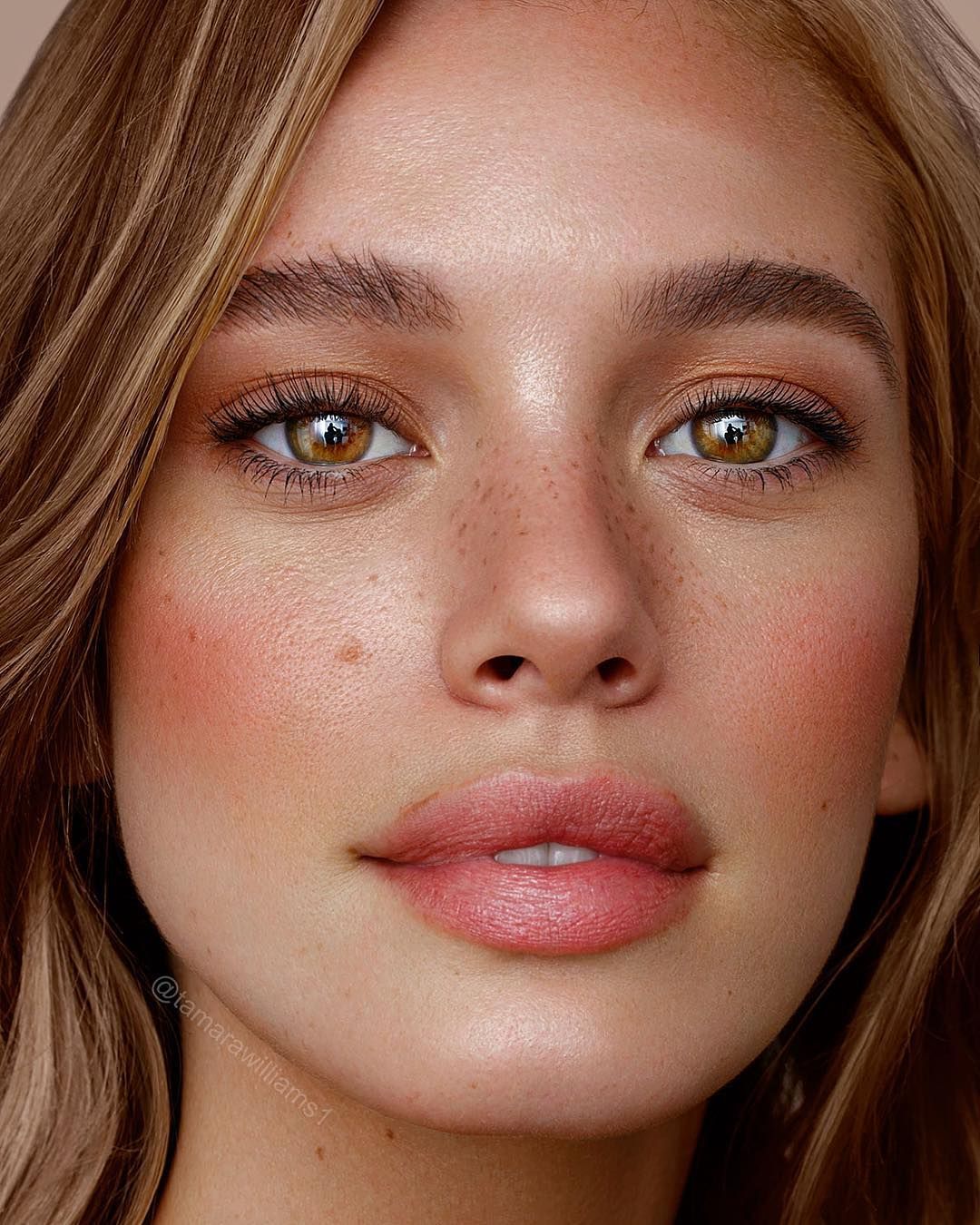 To give yourself a just-got-back-from-the-beach glow, choose a more reddish-pink blush color in order to give your cheekbones the effect that you caught some sun. Add a little blush on the nose too, and finish it with some pink lipstick.
Set your no-makeup look with a hydrating rosewater toner to make it last longer and give your skin a fresh, dewy look. Your face may feel tight and dry as the day progresses (especially in the winter), but that can easily be fixed with a few spritzes of the rosewater toner. Store the rosewater toner inside the fridge, so it's cool and refreshing when you use it.
If you don't necessarily want to look completely bare-faced, but would rather rock a subtler makeup look, we hope that these ideas satisfied your needs. Which one is your favorite? Feel free to leave a comment below!