Both of us know that life is capable of imitating art. However, when it comes to fashion, it's all about tactics that mimic art. And we love to taunt you with higher, more audacious tactics. We are going to talk about one striking eyeshadow look today that blessed our phone and every time we see it, we love it more: Watercolor eyeshadow.
The pattern has been around for a while now, but the world of make-up is having a revival. The look is similar to the beautiful, ethereal watercolor effect, with either several colors mixed together or one shade washed over the lid monochromatically. It's like a work of art, except the painting is an eyelid.
In terms of where the color can or should not go, this type of makeup does not have guidelines. Why shouldn't your peachy-pink eyeshadow trail down to your cheeks from your eyelids? Why can't you give your temples and brows three completely different shadow shades? In its finest shape, this is makeup, brilliantly playful with a hint of surrealism. Enjoy, enjoy.
1. Strawberry fields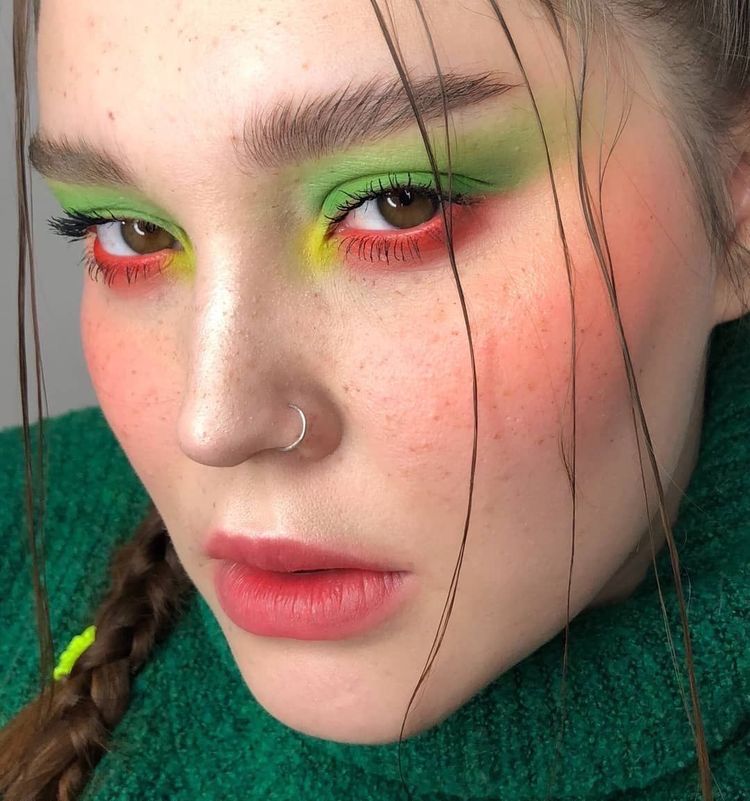 The watercolor effect is all about the unexpected color combos applied in painterly strokes. So, we like to introduce our first watercolor idea, with colors that resemble nothing else but a strawberry. Highly blushed cheeks with rosy lips and painterly pop of colors on the eyes…Beautiful, bold, and vibrant.
2. Step into my Milky Way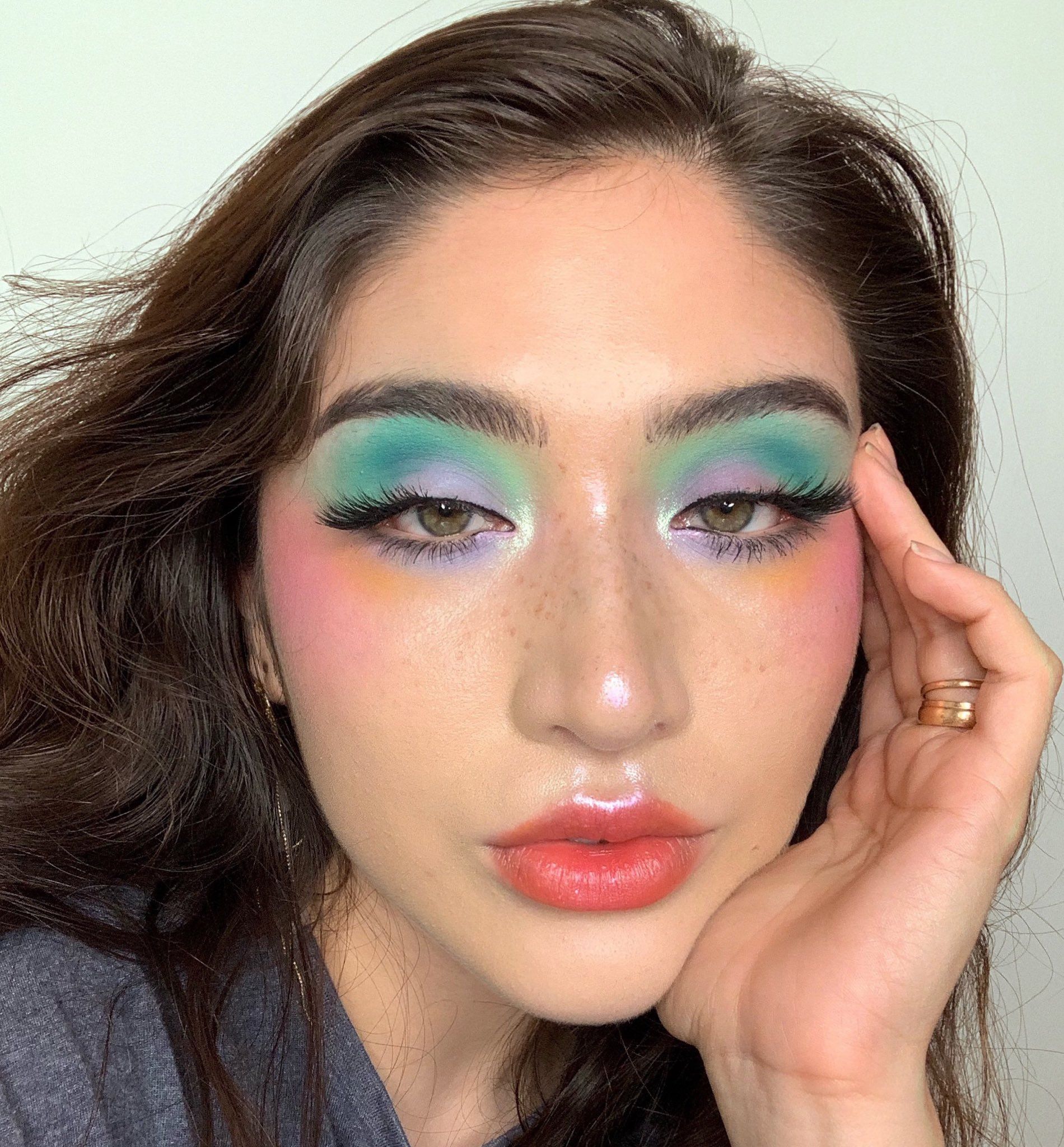 Develop a wonderfully made piece of art with floaty, ethereal pastel colors with designs like oil paintings on your eyes. The blush is so beautifully blended with the eye-shadow, giving a very abstract flair. Accentuate the eyes even more, and put a little highlight in your inner-corner area.
3. Where's my unicorn?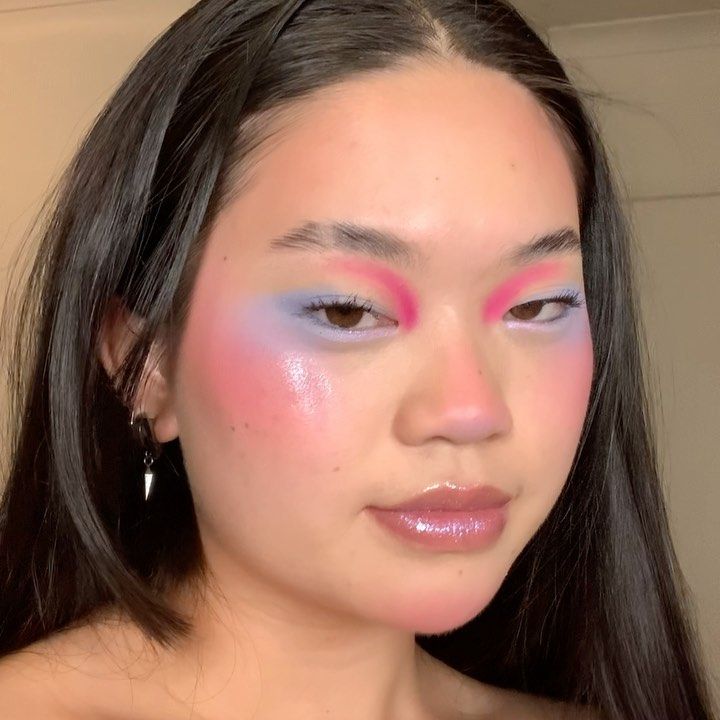 Straight out of the land of unicorns, princesses, and fairies we present to you our third watercolor masterpiece. These colors grabbed us right by the faces and dazzled us with their heavenly look. This magical look is combined with highlighted cheeks and sparkly lipgloss, which ties the look together and gives a one-of-a-kind look.
4. Magical seduction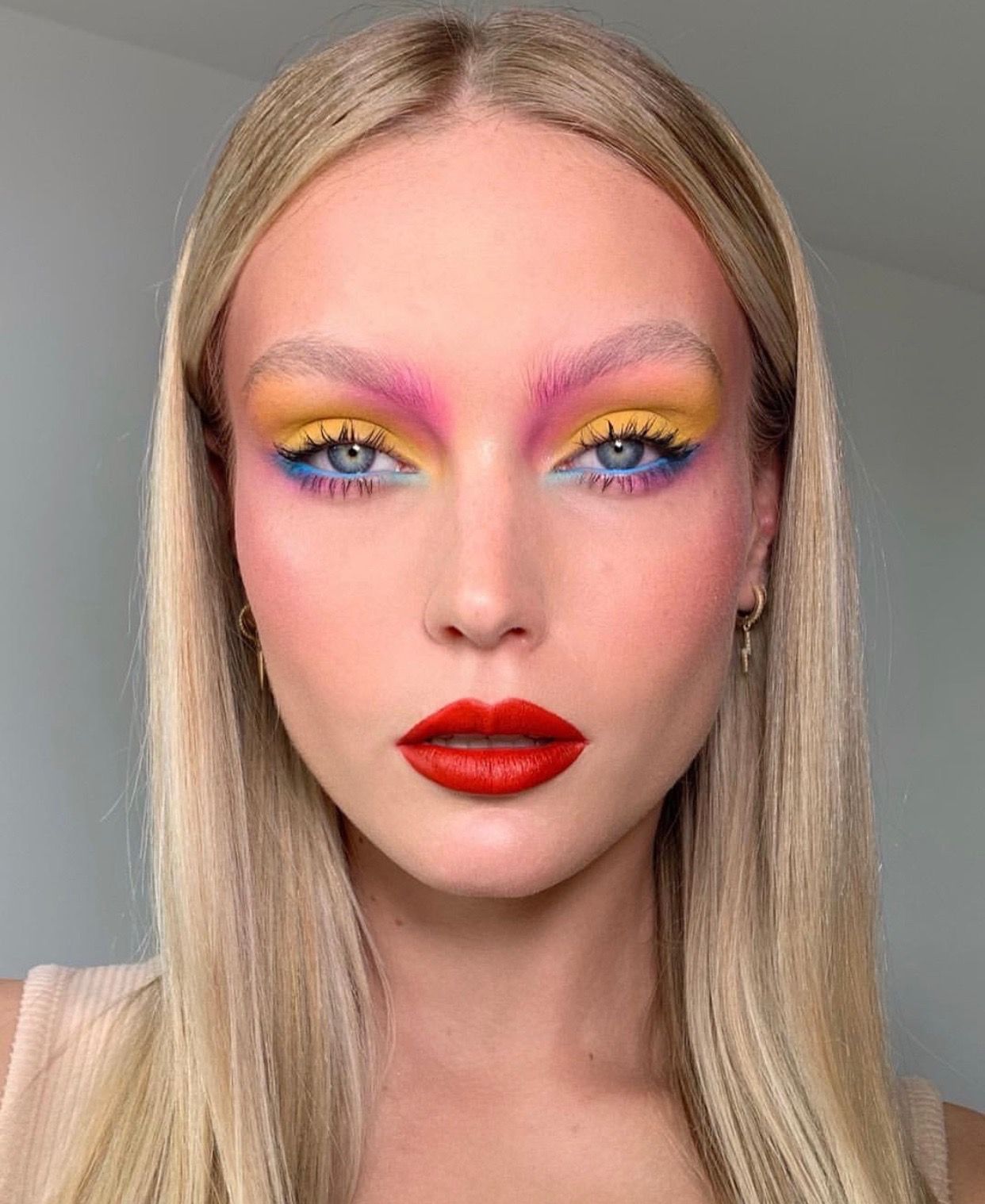 If you think that bold lipstick colors can't be combined with watercolor makeup, you are wrong. Just take a look at this picture that mesmerized us from the moment we've seen it. Red lips, yellow lids, blue waterline, and pink details, this look definitely has it all!
5. Rosey cheeks and green meadows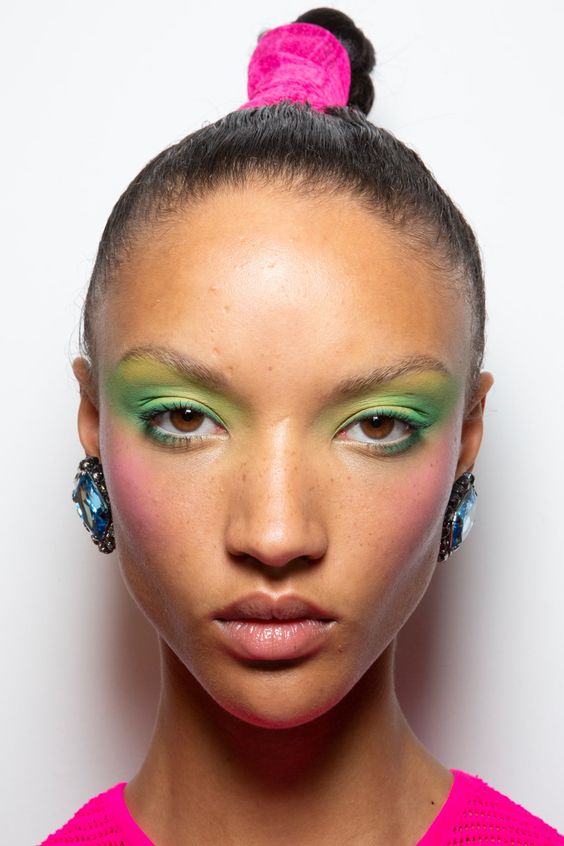 For the girls with an adventurous style, here's a little art piece of green shades. This look is totally outlandish, with green being the focal point of it all. The hue is striking and stylish that channels your free spirit and undeniable edgy style. The lips are in the background for this one because the cheeks and eyes provide enough vibrancy for an artsy appeal.
6. A splash of Spring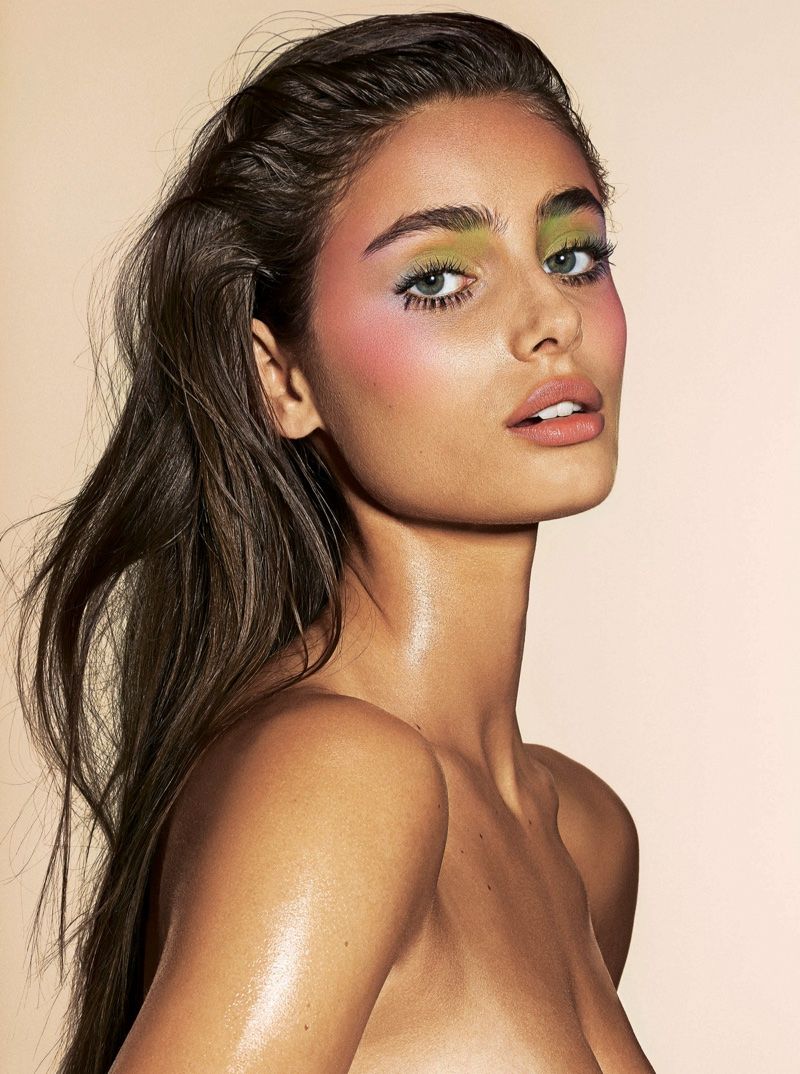 Adorn yourself with a softer appeal that mystifies many. This look is so feminine and intricate that will vividly stand out and mesmerize everyone around you. The extra rich rosy cheeks are the highlight of this look, combined with a soft green shade towards the inner of the eyes for a magical earthly feel.
7. Cold shades and golden flakes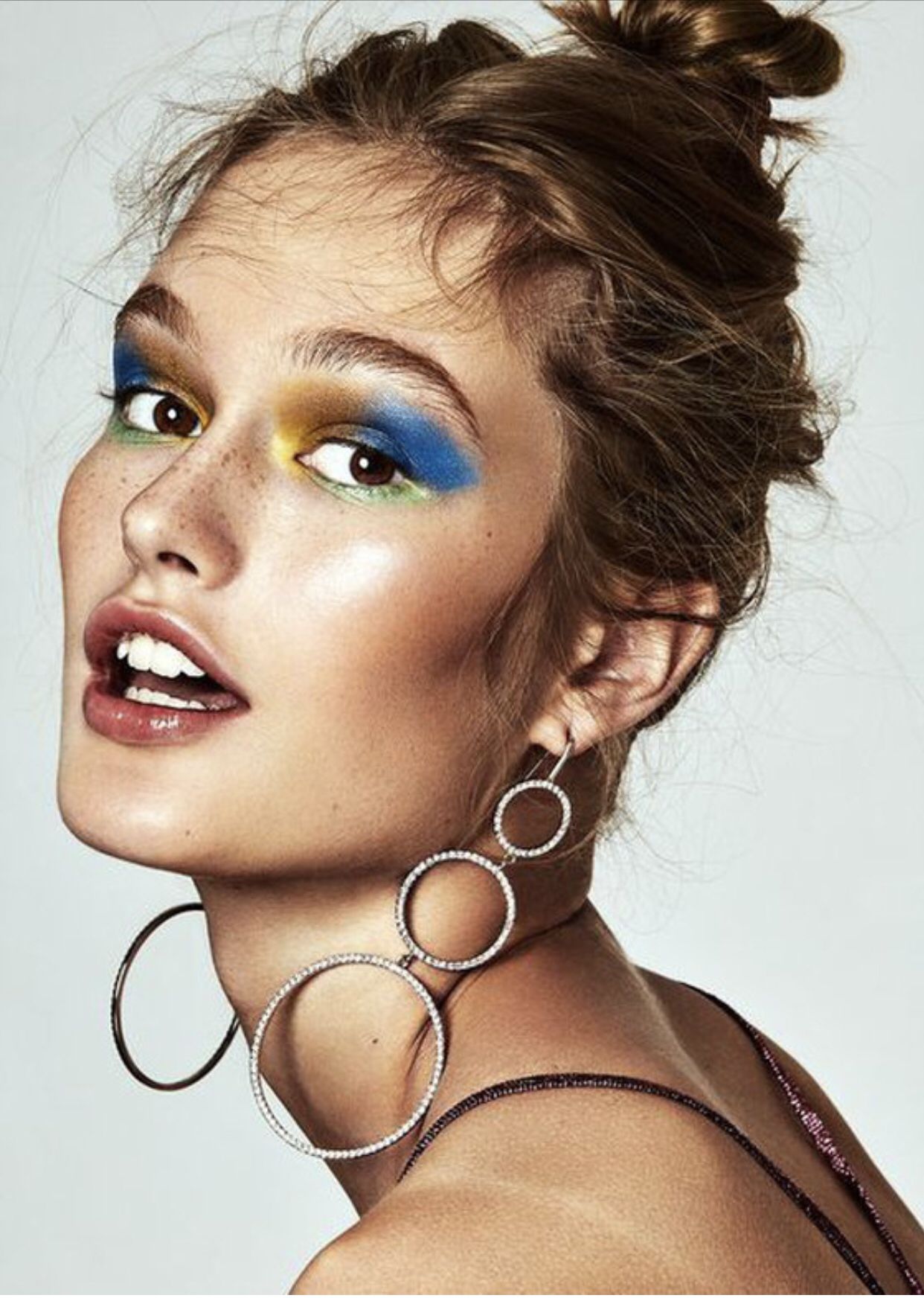 This look is all about performing dreamy, cool-toned, artsy splashes on the forehead. In this look that really caught our attention, the mixture of colors is such a magical moment. It returns to the glam of the disco-era when all was about rich colors, crazy combinations, and popping patterns.
8. Dreaming of pastel clouds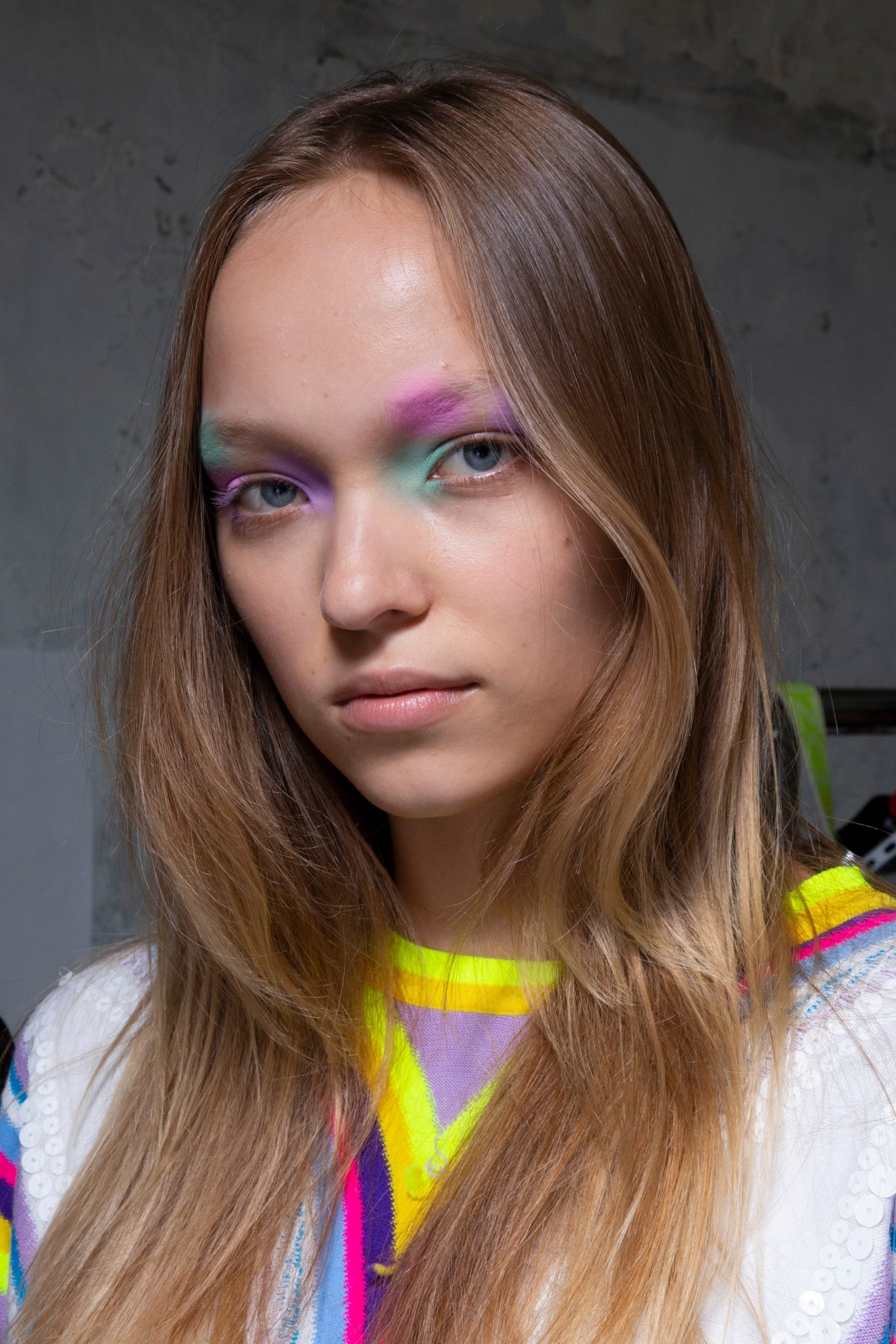 This is such a beautifully portrayed piece of art, with painterly, delicate, and pastel pop of colors all across the eyes. They are blended perfectly together, creating an almost velvety texture. This is a very creative way to achieve a unique look and to express yourself beyond the norm.
9. Peachy Heaven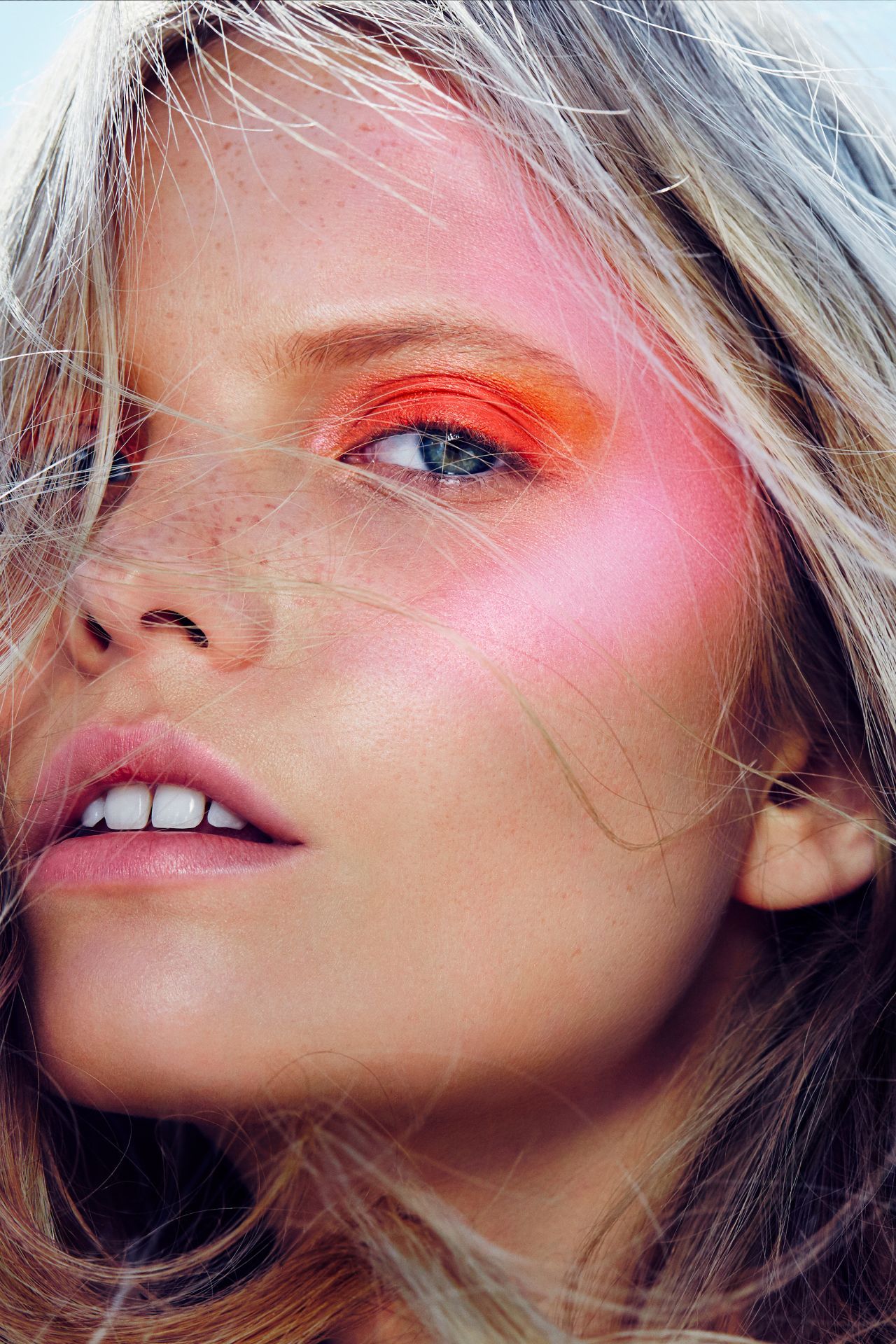 Create a romantic look on your face by mixing beautiful rosy blush with a sexy orange eyeshadow. It creates a truly bold statement followed by a head-turning effect. This is great makeup for spring and summer because during those times it's all about warm tones and sultry looks.
10. In a Galaxy far, far away…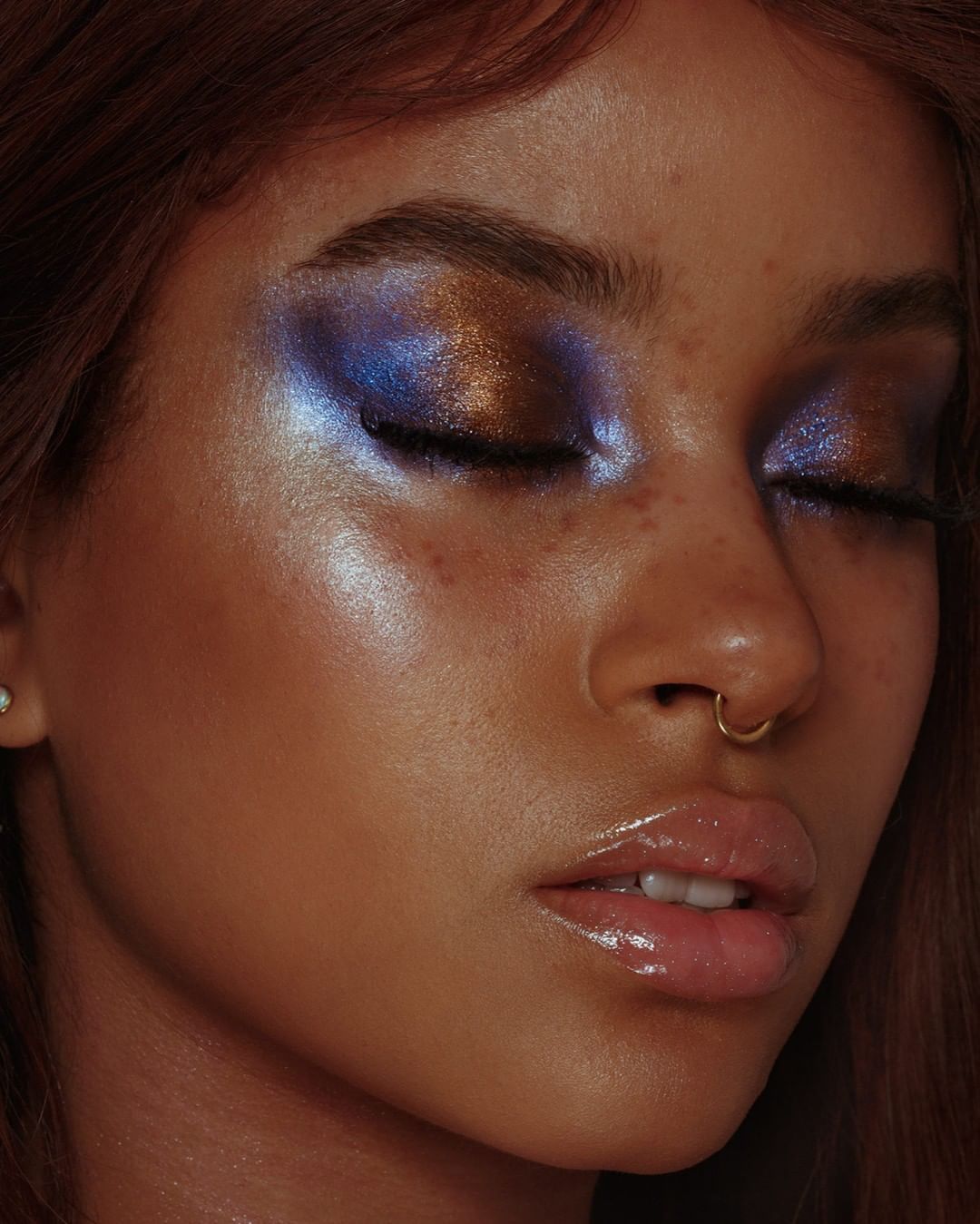 This is a great option for a night spent partying under the stars. The beautiful combination of shimmery colors is truly a work of art and the eyelid is the canvas. This is a very glowy type of watercolor effect, it adds a little luxury on your eyes and spreads galactic flair.
11. Lime twist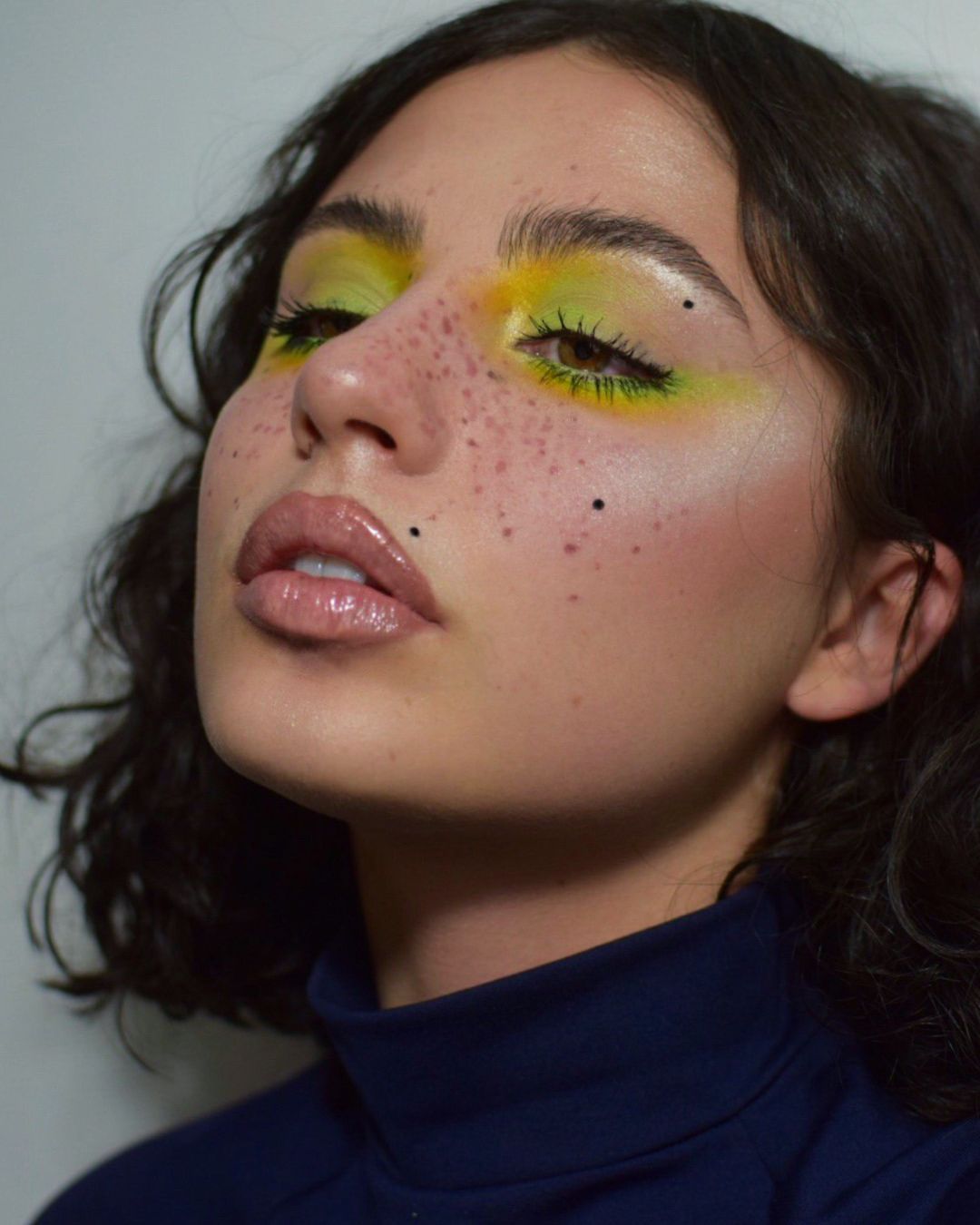 Step outside the comfort zone, grab yellow and green shades, and let the magic begin! This is such a cool watercolor idea, as the color moves from the inner corner and spread towards the under-eye area. It is accompanied by a touch of highlight for a modern and glowy feel. Don't forget to put a nude lipstick for this one, as it accentuates the eyes even more.
12. In the mood for holographic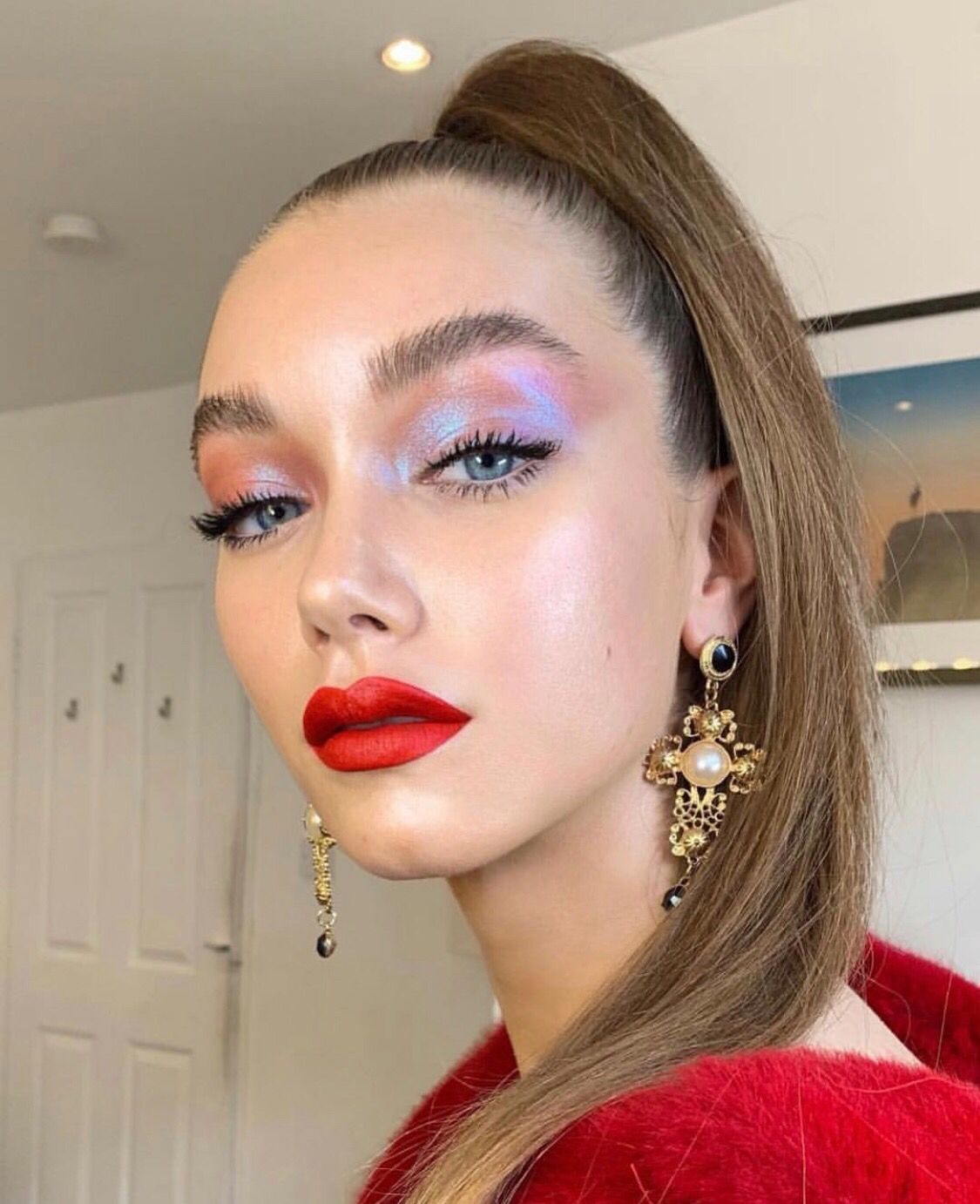 Create this mermaid-inspired look and take it into the cool-girl territory. Across the whole lids, there are different shades of pigments that create a beautiful holographic effect, that is delicate and not too overstated because that's why the red lips are here. They tie the look together, creating a perfect balance and a luxurious look.
13. Lilac flowers and blue skies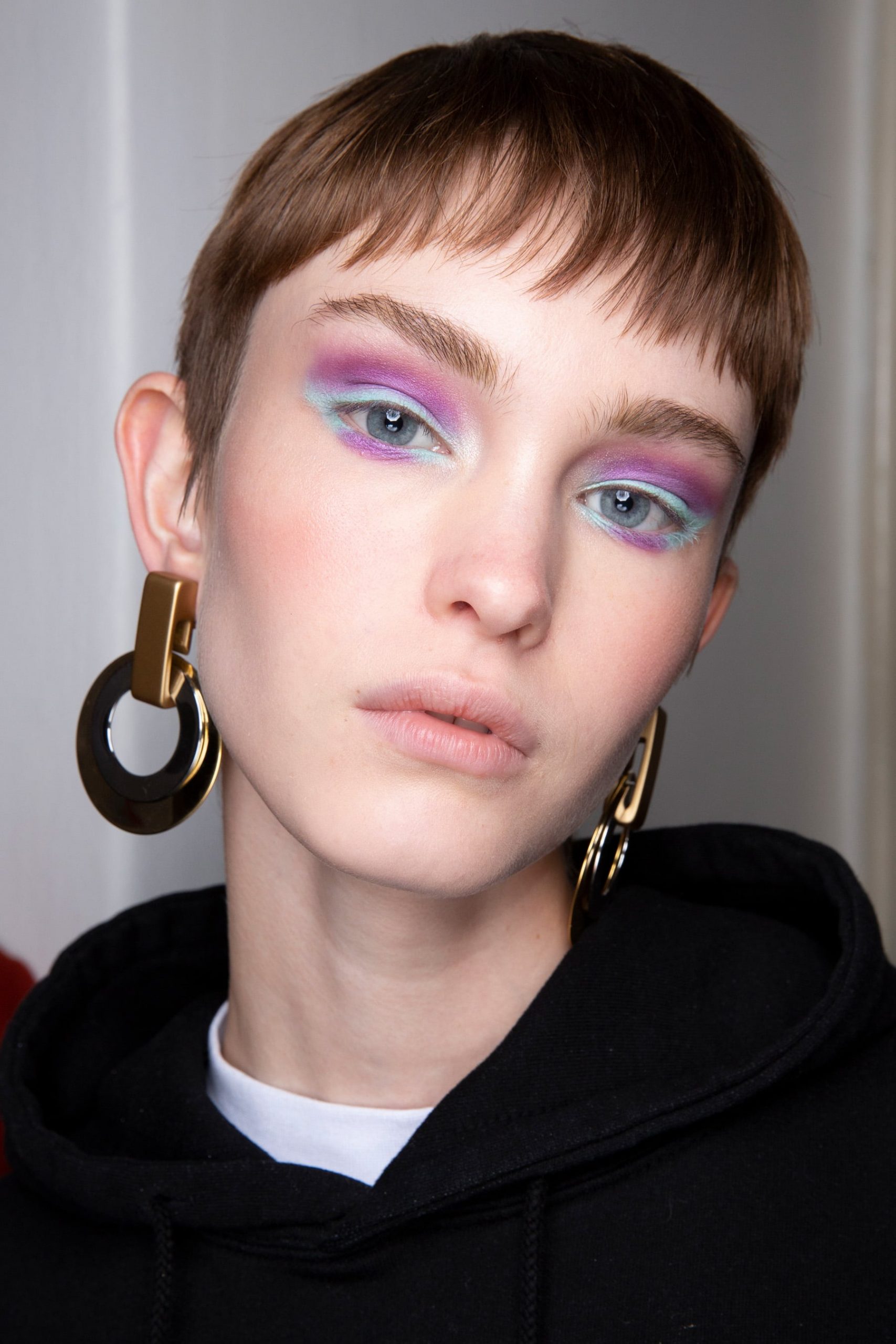 Create a floaty, ethereal art on your eyes with floral colors and painterly patterns. With makeup like this, you don't need to worry about what to wear, because the makeup says it all! Express yourself beyond the norm and feel great about what you've achieved with your look.
14. Capture the sunset in your eyes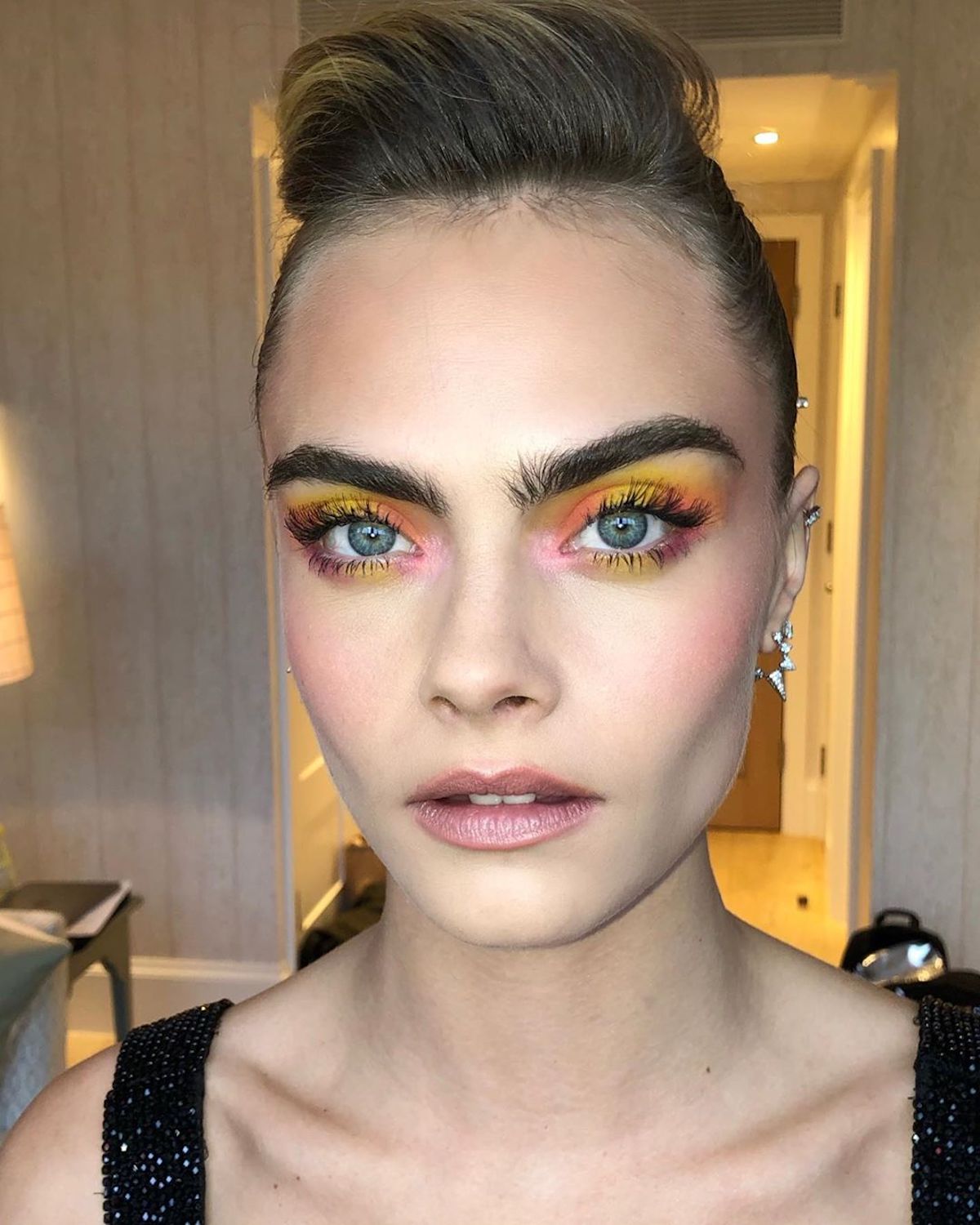 The role model for outlandish looks and bold fashion statements is of course the beautiful Cara Delevingne. She nailed the watercolor effect that looks like a majestic sunset with shades of yellow, orange, and pink. It is combined with a rosy blush which puts even more life into the look.
15. Paint me like one of your watercolor drawings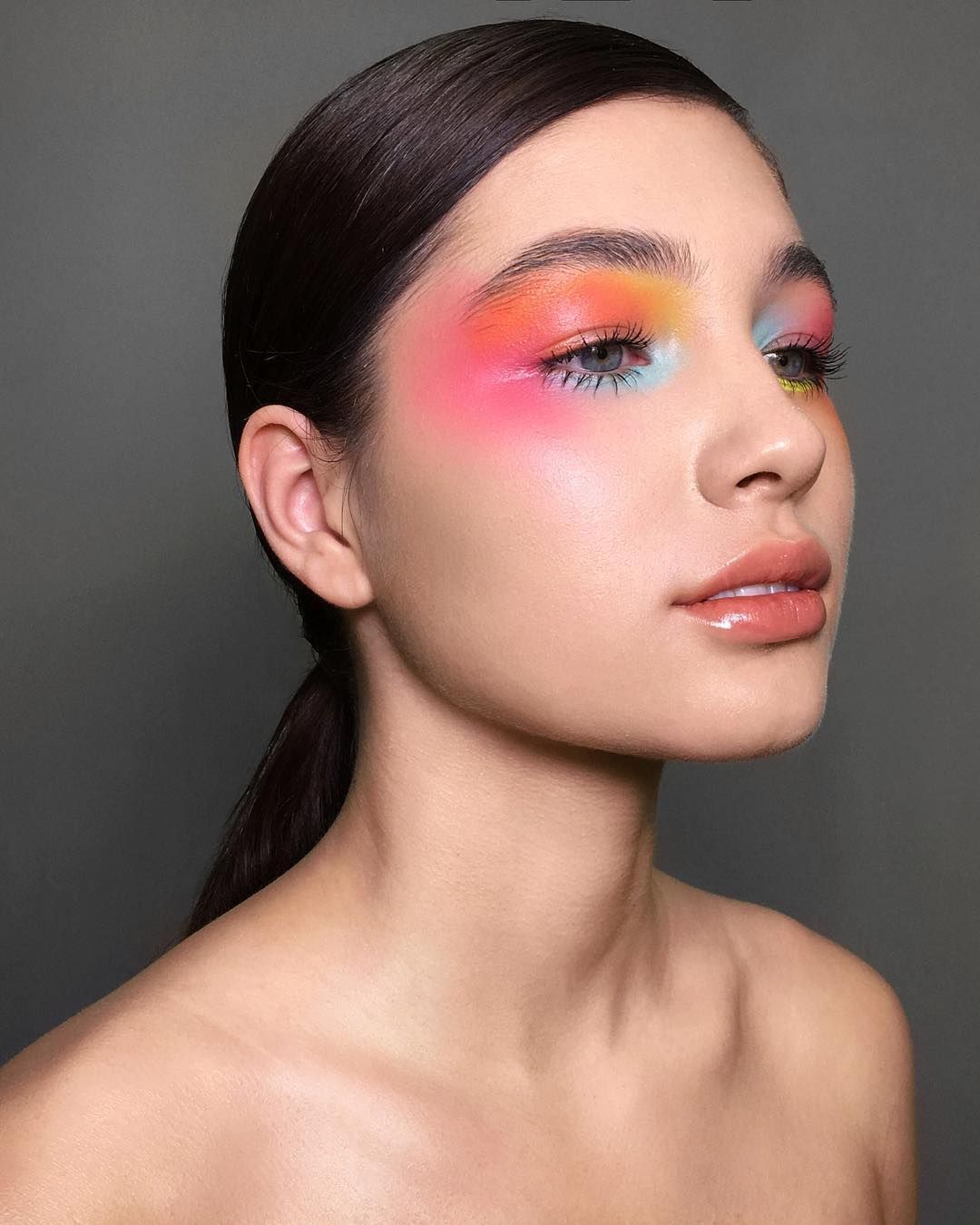 It's such a sexy notion, sultry, and brazen to boot. It has an abstract flair that is so finely made, with many colors that are so well balanced. It's a groundbreaking thought that reaches beyond the conventional look of makeup. In reality, every girl needs to feel like a piece of art, and that's all about watercolor make-up!
16. Under the disco lights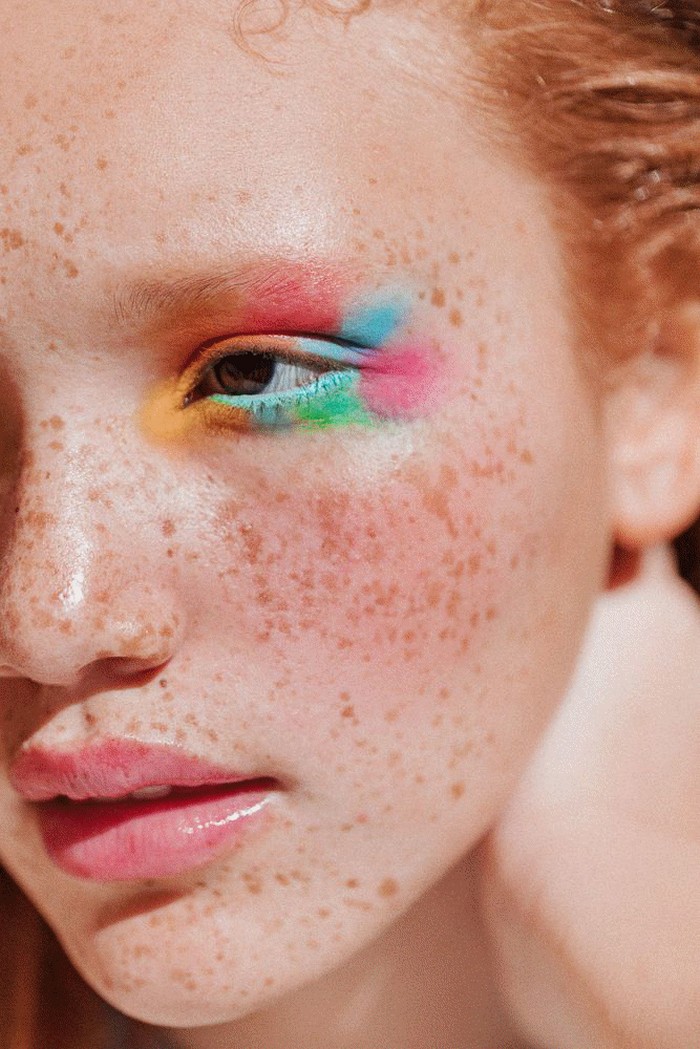 Here's another cool and versatile look that spreads artistic vibes and stands out in a crowd. This makeup is dazzling and full of well-blended details that resemble like you have mini disco balls on your lids. Create this look for a pure magic result.
17. Dreamy eyes and peachy cheeks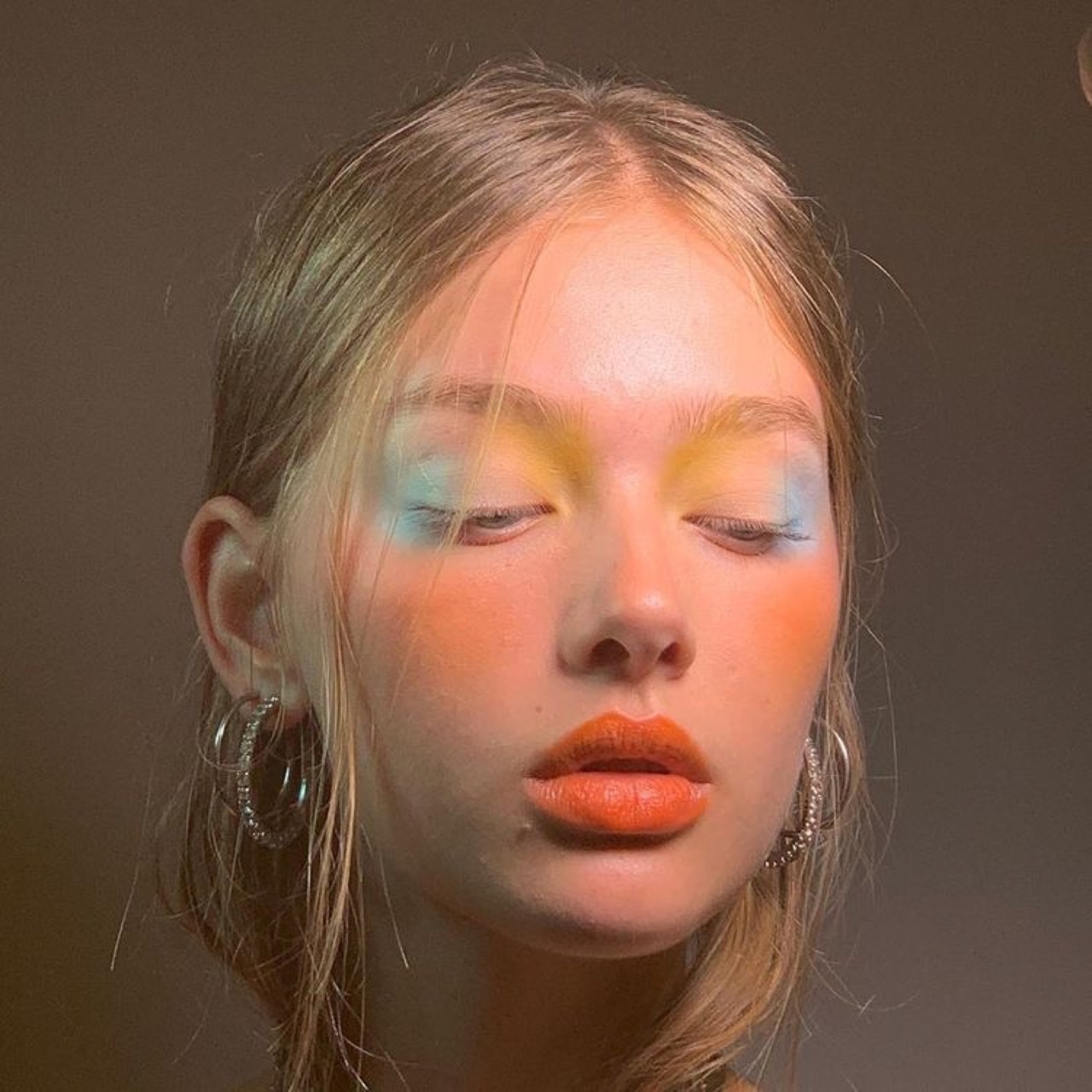 Here's another idea to imitate the watercolor effect and achieve flattering results. This is an awesome statement accessory that is anything but boring. The peachy lips and cheeks create a very lively mood and the yellow and blue shadows definitely make one of a kind look.
18. Splash me with pastel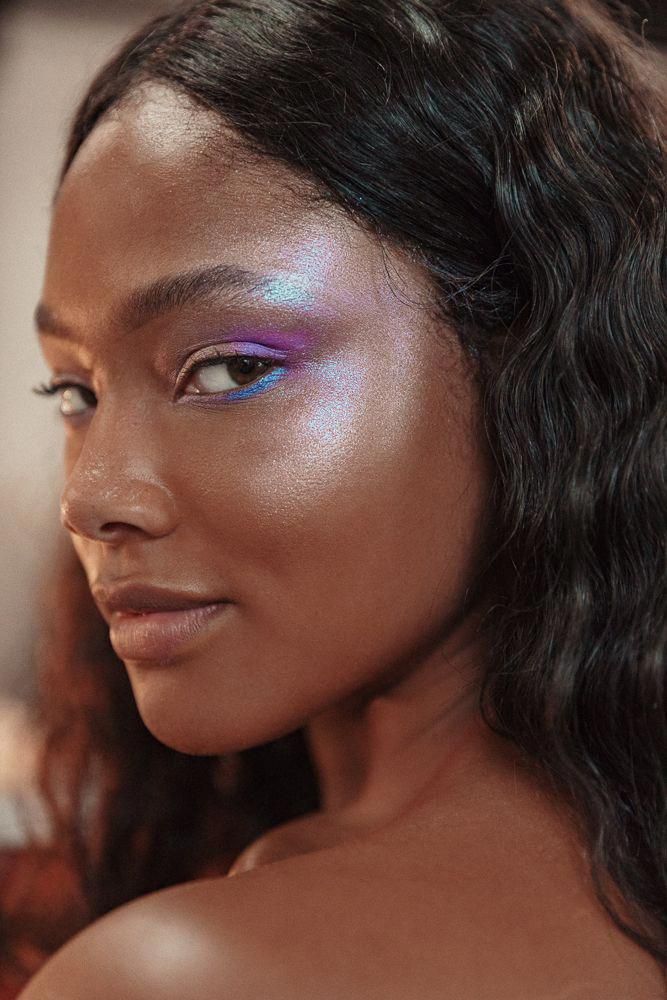 A little highlight never hurt anyone, right? This is such a delicate piece of art, combined with luxurious highlights and pastel colors. The most interesting thing about this look is the highlight. It shimmers in shades of blue and purple, just like the eyeshadow.
Bob Ross, the most creative painter of all time, once said, "We don't make mistakes. We just have happy accidents." And we hope this quote will motivate you to wake up inside your inner artist and build your face with a beautiful piece of art. Good luck, and in the comments below, we can not wait to hear from all of you!