Long gone are the days when matte, shine-free makeup was the norm. If you're an adventurous beauty junkie, you would surely have seen that the glossy makeup look has made a loud and clear comeback as one of the season's hottest trends. We're not just talking about a lustrous, high-shine, plump pout from the '90s. This reinvention of the classic glossy look takes over the entire face.
Today, it's all about the healthy glow, the 'lit from within' makeup that creates a youthful look. This season, ultra-reflective, almost-blinding textures rule on lips, cheeks, and lids with no signs of dimming. Where highlighter is all about shimmer, gloss delivers glass-like glow. We're talking about serious shine, that you can almost see yourself in.
Beauty trends are so much fun to try and require absolutely no long-term commitment. Enjoy experimenting and trying out the buttery skin makeup technique for your next girls' night out or at-home selfie photoshoot.
1. Glossy lid & orange lower lashline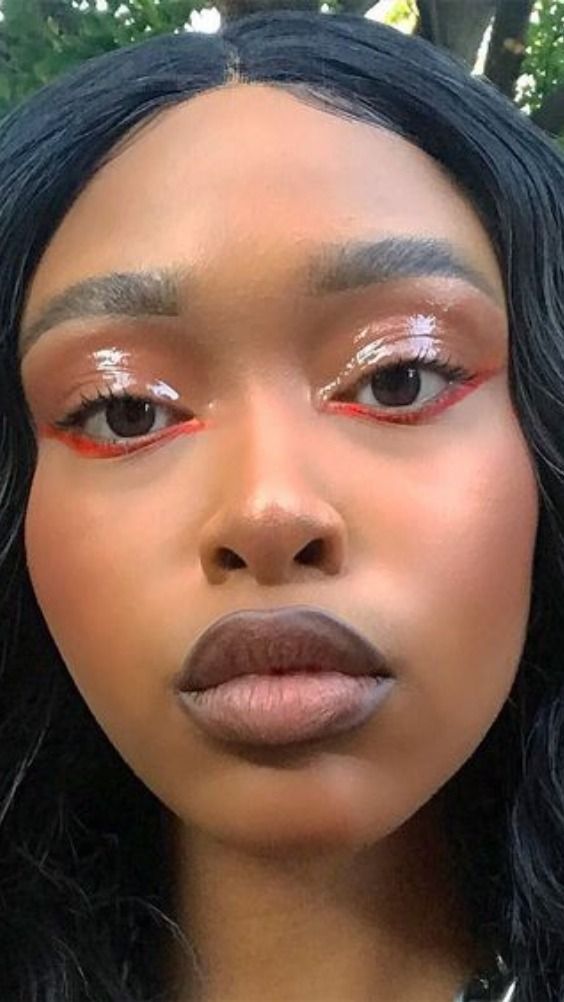 Remember applying that glossy lip gloss between classes in school? Well, it's time to relive those good old days. Create that glass-like effect on your eyes, and add orange eyeliner on the lower lashline. Your eyes will be the spotlight, hence finish the look with some nude lipstick.
2. Glossy lid & red eyeliner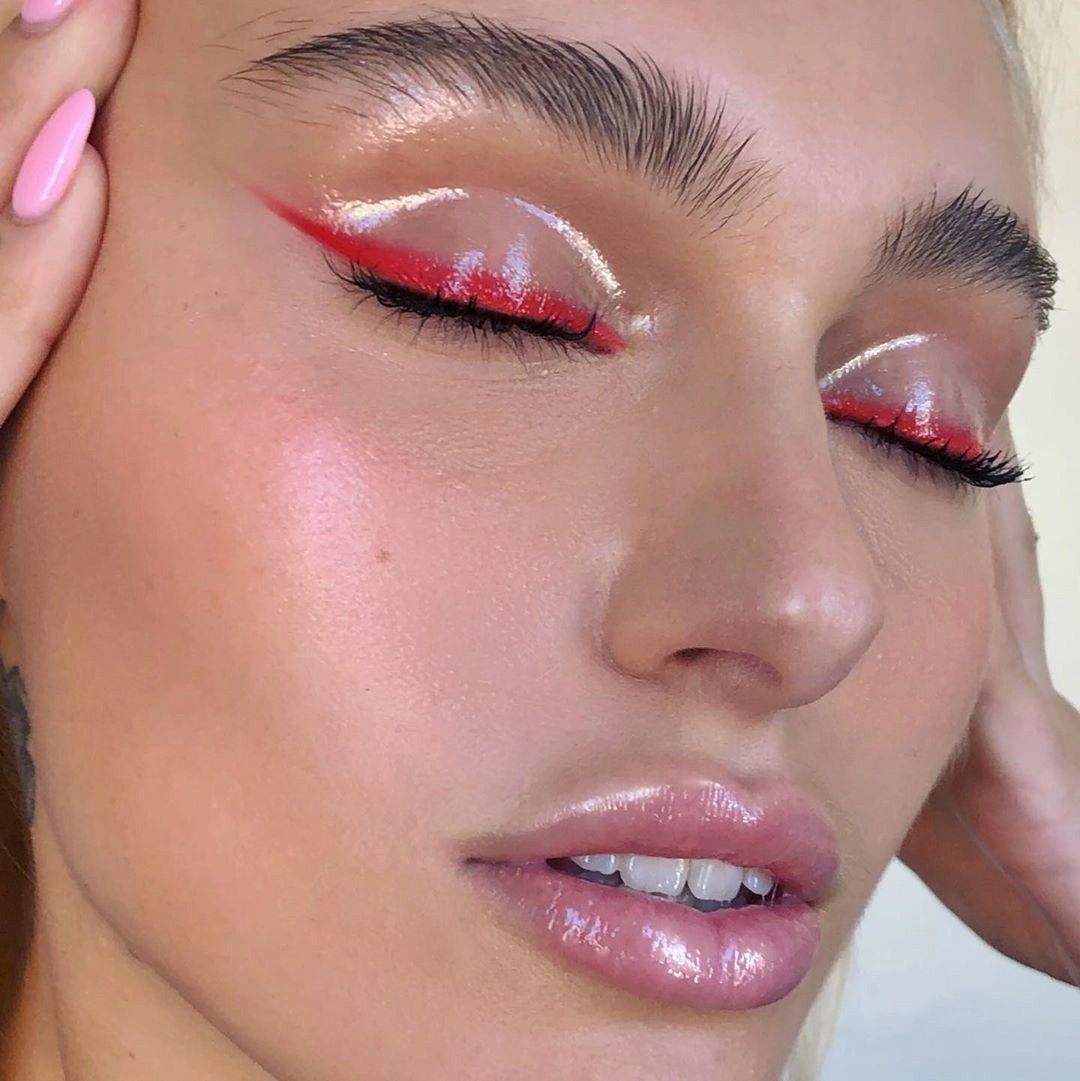 Who's up for some dramatic & glossy cat eyes? To keep things interesting, apply a red eyeliner. With this look, your eyes will dominate. Finish the look with some natural lipgloss and a little blush.
3. Glossy lid with yellow lower lashline & inner corner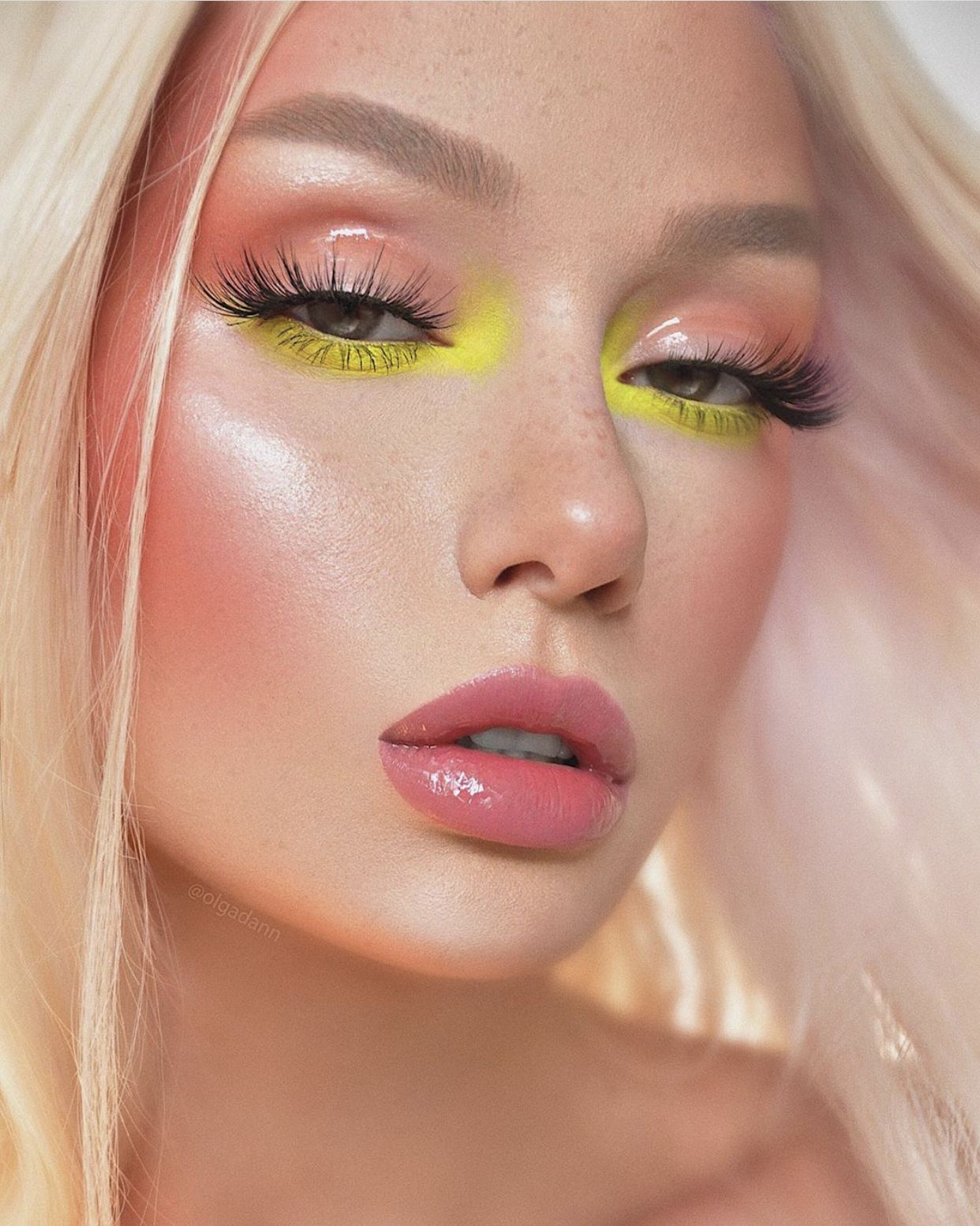 The newest trend on Instagram and hot on the runways, dewy, and glossy makeup is stealing the show. The great thing about glossy makeup is that you can combine it with any color you like without looking over the top, like this yellow eye shadow. The key to that is to keep the lid natural and glowy. That way you can experiment with the other parts of the eye, like on the picture.
4. Glossy lid & black eyeliner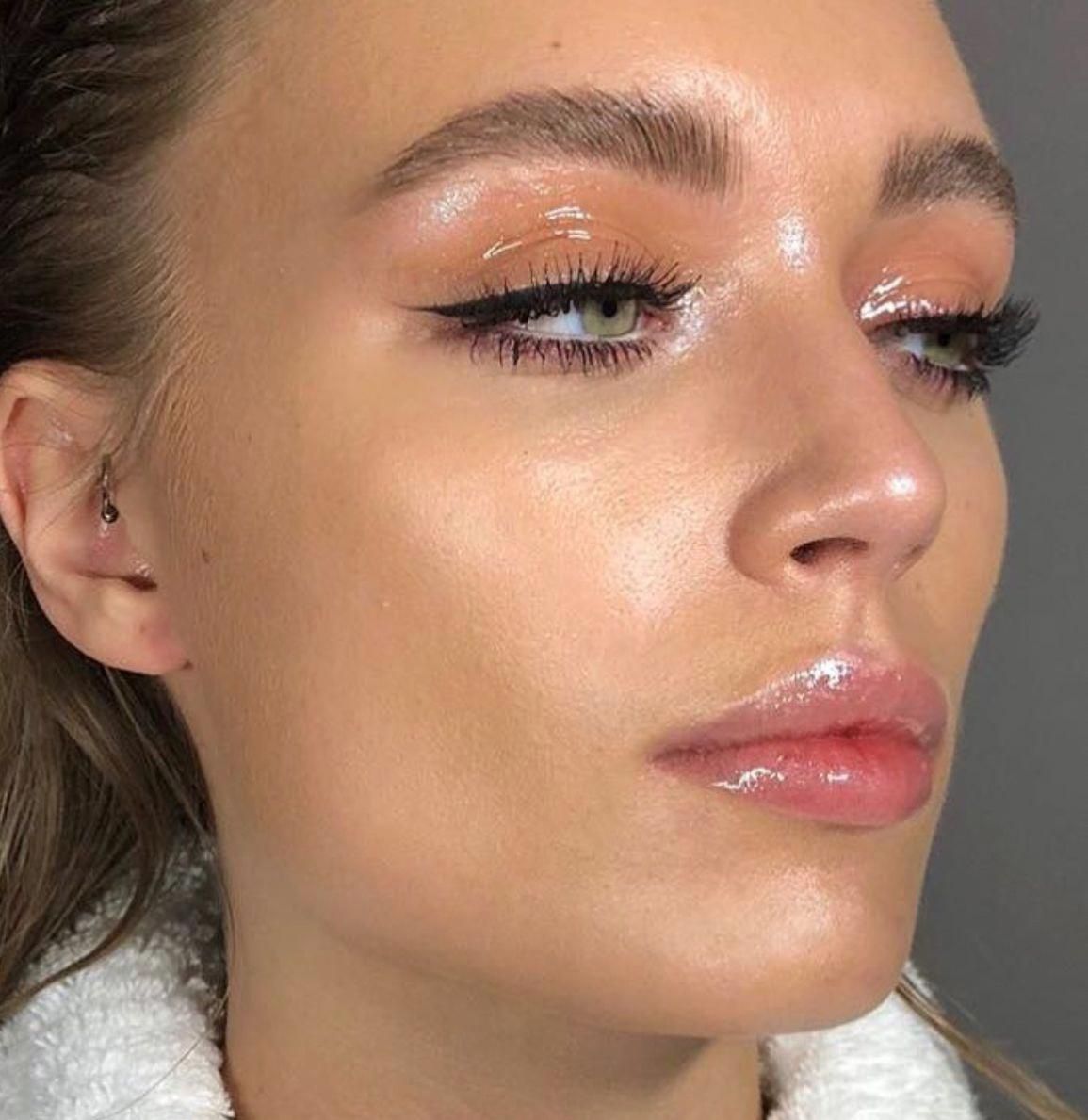 When done correctly, glossy makeup is actually incredibly accessible. And this makeup look is the perfect example of that. Besides rocking the all-time classic "cat-eye", try to emphasize the eye area a little bit more. And the best method for that is, of course, gloss! Finish the look with glowy lips and you are good to go.
5. Pastel blue glossy makeup look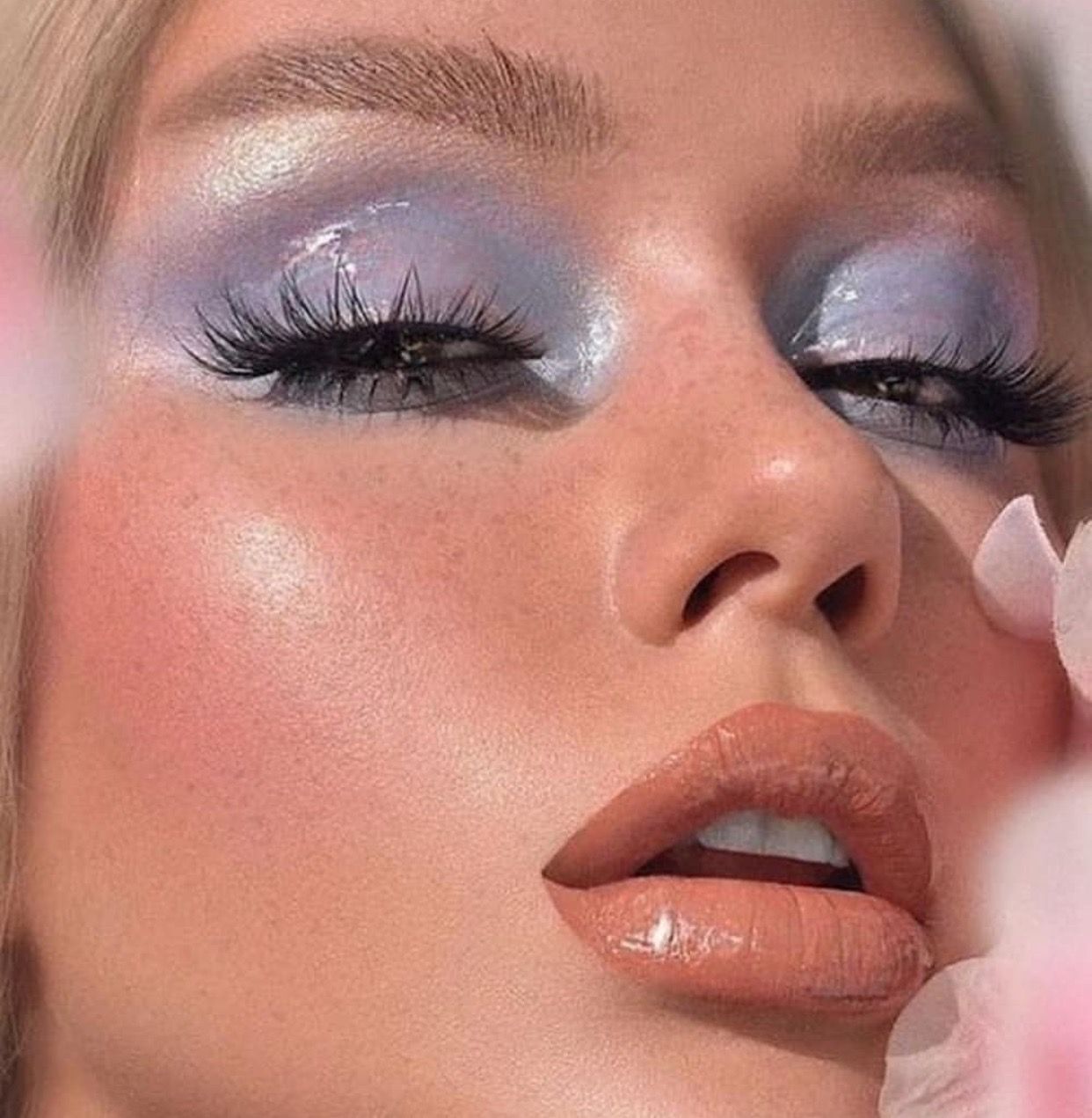 We can't get enough of mod smokey eye look, but you'd also agree that glossy, colorful eye is a breath of fresh air. This pastel blue eyeshadow looks so good glowed upon the lid. All you need to do to achieve this look is to apply pastel blue eyeshadow on the lid, covering it up with a shiny gloss.
6. Peachy pink glossy makeup look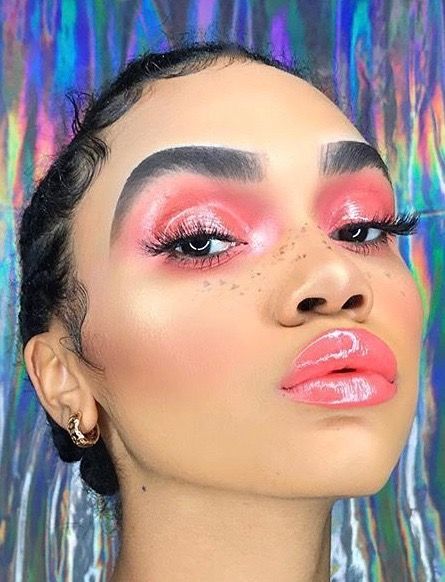 Glossy lids are super easy to achieve. Just grab lipgloss of your choice and swipe it onto the lids. Or pick an eyeshadow shade and mix it with a sheer gloss to get the shiny eye makeup look. Black and brown eyeshadows have been replaced by pink, red and purple, giving a more warm feeling.
7. Glossy smokey eyes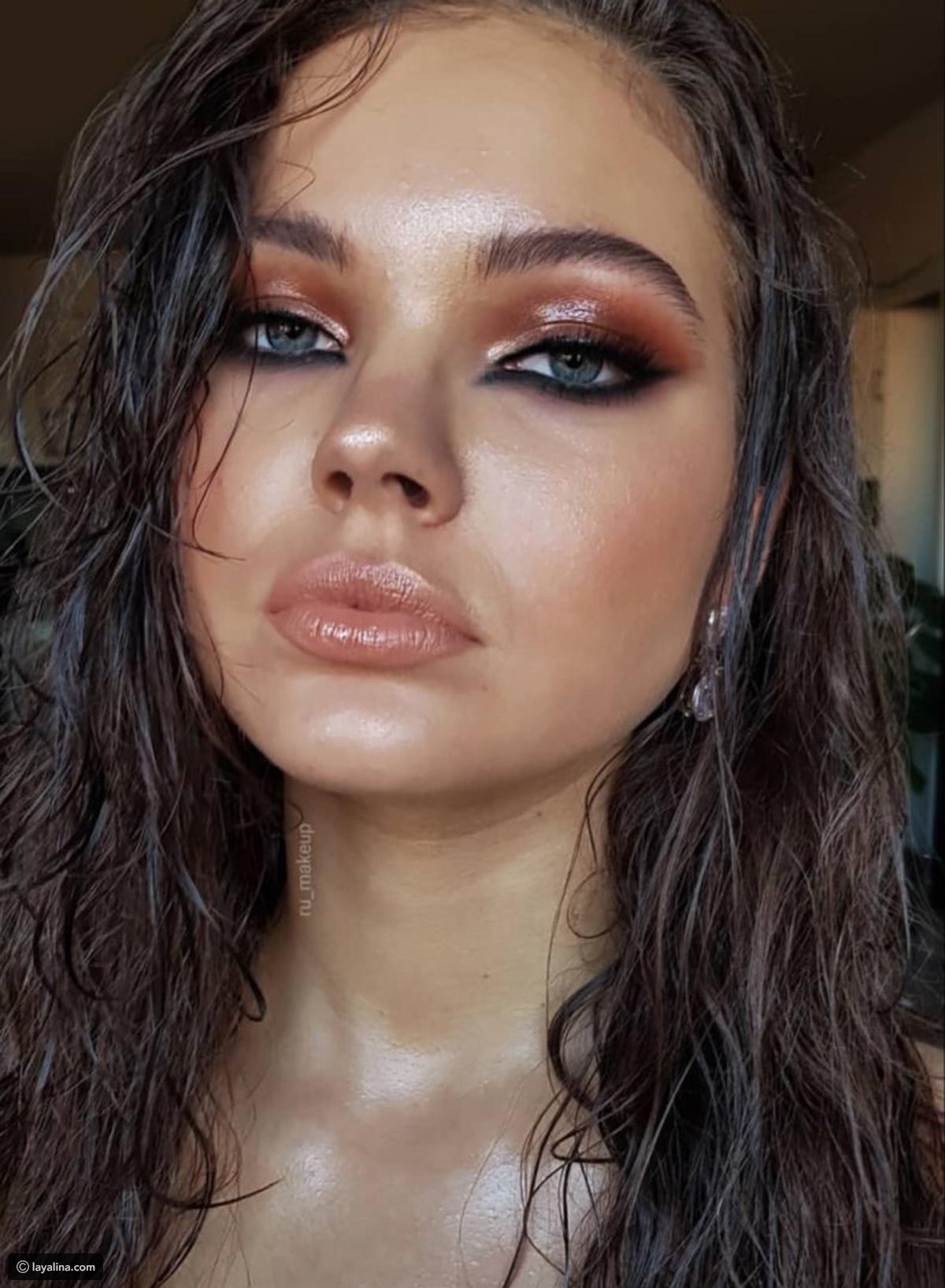 When your skin looks like a crystal clear piece of glass, know that you've achieved the much-hyped glass skin. Who would have thought that glossy makeup look would look so good on smokey eyes, right? This makeup is perfect for celebrations or other formal occasions. However, you can totally wear it on a date night and be a dramatic diva.
8. Caramel glossy makeup look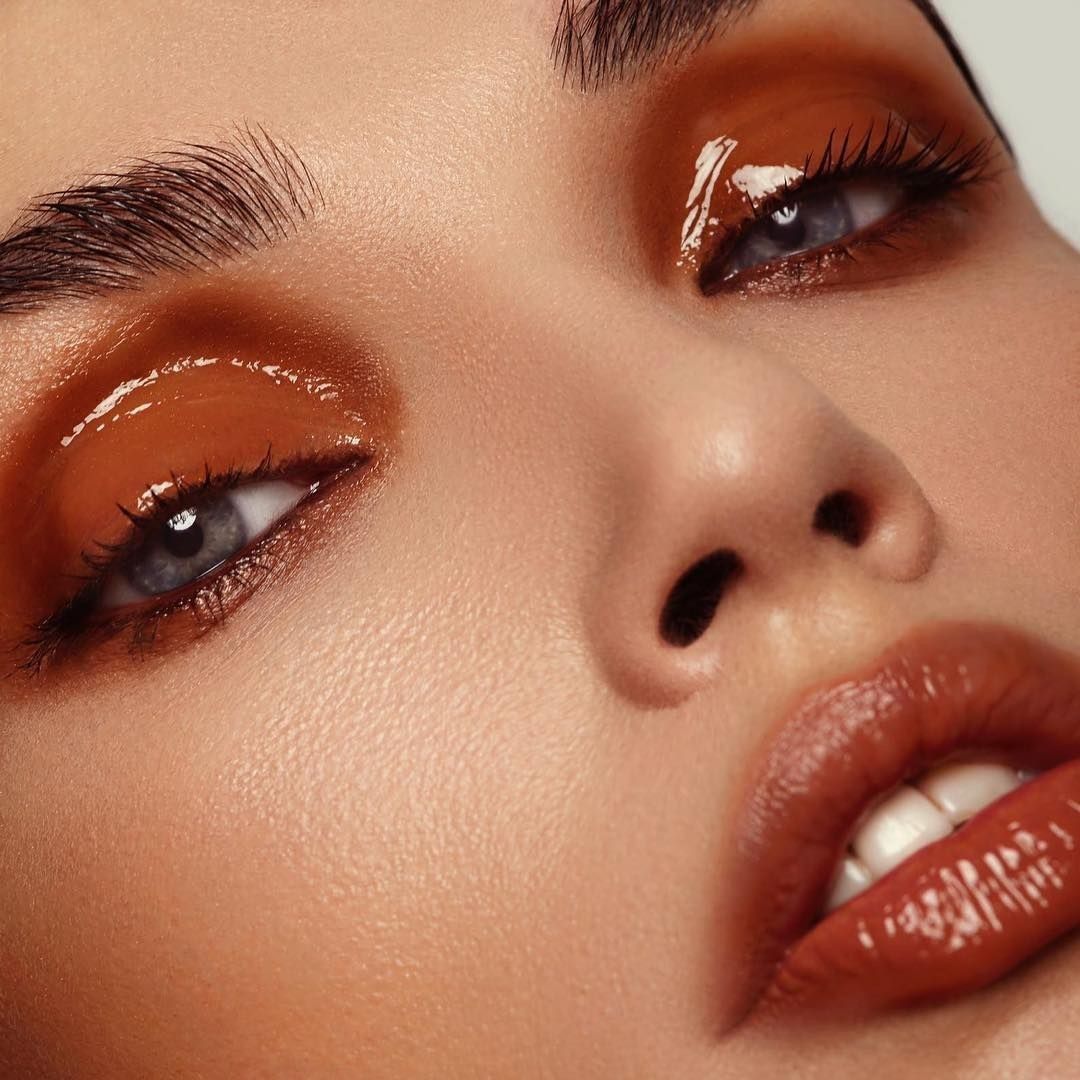 Making a loud and clear come back as one of the hottest trends of the season are glossy makeup looks. This caramel shade is to die for. The color is very warm, adds depts to the eyes and the gloss creates an image of a high-shine diva.
9. Glossy red makeup look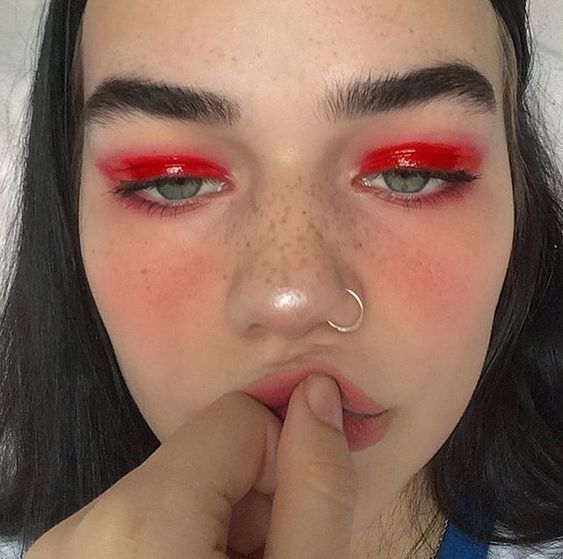 Worlds away from the matte and velvet look, dewy makeup is stealing the show this season. And this red glossy makeup is so dramatic that it looks almost theatrical and we're utterly in love. Why be part of the ordinary, when you can have a bombastic makeup like this?
10. Glossy lid with orange lower lashline & yellow inner corner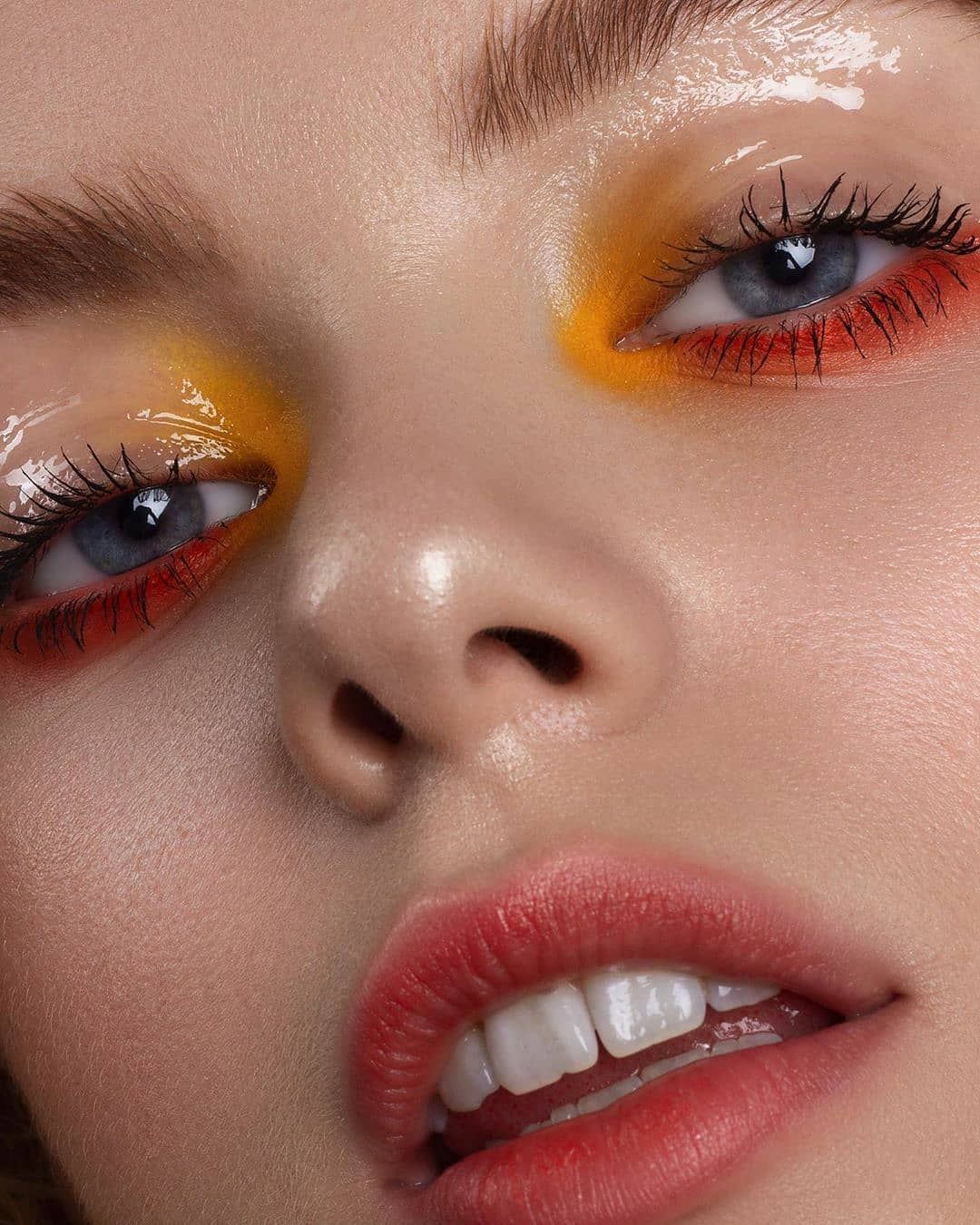 A fresh, illuminated, and shiny look, the glossy makeup trend is all about that glazed finish without looking sticky. Experiment with colors all you want, because this makeup trend has a room just for that. Use a dark, deep orange for the lower lashline and vivify the look even more by adding yellow in the inner corner eye area. Finish the look with mascara and there you go, you have created a magnificent makeup look.
11. Green glossy makeup look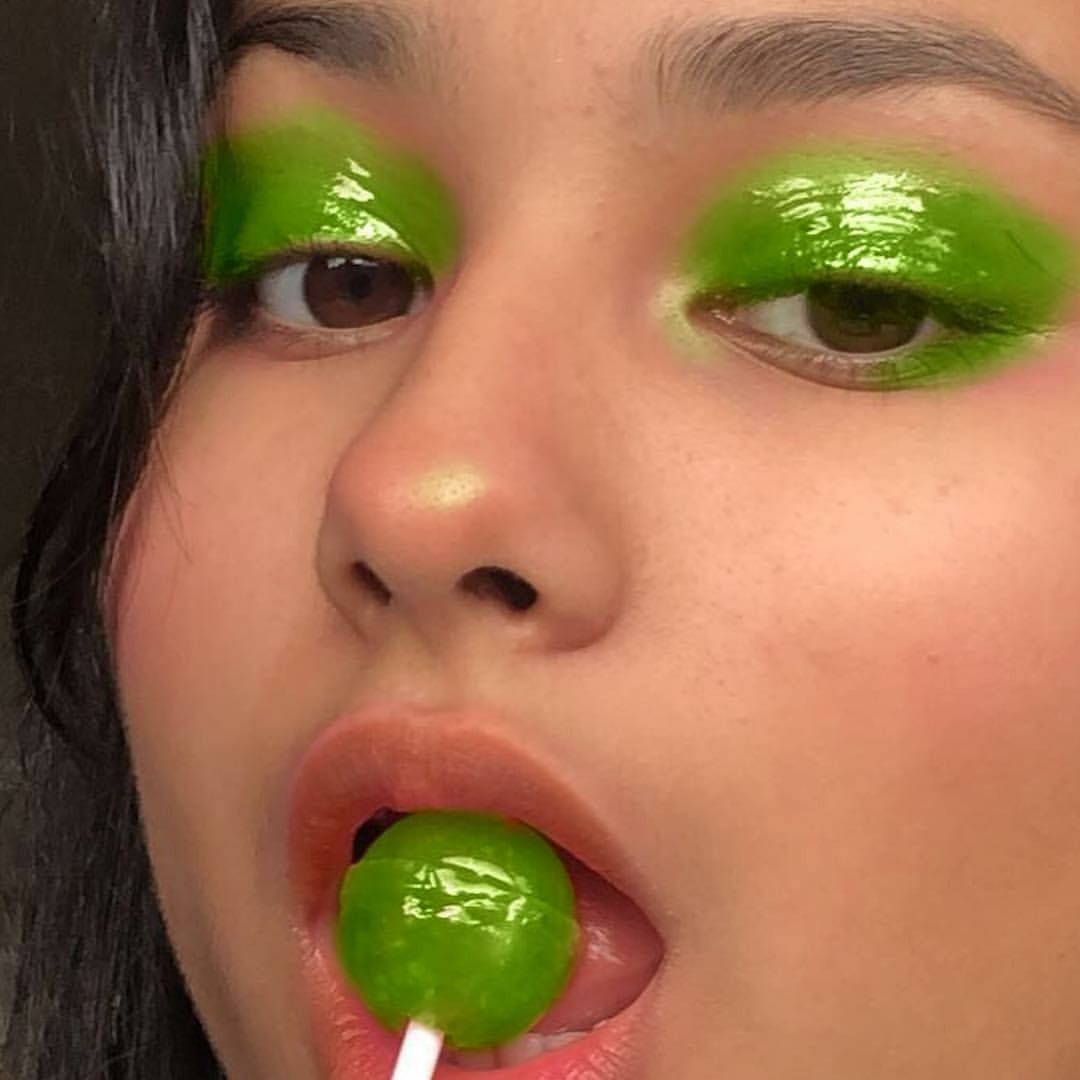 A breath of fresh air in the beauty circuit, glossy eyelids have replaced dark smokey eyes as the pick of the season. Combine your favorite green eyeshadow, and create this look. Add gloss above the eyeshadow and mesmerize the day with your unique eyes.
12. Cherry-pink glossy makeup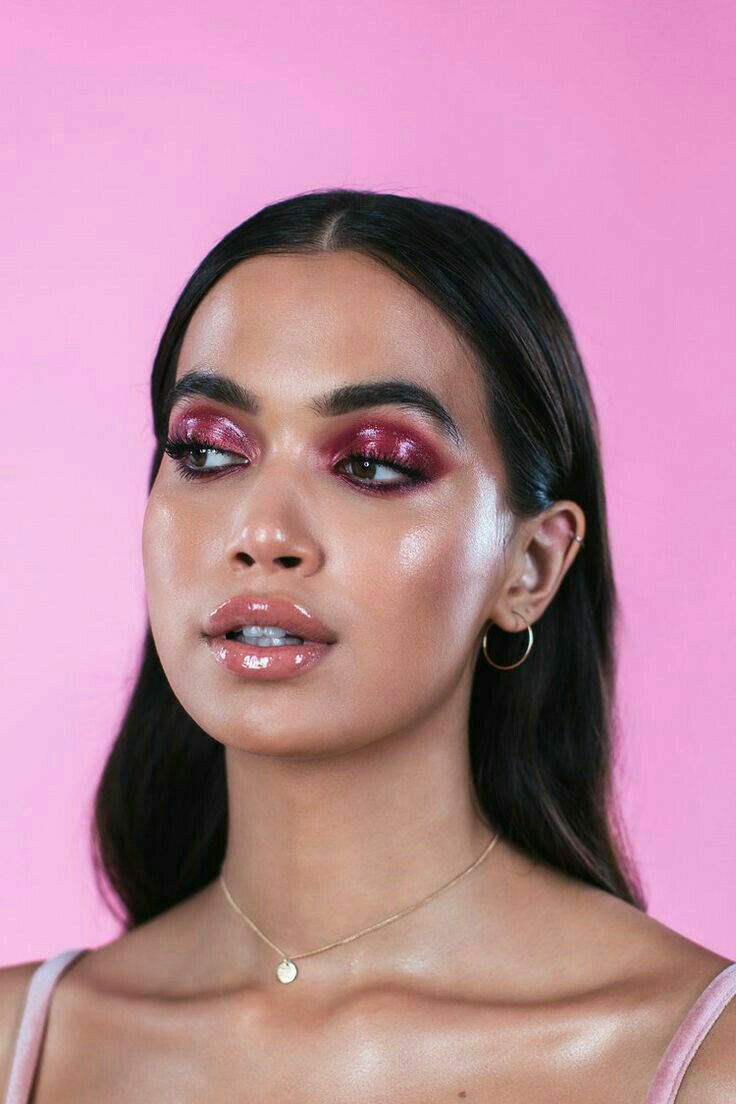 Another beauty trend has made it to the forefront of the beauty world—pink.  It looks good on literally everyone and comes in so many shades. And this cherry pink shade is the perfect pop of color in the final throes of summer. But if you're ready to take this look to the next level, let this photo be your guide and add a little shimmer to it.
13. Orange glossy makeup look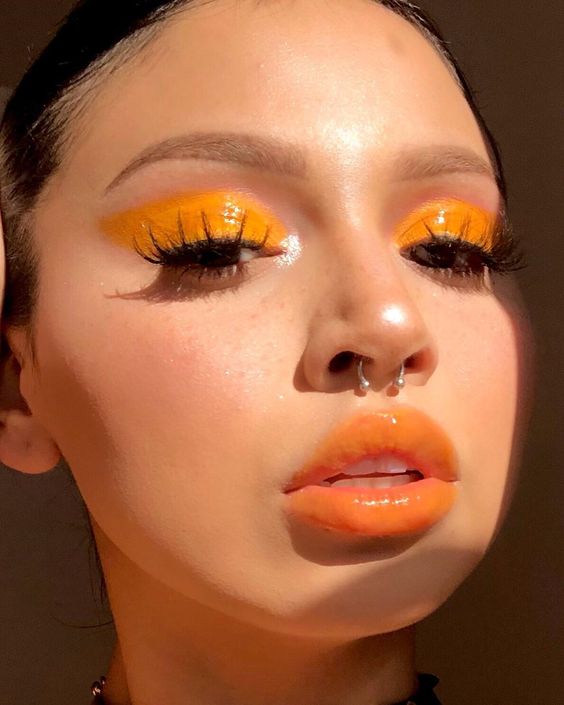 On the hunt for a new makeup trend to try? Why not branch out and rock a colorful shade of eye shadow? Orange eyeshadow, in particular, is seriously on-trend and the perfect way to add some color to your makeup look. Accomplish the wet look by adding a gloss on your lids and lips and get that magnificent sunset look.
14. Glossy lids with bold lips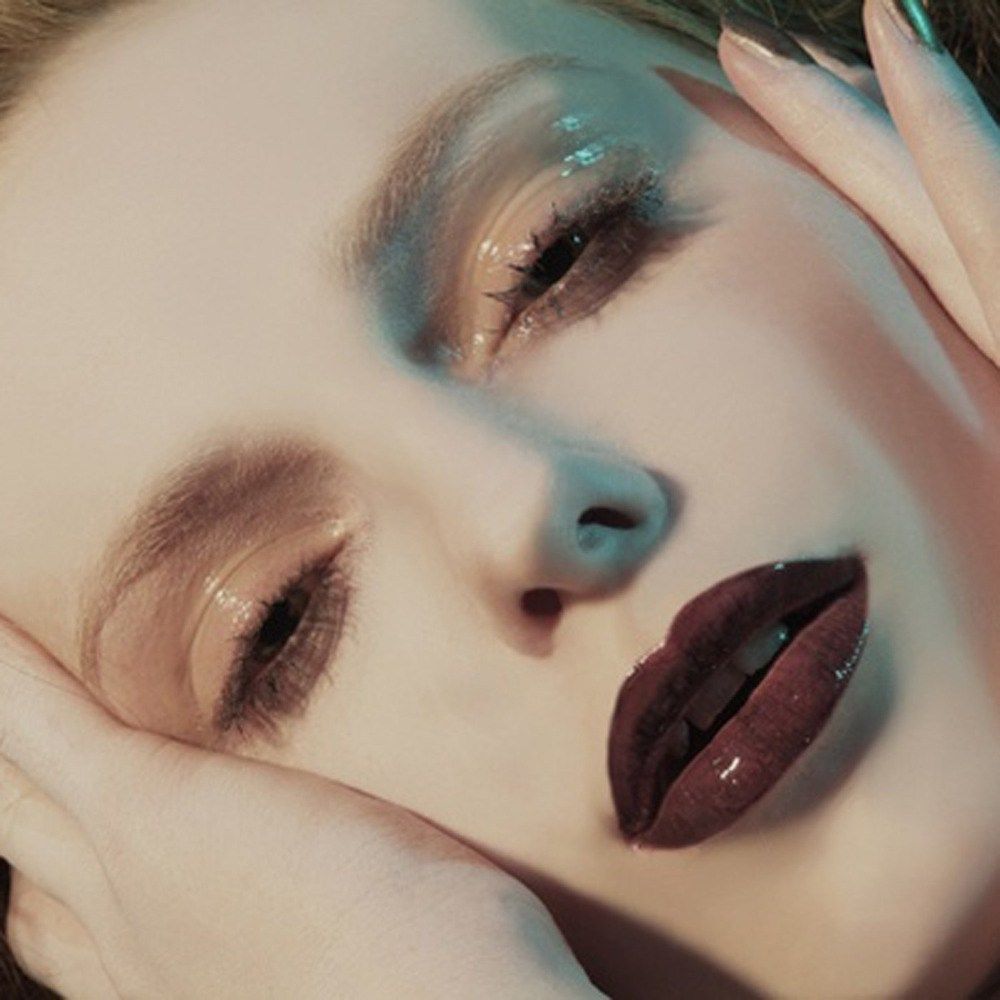 The easiest way to incorporate gloss into your makeup look is by creating a soft eyeshadow look. Add a nude, natural eyeshadow for the glossy lids, and accompany it with bold colored lips.
15. Glossy aesthetic purple makeup look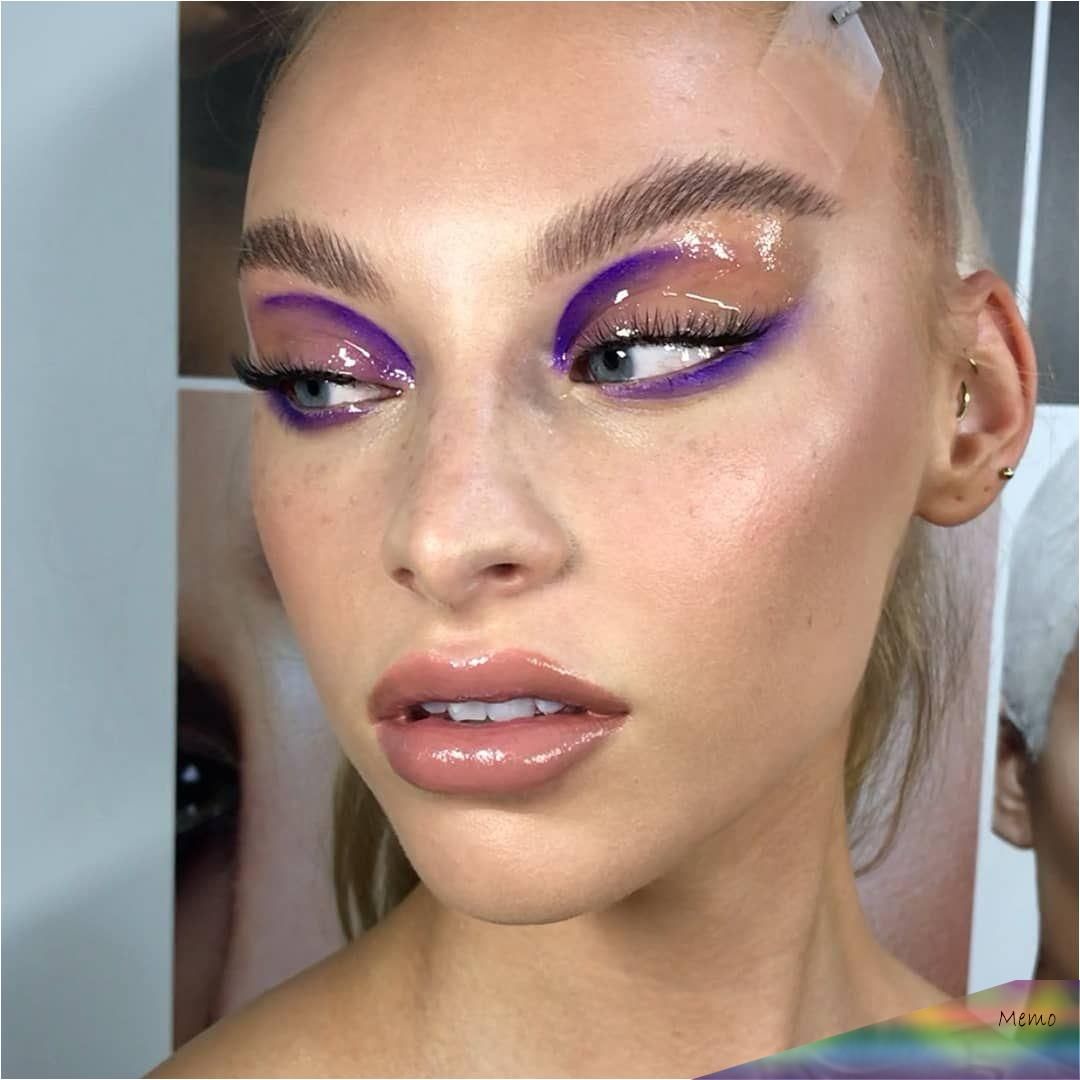 Say goodbye to your usual browns and blacks with a sheer wash of purple instead. Anchor the soft look with a strong dash of free-flowing eyeliner above the top of your lids and along your lower lash line. Add gloss on your lids and lips for a real dramatic look.
16. Yellow glossy lids & red glossy lips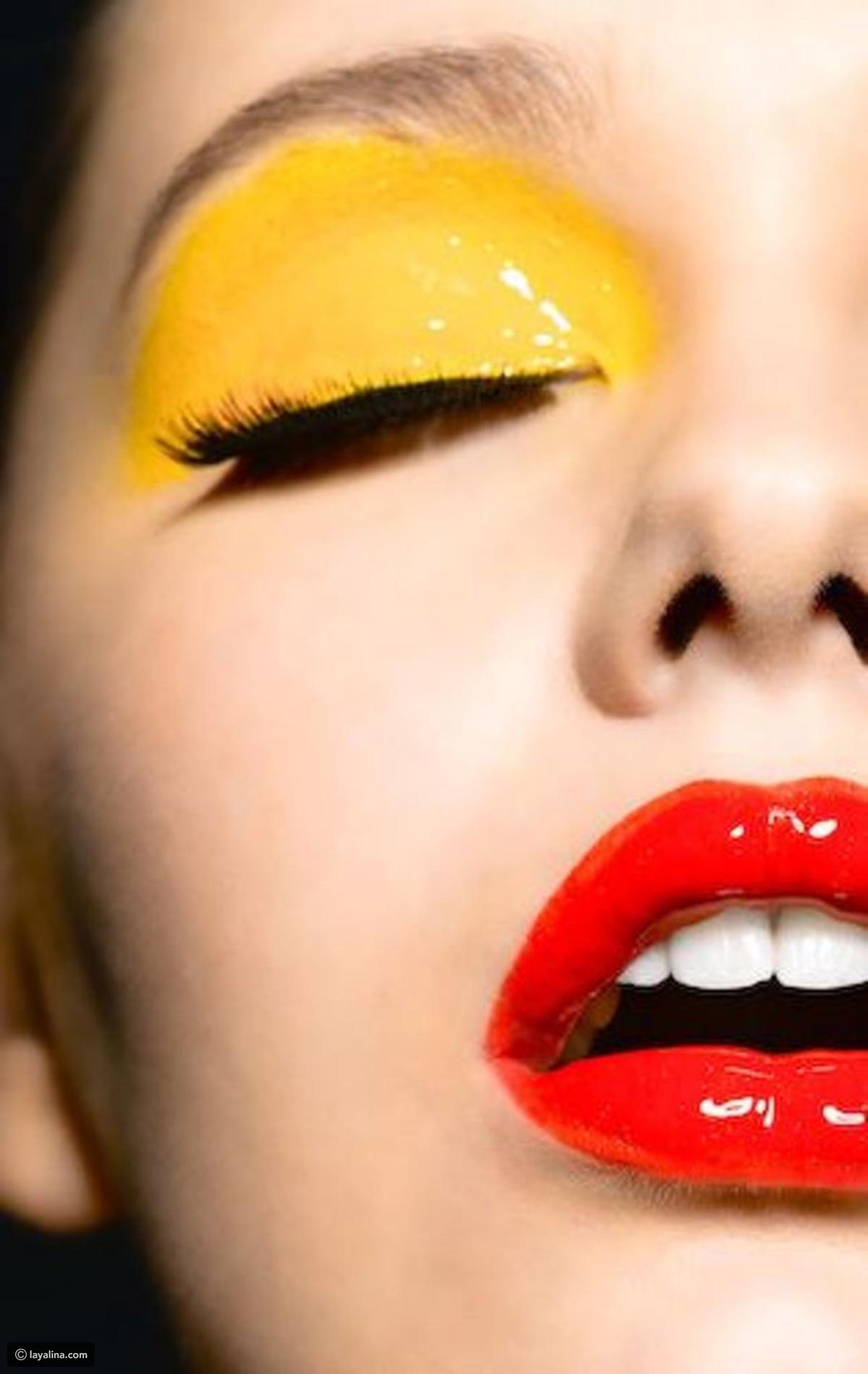 Our eyes are constantly on the lookout for new beauty treatments, makeup products, and new trends. And this glossy makeup look is to die for. A very eye-catching and dramatic style, featured by yellow eyeshadow and eyepopping red lipstick.
17. Glossy lids & cherry pink lower lashline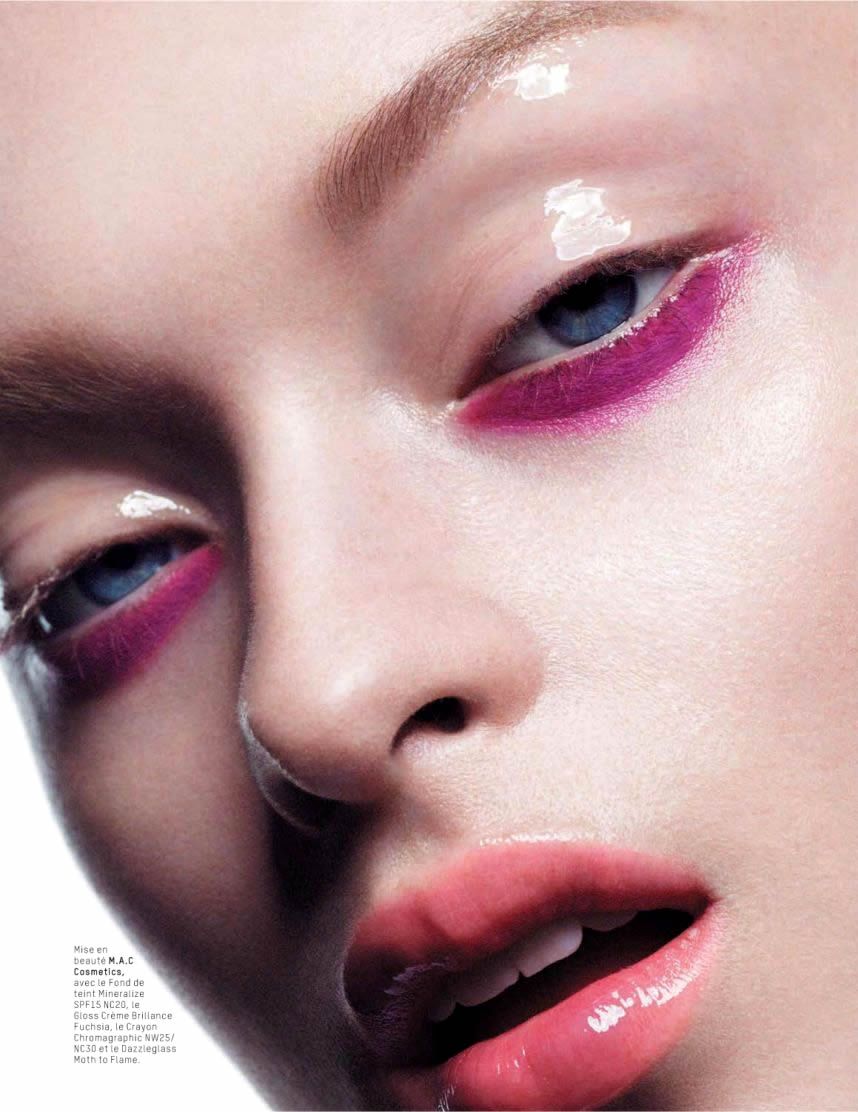 Equal parts pink and purple, a cherry pink will make your eyes pop without looking too extreme. If you are feeling artsy, add cherry pink eyeshadow on the lower lash line, accompanied with gloss on the lids. And Better yet, tie the look together with a coordinating blush and lip color.
18. Coral blue glossy makeup look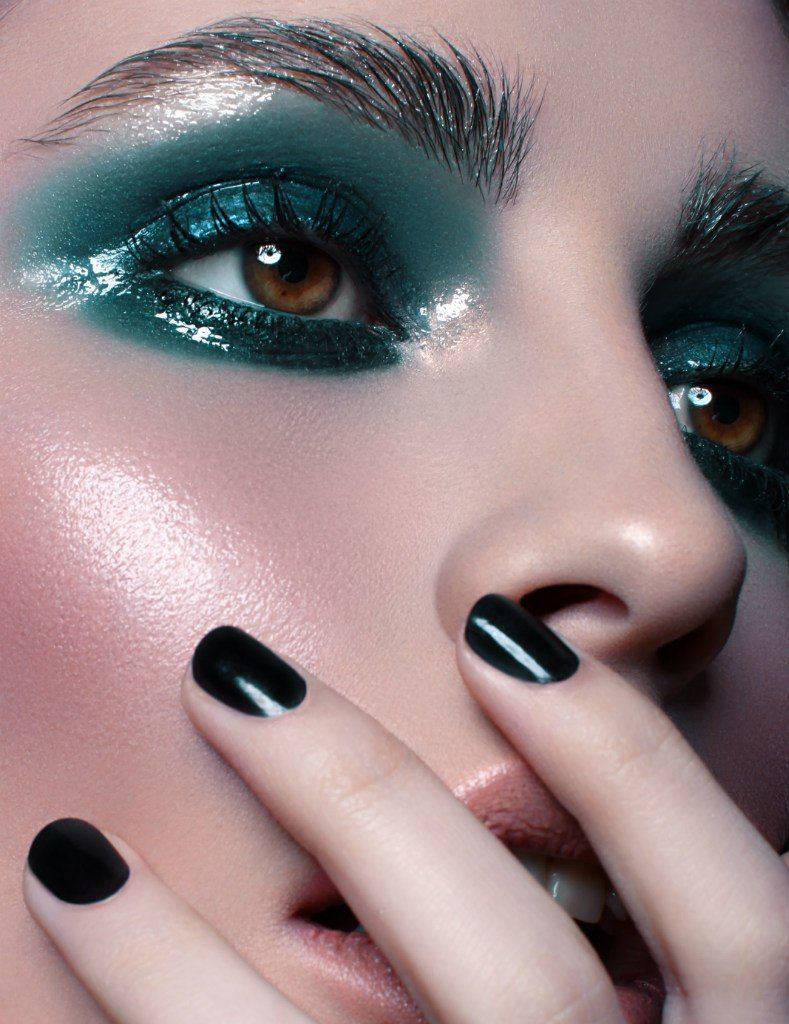 This retro blue eyeshadow is somehow bright and diffused at the same time, like a splash of glistening pool water. We only have one word for this look: breathtaking. With this shine and this mesmerizing eyeshadow, you will look like a straight-up mermaid.
We hope you are inspired by these magnificent ideas for the latest makeup trend. Why don't you pick one idea and try it out on yourself? Speaking of ideas, which one was your favorite? Leave a comment below!