Before we dive into Thanksgiving and Christmas, there's another holiday to check off the list: Halloween. Halloween has its origin in the Celtic Samhain, which means "the end of Summer and of reaping." It was believed that during the Samhain the line that separates the "world of the living" with the "world of the dead" narrowed down, letting spirits cross from one side to another. In fact, it is believed that this tradition of disguising was meant to scare the evil spirits away.
Due to that, we tend to associate Halloween with disguising and being scary. But the truth is that not all countries do it this way. In many places, both children and adults take the opportunity to disguise as anything they can imagine, even though it may not be related to terror: princesses, superheroes, cartoons… any topic is good to enjoy 'trick or treating.'
Here are 26 ideas that are a definite must-try for this Halloween. Prepare your makeup tools, and have fun!
1. Neon-pink Clown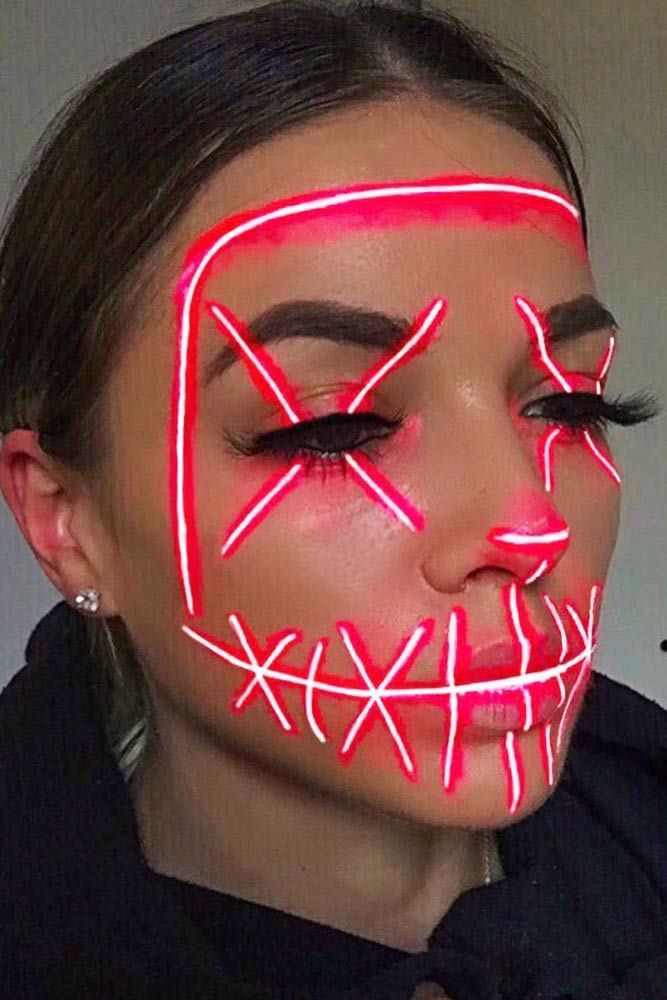 Celebrate the fun and joy of Halloween and create this electric look. Be the fearful, glamorous skull that will glow from far away. This mask is perfect for Haloween parties, where you will dance endlessly under the neon lights.
2. Neon-green skull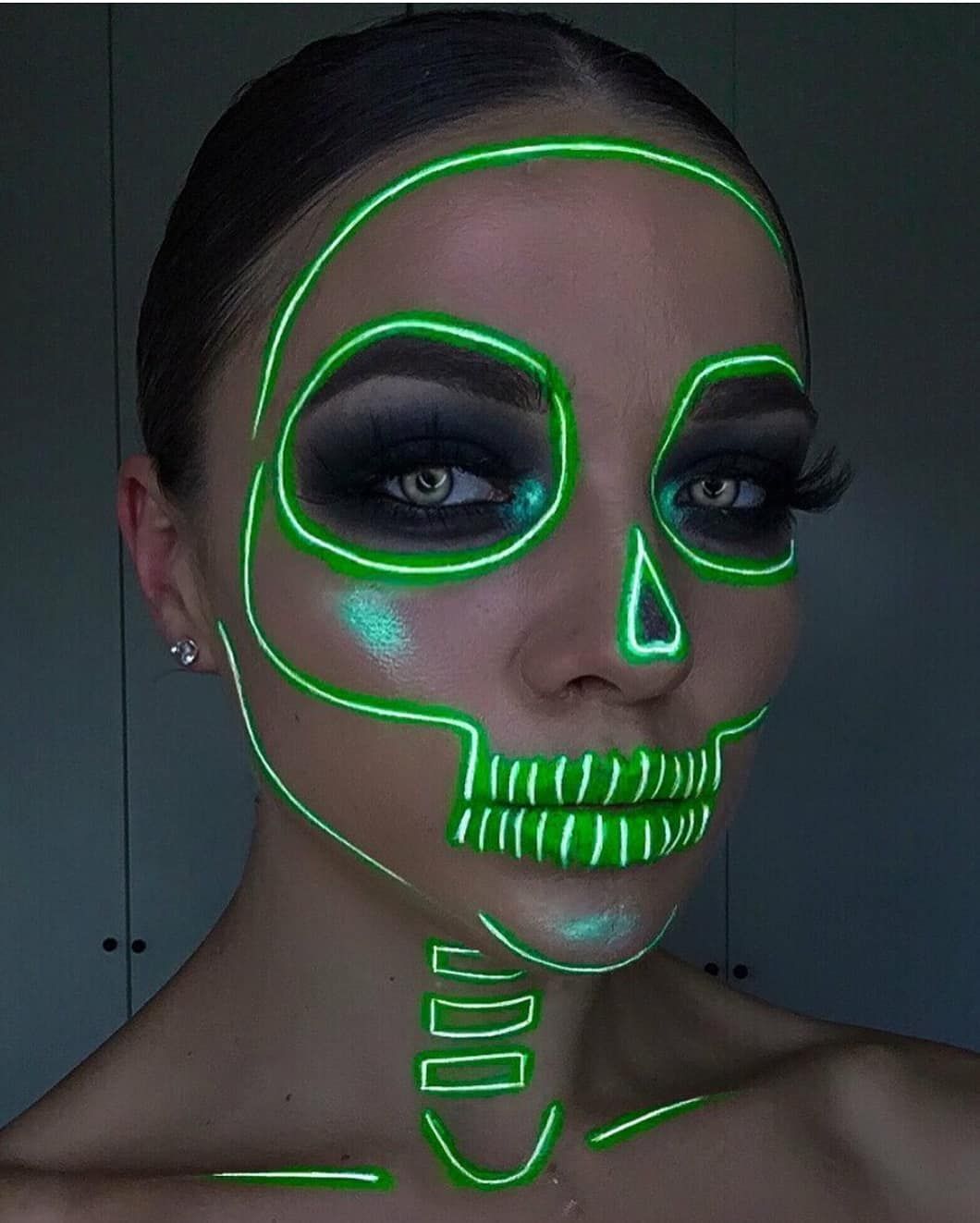 If you want a look that's mysterious with a bit of a darker edge, this skull makeup look is both dark and alluring. This sexy take on skeleton makeup is daring and flirty. And the neon-green is definitely an eye-catching feature for Halloween.
3. Wonder Woman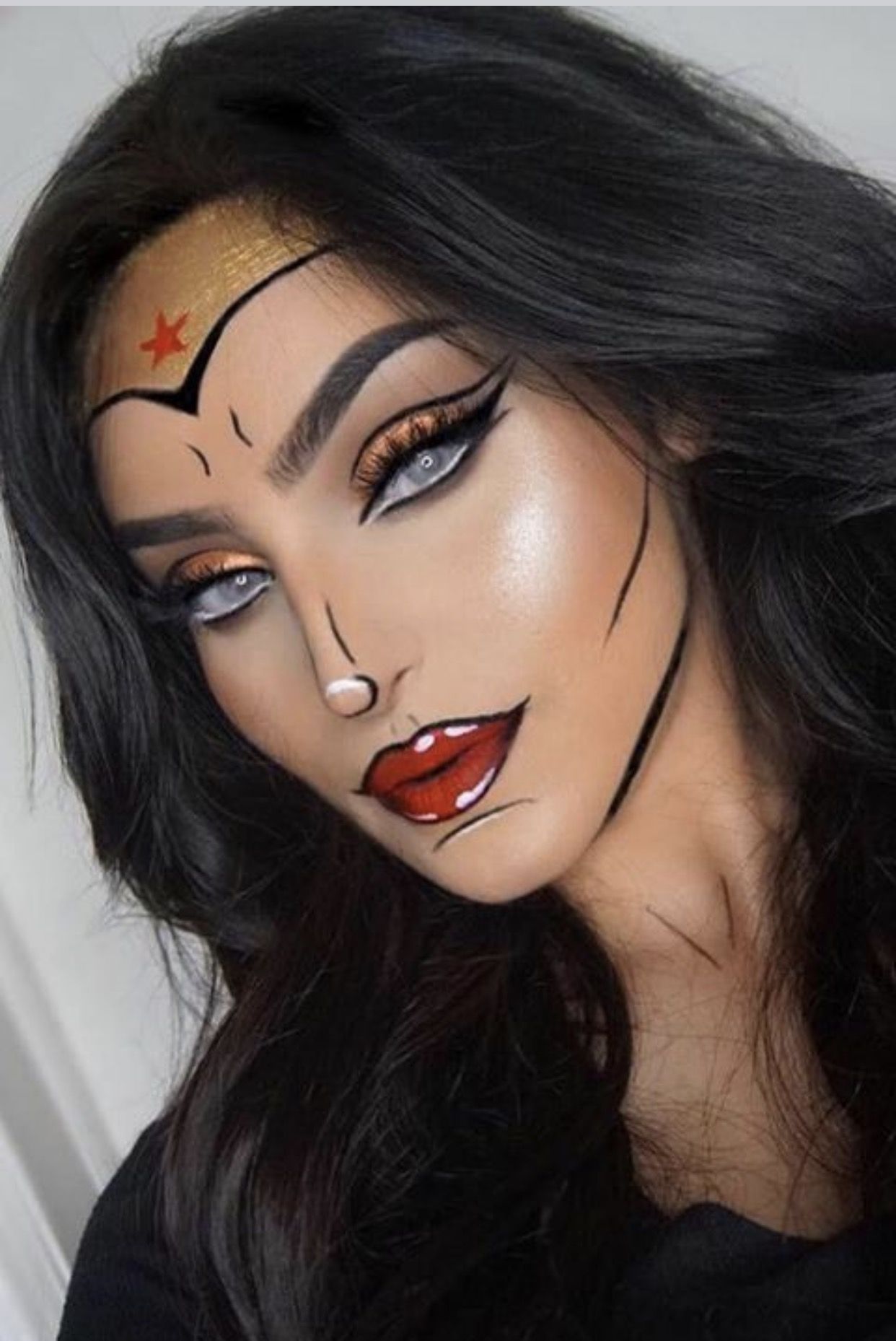 Wonder Woman has been a role model for women of all ages for years. This sexy comic book version of the Wonder Woman look will show that you are a strong, sexy, and independent woman.
4. Cracked Snow White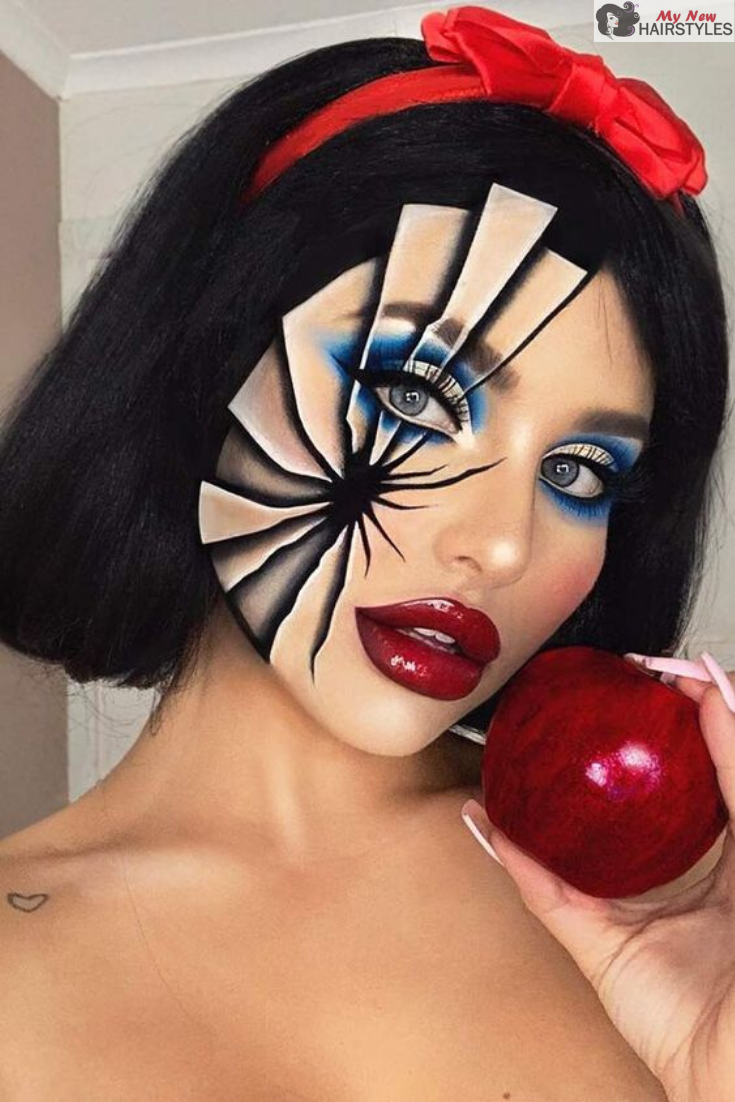 Who said that Snow White can't look creepy? For an easy, sweet, and nightmarish look, copy this pretty Snow White makeup. The cracked mirror-face looks so realistic that it makes you doubt whether you really see a real person or a giant kid's toy. Try out this look, it will make you look blood-chilling.
5. Wired technician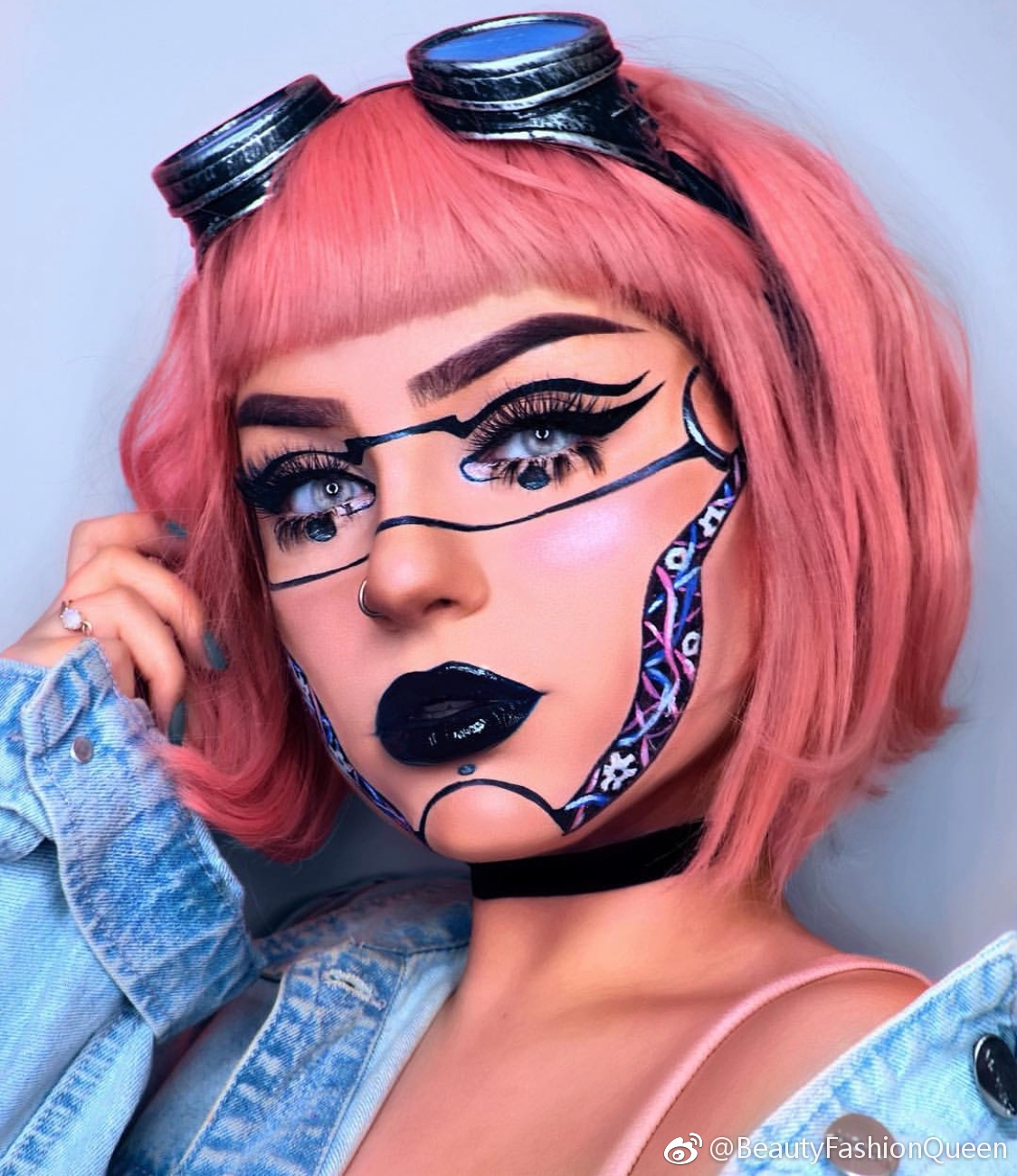 It's time for setting your creativity to run wild and free. Experiment with colors, shapes, and outfits. Create this wired makeup look that is very unique, fun, and colorful. You will look like an interdimensional space traveler.
6. Jack O'Lantern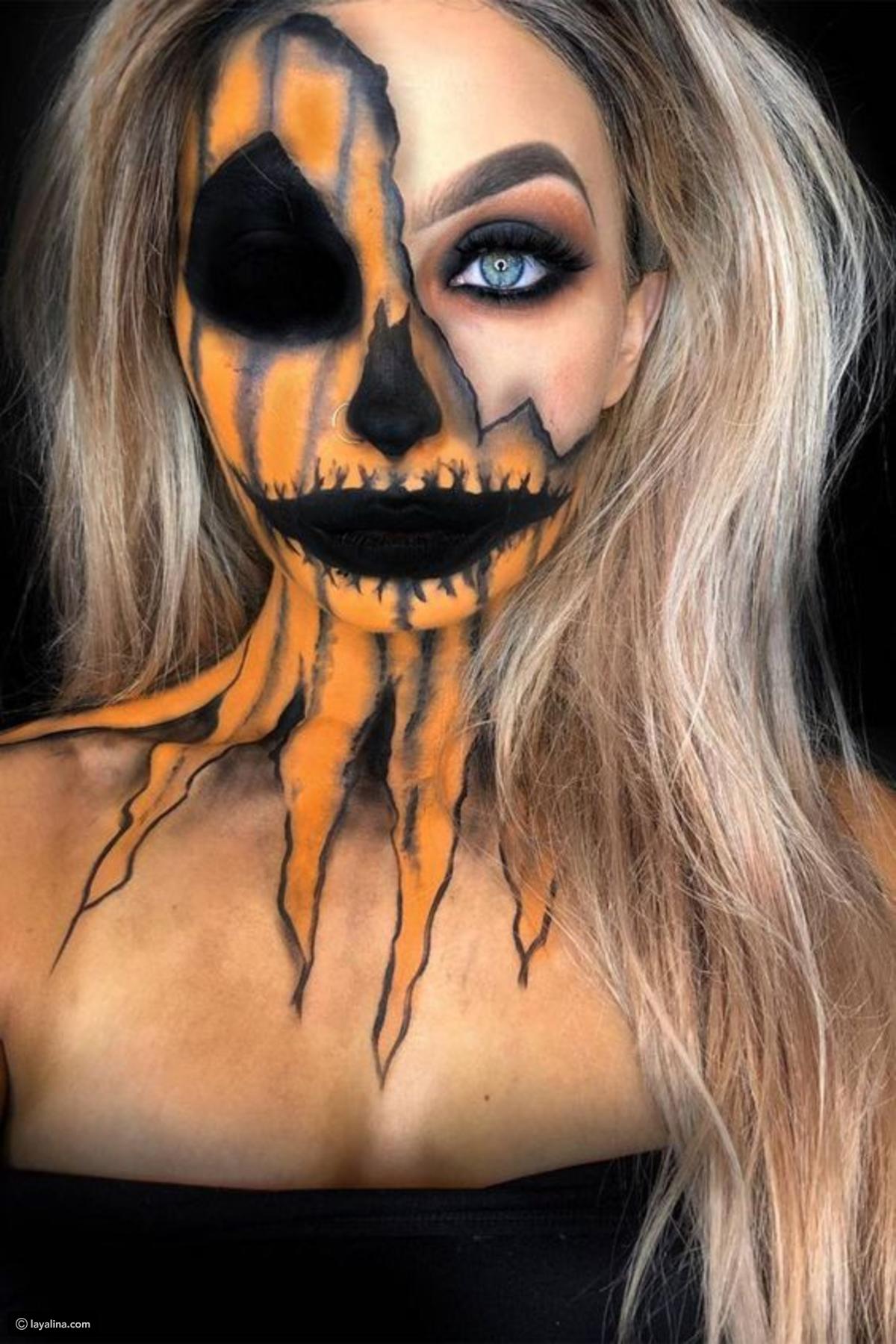 It is quite hard actually to stand out from the crowd on Halloween with the pumpkin makeup, as pumpkins are literally everywhere. However, if you engage some creativity and individuality, you can come up with the best Halloween makeup like this one. Try to make your pumpkin face scary yet pretty at the same time, which will force everybody to stare in awe.
7. Pumpkin Clown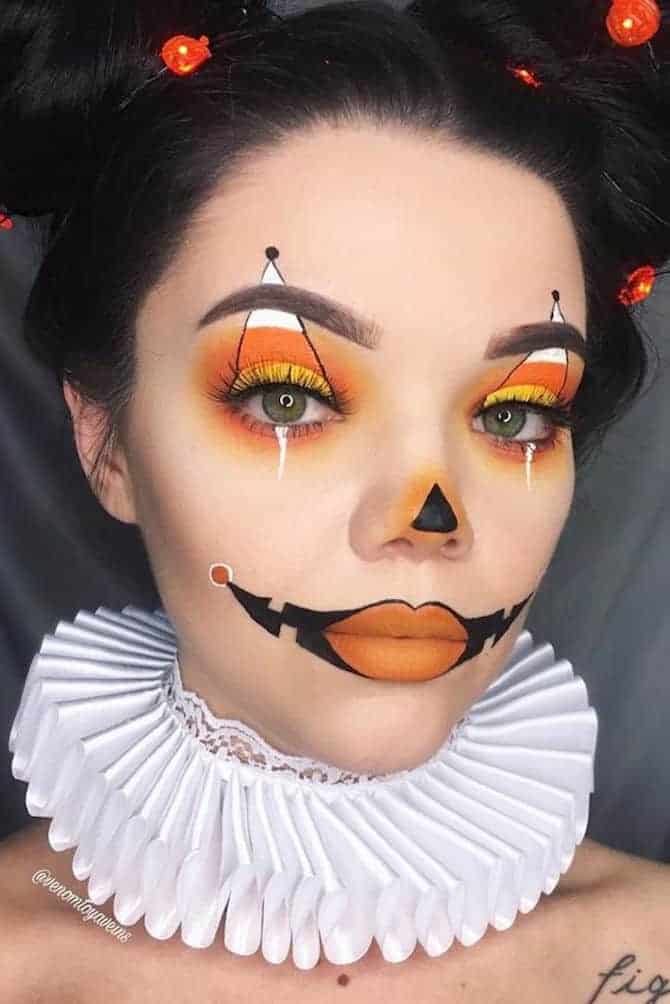 Obviously, the pumpkin clown makeup does not necessarily have to be scary. You can go for a sexy and pretty look instead. Accentuate your beautiful facial features while adding the most prominent attributes of the character. The cute pumpkin clown makeup clearly demonstrates how deceitful appearances can be, as who knows what is behind that lovely face.
8. Chucky doll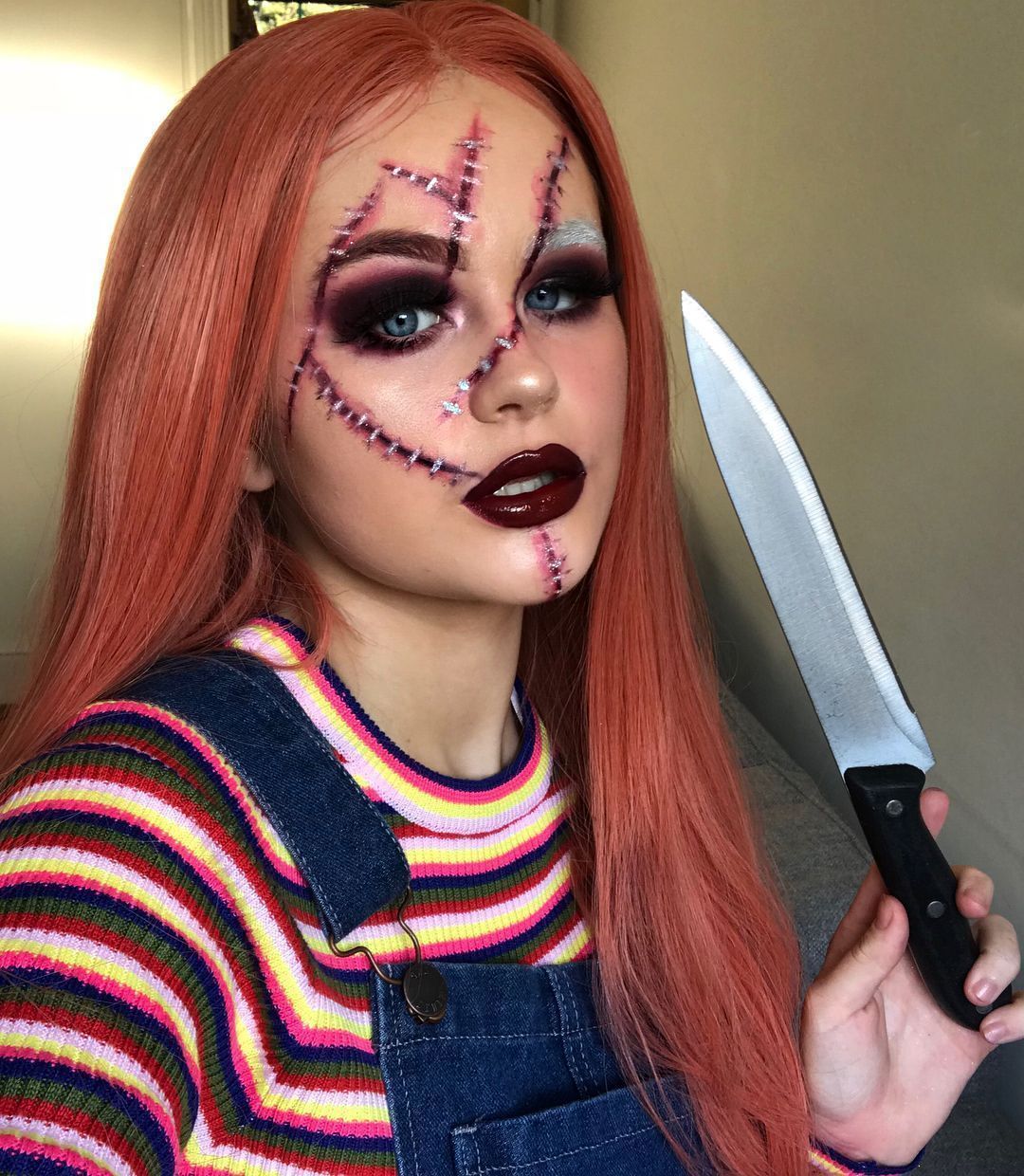 Chucky doll is a definition of the terrifying creature that is hiding under the bed. So, why don't we flip the tables and BE the doll instead? You will nail the Halloween spirit with this costume.
9. Neon-red lady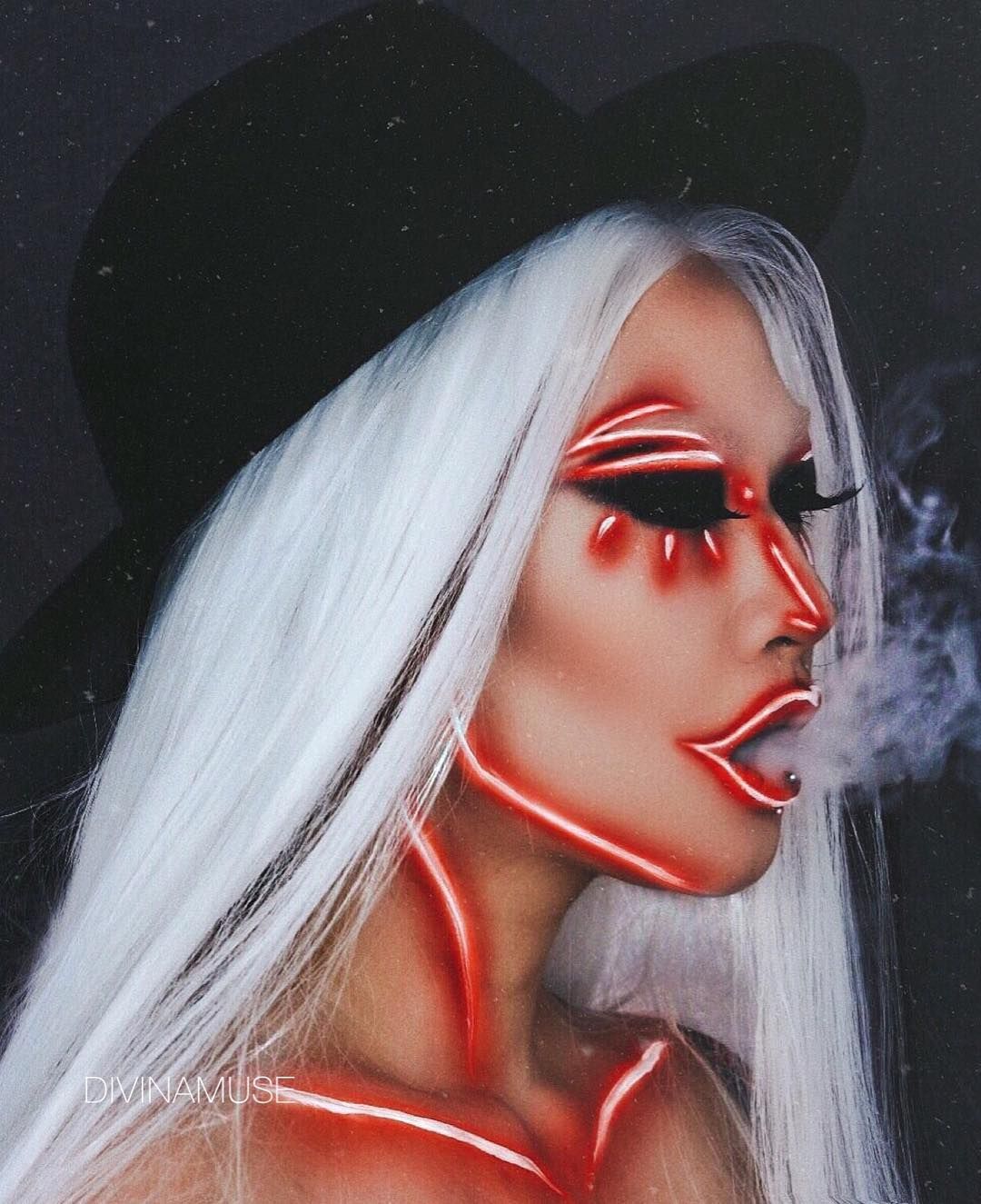 This is a great Halloween makeup idea that could be carried out without any additional costume elements. Just the profile and hair are amazing enough!
10. Coralline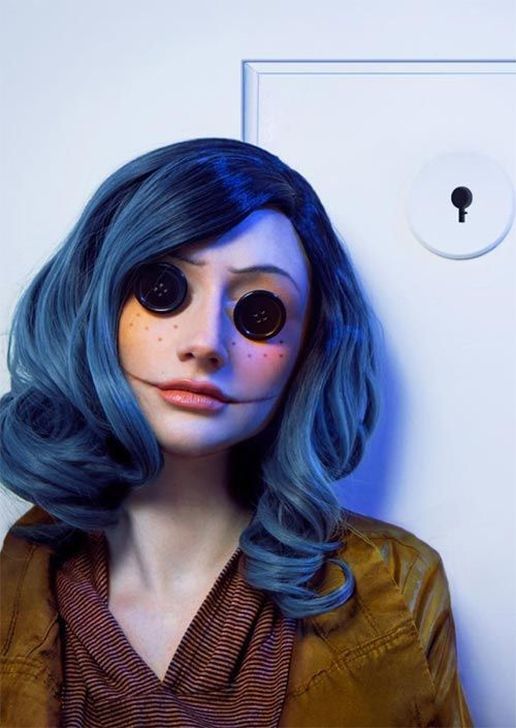 She is one of the coolest characters created so far. She is a great option for a Halloween makeup look with really interesting elements. If only Coraline let her sew the buttons! This is a great makeup idea for Halloween, where you could decide to be the doll or Coraline as the 'other mother's' daughter.
11. Galactic skull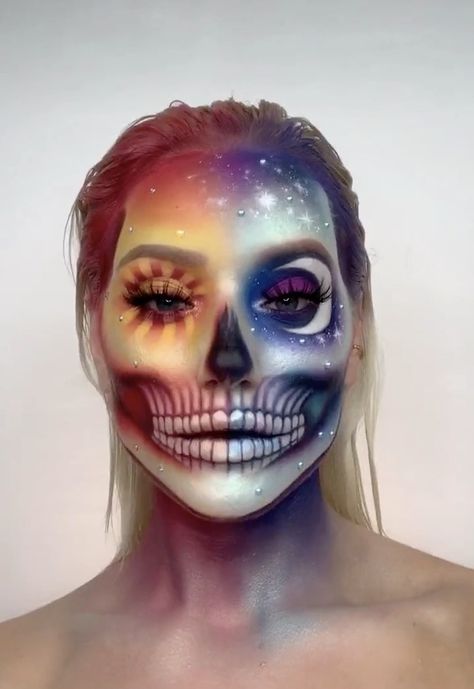 Night meets day in this hand-drawn makeup look. If you want to embrace the darkness within, this skeletal facial art is dark and daring. And the galaxy details give it a bit of a sensual vibe. However, the stitched lips take the creepy vibe to the max.
12. Avatar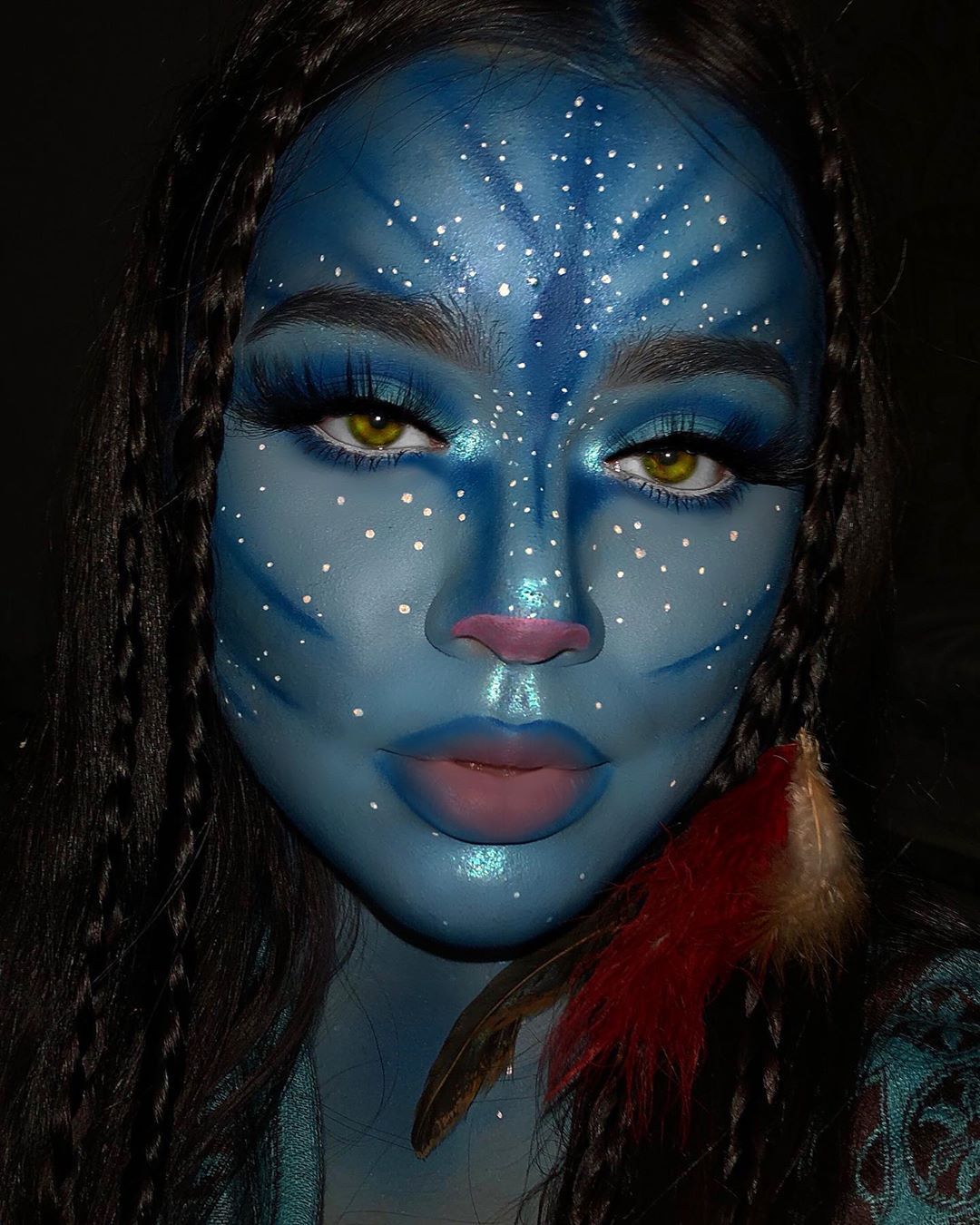 May your Halloween costume be out of this world like this Avatar makeup. If you are mesmerized by this look like we are, gather your makeup tools, and get ready for blue paint overdose! Avatar characters stayed forever in our hearts, and it's always a good idea to express our admiration for them on a Halloween night.
13. Redheaded zombie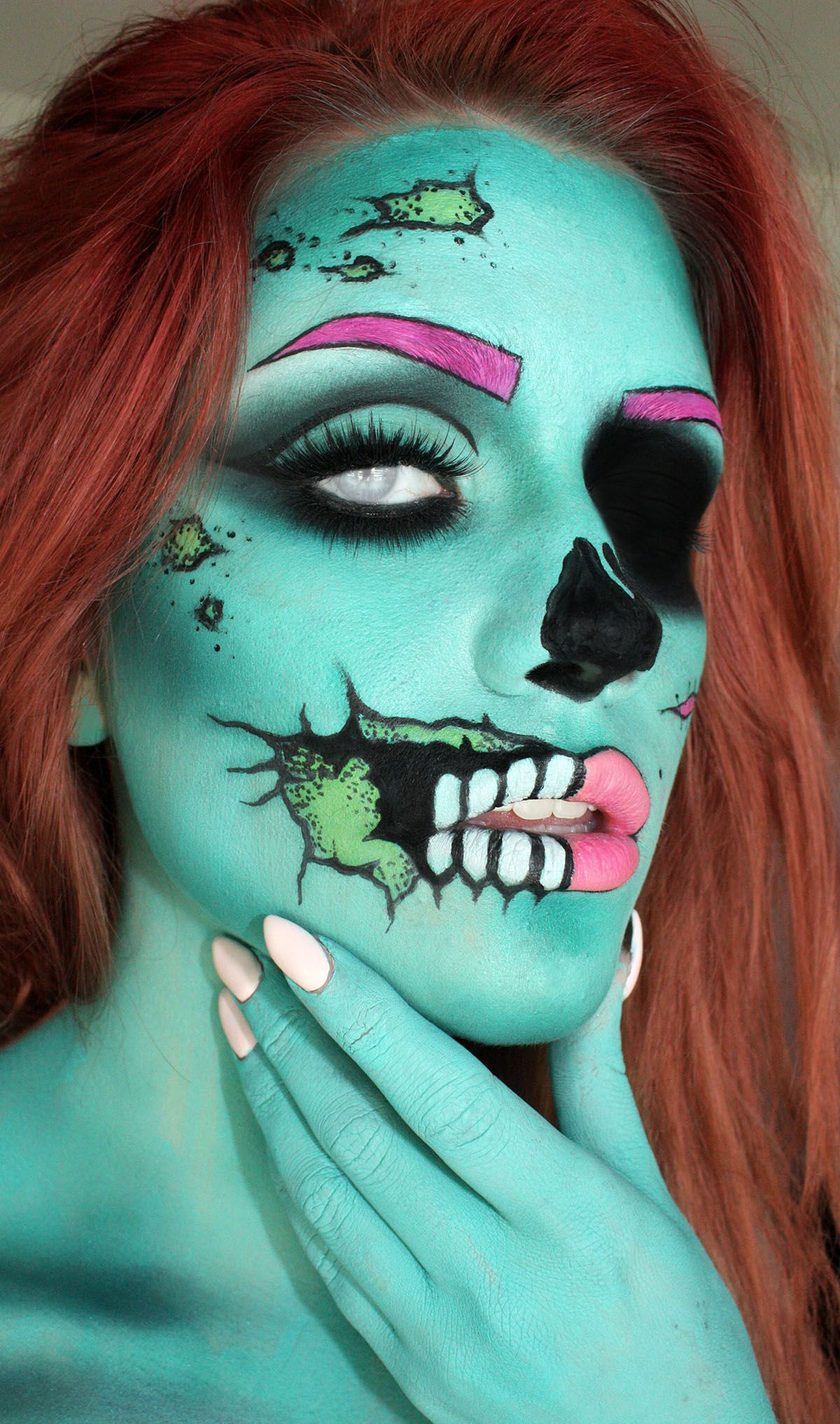 Why don't you mask yourself into a zombie? It might take some time to achieve such a look, but it's definitely worth the efforts. A proper hairstyle and clothes will add some mystery to the overall image.
14. Pennywise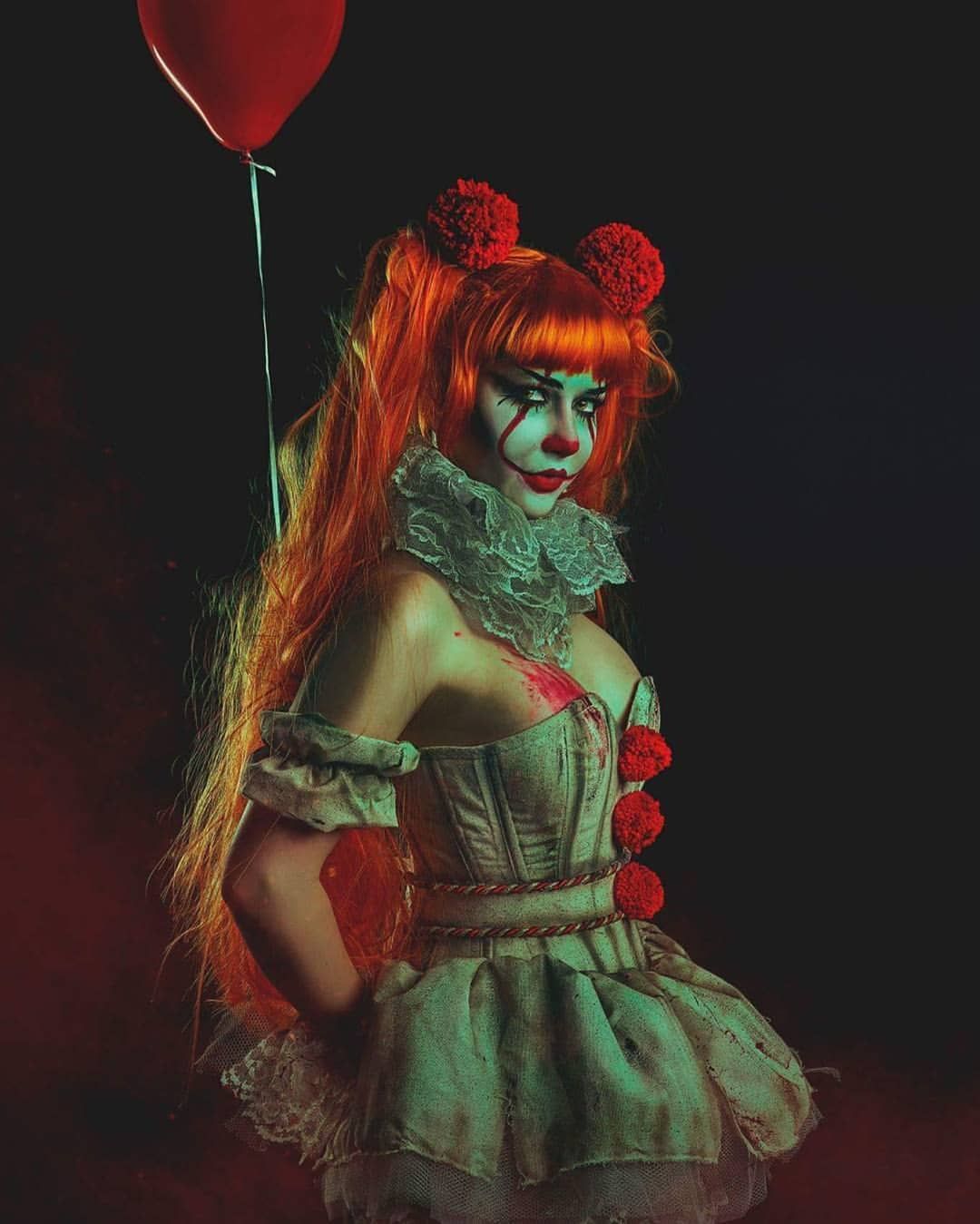 Pennywise's signature look is pretty intense, but this is a great, female version that can be done for Halloween. Nail the outfit, as well as the makeup, following this idea. And you have to admit, the dress is spookily adorable!
15. Baphomet princess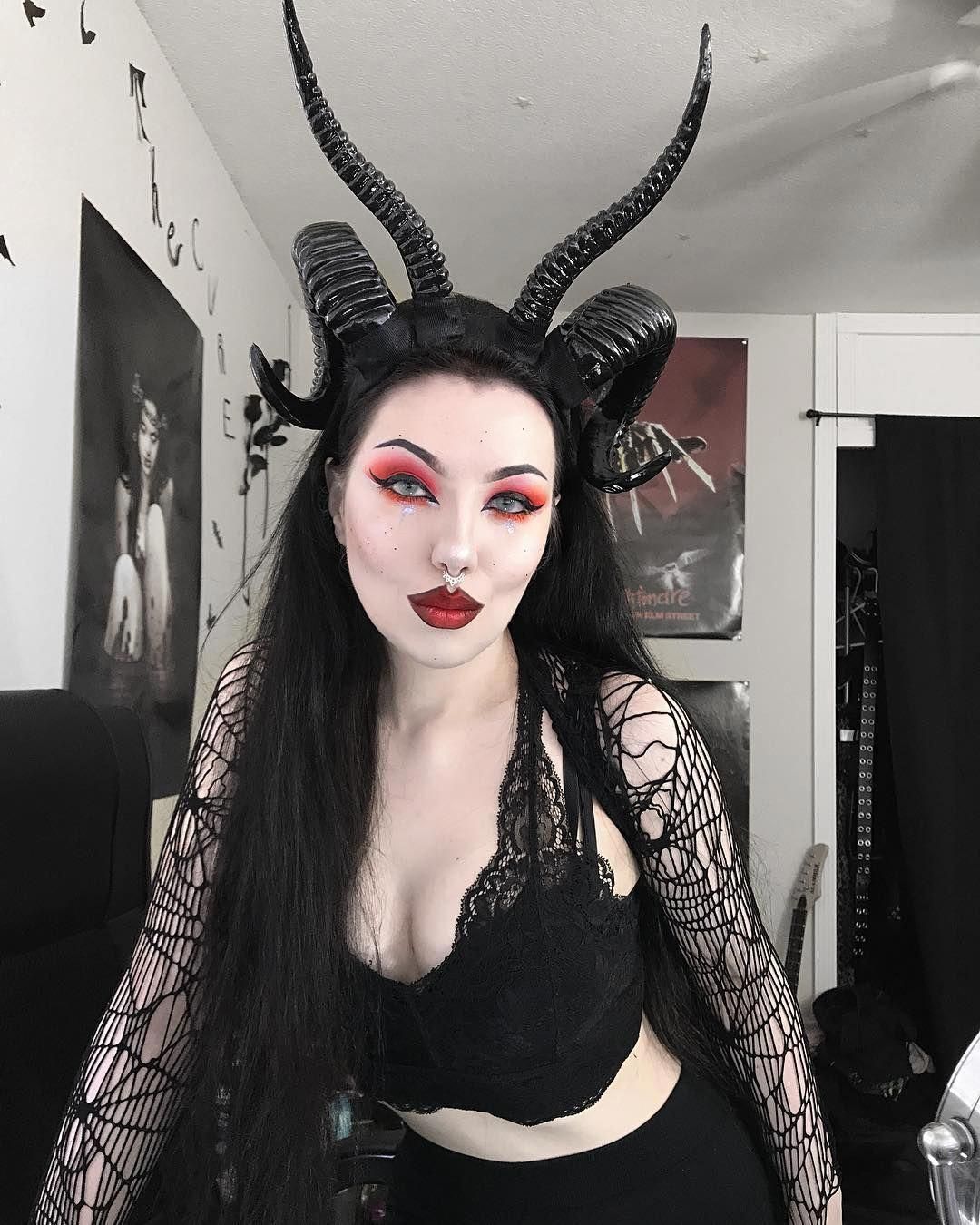 Every girl dreams about becoming a princess, but we know how to take the matter further. A real black queen is a fitting image for those of you who like to rule and stand out! Try it out, and it will be Halloween to remember!
16. The Queen of hearts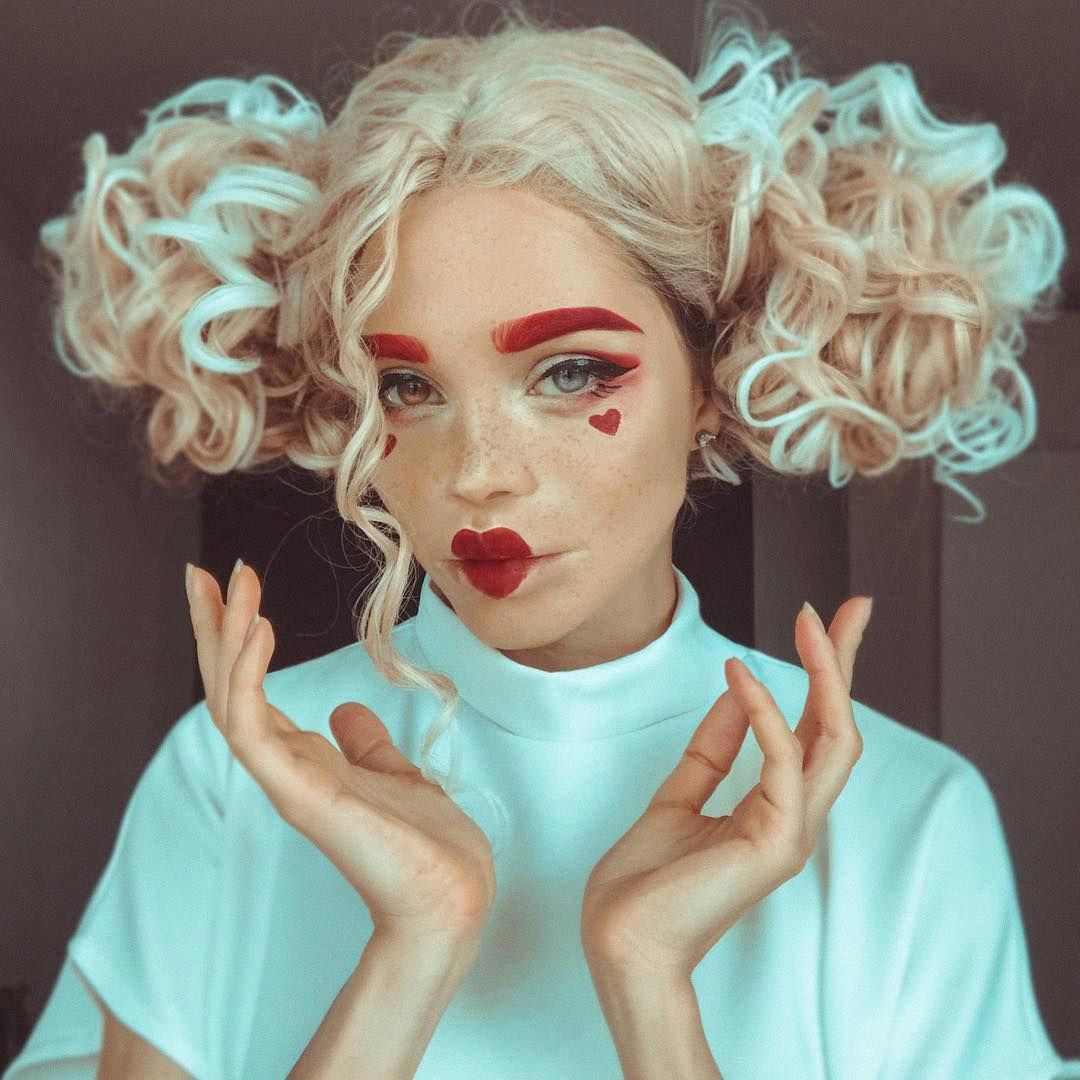 The look appears simple, but it's gorgeous and complex and interesting from all angles. This is one of those Halloween makeup ideas perfect for divas that don't want to scare at the party.
17. Red Devil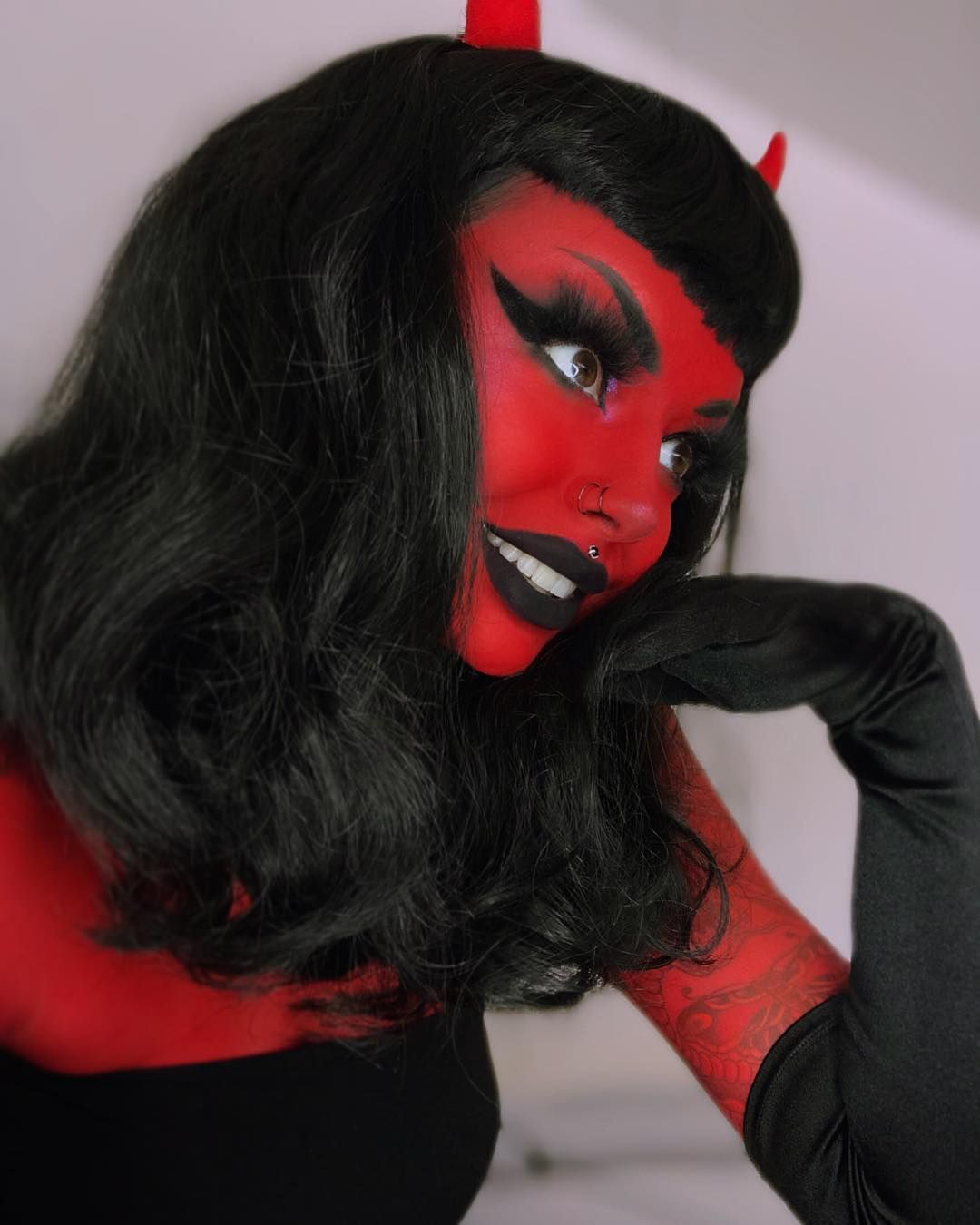 Warning! This smokin' hot red hot look may seduce instead of scaring off bystanders. The dramatic cat-eye and black lipstick are what really set this look off.
18. Cruella de Vil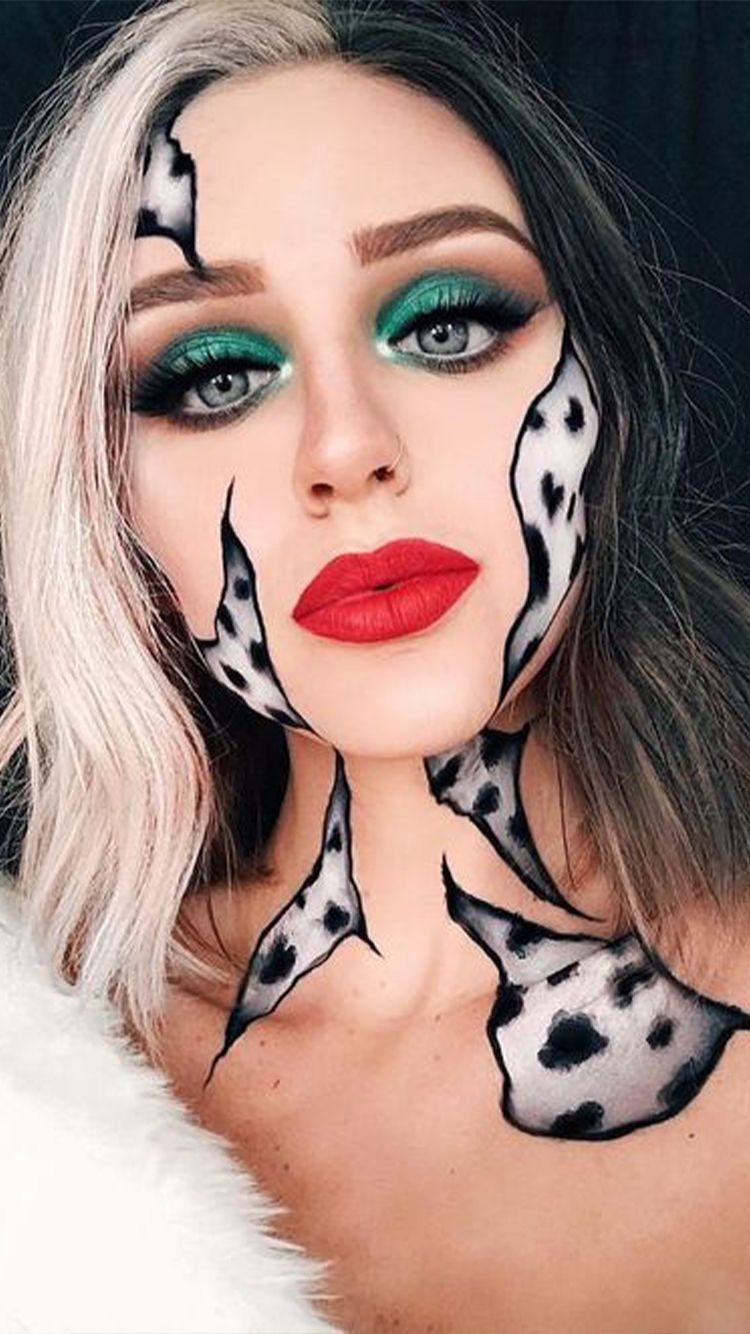 Bring to life the legendary Disney villain, and make the most badass Halloween costume. The green eye shadow will accentuate the overall Cruella de Vil vibe, accompanied by red lipstick. Classic and timeless idea!
19. Glitched face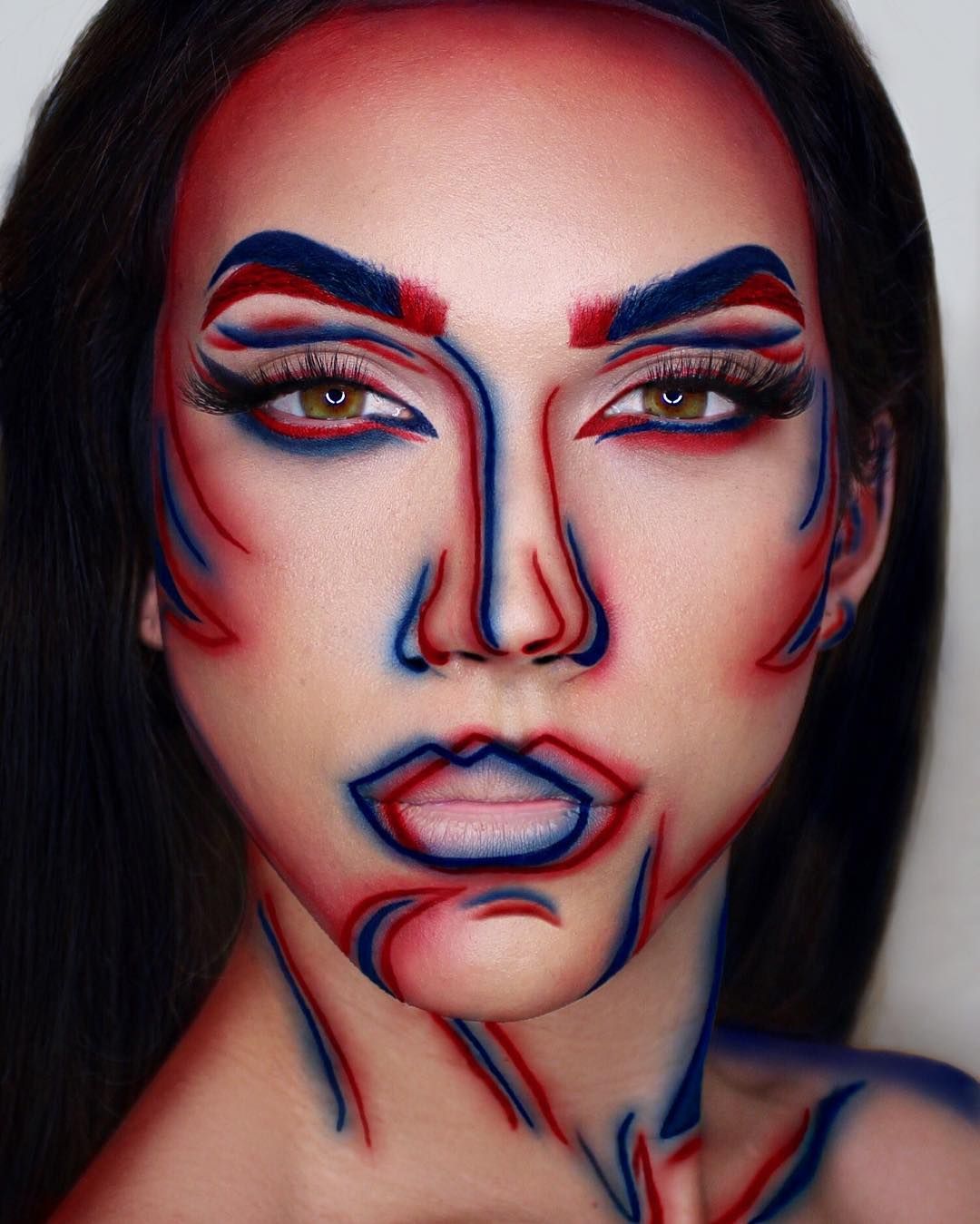 Not sure if you want to go full out this Halloween or keep it casual? Get the best of both worlds with this epic glitched look. All you need are red and blue colors and a lot of precision for nailing the lining effect.
20. Scar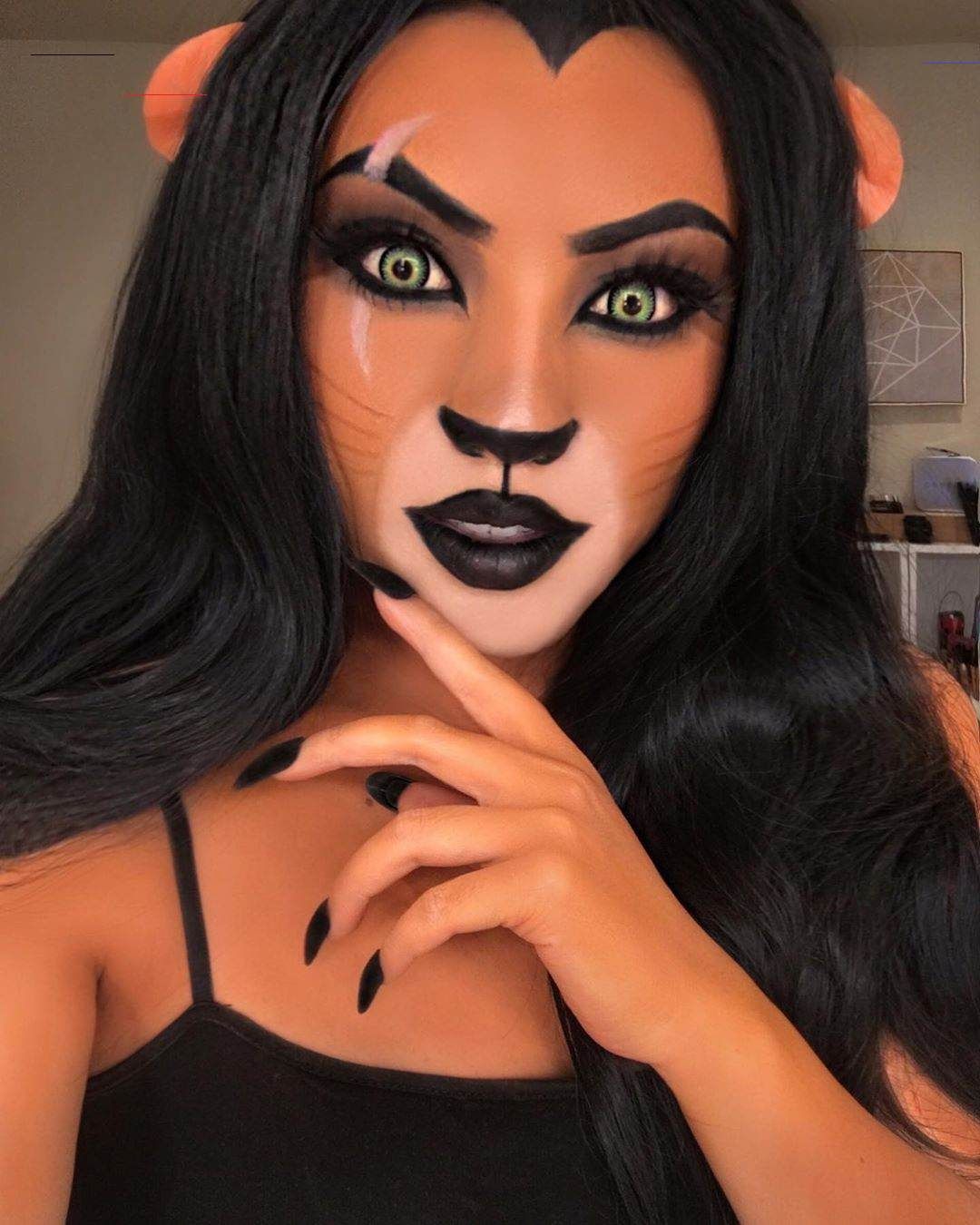 This makeup idea is the reason I wish Halloween was a monthly thing. Who wouldn't want to be Scar for a slight moment, right? Well, that's why Halloween is for. Bring to life your favorite villain and create this legendary Disney look.
21. Alice in Wonderland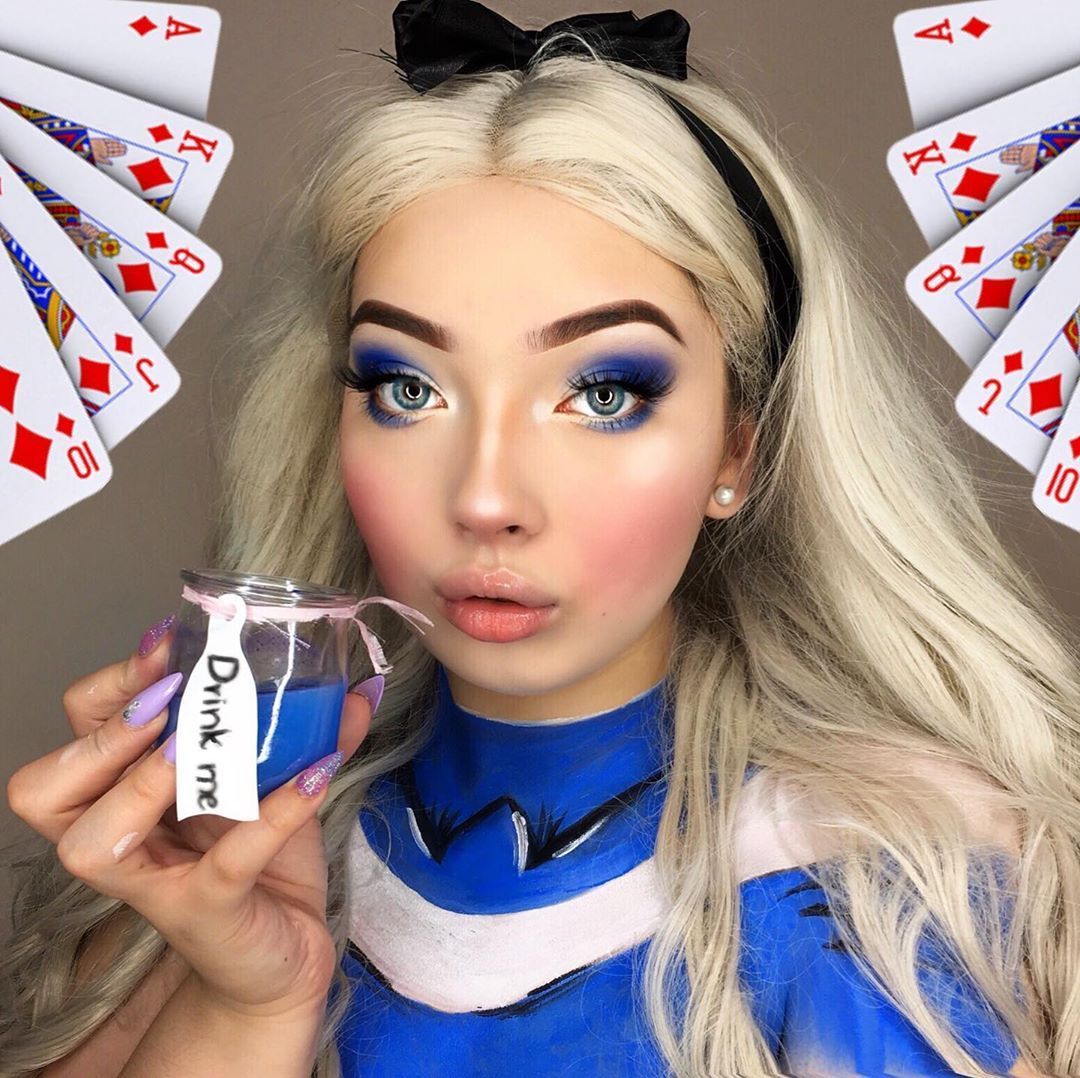 You can never go wrong with a cute Alice makeup look for Halloween. Blonde ones, this one is for you. A lot of blush, blue eye-shadow, and highlighted areas overtake this makeup look. Perfectly executed, don't you agree?
22. Jessica Rabbit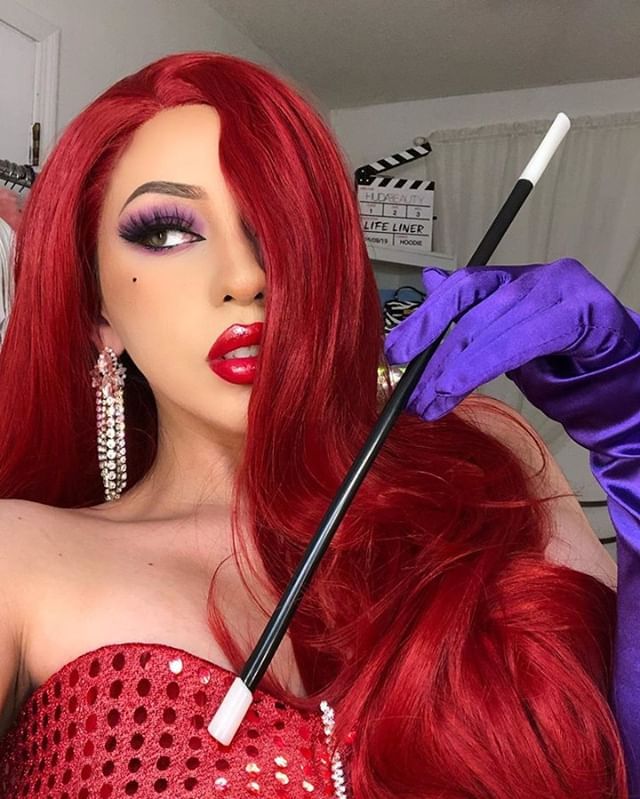 Can't decide what you want to be this Halloween? Go with the legendary and all-time classic character, Jessica Rabbit. Glam up your face and outfit, and prepare for eye-dropping reactions.
23. Merida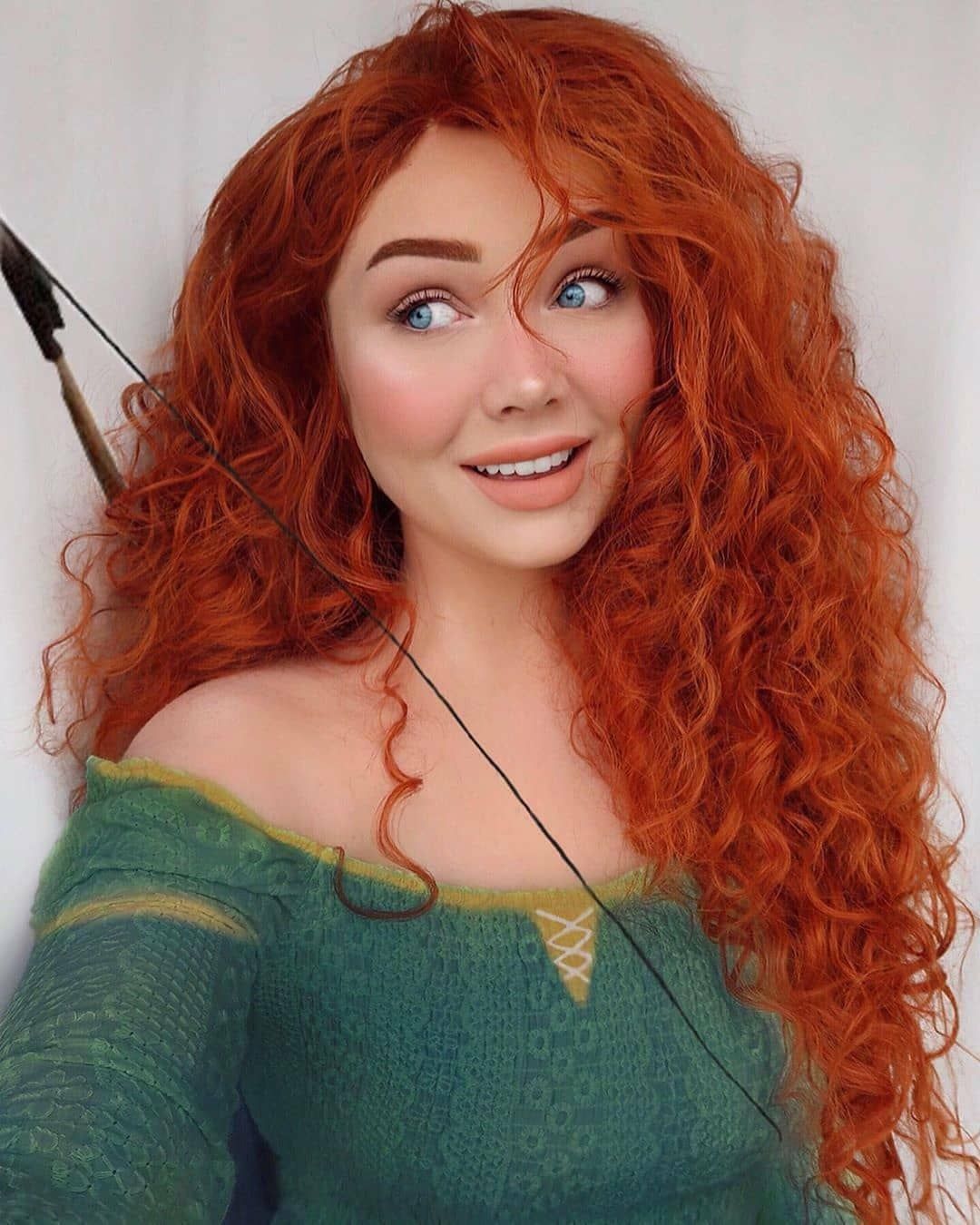 This is an easy idea for beginners, especially because it takes less than two minutes to create the face of Merida. If you have a curly hair, this is the perfect costume idea for you. And we are sure that you can find some old, vintage green dress like our fearless Disney character from the picture.
24. Joaquin Phoneix's Joker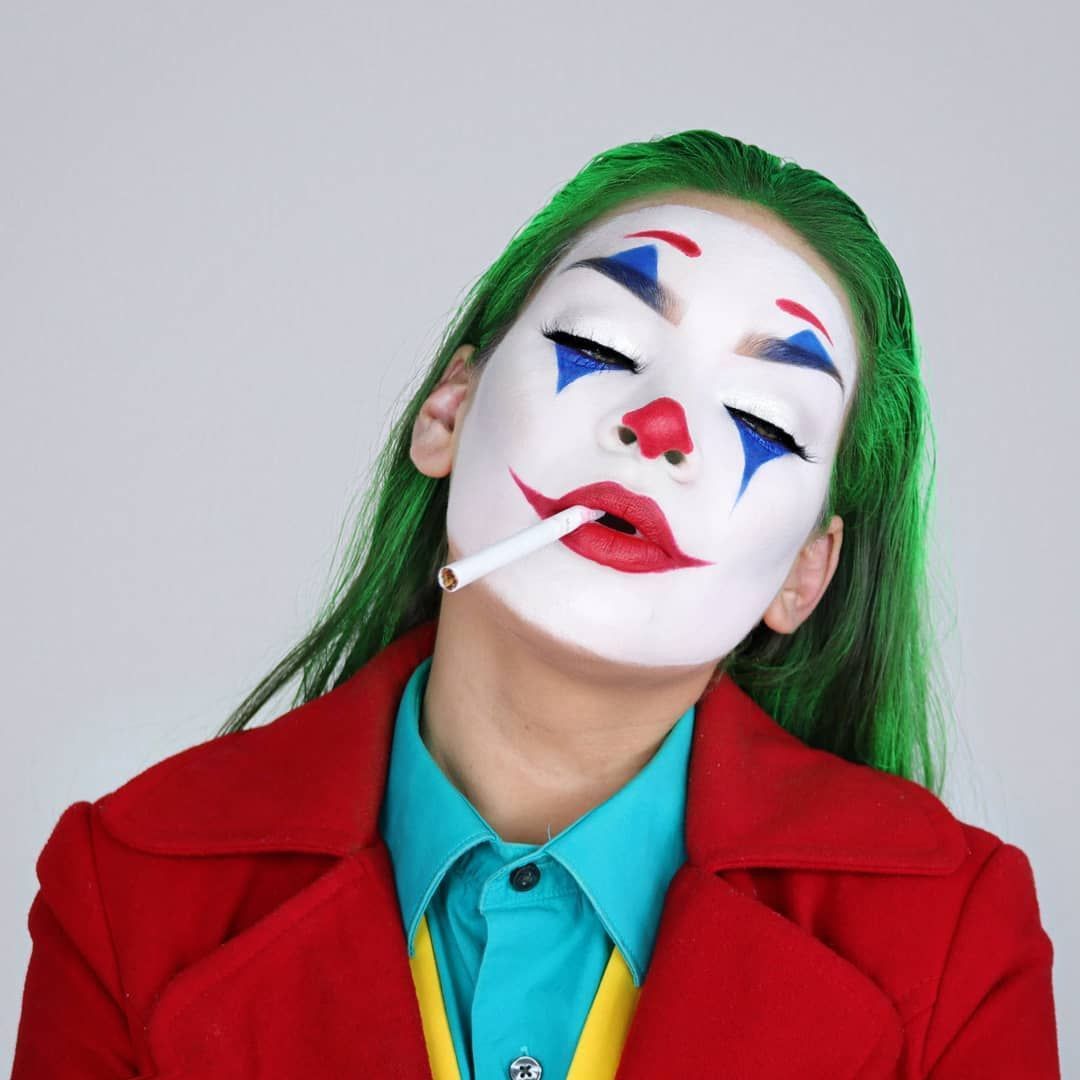 If you dress as The Joker, you'll probably win Halloween (sorry Batman). Take a note from Joaquin Phoneix's Joker to create this villain's eerie look.
25. Harley Quinn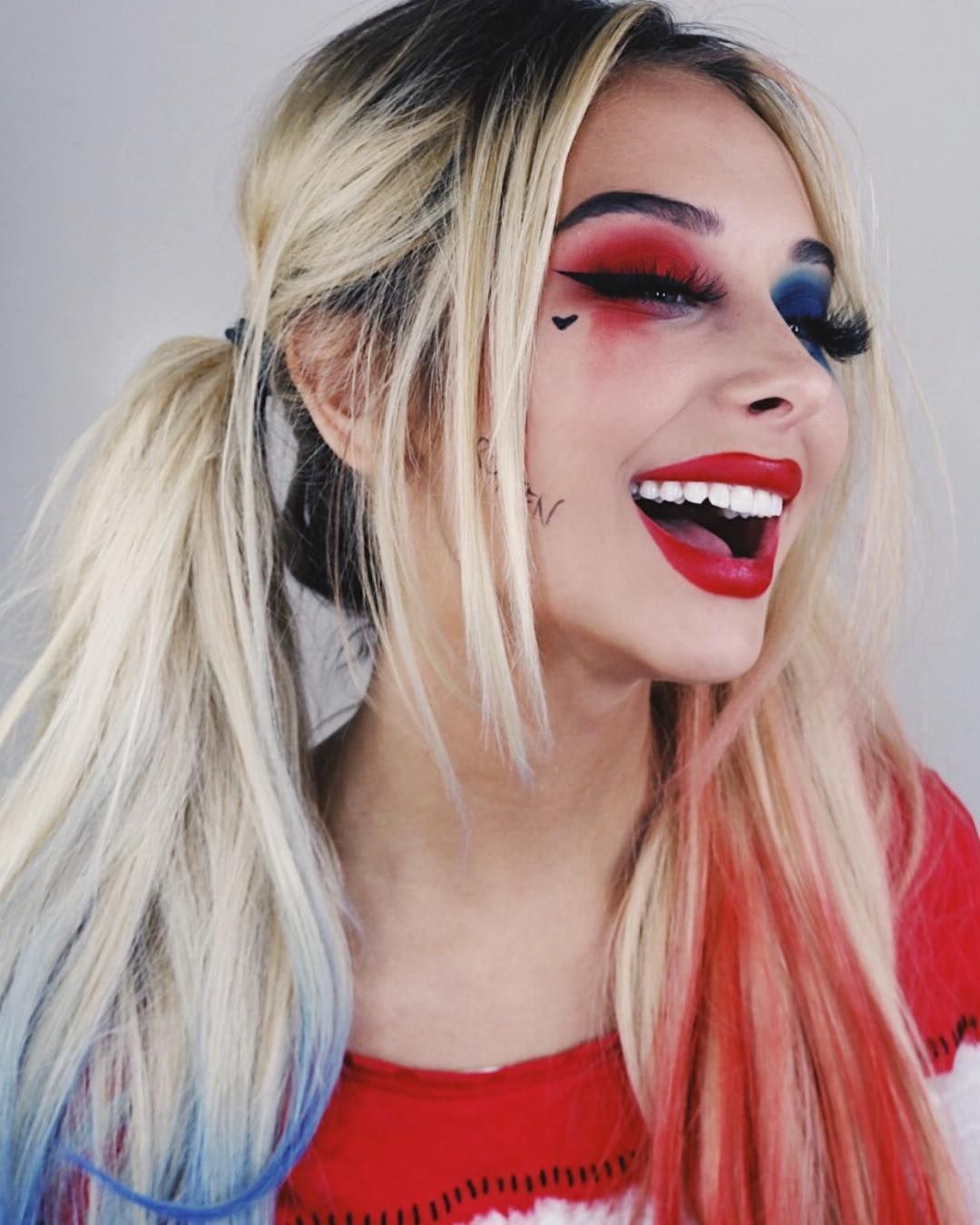 Just a dab of danger and a smudge of mischief, along with the signature pale skin and use of pink and blue, and you have Harley Quinn's look. It looks like body paint was included in this look, but the touch of crazy really sets off the look.
26. Jigsaw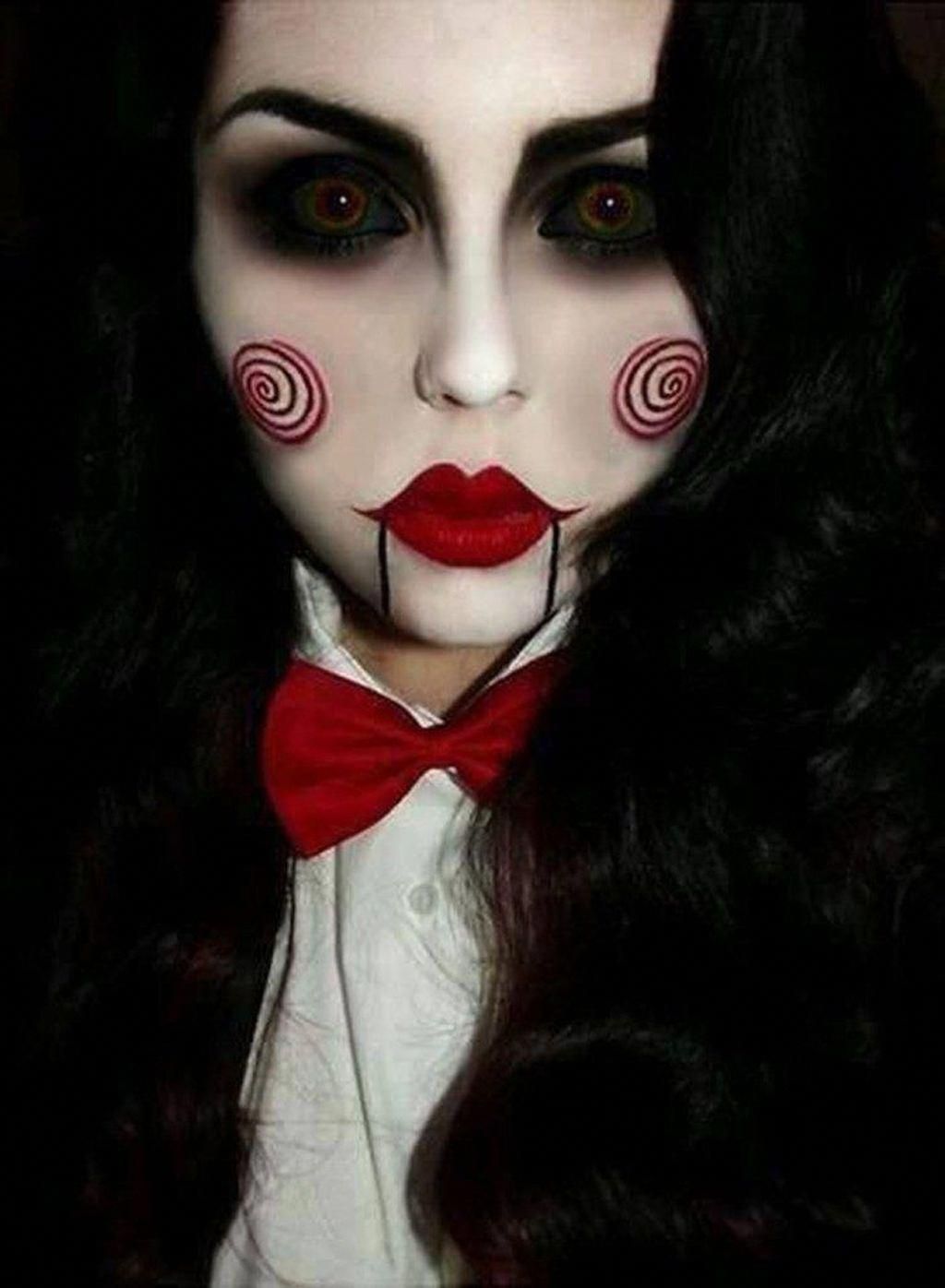 The ideal combination of horror character and a scary costume, this Jigsaw makeup look will definitely blow last year's costume out of the water. This Halloween makeup idea is perfect for anyone who wants to feel on-theme and terrifying.
Our list has endless ideas for you to get inspired by. So, in what mood are you this Halloween? Leave a comment below and share your thoughts about your favorite Halloween makeup look!