Like it or not, the costumes are the best, and most important part of Halloween. It is a holiday when kids get to transform into their favorite characters, real or fictional, while the grown-ups can relive their childhood and become someone else, if only for a short while.
The downside of Halloween, at least for the adults, is that the Halloween preparations can last from days to a month (depending on your level of enthusiasm for Halloween decorations), but we only get to wear the costumes for one day, sometimes even less than that. It just doesn't seem fair, does it?
It is sad really that we can't go to work or out and about dressed in our Halloween costumes from the same time we start with the decorations. Sure, we could, there isn't a law against it, but it is not a socially acceptable practice. Also, you can't go around scaring and confusing all the people on the street. It's not nice.
However, if you're really, really into Halloween, and wish to show off your love for it and help spread the Halloween spirit, there are more subtle ways of doing so instead of going in full masked mode all day long.
One of them is wearing Halloween jewelry. It is cute, subtle, can take it off at a moment's notice. From earrings to broaches and headband or necklaces, there are plenty of Halloween themed jewelry out there, but also some pretty cool idea on how to make your own spooky jewelry.
You will see several jewelry-making techniques and we hope you'll find one that helps you make the best Halloween jewelry ever.
1. Gothic Choker Necklace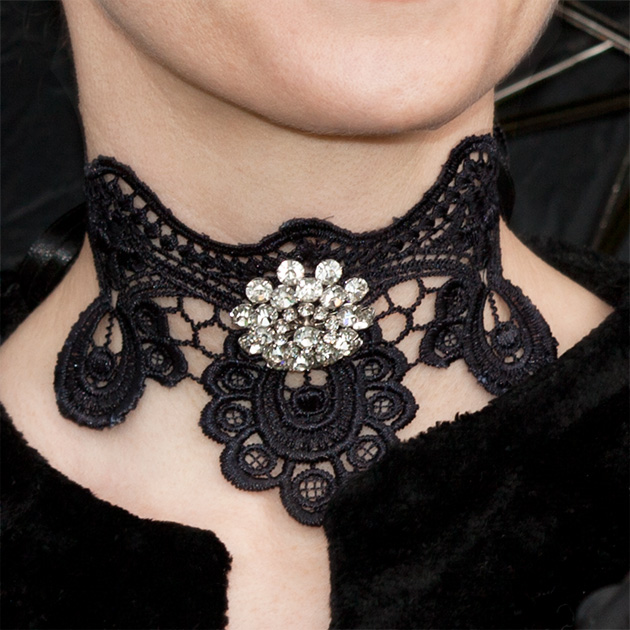 Starting off with something a bit more classic for those of us wanting to show off our goth side. A lace choker is ridiculously easy to make. The most troubling part would probably be finding the right type of lace and a few pins or other accessories to make it really pop. The great thing about this accessory is that you can wear it with your goth or vampire costume, and even to work. Just make sure you wear at least some piece of black clothing with it.
2. Raisin Boo-Tiful Earrings And Ring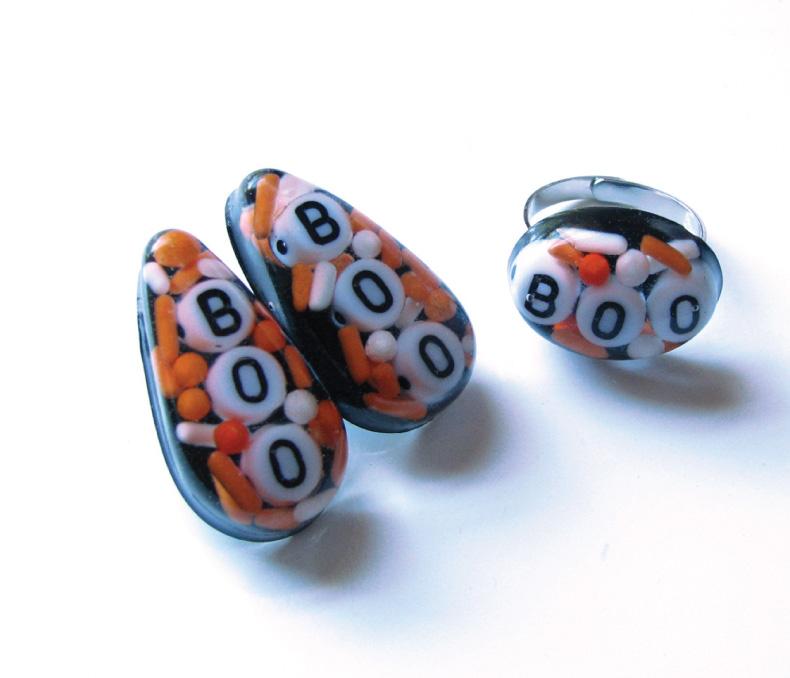 Raising projects has countless creative possibilities for those who like making pretty big or small projects. Thanks to all the molds that are available today, creating with raisin has never been easier. Raisin is a very good medium for making transparent and whimsical jewelry, or in this case, Halloweeny. With a few colorful grain and letter beads, you can make a whole jewelry set like this one or something more to your liking.
3. Bead Creepy Spider Earrings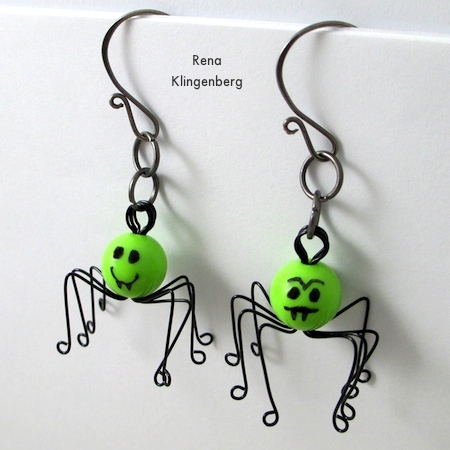 Halloween themed jewelry doesn't have to be shocking or spooky all the time, it can be fun and playful. This one is made from some craft wire and 2 pony beads. With a few twists from the pliers, you can be sporting these cheeky spider earrings in time for Halloween.
4. Bug Necklace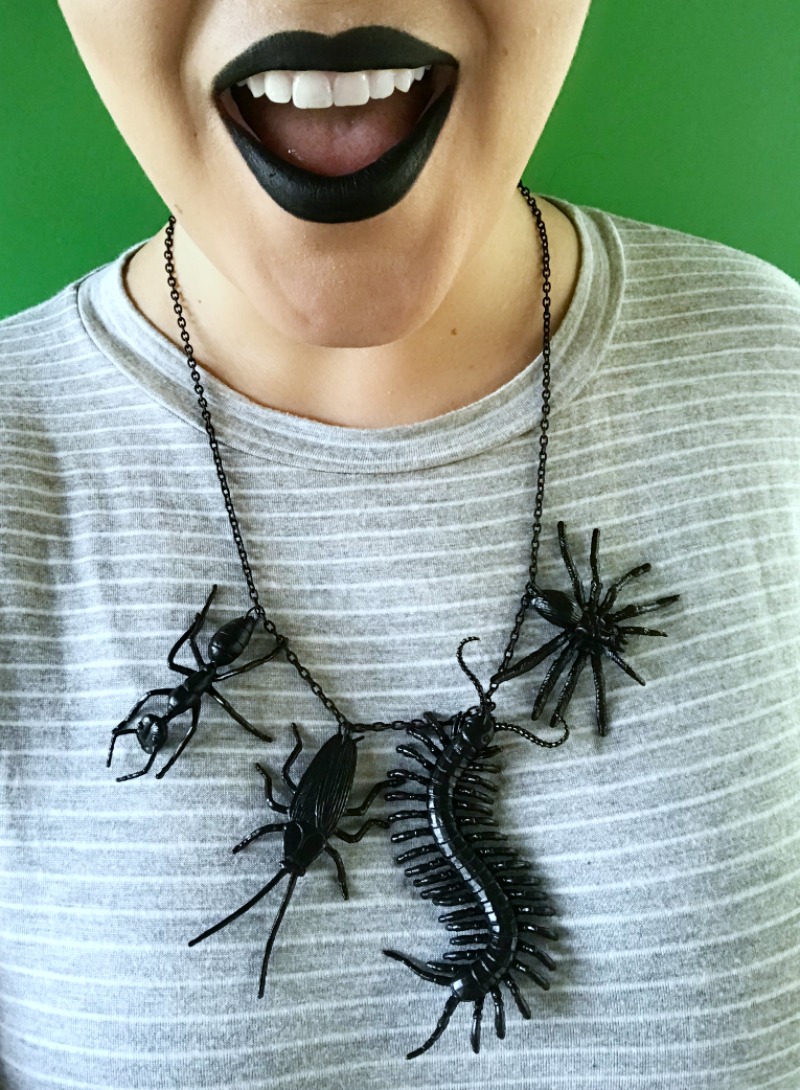 If you have boys, then it is more than likely that you have some plastic bug toys stashed somewhere. Here is a chance to put them to good use. With a chain and some black spray paint, the creepy crawlies will soon be hanging around your neck and creep out all around you.
5. Skull Chain And Tassel Earrings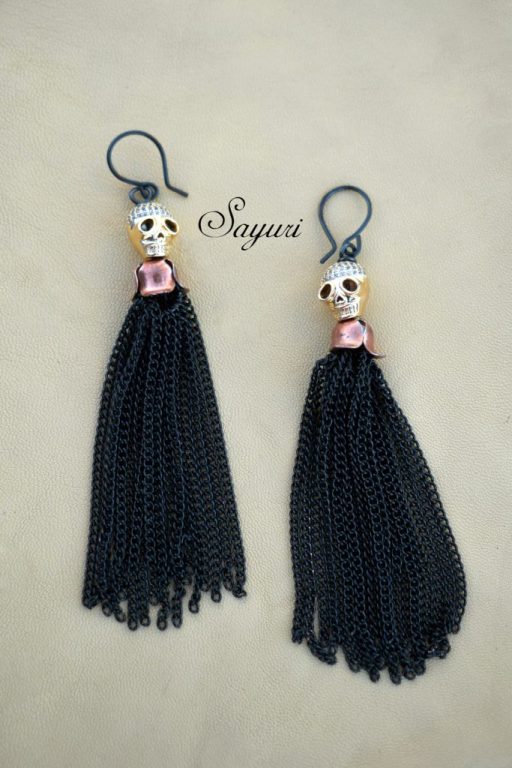 Tassel earrings never seem to go completely out of fashion. They're just that fun to wear. For this Halloween, bring some bounce and jingle to your accessories by making skeleton tassel earrings like these. Even if you don't manage to find a skull charm to attach to the top, they still make great jewelry for dark costumes.
6. Button Halloween Earrings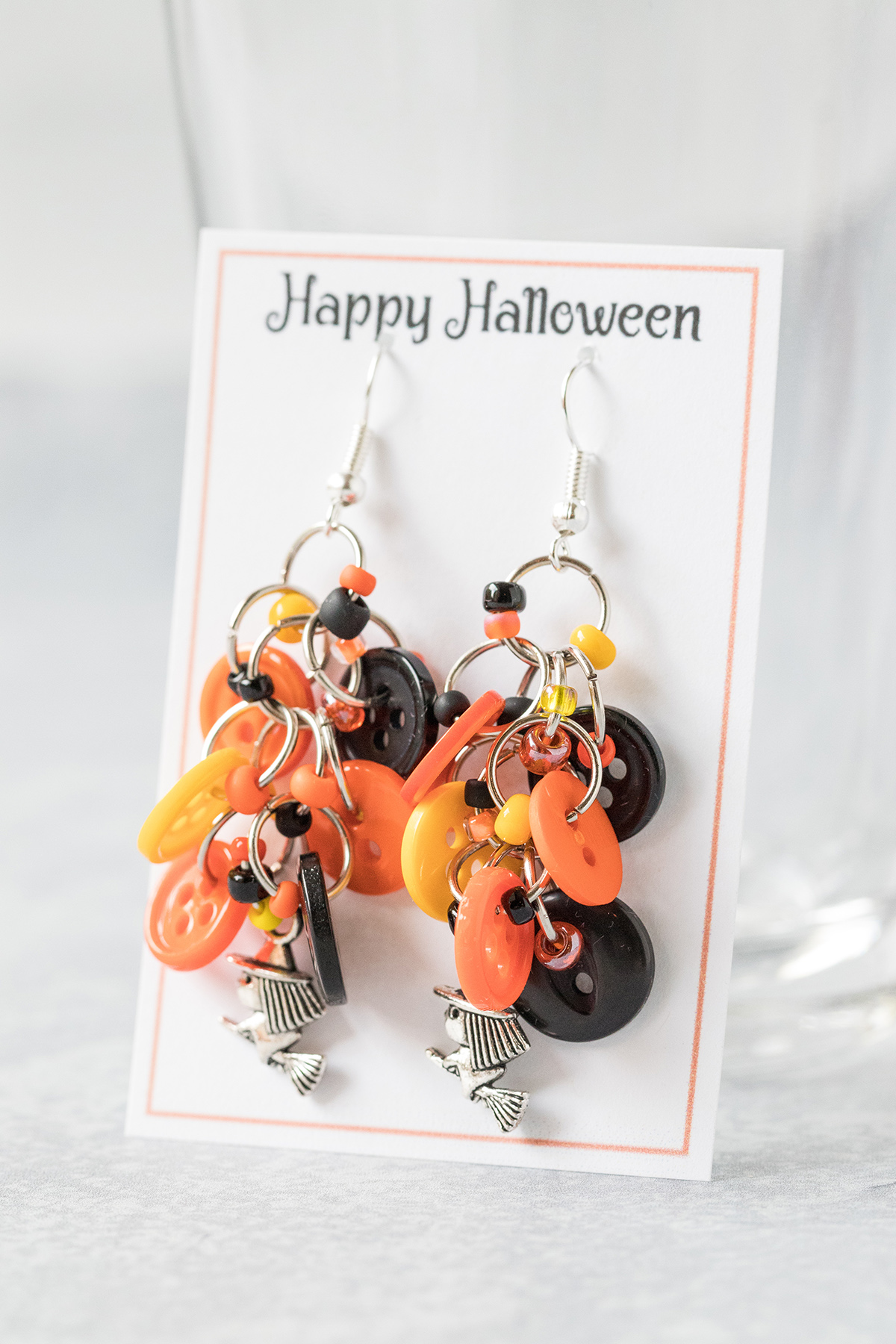 You can be surprised how some simple things like buttons can make for a great accessory or even a Halloween gift. Those tiny cute black, orange and yellow buttons can finally be put to something more fun. With a few tiny hoops, hooks, and charms if you have any, these cute hanging Halloween earrings can become an alternative for the friendship bracelet for you and your friends.
7. Harry Potter Potion Necklace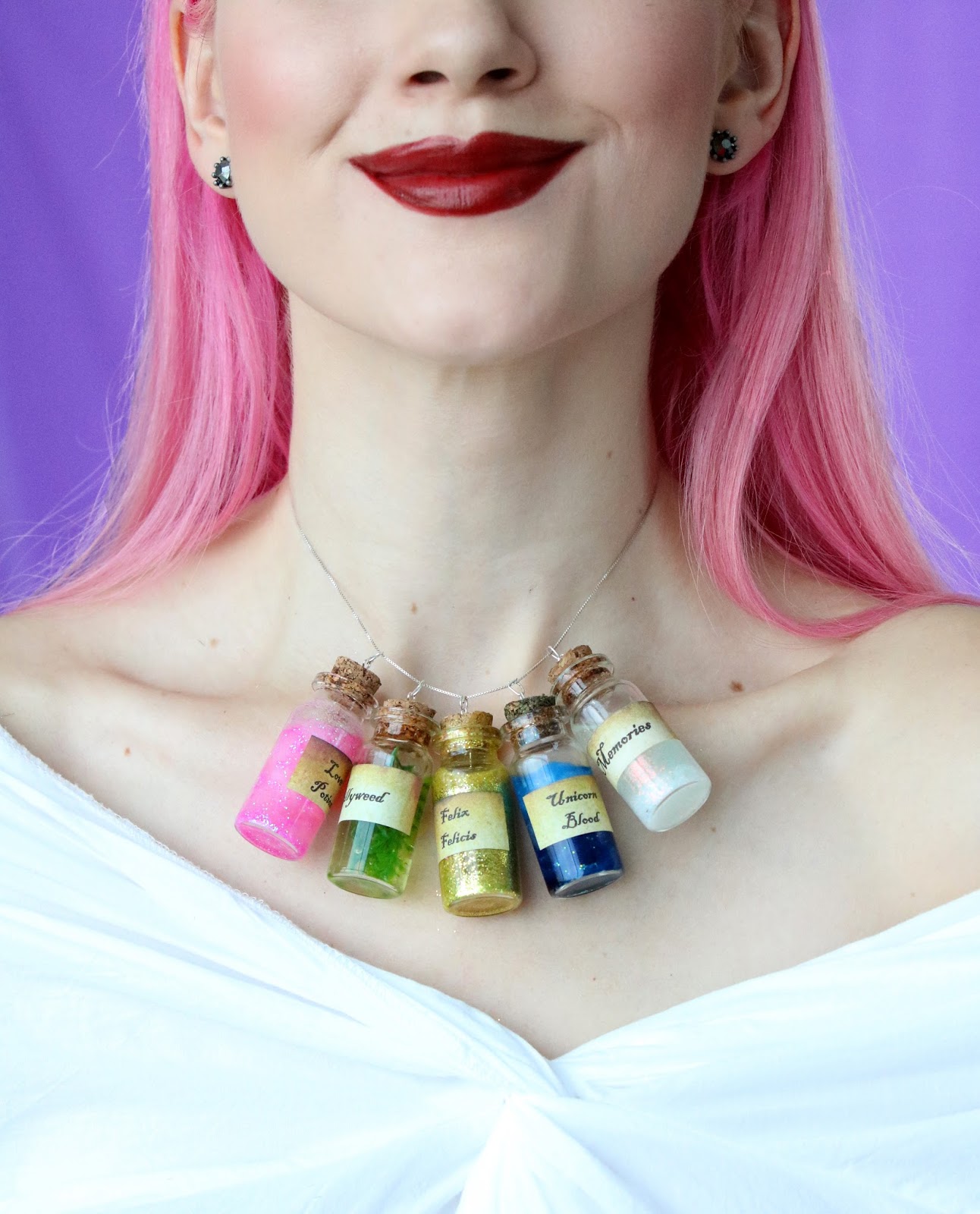 Harry Potter fans would love these. Fun to make and very versatile, these adorable mini potion jars will be a great addition to your costume as a witch, a sorcerer, a mage, or whatever other potion -using creature you can think of.  And the coolest part is that they're filled with antibacterial gel, the real-life magical liquid for the pandemic we're living in. So, they're not only pretty but useful in a pinch as well.
8. Green Lantern Ring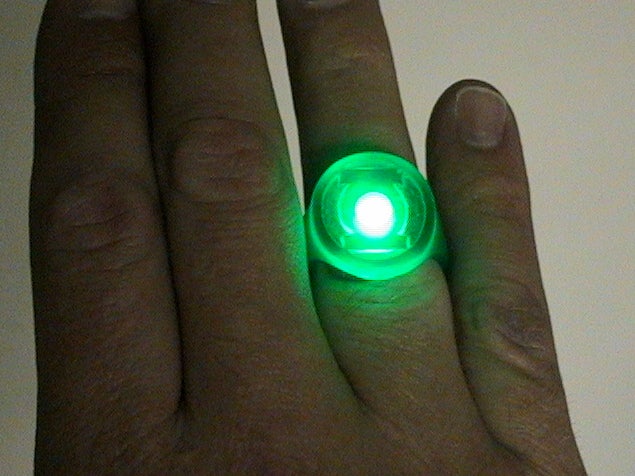 Now, this one looks incredible, but you'll need to put some effort into it if you truly wish to become part of this year's Green Lanter Corps. Making this ring takes some preparation and patience, but you can't deny that the end result is lit.
9. Ribbon Halloween Necklace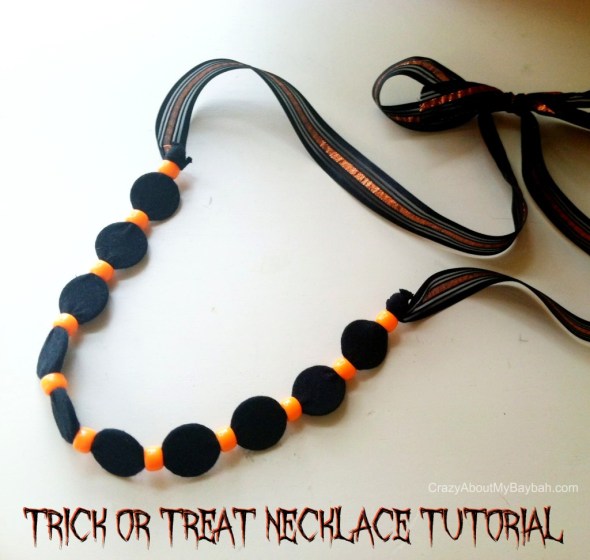 Jewelry can be created from many different materials, and sometimes it can even surprise you just how good the end product looks. Any themed creation doesn't have to be flashy to be noticeable. This one is made from an old T-shirt, a ribbon, and some beads and coins or candy. Cut it, knot it, bead it, rock it. Simple, but beautful.
10. Mummy Pendant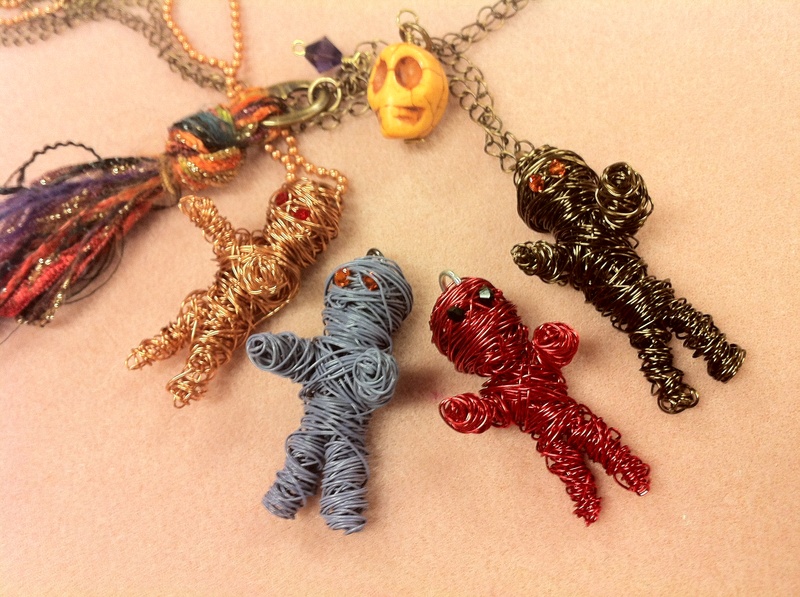 Holidays are a good excuse to give a shot at making some crafts and projects you might have seen on the Internet but were never too confident in making them. This one is a fun starting project for wire projects. This little wire wrapped mummy is absolutely adorable, and you can even make it for all your friends.
11. Jeweled Bat Necklace Pendants
Bats and bat shapes are regularly used for Halloween indoor and outdoor decorations, so why not use it in some way to make yourself more Halloweeny? This jeweled necklace is so cute and minimalistic, people will go bat-crazy for it.
12. Eyeball Rings
Time and time again we see how creative jewelry can be made from just the basic jewelry parts (like the ring base, earring hooks, or necklace clips) and things you have around the house. Here are some eyeball rings made with some metal washers and some paint. You can even try drawing other eyes aside from humans, like a dragon or cat eyes.
13.  Spiderweb Earrings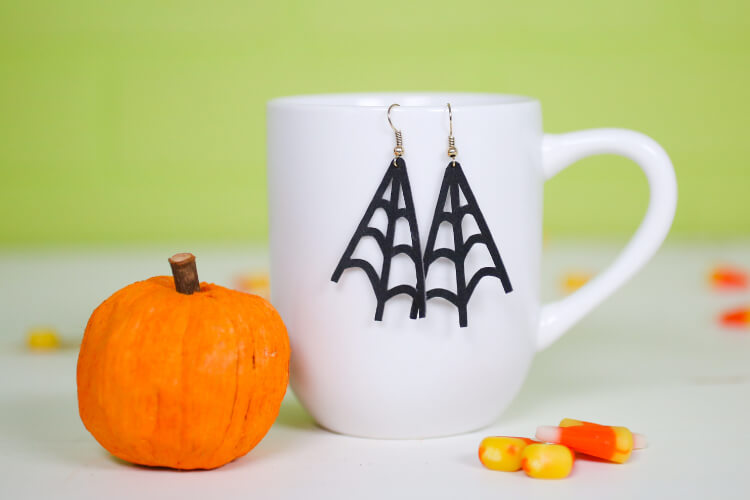 If you're going to put spiderwebs all over your house, you can at least spare some for your ears. Well, not the real decorative cobwebs, but something along the line of these cute Suede earrings. They're very subtle, elegant, and best of all, you can wear them everywhere even before Halloween.
14. Halloween Tassel Earring Or Necklace Pendant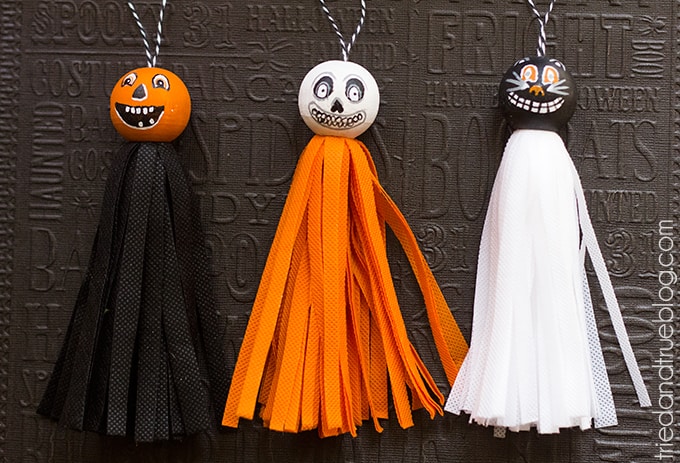 So, you're not in the mood to do both a necklace and earrings. Can't decide which one to make? With this project, you can make both and more. A tassel pendant is super easy to make and with just a different attachment can be turned into earrings, necklace pendant, or even key-chain pendant.
15. Googly Eye Jewelry Set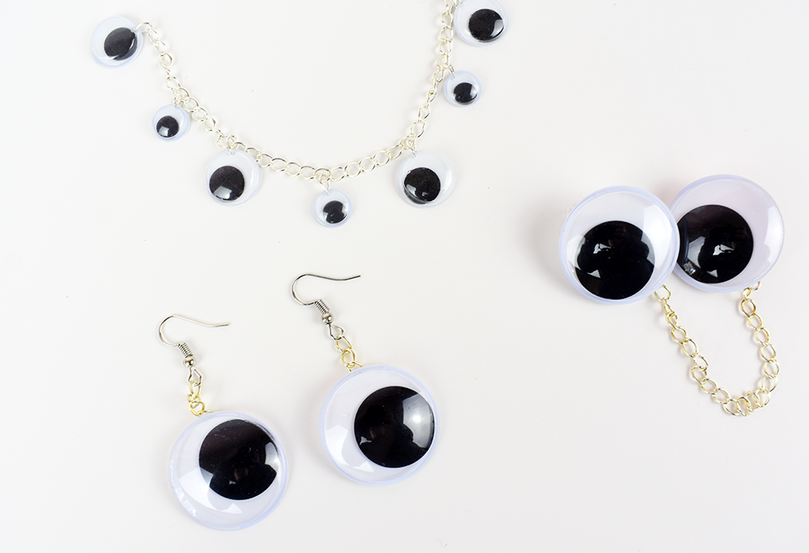 While you're eyeing all these jewelry projects, this set has been eyeing you and pleading with their eyes to choose them to make for this Halloween. Can you say "No" to those eyes?
16. Eyes In Jars Raisin Pendants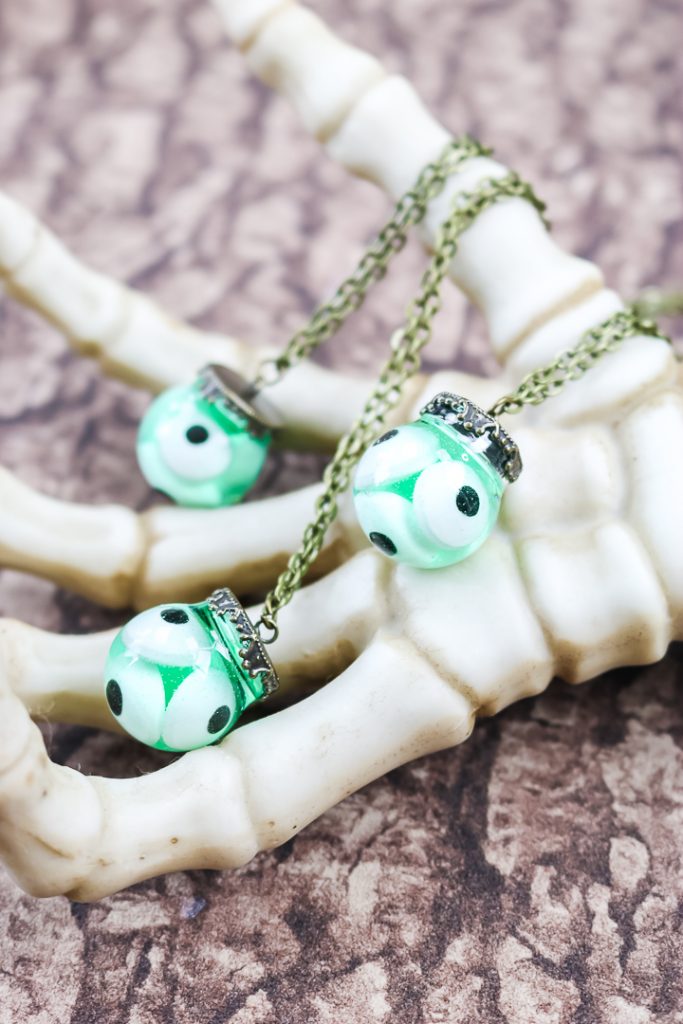 Epoxy projects usually need to be removed from their mold at the end, which is the moment when you can really ruin your project. You won't have to worry about that with this pendant projects, since everything remains in the teeny-tiny jar. Filled with something akin to withes' brew, it will be a great addition ti your style.
17. Cheesecloth Ghost Earrings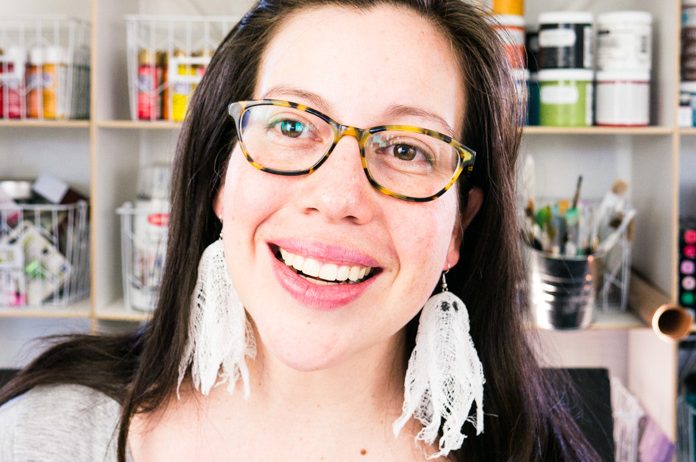 And we can't possibly forget about the ghost for Halloween. It wouldn't be complete without them. But it will also tie up your Halloween themed style, especially if you make these floating, totally precious floating ghost earrings made from cheesecloth. They do look like they're floating, don't they?
It is never a bad time to accessorize and that goes even more so for Halloween when we're all one big moving decor piece. Which one from our list did you fancy the most? Share your thoughts and ideas in the comments section below.