Not all items in your home need to be new. There are many ideas to get you inspired to refurbish, reuse, and upcycle an old item from your house or your garage. They are usually with bigger quality and style that you cannot find in today's home fashion and design.
So, if you are a crafter, or you have a limited budget to equip your new home, consider upcycling as an idea. Maybe not for the whole house, but for some items to complete the look of your new home. How about upcycling old and broken chairs you thought about throwing out? They are certainly more stylish and firm than today's new modern chairs. Did you find a bunch of old chairs in your grandpa's garage? Well, upcycle them in various different items. Turn them into a bench, a shelf, a swing, maybe picture frames, or simply use parts of them to make some practical and fun things for your home.
Take a look at the ideas below to get you inspired and crafting.
1. Garden Bench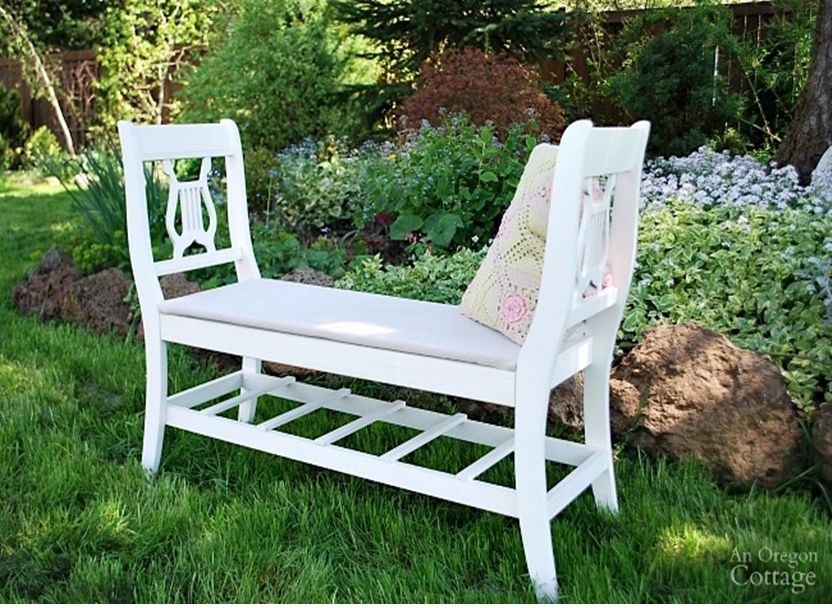 This garden bench is made of two old chairs connected together with a wooden plank and covered with a sitting cloth to make it cozier. Paint it in bright colors, pair it with a sweet cushion and place it n the corner of your garden, porch or patio to enjoy good weather and summer breeze in the evening.
2. Coat Racks and Storage Space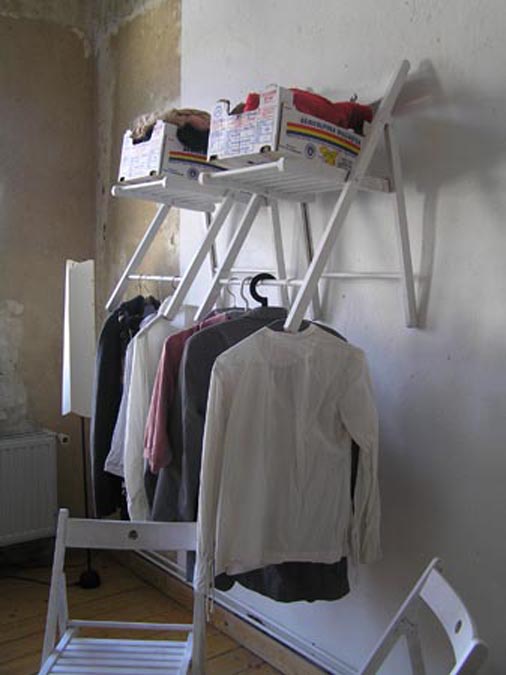 Here is an idea of how to turn your empty room into a cool storage space without crowding it with closets. Use old chairs, turned upside-down, and mount them on the walls in the corner of the room, to save you space. These are particularly practical for a weekend house, or a studio, to hang clothes that will not be there for long.
3. Photo Frames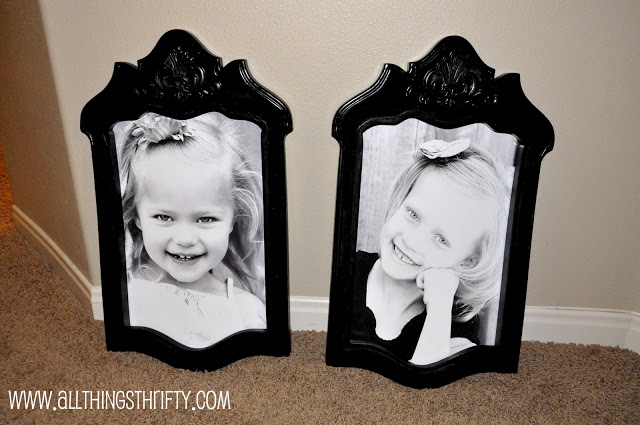 These photo frames may be a bit bigger, but what's big enough for the photos of your wonderful little girls? Nothing, right? Well, turn these chair backs into cool photo frames for your family photos. Choose an empty wall in your home, and decorate it with the photos of your family. It will mark your home to be yours forever.
4. Chair Swing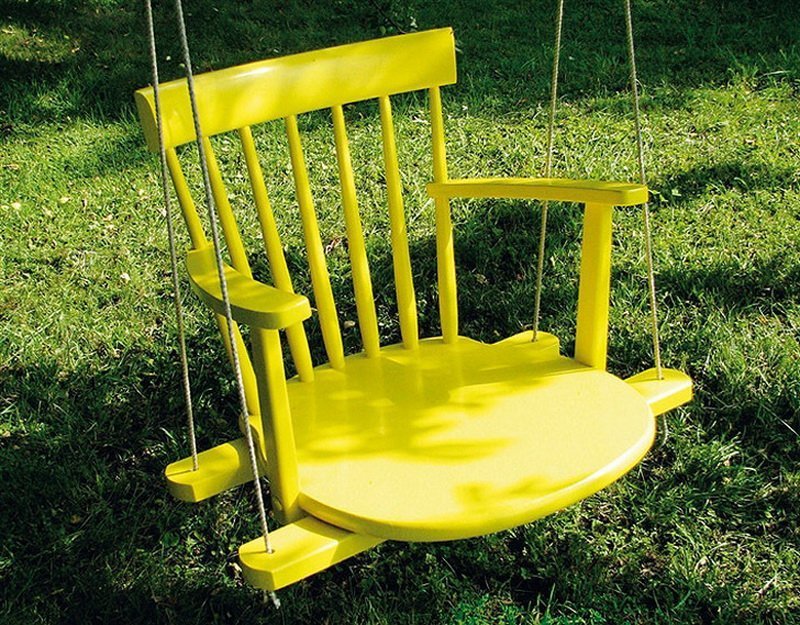 If you love swings, or your kids love them, make one from an old chair. This particular one is made from an old swinging chair, secured with two wood planks at the bottom, and hanged on four strong ropes. Paint it in vivid color, and hang it on the strongest tree in the garden. It will be fun for you and your kids all summer long.
5. Suitcase Armchair For Kids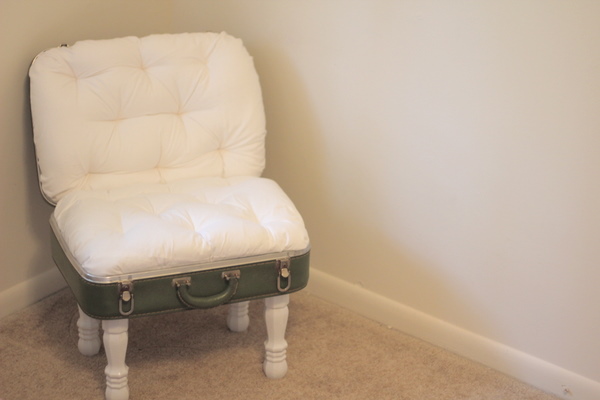 This is a cute idea of how to turn your kid's old chair into a new armchair. Use the legs of the chair and an old suitcase, fill it with soft cushions and install the legs. It will be the softest chair your kid will ever have. And when the kid grows out of it, you can use it as a bed for your pet. So, two in one is never a bad idea.
6. Scarf Hanger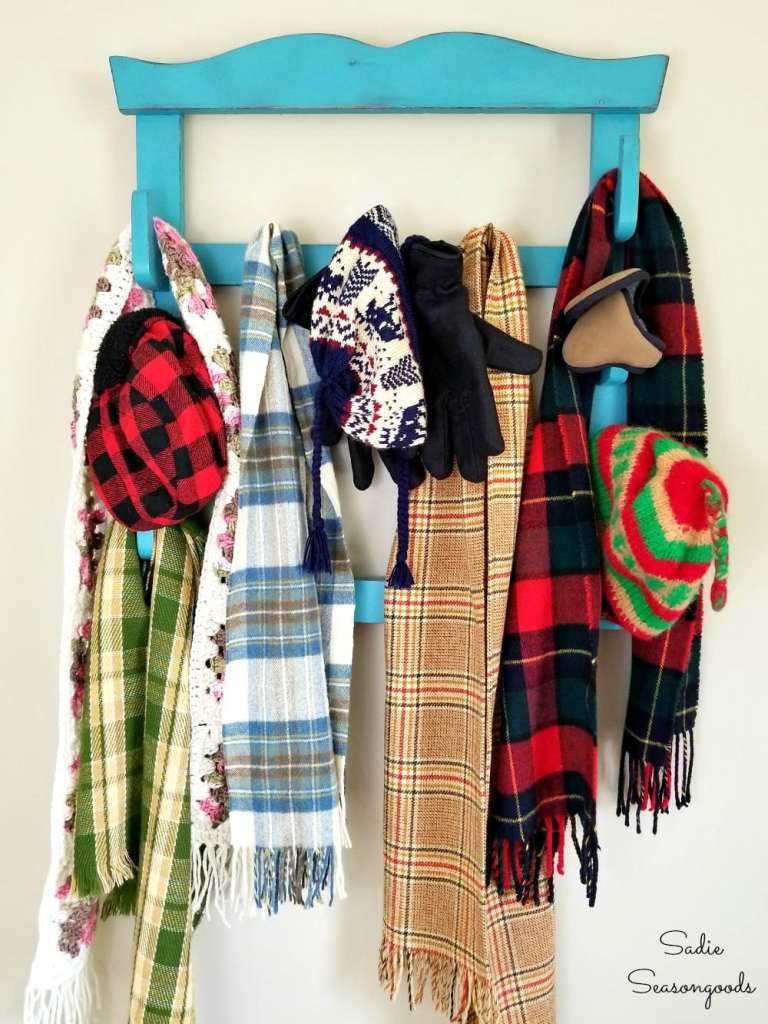 This scarf hanger is made from the back of a chair. Simply paint it in vivid color of your choice, put some racks on it, and hang it in the hallway or in your bedroom. It will be a practical decoration for your wall and a great hanger for your scarves.
7. Kitchen Shelf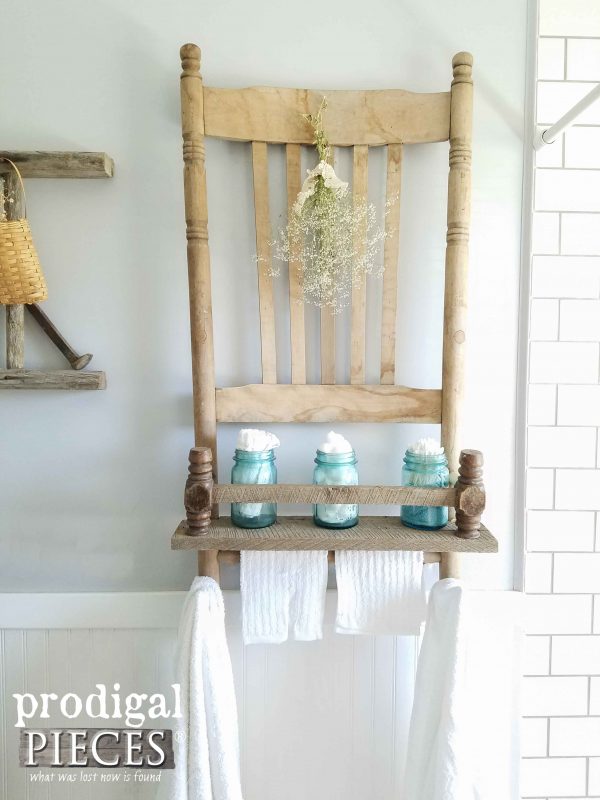 You may need a kitchen shelf in your rustic farmhouse. Make it from an old chair. It is rustic and vintage enough if you only stain it, so you keep the wood look. Put a small shelf in the front and mount it on the wall above the sink. It will hold your spice jars and your kitchen towels. Put some field flowers to complete the look.
7. Drink Stand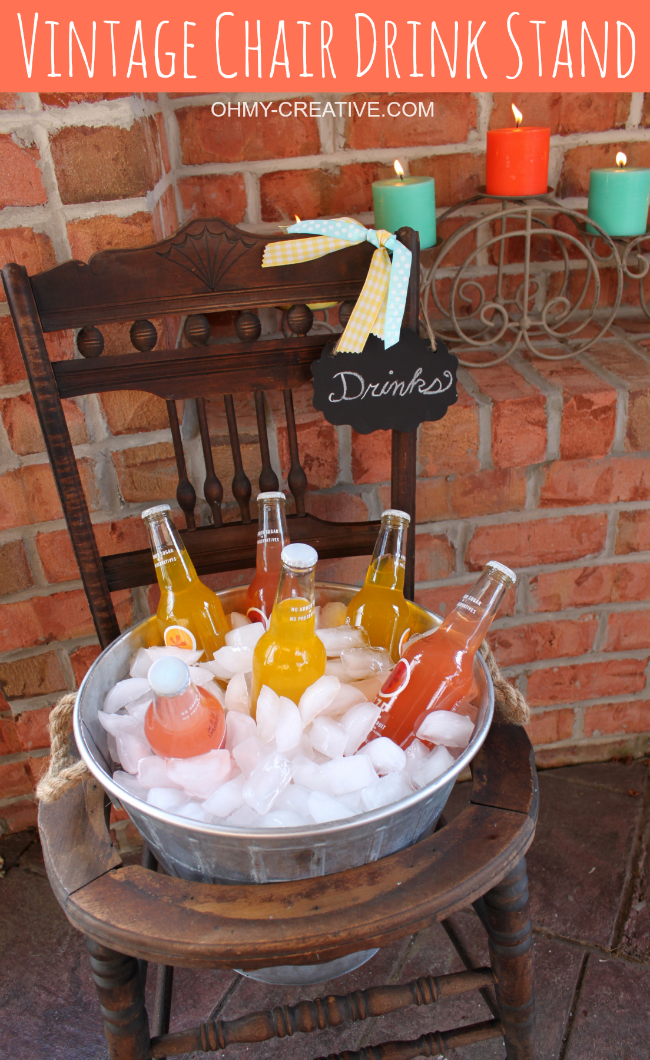 If you have decided to throw a summer party in your farmhouse for your friends and family, this vintage chair drink stand is the perfect solution to keep your drinks cool all night long. Simply cut a circle in the bottom of the chair and put a metal bucket inside, fill it with ice and cool your drinks. Placed in a corner of the porch it will be discreet and practical for all.
8. Earrings Stand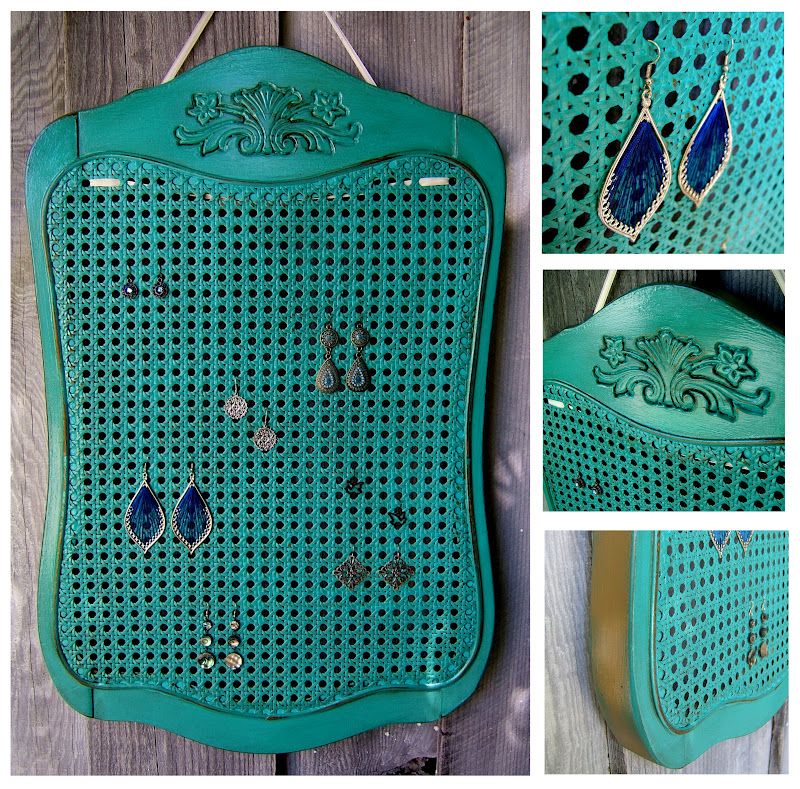 For all the earring lovers, here is a perfect solution to keep all your earrings in order. Upcycle an old back of the chair, paint it in vivid color, mount it on the wall, and use the tiny holes to hang all your earrings neatly in one place. You will avoid all the mess in finding the right pair for your perfect outfit.
9. Corner Bench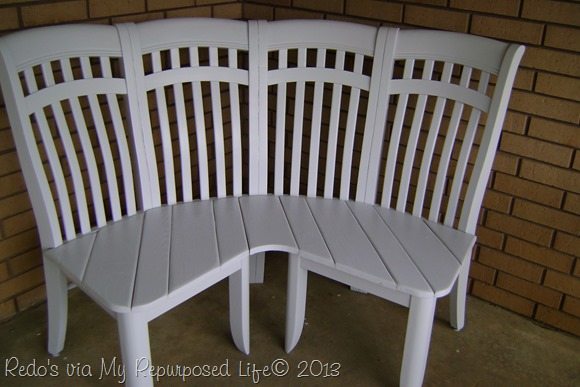 This corner bench is made of old chairs, arranged in a way to form a corner. They are joined on the back with two wooden planks, and the sitting area is made of restored wood from the same chairs. If it is not good enough, you can always replace it with new wood. Paint it in the right color and let it shine on your porch.
10. Side Table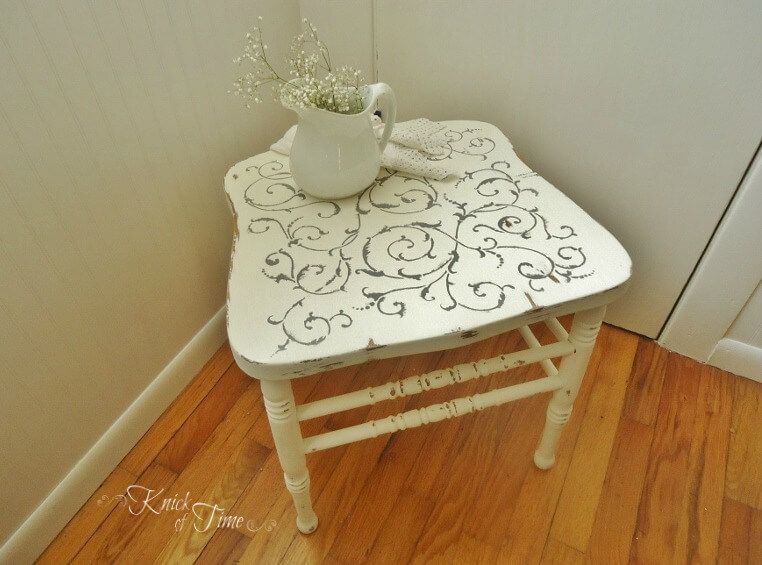 This side table is made of the sitting area of an old chair. Leave the original color to keep the rustic look, or repaint it in the color you want to suit your style. Decorate the top with some cool shapes and place it in the corner to decorate it. You can use it as a flower or telephone stand, or simply as a coffee table next to your favorite chair.
11. Pet bed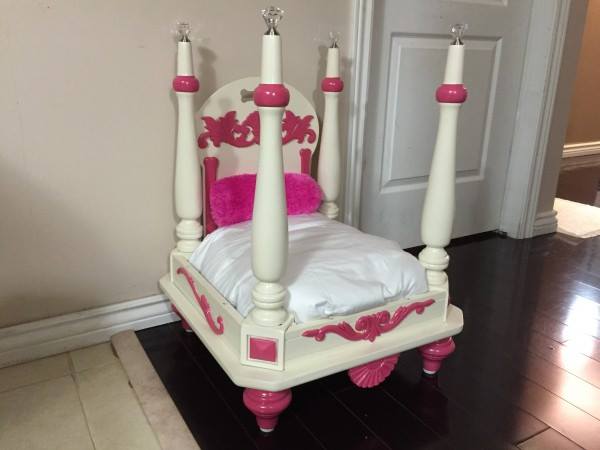 This cool small bed is made of an old chair turned upside-down. It is painted white, decorated with another vivid color, and equipped with a soft cushion. It has now become the perfect bed for your pet. Place it next to your bed, or in the favorite spot of your pet and let it enjoy its new home. It is fun, practical, and cheap, all at the same time.
12. Kitchen Toy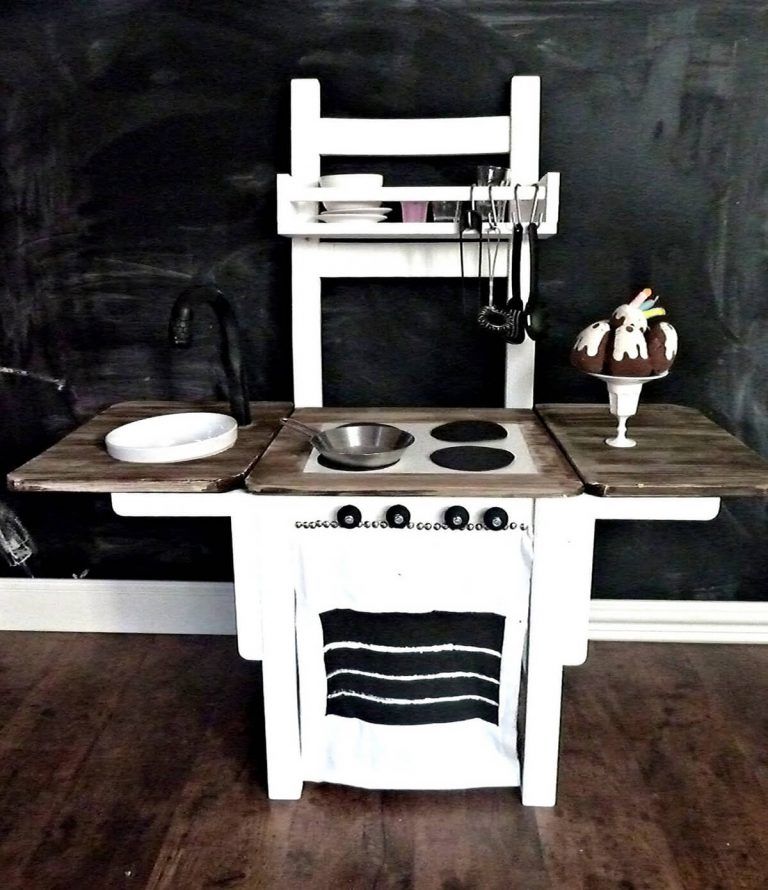 If you have old chairs you were thinking of throwing away, and your little girl is whining about a kitchen toy, here is a perfect idea how to make one together with her and use those old rustic chairs. Put the chairs one onto the other, put wooden planks on the top, make the stove out of cardboard, put a shelf on the top, and let your princess enjoy her new toy.
13. Bedside Barstool Table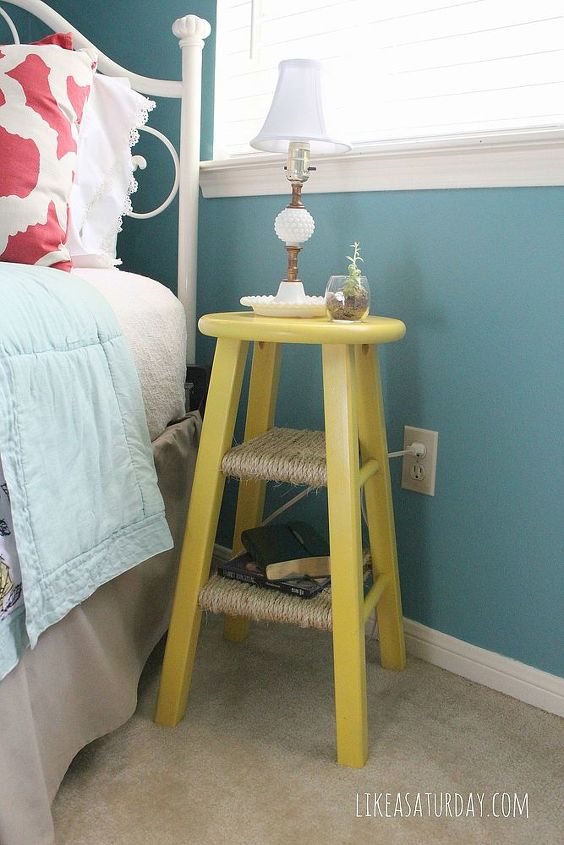 This old barstool has been turned into a bedside table. Paint it in yellow, or pink, or green, or whatever vivid color that suits your style to brighten up your room. Cover the lower bars with rope to make additional storage space, and give it a vintage cozy look. It will be both useful and practical for your bedroom. It will not cost a fortune and still looks cool.
15. Chair Planter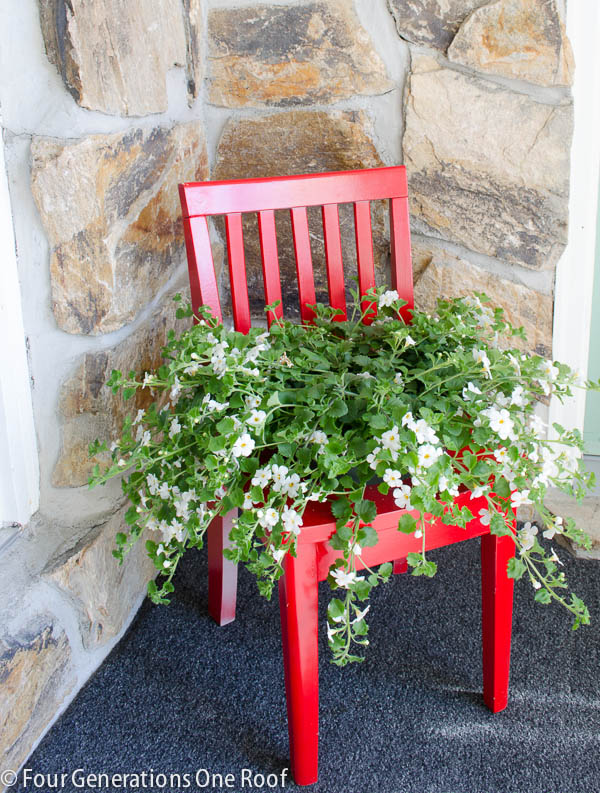 Here is a gorgeous idea of how to make a planter out of an old chair. Simply cut the sitting part of the chair in a circle and put a pot inside to grow a lovely flower. Paint your new planter in a vivid color to give a contrast to the greenery and put it in some shady corner of the yard to make it pop even more.
16. Bathroom Towel Racks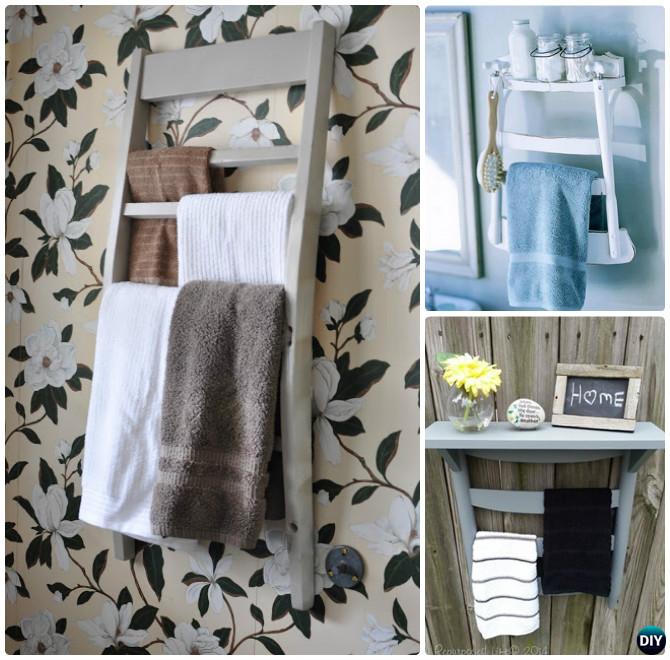 Here is a great idea of how to use an old chair and turn it into a bathroom towel rack. Make sure you paint it in a permanent color to last long and not get damaged by the dump In the toilet. Mount it on the wall and start hanging towels on it. Or put a small shelf on the top to put some bathroom decorations or your bath utilities.
17. Bird Bath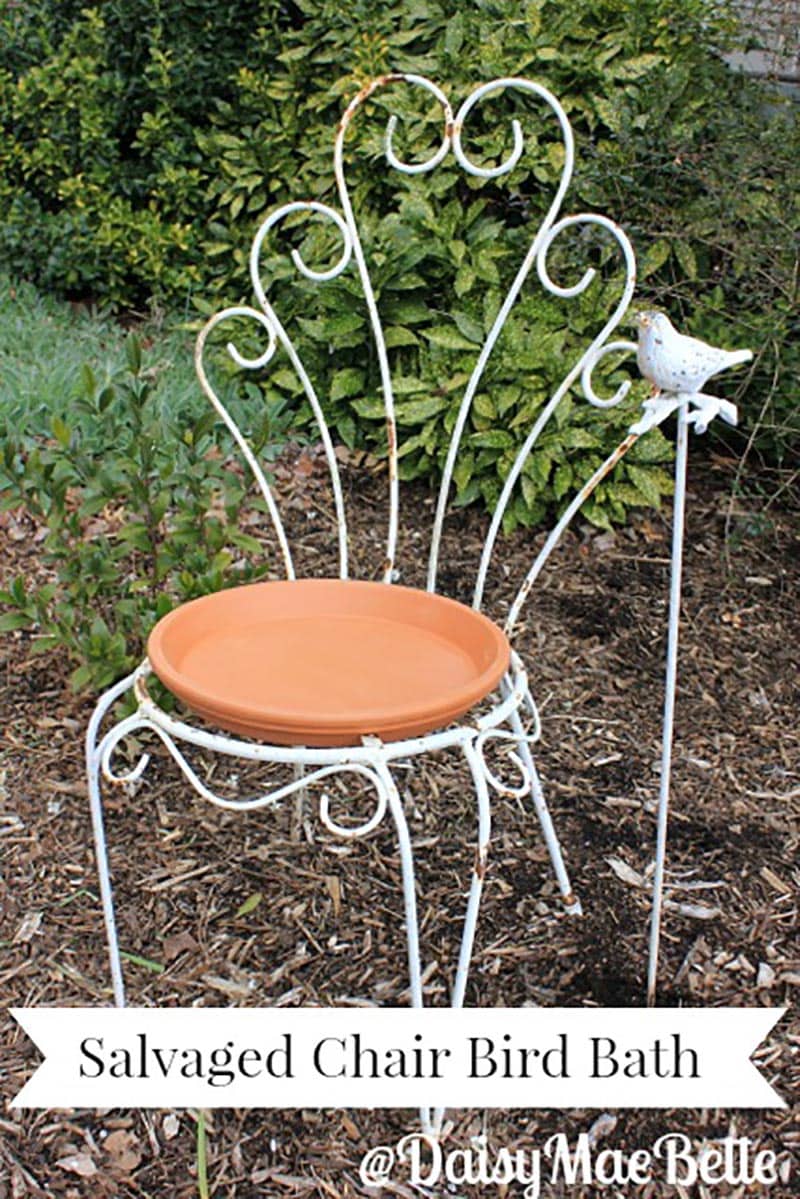 This old rusted metal chair has been turned into a birdbath. Its interesting design is perfect for your vintage backyard to give it a rustic, yet elegant feel. Simply put a pan on the sitting part of the chair, fill it with water, and let the birds enjoy their new bath. You can also use it as a feeder in winter to keep them safe from hunger.
18. Wind Chime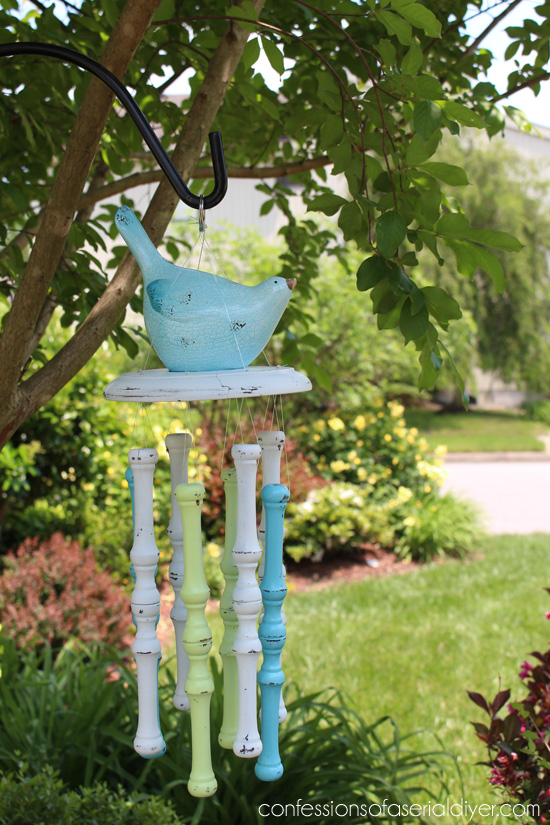 This wind chime was made of the spindles of several old chairs. Paint them in bright colors, put a rope or a string on the top, and arrange them together in a bunch. Decorate the top with a wooden bird, and hang it on the tree out in the garden to make the best music of all times that nature can create.
19. Entryway Hanger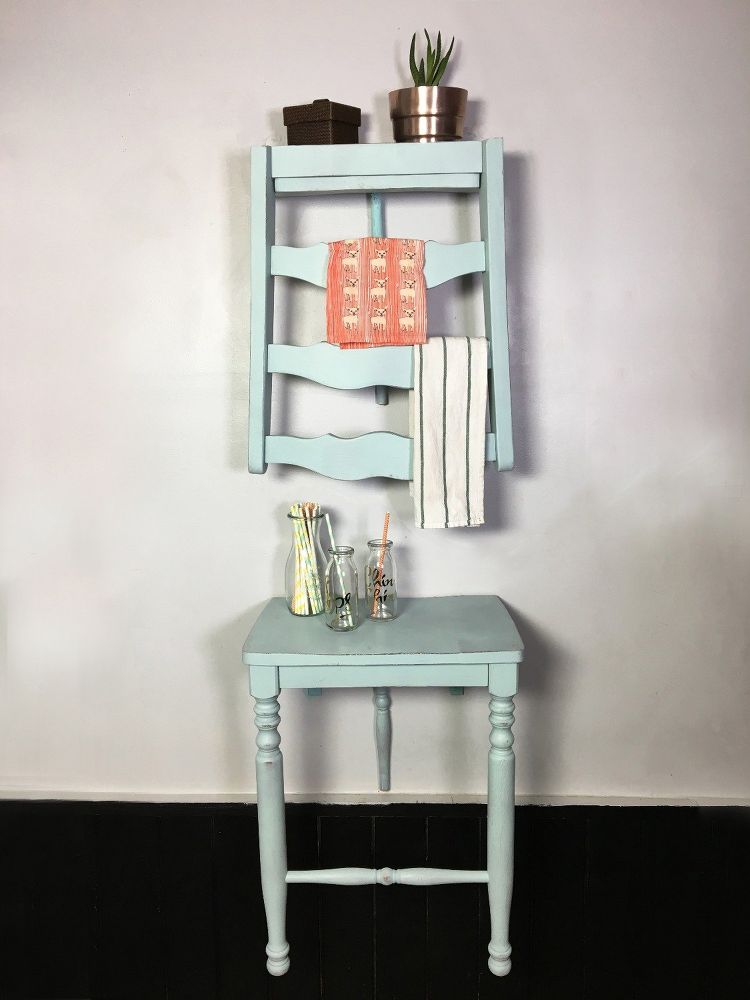 This is the final idea for today. Separate the chair to create a rack and shelf, and a side table for your entryway. Hang the scarves on the rack and put your keys and accessories on the table. It is fun, cool, and practical at the same time. Painted in the color of your choice, it will complete the style of your room.
Now, that we showed you our ideas, you can get inspired by any of them or you might find some other to get you even more inspired. However, if you liked our ideas or have some of your own, please leave a comment in the comment section below.