Halloween is the time of the year when being spooky is not only allowed, but also required. It is the time of the year when ghosts, spirits, witches, and zombies fled through the cities and towns to celebrate their day. On this day you can be whatever you wanna be.
If you are invited to a Halloween party with your partner it is always a great idea to be masked as a couple. Spooky, scary, or funny is the style for you to choose from. If you are ghost lovers or horror lovers, dress and mask scary. If you are a fun lover, mask funny so that everyone can laugh. Or, if you have some original idea or some favorite characters you have always wanted to disguise in, this is the perfect time of the year to do so. It's up to you and your inspiration to get the best mask this Halloween.
To ease the task for you, we selected some ideas for you and your partner to look at, and get inspired this Halloween. Socket and plug, Chiks Magnet, Fitness stars, or cartoon characters, it's all there. And for the horror lovers, there are Bonny and Clyde, the Suicide Squad, Zombies, Monsters, and all sorts of spooky characters. The list below divided into two parts for easier navigation and inspiration.
1. Plug and Socket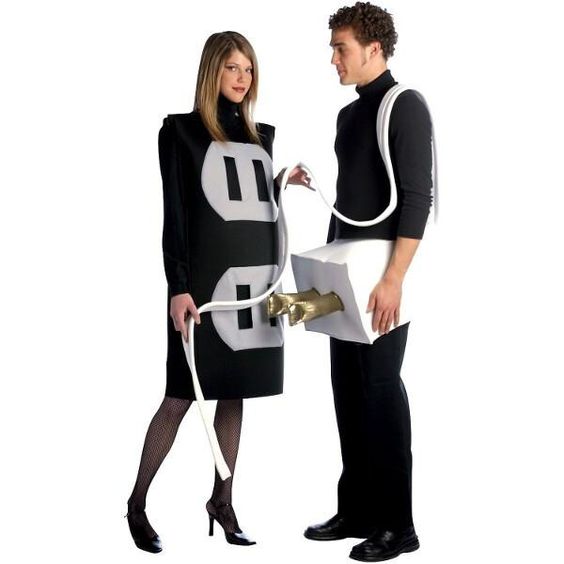 A sexy mask for a sexy couple, this plug and socket mask will get you closer, and keep you close throughout the night. It is inventive and creative and will make you have fun all night long. And, of course, stick together through the night.
2. All Shades of Gray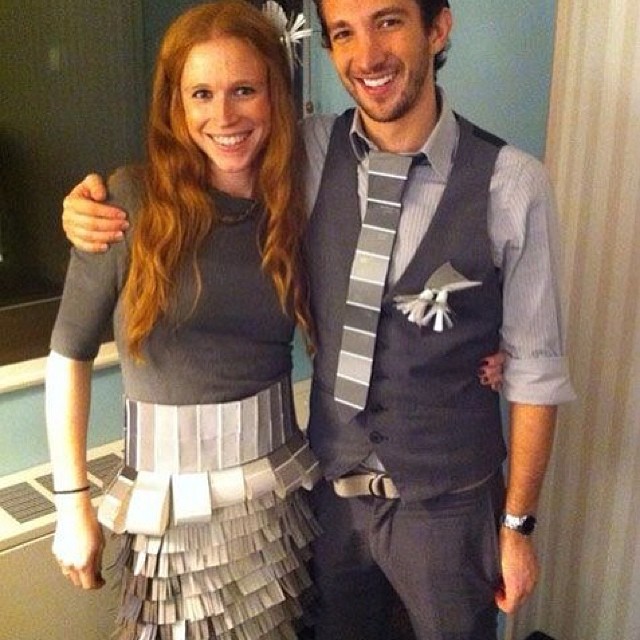 Many people love the best selling novel and popular film "50 Shades of Grey", this is an interesting way to honor the film and its title. Combine all the grey shades that you have at home, or even use some grey toned stripes to make your new Halloween skirt and tye. You will be a perfect match.
3. Winnie the Pooh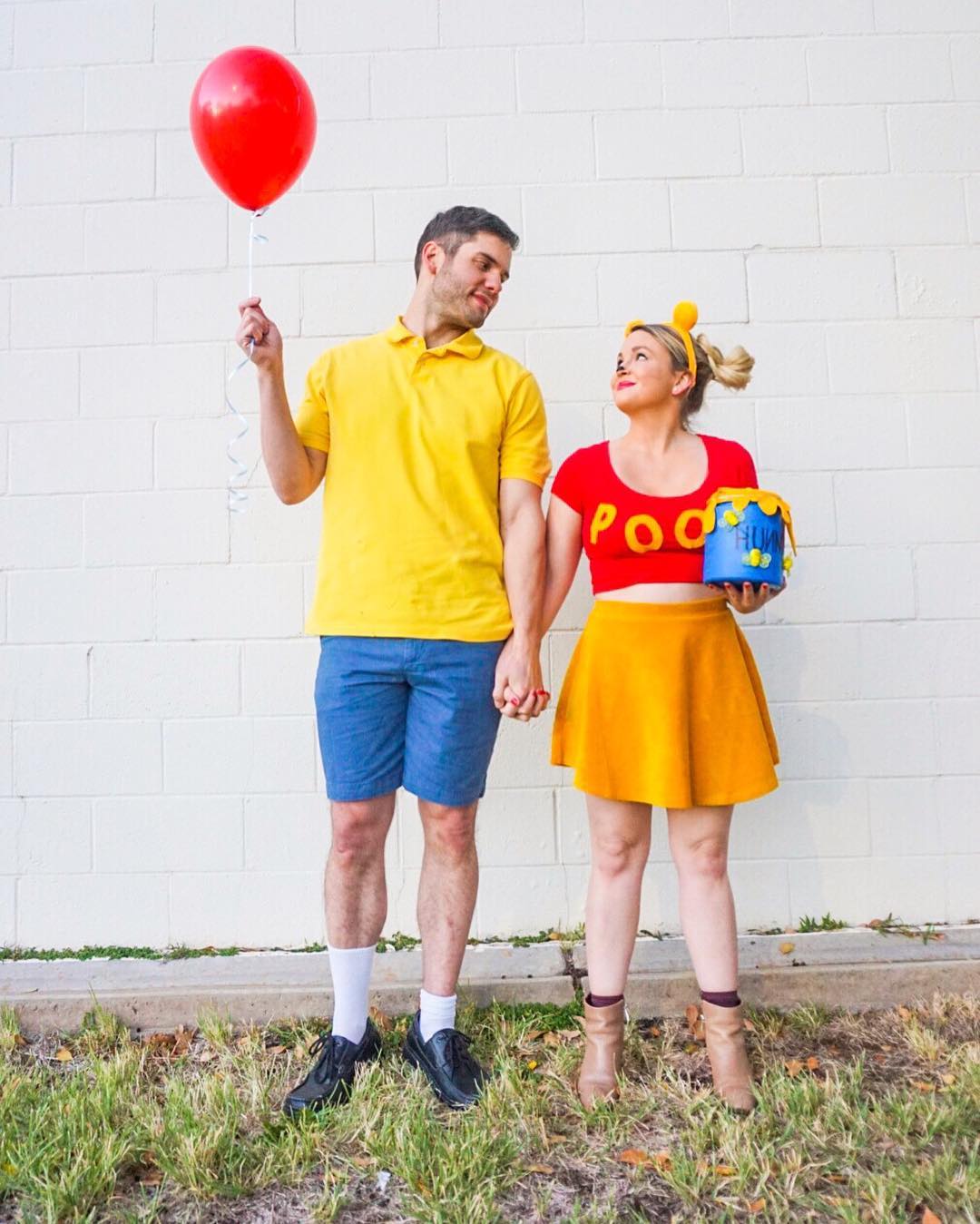 Cartoons? No problem. Instead of all-time-loving Mickey and Minnie, this couple decided to look a bit different. They choose Winnie the Pooh and Christopher Robin, also making the Hunny jar and a balloon to complete the look. And they really look cool and amazing.
4. 80's Fitness Trainers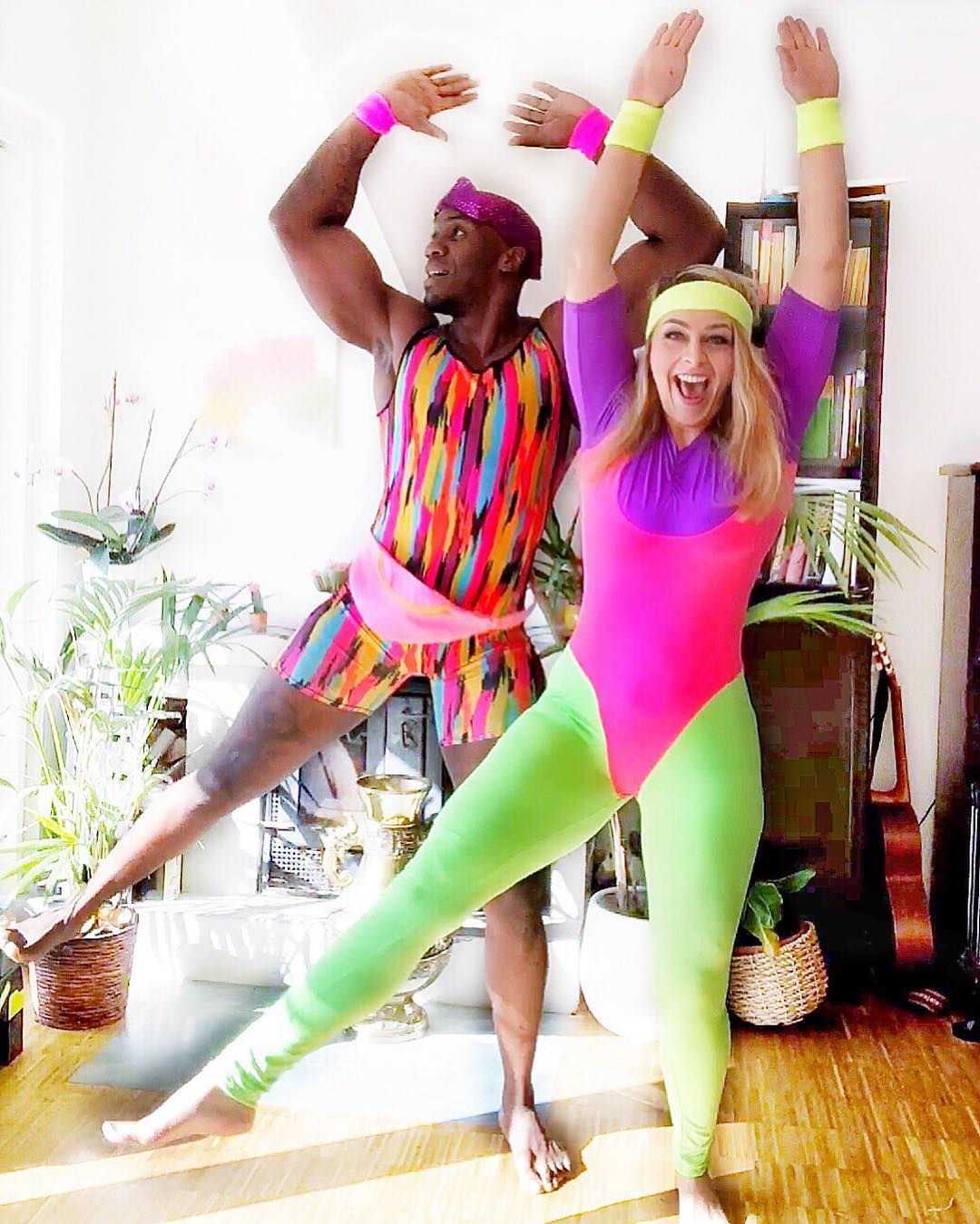 The '80s were all about the colors. It is the most color-splashed decade in the last century. Nowadays, this fashion is considered funny and unusual. That's why couples decide to mask into an 80's fitness instructor or trainer to look cool and funny for Halloween. It is a pleasure for the body, but sore for the eyes. But, hey, on Halloween everything is allowed.
5. Milk and Cereal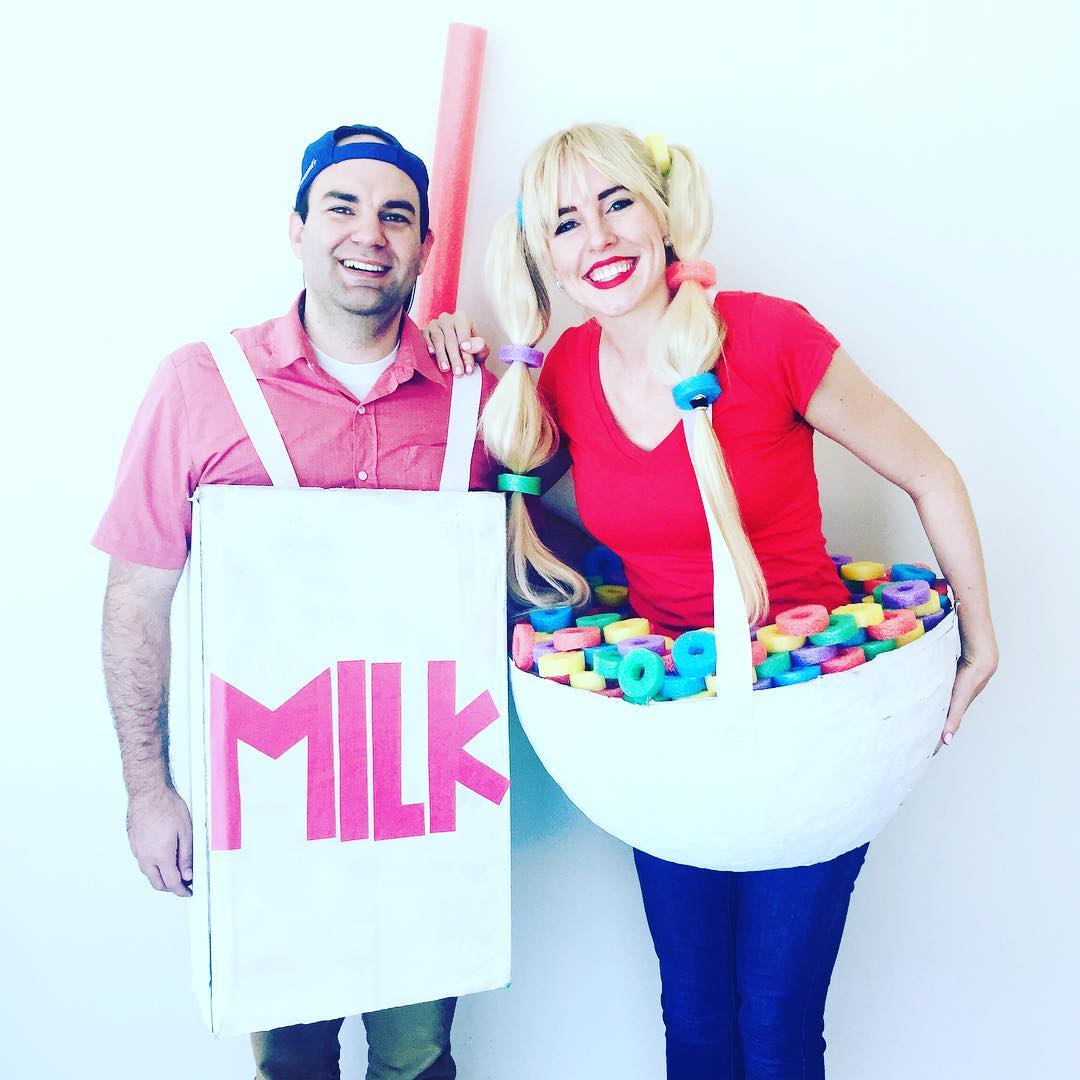 Sometimes even the simplest things in your daily life can get you inspired. Like a bowl of cereals, for example. This couple decided to be exactly that, a pack of mils and a bowl of cereals. Easy to make, cool to wear, and great fun. They surely nailed it.
6. Beer Pong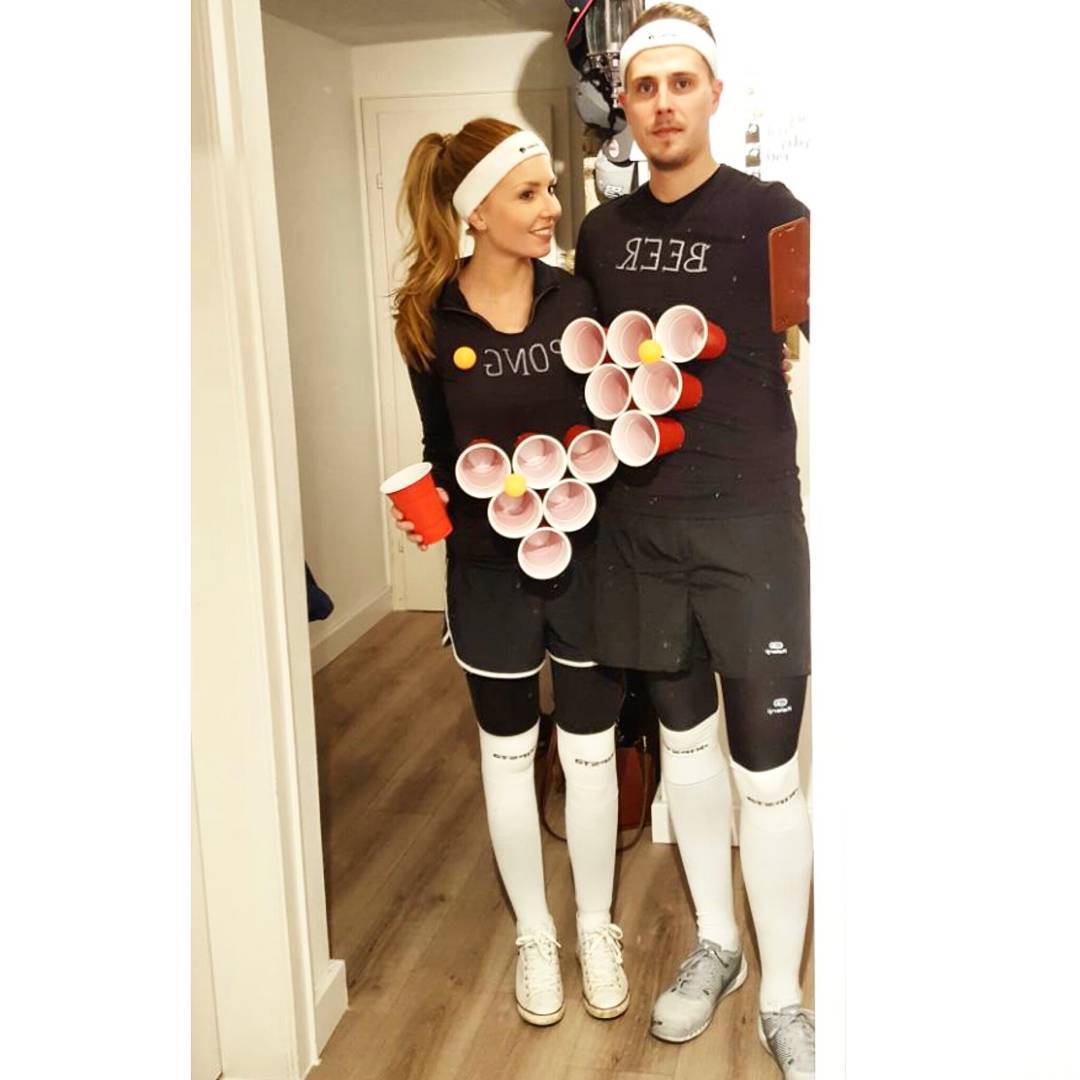 Beer pong is always a great game. Why not turn it into a Halloween costume? These guys did that and nailed it. They are dressed in simple black shirts and white socks and have plastic glasses glued on the shirts. They hold a beer in their hand to get the right feeling and idea of the costume. They really enjoy it.
7. Chick Magnet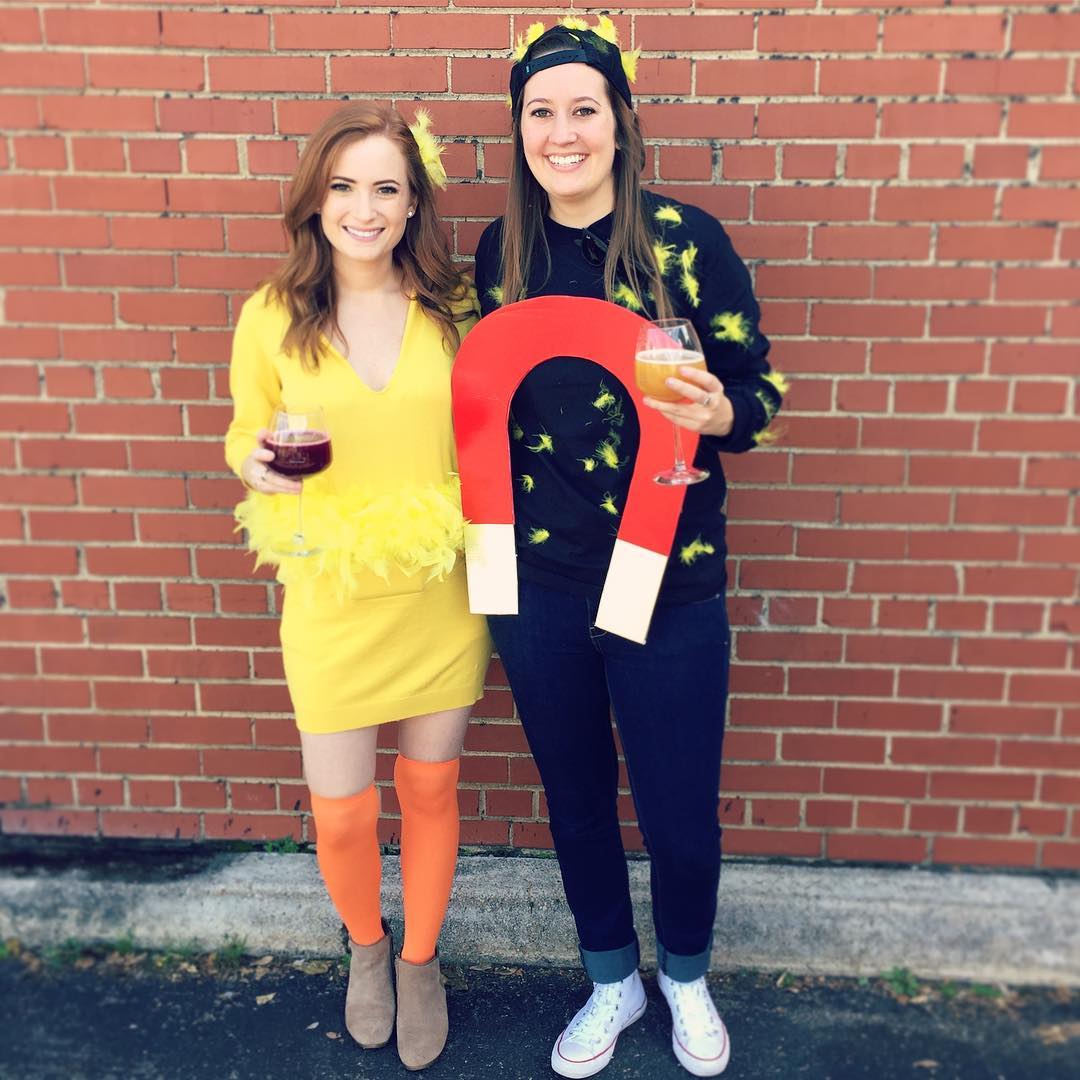 Guys are magnets for girls. Girls are called chicks. Well, this couple thought through to make this costume be literally that: chick magnet. One dressed as a little chick, the other with a magnet around her neck and some feathers on her shirt. They are really cool and fun and surely have an amazing Halloween.
8. Angel and Devil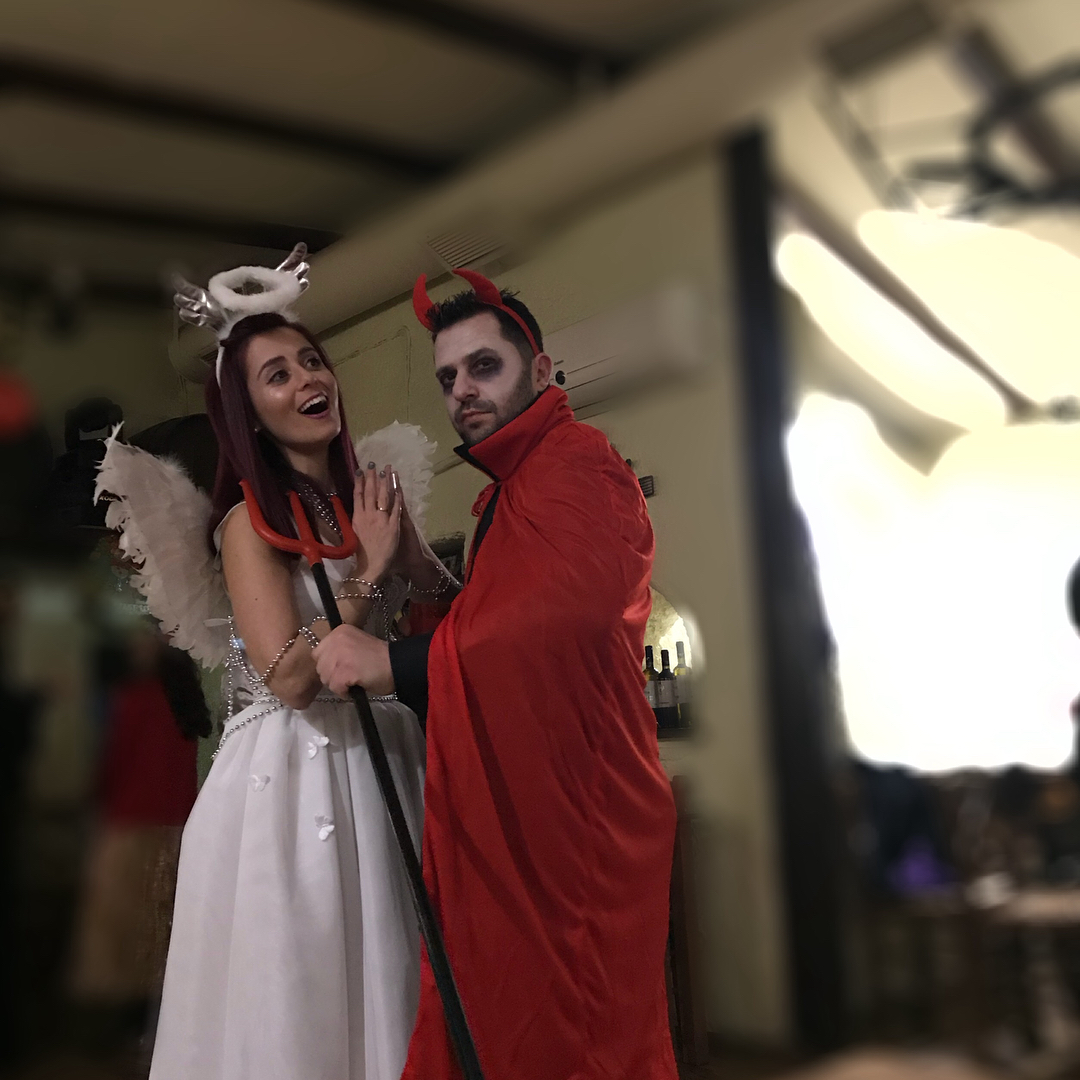 Angel and devil are always in for Halloween. This great costume is perfect for couples who like to play it both safe and rough. An angel girl in innocent white with heavenly wings, and a red boy with passionate, yet spooky coat look amazing together. They are elegant, funny, and gorgeous.
9. Mr. and Mrs. Smith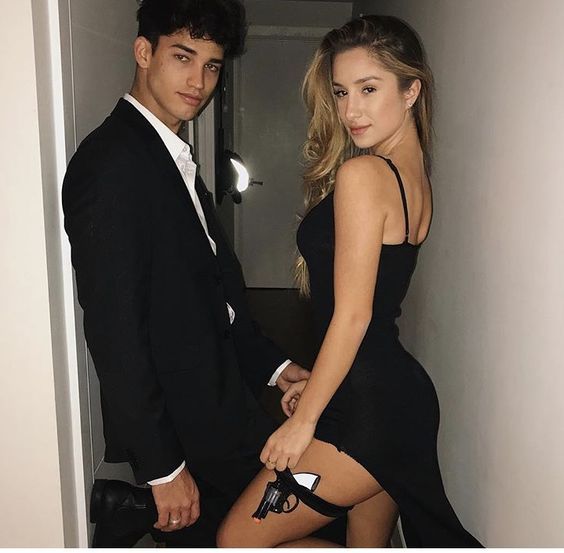 Want to look elegant and still feel scary at the same time, this Mr. and Mrs. Smith costume is perfect for you. They are elegant and sexy, but with their roles and work, they can be really scary for the environment. Be like them. Plus, the costume is on a budget, you need only a black dress and a black suit.
10. Bonny and Clyde
Bony and Clyde were the most famous criminals of all time. They were madly in love, and both totally weird, so impersonating them makes it a great Halloween costume for couples that are madly in love. Elegant, sexy, and crazy is what makes you perfect for this costume. Use it wisely.
11. Spooky Bonny and Clyde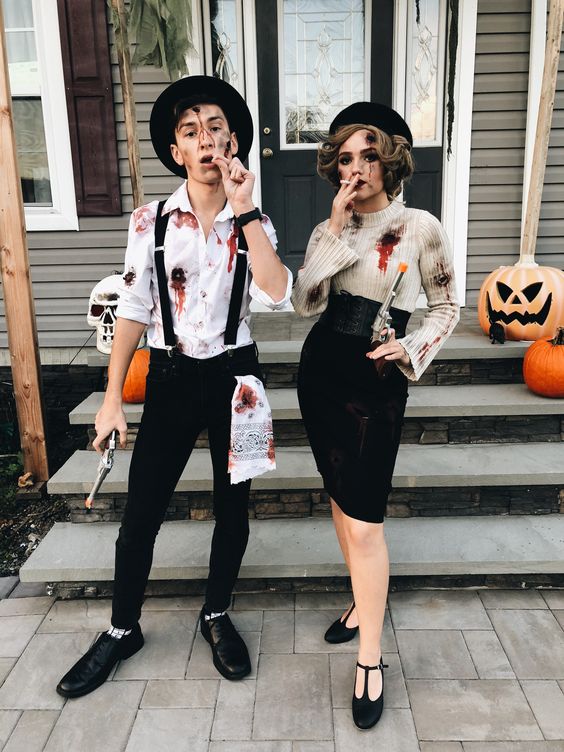 This second idea of Bonny and Clyde's costume was inspired by the death of the couple since they were shot to death by many bullets. It is spookier but still sexy and elegant. If you want to look spooky and scary, and still be elegant and stylish, this costume is great to achieve all of it at once.
12. The Suicide Squad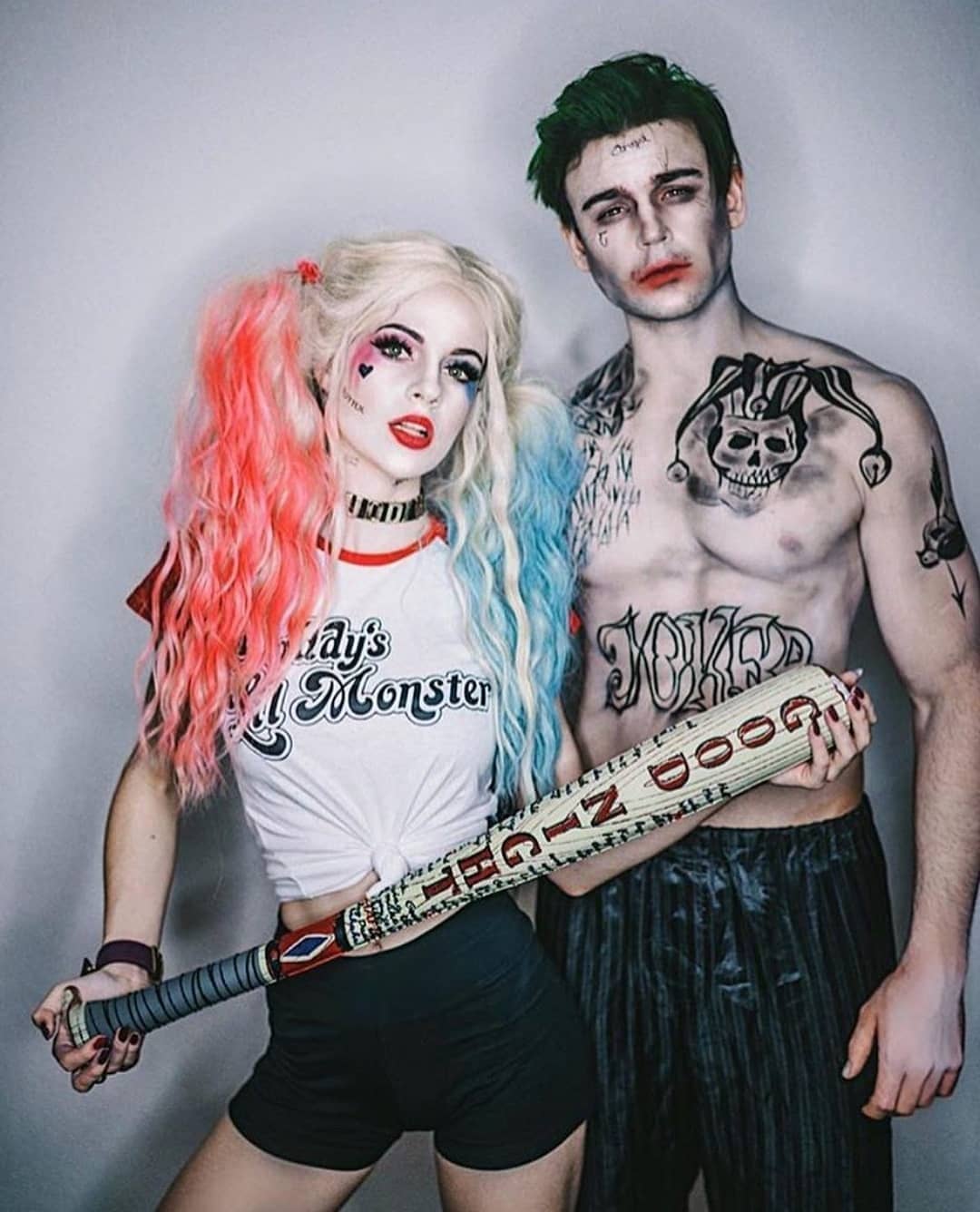 Harley Quinn is a very popular inspiration nowadays. It is cool and colorful, yet spooky and scary at the same time. You can be Harley Quinn, and your boyfriend can be any other character from the Suicide Squad. You'll be greatly scary and spooky, just as Halloween requires.
13. Little Red Riding Hood and the Scary Wolf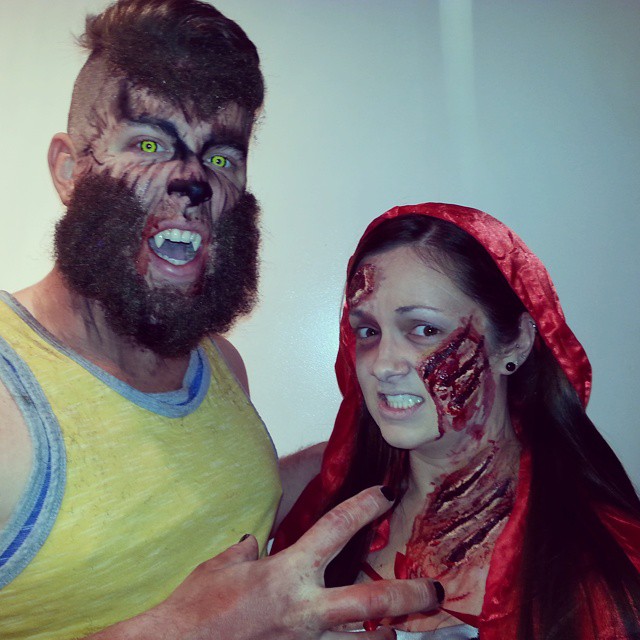 If you can't get rid of the fairytales' ideas, here is how to make it spooky. Mask yourself as a little red riding hood, and your partner as the scary wolf. He attacked you, and now you are all in bruises with blood all over your face and neck. The wolf too is scary as hell. You will be great together.
14. Assassins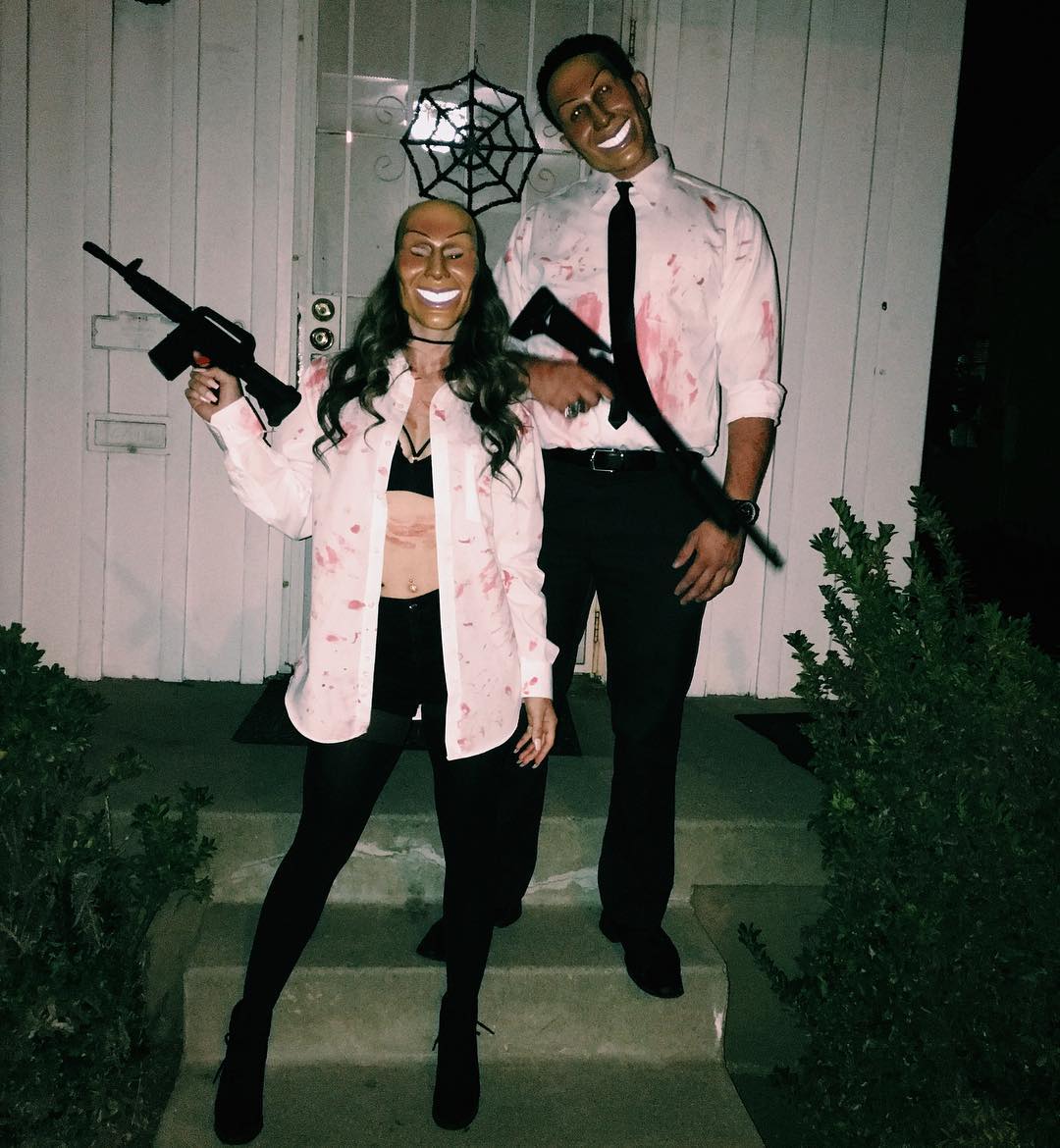 Assassins are always in, no matter what. If you like being in a spooky mood and you're fond of guns, this is perfect for you. Get masks, toy guns, a bloody shirt, black pants, and you're set to go! And don't forget to put on your best creepiest smile.
15. The Nightmare Before Christmas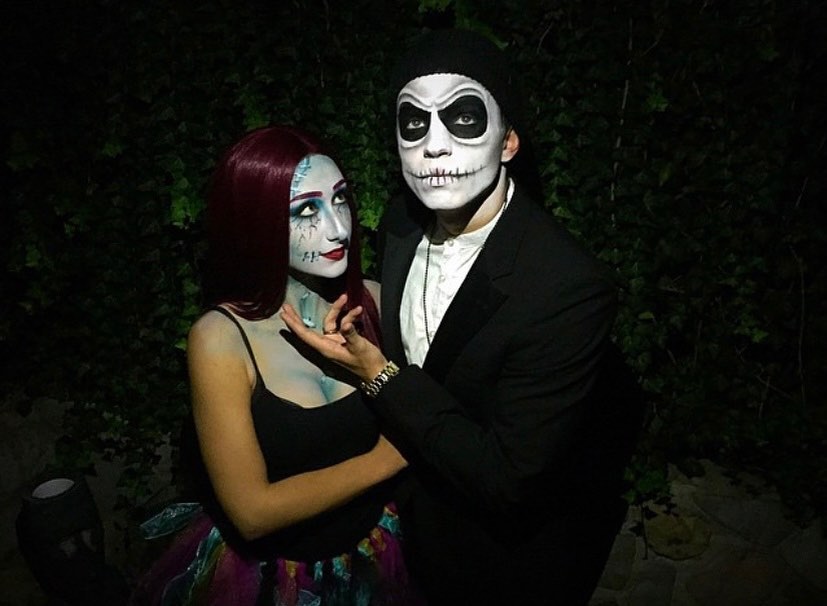 When the King of Halloween town goes to Christmas town and decides to celebrate Christmas, this is the result. Wonderful spooky couple ready to party the Christmas night out. Elegant, sexy, cool, and spooky all at once. Perfect costume for a happy couple.
16. Modern Spooky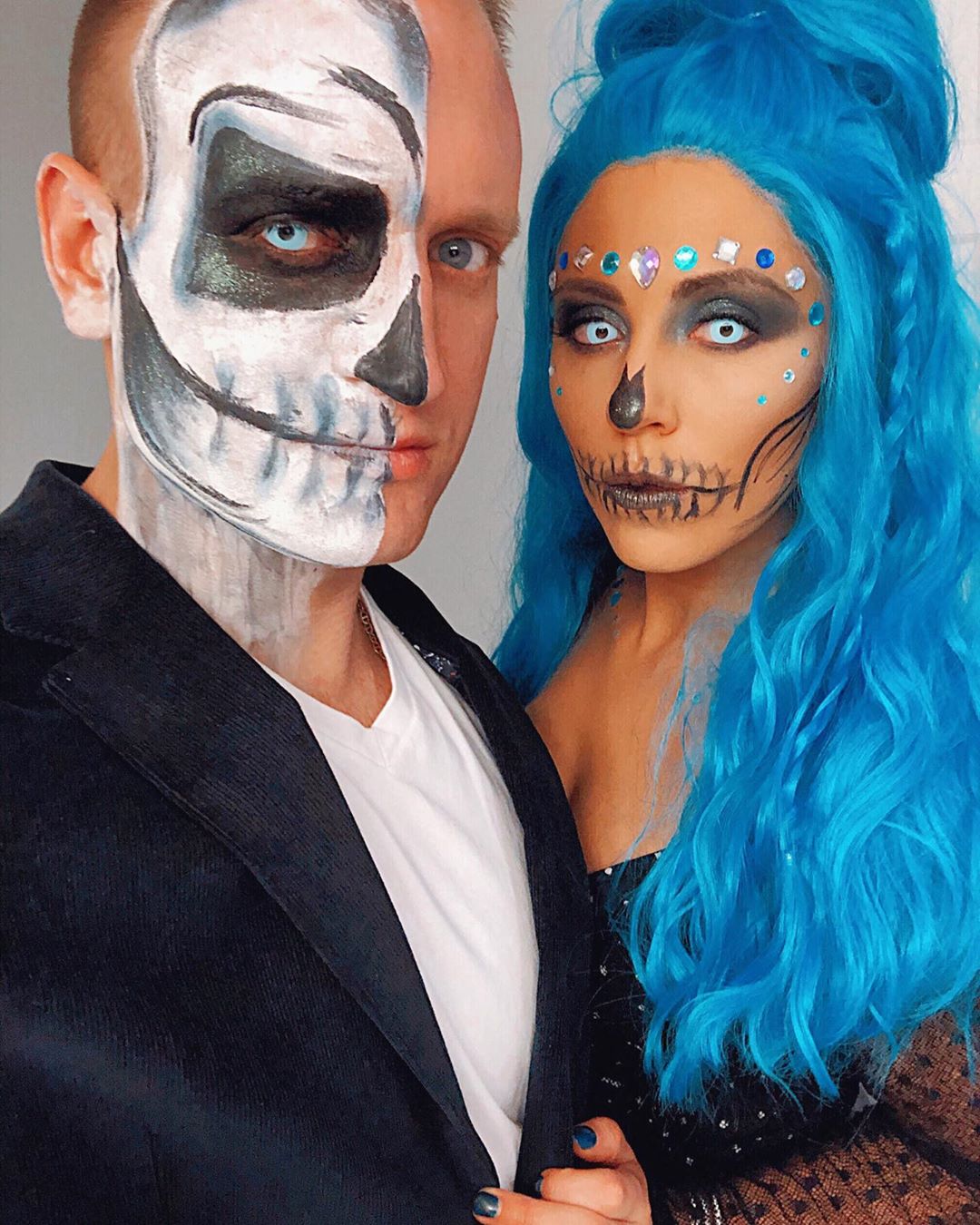 Here is how you can look modern and spooky at the same time. This couple decided to have a very spooky, yet extremely elegant make-up for the Halloween season. The Blue hair and blue eyes, the crystals on the girl's forehead, and the blue nail polish make it all look modern and elegant. They will surely be noticed.
17. Terrorist Attack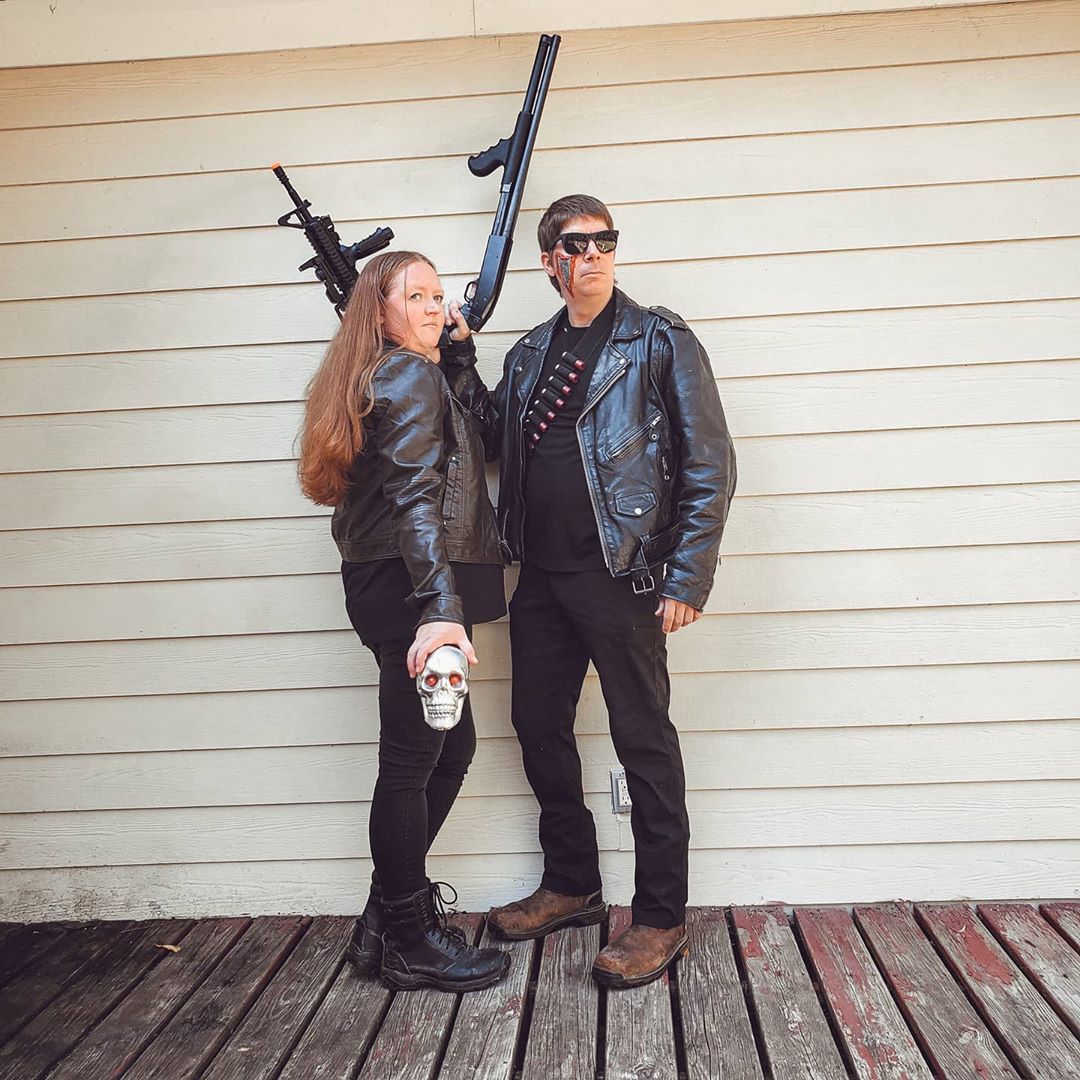 Terrorists are scary, no matter how you put it. This makes it the perfect Halloween costume. If you are a couple that likes to disguise for Halloween but is not into heavy make-up, this costume is just what you need. It's on a budget, it's easy to make and you will be ready in no time. Grab some original toy guns, and off you go!
18.  Skeletons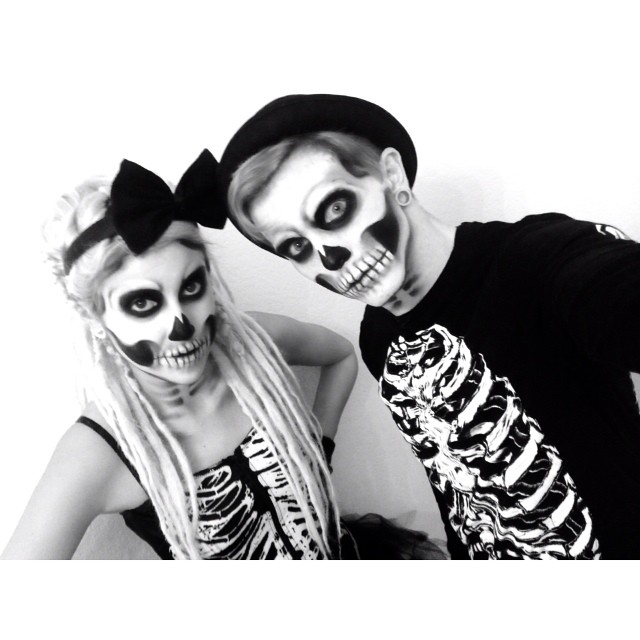 Skeletons are what marks the Halloween season. They never go out of style for the spookiest holiday of the season. Choose the right skeleton themed clothes, great make-up, some cool hat, and ribbon headband, and start trick or treating with your friends. Yes, even the big Halloween adult parties can be good for trick or treating.
19. Spooky Avatar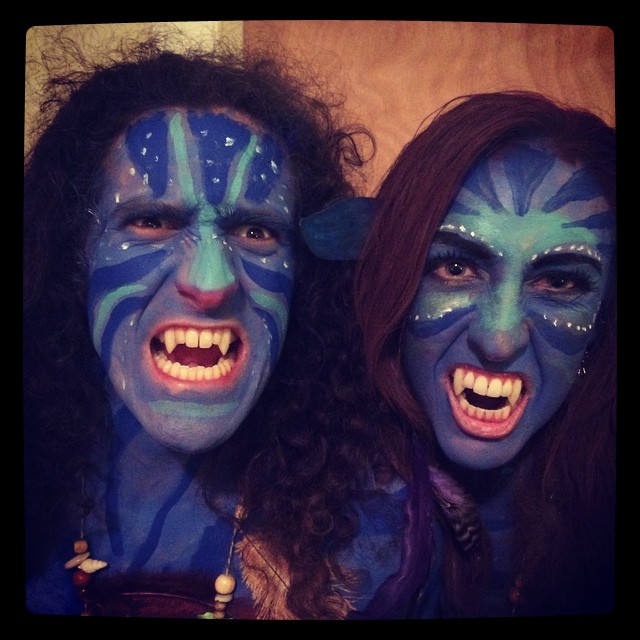 Blue avatars. Why not spooky ones as well? This mask is fun and great for those of you who like complete face paint. They can be scary and cool, and also very spook if you add some vampire teeth to it. Enjoy the greatness of this cool mask for the scariest season this fall.
20. Jack and Sally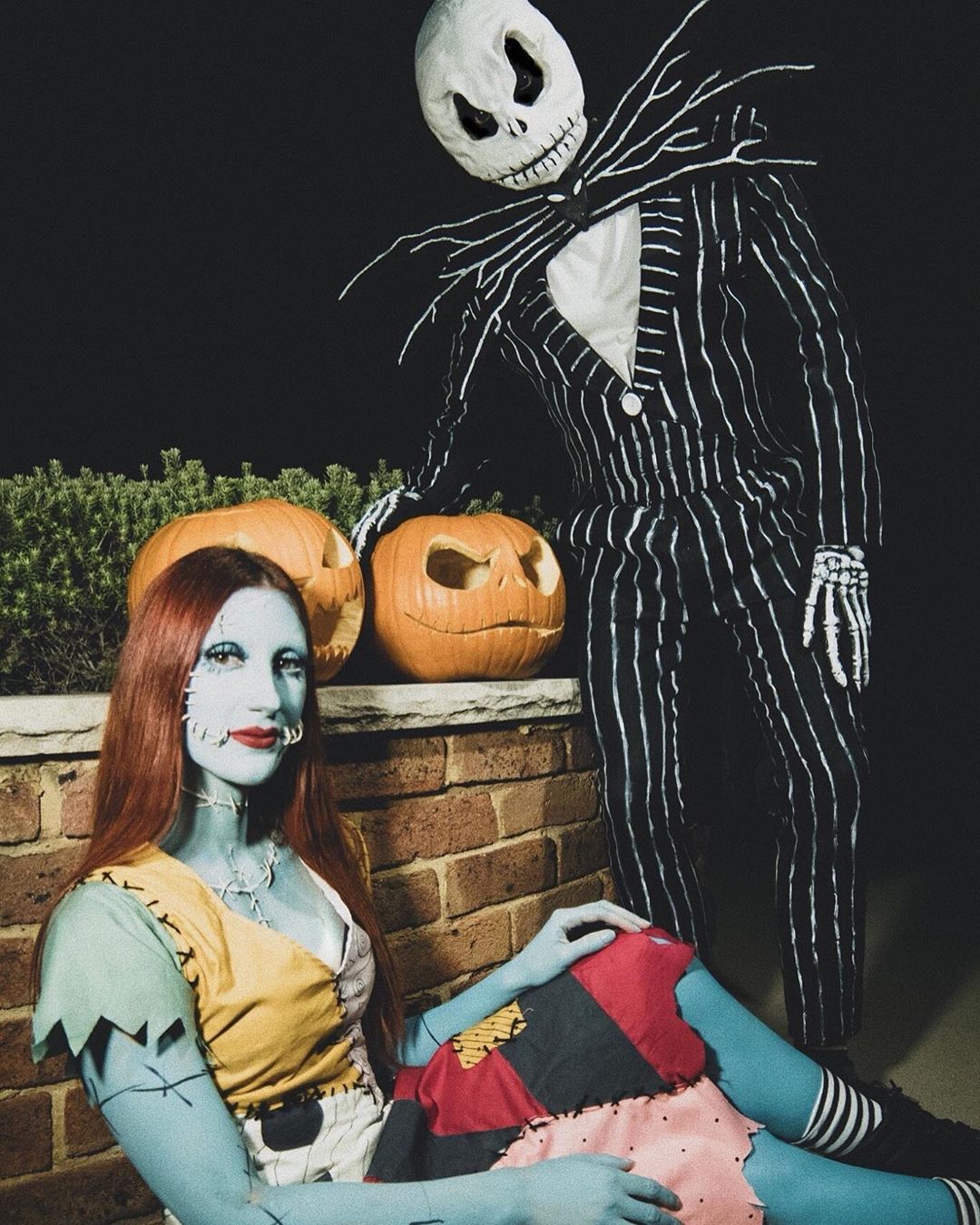 Here is another idea on the same theme, "The Nightmare Before Christmas".  Complete body paint, ragged clothes, skeleton mask, and some fake stitches to make you look spooky and cool at the same time. This elegant mask is great to make your Halloween a night to remember.
This list is only to get you inspired for this Halloween season. Of course, your imagination is neverending, so let it run wild. And if you have any ideas of your own, or you find some of these ideas fantastic, don't hesitate to leave us a comment below.