The wind is rising, and the air is wild with leaves, we have had our summer evenings, now it's time for October eves. Shadows of a thousand years rise again unseen, voices whisper in the trees, here comes Halloween! And we all know what that means: Halloween decorations!
So, put on a spooky playlist, and prepare for the cutest, sometimes scary, and most festive looking Halloween ever! These ideas may be ghoulish, but they're chic enough to use year-round. There are very few holidays that prioritize interior design like Halloween. Not only is it a great time to go above and beyond with some ghoulish decorations, but you also get to show off your handiwork to every trick-or-treater who passes your stoop. Fake spiderwebs, rotting pumpkins, and a black-and-orange color palette are undeniably festive, creating a very cozy and spooky atmosphere… Chic magic that adds a festive element.
Enhance your Halloween haunted house with our ideas for outdoor and indoor decorations, centerpieces and tabletop ideas, crafts, bedroom, and bathroom decorations, and get into the spooky spirit. Lure in your guests with an entrance that transports all who dare to step inside. Enjoy!
1. Pumpkins onto the outdoor fence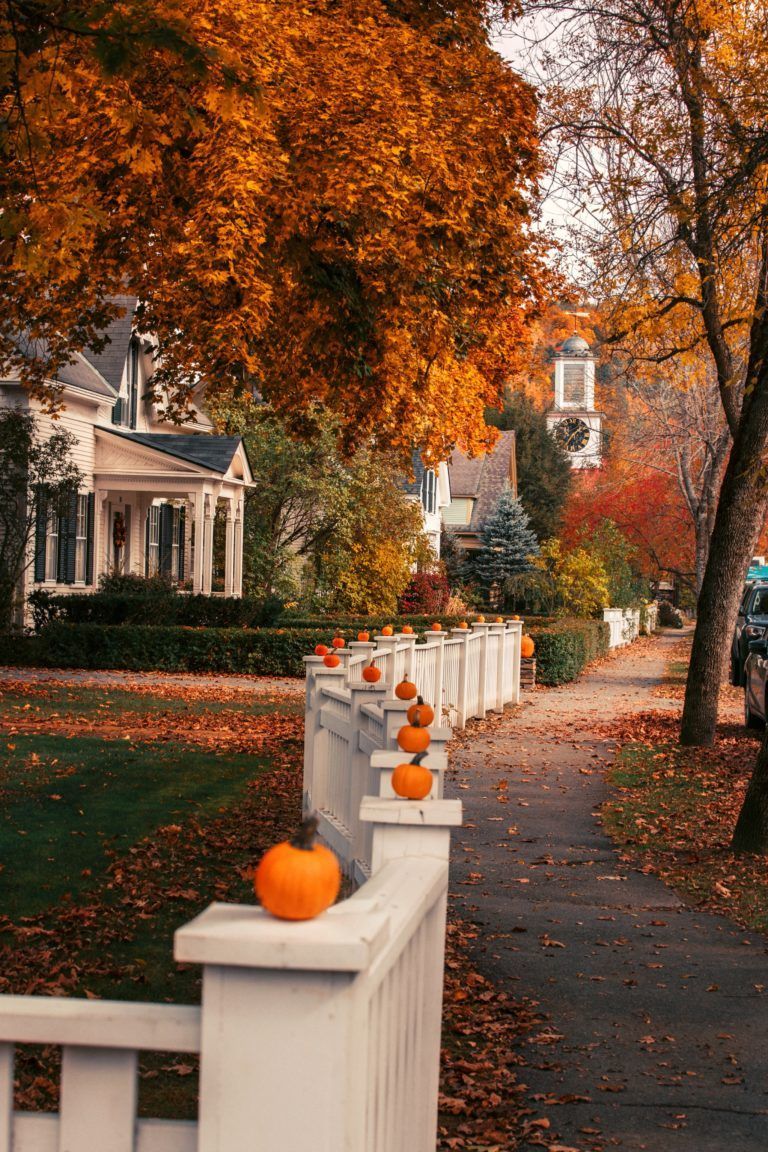 Welcome, Halloween with our first idea that is oh-so-hauntingly easy! Transform your curb appeal with these boo-tiful pumpkin decorations for a welcoming spooky sophistication into your homes.
2. Hanging witch hats
May you have the most festive home on the block, filled with pumpkins, spider webs, and HANGING WITCH HATS! This is a great idea for a last-minute decoration as it perfectly blends in with the spookiness of the holiday. A minimalistic idea with a touch of spooky sophistication.
3. Giant spiders and spider webs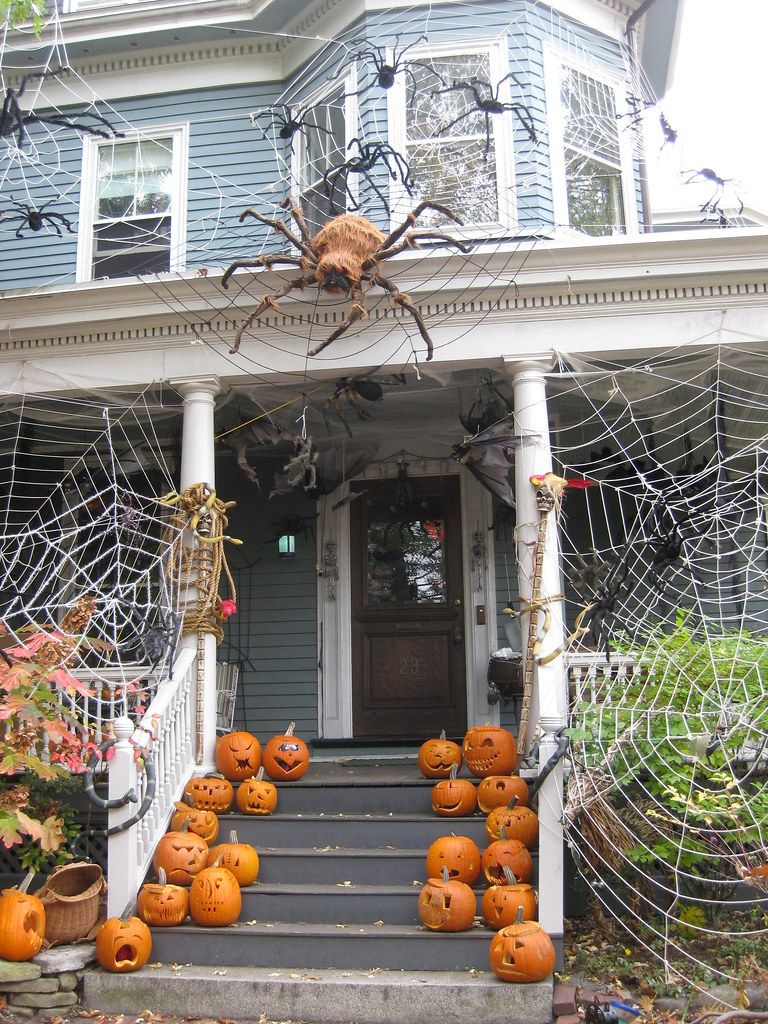 This idea will surely give any party guest or trick or greater a little scare. For those who are up for a challenge, we present to you giant spiders, spider webs, and a definite spooky curb appeal. You can even add to the spookiness by placing carved out pumpkins, snakes, skulls, or even bats. The scarier, the merrier!
4. Crawling skulls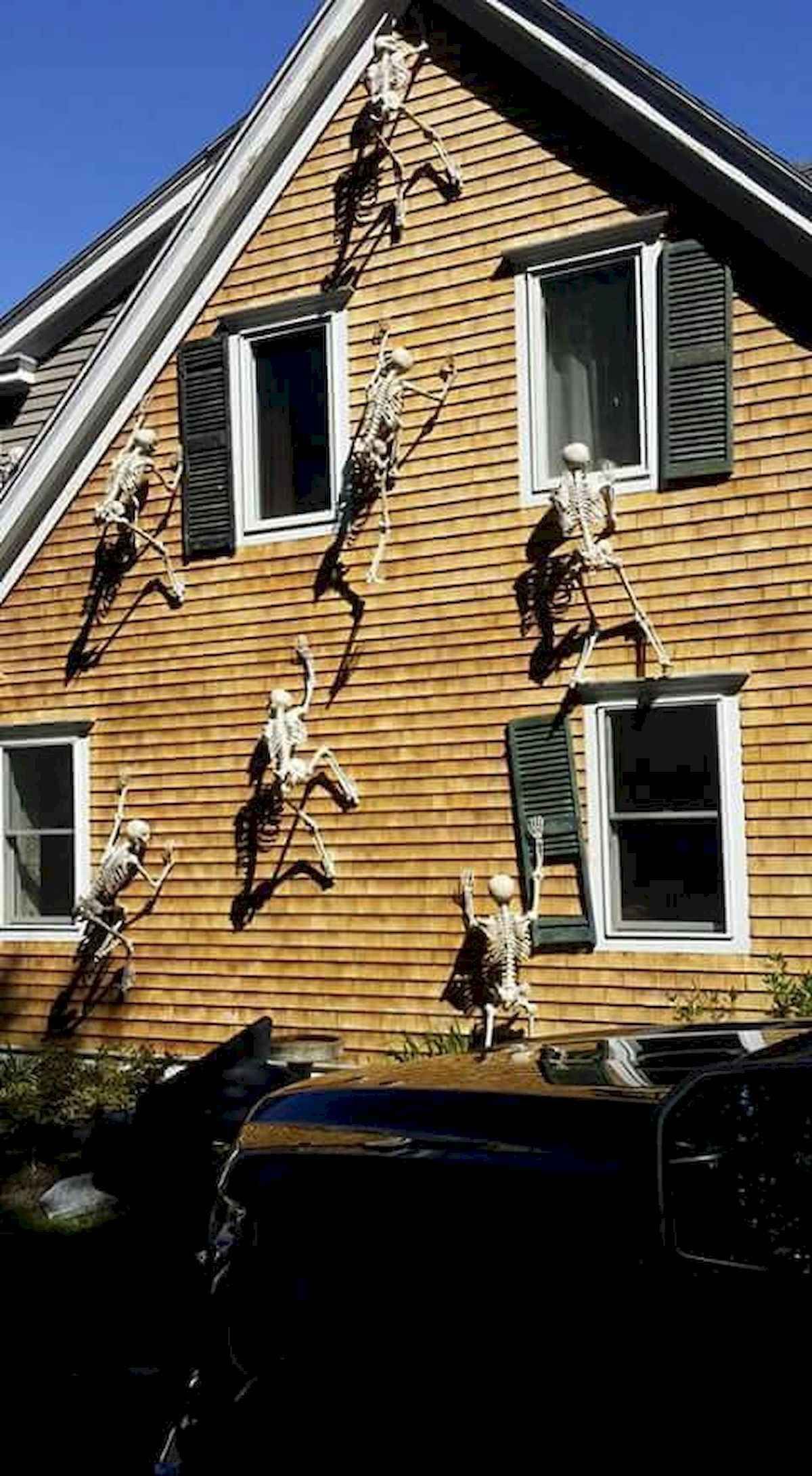 It's time to awake your biggest nightmares this Halloween and with this one, you surely will. How cool your house will look like with this decoration, right? A very cool haunting makeover that requires only skulls!
5. Jack O' Lantern statue
Create this spooktastic Jack O' Lantern statue that will terrifyingly welcome neighbors, party guests, and trick or treaters. It's so perfectly catchy decoration that fully captures the spirit of the holiday. And we all know that there is no Halloween without the legendary Jack O' Lantern!
6. Skulls on a bonfire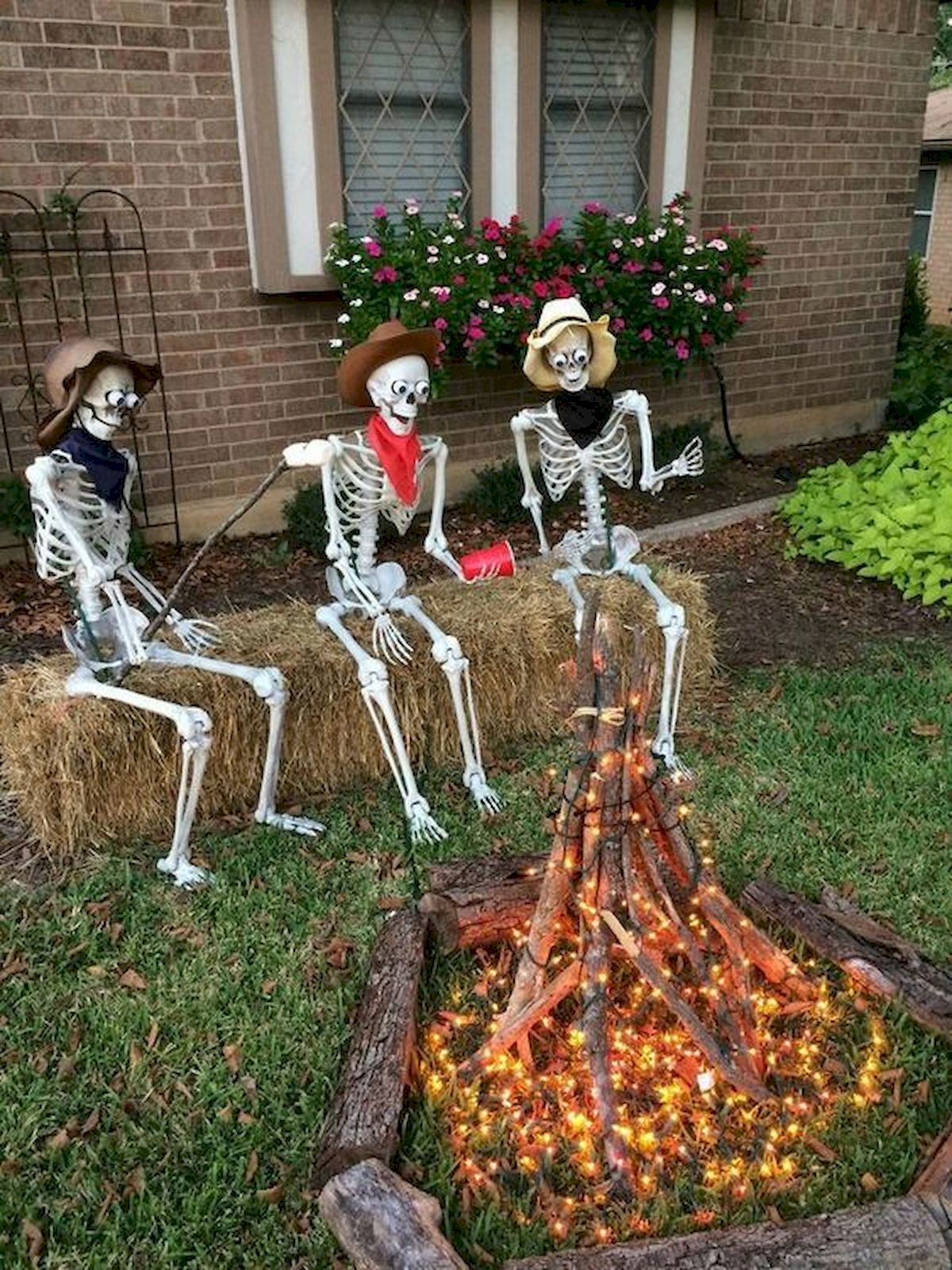 Don't know how to decorate your yards? Well, here's a great idea for you! Create a cozy bonfire, with led lights which imitate the burning flame, and skulls that look like they are having the time of their life (or death). This decoration will look great watching it from the windows, like you have company in your yard 24/7.
7. Dancing witches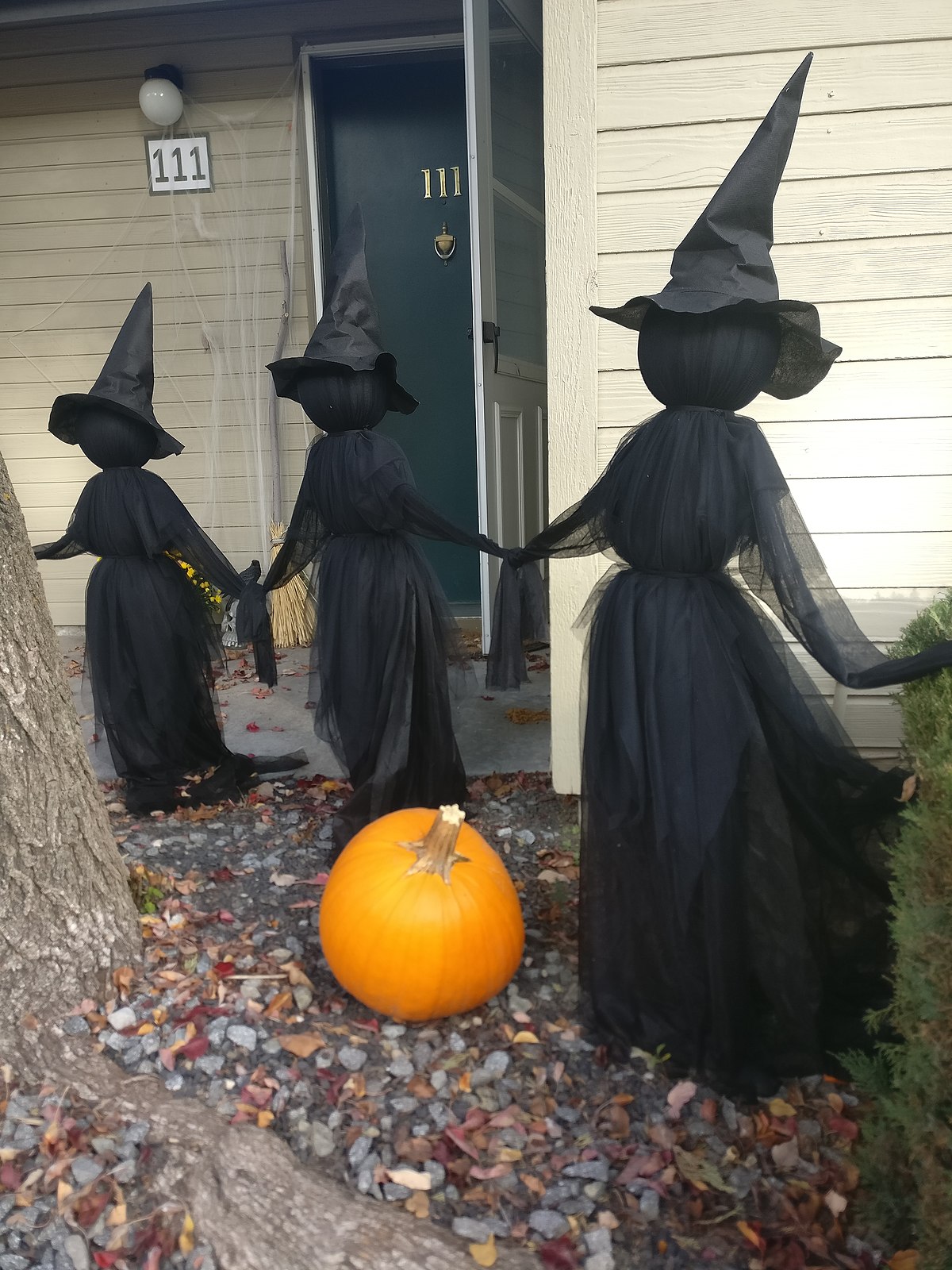 What's a better association for Halloween than witches and pumpkins? Well, for this Halloween you can recreate this idea we've found for you. Create these witch statutes that will cast a little scary spell to any yard. They look like they are dancing and celebrating Halloween, right?
8. Skull sunflowers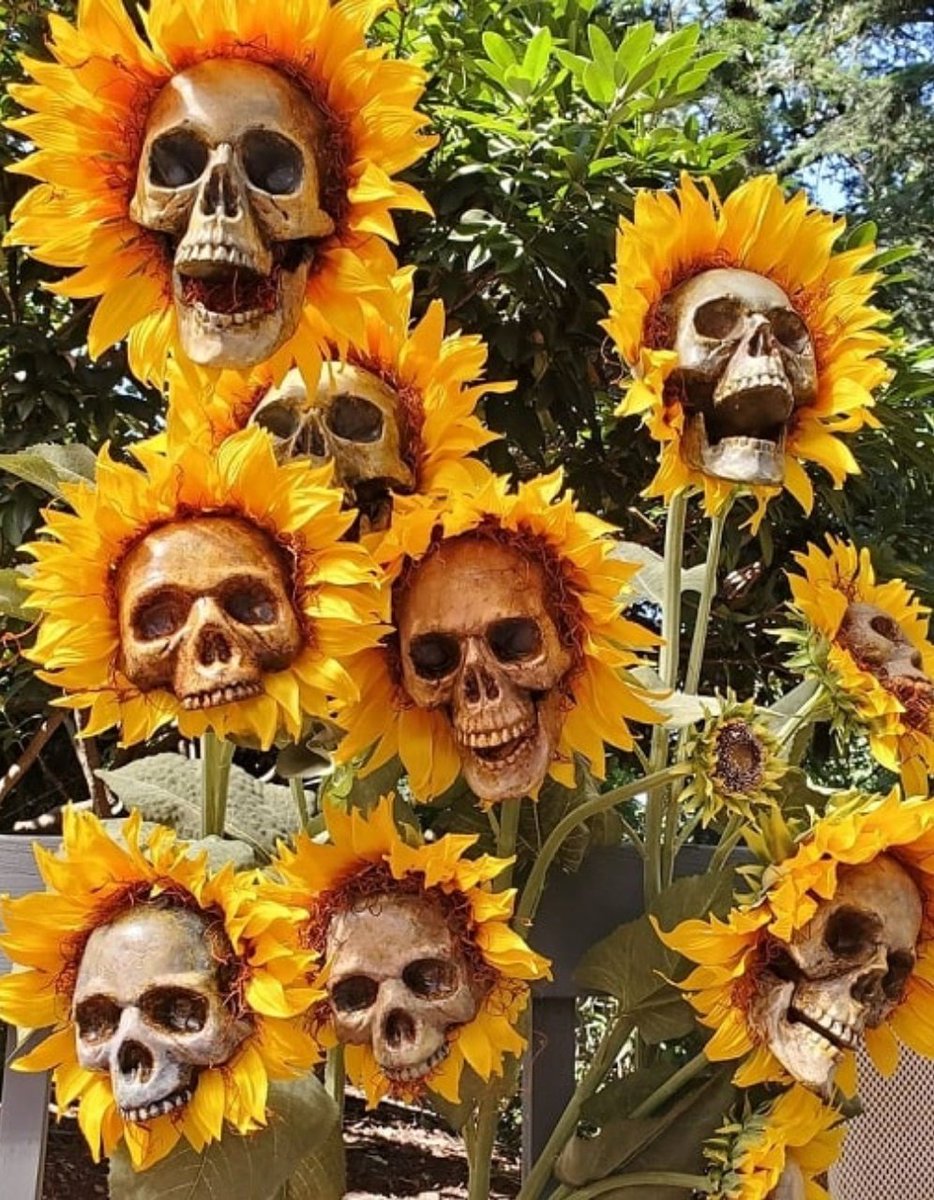 Spice up your gardens and yards and recreate this spooky idea for the upcoming Haloween. The curb appeal of your houses will be scary good…and floral too! Perfect balance, right?
9. Poisonous apples and witch legs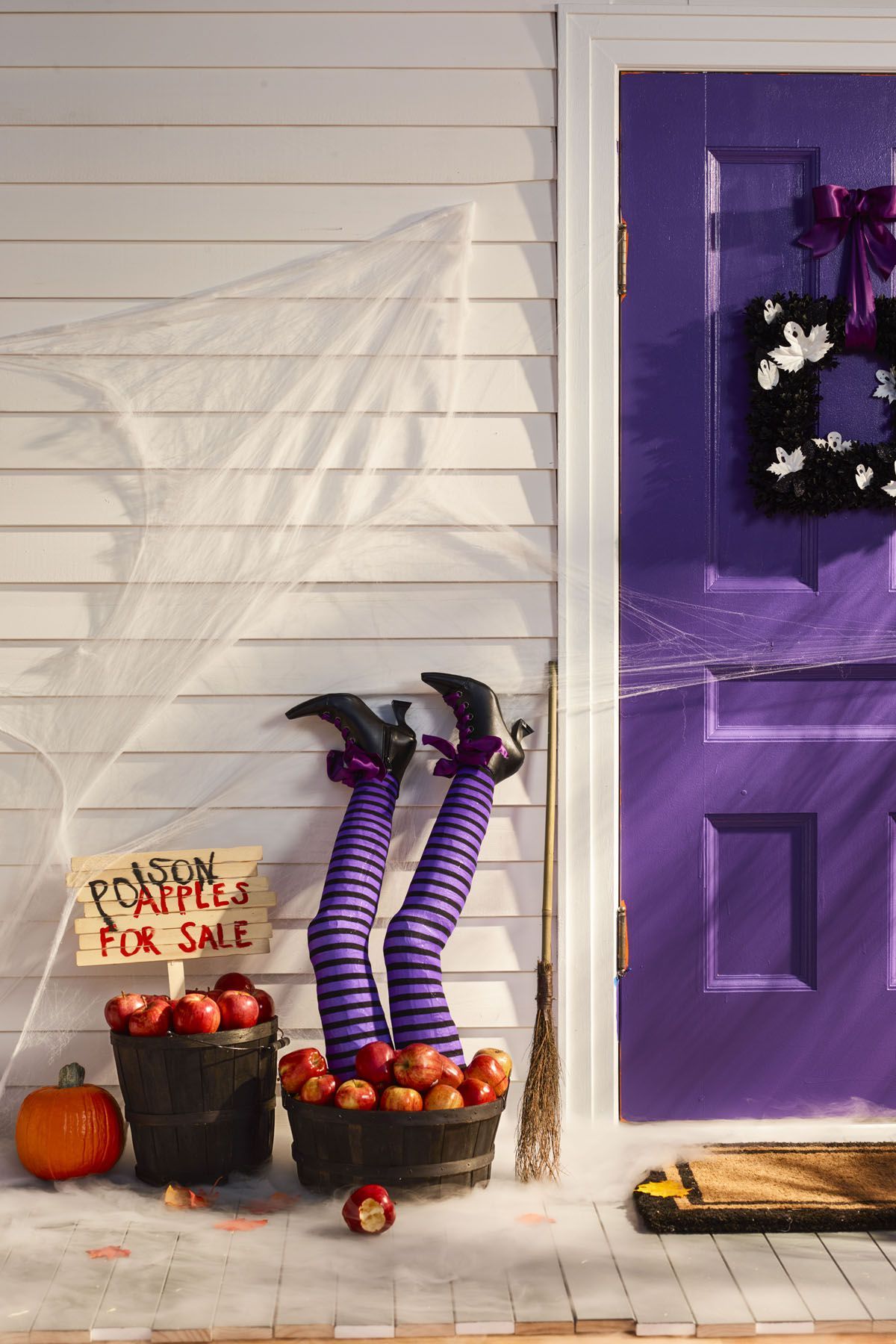 Lure in your guests with this fantastic idea for Halloween! It features all witchy stuff, including poisonous apples, pumpkin, and witch legs! You can add up to the spooky sophistication and paint your front doors purple. This will create such a boo-tiful festive feel to your houses.
10. Floral unicorn skull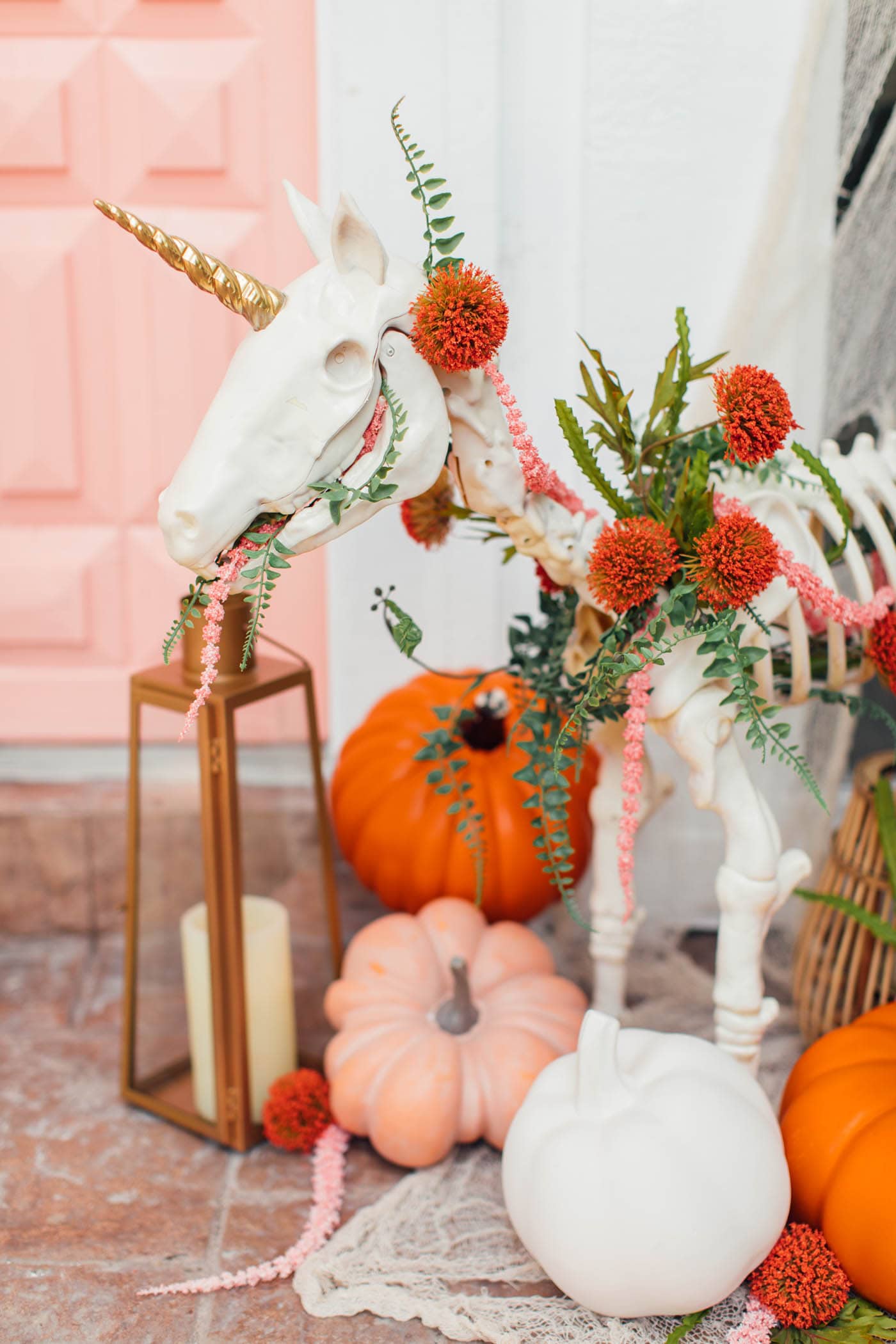 Halloween is all about recreating the wildest creations with a burst of bright colors and fun motifs. And this idea presents just that. How cool is this unicorn skull, right? It would make the perfect front porch decoration, especially when accompanied by flowers and pumpkins.
11. Halloween-themed outdoor rug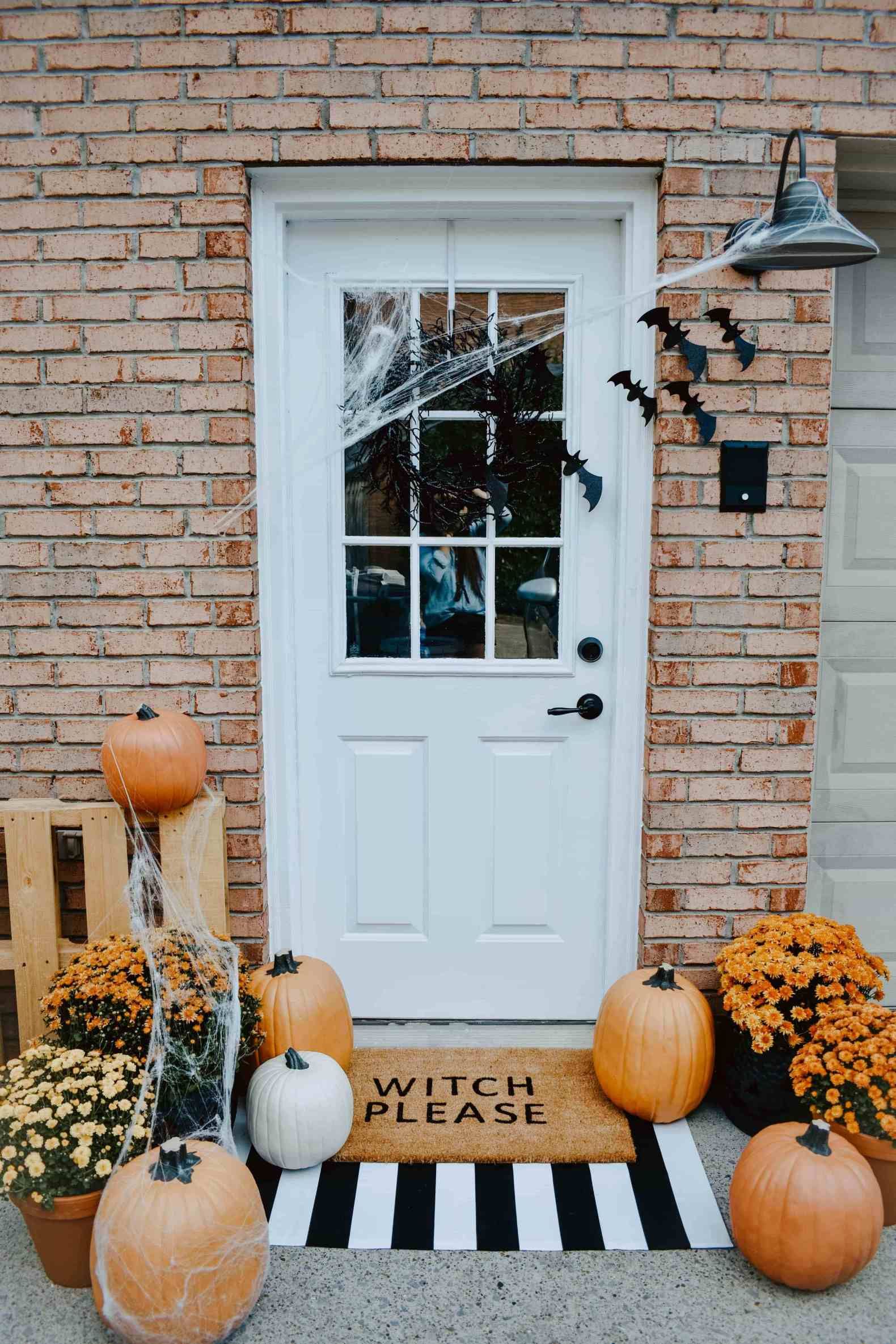 Magic up your front porch and replicate this Halloween idea. This rug is spot-on for capturing the spirit of this holiday, right? And if you want to go big on accentuating the festive vibes, decorate the front porch with pumpkins, paper bats, and spider webs.
12. Welcoming Haloween quote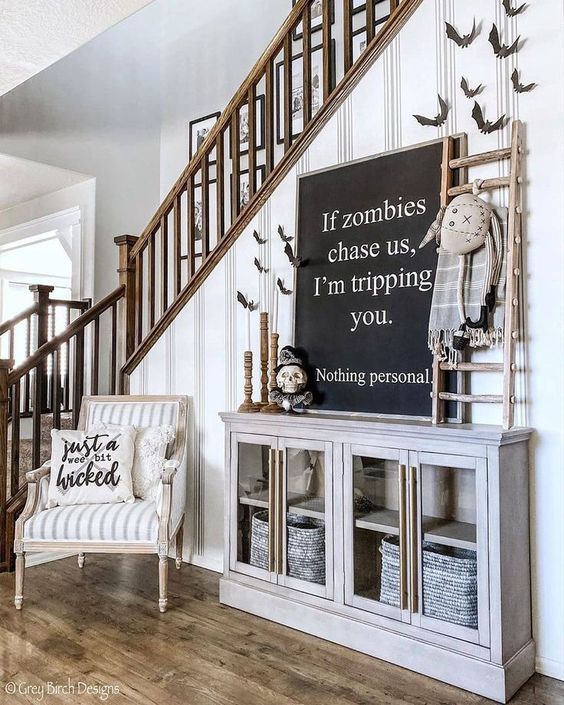 This one is dedicated to the upcoming guests on Halloween! It's a very funny way to welcome people into your homes, but spooky enough to capture the spirit of Halloween. So, you can definitely replicate this idea or create a similar quotation picture that you will hang/place close to your front doors.
13. Horror movie-themed rug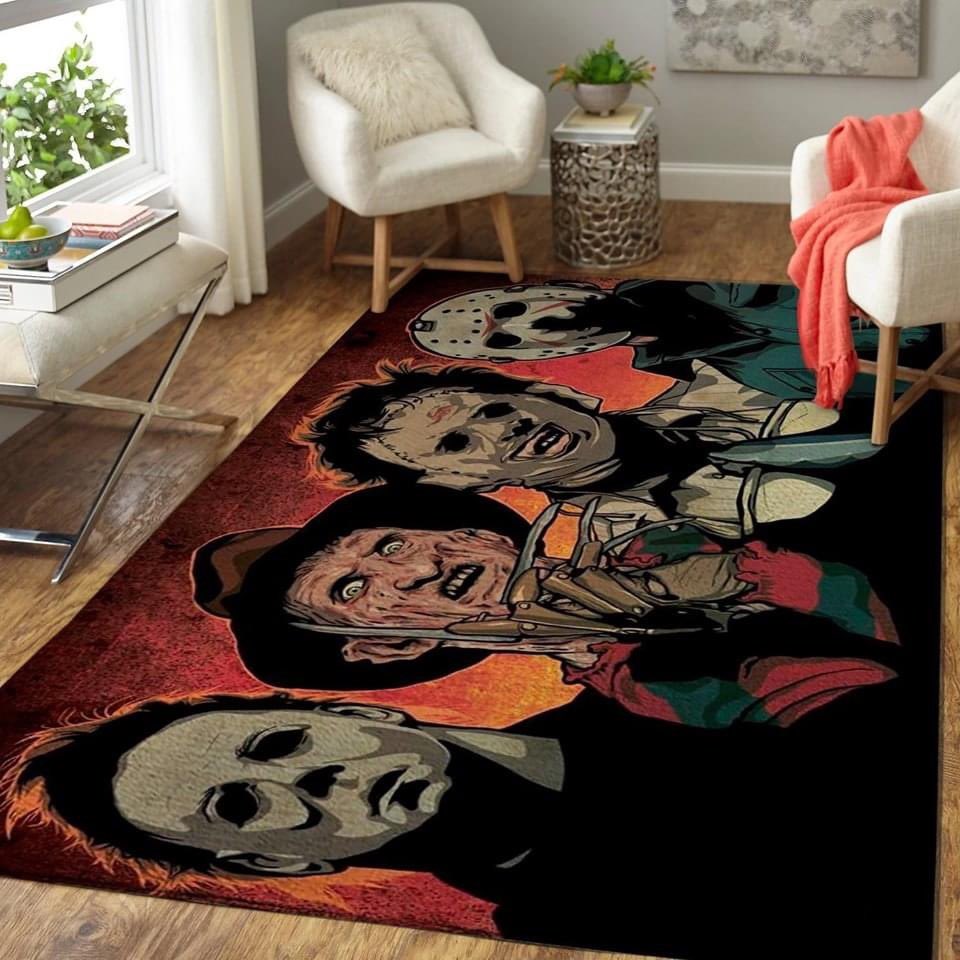 If you are not big on decorations, you can order or buy a horror-themed rug for Halloween and still capture that festive feel of the holiday. This rug features all of your favorite horror-movie villains, so horror-movie fanatics, this one is for you!
14. Miniature Halloween trees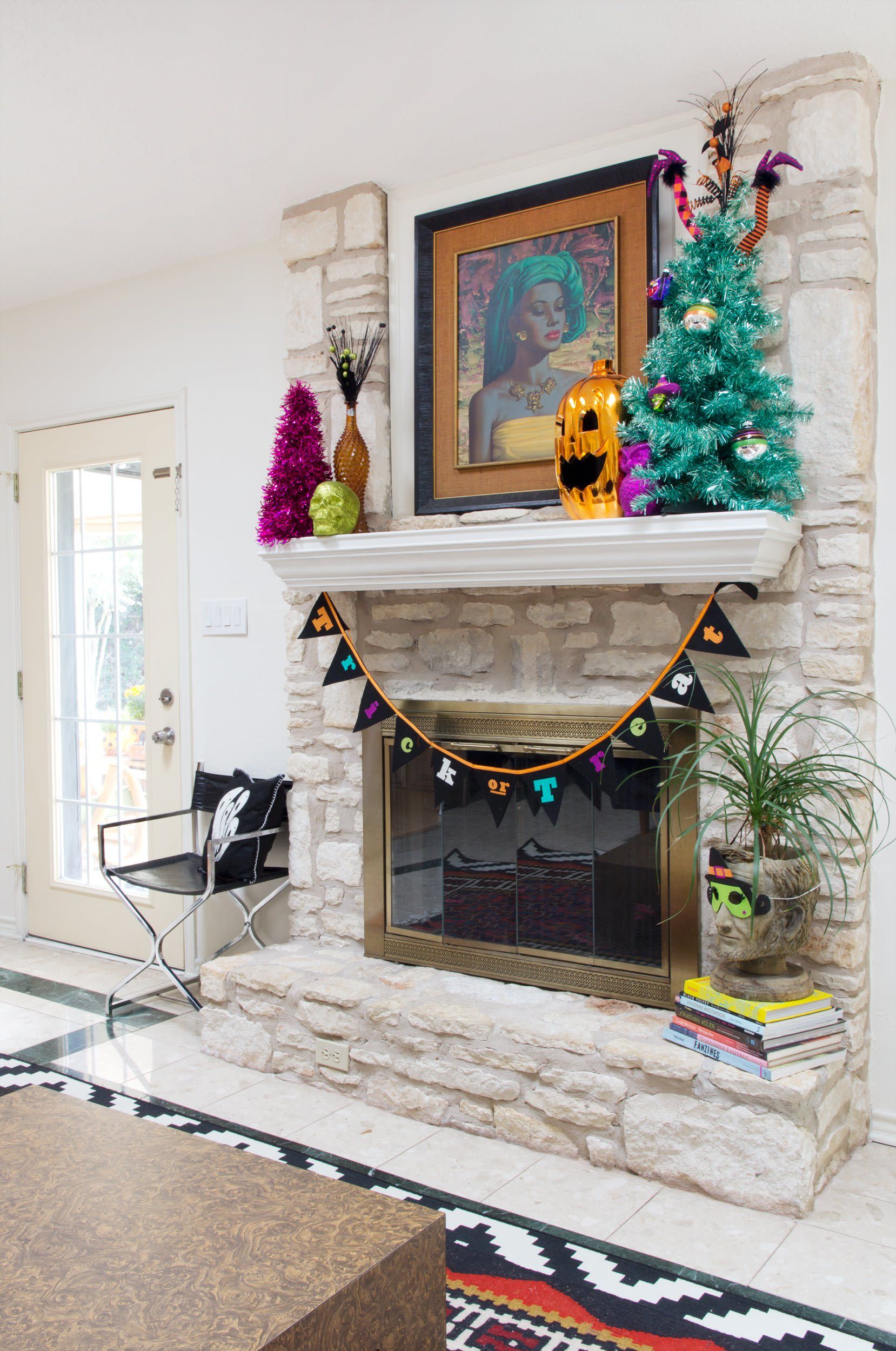 This one we call fear and fabulousness by a fireplace! This is such a cute and sophisticated idea to celebrate Halloween. It features colorful Halloween trees, "trick or treat" garland, fabulous pumpkin, and a masked plant pot (the best one).
15. Tree with ravens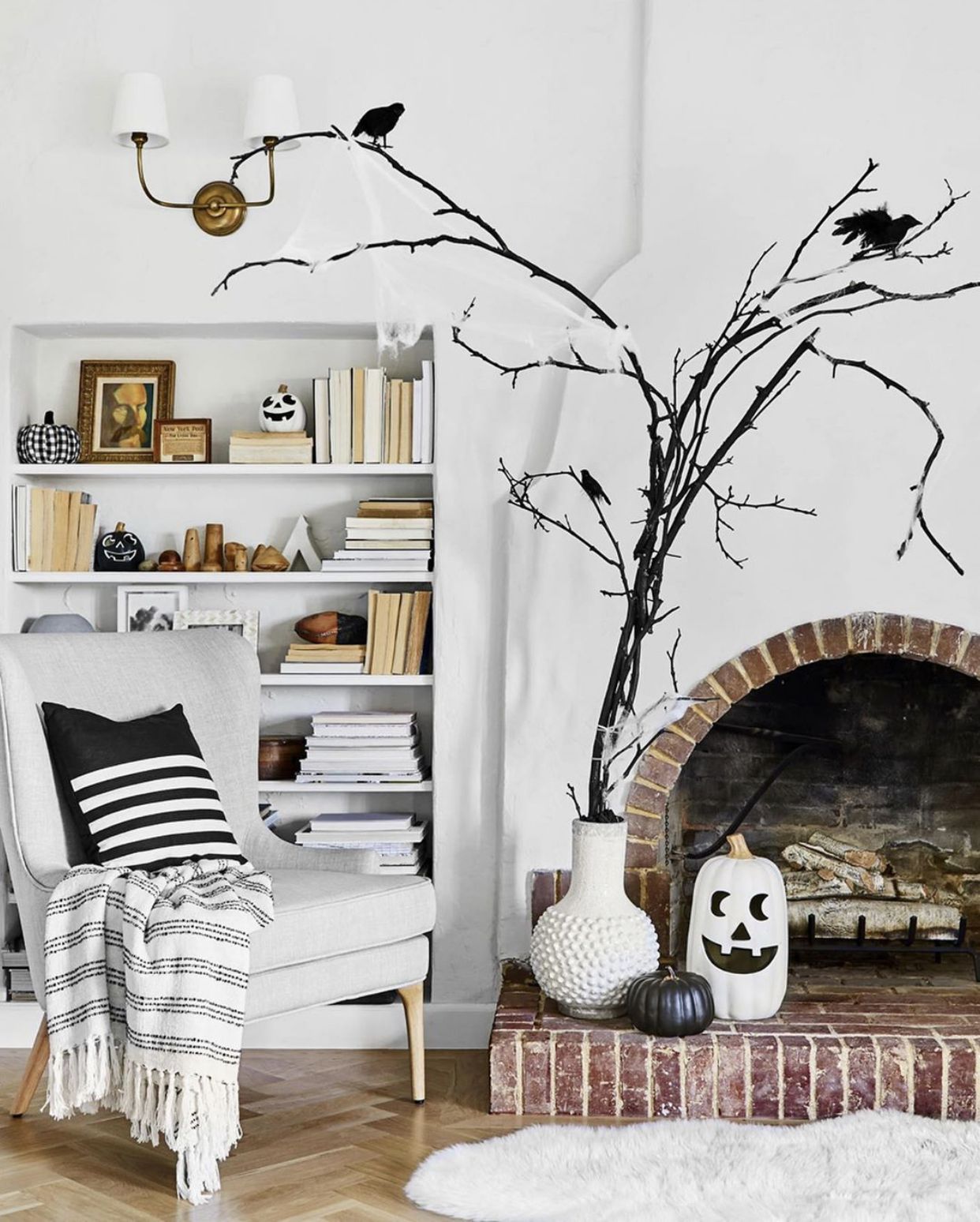 If you have no inspiration for how to decorate your living room this Halloween, don't worry, we've got you covered. This is such a great idea for all of you, minimalistic souls who search for a delicate yet spooky decoration. For this tree, you need to have long black-painted branches. Hang ravens (or any kind of bird), add pumpkins, and you are done!
16. Skull by the fireplace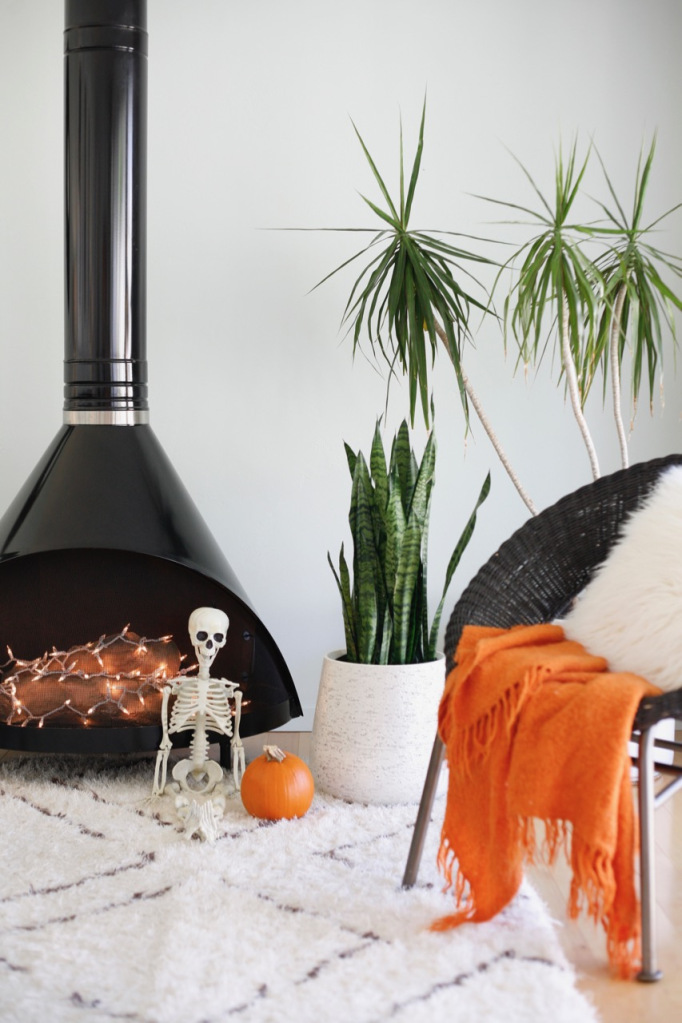 This is so hauntingly easy decoration and any minimalistic soul will instantly fall in love with. It features a skull that sits by a fireplace. It is accompanied by a pumpkin and glowing led lights in the fireplace. Cool and delicate, right?
17. Chic pumpkin overflow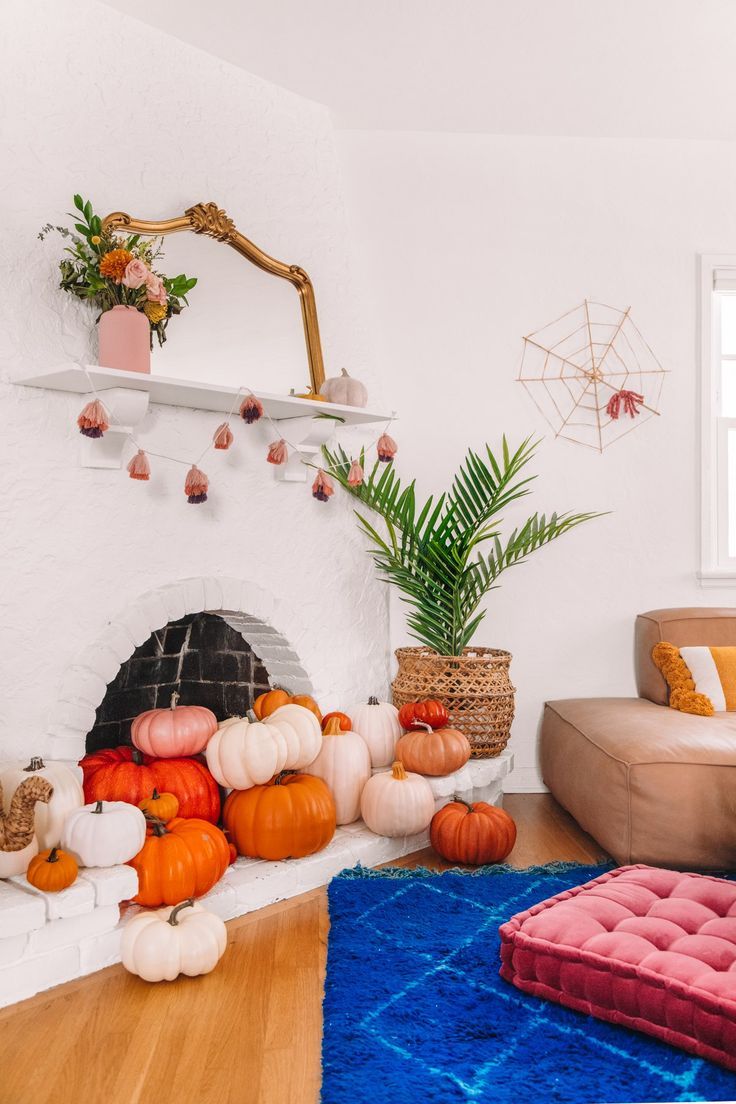 Create the most festive home on the block that has the perfect balance of festivity and sophisticated vibes. This living room is overflowing with rich and vibrant colors. Do you know what else is overflowing? Pumpkins from the fireplace! Yeah that's right, and they look so good in this living space, right?
18. Hanging spider webs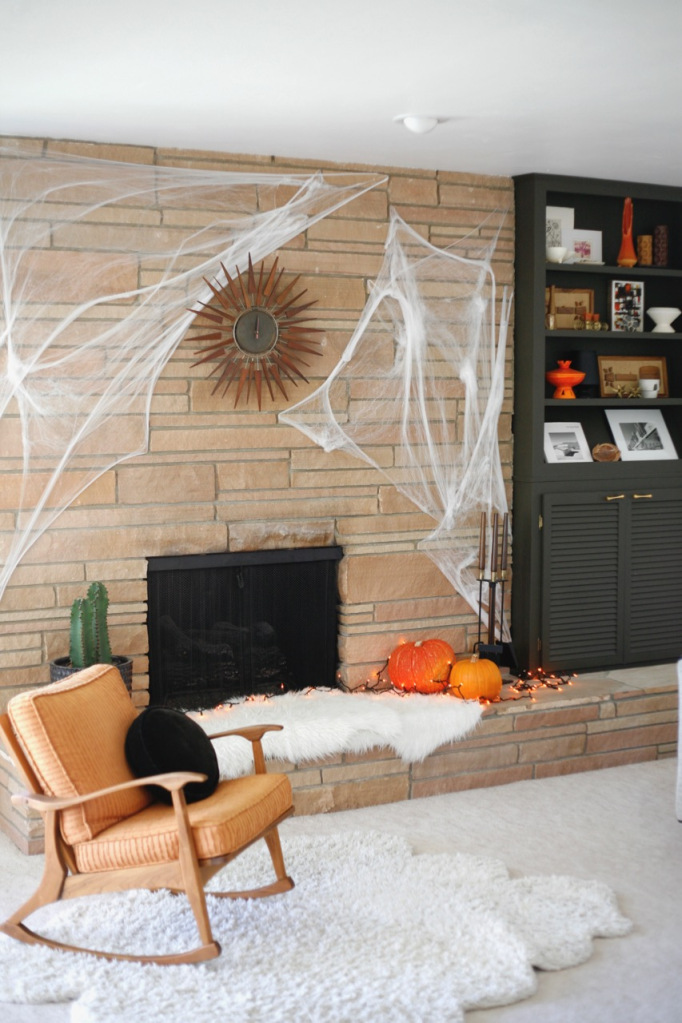 If you are low on ideas for this Halloween, spider webs go a long way when it comes to spooky decorations. With minimal effort, you can transform your living rooms into a spooky area that is worth taking a picture of how good it looks!
19. A mirror of Masks
If you want to get ultra-creative for this Halloween, here's an idea that definitely adds a spooky twist in the house. Gather a bunch of plastic Halloween masks and create this very creative decoration that is perfect for any artsy soul.
20. Pumpkins on the stairs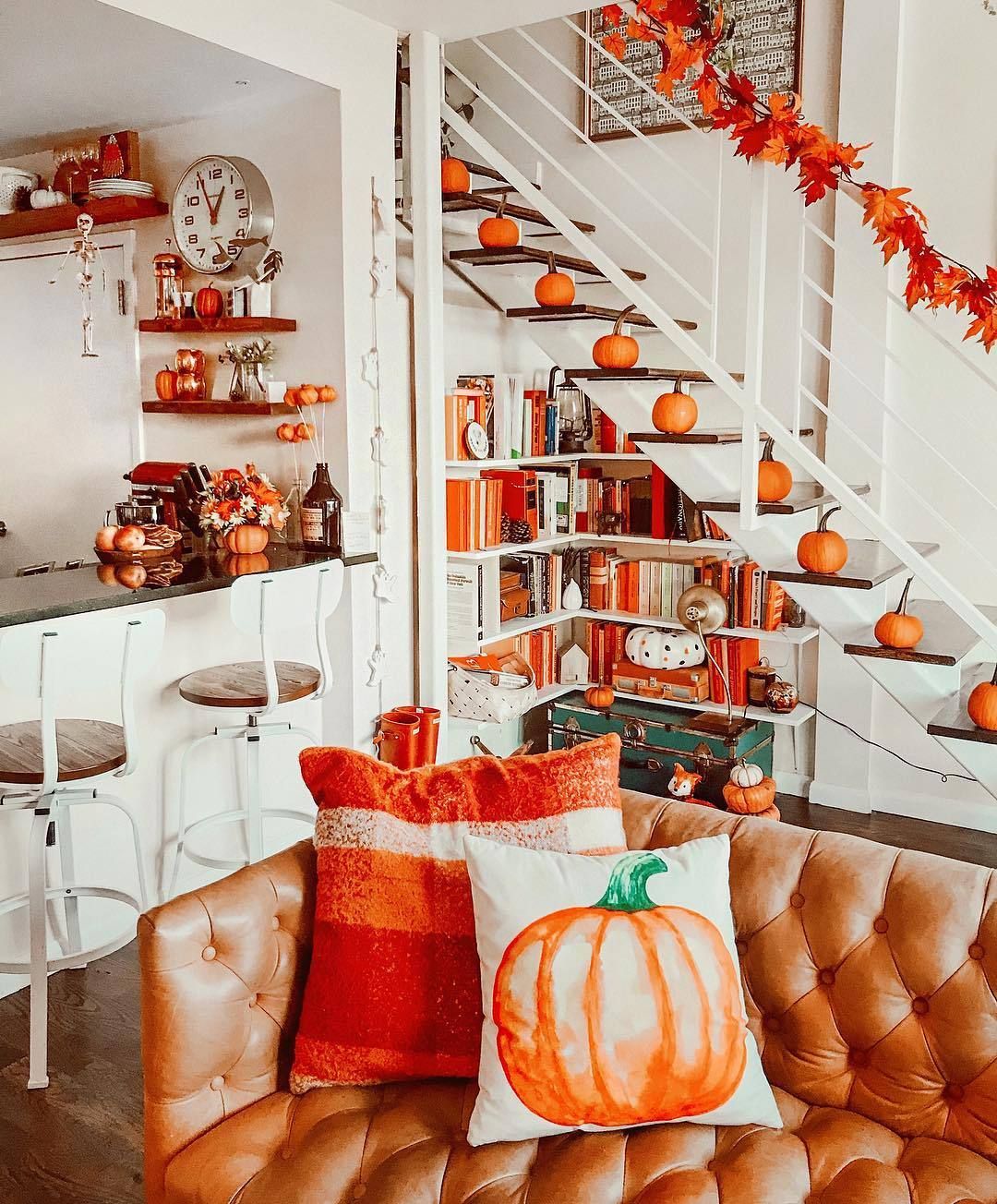 When it comes to decorating your homes for Halloween, you don't need to go overboard with the skulls, spiders, and witches. Sometimes, pumpkins are enough, and this living room is proof of that. "All pumpkins everywhere" is the mood of this living room, and it's perfect! The focal point is the pumpkins on the stairs that provide that spooky festivity we all love, right?
21. Halloween tree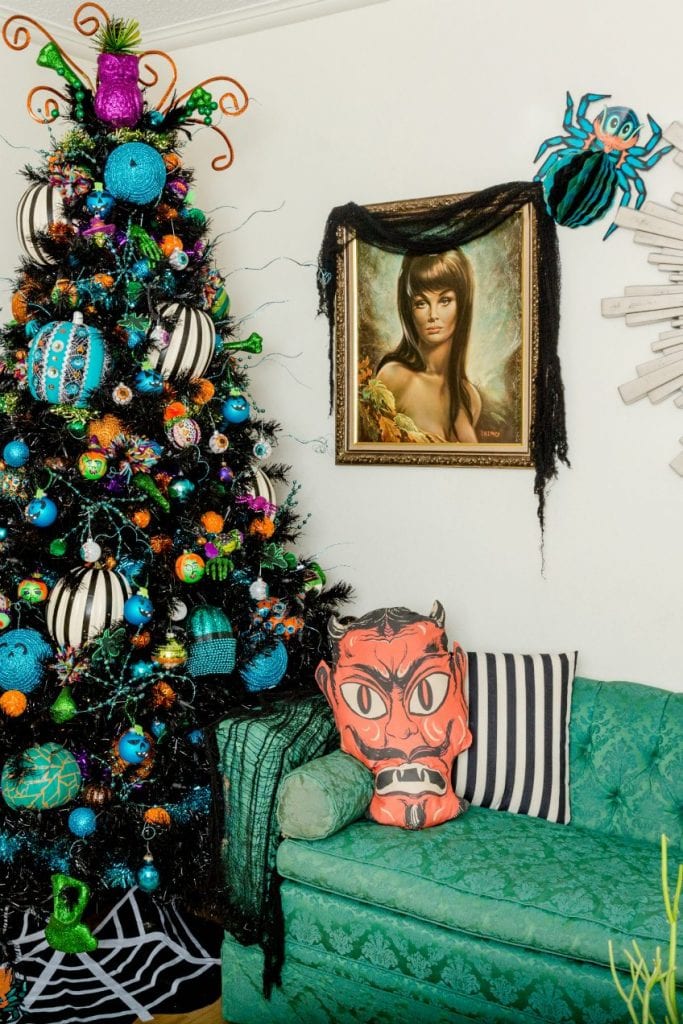 Who says decorating trees are only made for Christmas? Because we sure don't! And this devilish pillow definitely ties the look together!
22. Glass of terror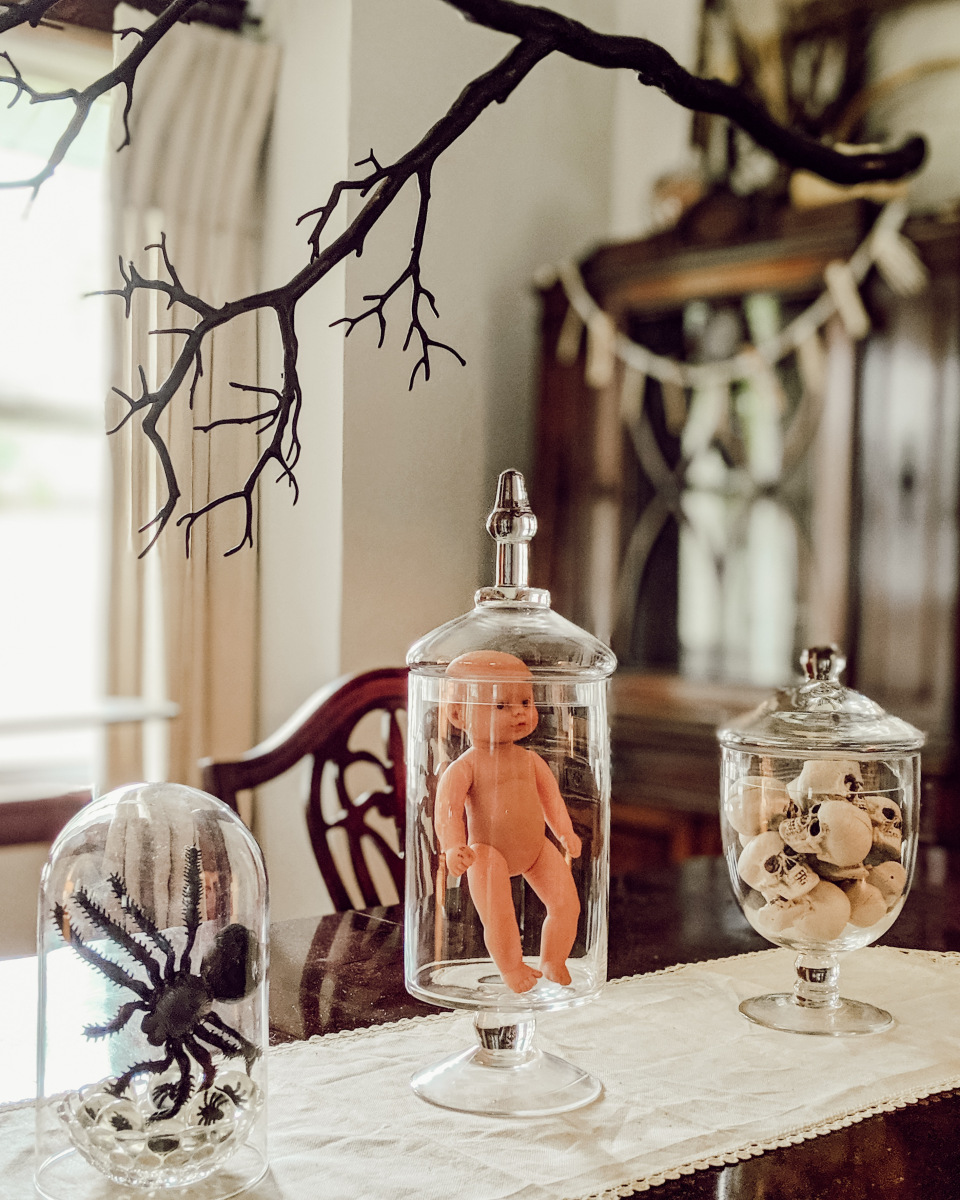 Take to spookiness to the next level and recreate this cool idea for Halloween! All you need is a baby doll, skulls, and a spider. Your house will look like a sophisticated horror laboratory!
23. Halloween coffee stand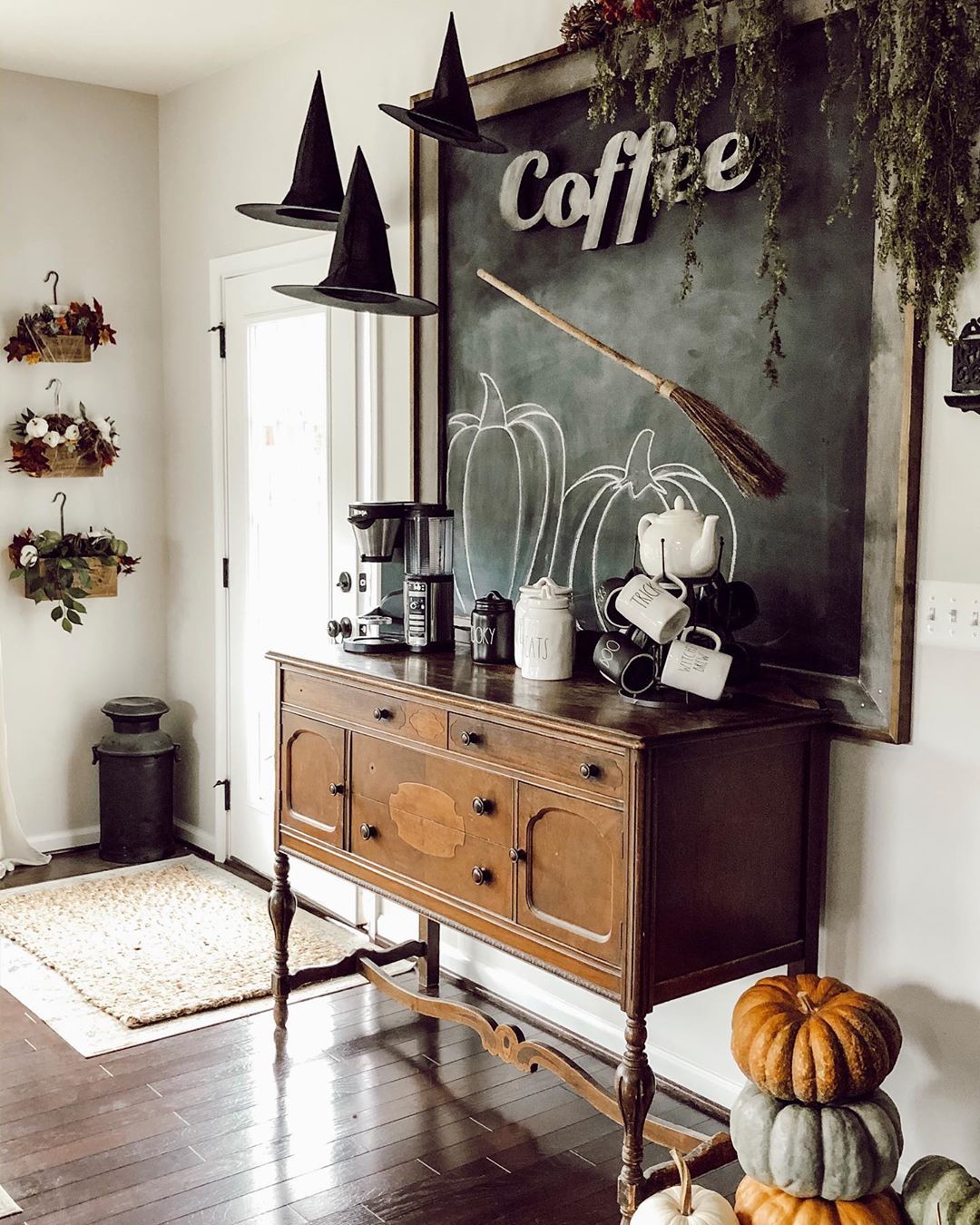 This is Halloween heaven for coffee lovers! Such a great way to decorate your coffee stand for Halloween. Hanging hats, broom, pumpkins, and coffee! These are true witchy vibes right here!
24. Halloween glass pitcher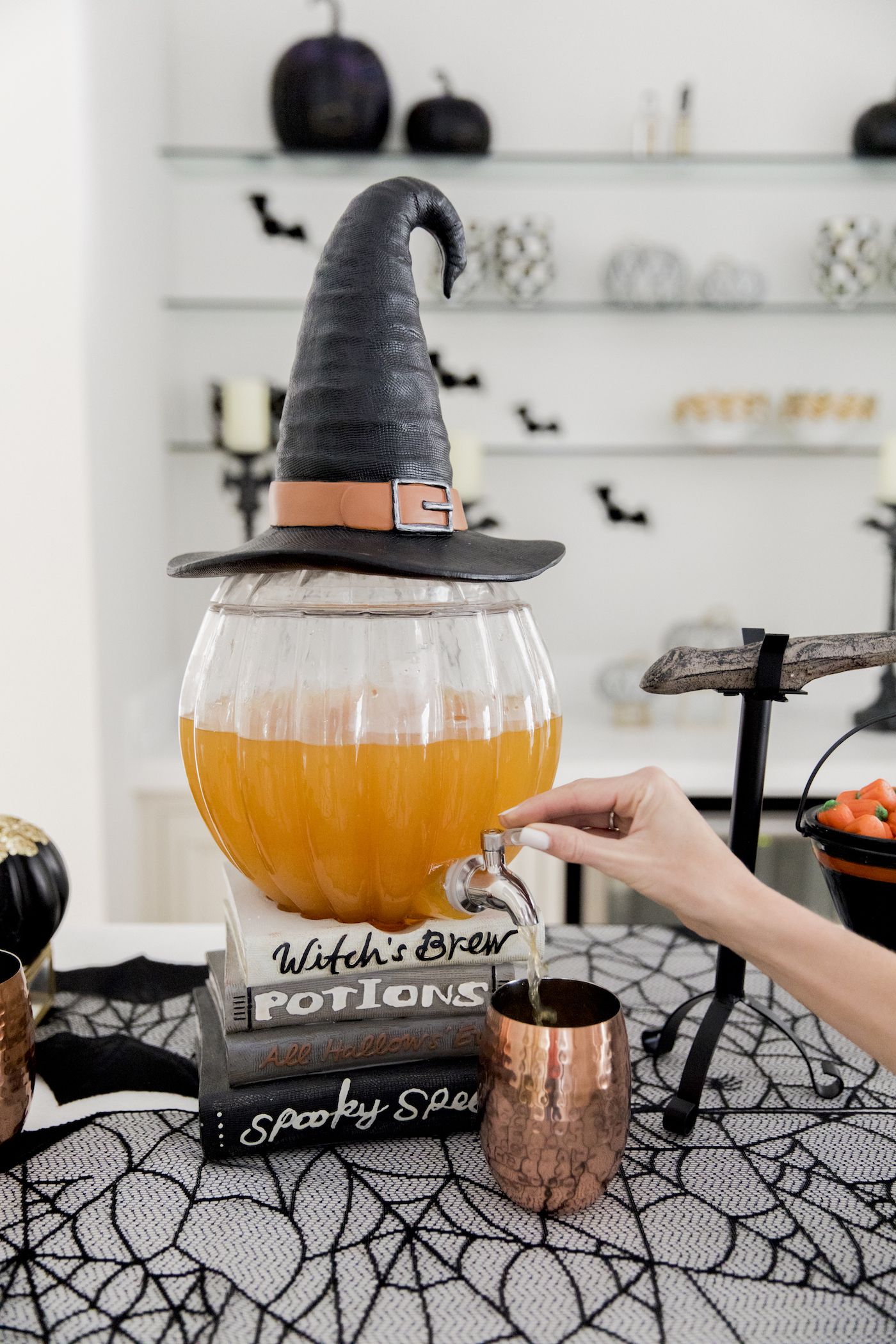 It is time for summoning spirits, the boo-zy kind! This glass pitcher serves its purpose, which is pouring drinks, and it's also an excellent decoration for Halloween! How cute is that hat on top, right?
25. Skulls, flowers, and a candy bar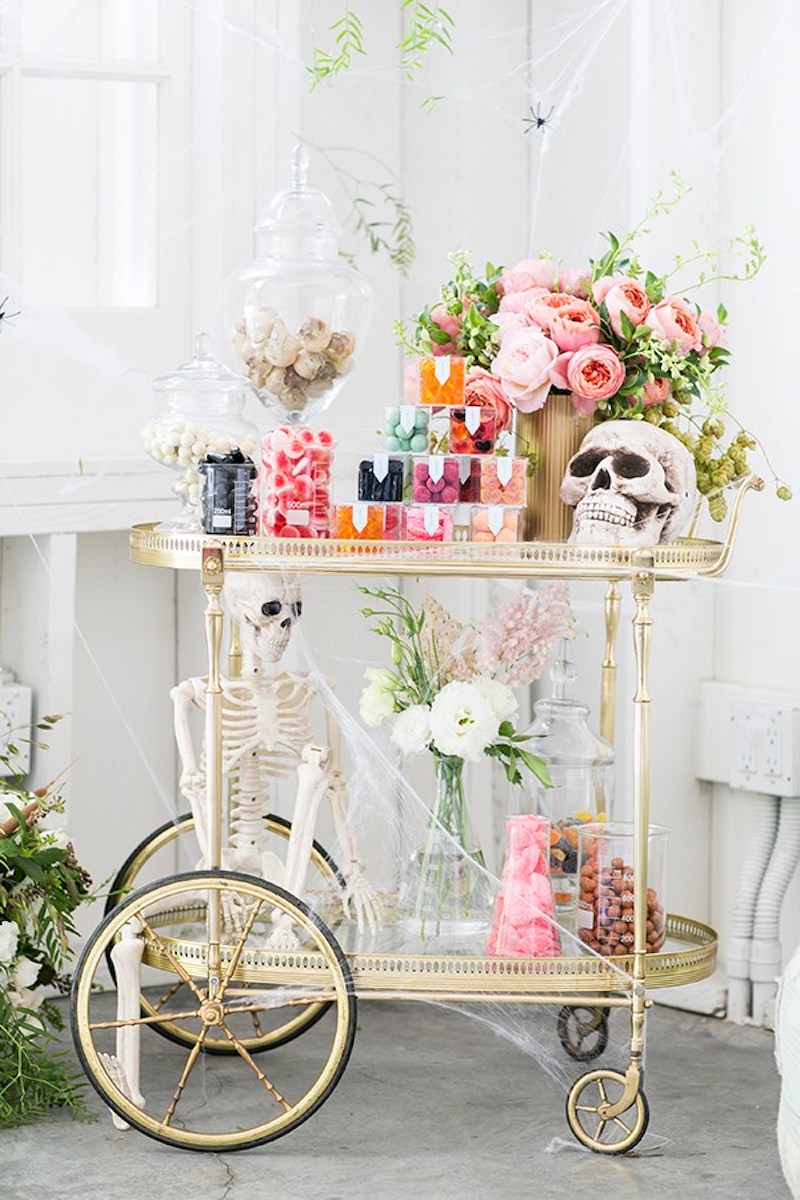 Here's a great idea on how to decorate your candy bar this Halloween. All you need to do is place a skull (the perfect company), spice it up with some colorful flowers, and get as many candies as possible! There you go, you are ready for the trick or treaters!
26. Paper bats in the kitchen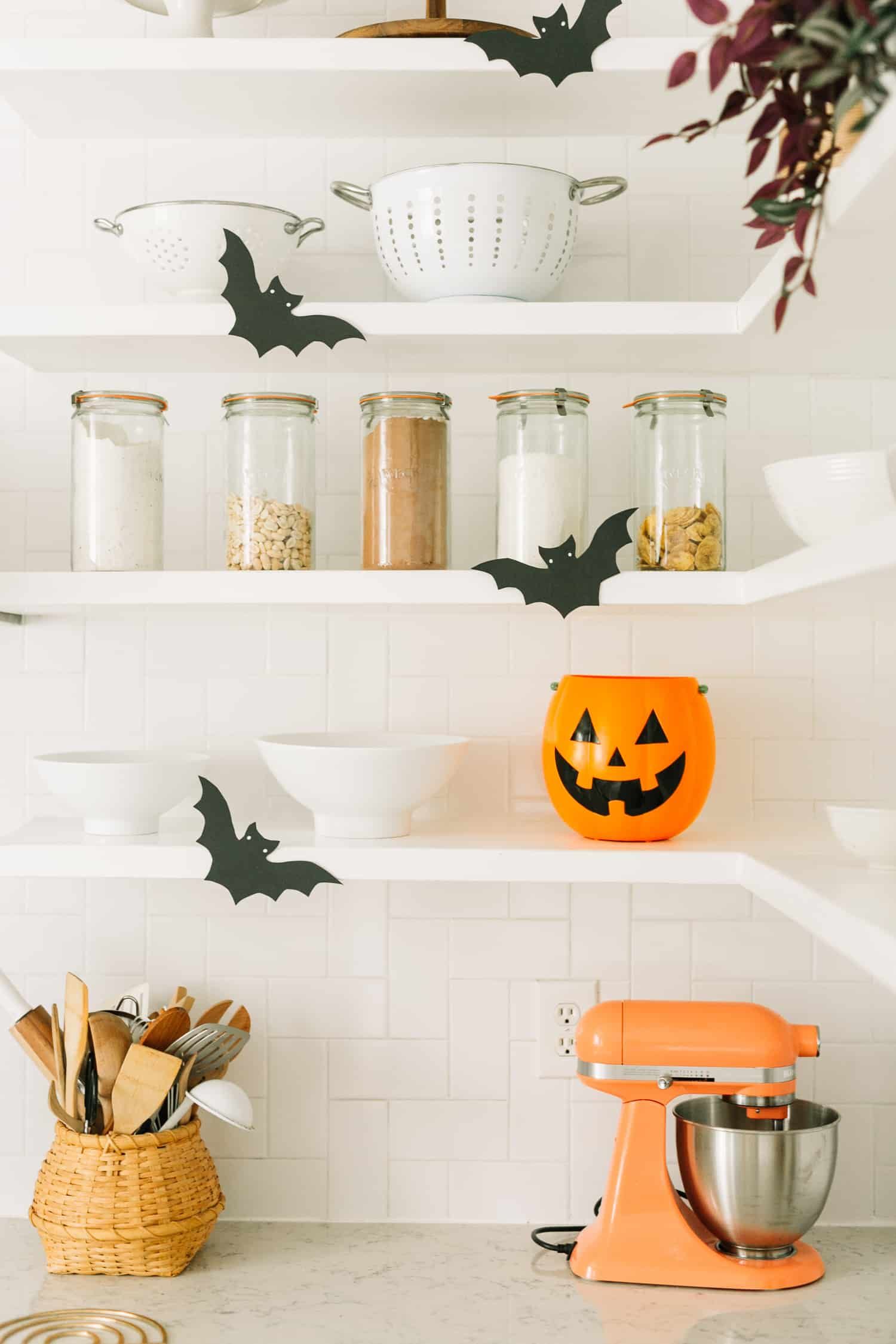 Paper bats are the easiest Halloween decoration idea that is literally made in 5 minutes. And look how good they look placed in the kitchen!
27. Pumpkin blanket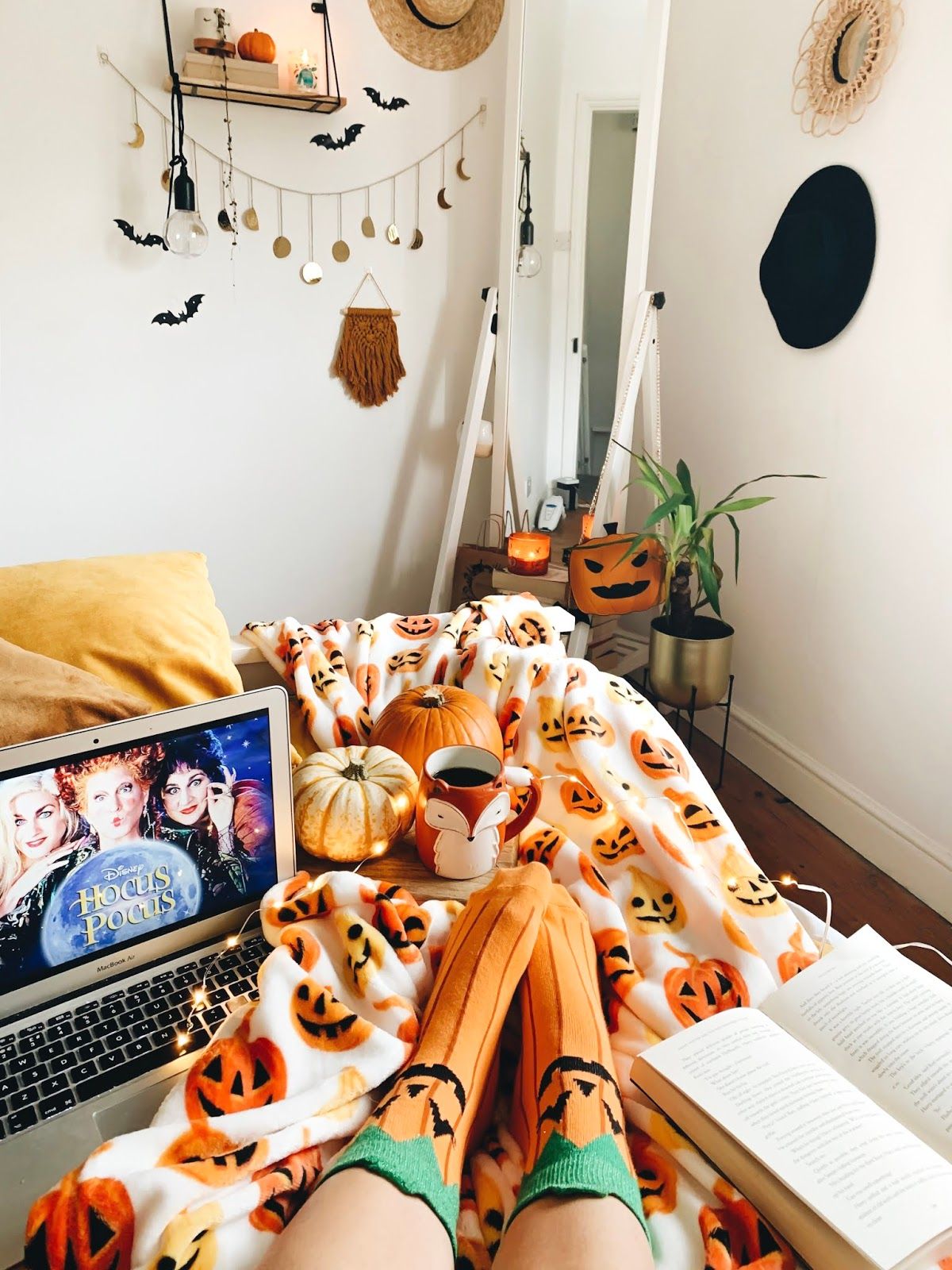 Transform your bedrooms into spooky chambers, but with a touch of sophistication! This pumpkin blanked is catching all the vibes for Halloween, and that's a fact!
28. A mirror with leaves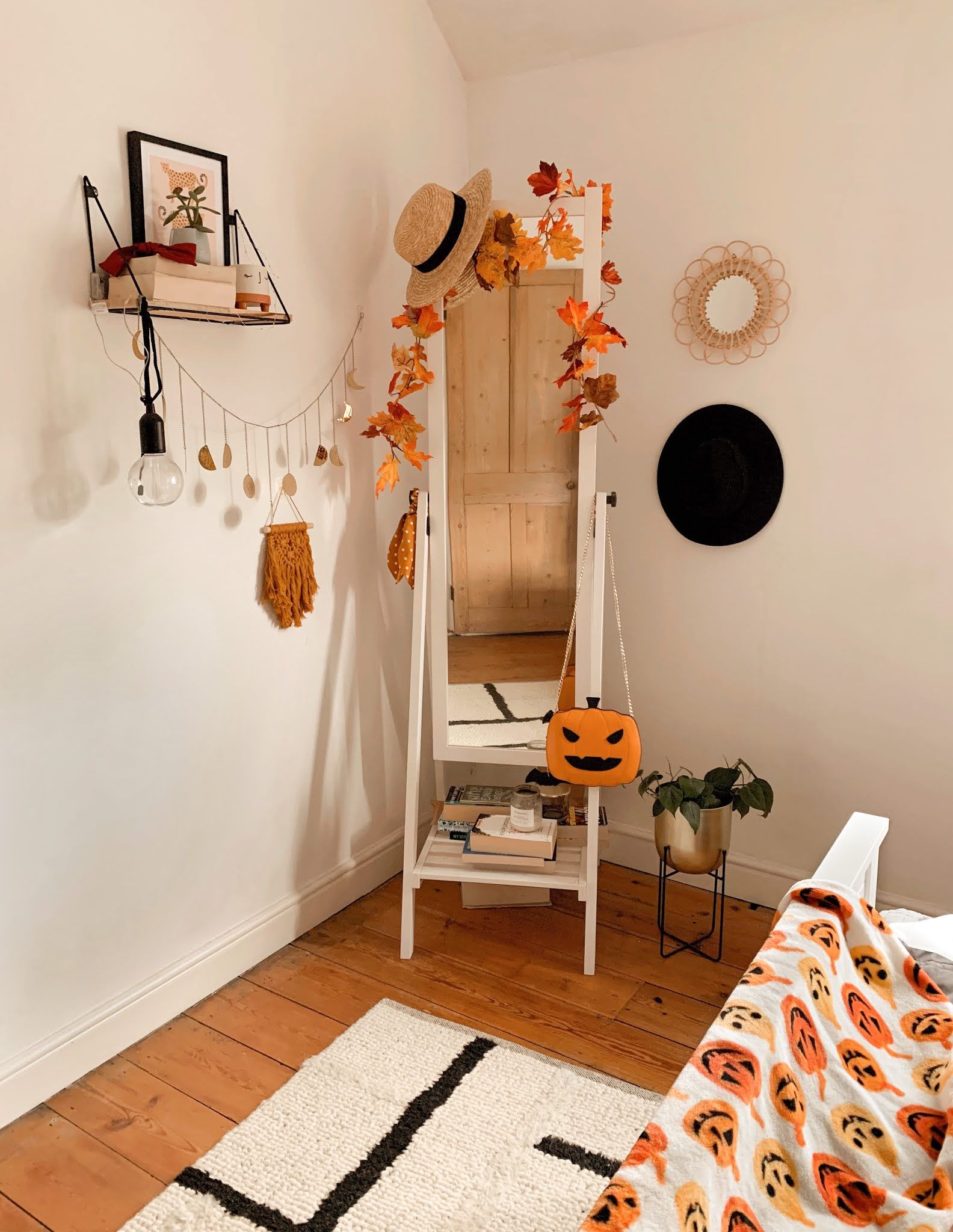 These hanging leaves on the mirror are a must-have this Halloween. Minimal effort, however maximum impact. A sweet treat that adds a festive element to the whole bedroom. Perfect!
Do you like our choice of ideas? Feel free to leave a comment below and Happy Halloween!