While a black winged liner will remain a classic forever, it seems the beauty world is starting to shake things up a bit with the latest eyeliner trend of 2020, the floating liner. While once reserved for runways and editorial shoots, free-flowing lines and unexpected shapes around the eyes have increasingly been appearing on the streets, parties, and of course, on Instagram.
The best way to describe the unconventional trend is basically any line around the eyes that isn't explicitly anchored to anything else. Rather, the line is placed more in the eyelid crease or diagonally to the sides in a direction of a cat-eye. With this eye makeup technique, gone are the days of heavy blending and layering, and welcomed are moments of simplicity. You can thank the minimalistic makeup trend for that, as well as this season's obsession with bold fashion statements.
With placing these swipes of pigment above the lid, a 'floating' illusion between the crease and the browbone will be created– and trust us, some of the creations we've seen out there are utter works of art!
1. Cat-eye floating eyeliner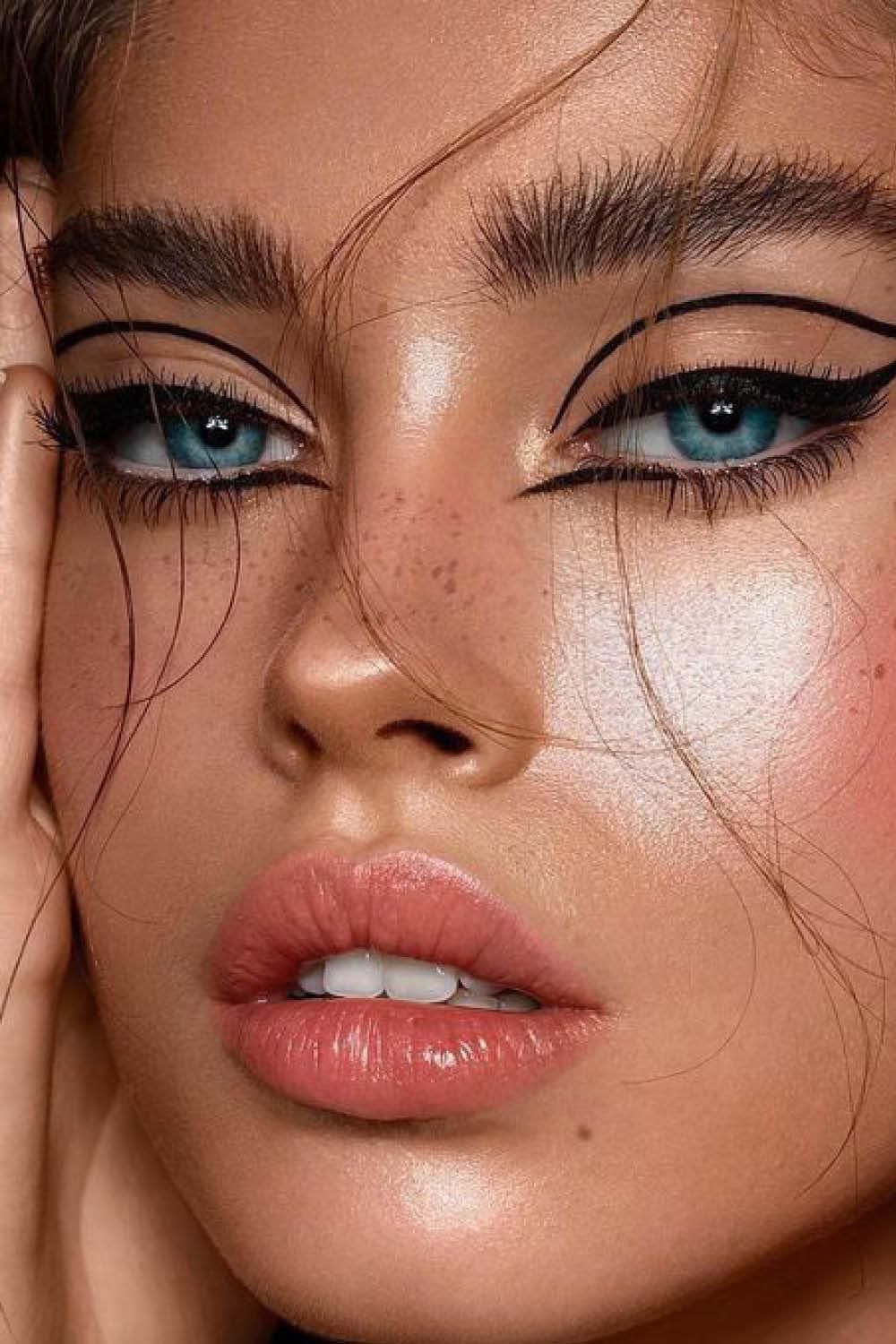 The floating eyeliner makeup trend is a fun way to spice up your look even if you don't have the best skills. There are many variations you can try, from wearable to avant-garde. This cat-eye floating eyeliner makeup trend is all about adding graphic details and achieving an editorial-like look.
2. Blue & white floating eyeliner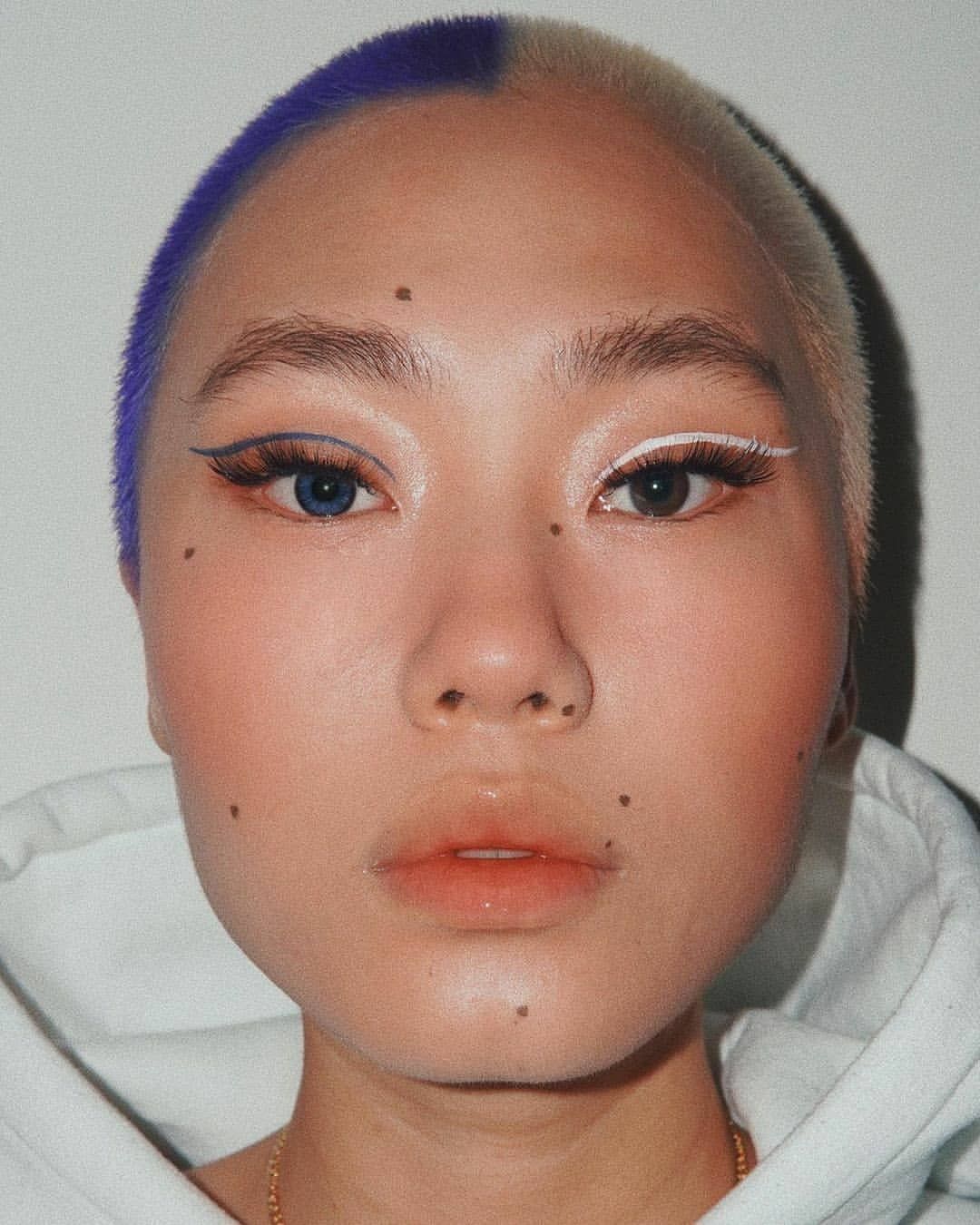 A good thing about this liner application is that even beginners can nail it. It doesn't have to be perfect! You can experiment with many forms and designs, depending on the shape of your eyes. So, why not use different colors, right? There are no rules with this makeup trend.
3. Black floating eyeliner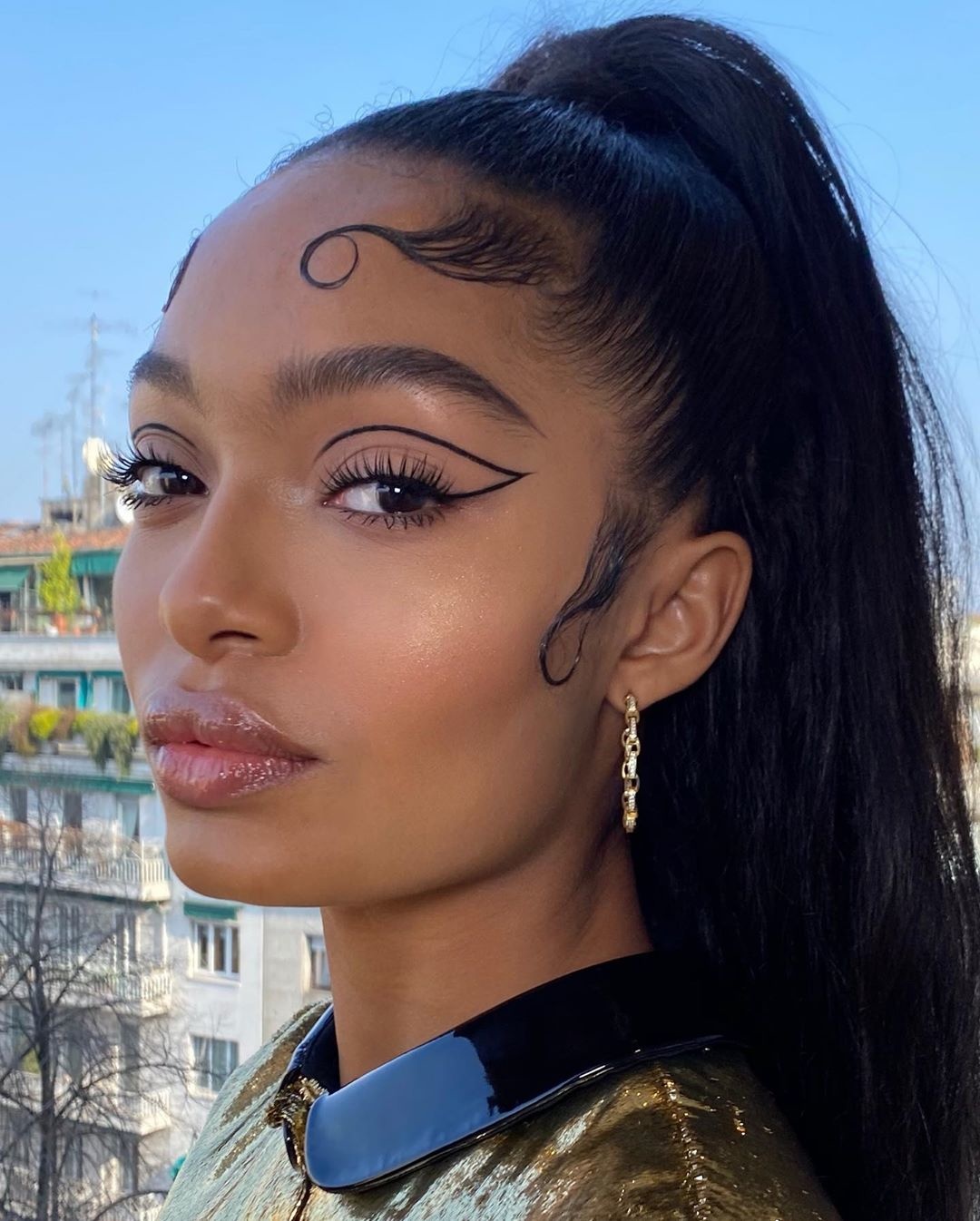 Enrich your natural glam with the floating eyeliner makeup trend. It's an easy way to make your eyes appear bigger and enrich your overall look. You can use a more natural liner for soft glam. To keep things minimal, use black eyeliner, soft contouring, and a natural lip.
4. White floating eyeliner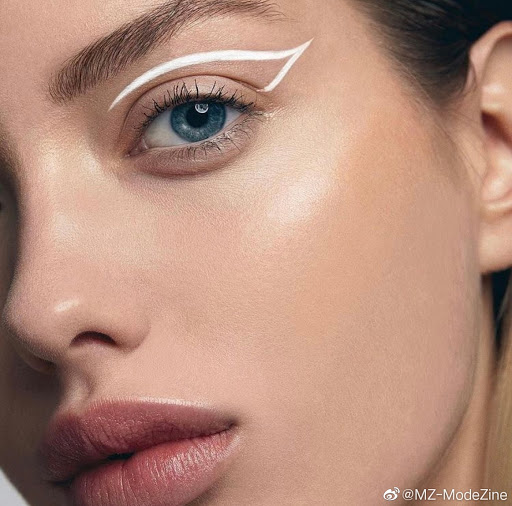 The white eyeliner is huge among beauty obsessives, so why not nail two trends into one look? The white color complements the minimalistic look we all go for when adding a floating eyeliner. Recreate this graphic glam and make your eyes pop.
5. Coral blue floating eyeliner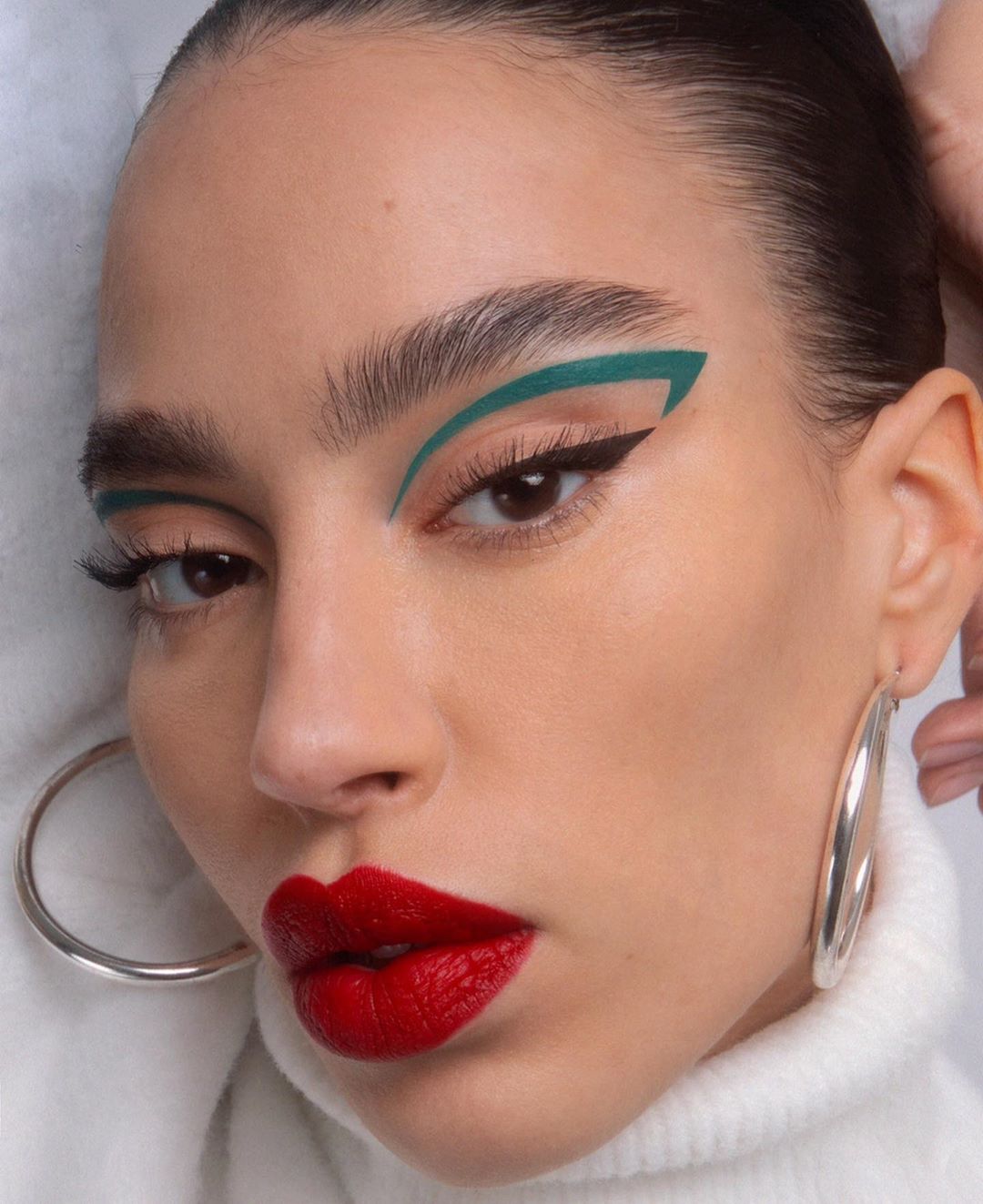 Here is another way to try the floating eyeliner makeup trend. Use a bold hue to accent your gaze. Pick a shape that best suits your lid for a statement look. Take this image for example. Use a bold coral blue eyeliner for the "floating effect" and shape your eyes with cat-eye black eyeliner. Finish the look with bold, red lipstick.
6. Silver & golden floating eyeliner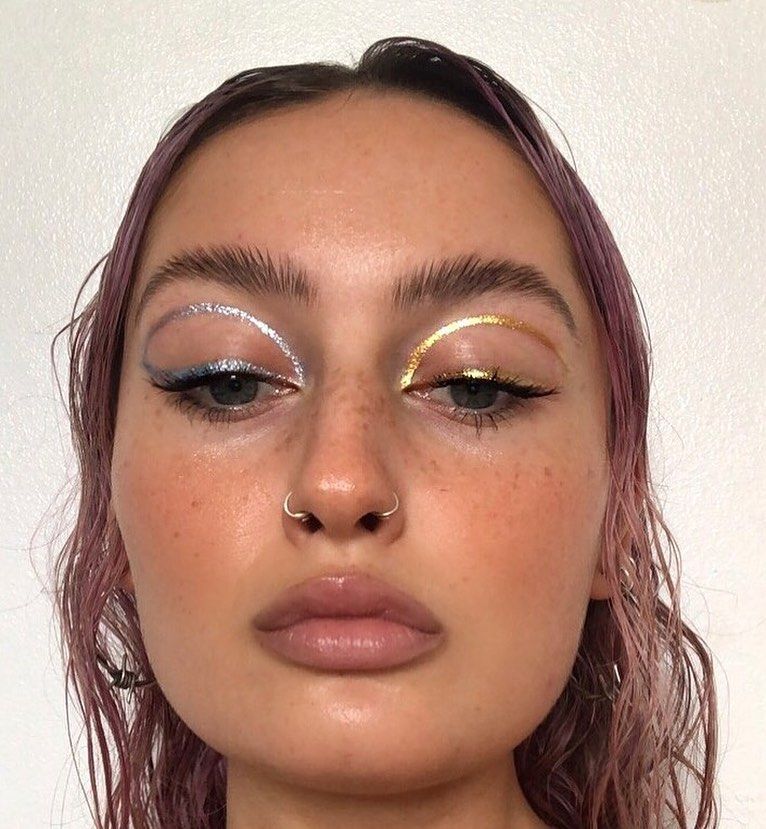 Here is a similar way to try the floating eyeliner makeup trend. It's a great way to spice up a neutral look, especially if you use a bold liner. And what's bolder than metallic eyeliner in different colors?
7. Yellow floating eyeliner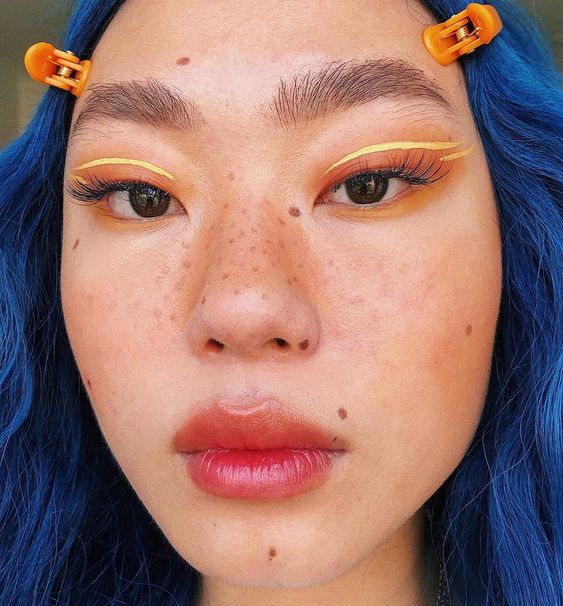 If you're keen to embrace color, but don't want to compromise on the definition, try layering a deeper-toned shadow over your bright swipe. Fun and flattering, just like this fiery, sunset look.
8. Neon green floating eyeliner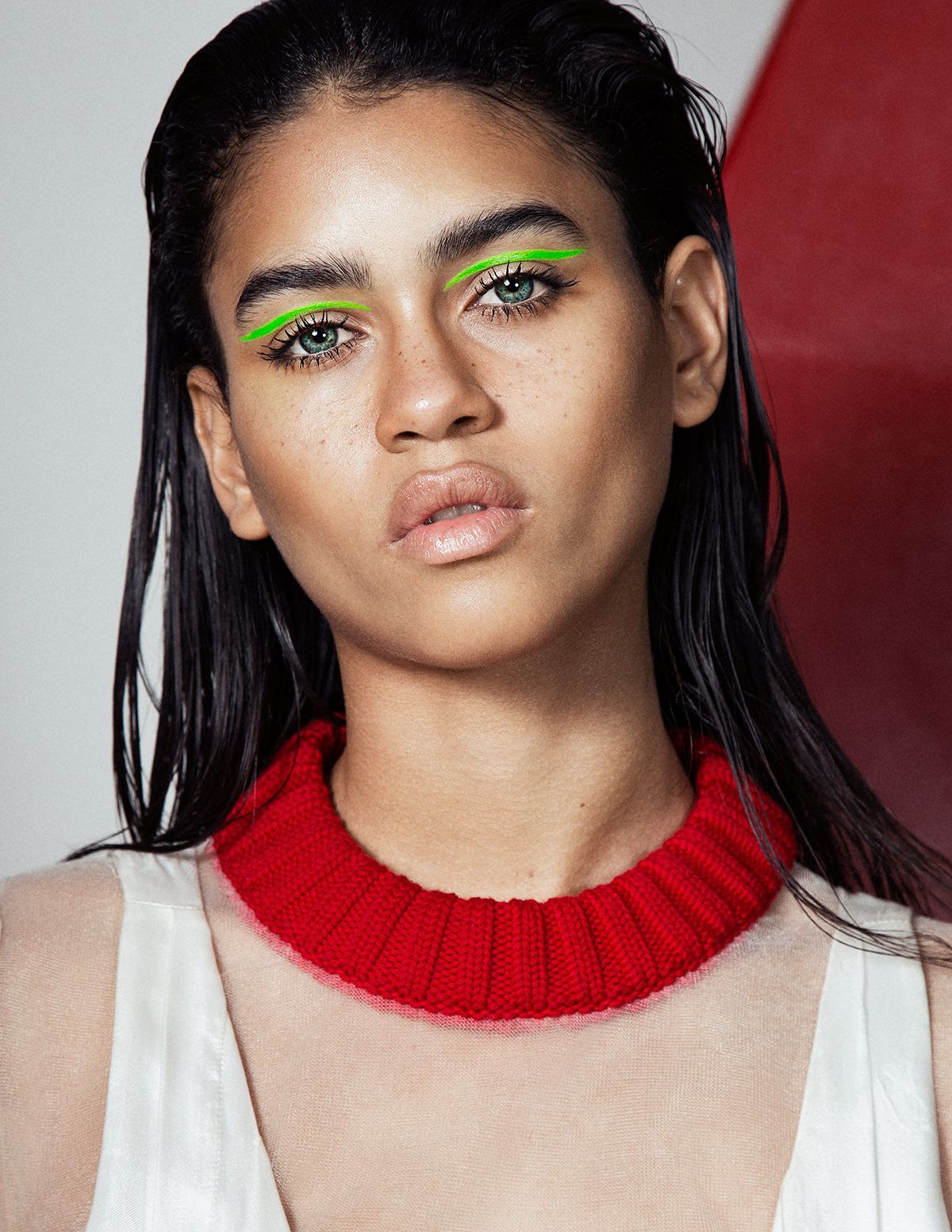 Stand out in the crowd with this electric makeup look. Neon-green is the perfect shade for a high-contrast makeup look. Combine it with a simple outfit, because the liner says it all.
9. Neon-graphic floating eyeliner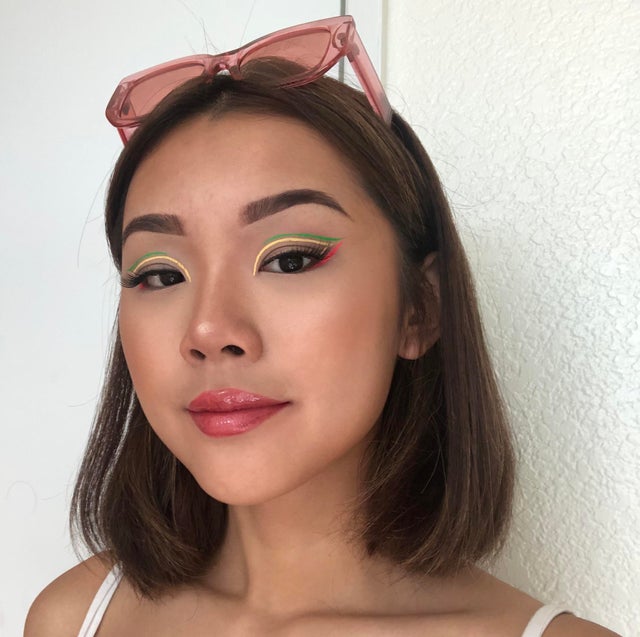 The floating eyeliner makeup trend is all about expressing your creativity. You don't have to follow a pattern. Experiment with different colors and shapes to nail an avant-garde, yet wearable makeup look. Here's an idea: shape your eyes with yellow, green, and red lines and recreate this floating eyeliner look. Who's ready for a party?
10. Pink floating eyeliner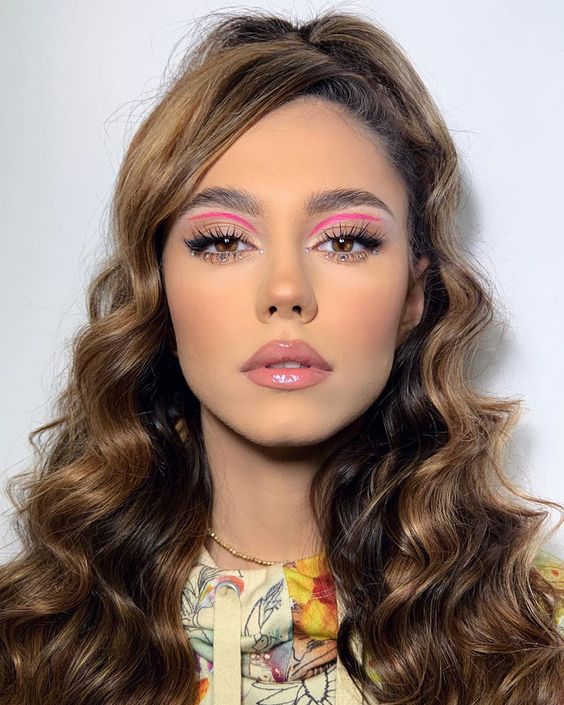 Don't worry about symmetry with this eyeliner trend. Just use a waterproof liner and small liner brush and apply wherever your heart desires! No rules for this one! Use a pink eyeliner to add a romantic spice to your look. It will warm up and accentuate your eyes, looking like an artsy diva!
11. White straight-floating eyeliner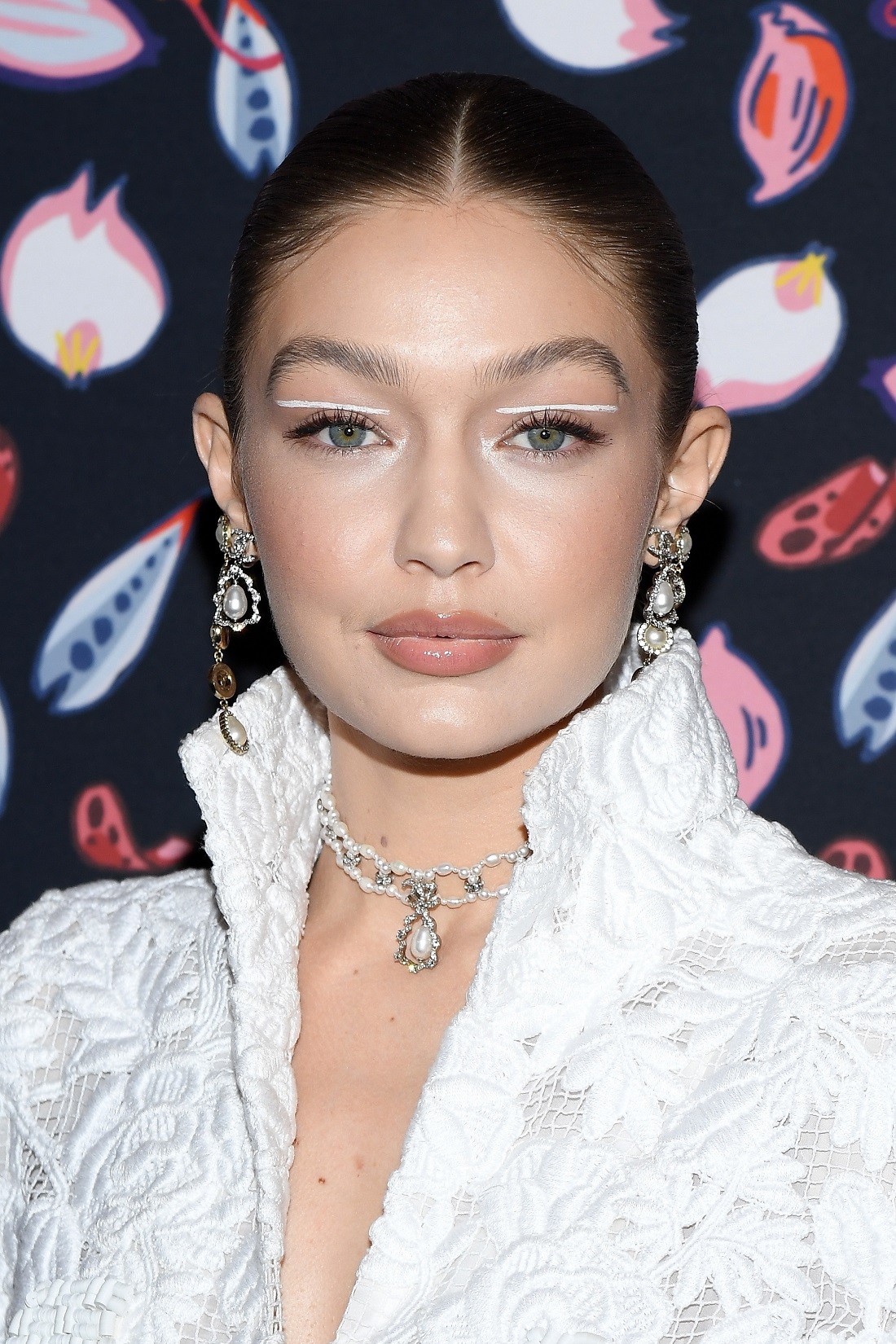 Playing with eyeliner doesn't mean you have to follow the curves of the eye. Instead, go pin-straight across the lid, either over the crease (like Hadid's look) or below to contrast roundness and make any look a little edgier.
12. Double floating neon-green eyeliner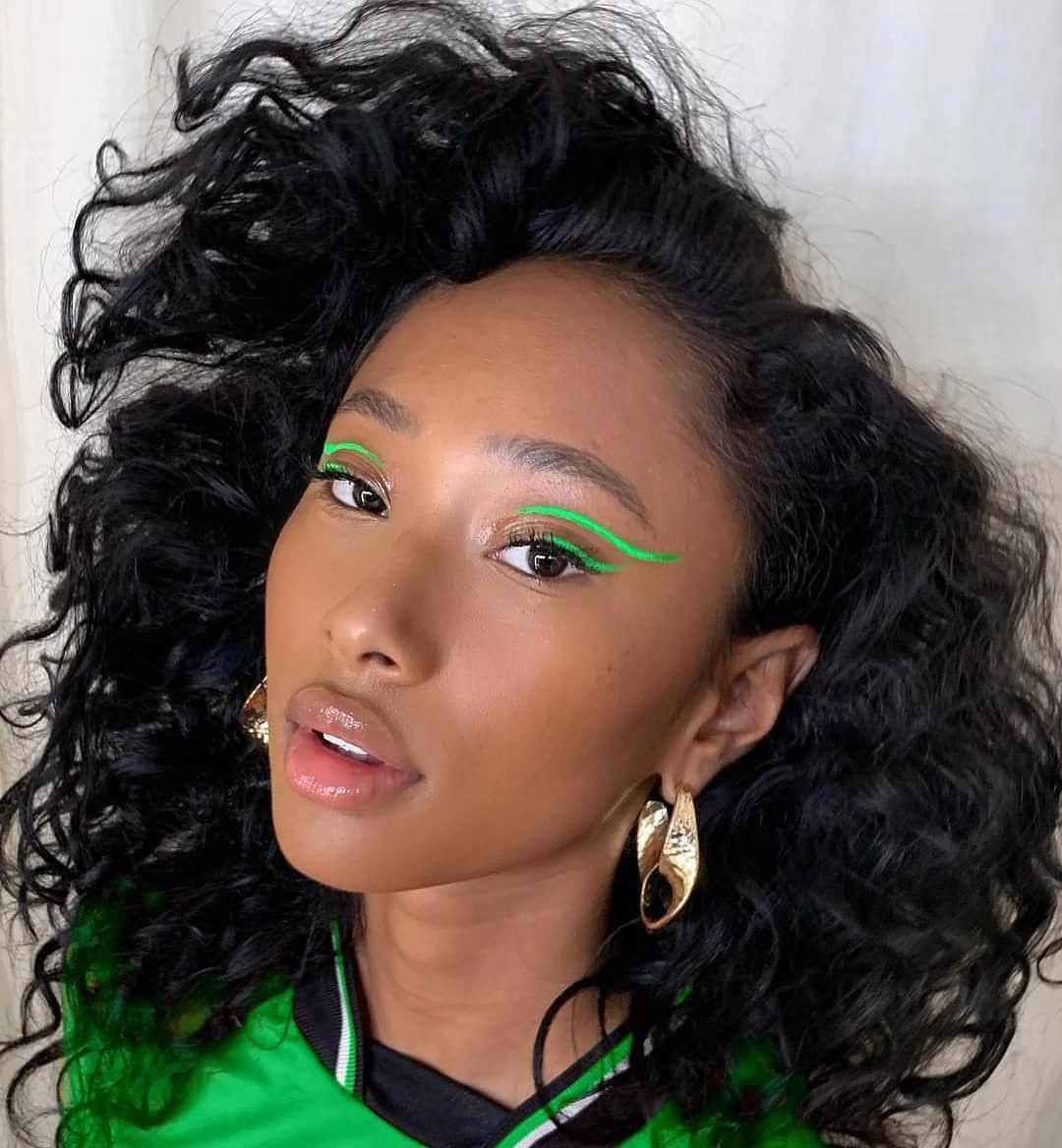 This floating eyeliner makeup look will accent your brows and define your eyes seductively. A double lining of bright hues will make it even more dramatic. Use your favorite neon-shade and recreate this eye-catching look. Such a great, minimalistic way to express your colorful soul.
13. Rainbow floating eyeliner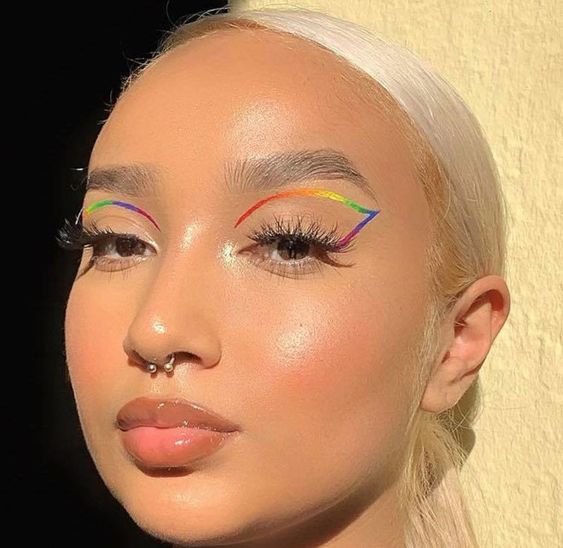 Brighten up your look with rainbow floating eyeliner. Apply the colors in the same order as they appear in nature, for a well-blended ombre effect. Accentuate your lashes, add a little blush, and nude lipstick. There you go, you are now ready for summer days and endless parties on the beach.
14. Pastel floating eyeliner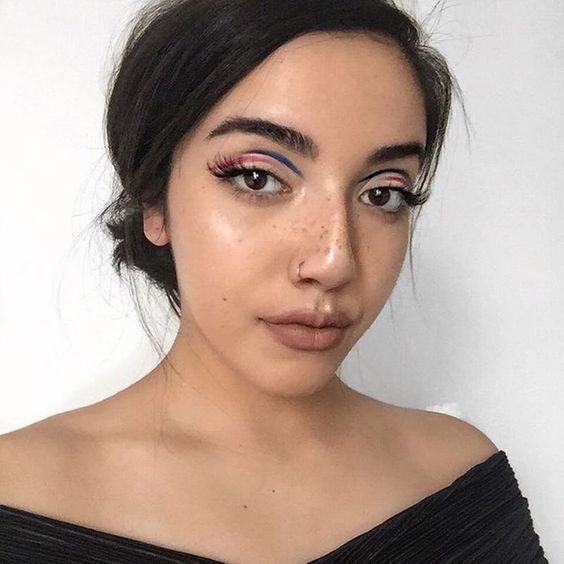 Playing with liner in unconventional ways and placement is a fun way to be creative and have fun with your makeup. Using bright colors and multiple lines gives you a less intimidating alternative to a solid colorful makeup look. Combine pastel colors like pink and blue for an interesting and creative look.
15. Purple & yellow floating eyeliner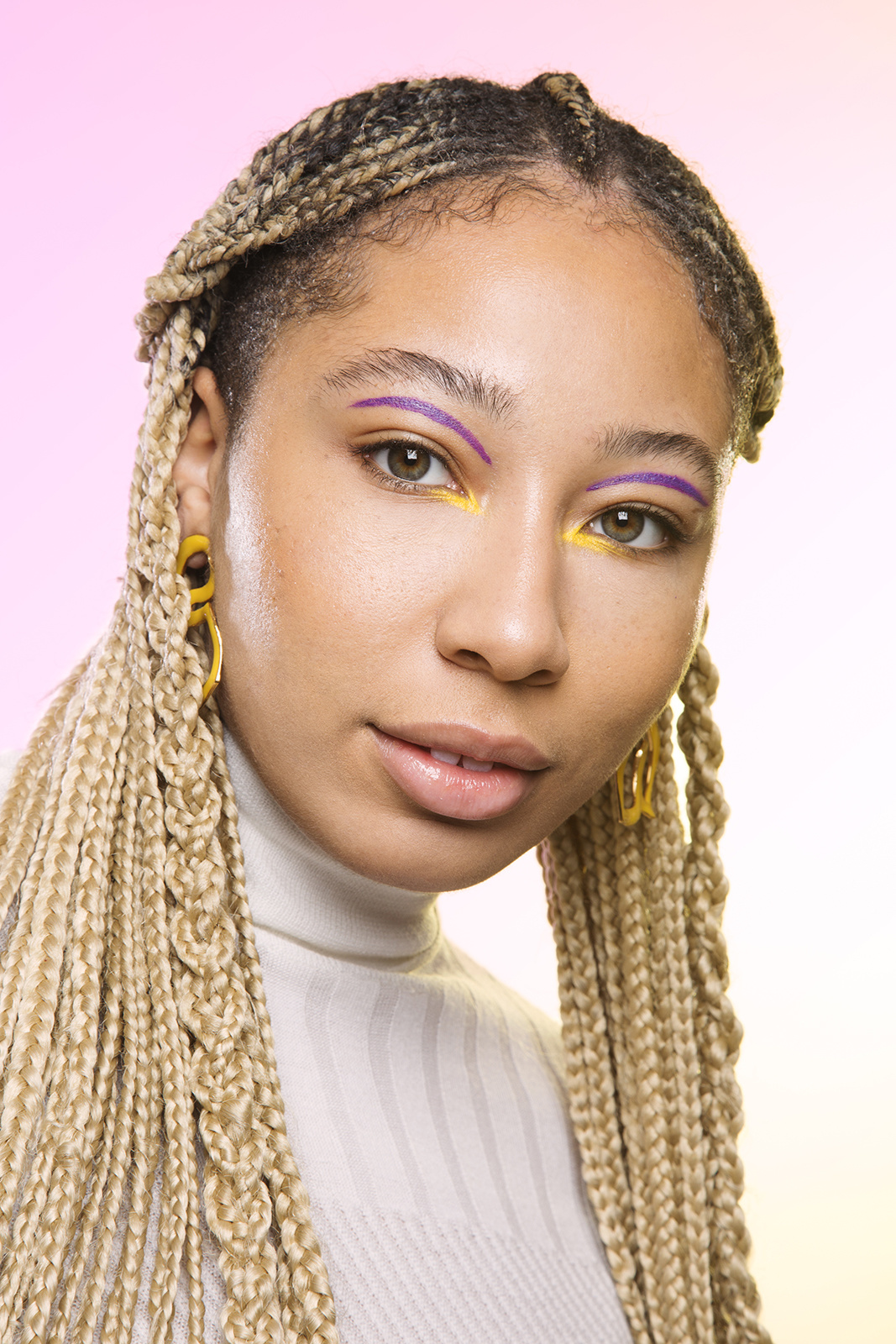 Floating liner is more about self-expression than trying to look glamorous. Experimenting with lines and colors is what this style's all about. This beautiful combination of purple and yellow will make your eyes pop, without being over the top. With this style, you don't need any other makeup additions. Just add a little lipgloss and you are good to go.
We hope you like our 15 swipes of pigment applied above the lid. These liner strokes give off the illusion of 'floating' between the crease and the brow bone, and it's a fact that they're utter works of art. Which one is your favorite idea? Feel free to leave a comment below!