The undisputed star of the fall season is the Pumpkins, and Halloween is their moment to shine. As always, with a touch of spook, a few tacky motifs, and parties packed with anything from creepy to plain strange, it is Halloween that sets it off.
Although the children in the house continue to dream about treats, the first few weeks of October are all about making the home ready for Halloween for adults. We are continuing this year's stream of inspiration with beautiful decorated pumpkins in the most cheerful way possible.
Although classic carved pumpkins look fantastic, no-carve pumpkins are becoming more and more common, especially when a candle is lit in them. About why? They are quick to create and leave a great deal of room for imagination. They are definitely one of the best ways of bringing a fall/Halloween-inspired look to your home without going over the top.
Time to channel your inner Picasso. You got this!
1. Eyes, Skulls & Ghosts
We do like decorating that explores the lighter side of things and moves away from the usual fall and Halloween designs. These minimalistic designs have caught our eyes of how simple and adorable they look. So, feel free to recreate them!
2. Abstract art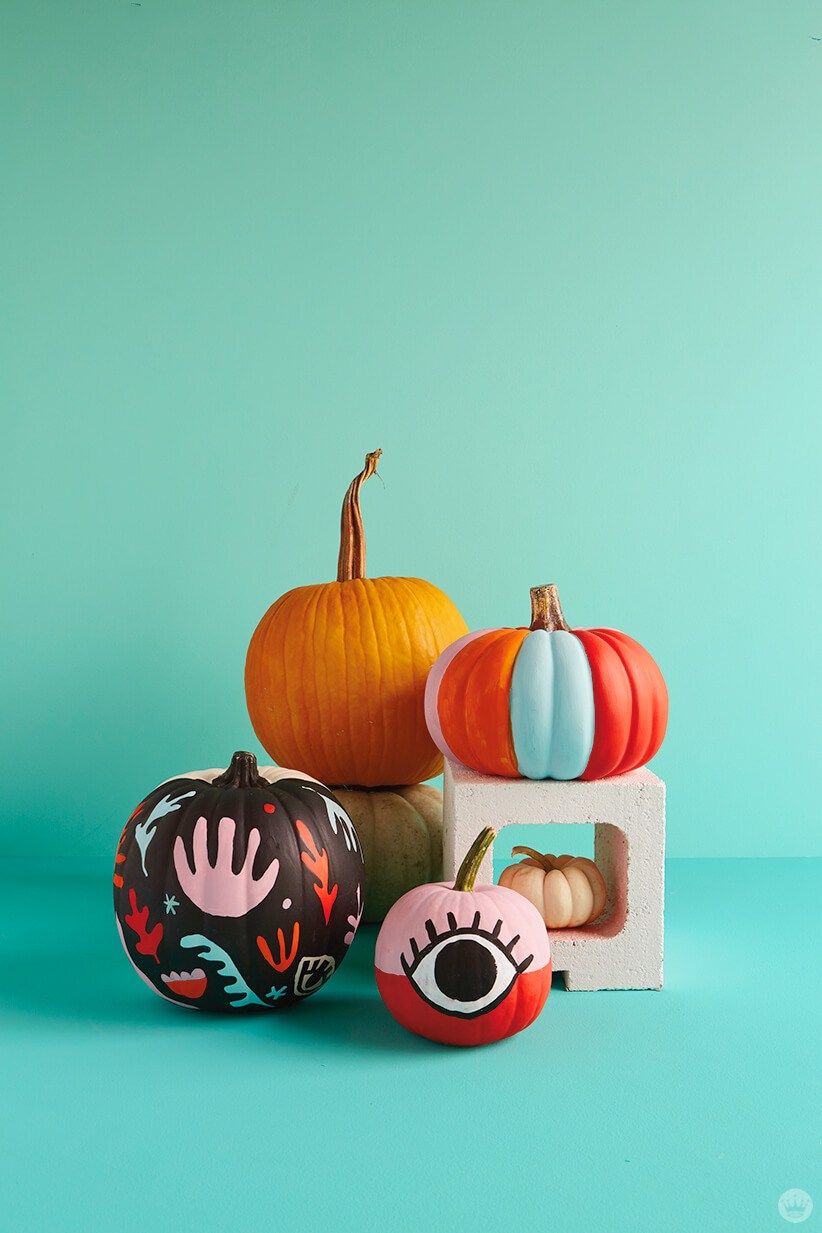 These very artsy-painted pumpkins are bold and beautiful. To create, simply mix patterns and designs, incorporating several types of colors. Get them started before the guests arrive and have fun!
3. Festive faces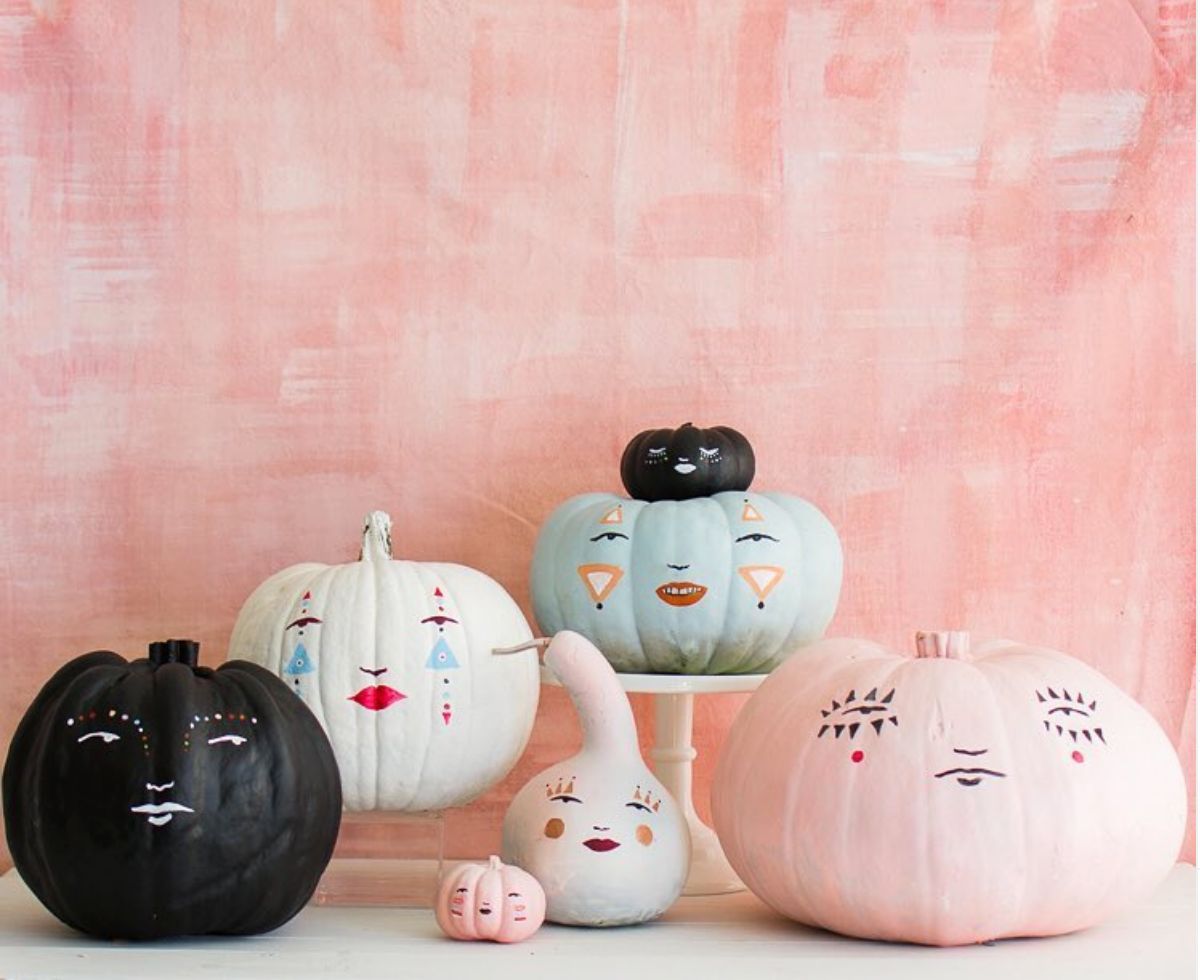 These friendly little pumpkins definitely won't spook any passerby, but they will make anyone who looks at them smile. How could you not?  Try a few with pastel colors and a few with darker shades.
4. Terrazzo art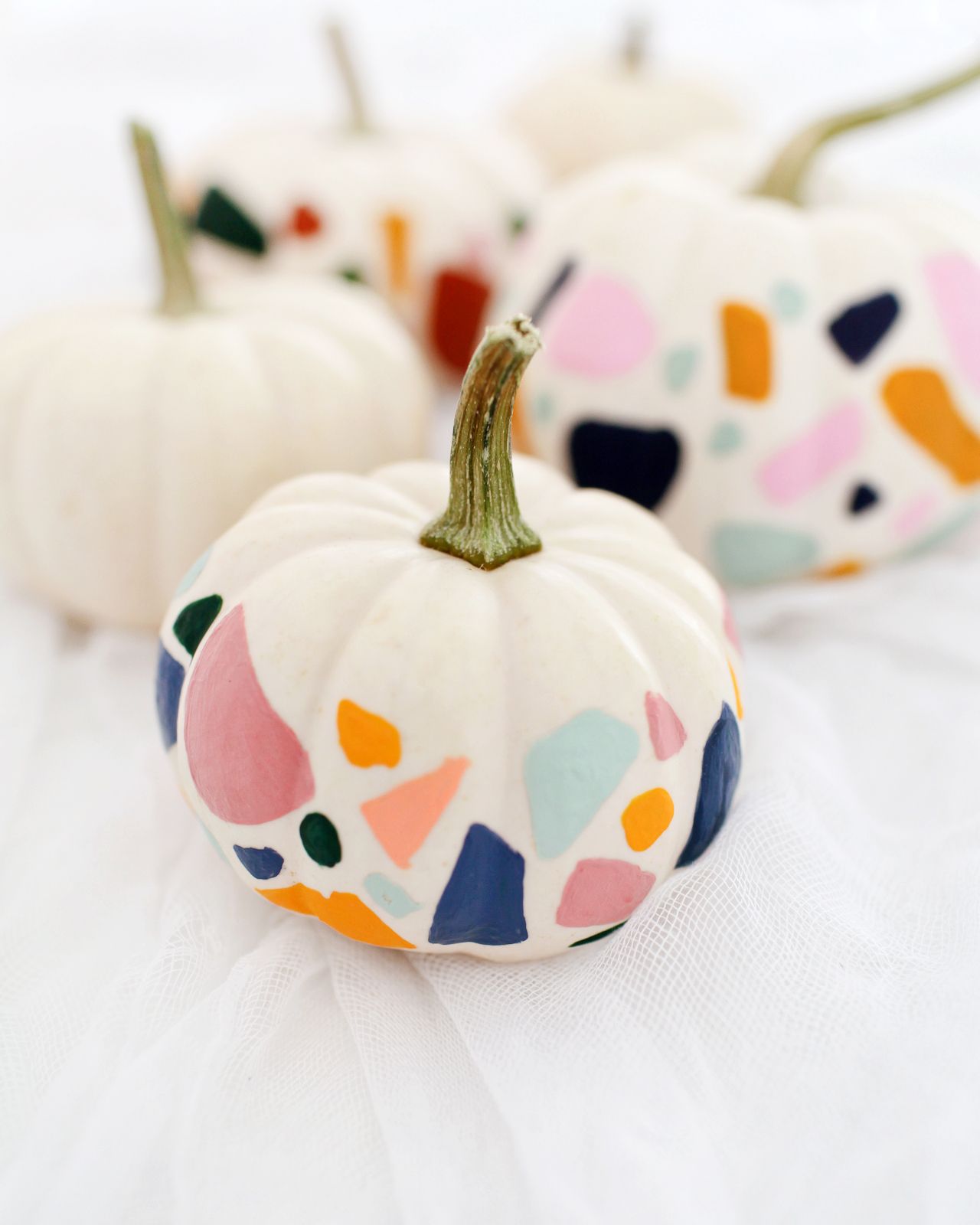 You don't have to be a talented artist to paint a pumpkin and to make it look pretty. Just use your strengths. Terrazzo art is something that pretty much anyone can draw or paint in a satisfactory manner, and the end-result is super-festive and cute!
5. Goofy faces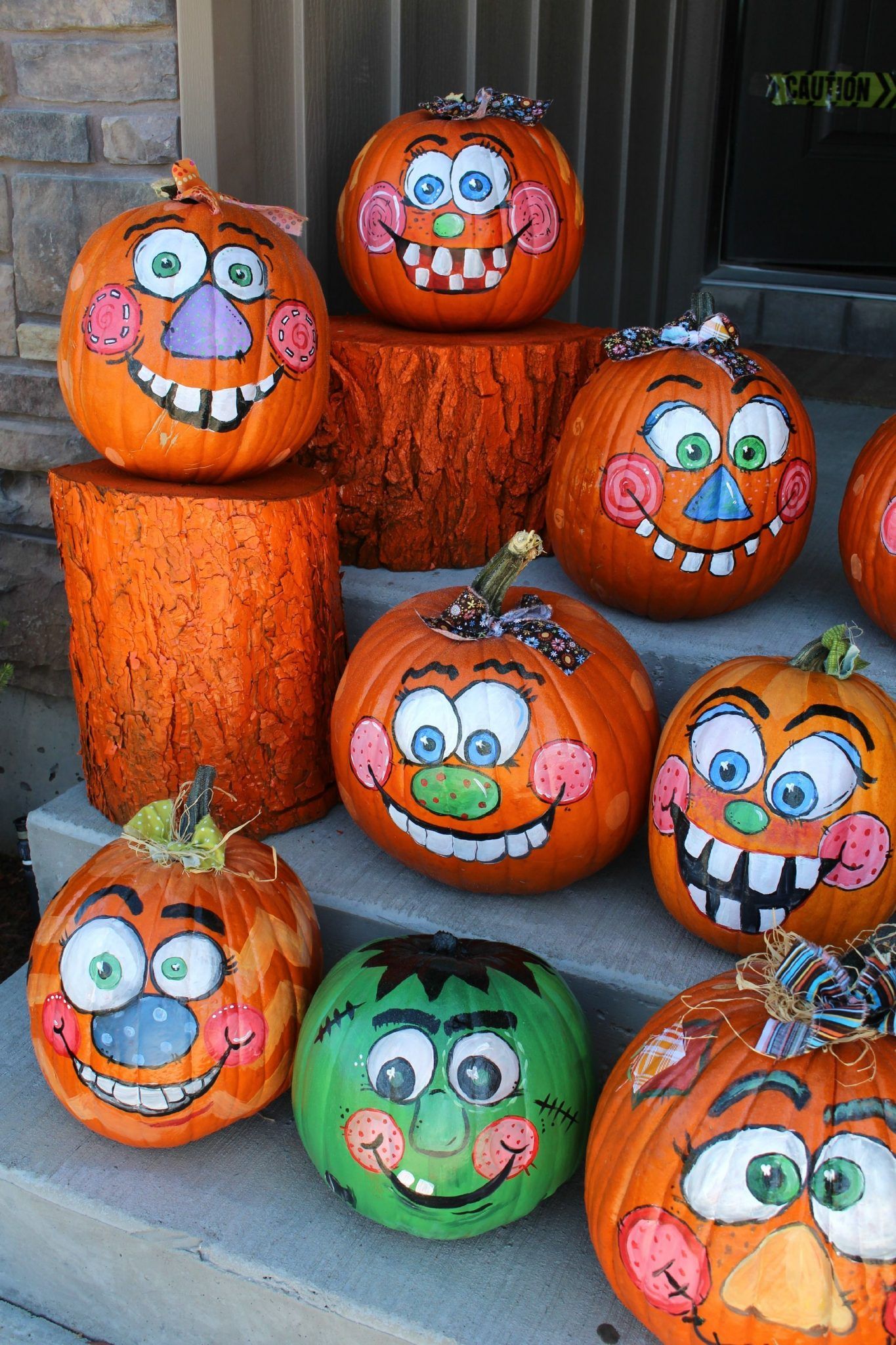 Channel your inner illustrator! Pumpkins, painted with fun faces are a stack of personalties. You will have the most festive home on the block with these super-creative pumpkins!
6. Starry night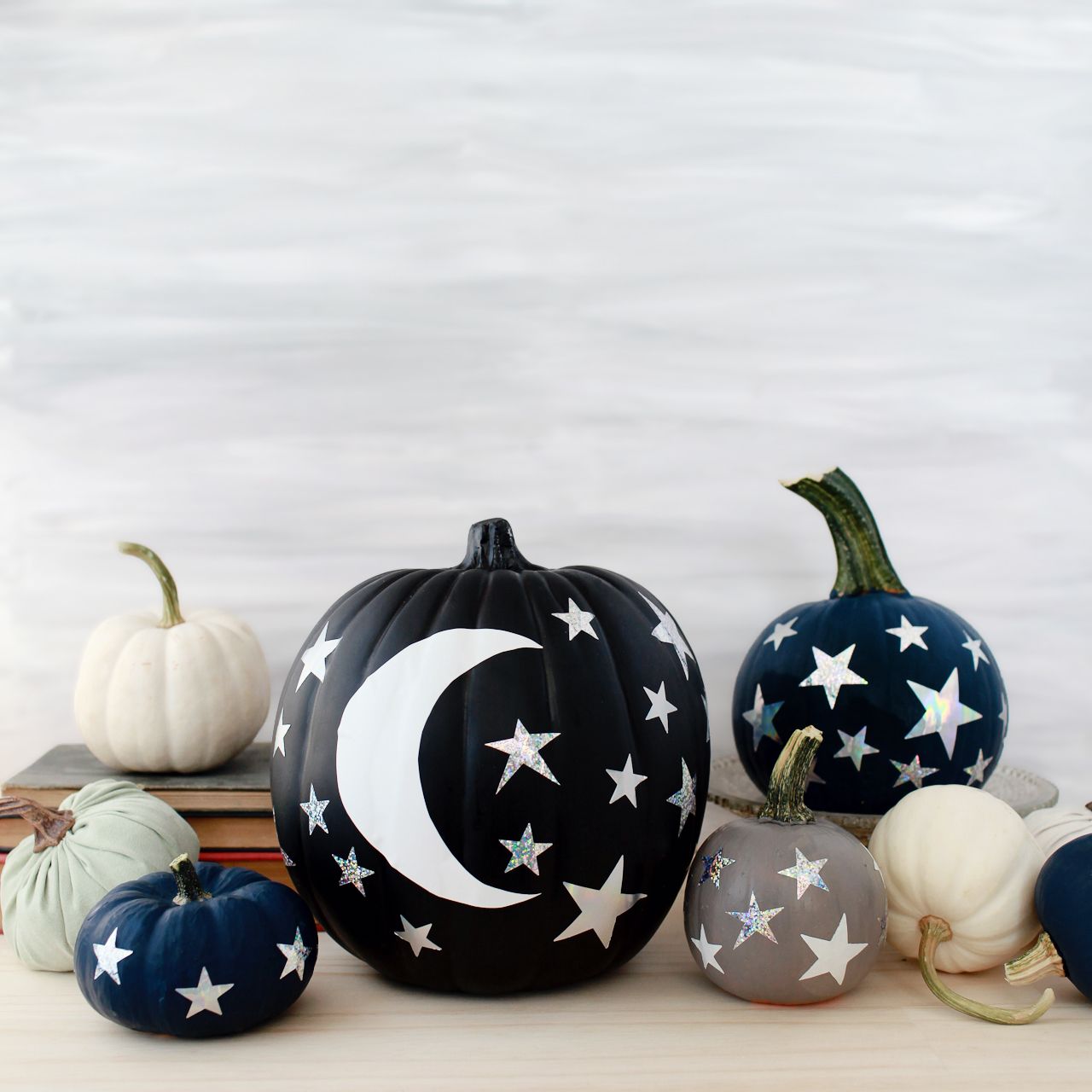 Recreate the perfect night sky with a black painted pumpkin and a handful of holographic and silver star stickers. This pumpkin look is ideal for those who prefer to stay away from gory Halloween decor.
7. Magical marble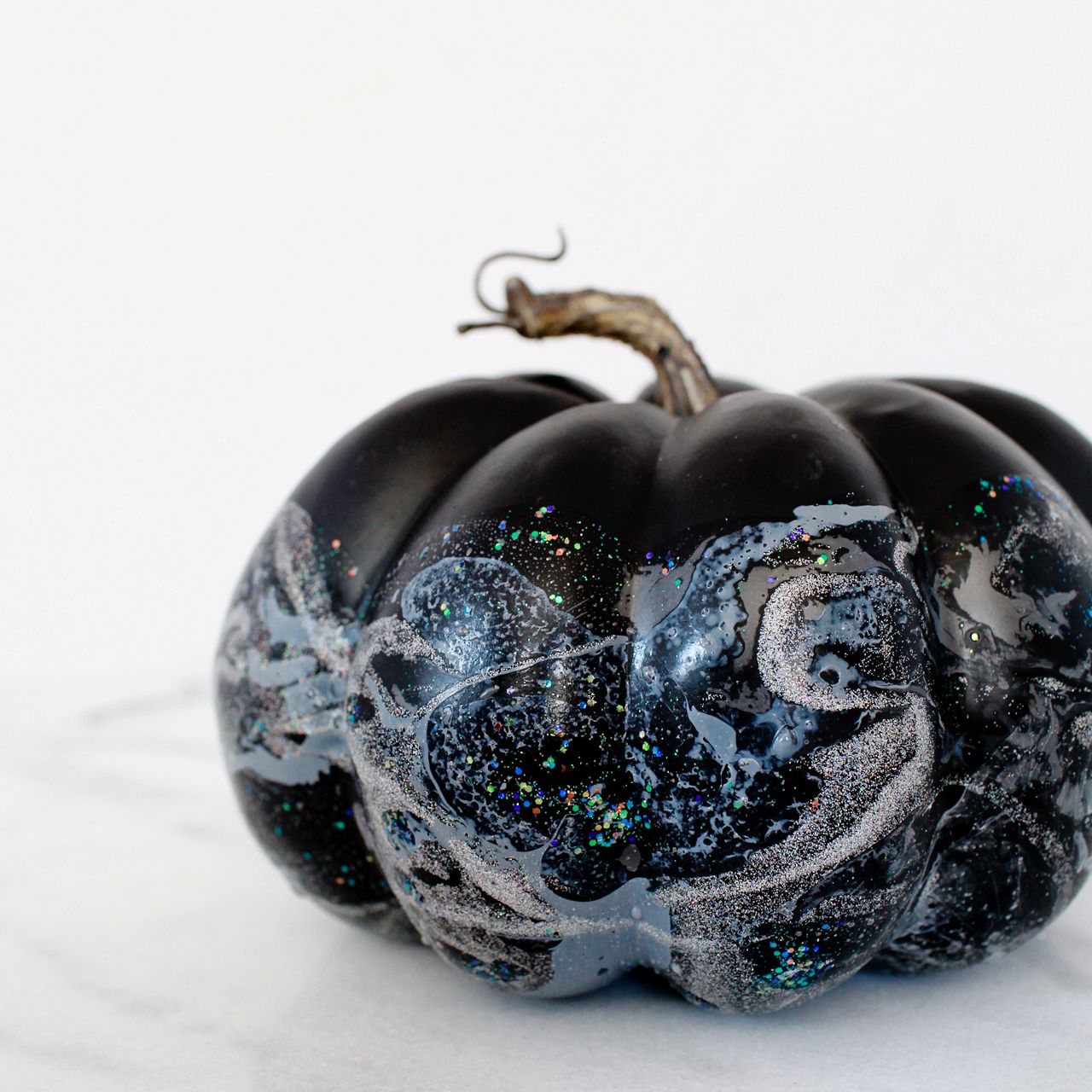 Your Halloween pumpkin decorations are going to be out of this world! This painted pumpkin starts with a plain black coat. Add glitter and sparkles and combine it with blue strokes. You will create a marble-type of pumpkin that looks like a galaxy.
8. Mandalas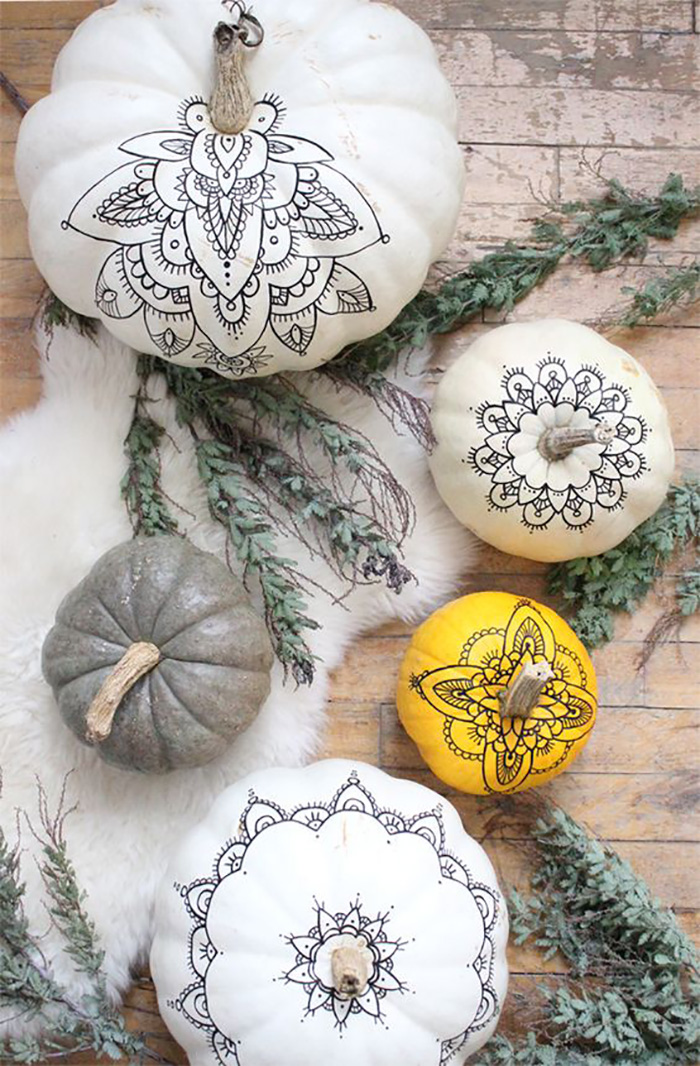 Another idea can be to explore your artistic side and to paint something pretty on the pumpkin as opposed to something spooky or graphical. Draw mandalas on your pumpkins for a festive feel. They would look lovely in your living room, bedroom, or dining room and you can use them as a centerpiece or shelf ornaments.
9. Jack Skellington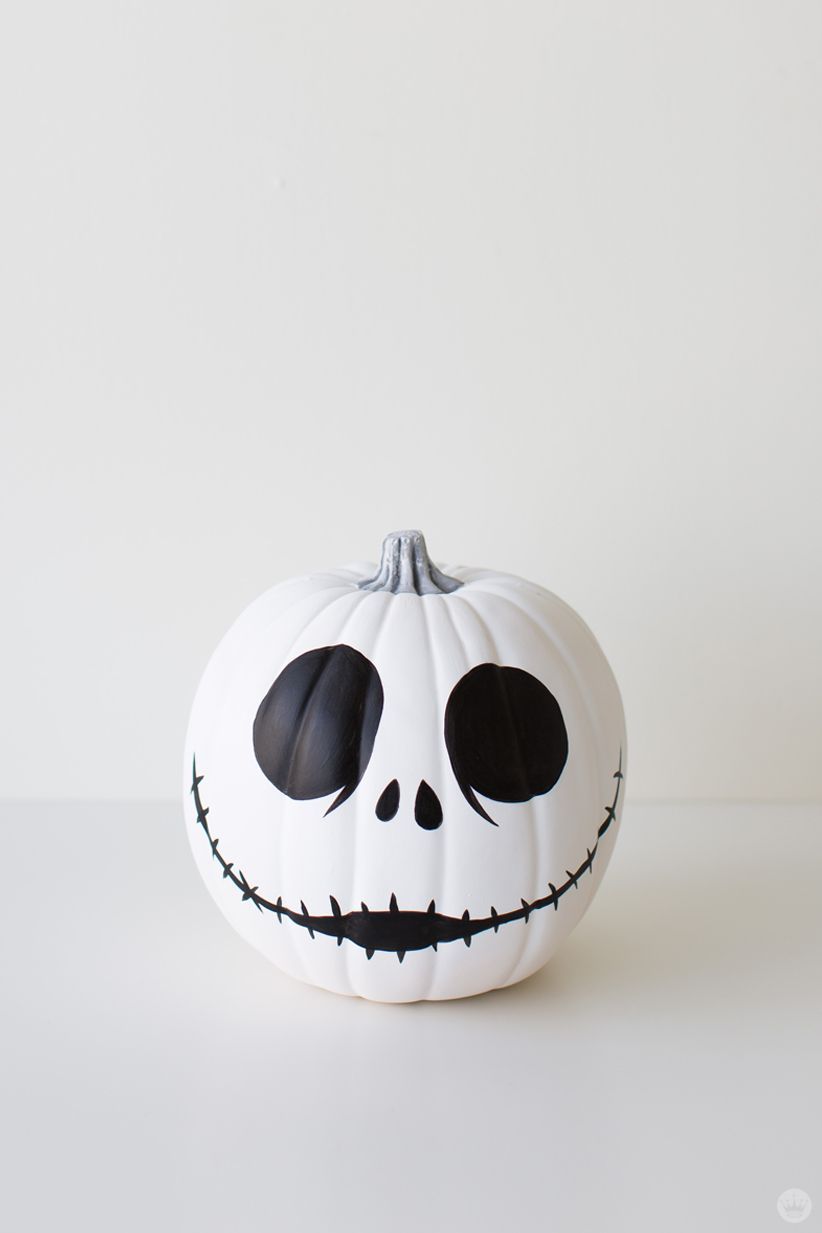 There's no Halloween without Jack Skellington! Portray a haunting makeover to your pumpkins and draw this hauntingly easy creation. You'll definitely catch the spirit of Halloween with this one!
10. M&M's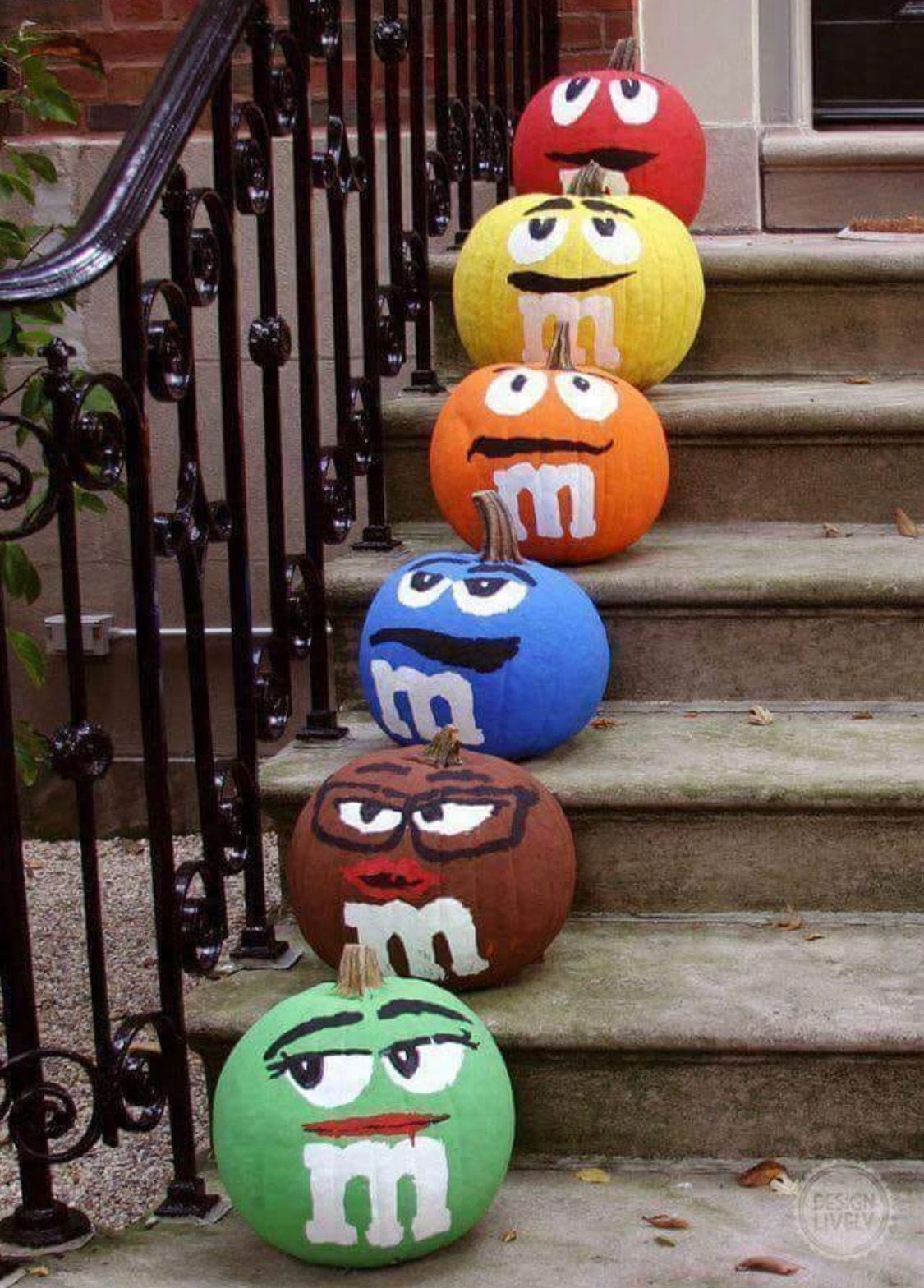 Speaking of patterns and pumpkins, it's not just the classic ones that can look good. Create the most festive curb appeal on the block by recreating these m&m's pumpkins! There are so sweet that we almost like to taste them!
11. White Bohemian Pattern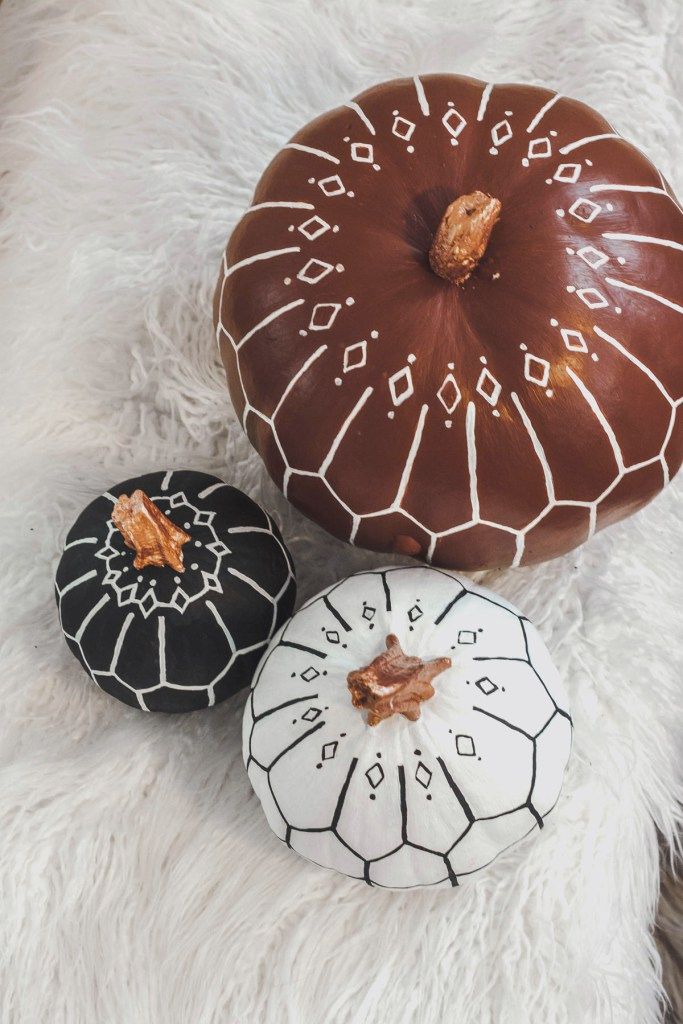 You don't have to choose an intricate design or a very complicated pattern in order to make your painted pumpkin look cool and beautiful. In fact, some of the most beautiful designs are very simple, like these that feature very delicate Bohemian patterns that are oh-so-sophisticated.
12. Halloween quotation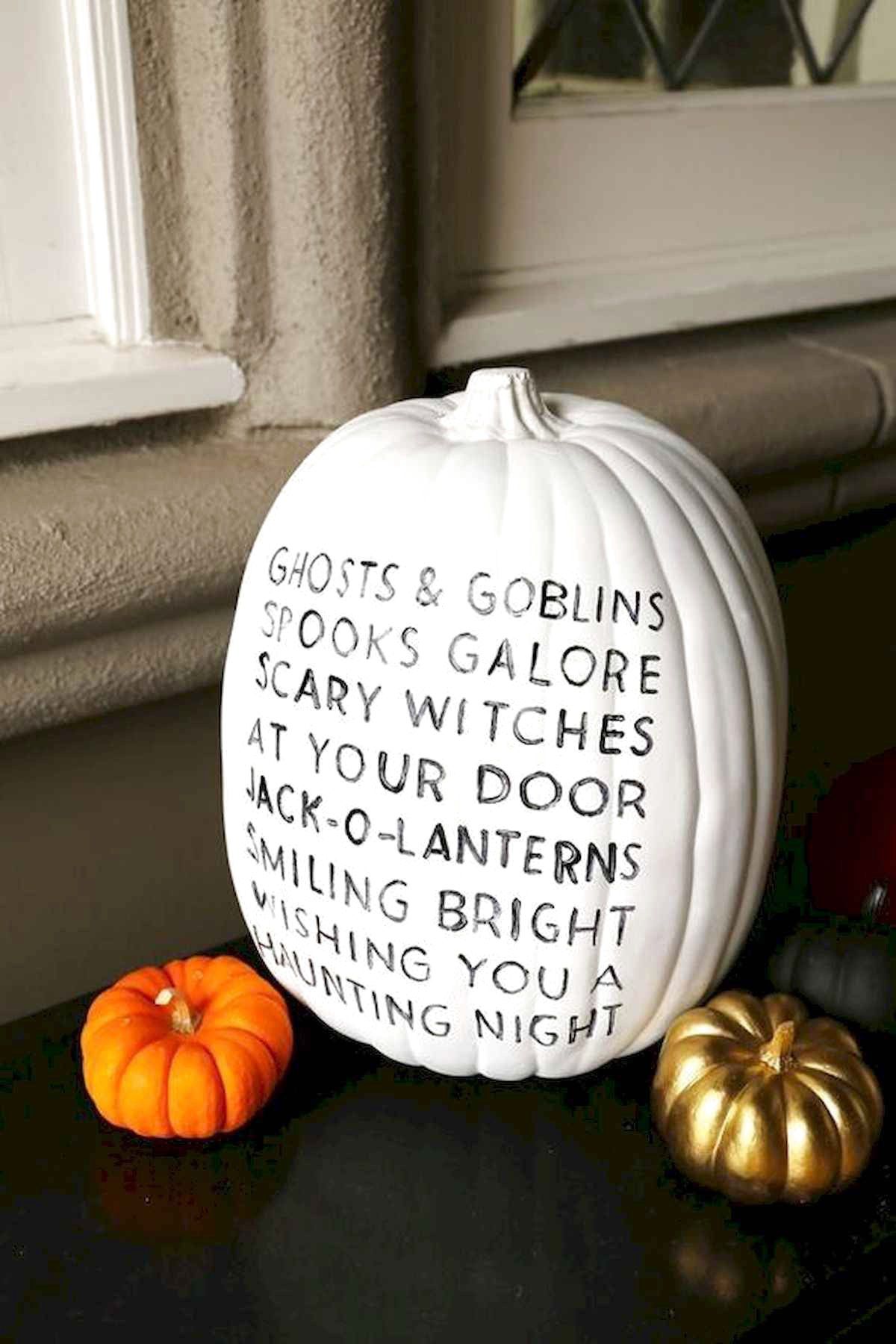 Cheesy puns aren't just for Valentine's Day cards. Add a spooky Halloween quote on your pumpkins and they will win over even the grimmest trick-or-treater. Your curb appeal or home decor is about to be scary good.
13. Colorful Bohemian pattern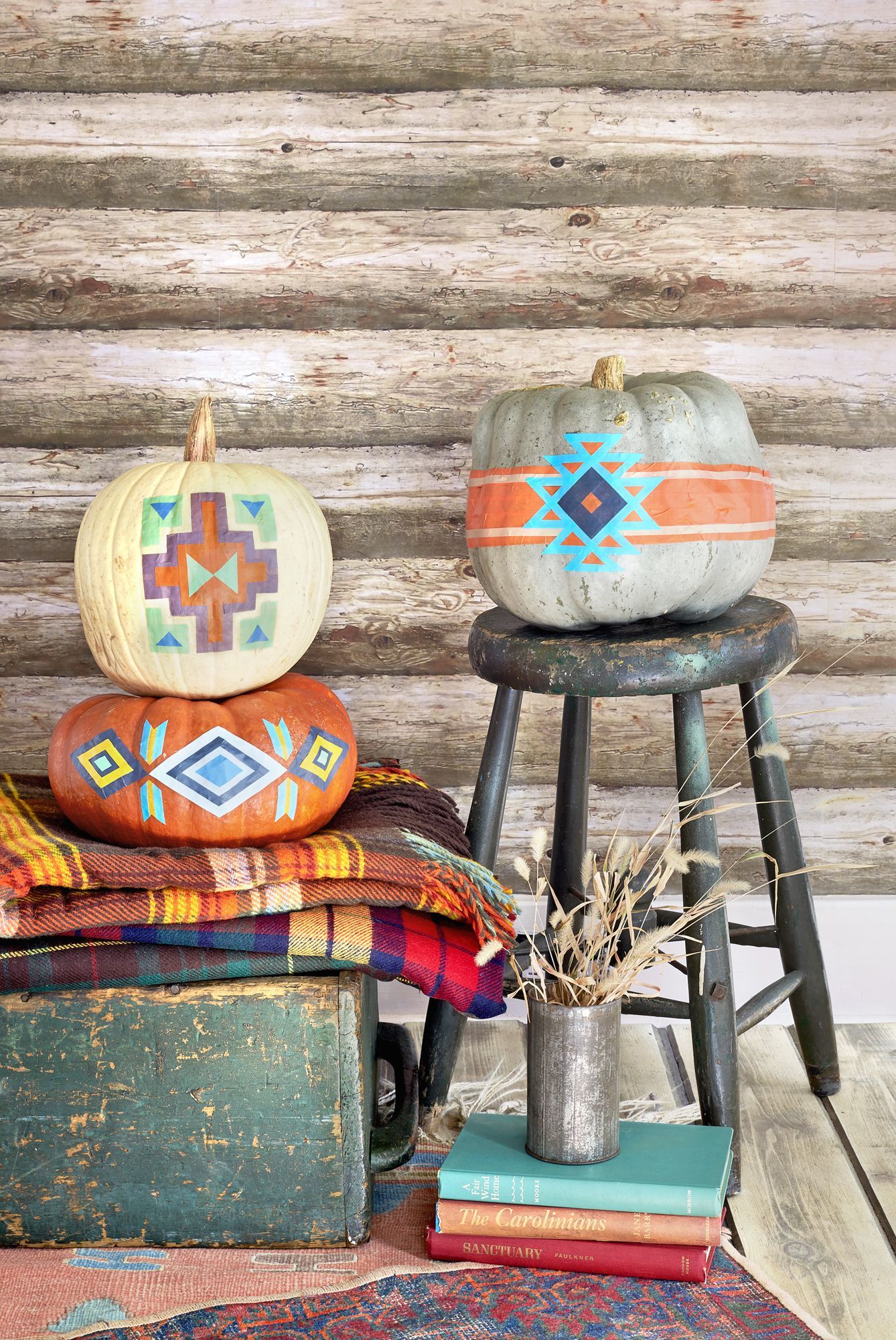 Aren't these pumpkins looking super fun and cheerful? The vibrant colors pop and the Bohemian pattern goes really well with the design as a whole. Have fun mixing and matching more colors and making more pumpkins after that.
14. Harry Potter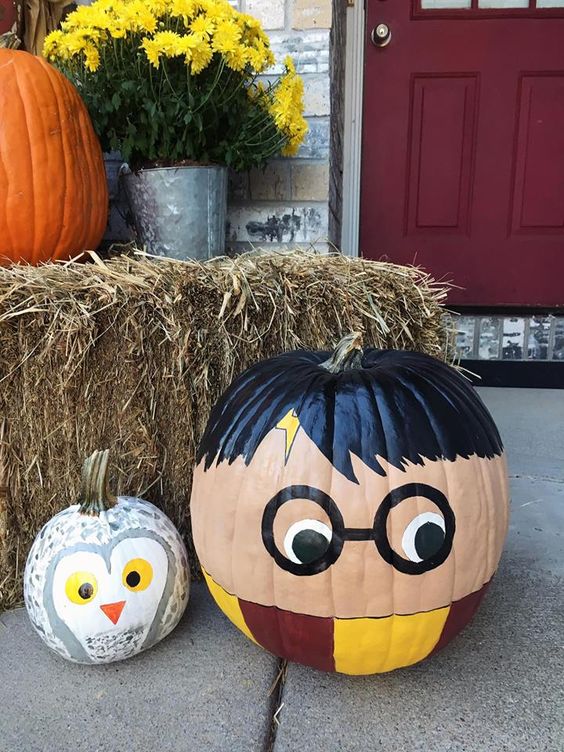 How cute are these Harry Potter-themed pumpkins? They are not scary, but definitely catchy and magical. Lure in your guests with this adorable pumpkin idea and cast a spell long after witching hour!
15. Floral design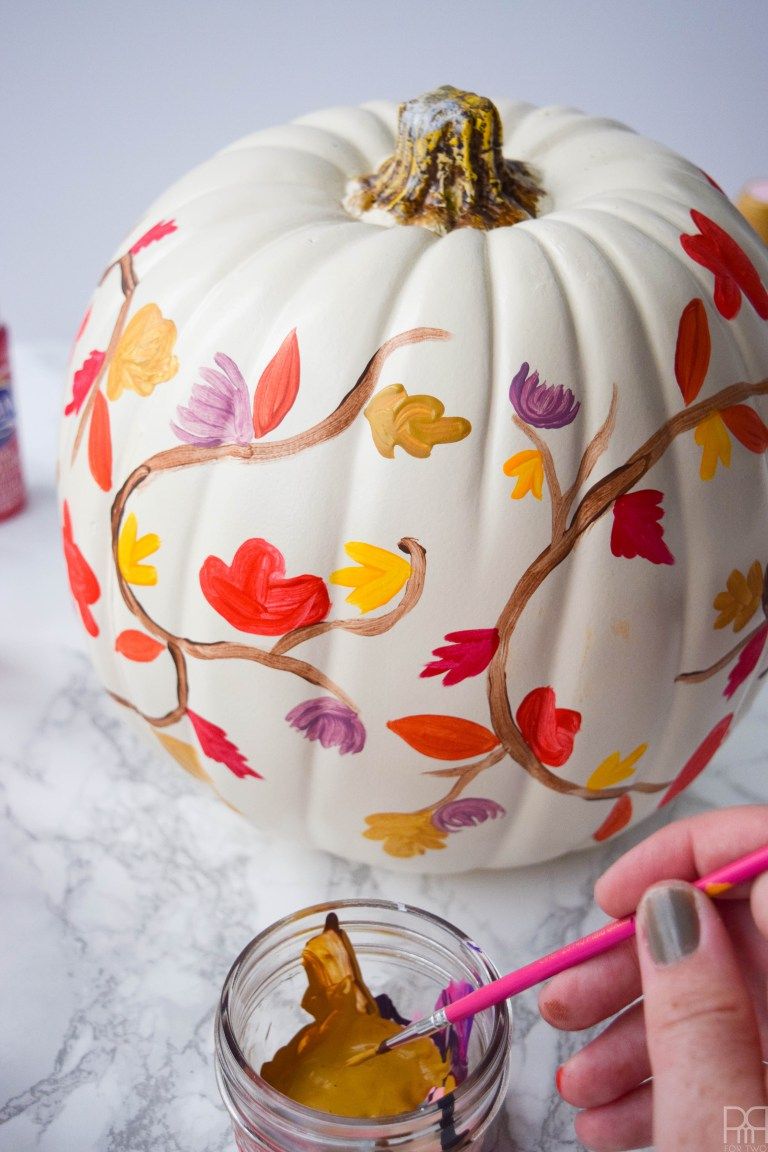 Refuse to believe summer is actually over? Deck your pumpkins out in florals so you can keep up with the changing of the seasons but still represent the one you love the most.
16. Dia de los Muertos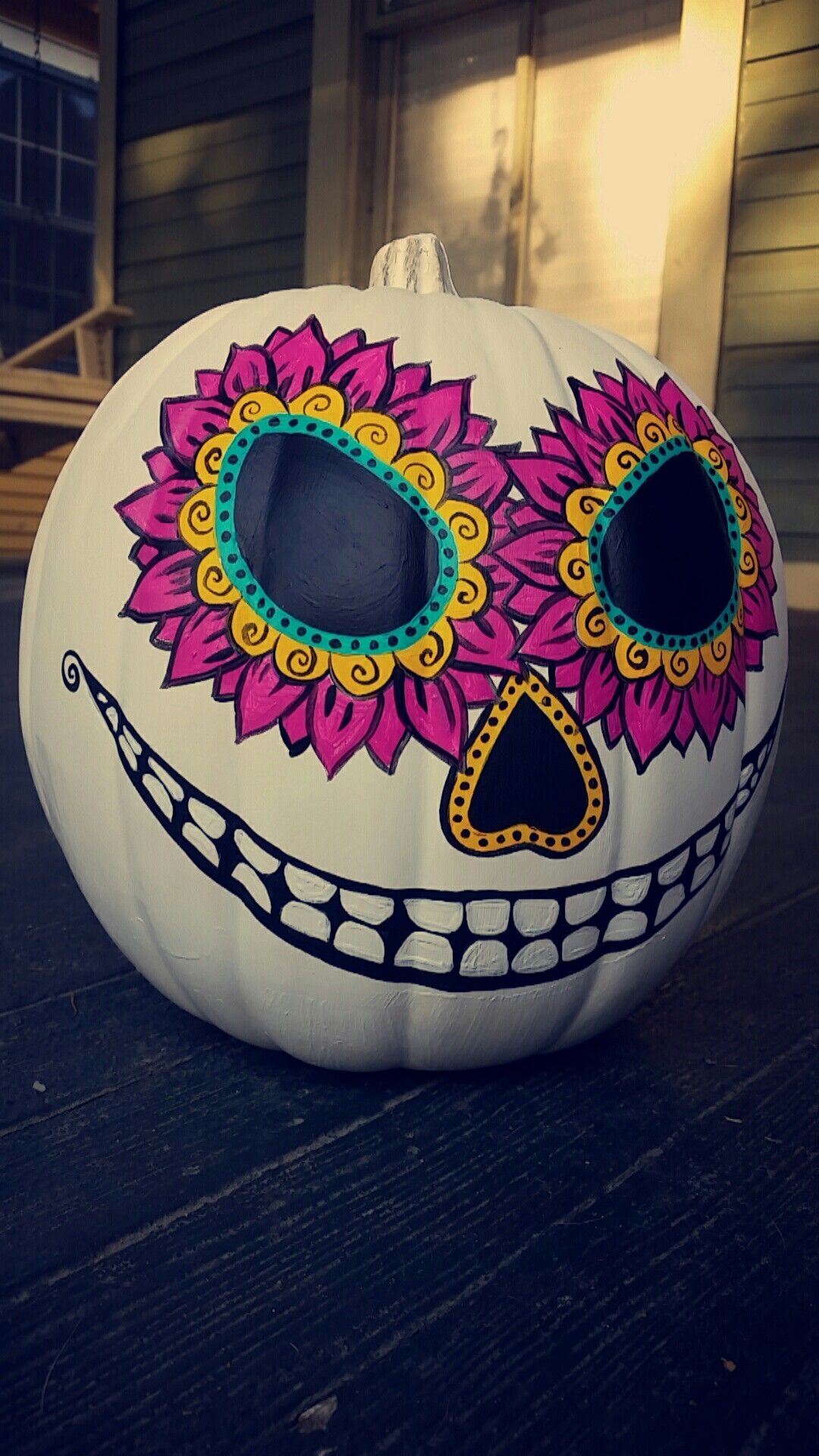 Sugar skulls are known for their creative patterns, accented with bright colors. This Day of the Dead painted pumpkin is bold and striking. Choose bright accent colors to pop off of the black and white motif.
17. Beetlejuice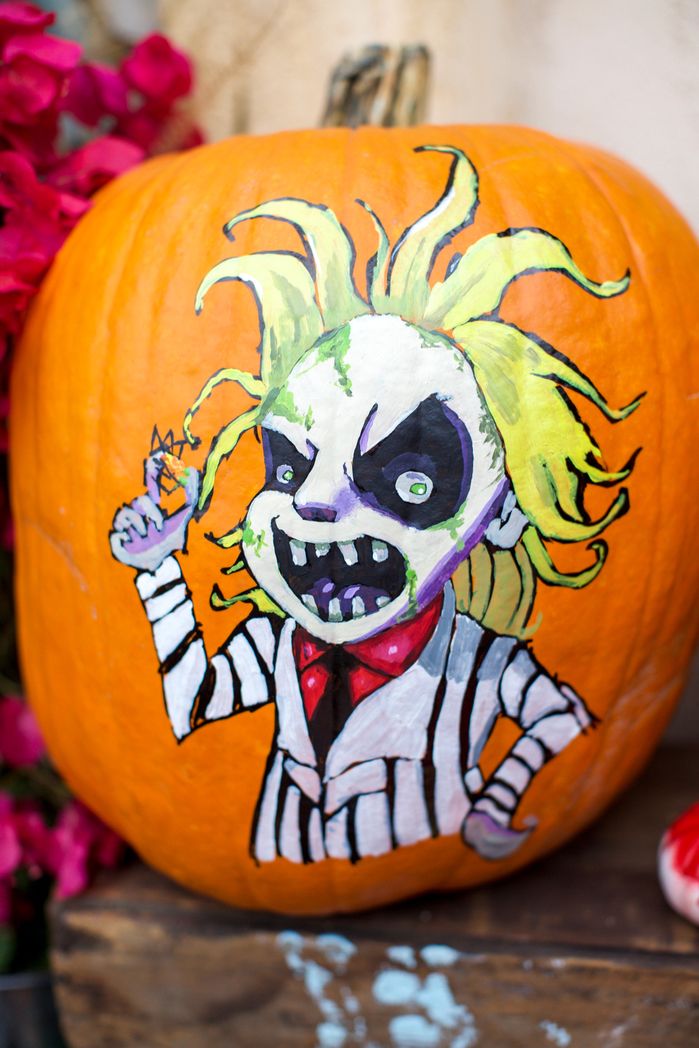 Are you up for a Challenge? Because this Beetlejuice pumpkin is no joke. However, the end result definitely pays off. The trick or treaters will be delighted by the sight of this spooky pumpkin art!
18. The Nightmare Before Christmas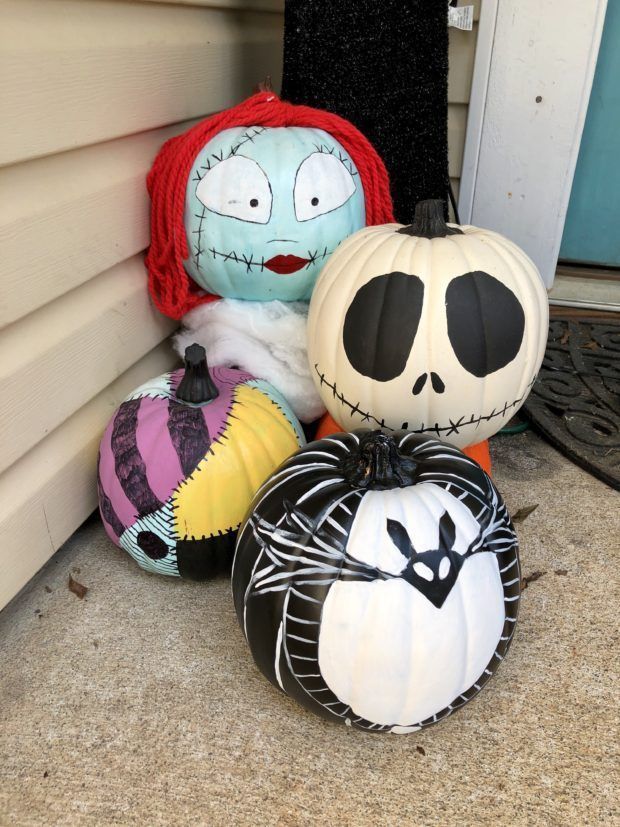 Create this combination of characters and patterns featuring the Halloween animated movie we all love! Your front porch will be magical thanks to these pumpkins. Give it a try, you'll love them!
19. Cheshire Cat & Queen of Souls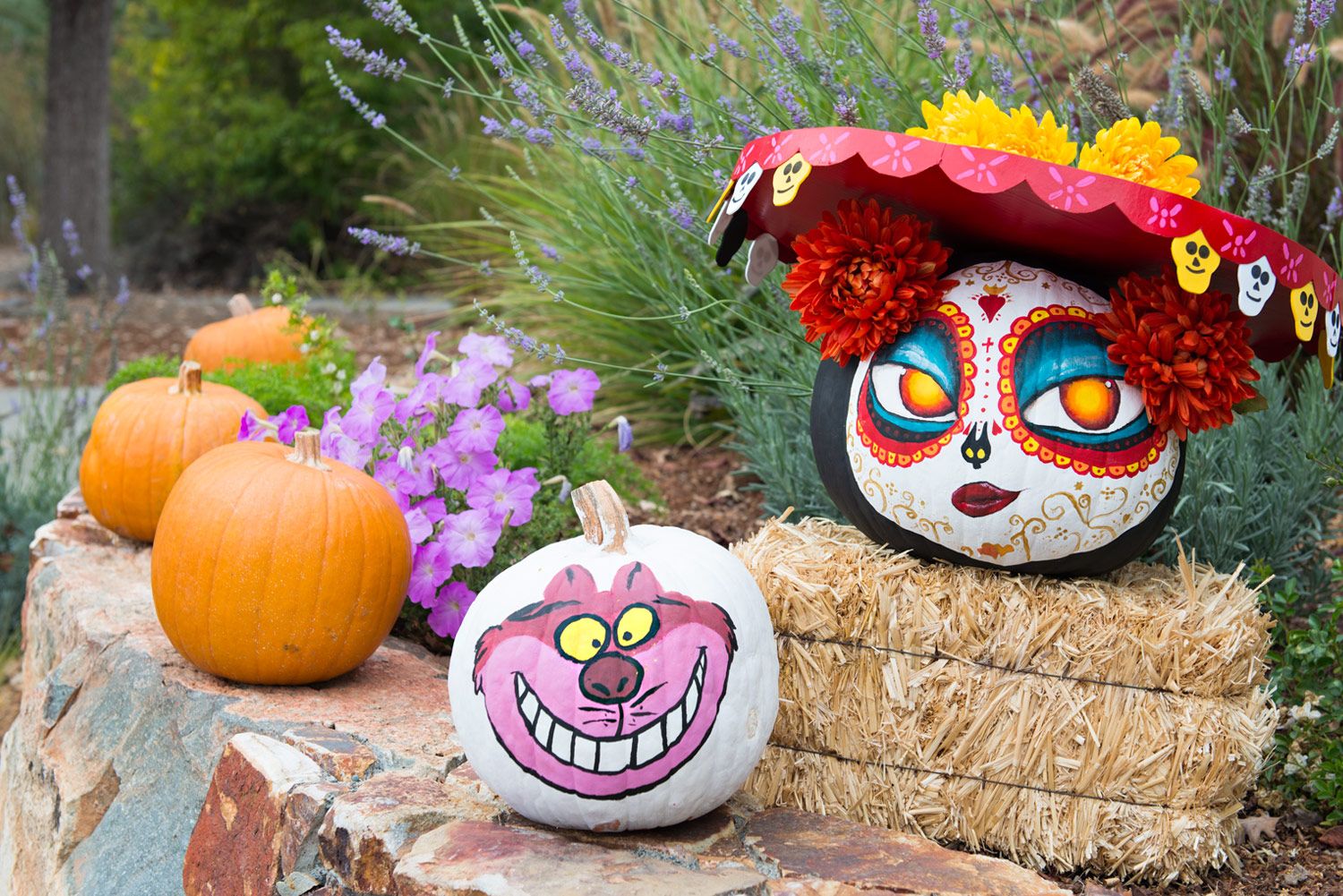 This is a great idea and a great way to decorate and customize the pumpkins without doing any carving. Wake up your inner artist and create these magical pumpkins, showcasing Disney characters.
20. Frida Kahlo & Floral Skull
The pumpkin is just like any other canvas and has its unique demands. But master it, and you can craft masterpieces that will survive well beyond Halloween and fall. So, here's an idea to inspire you!
21. Painterly strokes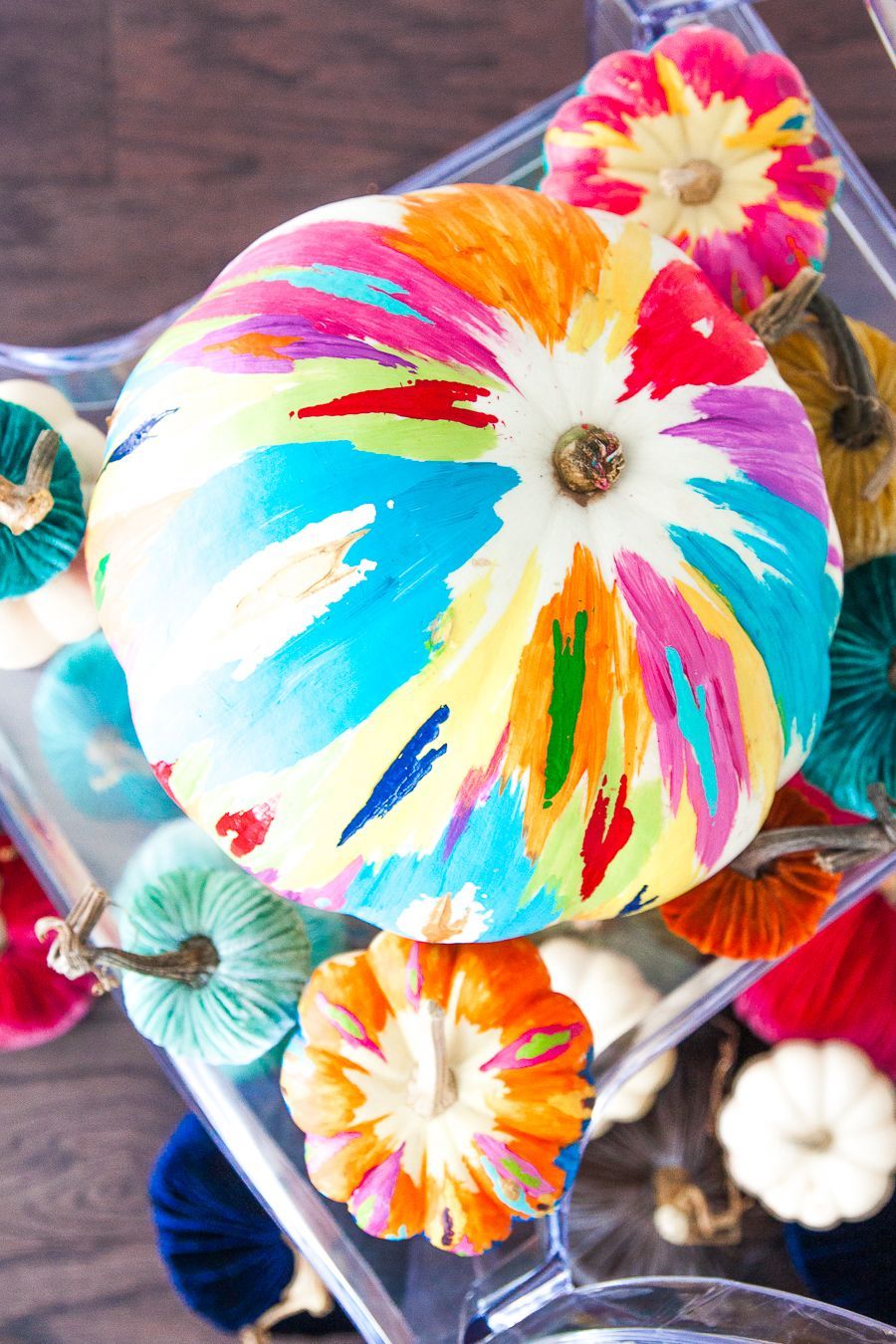 This pumpkin painting idea is super moody and fun. It's a little on the messier side, but it's worth it for the final design. With pumpkins like these, you will have a sweet accessory that adds a festive element to your home.
We hope you are feeling inspired to try out some of these designs. Which one is your favorite? Leave a comment below and Happy Halloween!