Summer means heat and warm weather. And that also means spending more time in the pool. If your kids love water, then you have to find them a pool and let them play for as long as they want. All kids need is a pool, and that will entertain them for hours. And if you want to take pool fun to the next level, we have some ideas for pool games for kids.
Do not worry, these pool party games offer versatility, different ideas, and lots of entertainment. And they are all safe to play. We pay attention to pool safety as well. Parents always try to come up with new and exciting water games. Well, we have you covered with a couple of ideas. Let's go get you ready for a pool party.
Underwater Obstacle Course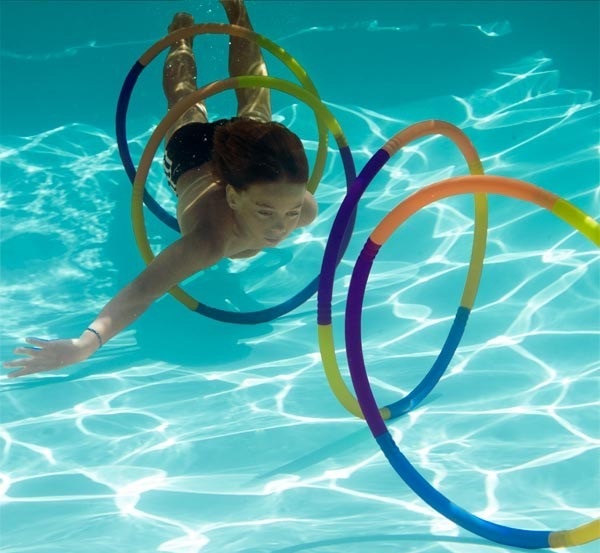 Bonus points, your kid can practice snorkeling as well. You can create a custom obstacle in your pool. And the best part is you can customize it to fit the swimming skills of your kids.
Kids love challenges, and this fun pool game can be turned into a competitive challenge easily. They can go through, under, over, and around swimming rings.
If you are into a competition as well, create two side-by-side courses, and see what happens. Of course, make sure to provide a trophy/reward for the winner of this swimming game.
Beach Ball Race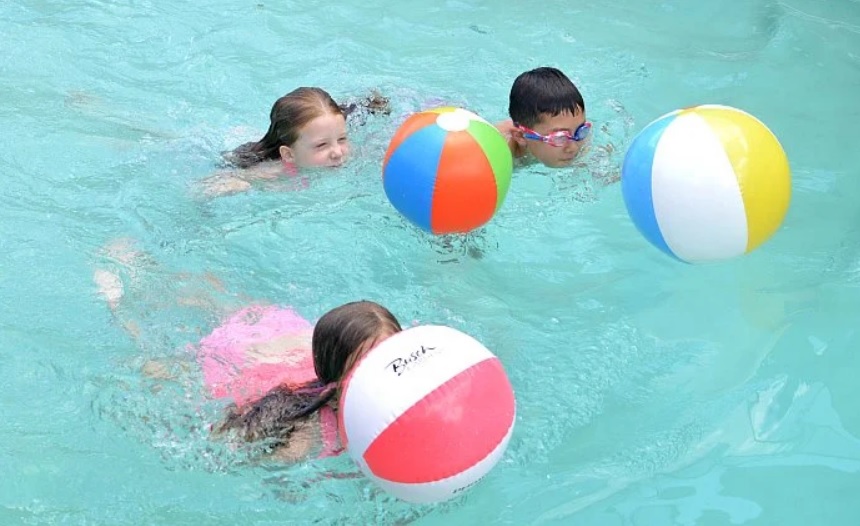 You can play this game with any ball you like. Beach balls work the best because they are light. But they are also big, adding some challenge to the game.
What is the trick? You hold the ball and run to the end of the pool. Then take it to the next level, and your kids need to swim from one end to another while bring their beach ball with them.
Fun right? Well that what pool games for kids are for.
Marco Polo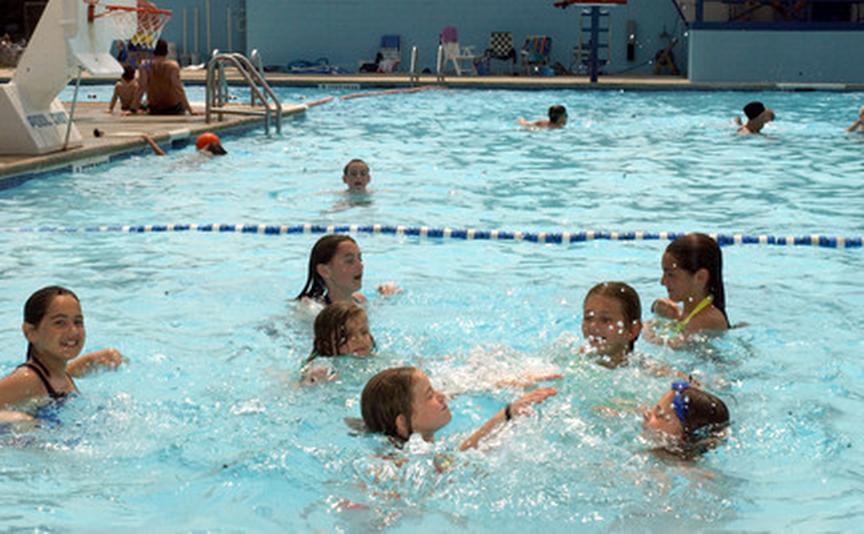 You cannot ignore the classics. Adults might have had enough with this game. But your kids are just starting to love it.
Remember, the game can be downright exhilarating for your kids. How does Marco Polo work? Well, we think most of you know, but let's revisit the rules.
"Marco" keeps his/her eyes closed and catches the others based on their reply to her call (first Marco, then Polo). You can have a wider age range for children for this game. Remember, the youngest kids tend to peek, so do not designate them as Marco. Or supervise and explain the rules again.
Slingshot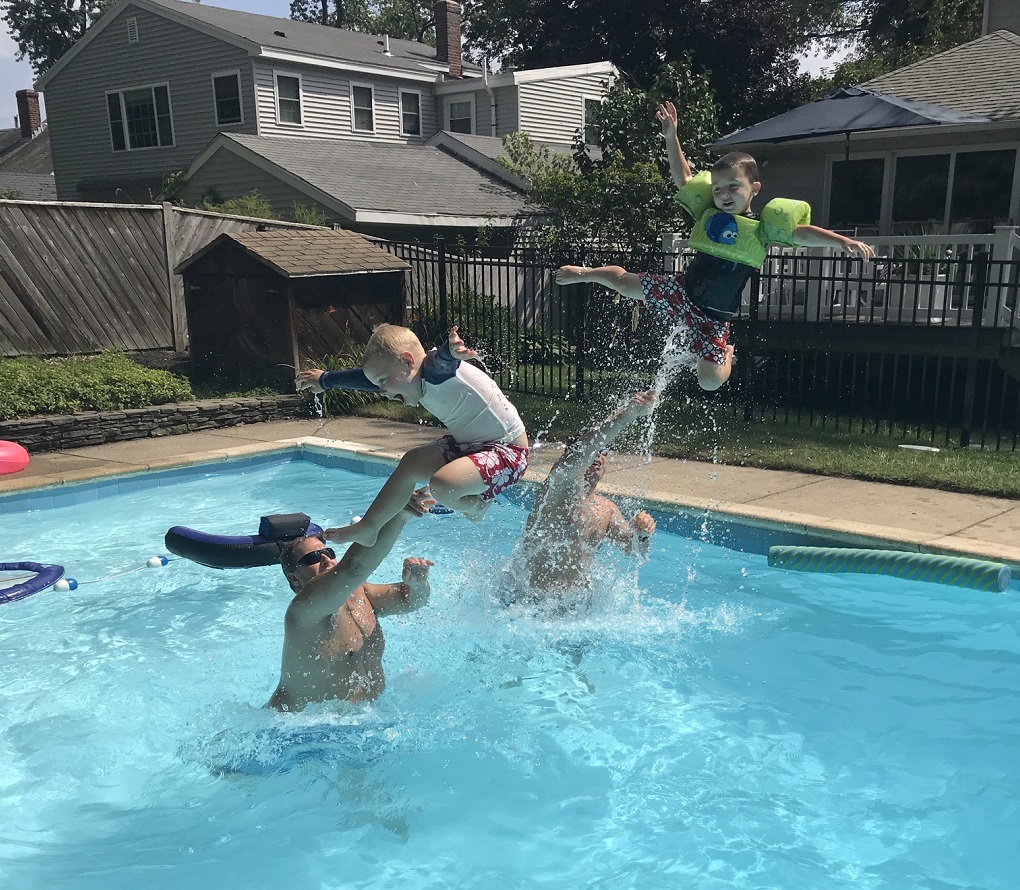 Who doesn't love being catapulted from the water? This is one swimming game we all played with our parents. It is one of the best ways to spend some quality time with your kids in the pool. Great parent-child bonding session.
And if you want to turn it into a friendly competition, you can do it. Just see who can go the furthest, the highest, or perform the coolest trick in the air.
Wishing Well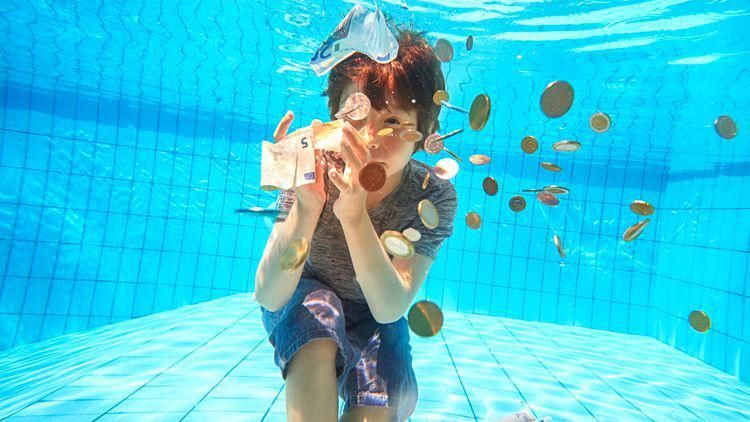 This pool game for kids sends players on a search for coins mission. The coins are at the bottom of the pool. You can line up participants shoulder-to-shoulder with their backs to the pool.
Some of you throw a handful of loose coins into the pool water. Your kids then have to dive into the pool and collect the coins before they land on the bottom.
To make it more rewarding, allow your younger kids to keep the coins as a prize. Or they can collect them, toss them again, and keep scores. The winner gets a big reward.
Air Ball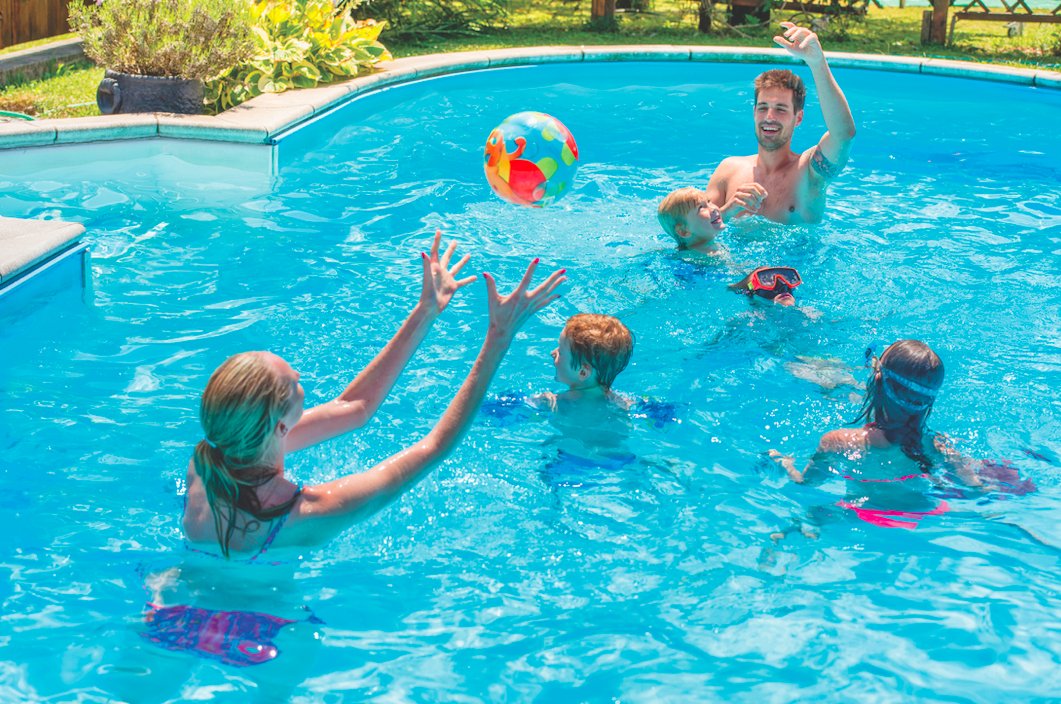 The rules are simple, the beach ball cannot hit the water. Your kids can do anything they like, including dive and splash. But they have to keep the ball up in the air.
Let's name the game water volleyball as its rules are an exact match with volleyball. Water volleyball is a fun and challenging game that can be enjoyed by people of all ages. The basic rules of the game are the same as traditional volleyball, but it is played in a pool instead of on land. To make the game more organized, you may want to consider using a floating pool volleyball net and ball. If you wonder whether it will fit your pool or not, custom inflatables of any shape and size are available nowadays and you can easily personalize and match them with a theme or design that crosses your mind. Water volleyball is a great way to stay active and have fun, so get out there and give it a try!
Just be careful, this swimming pool game can easily turn into a hazard with kids diving carelessly. Yes, it is loads of entertainment and joy, but you have to supervise and tell your younger kids to be careful. Pool safety above all.
Air Ninja
Here comes another water game bursting with adrenaline. What you do is start on the side of the pool in a jump-ready position. Count to three, and then tell your choice of any animate or inanimate object. Kids need to leap into the air, strike a pose, and come up for air giggling.
Kids love imitating objects, and you can come up with loads of ideas. For example, a tiger, a turtle, or something else. Let your creativity do the work. Or you can ask kids for ideas as well. See who makes the biggest splash in the end.
Floating Race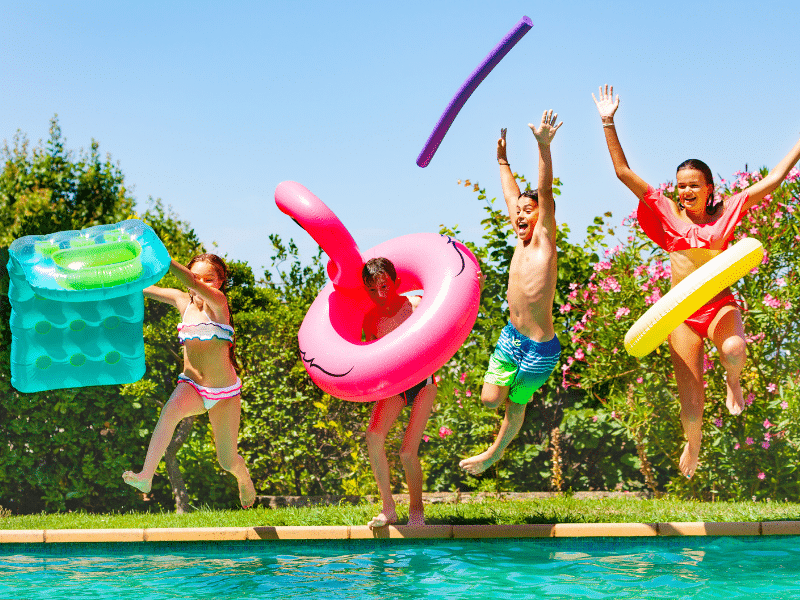 It is time for another competitive fun game. Some call it the dolphin race. In any case, it is nice to build competitiveness and confidence in kids at a young age. For this swimming pool game, we need inflatable sharks. Put them to good use.
Here are the rules. Kids pick up a pool toy and launch themselves from the deck and into the water. The first one to steer their vessel to the opposite side wins the race. But the real winner here is you. All you have to do is sit by the pool deck, and have a conversation with friends while kids play in the water.
F.I.S.H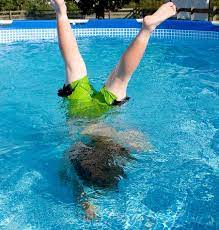 We all know the game of H.O.R.S.E. in basketball, right? Well, this is a fun pool game version of it. It is another in the set of competitive pool games for kids. The leader does something, and other players must follow exactly what he does.
The leader can jump from the side, perform a dive, perform a trick, or anything in between. Players must follow. If they fail to do it, they earn one letter from F.I.S.H. The first player to spell "fish" loses the swimming pool game. And then it continues until a winner remains. Give him a trophy for the best swimmer.
Pool Basketball
Speaking about basketball, why don't you try some pool basketball? If your kids love shooting hoops, you can give them a different court and come up with a fun game. And make it a bit more challenging.
It is a great way to cool off in the warm weather while having loads of entertainment. Of course, with two hoops, you can make it a competitive pool game. And even with one, just take turns shooting.
We guarantee your pool party will be a slam dunk, pun intended!