Halloween is the time to put on a costume and have some fun pretending to be someone else for a day. It is a day adults get to be kids again, together with their kids. But for the kids, it is more than just a day of celebration. Think about it. How much time do you spend decorating and preparing for the big arrival of the trick-or-treaters? A few days at least, right? While you're getting into the spooky holiday spirit, your kids are probably dreaming of all the candy they're going to get and the costume they're going to wear.
Parents might be familiar with this one: your kids begging you to wear their costume from early in the morning on Halloween and you don't let them until it is time to go trick or treating from fear that they'll ruin their costume. And more often than not, the little girls with their fancy/scary costumes can get more impatient than the boys.
While the excitement is all well and good, if your kids want their Halloween to last more than a day, then you can make their wish come true without them even putting on the costume.
There are plenty of perfectly cute Halloween themed hairstyles that are not to difficult to do for your little girl. She will love to and won't even think about the costume until the time comes. And they look so fun, you can style and wear them days before and even after Halloween. Let the kids be kids longer and check out some Halloween hairstyles for your little girls.
1. Fluffy Ghost Braid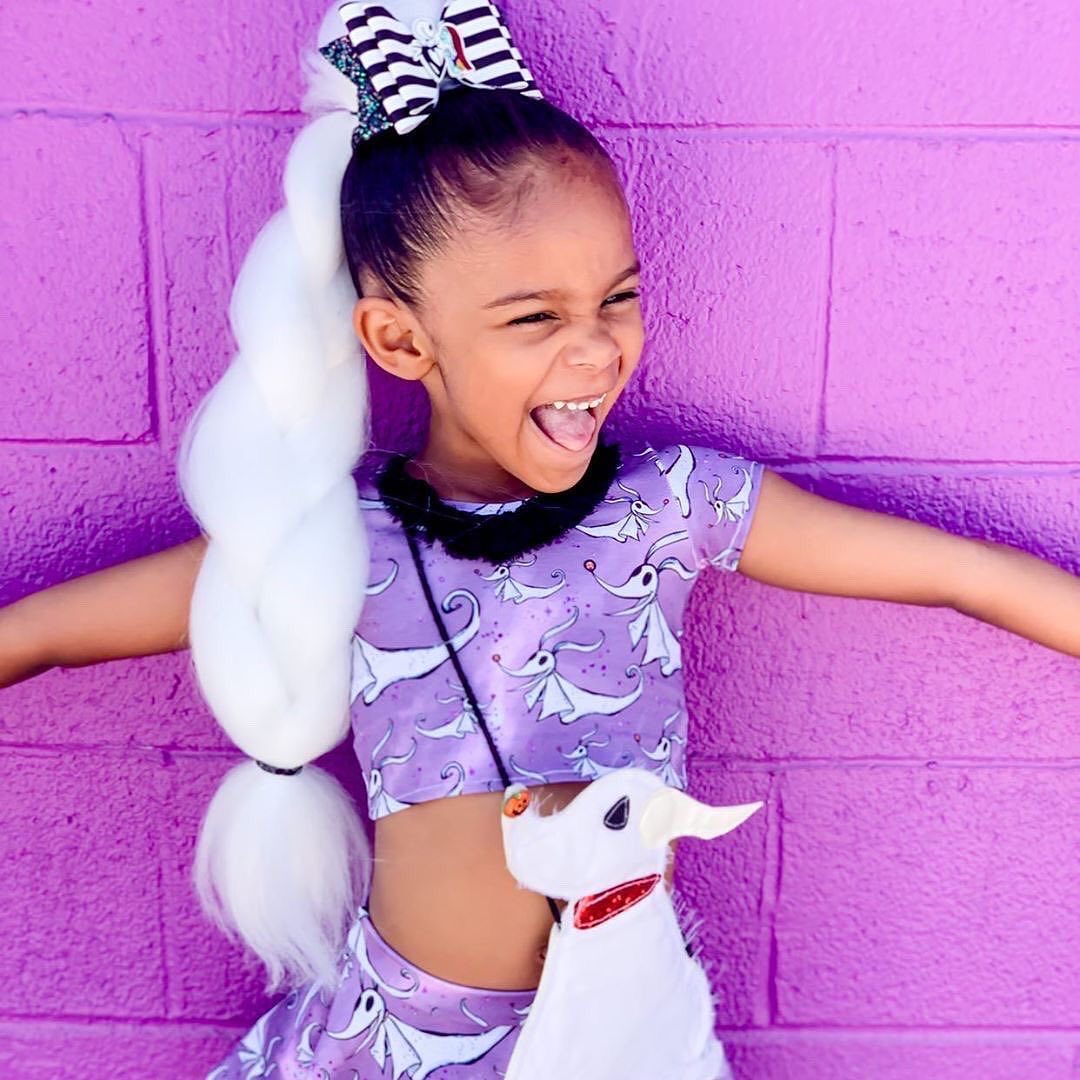 The oldest and easiest mask for Holloween is the bedsheet ghost. Popular culture has given ghost so many different shapes and forms, that having a white, bug, fluffy braid just might get you qualified as being in a ghost girl costume.
2. Spiderweb Bun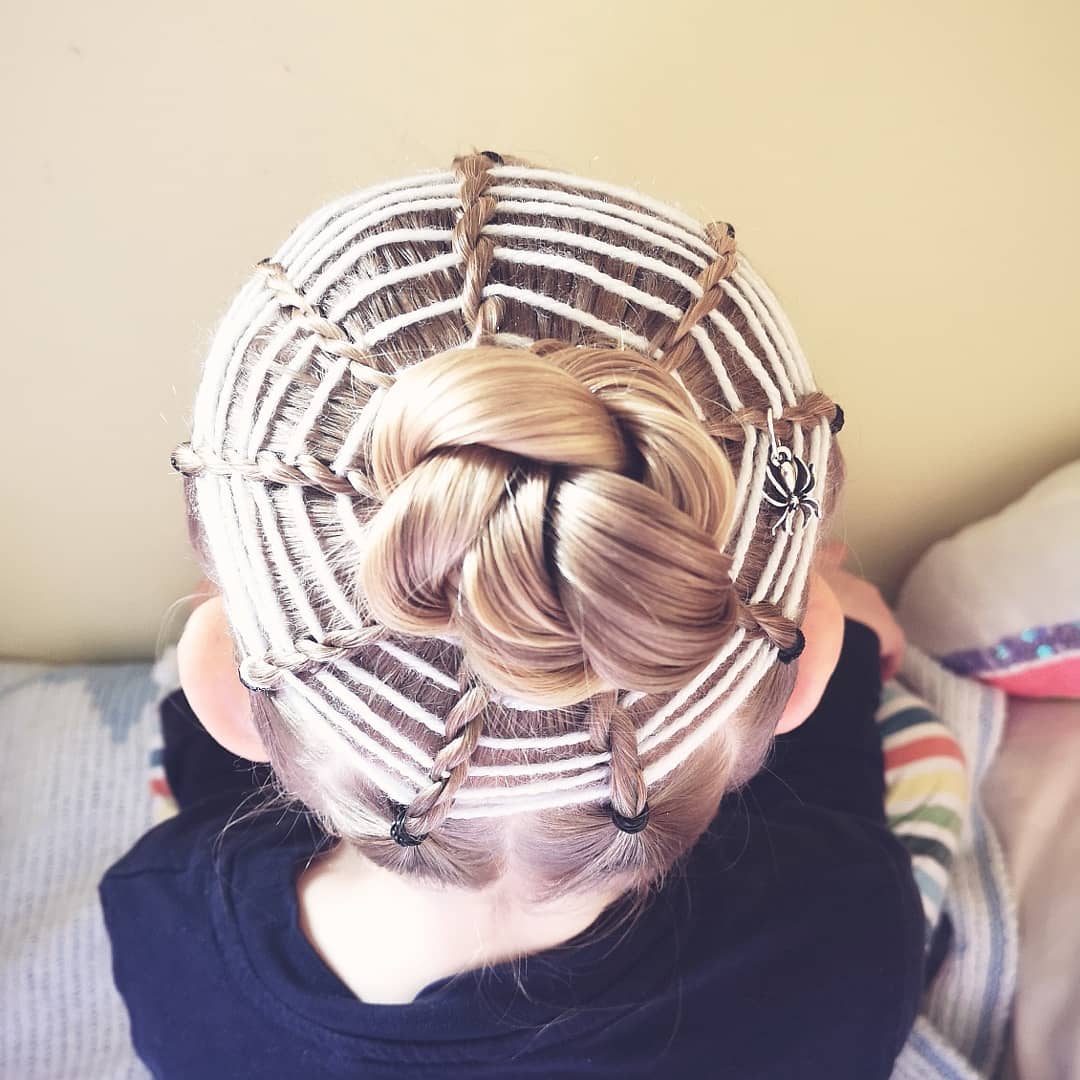 Weave your own spider web like a real spider, between several strategically placed braids and you can give your girl a nice webbed hat show off. Only it doesn't come off that easily
3. Coffee Cup Girl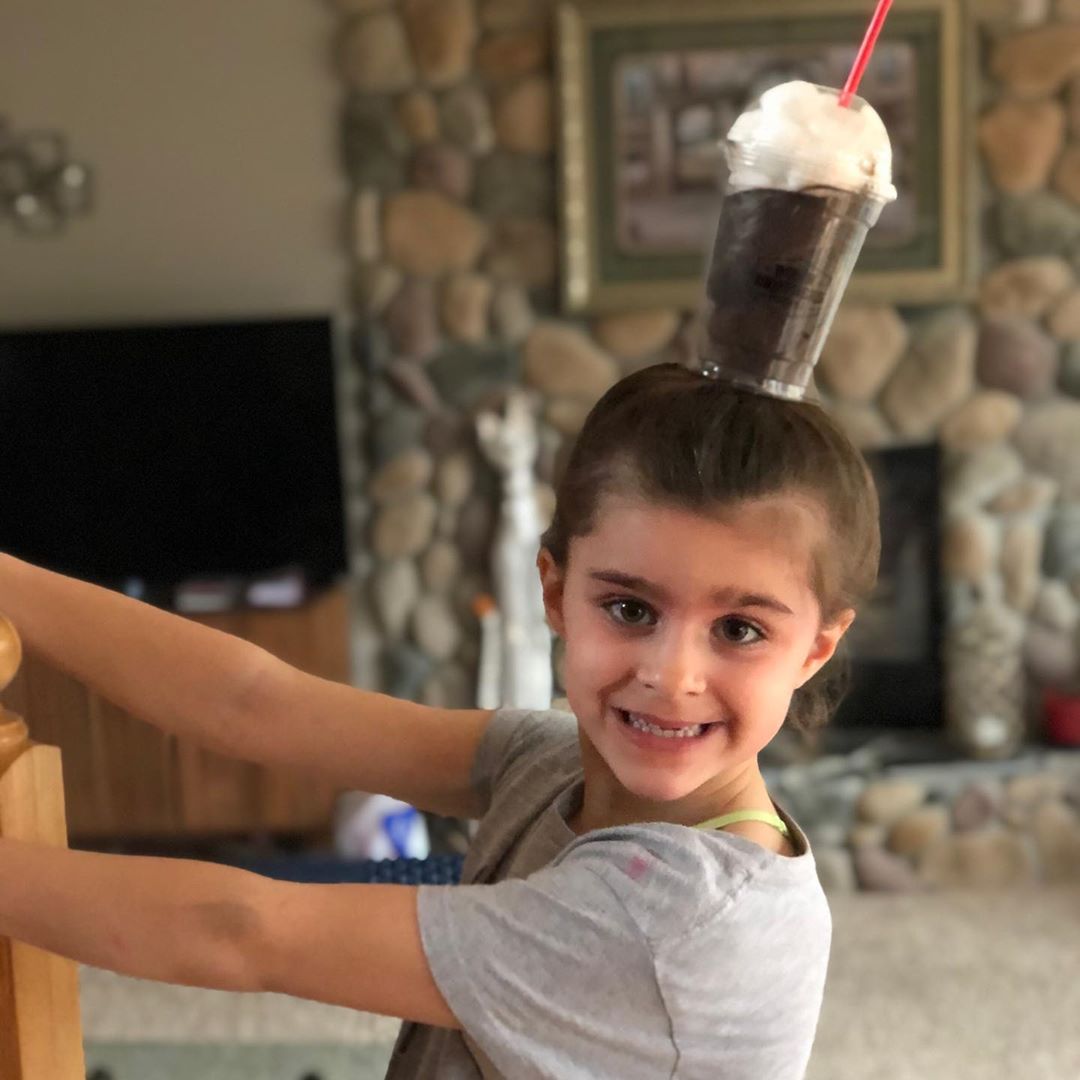 If your girl want's to be cute or funny instead of scary, then she will have a blast with this hairstyle. And your hairstyling level needs to be at tying a ponytail. That's it. Gather up all the hair in a cup, ad some cotton for the foam, and you have your coffee cup girl.
4. Cat Ear Braids And Woven Spiderweb Ponytail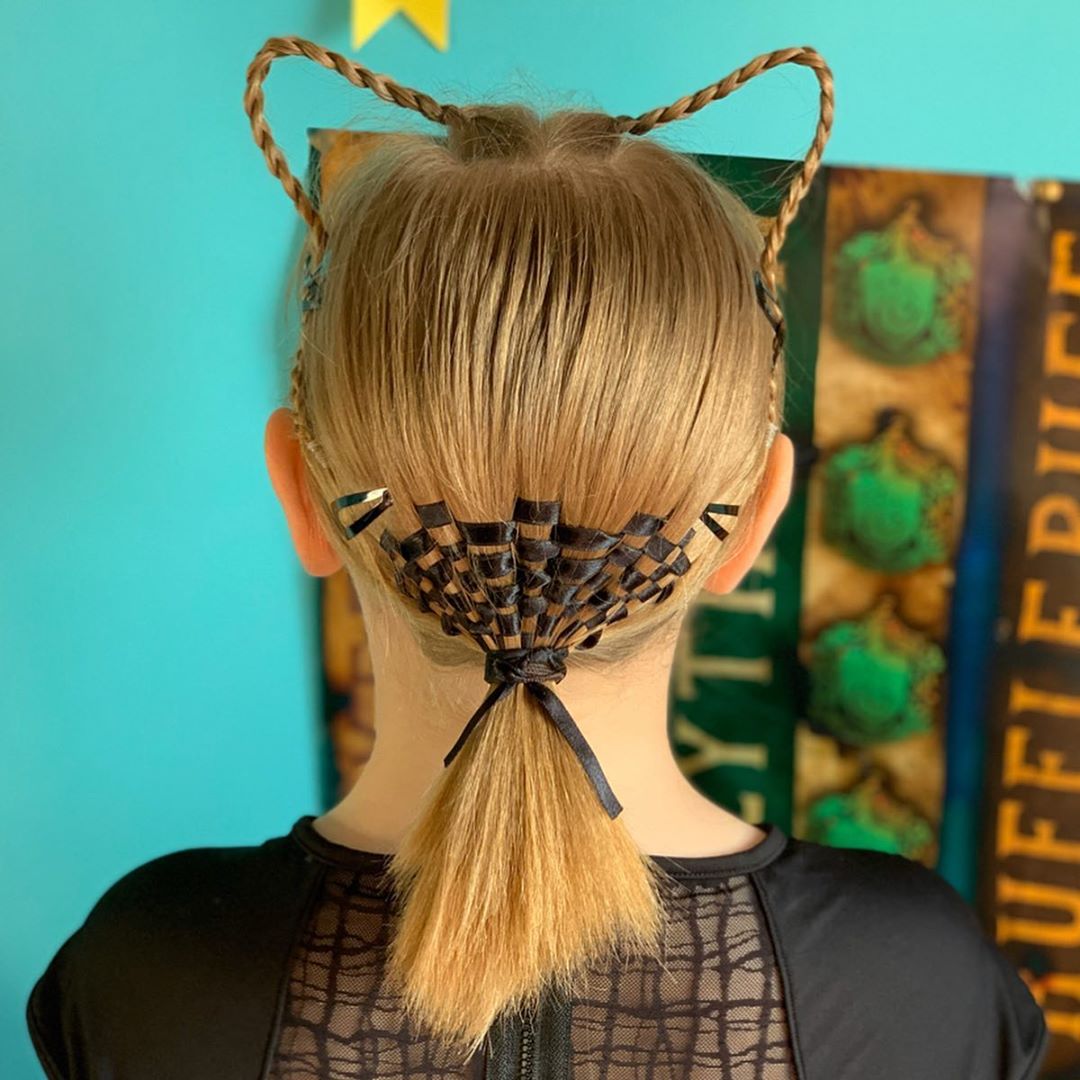 Black Cats are also very popular among Halloween costumes, and you don't have to worry about your girl losing or damaging the cat ears, because that will never happen with these cat ears. and as a bonus, a small woven spiderweb for the ponytail. A meow-tastic hairstyle.
5. Pumpkin Cornrows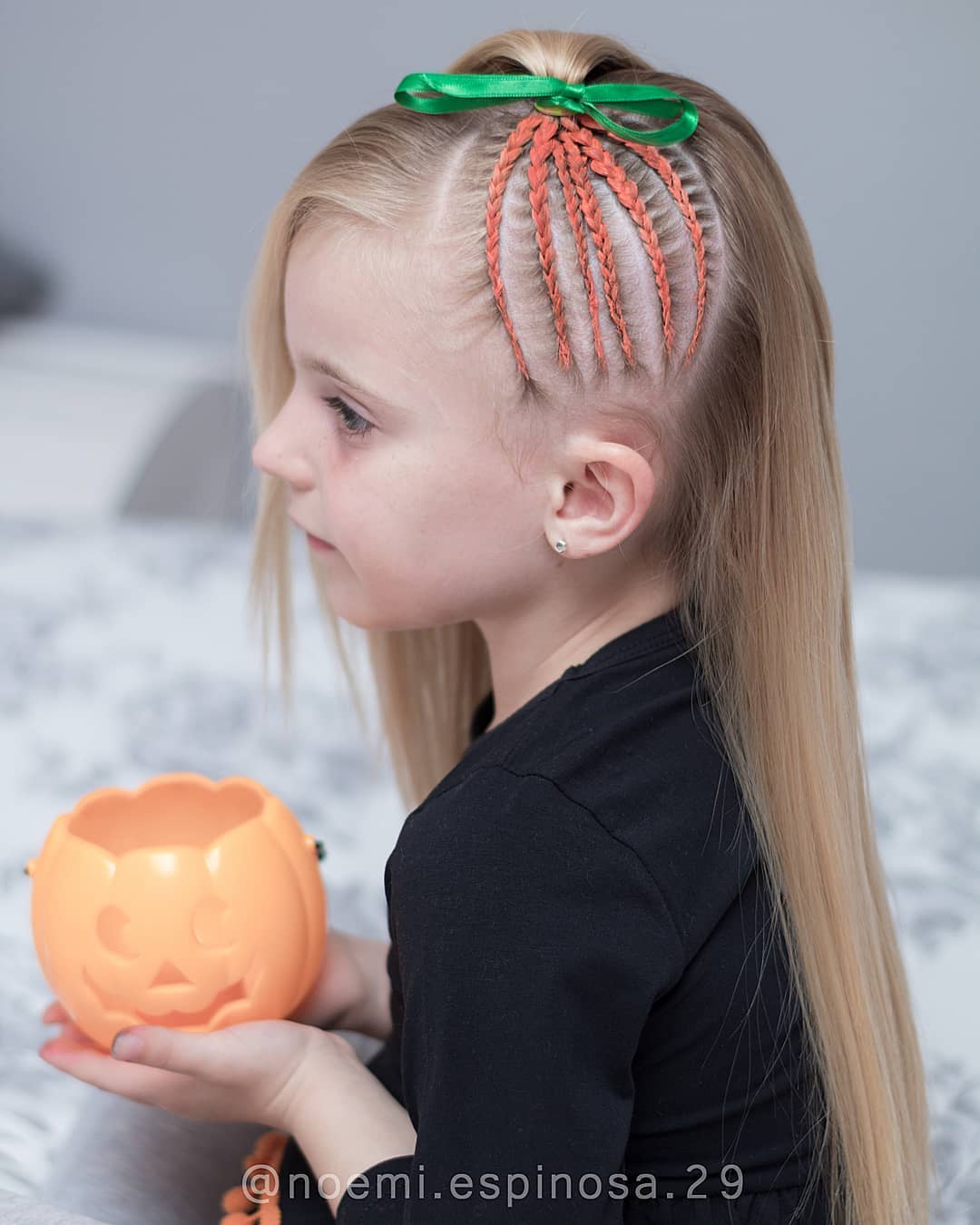 This one is a more subtle Halloween hairstyle, that can probably be worn even in school. A few side cornrows, a green ribbon, and a bit of a orange color are all you need for a pumpkin braided hairstyle.
6. Medusa's Snake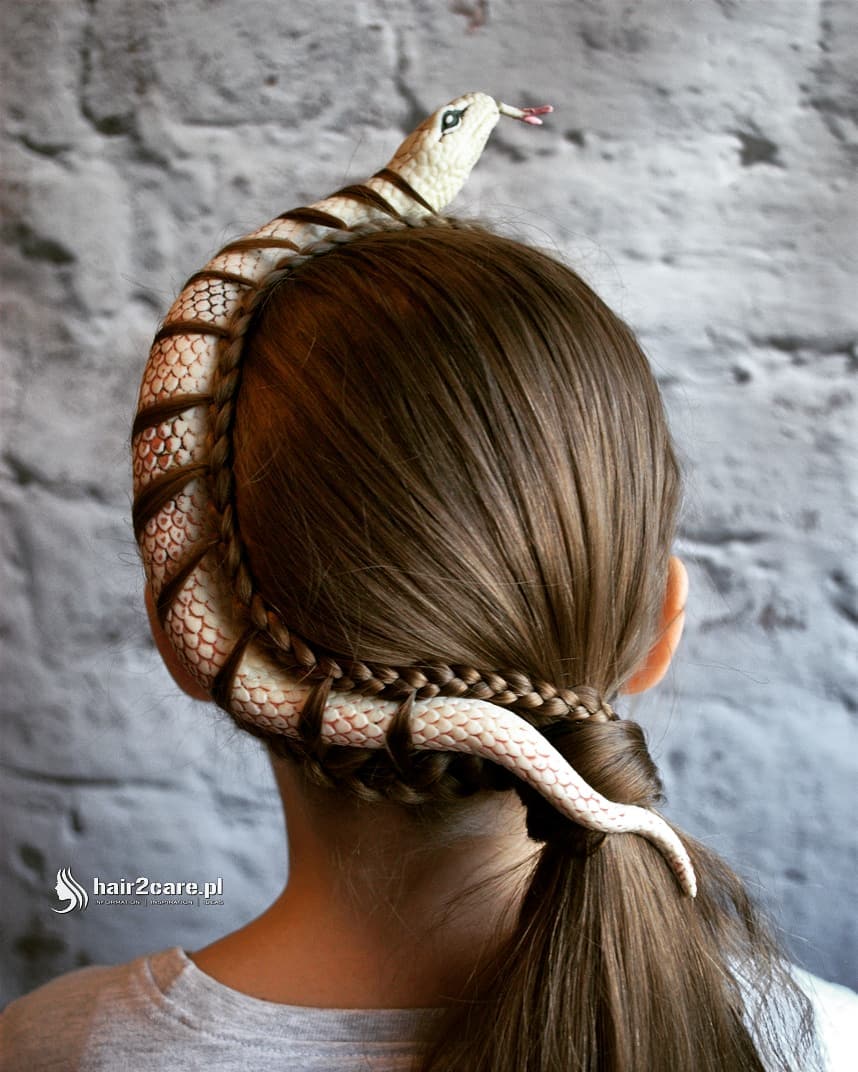 Girls might like the medusa look because they think it's cool having snakes in their hair. Here is a way to give them a taste of that, by weaving one big snake into their braid instead of pinning down a dozen smaller ones that will most definitely fall off at some point. And it looks awesome, too.
7. Pink And Blue Spider Buns On Webs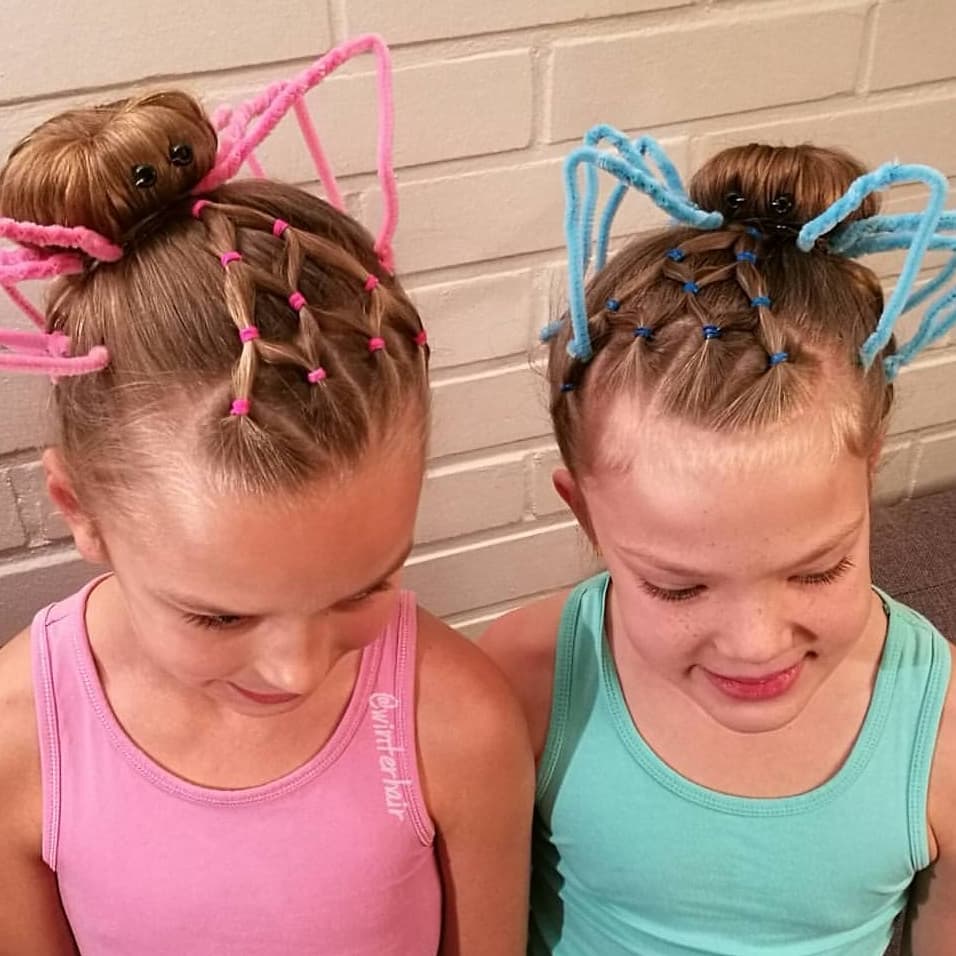 We've shown you spider web hair with spider hair accessories, and now we show you an actual spider hairstyle. Like many cute, simple hairstyles, it needs a bun and a few pipe cleaners for the legs. Add some eyes and web with ties at the top for an extra spooky effect.
8. Batty Buns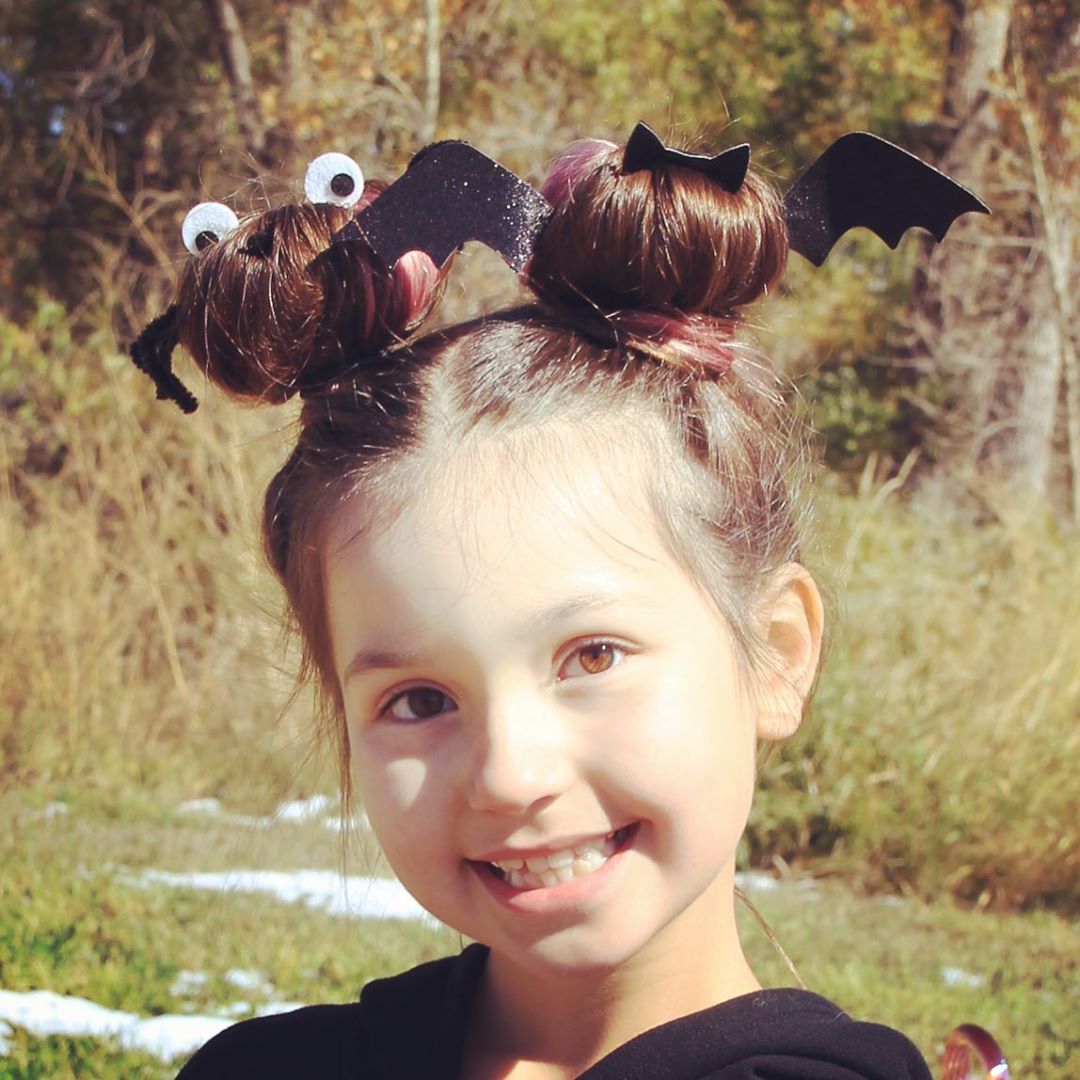 Similar to the spider buns, these buns just use different accessories, like wings and eyes to create that batty look. Watch out she doesn't get carried away buy those batty bats.
9. Princess Pull Through Unicorn Hair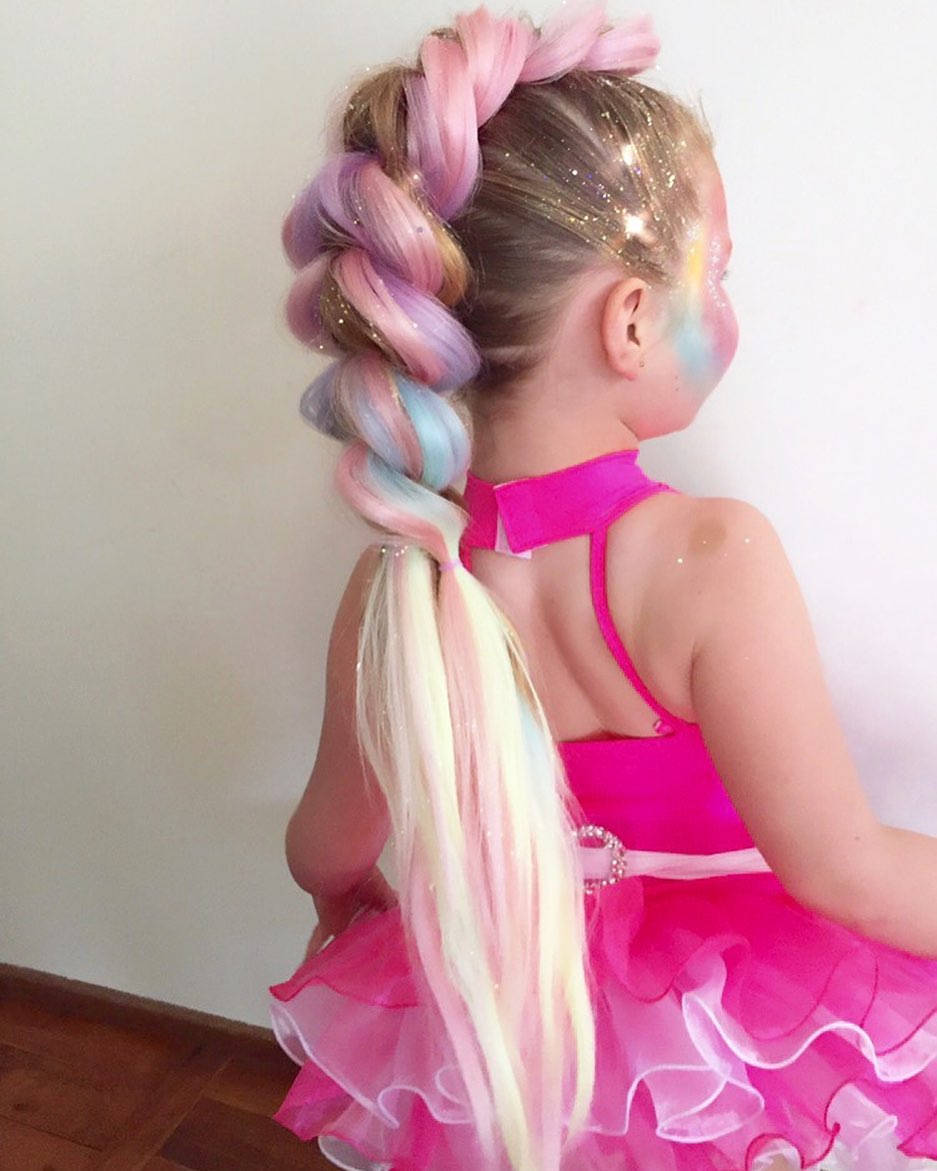 Now, this is one colorful mane. Be it for a princess costume, a unicorn or something else whimsical, this fluffy braid with hair extensions will get every princess excited for the holiday.
10. Lit Up Witche's Braids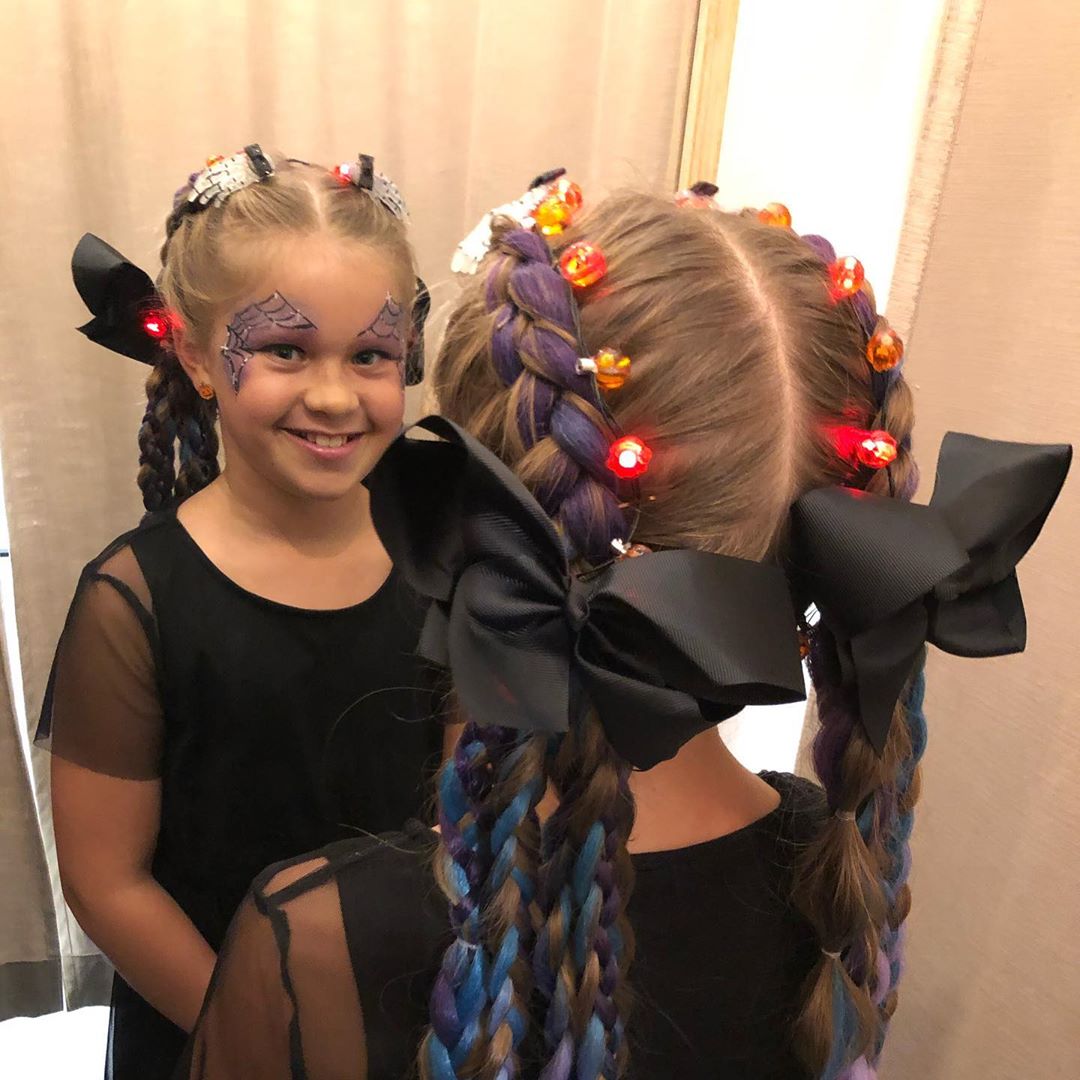 So, your little girl wants to go as a witch on Halloween, and how do you make her shine among all the other little witches? With some string lights, of course. Not exactly an everyday hairstyle, but one that will light up the night for sure.
11. Three Scoop Ice Cream Cone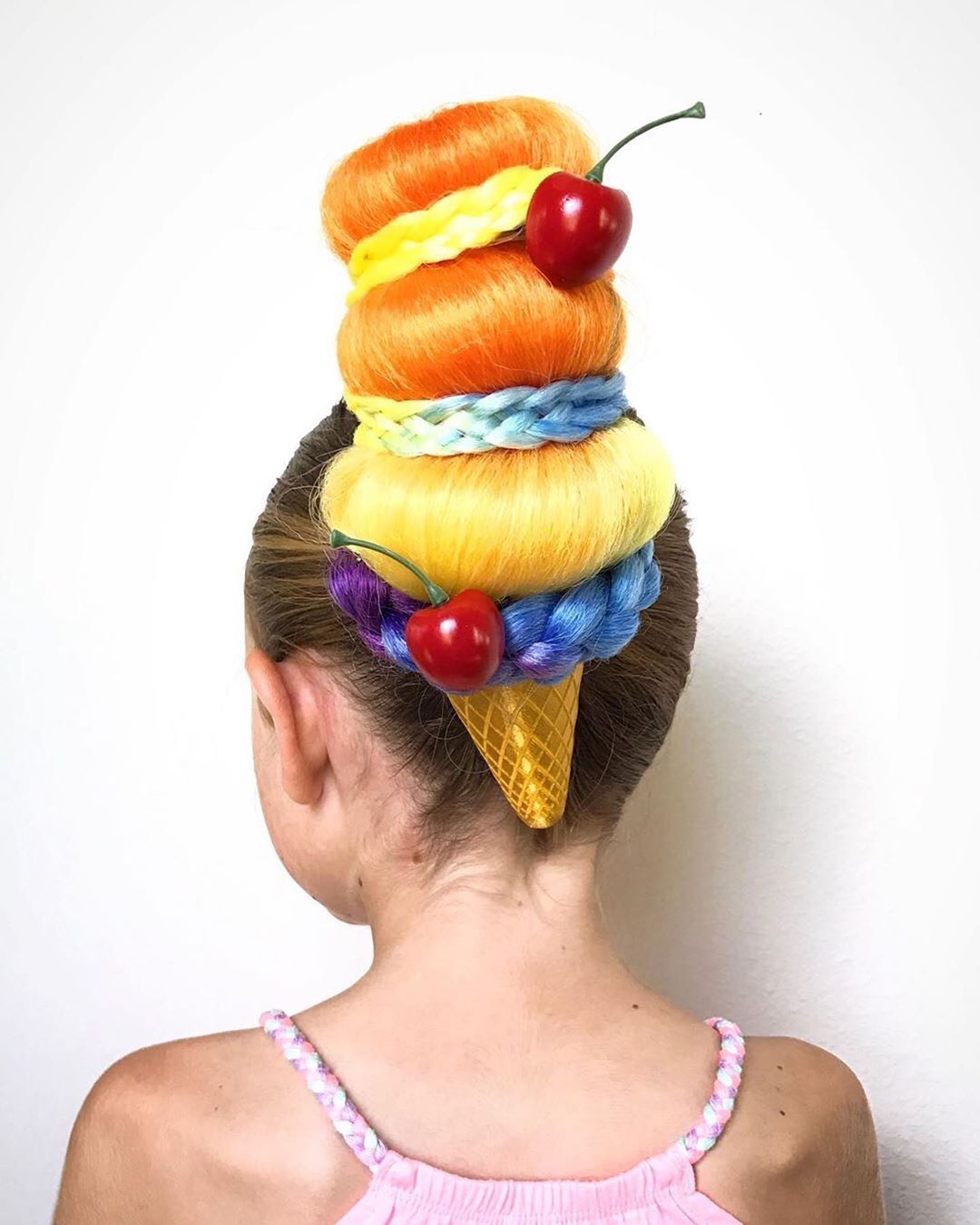 How many scoops? Three? No problem. Just don't forget to tie them up with a nice strong wrap-around braid. A totally delicious hairstyle, and one that would be a definite hit with all who have a bit of a sweet tooth.
12. Palm Tree Hair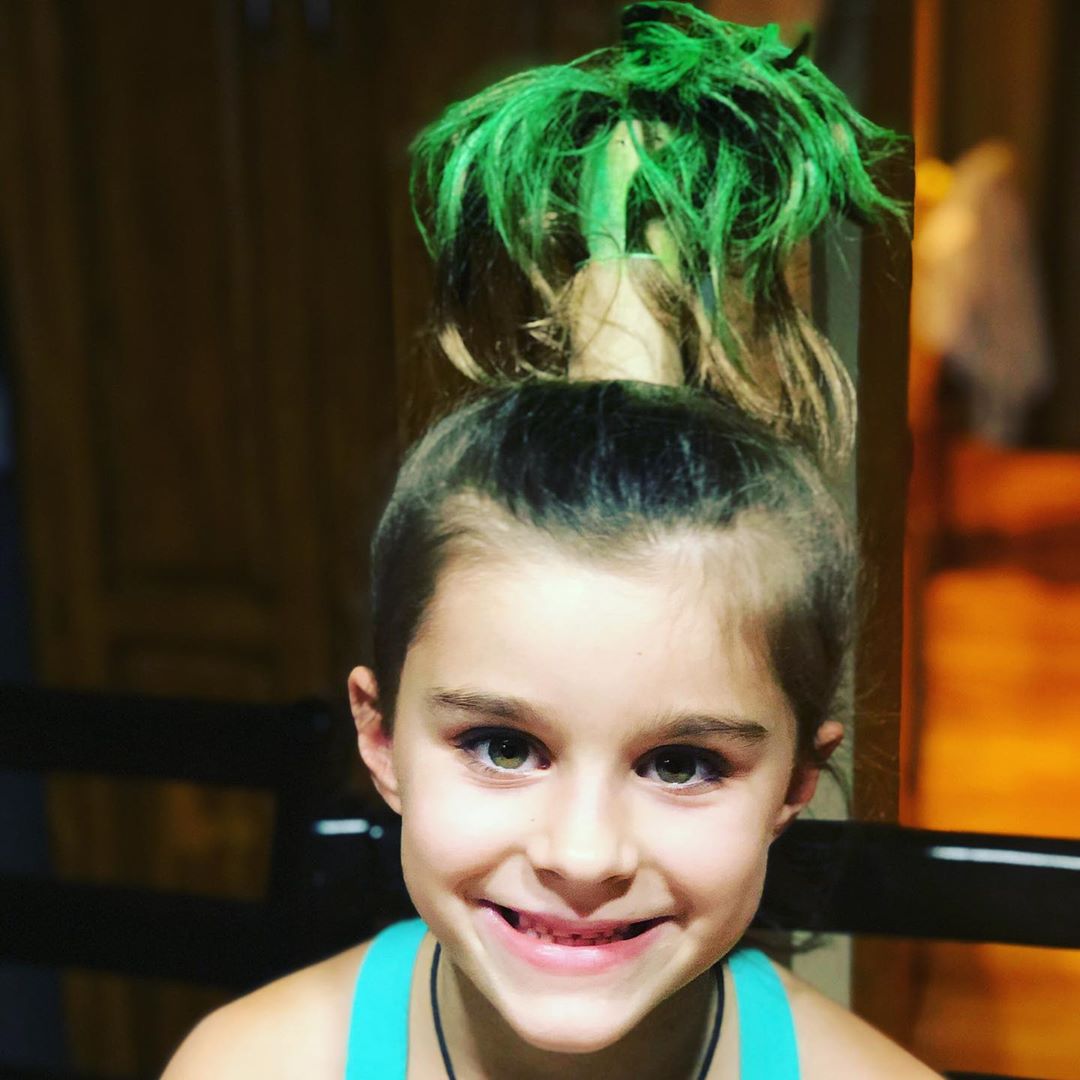 This is a hairstyle those who grew up in the 80s will remember all too well. The palm tree hair was a hit at one point, and now you can let loose your palm tree ponytail tieing skills once again to make a whacky hairstyle for your girl.
13. Sider/Octopus With Braided Legs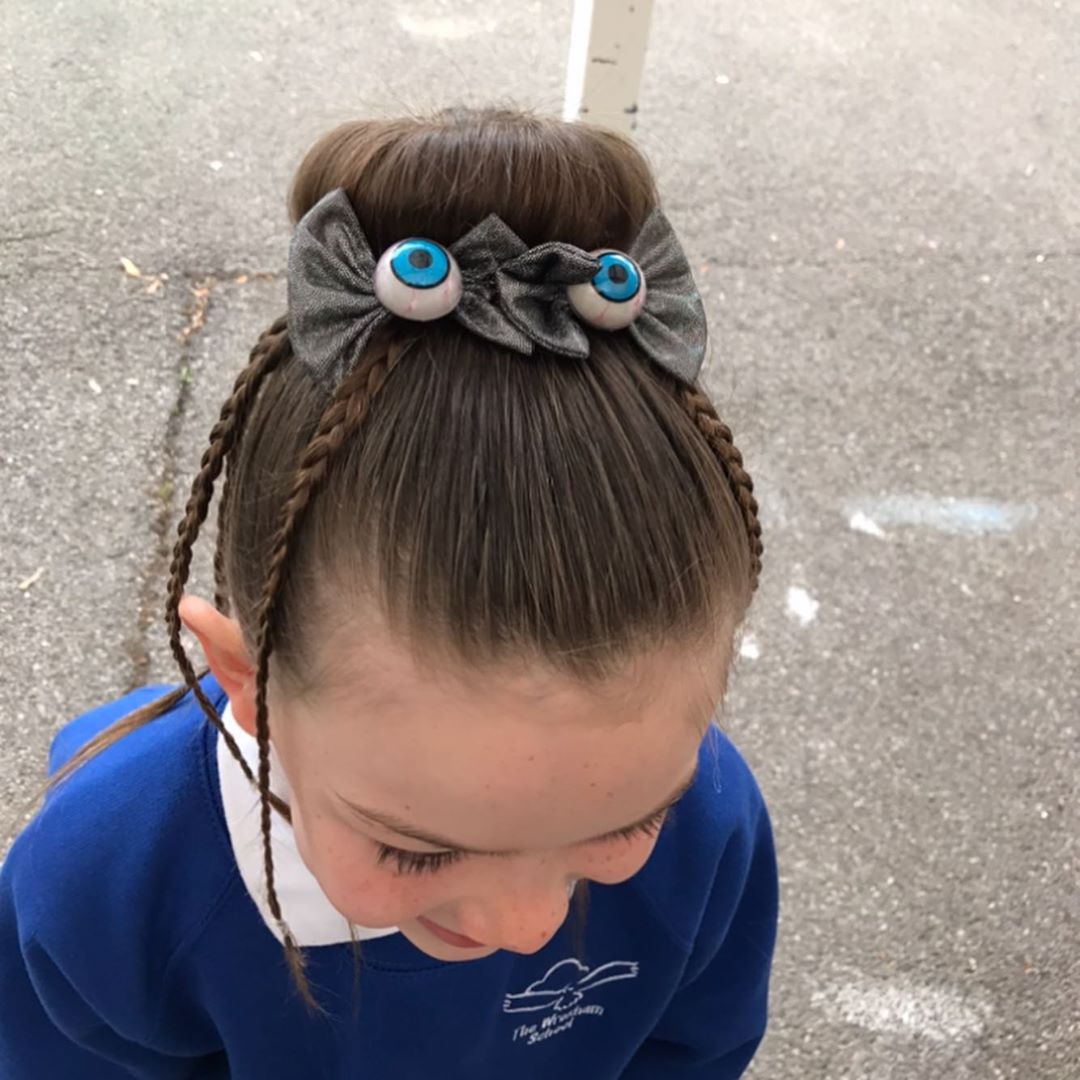 If the spider-bun caught your eye, but you're not quite sure abo using the tube cleaners for legs, then you must check out this idea. The bun remains as the body of the spider, however, the legs are replaced with different same-sized braids. And you can even say that it's an octopus A two for one deal.
14. Rainbow Mermaid Bubble Ponytail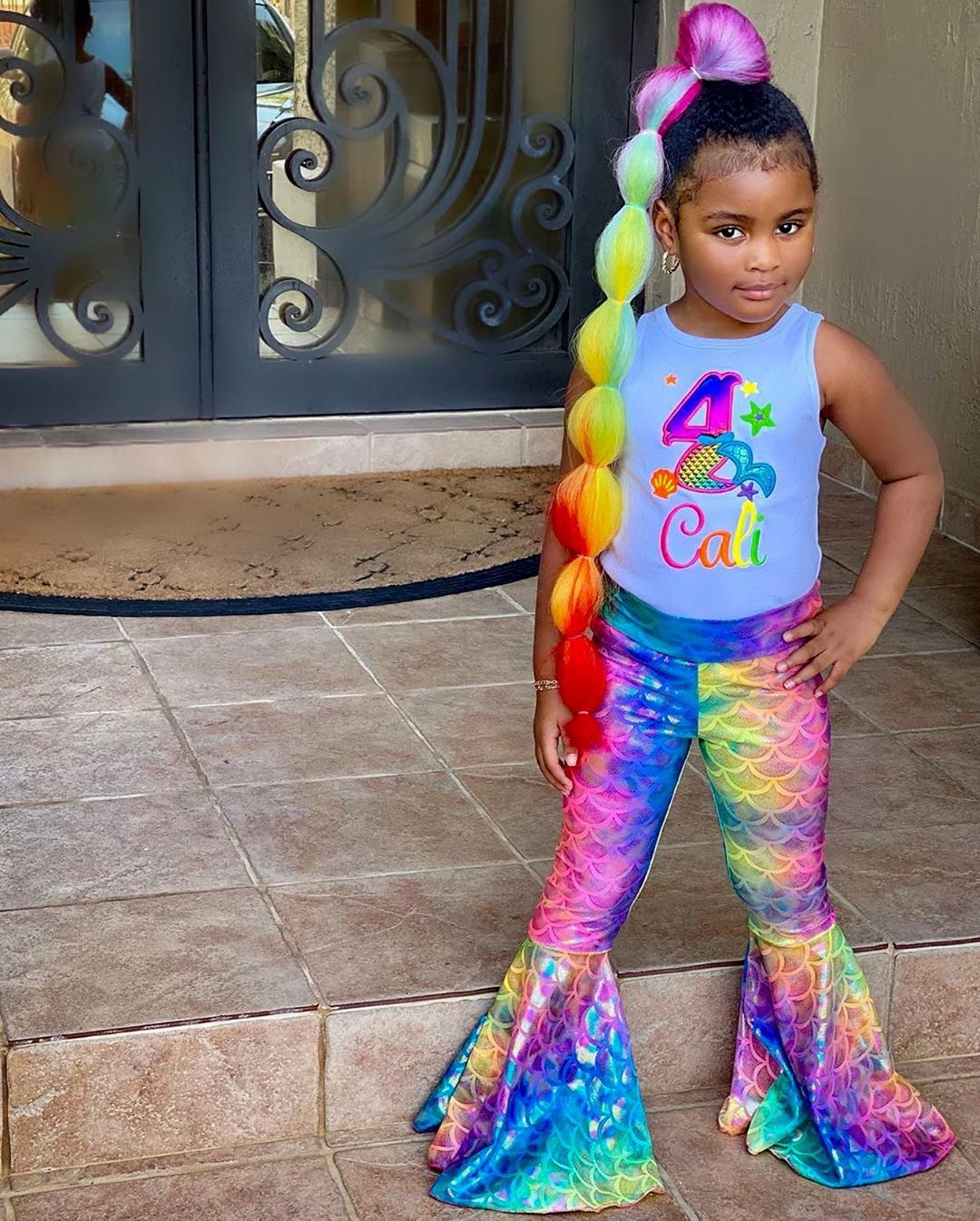 You might not have the mermaid fin, but since you won't even go into the water it doesn't matter. Because you have some luscious, long,  rainbow-colored bubble pony that will serve you well as the most colorful mermaid in the sea of trick-or-treaters.
15. Hidden Mummy Hair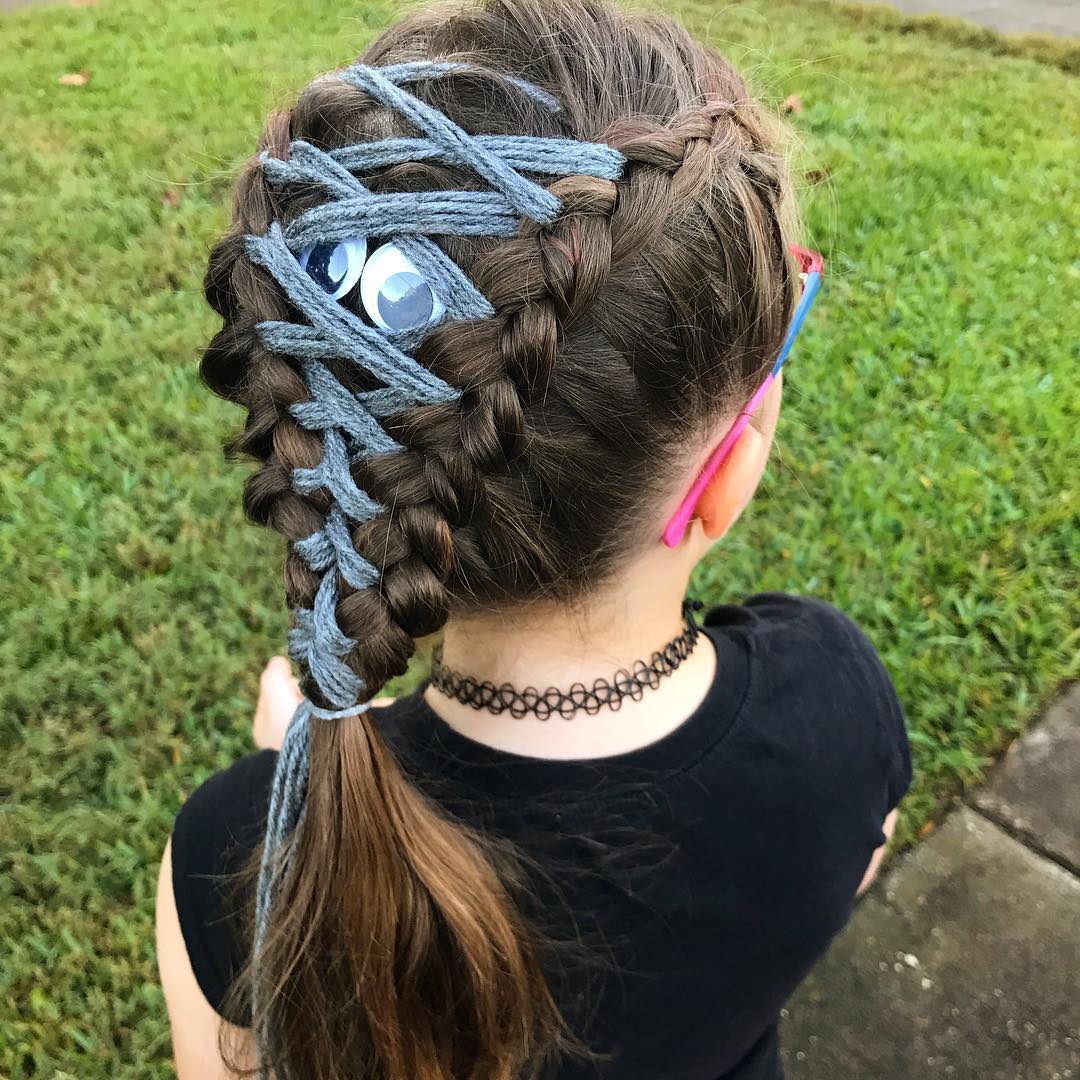 We covered spiders, witches, and pumpkins. We must not forget the other staple of Halloween, the mummy. Wrapping your kid into a mummy doesn't really hold that much of an appeal doing it beforehand, and with this hairdo, you don't have to. two braids connected with some yarn to create a corset braid a nice, subtle way to have some Halloween fun.
16. Ballerina Witch's Hat Updo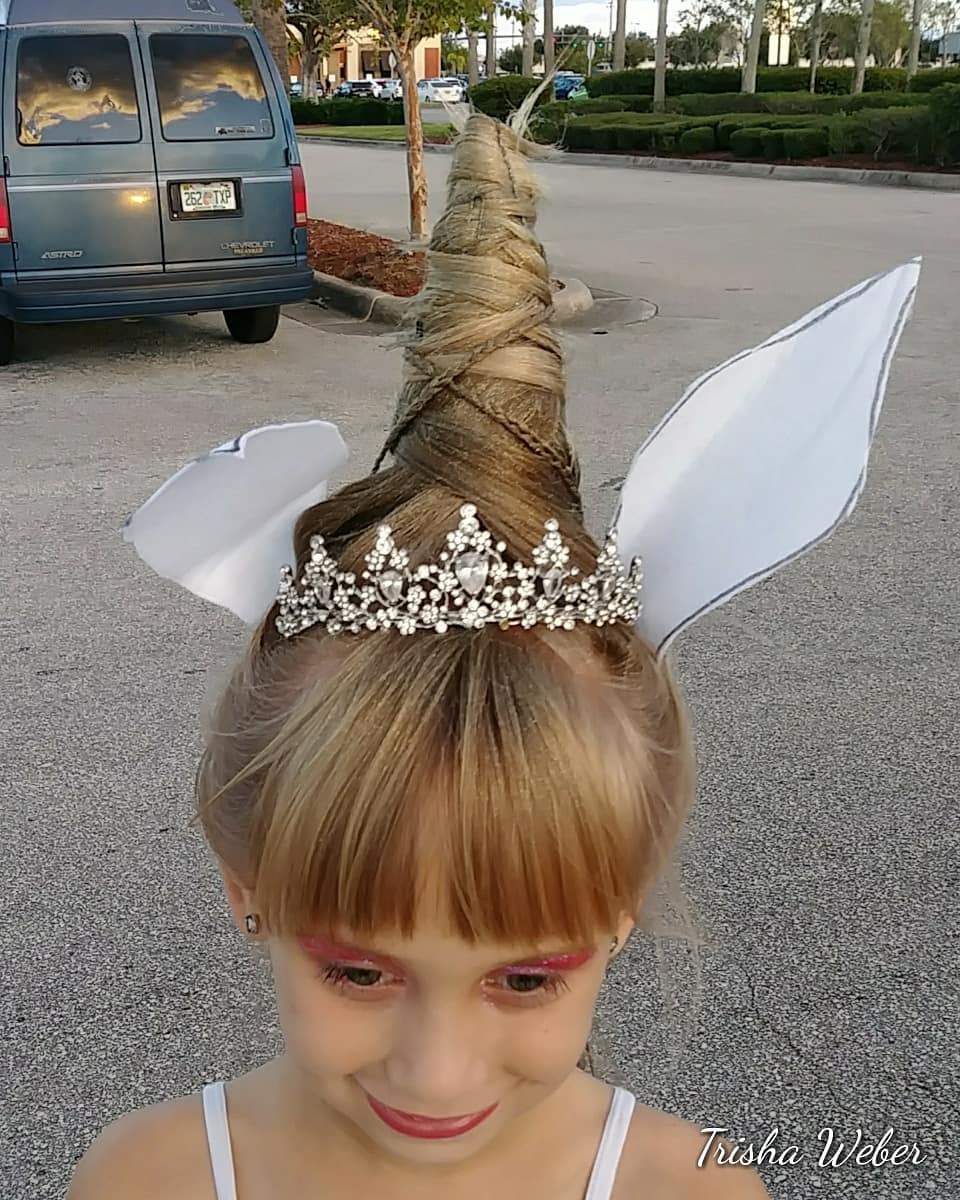 This one is also one hairstyle that can be used for different costumes. A cone-shaped straight up-updo that looks as outrageous as it is functional. This one is a fairy, but with a broom and some black colored costume and you're a witch. Whatever you choose, make sure you have fun with it.
17. Pumpkin Patch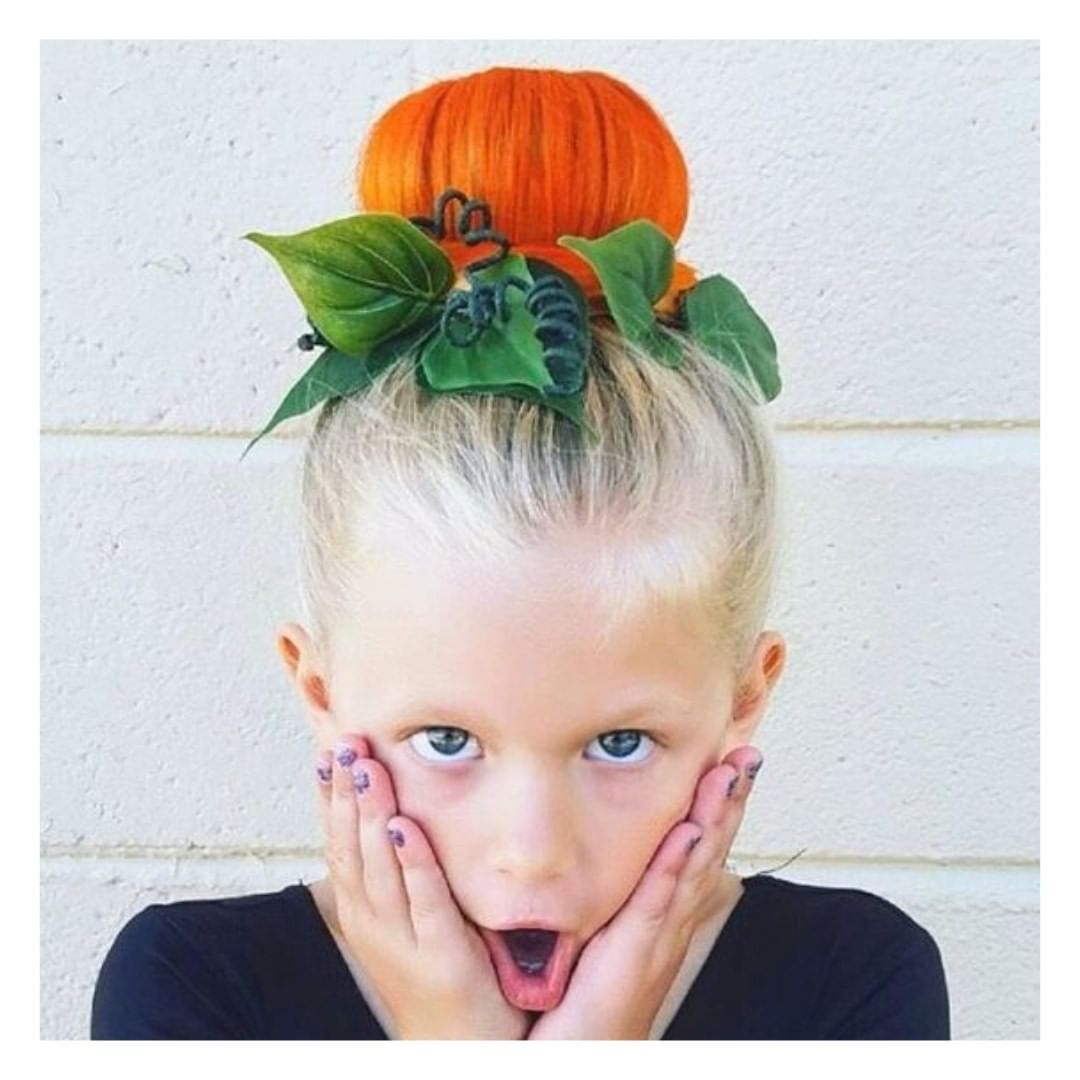 Yes, we know what you're thinking: Another bun-hairstyle-related Halloween idea. This one is a true pumpkin head. Just need some safe colored hair spray and some vines.
18. Half Sectioned Spiderweb With Spider Clips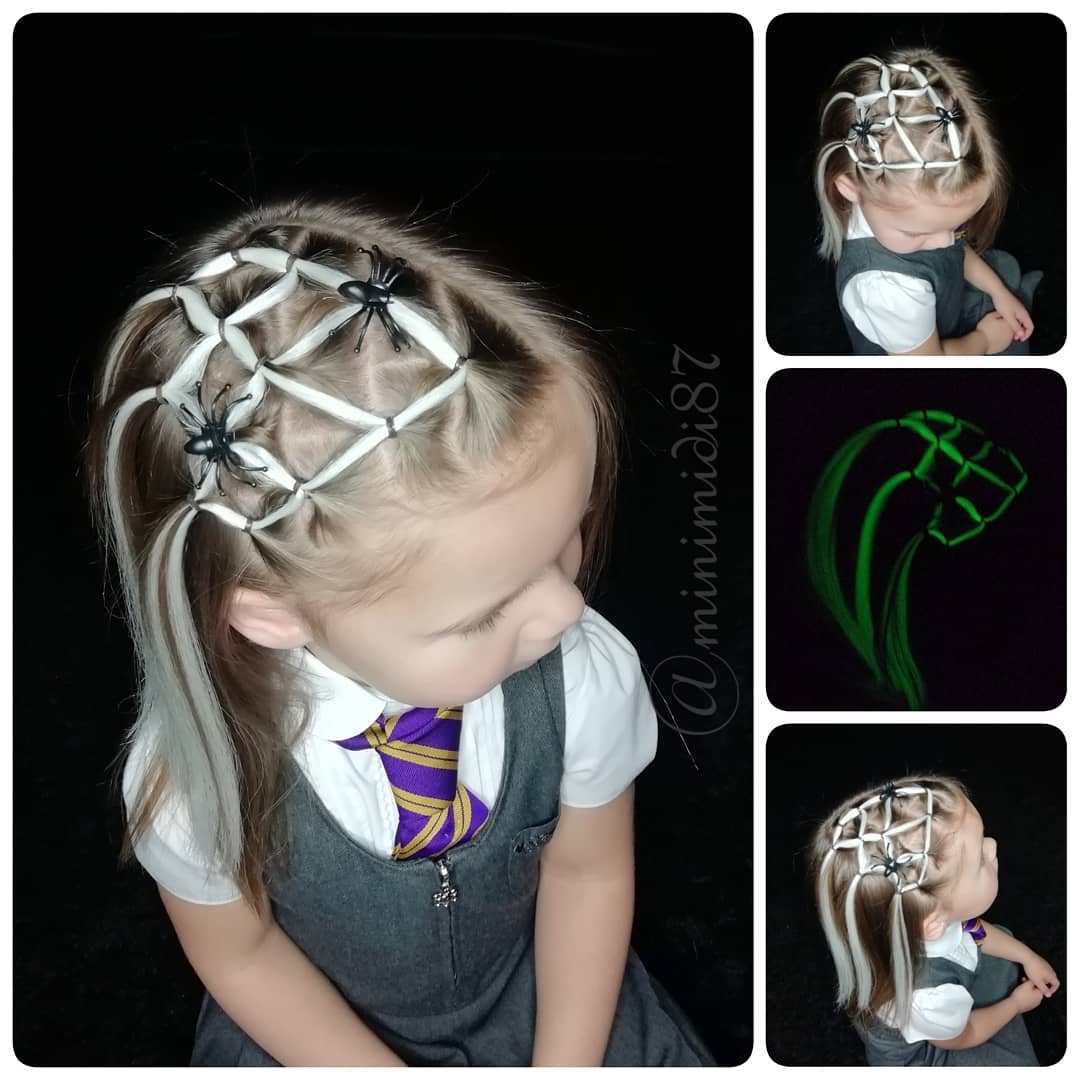 And here is another spider-web hairstyle because they are just so cute and fun to make and the girls love them. This one has an extra spooky feature of glow-in-the-dark hair extensions for the webbing. Just to make sure the spiders don't loose their way.
19. Resting Skeleton French Braid
Again we prove that you don't have to have any fancy hairstyling skill to make a Halloween worthy hairstyle, only the right accessories. Here we gave a normal french braid, with some white yarn and a tiny skeleton resting atop it to bring some bone-chilling spookiness to the hairdo.
20. Stacked Pumpkin Space Buns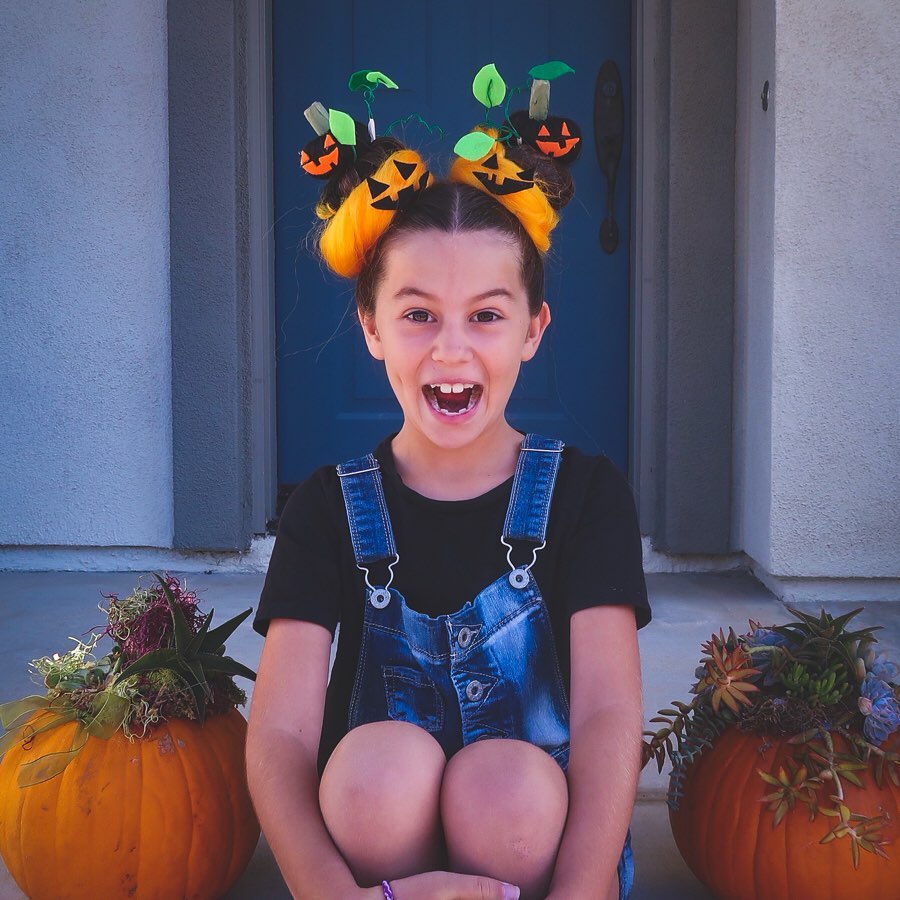 This stacked up Jack-o-Lantern buns is the last hairstyle we would like to suggest in our pile of fun Halloween hairstyles for girls. It's a sure way to bring smiles on everyone's face and a very cute way to end our list.
That's all the hair-raising spooky hairstyles we have for little girls for now.  What is your favorite Halloween hairstyle? We would love to hear your ideas and suggestions in the comment section below and we all wish you a Happy Halloween.