All little girls love long hair and special hairdos. They enjoy being princesses and having their hair done perfectly.
What if I tell you that you don't need to spend a fortune at the hairdressers to make your little girl look stunning and happy as hell? There are styles you can make yourself at home. It requires little skills and practice, but it is worth every minute of your girl's happiness. Make a French braid, a Dutch braid, messy or ballerina hair bun, or combine them together to create a stunning, yet simple look. French braids are elegant, dutch braids are sporty, ponytails are simple, and messy buns are cool. Whatever you or your little princess chooses, will be the best thing for her to wear.
Below, I give you 19 ideas and tutorials to get you inspired to start braiding and enjoying the new styles both for you and your little one. Enjoy braiding!
1. Three Buns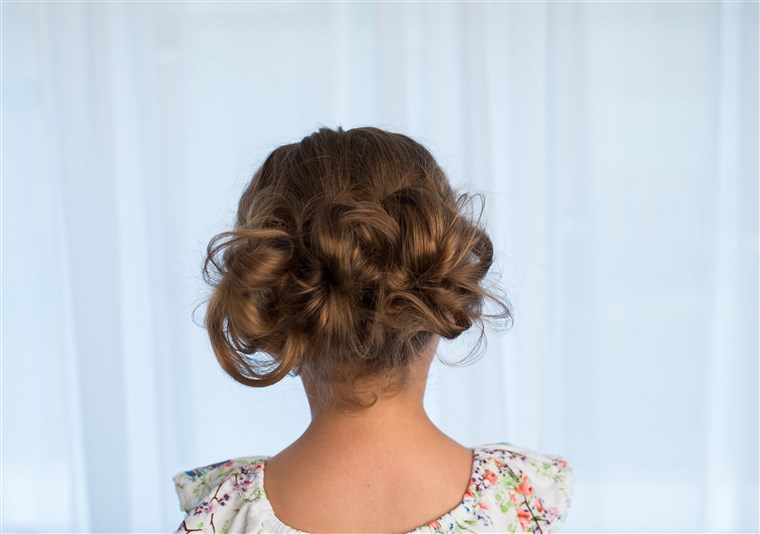 Here is a cool hairstyle for the first day of school. It is easy to make, yet fun and super cool. Make three low ponytails, turn them up in a messy hair bun and tight them together with hairpins. This updo will keep your daughters neck free and fresh in the late summer heat, and make her look just like a little cool and modern princess.
2. French Braid Ballerina Bun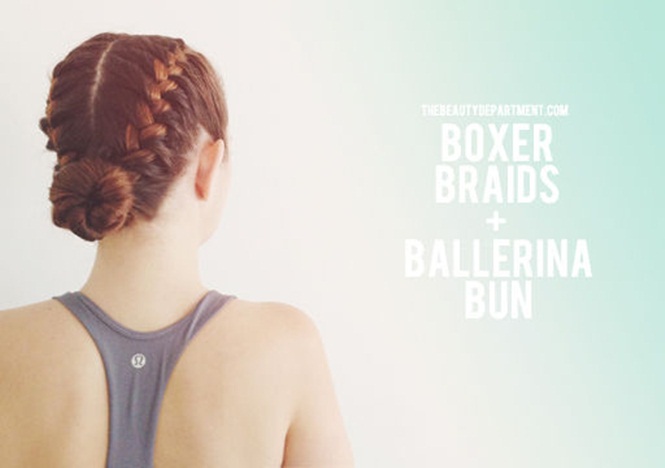 This hairstyle is cool for both little and bigger girls. It is cool for school and for the gym and any other kind of training. Simply braid two French braids and instead of letting them loose at the end, swirl them together in a ballerina bun. It will keep your neck free and fresh and let you train freely.
3. Braided Hearts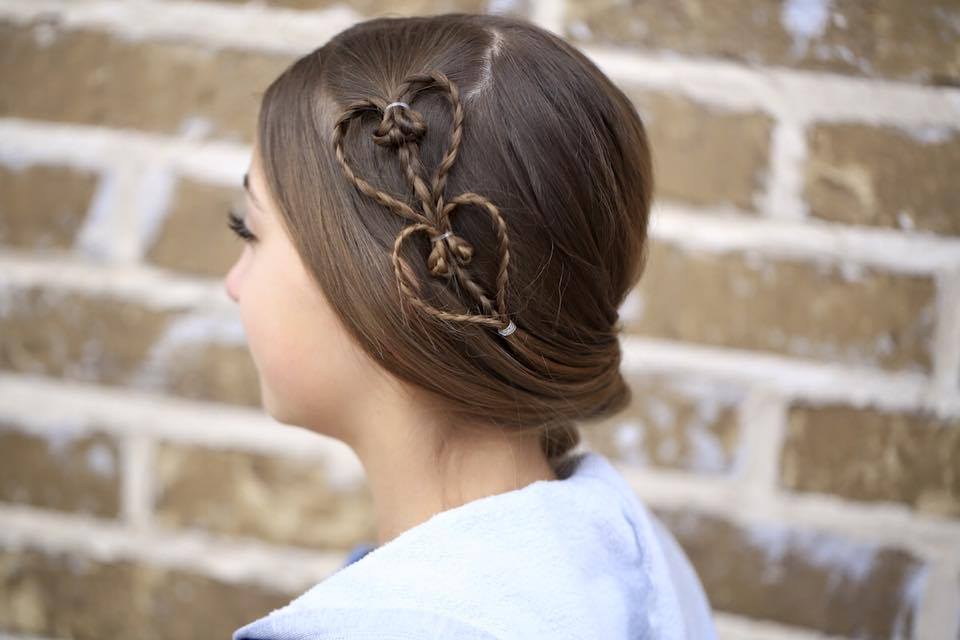 What a sweet hairstyle for your teenage girl. These hearts were made of three simple braids, turned into hearts. It is cool, romantic, and elegant, all at the same time. It will make your teenager feel like the most beautiful girl in the world for her first Valentine's date ever. Pair it with a cute dress and let her shine.
4. Raindeer Bun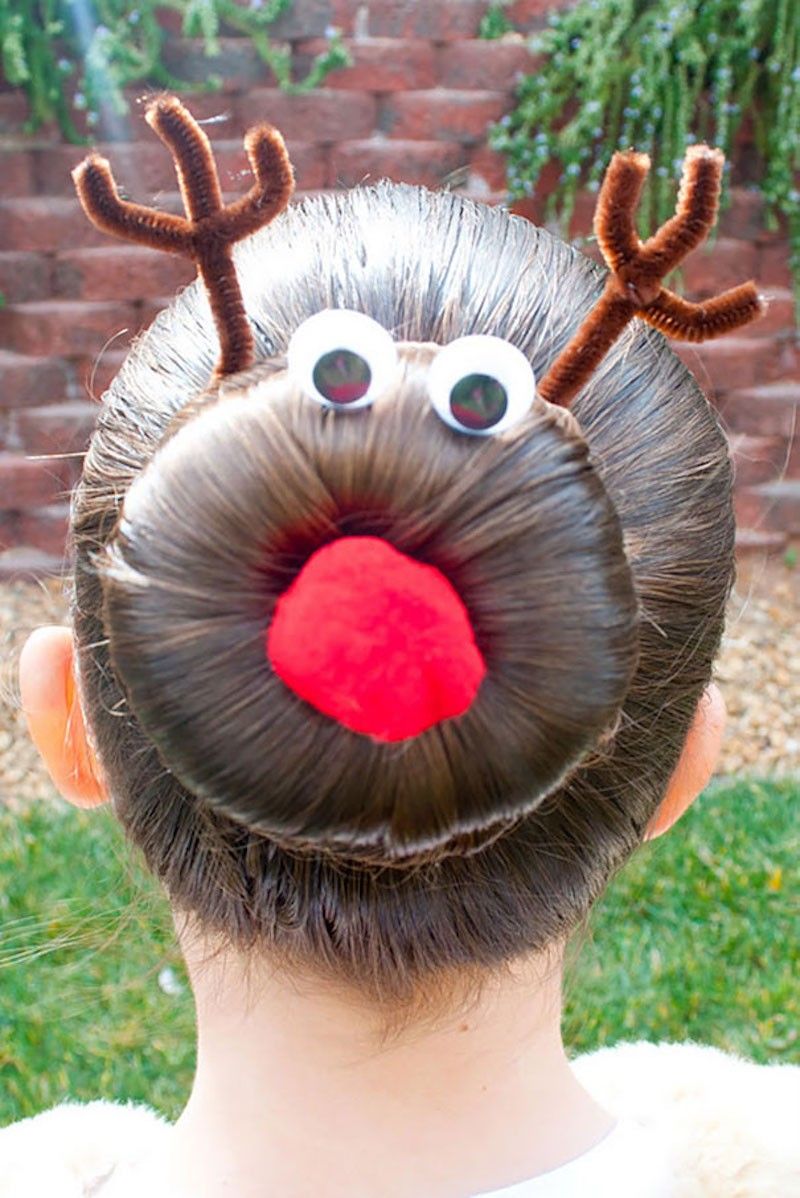 This is a classic Christmas hairstyle. Make a simple ballerina bun, pull the hair up in a ponytail, twist it in a bun with a sponge bun, secure it with hairpins, and decorate it with a red nose, googly eyes, and two reindeer horns. It will make your little girl shine at the school's Christmas party.
5. Double Fishtail Braid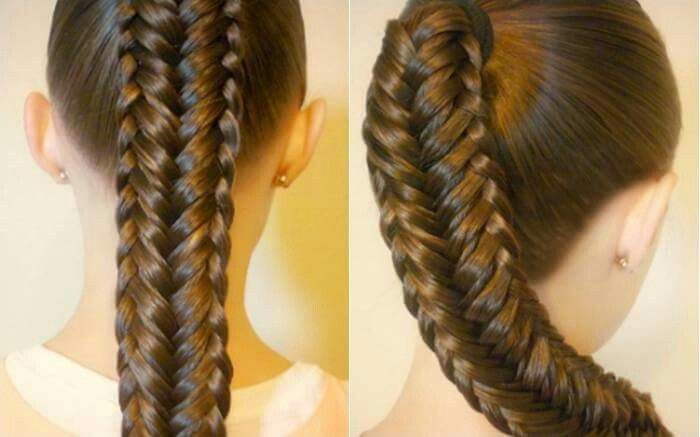 Here is an idea for the more skilled mums. It is a double fishtail braid twisted aside and combined in one single big braid. This is a great back-to-school hairstyle for girls with long and thick hair. Let them enjoy being unique and stylish as they grow up into wonderful young women.
6. Mini Mouse Hair Style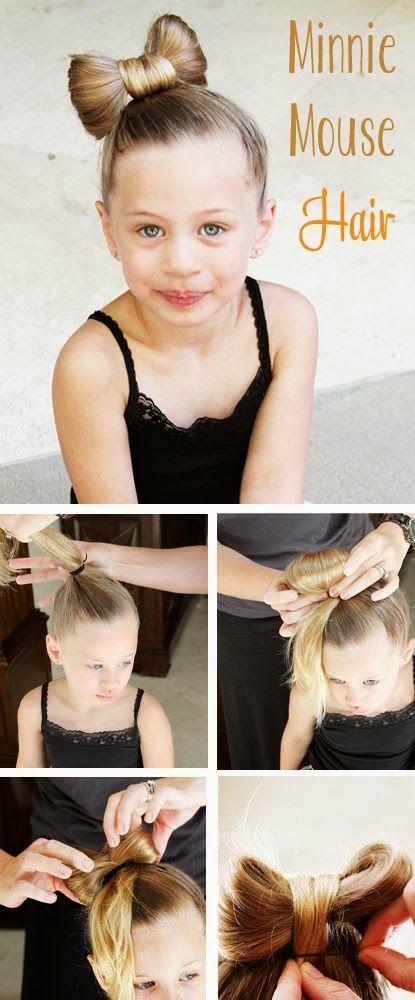 Do you love Minnie Mouse? Here is a great hairstyle to make you look like a walking Minnie. Put the hair up in a ponytail, put it up as a messy bun, divide it in the middle, and cover the middle with the rest of the hair left out of the messy bun. You will bet a bow and resembling ears to be a mini Minnie.
7. Neverending Braid Bun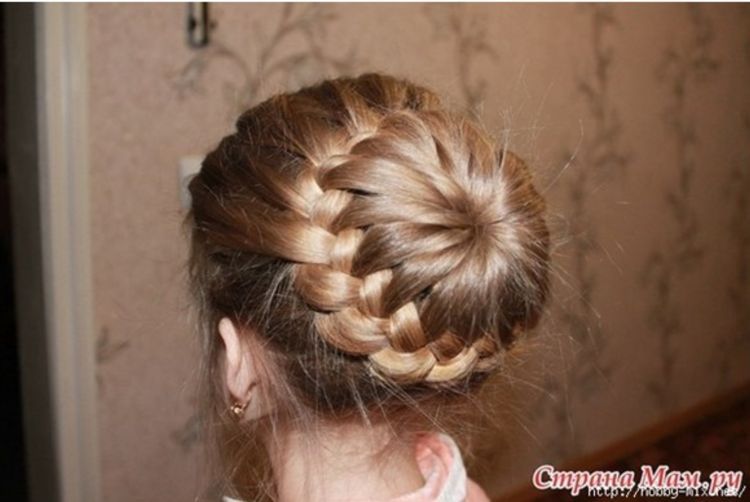 This is an interesting and elegant bun for your little princess. It merely resembles the princess Elsa's bun, yet is very different. Let your little princess feel like an empress Elsa with this neverending brain bun. She will be the most elegant little girl in the room and will feel just like a princess.
8. Double French Messy Bun Braid
Here is an elegant updo hairstyle for little and not so little girls. This double French braid messy bun is great for special occasions. Make it for a wedding or a birthday party to let your little princess shine as bright as the stars in the sky. Paired with the right dress, it will be the unique style for any girl turning into a woman.
9. Braid With Ribbons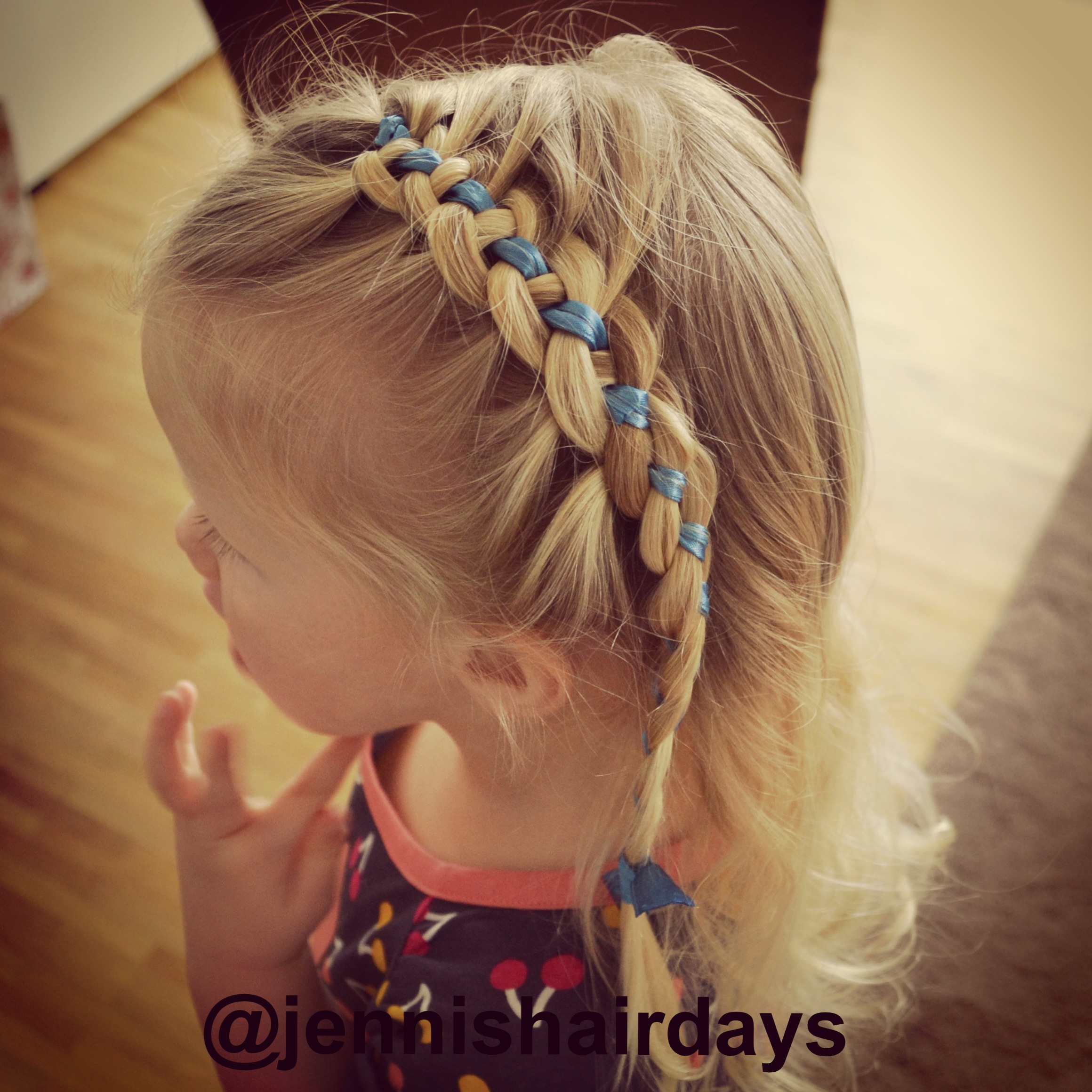 This is a great hairstyle for little girls. It is combined with a ribbon and braided with 4 bands. It is a bit more difficult and needs more skill, but once you learn the technique, it will be easy peasy, and your girls will love it. Combine it with ribbons in any color they want and let them feel the prettiest girls around.
10. Dutch Braid Flower Updo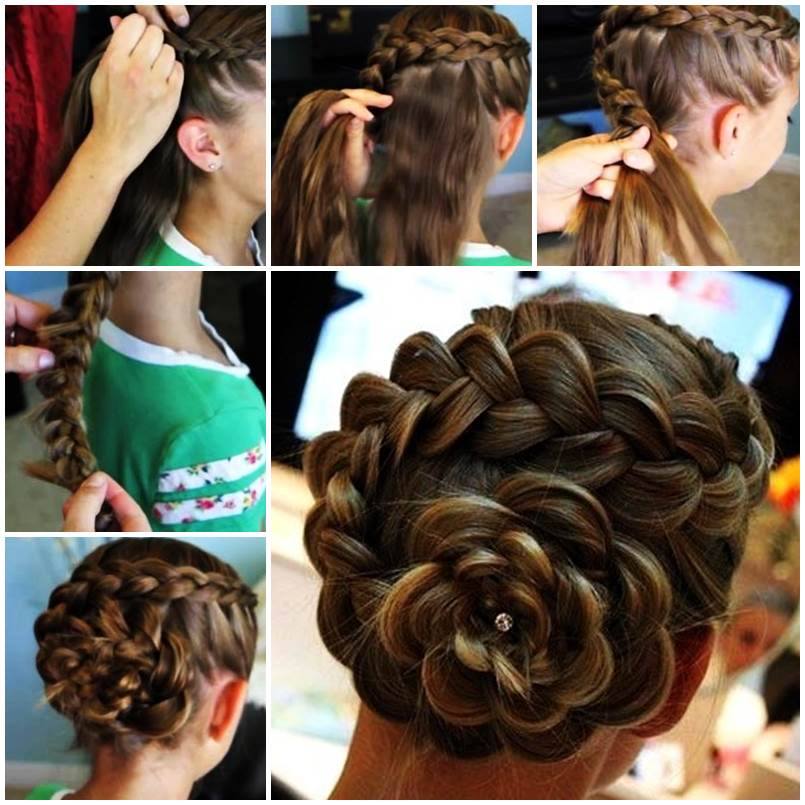 This unique braid turned into a bun will be perfect for your unique girl. It is elegant, posh, and interesting, yet not simple at all. Braid the hair in a Dutch braid all around the head, pull a little bit the ends of the braid, and swirl it around into a low bun to make it look like a flower. Secure it with hairpins and decorate it with a little flower or diamond dot in the middle.
11. Baby Braid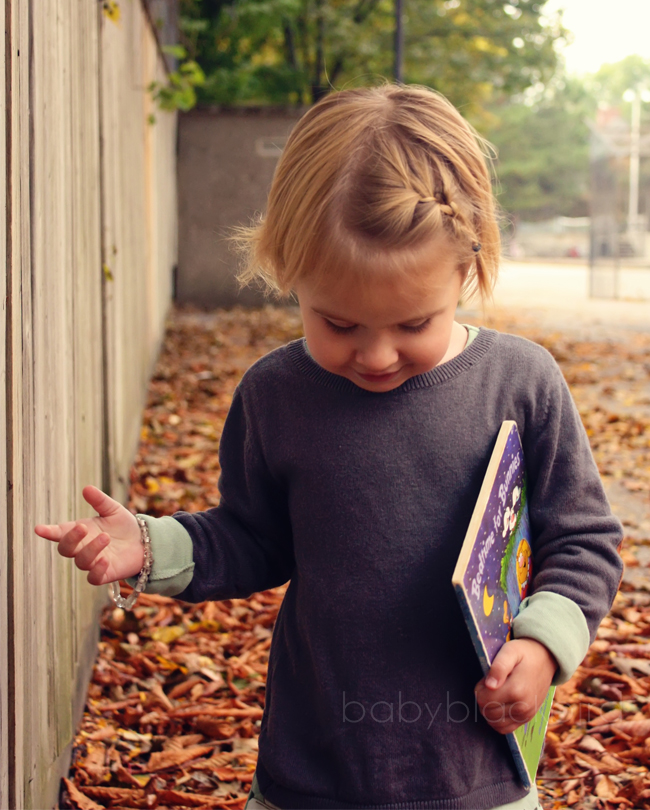 Your toddler's hair is gentle and thin. And if it starts in kindergarten, it is best to make a good hairstyle to be comfortable in and still not ruin their gentle hair. Simply braid it in a small baby braid on the bangs and let your little one enjoy their first day with her new friends. It will keep her bangs off her eyes, and she will look pretty and feel happy.
12. Layered Ponytail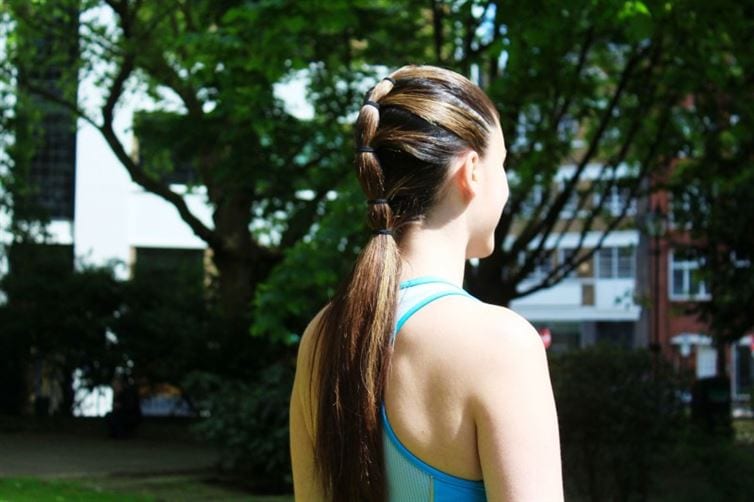 If you are a regular at the gym together with your daughter, this hairstyle will be best for both you and her. Divide the hair into layers and ty every layer in a ponytail adding one layer to the other. It will keep your hair tight and let you do your training in the gym with stylish hair.
13. Braid A Four Bands Braid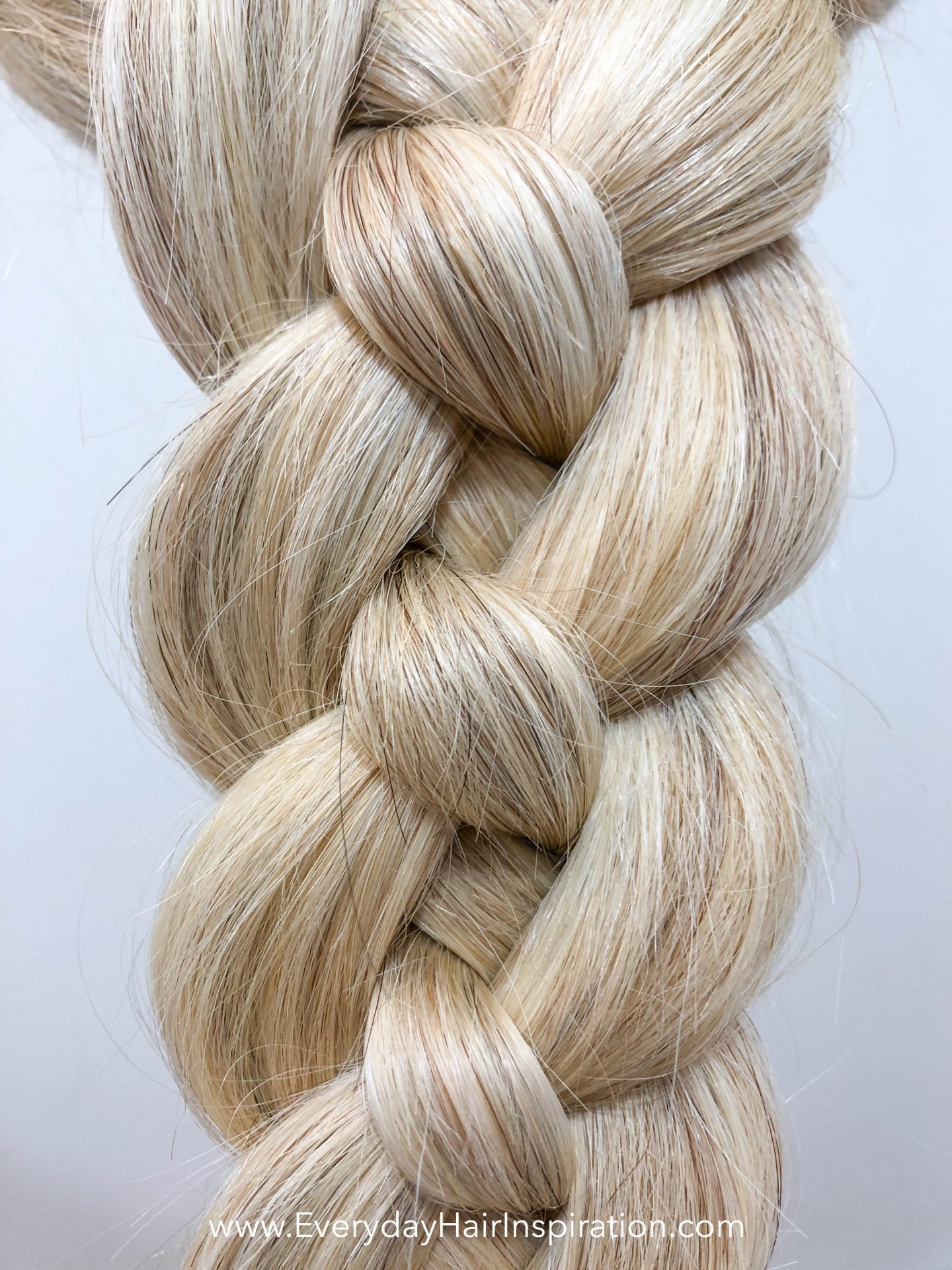 This braid is good for everyday style, yet not so simple. It is braided with four bands and it looks cool and sexy at the same time. It is good for school and work, as well as for training and hanging out with friends. Pair it with a headband in your favorite color and style to complete the look.
14. Tie the Knot Braid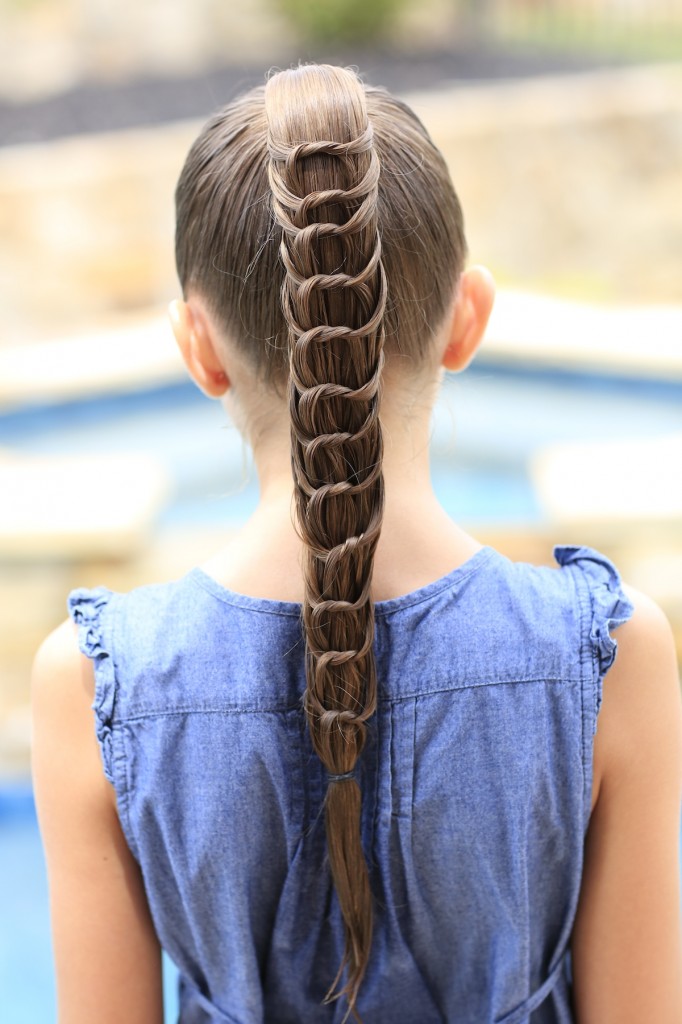 Do you want your little girls to look cool and unique for their first day of school? This is an idea on how to make a simple ponytail look special. Simply tie knots from the hair around the ponytail and make it as unique as possible. It will make the girl feel one of a kind.
15. Mermaid Braid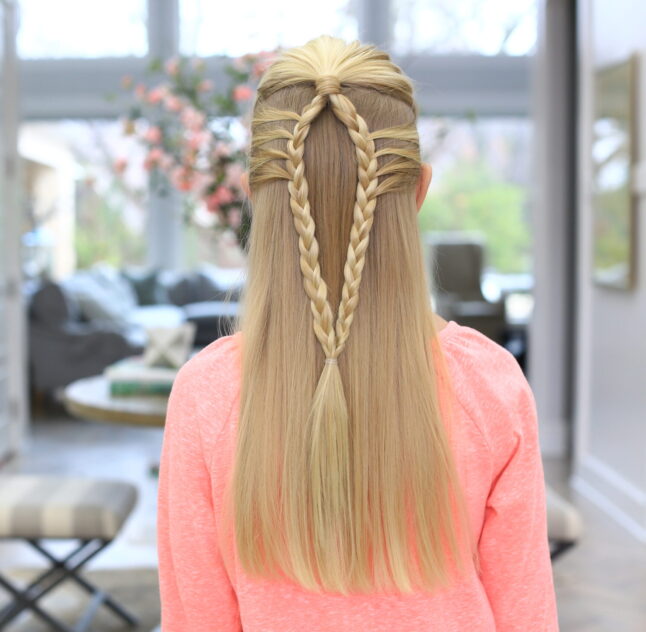 For all Ariel lovers, this is the perfect idea to make them feel as if Ariel has landed on their hair. This braid is made in a way that resembles a tail of the mermaid and makes a great accessory to your girl's hair. It is simple to make, yet elegant and stylish. Let your girl enjoy her mermaid moment among her friends and besties.
16. Head Band Braid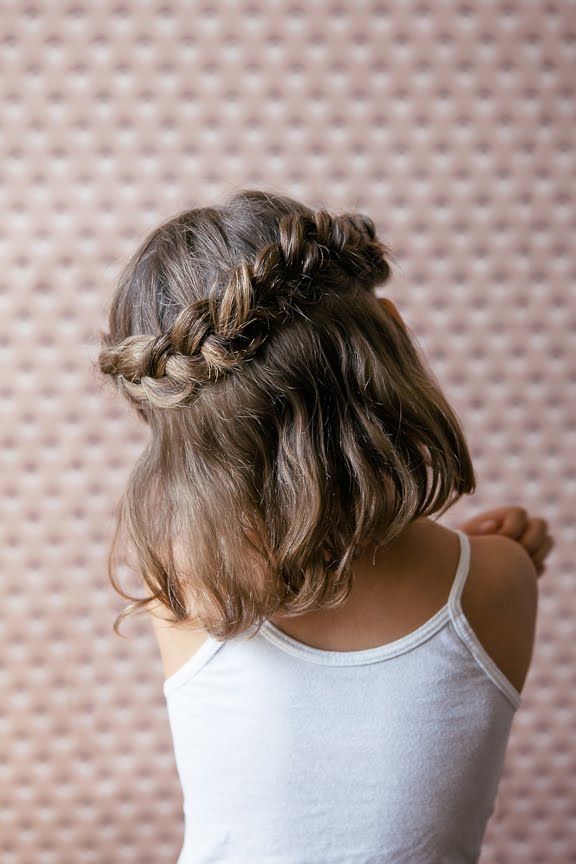 This simple and elegant hairstyle is good for girls of any age. It is braided around the head to form a band and resemble a crown of its own. It is simple, yet elegant, and stylish. Let the rest of the hair be laid back smoothly to complete the look. Paired with the right clothes, it can be both for every day at school and for special occasions.
17. Knotted Braid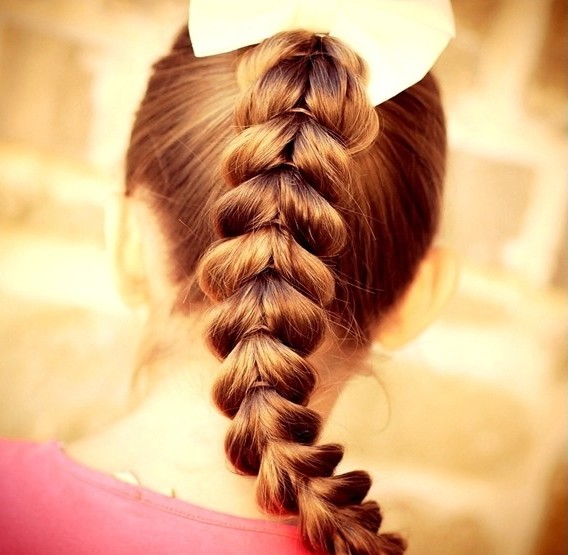 If you want a simple, yet not so simple braid, this is the perfect idea for you. This looks like a simple braid, but it is actually made of knots tied into one another to form a braid. Let your friends admire your perfect braid and surprise them with the complexity of it. It will be fun for all.
18. Braid Around The Tail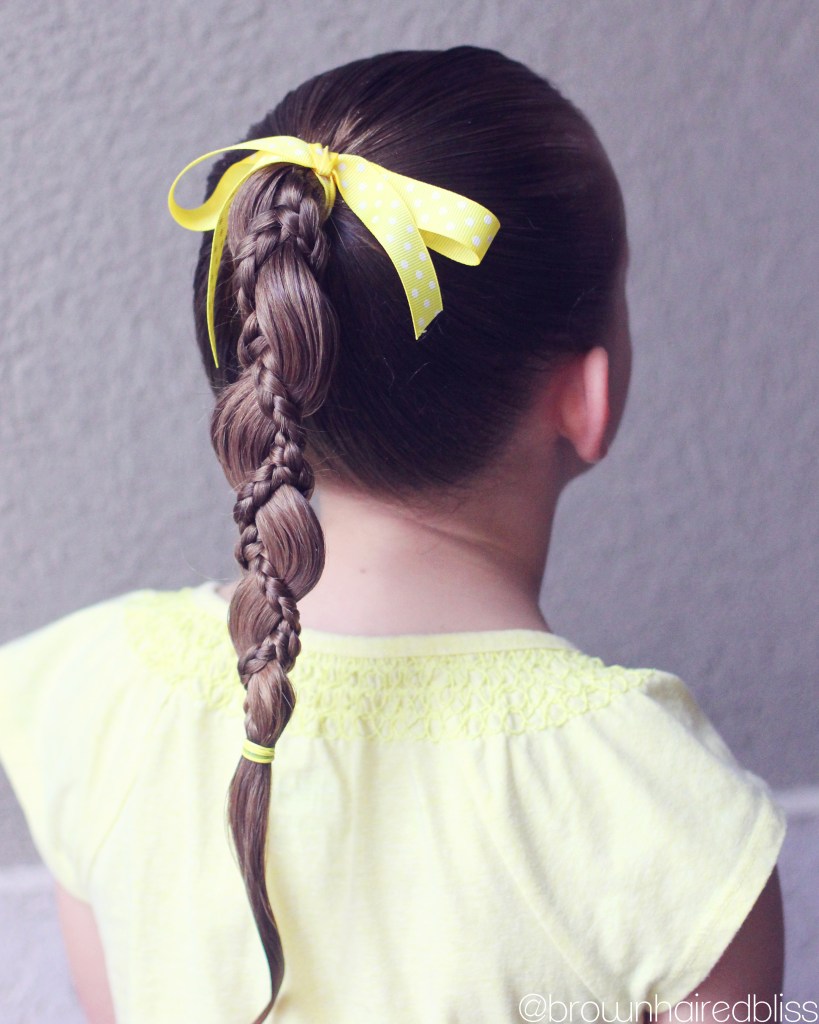 If your girl is tired of the simple ponytail, decorate it with braids around it. It will give it a spark of charm and make it look cool and elegant. Your girl will feel special and unique, and not be bored by the old simple ponytail. Let her be herself and shine in her uniqueness.
19. Wrap-Around Braids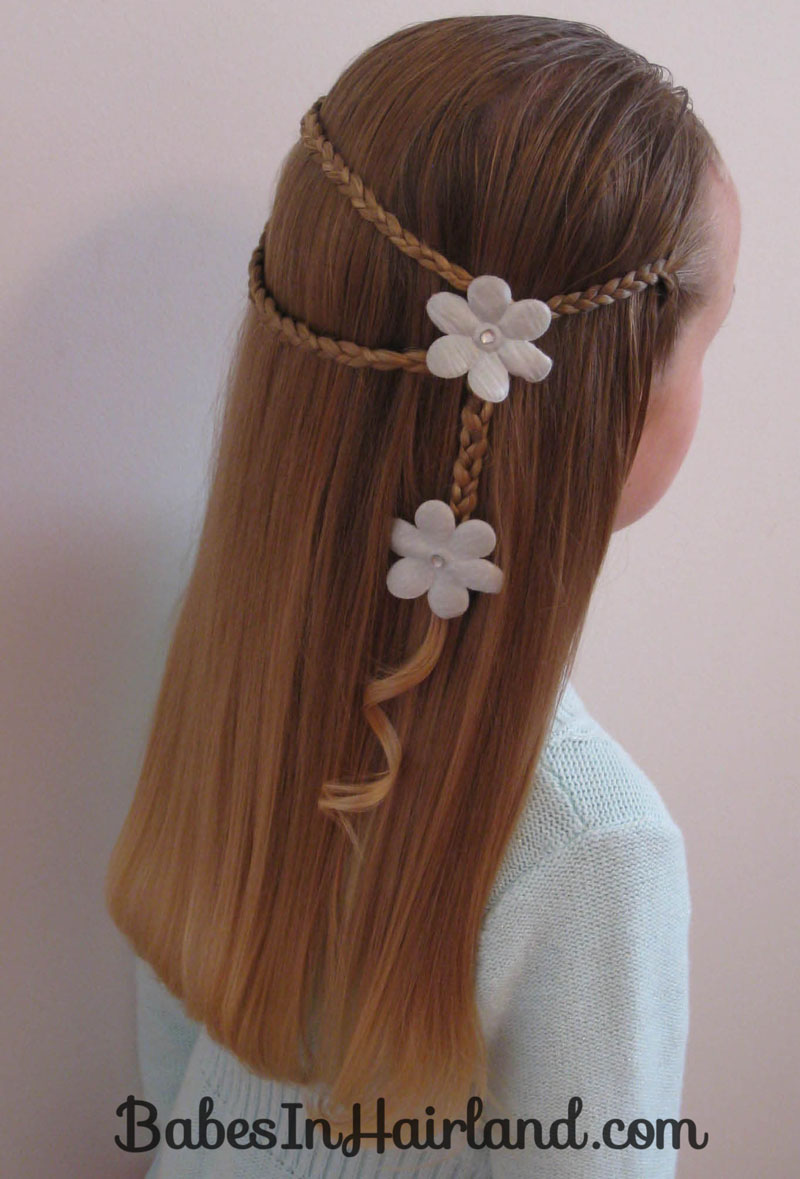 This idea is good for smaller girls that love long hair. Simply make two braids on both sides of her head and wrap them around her head to form a net of braids. She will look like a mermaid with her simpleness and elegance and have a gentle feeling around her head. Everyone will love it and she will enjoy her moment.
These were those ideas that we chose to show you today. There are plenty of others around the internet and fashion and hairstyle magazines. Get inspired from wherever you want. And don't forget to leave a comment in the comment section below sharing your ideas, creations, and inspirations or simply give us a go to be even better in the future.