A garden is not complete without a fountain. If you are a water lover, this feature will make your garden even more enjoyable than it already is. A fountain makes your garden fresh and cool. Without a fountain, your garden may sometimes get dull and hot. Especially in the summer and the summer heat. It will complete the enjoyment in the shadows and make you feel even more relaxed than you thought you were.
Usually, the gardens are not cheap to have. Some can cost even a  fortune. But, what if you can make one yourself? Here in this text, we give you 19 ideas on how to make your own fountain on a  budget and make your garden or backyard an enjoyable place to be in. Some are easier to make, and some a bit more difficult, but they are fun to make anyway.
During these hot summer days, a fountain can be a really relaxing item to have around.  It will bring a freshness of the summer heat, and coolness in your environment. Have a look at the ideas and tutorials below to get inspired and start building.
1. Rainbow Fountain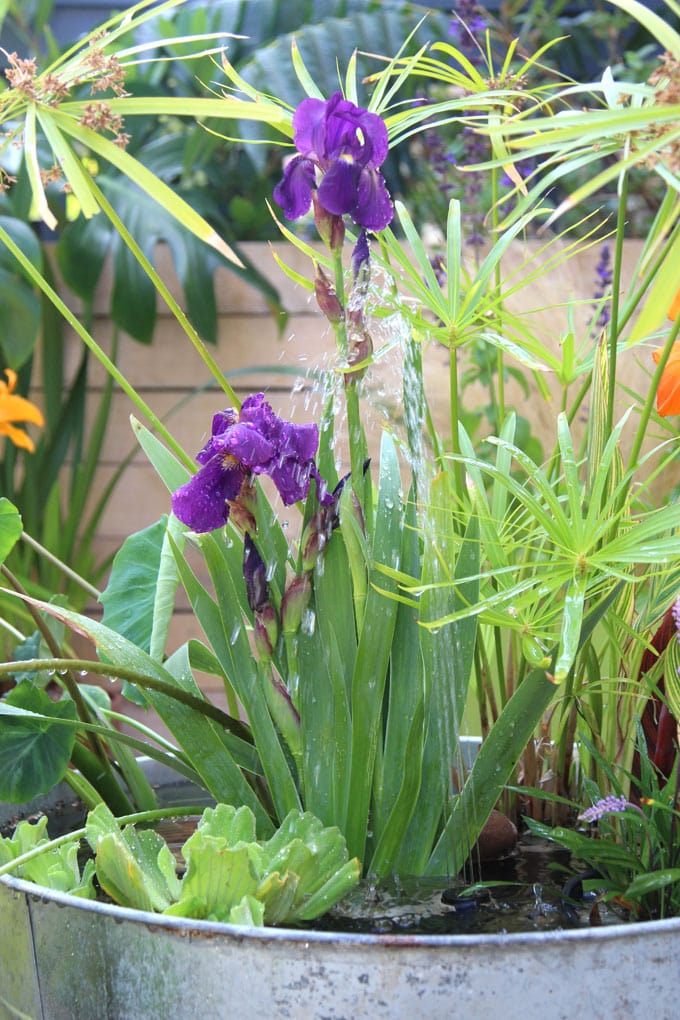 This simple and unique fountain is made of an old metal pot filled with stones and dirt, and flowers planted in it. It is equipped with a solar water pump to refresh the water and make wonderful sprinkles for the flowers. It is easy to make, doesn't cost a lot, and completes your vintage garden style.
2. Big Pot Fountain
If you have an old big pot you don't need anymore, turn it into a fountain for your lovely garden. It is easy to make, doesn't require a lot of skills, and does not cost a fortune. Pair it with stones on the bottom of the fountain to complete the look and the freshness. It is easy to make, and fun to have.
3. Bubbling Fountain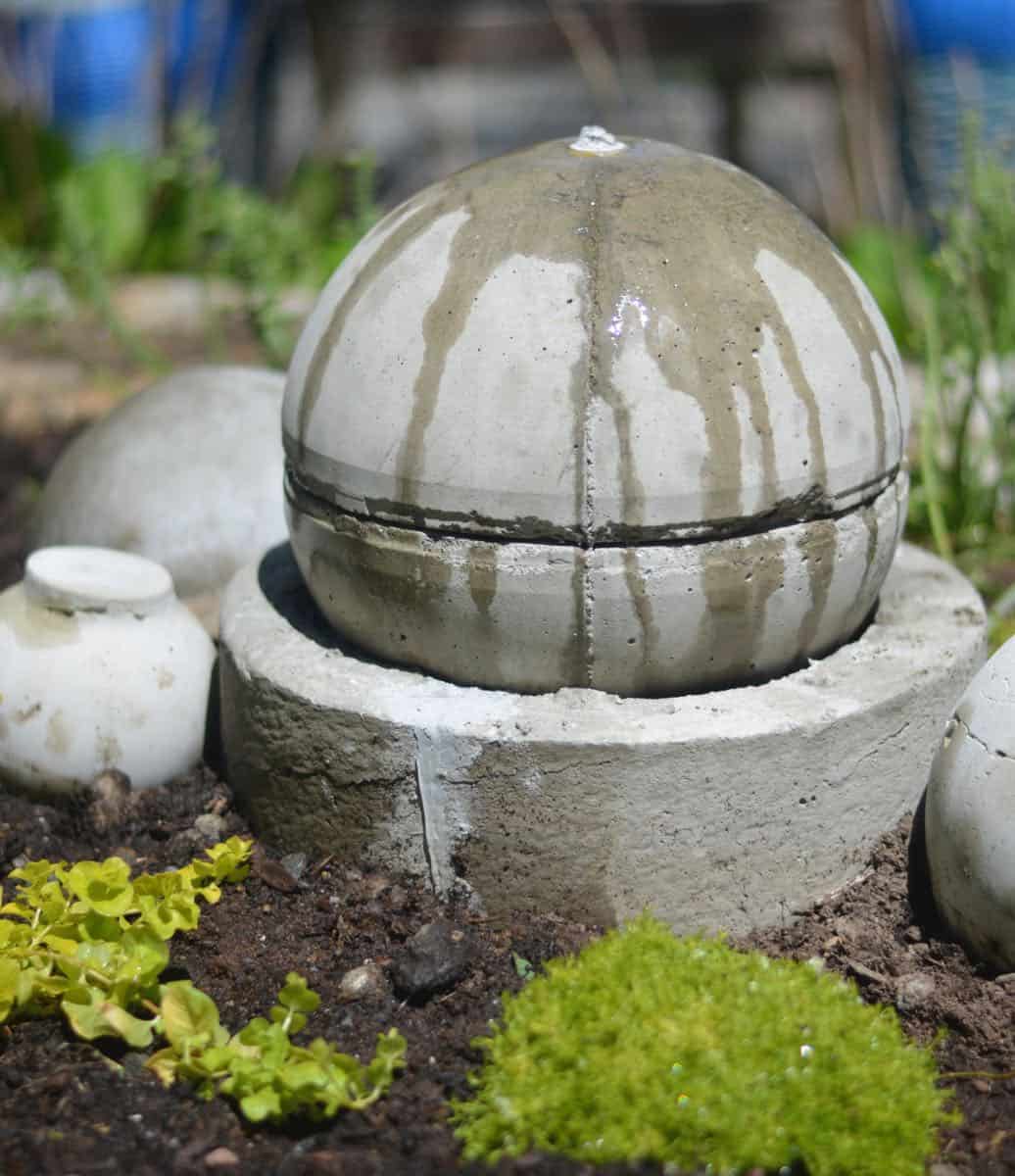 This is an idea for more creative people. It is made from concrete and a globe to serve as a model. Place it in a corner of the garden to make it cooler, or next to the outside wall of the house, or wherever you feel like sitting in. It will give a fresh look and feel of the space, and the bubbling sound will make the place as relaxing as it can be.
4. Blue Fountain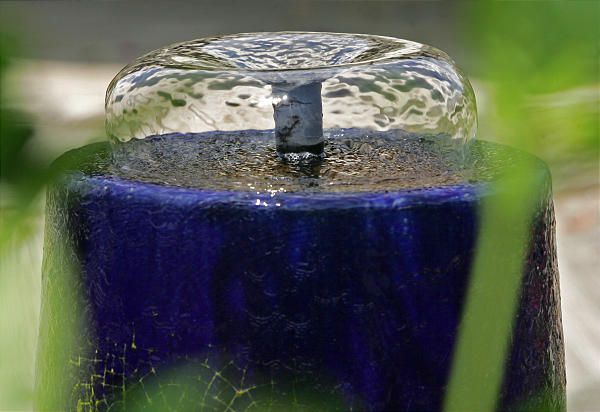 Here is an easy-to-make idea for a cute blue fountain. Made of an old blue ceramic pot filled with stones and a water pump, it will be the cutest thing you have in your garden.  You will save a lot of money and have a great fountain to cool your backyard and feel like next to the water.
5. Flower Pot Fountain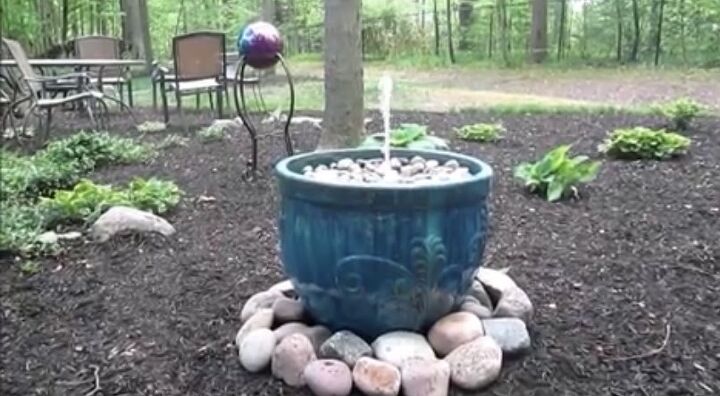 Big flower pots are not only for flowers. They can be used to make fountains as well. Painted in vivid color, with added water pump pipings, surrounded and filled with stones, it will be a perfect fountain for your big backyard. Plant some greens between the stones to make it even cooler and use the water wisely.
6. Old Tire Fountain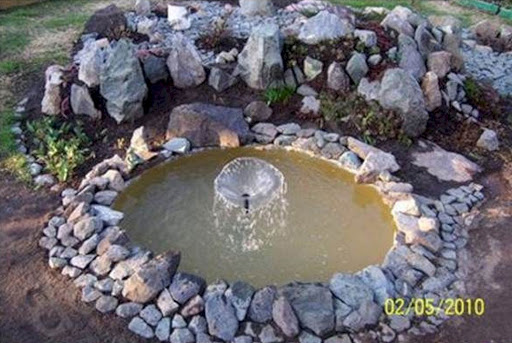 Recycle your old tire into this inground fountain. Dig the hole in the ground in the shape of the tire, place the tire inside, isolate it with nylon cover and sand, cover the sides with stones and turn it into this wonderful fountain for your garden. The water pump will pump the water as much as it is necessary to give freshness and coolness to the surrounding.
7. Tea Pot Fountain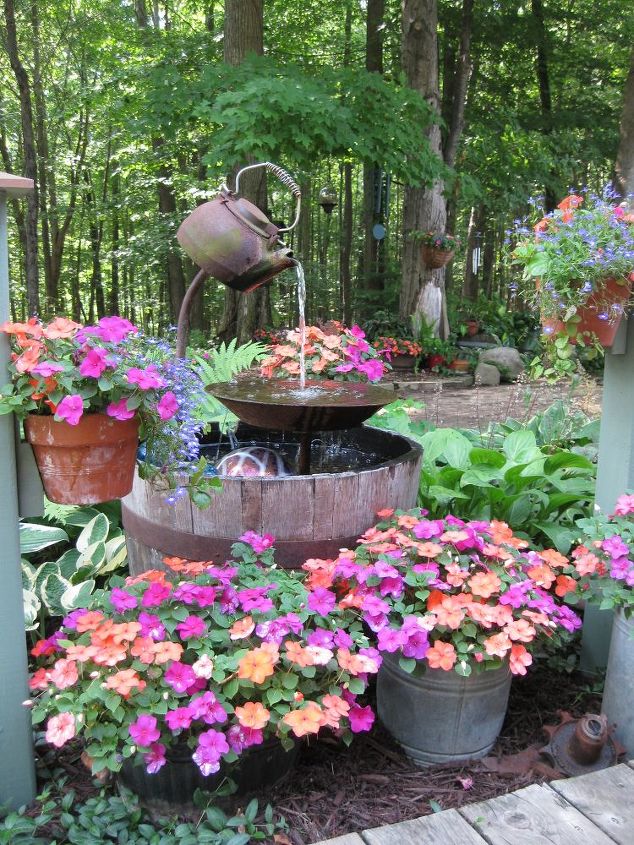 This fountain is an inspiration for all vintage lovers and teapot lovers. If you are regular at old antique stores and love antiques, you can turn them into something they never were, and give them a new life. This teapot, the barrel, and the plate used to be kitchen elements. Now, they are a fountain in a new flower garden. Like this, they will live forever.
8. Wine Bottles Fountain
For all the wine lovers, this is an idea of how to make use of the empty bottles of their favorite wine. Placed in a bucket filled with white stones and put in a barrel, they will make an interesting fountain for your garden corner. Paired with flowers planted in old barrels they will complete the look of your cozy backyard.
9. Blue Eye Fountain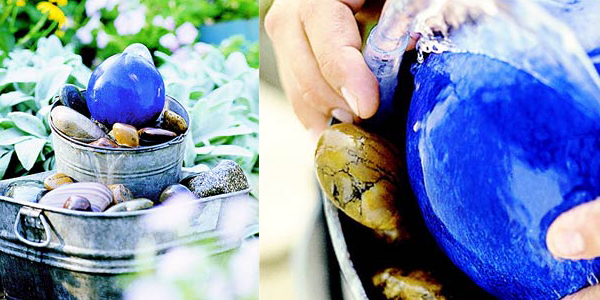 Here is another idea of how to recycle old items. Use an old metal bucket and an empty food can to build this cozy little fountain for your garden. Fill the bucket with stones and seashells, install pipes, and put a blue glass on the top to brighten up the greyness of the metal and stones. The water flowing over it will make it shine like a diamond.
10. Cocktail and Wine Fountain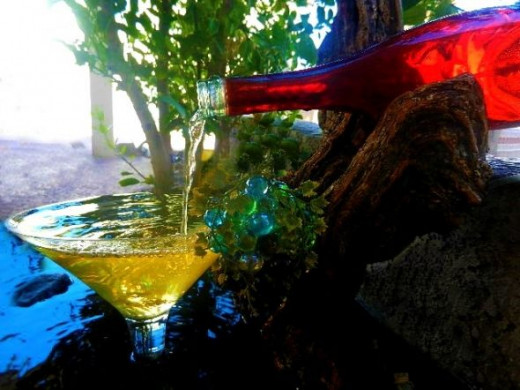 For all those cocktail and wine lovers, this idea is perfect to use the old cocktail glasses and favorite wine bottles. It is easy to make, cheap to have and wonderful to freshen up the look of your room. It can be placed both inside and outside. The cocktail glass serves as the bottom and the wine bottle as the top of the fountain. It is cool and fun for everyone.
11. Table Fountain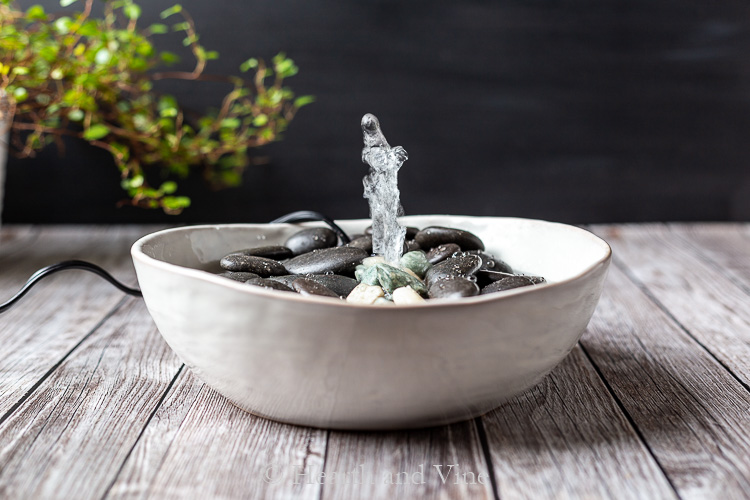 This Japanese style table fountain is great to freshen up and complete the look of your room. It is made of an old salad dish filled with pebble stones and a small water pump in the middle. The green leaves make it even fresher and cooler.  Placed in the corner of the room on a small coffee- table it will be a great addition to your stylish environment.
12. Water Pond Fountain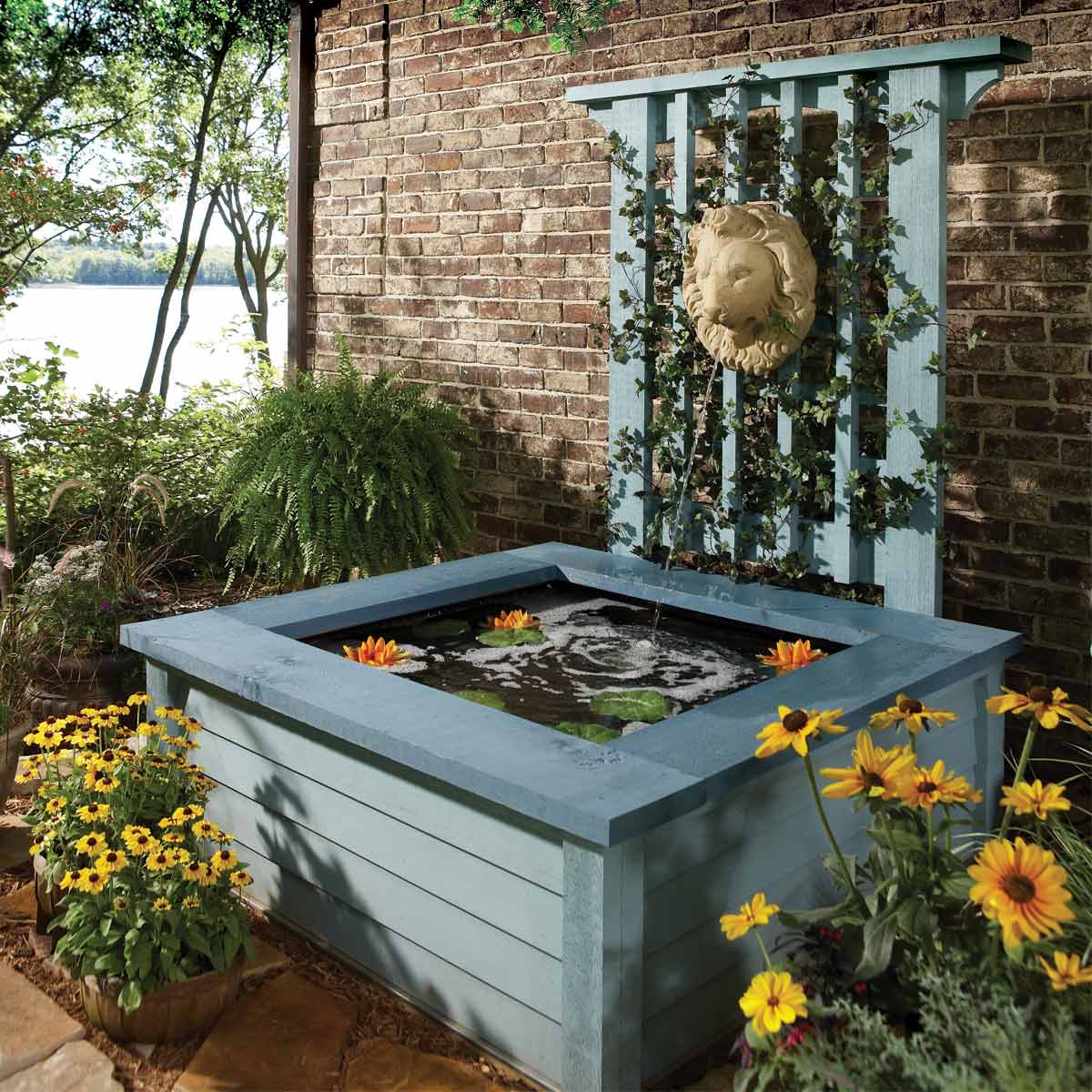 Hey, Lions, would you like to have a fountain? Here is an idea of how to make your boys happy with a lion themed pond fountain in your backyard. It is easy to make, cheap to do, and cool to have. Use old wood planks and some vivid color to make your garden pop. Place sunflowers around it to complete the look.
13. Flea Market Fountain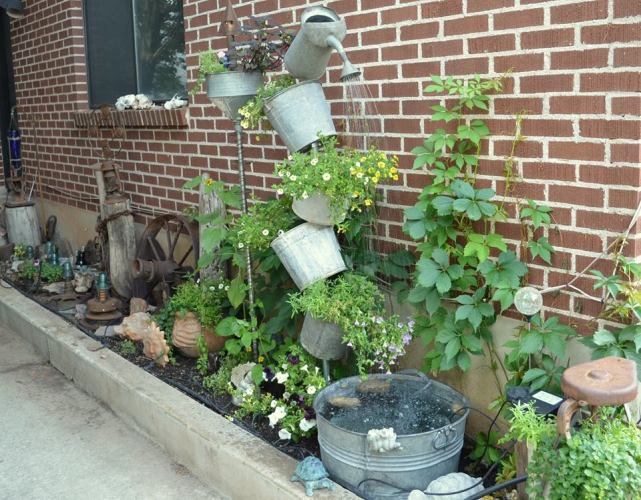 If you are a regular to the flea market, get few equal metal buckets and a watering can and make this cool wall fountain for your small backyard. Put them on a stick, layer them in zig-zag position, plant some greens and flowers, and install the piping for the water to flow freely. It will freshen your garden
14. Sink Fountain
If you have replaced your old sink, don't throw it away, upcycle it into your new fountain. Cover it with a cool designed foil to renew it, install the water pipes, and place it on the corner of the rocks in the backyard. The water will flow through the tap and make a cool fountain. Let the water and the greens do the magic.
15. Mushroom-like Fountain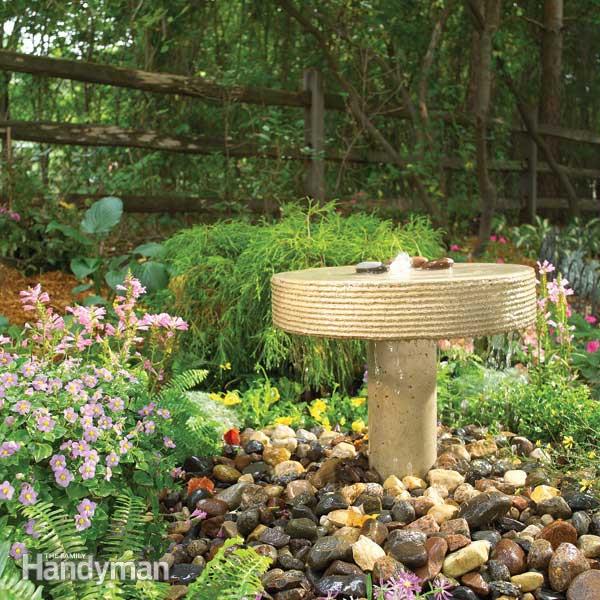 This cool fountain that resembles a mushroom is perfect for your backyard right next to the woods. It is simple, yet cool, easy to make, and cheap. Combines with pebble stones and water pump, it will be the perfect decor among the flowers and greenery into the corner of the backyard. It will give freshness and coolness and make you relax to the max.
16. Terracotta Table Fountain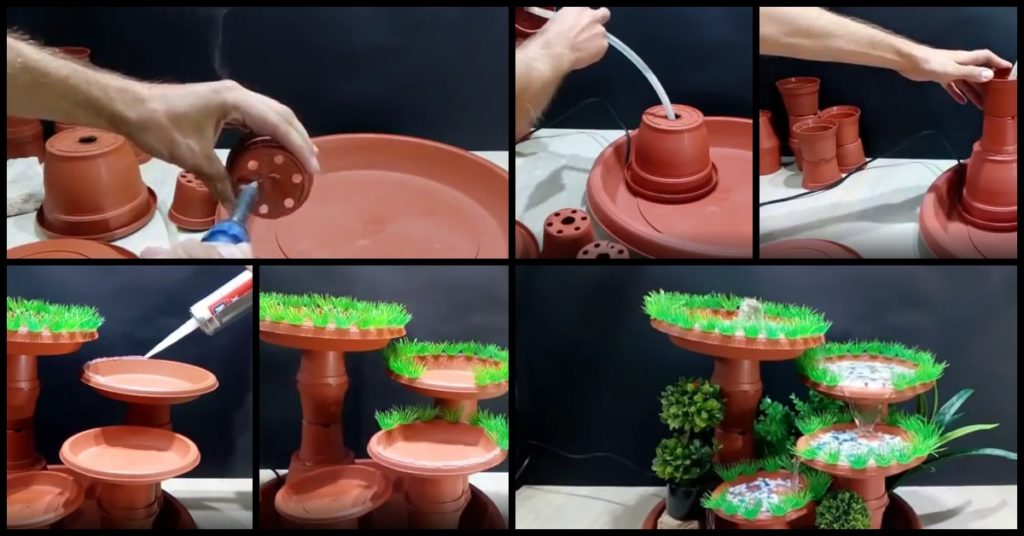 This simple terracotta fountain is made of used terracotta flower pots. Punch them at the bottom to put a water pipe, layer them one onto the other, and put some greens on the top to make it pop. It will beautify your table and make your room pop with freshness.
17. Three Layer Fountain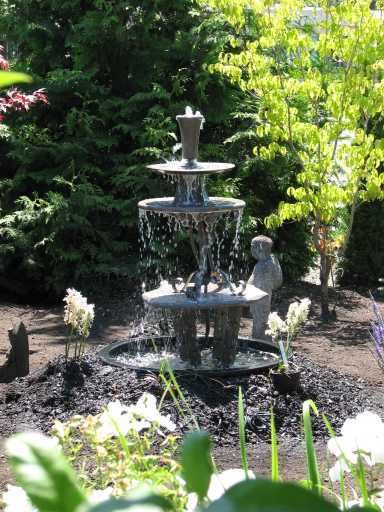 If you have found some old coffee tables and small chairs in your garage or at the flea market, here is an idea of how to turn them into a stylish elegant fountain. Paint them in a permanent color varnish and layer them one onto the other to create this interesting statue. Place the piping and the water pump in the middle and put the fountain in the garden. Enjoy!
18. Refurbished Fountain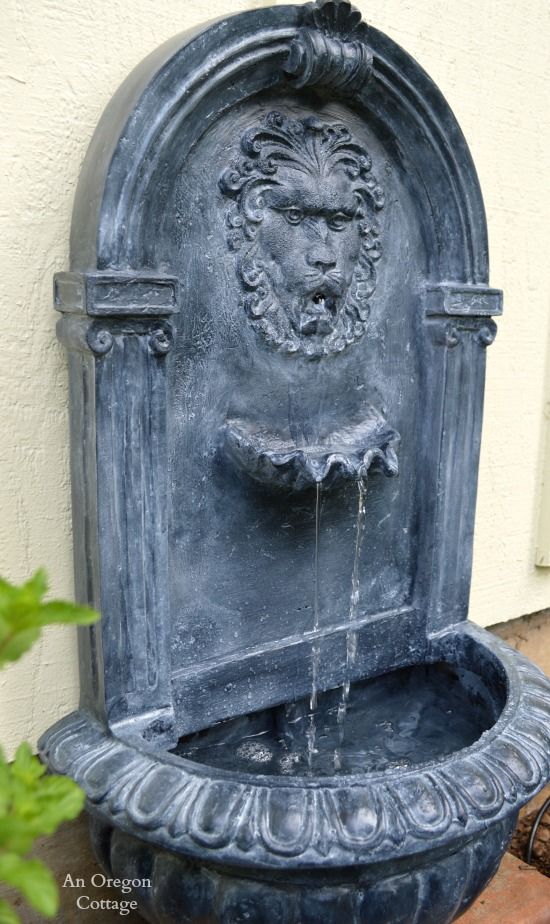 Fountains like this are expensive and costly. However, they can be easily found on the flea market for a bargain price. If you have already bought one, paint it in the color of your choice, and refurbish it to match your garden style. It will decorate your wall and make your garden fresh and relaxed.
19. Balloon Fountain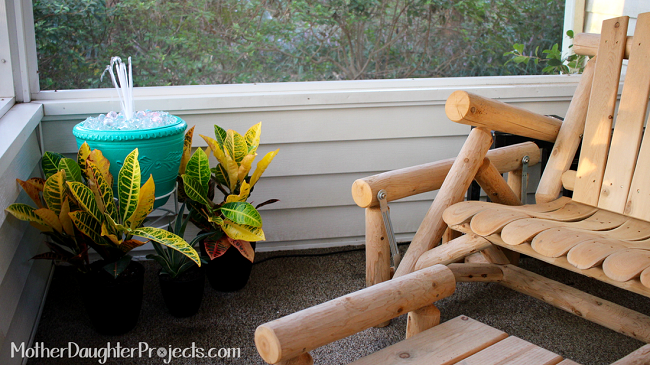 This is more of an artificial fountain. It is made of ballons put in a flower pot with lights beneath them. Cover the top of the pot with artificial crystals and let the light do the magic. Put some plastic strings to impersonate water in the middle, and let your visitors believe you have a lighting fountain in your room.
These were the ideas that we had for you. If you liked them, you can try and make some of them yourself. They will be fun to make whatever you choose. Or, maybe, you have an idea of your own? Let us know in the comment section below.