Don't you all love simple, yet practical and cheap furniture? Yes, you do!
Well, the easiest way to have cheap and practical furniture is to make it yourself. There are many ways to make it if you have the skills. And if you don't, the easiest way to make new furniture is to use old pallets that the stores or storage throw them out as waste. These can be easily recycled and reshaped for what you need. Cut them, turn them, paint them, stain them, polish them, they will become the table, sofa, chair, desk, shelf, frame, pot, or whatever you can imagine.
With a few skills, some ordinary tools, lots of imagination, and the following tutorials, you can turn your home, your backyard, or your front garden into a cozy place to enjoy all that you want to do with everyone that you love.
1. Simple Bench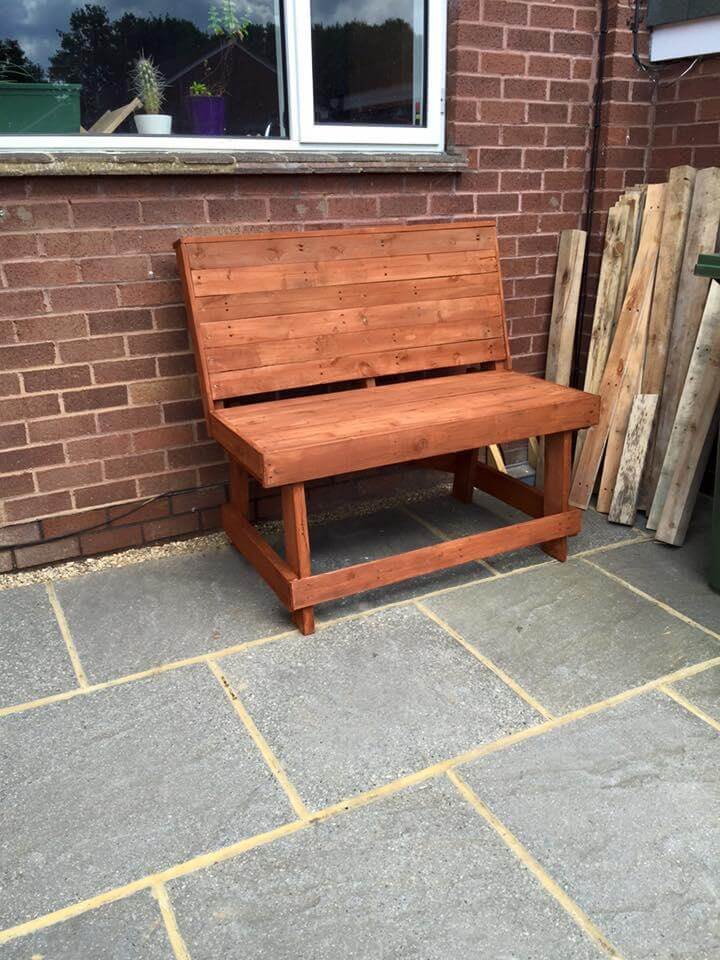 First of all, you need a place for your guests to sit comfortably in the garden. This simple bench is practical and easy to make. All you need is a pallet, some stain, and some skills. Paint it in the color you like and put it in the corner of your garden, your terrace, or your patio. It will decorate your garden beautifully and be the most used object in the garden
2. Beach Table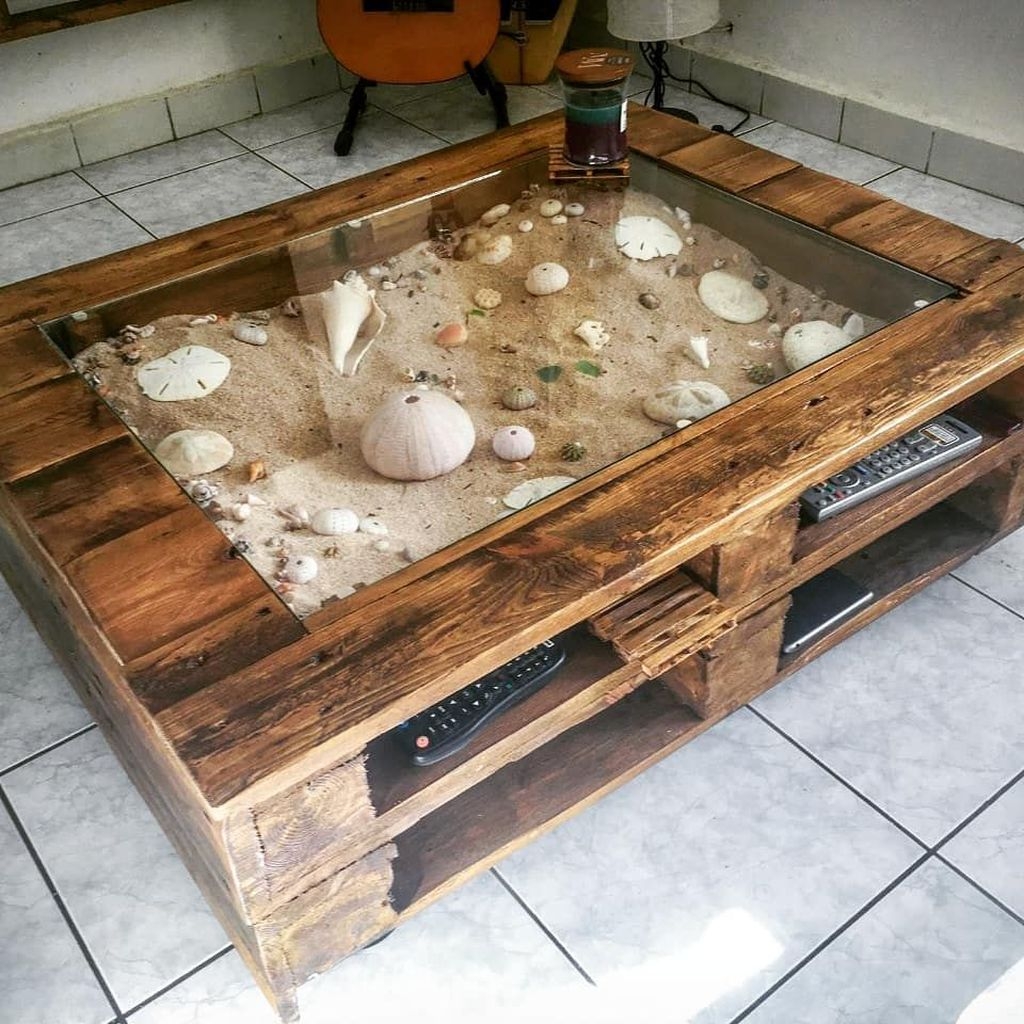 To pair the bench from before, you will need a coffee table. This not so simple coffee table that looks like that beach came into your garden is easy to make, and very practical at the same time. Made of only two pallets and a piece of glass, it is perfect decorative for your garden and at the same time a great storage place for tiny little things.
3. Wine Cellar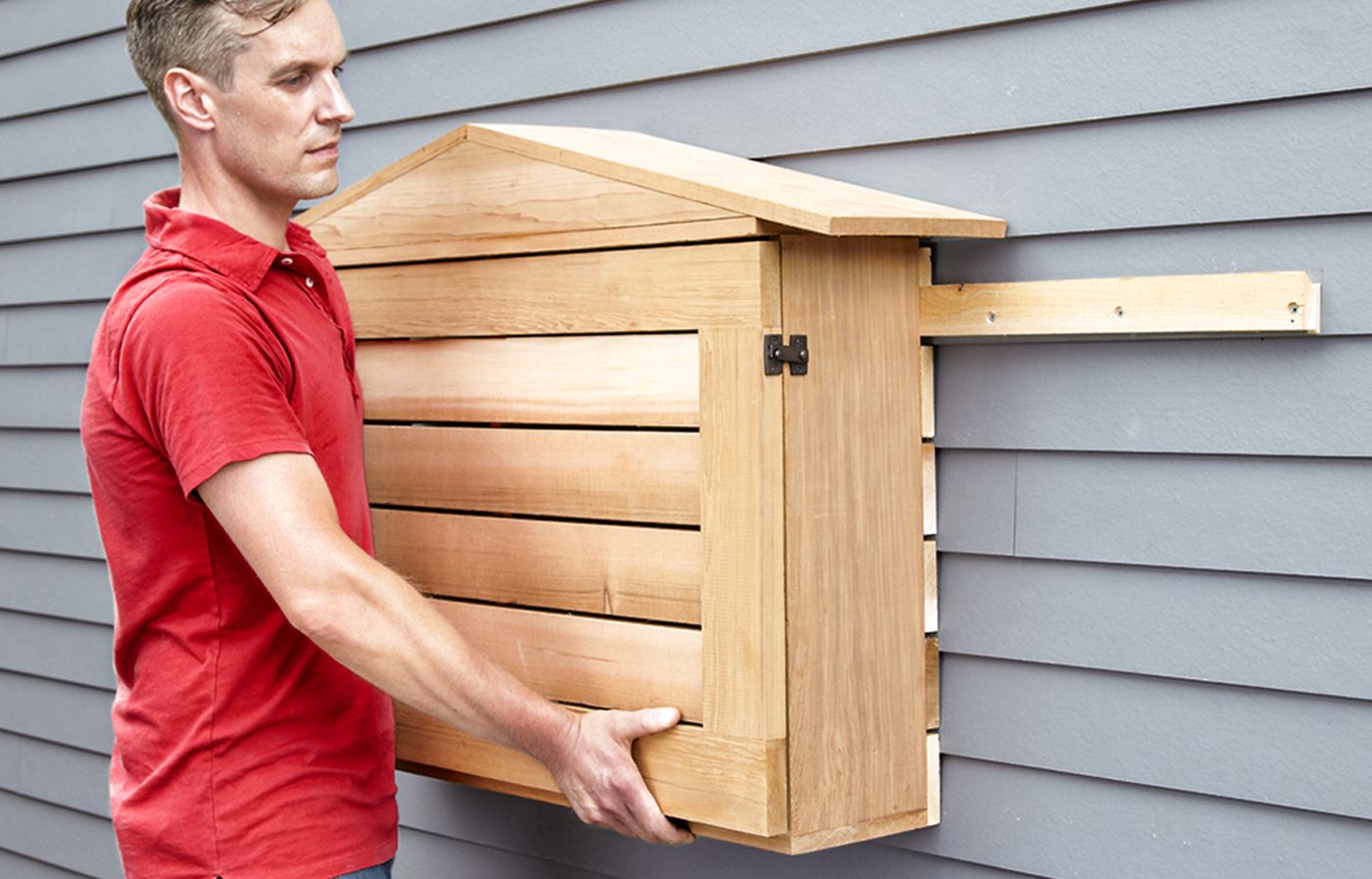 To complete the look of your cozy corner, all you need is a wine cellar. Well, maybe not strictly a wine cellar, but a drinks bar at least. Make one yourself that will look like a little house or maybe a replica of your big house. The pallets can be shaped in whatever shape you like, and the door can be stringed on the walls. Mount it on the wall and enjoy it with your friends.
4. Big Furniture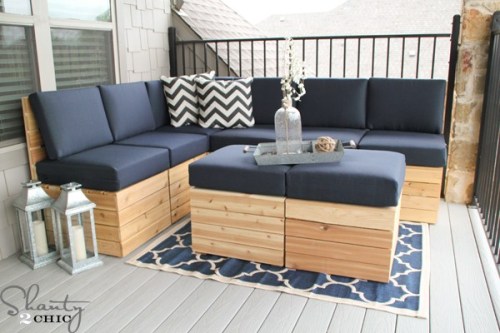 Well, if you have a larger balcony or patio, you can also make larger furniture out of pallets. It can be convertible and movable and also lined with sponged linens to make it even more comfortable for sitting. The bottom can be used as storage and you can feel the coziness of your balcony with the ones you love.
5. Squared Table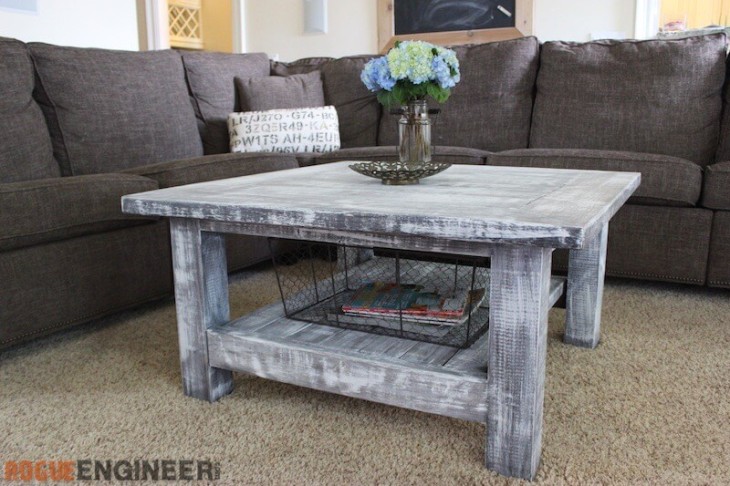 This square table is good to be paired with large furniture, no matter if it is made of pallets or not. It is vintage and trendy, and also practical and cool. Put it in your living room, on your patio, or out in the garden. Stain it in the color you want and enjoy it as much as you can with the ones you love.
6. Swinging Bed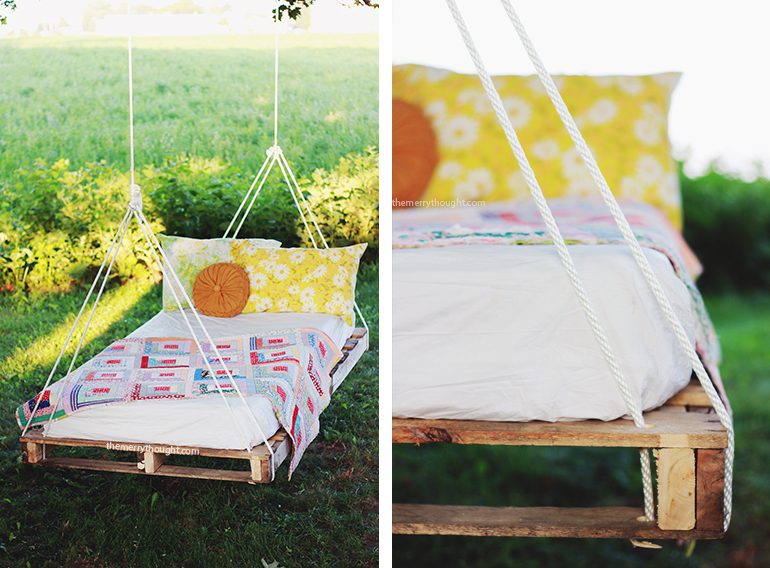 For all outdoor lovers, this bed is the perfect thing. If you like living outdoors and spend most of the time out in the wild, make this cozy swing bed out of pallets and an old mattress. Hang it with good and strong ropes to a tree, and start enjoying. You will sleep like a baby and dream the sweetest dreams.
7. Cool Bench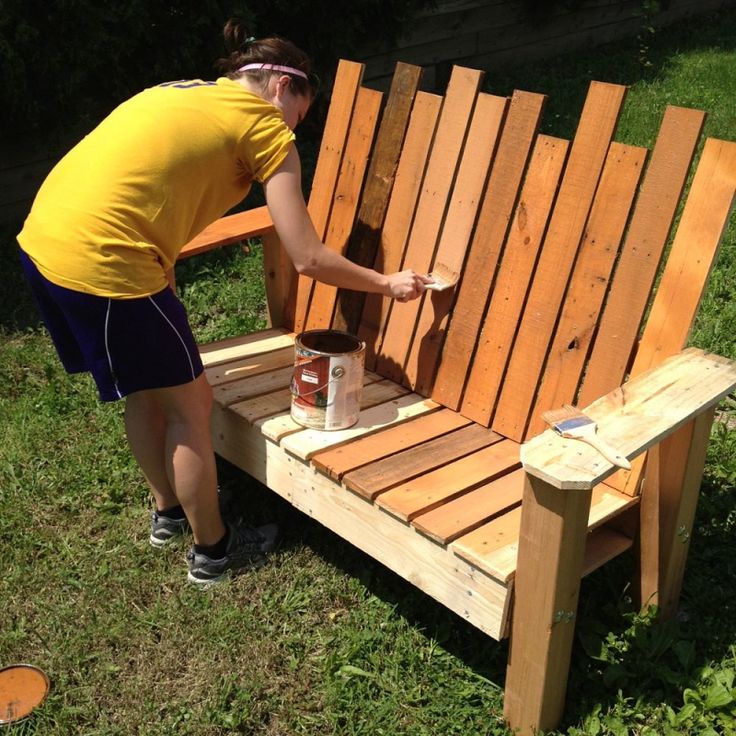 This asymmetrical bench is cool to put it in your big backyard, in some cozy hidden corner to enjoy the shade and privacy with yourself only. It is made of a pallet, stained in the tone you like, and covered with a good sponge cover to make the perfect detail in the yard.
8. Table and Chairs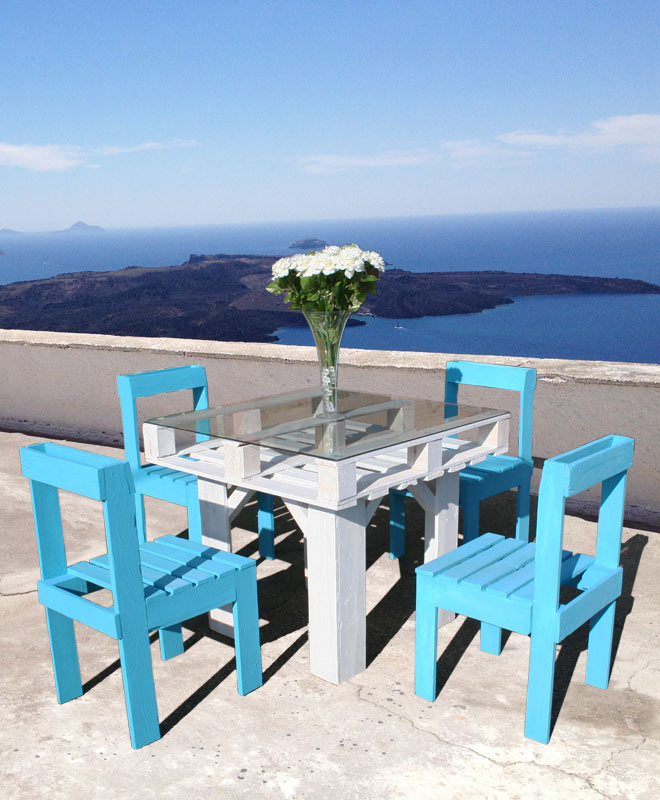 This set of table and chairs is easy to make, and so bright it will light up your garden. The glass on the table gives it a posh look, and the lively colors make the set pop out of the environment. Let your imagination go wild to get the best you can from your new cozy garden.
9. Pallet Fridge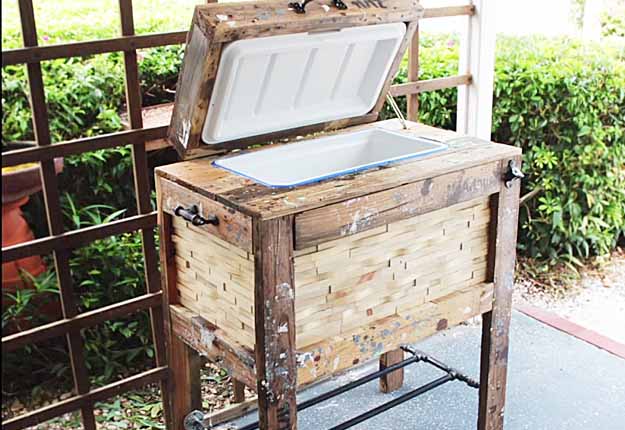 For better partying and entertainment with your friends and family, you will need a cooler or a fridge. Why not make it yourself using old pallets and a cooler box. It is easy to make, and good to complete the vintage look of your garden. It is practical and cool at the same time. Everyone will love it.
10. Outdoor Bar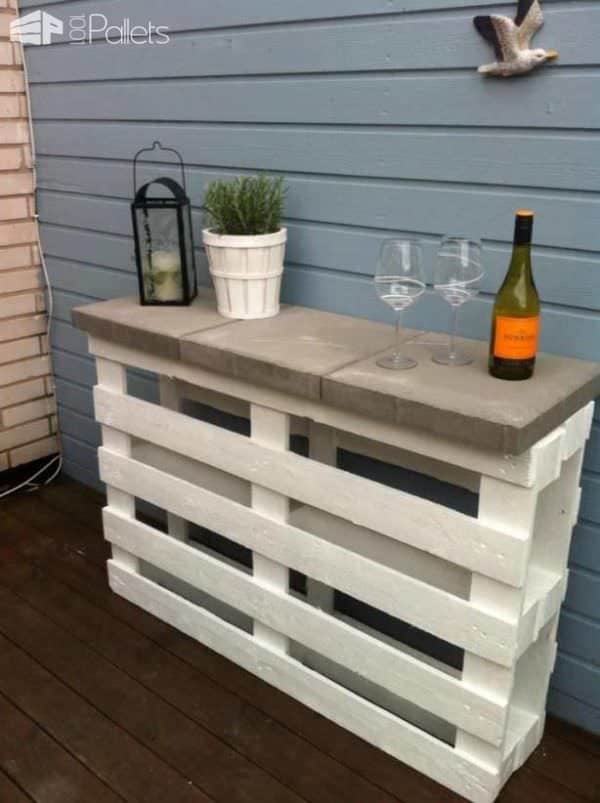 With the cooler box from the previous idea, you will also need a bar for your outdoor parties. Easy to make, and easy to use and store, it will perfectly complete your party garden and your outdoor area. Made of simple pallets and painted in the color you like, it is to become the most practical item in your garden.
11. Side Table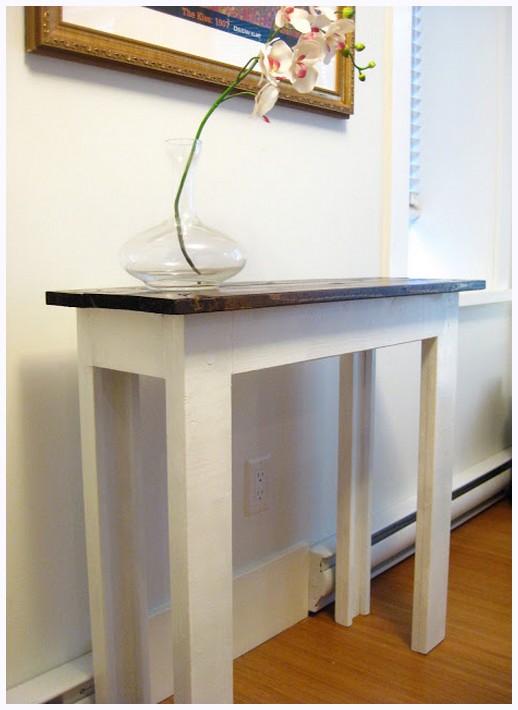 You need something to decorate your hallway and fill in the empty space? This side table is perfect for that. Made of old broken or rusted pallet with only four legs and a top, and colored in matching colors of your choice, it is a great and practical decor for your hallway. Put some flowers or books on it to complete the impression.
12. TV Stand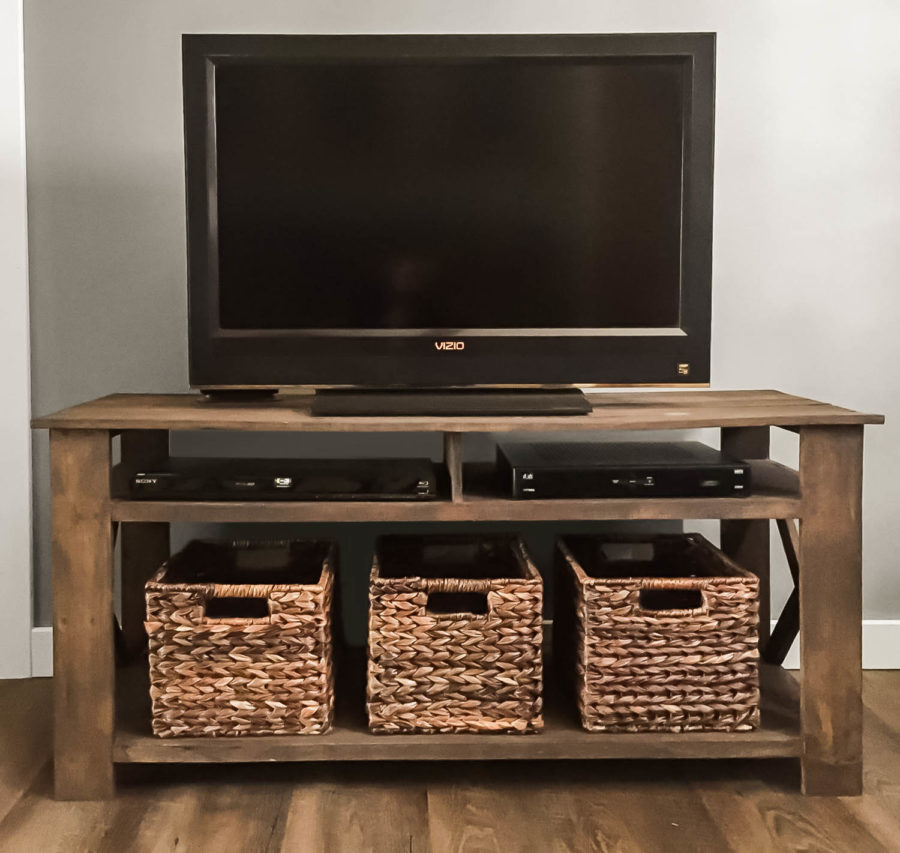 If you need a [lace to put your new TV, this stand is perfect to complete the look of your room. It is made of two pallets, stained in the tone that suits your furniture and equipped with bamboo boxes to complete the look. It is practical, vintage and elegant.
13. Strawberry Planter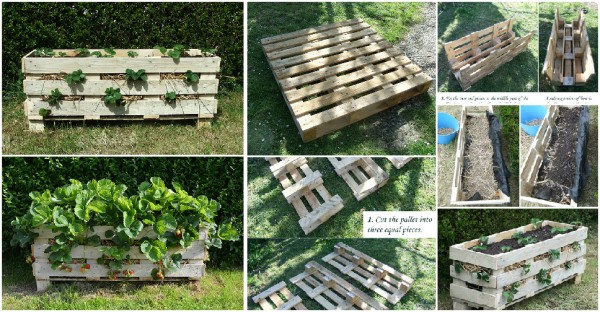 For all of you strawberry lovers out there, here is an idea of how to make your own strawberry planter. Use an old pallet, cut it in three, and make a big pot that you will fill with dirt. The cracks on the sides will be perfect for the seeds to grow all over it, and the strawberries to be even tastier. Place it in a corner of the garden to make it even more decorative.
14. Flower Stand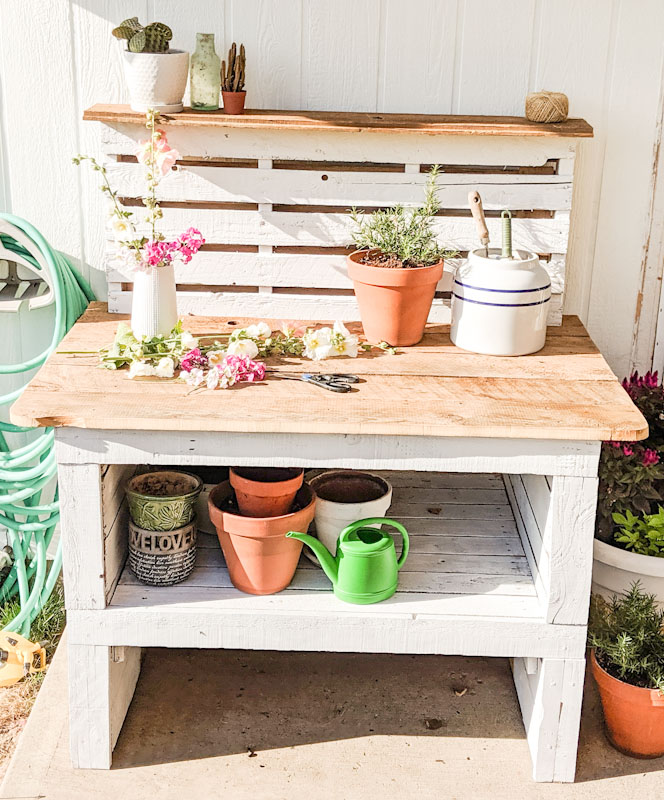 If you love planting and growing flowers, you can make your own planting flower stand for your lovely little garden. This pallet is made of old pallets, cut, and assembled to create a multi-functional stand. Store your tools on the bottom shelf, plant the flowers on the table, and put the little plants on the top shelf to grow. Enjoy!
15. Planting Pot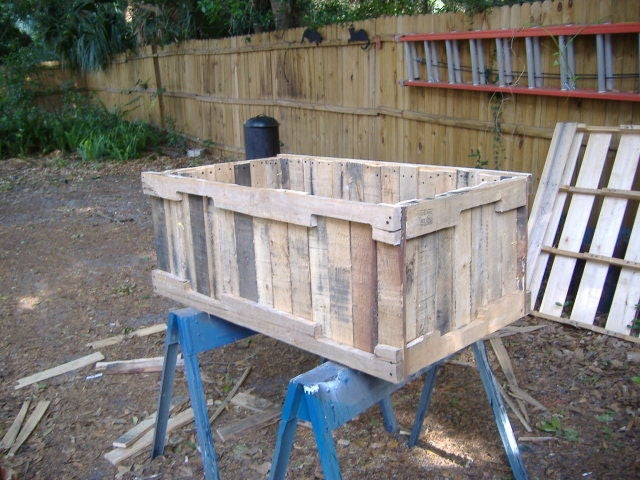 For all other berries or vegetables or bigger flowers that you want to plant, this pallet pot is the perfect solution. It is easy to make and practical to store wherever you wish to store it. Its size allows you to plant different plants and use it as wisely as you can. Stain it in the desired tone and complete the look of your garden.
16. Swing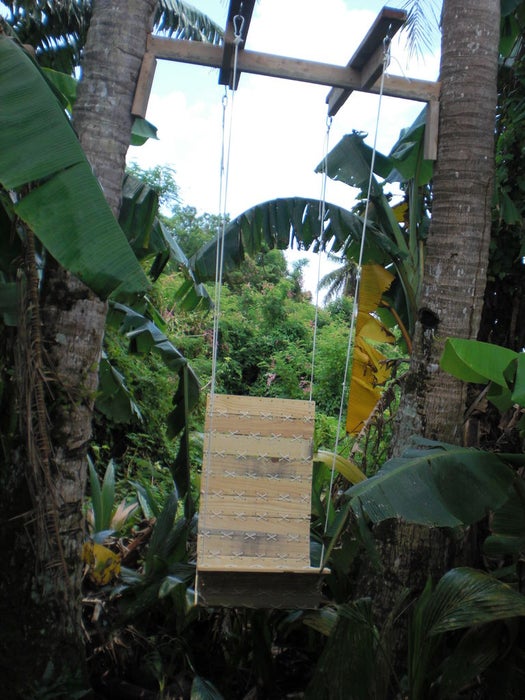 Now that you have planted flowers, greens, berries, and veggies in your garden and they are fully grown, it's time to bring in the swing. This pallet swing maybe takes a little more skills to make, but the joy it gives is immense. Cut out the pallet to have only the tabs and connect them with wire crosses. The swing should be flexible to suit all sizes.
That's our list, for now. If you liked our ideas, or have some of your own, please leave a comment in the comment section below.