We all love strawberries, right. Is there someone that doesn't like the smell and sweetness of this healthy fruit?
Well, some of us also love growing them in the garden or on the balcony. They are not difficult to grow, all you need is a pot and dirt, sunshine, and water. And love for them, of course. But, what if you don't have the right pot for your strawberries, but have some (or many) scattered around the garden? You can use all of those, and many more to make your own strawberry planters. It doesn't take many skills, it is easy and cheap. Once you make it, that DIY project will turn into the best decor of your garden or balcony. Put it everywhere, in small corners of the balcony, out in the open in the garden, or wherever you have a free slot to fill in. You can enjoy your favorite berries every year right there in your garden.
Here are some ideas on how to make the best and easiest strawberry DIY planters ever.
1. Vertical Tube Garden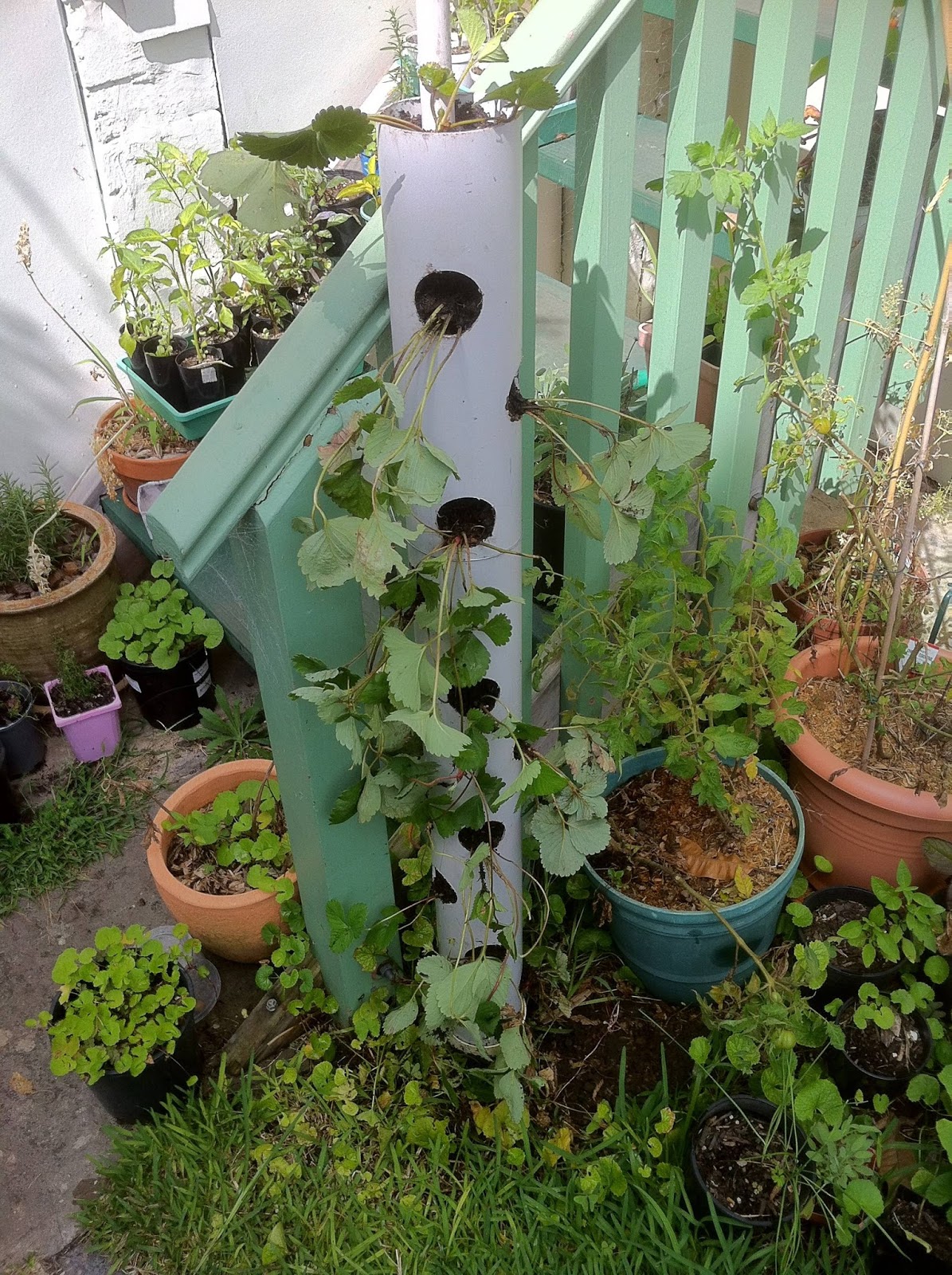 If you have a small garden or just an outlet from the stairs, this is a planter box idea for you. Drill holes into a water tube the size that you need, place a pipe inside it, fill it with dirt, and plant strawberries through the drilled holes. They will grow to cover the tube and make wonderful greenery next to your garden stairs.
2. PVC Planter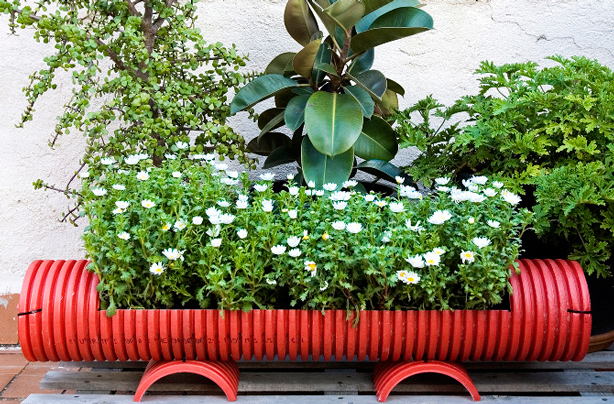 This is a wonderful raised planter you can put on your balcony or decorate your garden window with. Cut the top of the PVC tube to make a hole, and use the cutout to make legs for the pot. Plant strawberries inside, and let them grow into the spring sun. You will enjoy strawberries all summer and use the garden planter for winter flowers.
3. Barrel Planters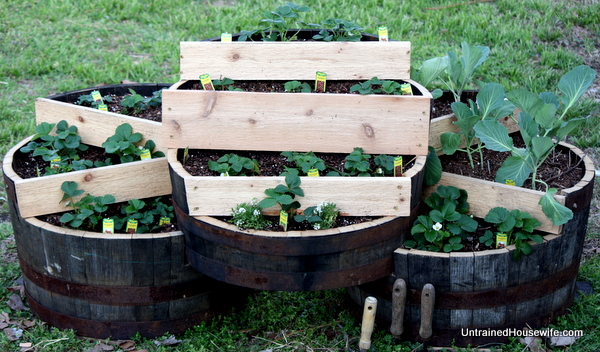 If you have an old whiskey or wine barrel you don't use anymore, don't throw it away. Instead, turn it into a strawberry DIY planter idea for your yard. It is rustic and vintage, yet practical at the same time. It will also save you money for buying a new plant pot, and the decor it will make in your garden is immense.
4. Standing Wire Planters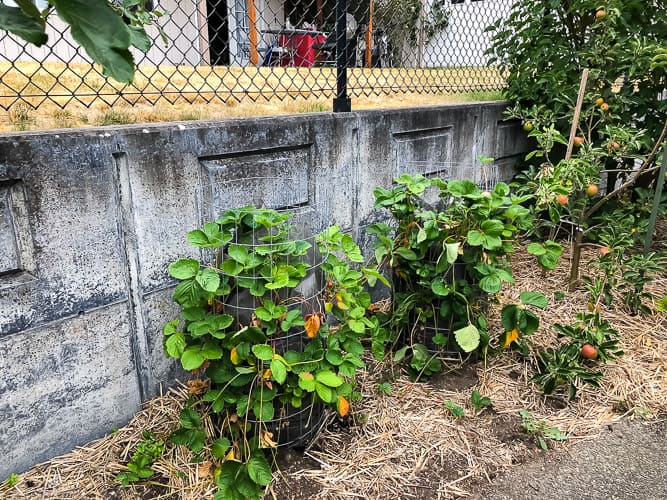 These standing wire DIY planters are good for bigger gardens. They are easy to make from wire grid and soft cloth inside. You can also put a pipe inside for watering, and place them next to the garden wall to decorate it even further. Their DIY design and beautiful greenery will perfectly complete the coziness of your garden and give you fresh strawberries.
5. Pallet Garden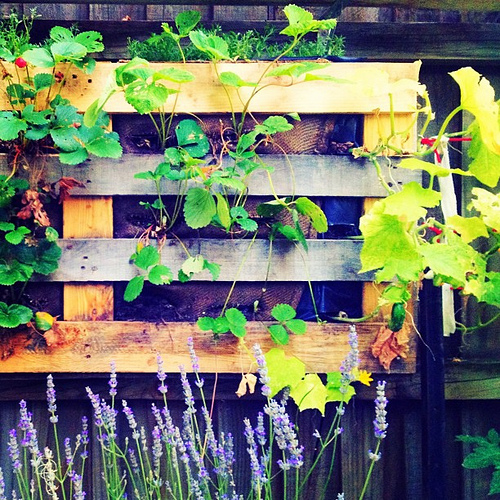 Use an old pallet to make your brand new vintage strawberry garden. Clean the pallet, cover it with cloth on the inside, add some dirt, and start planting. The strawberries will find their way through the openings and grow beautiful fruit. Put this easy DIY planter on the garden or balcony wall and start enjoying it.
6. Wired Basket Planter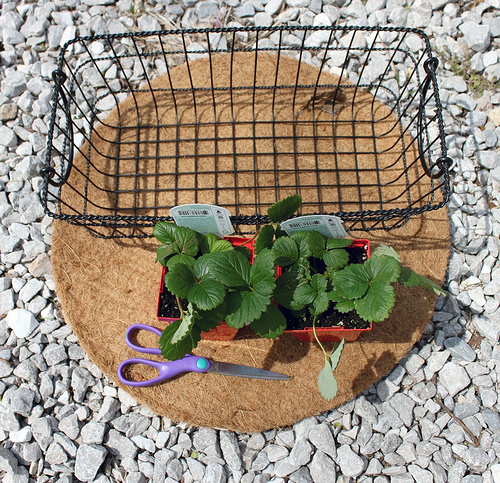 Find an old and rusted wire shopping cart and turn it into a beautiful strawberry unique planter. All you need is a piece of soft cloth, some dirt, and some strawberry seeds. Put it wherever you like, because it will decorate every corner of your garden or balcony. It is cute, small, and fruitful.
7. Large Pallets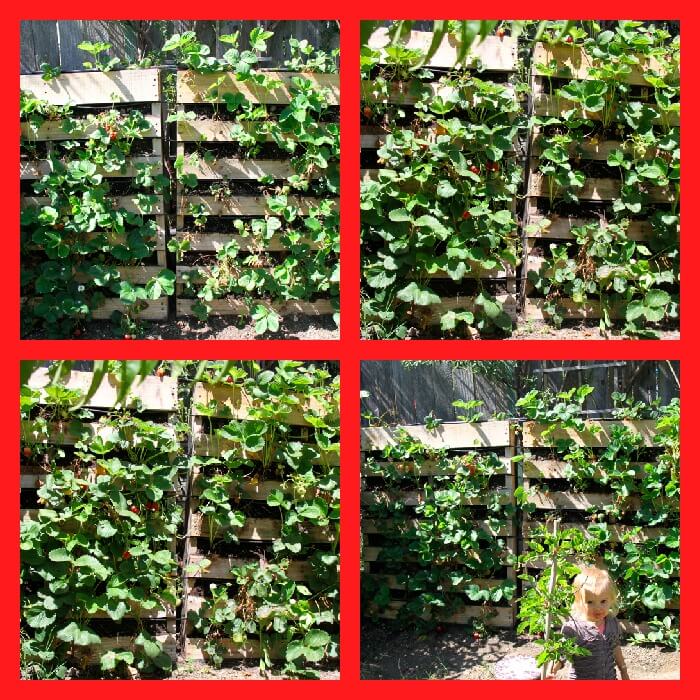 This is particularly suitable planter idea for a larger garden. If you put the pallets in a vertical position right next to your garden walls, it will turn them in a green wall. The red strawberries will complete the sweetness of the wall and your taste.
We will have many more DIY wooden planters, read on.
8. Pyramid Garden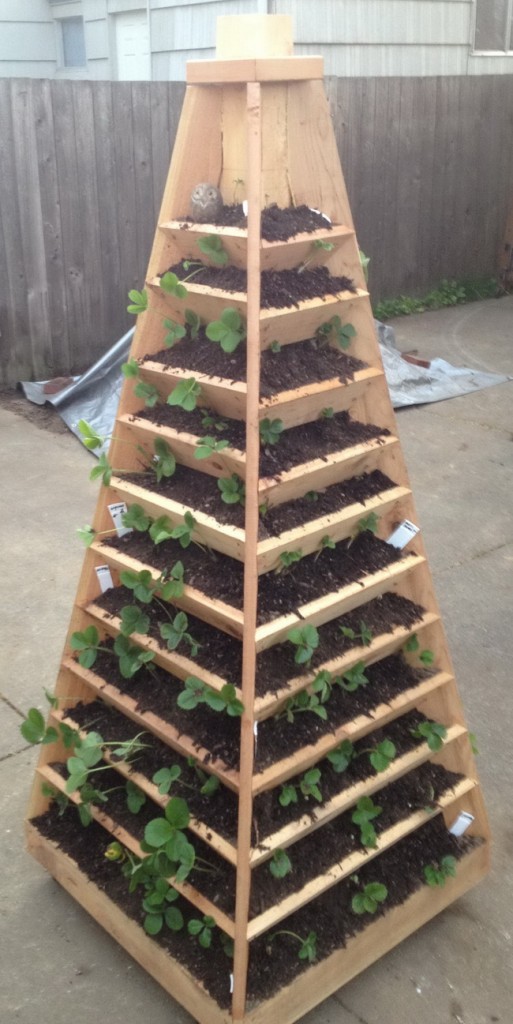 This task is for a bit more skilled crafters. It is made of wood, shaped to perfection and the strawberries it produces are the best in the world. Especially because they are yours. Put it in the cutest corner of your garden, to make it even cuter.
This DIY project is taking a wood planter box to the next level.
9. Plastic Pot Planter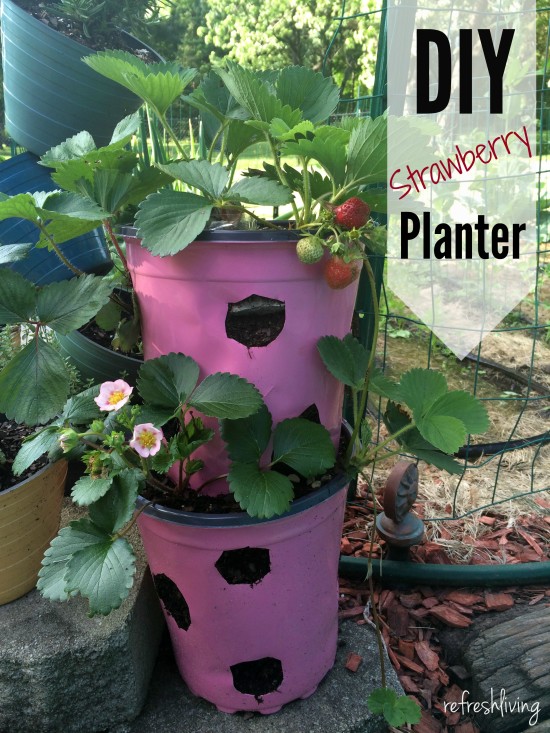 This flower pot unique planter was made as part of the Pinterest Challenge. It has holes in a hexagonal shape to make the strawberries breathe and grow. It is cheap and easy to make, and the strawberries you get are the best you have ever tasted.
10. Plastic Case Planter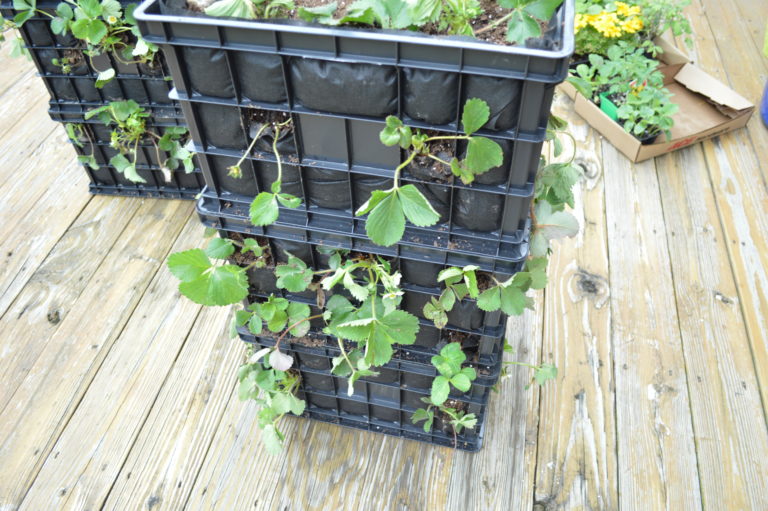 These DIY planter ideas are made from recycled plastic baskets. They are filled with dirt and holes have been punched on the sides of the bag to give the strawberries additional place to grow. You can color them in different colors of your choice and make your garden shine.
11. Paint Bucket Planter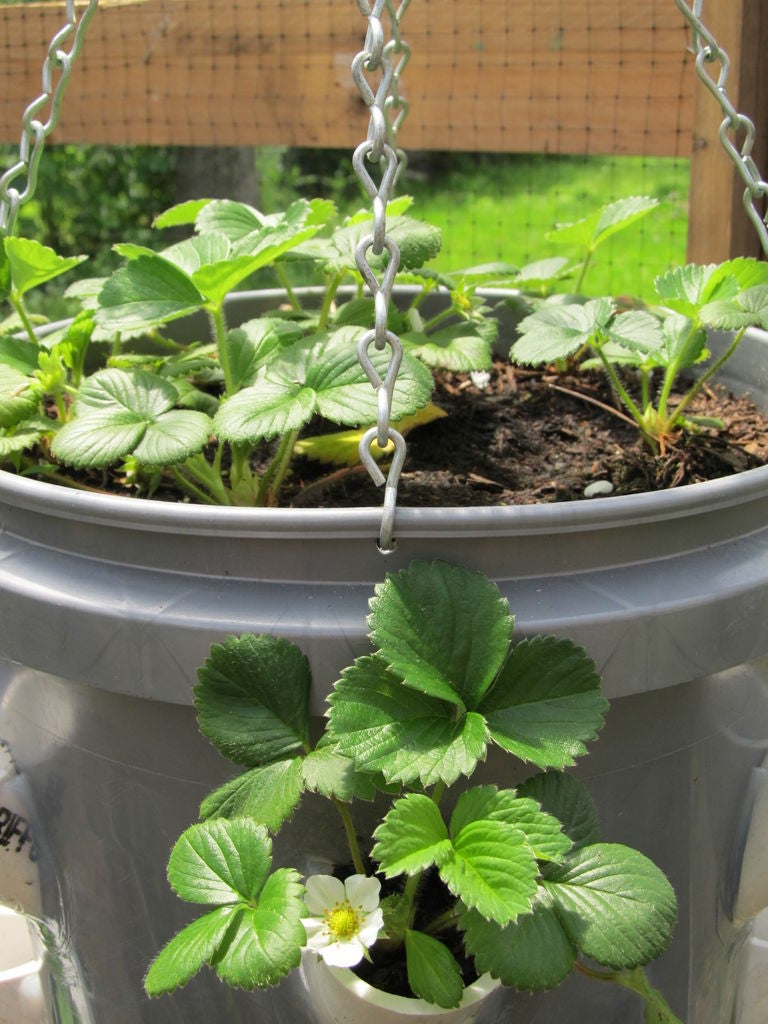 If you have some paint buckets left in your garage, and some pieces of PVC pipes, use them to make these cute strawberry planters. Cut holes in the bucket to fit in the pipe pieces, fill it with dirt, and start planting. Put chains to hang the hanging planter on the beams of your garden and make it even cooler.
12. Tower Planter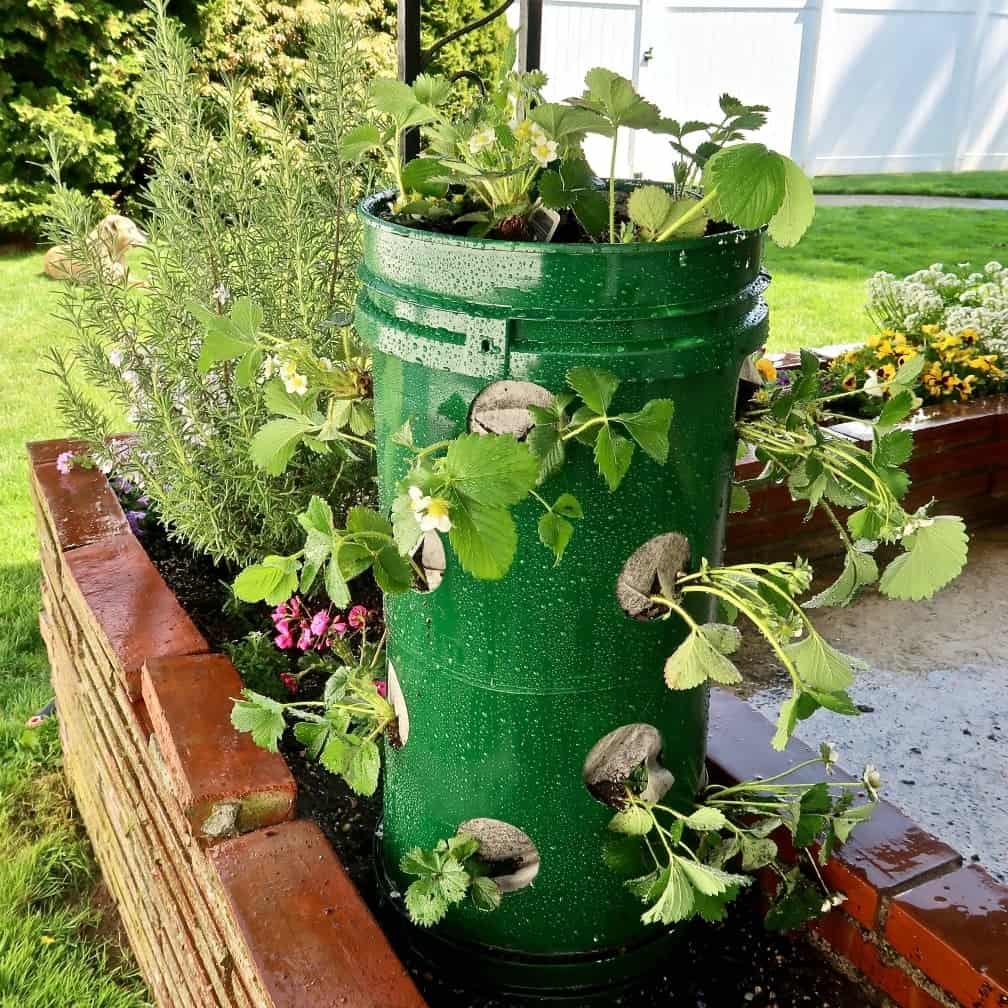 This tower planter is very popular for smaller gardens. It is made of two buckets with the bottom off, glued together. They form a tower, and the holes on the sides are a way out for the strawberries. It is good for a balcony or a tiny corner of your small garden. Painted in bright color it will make your garden pop.
As you can see, planters can be good for your gardening, but also serve as decorating ideas.
13. Boat Planters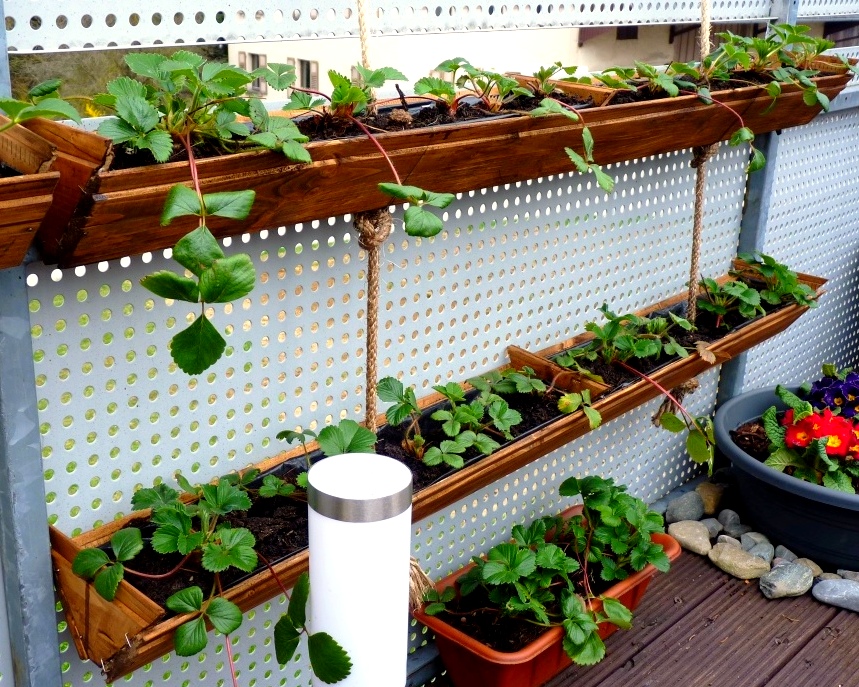 This garden looks like it has boats in it. They are actually hanging planters for the new strawberries that you have just planted. Made of wood and filled with dirt, they are perfect to hang on the wall and complete the look of your garden. The strawberry leaves that fall from above give it an even more elegant look.
14. Plastic Hydroponic Planter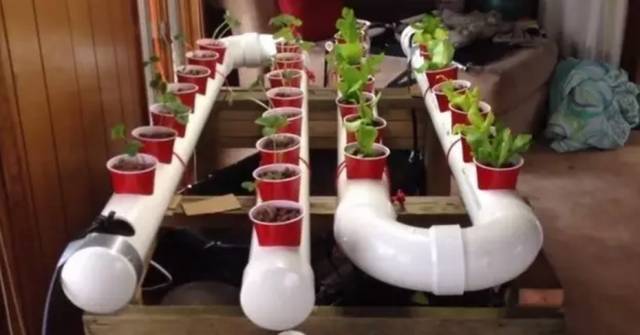 This idea is great for smaller plants that you wish to grow for bigger production. It is made of PVC pipes and plastic cups to plant the seeds. The pipe allows the flow of water in it and the plants get watered as if they were in the field. It is practical, small, and useful to have.
15. Wheel Barrel Planter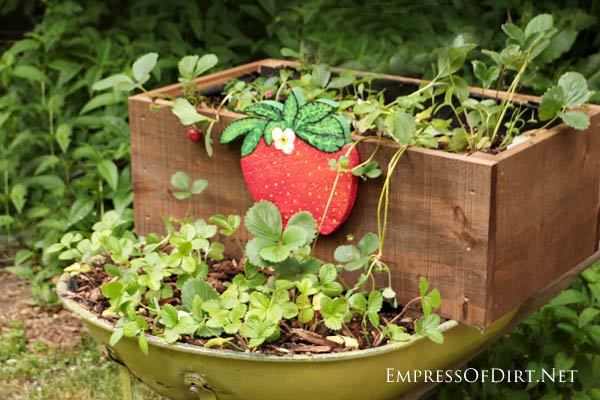 This planter was made from an old wheel barrel. It is cleaned, the big holes are closed, and new small for drainage is made. Then, it is filled with dirt and on the top, there is another planter to add more plants. It is decorated and placed in the garden to decorate it and give the best strawberries at the same time.
Think of it as garden boxes that will provide a container for your gardening products.
16. Laundry Basket Planter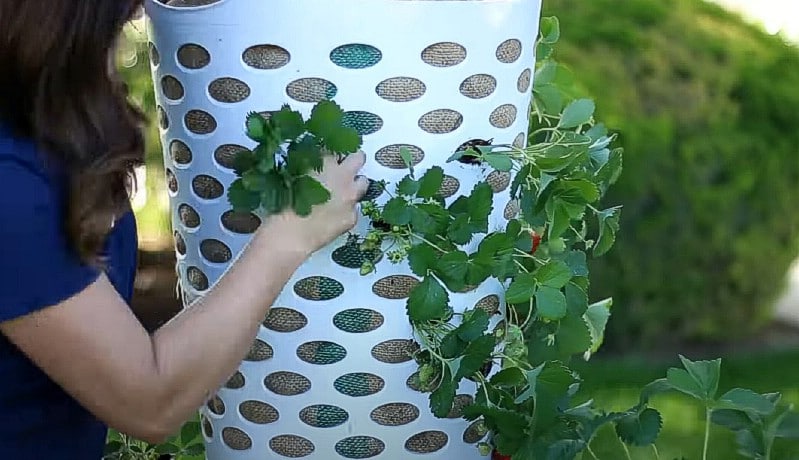 If you cant make holes in the buckets, you can use a laundry basket to plant your strawberries. Put a vegetable bag inside, fill it with dirt, make holes in it and plant the strawberries in the holes. On the top, you can plant flowers to combine the planting place. It is fun to have it in the garden, and cheap and easy to make.
17. Plastic Soda Bottles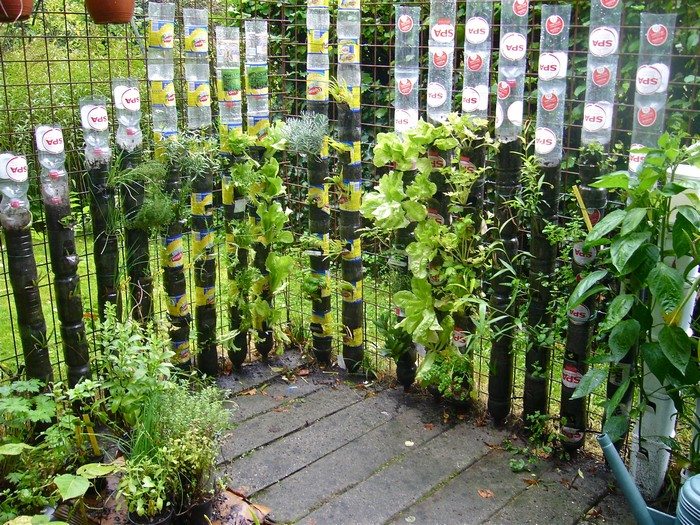 You should never throw away a plastic bottle. These bottles can be very useful and cheap planing pots for your garden. Start growing strawberries in them, and arrange them as you wish to make your garden beautiful and fun. Put them in the corner, make them as towers and start planting.
Easily one of the best DIY plastic bottle planter idea.
18. Elegant Planter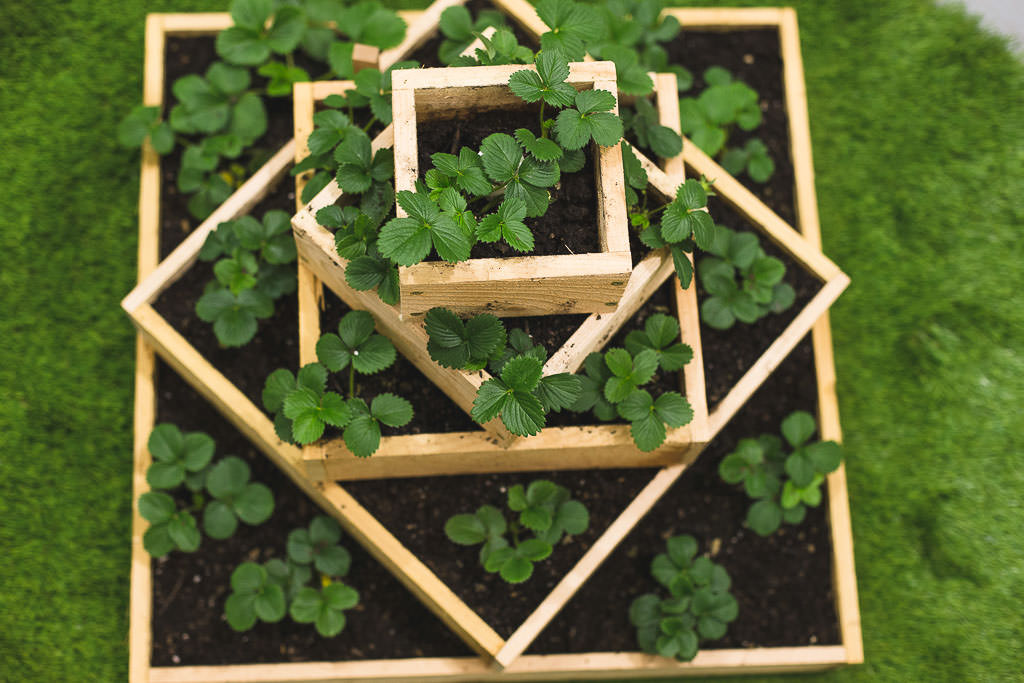 This is the most elegant large planter so far. It is made of wooden frames places in reverse position from one another to make layers. The strawberries are planted in each hole on each layer and as they grow, they cover the wood. This is great to put in your flower garden and make it pop even more.
19. Strawberry Watering Pot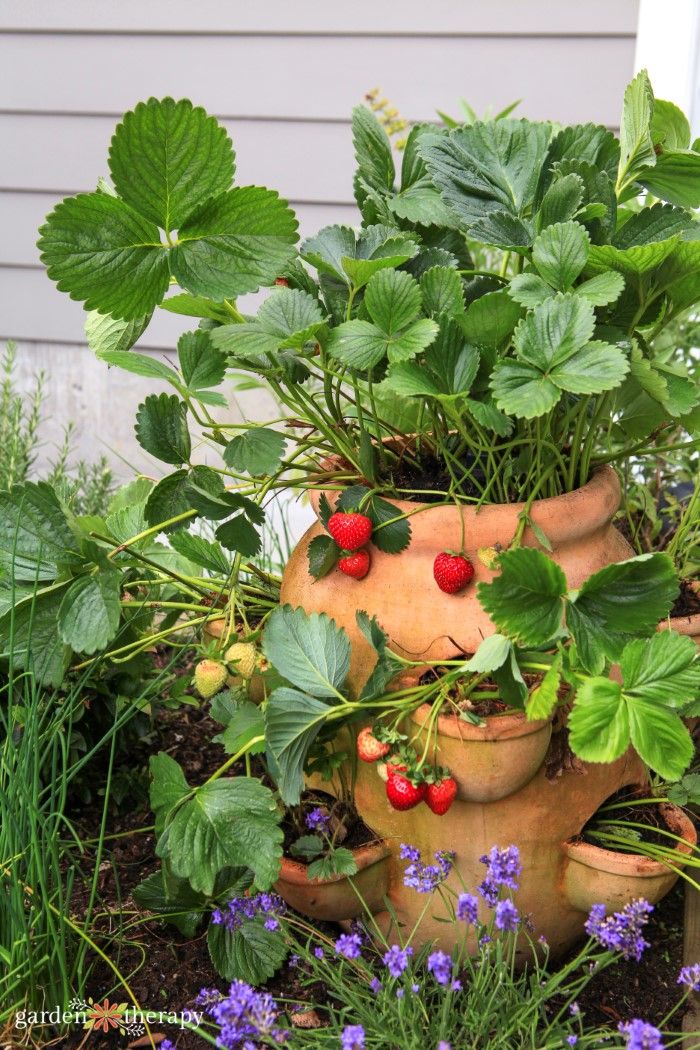 This watering pot is the best thing ever. It is made of old water pot, holes are cut in it and other small pots are glued on them. This makes it perfect for strawberries. With the added water pipe inside, the strawberries will be watered and the look of the garden with this pot will be the best ever.
Liked our ideas? Have some of your own? Please leave a comment in the comment section below.