The meanings and excitement for certain holidays tend to change as we grow up. For example, Halloween was fun as kids because we could wear the costume all day, go trick-or-treating, stockpile candy to last us until Christmas. As adults, especially as parents, we know all too well what's needed to make the magic happen.
Look at it this way: There are new things to look forward to. The late-night Halloween parties and gatherings, the way we get to scare the kids, the fact that we can still wear costumes (which is arguably the best part), and last but not least, getting to see all the cute and spooky costumes of the trick or treaters. Seeing their delight when you give them candy is even better when you give them treat bags. Treat bags or favors are a great way to make sure that every trick or greater that comes knocking at your door gets an equal amount of treats, and are great for Halloween kiddie parties or if you want to send some treats at your kid's school.
With the pandemic still in full force, the treat bags could become even more popular, since you can prepare them ahead of time and hand over to each trick-or-treater individually, without them having to put their hands all in the same candy bowl.
Treat bags are very easily made, costing you a fraction of what it would if you went out to buy them. And the project of making them can be turned into a fun little family activity. Anything to keep the kids busy, right? Treat bags come in many shapes and sized and can be made from a variety of materials, you probably already have at hand.
Let's see what boo-tiful treat bags you can make for this Halloween.
1. Scarecrow Burlap Pouches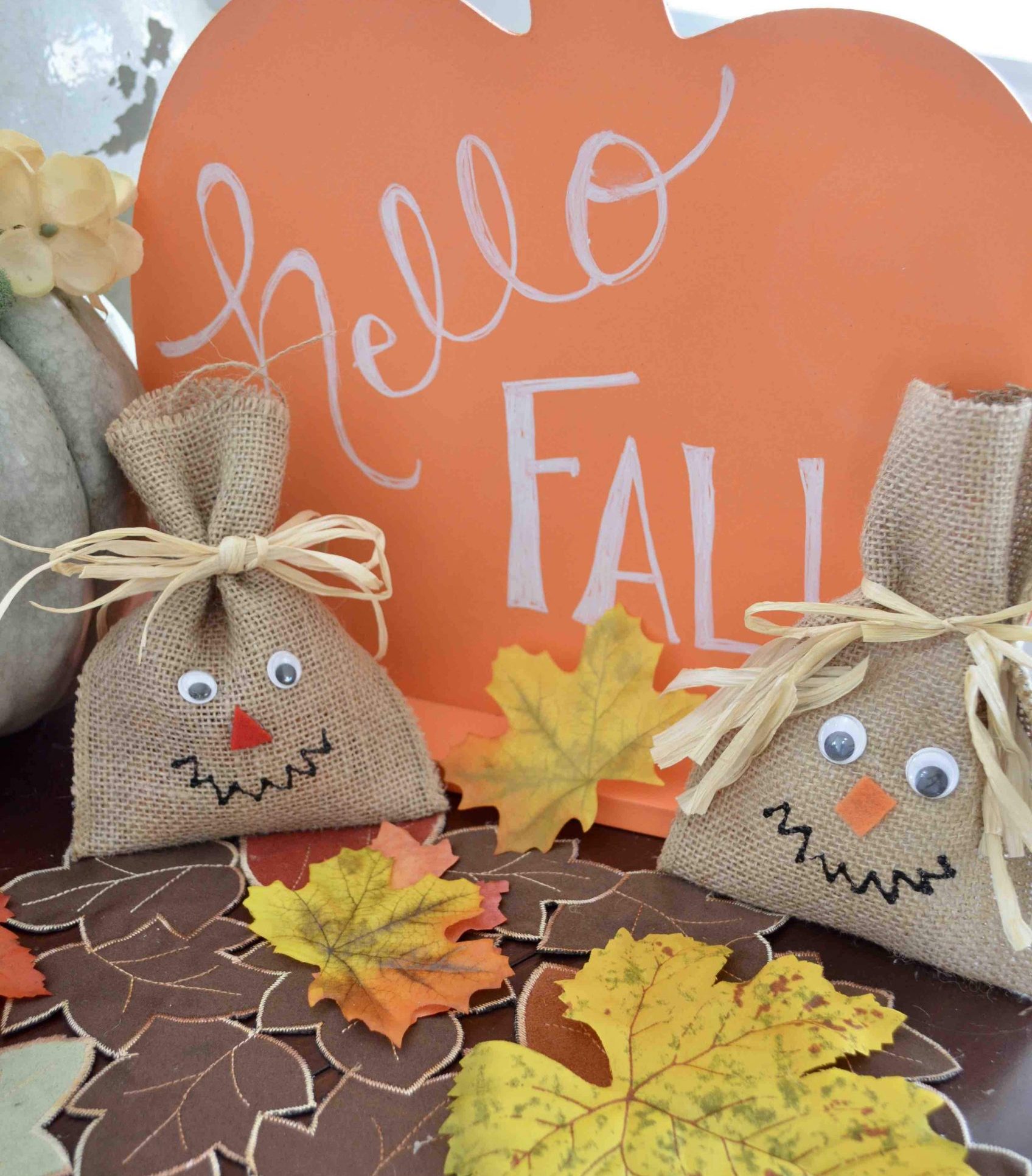 Scarecrows are probably the funnier of the Halloween monsters, with few people finding them actually scary, despite having "scare" in their name. But they are synonymous with fall and Halloween, so and making a burlap pouch is one of the easiest things to do, so a Scarecrow Halloween treat bag is a pretty solid choice for a treat bag.
2. Halloween Character Treat Boxes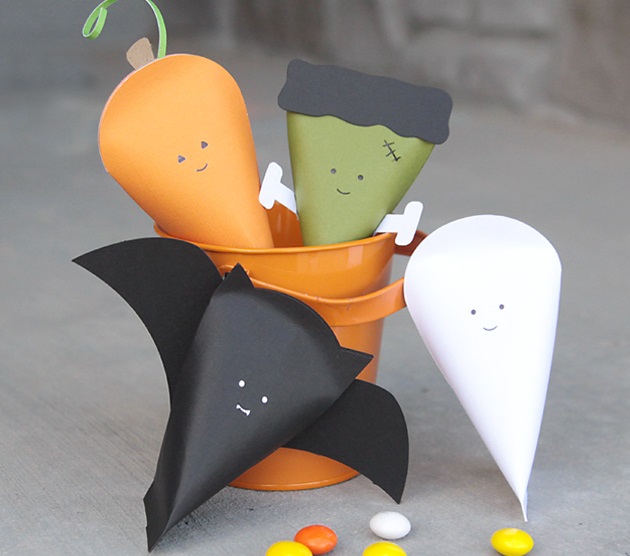 Usually when doing something in larger quantities, (in this case, treat bags) you do them in one theme, for convenience sake. With this treat bag pattern, you can have the variety of a pumpkin, a ghost, a Frankenstein's monster, and a vampire bat without having to do different patterns for each. You'll just need different colored material (a heavy cardstock in this case) and a few accessories to complete each look. Too cute to pass out on.
3. Eyeball Paper Packages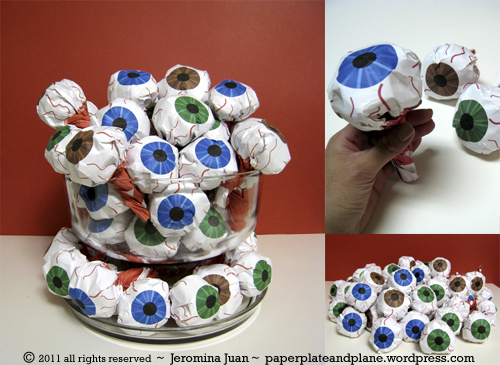 If you want to go for a creepier look, giving out eyeballs just might be for you. And these packed eyeballs are a breeze to make. These are great packages if you're short on time. All you need a sheet of paper with an eye printed out on it. That's it. Just wrap the candies inside the paper, making sure the eye is centered and twist the ends. Done and done.
4. Stenciled Treat Bags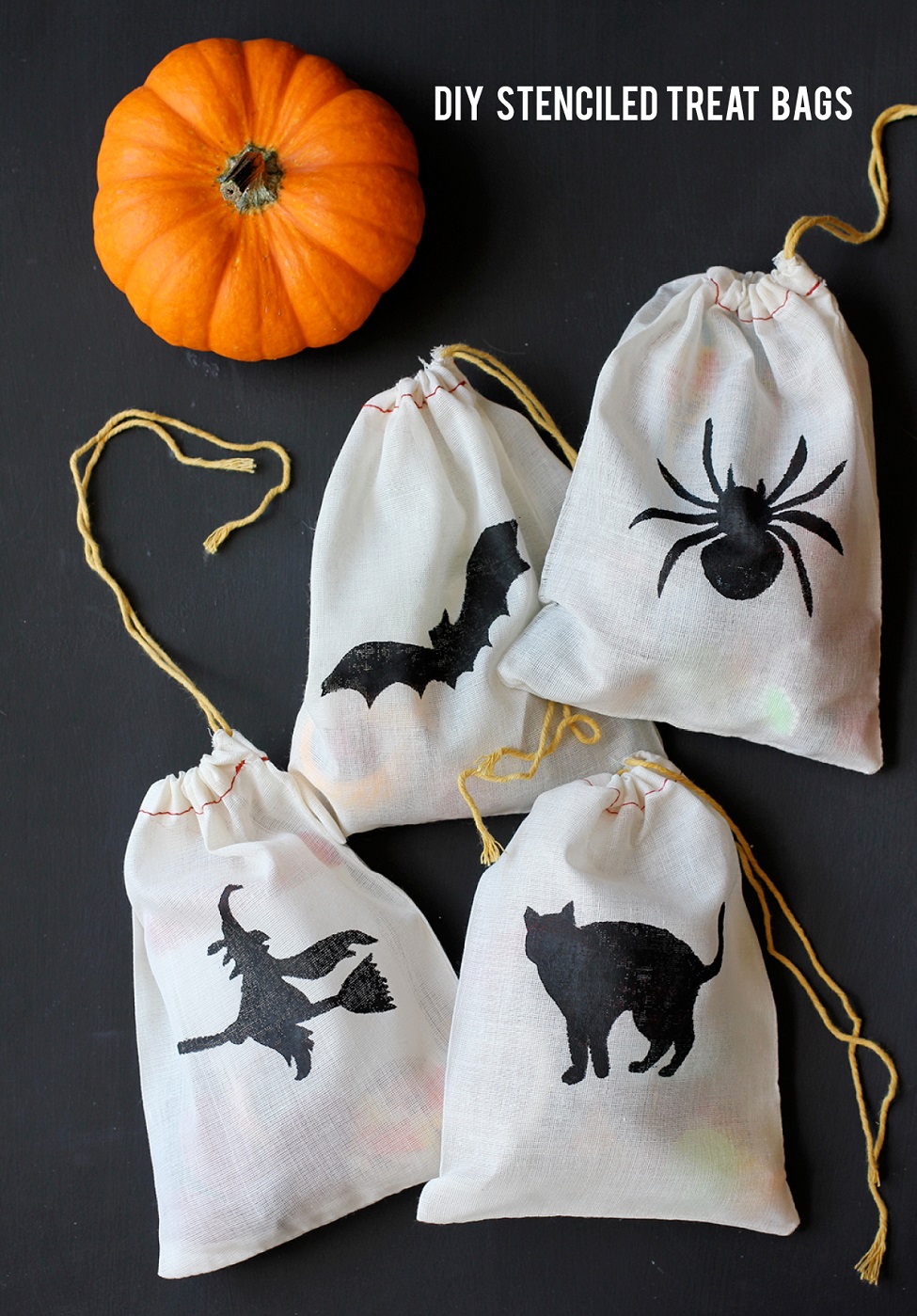 Drawstring linen or cotton baggies are easily found in stores and you can buy them in bulk for a good price. Or if you know your way around a sewing machine, they're pretty easy to make, and you don't need to go out and look for some Halloween themed patterns, because a plain white bag will do the trick. How? By making a stenciled image on it. Easy, fun, and very cute.
5. Frankenstein Monster Goodie Bags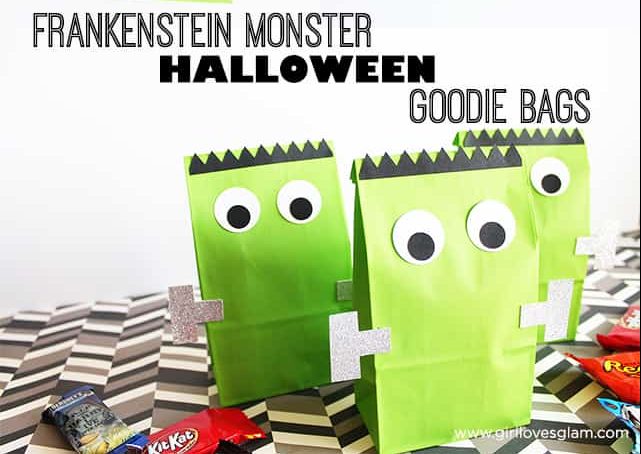 Paper bags are also a very popular material for creating Halloween treat bags. If you happen to find green ones, then you absolutely need to try making this very adorable Frankenstein's monster treat bag. You just need to add some hair, eyes and two neck bolts and you're done. Small tip: You can turn this into the hulk if you replace the neck bolt with a purple rectangle at the bottom for Hulk's pants.
6. Peek-a-Boo Lollipop Ghost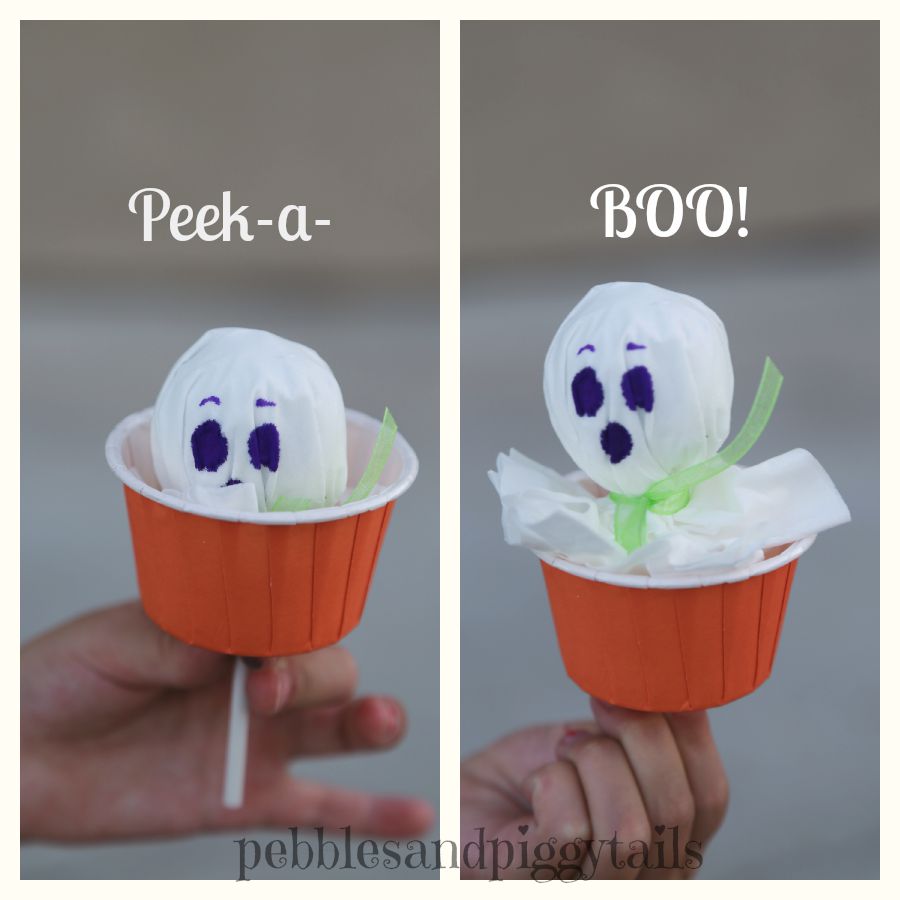 Yes, this isn't exactly a treat bag, but it is just too cute and fun not to be included in our list. The kids will love the boo-ghost lollipop jumping from the cup so much, that they won't even min nit getting more candy (maybe). Still, it is a very sweet Halloween treat and trick.
7. Witches Broom Treat Bag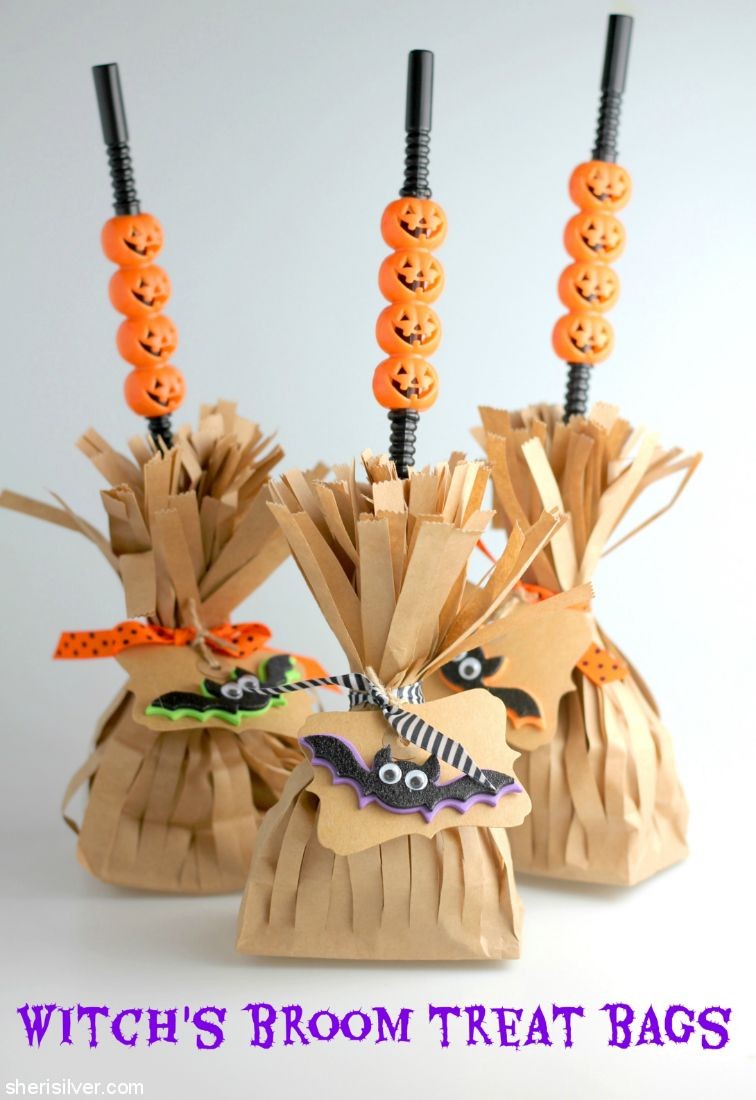 If you only have the regular brown paper bags to fall back on for Halloween treat bags, fear not, you can make something pretty neat with them as well. Like this fun witches' brooms, from paper bags and straws or wooden skewers and filled with Halloween goodies.
8. Silly Monster Treat Bag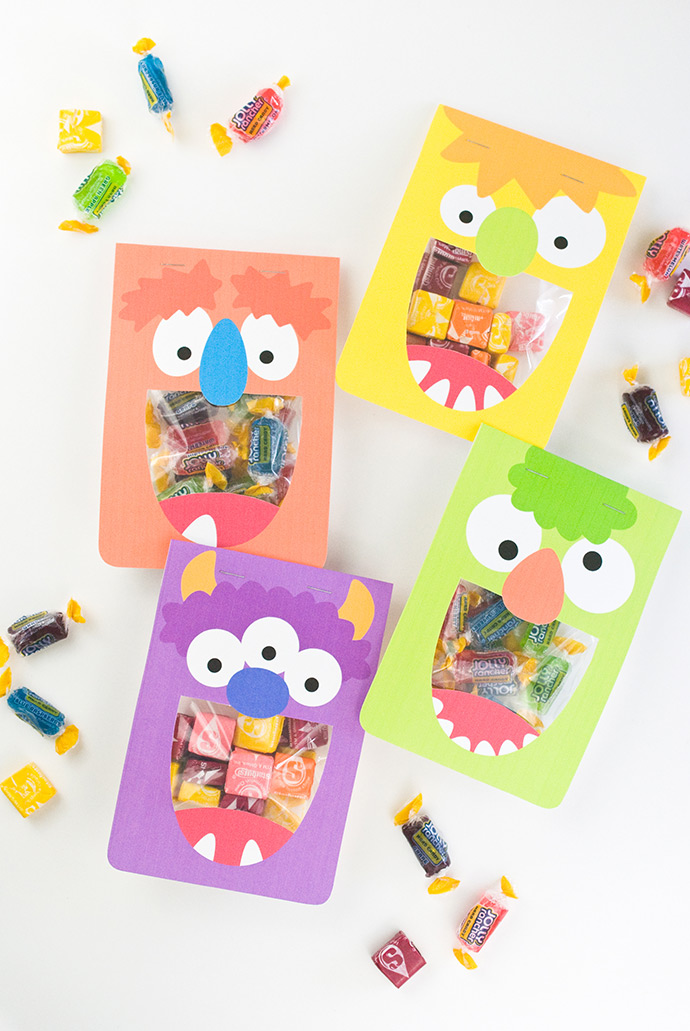 Peek-a-boo baggies are also pretty popular these past few years and are actually pretty easy to make, even if it takes a bit more time, the effort is worth it.  With a print out the cover and a clear baggie, you can easily get these candy-eating monster baggies that will put a big smile on trick-or-treaters faces.
9. Pumpkin Treat Bags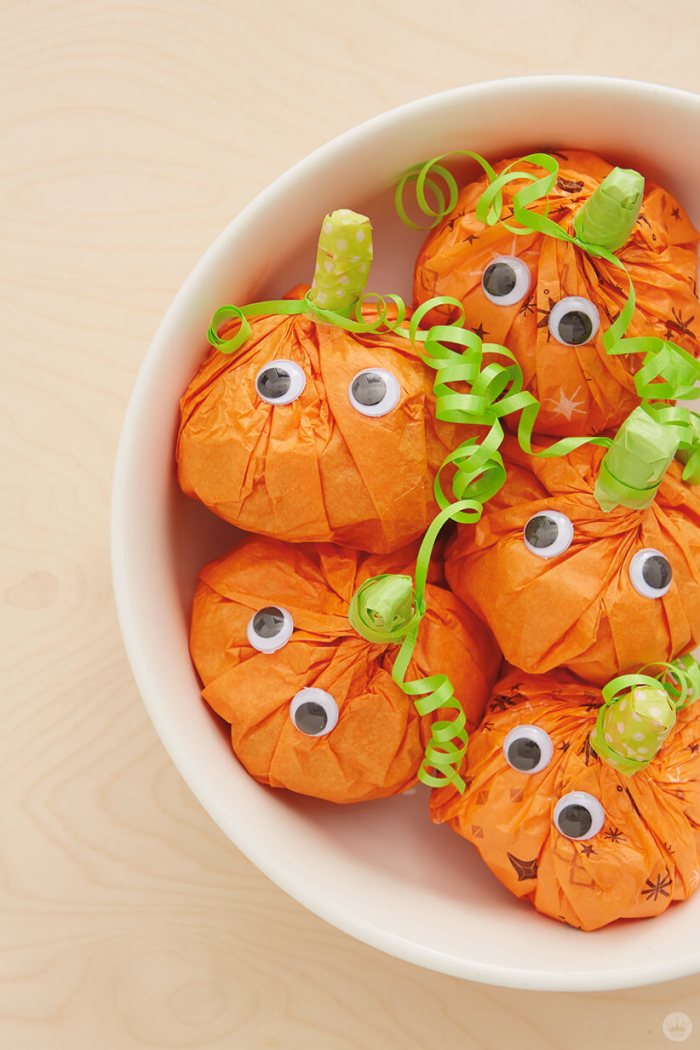 Here is another last-minute idea, with a similar concept to the eyeball treat bag. Using just orange tissue paper, some green ribbon and googly eyes if you have some at hand, you can make a whole pumpkin patch of goodies for the trick-or-treaters.
10. Halloween Candy Poppers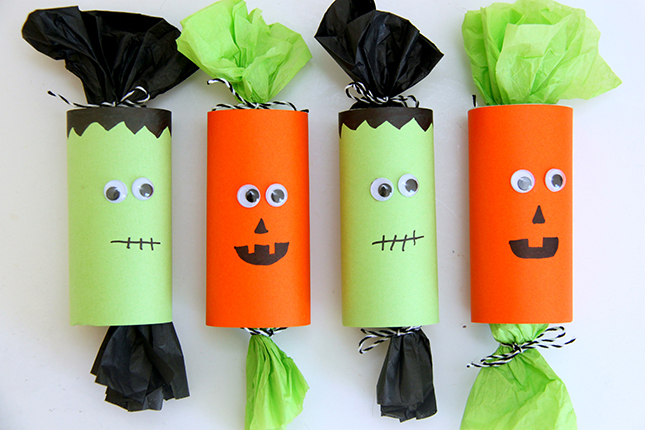 Everyone loves candy poppers because it's really hard to tell what's hidden inside the pack, and opening it is pretty fun. Making them is not that complicated, and you can make them for any holiday or special occasion using the same steps, only changing the colors, decor, and content of the poppers appropriately.
11. Balloon Pumpkin Patch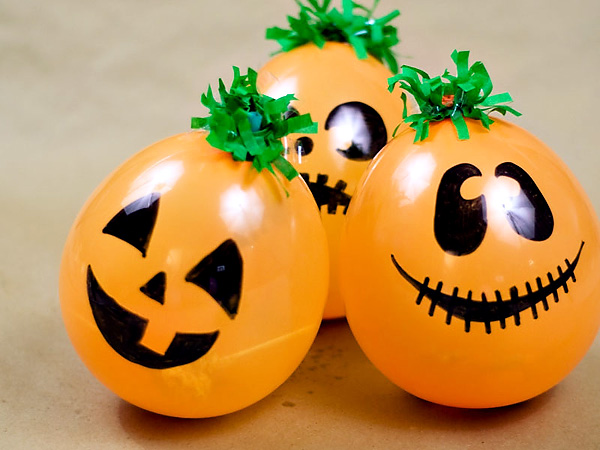 Balloons aren't exactly a common decor piece for Halloween, even with various creepy creatures painted on them. But, orange balloons do make excellent treat baggies that the kids will go nuts for. The best part: They'll have to pop the balloon to get to the candies.
12. Bat Treat Bag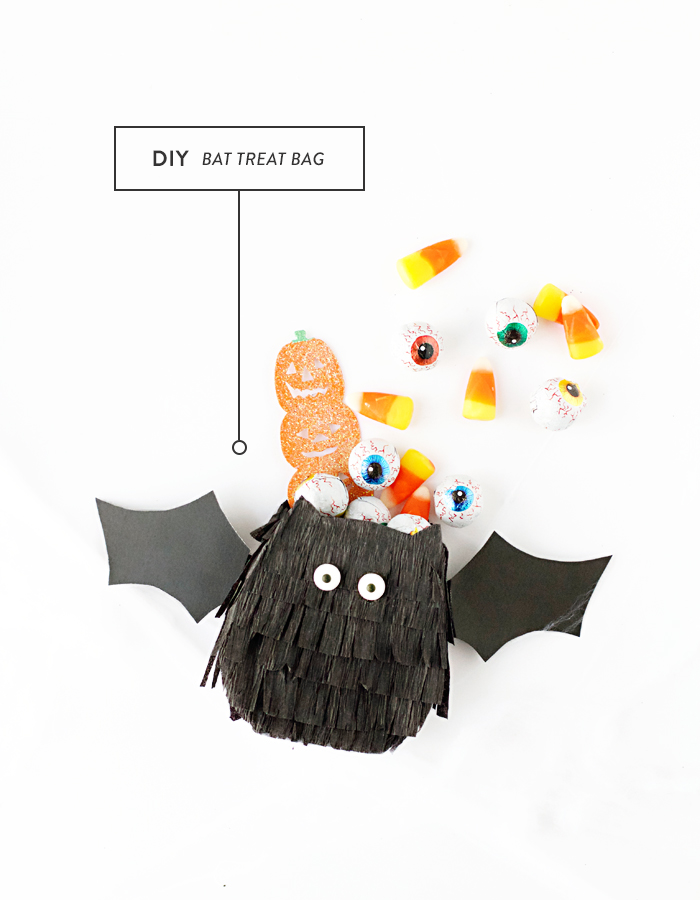 This little bat treat bag is so adorable is looks like a mini pinata. It will be a definite hit among the kids, but it's not exactly a last-minute project. If you have the time and the will to do at least a dozen of these batty treat bags, then you better start cutting and gluing if you want to make it till Halloween.
13. Cute Monster Treat Bag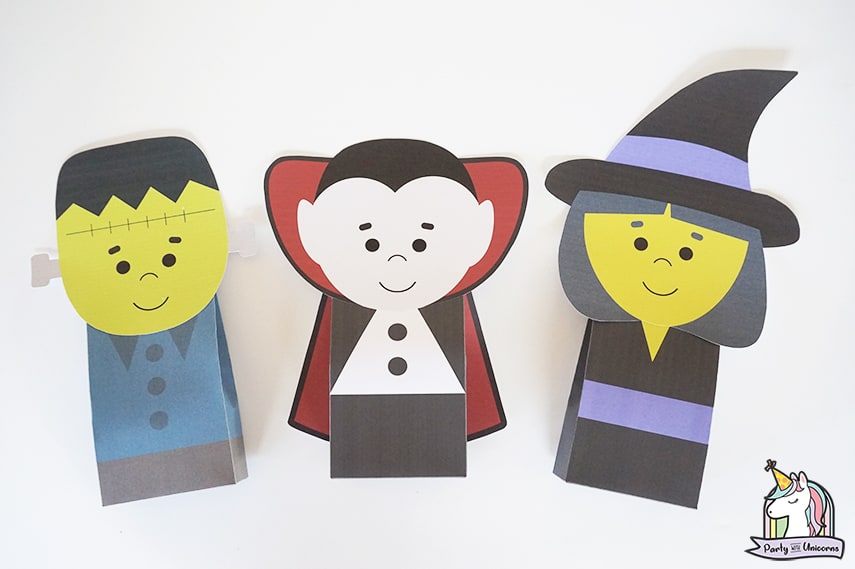 Printed packagings are very convenient for times when you need something done fast and in larger numbers. Templates are a good way to go, and for this Halloween, we offer you this printable pattern featuring three adorable Halloween characters.
14. Easy Printable Treat Bag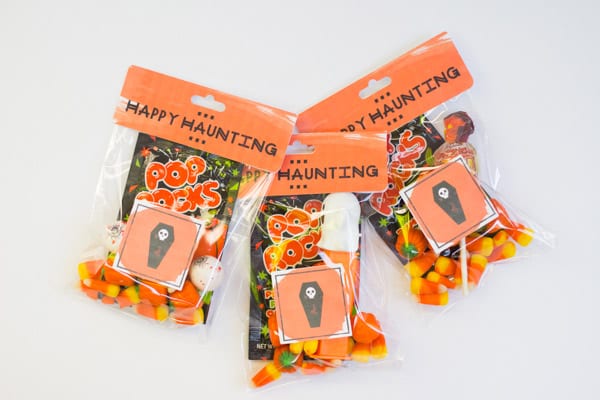 If you're skeptical about trying out new or more complicated designs, you can always fall back on a basic, classic treat bag, with a plastic bag and nifty tag, that you can also keep simple, simply saying "Happy Halloween".
15. Plastic Cup Candy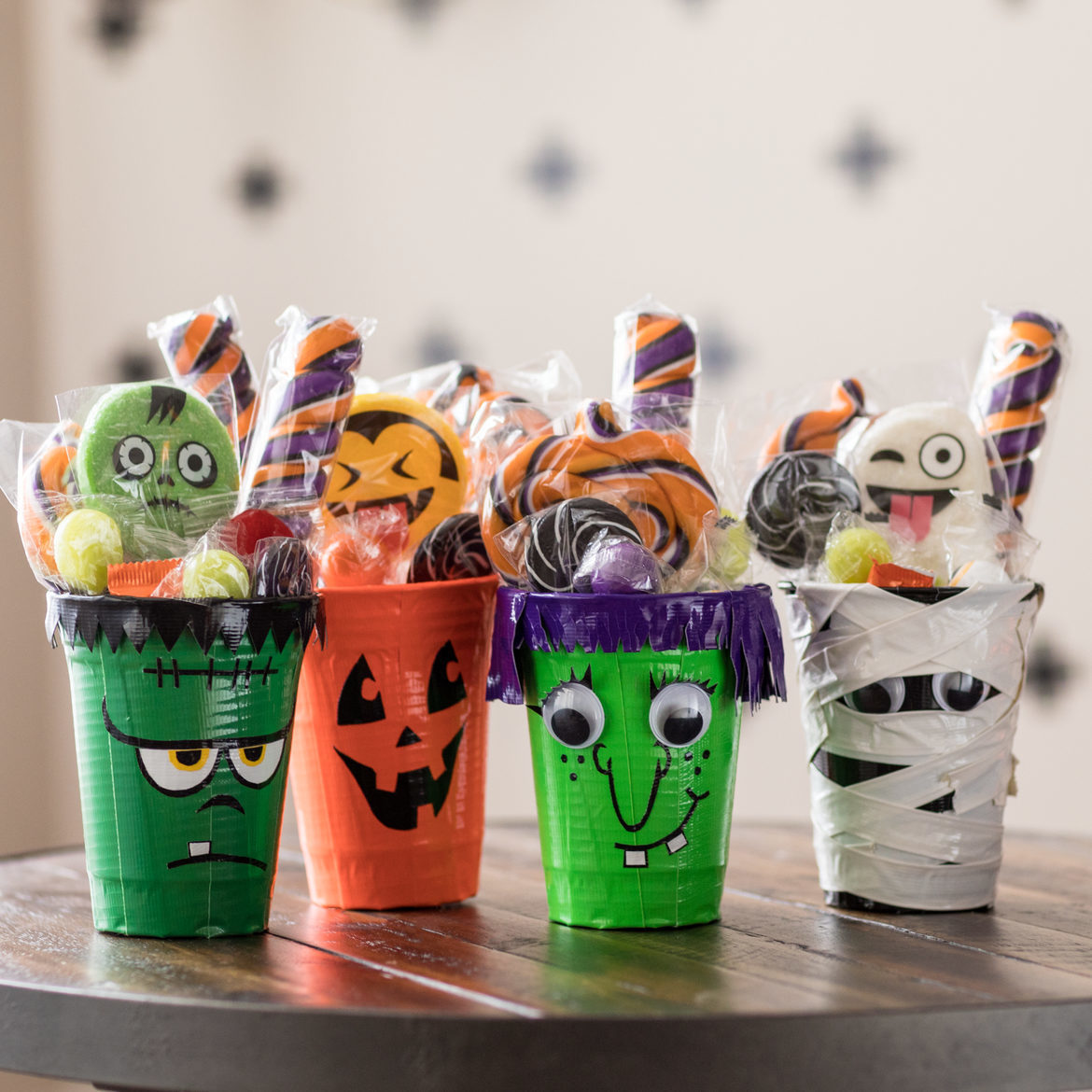 Have some plastic cups at hand? You can use them as treat bags too. Depending on your preferences and time, you can make one or a couple of different designs using different materials, from colored sticky tape to googly eyes or paint.
16. Candy Pouches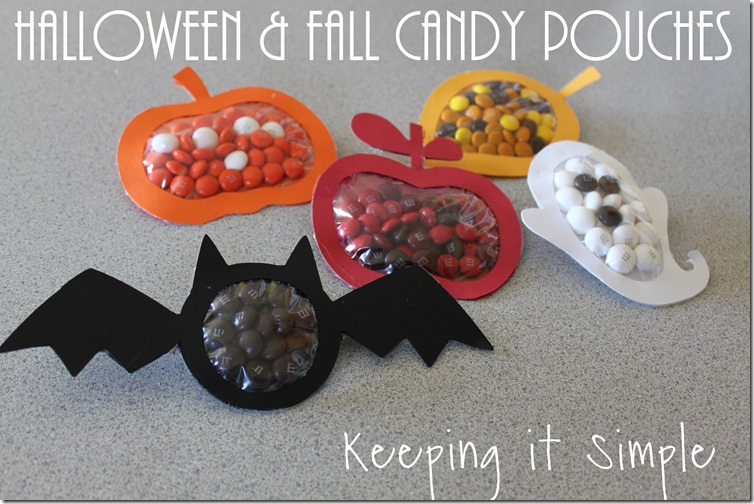 Similar to the peek-a-boo design we've shown you, this pouch is basically a plastic baggy inside a fun shaped frame and it's great for small candies. The neat thing here is that you can change up the frame to whatever shape you'd like to match every holiday, special occasion, or season.
17. Trick-Or-Treat Hand Bag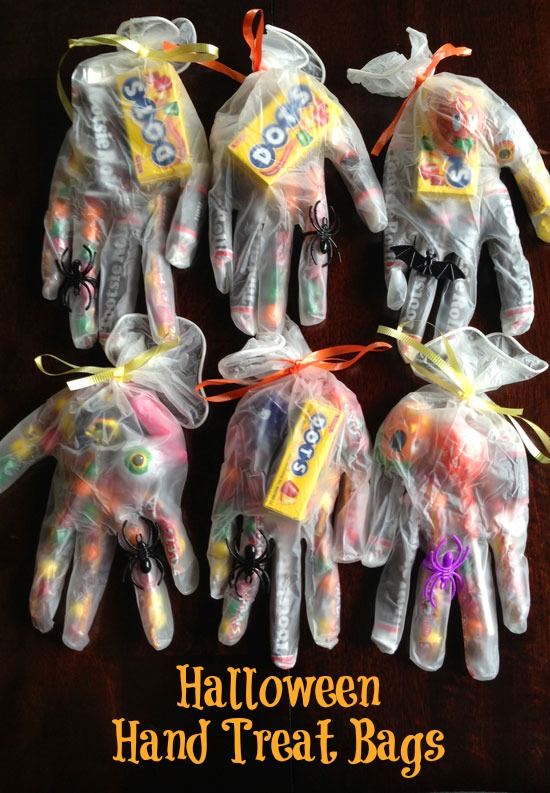 Trowing what seems to be a severed hand into a trick-or-treater bag seems a bit extreme, but, hey, it is Halloween. Only the severed hand is actually a surgical glove peaked with candies. Just make sure you use powder-free gloves.
18. Halloween Candy Ornaments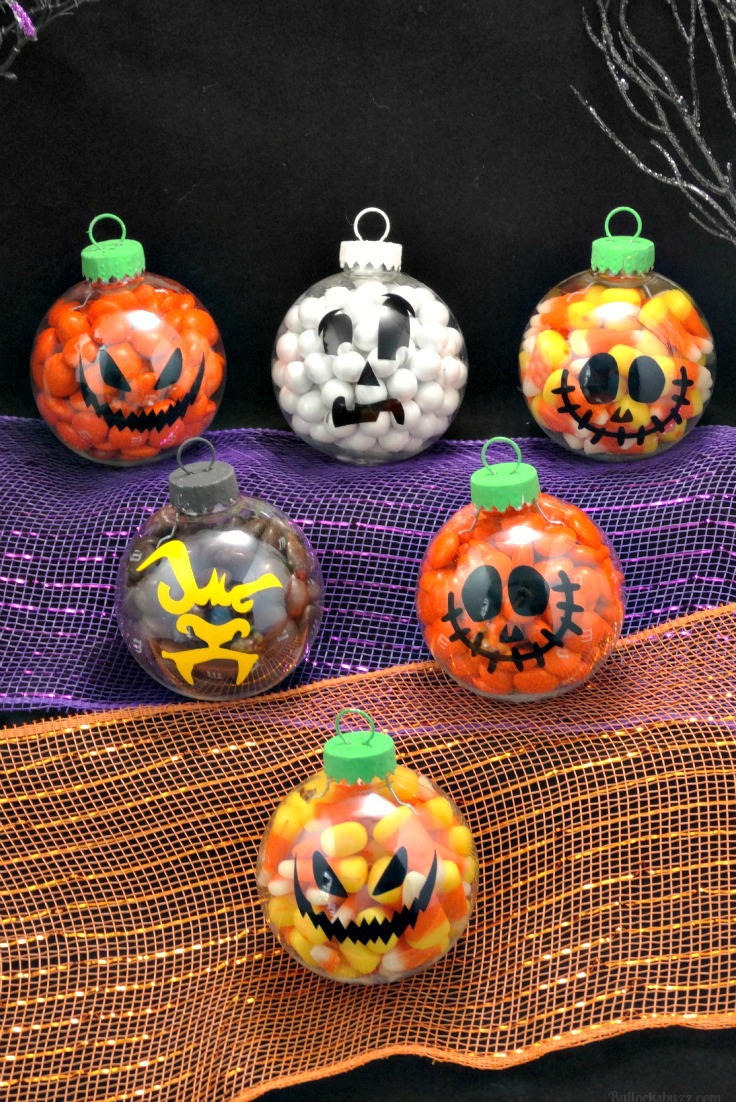 This idea is inspired by the biggest holiday out there, Christmas. You might have seen some candy-corn colored Christmas trees, so why not have some Halloween tree ornaments? Except, these will be filled with sweet, sweet candy and given out to the trick or treaters.
Whatever your choice of packaging your treats maybe, the kids will most assuredly be happy with every piece of candy. Still, it's nice to see them surprised as you pill out these unexpected treat bags. What is your favorite Halloween treat bag? Share with us your ideas and comments before it's too late.