No parent wants to hear the words "I am bored" coming out of his/her kid's mouth. But that happens when you are stuck in the house. Keeping your kids busy and engaged while at home is one of the biggest challenges in parenting. Luckily, we have compiled a list of fun activities to do at home that will help you kill boredom.
And if we are honest, adults who are stuck at home can try some of these games and fun things as well. Whenever you feel like boredom is creeping in, it is time to fill your time with productive tasks.
With that in mind, here are some indoor activities to try.
Have A Costume Night
You do not have to wait for Halloween to put on a costume. You can organize a costume party any day of the year. Yes, you cannot make a great and amazing costume in a matter of hours. But you can host the costume night a few days in advance.
You can make your costume night even more entertaining by inviting over your family's closest friends. Of course, don't forget to send invites to make the event official.
Setting a theme is the first step to preparing a costume night. From there, you can plan the invitation card to send, the games to play, and the food and drinks to serve.
If you're still unsure what theme to set, you can opt for something relatable. For example, you can go with your family's favorite movie. Did you have fun watching The Princess Bride? Try wearing medieval costumes for men and women for your epic costume night!
You can even eat your dinner all dressed up.
Indoor Picnic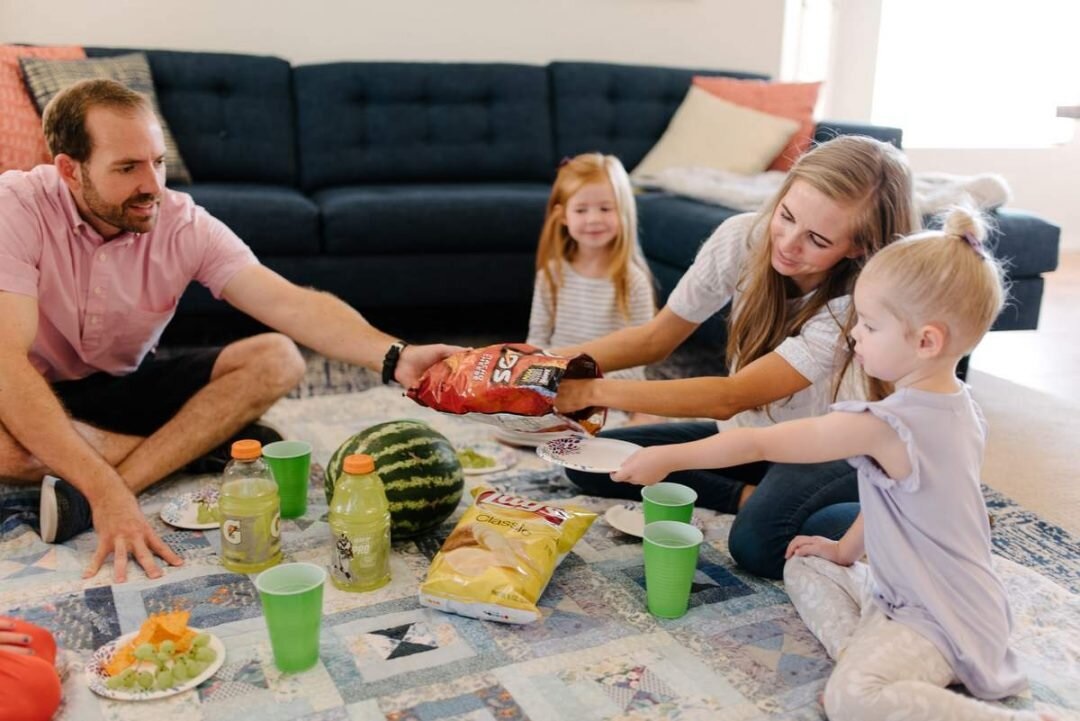 Who says you have to be outdoors to have a picnic? All you need is a picnic blanket and a basket of food. You can have your dinner as a picnic. Bring some variety to your family life. This will bring the family together.
Cardboard Dollhouse
This is a fun activity you can try with your children. You can create your own dollhouse. Try YouTube for some step-by-step instructions.
Bring Minecraft To Life
Are you a Minecraft fan? Or do you have a Minecraft fan at home? Well, for all of you Minecraft fans out there, you can make your own box craft and play at home.
Make A Calming Jar
We all need to relieve stress and forget everything that is happening around us. This calming jar will help your kids cool down and relax. For this DIY craft activity, you need just hand soap, water, and a handful of shiny glitter and beads.
Blow Bubbles At Home
This is one calming activity that will help you relax and let your mind wander. You can buy some bubbles at the dollar store, or make your own at home. It is that easy.
Play Hide And Seek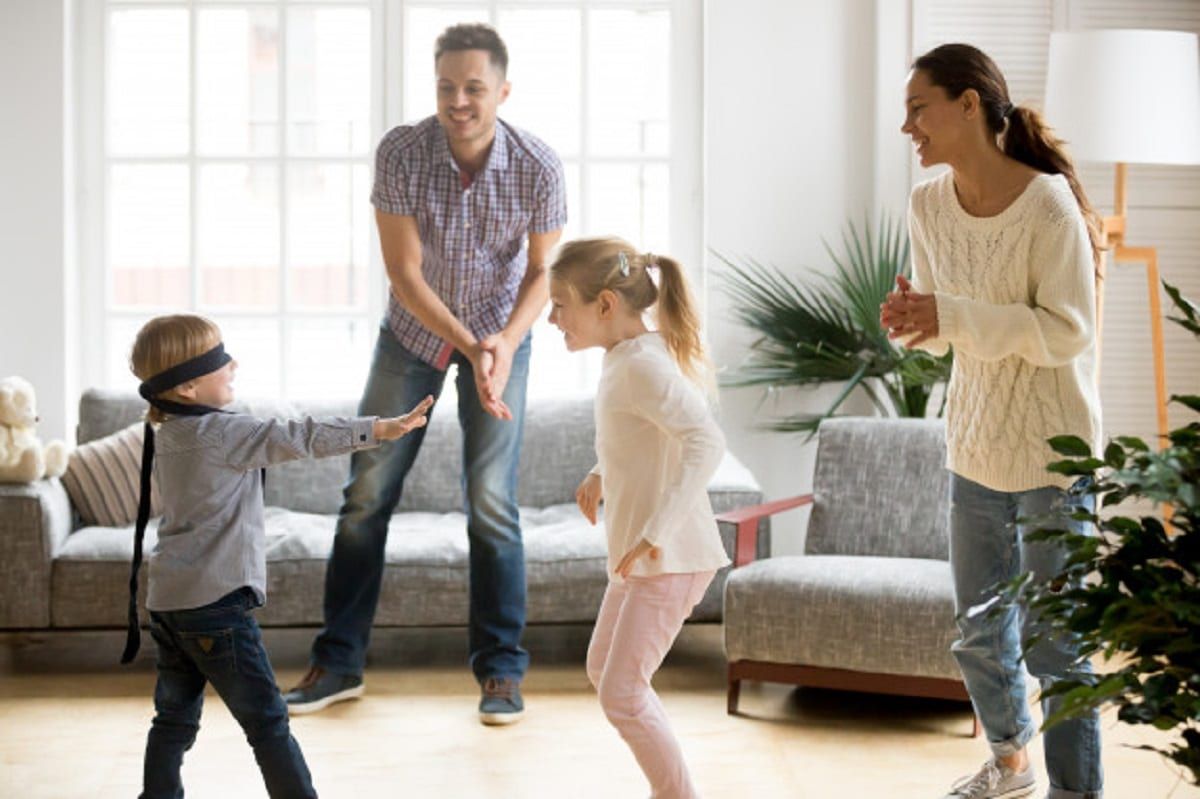 Do you want to play a game at home? One that is easy and will help you pass the time? Well, this is a classic game that you can try. What is the best hiding spot in your house?
Play Hopscotch
Here is another classic game that you can try while you are stuck at home. Hopscotch is fun, simple, and a great time-killer. People of all ages enjoy it.
Paint Rocks
For this activity, you have to go to the park first and collect some rocks. Then, you can come back home and make a craft day out of it. You can paint the rocks with whatever paint you have at home.
Time For Some Photos
You can make your own photo session and enjoy the moment. Who says you can take amazing photos only outside? Dress up, try different things, and enjoy taking pictures at home.
Both younger kids and older kids love it.
Build A Fort
Get ready for a camping trip with your DIY fort at home. You can pretend you are camping. Grab some pillows and blankets and you are ready to go. Time for some indoor camping. You can even sleep in sleeping bags.
Scavenger Hunt
Who doesn't love a good scavenger hunt? It is one of the best fun activities to do at home. Just put together a list of household objects and see how much time it will take to find everything. Whether you choose to look for one item only (treasure hunt), or a list of items (scavenger hunt), it is your choice.
Escape Room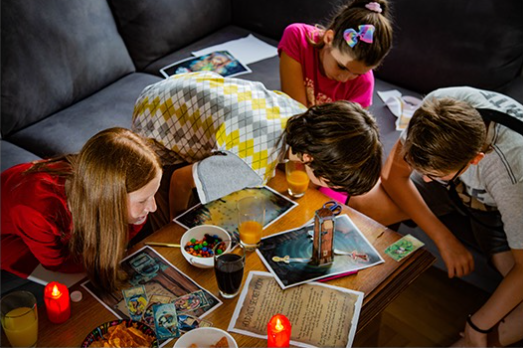 In the past several years, printable escape room kits have grown in popularity. You can play many different escape rooms. Simply download an escape room kit, print the puzzles, and start playing. Your kids will love it.
Try Some Nail Art
Some might say it is not a good idea to let your kids do your nails. But hey, everything in the spirit of fun and entertainment, right?
You can actually learn some nail art at home. And even if you are not good and your kids are not good, you can still enjoy. Go and find some kits and tools.
International Dinner Night
Within the family, pick out a country you would like to learn more about. Then, host an international dinner night with that country as the theme and inspiration. You can find clothing suitable for that country. And you can prepare a traditional dinner.
Themed Movie Night
With so many streaming platforms and websites where you can watch movies, it is a shame to miss an amazing opportunity. Pick a genre you and your family enjoy. And then plan for a whole evening of back-to-back-to-back viewing of movies.
Many popular movies have sequels. Imagine a Star Wars marathon. How does that sound?
Play Board Games
There are many board games you can choose from. The best part about board games is they are also themed. For example, if you like a cooking board game, you can play that. Or if you are more into a traveling board game, choose that.
Play With Lego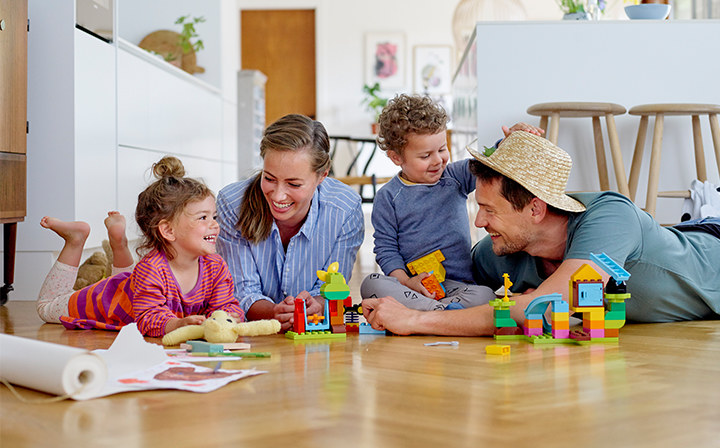 Kids and adults love Lego. You can play for hours using Lego bricks. The good thing is that making a huge Lego project is not limited depending on your ability to build great things. Get creative or follow the instructions.
Make A Scarecrow
Autumn is a great period of the year for making a scarecrow. Pick up some fallen leaves and stuff them into old clothing. This family activity will bring out the kid in everyone.
Host A Karaoke Night
Who doesn't love to sing? No matter if you are good or not, a karaoke night is always a good idea. It is a great way to spend some family time together. Nowadays, even PlayStation and Nintendo Wii have options for karaoke.
Teach Your Pet Some New Tricks
If you have a dog at home, you can play with him. Try to teach your dog some new tricks. The whole family can participate.
Create Your Family Tree
Do you want to know your family history? You can make a family tree and share your family history with your kids. Tell them stories about their grandfather and grandmother. We are sure you can come up with some fun and interesting stories.
Play With Balloons
Blow some balloons and play at home. You can play volleyball, basketball, and even soccer with balloons. Yes, they will pop eventually. But who cares as long as you have fun.
Paper Airplanes
Use your creativity and imagination to make some paper airplanes at home. Then, see whose plane flies the farthest. Turn it into a contest with some fun prizes.
Read A Book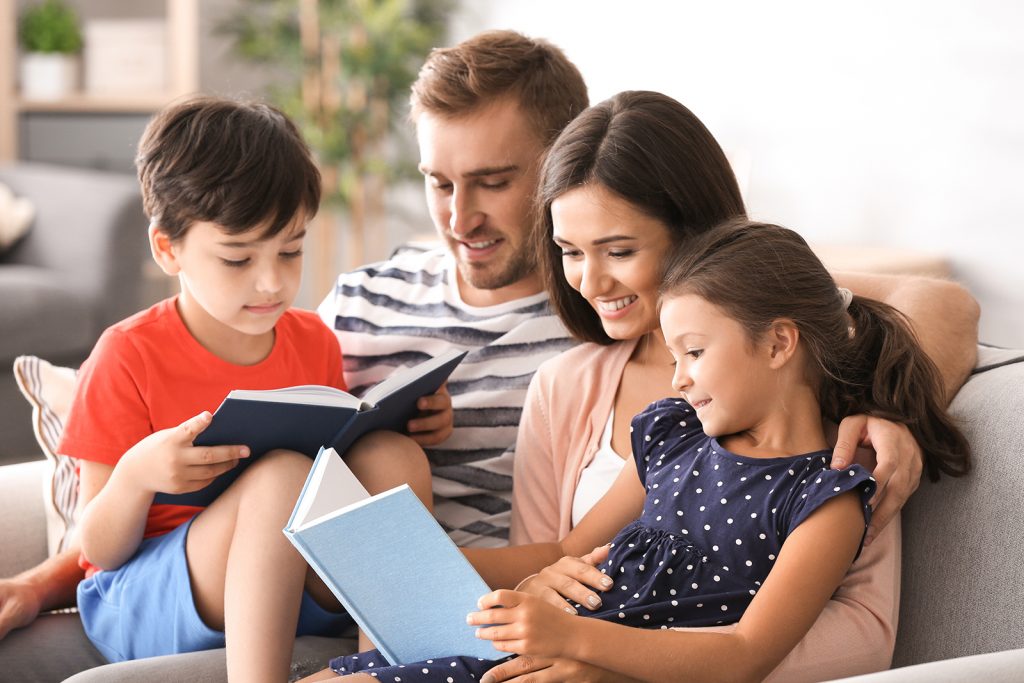 Sometimes, the best activity is the simplest one. Read a book to your little ones. You can learn new things and enjoy some calm time. The art of reading aloud has lost its popularity. And you can bring it back to life.
Learn Yoga
Yoga is a perfect exercise for calming down and relieving stress. There are so many benefits of yoga for every age group.
You can learn yoga as a family. Go to YouTube and you will find hundreds of videos and tutorials. Time for some family activity with younger kids. Yoga helps them learn proper body movement and posture.
Do A Puzzle
Put your creative, cognitive, and problem-solving skills to good work. You can make your own jigsaw puzzle or get a store-bought one.
Hot Potato
This is one of the best and most entertaining games ever. There are so many ways to play hot potato. For example, you can sit on the floor in a circle and pass the potato around the circle as fast as possible.
Simon Says
This is a traditional favorite game. One player is Simon, usually a parent for the first round. The rest of the players gather in a circle or line in front of Simon. The person who plays Simon calls out actions starting with the phrase Simon Says. For example, Simon Says touch your left eye. If Simon calls out a phrase without Simon Says, you should not do the action.
If one of the people playing performs the action, he is out of the game. The one standing until the end wins.
Indoor Bowling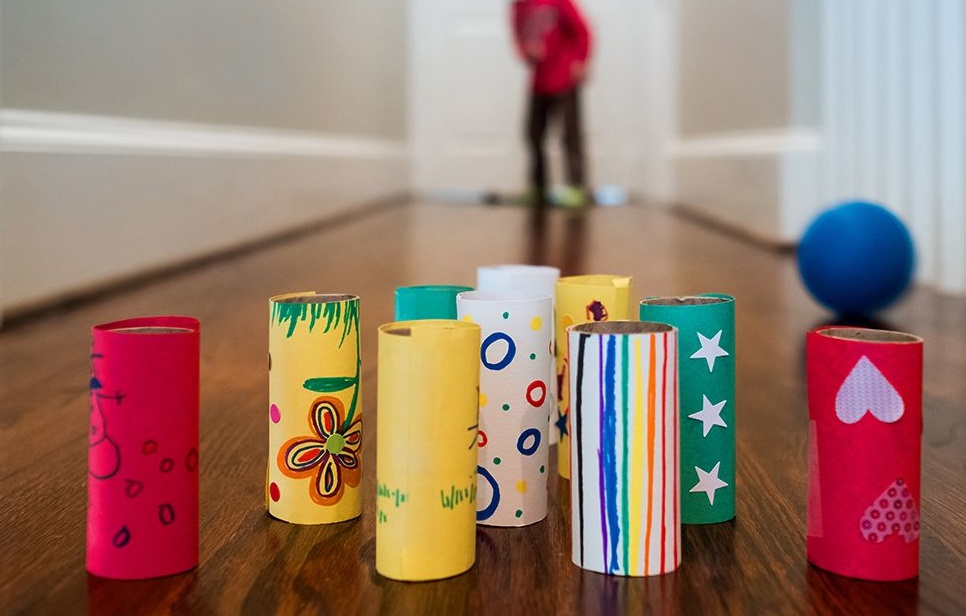 This is a great way to reuse water bottles or toilet paper rolls. Line six to ten water bottles at the end of your hall or living room. Place a line of duct tape at the starting line. And then find an indoor ball and start playing. Bowling is definitely something you can do if you are stuck at home.
Indoor Golf
Another activity the whole family can enjoy is indoor golf. This variation of the sport allows you, your spouse, and kids to play the sport in various ways, despite being confined within the walls of your home. Advancements in technology have also given rise to machines like a simulator for golf games, which can predict the outcome of your shot, even when it has only traveled a couple of meters.
Make A Mini City
You can make a mini-city in your living room using toilet paper rolls. Of course, that is if you have saved up your empty toilet paper rolls.
Enjoy A Spa Night
You can plan a spa night at the convenience of your home. All you have to do is light candles, put on some relaxing music, and create a spa-like atmosphere. Then, you can do manicure, pedicure, facials, and whatever you like. Or some bubble bath.
Play Charades
Let's finish off our list of fun indoor activities with a classic. Charades has existed for such a long time. It never grows old. You can buy charade games or make up your own.
Simply write down charades on index cards. And then watch family members act out the charade while others try to guess the word.