Most kids love bathing, splishing, and splashing around. They have fun, testing the water-resistance of everything in your bathroom, not to mention your pretense, but in the end, they do end up clean and neat. Then there are those that hate bath-time. Getting those type of kids to take a bath takes up a lot of effort and energy, most parents don't really haven't spades when evening bathtime comes around.
However, this hatred of bathing must be dealt with, the sooner the better. So clever moms thought up bath hacks to make their life easier. Water walls, different toys, foam baths, healthy soaps, it's all there to save your life. You can even include your little ones in the process of making so that they enjoy it even more. But the most important thing is that you will lure them to come and take a bath, preferably in a way that requires as little cleaning as possible afterward.
Here are some ideas for your inspiration to make your own bath look interesting for your kids.
1. Water Wall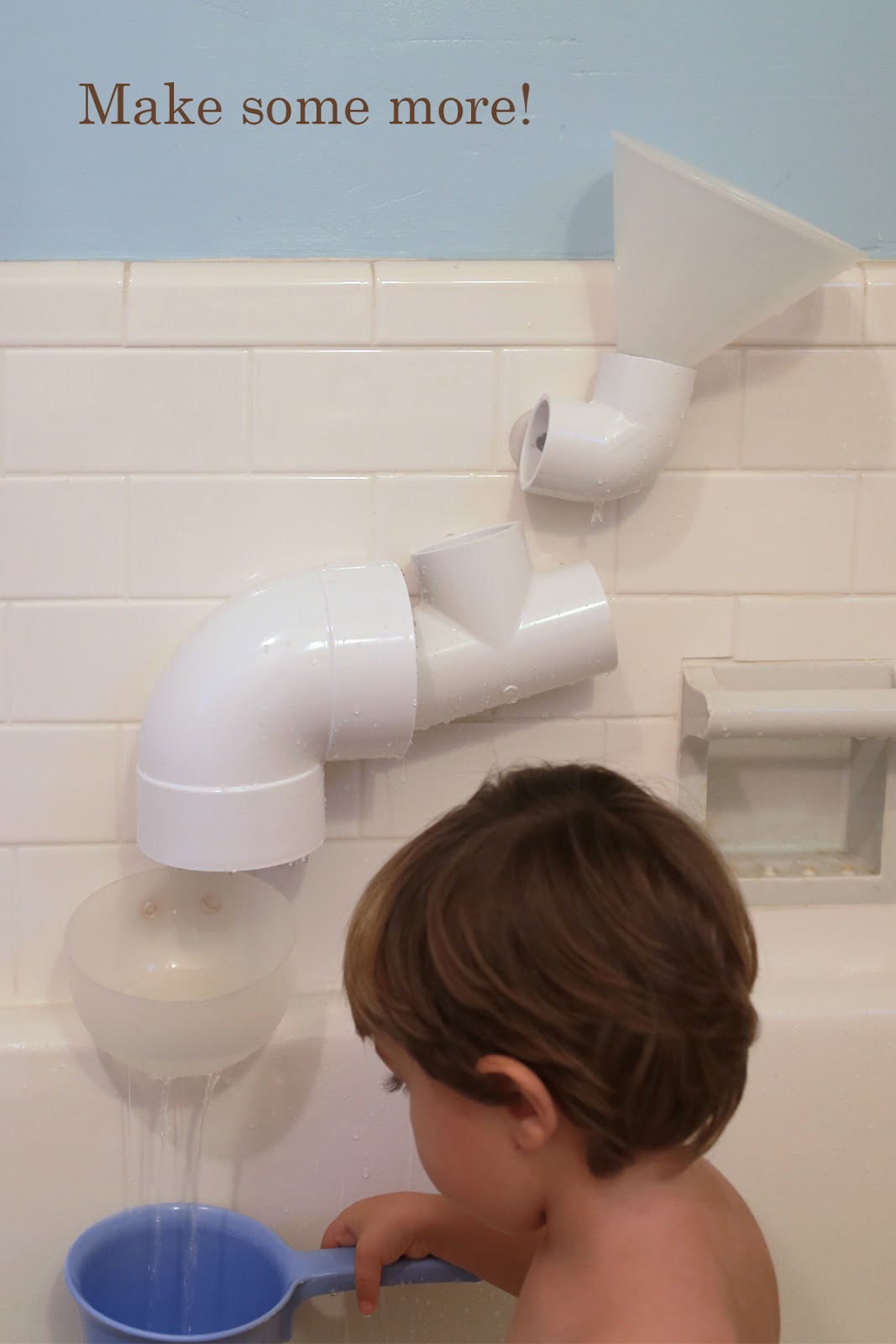 Where is that water coming from? Looks like the kids now have a whole cascade to play with. Think it won't do the trick? Before you know it, you will be singing, 'Because maybe, you're gonna be the one that saves me. And after all, you're my water wall.'
2. No Tears Bath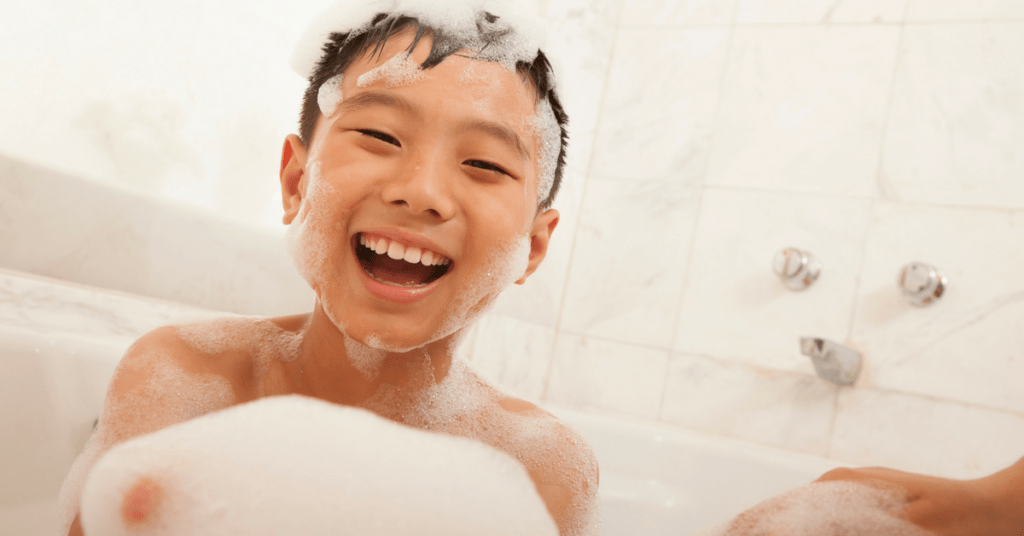 Yes, for some reason, kids abhor getting their hair washed. That reason is probably the sting of shampoo foam entering the eyes, but no matter. When it's 'go time', you have to conjure up one trick or another for a hair washed with minimum hassle.
3. Funny Towel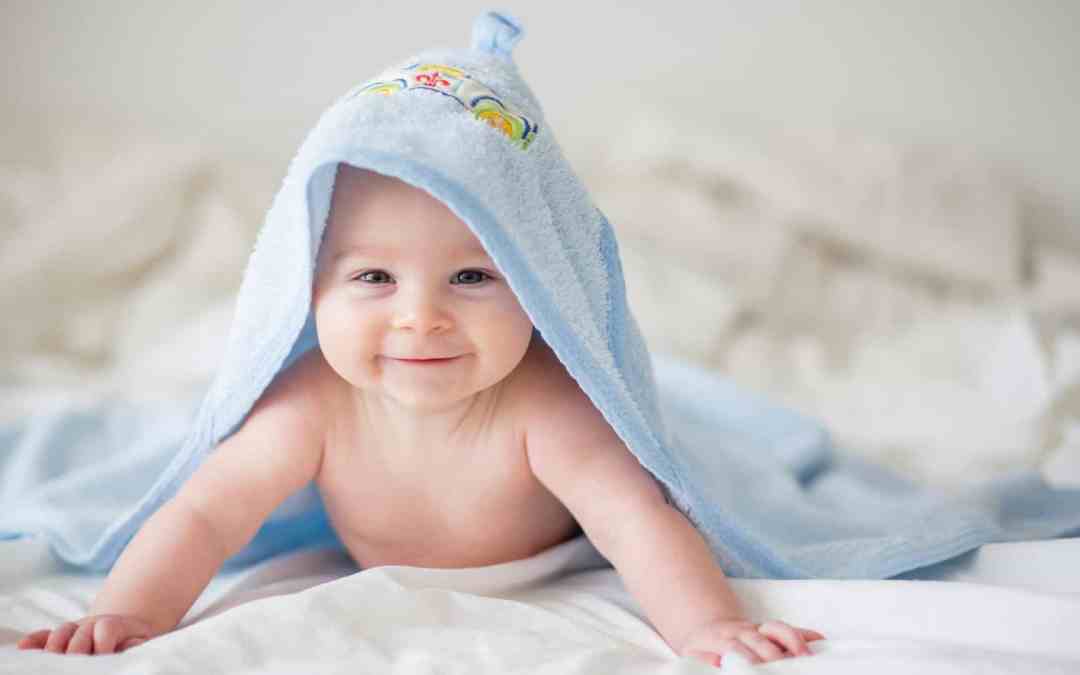 Another really good distraction, especially when wiping them down, is a funny-looking hooded towel. Believe it or not, these can be very expensive to buy at a store. The solution for that is to sew one up on your own, as it's really not that big of a project.
4. Interchangeable Bath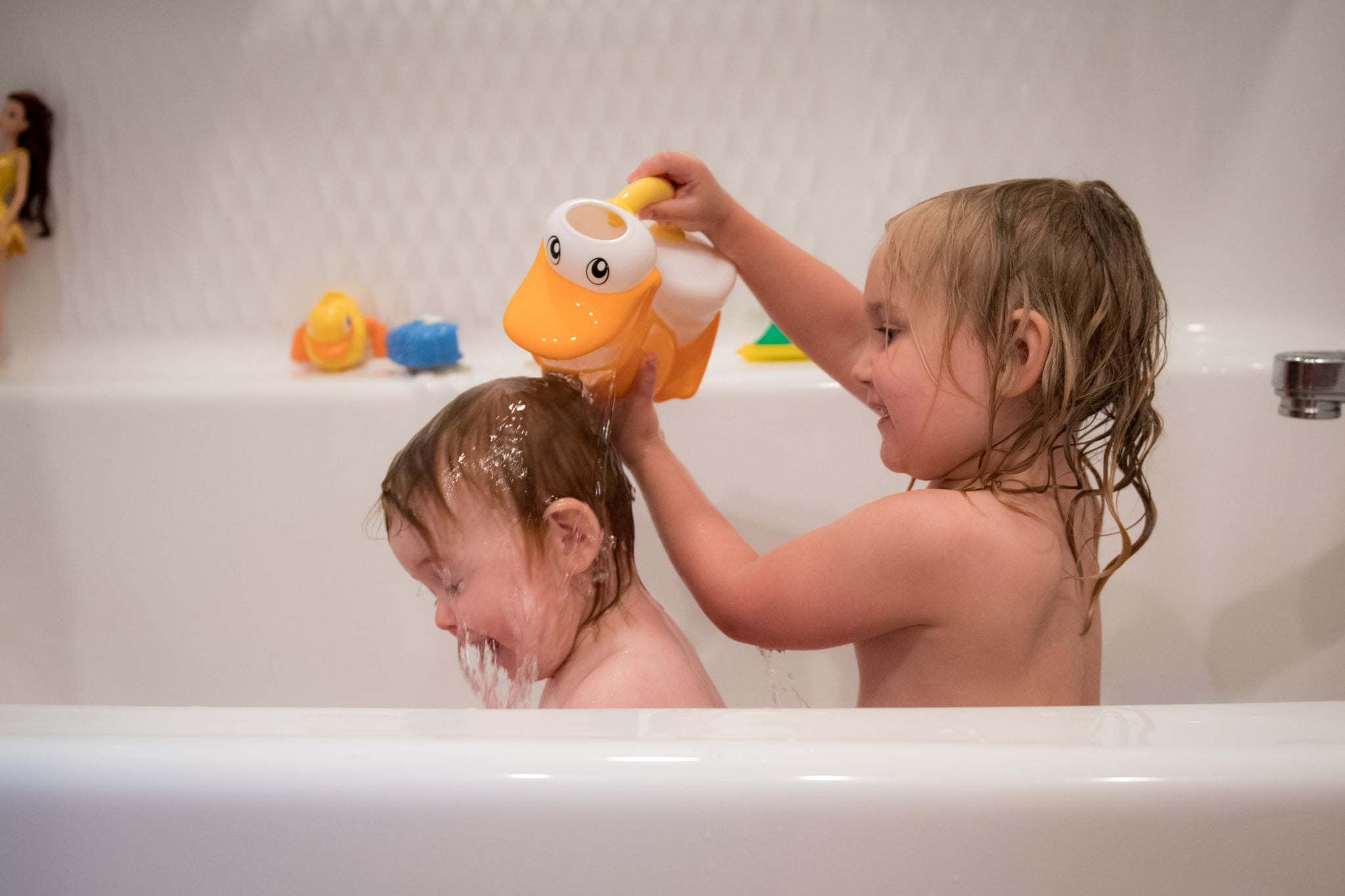 An important part of preventing any routine from becoming an extremely nagging rut is to mix things up a little. In terms of bath time, that means training your kids to wash each other, and/or do it on each different nights with your significant other.
5. Bath Library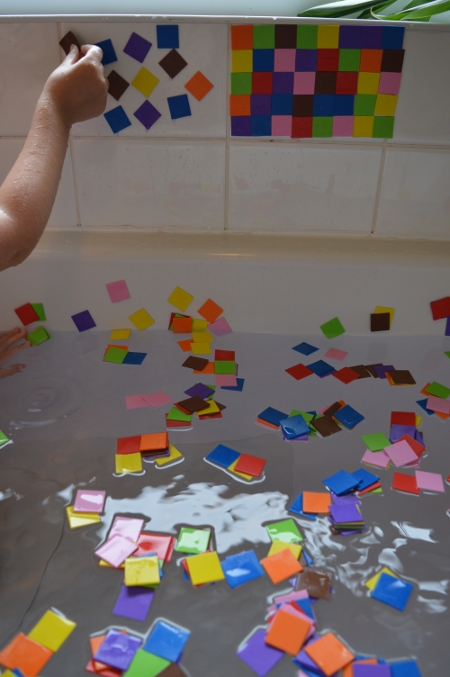 Kids can also have their hands full of work by being able to sort out some kind of puzzle, or in this case, making a mosaic out of pieces of foam sheet that will turn your bathtub into a rainbow adventure. Ah, happy days! Don't believe us? Just watch.
6. Laundry Bath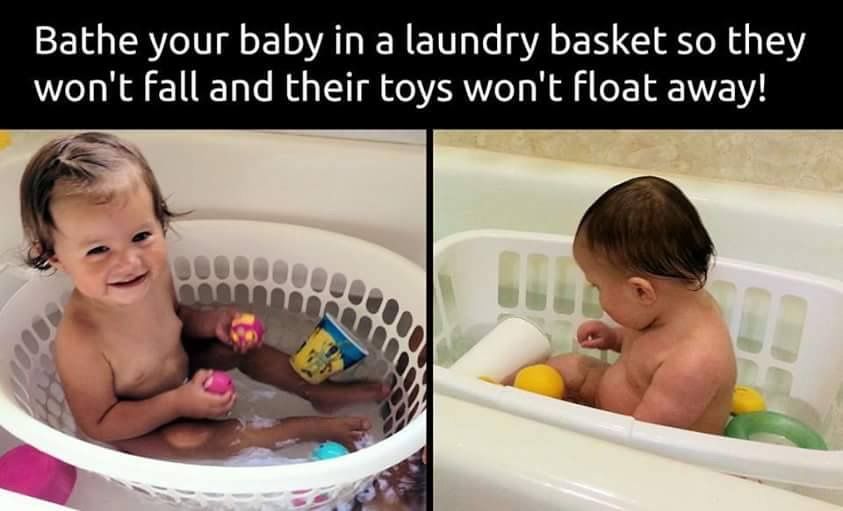 For those of us that constantly worry about losing control of the little one, it's perhaps best if you use a laundry basket put them in, along with their toys. Of course, the basket needs to be strong enough, and the kid light enough to avoid buckling.
7. Domino Bath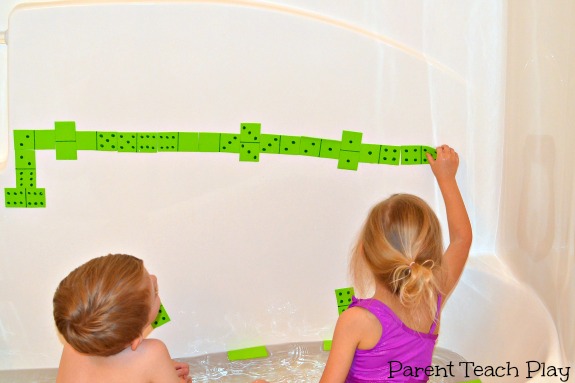 Here is an extravagant wild card you never thought you would see on this list. That's right, it is actually possible to play dominoes in the bath. You do need to cut up and mark some craft foam, and the rest will no doubt be mind sports history.
8. Baby Hat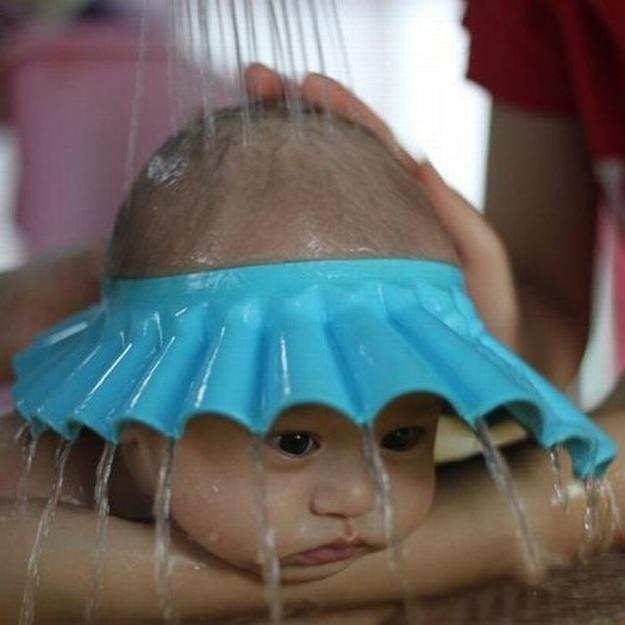 Now it's time to address the elephant in the bathroom head-on. That pesky shampoo foam. Shield those gorgeous little eyes right out with this ingenious baby hat, and watch the tears vanish into thin air. Or soapy water. Either way, bath time will finally be a time of enjoyment.
9. Lego Balls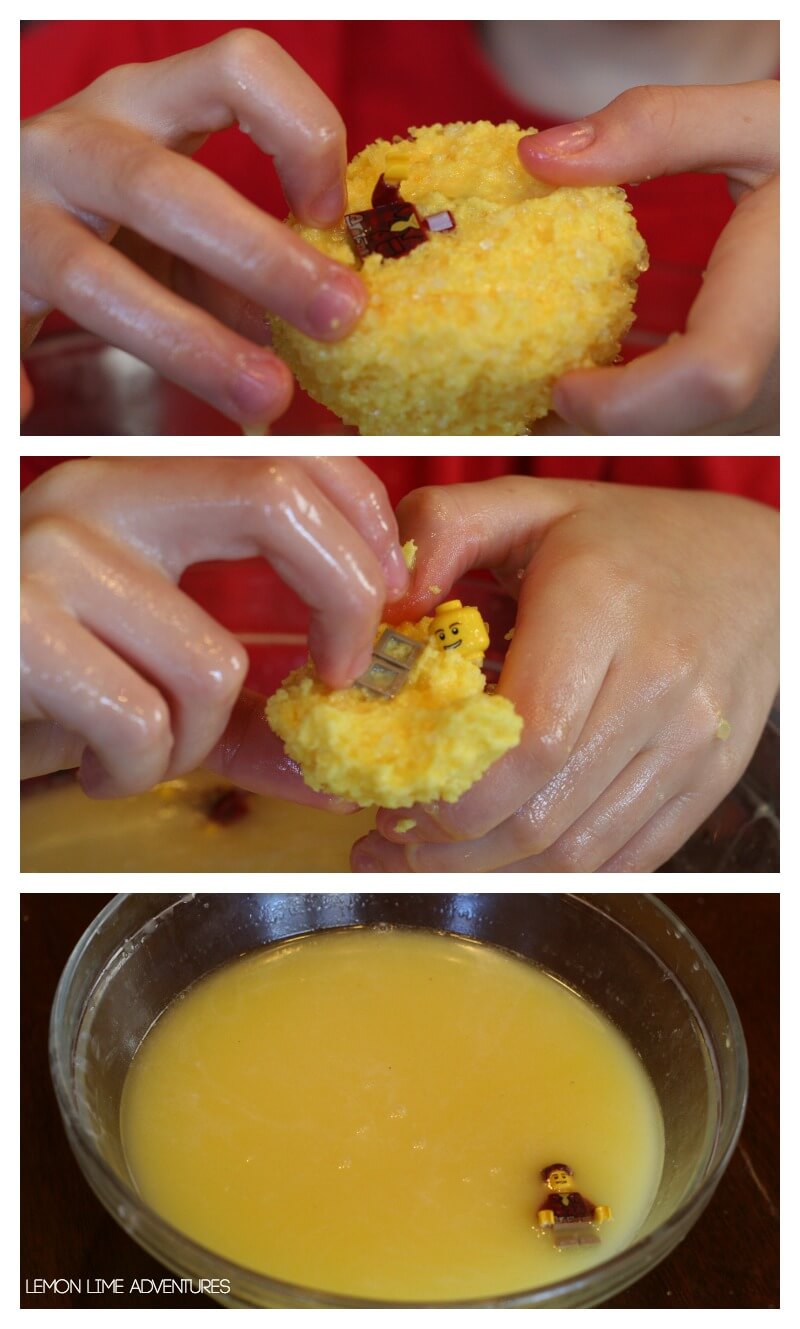 Bath bombs are a fantastic thing to spice up one's bathing experience, and yet they're not necessarily appreciated by kids. This could all change in an instant if they were to suddenly become LEGO ball bath bombs. Something just got a whole lot more fun!
10. Toys Crates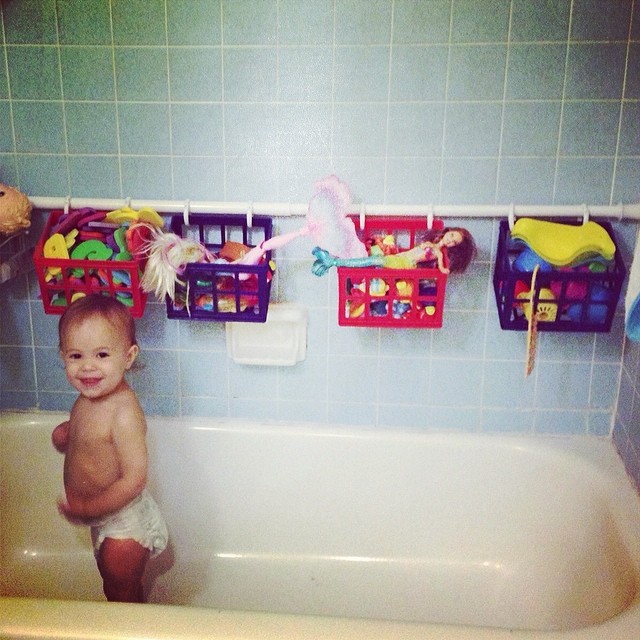 Speaking of fun, there is no need to stress the fact that children love their toys. Naturally, it's crossed every parent's mind to let them play with them in the bath. However, there was never really any easy fix for mess wet toys scattered all around that need to be put back in that condition. Until now.
11. Space Bath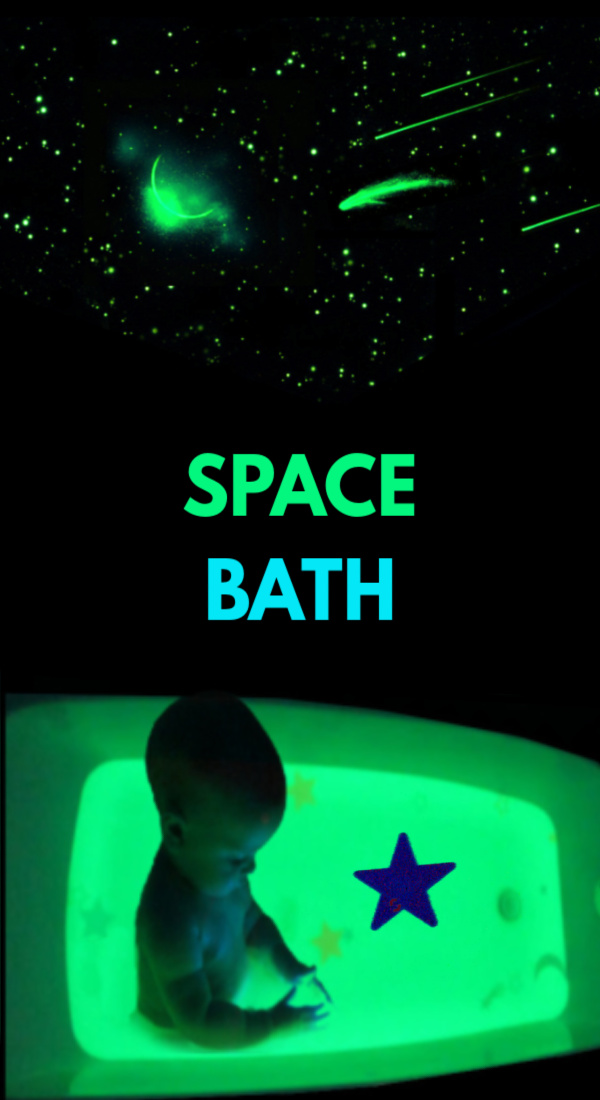 Space: the final frontier. These are the voyages of the starship Bathtime. Its five-minute mission: to explore all dirty spots and clean them. To seek out new bubbles and new cleanliness. To boldly go where no baby has gone before! And then go to bed.
12. Rainbow Foam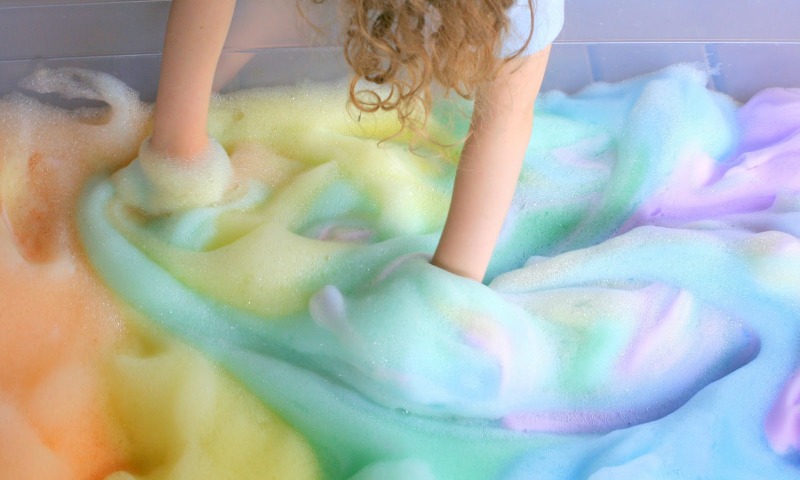 Colors always captivate a young pair of eyes. We mentioned above that a mosaic will allow the kid to play with them just as well, but a rainbow foam is something that is on a completely different level. Literally, because it's at the water surface level.
13. Bath Murals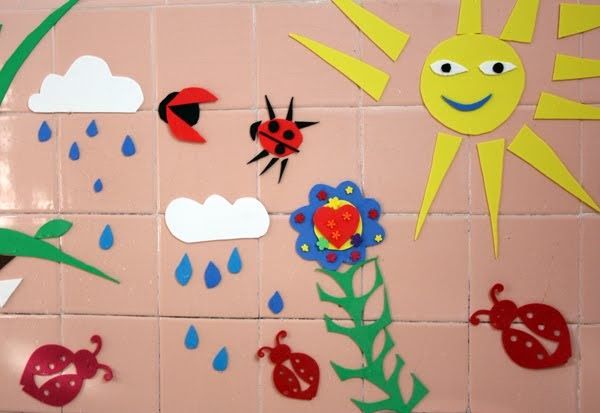 Whoever said you can't make collage murals while taking a bath? Not us, that's for sure. Once again, craft foam is involved, though, to be honest, it takes a lot more cutting skills. That aside, the trouble is all worth it for an astonishing end result.
14. Joint Bath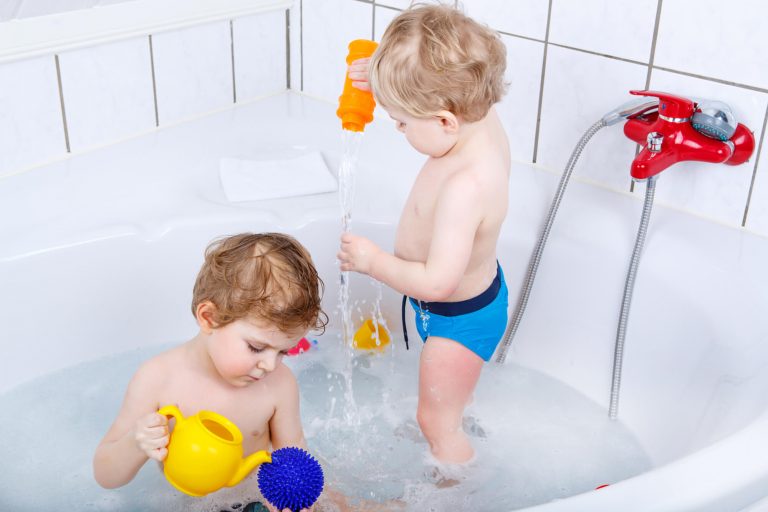 Of course, having two (or more) little rascals share a bath is a perfect solution for them to keep each other entertained. While they are splash around, you are free to take a breather and control the potentially messy situation of the crammed bathtub.
15. Healthy Crayons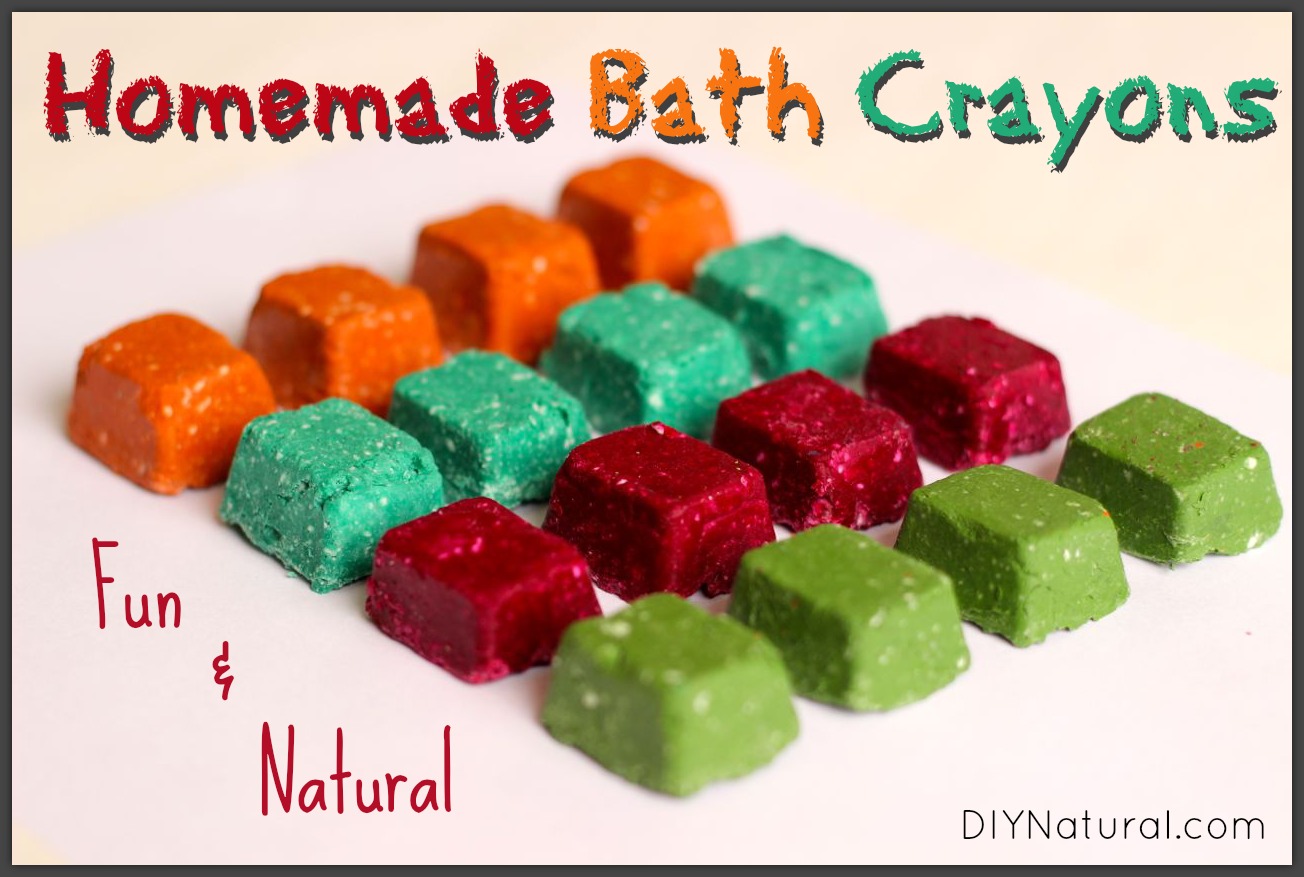 Bath crayons are out of this world! They are a fantastic invention that enables kids to draw on tiles while taking a bath. And nothing beats the satisfaction of having made some yourself. Of course, you will also probably be the one to clean it up from the tiles and the tub.
16. Healthy Soap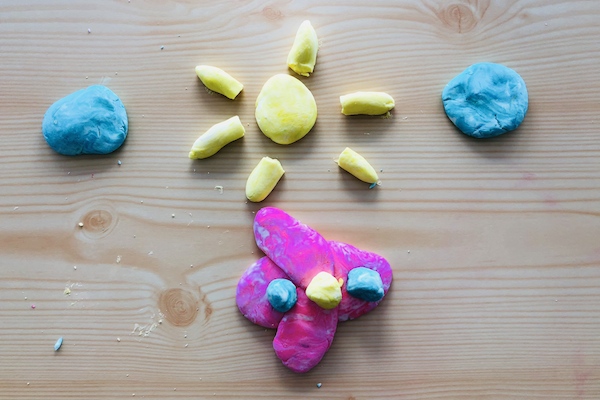 For families with kids who love play dough, this mess-free solution is a godsend! They get to play in an extremely clean way, and with a material that's also used as soap. On one hand, they get cleaned up, and on the other hand, you don't have any mess to take care of.
17. Soap Crayons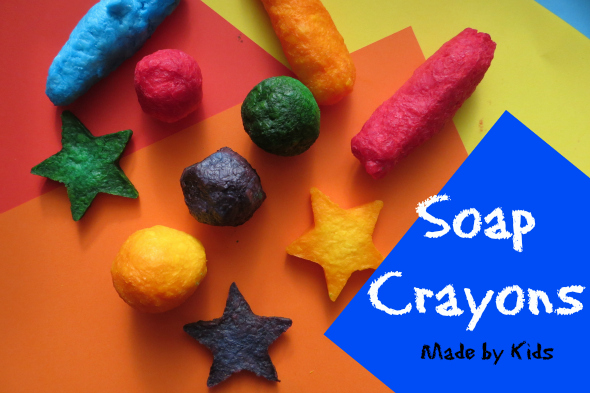 While we are on the subject of making things soapy, you should probably give these soap crayons a shot. Apart from their being a terrific sensory experience for the youngsters, and enabling them to draw, you are still blessed with soap's dissoluble property.
18. Colored Bath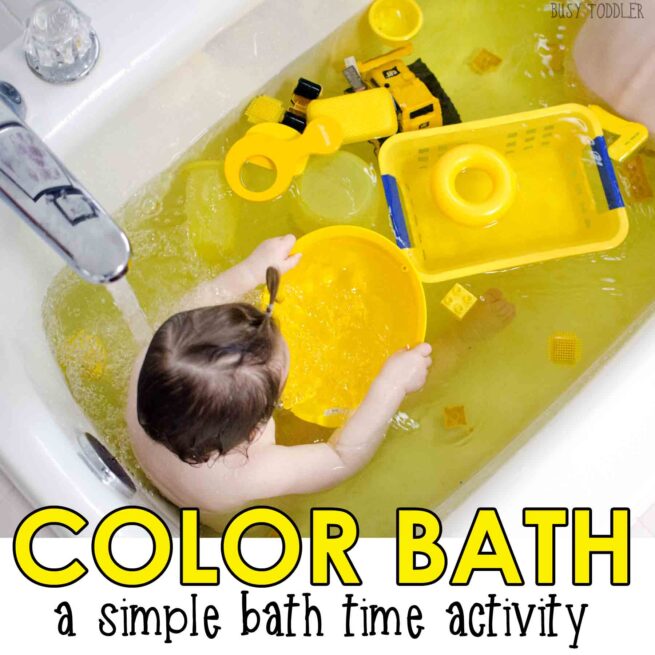 Water is always much more fun when it's colored. That's probably why the Colorado River has managed to carve out such a huge canyon. Anyway, just a smidgen of color means that taking a bath is a whole new experience for your little sweethearts.
19. Targets All-Around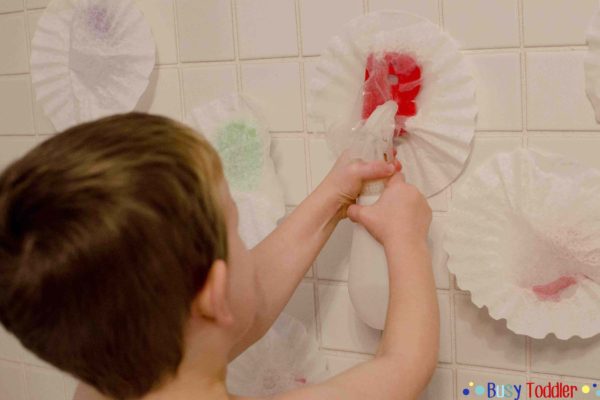 Sometimes kids don't lack focus, they just need something to focus on. In this case, you can give them a literal focus by showing them actual targets for them to shoot. You will be amazed at how effective this can be for a quieter time for hygienic maintenance.
20. Bathroom Pool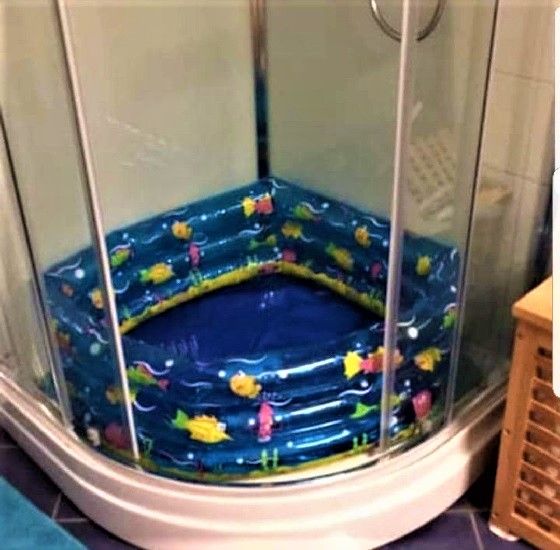 You ask, 'Hey, kids! Want to chill and splash in the pool?' The answer is an unequivocal 'Yay!' Whereas if you ask, 'Kids, want to do the exact same thing, only in a bathtub?', you get grouchy 'No, I don't want to.' So here is how you blend the contrasting concepts in a kid's mind.
So, there you have it. Next time someone is getting a bath, we hope you (successfully) manage to try some of these ideas. For all we know, just give the kids something to keep their hands busy away from the tub's outer edge and you are all set. What do you guys think? Are any of these ideas to your liking? Leave a comment and let us know.