It's that time of year again, the holidays are over, yet you are still feeling festive. So why not fight the winter blues with some bright, festive nails. If that's not your style, choose a more muted tone to compliment a darker wardrobe, or contrast your favorite white sweater. The potential is there to create an amazing new look through simple mixing and matching. There are many wintry colors and tones to choose from, including your favorite reds, blues, silvers, and more.
We always love using a new season as an excuse. We just like to match our nail art with our mood, you feel? The winter season is perfect to get creative with your nails. While many of us love the coziness of staying in on a cold winter's night, that doesn't mean to leave your nails behind! Forget the winter blues and dress up your nails with beautiful cool colors and designs. Whether you want to do it yourself or get them done professionally, here are the best winter nail colors and designs that you're sure to be complimented on.
1. Celestial Night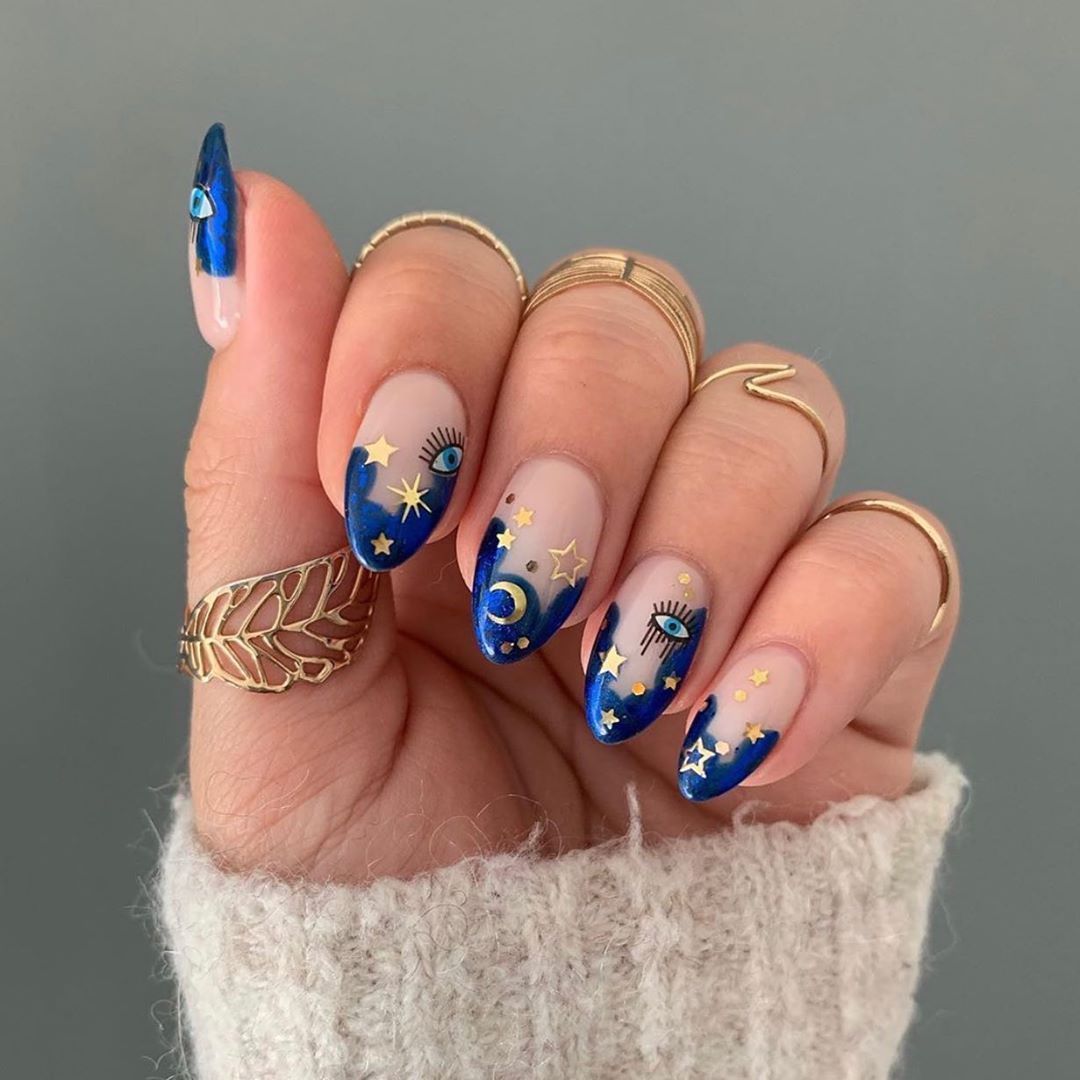 Shoot for the moon and aim for the stars with this navy winter nail art that is literally out of this world. It's eye-catching without being too flashy. Give yourself a blue French mani and top it off with gold moon and stars to complete the nail.
2. Swirly Warm Shapes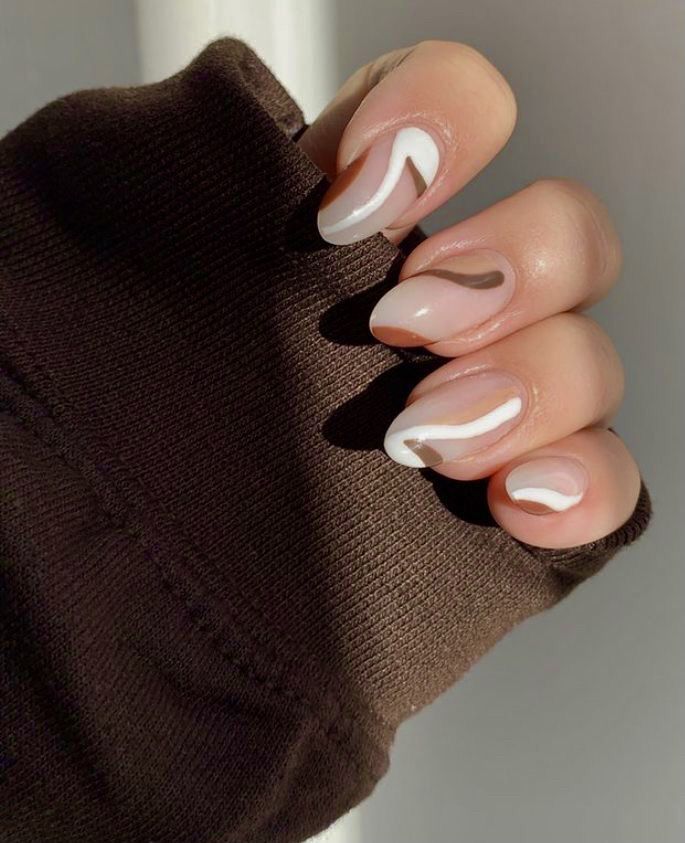 Not only does this retro winter nail art look dope, but it's also so unique that you can guarantee it won't be all over your IG feed. And to mention how easy it is to recreate it. Don't hesitate, try it out!
3. Sparkley Nudes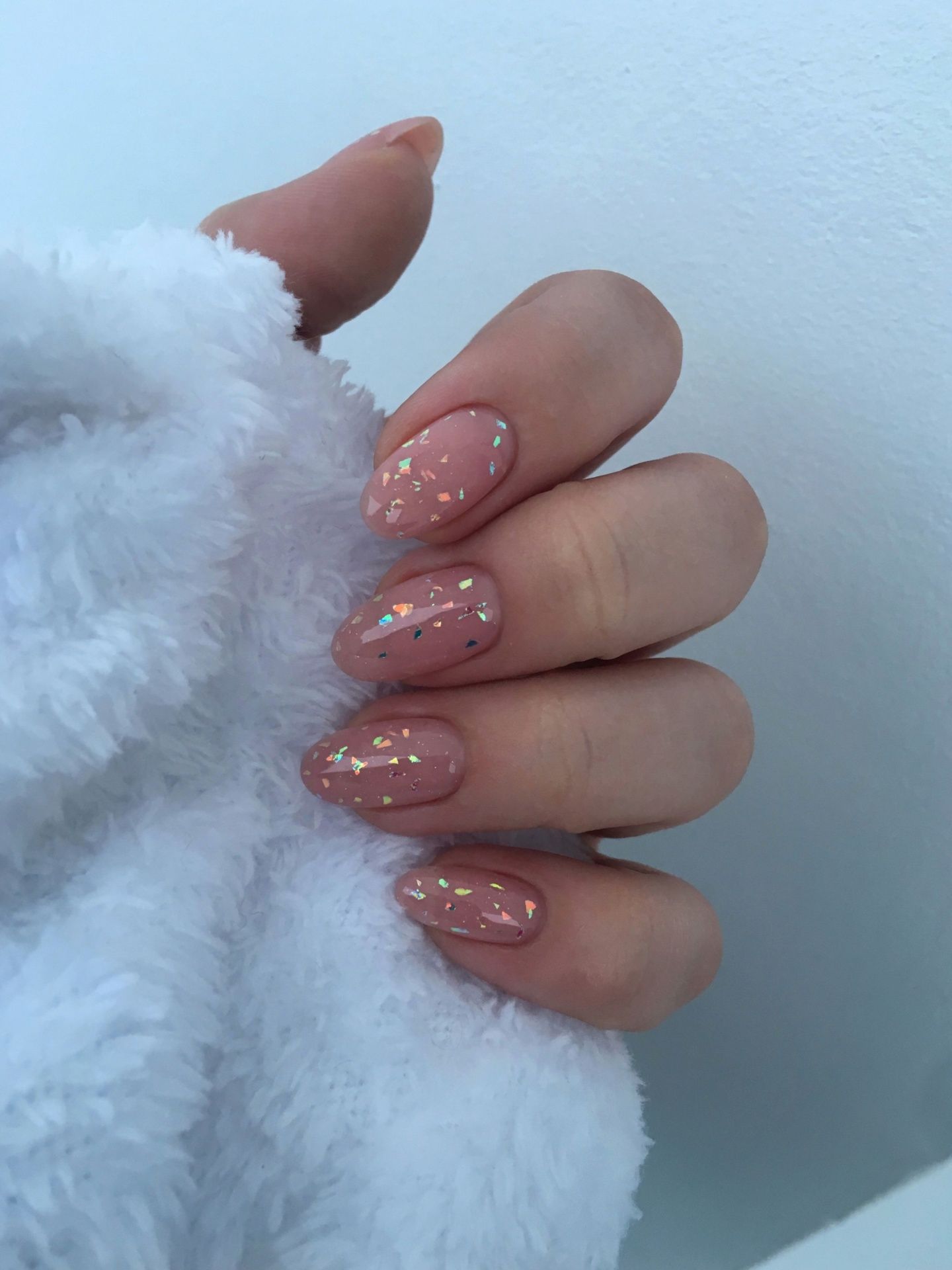 Sparkles don't always have to be over the top. This winter nail art is lowkey without being a total snooze fest.  It'll be a favorite winter design and an excellent choice if you want to add a touch of luxury to your seasonal nails. Elegant and festive, the perfect combo, right?
4. Metallic Green Splashes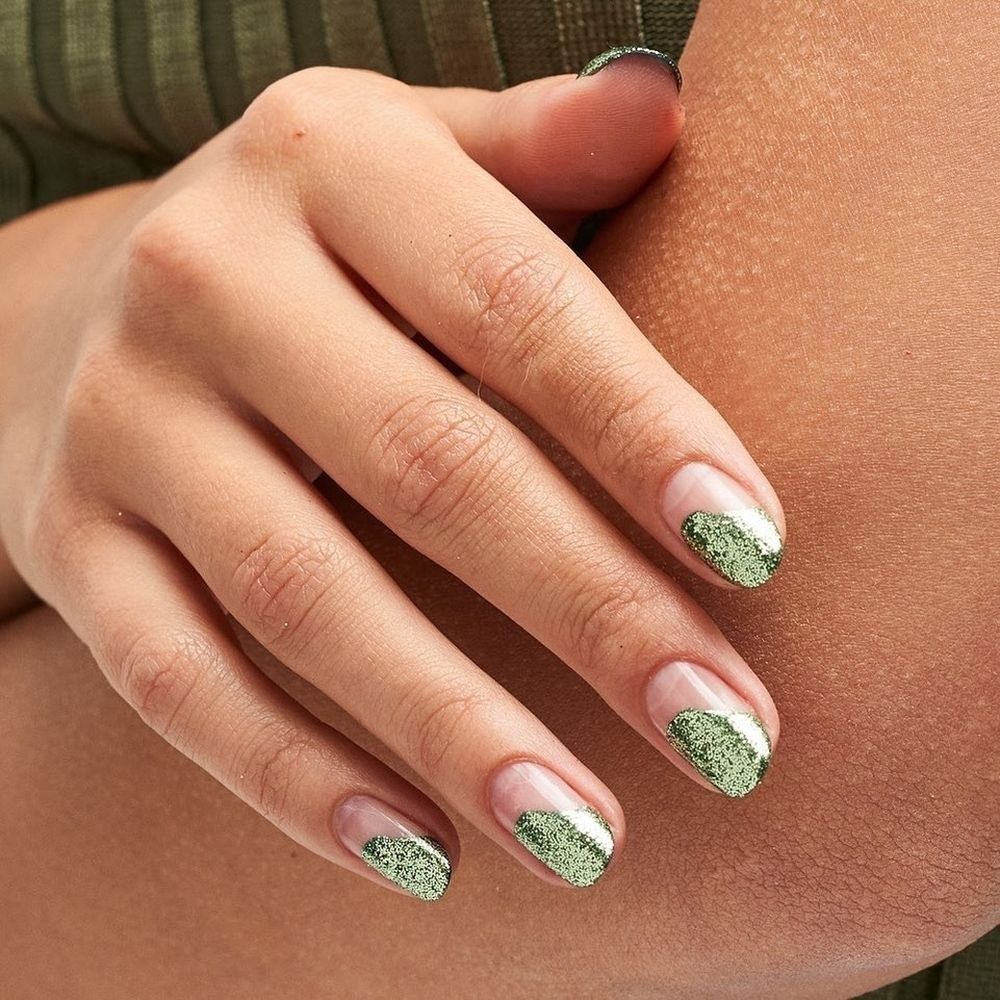 This winter nail art has just enough that it won't overpower your look, yet it'll still give you a nice glimmer from a distance. Instead of covering the whole nail, go for a fun curved design that only takes up half of your nail bed. Give your winter nail art a little bit of glitter with this metallic-green design. It'll look unreal whenever the light hits your fingers.
5. Winter Cancellation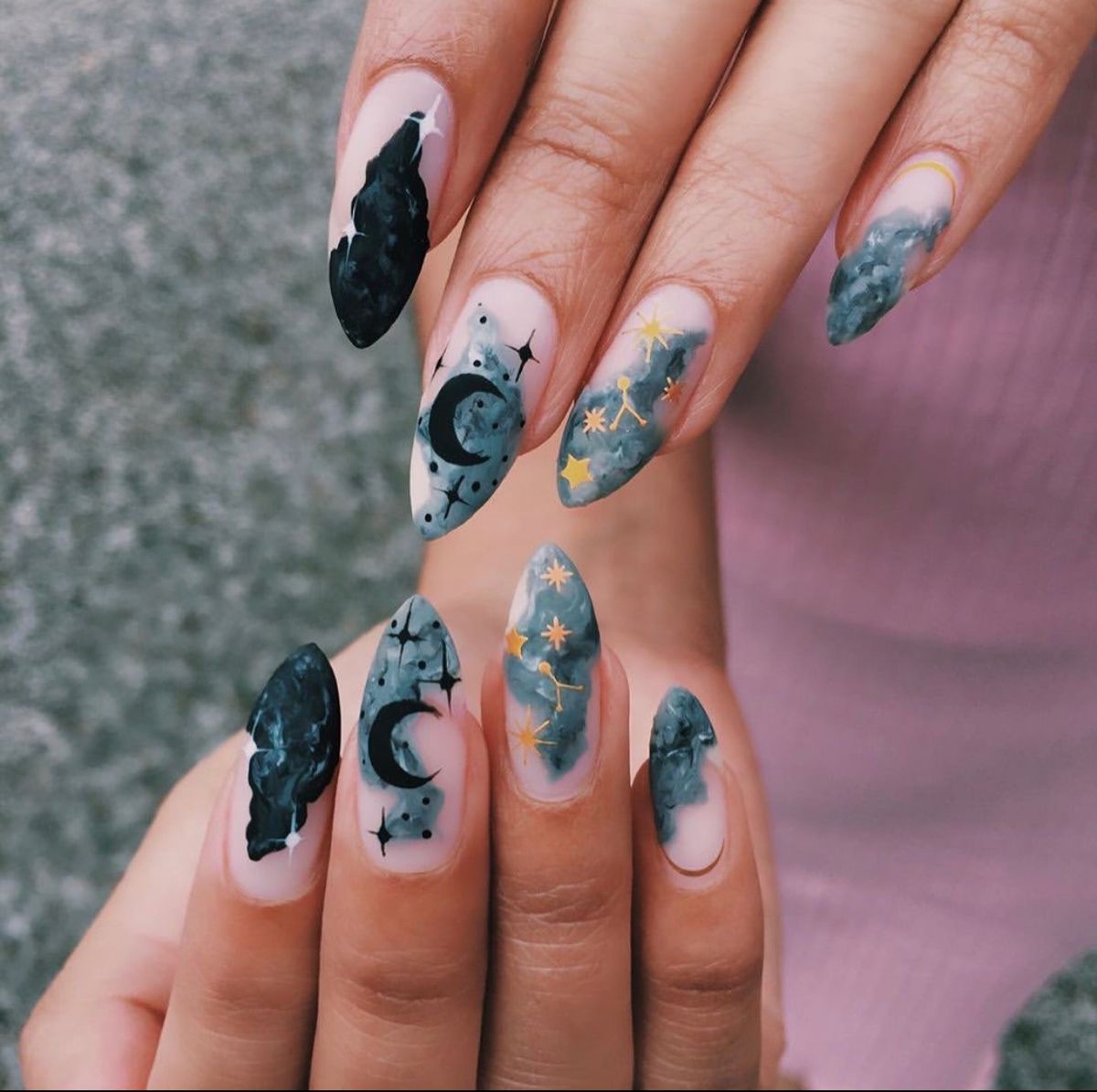 This constellation nail art is so dope. Want to level up the individuality factor? Get the constellation of your zodiac sign on your nails.
6. Abstract Splatter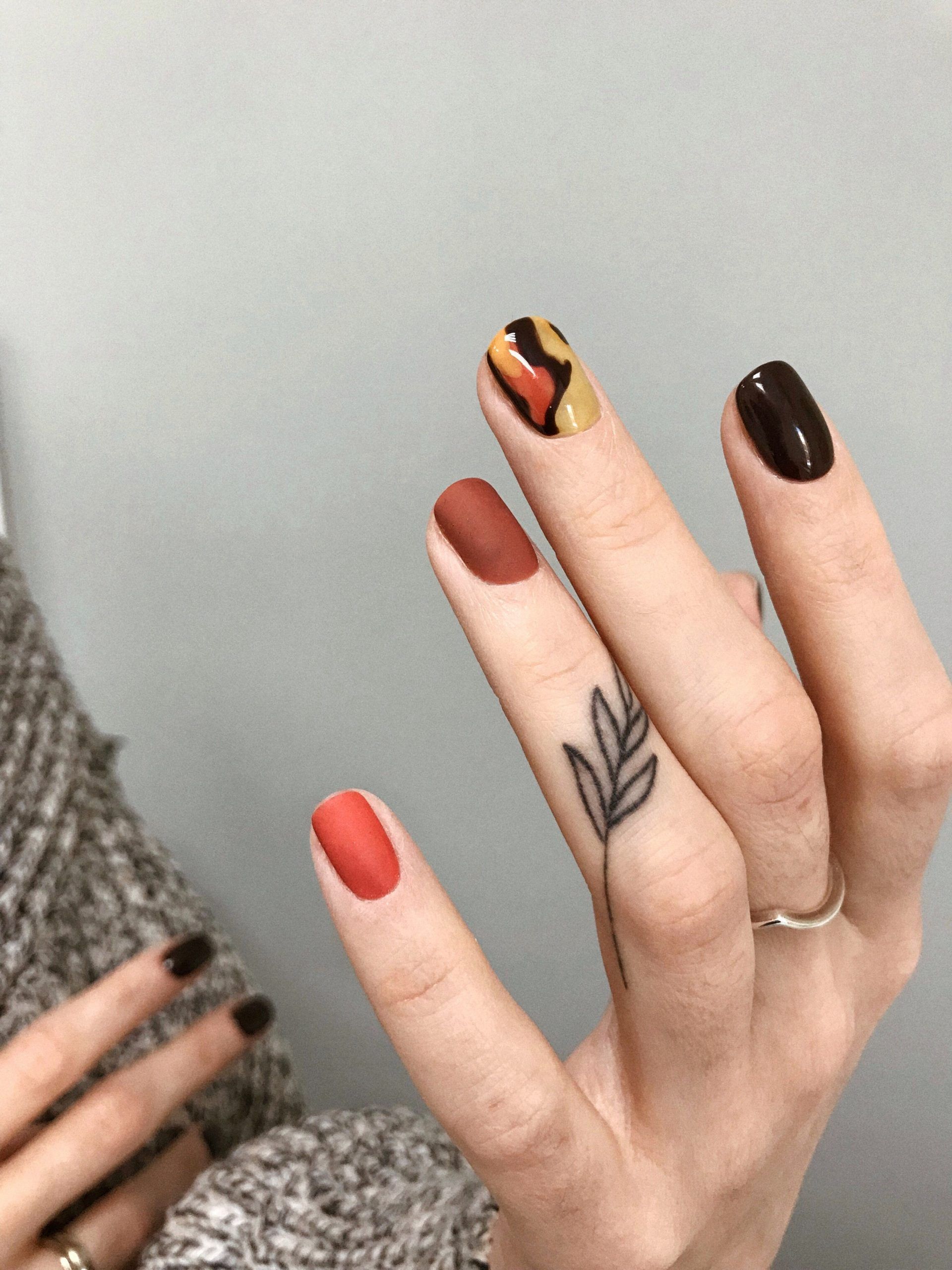 Throw the rules out the window and go for unique, abstract nails. This is the perfect way to experiment with something new and to combine different shades into one manicure look.
7. Muted French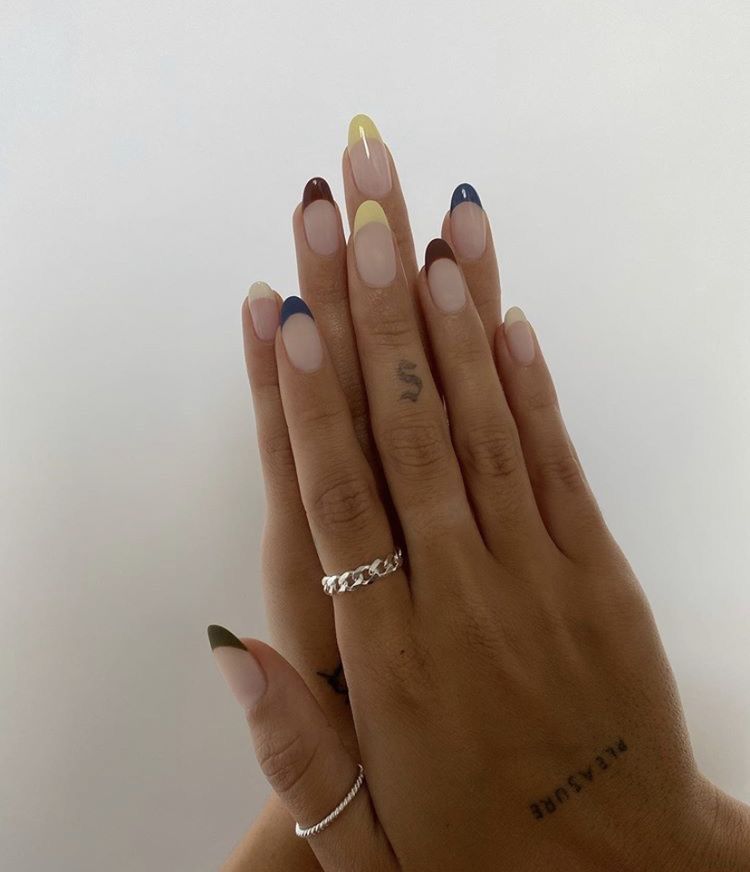 Alone, these colors are understated — together, they make the perfect subtle French manicure design. Pick your favorite neutrals and combine them into this elegant look perfect for the winter.
8. Teal Marble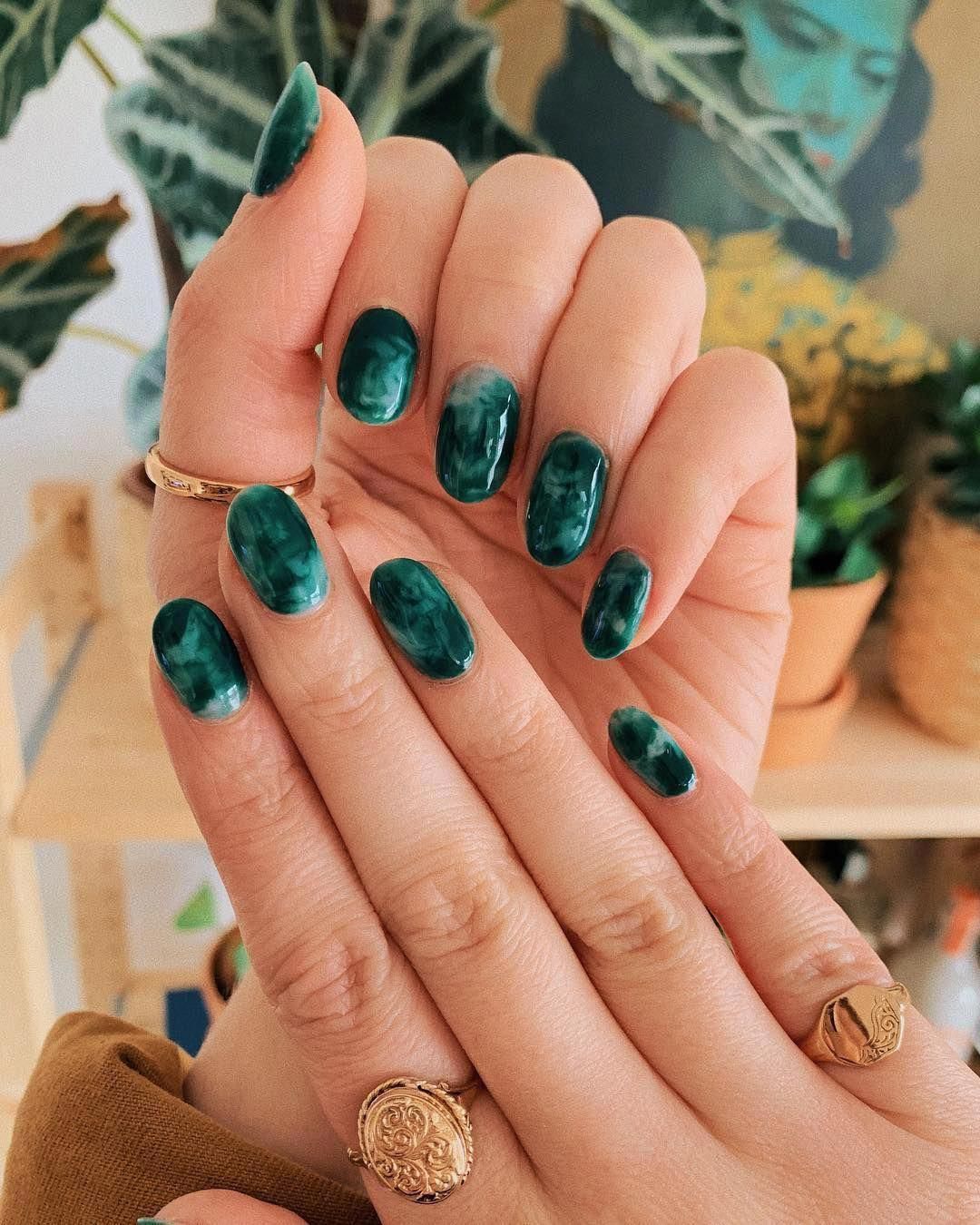 If you're dedicated to the upkeep of your nails, then this is a good look to try. Teal marble nails are oh-so-stylish for the cold days. These nails are a real statement piece that you could rock this winter.
9. Muted Gradient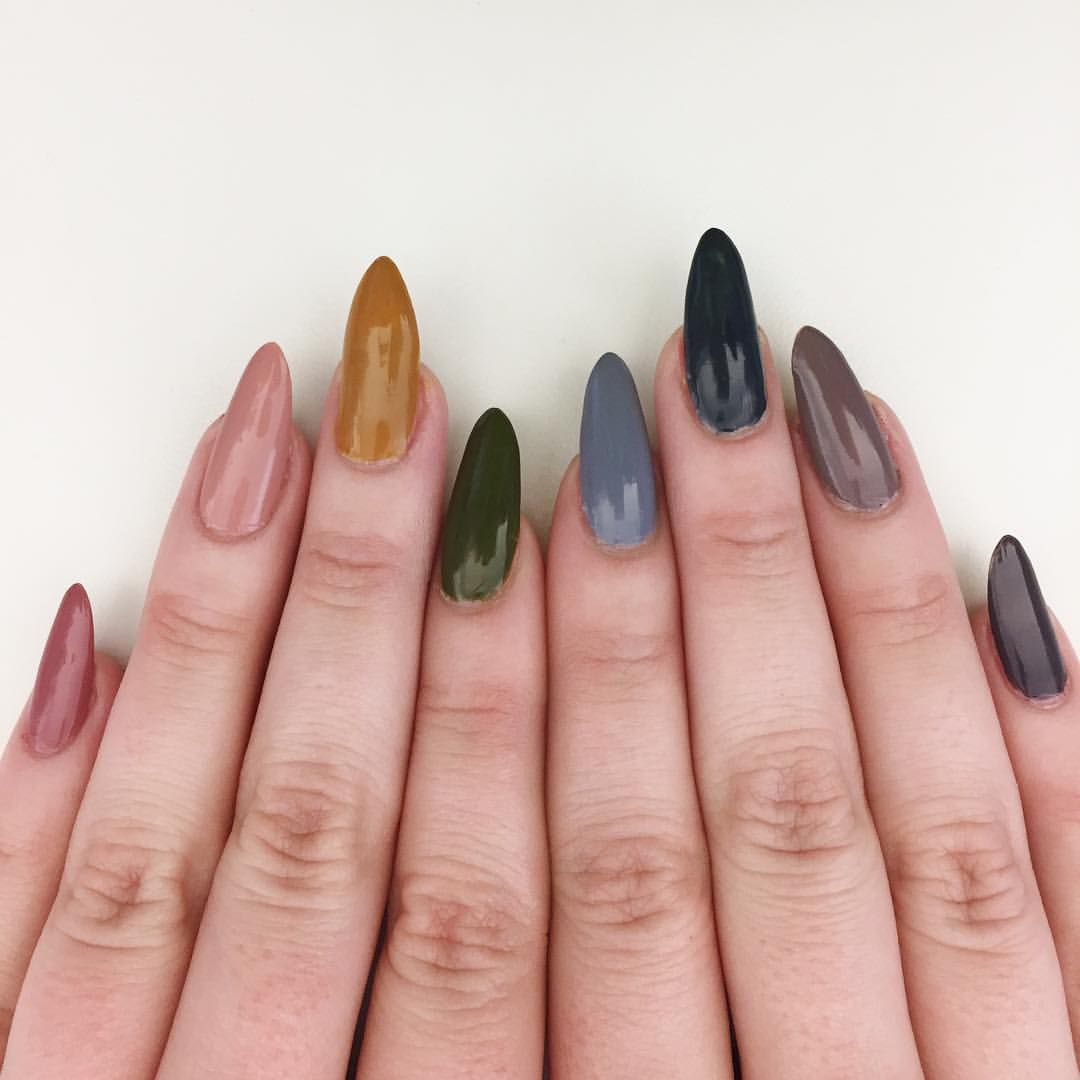 Paint each nail a different muted color, starting with the deepest color and ending with the warmest. This winter look is more subtle, keeping with the theme without being overly committed to the festivity.
10. Neon Geode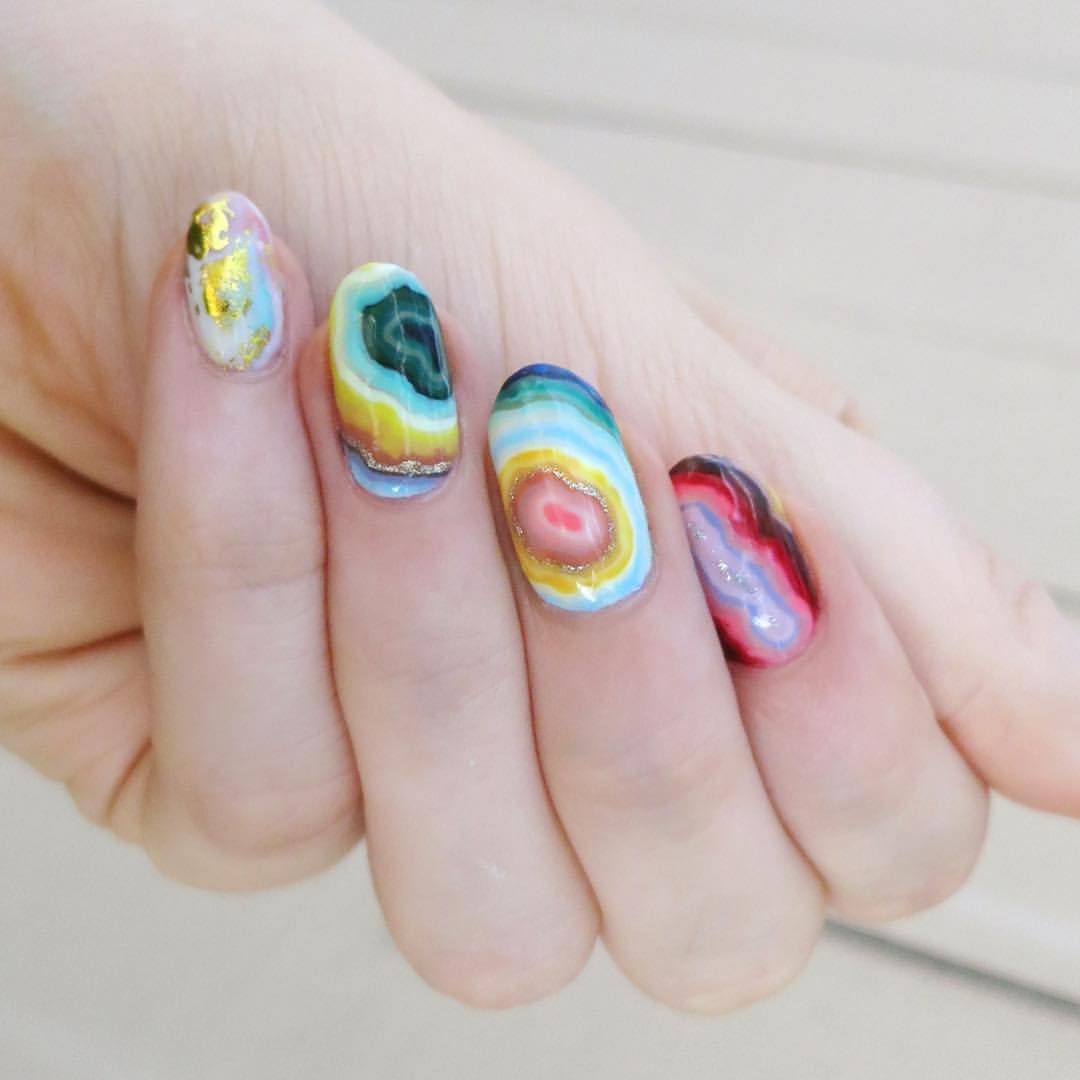 Crystal lovers nowadays must be very happy with the Geode nail designs. Who says bright and bold are only for the summer months? Cure any winter blues with neon swirls and draw them like the center of a crystal for a really fun look.
11. Navy Aesthetic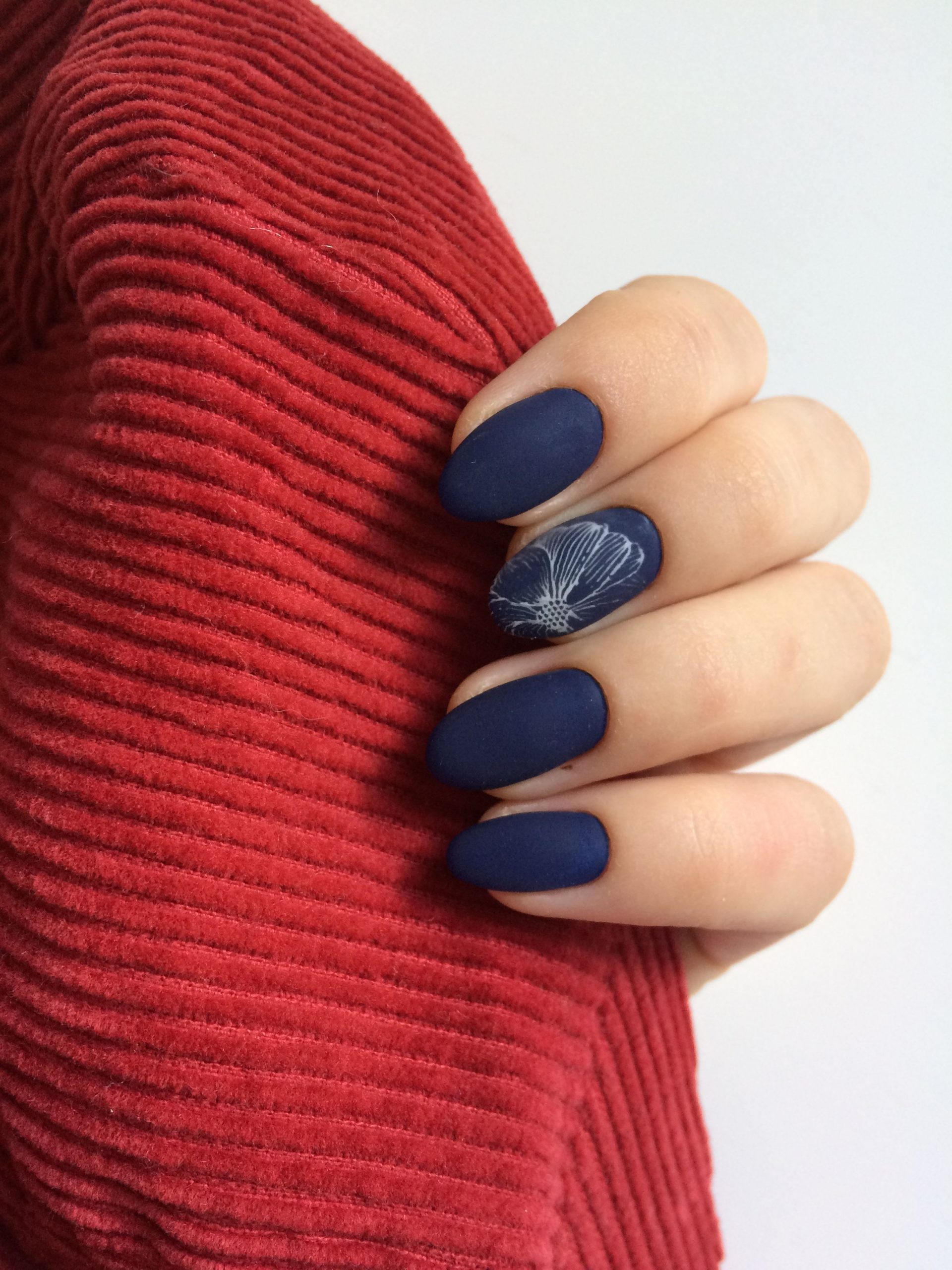 A rich blue polish is a perfect base for faint doodles of artistic shapes. This floral design is perfect for winter days when you want to do something different on your nails, but not too over the top. A subtle flower is a way to go, and at the end of the day everyone is waiting for spring, right?
12. Galactic Winter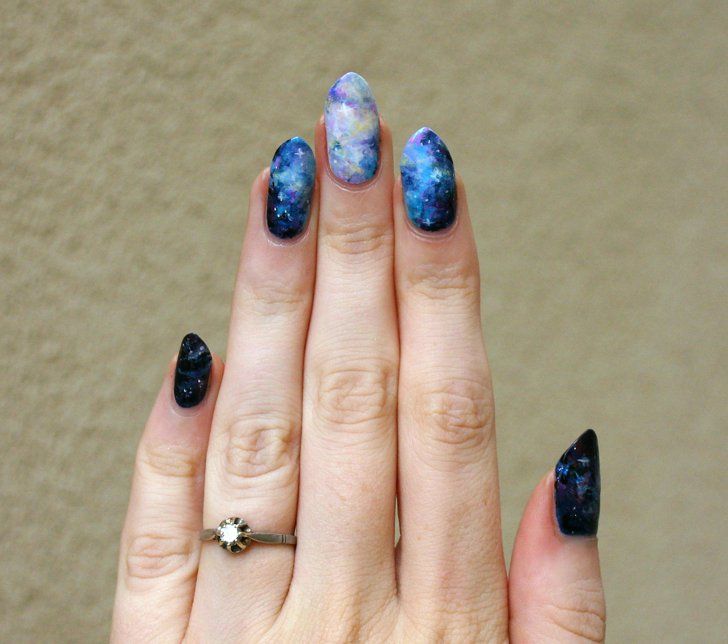 Mesmerizing galactic nail art can basically do no wrong. Add a splash of magical art and you're really off to the races! Since the color palette is with cold tones, this manicure is actually perfect for winter. When you get a closer look you'll appreciate the intricate art and textures on the nails.
13. Misty Forest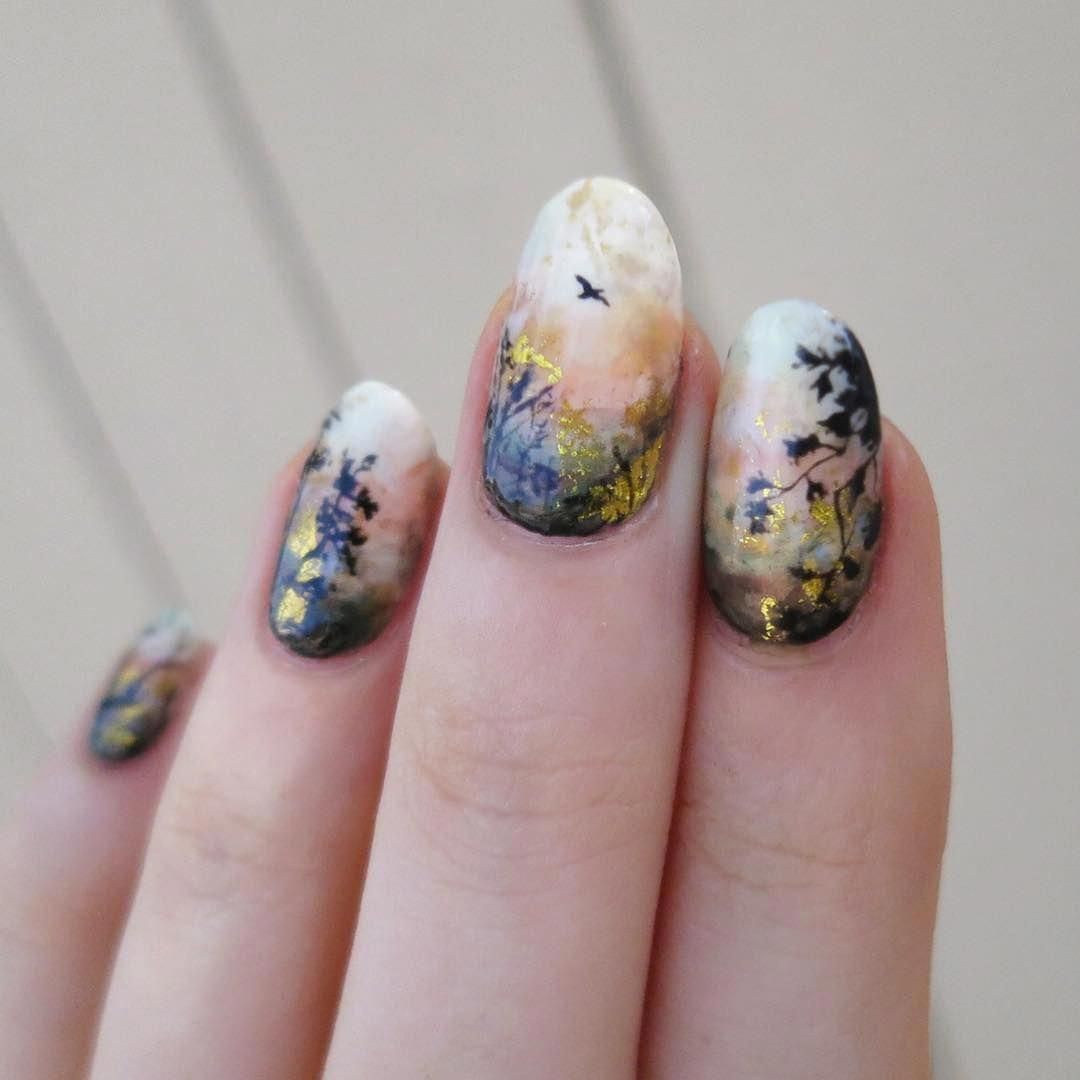 This intricate design is just stunning. It's like an extension of a beautiful fabric pattern that you'd wear to a formal event. The rich colors and shapes are inspired by the beautiful frosty and misty mornings in nature. The intricate line art of flowers and leaves keeps the botanical feel. The overall effect is subtle, feminine, and opulent.
14. Witchy Winter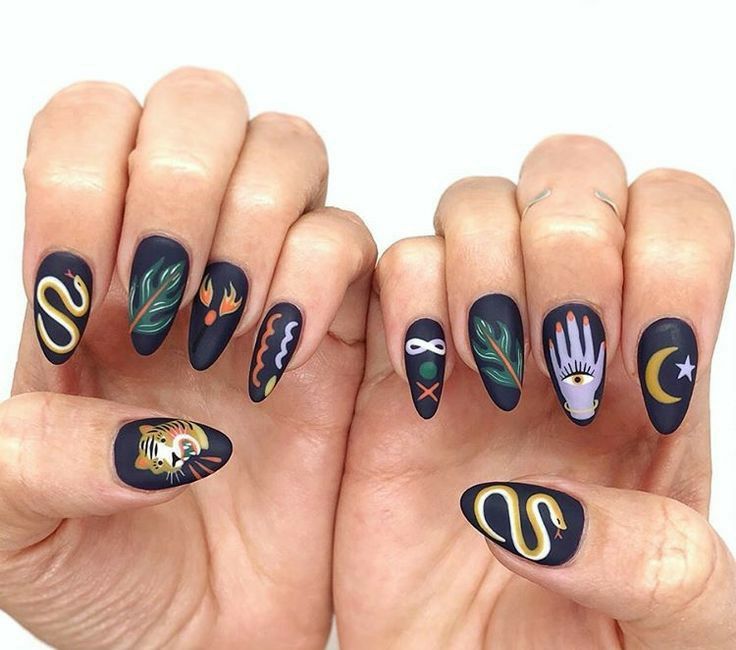 This is a perfect look for boring, winter days. Black nails are a bold look on their own. Even more so with a matte finish. The cool art on each finger definitely lightens the look. These nails are so eye-catching that hardly can somebody resist them.
15. Boho Pastels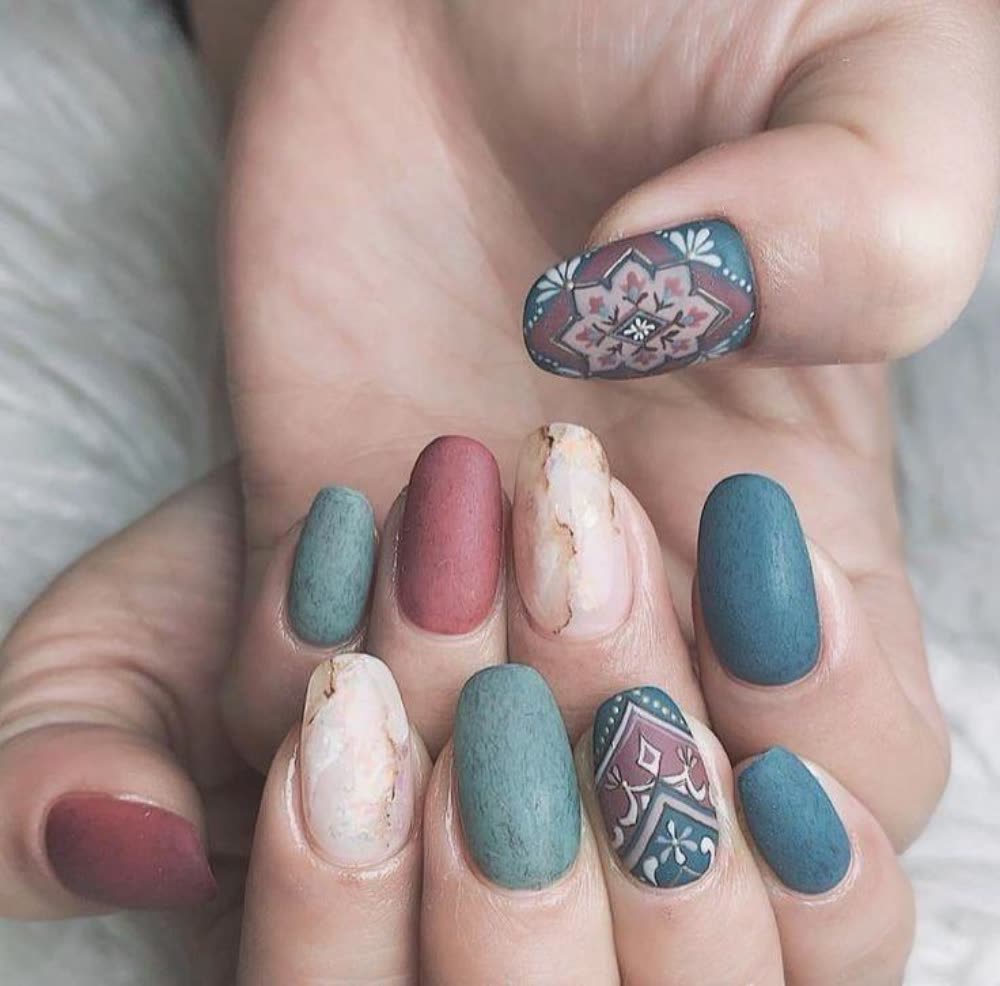 Summon warmer weather with a boho-inspired shade of lively pastels. This subtle colorful art is soft as a petal and bright enough to lift your spirits on dreary days. Sometimes you just need a little pick-me-up in your beauty routine. This boho-style will certainly do the trick.
16. Pressed Dried Flowers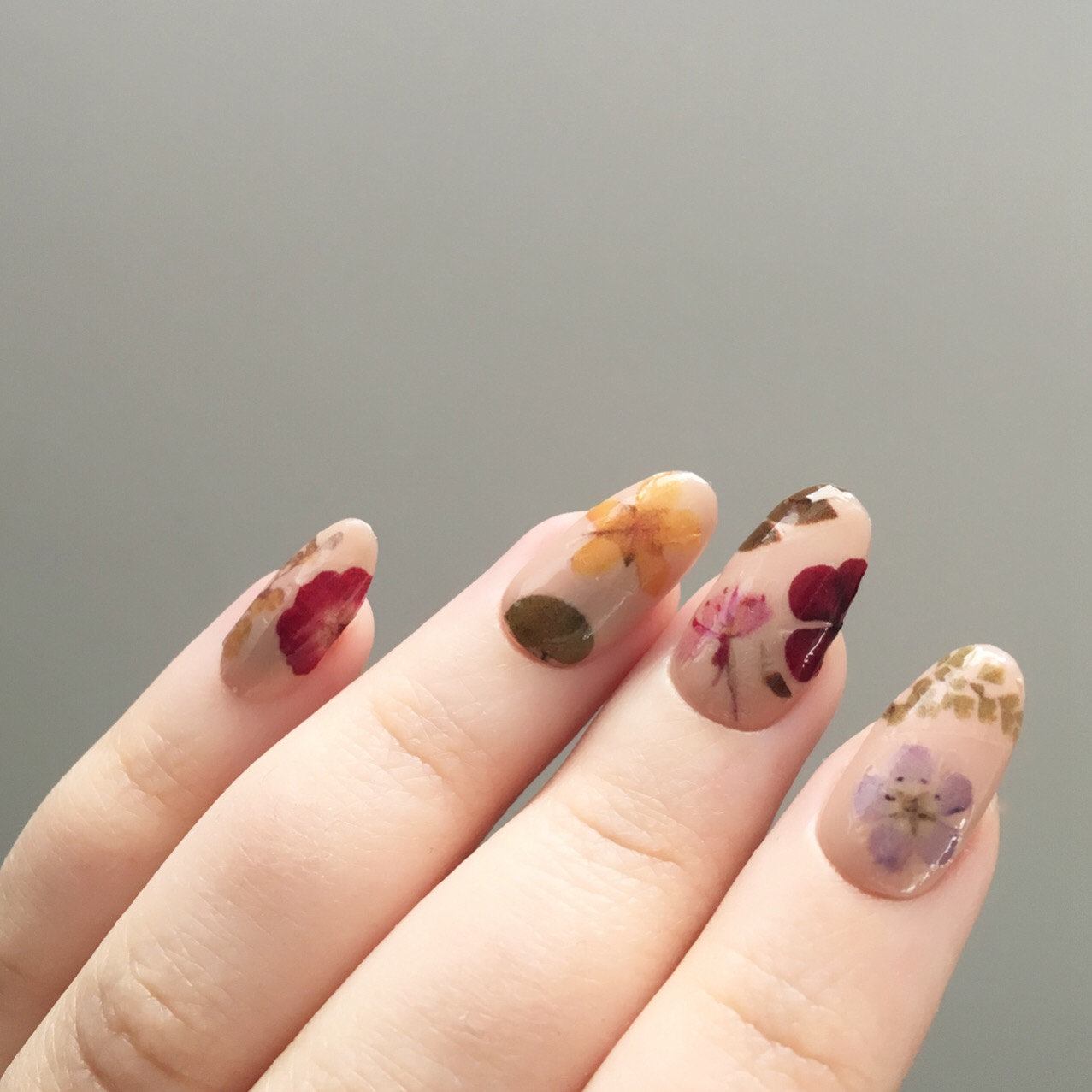 Nude design is as neutral and classy as it gets. If you like to wear beige or sandy colors in warmer weather this is a beautiful winter alternative, showcasing the beautiful "pressed dried flowers" design. This is simple enough to wear every day and classy enough to wear at a festive party.
17. Holly Evergreen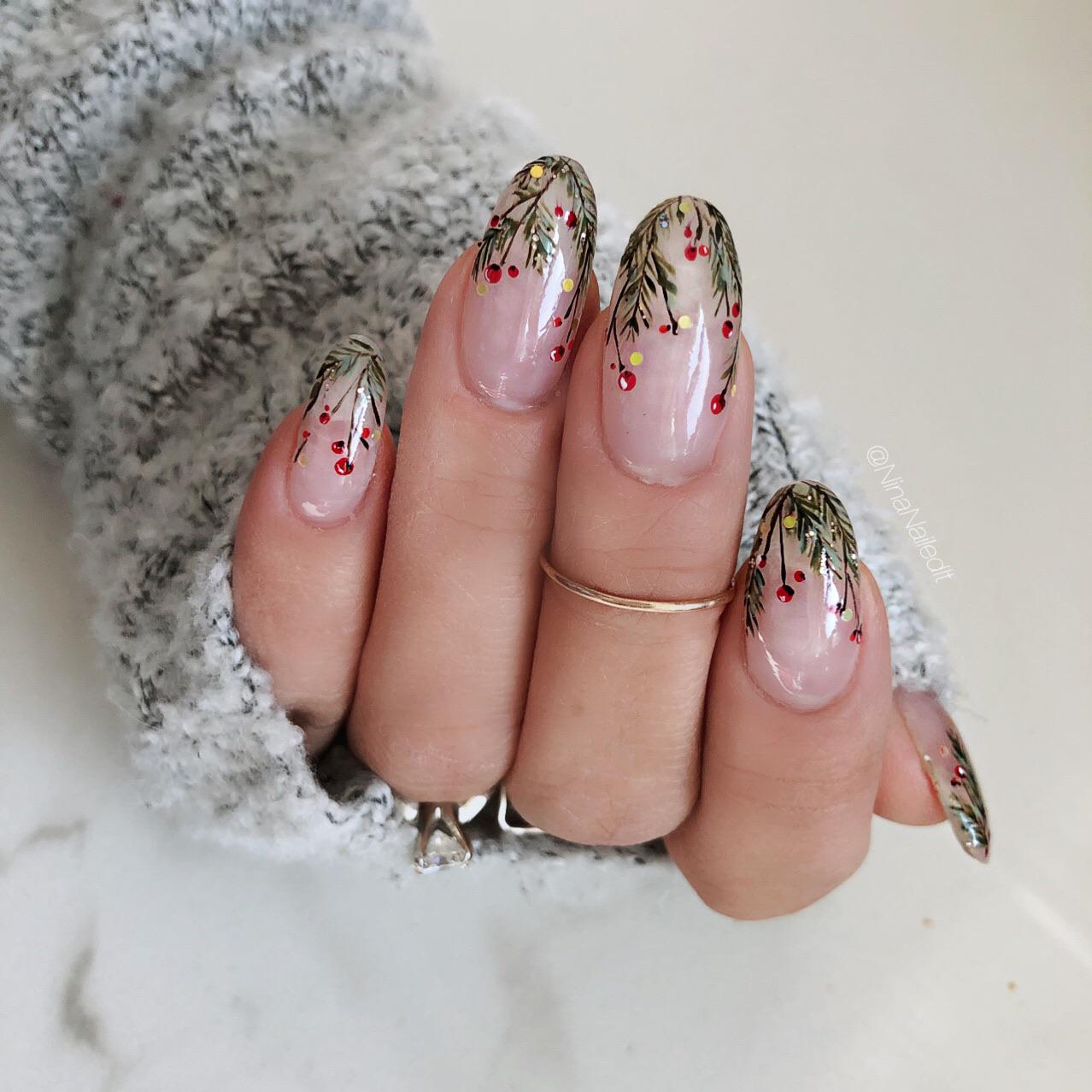 Nail Art doesn't have to be all gemstones and flowers. You can also play with shapes and line patterns to create interesting looks! This festive style is perfect for winter days. It's just a clear base with evergreen branches. Who knew stylish, sexy nail art could be so easy?
18. Frosty Forest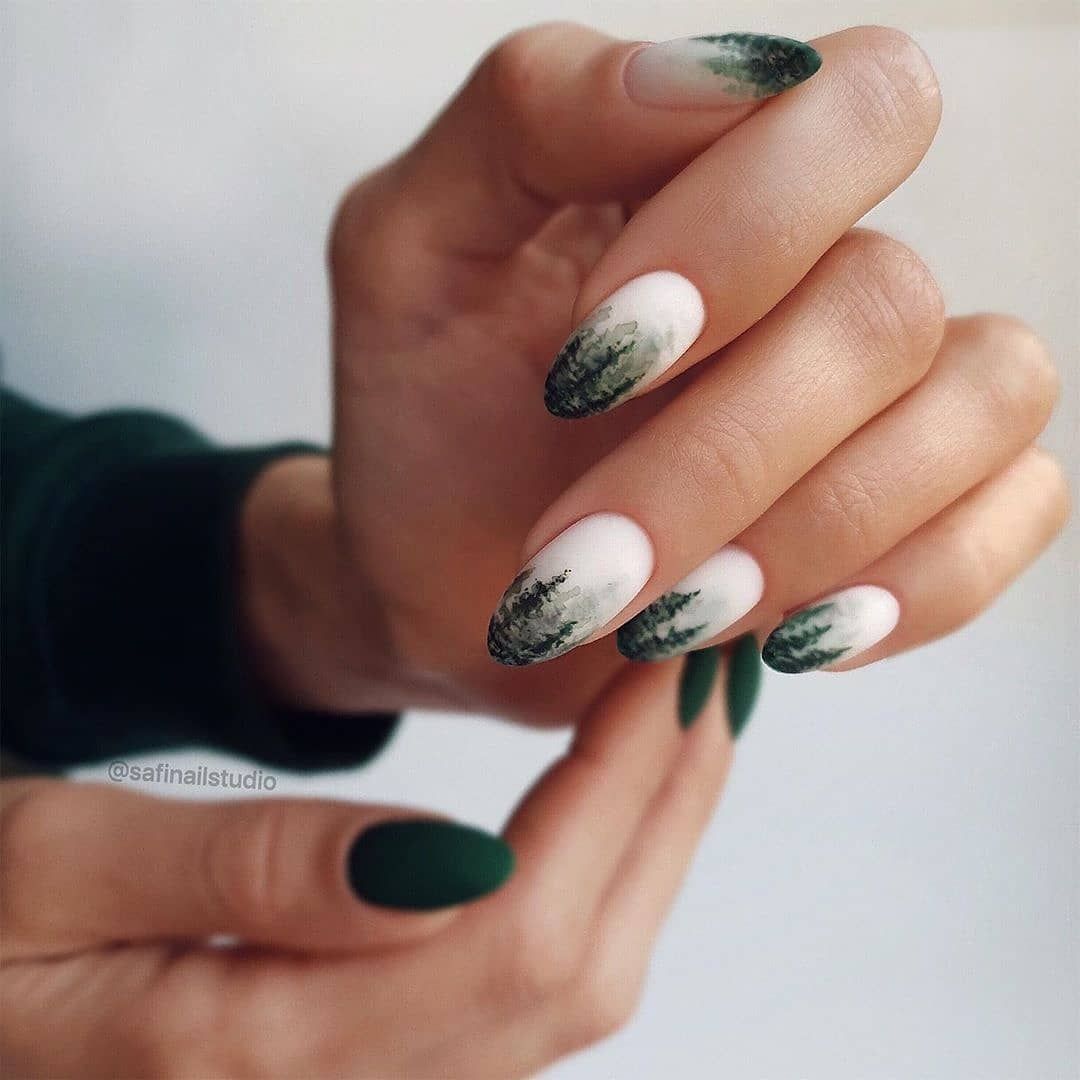 Have a manicure as unique as a winter forest with this artsy look. White base, a splatter of evergreen trees, and matte top coat come together for a one truly awesome winter style statement. Matte nails are gorgeous, to begin with, but using a touch of greenery in the mix really kicks this up a notch and ties in the winter theme.
19. Twinkling Lights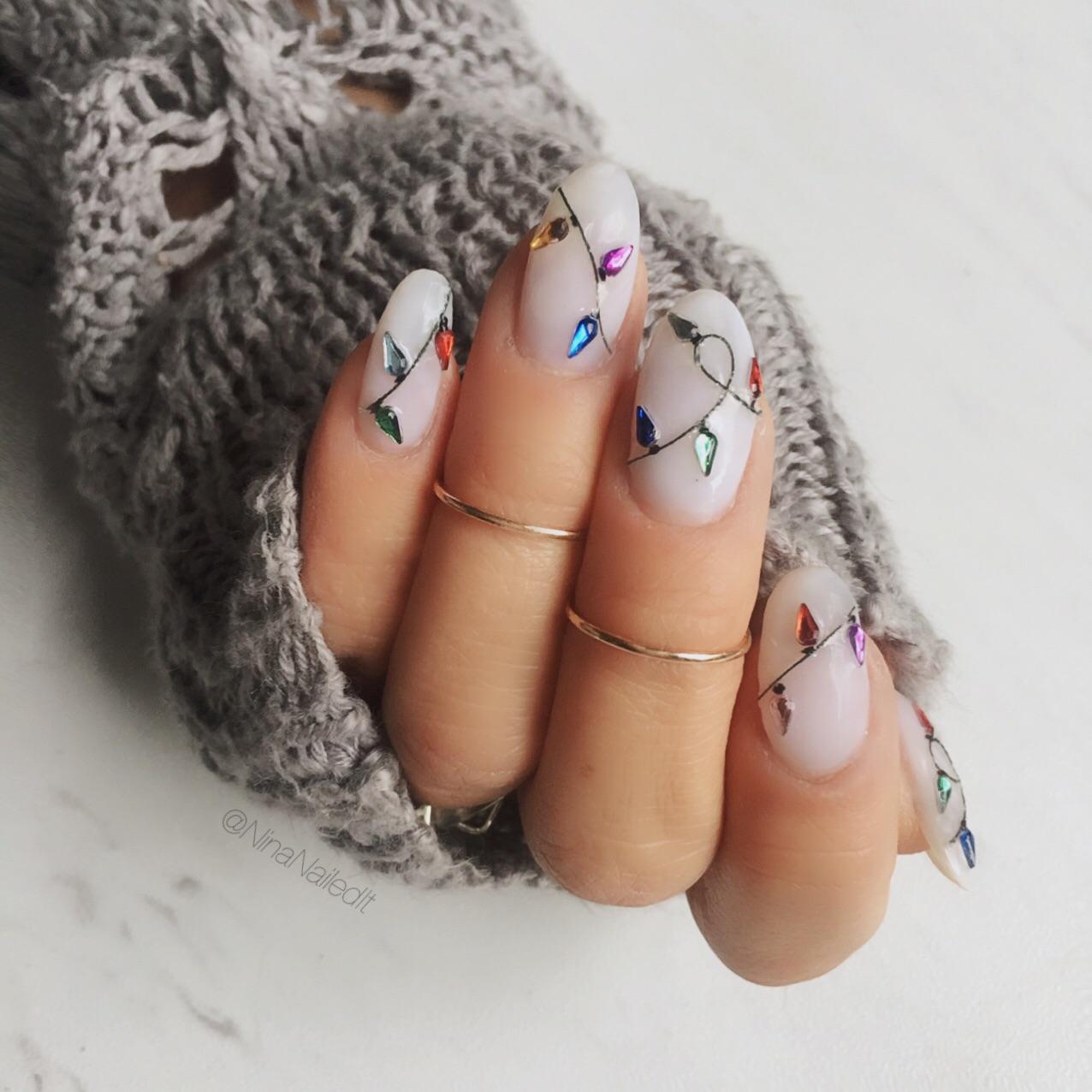 Icy beige cream polish is the base for this bright and wintry look. The nail art is subtle yet special. Diamond lights are placed on each nail that forms a string of lights. This nail art trend is so versatile. This is one more way you can have fun with your manicure!
20. Gingerbread Sweetness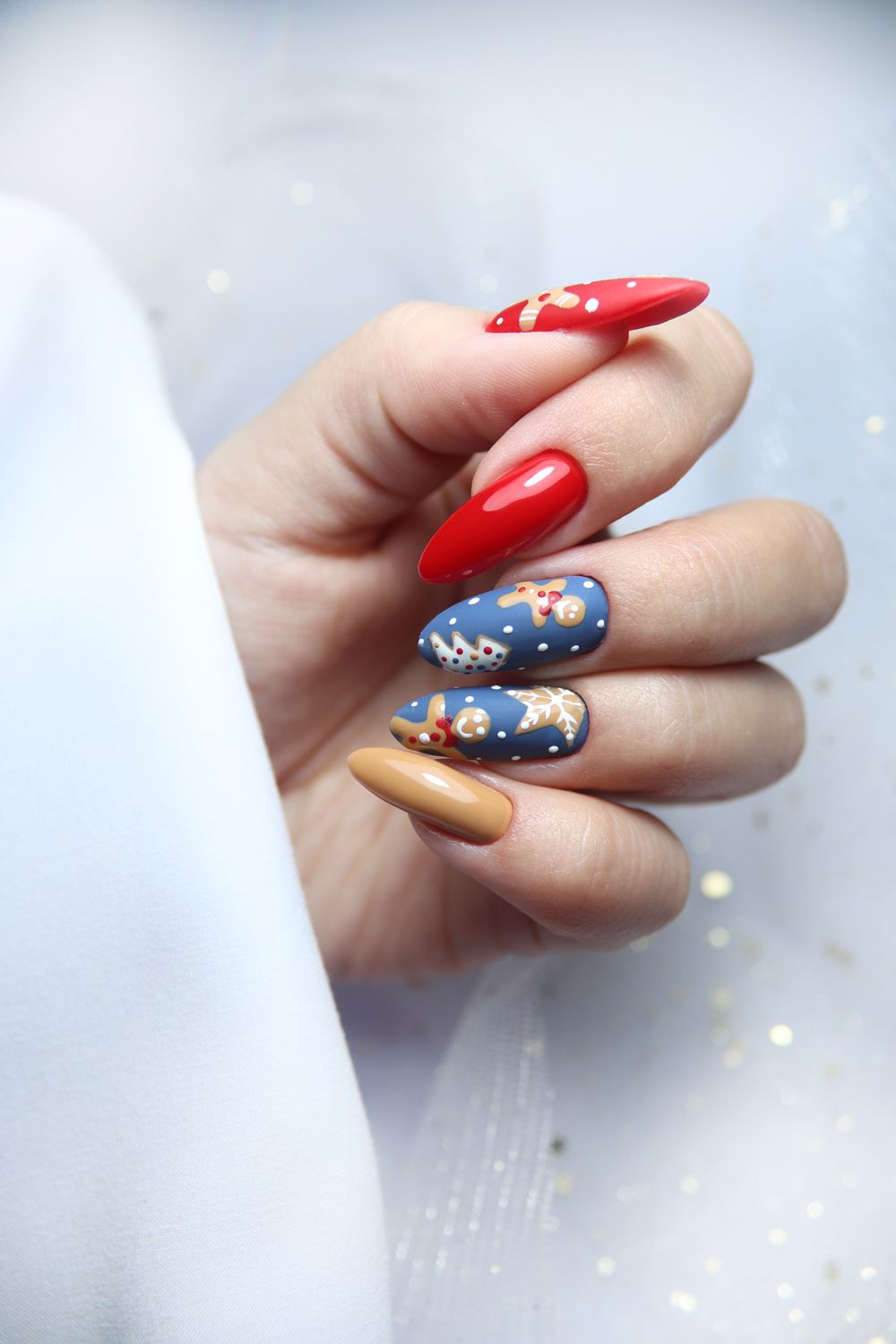 Fiery red is a timeless classic. This rich cream formula goes perfectly with winter textures and fabrics. A red and blue combo like this one is perfect for the chilly season. This manicure is great for holiday parties, or when you just need to feel a little festive.
How you do your nails reflects your unique personality. Your nails also have to compliment your outfit as you display your sense of style to the world. Which nail art is your favorite one? Leave a comment down below!