There is no better feeling than getting your nails done. Your nails are a way to speak your style without having to say a word. And you are never fully dressed without a good set of nails. And what speaks a good set of nails without some black nail polish?
Black makes everything more elegant or classy. When in doubt what to wear or what kind of nail polish to put, always go with black. Because you can't go wrong with black. A color that represents bold statements about oneself and their overall lifestyle…chic and dramatic lifestyle.
Black is the type of color that matches with everything. You can experiment all you want. So, you black colored enthusiasts, are you up for a collection of edgy & unique designs with black nail polish? Enjoy, we promise it will worth your while.
1. Black Nails With White-Shaped Faces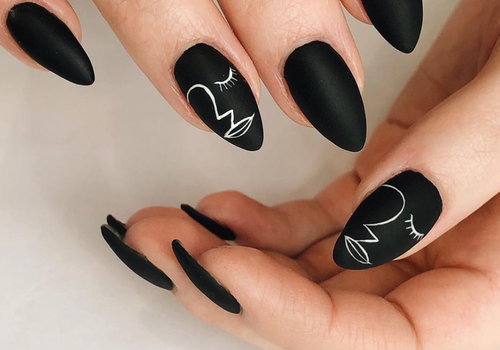 As a first manicure idea with black nail polish, we present to you these artsy black nails with white-shaped faces. Paint your nails black and add subtle detail, that is drawing a face like on the picture. And the matte black nail polish looks so good on everyone, right?
2. Black Nails With a Neon Green Flame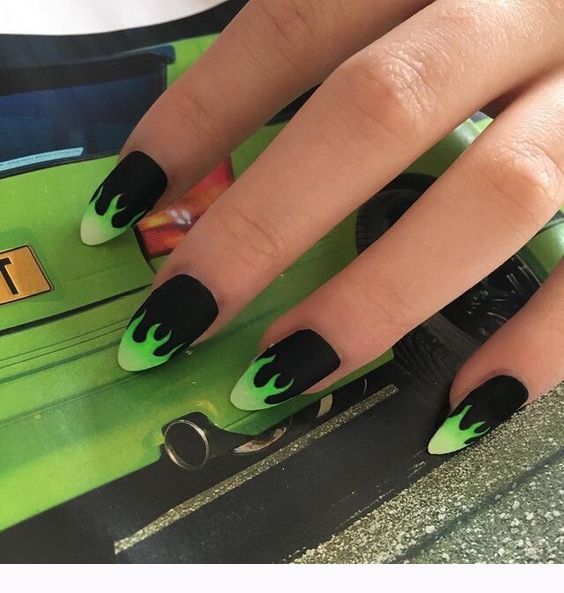 Neon colors are so trendy this past couple of years. And neons are so much more accentuated when combined with black color. Take a look at the picture and try to make this black nail design. Spice up your look, be fierce and fiery! Just like the neon green fire that will be on your nails.
3. Black Nails With Colorful Stars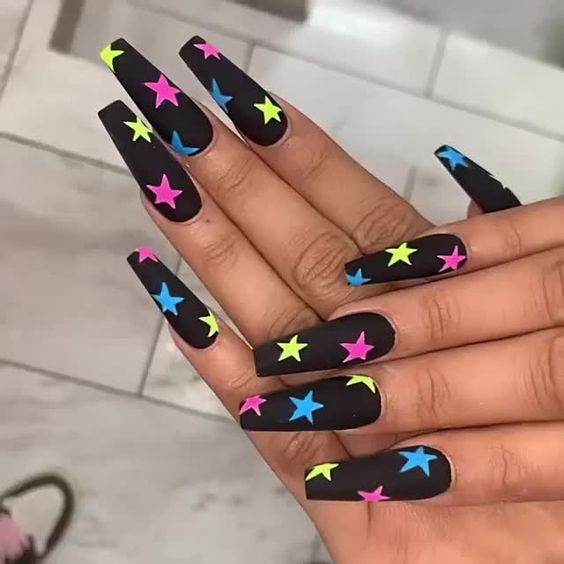 Are you feeling festive? Because with these nails, YOU WILL! Create this matte look with black nail polish and adorable stars in every color. With these matte nails, you will be in the spotlight. Why pick a suitable outfit when your nails say it all?
4. Black Fiery Nails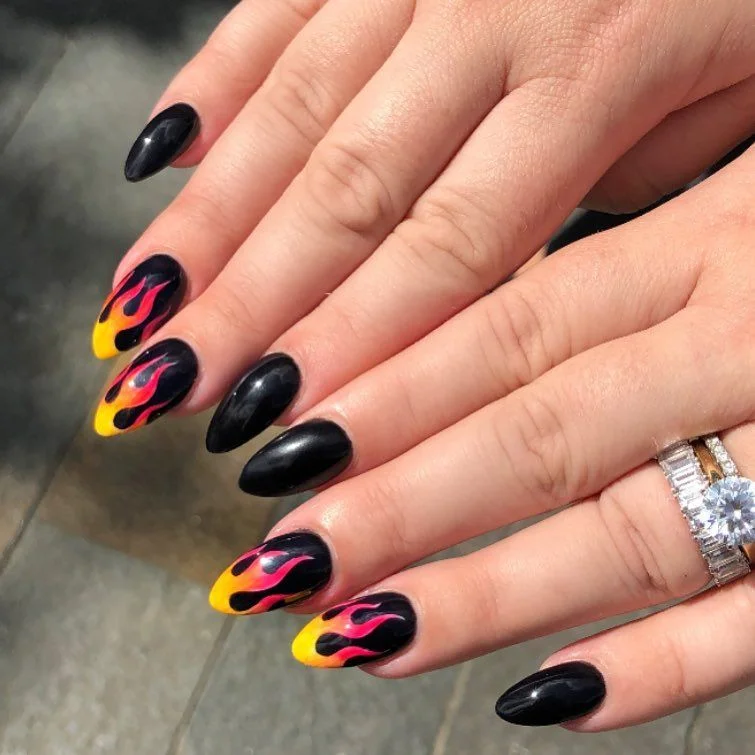 Take inspiration from this picture and create these flamy nails. Add a shiny black base and flames for a real fiery and spicy look. That's what's great about black nail polish… You can combine it with every color, shape, or form and it will still be looking like a million dollars.
5. Black Stary Nails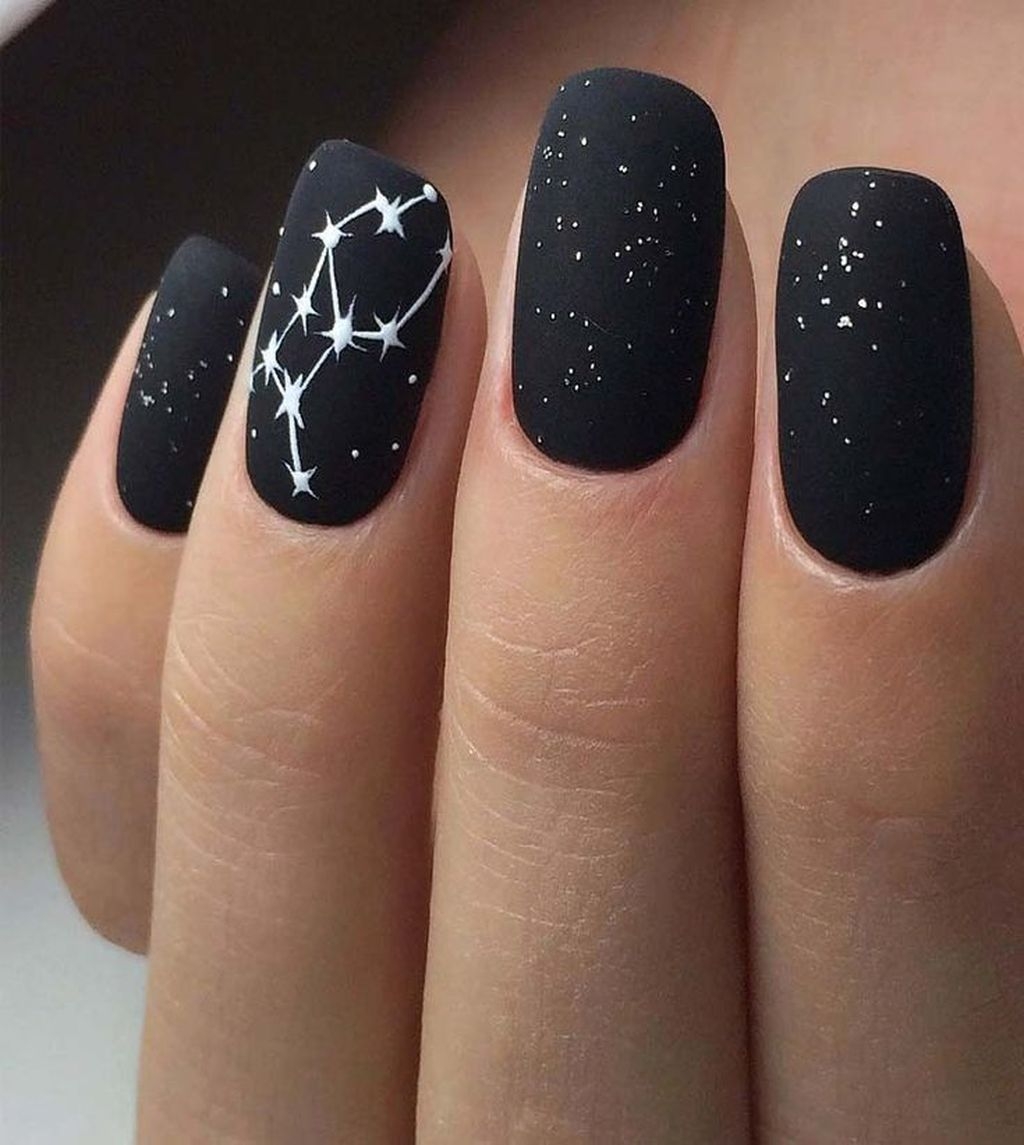 Sparkle up your manicure with this great black nail art idea! Paint your nails with black nail polish and add this stary design that is to die for. They are so subtle and mysterious at the same time. And the matte black color is like a cherry on top. Let your nails shine for you and create this look!
6. Black Ombre Nails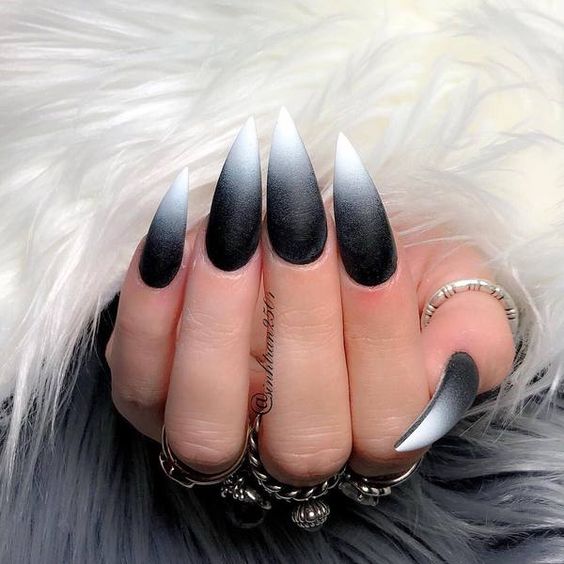 Be a fierce frosty queen and create this nail design idea. Since forever, ombre nails are something you cannot resist. These matte black nails look so good and unique, you simply can't take your eyes off them. Ombre black nail art design is made with a sponge, layered with the combination of color you want to use for the nails. Once you do that, tap on the nail and let the magic do its work.
7. Black Polka Dot Nails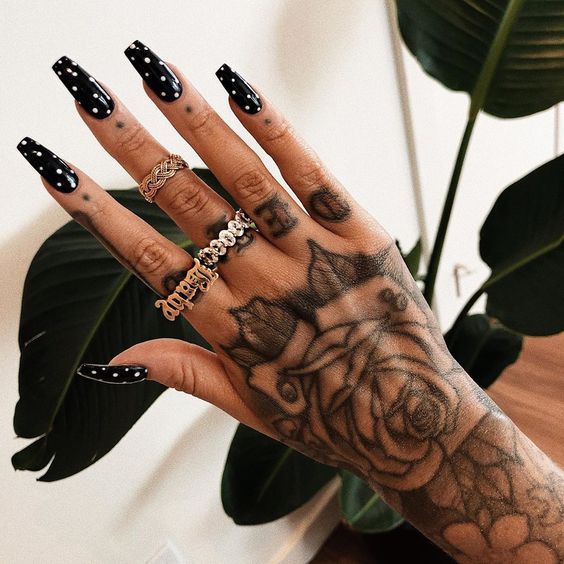 Black nails? Excellent. Black polka dot nails? Even better. Continue being the stylish and chic person that you are, and create this manicure look. You can never go wrong with this design pattern. They look so cool, and they are very easy to make. In a few minutes, you will have a glamorous manicure that everyone will adore.
8. Black Nails With White-Shaped Leaves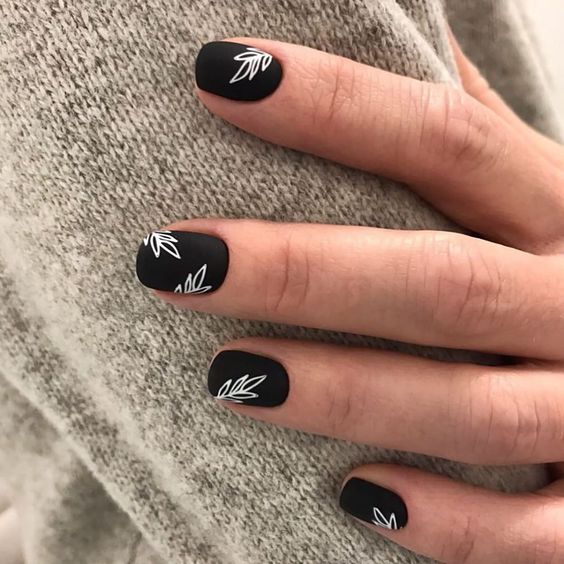 Matte black? Check. White-shaped leaves? Check. Excellent. You are ready to conquer the world. As easy as 1,2,3, you will have the perfect black nail art design for your short nails. As you can see in the picture, you don't need to have long nails for this one. So, if you are interested in this design, go ahead and try it.
9. Black nails with colorful lines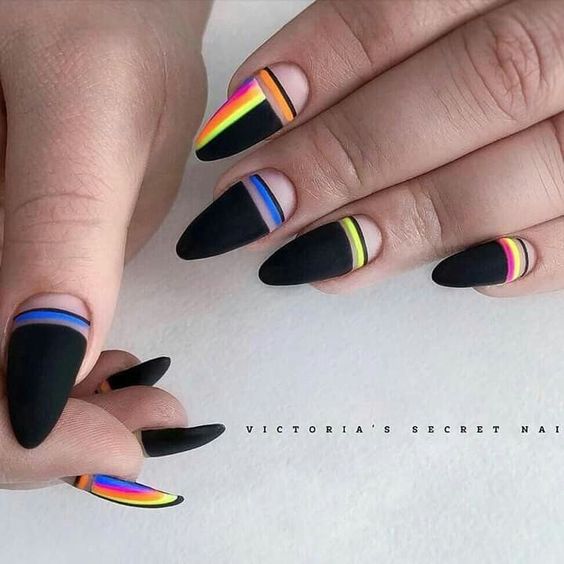 The best thing about black nail polish is that you can combine it with every color…or multiple colors all at once. And different shapes, like coffin nails. Check nail idea on the picture. A touch of different colors, especially neon colors will accentuate your nails a lot more. So, try out this nail design, we are sure you can pull it off!
10. Black Nails With  Black & White Lining Detail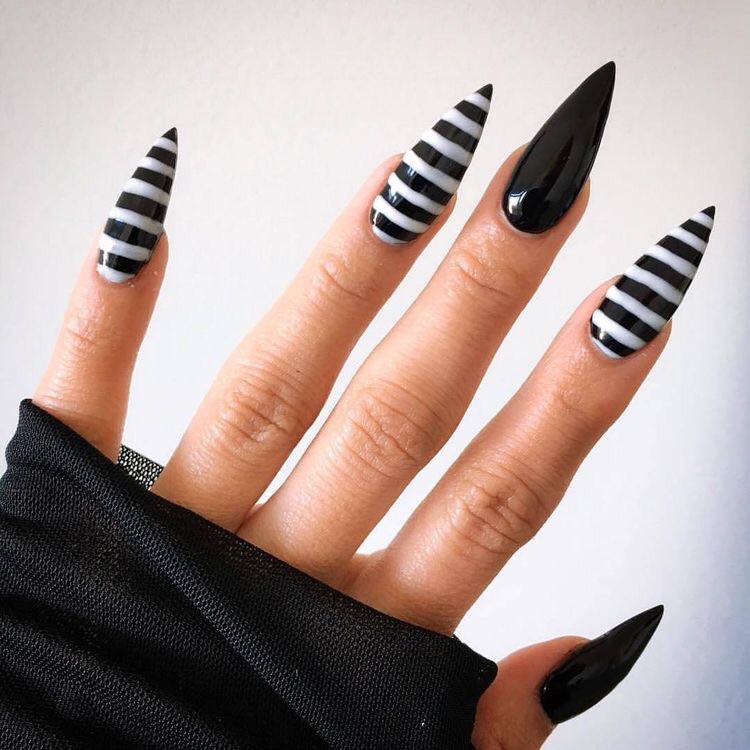 Nothing goes better than black nail color and white nail. And this nail design can confirm that. Make a fashion statement with your nails and create this look. They are very easy to do, and the end result is magnificent. These nails can suit just about every outfit and occasion that it is paired with. Accent nails are a huge trend lately, so get on it.
11. Black Nails With Fangs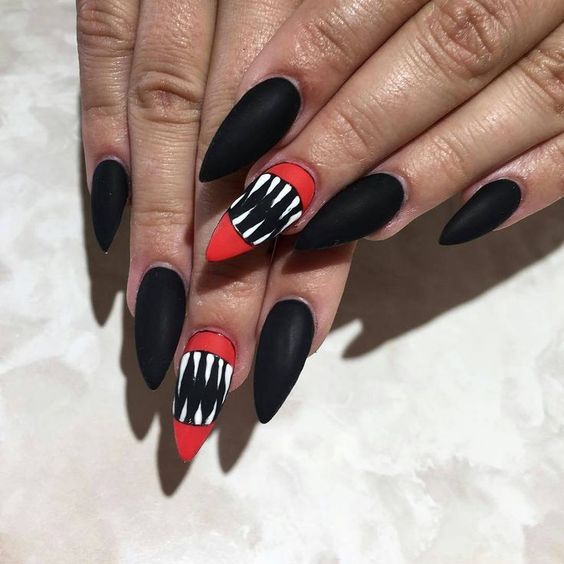 Get ready for Halloween and create this nail design! They look so cool, right? It's a great accent nails idea for Halloween, but you can make it whenever you want because they are to die for. You will get a lot of compliments for your bold choice of nail art, and you will be SO proud of it.
12. Holographic Black Nails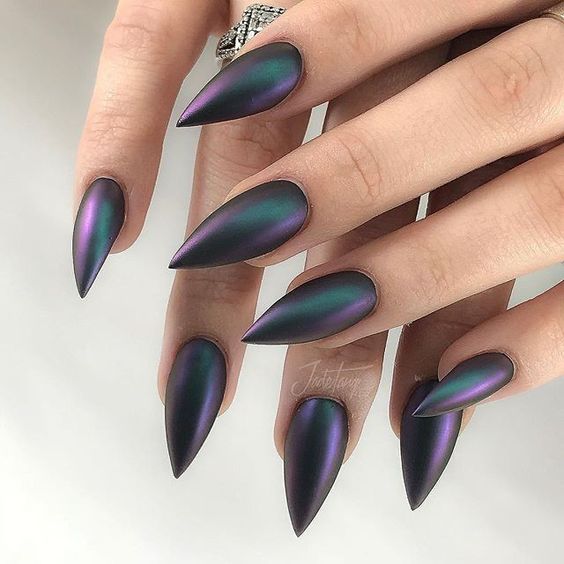 You don't need a lot of art to create a dramatic impact. Sometimes, all you need is a simple, holographic black nail polish. Put a matte topcoat on, and you are good to go. They look so luxurious and magnificent. And at the same time, powerful and mysterious. This matte black manicure is definitely one that will make you star of the night.
13. Black Nails With A Smiling Sun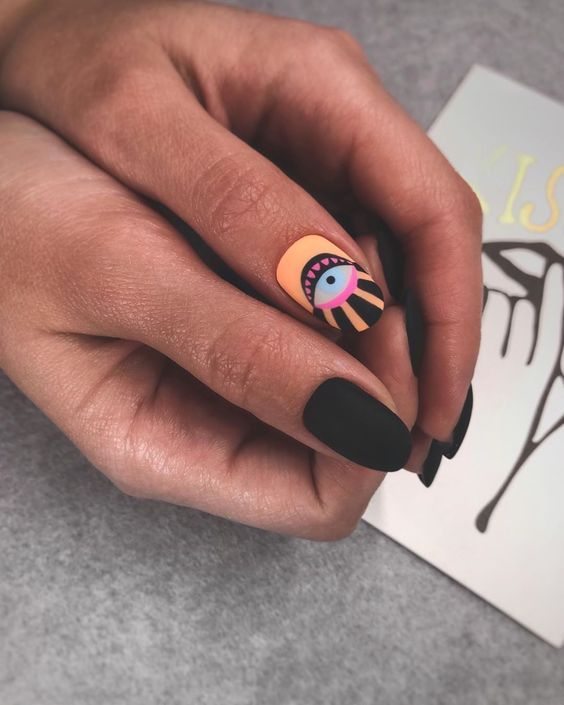 Get ready for the summer with this funky nail art design. Sometimes, one accentuated nail is all that you need in a black manicure. So, if you are a fan of these designs, try it out. It will look great! You can combine them with any outfit you want because the nails speak for themselves!
14. Black Nails With Neon Details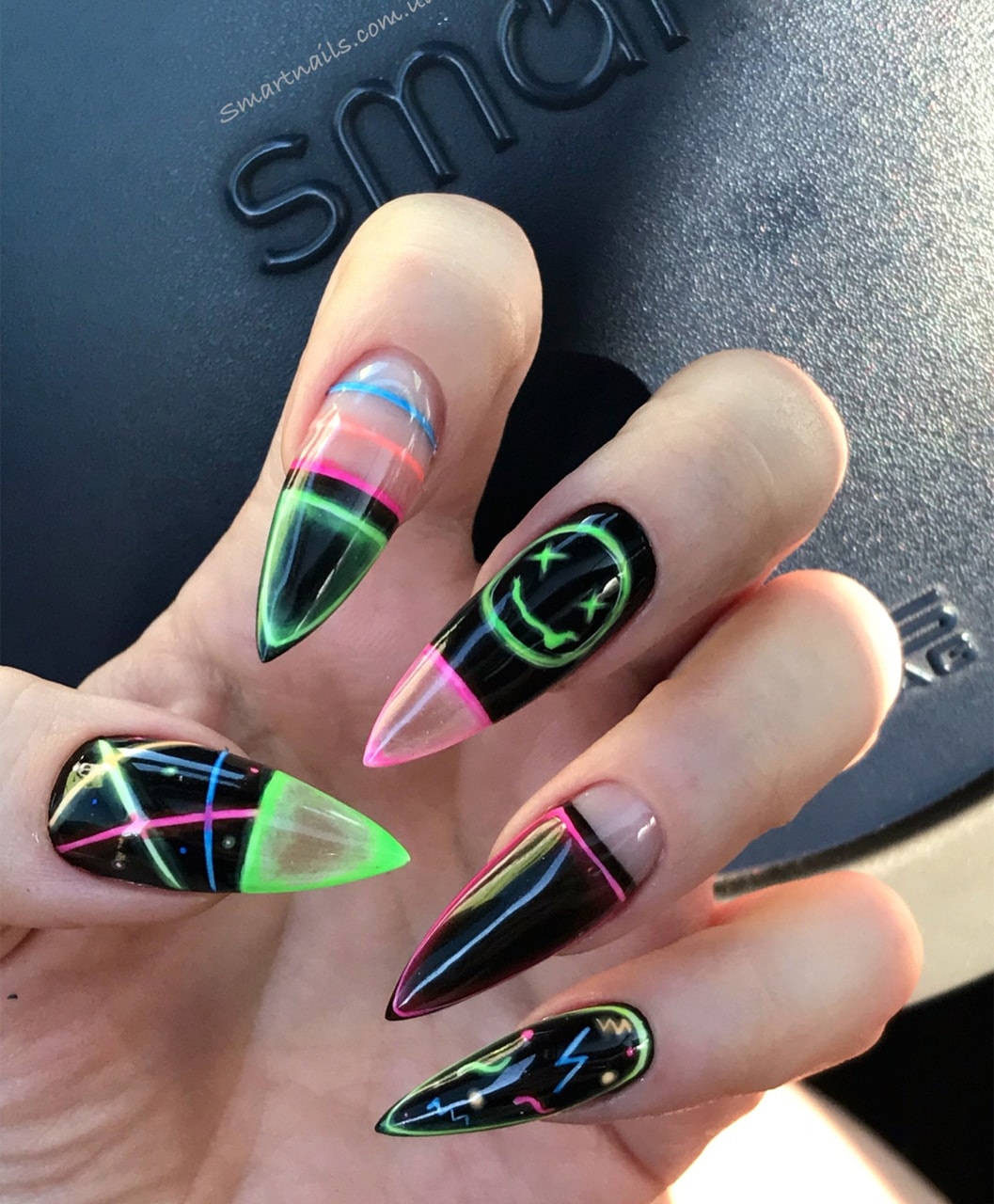 Express your uniqueness and show it in your nails. Your nails will be like laser beams. Perfect for summer and colorful enough for parties and celebrations. And the neon colors give the right amount of ablaze. Try it out. You will like it.
15. Black Nails With Toucan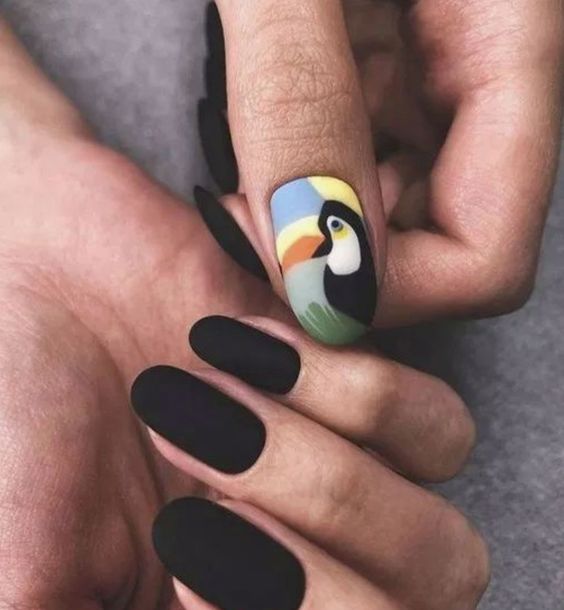 And last but definitely not the least, black nails design with Toucan bird. Harmonious design with a blend of colors that perfectly matches with the black matte nail polish. And the Toucan nail provides enough radiance without being too splashy.
We hope you like our 15 ideas of black nails polish designs. It goes to show that we can wear black at any time, any age and certainly on any occasion. What's your favorite design? Leave a comment below!