Each year, several trends are the ultimate highlight in the fashion industry. And every year, especially the world of beauty and style is constantly evolving like there's no tomorrow. Social media platforms have opened a door for everlasting expression of creativity for all those imaginative and artistic souls. One area that is blossoming? Nail designs.
Nail technicians are creating some of the coolest and most creative trends to date. One of their latest and greatest is undoubtedly the marble nail art trend. Using a marble nail design can be the perfect way to step up your manicure game and add some interest. On long nails, this design is glamorous and artsy, and on shorter nails, it adds a little more interest to a classic manicure. This surprisingly easy to apply nail design is done by dipping your nail in a bowl of water with marbled nail polish floating on the top.
This manicure idea is perfect for beginners who want to learn a new design technique, or even for professionals who want to offer a trendy look at their nail salon. These beautiful designs can be worn in any season and matched to any style. Here we've collected some of the fiercest, most impressive marble nail art ideas to help anyone looking to change up their regular manicure.
1. Baby Blue With Silver Stone Marble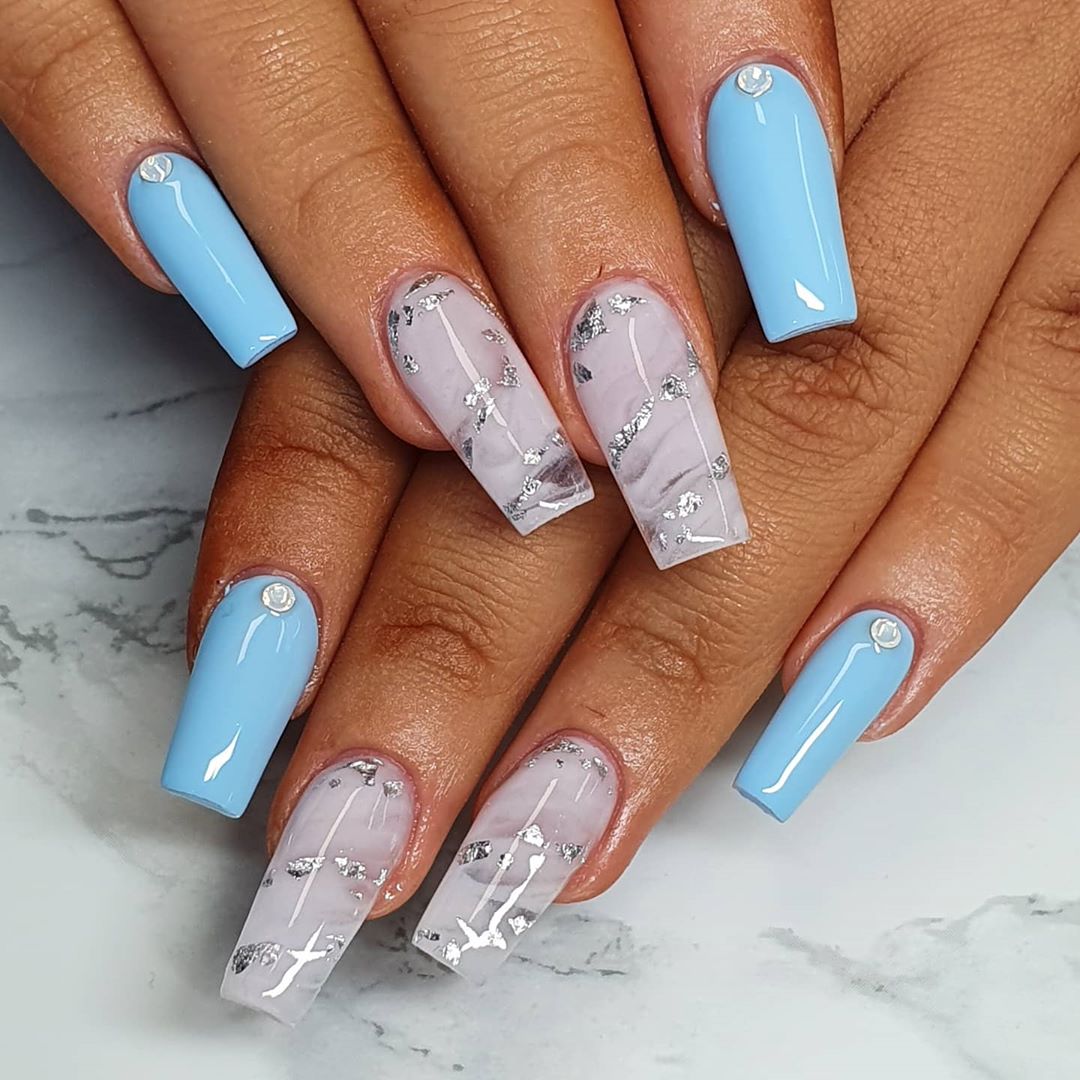 Nail art is an easy way to make any manicure more stylish and interesting. Blue nail polish is an easy way to get into wearing more colorful nail art. This baby blue looks great with the grey and silvery details, and the marble design gives a cool smokey effect.
2. White And Red Marble With Gold Frame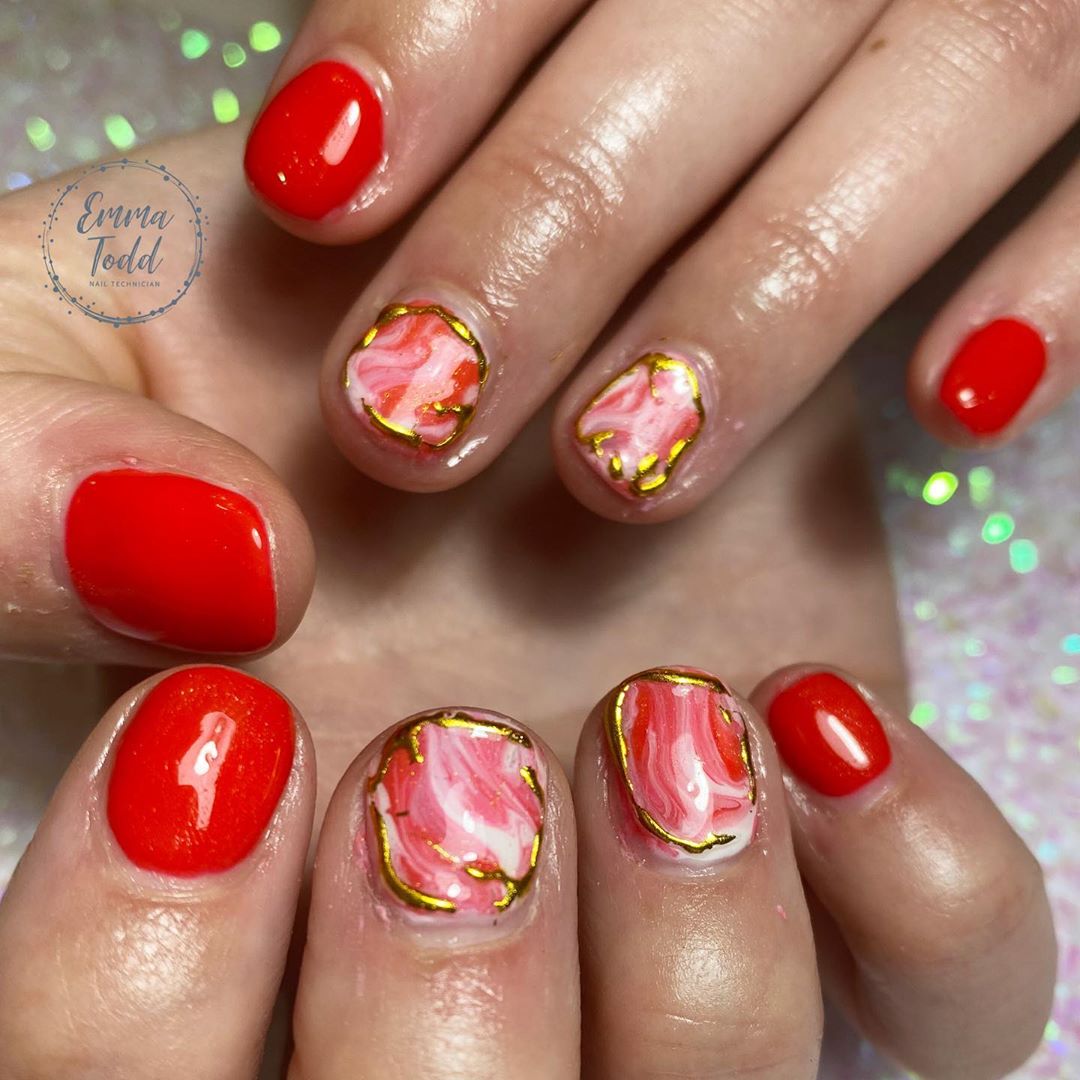 The marbled effect is cool and versatile even on short nails. It spreads a little artistic flair to the nails and makes them stand out in a crowd. The best part of this manicure is the red marble design. It ties the whole mani together and gives it a modern feel.
3. Purple Night With Copper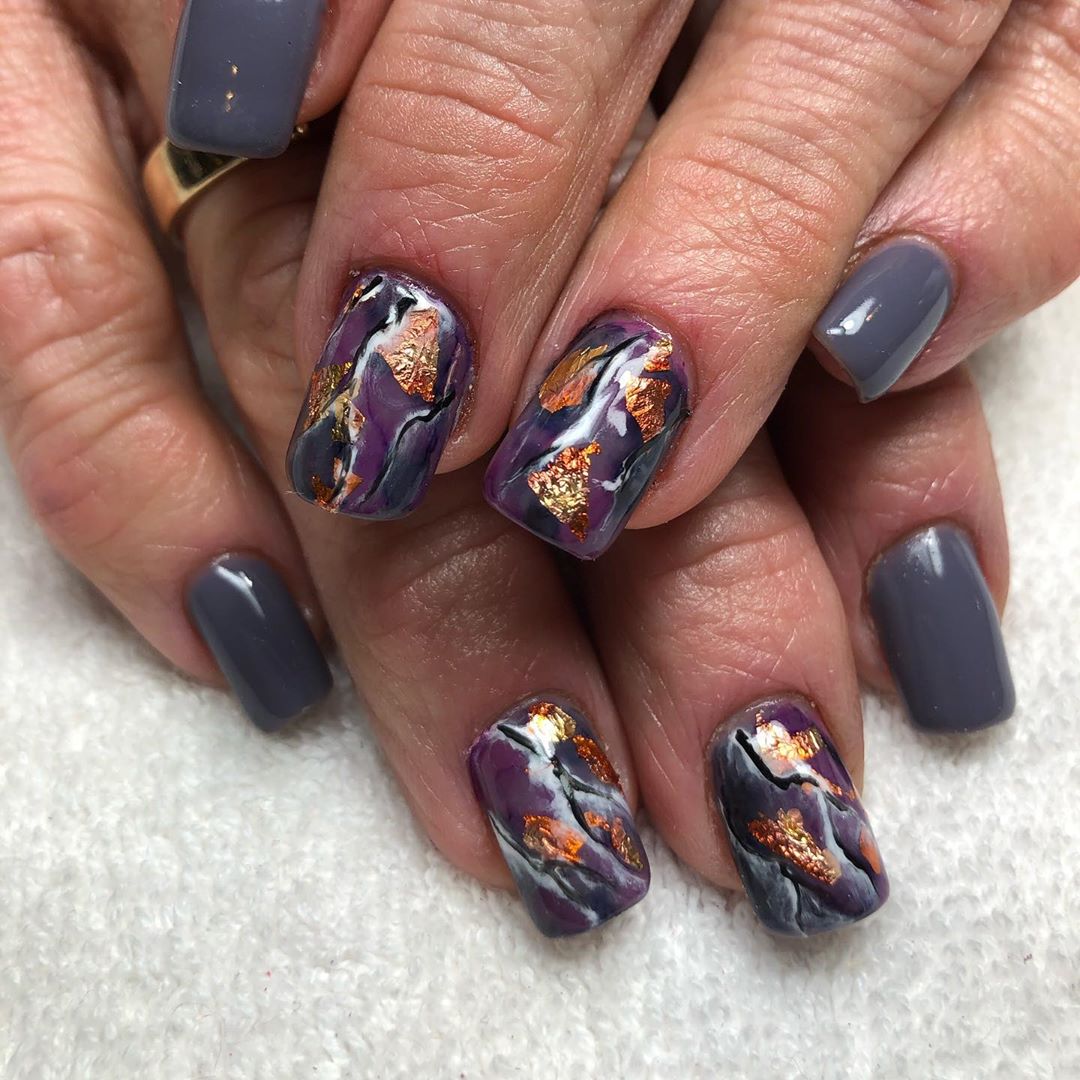 Dark purple is a popular winter or fall nail color and it's easy to see why. The hue is striking and stylish and flatters any skin tone. This manicure is very easy to do since you have to create a marble effect only on two nails. The grey choice of nail polish gives an ultra-modern and sophisticated feel.
4. Crystal Clear Marble With Gold Flakes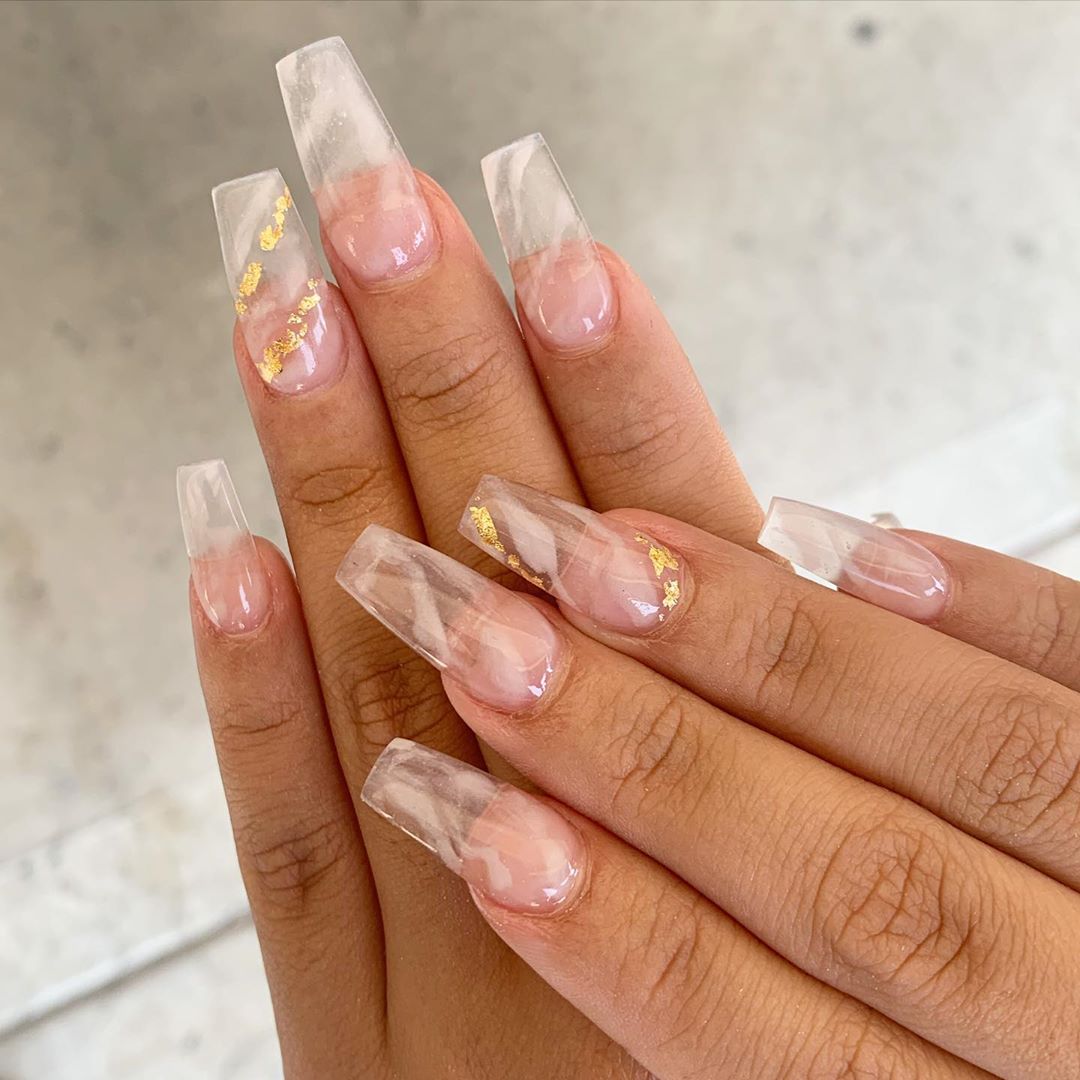 A super glossy and super chic clear manicure with white accent marble nail tips. Wear this nail art design when you want to look stylish but not too overstated. The use of gold details is a great color block idea and gives this design a feminine and modern twist.
5. Metallic Blue And Purple Melt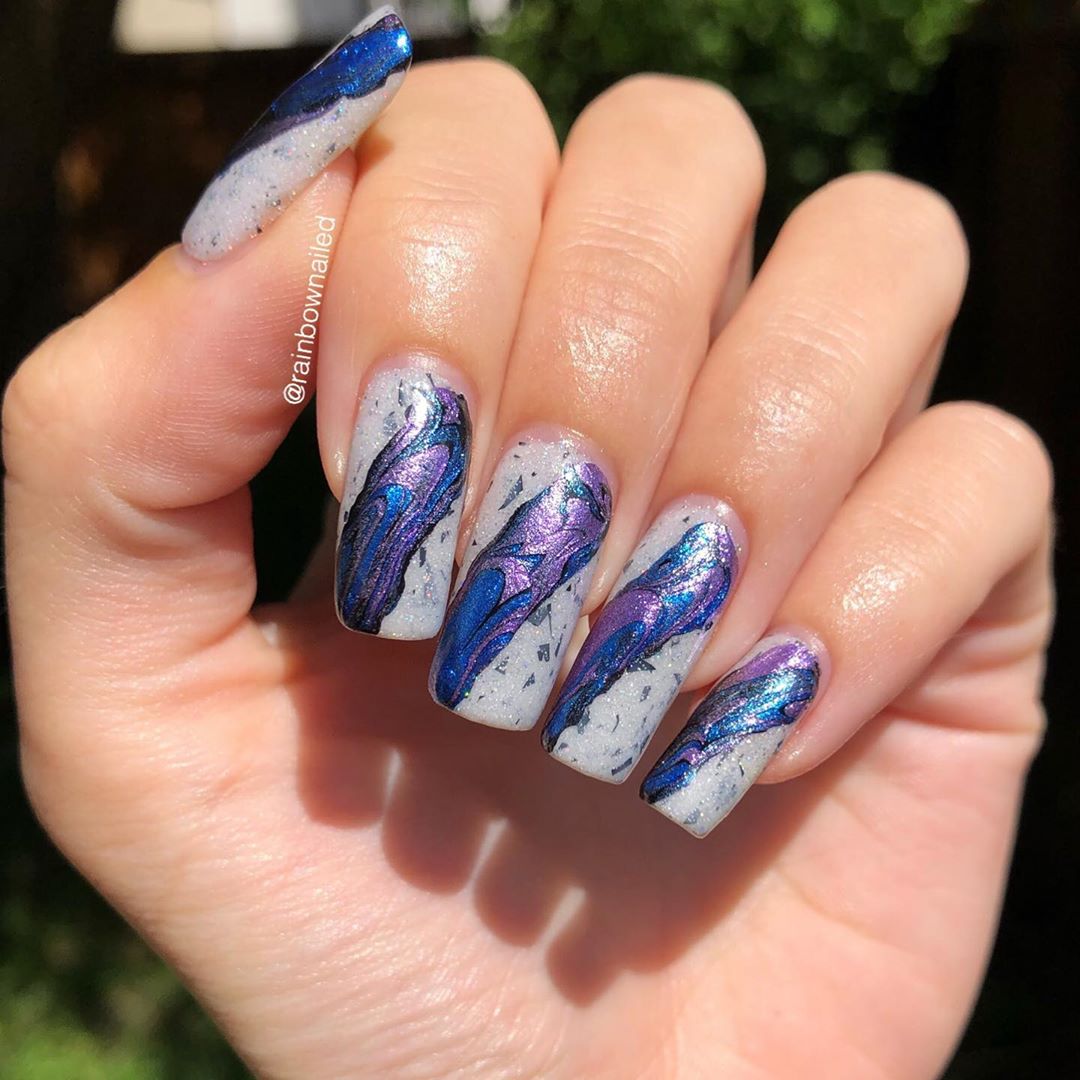 These colorful cuties are perfect for babe with an adventurous style. We love how these colors complement each other, but we're sure if anyone fancied a different color scheme, this dimensional look could be customized. However, the overall look of these nails is awesome with an undeniable edge.
6. Magenta With White Marble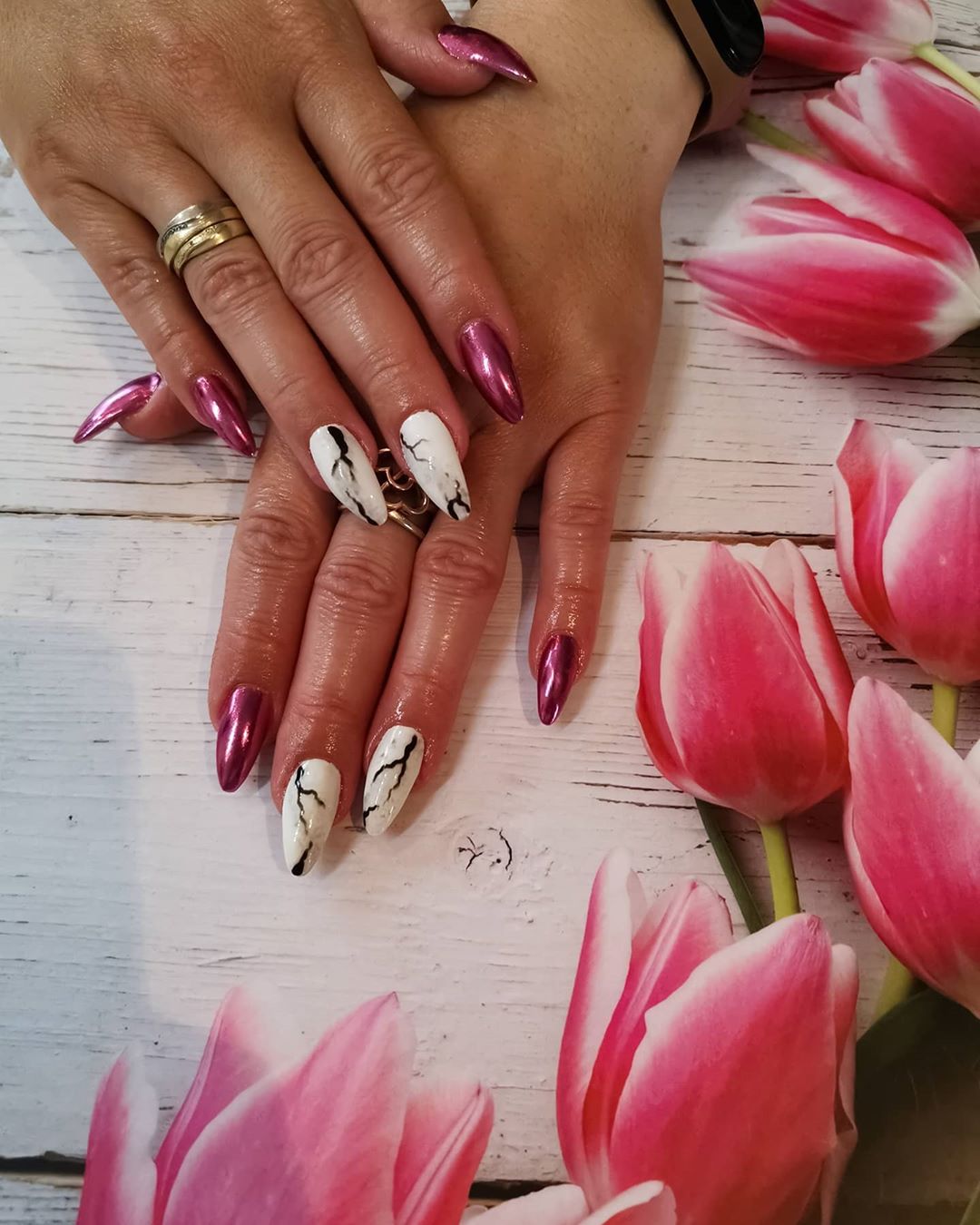 The great thing about marble nails is that there are an infinite amount of color combinations that you can use to create a stylish and interesting look. The white marble is the focal point in this manicure, combined with a flattering metallic magenta that ties the look together and gives a modern feel.
7. Matte Navy Blue With Gree Sea Marble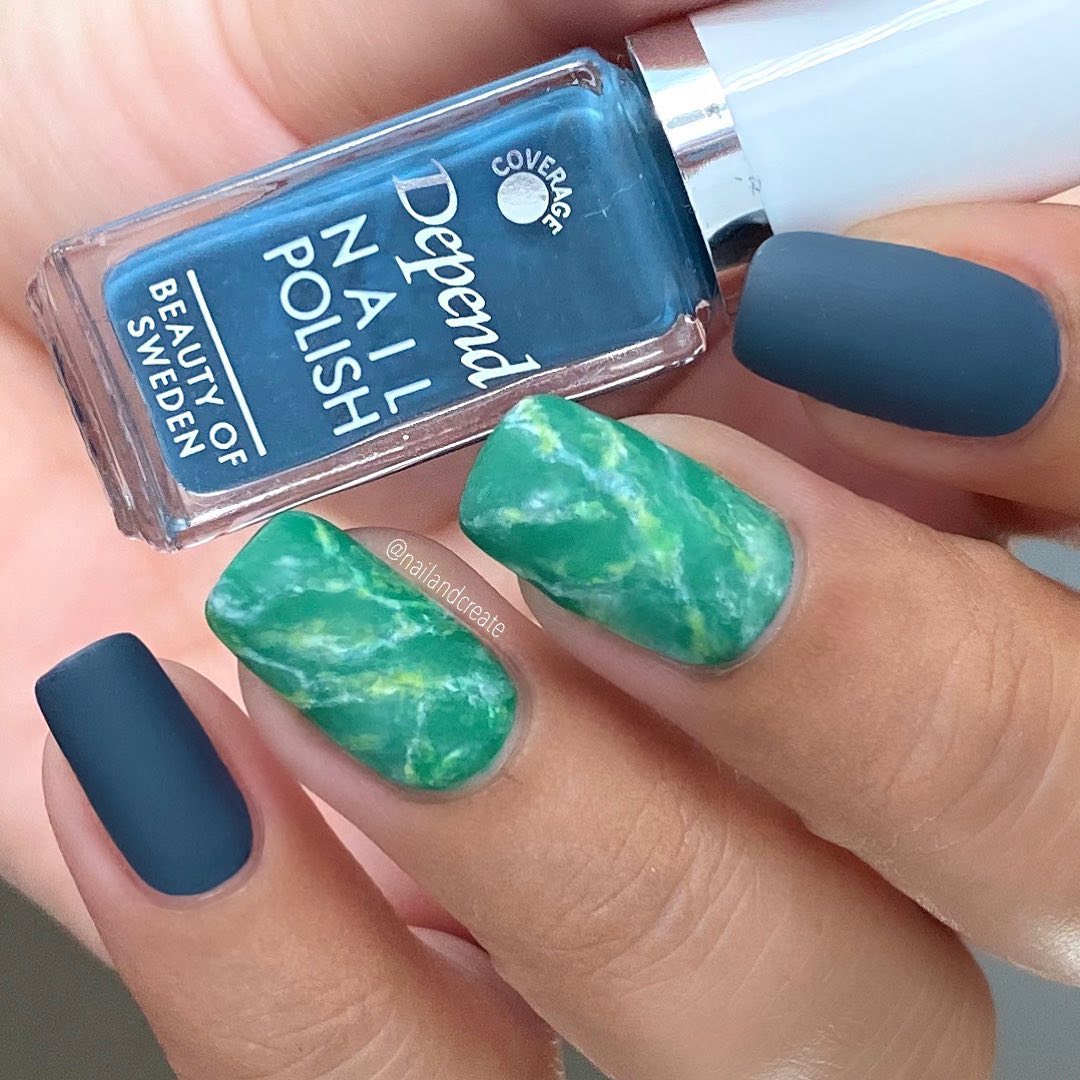 Getting ready for a summer vacation? This is a great manicure idea for beachy and summery days. And we all know that on vacation our nails must be on point. The marble vividly stands out in this look and looks like a beautiful coral reef. Combined with a navy blue that is universally flattering and super-cute color.
8. Neon Rainbow Marble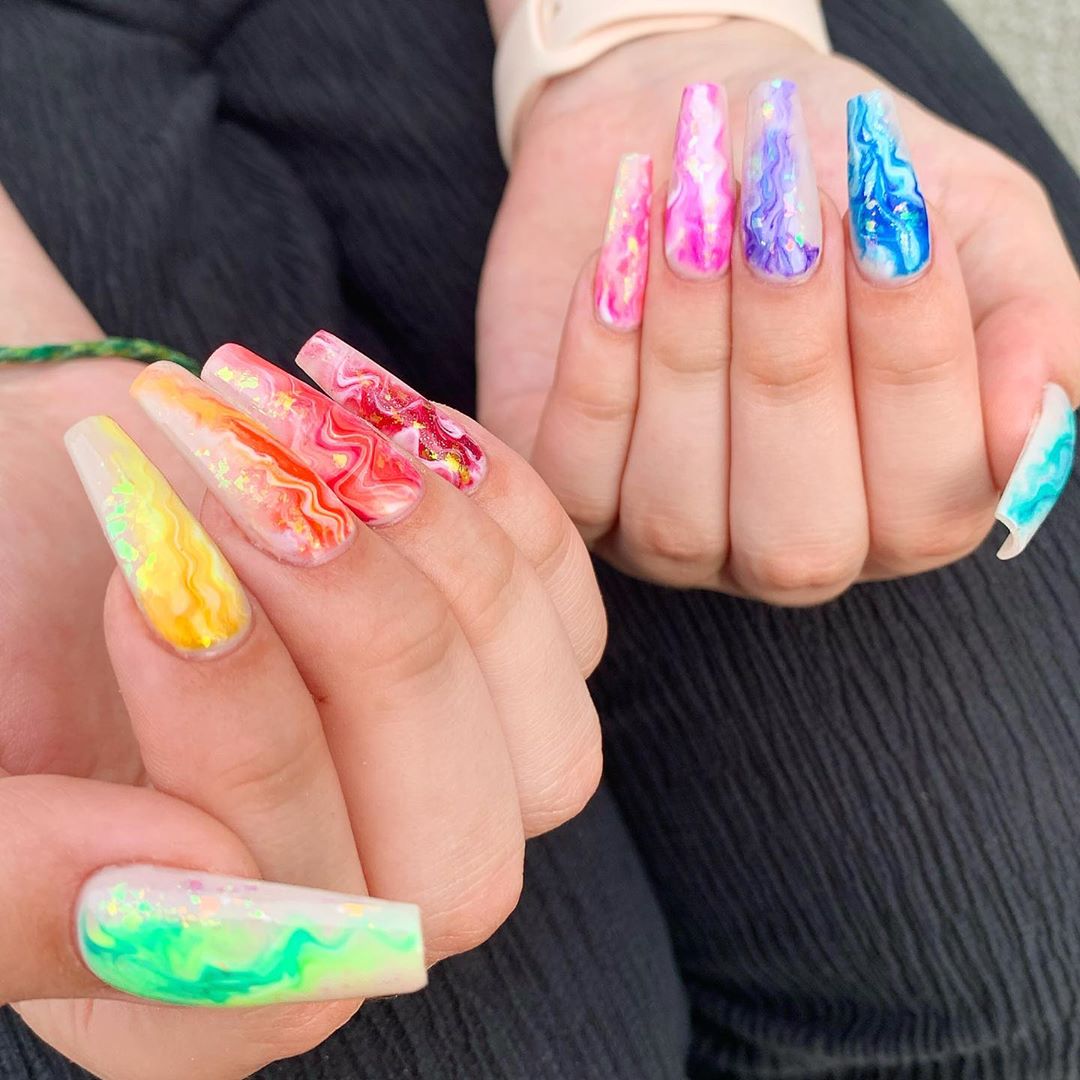 Are you looking for awesome nails with an undeniable edge? Well, this one might be just for you. Every nail has a different color shade, thus making a spectrum of colors with a striking rainbow flow. These nails are cool and versatile that vividly stand out in a crowd.
9. Fire Reds With Gold Flakes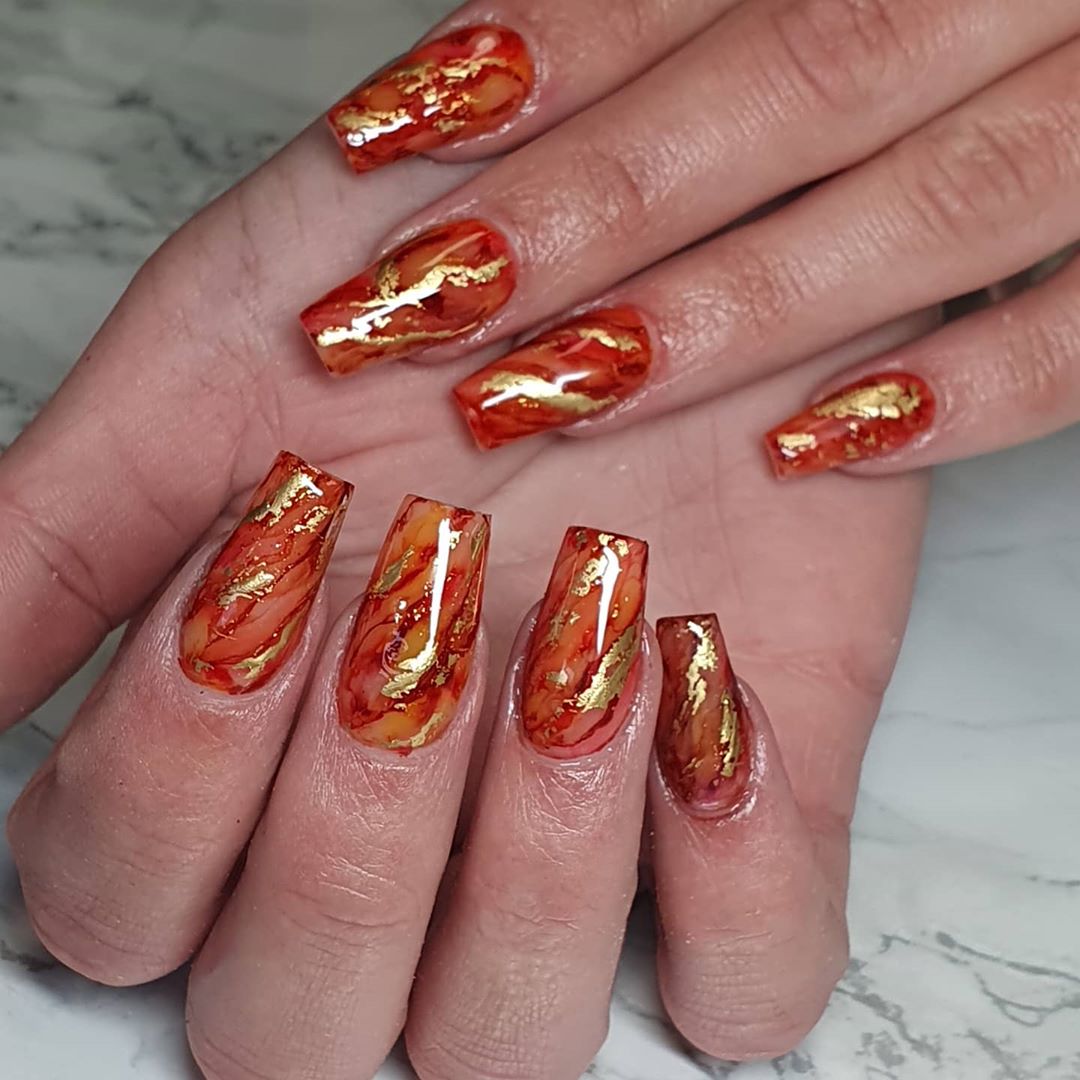 Every woman is in love with the red. There's something about that color that boosts our confidence to the next level. This fiery marble design is a great idea if we want to step ou our "red nail polish" game. It's a very dazzling and elegant look, and the gold flakes add to the luxurious style, without looking too overstated.
10. Purple And White Marble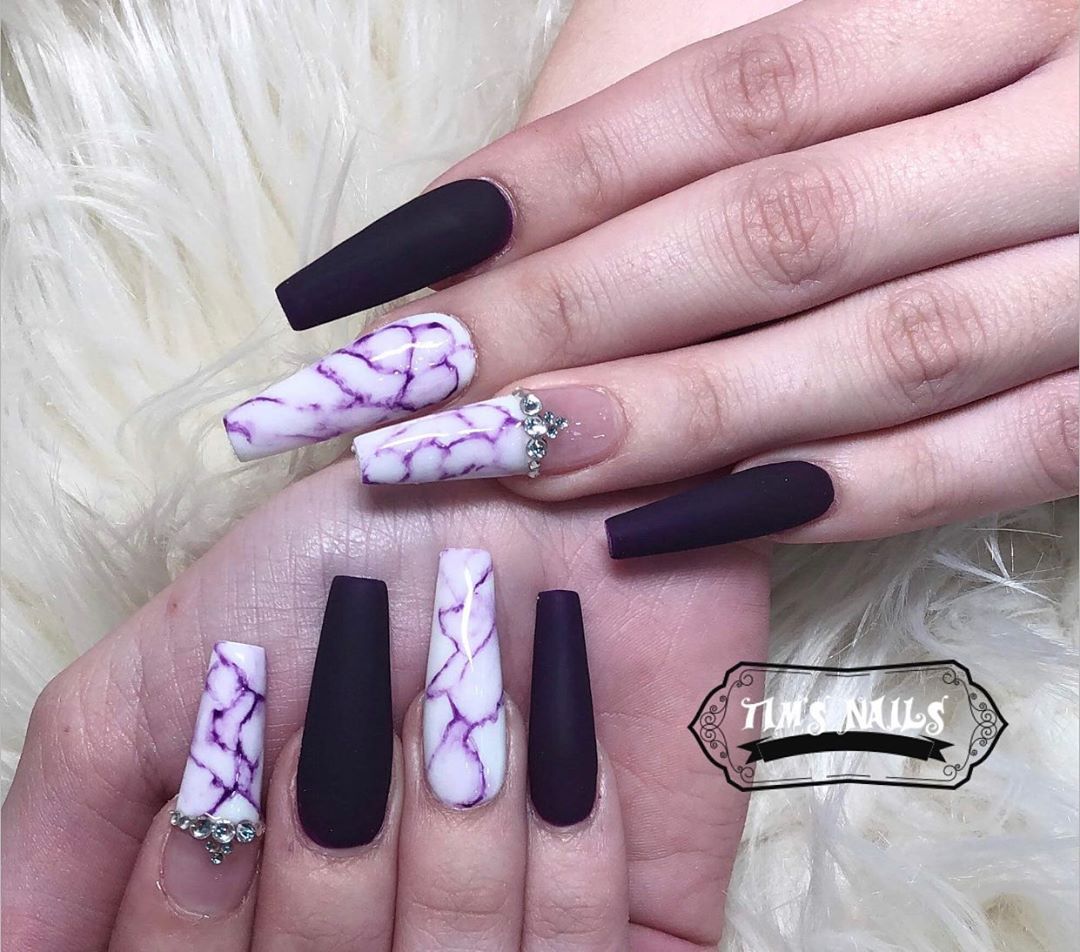 This look screams luxurious! The dark purple gives the look an undeniable edge and the white marble gives a modern twist with charm and personality. These nails would come in handy for some very fancy, high-end parties, with a beautiful long dress.
11. Brown And Orange With Gold Flakes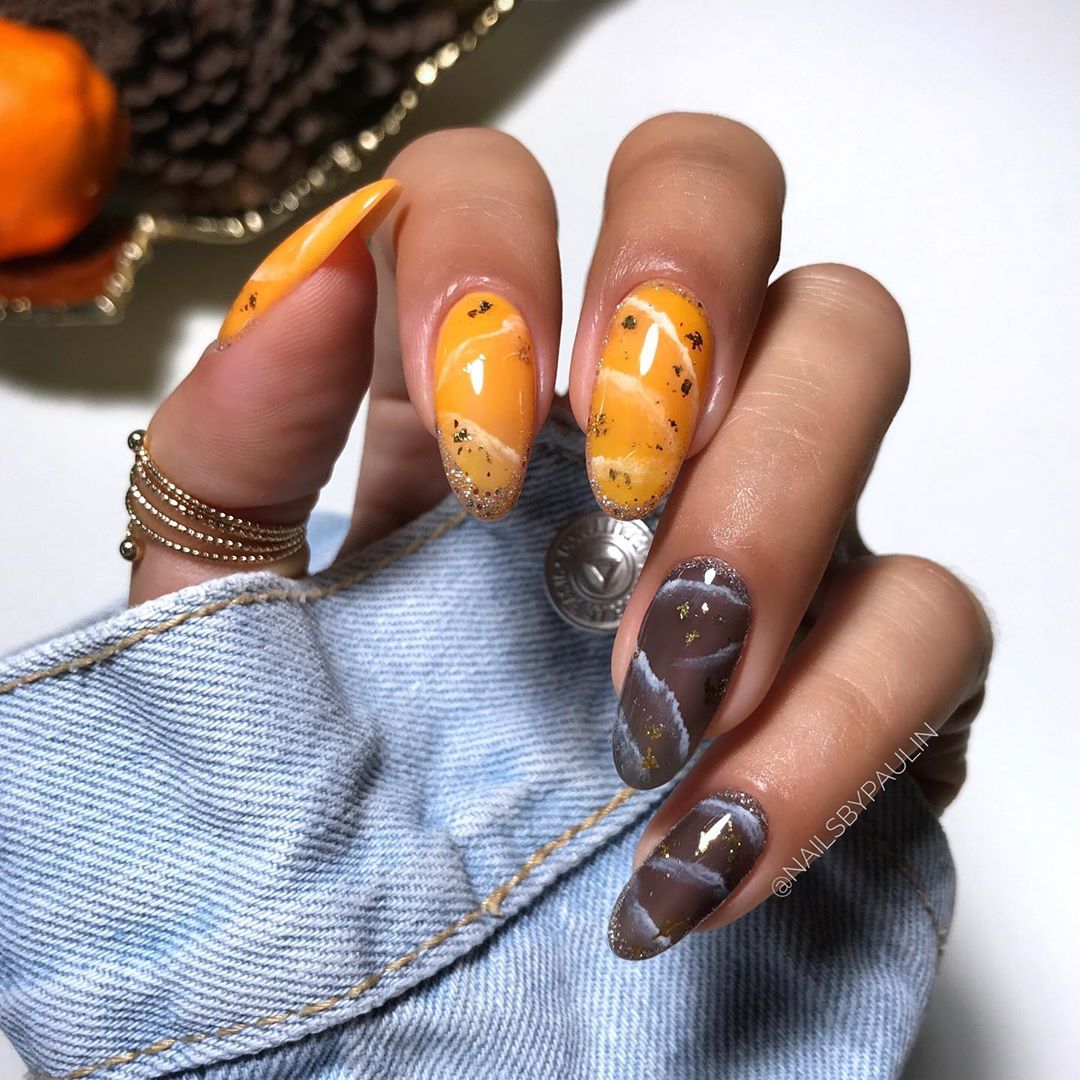 This is a great idea of how to combine brown and orange tones. With marble nails, there are no limits when it comes to creativity. It's very easy to make a fashion statement with a manicure, and these nails cam achieve just that. Combines with a couple of rings, you will create an awesome statement accessory.
12. Watercolor Rainbow Marble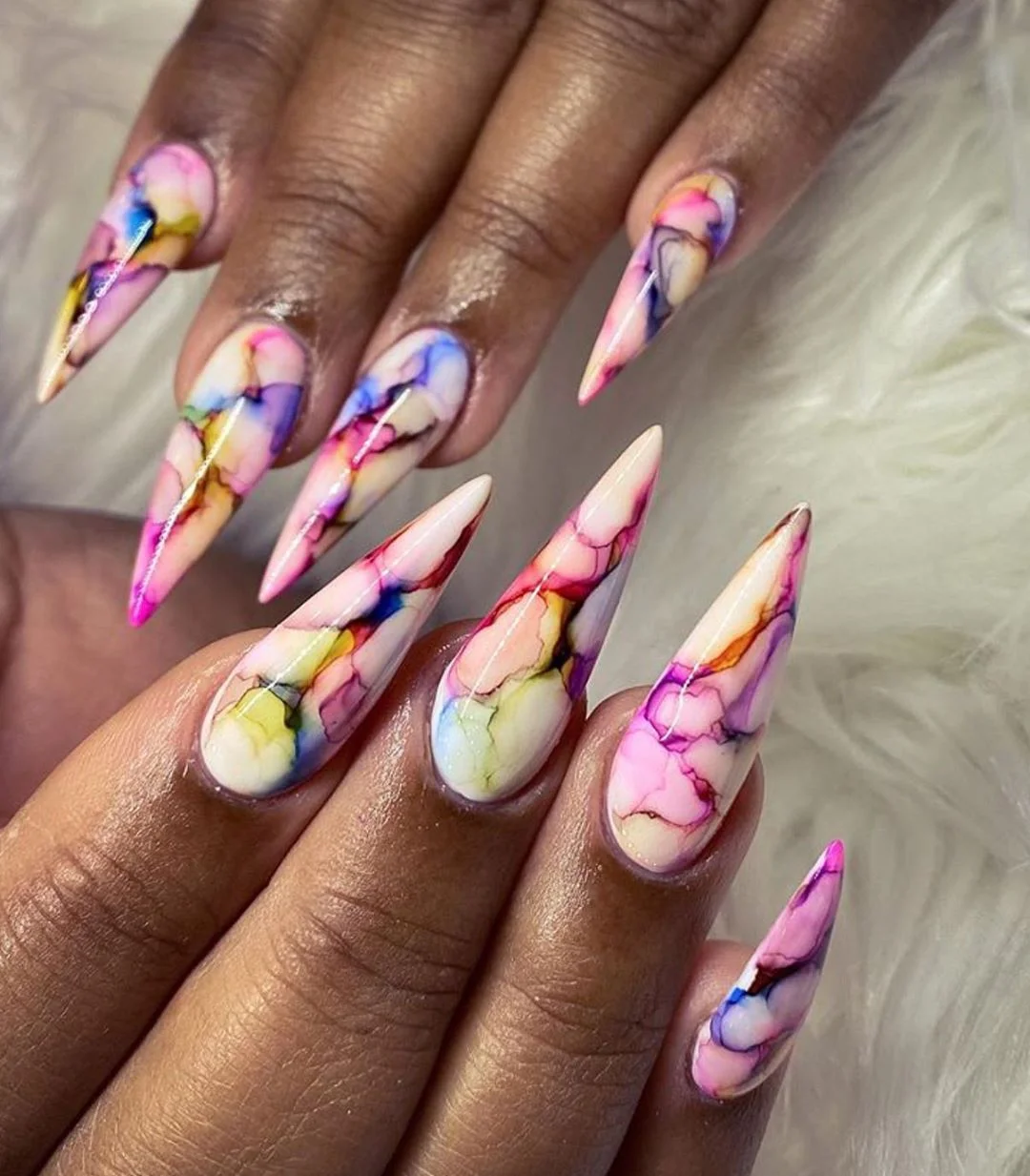 Wake up your inner artist and spread artistic flair through your nails. This colorful hue is striking and stylish which is catchy and stylish. It flatters any skin tone, and the design itself channels your inner free spirit in combining every color possible. Edgy but trendy, right?
13. Red And Yellow Marble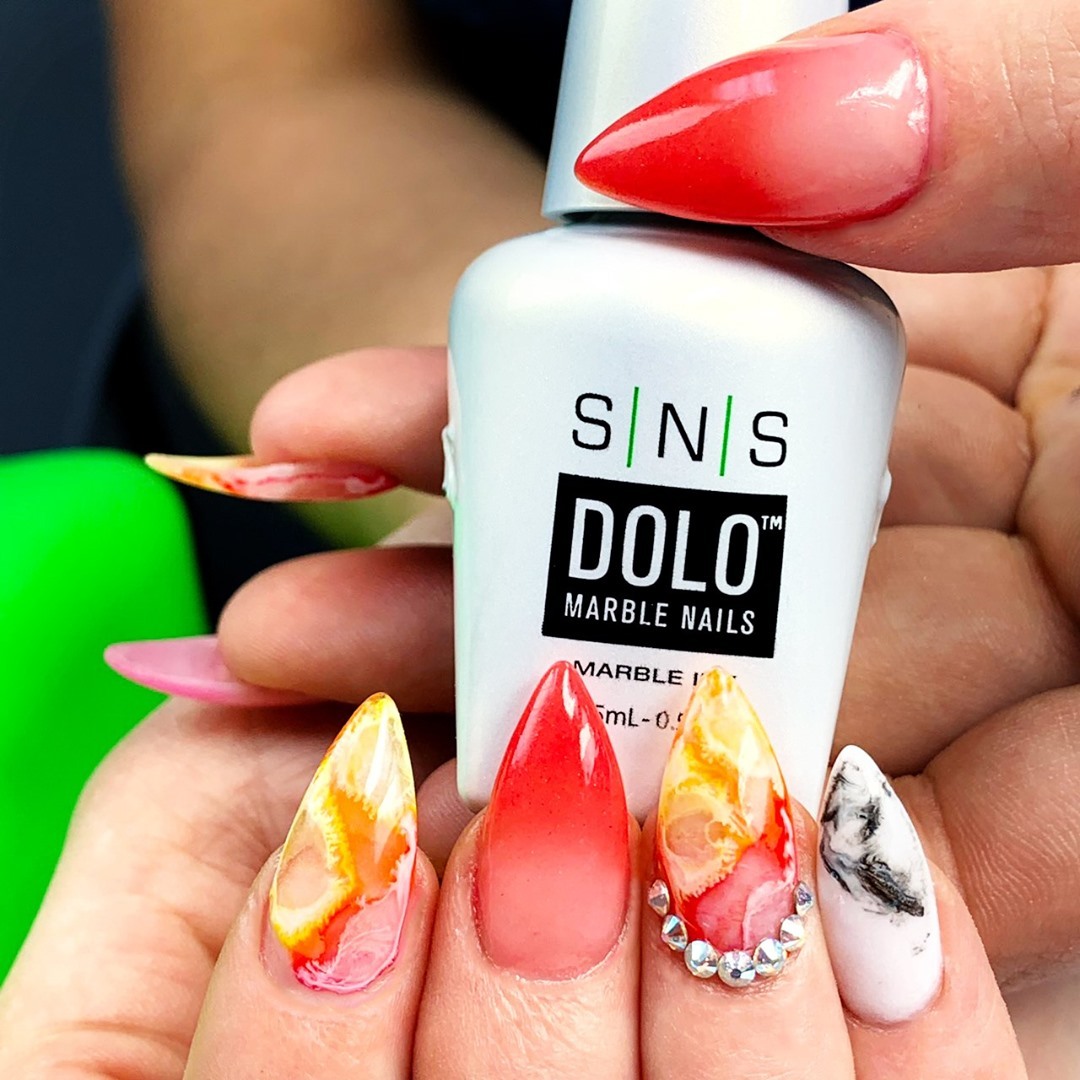 Who says that you can't do each finger with a different, yet flattering design? The whole point in different designs is to create a complete and charming look at the end. And this look achieved that. The black and white marble nail is a great modern twist of the whole red and yellow look, and the rhinestones add a luxurious flair that will mesmerize everyone.
14. Beige With White Marble And Gold Flakes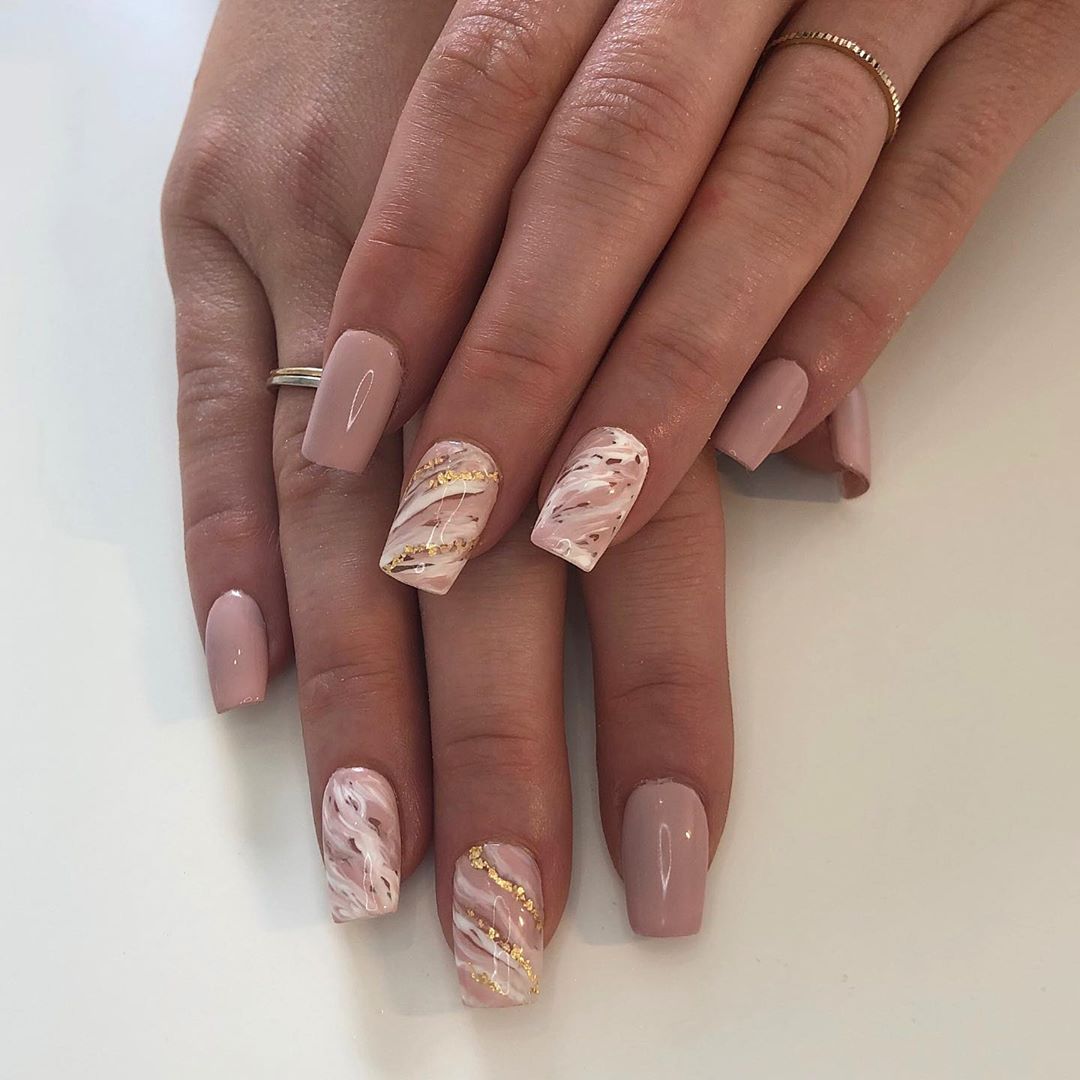 In love with the nudes? Why not switch things up a bit, and create this striking, yet neutral manicure look? You will give your nails a delicate and feminine touch that will be suitable for every outfit and occasion. The gold flakes add a feminine feel to the whole look that is delicate, yet dazzling.
15. Pink And Purple Marble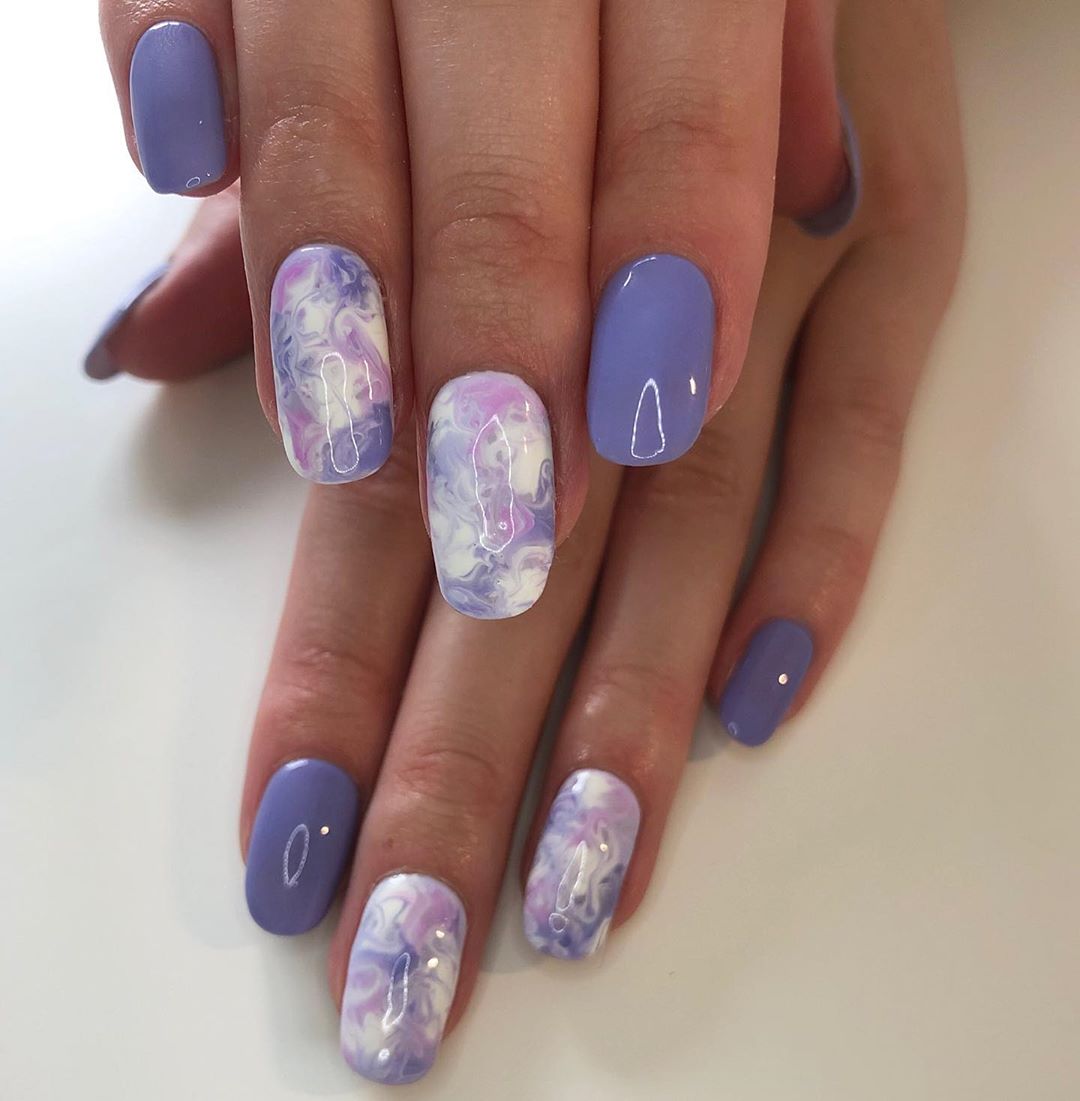 Pastel shades are very stylish and interesting shades for a manicure, without being too overstated. The dreamy marble pops alongside the beautiful pastel purple. Shiny and artsy, perfect for any mood. Try it out and let the compliments roll in!
16. Black And White Marble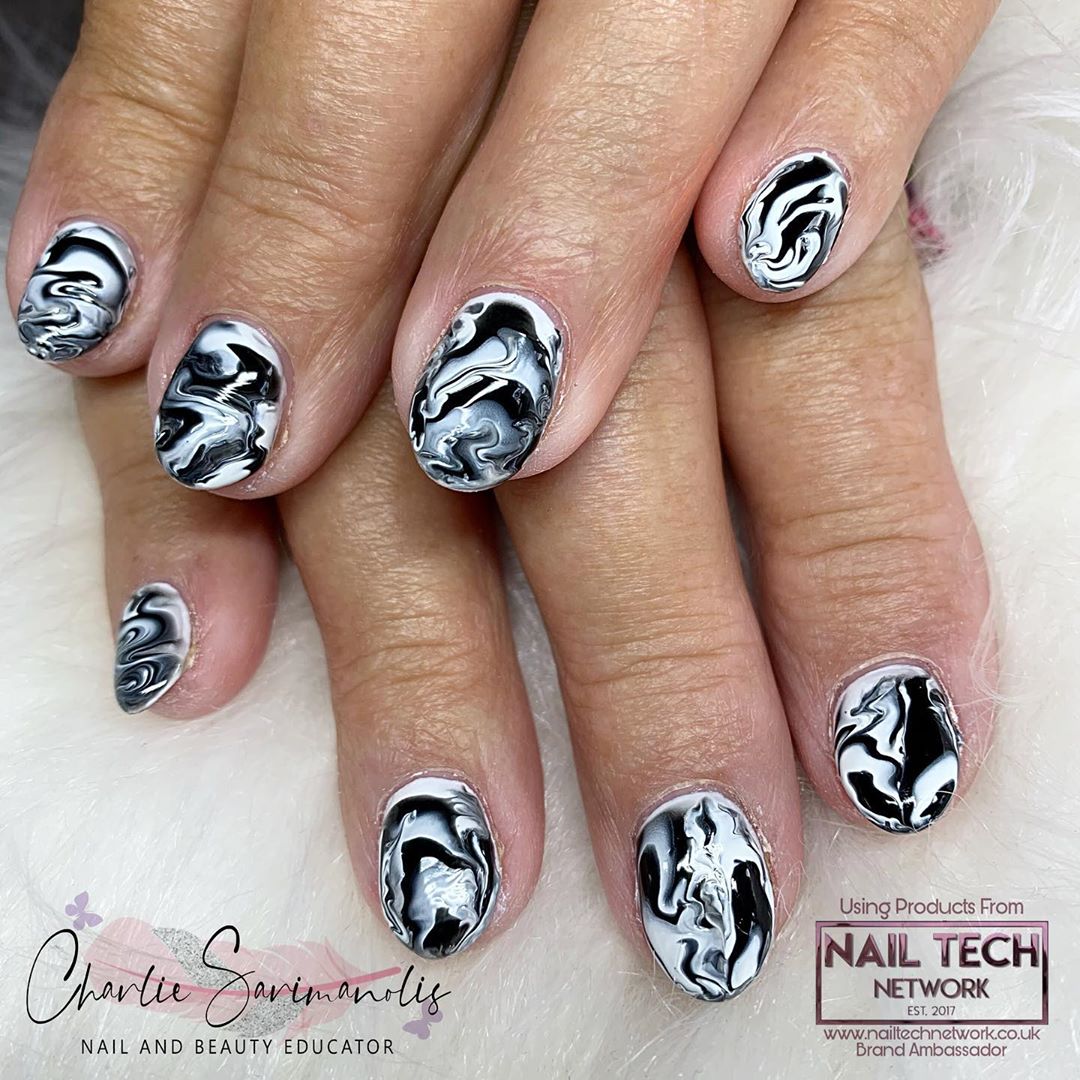 Hypnotize with your nails and create this mesmerizing look. Here we have dazzling and striking marble shapes that are achieved with only black and white. Who says that you can't pull off a great manicure look on short nails?
17. Galaxy Marble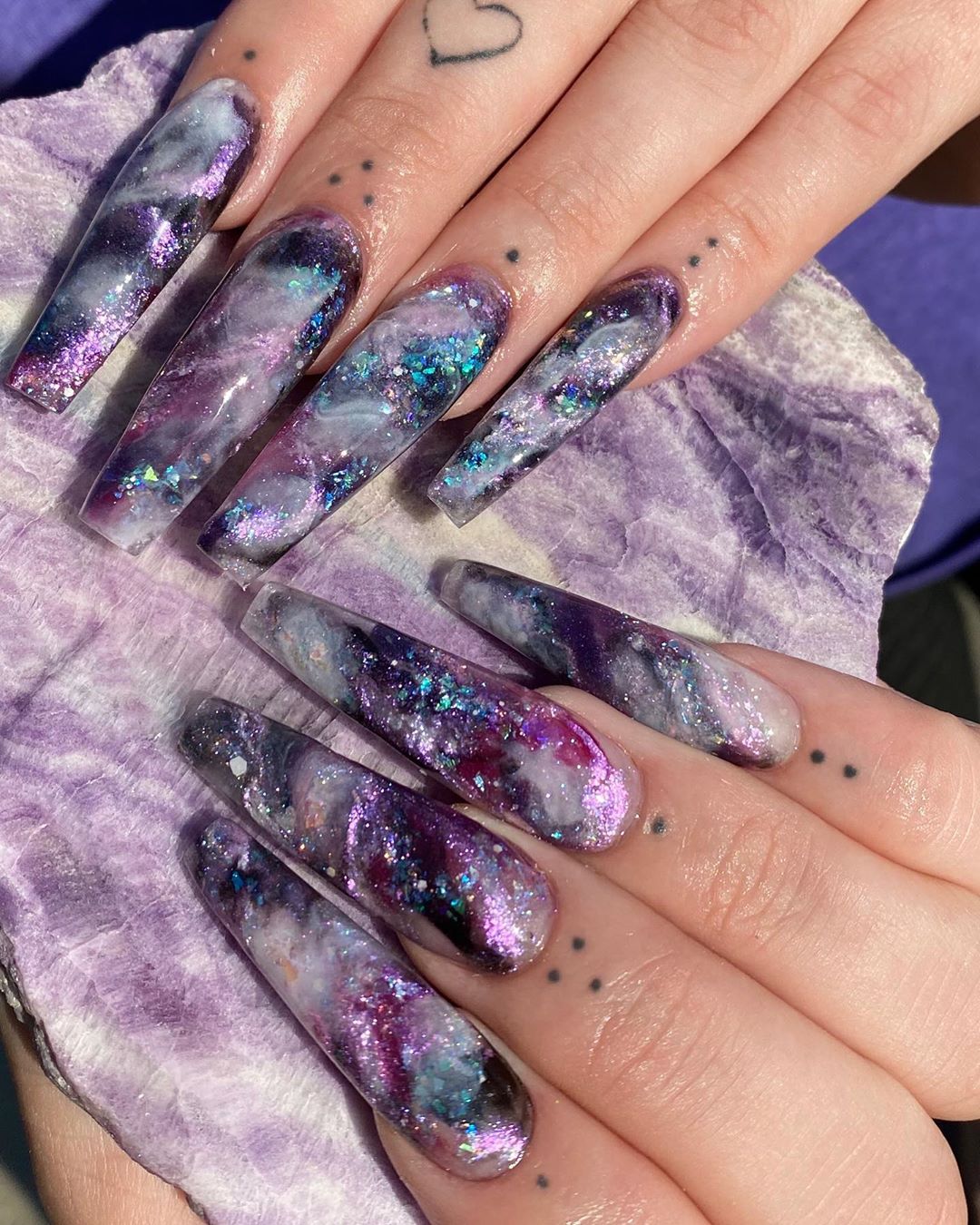 Feeling galactic? These nails are a pure piece of art with marble design that looks out of this world. Definitely worth doing for some special, ultra-fancy occasion with a very feminine and intricate feel. These nails are edgy but very flattering and luxurious.
18. Grey On Baby Pink Marble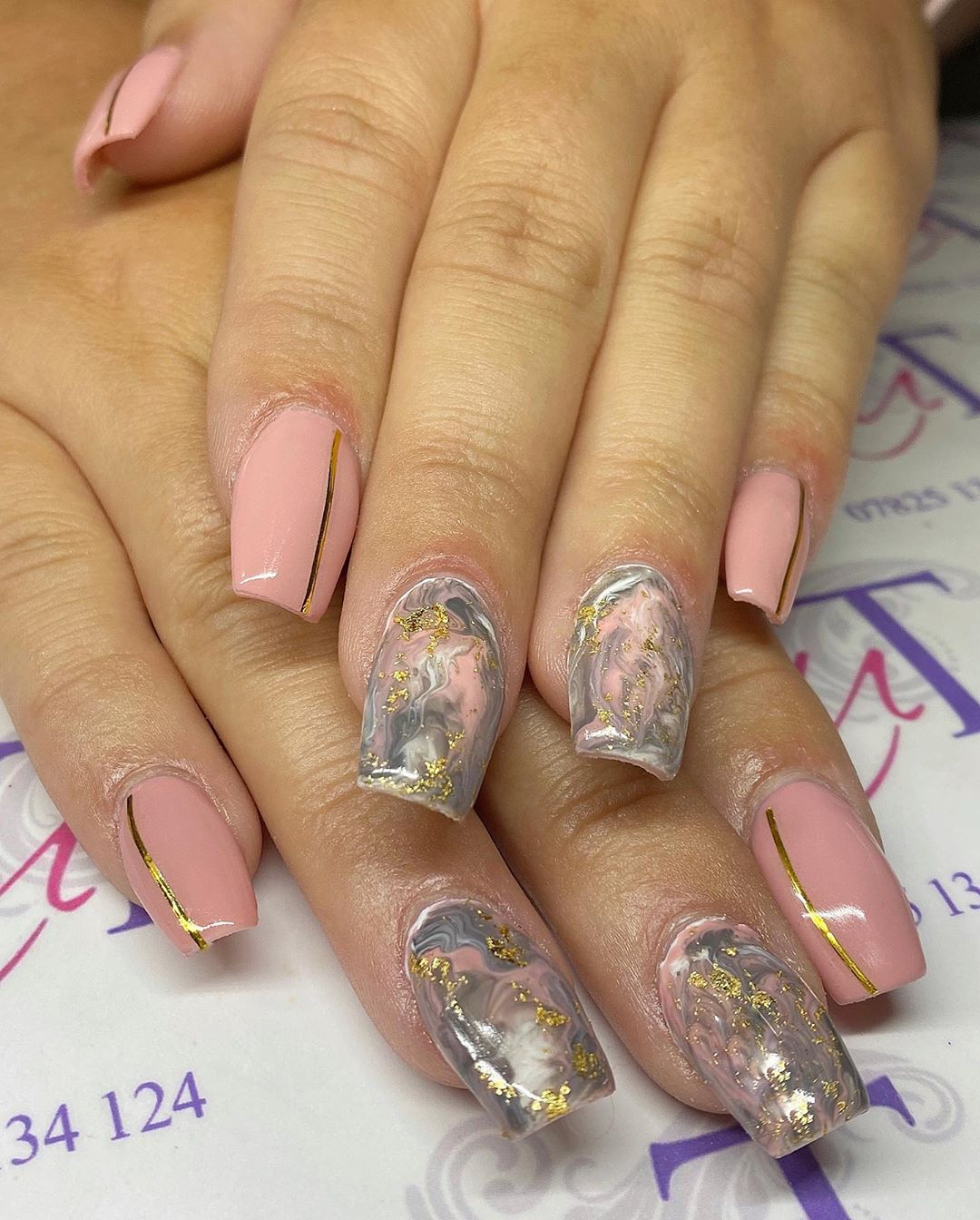 Here we have another interesting combination of colors, shapes, and designs. The color combination is very girly and fun, and combined with gold flakes creates a very sophisticated look. The golden lines add to the refined look that is very feminine and versatile.
19. Marble Geode Nails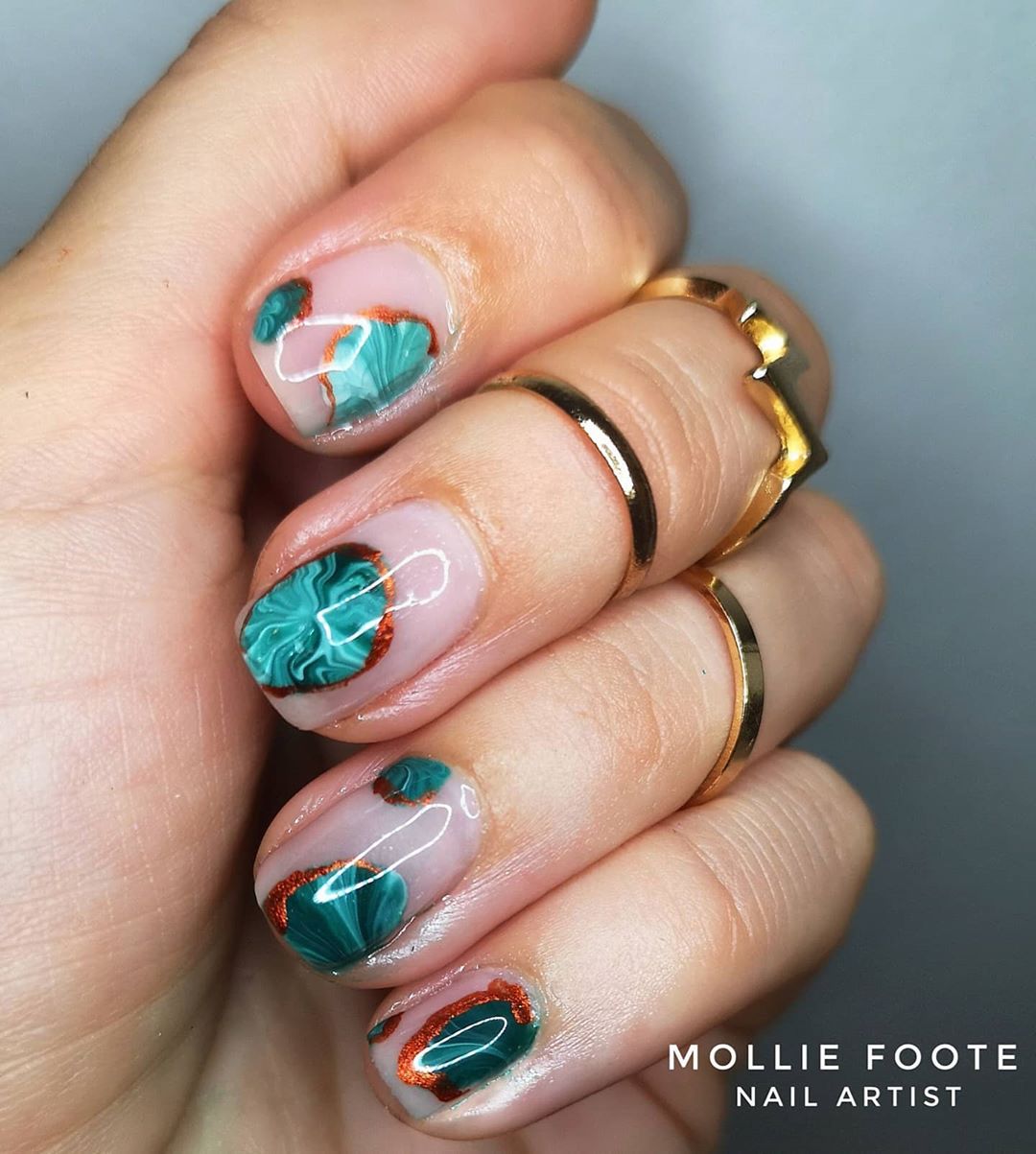 This look is very stylish and interesting, with artsy shapes and colors. The marble effect is supported by a neutral base color, which leaves space to get creative and pop off some great designs. The color choice is flattering that vividly stands out in its charming way.
20. Black With Aquamarine Marble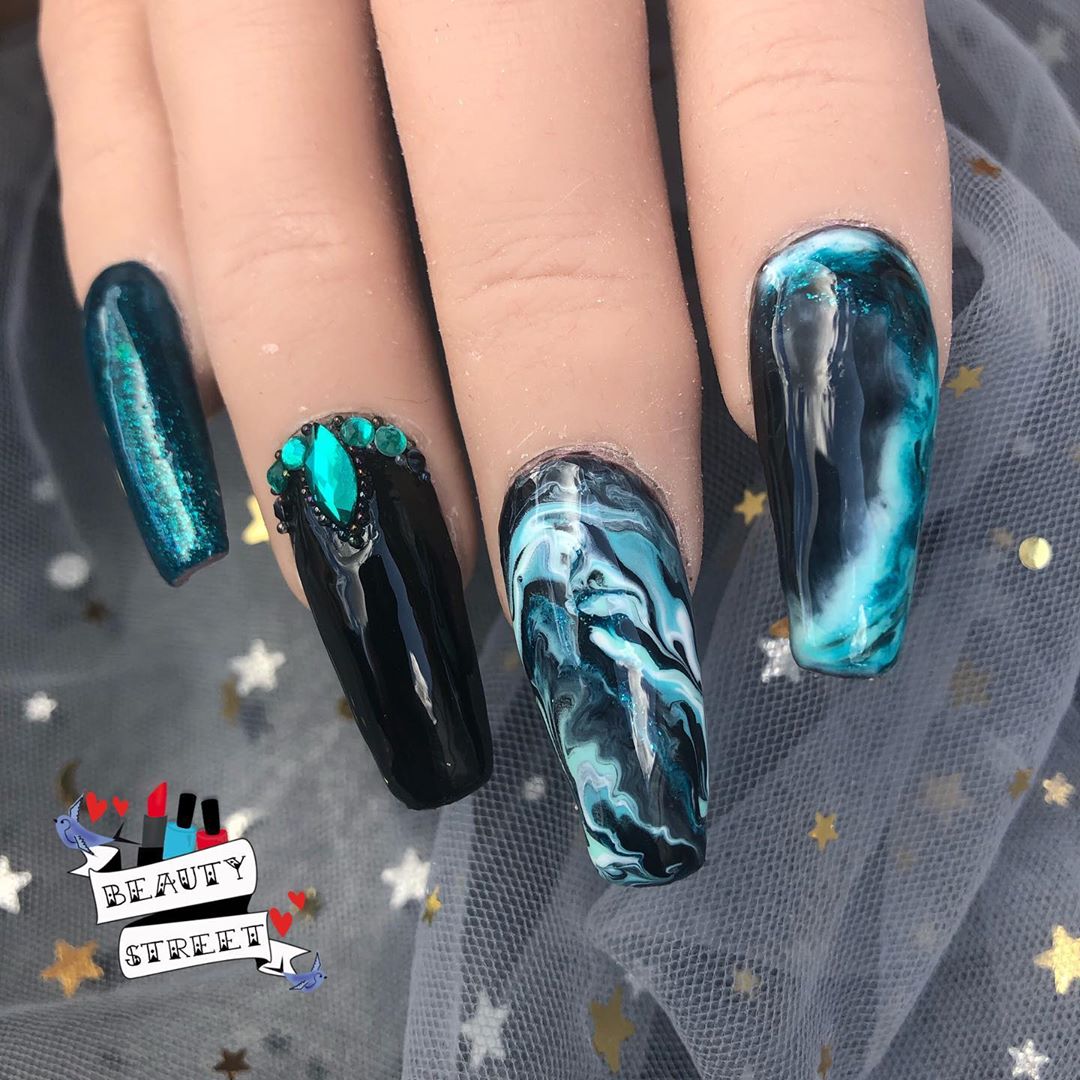 Aquamarine nail polish is the clear focal point of this super cool manicure. The glossy, shiny finish makes the polish stand out, and the aquamarine marble nails look almost galactic. These marble nails are very edgy. The black accent nail with blue rhinestones creates a very dazzling look that wouldn't go unnoticed.
21. Matte Stone Marble Nails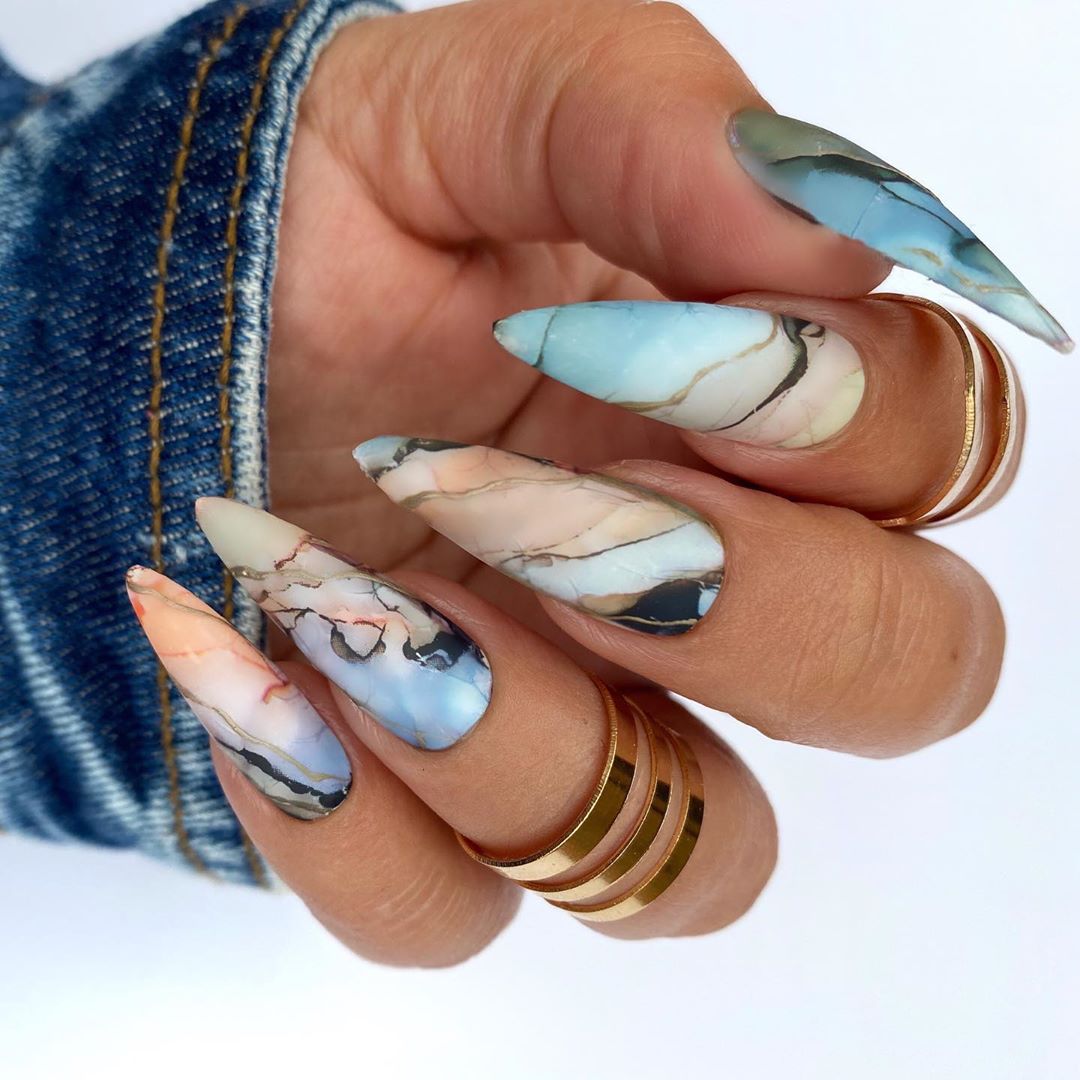 These nails look like they have real marble pieces somehow glued onto them. The marble effect it's so beautifully achieved that vividly stands out in a refined look. The color combinations are very charming, and the touch of black accentuates the look even more.
We hope that you like our suggested ideas for the very trendy and ultra-stylish marble look. Which idea caught your eye? Feel free to leave a comment below!