Some front runner trends are emerging every season that determine fashion for the season. So, which ones are they going to win this fall? Thigh-high boots are supposed to be massive according to the F/W 20 runways. We're seeing tighter silhouettes, more sock-like, take over. From jackets to Bermuda shorts to long skirts, the sleeker design makes them the ideal layering item to wear beneath. You can almost think of them as a substitution for jeans in certain situations, and that's how we've always seen them dressed on the runways and at fashion weekends.
The most famous silhouette may be ankle boots, but now is the time to get on board if you haven't tried thigh-high boots yet. We rounded up 15 oh-so-fashionable street-style outfits here, so you can get ideas from any of these looks as to what to wear with them. Forget the thigh-high heels, they are the height of fashion right now and can be worn at any time of year. So scroll on for some cute thigh-high boots outfit ideas.
1. Sweater-dress & lace-up thigh-high boots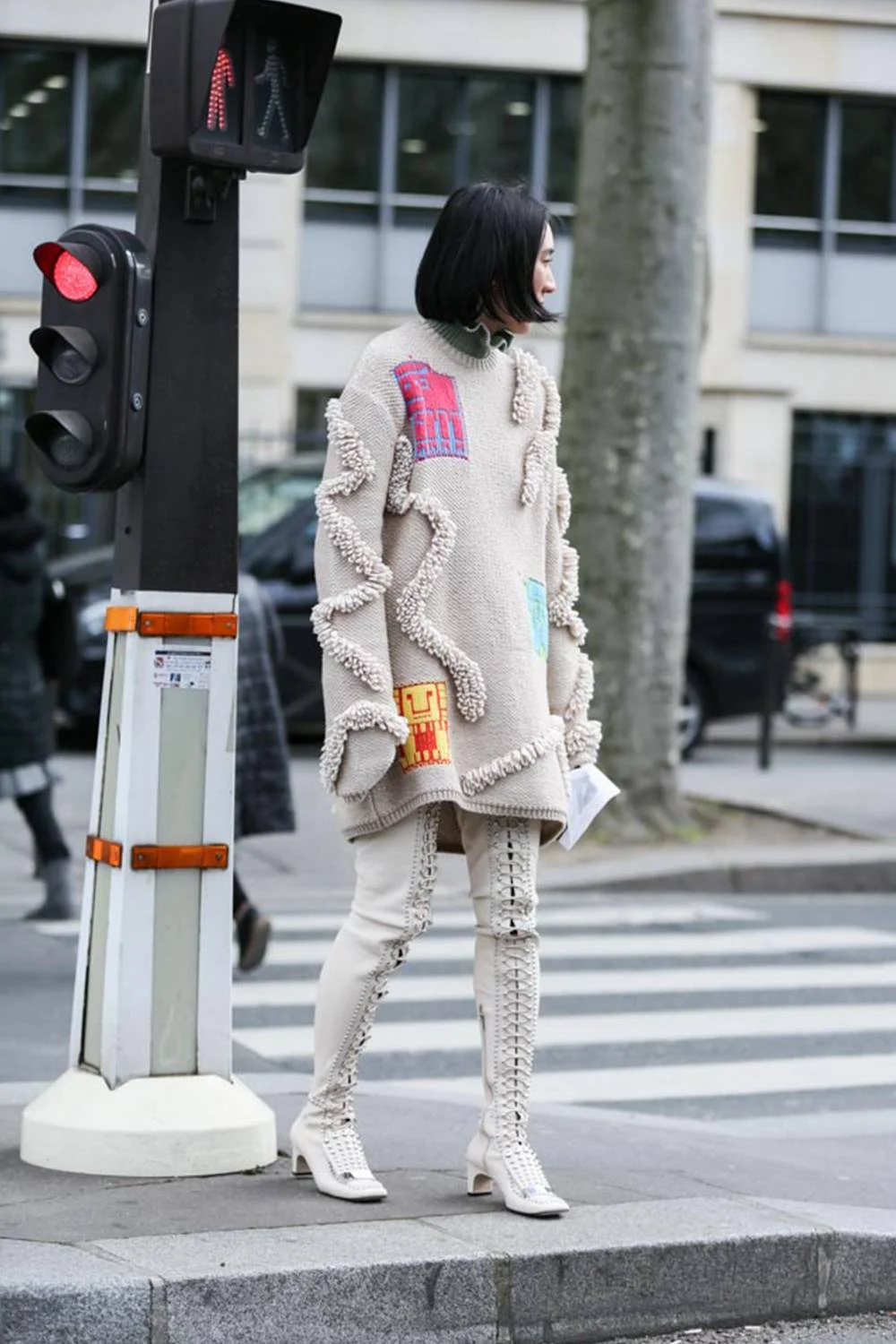 When it's styled with the wrong shoes, a long-sleeved sweater dress may look a little odd; a pair of thigh-high boots give a trendy, appropriate alternative. With these sneakers, the outfit shown in the illustration is such a beautiful way to achieve a unique look without appearing over-the-top.
2. Oversized beige dress & velvet thigh-high boots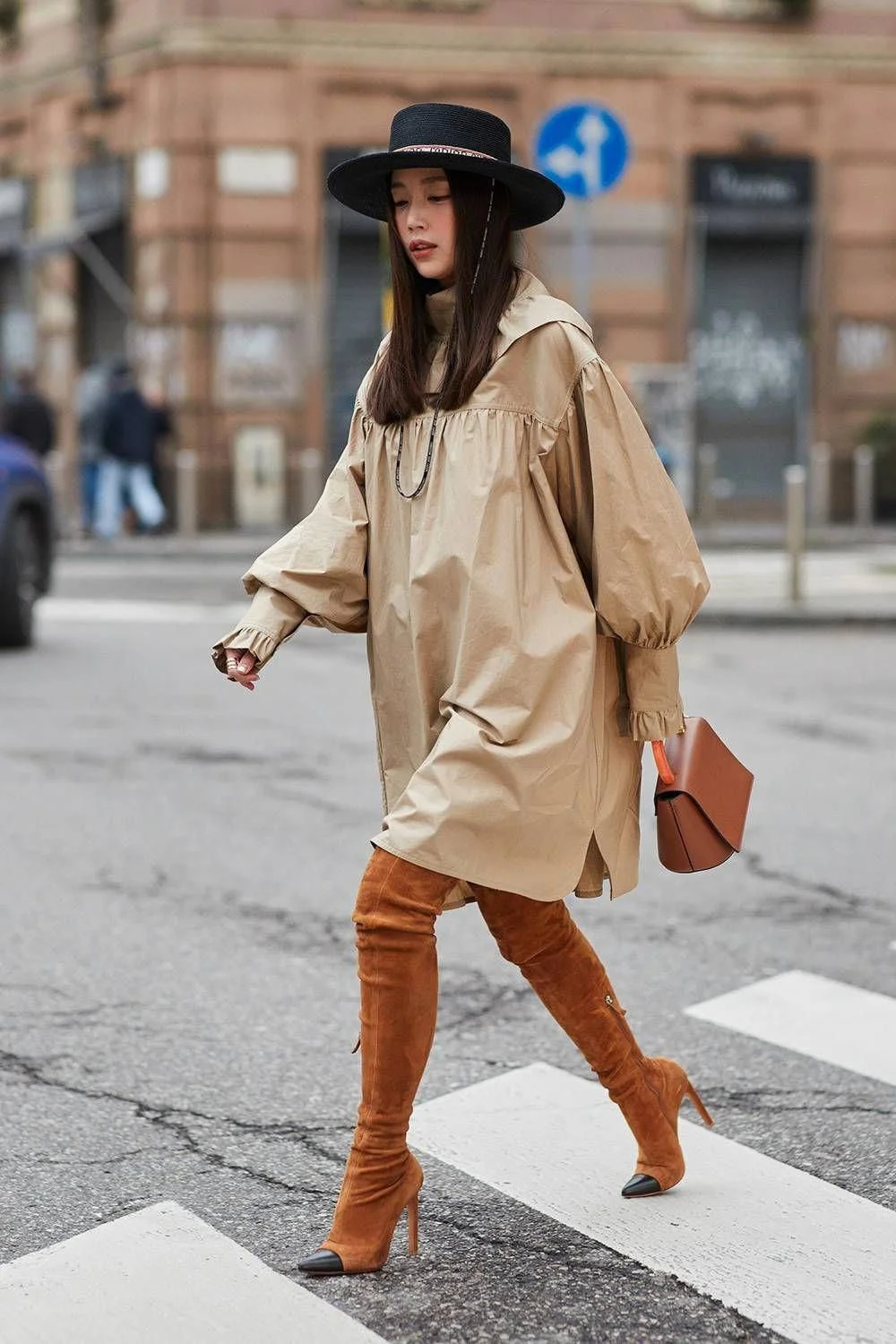 It's time to invite Fall into your closet. (Your Fall will be more trendy than ever thanks to these boots!). Going for more earthy-toned clothing is still a smart choice when pairing these boots. That way, all the emphasis will be focused on the dramatic boots that will certainly captivate everybody!
3. Faux fur coat & leather thigh-high boots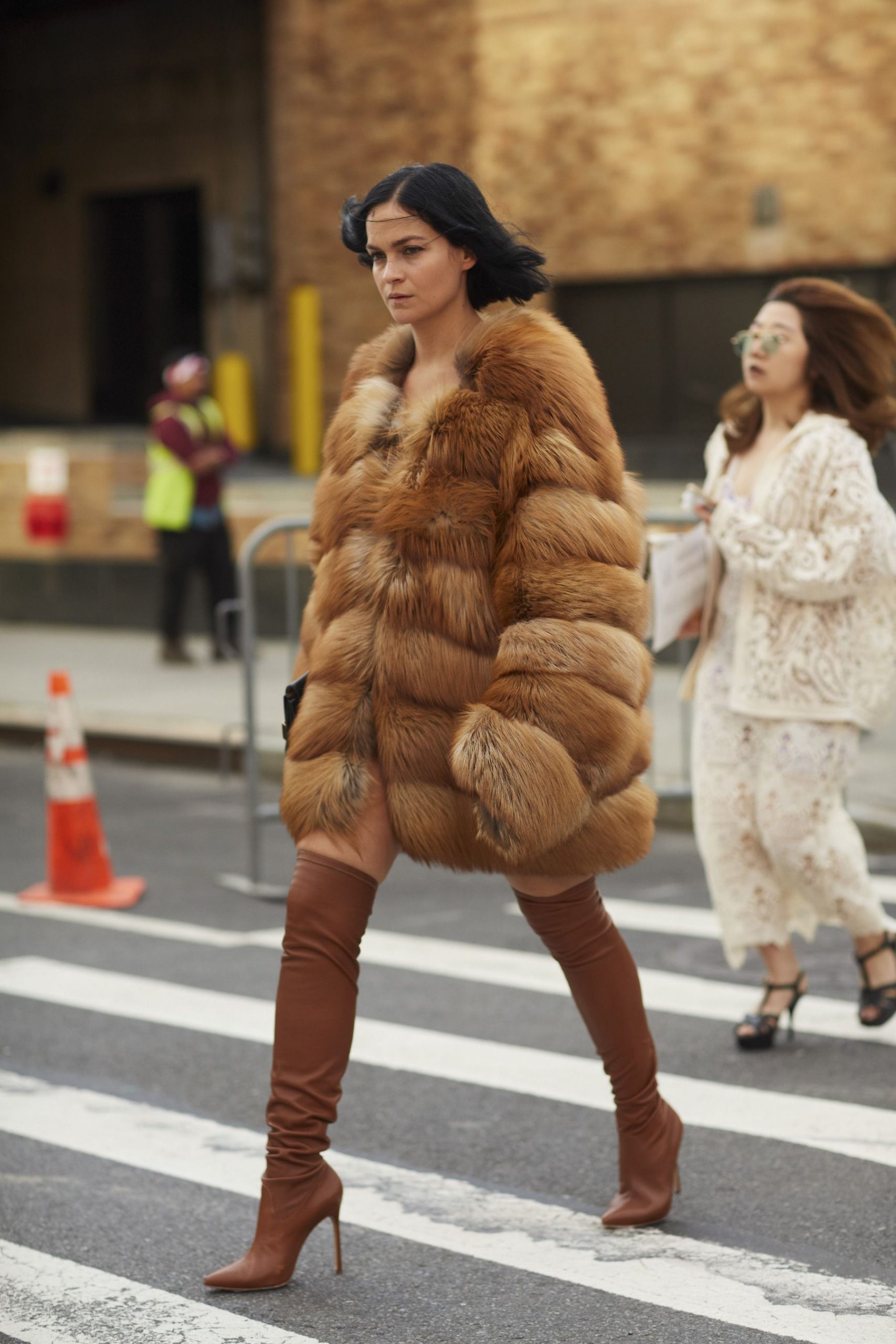 Make no mistake, thigh-high boots are attention-grabbing at their finest. Not just that, the legs look longer and, with a delicate touch of sexiness, the overall outfit is edgier. We can see how far a faux fur coat can go with these boots in the photo above. Sexy, sultry, and audacious to boot.
4. Cargo skirt & red thigh-high-boots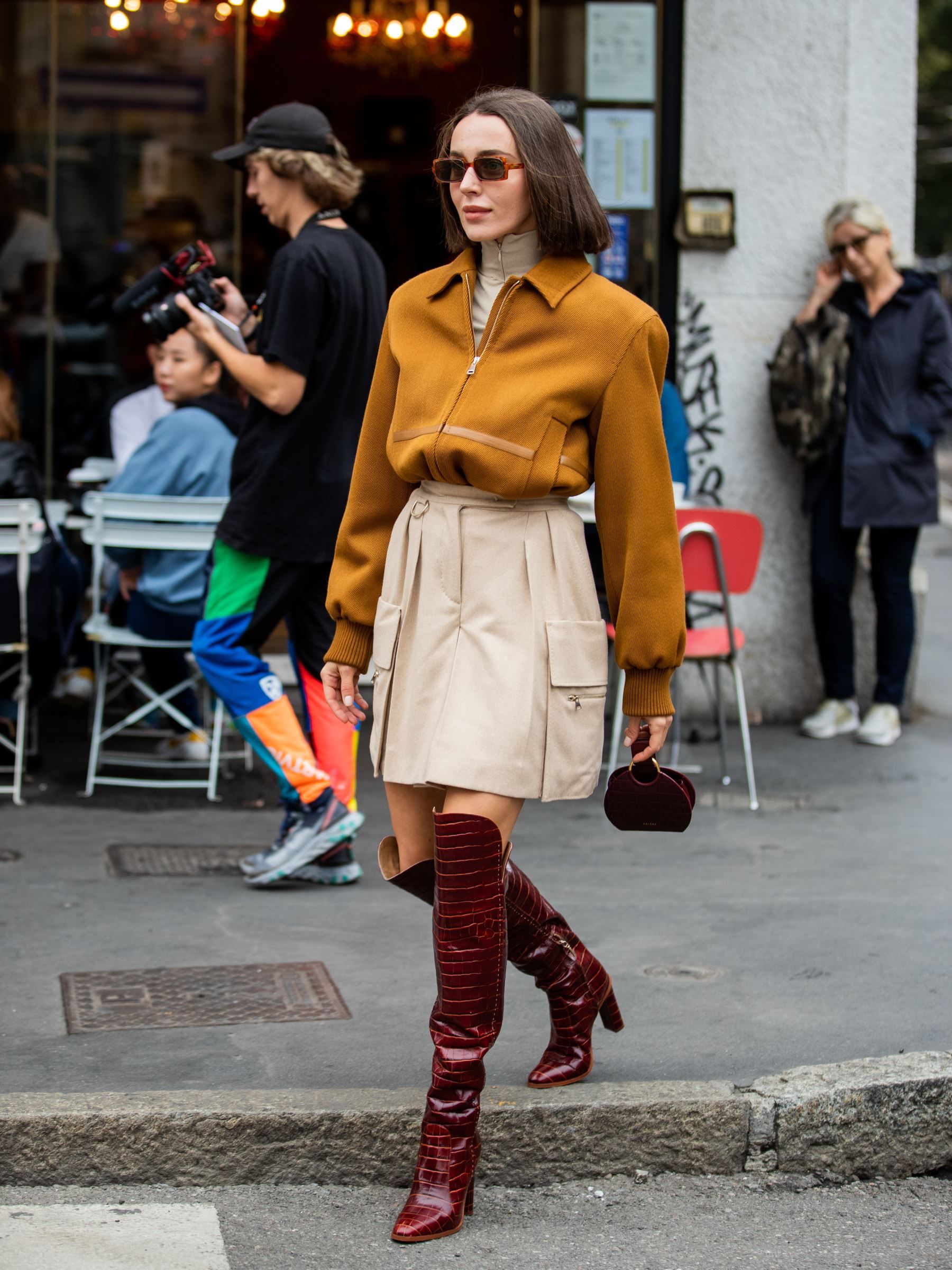 This is such a stunning representation of mixing streetwear outfits with thigh-high boots. The color-combinations for the Fall season are well balanced and outstanding. A very cute way to give a new touch to this outfit is the dark red boots.
5. Tiger stripes & black thigh-high boots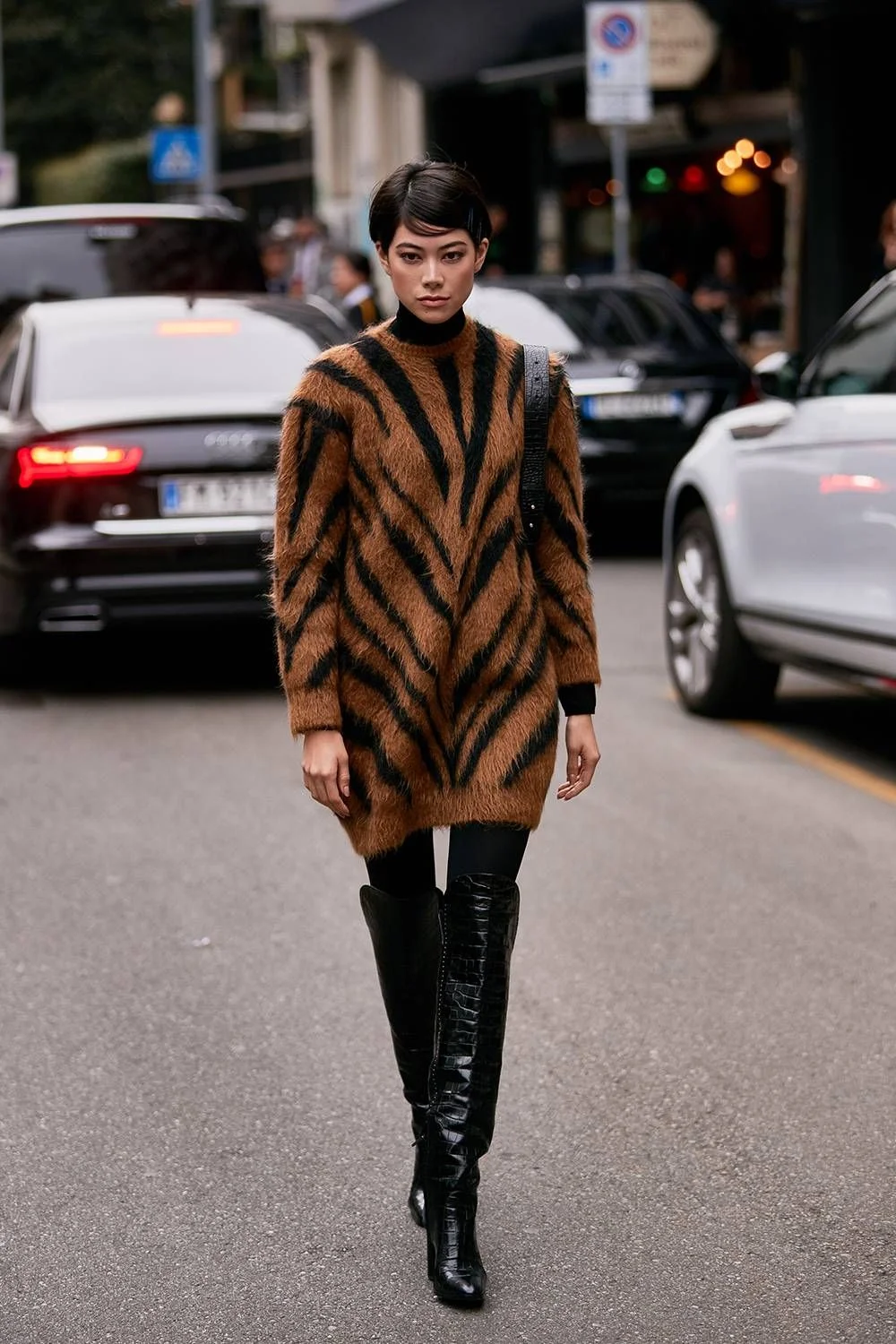 How glamorous is this theme, huh? A lighter-colored sweater-dress will offer some contrast if you are wearing a lot of black or dark tones (like these really chic black boots), which will also help relax the look while retaining its edgy vibe.
6. White shirt-dress with black thigh-high leather boots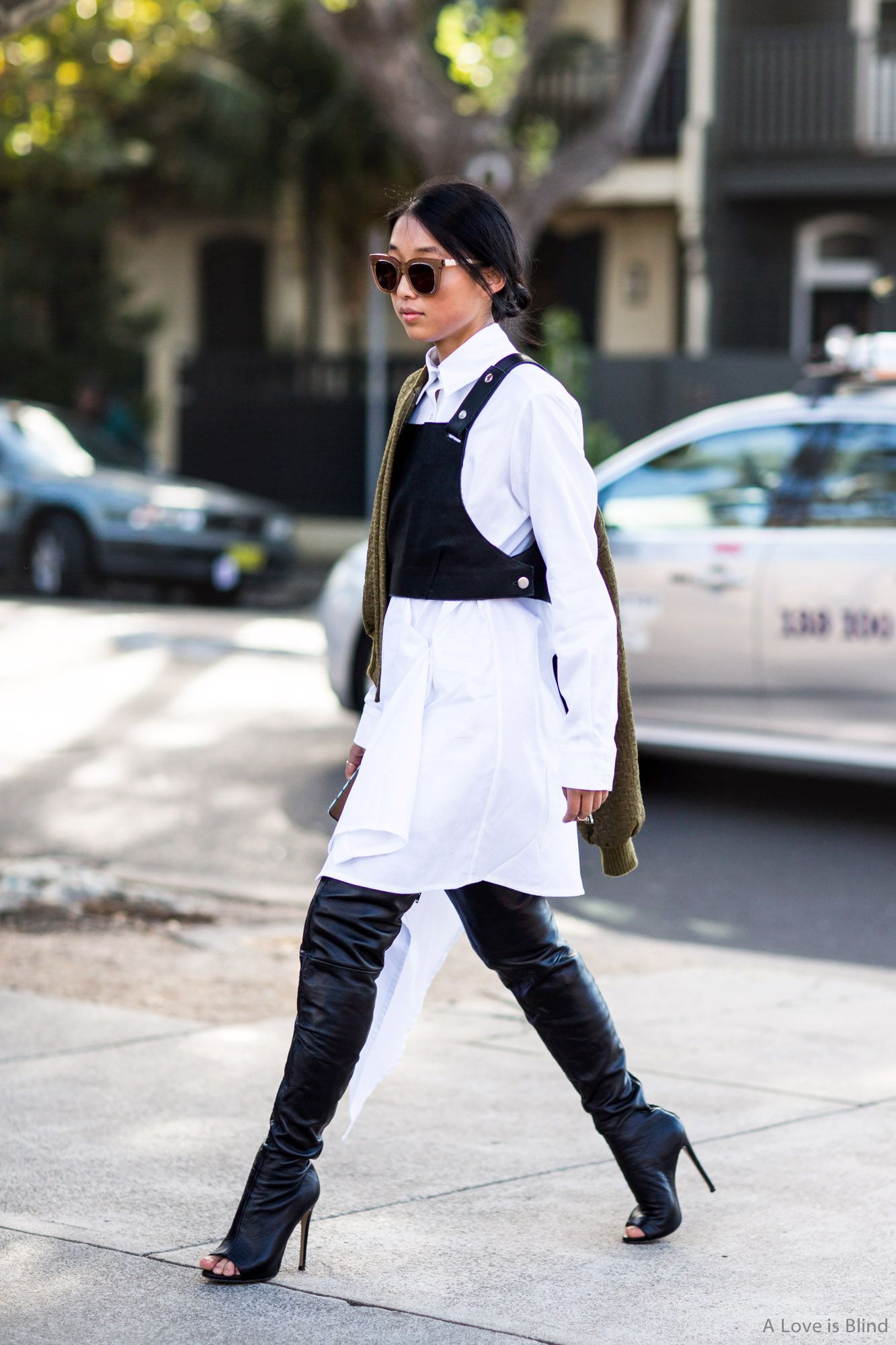 This ensemble is so minimalistic, but it's so flexible and cool. Combined with a plain white shirt-dress, the thigh-high boots are accessorized with a black top and an olive green sweater. If you're wearing basic colors, your look can feel more full by incorporating other interesting accents, such as this crop-top and jacket.
7. Matching jacket & thigh-high boots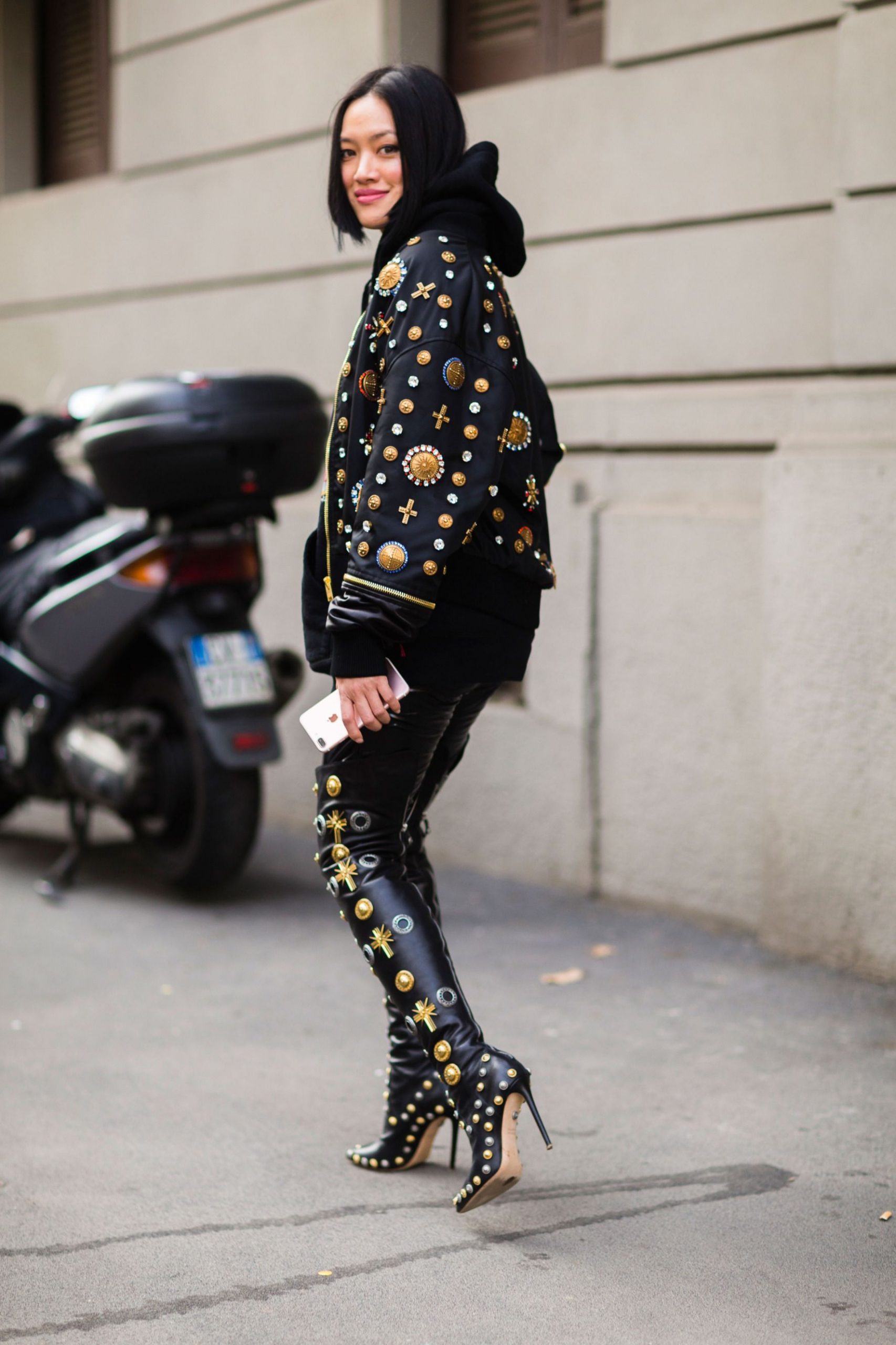 Embellished clothing is anything but bland, and that's proved by this ensemble. Matching the sweater, the thigh-high boots build a look that is dazzling and sophisticated. There is street style in the dress, as well as glamour, elegance, and charisma… Great, in other words!
8. Oversized hoodie & thigh-high black boots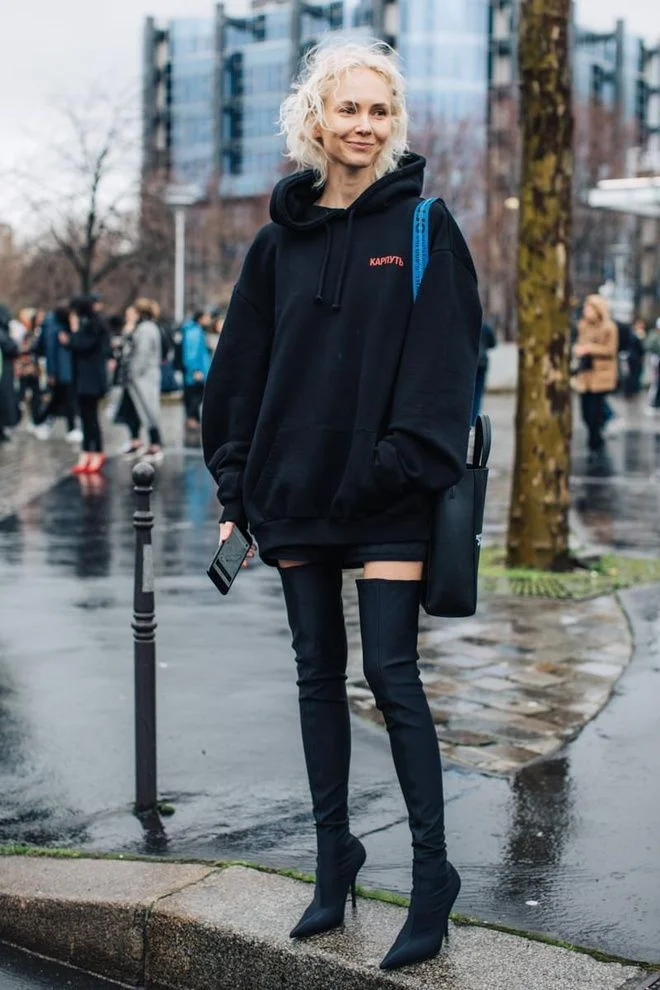 These days, this look is so famous. The right mix between 'I want to look warm and relaxed, but at the same time sexy and edgy' is seen. Like a dress, you should wear your favourite bulky hoodie and slip your striking black boots on. It's an amazing ensemble that can dazzle a lot of people on the streets.
9. Orange trench coat & copper thigh-high boots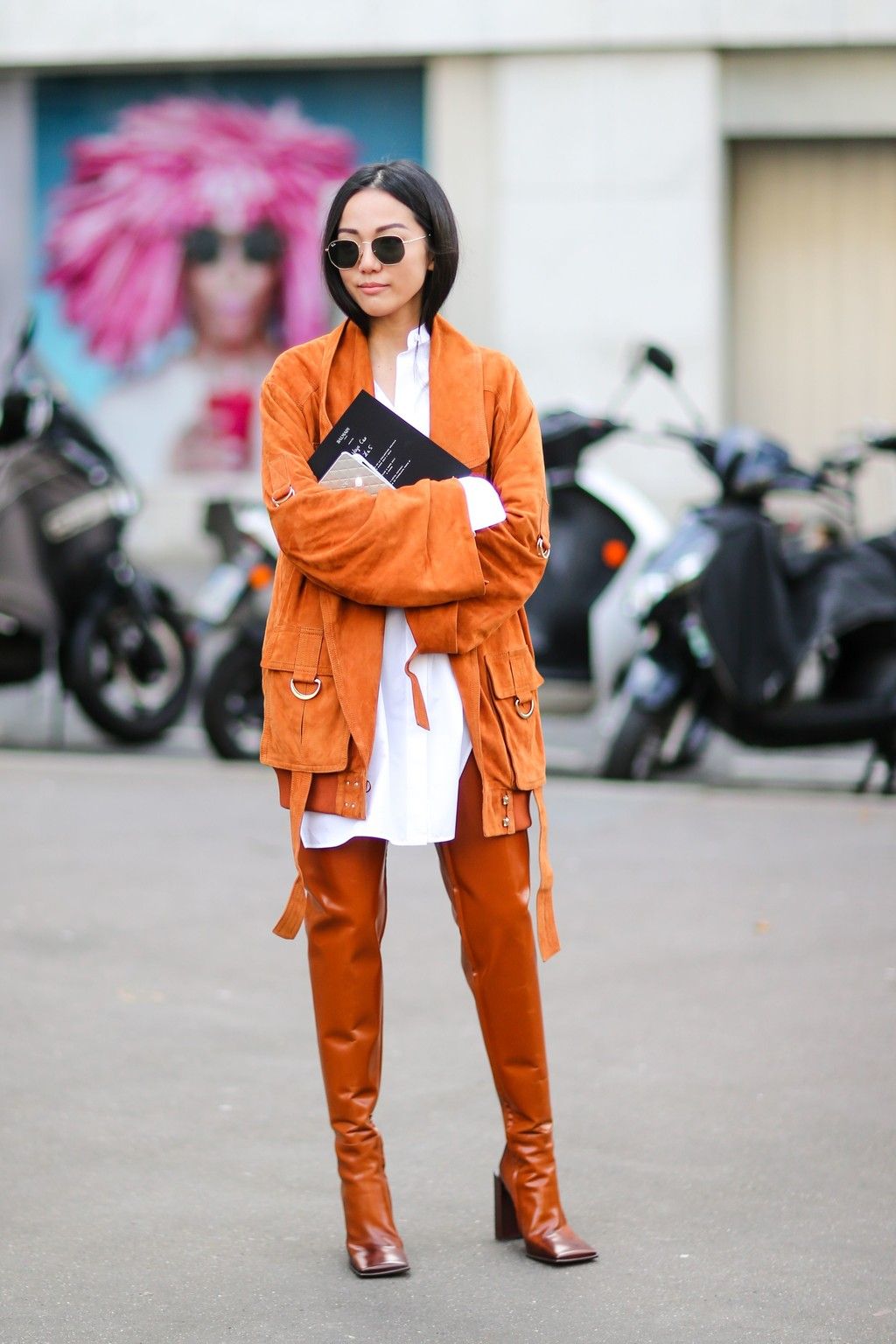 A perfect way to use a white shirt-dress to build a Fall look? Style it with a hat and thigh-highs. It will add a more seasonally fitting tone, while an orange trench is definitely trendy over a white shirt-dress.
10. Denim jacket & blue thigh-high leather boots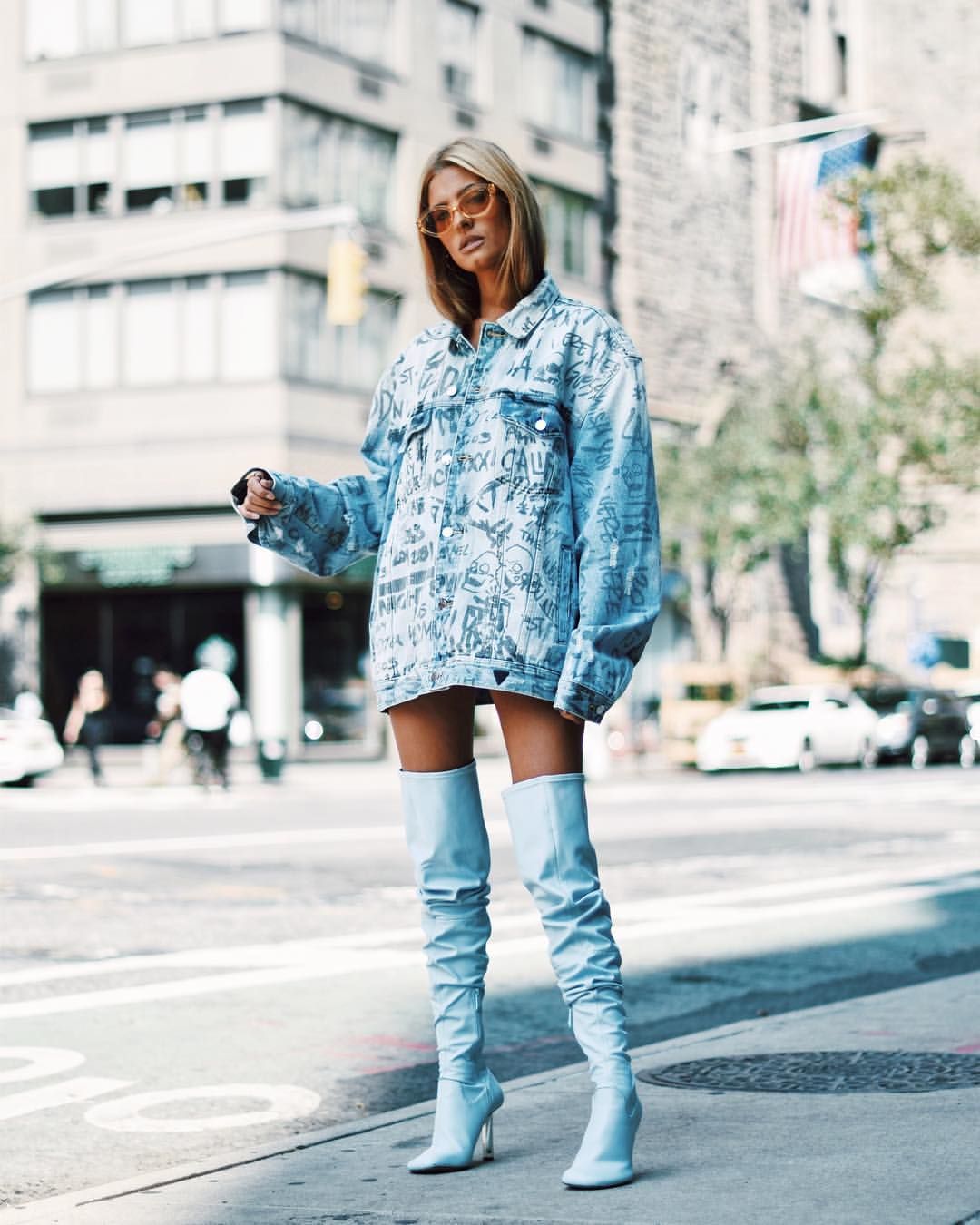 You should rock an oversized, dress-like denim top, and here's how to do it! The jacket with pastel blue boots that will establish a memorable look that will mystify many can be styled. Step outside to recreate this edgy and daring outfit outside the comfort zone.
11. Vintage dress & white thigh-high boots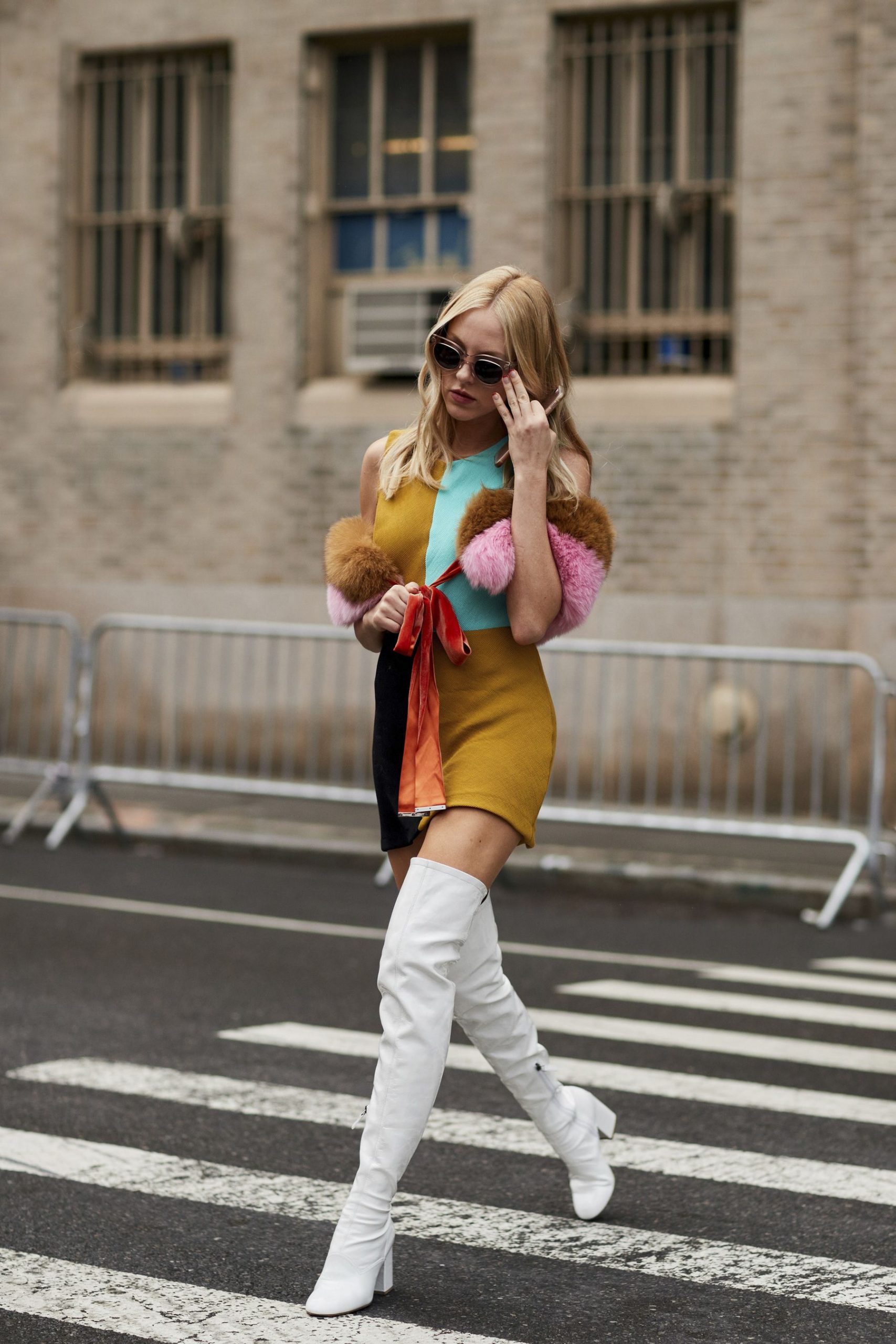 Travel back in time when they were oh-so-fashionable go-go boots. Don't hesitate to spice the look of the 60s with a more edgy and theatrical twist, such as sporting white thigh-high go-go boots, though. Combine them with a warm dress with earthy colors. Go out in the city to show the world the great taste in fashion.
12. Black blazer jacket with baby pink thigh-high boots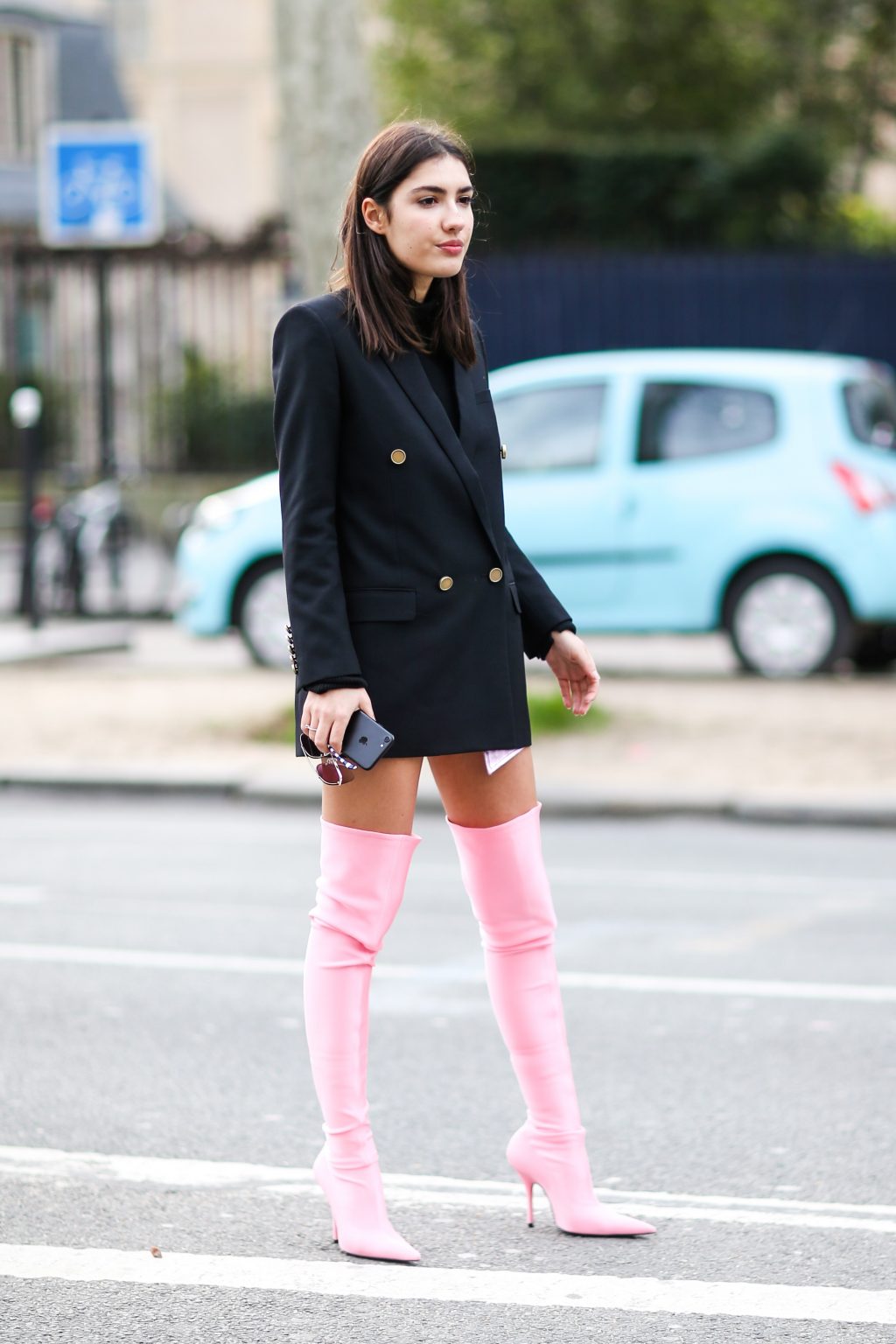 How professional and sexy this attire is, isn't it? The black blazer jacket has the ideal dress length that doesn't appear 'in your face' too much, and with a stunning color twist, the boots accentuate the thighs. Ideal for official holidays, agree?
13. Leather trench coat & red leather thigh-high boots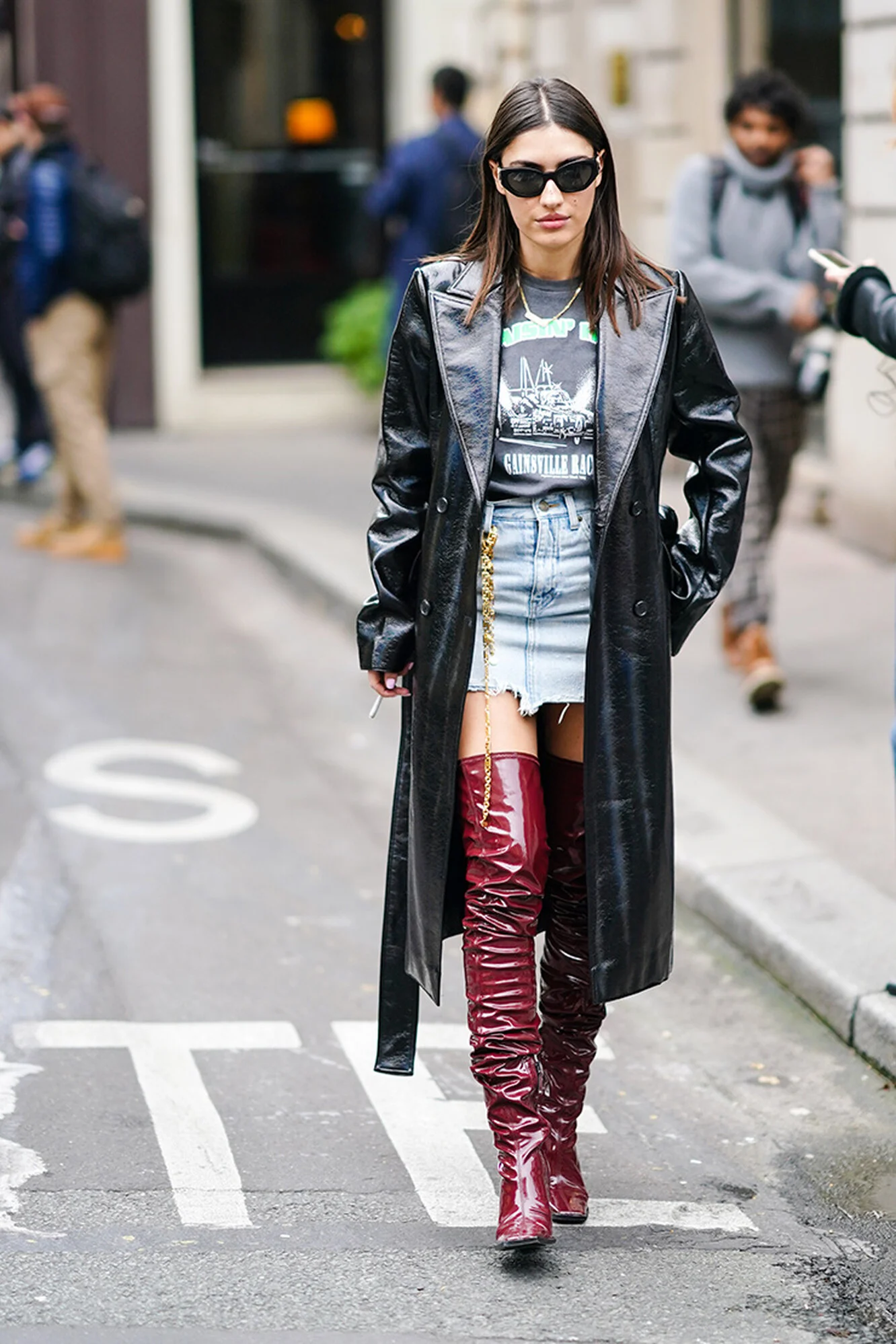 Here's a great idea of how to do it and look as trendy as ever, if you want to reveal your rocker chick side. A match made in heaven is leather with denim, so pair your leather trench coat (or leather jacket) with a chic denim skirt, as in the picture. And put on fierce thigh-high dark red boots that scream edginess, to top off the look.
14. Black blazer-dress & golden thigh-high boots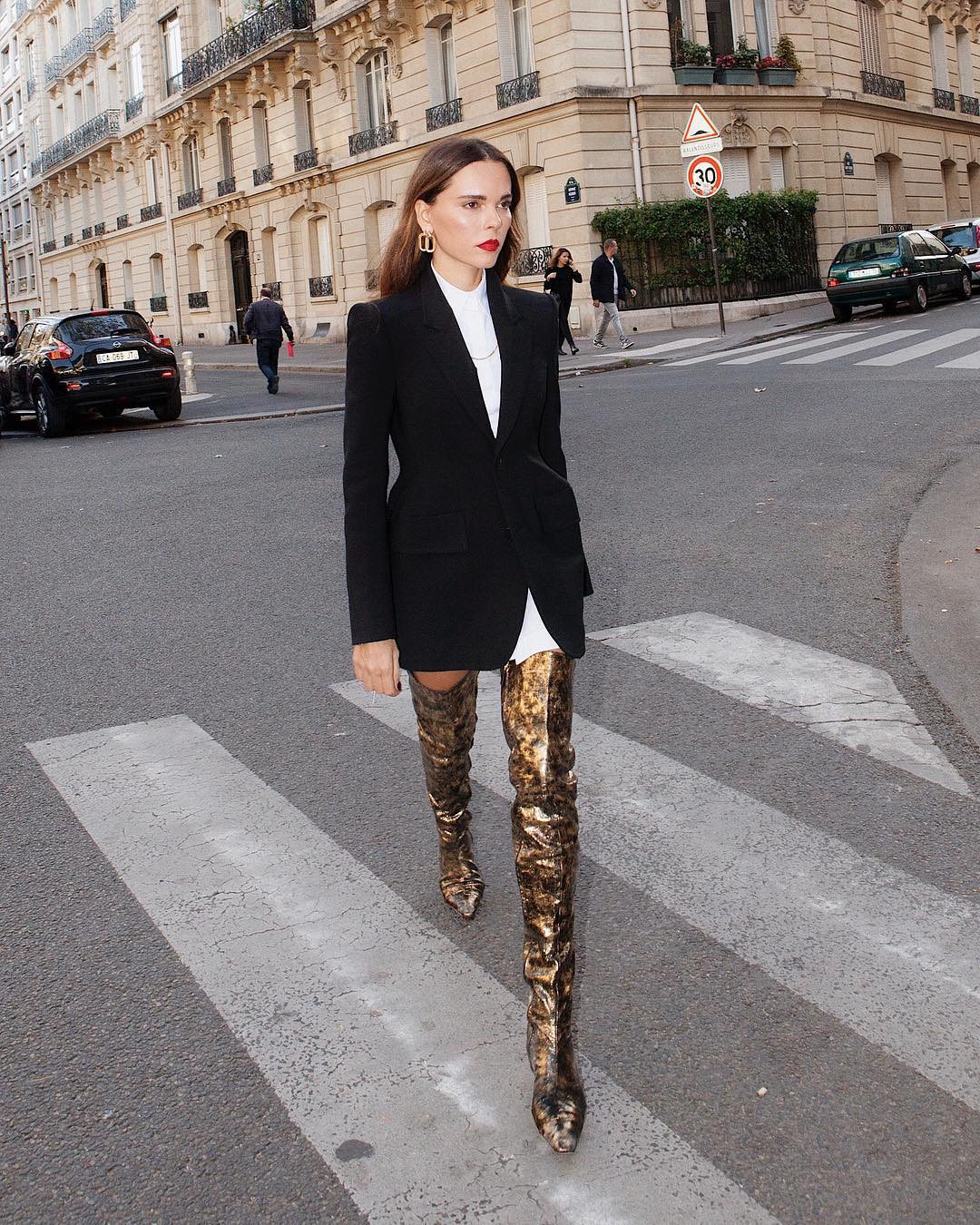 When paired with blazers, thigh-high boots look so great. And we can see why it's such a famous outfit. Dreamy, erotic, edgy, and very classy is the mix. The best piece of clothing is a black blazer, so you can pair it with practically any form of fabric, material, and shoewear. With red lipstick, top off this look and seduce everybody.
15.  Green sweater & snakeskin thigh-high boots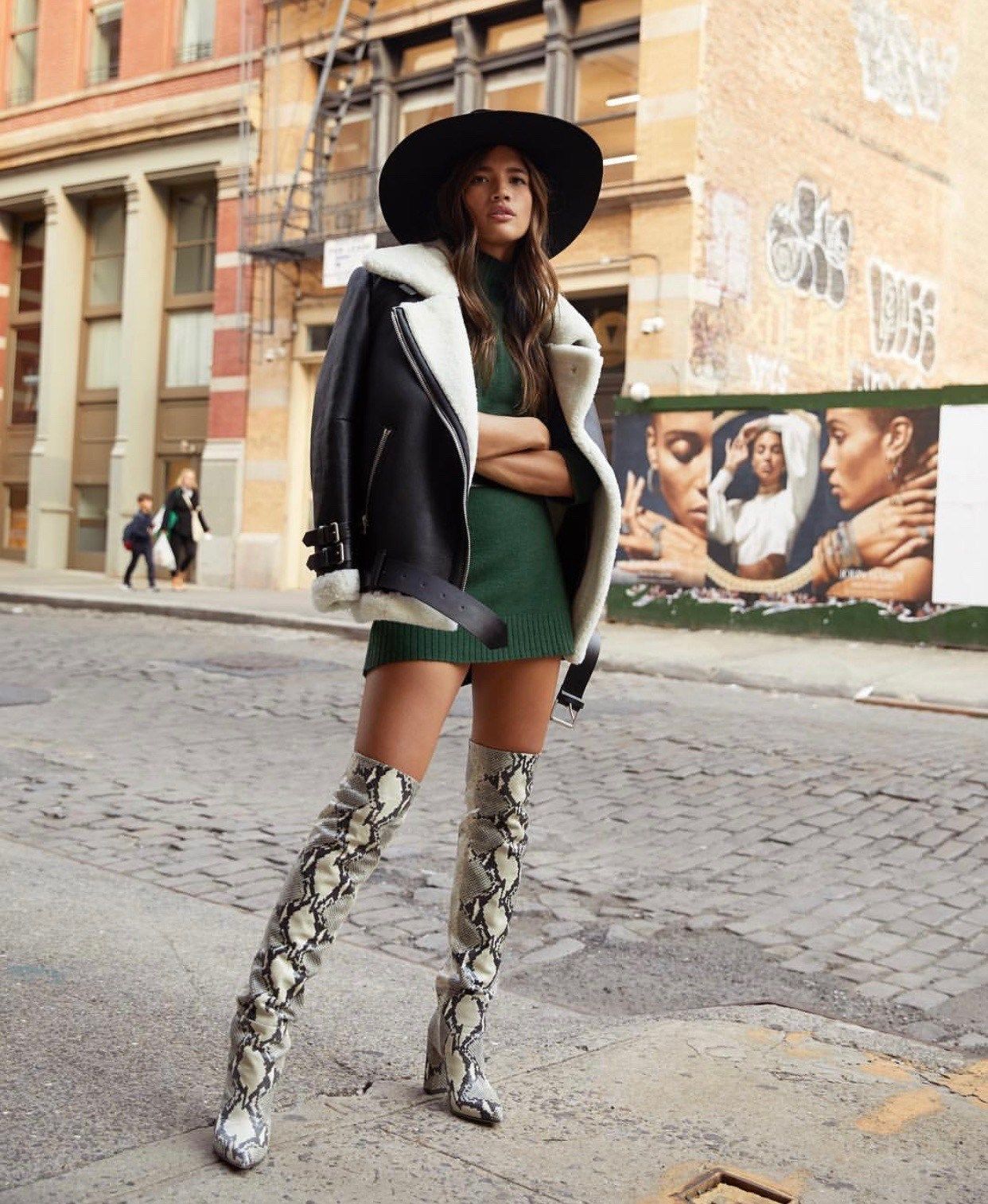 If you have catchy boots like these, a plain outfit that doesn't take away the spotlight from the boots is the perfect way to pair them. A relaxed jumper and a black-colored jacket, for example. So take your favorite sweaters out and pair them with your adventurous boots!
Do you like our fashion choices? They are so cool, right? Well, we can't wait to read your favorite choices on this list. Feel free to leave a comment below.