Born in 1995, Nikola Jokic is a Serbian basketball player. Drafted in 2014 by the Denver Nuggets, he has played for the franchise ever since. And in the past year, he has grown into an MVP-caliber player. Jokic is the frontrunner for the 2020-21 NBA season.
For most of his career, Nikola looked non-athletic and chubby. Many consider him slow. But what he lacked in athleticism, he made up in skill and talent. But during the NBA lockdown, he managed to slim down to a point not many people could recognize him. How did he make it? How did he shed so many pounds?
Now he is back to a bit normal weight for him, but still down from his weight from last season. In three months, from March to June in 2020, Jokic completely transformed his body.
He entered the 2019-2020 season listed at 284 pounds. But after he came back to the US from the NBA lockdown, he looked slimmer. Nuggets president even said Jokic sent him a picture with no shirt on, and he could see his abs. Jokic is now in the best shape of his life, and his play on the court benefits from it.
Forgetting Bad Habits
The biggest change Jokic made came in the eating habits. He had some of the worst dietary habits for professional basketball players. Just a few years ago, he said in an ESPN interview that he drank up to 3l of Coca-Cola.
In the interview, he said, "Never in the morning, because we had practices in the morning, and I could never drink before. But after practice, it was glass after glass. I couldn't stop."
And he now doesn't drink it anymore. He says Coca-Cola is good, but only in moderation.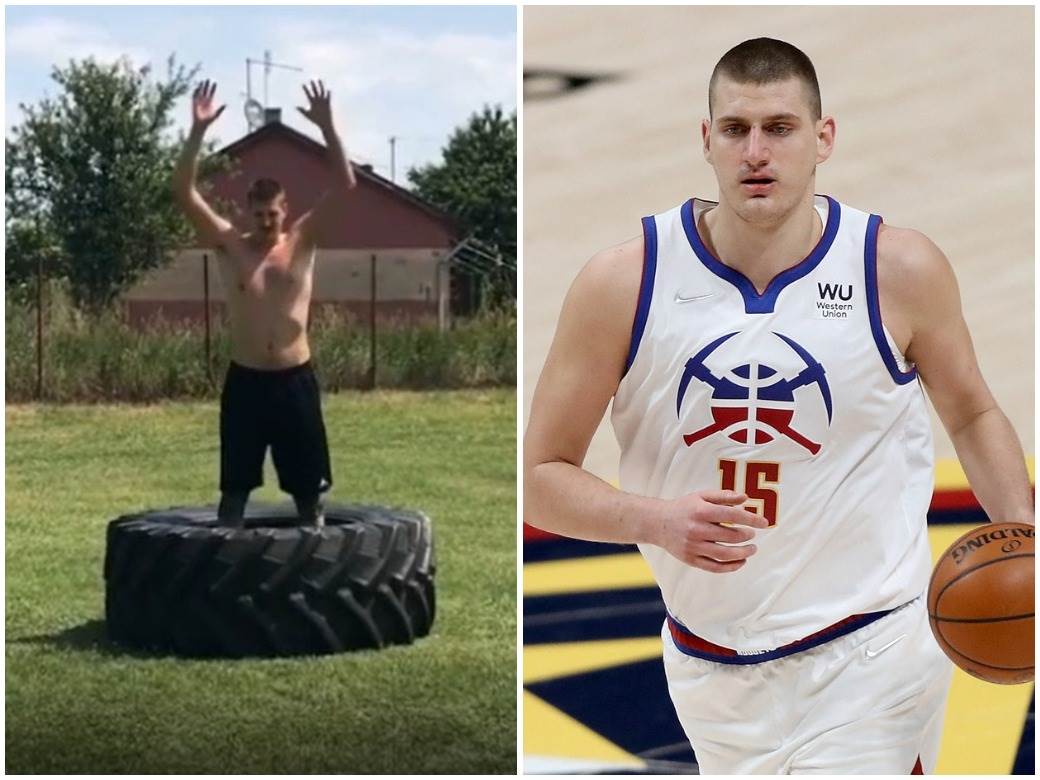 His Workout Routine
Fun fact, Nikola Jokic was listed at 253lbs during his draft profile. And since entering the NBA, he managed to put on a couple of lbs. But he looked out of shape.
Three months after NBA postponed games due to Rudy Gobert's positive coronavirus in March 2020, Jokic came back to the US completely different.
He began the season listed at 284 pounds but came back in July looking slimmer and thinner than ever. His fitness trainer, Jure Drakslar, said it was all work and effort. To keep him in shape, Jure often travels back to Serbia with Nikola.
Denver supports their players by sending strength and conditioning coaches to the place players spend their offseason. In Serbia, Nikola is completely at peace and looked much more relaxed than he was in the US. That is why he could work out and perform better.
There, he could practice two to four hours every single day. Workouts included strength and basketball training, and his coach often stirred things up. Over previous off-seasons, Nuggets coaches have identified specific areas where they wanted to help Jokic.
Some of those include having a strong base, being more agile, and coming out of his second jump with power. But most importantly, they focused on improving cardiovascular endurance and decreasing body mass. That is why Jokic now tells people he can play a whole game at an intense level, something he struggled with before.
For his recovery treatments, he used compression, hydro recovery, regular naps, and much more. Nuggets coaches supervised everything, making sure Nikola gets to rest between sessions.
For some of his exercises, coaches took him up in the mountains and did a workout there. Or they went onto a soccer field and did exercises with tires, resistance bands, and ropes.
Jokic is now in the best shape of his life. His weight helped him b, as opponents cannot push him around like they used to. The Joker also uses his body and build to his advantage.
Diet Plan
Any weight loss journey includes two components, diet plan, and exercise regime. During most of his career, Nikola struggled with his diet. But he had to change it. And change to his diet plan resulted in shedding more than 20 pounds during the NBA offseason.
Steve Hess, former head of athletic performance for the Nuggets, says Nikola had quite a few problems when he first came to the NBA. He says, "In the beginning, he thought soft drinks high in sugar were OK and candy was OK".
So, the first step Nuggets took was to cut off the love Jokic had for drinks like Coca-Cola. The next step was to bring him on a diet of healthy foods. Hess gave Nikola a guide to the kind of foods he can consume and that will help him improve his body.
Just one year after following the diet plan the Nuggets gave him, Jokic dropped more than 40 pounds and decreased his body fat from 21% to 9%.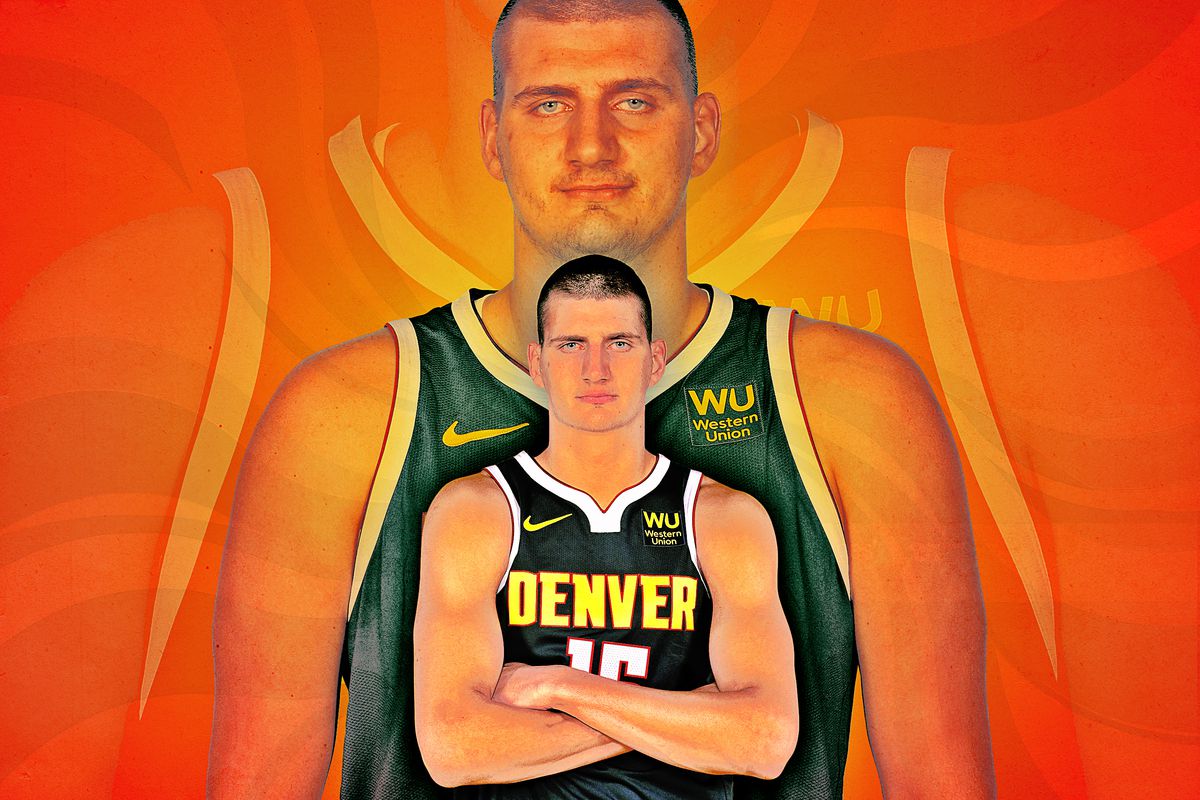 Reaping the Benefits of The Work
While Nikola looked better in the past few years, during the NBA lockdown, he took things to a whole new level. And he continues to reap the benefits from his work. He spent most of the days exercising and committed himself to the hours in the gym and diet.
Tim Connelly, Denver Nuggets director, said Jokic sent him a picture. He explained, "He's beach-ready. He has abs. He showed up in great shape. He sent me a picture, no shirt on. He's got abs. I've never seen him have abs before".
Jokic worked out with James Harden during the lockdown, trying to prevent himself from gaining weight. When Jokic appeared at Disney World for the restart of the NBA season, fans went crazy. He looked like a completely different person.
And while the Nuggets didn't make it to the NBA Finals, he looked amazing. And he continued his surging season for the 2020-21 season.
Just take a look at the stats. And you will understand how much better he plays. His points went from 19.9 to 26.4, assists from 7 to 8.5, and rebounds from 9.7 to 10.8. And it all thanks to his workout regime and diet plan. Being in the best shape of his life allowed Jokic to stay more on the floor and be more active. He is now one of the most dominant players in the league.
His team's winning percentage went from 63% to 64.7%, a testament to the good work Jokic does. That is without the Nuggets' second-best player out with an injury. And it is no wonder he is now one of the favorites to win the MVP award for the 2020-21 season.