Some people will say perception is everything. And it might hold ground. For James Harden, many NBA fans believe he lost more than 30 pounds in two days after getting traded to the Brooklyn Nets. Did that really happen? Or was it just perception?
In any case, James Harden set Twitter on fire during the NBA trading period in 2021. The moment he stepped on the court for the Brooklyn Nets, he looked drastically different.
What changed between the last time he took the court for the Rockets and the first time he suited up for the Nets?
We do not know. And Harden didn't reveal anything. But he is a completely different person. Let's take a deeper look into the story of James Harden weight loss controversy.
Nets fans didn't care how he looked during his Rockets tenure. They love him for what he brings to the table to Brooklyn, as Harden has emerged as one of the most important players on the team. Yet, that didn't last long, as 18 months later, he got traded again. This time to the Philadelphia 76ers to play with Joel Embiid in exchange for Ben Simmons.
Just to make it clear, Harden's official weight remains at 220lbs. He has never revealed how much he weighed during his last games with the Houston Rockets.
Is it all about perspective?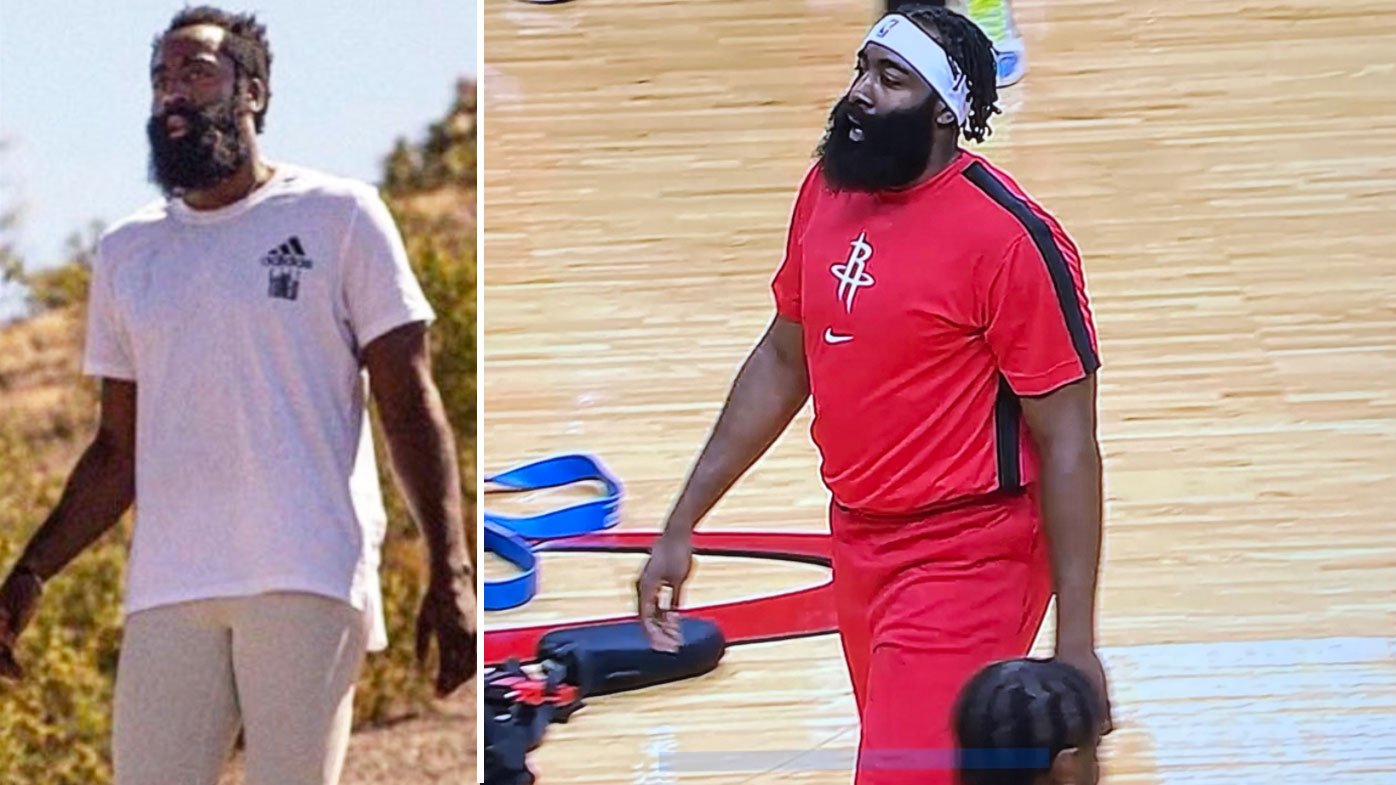 Looking at the photos from his last game with the Rockets and the first game with the Nets, one might say Harden managed to shed more than 30 pounds in two days. But is that possible? Some dramatic diets cannot deliver such results.
And at a glance, it does look like the former NBA MVP had a drastic weight loss. But if you look at it carefully, you will see that perspective is everything. And he wears a different dress.
Fans that watch games can notice he didn't weigh that much during his last days with the Rockets. True, he came to training camp obese and overweight. But he managed to shed some pounds quickly.
And we have to point to the fact you can actually shed some pounds just by losing water. When you have your first unhealthy gain, it is mostly water, not fat. And you can easily do it by training for a couple of days, eating healthy, and lose the extra water.
Fans remember Harden had an awful ending to his Rockets tenure. Before the start of the 2020-21 season, the NBA star asked for a trade. The Rockets said they would be happy to "be uncomfortable", and then Harden took it to another level. He constantly bashed the organization and his teammates, saying they do not have enough to compete.
He called out the franchise after his last time in Houston, and that was the last straw. Days after he got traded to the Brooklyn Nets, fulfilling his wish. And he looked nothing like the chubby guy we saw in Houston when he made his Brooklyn debut.
So, what happened during that James Harden weight loss controversy?
Twitter reaction
Fans are some of the most creative people in the world. They can definitely come up with amazing and unique ideas. If you go through some of the old tweets and reactions to the trade, you will get a good laugh. Here are some.
– He got traded and just removed his fat suit
– Did James Harden somehow fake being fat to get traded?
– Was James Harden wearing a fat suit in Houston?
– The phrase "wearing black is slimming" is working extra hard here
Be as it is, he got his wish. The Houston Rockets traded him to the Brooklyn Nets, fulfilling his wish to play with his old buddy Kevin Durant. In Brooklyn, Harden teamed up with KD and Kyrie Irving, giving the team a Big 3.
Before the trade, Harden made headlines for putting on some weight in the offseason. Between strip clubs and a lavish lifestyle, Harden definitely looked chubby and bigger.
Not the first time to lose weight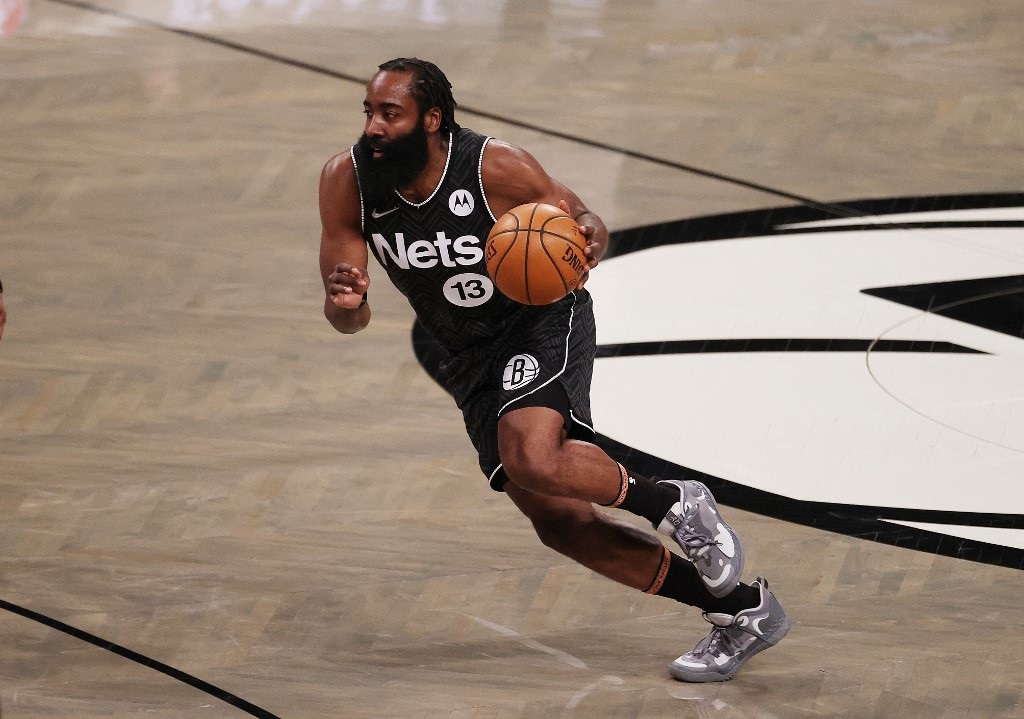 You have to remember, this is not the first time James Harden has lost a lot of weight during a short period of time. During the NBA lockdown for the 2019-20 season, the former NBA MVP used the time off to work out.
Before the 2019-2020 season, Harden got his buddy Russell Westbrook to come to Houston. Together, they were supposed to take the Rockets to the promised land and win a championship.
But things didn't go well. When the league suspended play in March due to the Covid-19 outbreak, the Rockets were just in the sixth spot in the Western Conference.
Like many other players, James Harden had to self-isolate from his teammates and train indoors. But he used the time off to work out. Before the NBA resumed play, pictures emerged, showing Harden's new look.
The shutdown kept him busy. He worked hard behind the scenes to return with a bang. In one interview, he said he does a lot of cardio. James explained, "I've got a lot of treadmills in my houses, weights, and all that good stuff. It really hasn't affected me like it's affected a lot of other players".
And the secret behind his look? Simple, he prefers cardio drills and high-intensity workouts. According to some reports, James wants to work out two or three times per day. The NBA player also combines various training regimes to push his limits outside of his comfort zone. These affordable road bikes are great for cardio workouts.
And if you ask him, he will tell you the secret is his "tailored James Harden training routine". During his workouts, he puts focus on body balance, stability, and body control. And he also does yoga and pool workouts to mix things up. So it is not a surprise James Harden can lose weight relatively easily.
Nowadays, he looks happy being a Philadelphia 76er and playing with his teammate Joel Embiid and for his former boss Daryl Morey.