Congratulations, you will be a mommy. Pregnancy comes with so many major changes! Besides being wonderful, slightly less wonderful is how tough it can be finding clothes that fit, are stylish, and comfortable. As your body is shifting and your belly rising, your old clothes literally can't fit you anymore and you must be so excited and puzzled about what to wear. Remember, everything is about showing off your baby bump and feeling relaxed.
You just shouldn't think about finding clothes that suit you at this joyous time of your life. Try doing it yourself. Repurposing projects get to take something useless to you and make it useful again…or maybe even something you love. Your maternity style should be chic, classic, and very feminine no matter what. Wear a variety of casual, formal, and evening gowns that make you feel good.
To help you get through your maternity clothing easily, we selected some cute maternity outfits to make you feel comfortable and gorgeous wherever you go. Also, here are some tips on what maternity look to go for. Time to learn how to sew and repurpose so you don't have to buy a whole new wardrobe. Thankfully, many of these DIYs simply involve repurposing things you already own.
1. Man's Polo Shirt Dress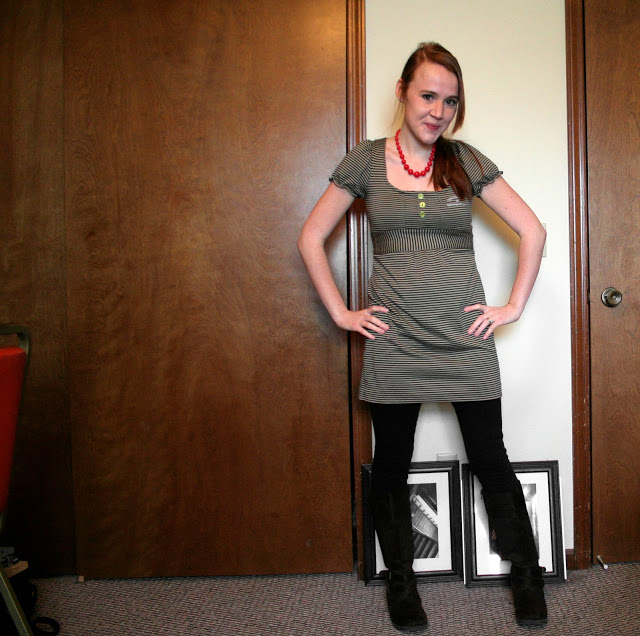 Remember that polo-shirt your husband doesn't like, but you love? Well, instead of letting it sit in the closed for ages, with this tutorial, you can turn it into a lovely pregnancy shirt or a mini dress. You might need a bit more skills, but will be worth it in the end. Especially if the fabric is soft and comfortable to wear. You will enjoy every minute of it.
2. Old Jeans Stretched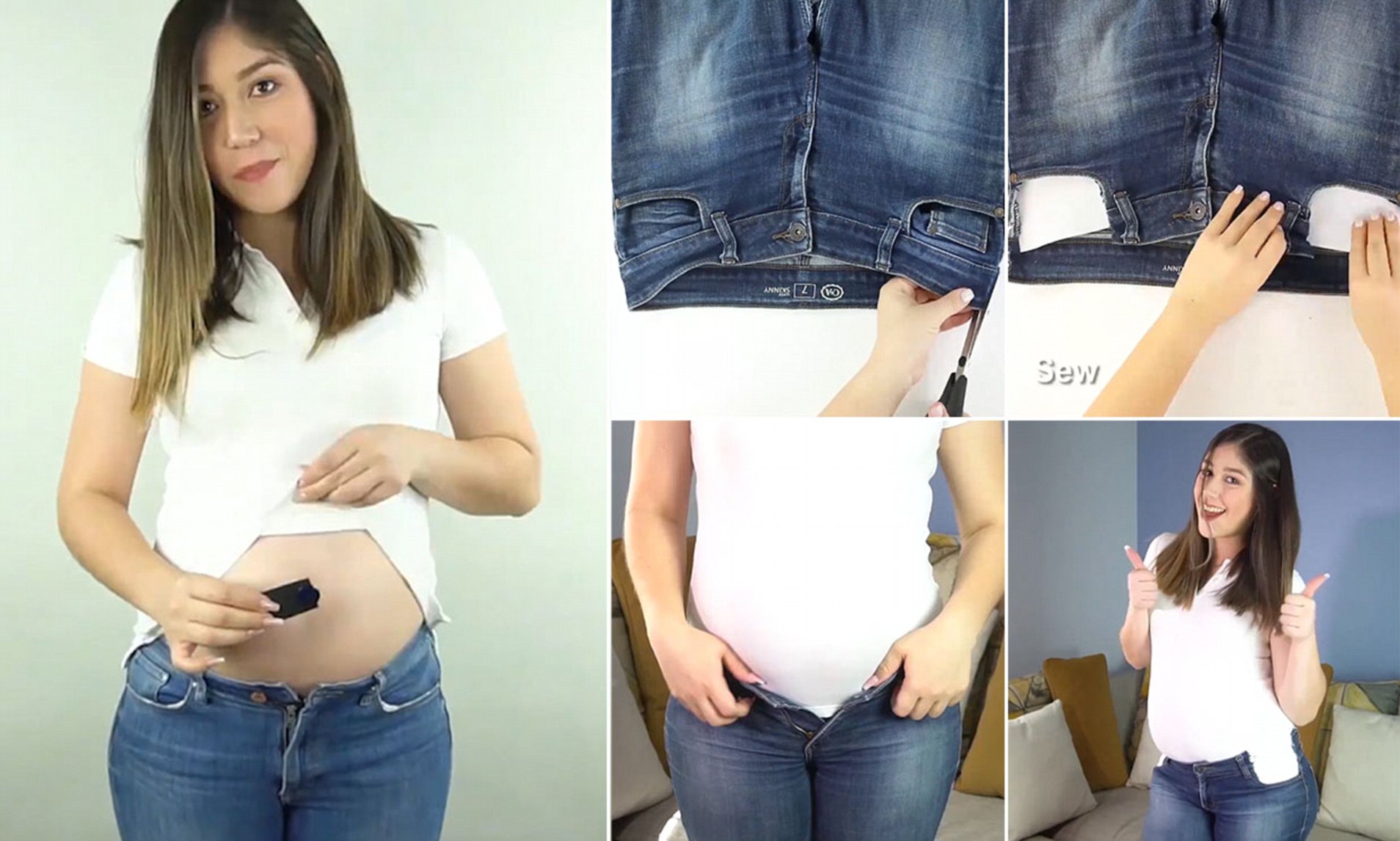 A few pairs of pants with practical zippers, buttons, and pockets are good to have. This is a perfect way to have pants that don't look like elastic pants but to be elastic enough for your belly. Replace the front pockets with elastic to allow you plenty of room to stretch your growing belly, but still have ample structure to keep you together.
3. Belly Growing Pants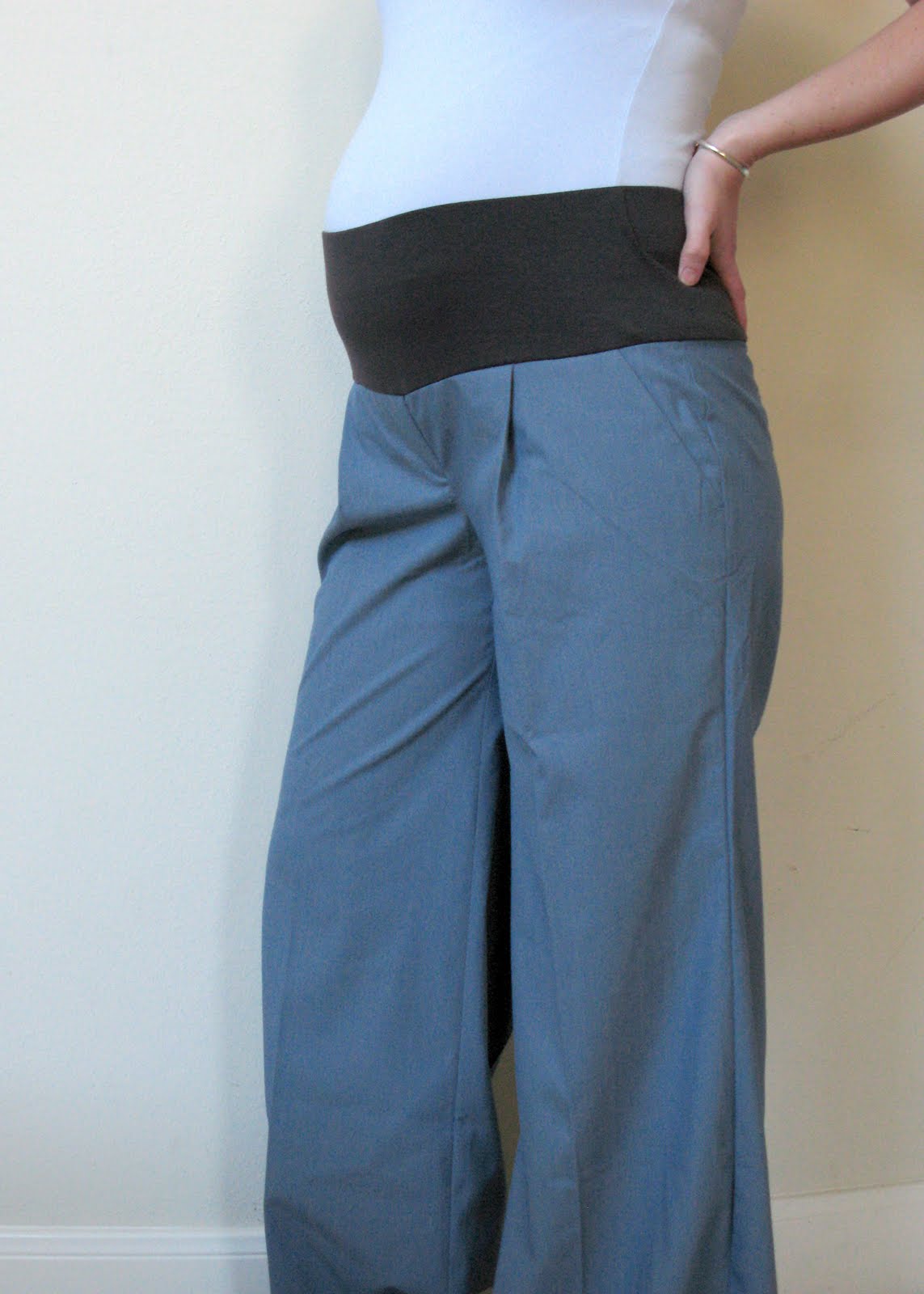 Follow these instructions and have an amazing pair of  pants for work or going out, for $2 from your local thrift store and some extra cost for the elastic part! They will be so comfortable on your expanding belly,  and you will feel fantastic knowing that you have not forked out tons of money for pants that are only for a season. Try this strategy on some jeans and skirts as well. You'll love it. But be careful, the change is irreversible, so make sure you don't ruin your favorite expensive pant.
4. Ruffled Dress
There are 2 things you desperately want your clothes to be – comfortable and cute – when you want them. Go shopping in  your closet or at the nearest thrift store and find yourself a gem, a long-sleeved (maternity) dress that looks just like a giant t-shirt, speaks about being cozy, but is not adorable at all. Cut off the sleeves, and use them to make ruffles at the front and on the bottom of the dress. It immediately turns into a lovely and comfortable maternity dress for you to enjoy during the whole pregnancy!
5. Baby Belly Skirt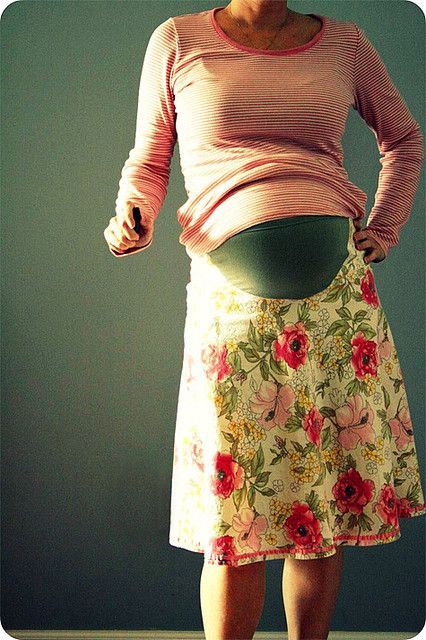 If you're pregnant and tired of the prices of the maternity store, and you're not afraid to cut into clothes, this is for you. Take a look at this tutorial and turn an old skirt that you have hanging in the closet, or you found some cheap one in the thrift store into a great pregnancy skirt. Use an old elastic shirt you planned getting rid of to make the elastic waste to give your belly a space to grow. There, you have a new cool skirt for the next nine months of your life.
6. Pillow Case Dress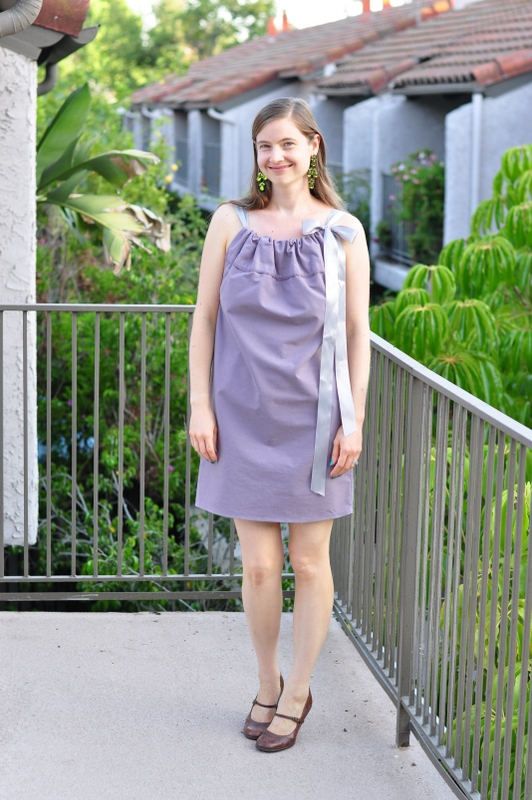 You desperately need a dress, and don't wish to spend any money on pregnancy dresses, because it might turn out to be only one special occasion for a great dress. Well, make it yourself then using not more than a cute pillow case. Yes, you read it right, a pillow case. I'm sure you have a lovely single pillow case that you love, but don't use, because it is not paired with anything. Now, you can turn it into a great mini pregnancy dress with only a few stitches. Look at the tutorial in the link, and start sewing before your time runs out.
7. DIY Maternity Dress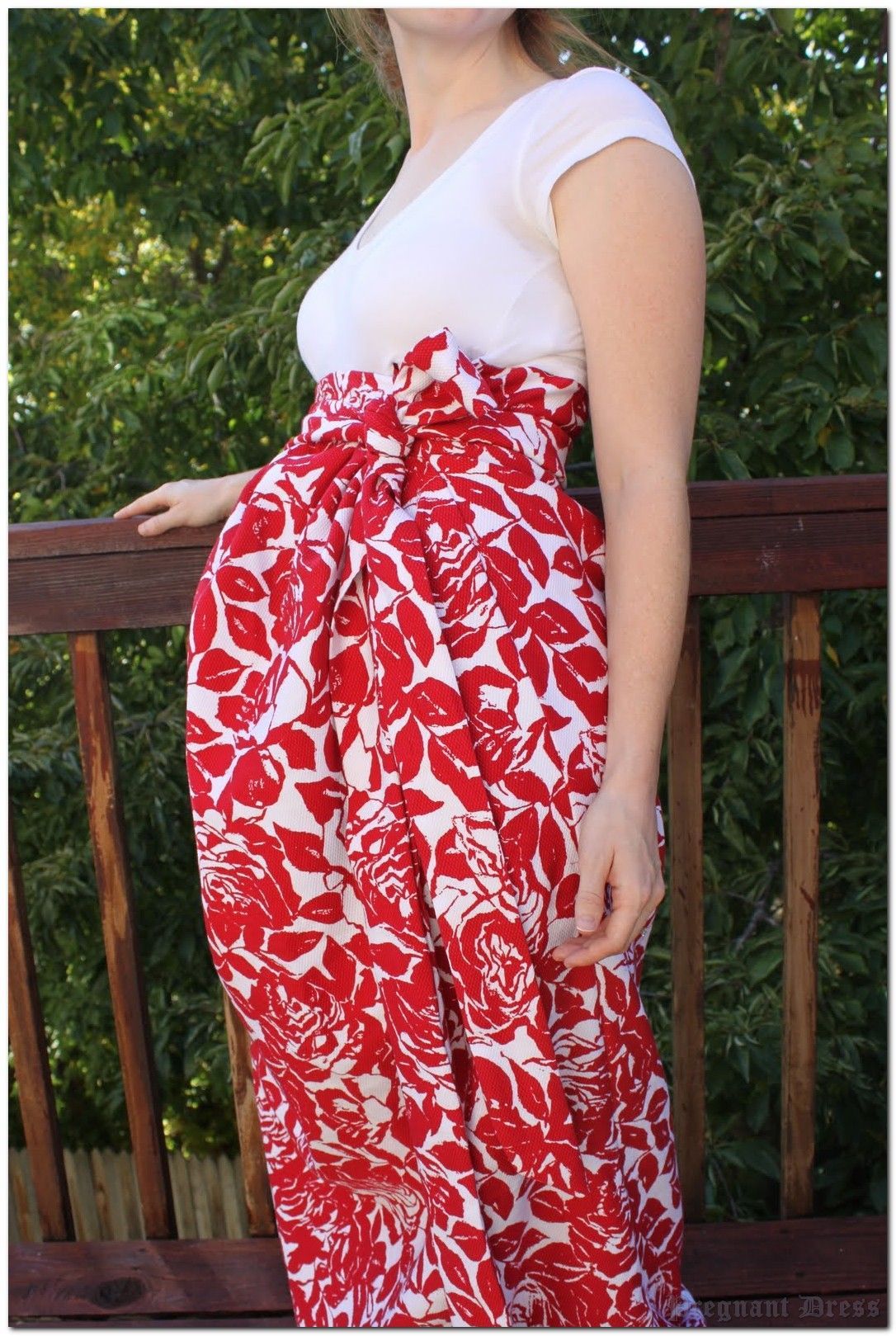 Love a simple comfortable T-shirt and a lovely cotton fabric below it? Here is the right idea for you. Attach a cool piece of fabric to your old favorite t-shirt and turn it into a lovely maternity dress. It is simple yo make, and doesn't cost a fortune.  Plus, you get to choose the colors and the designs and prints, and on the top of it all, you can make a bunch of those for only a handful of money. Believe me, you will make a dozen for every day or special occasion.
8. Zipper Nursing Shirts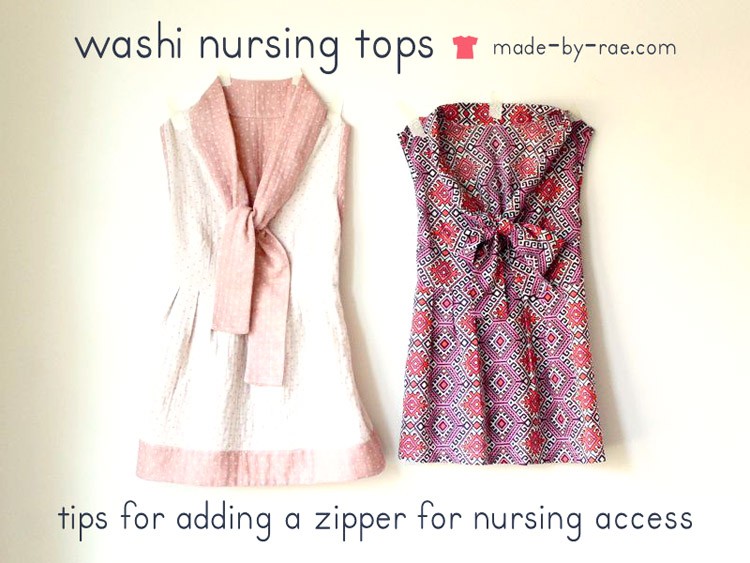 This shirt is perfect for both pregnancy and nursing. If you have bought or made this top for your pregnancy months, you can now turn it into a nursing shirt. Simply cut the front part below the bow and add a zipper. It will be easy to open for nursing, and the bow will cover the zipper and the shirt will look pretty all the time. It will give you the comfort and confidence you need during the nursing months as well.
9. Old Shirt Turned Nursing Shirt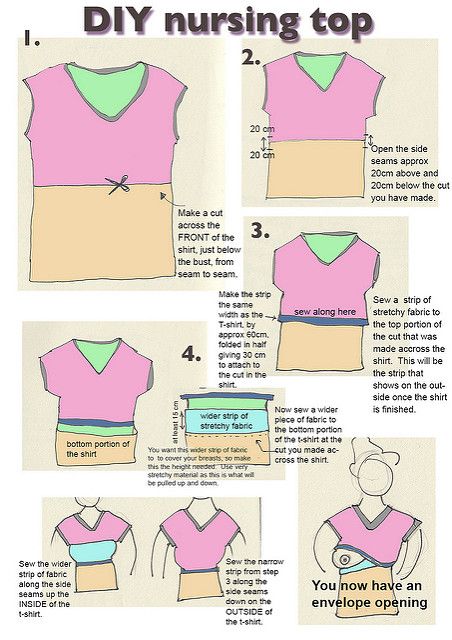 It's time to start nursing at home during the hot summer days. All you need is an old T-shirt and a piece of elastic cloth. Simply cut the front side of the shirt right in the middle, and sew in the elastic cloth to the lower part, so that it goes underneath the upper part. cover it up, and get settled. You can nurse your baby anytime at any place with this envelope opening. It is practical and convenient for every new mom.
10. Maternity Bubble Skirt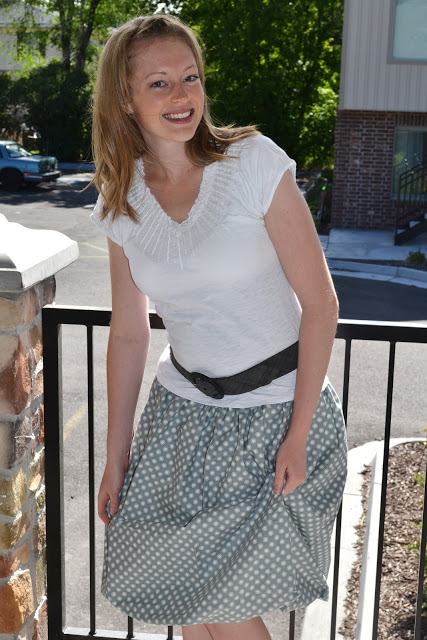 This is a great idea for those that are expecting, and those that are not yet expecting. Also, it is great for those with a small belly and those with a bigger one. The only difference is the elastic band that you put on the waist line. With the right effort, you can make this bubble skirt to be one of the best you have for the whole pregnancy. Simply use the more elastic material for the band and you'll have everything you need. Make sure it is comfortable enough and enjoy it.
11. Ruffled Shirt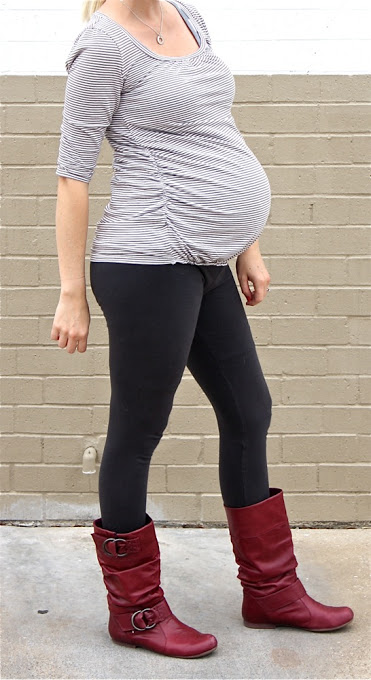 You'll discover that wearing even the most casual stretchy shirts won't cut it anymore because the baby bump starts showing off even more. Every day, your baby is growing and your clothes must grow with it! Here is how to turn your old slappy T-shirt into a comfortable maternity one.
12. Ruffle Sleeve Top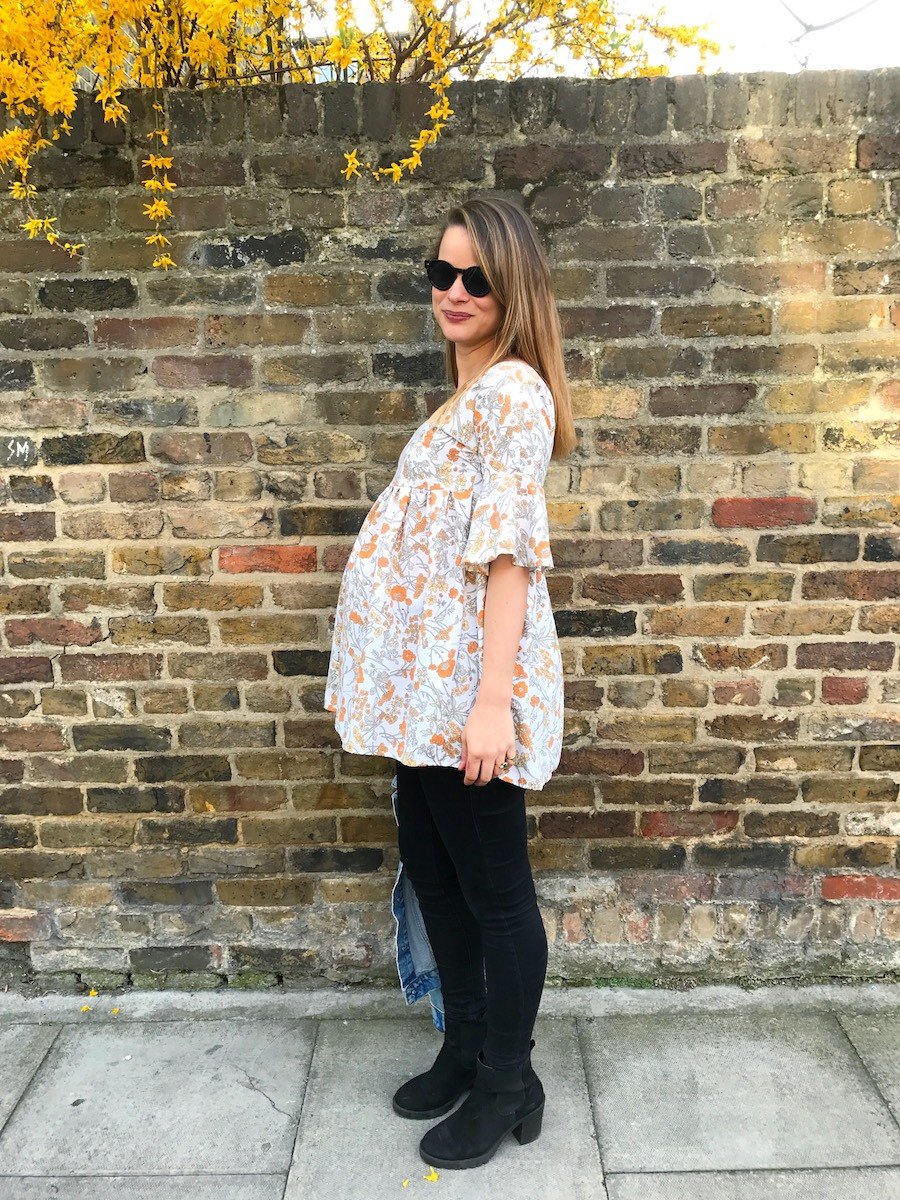 When you first hear that you're pregnant, nine months can seem like a long time, but in a few years, you'll look back on this time and remember how quickly it went by! Make sure you are always dressed in the finest clothes that are super well photographed, like this ruffle sleeve maternity top. It is not difficult to make, and will give you the comfort and pleasure you need for the next nine months.
13. Men Shirt Maternity Top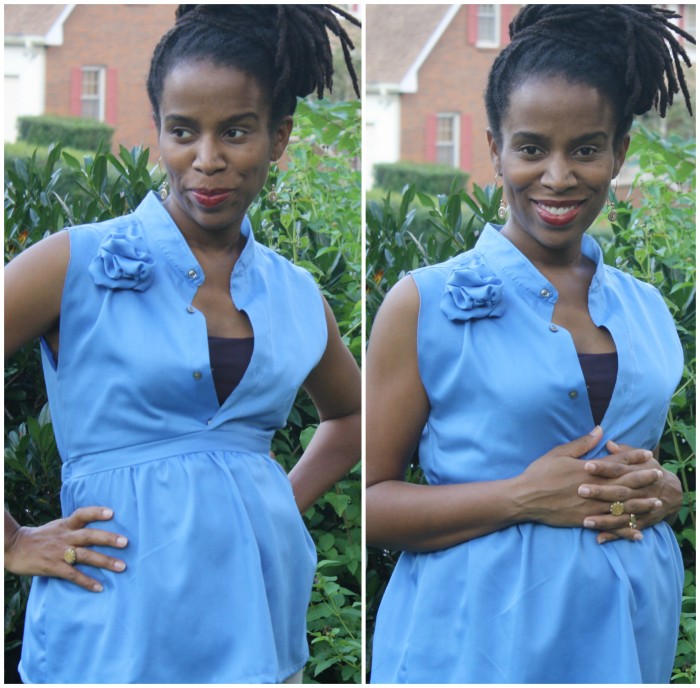 This shirt tutorial will show you how to turn a men's shirt into a lovely maternity top. it is easy to make, it doesn't take a lot of skills, and most importantly, it's cheap. So, go through your closet, find a forgotten men's shirt and start tailoring. Cut off the sleeves, cut the shirt on the line below the bust and turn it around to get the ruffled part in the front. Insert an elastic band on the back, and make sure the buttons are out so that you only get a cut on the back. it will allow your belly to grow, and you to feel comfortable.
14. No-Sew Maternity Top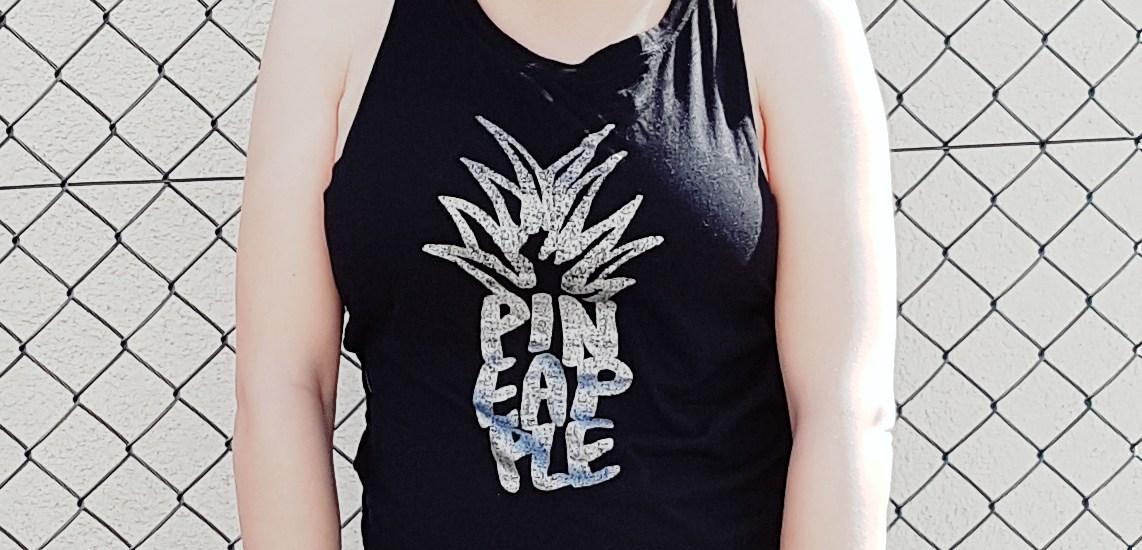 This idea is for those that are very bad at sewing. So, find an old baggy T-shirt, cut out the sleeves, and cut the side part of the shirt on both sides. Then cut small slits on both sides and tie them together. If the shirt is too baggy, you can use the same method to cut and tie the back of the shirt as well. It will loose the bagginess, but give you some room for your belly to grow. It is comfortable and practical, and cool and fun all at once.
15. Converted Cardigan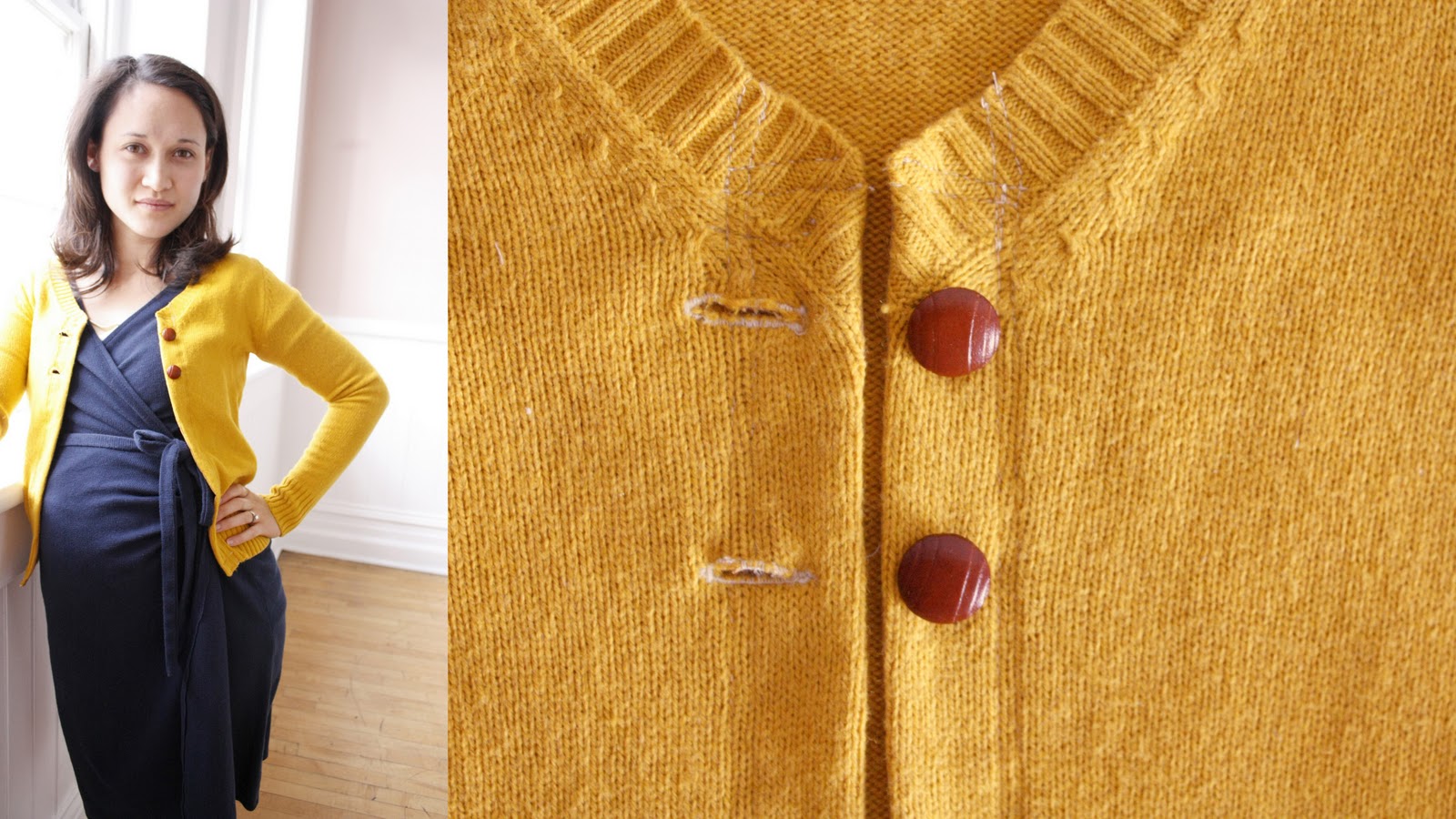 Have an old sweater that you have bought, but never worn? This is the chance for it to become a pregnancy cardigan for those chilly nights. Cut the front part in the middle, fold the edges and sew them with some fabric strips to make it stronger. Then add two or three buttons on the top, and cut out some button openings. There, your maternity cardigan is ready. You will feel warm during the chilly nights and your belly will have a place to grow.
16. Jacket Cape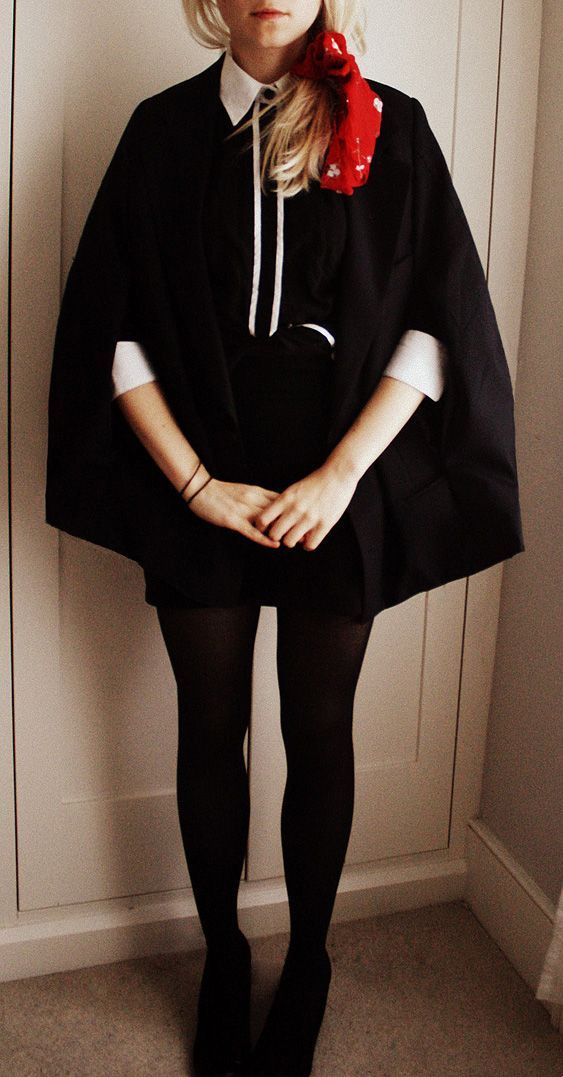 Tired of all those blazers from your father, husband or partner hanging in the closet, and you needing a new coat for your pregnancy period. Well, it can really cost a lot to buy a new one, and you can surely use those blazers. Cut out the sleeves, make sure you have the right opening, and reattach them in a different way, as it it shown in the tutorial above. You will get a new coat to keep you warm during the pregnancy and afterwards, and your closet will be emptier from all those blazers that were hanging around.
17. Polka Square Skirt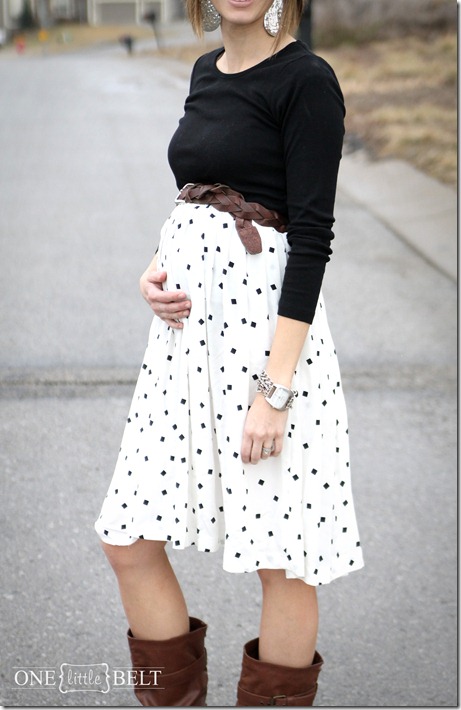 Were you looking for a great maternity cloths in the thrift store round the corner? All you found was a cute dress that looked comfortable, but really doesn't fit the pregnant you? Well, turn it into a lovely pregnancy skirt. The polka-square design will make it look even cooler than it already is. Put a leather belt on the top to cover the elastic part and combine it with shoes or boots in the same tone. You will look perfect.
These were the tutorials we chose for you. If you like them, start crafting immediately. And if you are inspired to make something of your own, share it with us in the comments below.