Style is a way to say who you are without having to speak. Fashion is what you buy, and style is what you do with it. And every piece of clothing deserves a second chance. Because at the end of the day, the secret of a great style is to feel good in what you wear.
Refashioning is an art, and the garment is the canvas. A certain thing may seem cool, fashionable, and trendy; however, when it is cut, sewn, printed with DTG, or repurposed with other types of clothing, it looks completely different. I know…it happens to all of us. There is always a solution, called REFASHIONING.
With refashioning, one has the ability to fashion something again or differently. In other words, one has the power to be a fashion designer for a slight moment. How cool is that? Do you think that you don't have what it takes to achieve that? Well, we have a list of 15 ideas and tutorials for refashioning old clothes. Super easy designs and with beautiful results. Enjoy, life is too short to wear boring clothes!
1. DIY Colorblock T-shirt Dress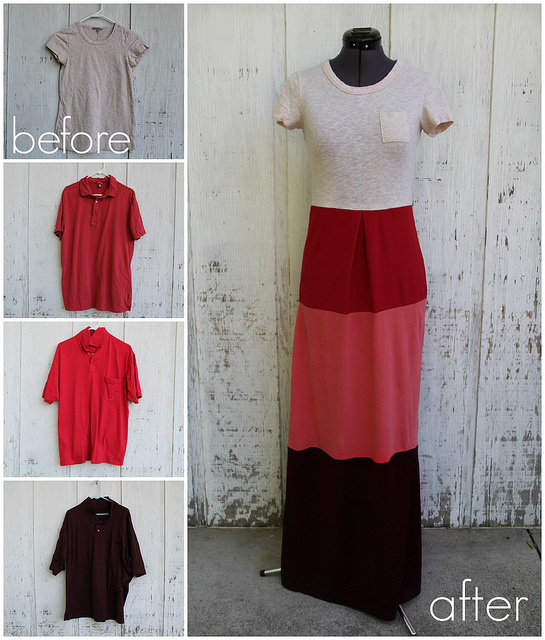 If by any chance you have a bunch of oversized t-shirts, here's an idea to transform them into a trendy dress. Perfect for spring and summer! And the best part? You can combine your favorite set of colors. Give it a try, go to the link a follow the steps.
2. DIY Old T-shirt Summer Dress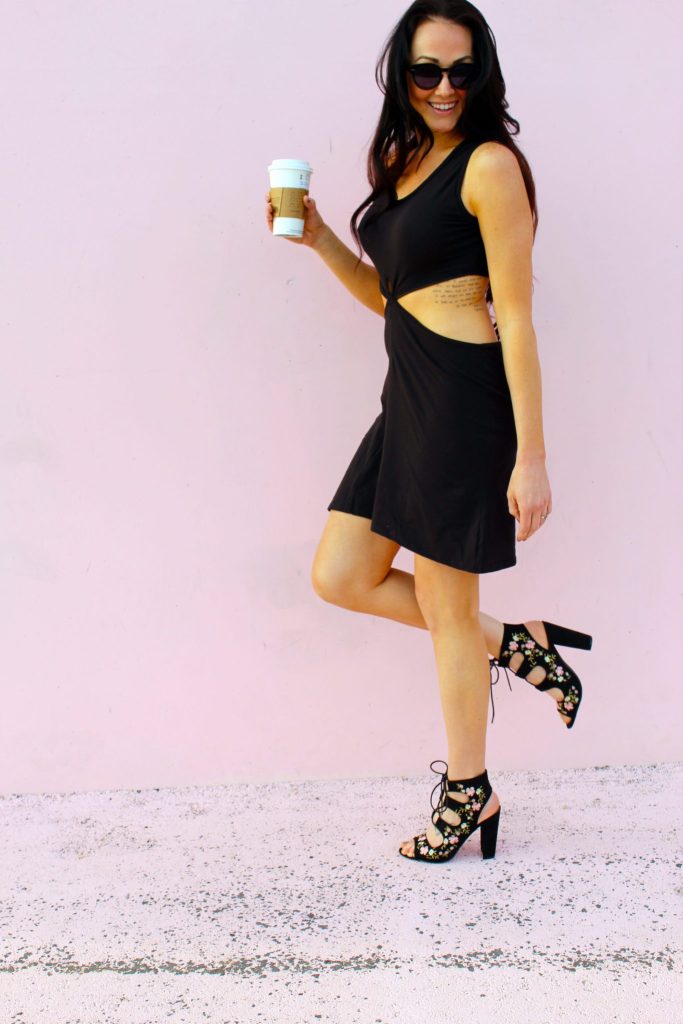 Here's a trendy idea to refashion an old oversized t-shirt of yours. It's perfect for hot summer days, comfortable and stylish. You can even wear it as a swimsuit cover-up. You will look and feel great. Perfect, right? Check out the tutorial, it's super easy to do!
3. Oversized Old Shirt Pink Dress Idea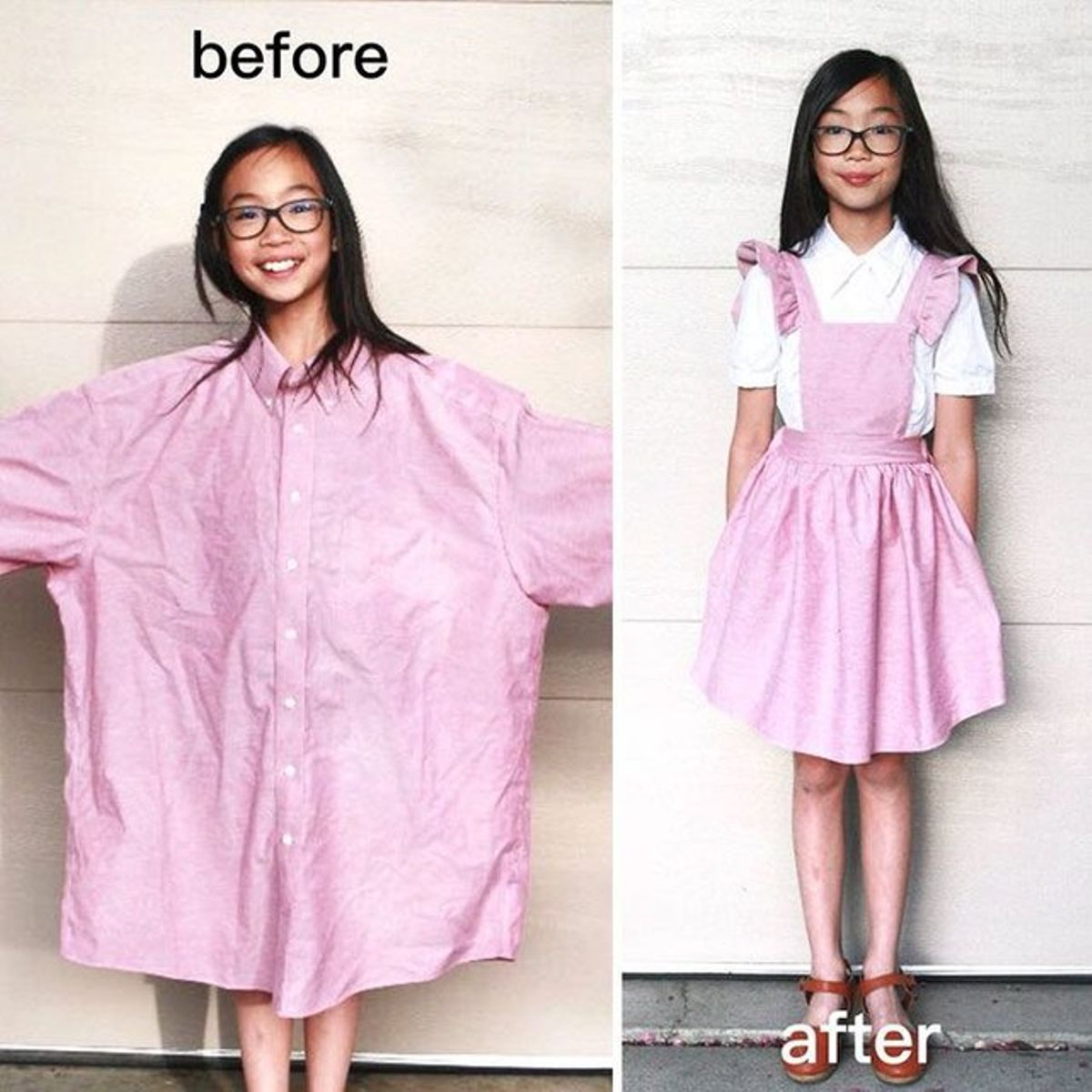 Here's an idea to make a beautiful dress for your daughters. The end result is magical, and it can be worn in spring, summer, and even in school. If you have an oversized shirt, feel free to use it as dress material. And if you have a pink shirt like this, even better!
4. DIY Ruffle Shoulder Dress
Bring your dress to life and transform it into this beautiful ruffle shoulder dress. Everyone will adore your creation. Who has time for wearing boring clothes, right? If you go to the link, you can follow a step-by-step tutorial. It's very easy, we promise!
5. Button Down To Button Back Dress Idea
A beautiful idea to transform an old dress into a trendy, chick design that will show off your curves. Perfect for many occasions and very comfortable. Are you feeling inspired? Try out this idea and get crafty!
6. DIY Tie-Front Tank
A super easy DIY tutorial for refashioning old oversized t-shirts. The end result is so good. And Disney characters are so trendy these days, right? Go to the link and realize this design. Be cool and chic!
7. DIY Off The Shoulder T-shirt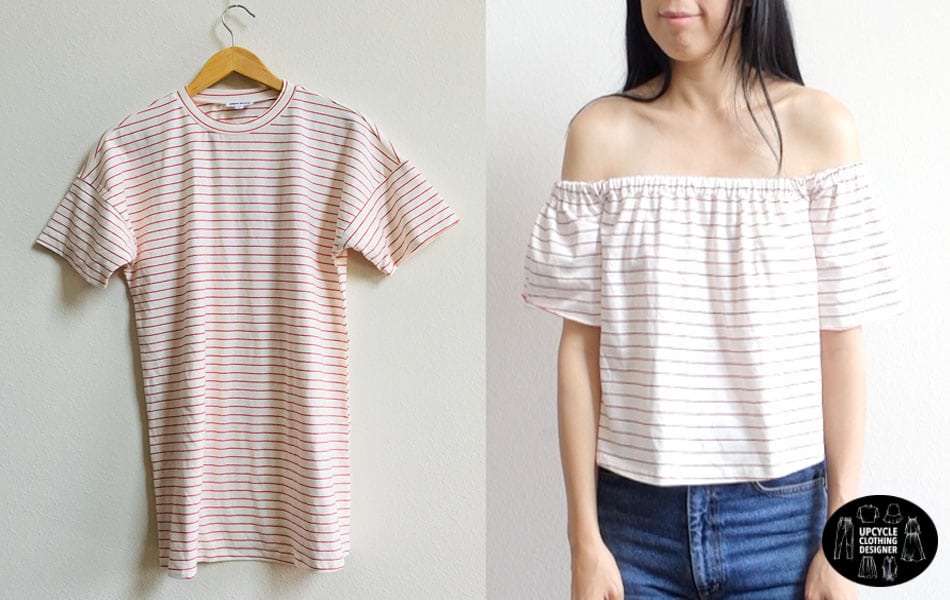 Are you feeling creative? Well pick up some old t-shit that haven't been work in ages and refashion it. And this tutorial will help you create the cutest design! Go to the link and follow the steps. Have fun!
8. DIY Training T-Shirt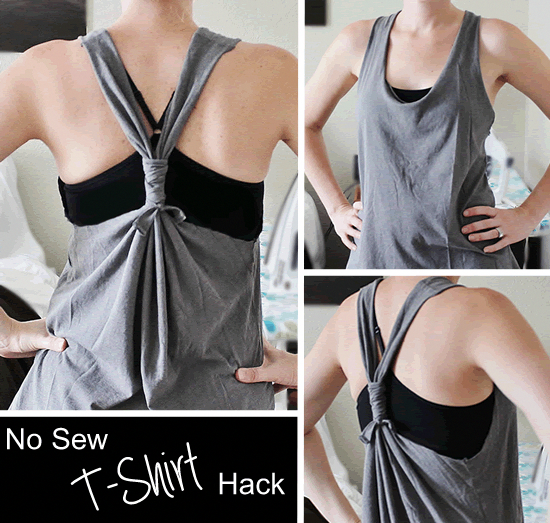 Here is one of those upcycle projects that are so easy, you'll want to go steal all of your husband's shirts and make your own! It's perfect for working out, hanging out around the house or to the grocery store. Super-comfortable and doesn't require any sewing to create it. Check out the tutorial and realize this fun DIY design.
9. Slash Detail Sweatshirt Idea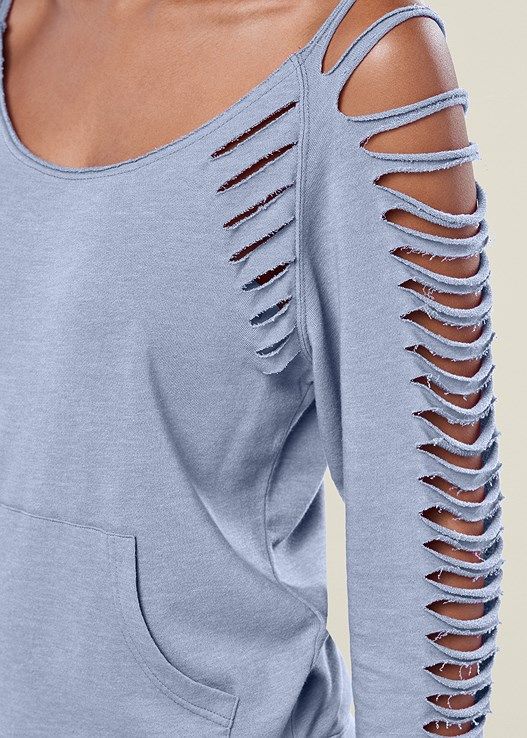 Are you feeling creative? Start crafting and create this edgy sweatshirt design. It looks so cool, doesn't it? This is a design that anyone will instantly fall in love with. Cool, trendy, and super-comfortable. Perfect combination.
10. Skirt Into DIY Camisole Top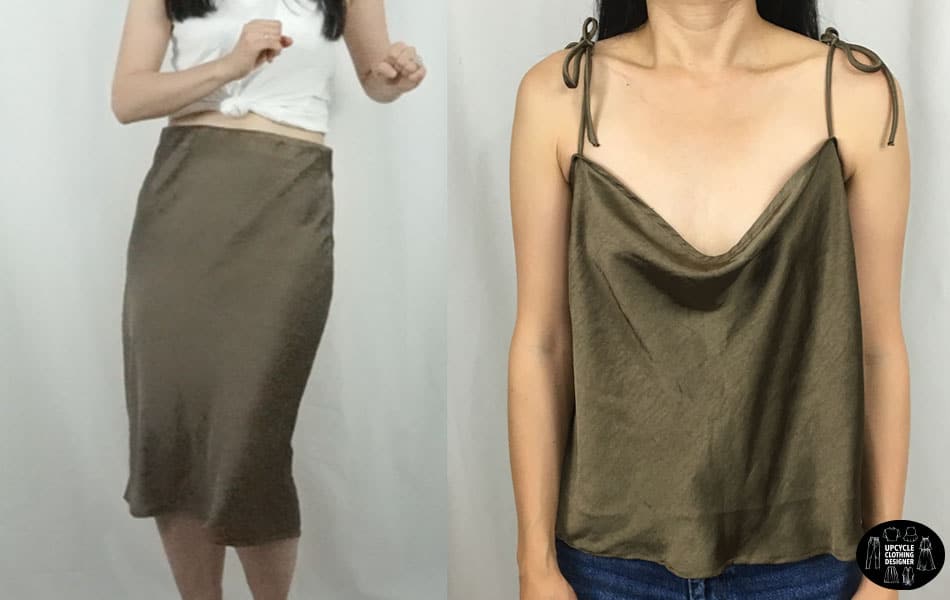 There comes a time in life where a great number of clothes are left to be forgotten in the wardrobe. And you grow tired of wearing those old clothes that aren't so trendy anymore. Don't throw them away. If you happen to have an old skirt, transform it into this beautiful piece of clothing. This camisole top caught your eye? Well, go to the link and make one for yourself!
11. White Knotted Top Idea
Such a fun way to transform an old oversized t-shirt into this lovely floaty top. Perfect for summer, and adjustable for many occasions. For every piece of old clothing, there's a design to spice up the look and transform it into a beautiful piece of clothing.
12. DIY Old Shirts Into Skirts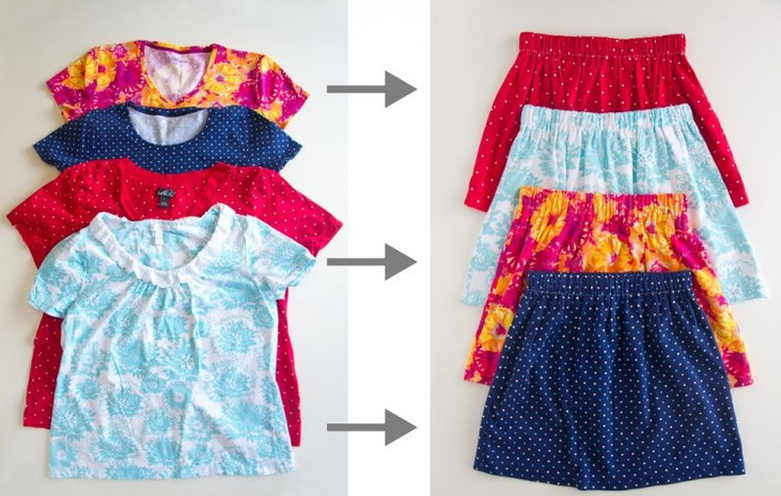 Transform your old t-shirts into these cute and colorful skirts. The tutorial is very easy, and the end result is to die for! If you are feeling creative, go to the link and give it a try.
13. DIY Asymmetrical Skirt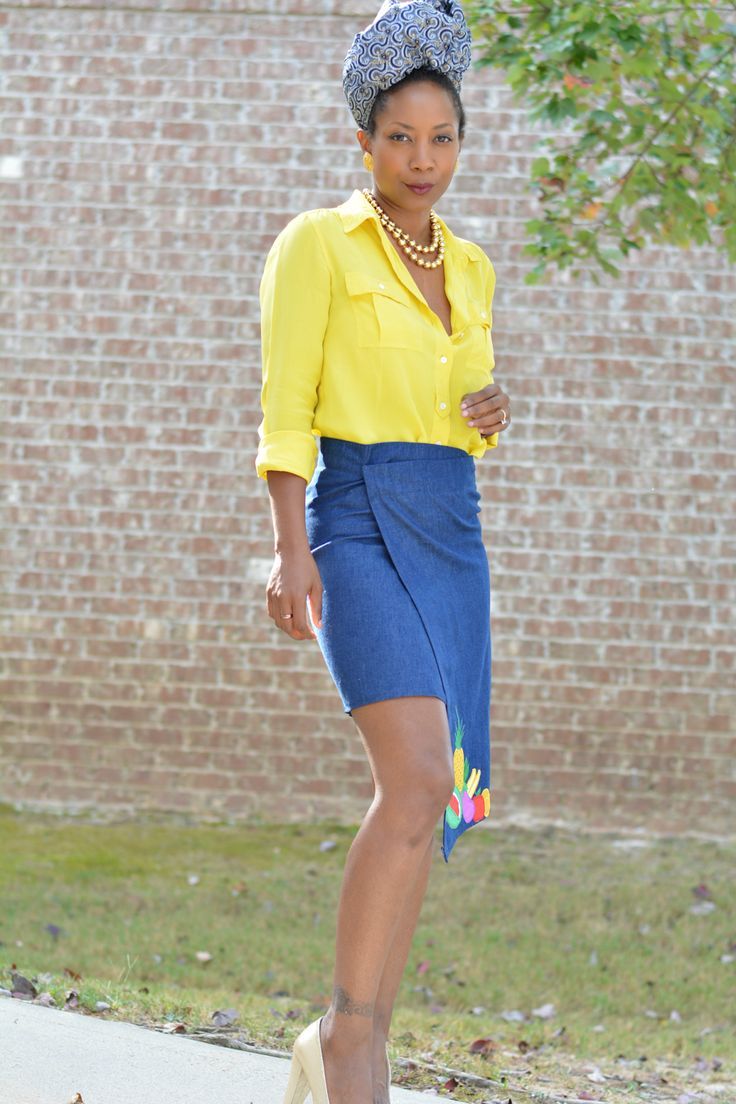 With this DIY tutorial, you can create this lovely piece of clothing. Are you a fan of high waisted clothes? Well, try out this idea e create your own unique piece of clothing. And it looks so good, too.
14. Safety Pin Crop-Top Idea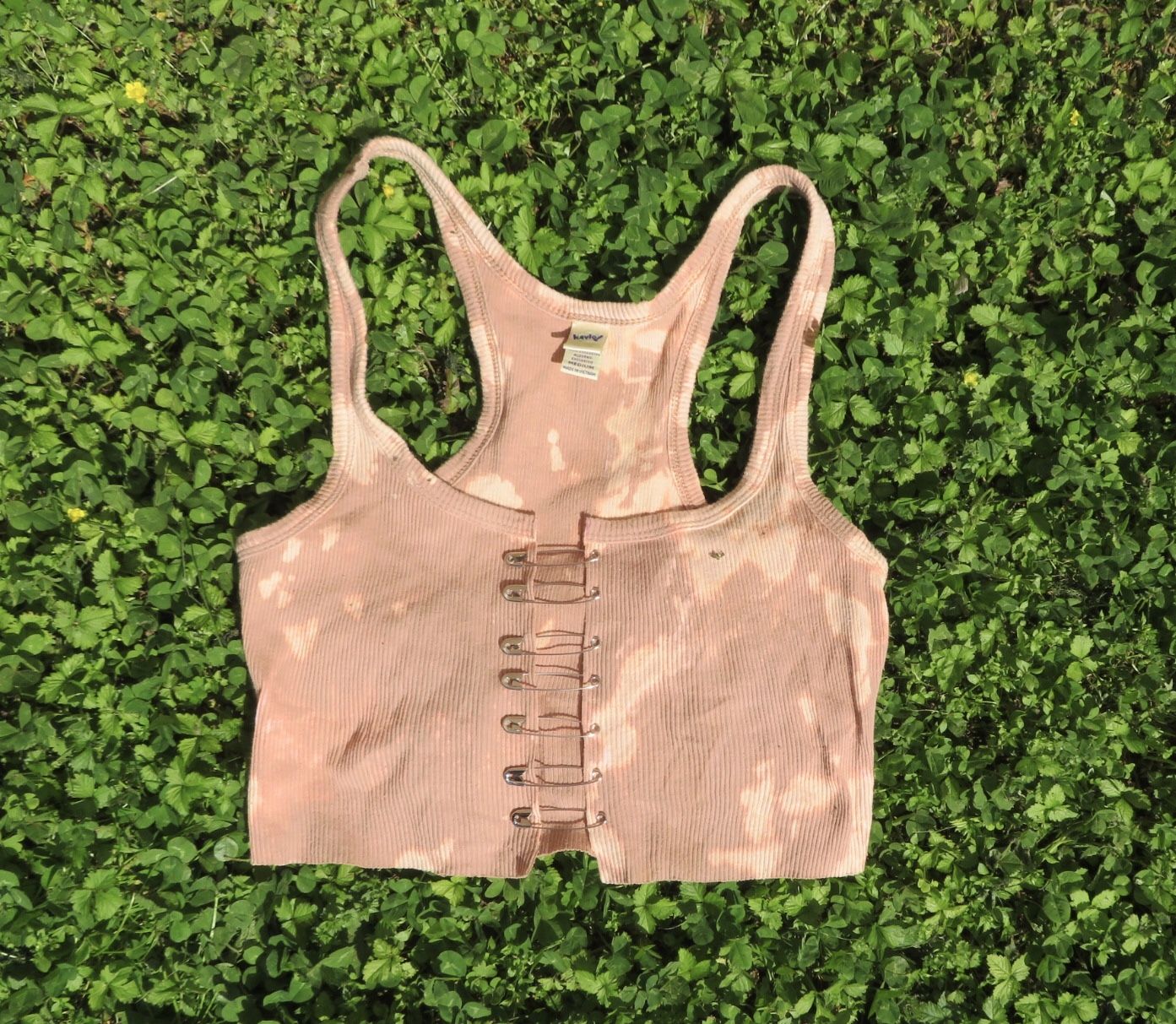 Here's another easy and trendy idea for you to try out. You can create this look with literally any old t-shirt you have. And it's very easy to make. Cut it in half and connect it with safety pins. Cool idea, right?
15. DIY Suspender Skirt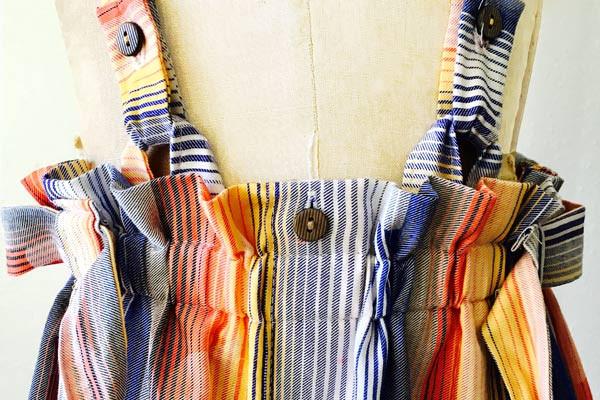 Here's a great DIY tutorial to make something pretty for your daughters. This skirt looks so good. Everyone will compliment your fashionable and designer skills. On the link, there is a step-by-step tutorial explaining all of the steps. Give it a try, you can make it!
Are you feeling inspired enough to give a second chance to your old clothes? They certainly don't deserve to be thrown away. Here we have ideas and tutorials for every style and taste. Don't overthink it, give it a try. So, which one's caught your eye? Leave a comment below and let us know!