What is a house without a backyard? And what is a backyard without a kitchen?
Now that you bought your new house with a large backyard, it's time to show it to your friends and family. The easiest way is to throw a small backyard party that will include food and drinks and entertainment. To be very in, you need an outdoor kitchen so you can all cook together.
Outdoor kitchens, especially in a large backyard are very popular today. And very practical too. You can build a kitchen that suits your style and needs, make it grand with a sitting area, stove, barbeque, and a fireplace. It's up to you. It can be modern and luxurious, or vintage country style kitchen within your budget.
Here are some ideas to give you inspiration.
1. Modern Outdoor Kitchen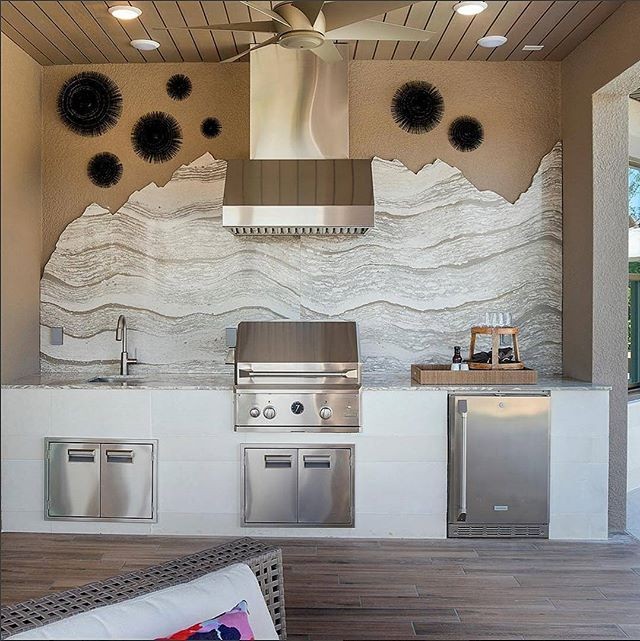 This modern kitchen is best suited on the patio, with a roof and open on one side. The stylish appliances and cool backsplash give a fresh look and visually open the space. Combined with a hardwood floor and interesting sitting area will be a wonderful cosy area for you and your friends to have a lot of fun together.
2. Sitting Plan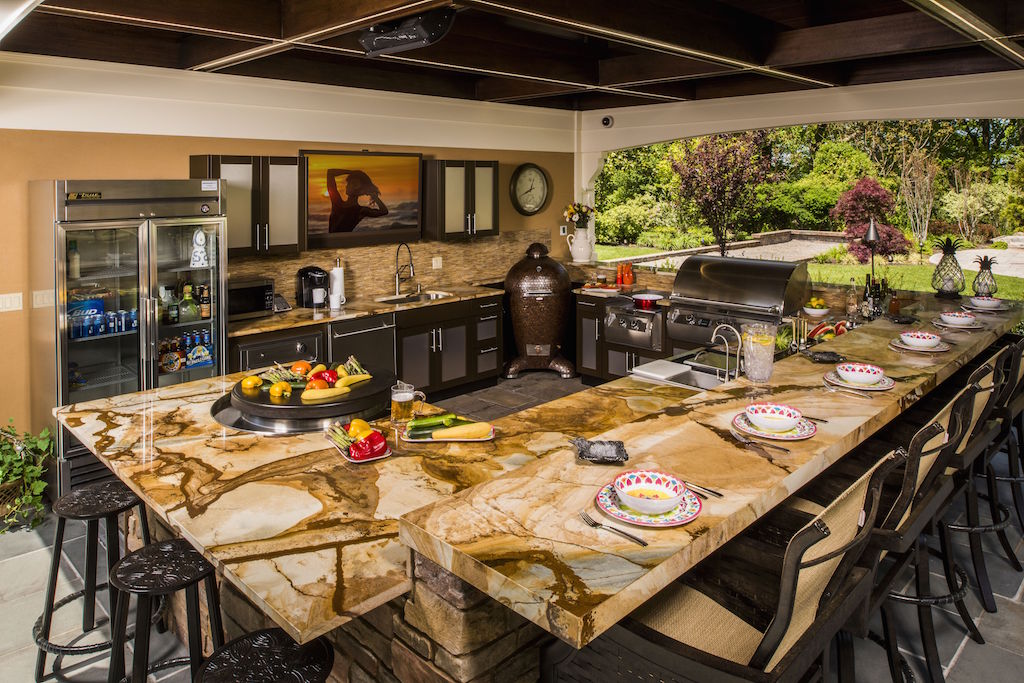 If you have a big family and a lot of friends, you will certainly need more sitting area. This covered kitchen and dining area is marvellous for dinner parties. Cook the food with your friends and serve it immediately while they are sitting, chatting and entertaining in your backyard. The roof will protect you from rain and sun, but you will still feel refreshed and cosy. This is great for both late-night dinner parties or afternoon tea with friends. If you love to entertain your guests, you'll need to consider many things when designing your kitchen. If you love cozy evening gatherings with a cup of tea, then you can arrange a tea station with beautifully displayed teacups next to a Scandinavian tea kettle for self-serving convenience.
3. L-Kitchen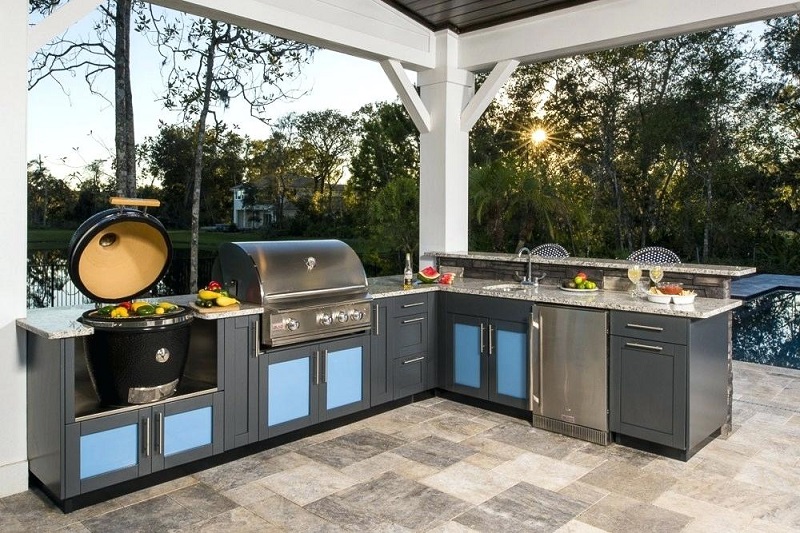 Place your kitchen in the corner of your backyard with this outstanding L-shape kitchen idea to save you space and look cool at the same time. Put the barbeque on one side, and the sink and utensils on the other. It will be easier to move around and organise the space while you cook. It will also give you a better view of both sides of the yard.
4. Wood Included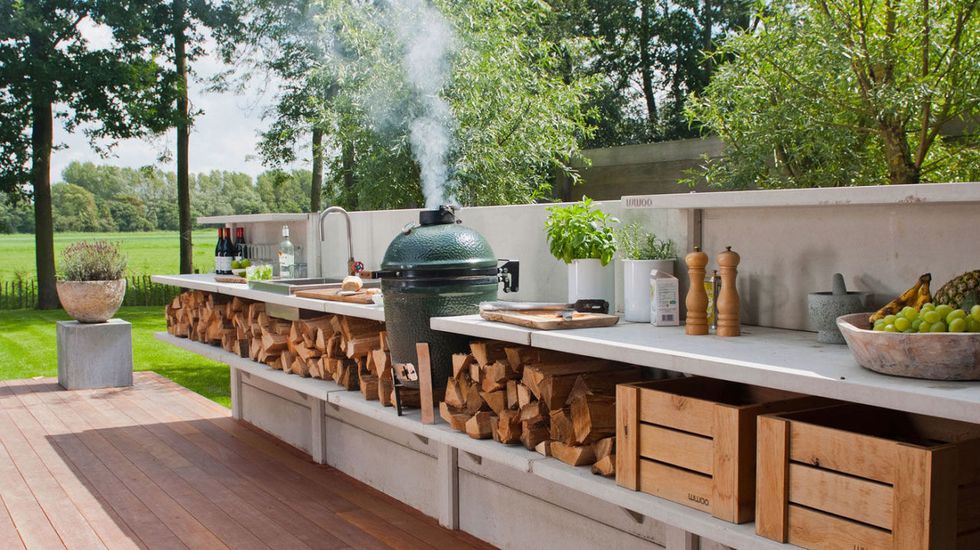 Enjoy this vintage, yet modern styled kitchen right in your backyard. Store the wood in the big storage space bellow the counter, and enjoy the nature with all the senses. The whiteness will give you a clean look, and the wood a cosy feeling. With some good food and drinks, it will be a great space to have fun with the ones you love.
5. Cute Outdoor Kitchen Patio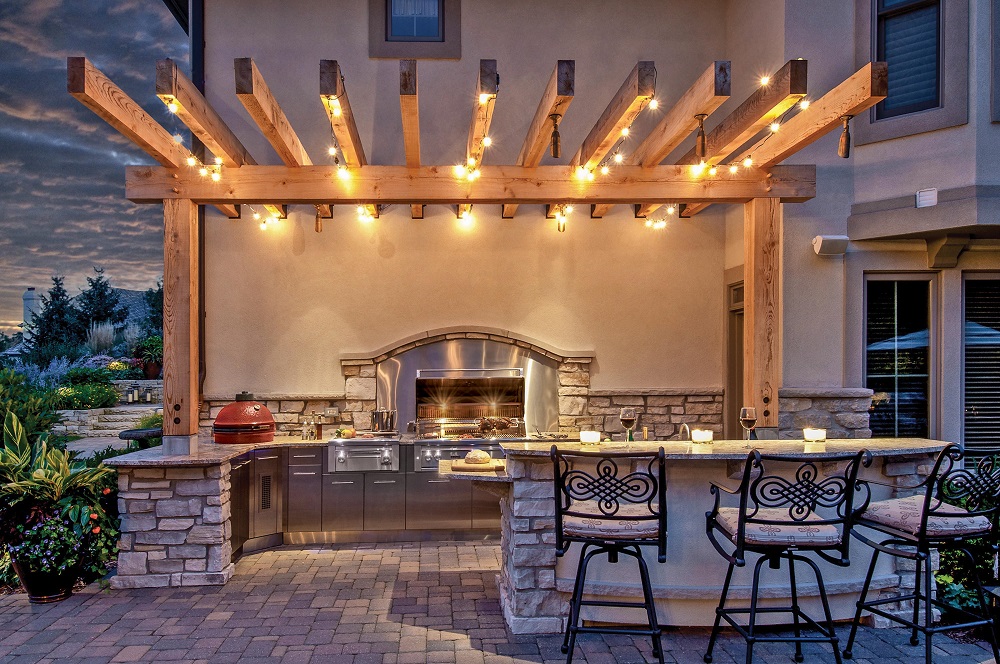 This half-covered outdoor patio-turned-kitchen is great for elegant parties with your best friends. The wood and lights give it a cosy feeling and the marble gives it a style. Cook your favourite food while you entertain with your friends. They are all welcome to join the cooking and have fun together.
6. Whiteness
A white outdoor kitchen is perfect for a darker area of your backyard.  Combined with hardwood floor and stainless steel appliances, the whiteness will make the kitchen pop from the darkness of the hidden backyard corner. Outdoor, yet hidden, yet white, it will be the place you never wanna leave.
7. Out by the Pool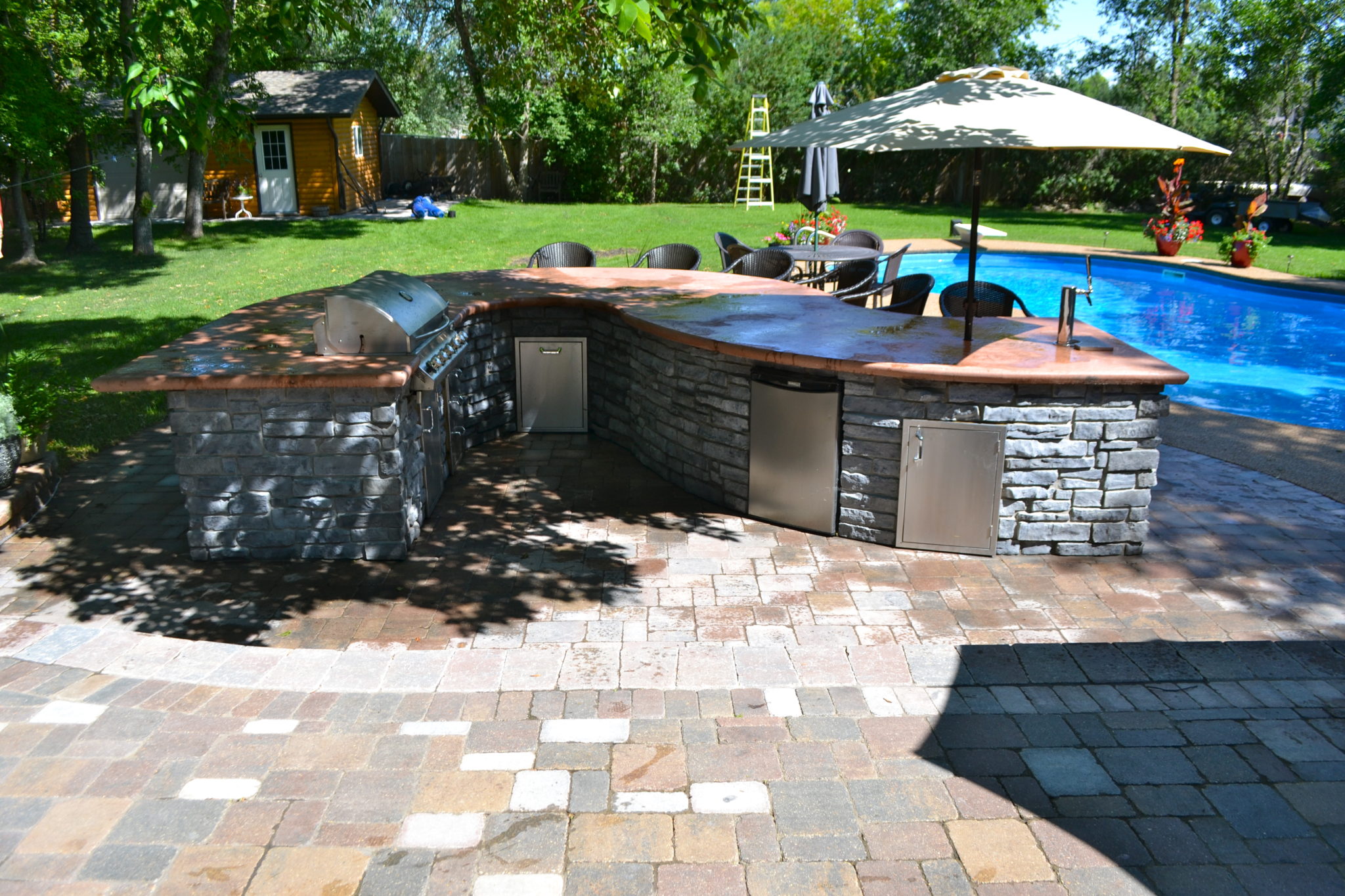 If you have a pool in your backyard, pair it with a big island with built-in kitchen appliances. Put some chairs on one side, and cook on the other side. You will be out in the yard, under the sun, near the pool, and still protected by the shade. You will cook for you and your family and friends without being stuck in the house all day long.
8. Kitchen in the Open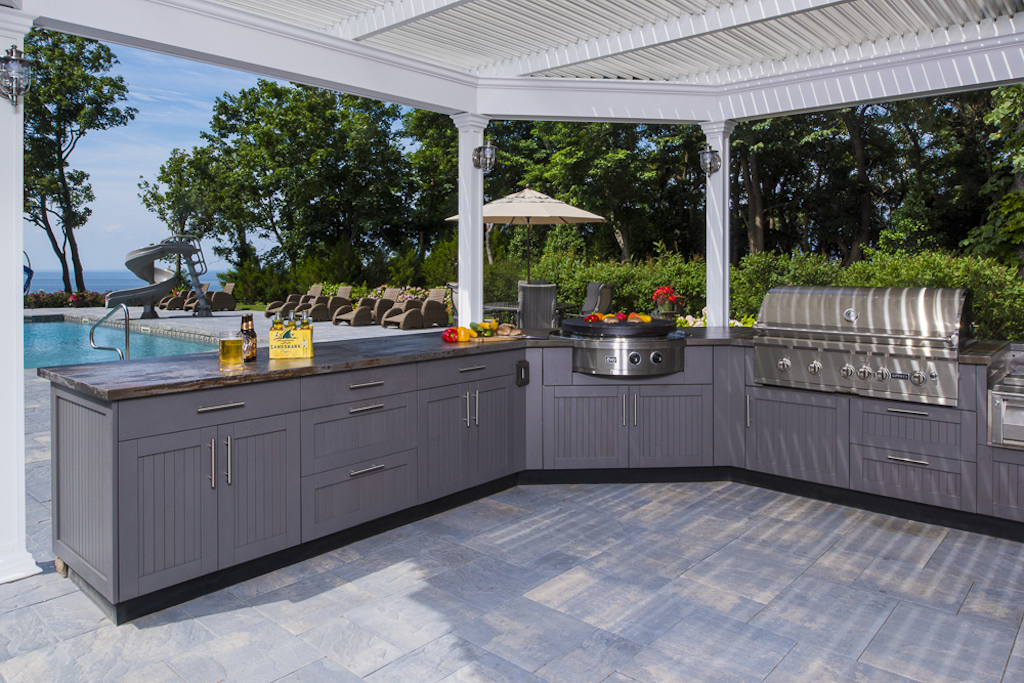 Outdoors, yet covered. This patio corner shaped kitchen is a great way to have everything you need in the kitchen outside. Large storage space is great for storing utensils and products, and still be protected from the summer sun and heat. Have fun with your family and friends in your big outdoor kitchen without missing a thing.
9. Country Style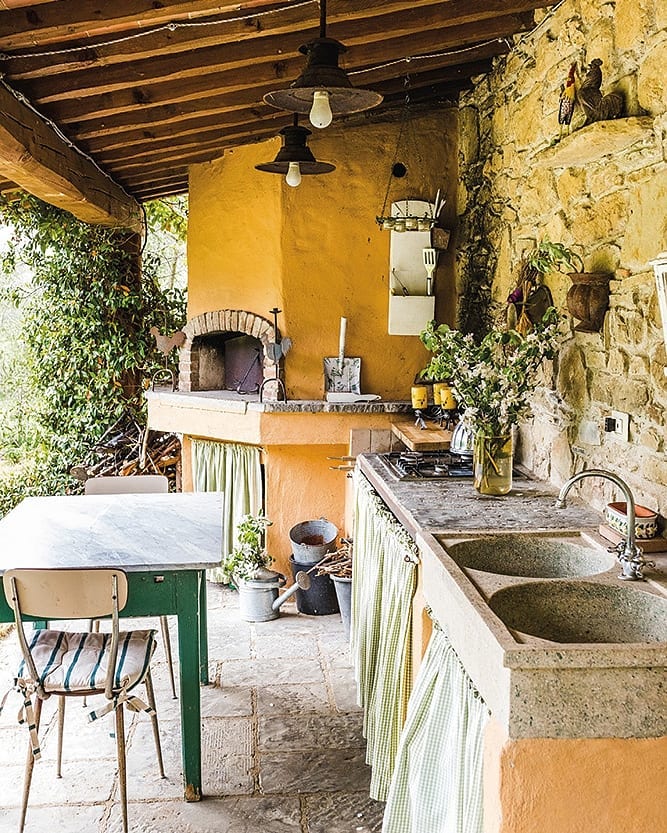 If you love vintage cottages, this country-style backyard kitchen is just for you. Upcycle old table and chairs, put an old stove, and build a fireplace in the chimney. Use an old sink to build it in the corner. Instead of doors, put some country style curtains below the elements to give it a more authentic look. This could be cool and on a budget. Enjoy it.
10. Boho Style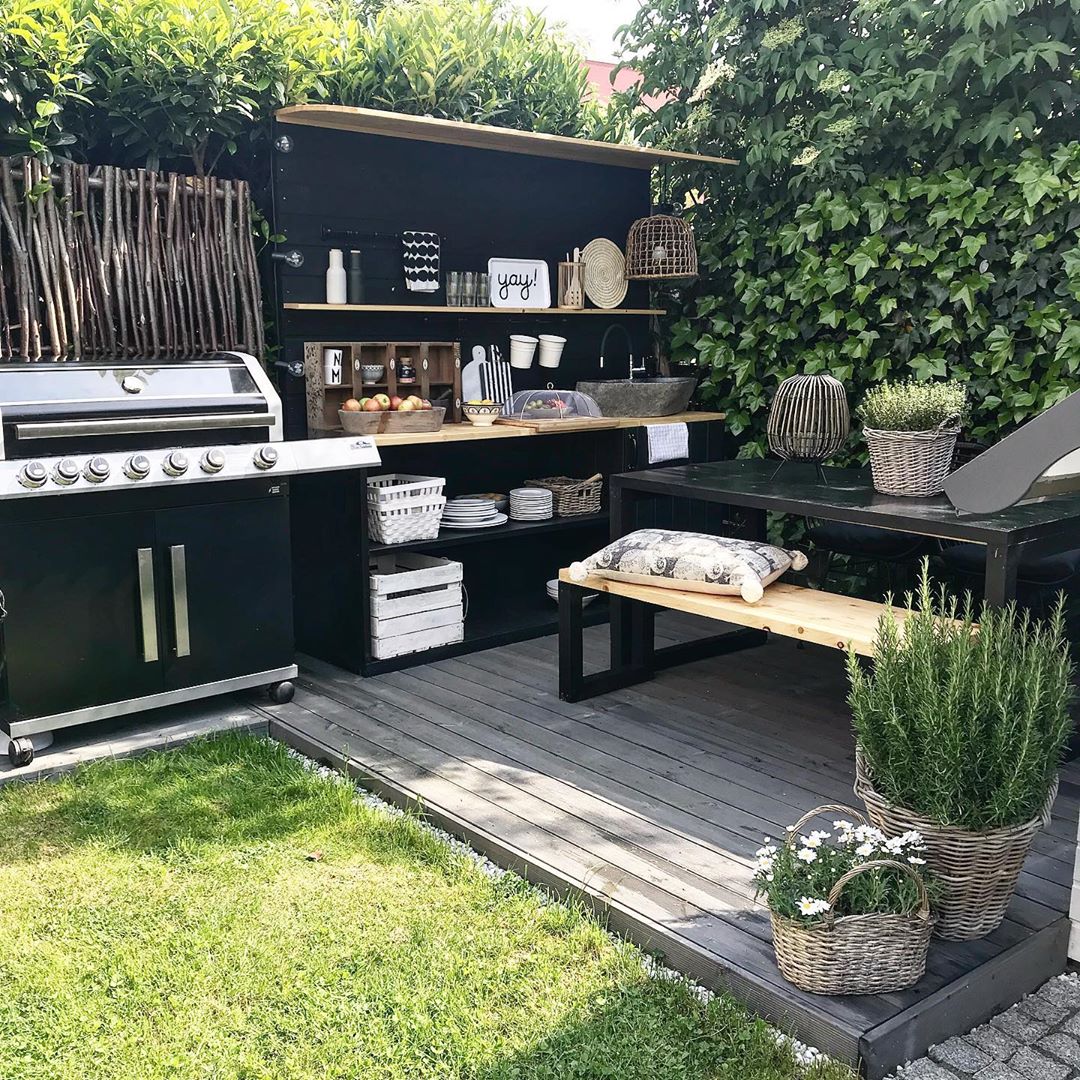 For boho-people, this boho-inspired kitchen is just the thing. Mix black with light colours to give it contrast and style. Combine different materials to get a better look, and grass and greenery to make it fresh and cool. Invite your friends over and enjoy food and drinks.
11. Stone and Wood is Never Out of Style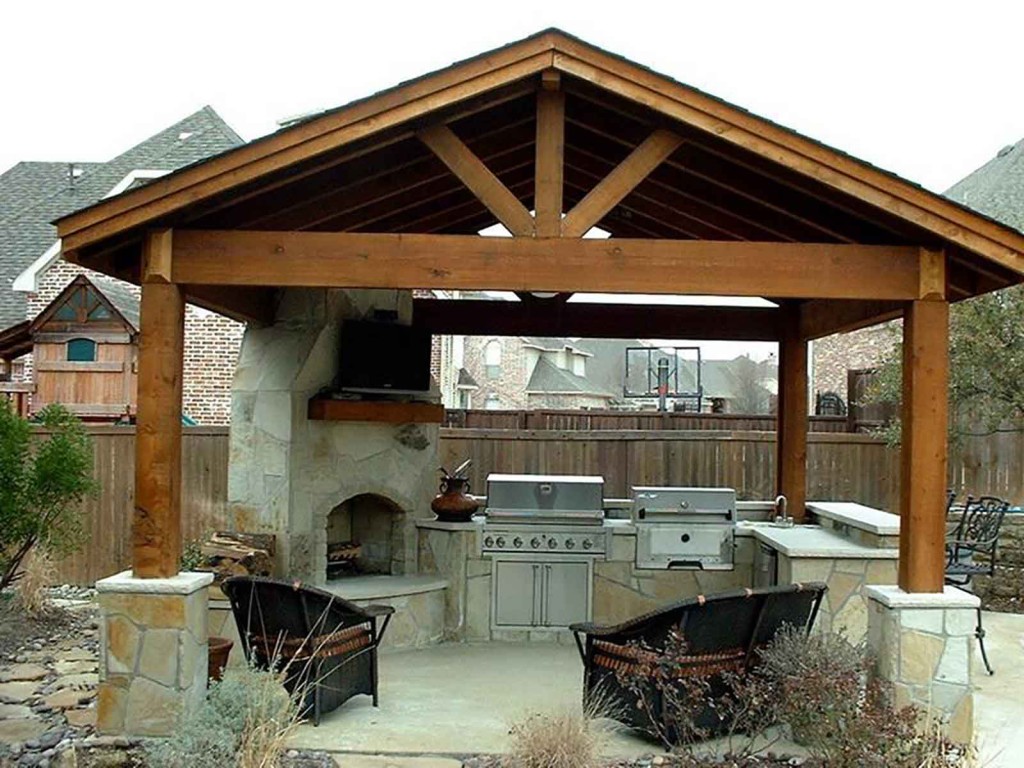 This stone and wood design are great for large paved backyard. Build the fireplace and counter from stone, and cover it with a wooden roof to give it a warm feeling. The stone will last for years, and the cosiness will get you where you want to be in you backyard – at home. Combined with bamboo chairs will be a perfect spot to enjoy.
12. Woodland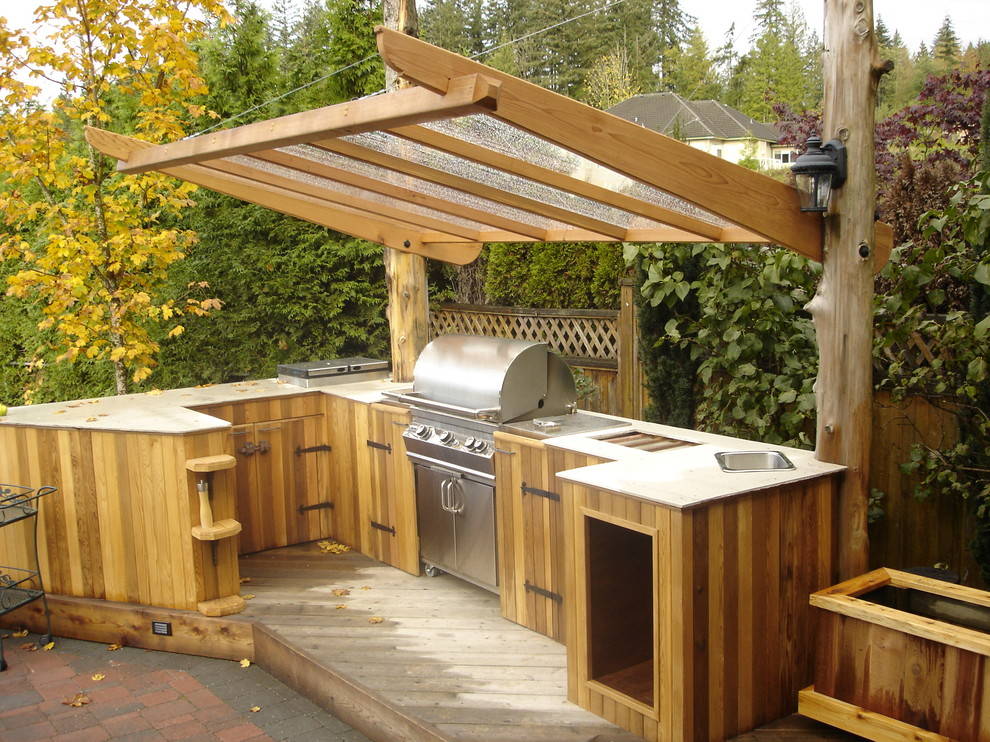 What is better in the woods, than a wooden kitchen? This small and cosy corner will last blend in the environment and last for years. It can be your hidden spot to enjoy both nature and its products – food. The side lanterns will give it a vintage and cozy feeling to enjoy in the evenings and take what's best from nature.
13. Poolside kitchen with fireplace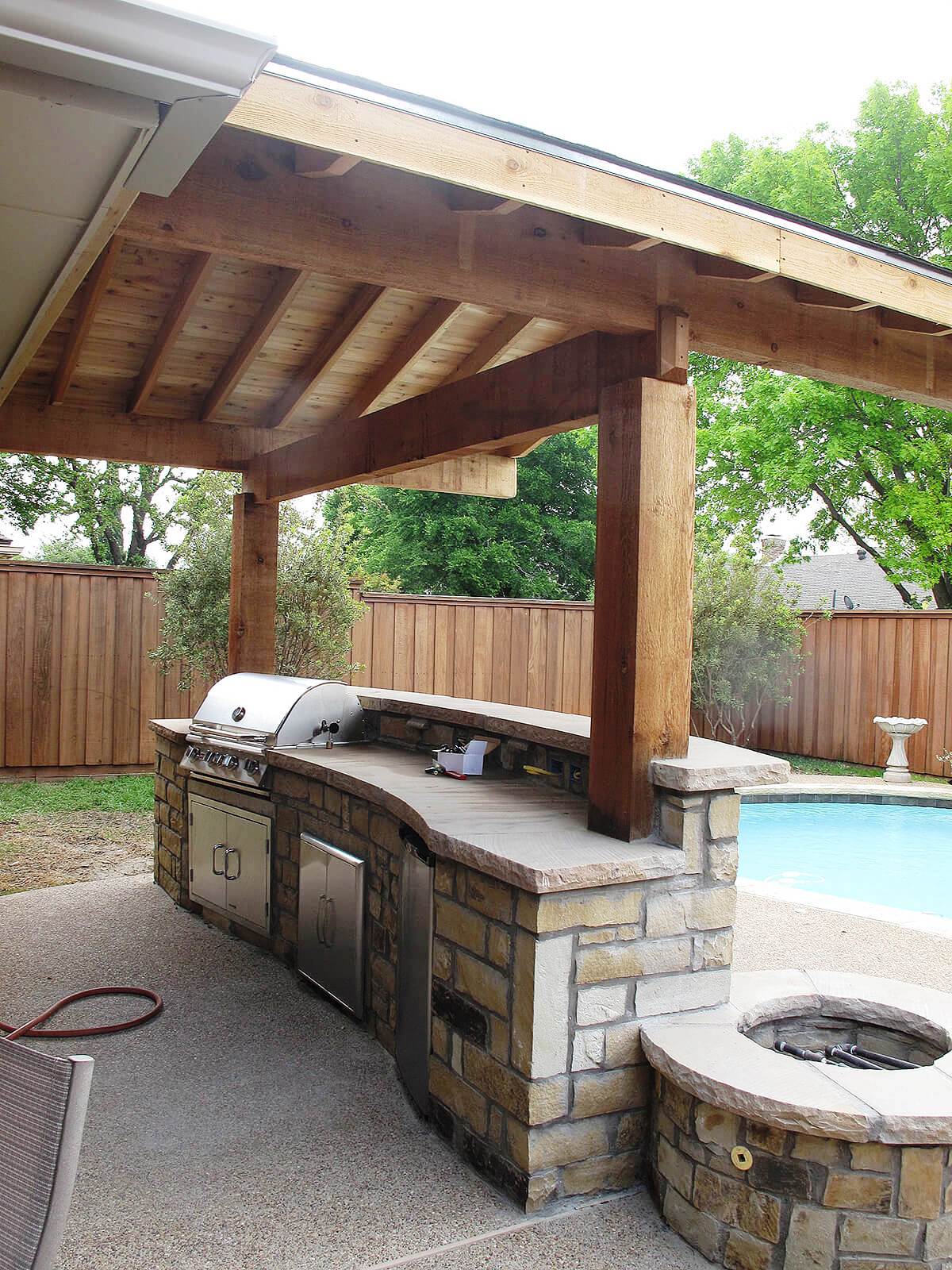 This island kitchen paired with fireplace and the wooden roof is best to complete your pool with. Concrete pavement and stone design are long-lasting, yet cosy and modern at all times. Throw poolside barbeque party and enjoy the company of your friends and family.
14. Rustic Style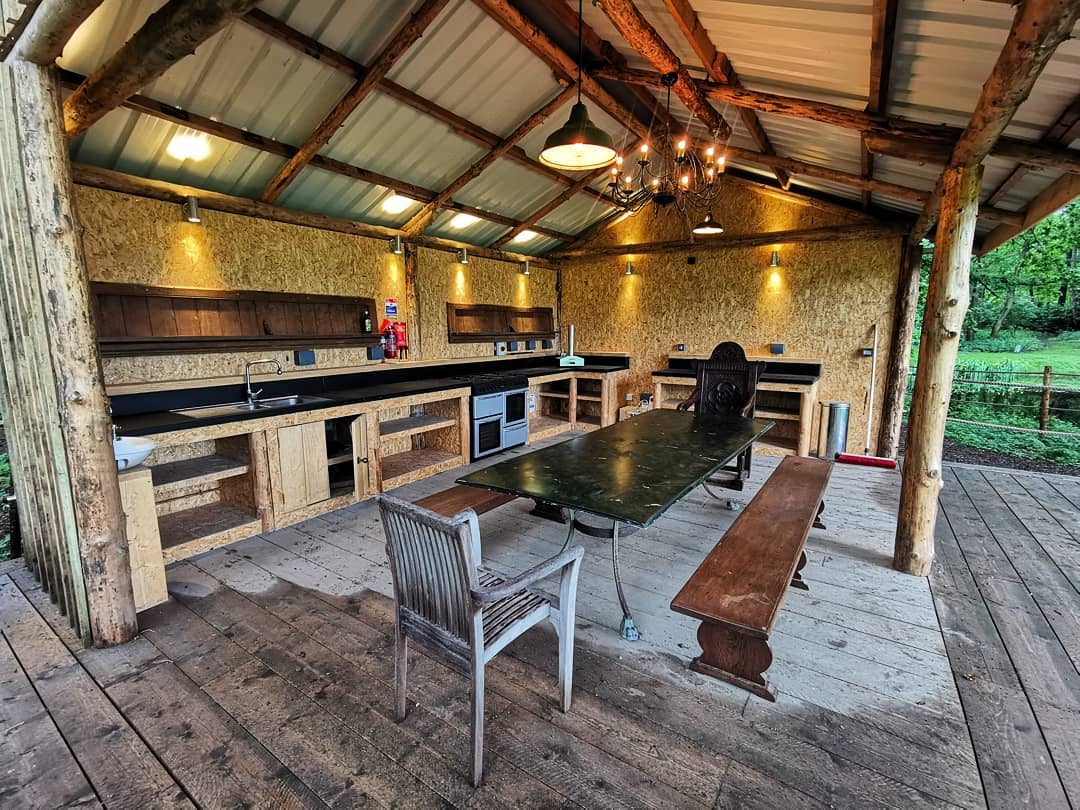 Turn one part of your large backyard in a rustic kitchen and dining area with this cool idea. Wooden walls with a metal roof are just what you need to protect it from the sun and heat, and have a great space for you and your loved ones. Play with dark and light shades, to bring contrast. Place a large table, a bench, and old chairs to complete the look.
15. Kitchen in a patio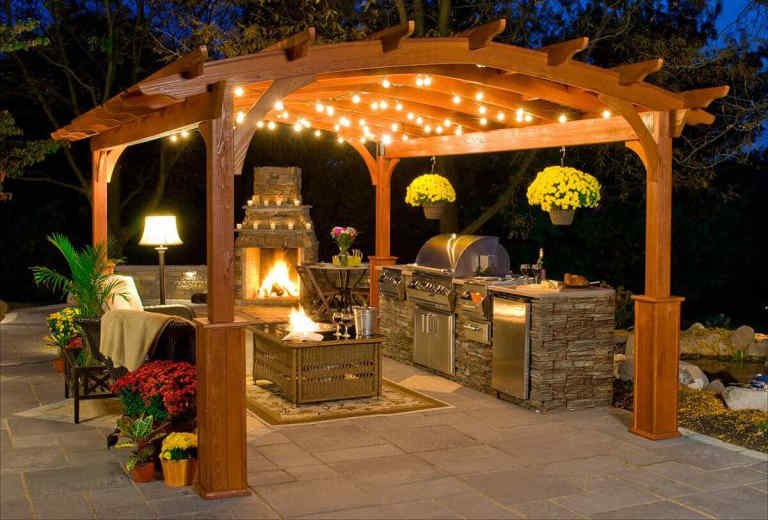 This style is very popular in the eastern world, so if you like the east, this is the right thing for you. The wooden construction will protect you from the rain and make shade in the sun. It looks cool, modern, and sexy paired with stone kitchen and bamboo furniture. Colorful flowers will complete the look.
16. Pizza Place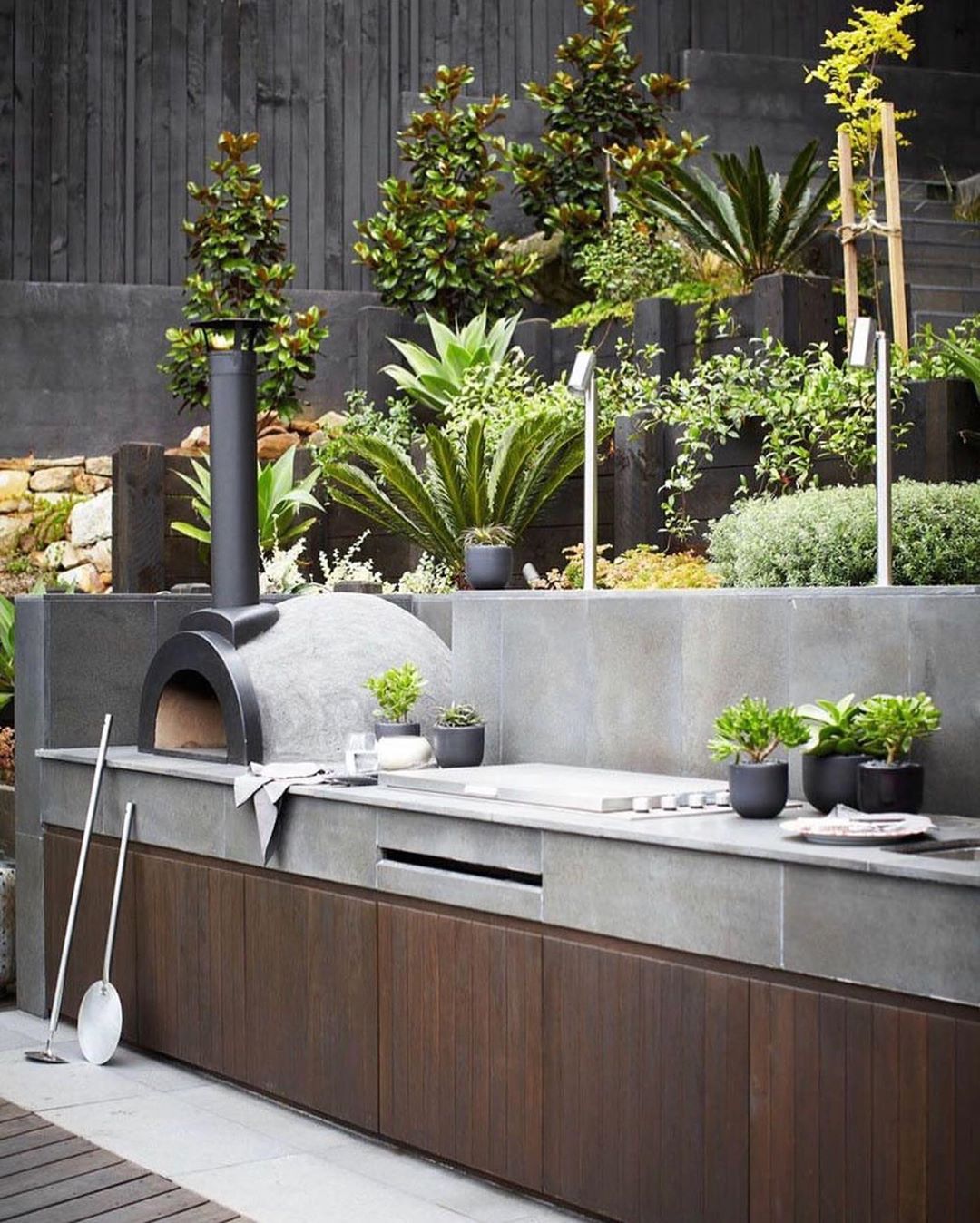 Love pizza? No problem. This built-in pizza oven in your new concrete outdoor kitchen is perfect for pizza lovers. Concrete in combination with wood and black pots is the perfect style for a backyard cooking corner. It can be turned into a full kitchen with great storage space, but it can be a special place to make your best pizza to please all your senses.
17. All-day Summer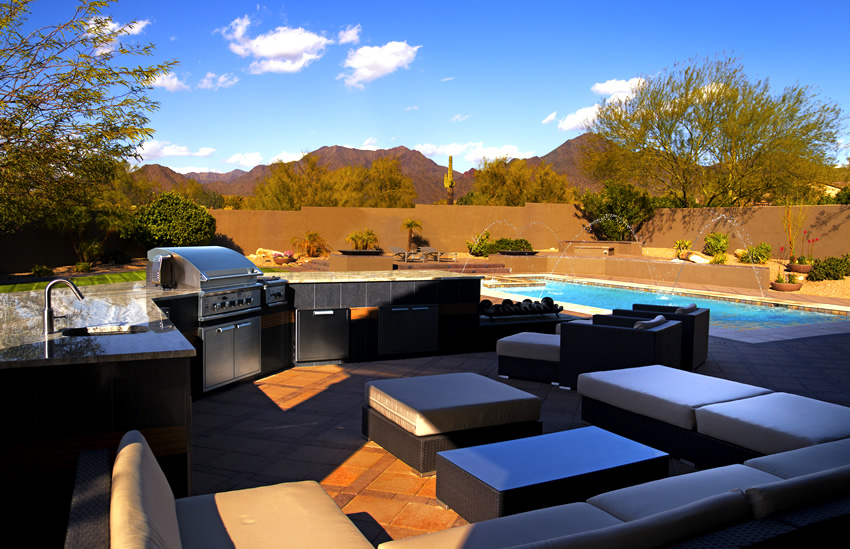 A large backyard with a pool that is sunny all day long, all you need to do is enjoy the sun. Turn your paved area into a cozy kitchen and sitting corner with this minimalistic marble kitchen design completed with stainless steel appliances. Leather furniture will make it even more glamorous.
18. By the Fireplace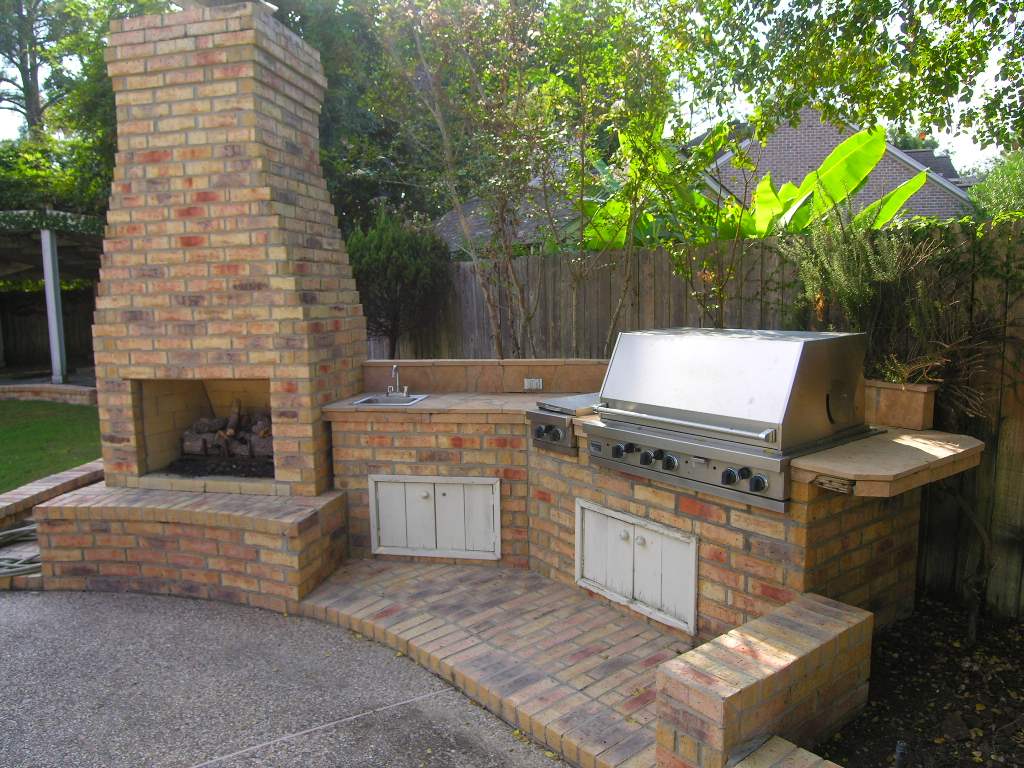 This stone fireplace is perfect to create a camping look in your own backyard. Continue building the kitchen elements from the same stove to make it even more spacious and comfortable to enjoy for a long time. Include the barbeque stove and make some storage space to complete both the look and the easiness.
19. House by the Lake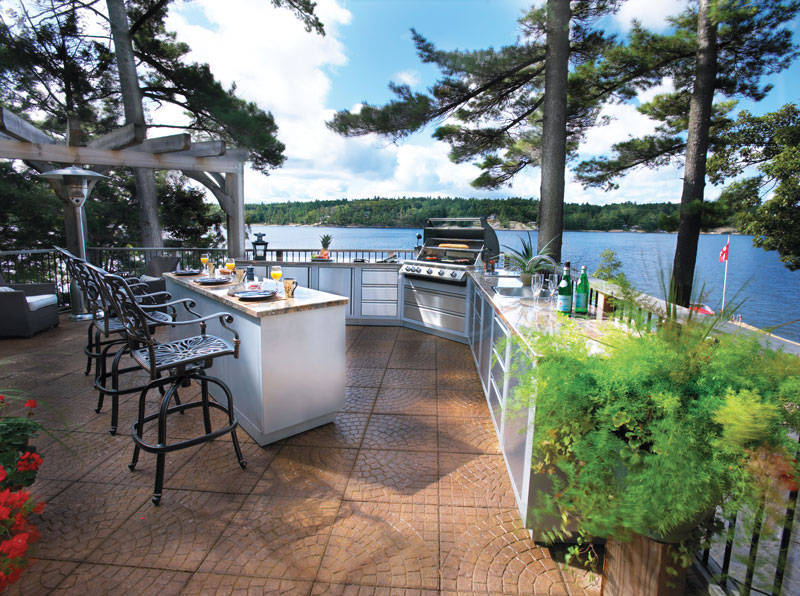 This large terrace by the lake is perfect to put your outdoor kitchen in. You can enjoy the view of the lake and the freshness of the air, have fun with your friends and family, and still enjoy a good meal. The metal elements and stainless steel appliances will give it an even fresher look and blend it with the environment. Wooden chairs and colorful flowers will complete the look.
These are our ideas for large outdoor kitchens. If you like what you see or have some ideas of your own, please leave a comment in the comments section below.