Living in a small house may be a challenge. But, you can ease the things on yourself if you have a yard, even a small one.
In today's rushing world, having a small yard to take out all unnecessary things to your yard and make it work, could be a blessing. And if you like being outdoors, the best thing for you is to take out your kitchen. Or build another kitchen in the corner of your backyard.
Even the smallest backyard space could be used to create an outdoor kitchen with the bare necessities for any meal preparation. Here are 15 cool ideas for a small backyard kitchen.
1. Kitchen Utilities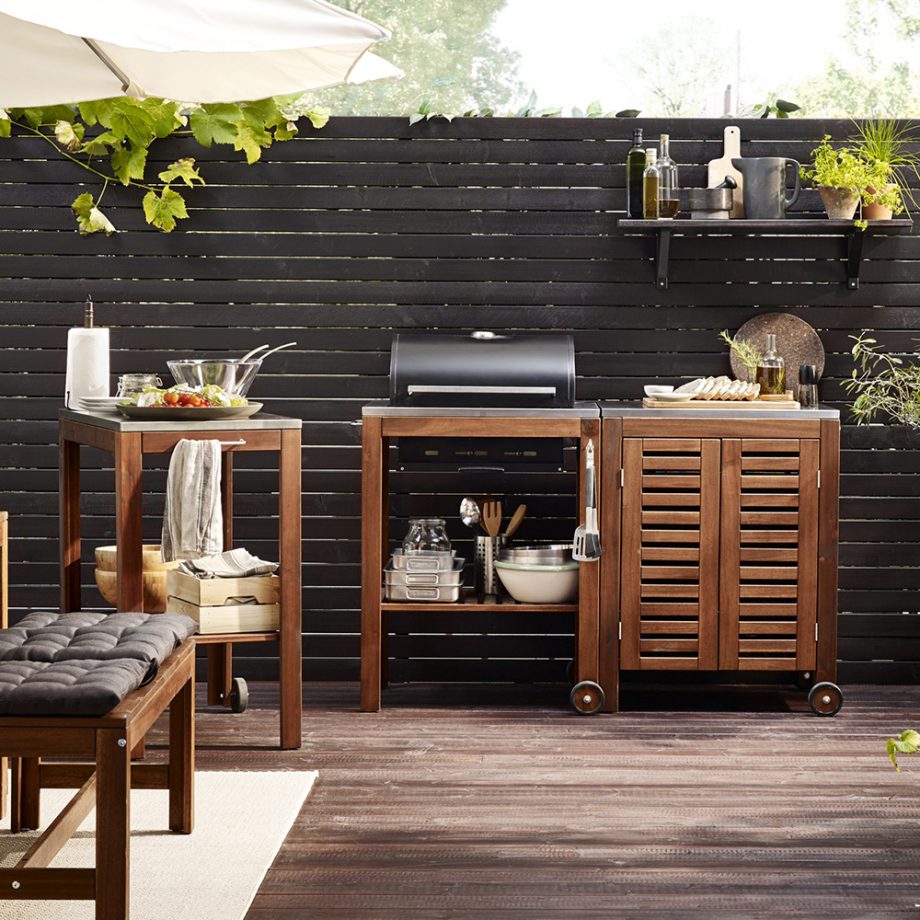 Organize an outdoor kitchen with only a few elements and appliances. This hardwood floor outdoor kitchen is perfect to make your small backyard look cool and cute. Prepare appetizers and finger food here to entertain your guests and have fun with the ones you love. These mobile elements can help you move at ease and organize the space as needed.
2. Cozy Corner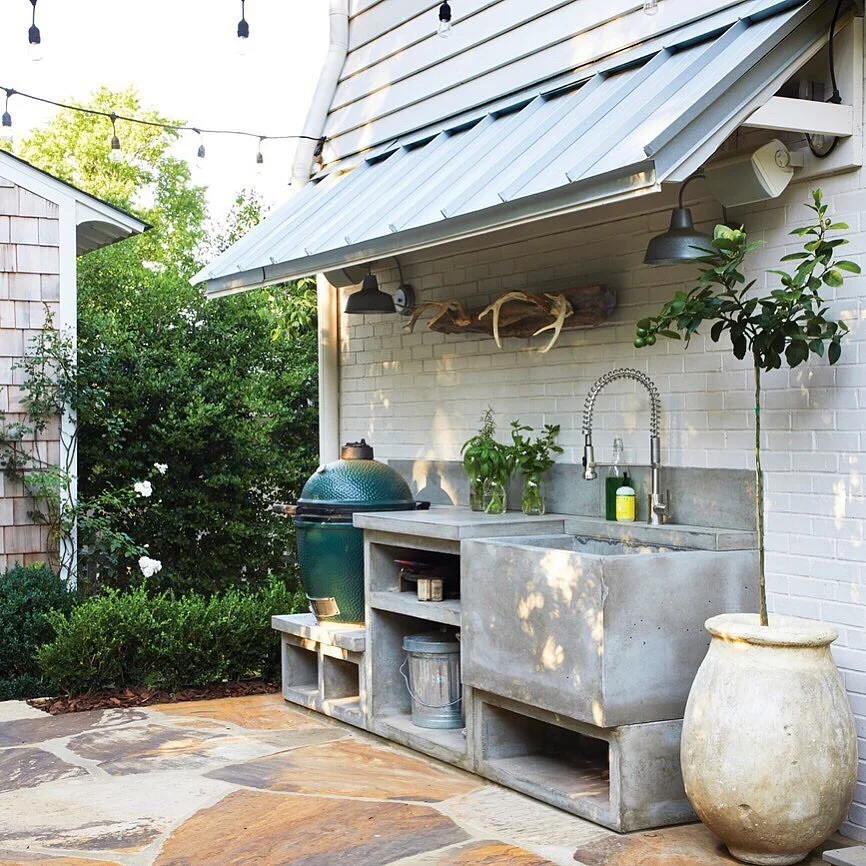 This idea is very good to save you space and give you a great kitchen at the same time. Put your kitchen at the outside wall of the house to save space. Build the elements of concrete to get good storage space. Put the egg-shaped boiler in place and start cooking. Decorate with flowers and greenery for a cozier feeling.
3. Low Budget Kitchen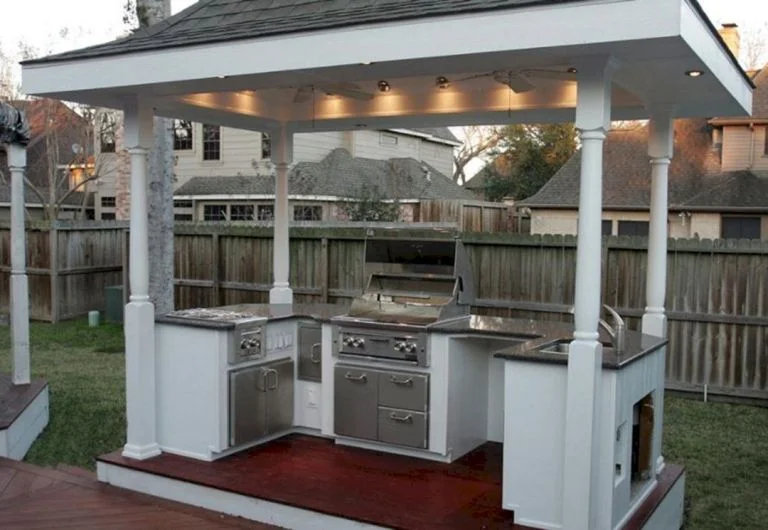 This covered kitchen is great for an open backyard. It is easy to make and doesn't cost a lot. Instead of getting rid of your old appliances, build them in this cute patio kitchen to give them new look and new function. Don't forget the sink and barbeque to complete the look and enjoy.
4. Metal Bar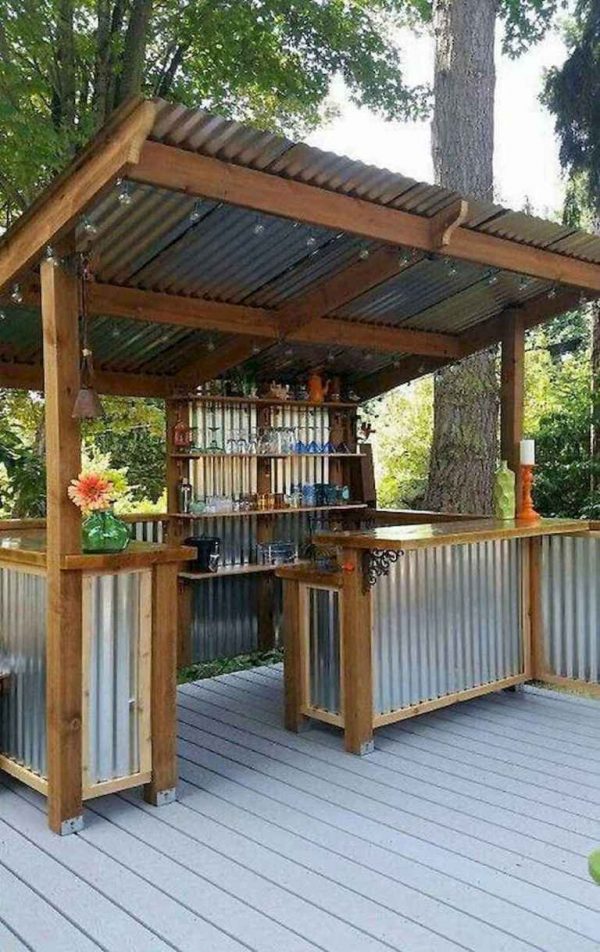 If you like having a drink or two with your buddies, this Metal bar is just for you. You can build it yourself out of old metal tin and wood. Put the bottles in the back and the glasses in the front closed space to keep them clean. Complete the look with flowers and lights to make it more remarkable. Invite your friends over and have fun.
5. Pallets Kitchen bar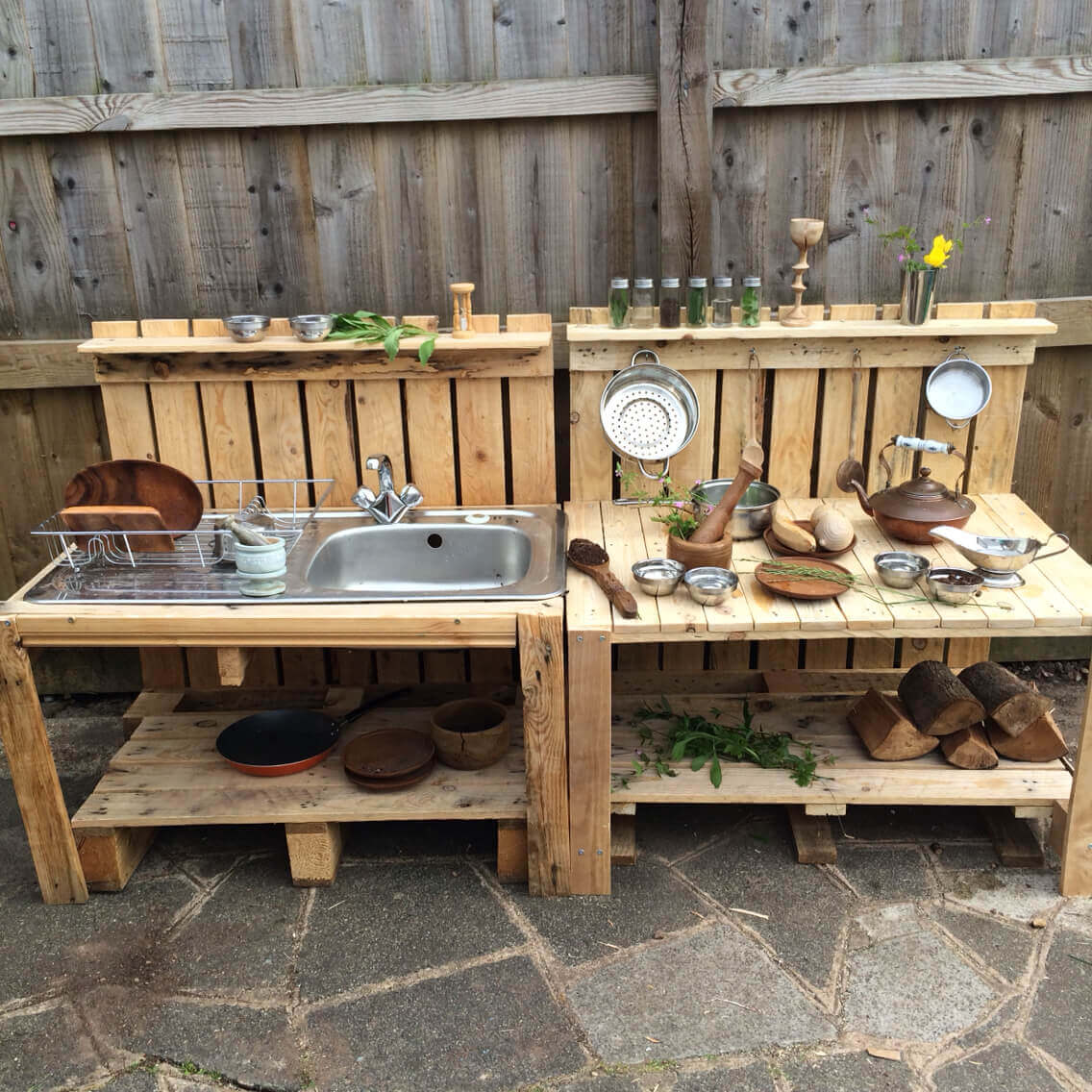 This easy-to-make outdoor kitchen is perfect for a small space. Made from pallets it is just what you need in your small backyard. YOu can make shelves below for storage and above for spices and utilities. It is very cheap and easy to make, to save you tons of money, and still look cool and stylish.
6. Stone Corner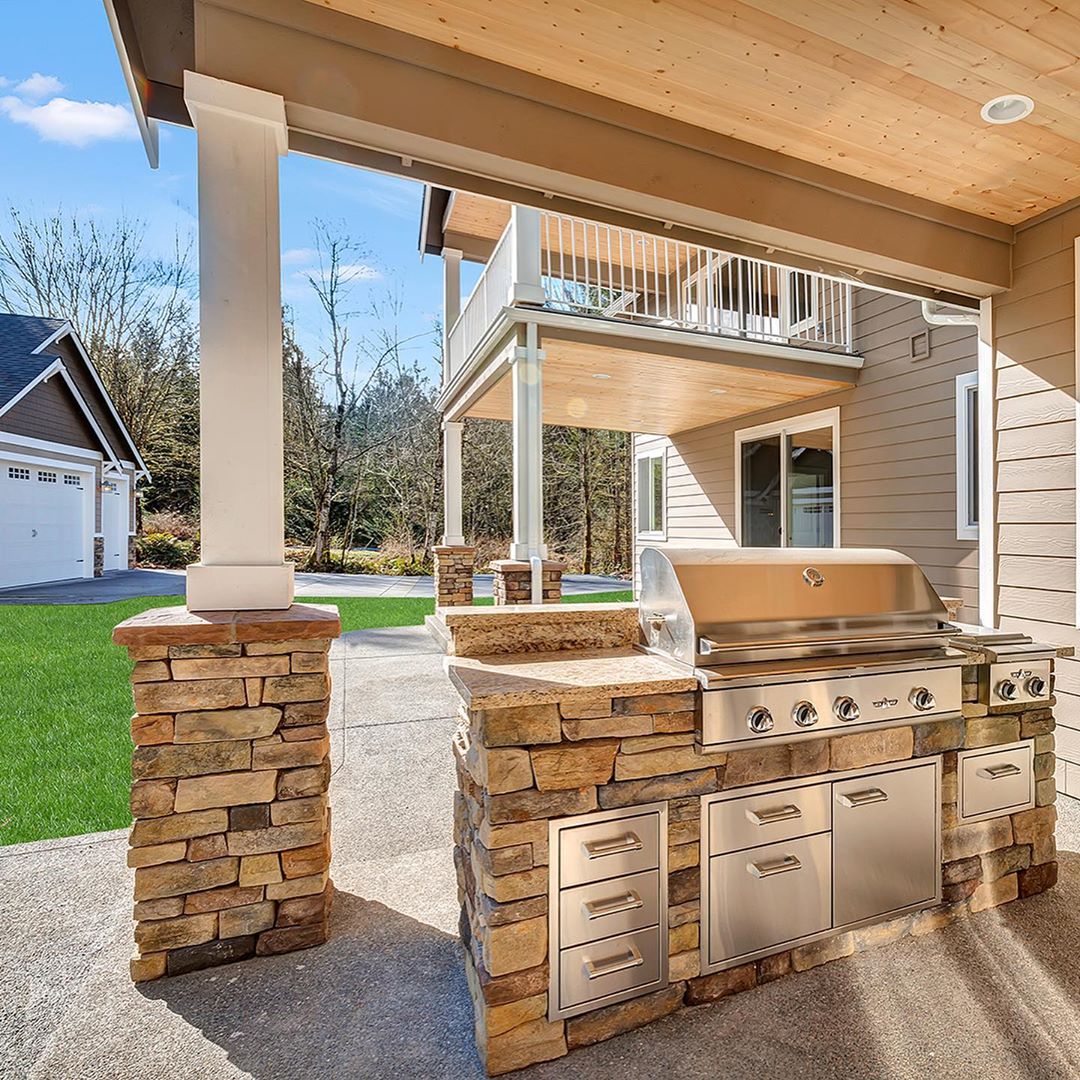 This stone kitchen is very good to divide the space between houses with no fence. The stone matches the stone of the house and blends perfectly with the layout. The modern stainless steel appliances are a perfect combination with the stone so that the kitchen looks lovely and useful.
7. Small Yard Pizza Oven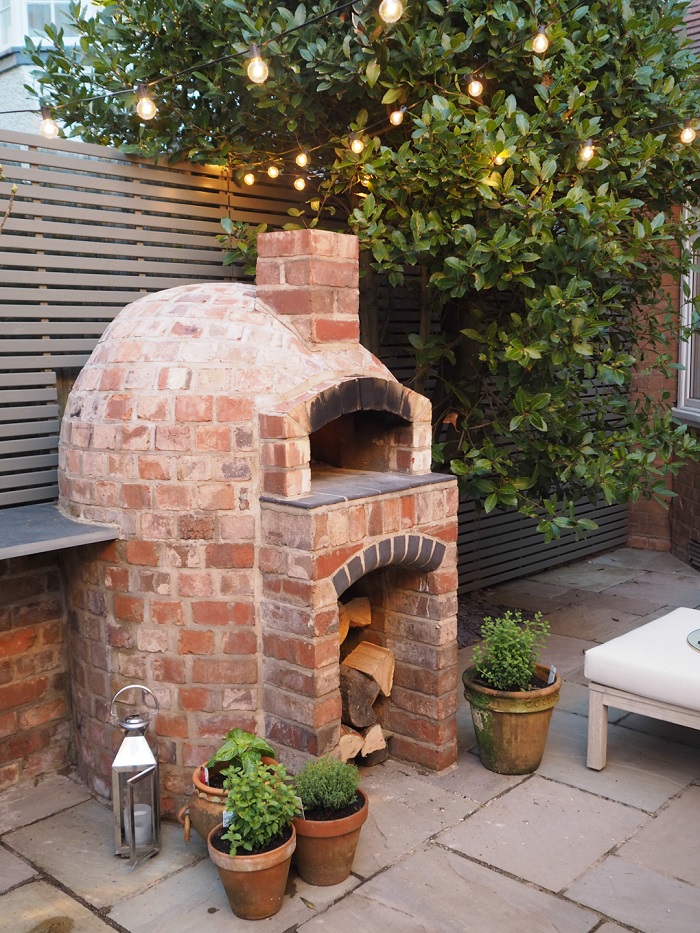 Any pizza lover can have this in his backyard. This brick oven can be easily made from scratch using old bricks. It is tiny and very practical, you can put it in the corner of your backyard or somewhere to enjoy the fire and good pizza. Put furniture and flowers around it to complete the look.
8. Home Made Kitchen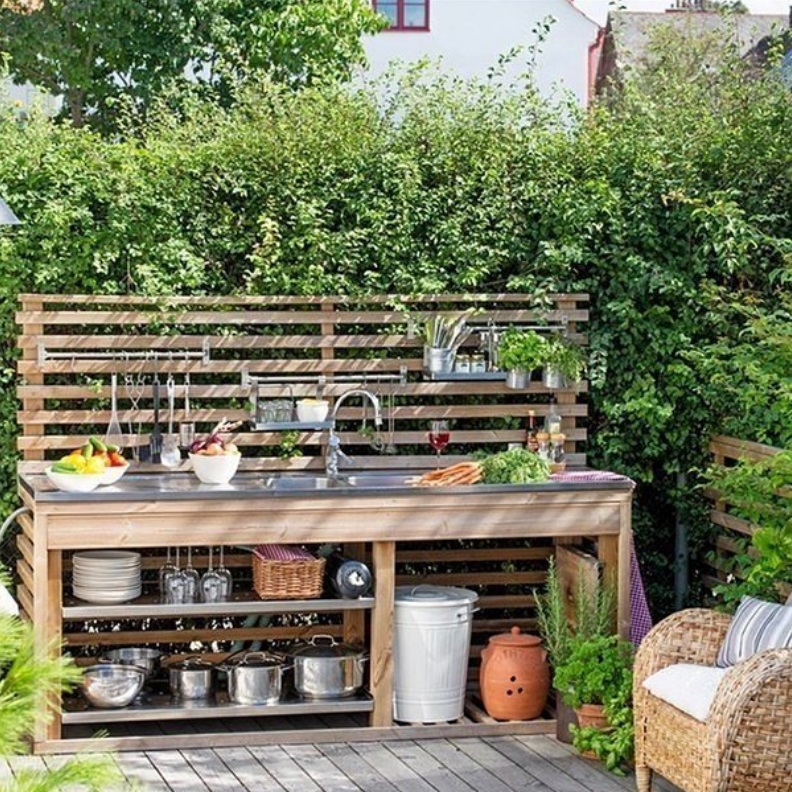 This homemade kitchen is the brand new style of outdoor kitchens. It is practical, yet modern and cozy. You can make it mobile with wheels and move it anywhere you like in the yard. Its good construction makes it last longer, and the good storage space makes it very useful for long summer outside.
9. Island Kitchen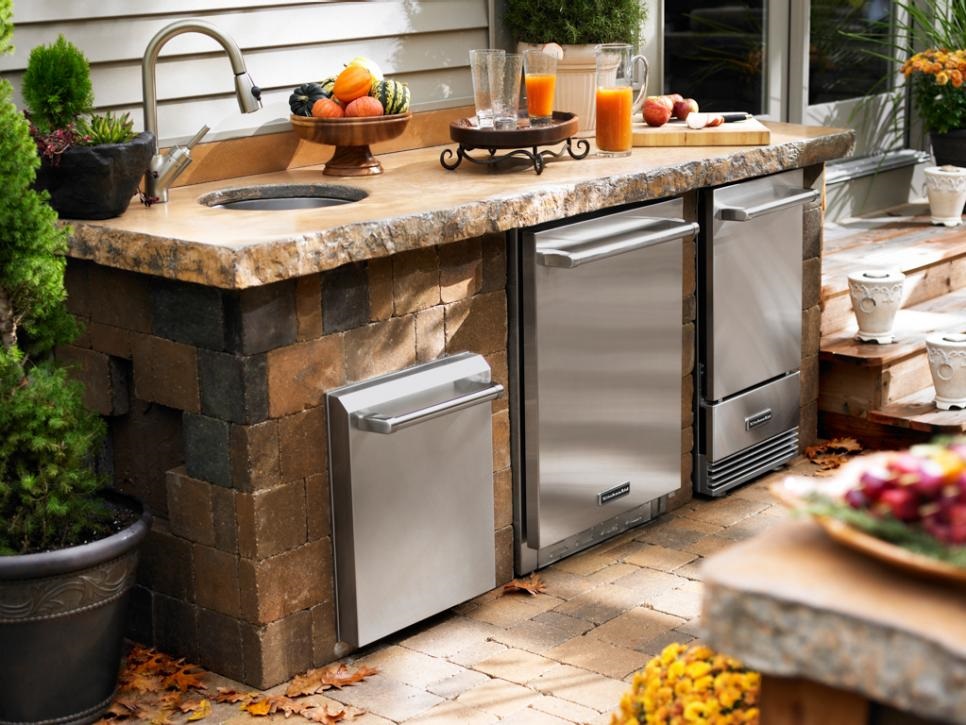 You might have an island in your kitchen, but this is actually a kitchen on an island. In the yard. It is right next to the house wall so that it doesn't take space from the yard, and it has all the necessary appliances for cooking and enjoying. The stone countertop and base makes it long-lasting and easy to clean.
10. Backyard Fun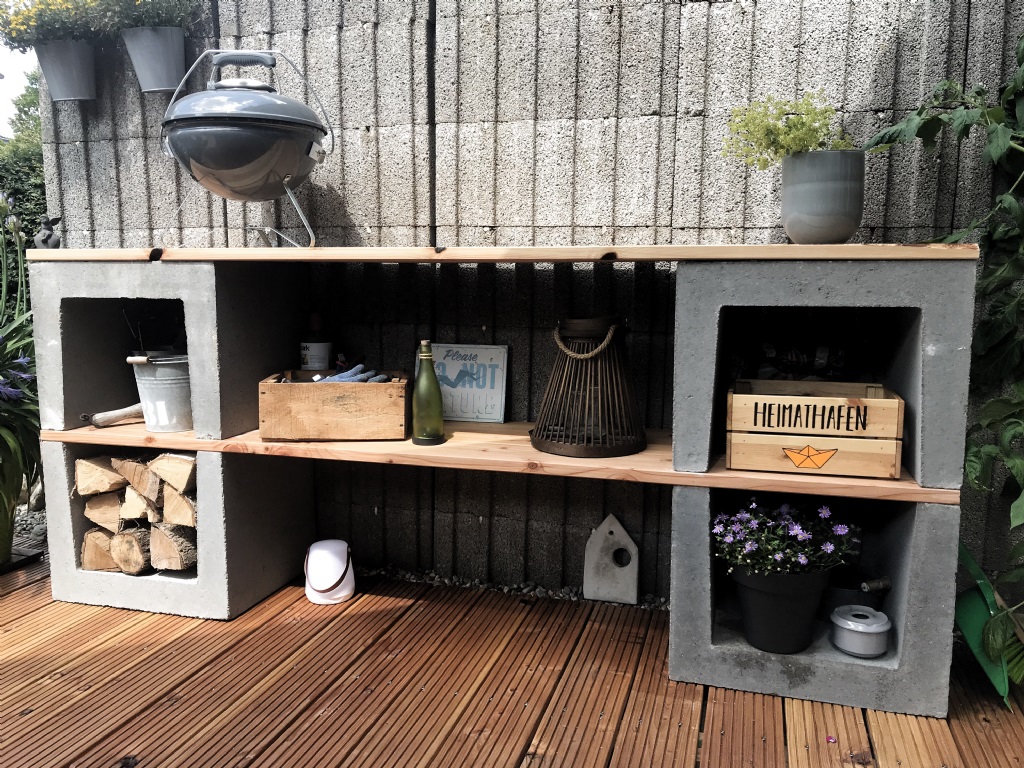 this fun kitchen corner is great for small spaces. It is useful and has everything you need. The concrete base legs and wooden shelve and countertop give a cozy feeling with a modern twist. The good storage space will store everything you need for outdoor cooking and let you have fun with your friends and family all day and night. Complete the look with flowers and greenery.
11. Covered Patio Island Bar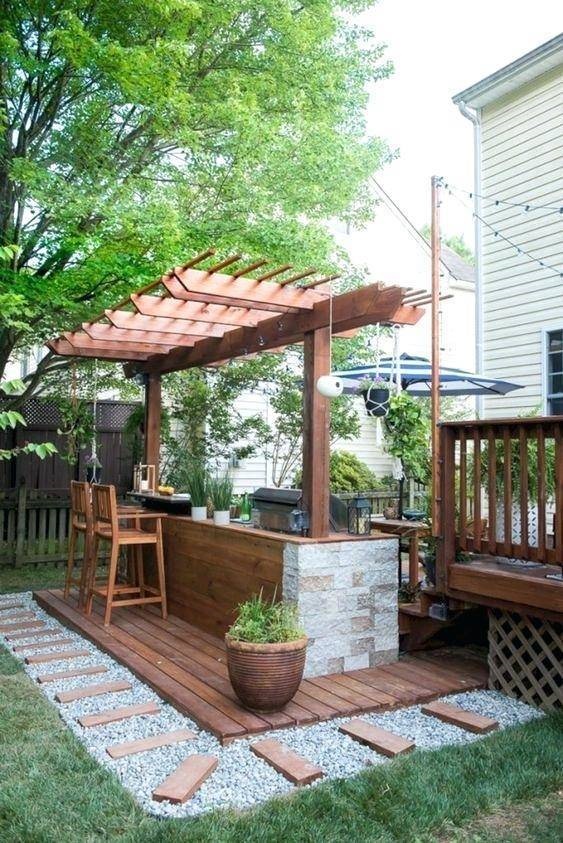 Complete your backyard with this cute covered patio bar for entertainment with your friends. The wooden roof and floor make it comfortable for everyone. Store your beer and beverages below, put the barbeque on the top and the fun can start. Put lights for a remarkable evening look.
12. Rustic Outdoors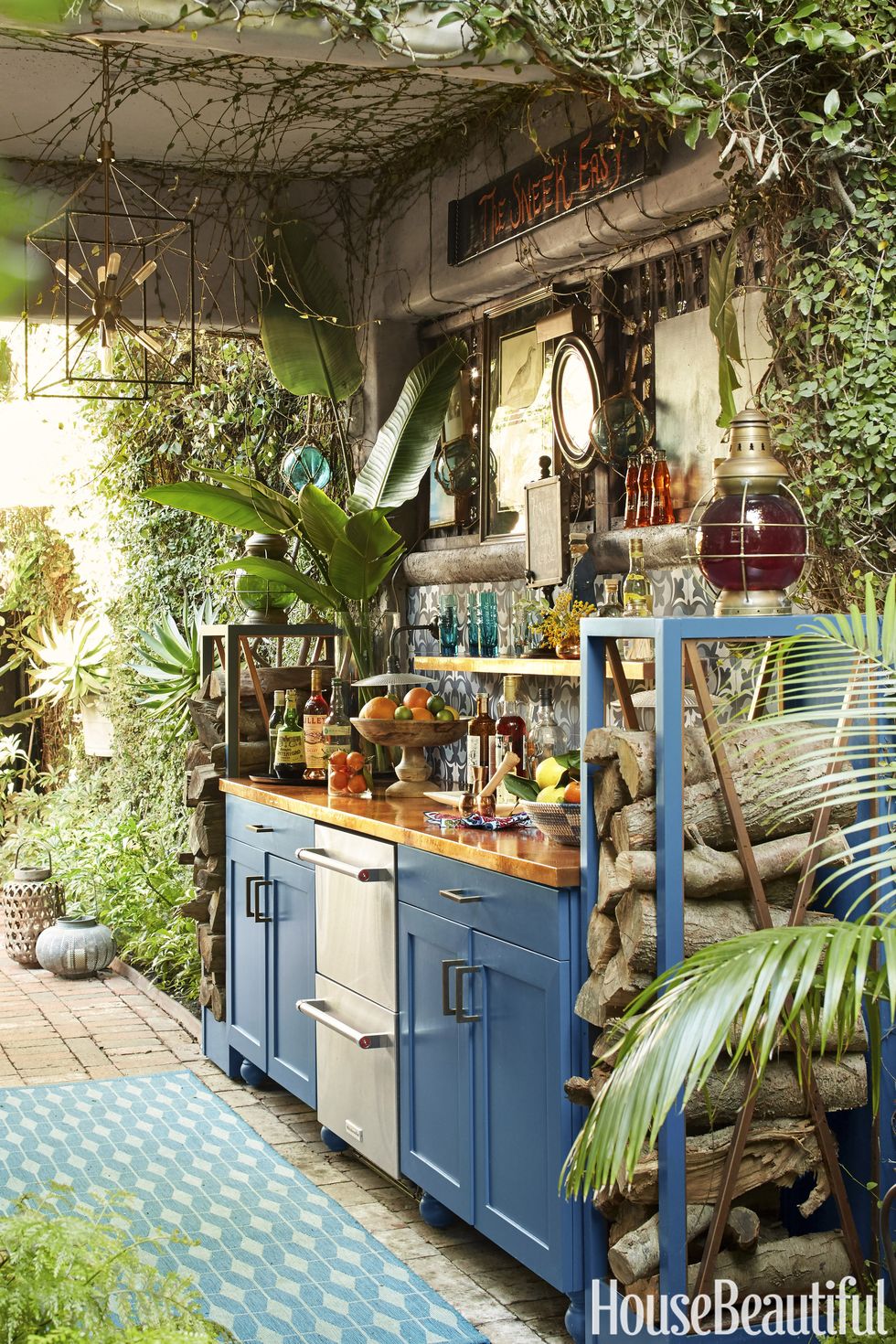 If you are in love with nature, this outdoor rustic kitchen is just for you. Upcycle your grandma's old kitchen for your cozy outdoor space and start enjoying nature. You can cook, drink, and enjoy the scenery and company of your loved ones. A jungle of plants around it will give it even more cozy feeling to complete the impression.
13. Vintage Chick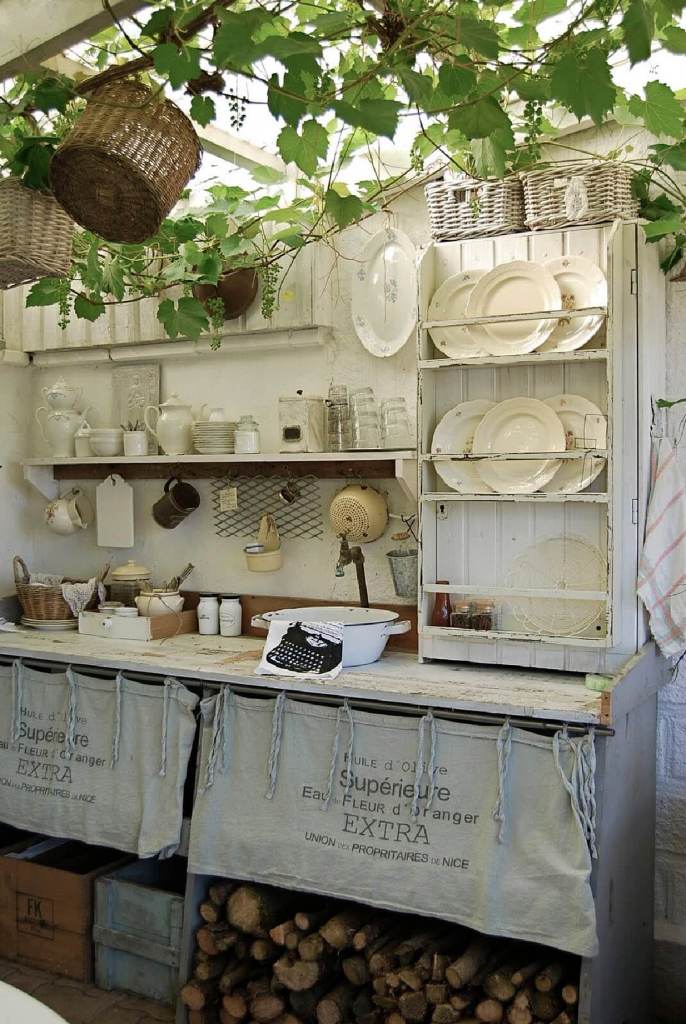 This old kitchen used to fall apart until it was upcycled in this lovely kitchen corner. The vintage style is suitable for small backyards full of greenery. Color it in every color you like to make it pop even more. Use curtains instead of cupboard doors to make it look even more vintage and chick.
14. On a Budget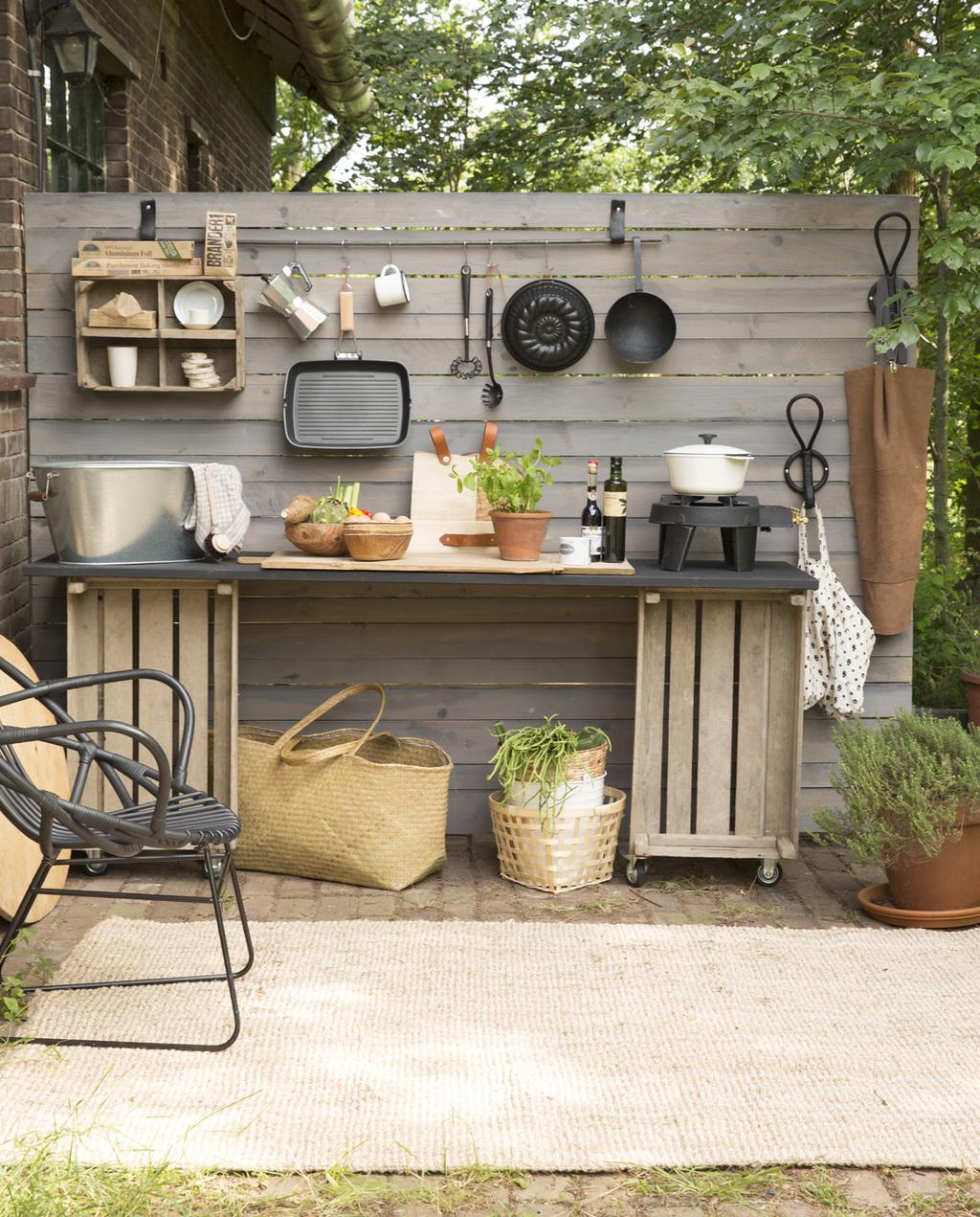 This kitchen is suitable for a low budget. It is made from pallets and wooden fruit boxes with a granite countertop. With these cheap materials, you can make it yourself and save even more. If you put wheels, it will be even more practical because you can move it around. If you need backsplash on a budget, you can use shiplap for a modern look with a vintage feel. Decorate with green plants to make it even cozier.
15. Use Every Space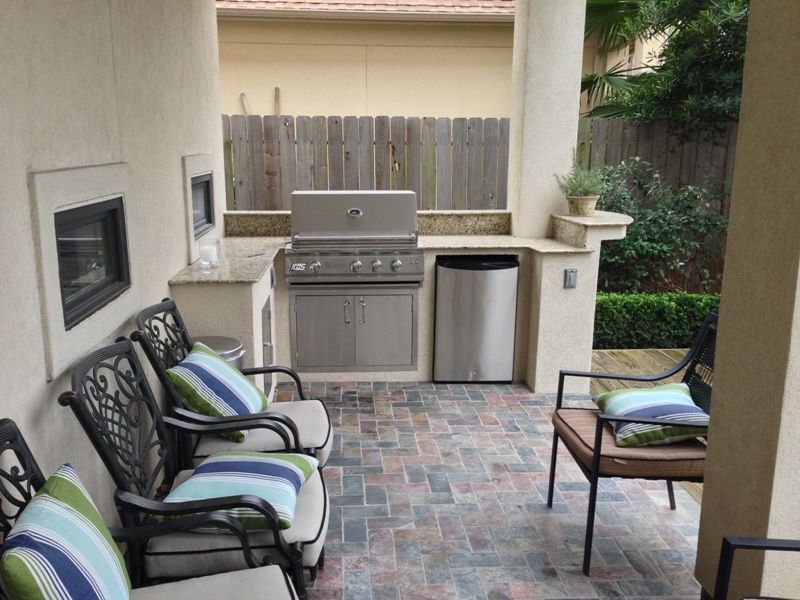 This small kitchen is made in the very corner of the yard, using every inch of space. It is compact and functional. The granite countertop and stainless steel appliances are perfect to open up space and give it a fresh look. The built-in oven and microwave are even more interesting and useful. Enjoy this wonderful outdoor kitchen after a long working day.
Like our ideas? Tell us what you think in the comments section below.