The new coming baby is always great excitement for the parents to be. It is also exciting for their closest family and friends, especially if it the firstborn child in the family.
Usually, when a baby is about to come, it should be announced as the biggest and most important news of the year. The new baby should also be gifted with the best gifts his or her Mommy and Daddy can ever imagine or need, and it should have the best party ever even before it was born.
Baby showers are becoming more and more popular among young couples and their families. Even colleagues at the office join together to organize a baby shower for their dear colleague. It can be differently themed according to the season, or baby's sex, or even the upcoming holidays.
Halloween is a great theme for a baby shower every fall, especially if the baby is due around the spookiest night of the year. Spooky creations, pumpkin-themed table decorations, and treats, as well as masks, can all be combined together for a perfect baby shower to welcome the new coming baby (whenever it might be brought into this world). Working with different ideas, techniques, and materials can lead to great fun organizing and planning the party.
Below, we selected one of the most interesting ideas to get you inspired for the perfect Halloween baby shower for you, your sister, or best friend (also called your adopted sister). See them and get creative.
1. Sign the Guest-Pumpkin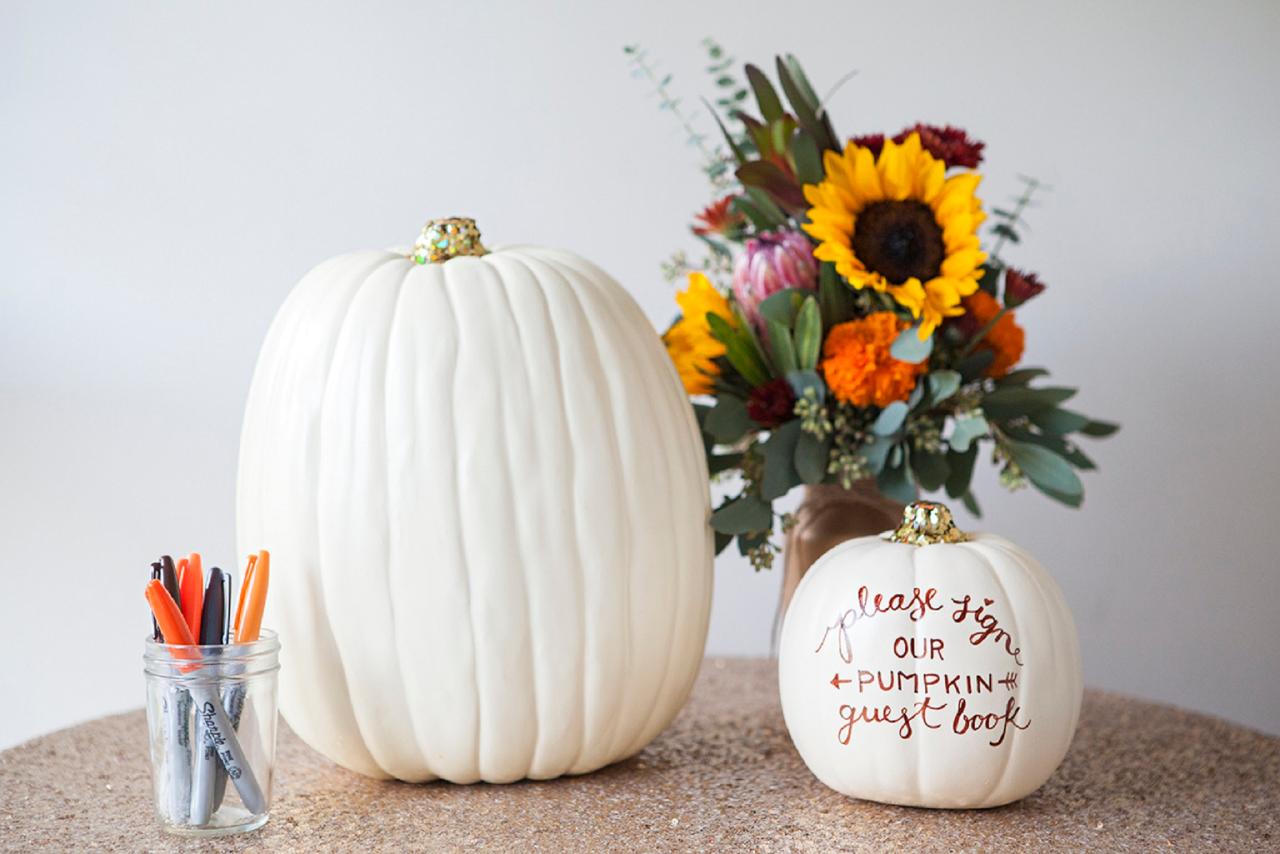 When you organize any party, you must have your guests sign your guest book. It is a wonderful memory to keep for a long long time and get bask to good old times. On a Halloween baby shower, what is better to have than a pumpkin. Pumpkin for your guests to sign and leave a lucky message for your little one. You will then cherish it and keep it in the baby's room.
2. Halloween Party Poppers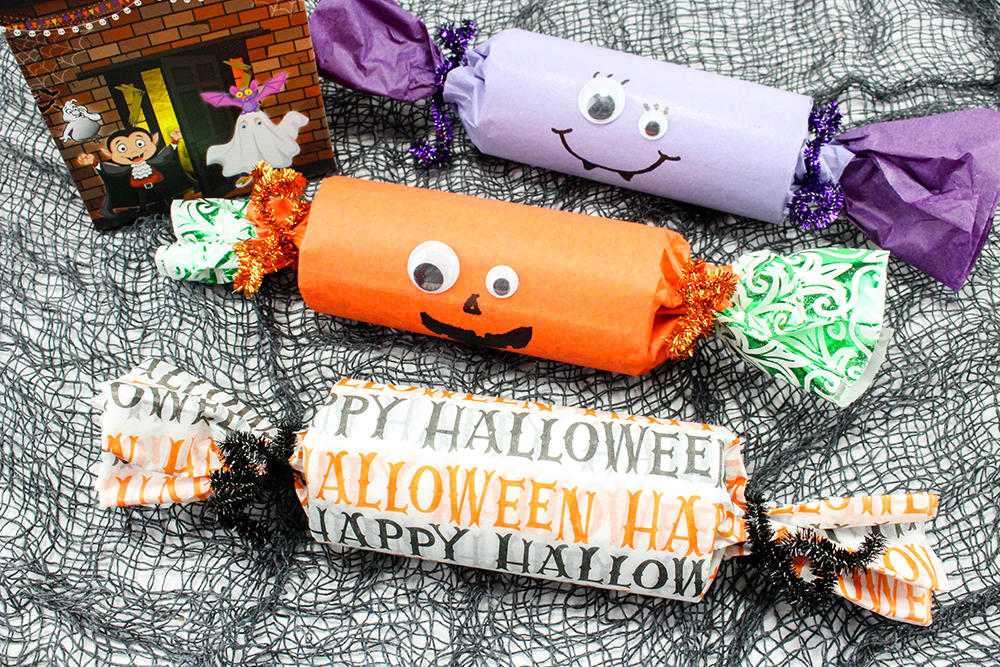 A party will not be complete with party poppers. Create these yourself using toilet paper rolls and paper in different colors to make candy shapes. Fasten the ends and secure them with pipe cleaners in different colors. Draw some silly face on them to make them look funny, add googly eyes, and enjoy the popping.
3. Pumpkin Goody Bags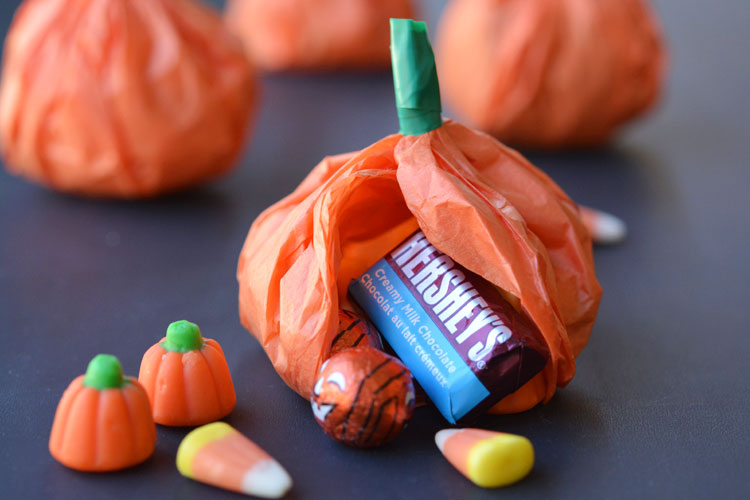 It is good and kind to give your baby shower guests some goody bags with treats to carry home. Make these cool pumpkin goody bags out of an orange-colored paper cut in circles and folded like a pumpkin, fastened with green tape on the top to imitate the end of the pumpkin. Make sure you fill them first with treats.
4. Stand Alone Ghosts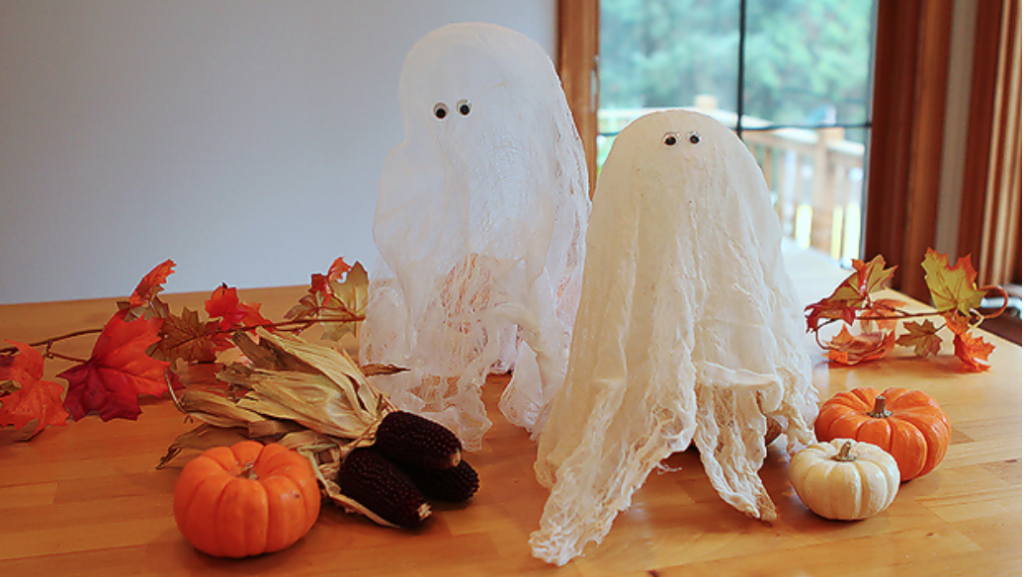 What is Halloween without ghosts? Make these stand-alone ghosts for your table and enjoy the happiness and joy they will bring to your party. They are made of balloons and sheets with added googly eyes to complete the look. You can also add a ribbon to make them look modern and fun.
5. Spooky Spider Eggs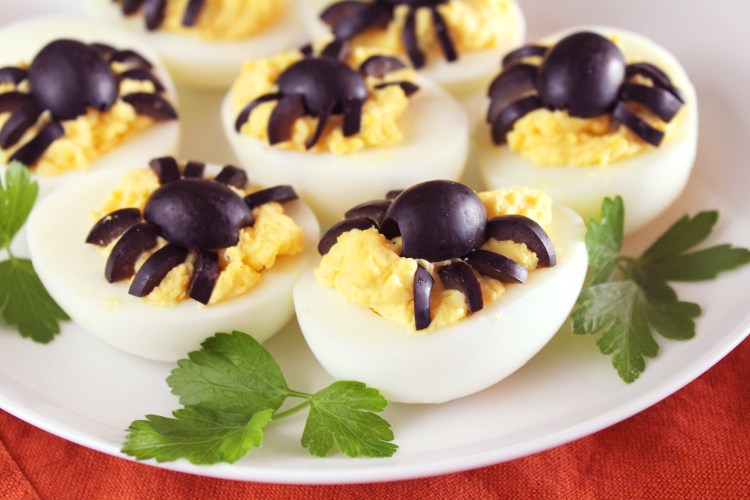 Since every baby shower also needs to have some food, this idea of deviled eggs and olive spider on top is perfect for your baby shower table. The spider makes the eggs look scary and the greenery around it makes them feel creepy. Don't worry, they taste great.
6. Creepy Pumpkin Babies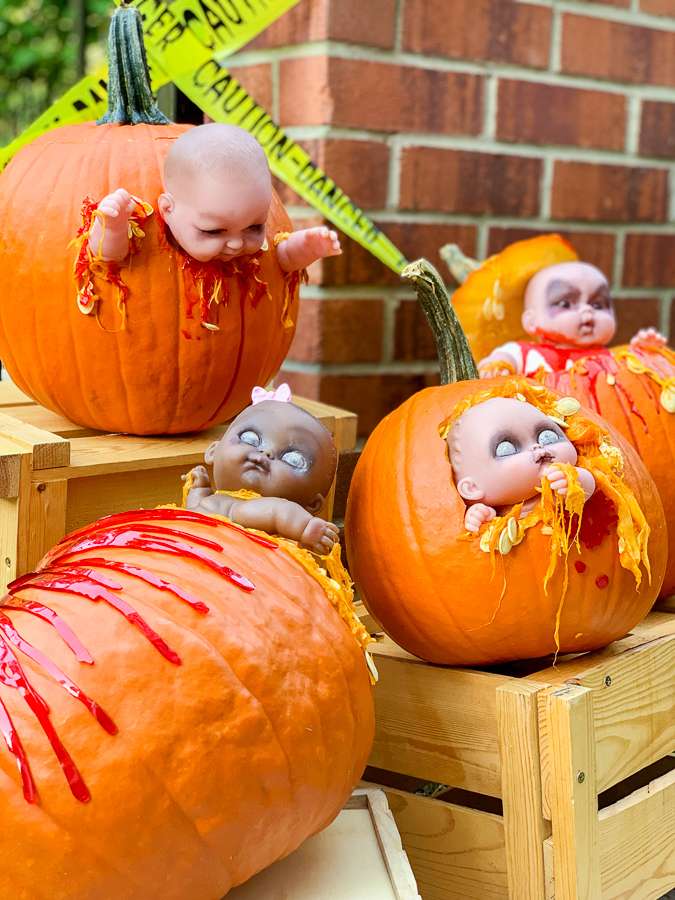 This idea is really for those of you who enjoy being the spookiest of spooky. These babies in pumpkins covered in blood are great to decorate your yard with, especially if it is right on Halloween. Make sure your guests are spooky too, so they don't find it discussing and gross.
7. Mummy Badge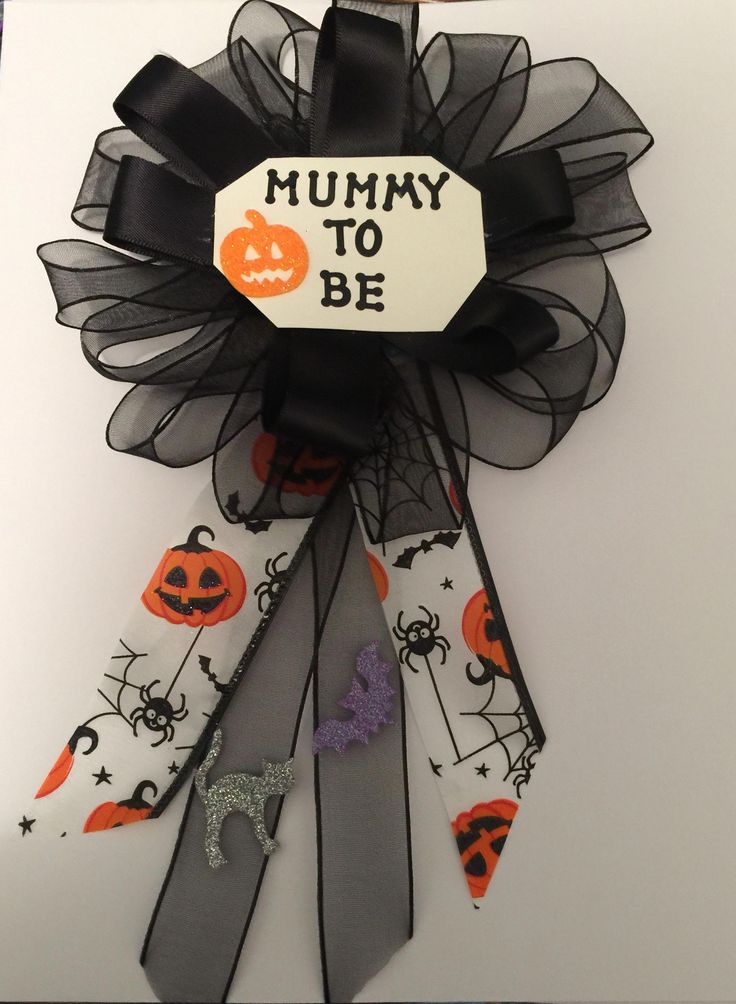 New Mommy must be marked. If not, no one will know who the Mommy is (right?) This cute Mommy-to-be badge is perfectly spooky and cool to complete the look of the new Mommy for the last big day before giving birth to the most precious thing in her life.
8. Midnight Diaper Sayings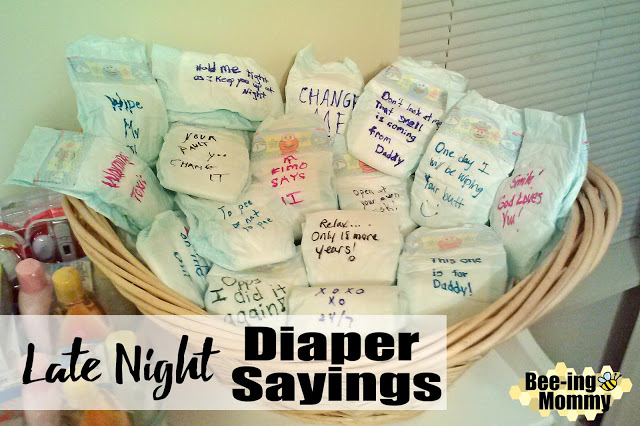 Late-night changing can be trying. But, with this interesting idea, you can make it fun. Ask your guests to leave a message on the diapers to make you feel better in the middle of the night when you are tired and sleepy. They will have fun, and you will enjoy their witty comments and messages later in the night.
9. Pumpkin Decorations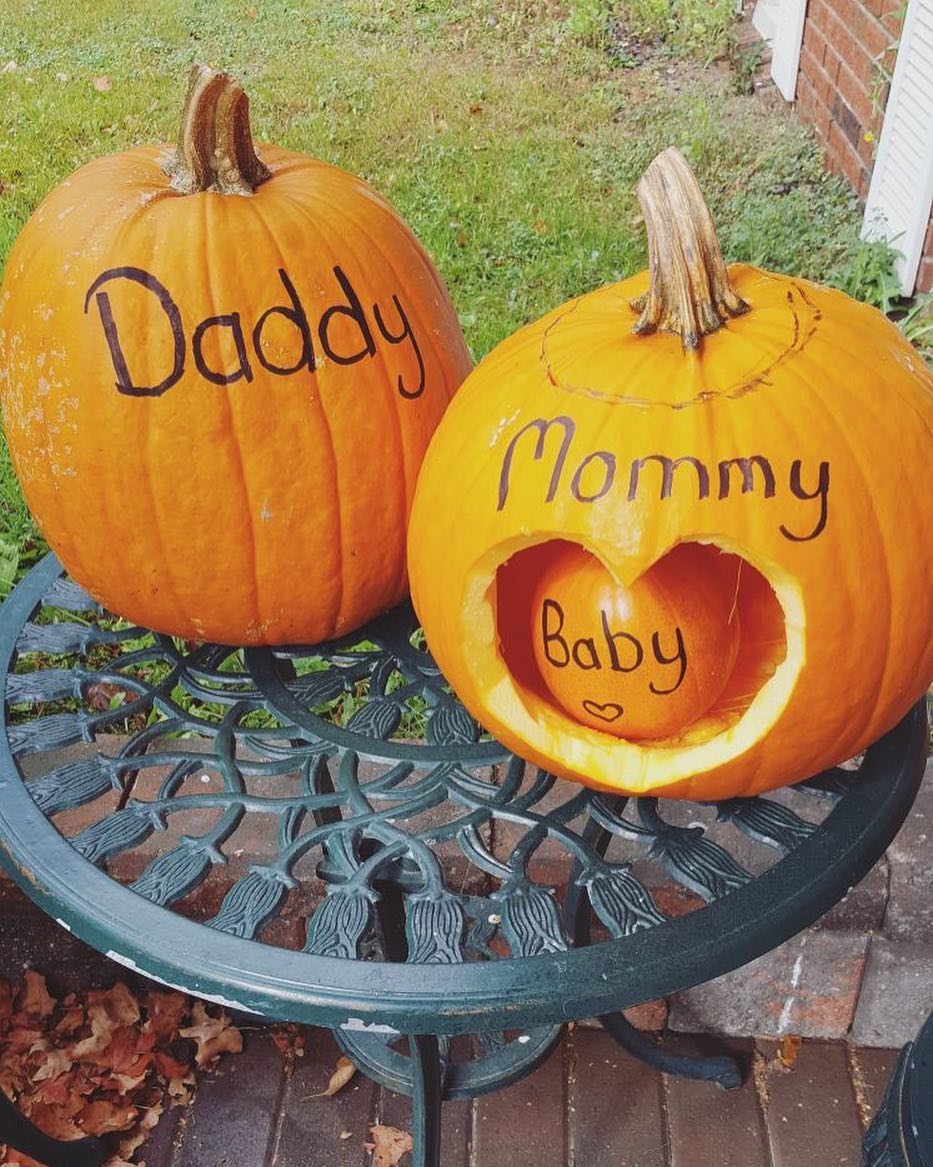 Daddy, Mommy, and baby in the tummy. That's all that baby shower is about. Celebrate it with symbolical pumpkins carved in this way. They are easy to make and great to put them as decoration in your front yard. Everyone will love it, and you will feel very special having them around.
10. Cool Cake Pops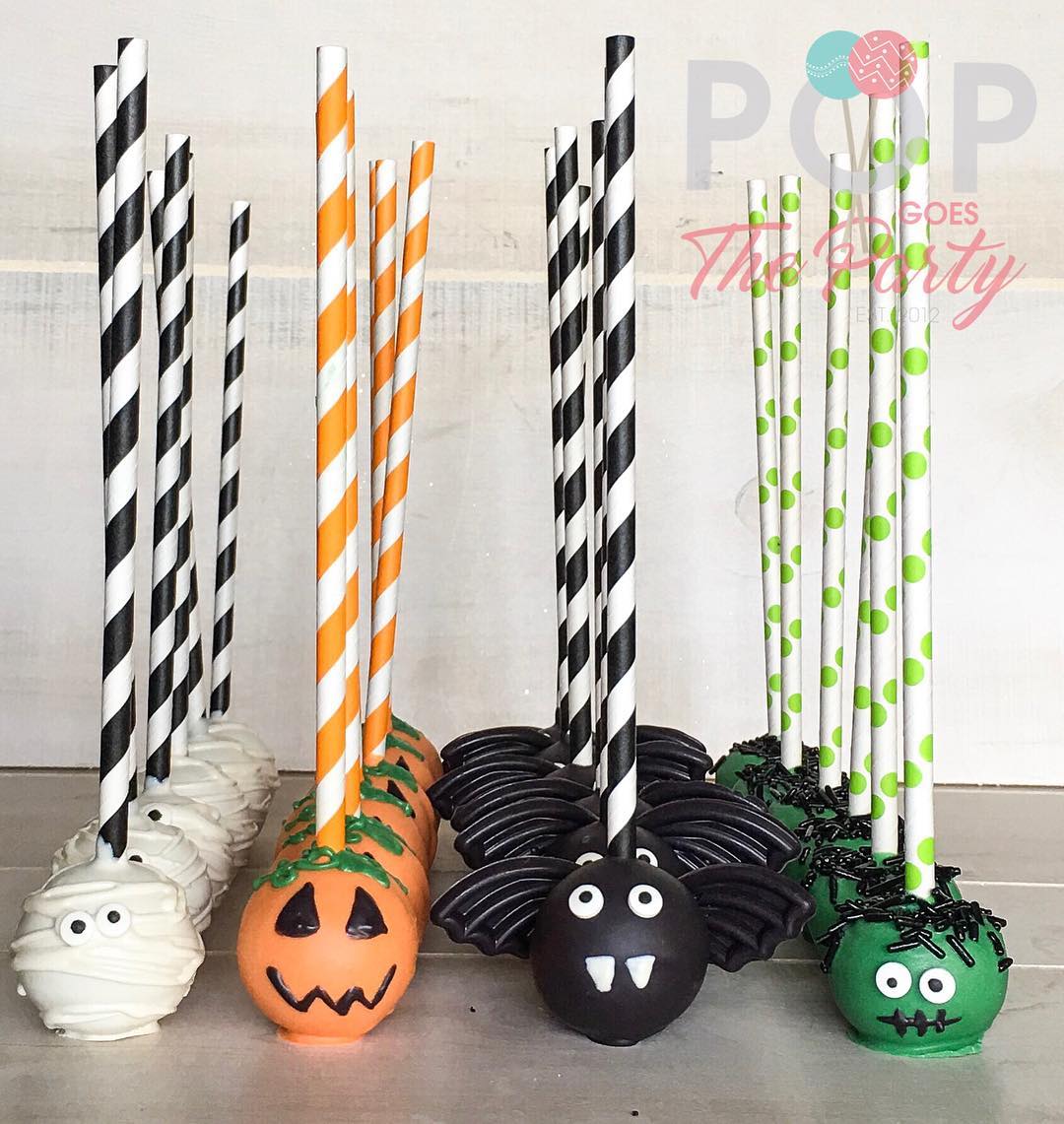 Cake pops decorated as pumpkins, mummies, bats, and zombies can be a new addition to your Halloween baby shower table. They are decorative, spooky, and colorful, and yet very cool to have them on your table. Make sure you combine the right tone of the sticks to the right cake pop to complete the look.
11. Lil' Boo Table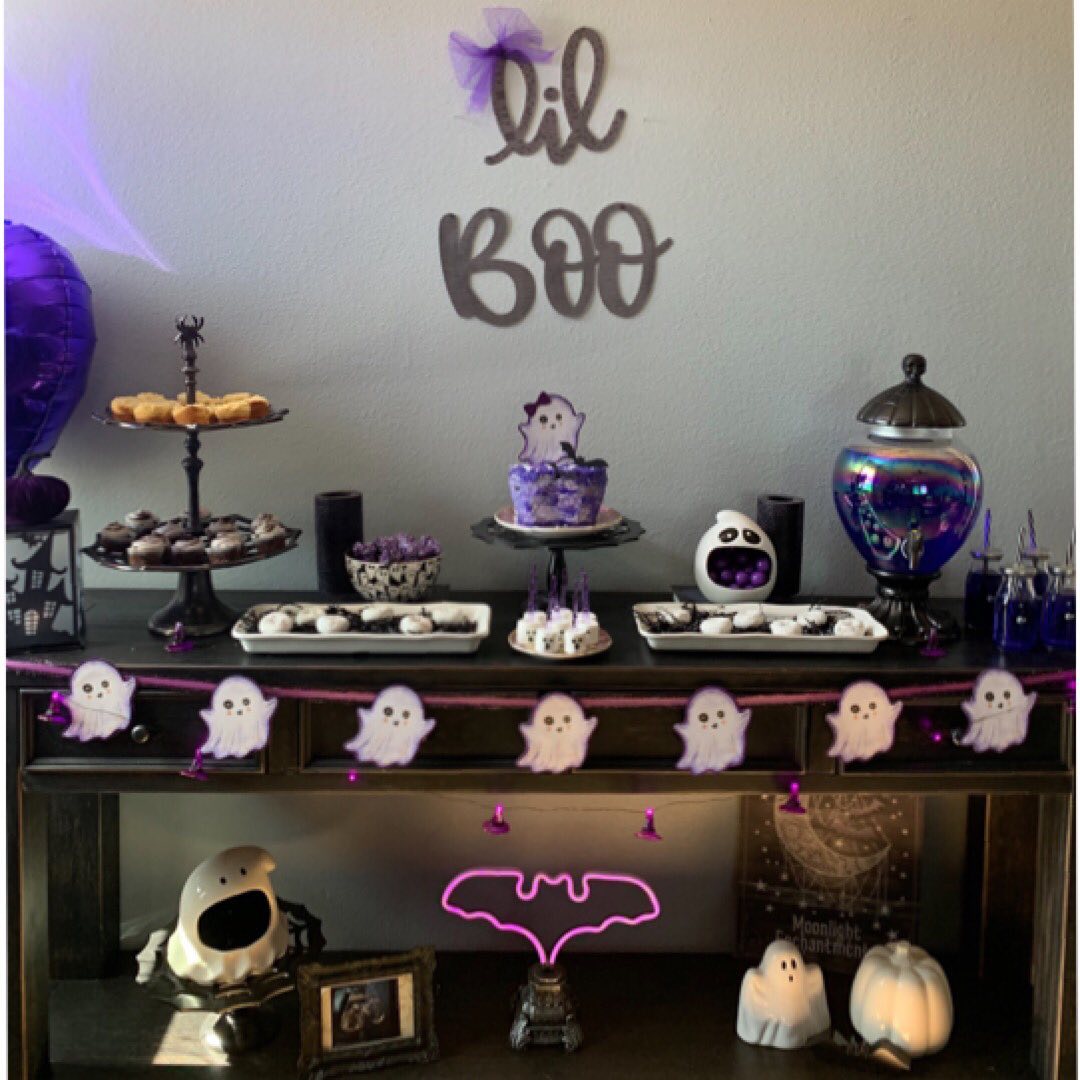 The baby shower is never complete without a treats table. But, for the Halloween baby shower, it is important to make it spooky and scary. Add some ghosts, bat-shaped sculpture, pumpkin cupcakes, and scary goody bags. Make sure you combine the right colors and tones to get as close to perfection as possible.
12. Peek-A-Boo!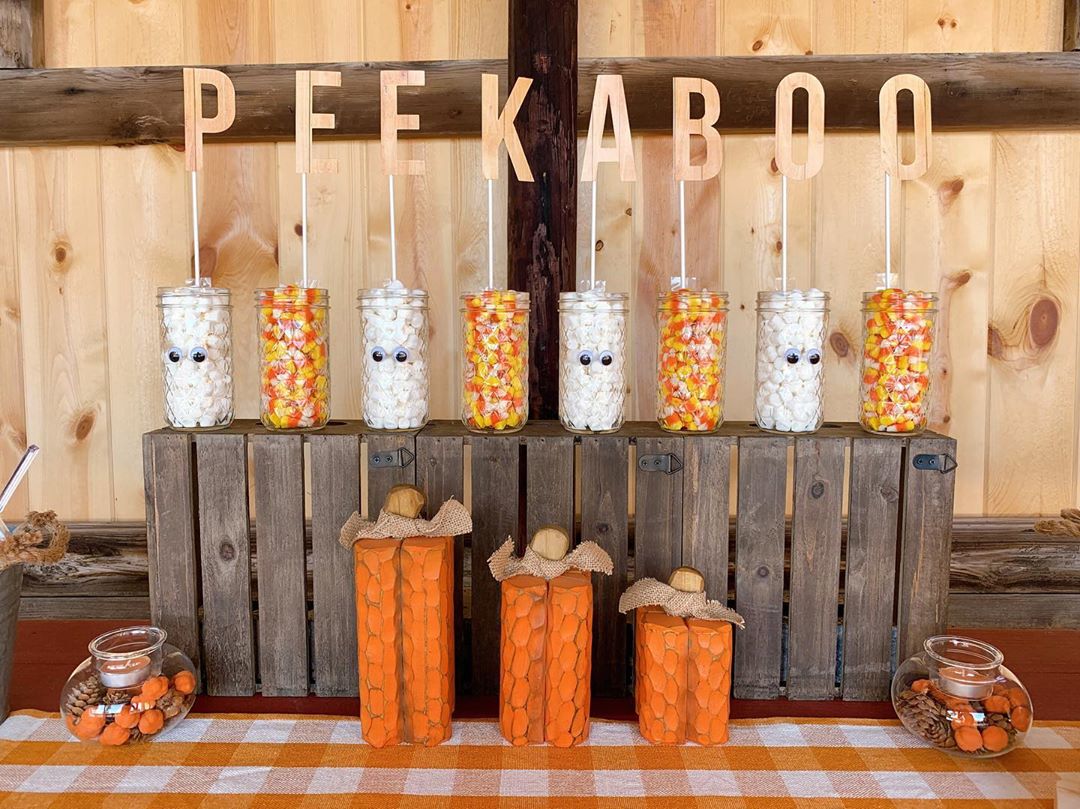 Peek-a-boo! Make sure you get those jars the googly eyes to make them perfectly scary for all that will come to them to get some candies. The Peek-a-boo sign is a plus and a great finish to the wonderful creation of a superb baby shower treats table. The pumpkins around it will only complete the look.
13. Little Boo Decor Sign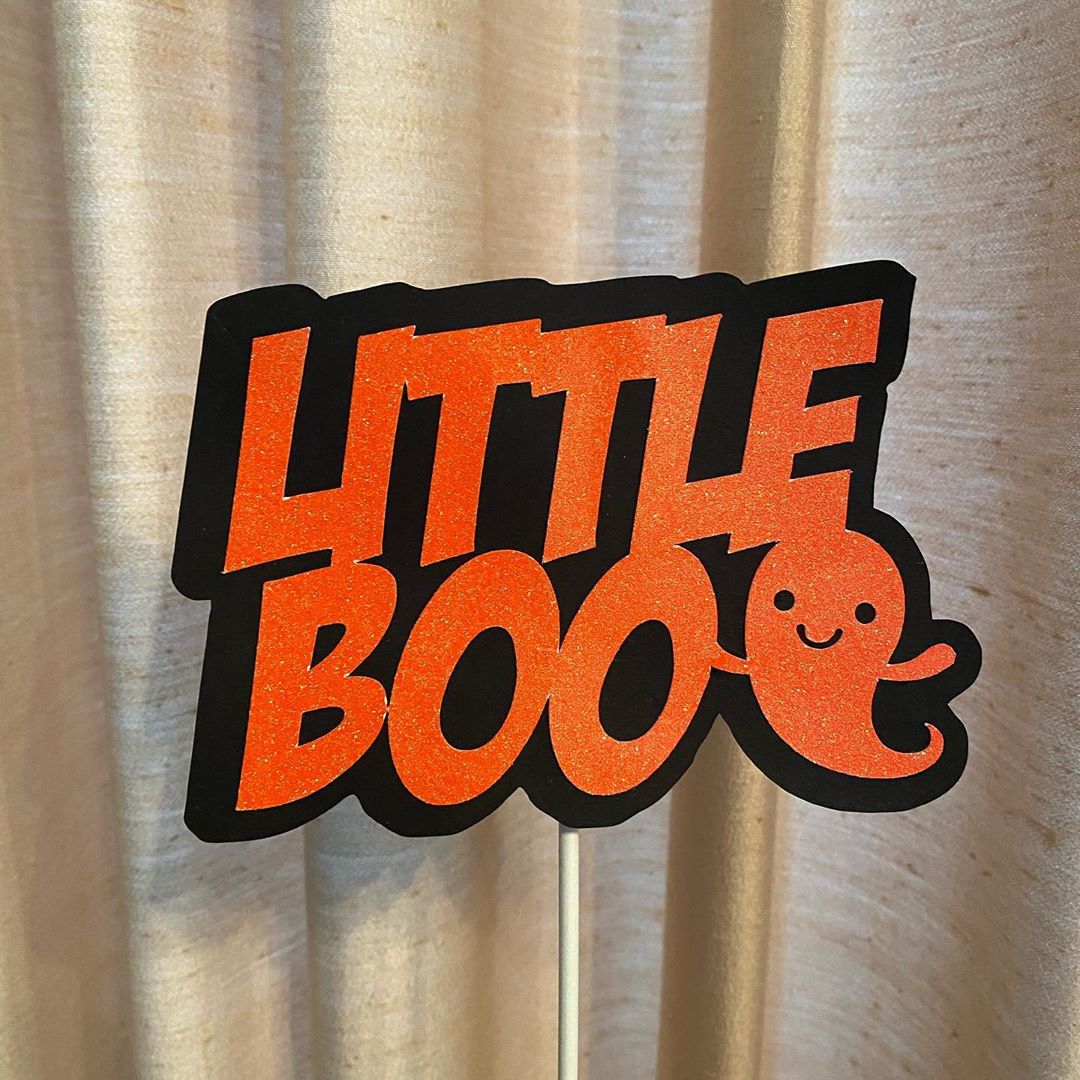 Little boo can be found everywhere. They are never enough to have around. You can make them from cardboard, or buy it in the specialized stores, and put them everywhere you want: on the curtain, on the table, on the wall, even as a cake topper. They will be perfectly completing your Halloween baby shower.
14. Baby Boo Biscuits
Let's honour the new coming little one with his own cookies. Shaped perfectly, and decorated in a spooky manner, they are fun for all kids attending the baby shower, as well as the grown-ups who sometimes like bing children again. Besides, who would say no to a cookie?
15. Spooky Diaper Cake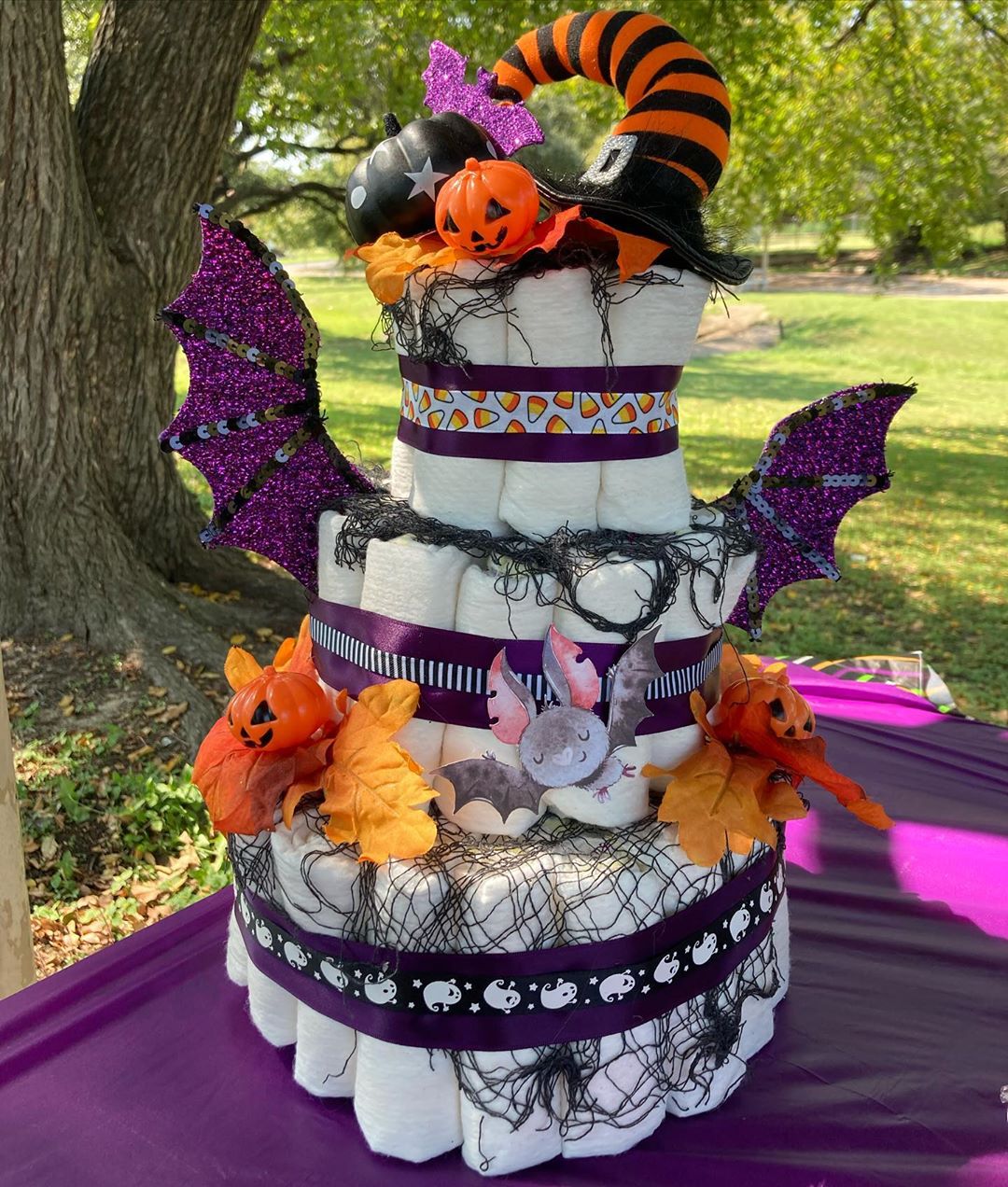 New coming is not complete without diapers. And what will be more suitable for a baby shower than a diaper cake? This idea will perfectly inspire you to get or create and make a spooky diaper cake with nets, bats, and pumpkins. Don't be afraid to use dark colors, because Halloween is all about it. Explore and enjoy until you get to perfection.
16. Table Decor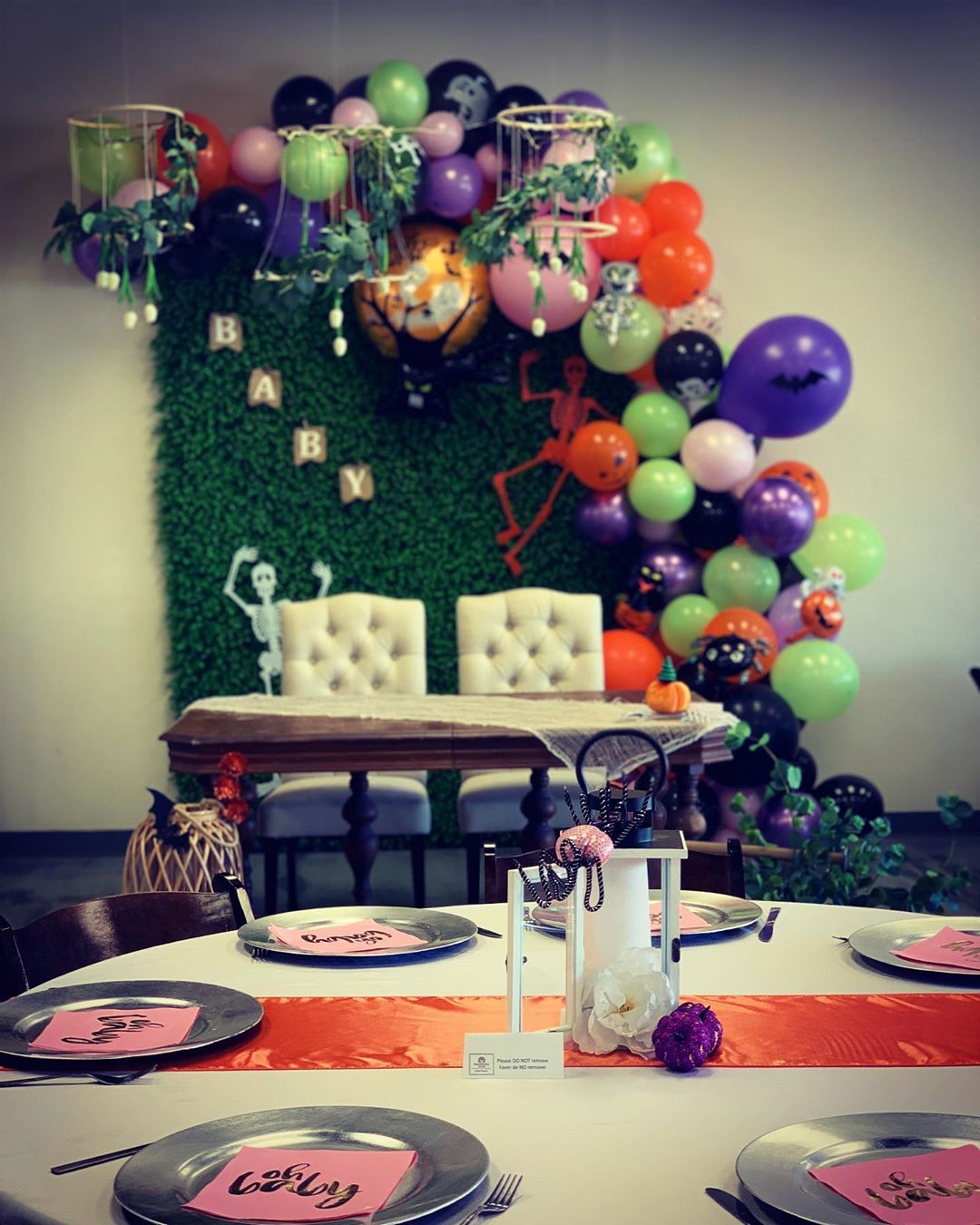 Spooky table decor is a must for Halloween. And Halloween baby shower, as well. If you theme your shower Halloween make sure that the table, the walls, and the curtains are decorated accordingly. Put some balloons with ghosts and pumpkins, in different colors and some skeleton shapes on the wall, a spider centerpiece, and baby napkins to complete the look.
17. Baby Brew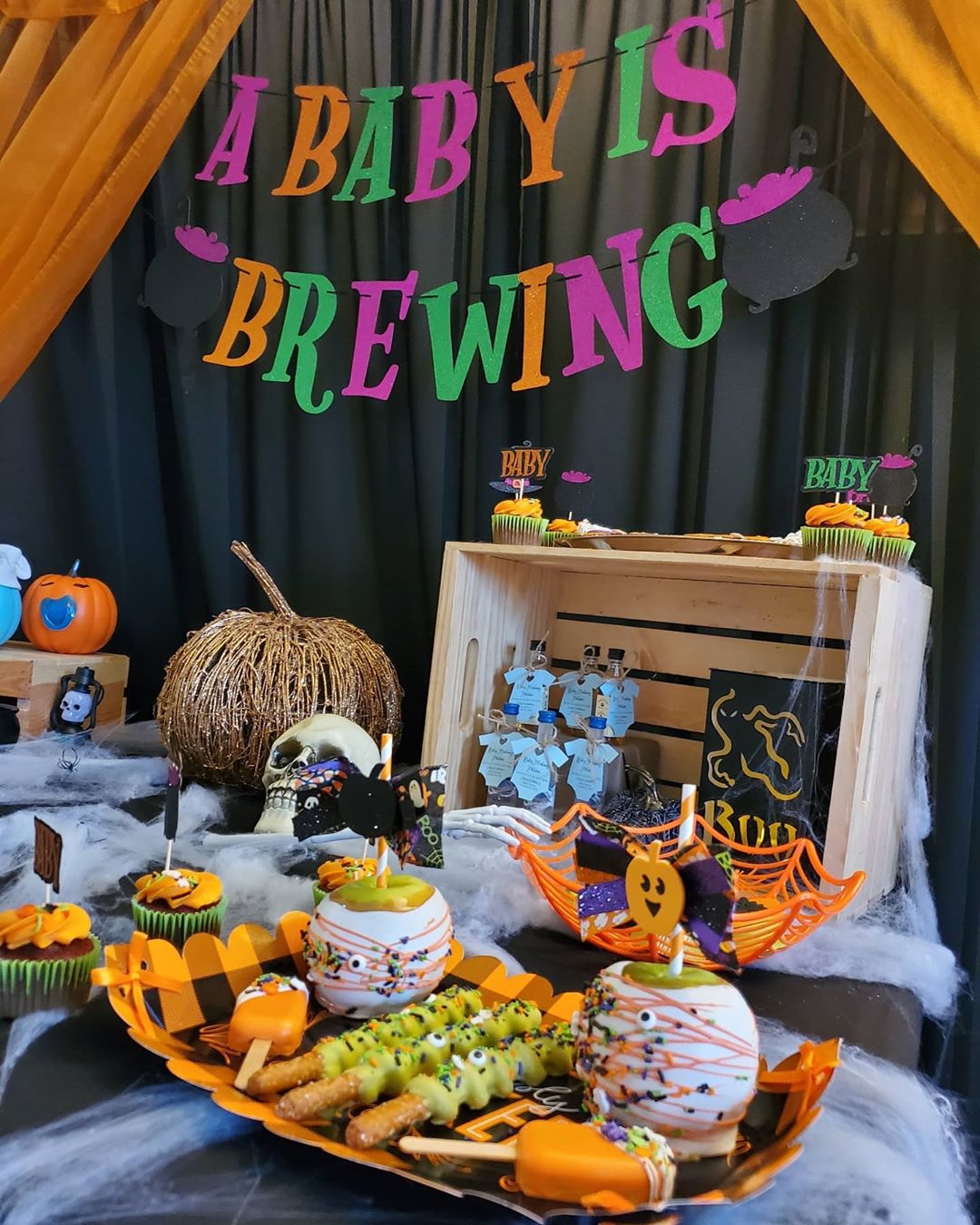 If beer is brewing, why not a baby? This Halloween spooky-themed table is perfect for beer lovers. A combination of treats and sweets that go well with beer can be a perfect solution for your baby shower, of course, topped with the spookiness of Halloween. Enjoy it to the max.
18. Ghostly Invitations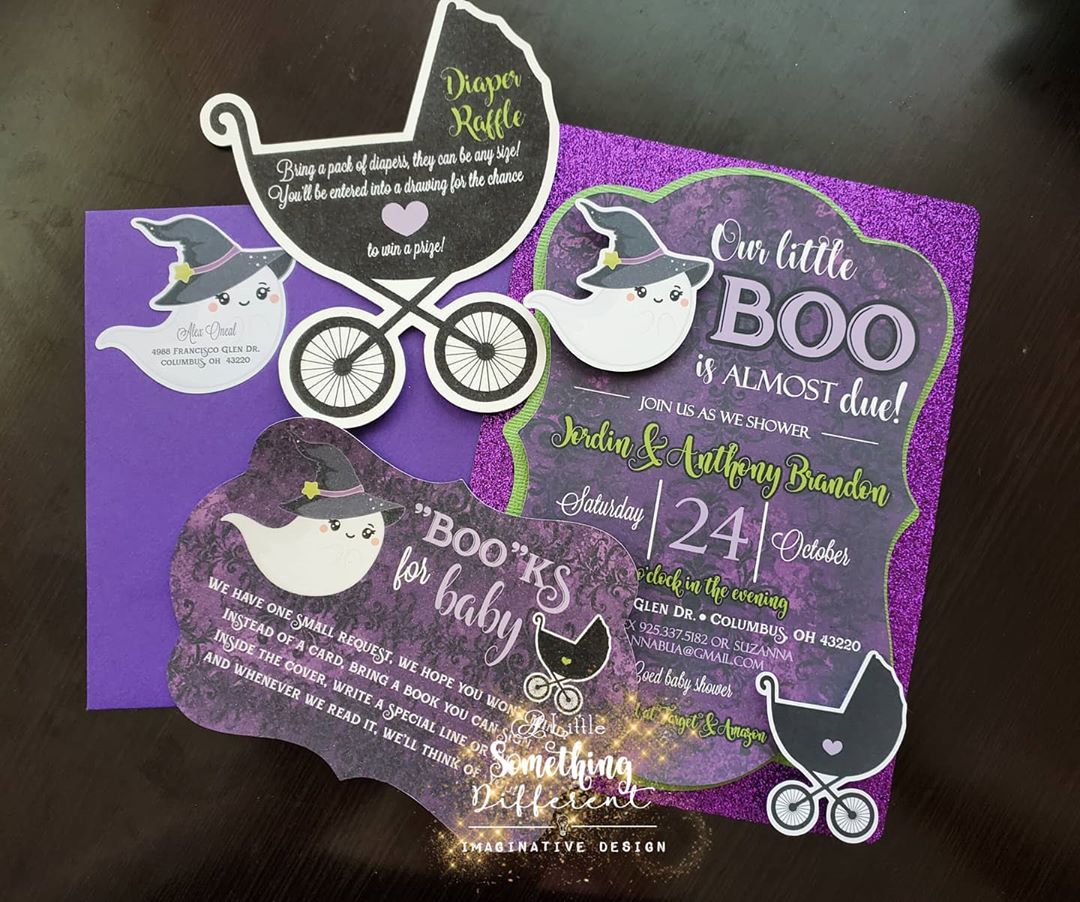 Of course, you need to invite your guests. These themed invitations, stickers, and notes will be perfect for your spooky Halloween baby shower.
You can select party invitation cards with a design that lets you add the time for the celebration easily. This way, you can save money and effort.
Send out the invitation and don't forget to include the additions so that they can label their present, their donation, their place in the prize game, and the return envelope. They will love it!
19. Nightmare Cake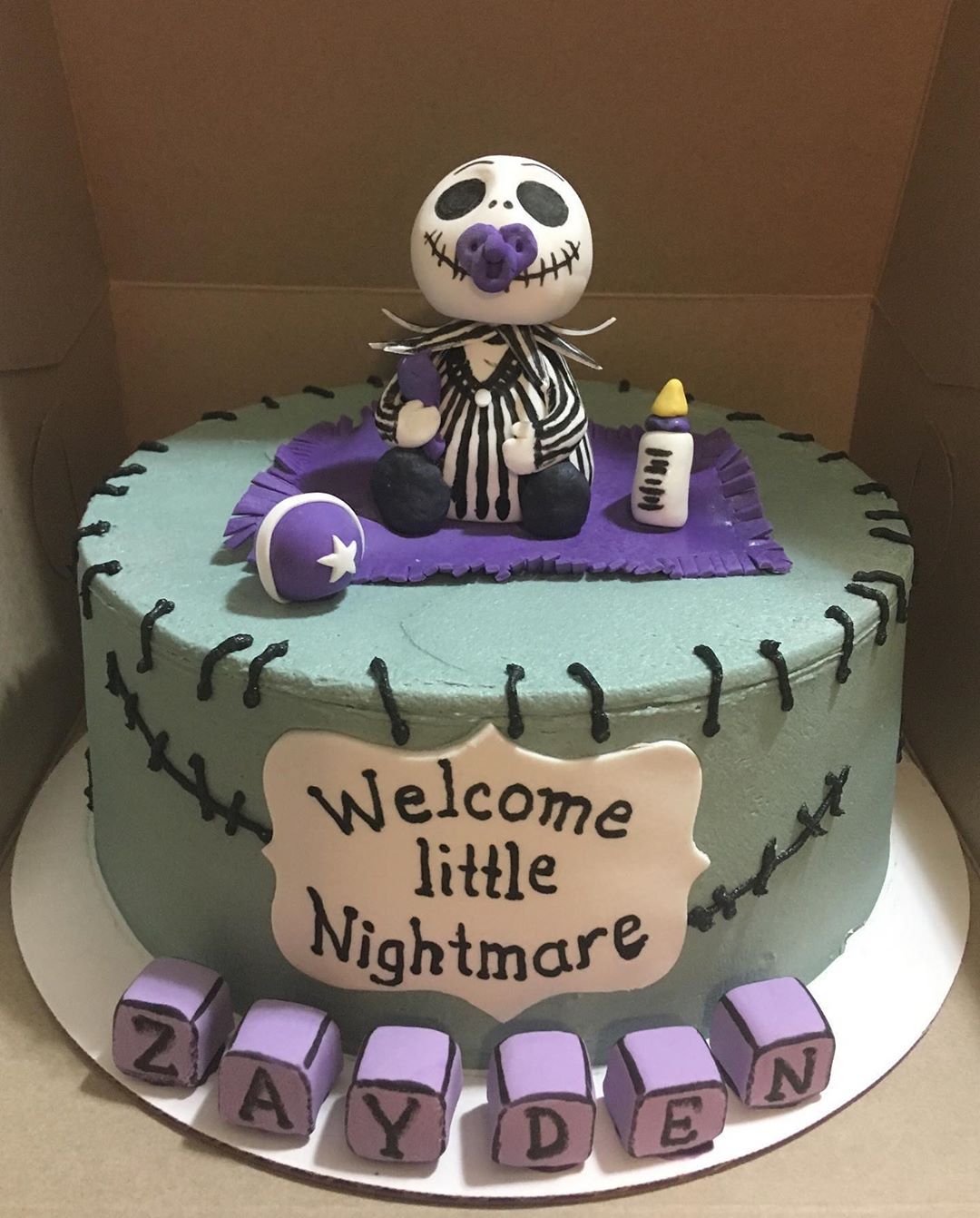 Crying babies can be a real nightmare, especially if they are unconsolable as sometimes happens. This cake celebrates them perfectly. The little nightmare cake, inspired by The Nightmare Before Christmas is surely the most appropriate thing you can have at your Halloween baby shower. Make sure you share it with everybody.
20. Halloween Punch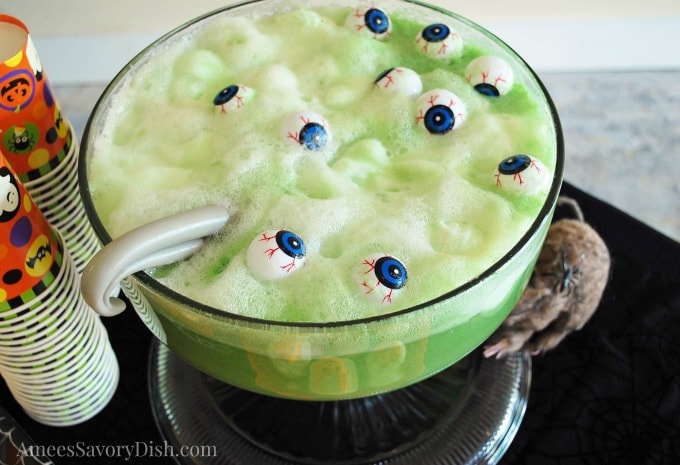 Since baby showers are organized for the grown-ups and not the kids, it is perfect to have a Halloween punch for all. Green as brains, with eyeballs and eyes in it, and foam on the top to get the perfect spooky look. You can add some apple slices inside and make it even more delicious and mysterious for your guests to enjoy it.
Liked our ideas for your upcoming baby shower? Let us know in the comment section below. Or share with us some of your own ideas. Who knows, we might get you on our list someday.