Waiting for the new baby to arrive is an exciting and marvelous period for every family, and for no one more so than the expecting mother. It is a bitter-sweet period for sure, every woman who's ever been pregnant can vouch for that. The body experiences so much change to help the new life grow, it's no wonder mothers-to-be go through a variety of discomfort and a plethora of emotions in such a short period of time.
There are good things about being pregnant, aside from the ultimate end result of it, when you finally get to continue your life with your baby in hand. You can have plenty of good times and make so many memories while being pregnant, you just have to be opened to having more fun, without the constant worry if everything you do would affect the baby. Of course, you can't just neglect all the doctor's advice on how to stay healthy and safe during pregnancy, but you can still have a good time and have fun with your baby bump.
For example, you must make the most of the holidays you'll be celebrating during your pregnancy because all of the others that come after the baby is born will never be the same. If you're far along with your pregnancy in October, that means Halloween is here. You simply must not let the chance pass to go out in a maternity costume. It would be a priceless memory for you and your children.
There are plenty of creative ideas out there for costumes centered around your baby bump and making your round belly part of the costume.
Here are some of the most interesting, easy, and comfortable costumes for pregnant women to try this Halloween.
1. E.T.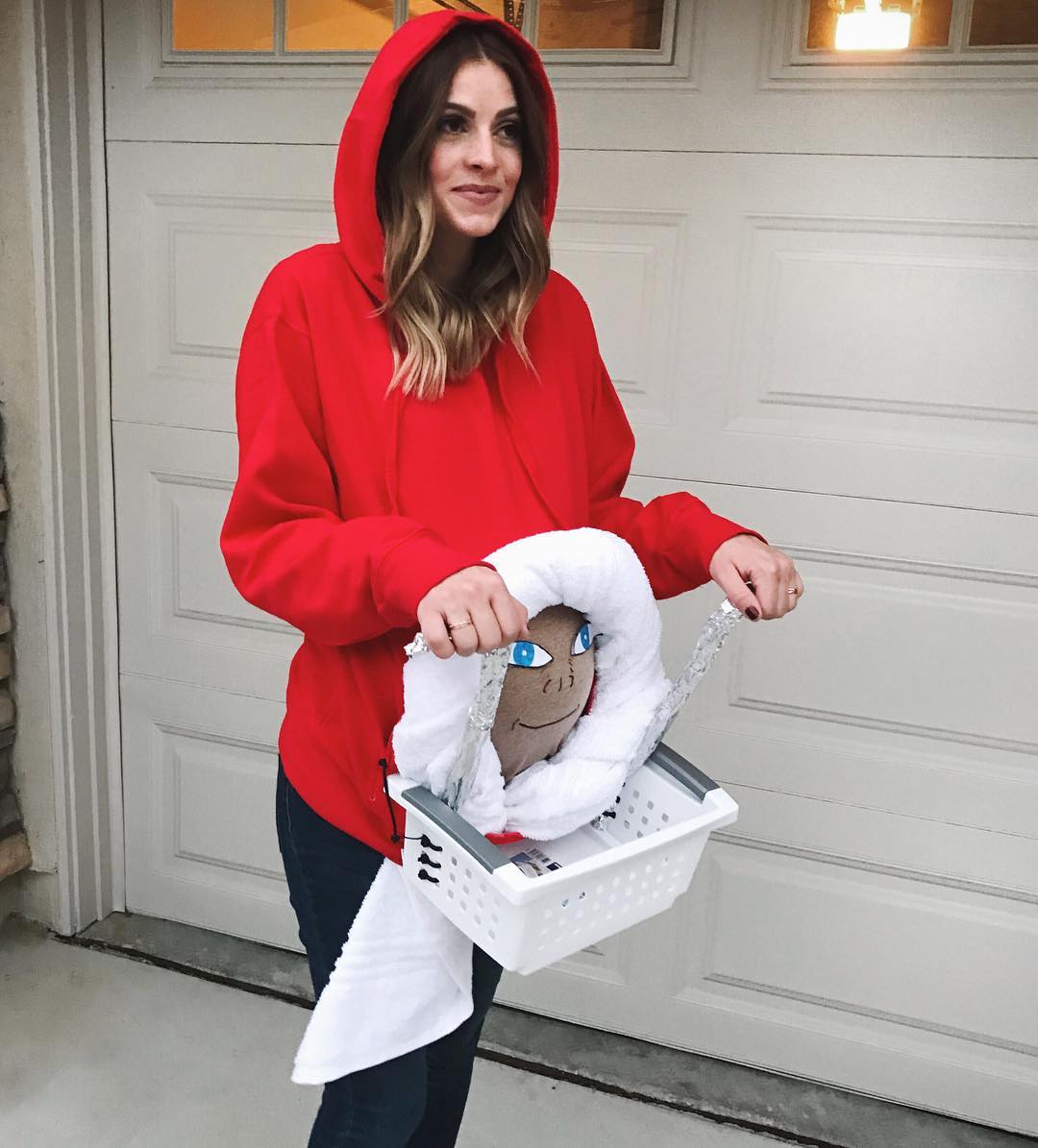 No matter how many alien movies Hollywood makes, nothing will ever stand up to the biggest heartfelt alien icon, E.T. And you know it to be an icon when even people who never watched the movie can recognize the characters and that one scene with the bicycle and ET in the basket. While riding a bike can be a bit tricky while pregnant, you can always make it part of the costume, like so.
2. Mommy Bird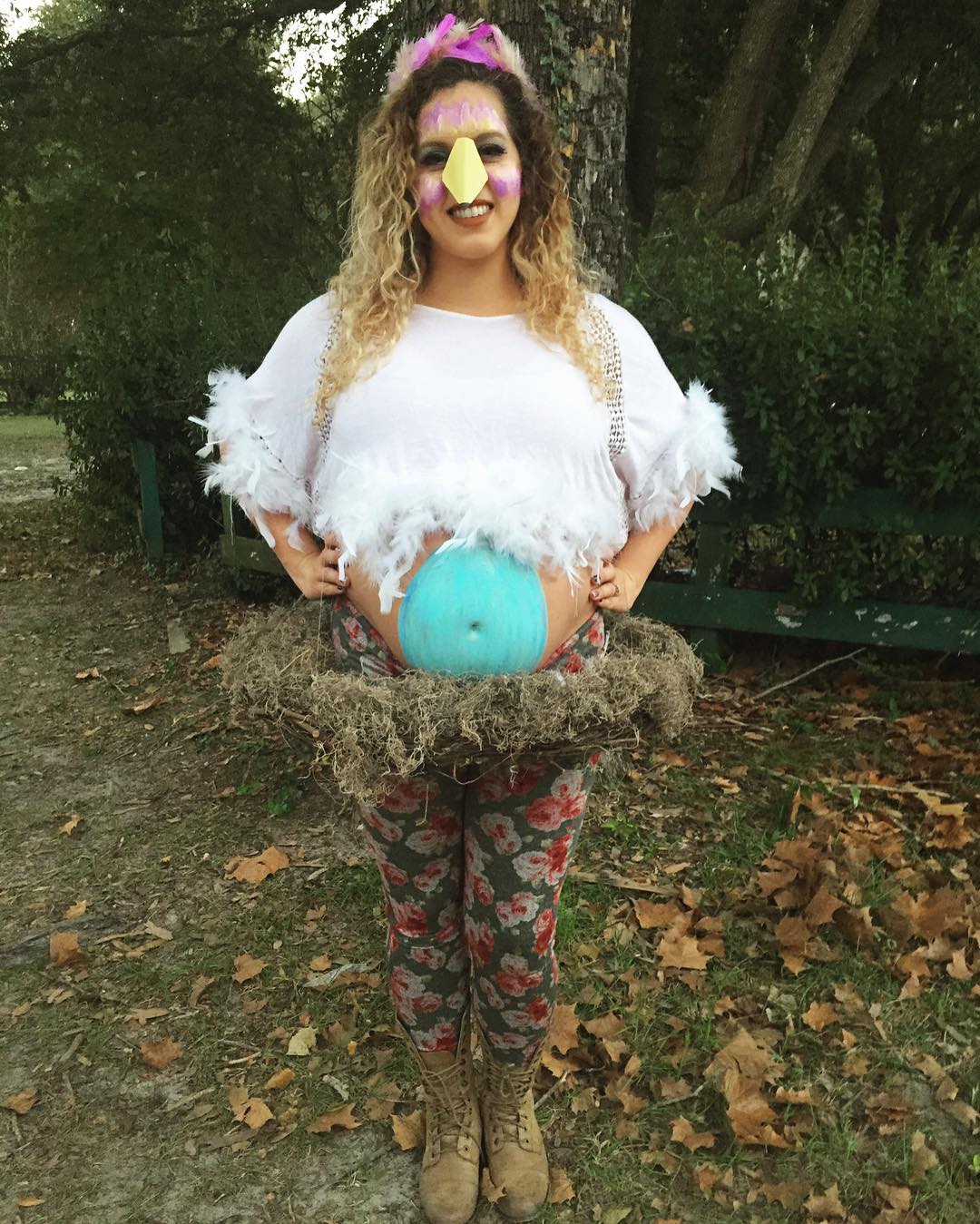 We all know the phrase "bun in the oven". And there are plenty of costumes out there for an oven and a bun, but why not be more creative and let yourself lay on your egg while it hatches.
3. Bubblegum Machine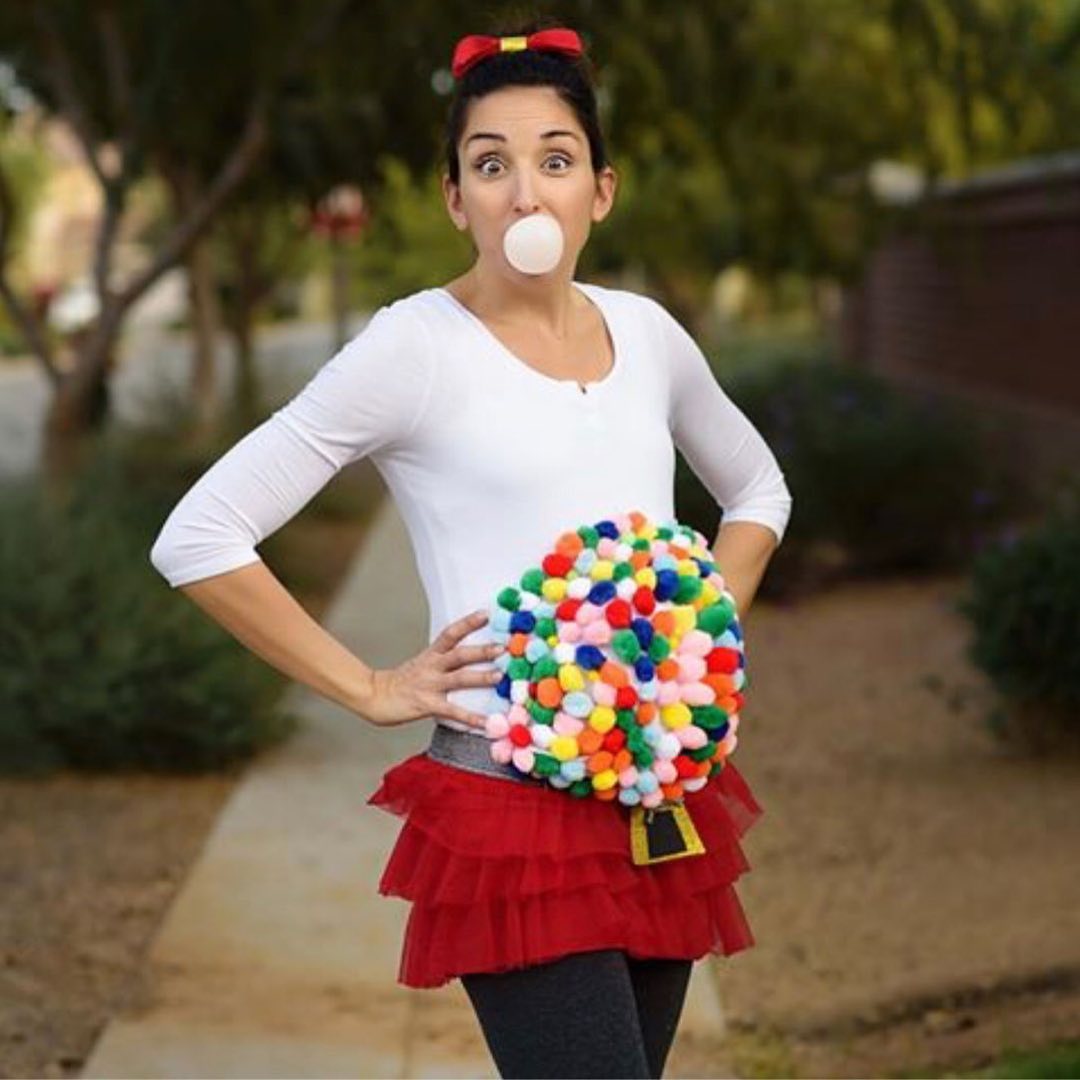 There are things that we no longer use thanks to advances in technology and for many of them, we say good riddance. The gumball machine is not one of them and it is still a nostalgic item we fondly remember and some even wish it back. If you also miss having more gumball machines around, use it as an inspiration to make this cute pom-pom gumball costume.
4. Avocado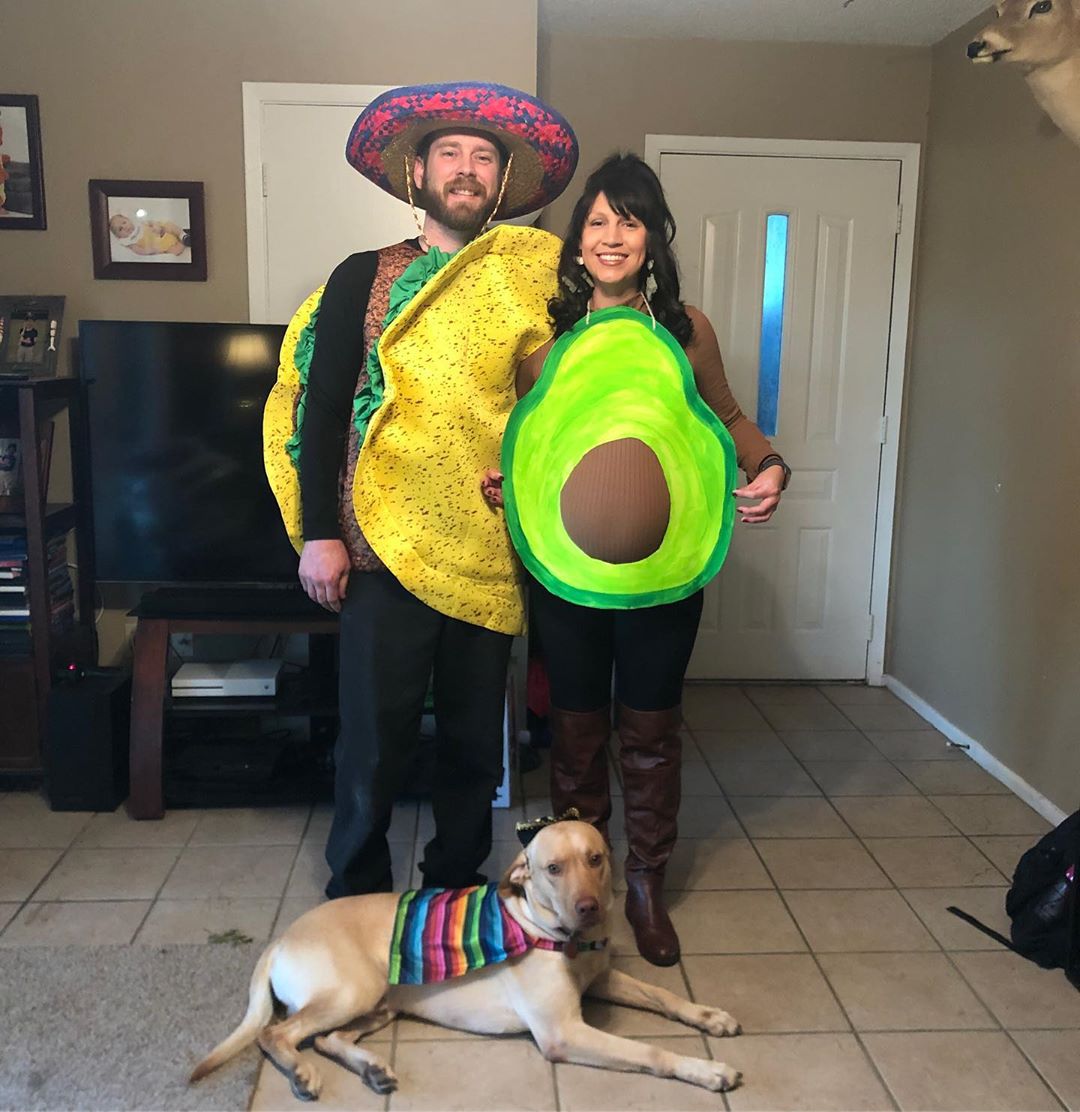 Do you have s brown top or something like that? Then your Halloween costume is already halfway done. With an avocado-shaped cutout and a hole for your belly, you can go as the healthiest of healthy fruits, a lovely fresh avocado.
5. Baby Punching Trough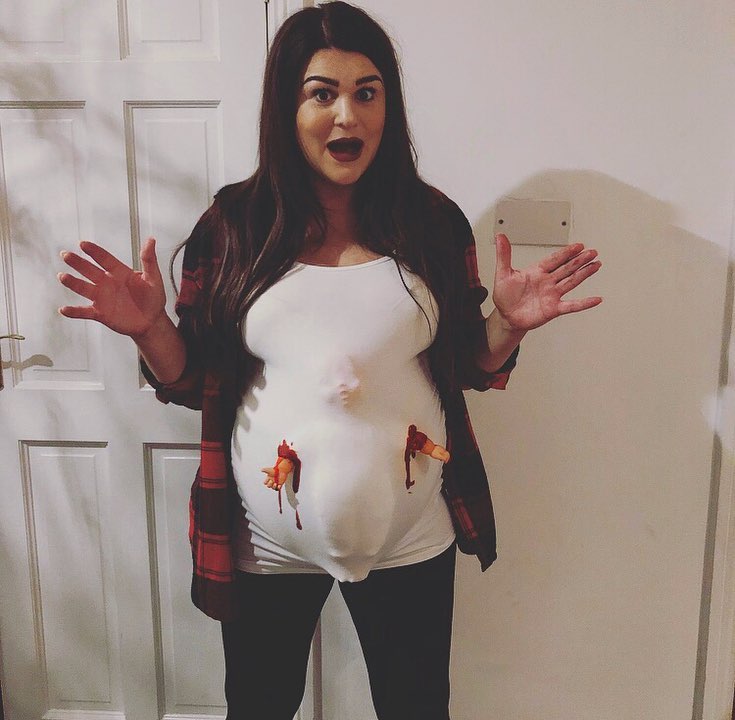 It is Halloween after all, and we had to add something spookier and more gruesome to this maternity costume list. The easiest one is the baby punched through the belly. And mothers will know this feeling all too well when they wanted to rest and the baby just started punching and moving around. A baby doll or just its arms and legs, some fake blood, and a light t-shirt is all you need for completing this costume.
6. Mike From Monsters Inc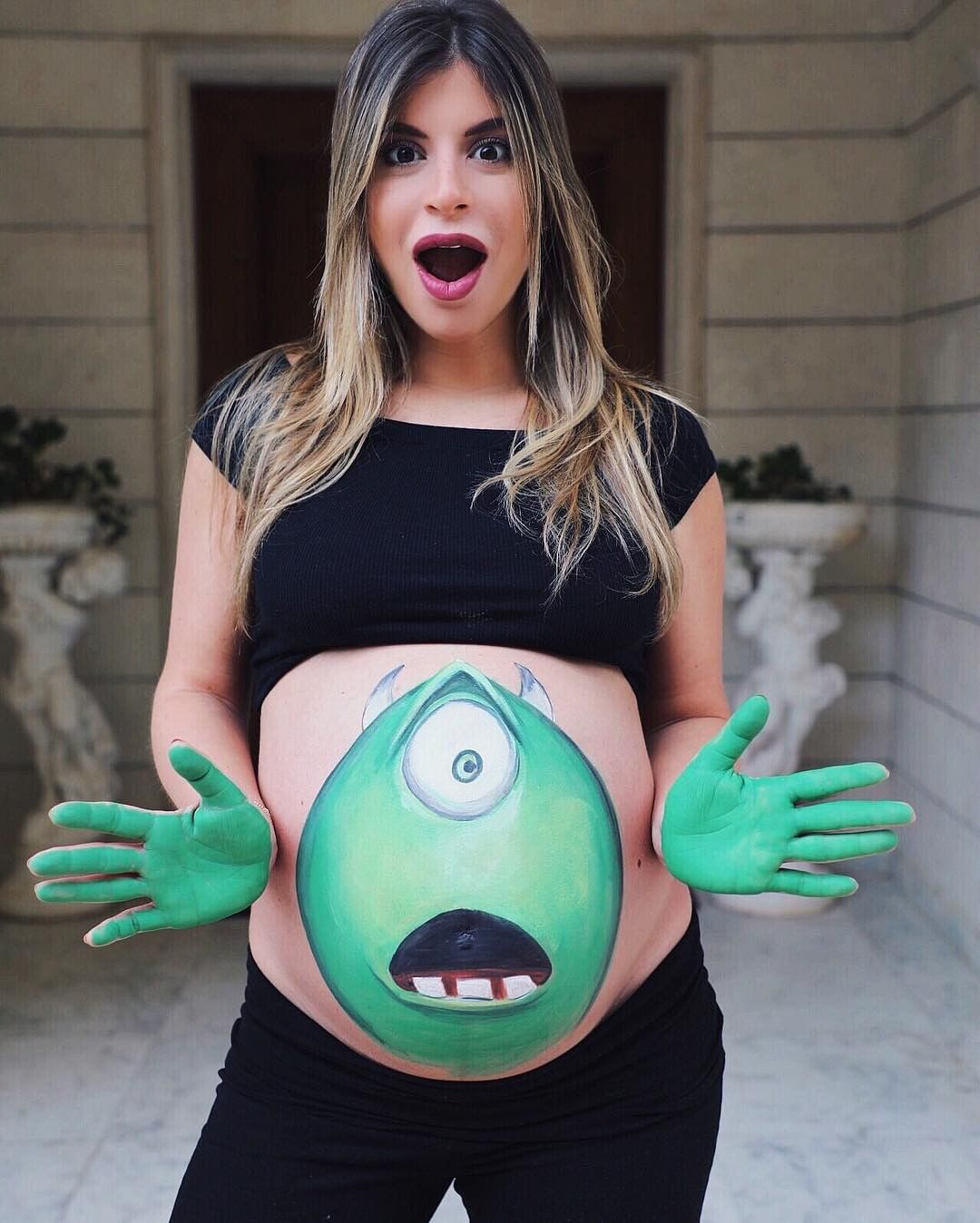 Take a look at this green monster Mike costume idea. It is a green-lit fun idea to do if you Halloween want to try your hand at painting your belly. It might be a bit chilly on Halloween day, however, a bit of discomfort is worth this awesome bodypaint.
7. Ray And BB-8 Bump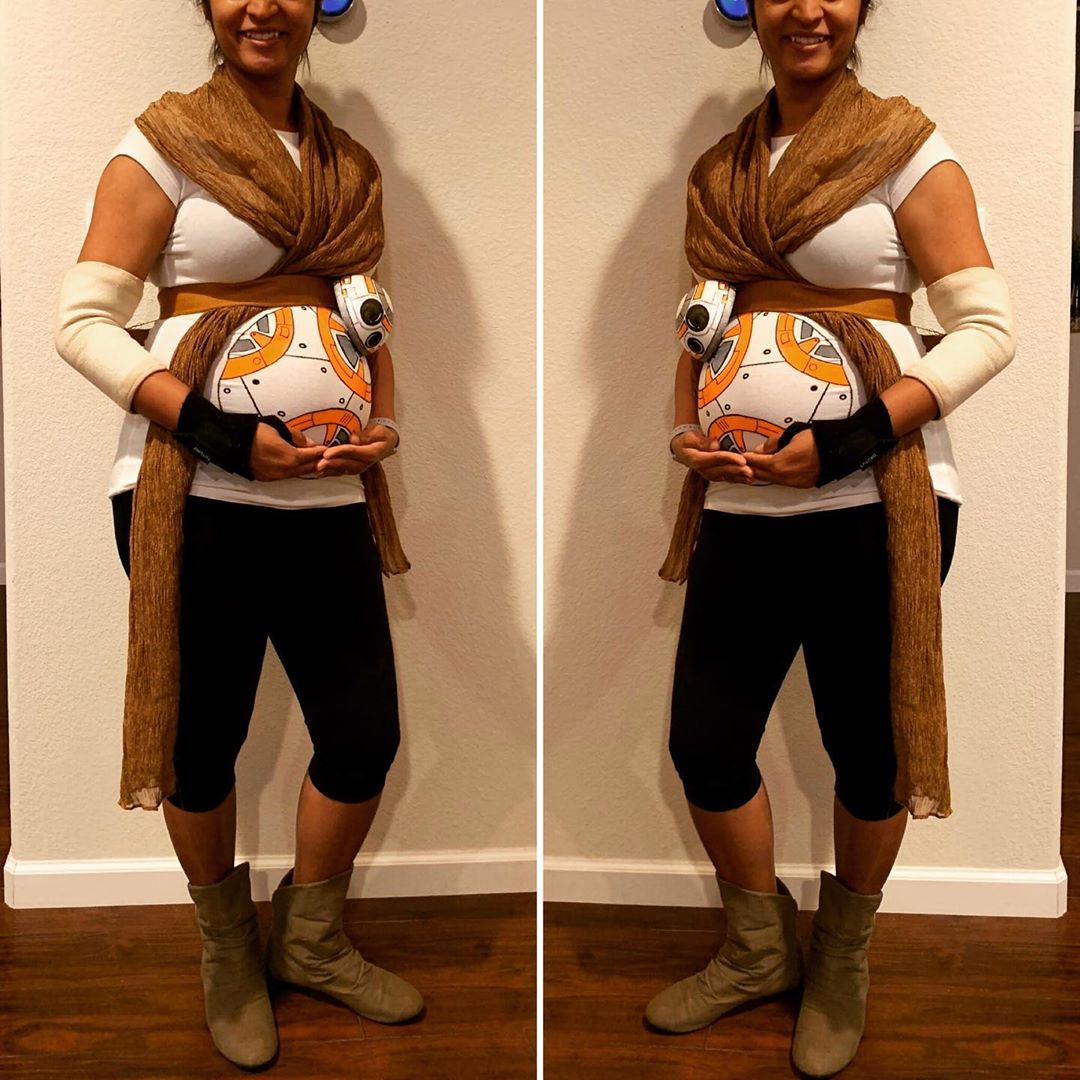 Star-wars moms will definitely have a kick to of this costume. How cute it is to carry around a tiny BB-8 android around as part of your costume. It looks so adorable.
8. A Pot Of Gold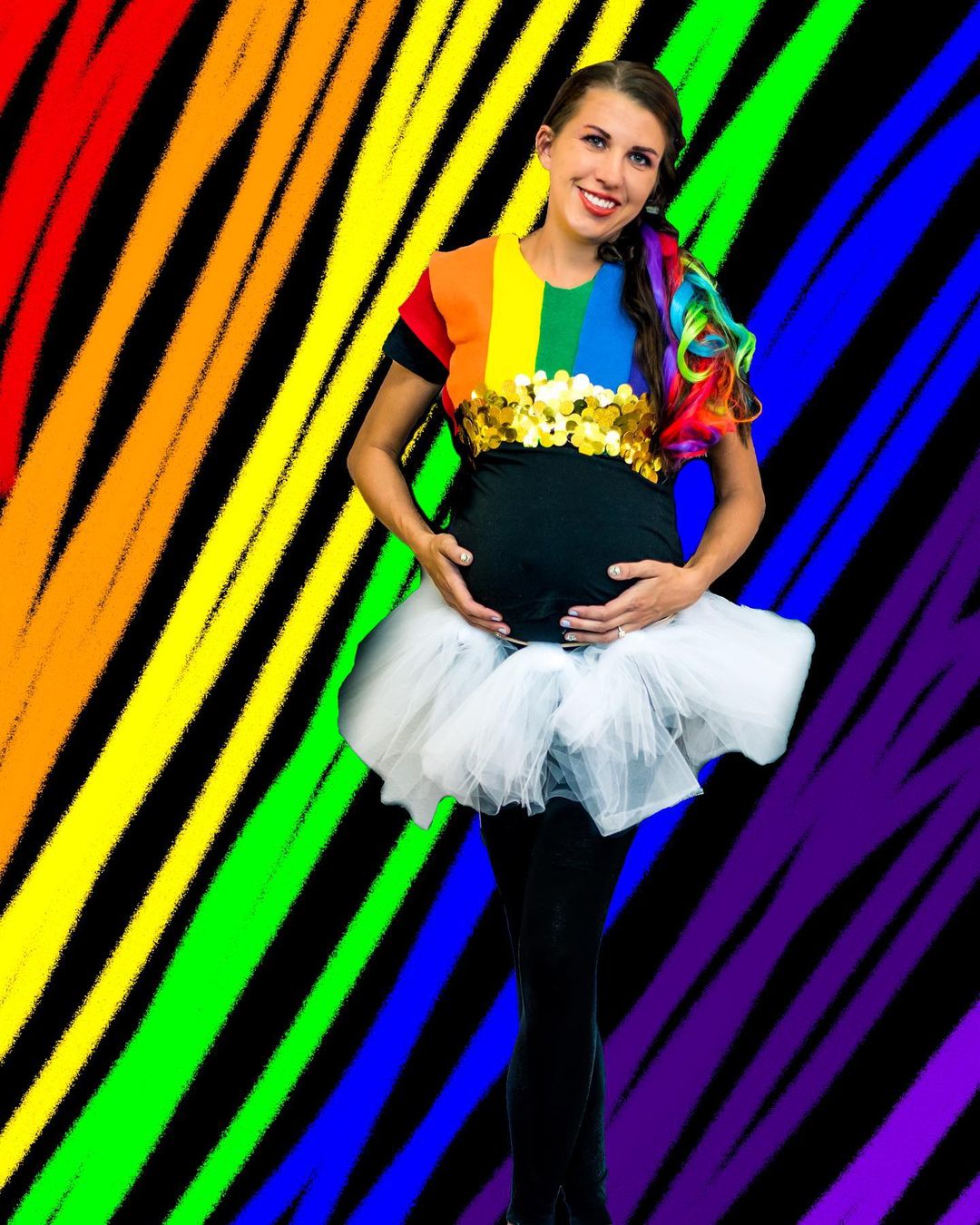 Are you still hoping to find that pot of gold at the end of the rainbow? Well, this costume not only looks fun and colorful but it can also open up your eyes to what the real treasure in life is.
9. Gold Snitch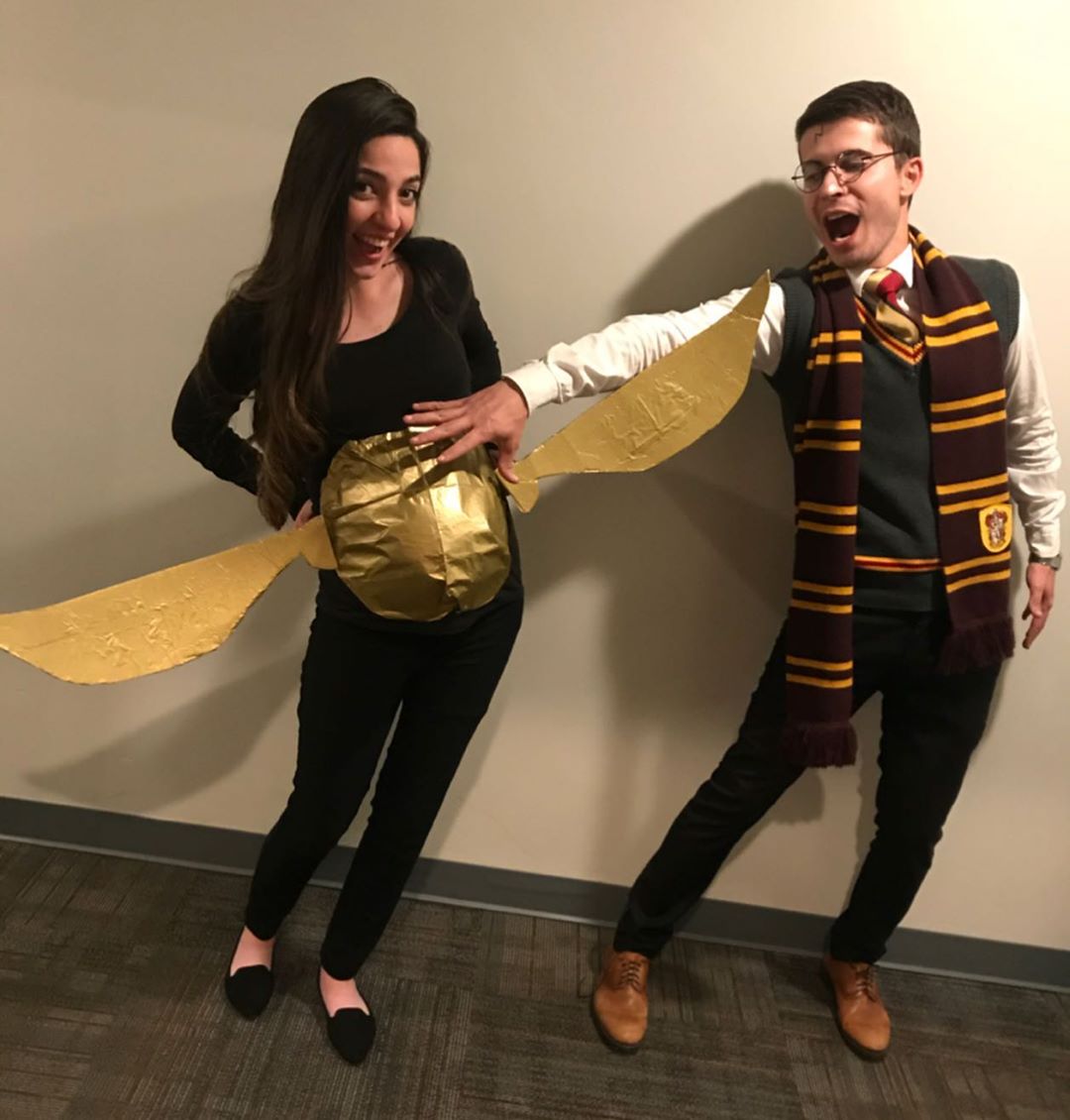 Catching the golden snitch is the highest achievement in the most popular sport of the Harry Potter universe. This gold snitch is not a fast daredevil, but it might be once it comes out.
10. Unicorn Baby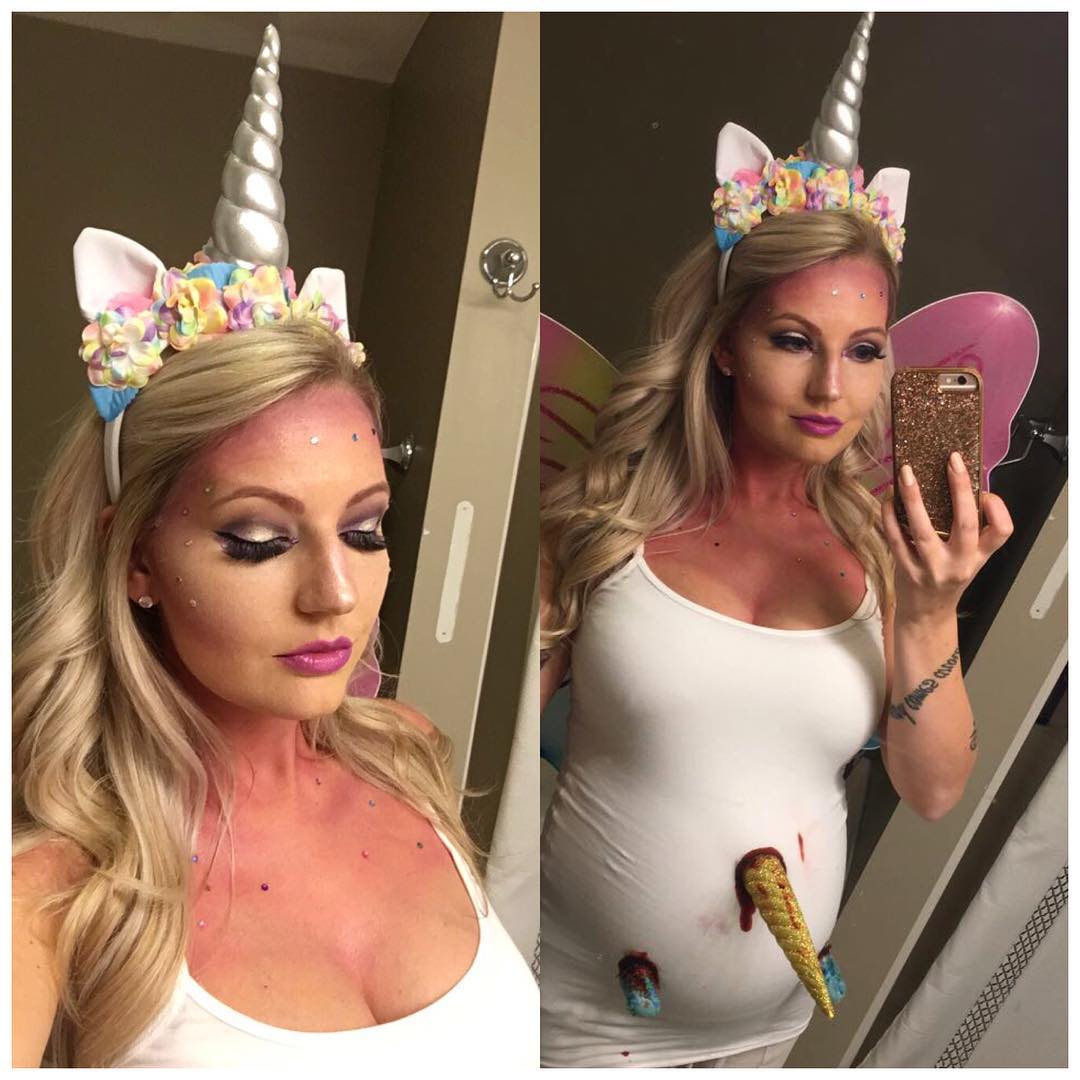 Unicorns are a very popular theme in many areas, from clothes to hairstyles, and even food. Seeing someone dressed as a unicorn should be of no surprise for Halloween, but you probably won't see many unicorn babies trying to com out of their moms' bellies. Cure and gruesome. Just what Halloween needs.
11. Fortune Teller And The Crystal Ball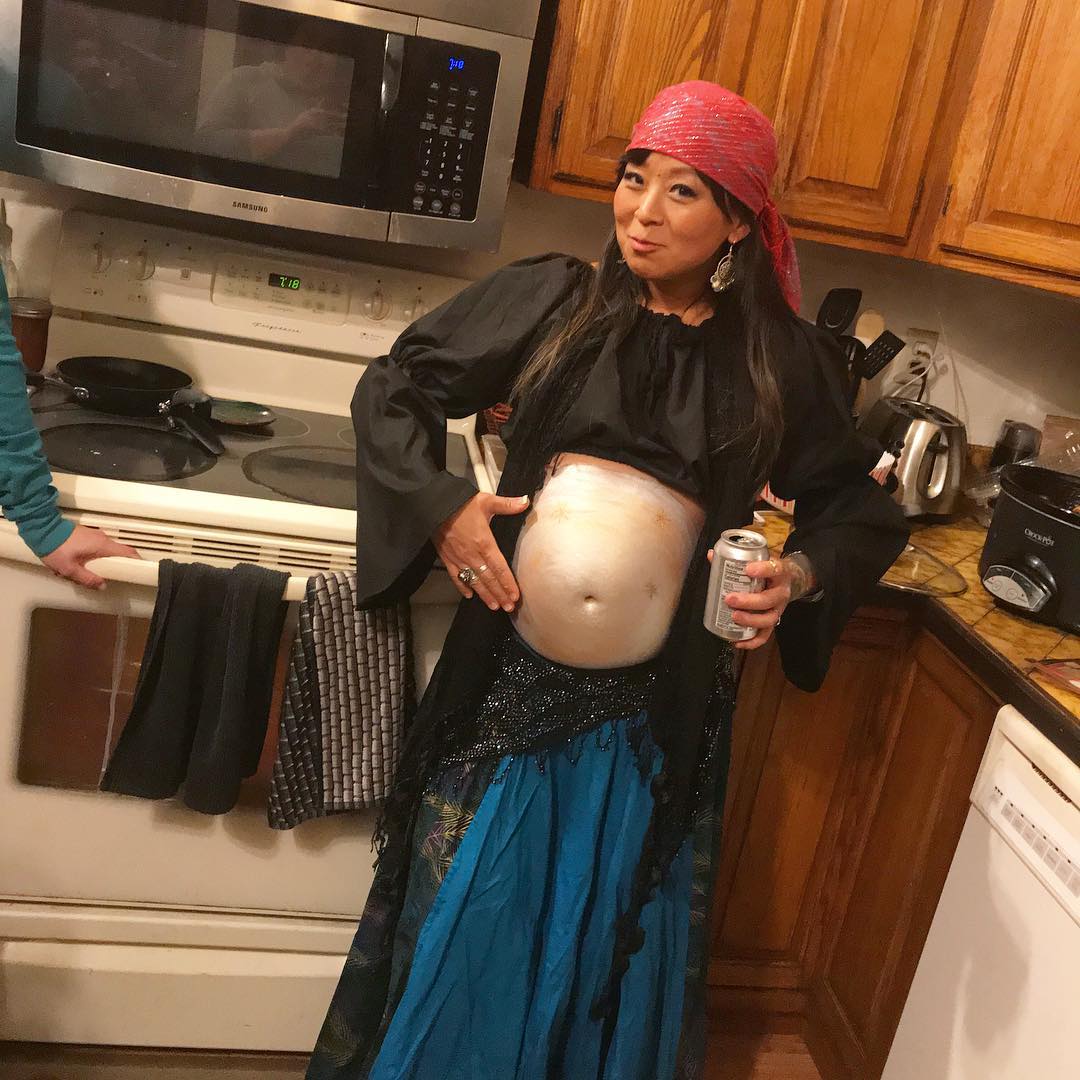 Gipsy fortune tellers are also a costume idea for Halloween that has gone in and out of costume fashion for quite some time. The most tricky part of the costume was carrying a crystal ball around. This year, make your belly a crystal ball. People would gaze at ut anyway, might as well make it shiny.
12. Kool Aid Man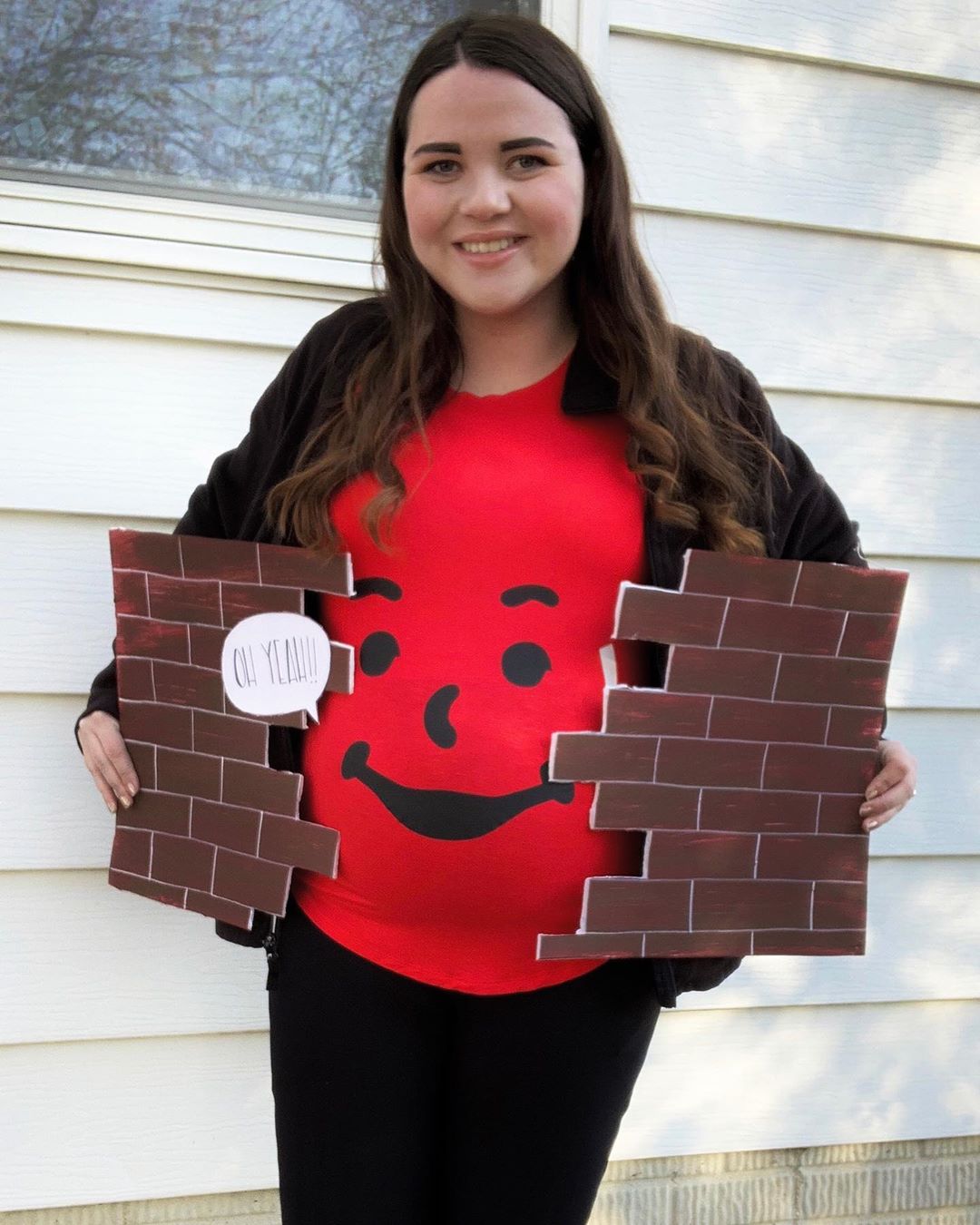 Every now and then, a new, creative costume will appear on the streets on Halloween. And it doesn't need to be anything too complex. Case in point, the Kool-Aid Man breaking through the wall. What you'll need for this costume? A big belly, red top with a smile on it, and some cutout wall.
13. Wrecking Ball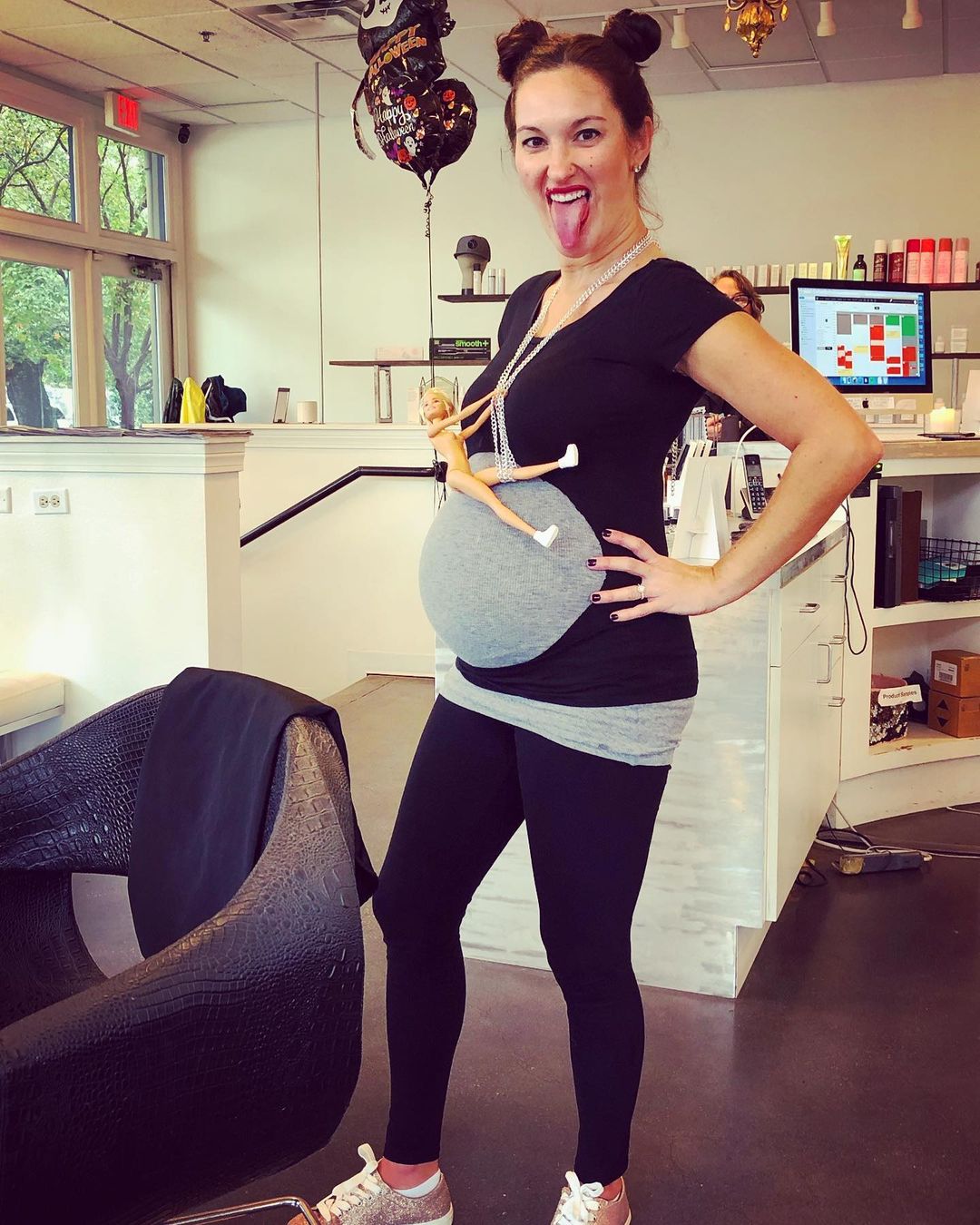 A few years back, Miley Cyrus's song Wrecking ball was a huge hit and many Miley costumes appeared that Halloween. As someone in their later pregnancy, you might not be able to swing on a chained ball or tag one with you, but you can become the wrecking ball for your barbie. Just don't try to wreck anything with your "wrecking ball".
14. Kitty With A Ball Of Yarn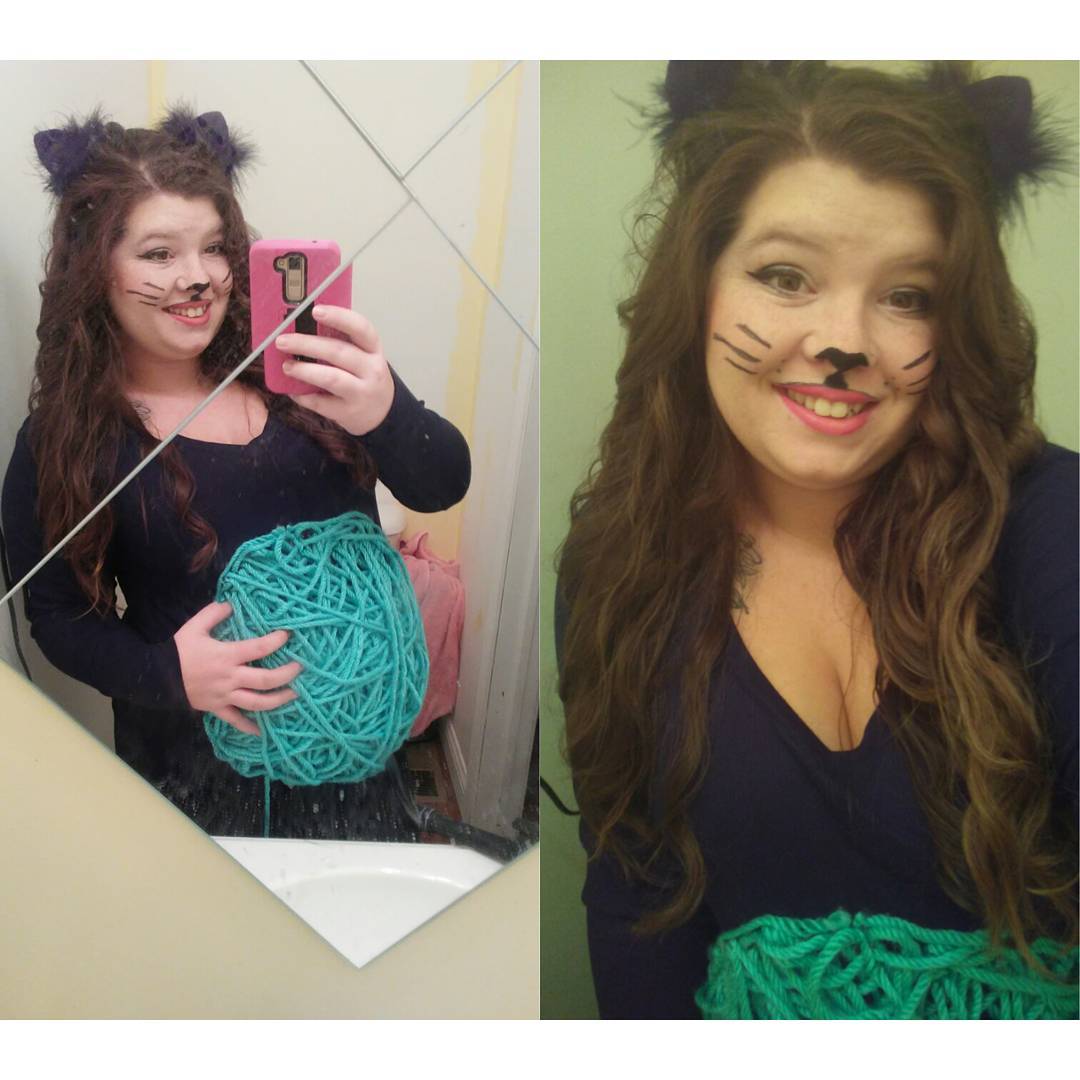 People like touching a pregnant woman's belly even without being so fluffy and enticing. So if you don't mind being petted throughout Halloween, maybe this "black kitty with the yarn" costume is just for you. If not, continue with our list. Were not done yet.
15. Chain Chomp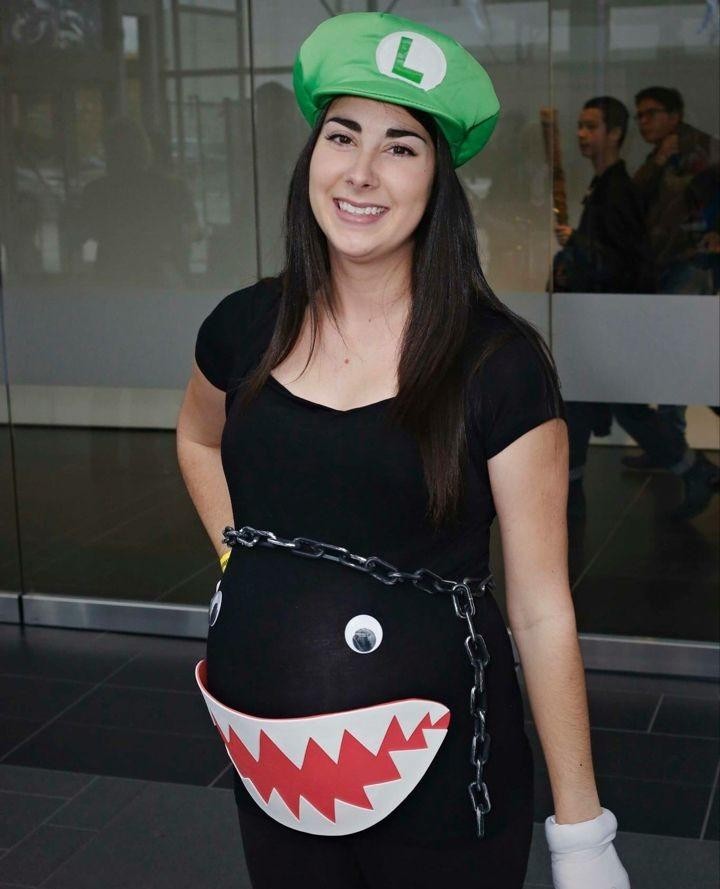 Don't worry Super Mario Fans, we have you covered. With some giggly eyes, felt shark teeth, and a chain you can turn your baby bump into chain chomp, fast and easy.
16. Homer Simpson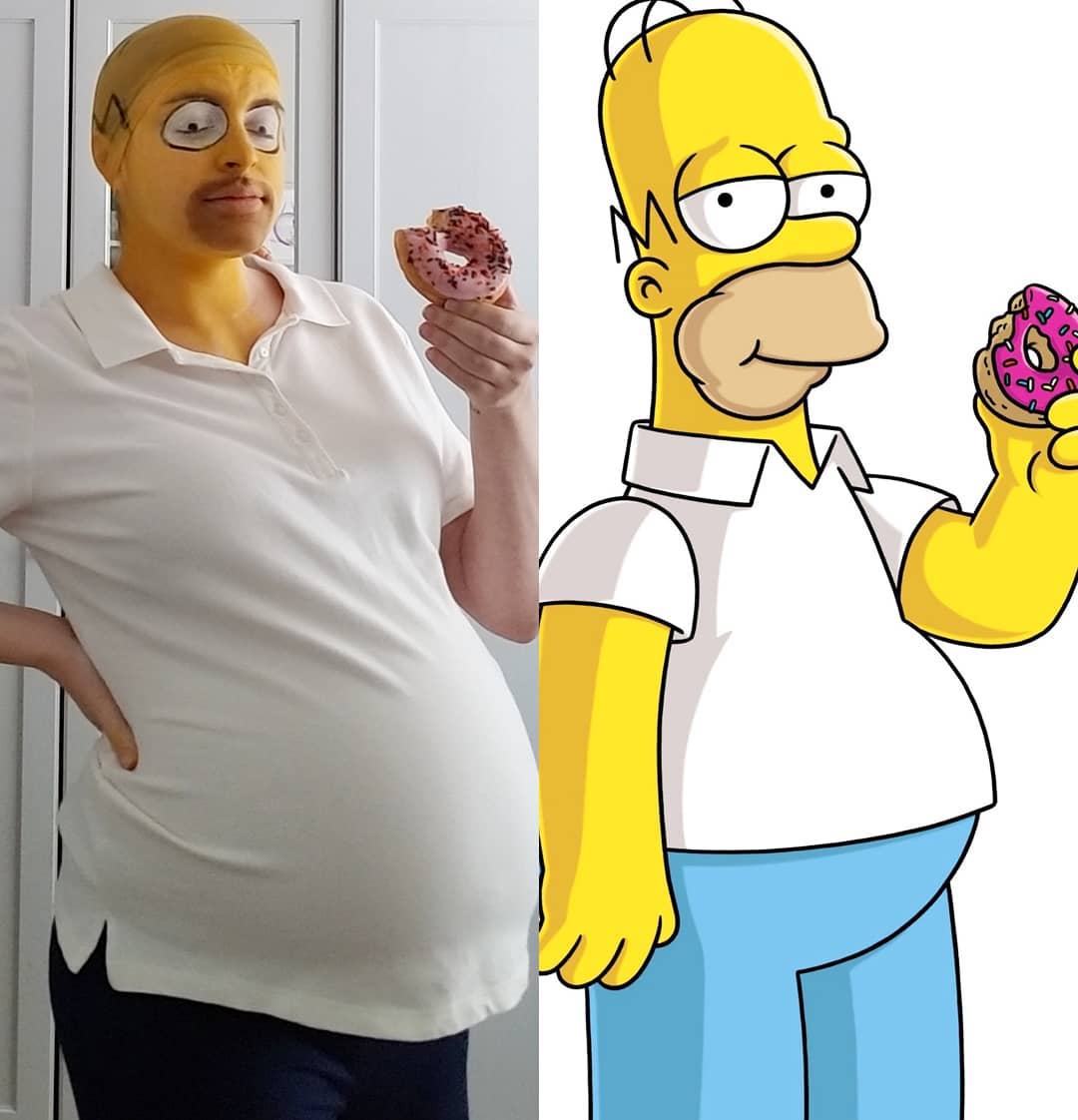 They say there are two types of girls on Halloween. The sexy ones and the fun ones. If you want to be extra fun this year and get to eat all the doughnuts you want, slap on some yellow face paint and go trick-or-treating like Homer Simpson.
17. Wilson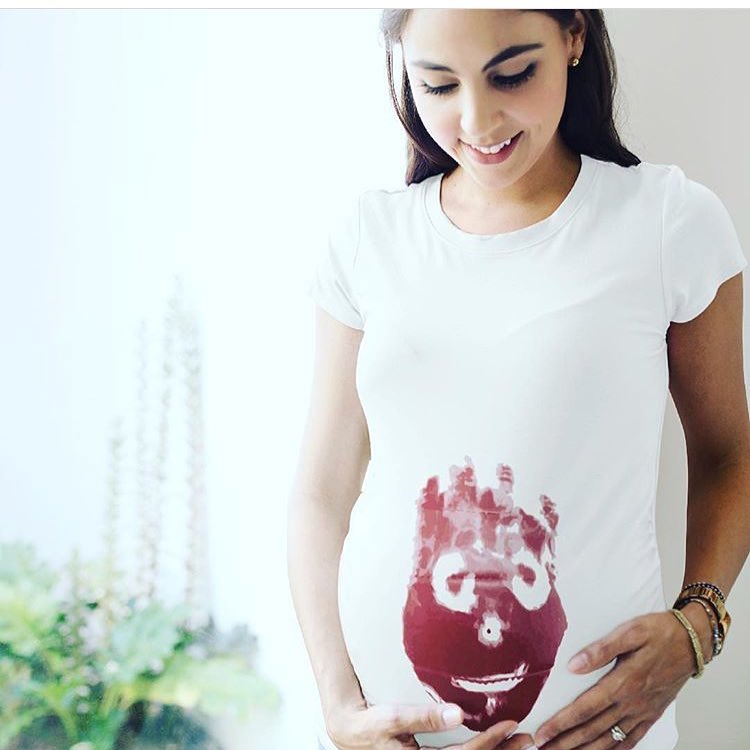 Despite being a mere volleyball, Wilson has become much as a celebrity character as Tom Hanks is in Castaway. So, if you're not in the mood to make any elaborate costumes this year, grab an old white shirt and drew Wilson over your belly. Just don't forget to bring your castaway to the party.
18. Snowman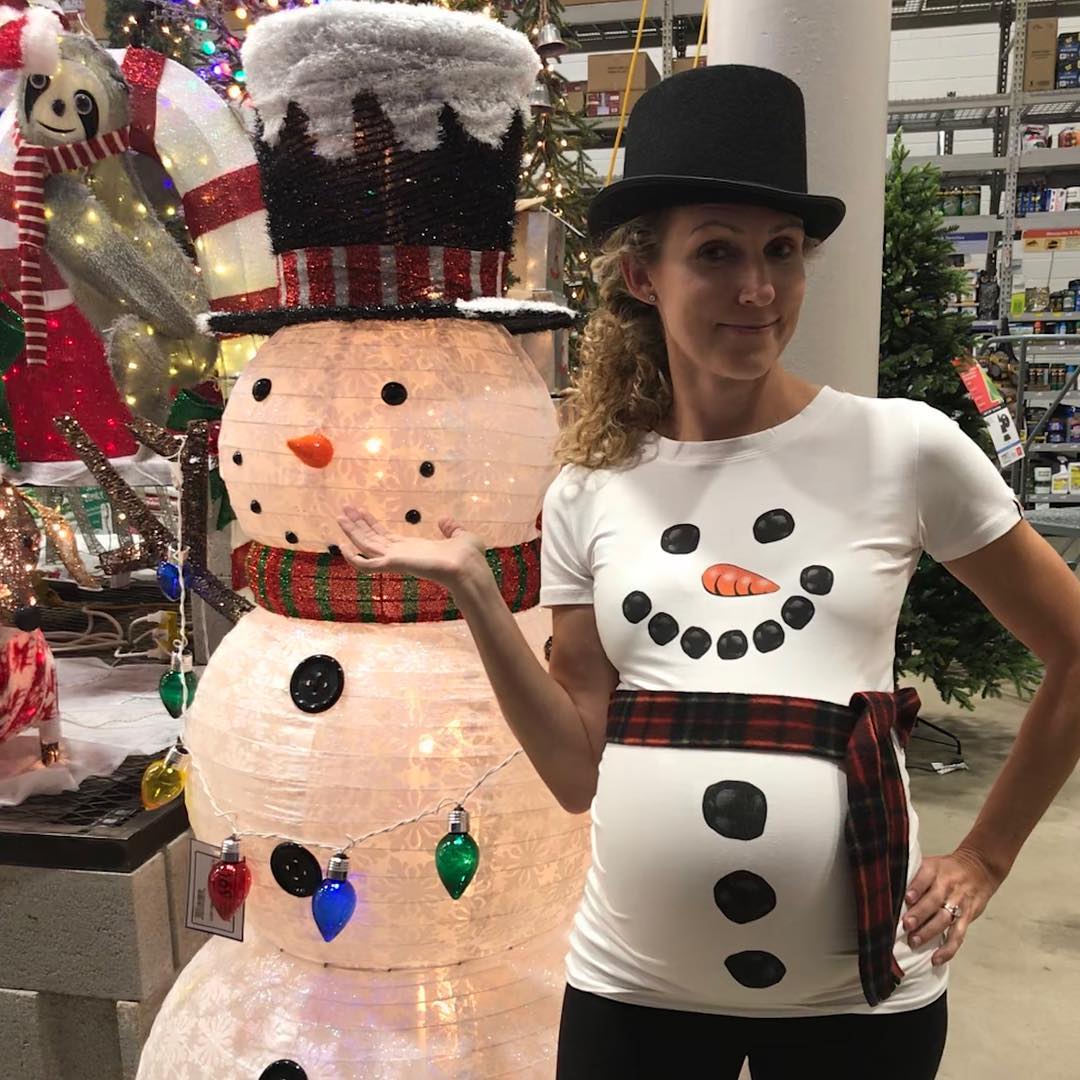 Some would say it is of bad taste, and maybe even confusing to bring symbols from one holiday into another, but when the costume is this good, you have to accept it and go with the flow.
19. Alien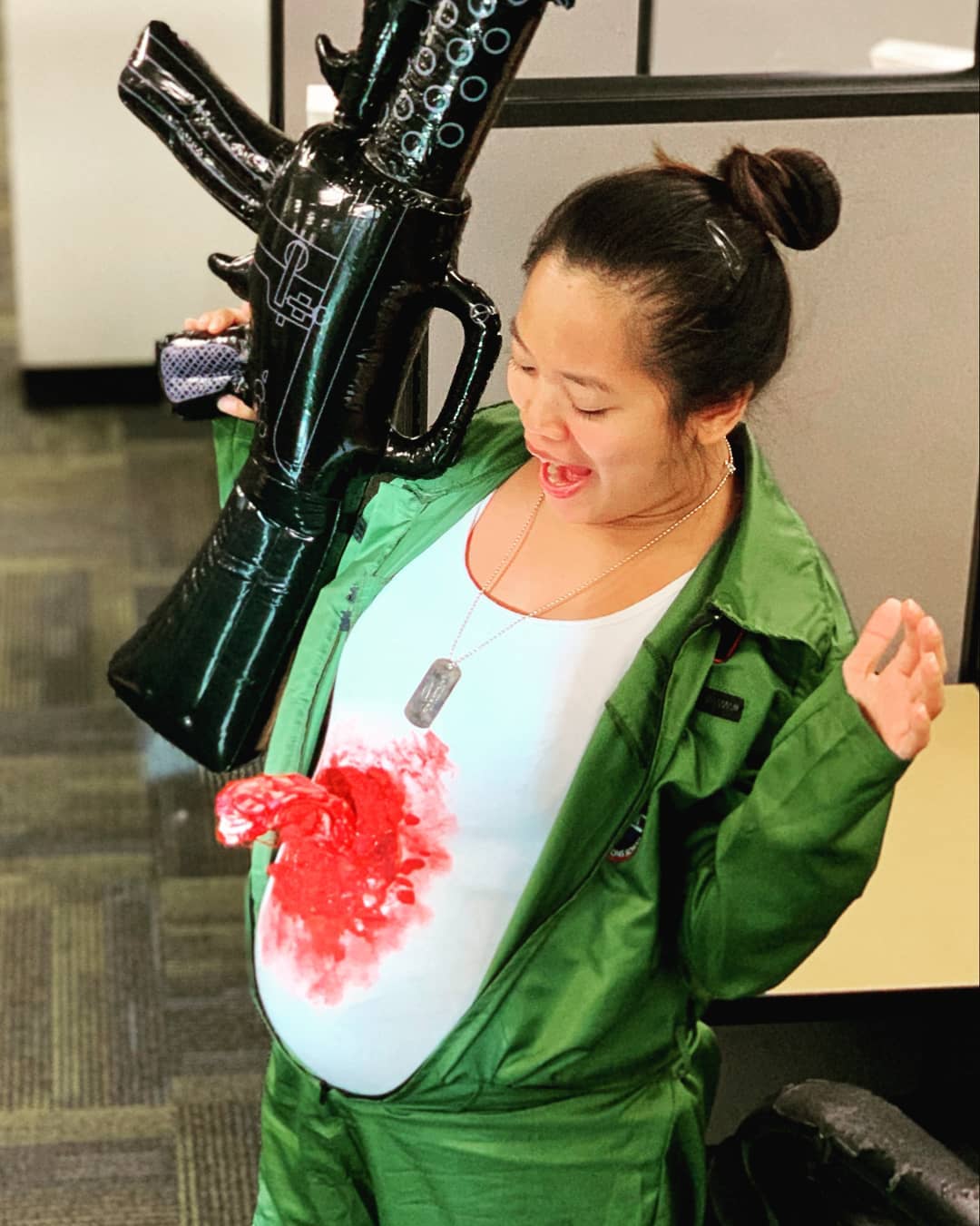 This will be our last gory costume idea and it is one we just couldn't pass out on, especially when the costume in question is such a classic. The epic alien bursting from the body costume is a great Halloween costume and a great way to keep those pesky hands off your baby bump.
20. Cleopatra's Mummy Baby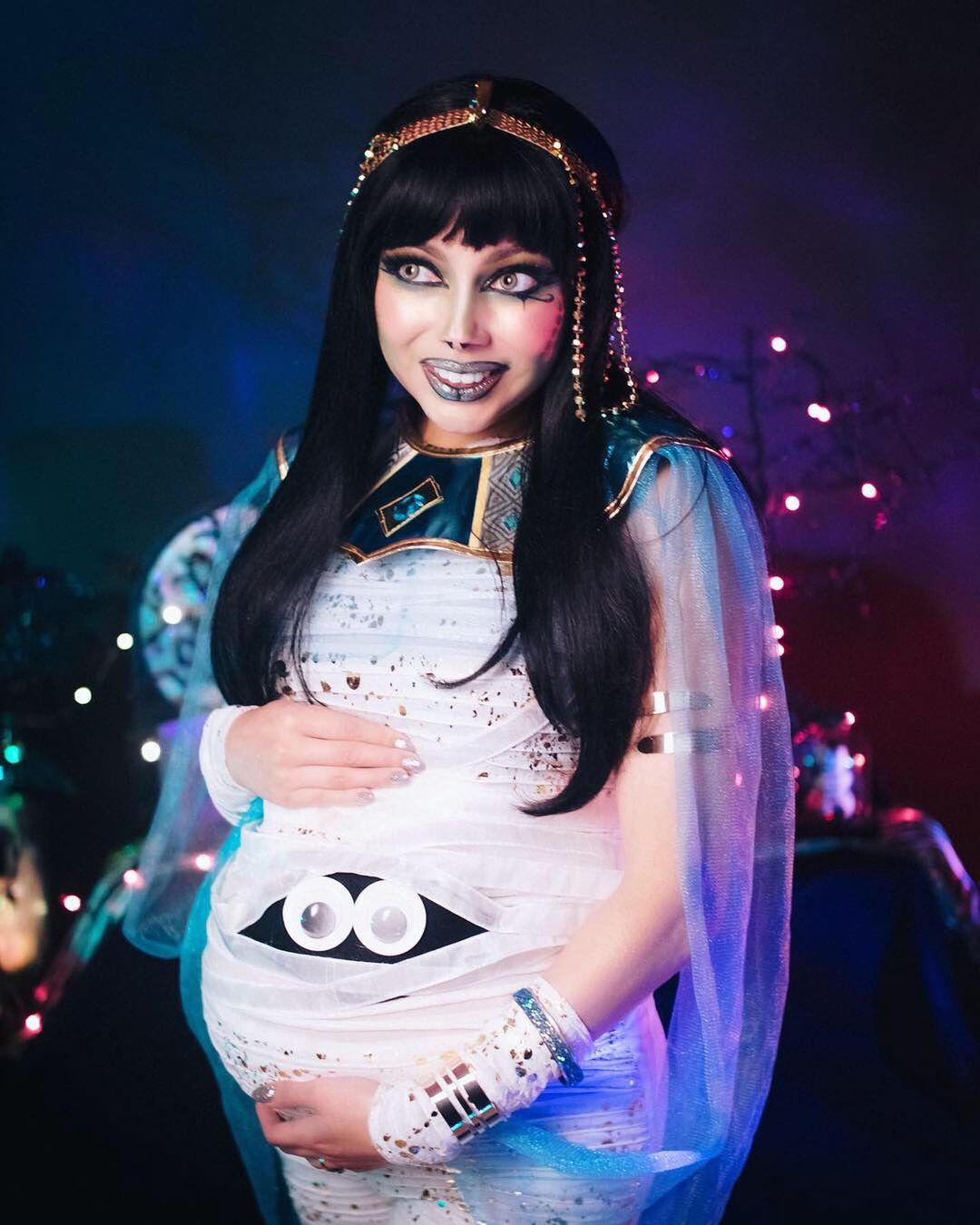 For our last costume idea, we offer the mummy queen Cleopatra and the shy little mummy. A sweet blend of elegant, funny, and scary, the best of all Halloween worlds, if you want.
That's all the ideas we have for now. What was your favorite costume? How would you dress up your baby bump for this Halloween? We would love to hear all your ideas, so make sure you share them with us in the comments.