Halloween is always the most attractive for the little ones. Although it's supposed to be scary, kids enjoy being masked. Mostly their choice goes to their favorite characters, like Elsa, Flash, Spiderman, Batman, or maybe some butterflies or unicorns.
However, some of these masks, if not all of them, are not complete without face paint. Some kids can go all the way and ask for full face paint, and others might ask for some small cool painting around the eye or some part of the face. Whatever it is, the most important is for them to have fun… and feel special.
We know that all of you want your kid to be the best, with the best mask and the best face paint. That's why we have selected some ideas to get you inspired and creative when preparing your kid for the big Trick or Treat night. Of course, there are plenty of others, but this list only catches the glimpse of what there is to find on the internet.
Have a look at the photos below and find the one idea that suits you best.
1. Flash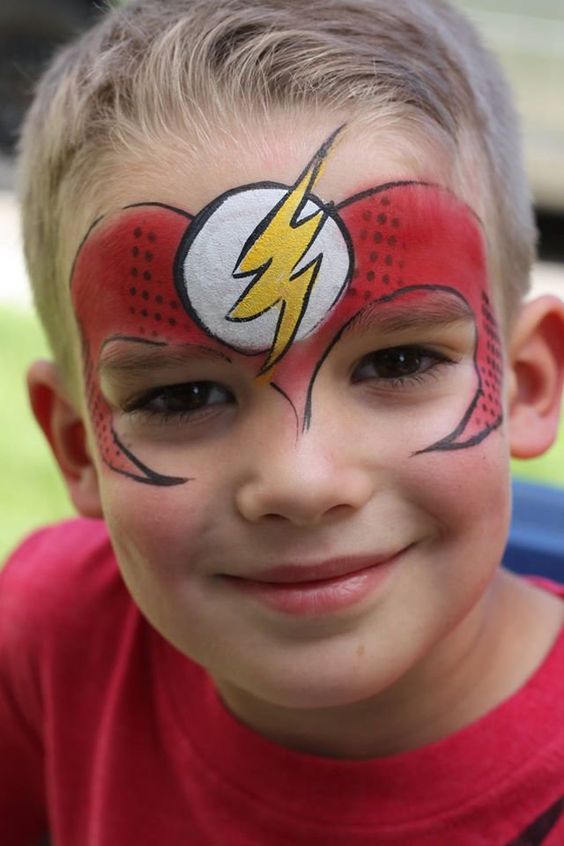 Fast like a Flash. Flash, flash, flash! It's all there in the thunder. Little boys love being fast as flash. That's why they choose to be this character. With this face paint, your boys can be even more unique when being Flash. It is simple, doesn't cover the whole face, and lets your kid admire the Flash sign on his forehead. So, why not enjoy it?
2. Sugar Skull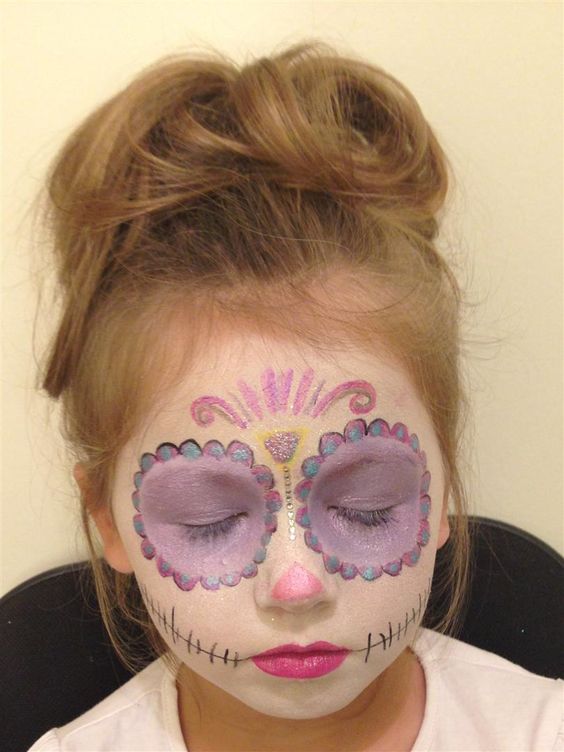 Sugar skulls are especially popular in Mexico and Latin America. But, for Halloween, they can be a softer variant for those girls that like to be a little spookier, and still retain their grace and elegance. The sugar skulls are decorated with pearls and beads in different colors, and usually have a flower, which makes them more acceptable for young ladies.
3. Bat-man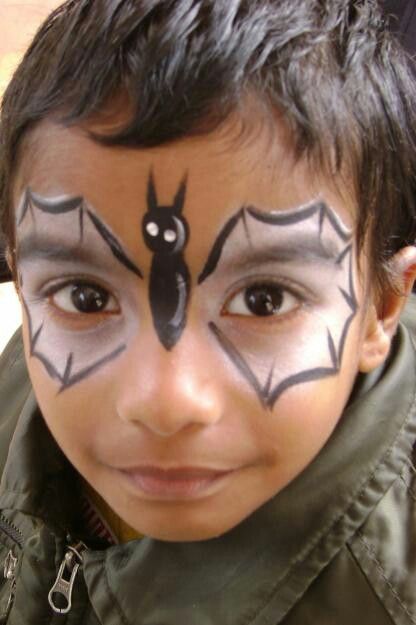 Batman or simply a bat is fun for kids to have as a Halloween face paint. This idea is not full face paint and covers only the area around the eyes. It is cool for kids that want to be original and have their own style. With the body of the bat on the nose, they will certainly feel special and different from their friends. Let them enjoy the fun of Halloween.
4. Angry Clown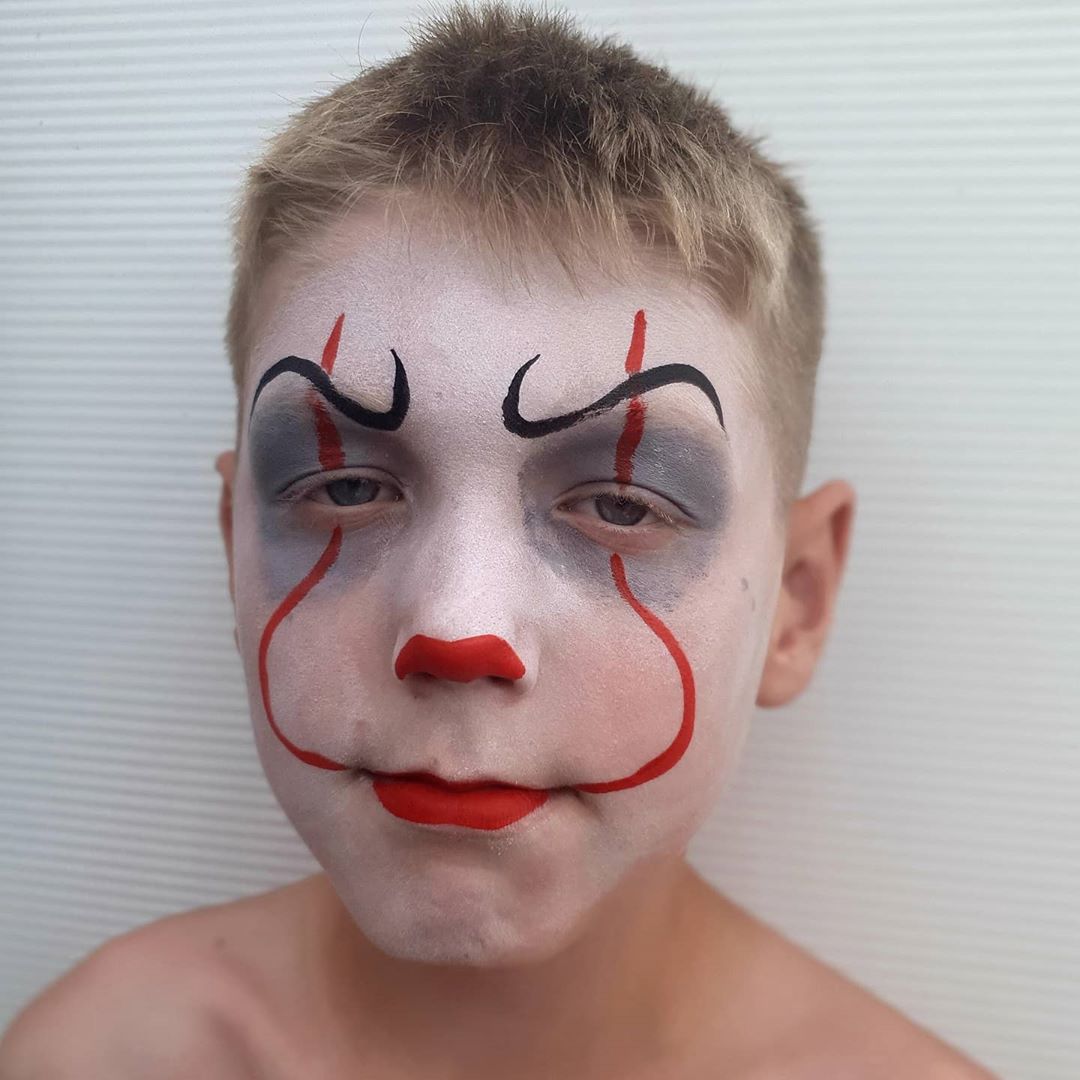 Sad clowns, angry clowns, crying clowns, scary clowns. They all take part in the Halloween fun. Choose the one your kid likes and paint it on his or her face. Pair it with colorful clothes or old pants and a coat for maximum effect. It will be fun, and scary enough when they go out trick or treating with their friends.
5. Half Skull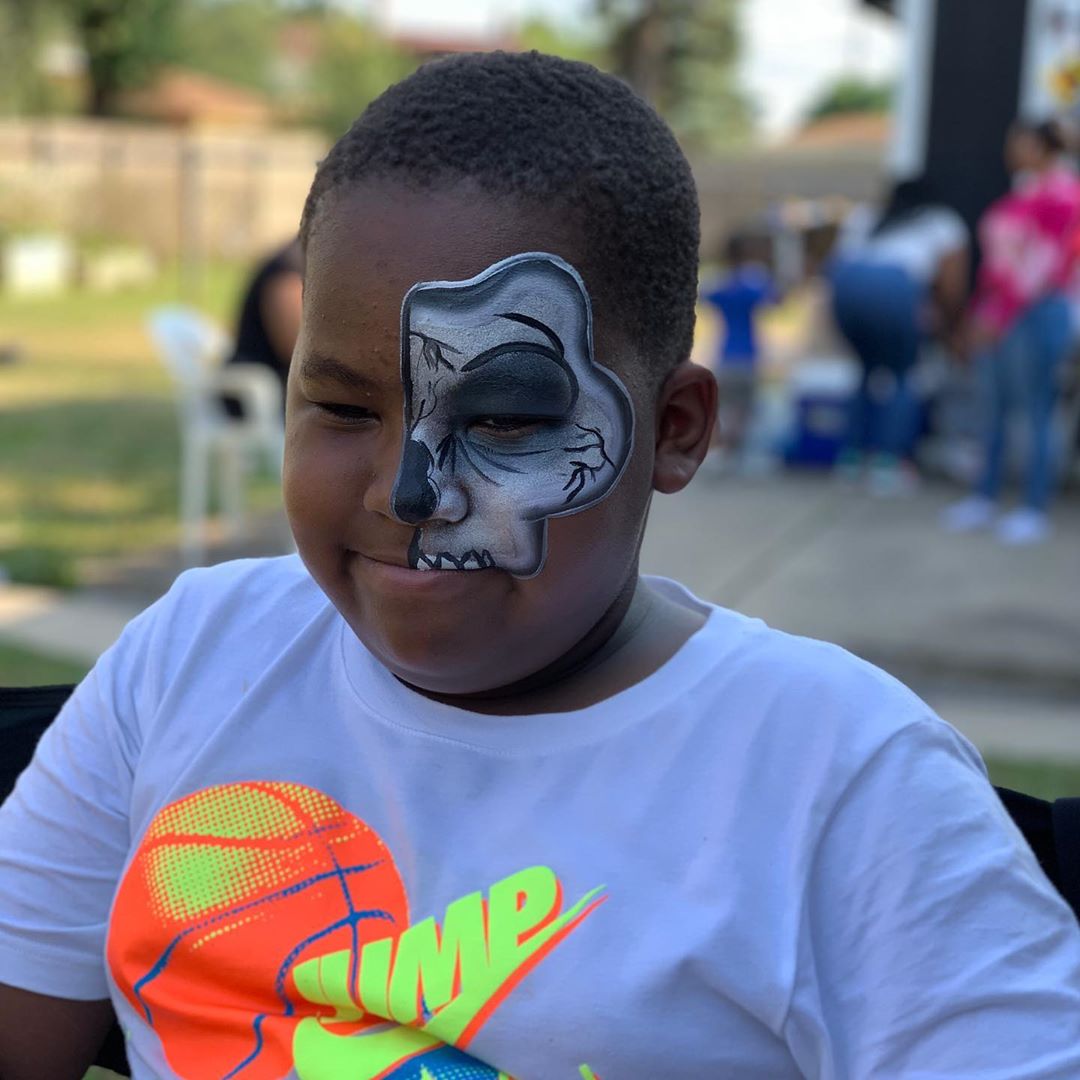 Even a half skull can show the beauty and the spookiness of a skeleton for this Halloween. This idea shows how great masks don't always need to be big and glamorous. They can be simple and effective as this half skull around the kid's eye. It is spooky enough, it is cool enough, it is interesting for both kids and grown-ups to enjoy the scary fun.
6. Bumble Bee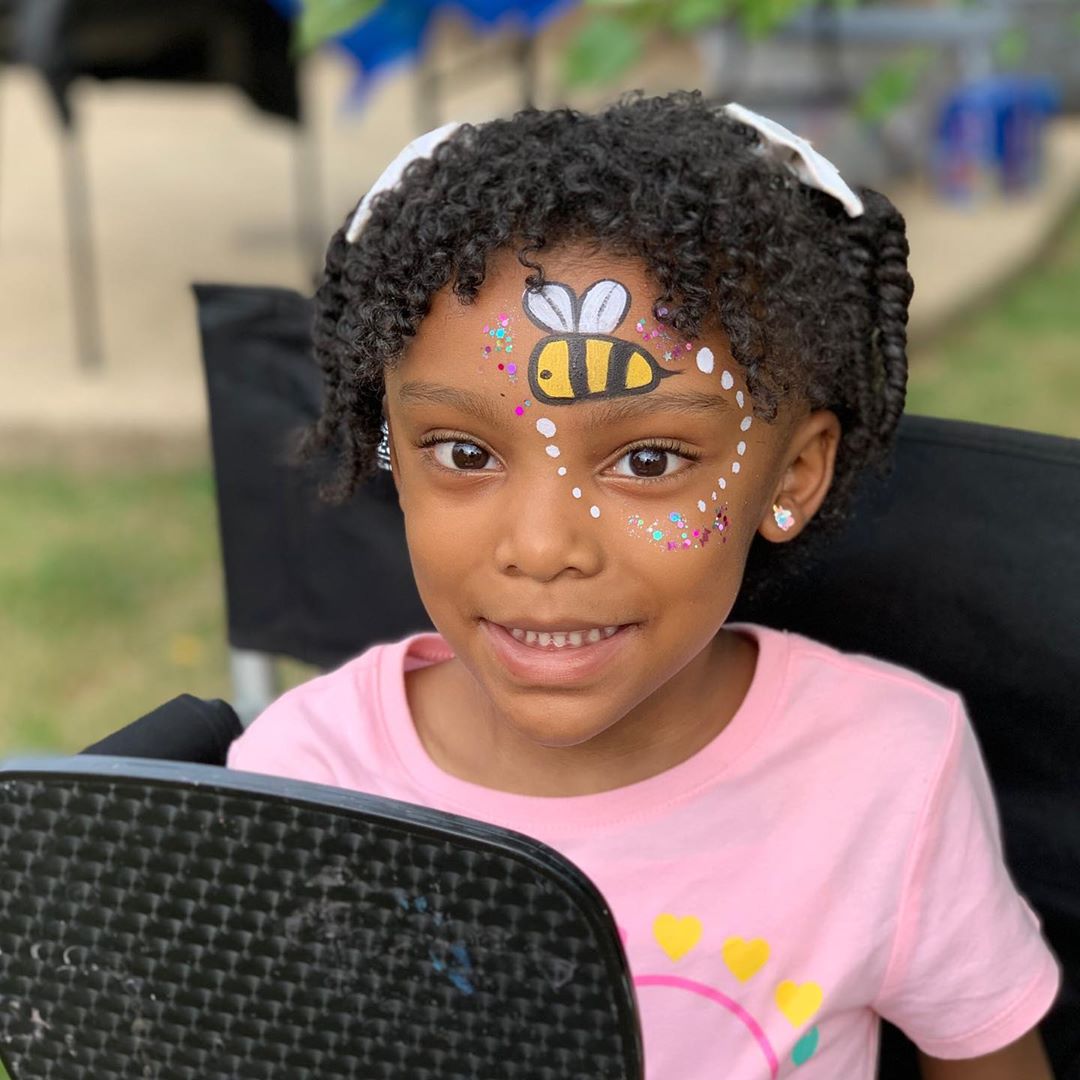 A bumble-bee? Why not? This small, simple, and cute face paint is great for little girls who can't stay still for longer painting. It captures the elegance of the bee and the simplicity of nature. It is still fun and cool to have, and at the same time, it is easy to make. Let your little girl enjoy being a bee.
7. Half Spiderman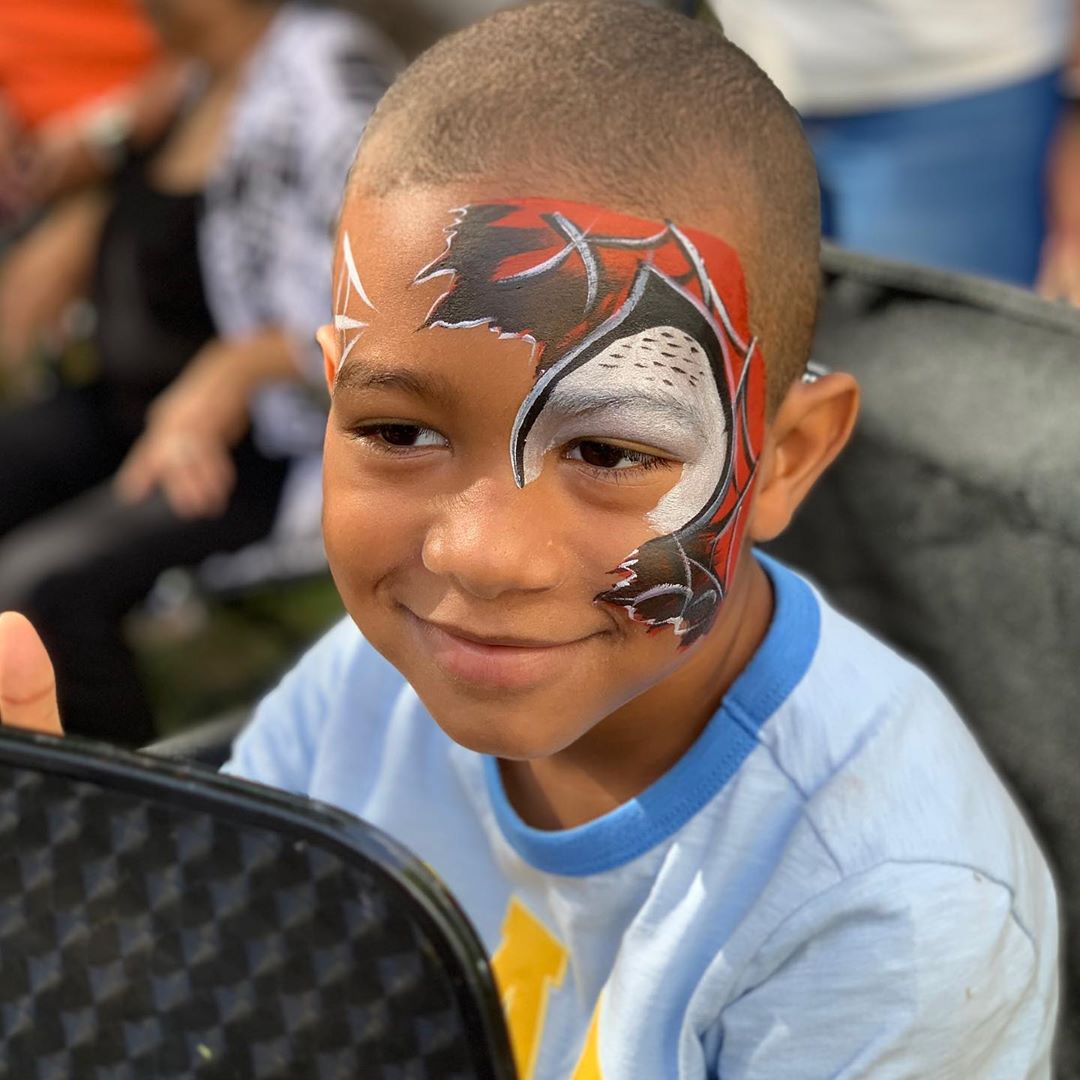 Sometimes it takes only a bit for a kid to be happy. Like this half Spiderman paint. Only the area around one eye is painted as Spiderman, and the rest of the face is clean. It is great for those that are not into heavy makeup and face paint. It is still Spiderman, it is there and it is cool. So, let it be!
8. Spider-Bat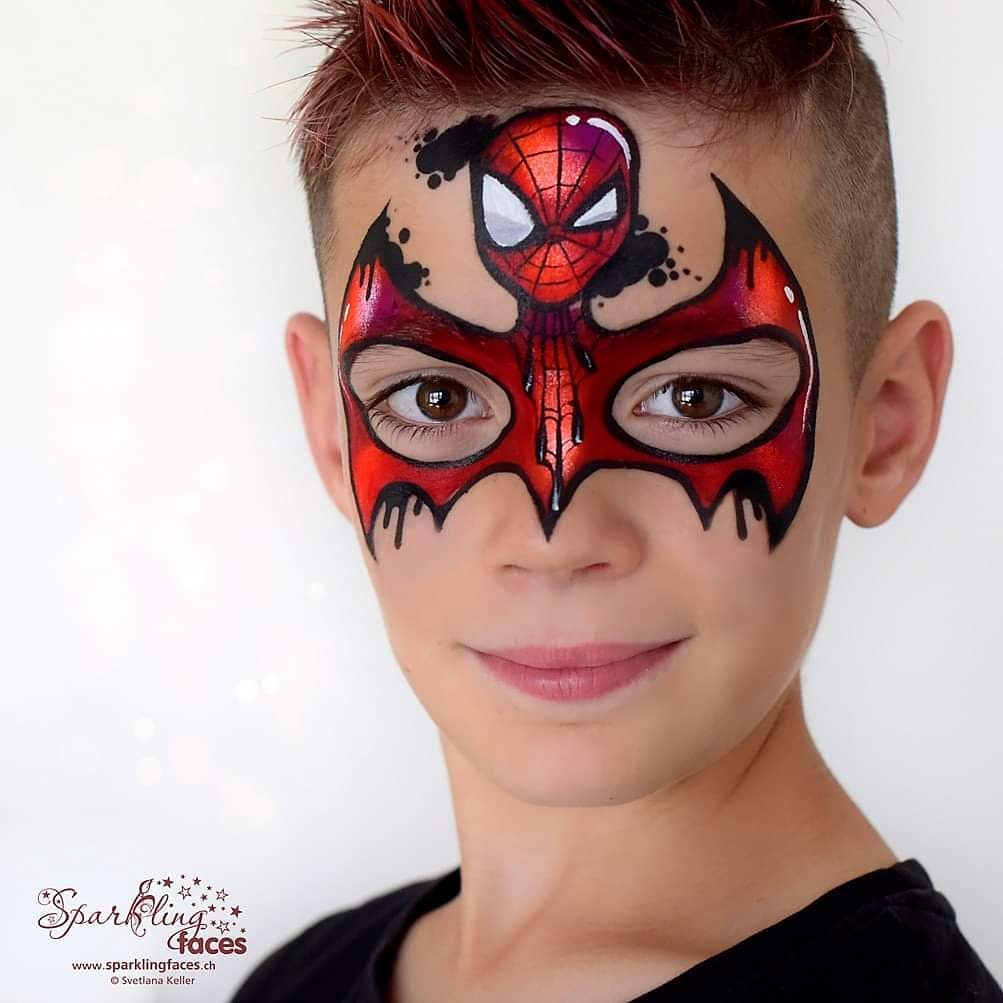 Spiderman or Batman? This is the usual dilemma for boys. They love both of these characters, but it is difficult for them to decide which one to be this Halloween. So, this idea gives you the perfect solution for being two-in-one, a Spider-bat. Drawn like a bat, and painted like a Spiderman, it combines both characters and still looks cool and charming. Enjoy it.
9. Butterfly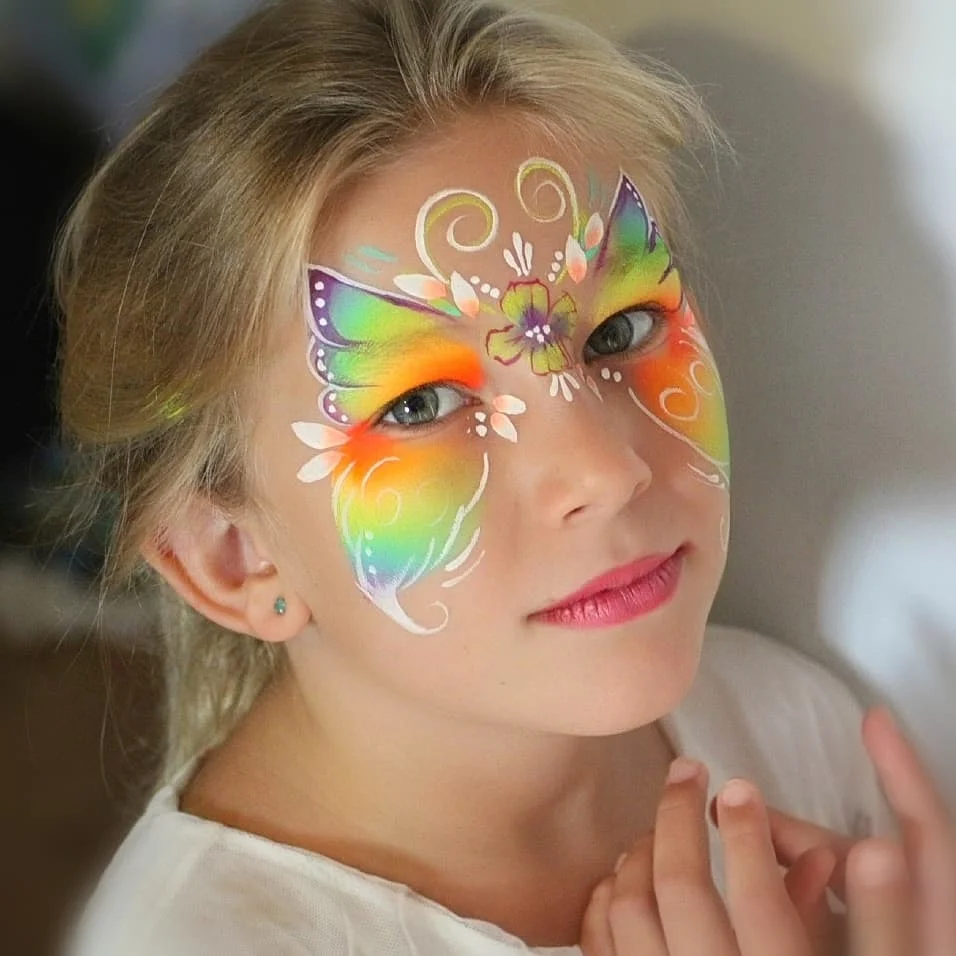 Girls usually choose butterflies for face paint. And these can be also very pretty if you choose the right colors. Make your little girl shine in this butterfly face paint with two butterflies standing on a flower between them. She will love it, and the paint will make her feel special and elegant as a real butterfly.
10. Rainbow Cat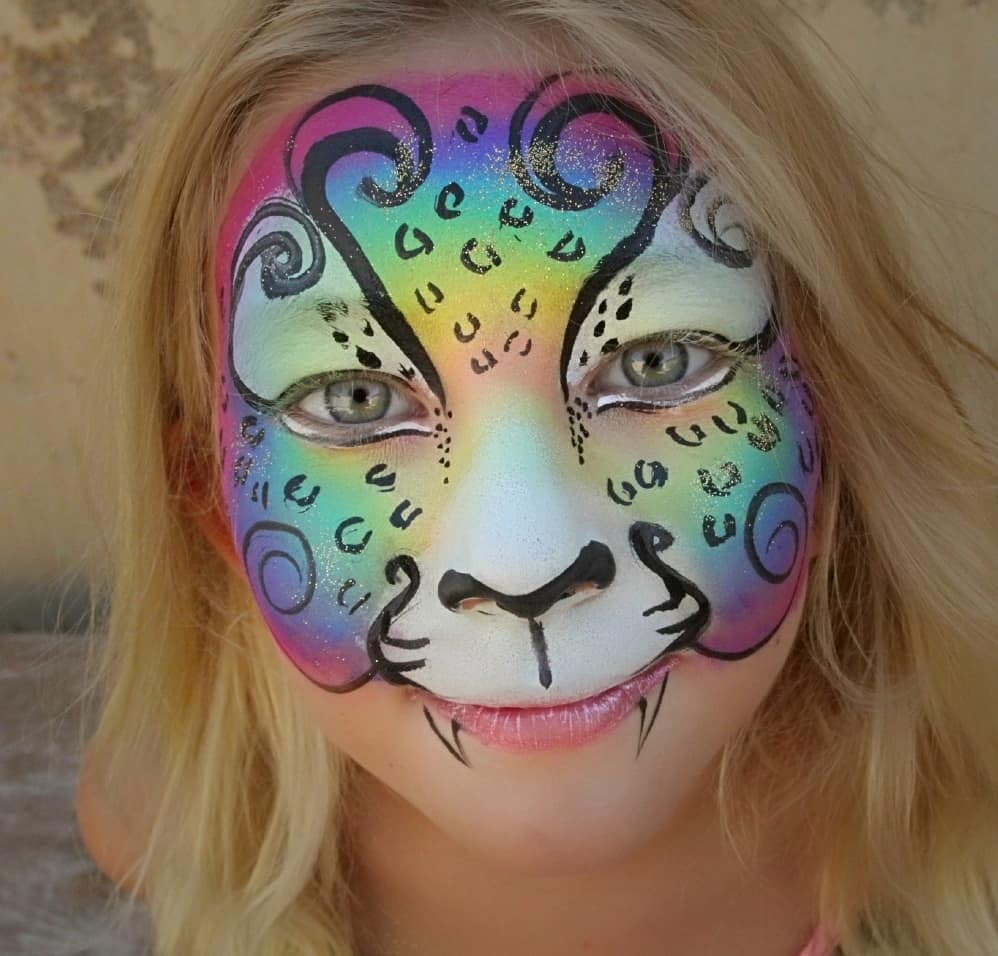 Cats are very often a choice for girls to mask for Halloween. Probably because cats are related to witches and to Catwoman. This idea shown here is very original since it is a rainbow cat. If your girl loves being a cat but also loves the colors of the rainbow, face-paint her in a rainbow cat. She will be super happy and you will be proud.
11. Skeleton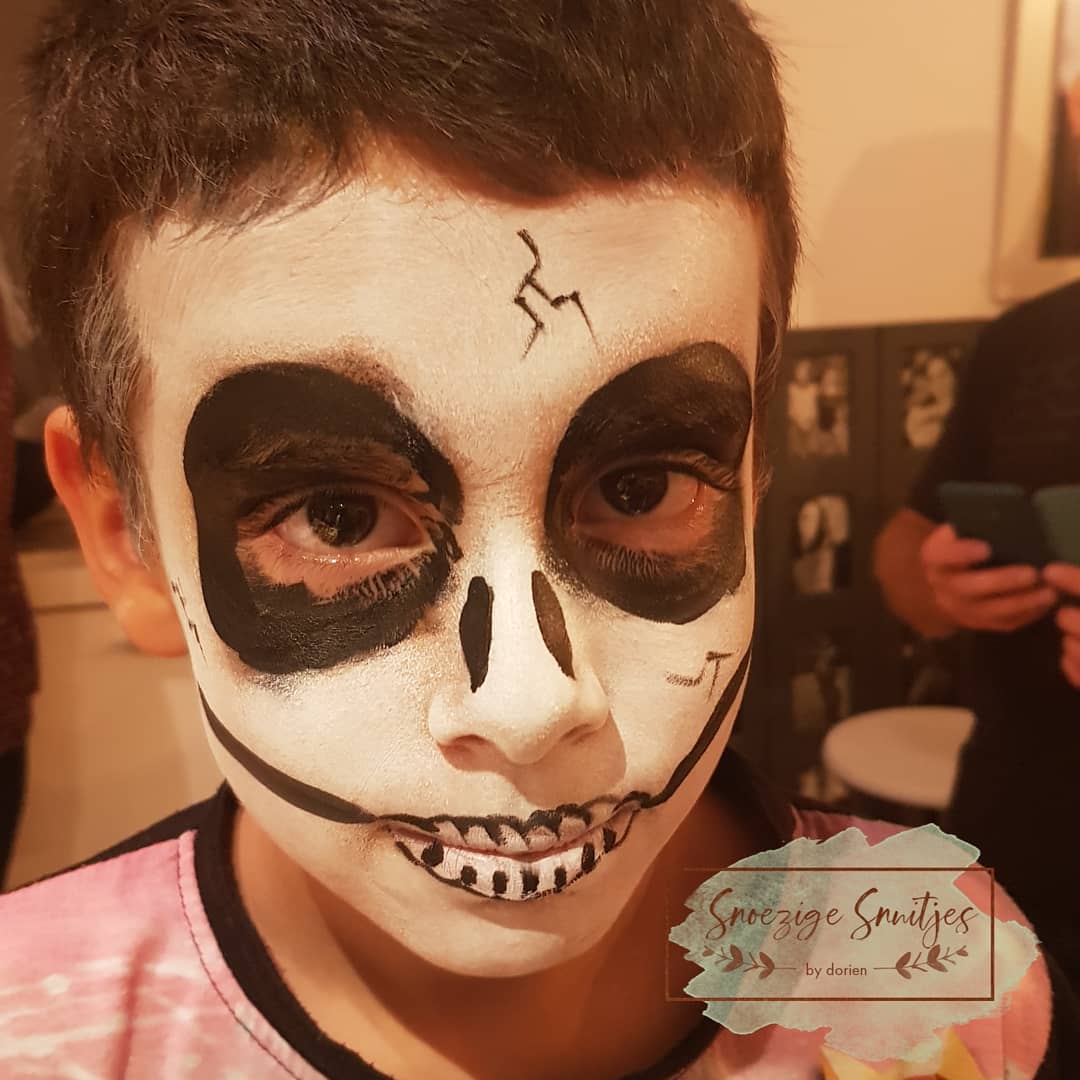 The king of Halloween is the skeleton. Usually, kids that love spookiness love having a sull painted all over their faces. It is unique and fun, and not difficult to make. It is black and white only and you need some drawing skills to create it. Make sure you paint the area around the eyes in black and the rest of the face in white to create the perfect look.
12. Spooky Zombie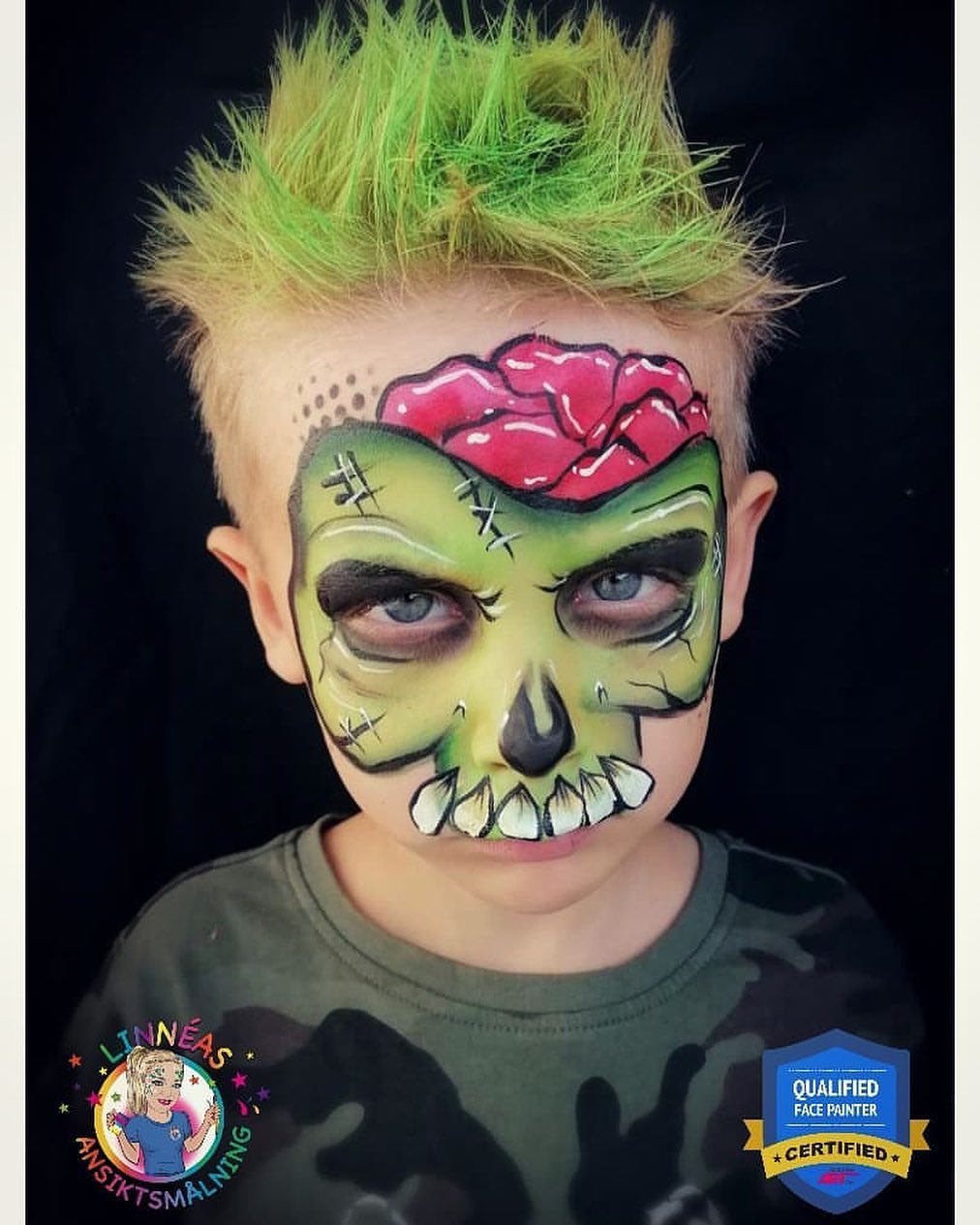 Zombies are so related to Halloween, that they are considered second in line to the throne, after the skeletons. This idea of a zombie face paint is great for those kids that love being spooky. Green color, big teeth, and a piece of brains pipping from the top of the head (on the face) are great to show just how spooky your kid is when it comes to Halloween. Let him enjoy it.
13. Funny Bunny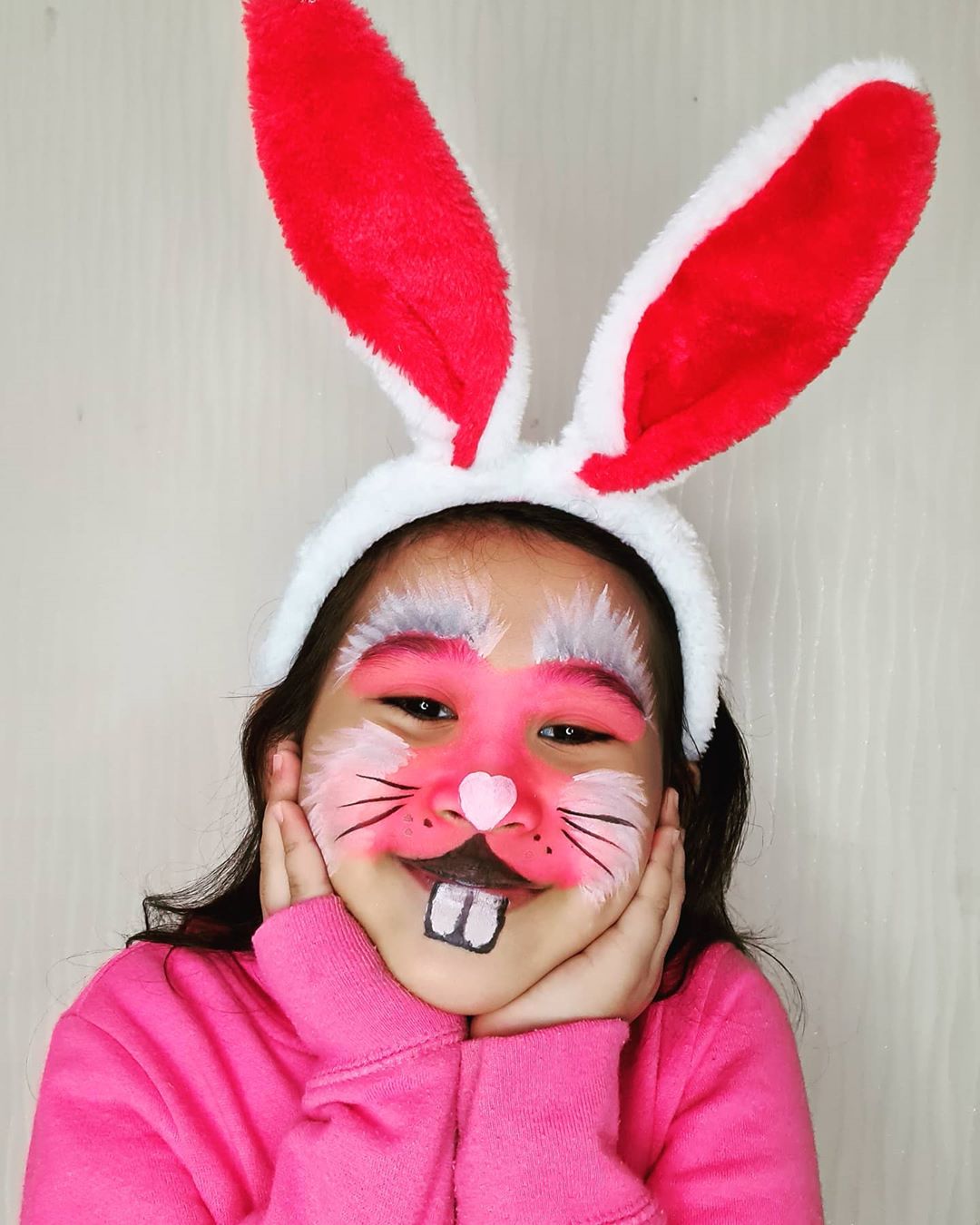 Funny-bunny is always great fun for kids. They love it. This face paint combined with a pair of bunny ears is the best way to easily mask your kid for the kindergarten Halloween fun. It is cheap, yet unique, and super cool. It doesn't take a lot of skills to make it, and the result is always great. Happiness will be doubled. Always!
14. The Lion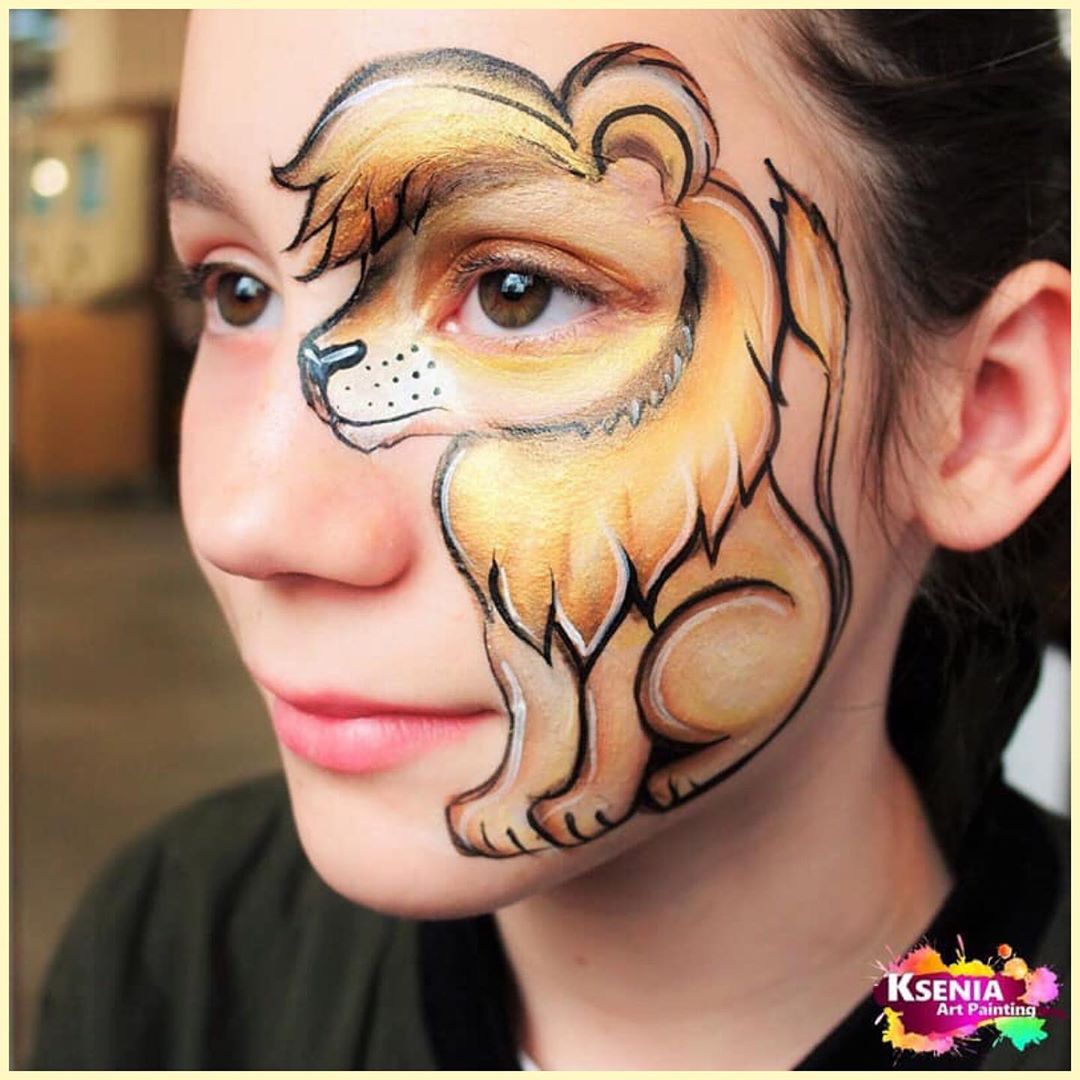 The Lion, the Witch, and the Wardrobe… The lion. This is an idea of how to face paint a small lion on your kid's face, using his own eye as the eye of the tiger. It is fun and cool, and so elegant at the same time. Your kid will be happy, especially if it is not a fan of heat makeup and paint. Let it enjoy the uniqueness and grace of the lion.
15. Frozen Elsa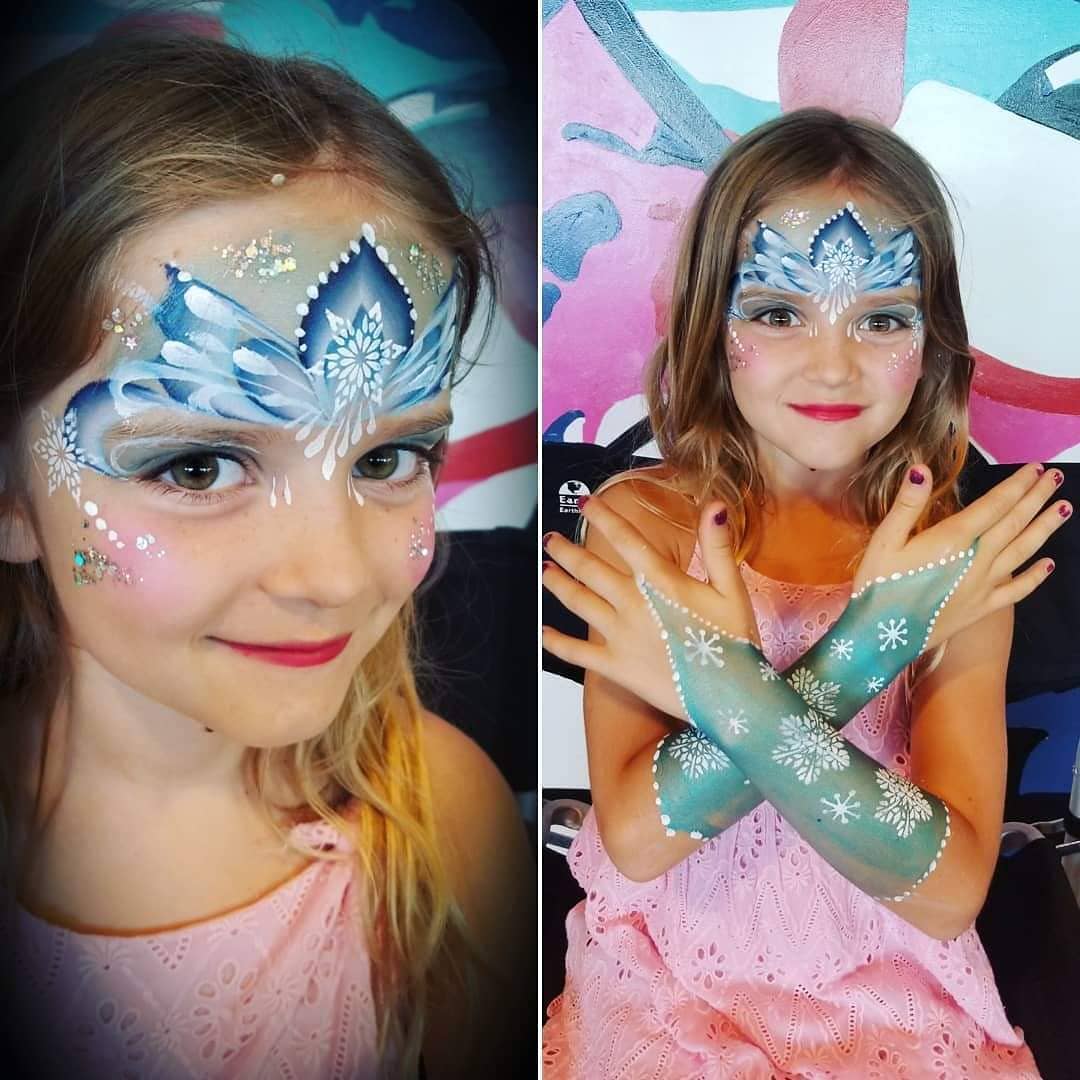 Let it go, let it go! Let your imagination and creativity go wild, and create this wonderful Elsa themed face paint for your little princess. She will look gorgeous in her princessy style and you will be proud of how happy she is with your creation. Let her shine bright like a diamond, as did Elsa's frozen character.
16. Golden Stitches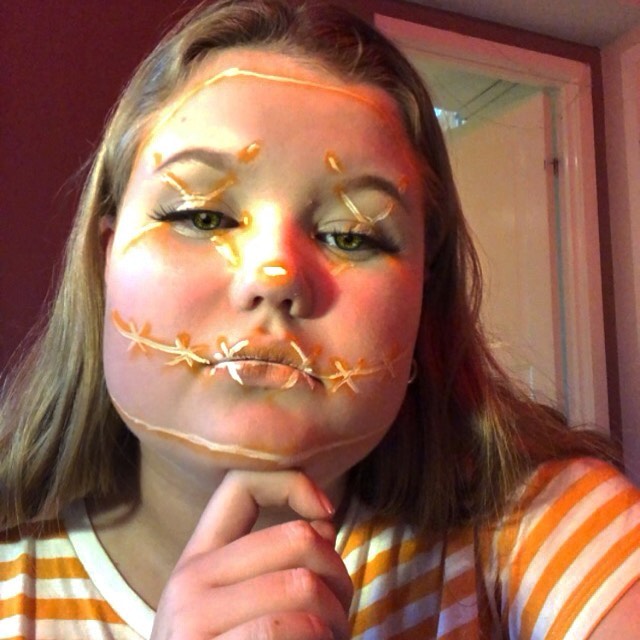 If your big girl wants to look scary, but not spooky, this is the perfect face paint for her. There are scars and stitches all over the face, but they are gold and glittery, taking away the spookiness of the whole mask. However, it is fun, cool, and popular. She will certainly enjoy it and shine in the night of trick or treating.
17. Scarry Doll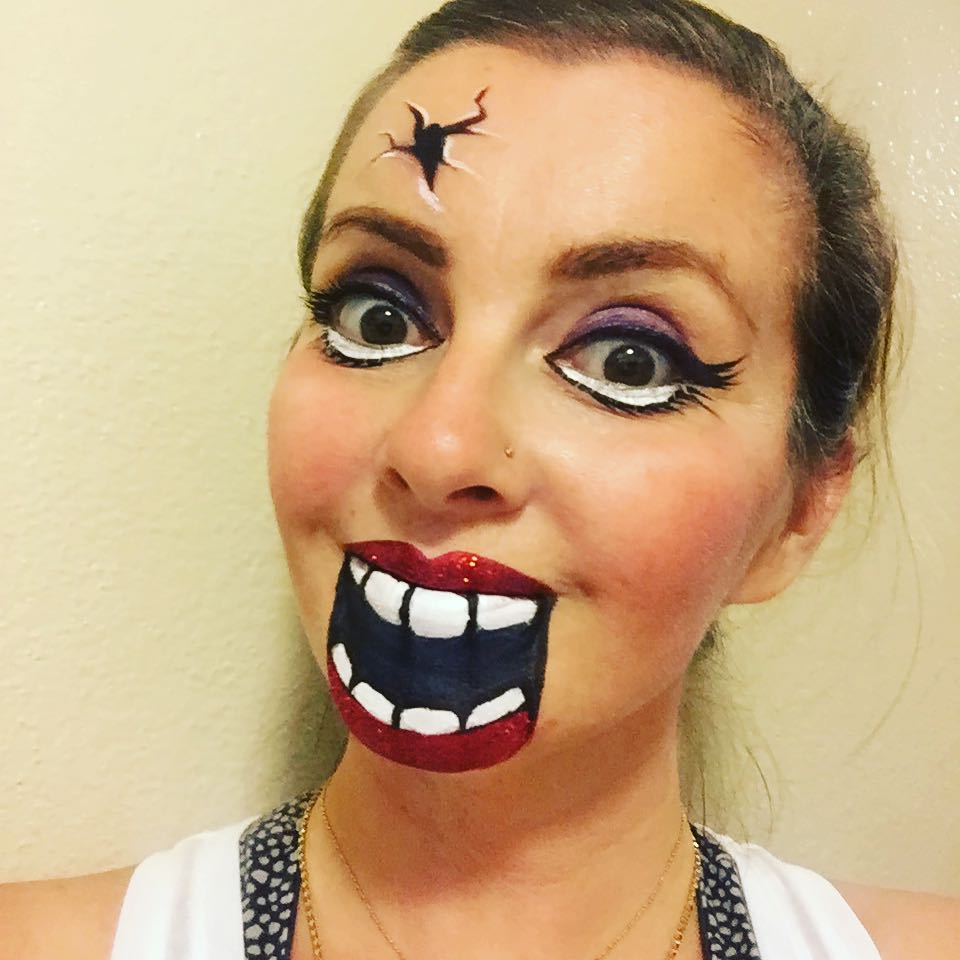 This scary doll is especially popular for teenage girls. It doesn't involve a lot of make-up, but it is very scary. It can be combined with any kind of clothes, and still have an amazing effect. If your big girl wants to mask like this, don't hesitate to let her, because it is special, and yet easy to make for both of you. Let her enjoy her Halloween moment.
18. Pirates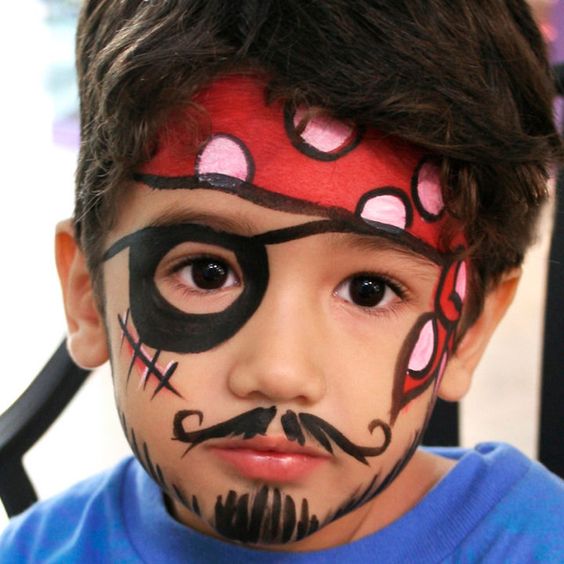 Pirates were the rulers of the Great Sees. They are always interesting for the kids, especially because they are seen as mysterious. Kids will love having their faces painted as a pirate for Halloween Trick or Treating. Add some mustache and beard and your little boy will feel like a grown-up, fully mysterious pirate king!
19. Ninja Turtle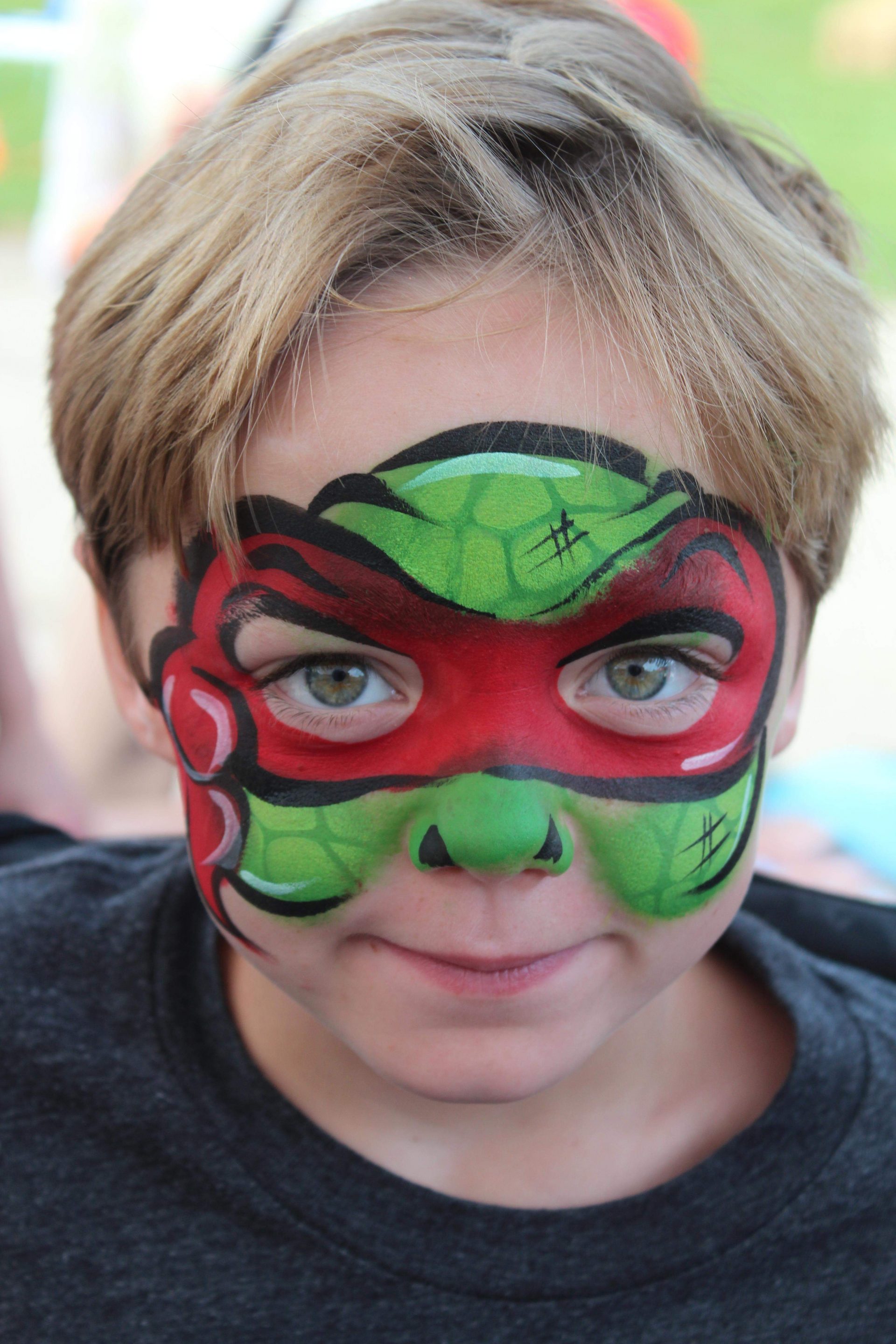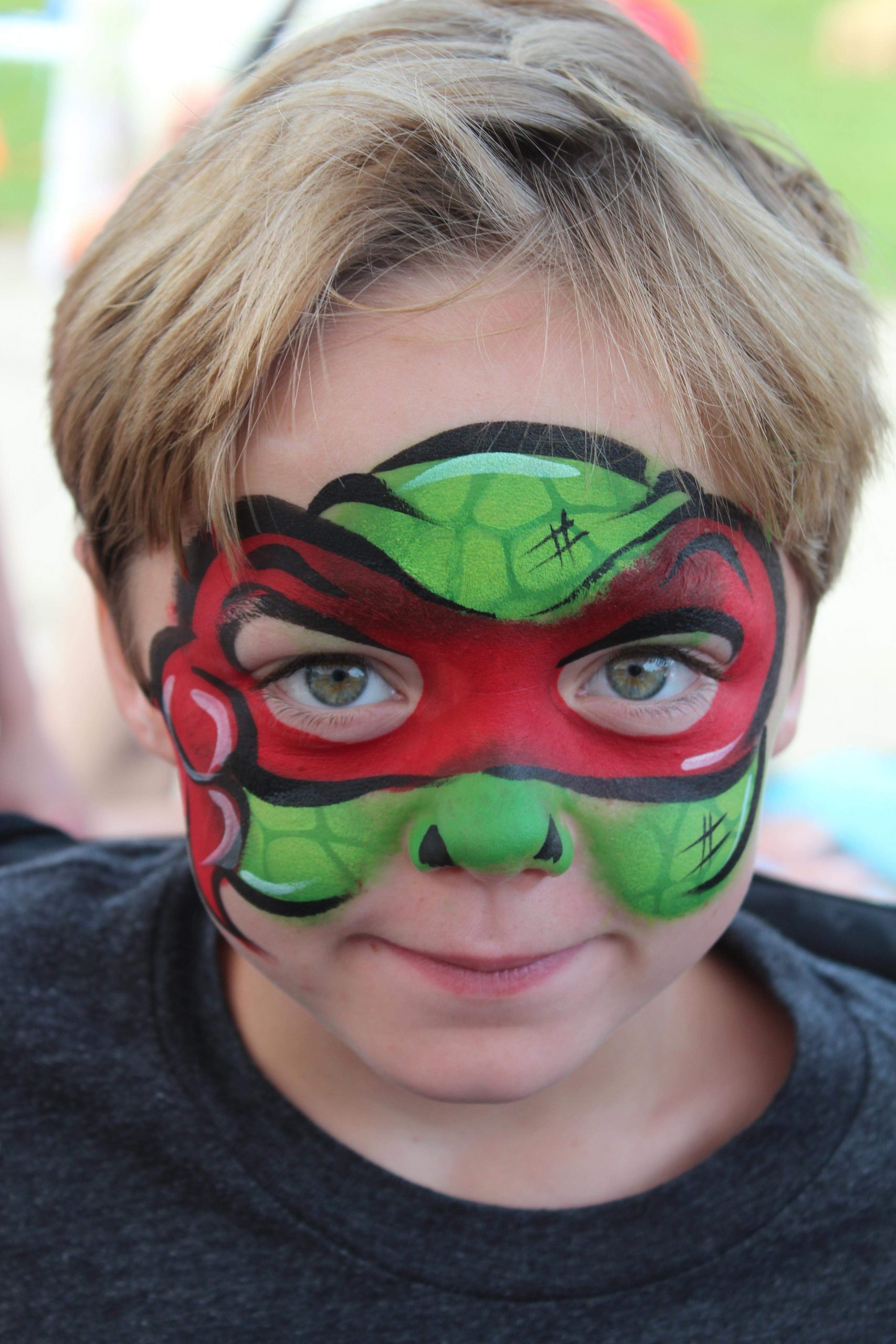 Ninja Turtles never go out of style for little boys. They are one of their favorite characters. This mask is especially beautiful if it is fully painted on the boy's face. So, consider full face paint when choosing the Ninja Turtles. It will be fun for them and they will feel like the real Ninja Turtle in this costume.
20. Skull Face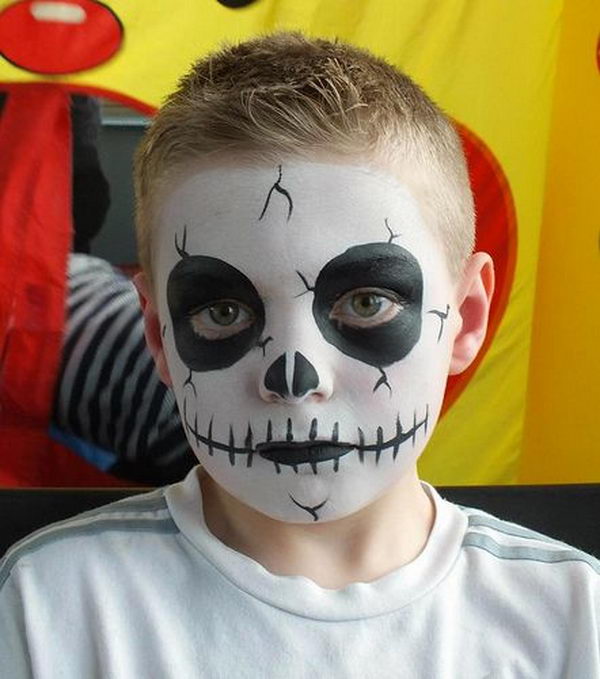 Skull painting is most popular for bigger and braver boys (and girls). It is fun, spooky, and scary. It is the mark of Halloween. With this mask and adequate clothing, your kid will look perfect for the night of trick or treating with his friends. Make sure you give him a larger bag for more treats.
These were the ideas that we chose for you. There are many more around the internet. Or, maybe you have some of your own. Let us know in the comments below.