Every stuffed animal holds a dear memory close to heart. Each time when you try to organize and decide which toys to keep and which ones to let go, it's impossible to do so. You don't have the heart for that and in the end, you throw your hands in the air and live in a house that looks like a stuffed animal zoo. Not so bad, at least for the kids, right?
But don't worry, because we have great solutions for you. These tutorials serve as a useful way to store those stuffed animals that you or your kids can't get rid of, and at the same time, a neat way to display the favorite ones in the kid's rooms or playrooms. Here's a list of 15 DIYs for stuffed animal storage tutorials to tidy up your homes and create a beautiful nook.
1. DIY Branch Swing Shelves for Stuffed Animals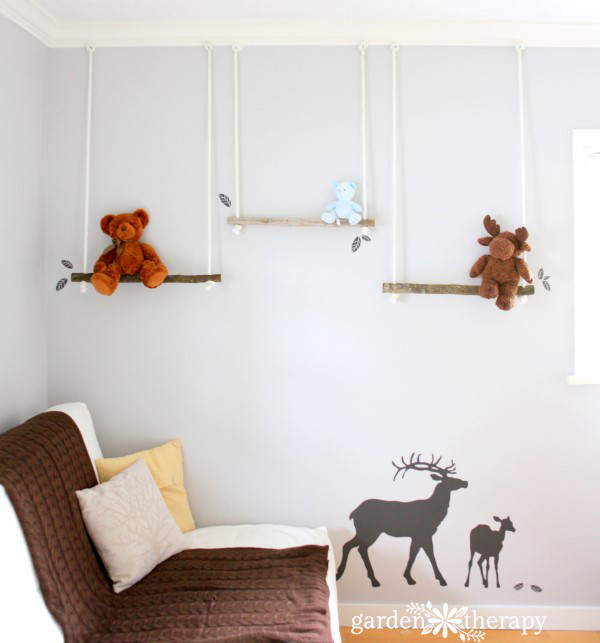 Taking a piece from nature into your homes is always a great idea. It gives such a warm and cozy feeling, especially if combined with stuffed animals. The project is very simple, cheap, and serves as excellent storage and decorating solution.
2.  DIY Hanging Storage Swing for Stuffed Animals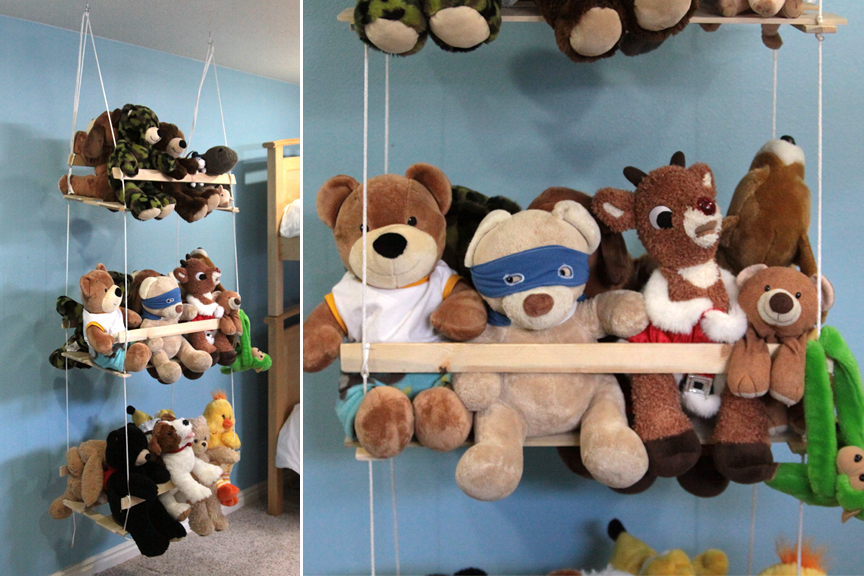 Say goodbye to mess with this lovely toy storage swing. This design stores a lot of stuffed animals and hangs attached to the ceiling. That means that the stuffed animals won't be on the kids' bed, or all over the floor. The soft toys are nicely organized where they can still see them and easily get to them whenever they want. It's definitely a fun way to display your kids' favorite plush toy stuffed animals, right?
3. DIY Hanging Closet Storage Crates for Stuffed Animals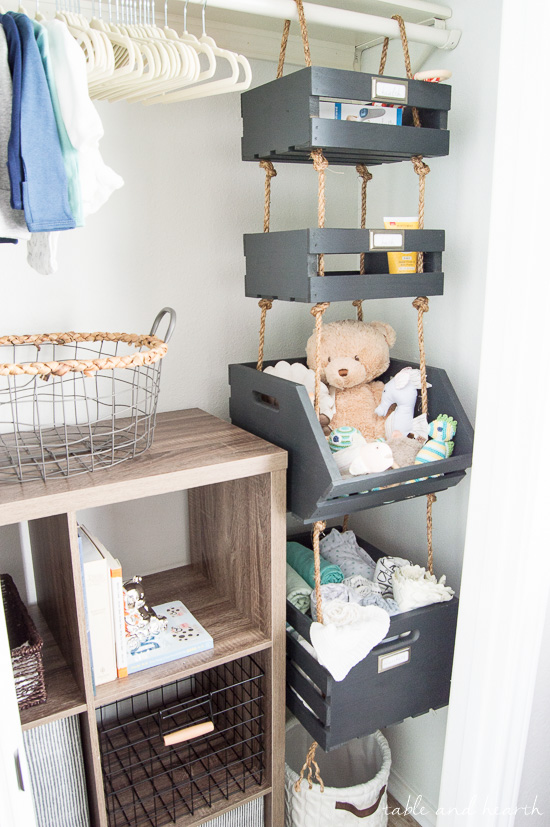 Here's another stuffed animal storage idea for storing a great number of stuffed animals. Simple and minimalistic, yet looking so cute and organized. You can paint it whichever color you please and install the basket where you feel the most comfortable.
4.  DIY Trofast Baskets for Stuffed Animals and Toys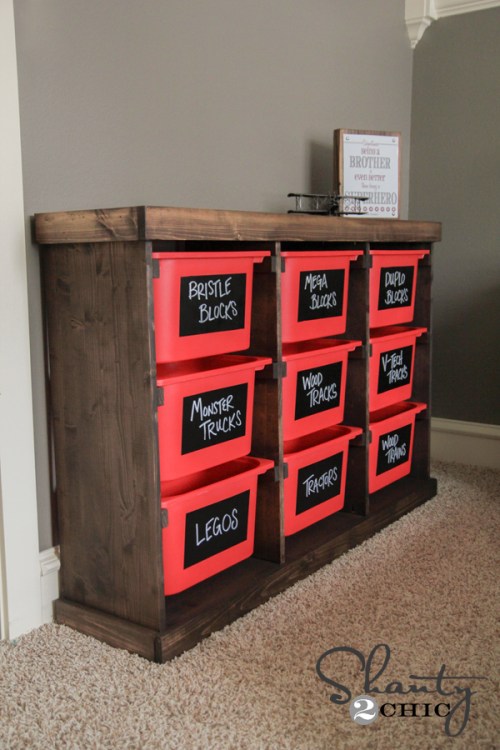 A great DIY project for all of the soft toys, and a pretty nice look too! The tutorial explains how to realize this basket project in a few simple steps. You'll be amazed at how much storage it will hold. Your rooms will be tidier than ever! So, start building and make your life easier.
5. DIY Bookcase With Storage For Stuffed Animals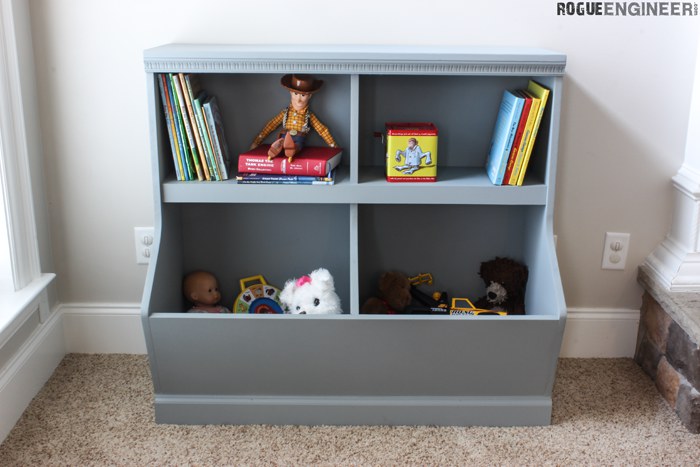 Who wouldn't like a multifunctional design like this, right? Easily accessible and everything on sight. A shelf for all those bedtime stories and storage for the small stuffed animals. Perfect combination. You can place it next to your kids' bed or in the playrooms. Such a simple and practical stuffed animal storage.
6.  DIY Hanging Chain Storage For Stuffed Animals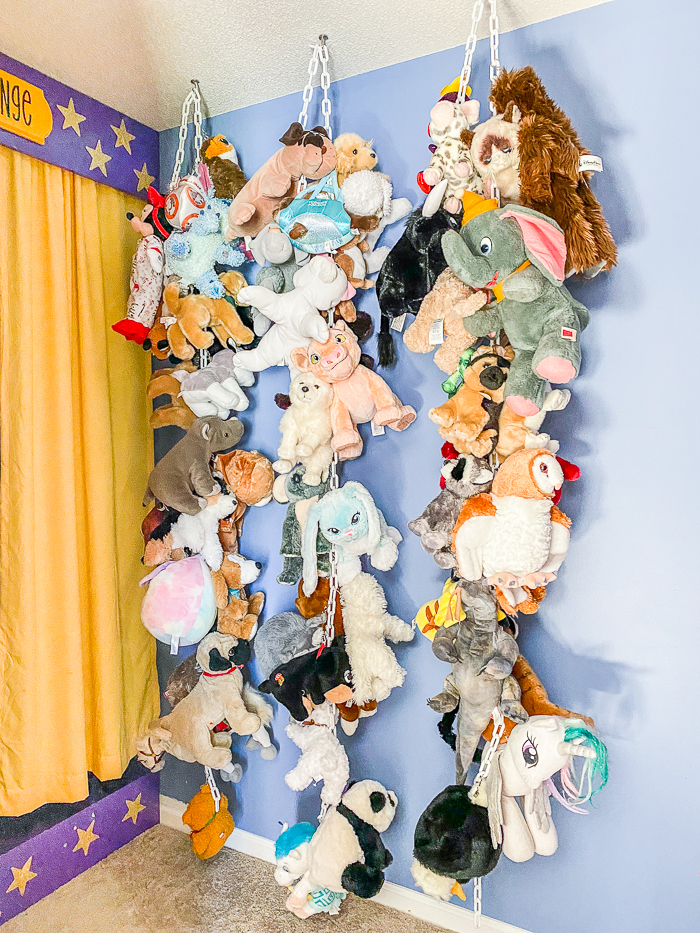 We had a stuffed animal swing, right? Now here is another hanging stuffed animal toys project you can use to create extra storage space and reduce clutter.
If you want to take advantage of your vertical space and tidy up the bed and floor from stuffed animals, here's a DIY solution for you. The long plastic chains are a great way to store and display all of the toys. And the kids will love it too!
7. DIY Storage Crates For Stuffed Animals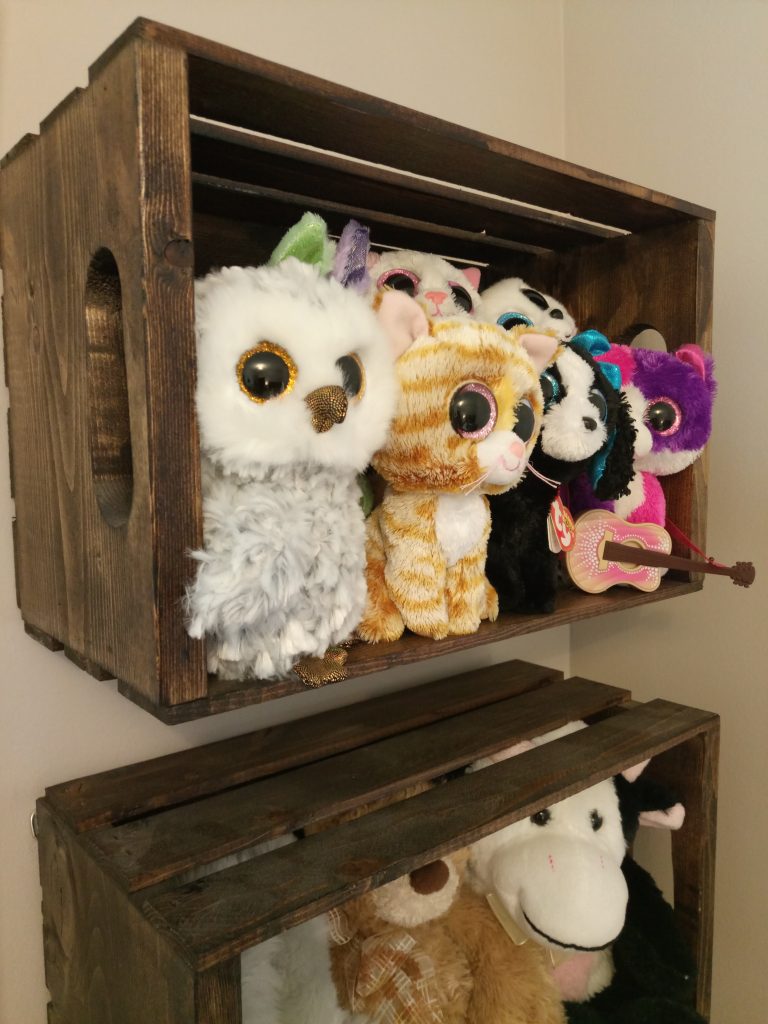 With this adorable storage solution, you can tidy up the kids' bedrooms and playrooms, and on top of that, display some of their favorite collection of stuffed animals. They are easy to install and very cheap too. All you need is wooden crates, some stain or pain of choice. Follow the tutorial to see how to install these storage bins. Happy building!
8. DIY Bean Bag Chair and Storage for Stuffed Animals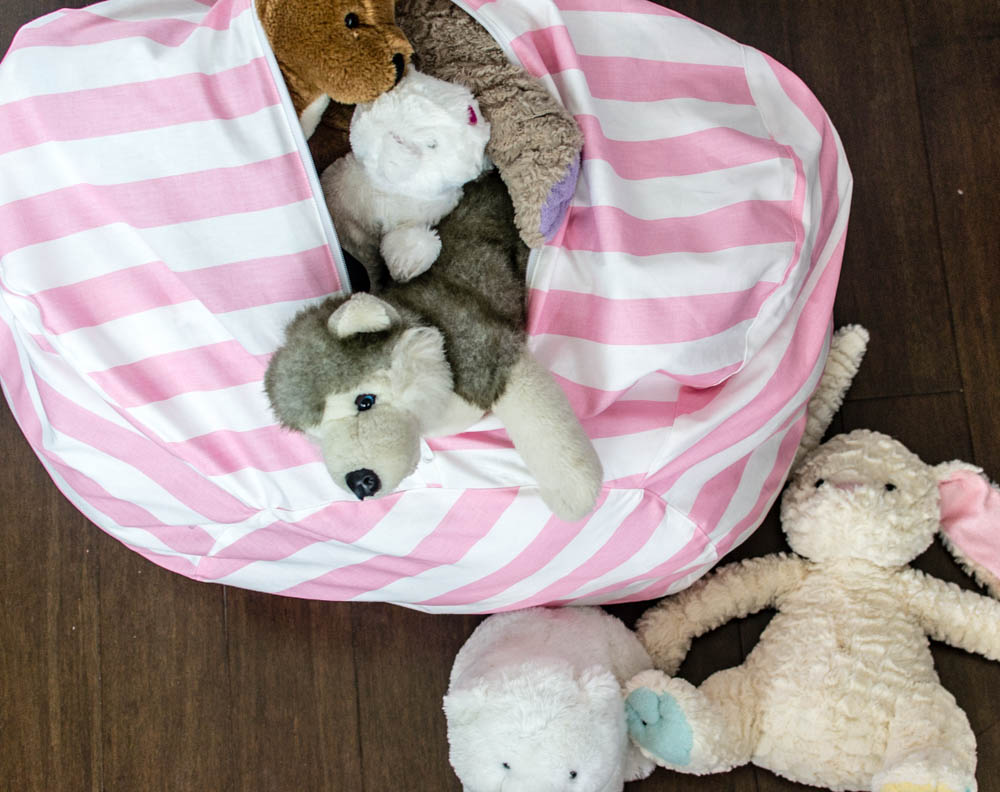 This is a great and simple toy box solution for the kids to have a place where they can store their stuffed animals. On top of that, it serves as an extra seating space in their rooms or playrooms. Obviously, you should pick those stuffed animals that are the softest, in order to be comfortable while sitting. Also, it's easily accessible for the kids. Just unzip it, get your toy, and close it again. When done playing, put it back in the bag and that's it. Done!
9. DIY Hammock for Stuffed Animal Storage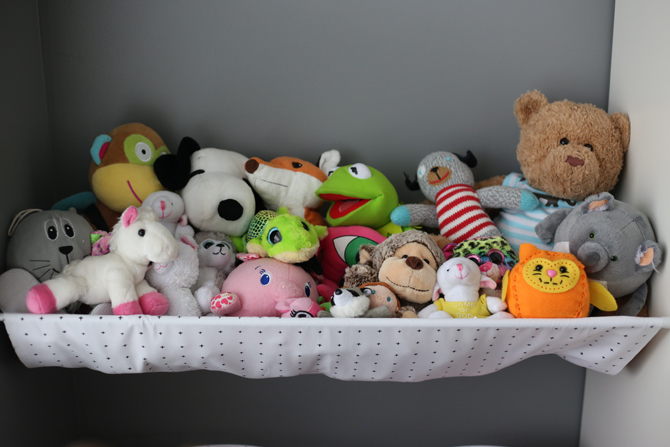 What a great way to store a large number of stuffed animals in one place. The toys will be reachable for the kids whenever they want to play with them, and without any problems, they will be able to place them back in the stuffed animal hammock. The installation is very simple, follow the link and see!
10. DIY Stuffed Animal Storage From a Plant Hanger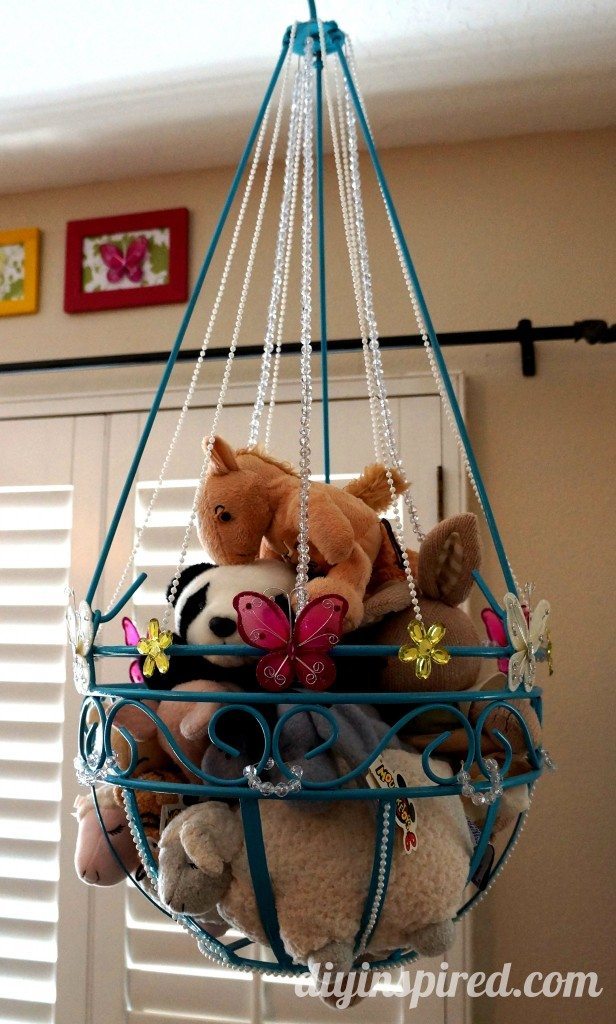 This is such a marvelous decoration for the kids' rooms. And a clever stuffed animal storage solution too. If by any chance, you possess some kind of plant holder that don't intend to use, here's a great idea for you. You can decorate it and paint it by choice. When finished, it will look like a little hanging zoo!
11. DIY Stuffed Animal Corner Cage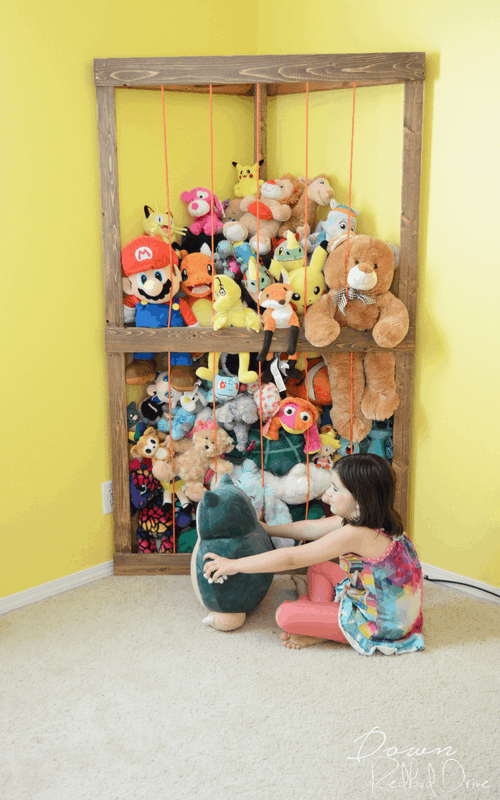 When you have kids, it's completely normal to have a house overpopulated of stuffed animals and kids toys. And the worst part is, a great amount of them are greatly cherished by the kids and don't want to let go of them. This corner cage is a perfect solution for that. Your kids will be happy and your rooms will be tidier than ever. The "bars" on the cage are made up of a stretchy cord, so getting the toys in and out of the corner cage will be as easy as ABC. Follow the tutorial to see how to build this clever DIY stuffed animal zoo storage solution.
12. DIY Stuffed Animal Storage Shelf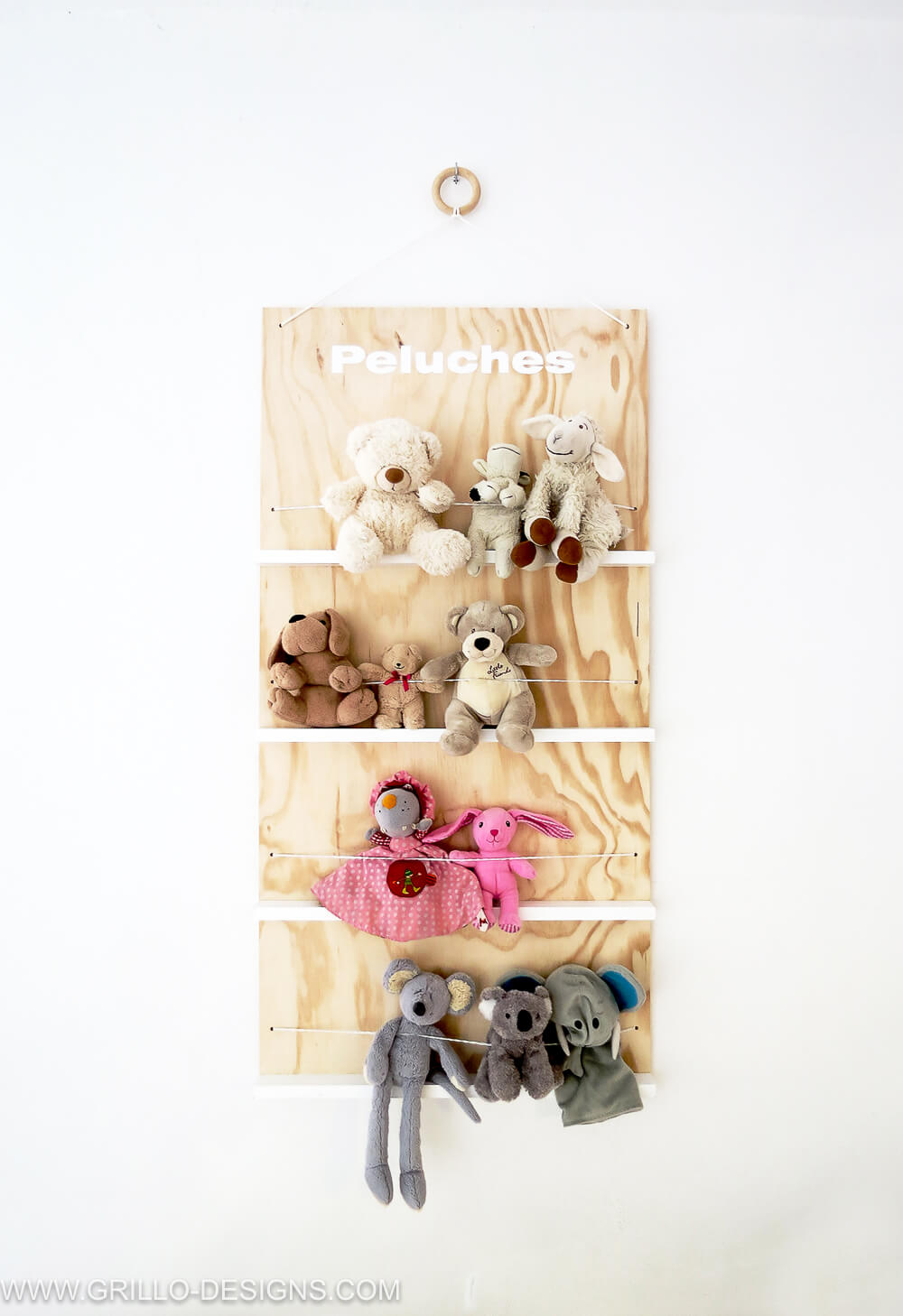 A DIY creation that stores and displays stuffed animals. On top of that, it is very unique and modern. The kids will choose which plush toy animal they want to play with, and can easily put it back when done playing. You can design it and pain it however you please. It's such a cute wall decoration, yet creative stuffed animal storage solution.
13. DIY Stuffed Animal Storage Bin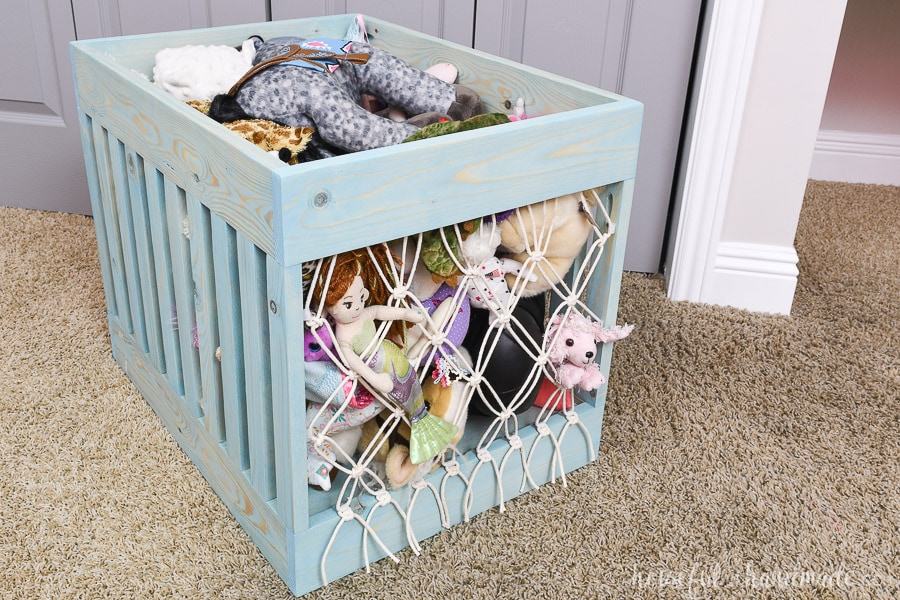 Every kid cherishes their toys, and by no means want to let go of them.  This is such a cute design and a clever way to minimize the mess all around the house. It holds a lot of storage, and you can place it wherever you please, by the bed or in the closet. The tutorial shows a detailed step-by-step tutorial on how to create toy organizer. Follow the link and start building!
14. Pillowcase Stuffed Animal Storage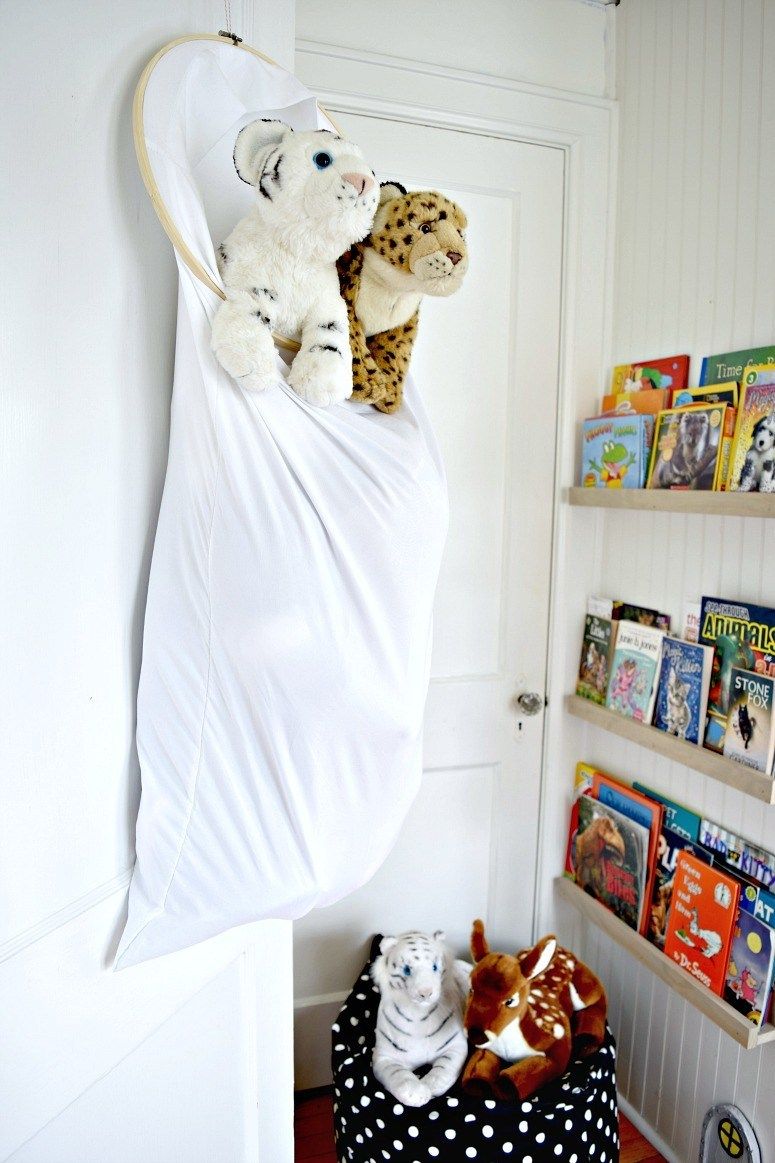 Here's another innovative and economic solution for storing up a great number of stuffed animals. This is a great way to tidy up the room and a perfect place for the toys that your kids don't play with so frequently. If you like it, follow the tutorial to see how it's done.
15.  DIY Stuffed Animal Storage Chair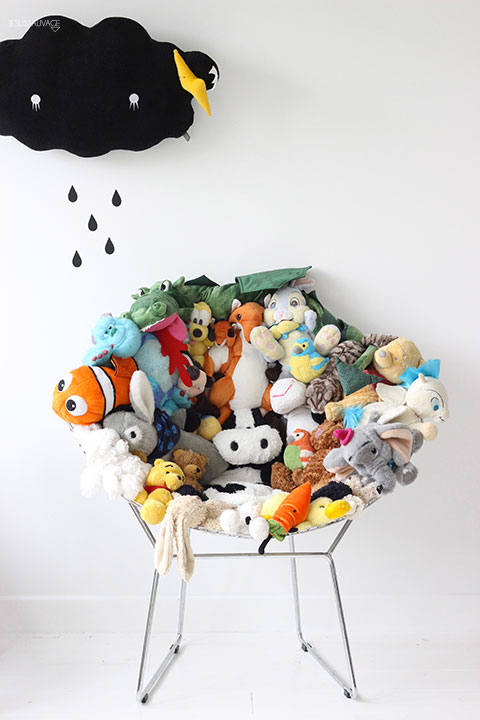 How would you like to have a chair full of stuffed animals? Imagine how comfortable it would be for sitting on it! And it will look so beautiful in your kids' rooms or playrooms. The realization is very simple, and you can find all about it if you follow up on the link. Enjoy!
So there you are. 15 simple and budget-friendly DIY innovations for your messy stuffed animal zoo! Which one did you like the most? Feel free to leave a comment down below!