Don't we all love swings? Either big or small, young or old, kids or adults, we all love swings. They are fun and cool, they make you laugh, calm you down, and let you enjoy your life to the fullest.
However, not everyone can afford to have a swing in the back yard or on the porch. But, what if you can make one yourself? It can be easy, cool, simple, and budget-friendly. All you need is some skills and recycled material. Use pallets, doors, baskets, skateboards, tires, chairs, anything you can think of. You can even knit it yourself. It depends on your skills and will to make and sway.
Below, we give you some ideas to inspire you and make your imagination go wild. Take a look at them, get inspired, and get crafty. After you're done, you start enjoying your new fun swings. So, let's begin!
1. Chic Swing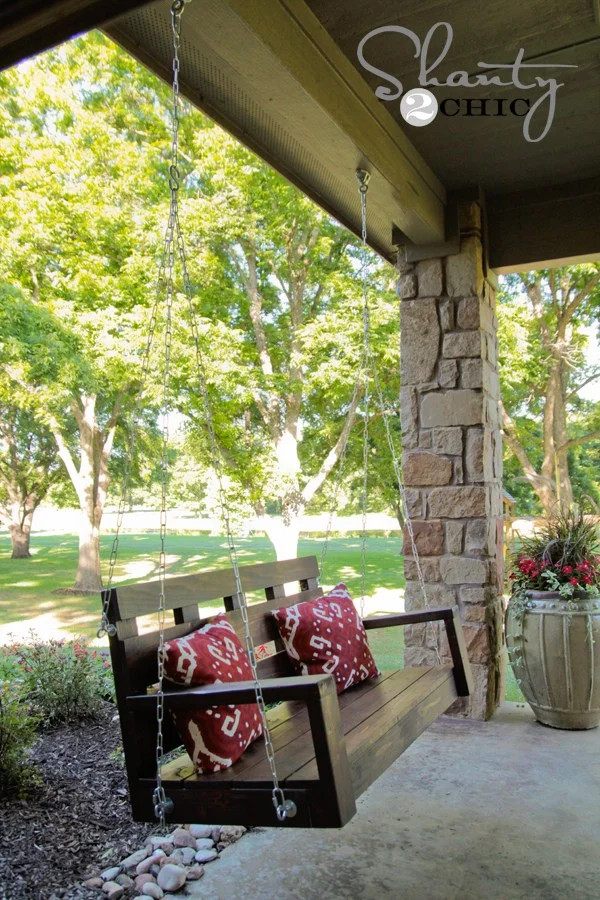 This swing is simple and chick. Made of wood, it requires some skills and crafts, good wood and paint, and some imagination. Paint it in the color of your porch, and hang it with chains to the beam. It can be both a sitting and swinging item and a fence to your yard. Complete the look with your favorite soft cushions.
2. Recycled Trampoline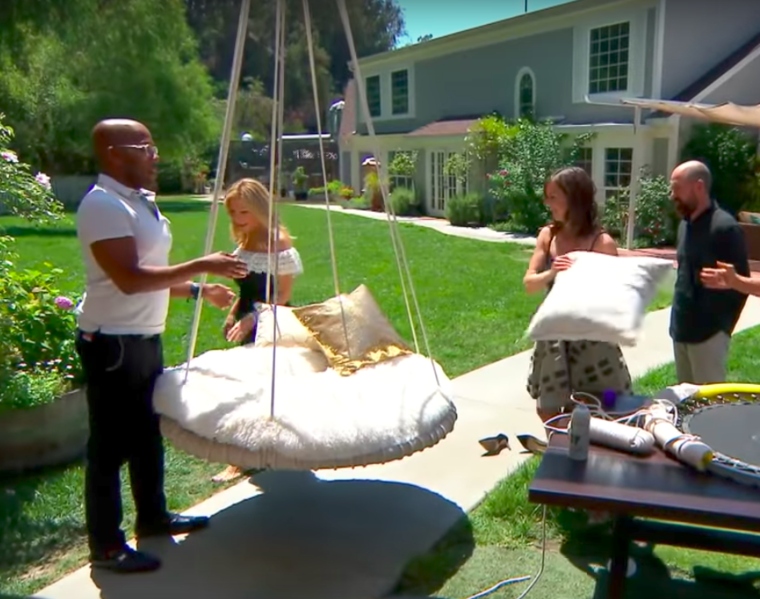 If you have bought a trampoline for your kids, and they grew out of it, don't throw it away. Instead, turn it into a swing bed to decorate your back yard with. Cover the ring with a soft sponge or a rope, hang it with few ropes or chains, put an old softcover and some cushions, and start enjoying.
3. Headboard Swing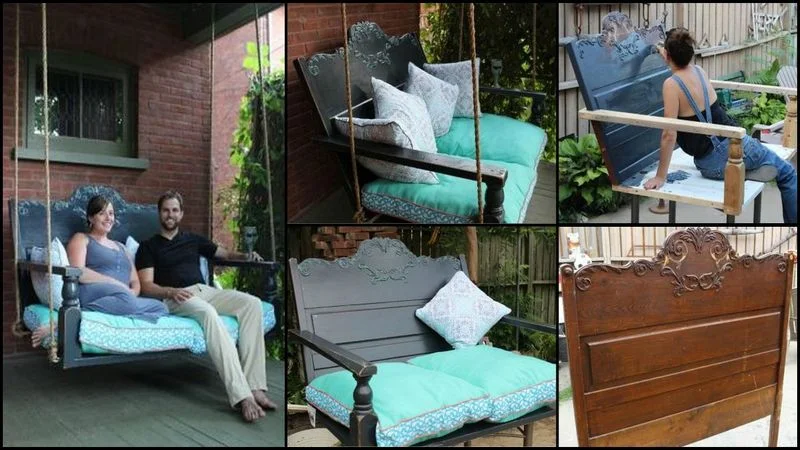 If you love your old bed, but it so rusted that you need to replace it, don't throw away the headboard. With some skills and craftwork, you can turn it into a romantic swing for your porch. Color it in the color you want, put cushions and old mattresses to make it cozy, and enjoy it with you love to experience the romance of your life.
4. Football Swing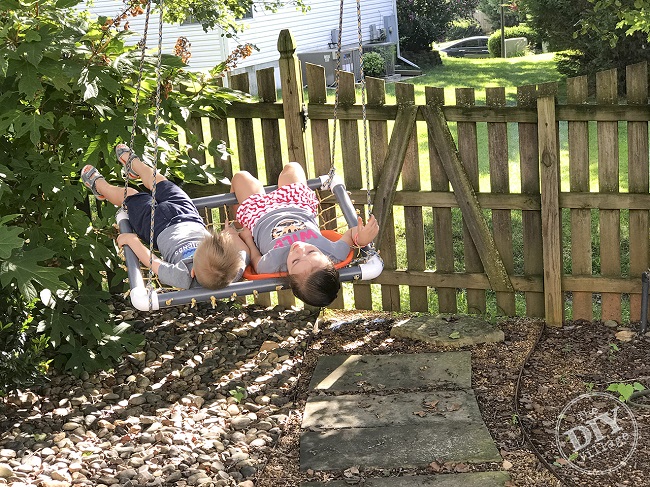 Do you have many toy football nets? Turn one of them into a wonderful simple swing for your boys. Adjust the net, put ropes on the corners, and hang it on the strongest tree in your backyard. Let your kids enjoy it to the max with their friends. They will thank you all their life.
5. Swinging Platform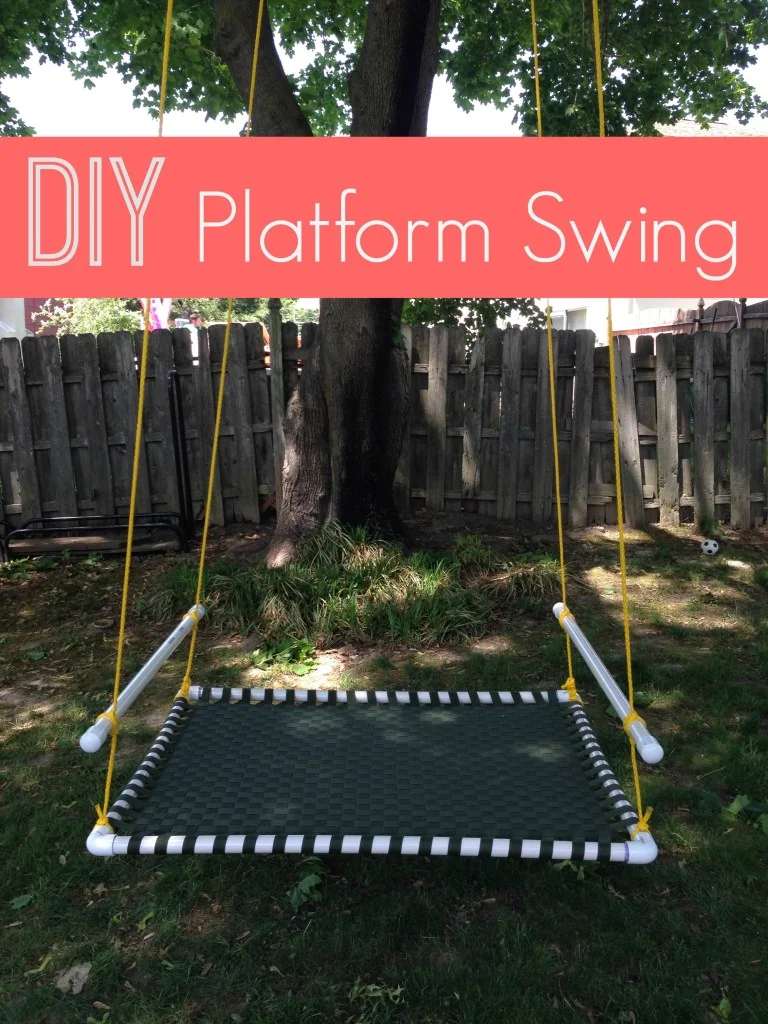 Here is an idea of how to make a swing that will be cheap and will fit in several people, both kids, and adults. Use plastic tubes, some strong sloth or pleated material, and hang it on ropes in different colors. Put it on the highest and strongest tree in the yard, and start swinging.
6. Hammock Swing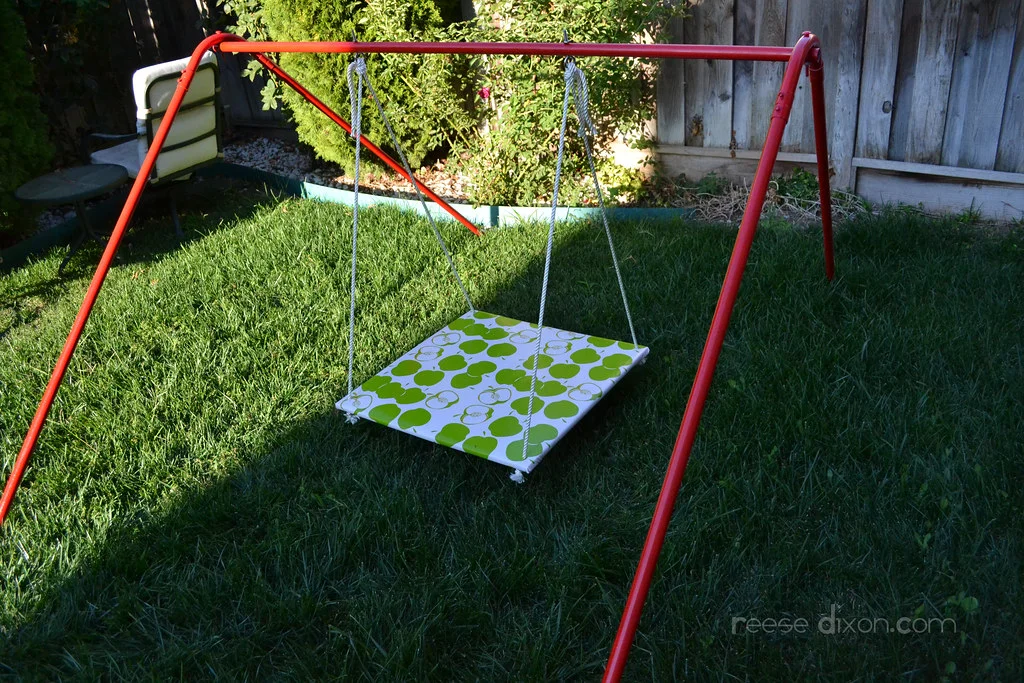 If you have a large backyard, you can make a hammock swing for your babies to enjoy. Use an old piece of cloth, tie it on a frame made of plastic pipes, and hang it on a steel stand. If you are crafty enough, you can even make the steel stand yourself. Put it in the back of the garden, and let your baby have an afternoon nap in the open.
7. Horse Swing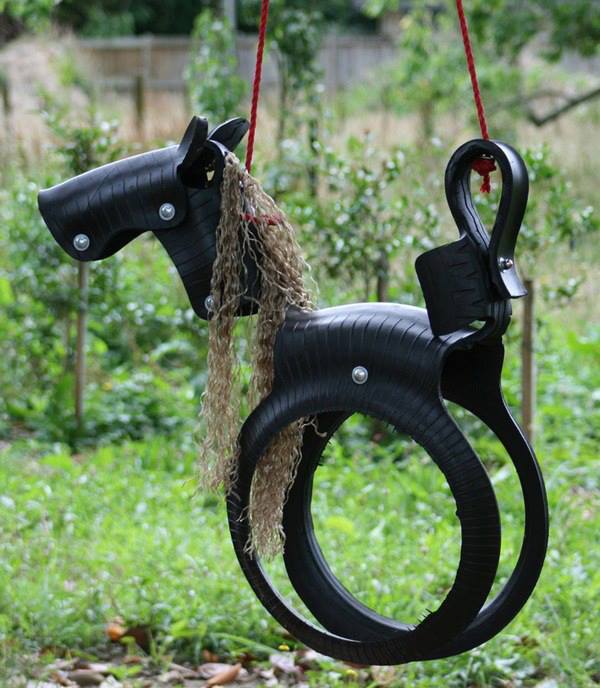 This pony horse swing will be the best gift your kid can have. It is made of an old tire with a little bit of crafting skills. Cut it, pin it, decorate it, and hang it on the tree in the yard for your toddler to enjoy. Easy to make and fun to have.
8. Chair Swing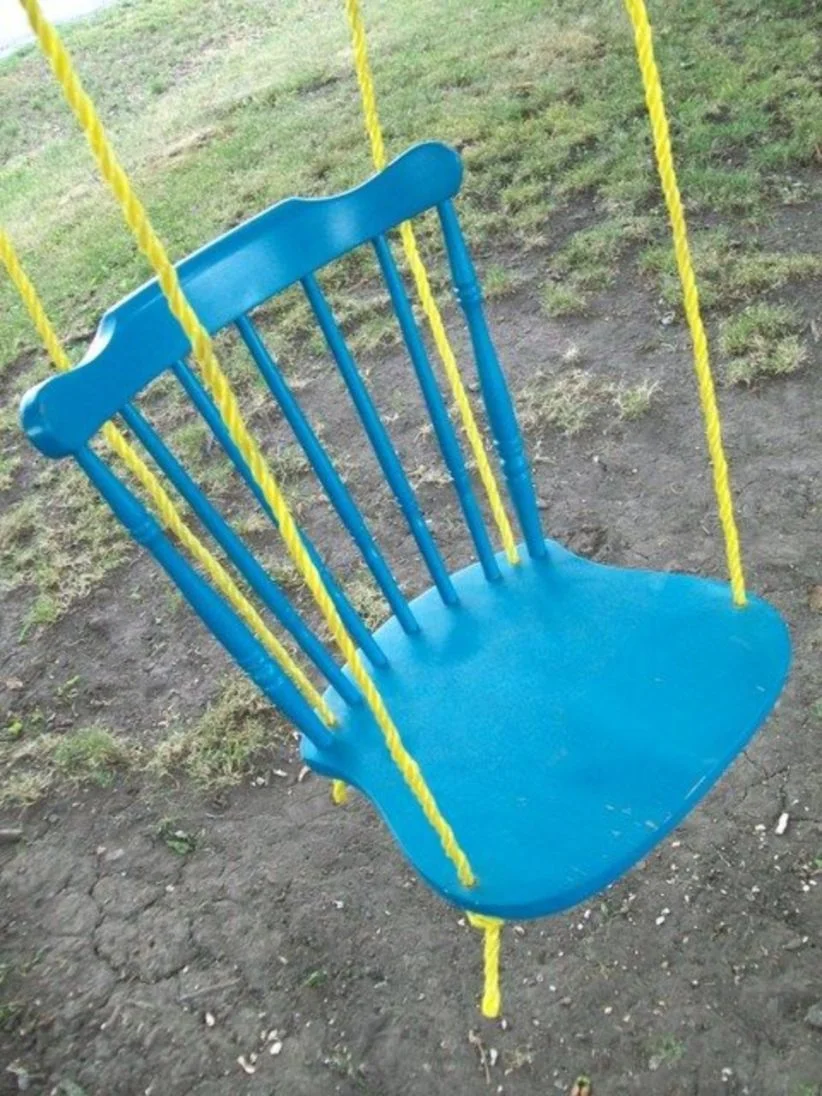 You sure have some old chairs that are too rusty to use them as chairs. Turn one of them into a cool swing for you and your kids. Paint it in vivid color, make holes on the bottom, insert a rope in a bright color, and hang your new swing in the yard. Start swinging and enjoying it.
9. Old Fashioned Swing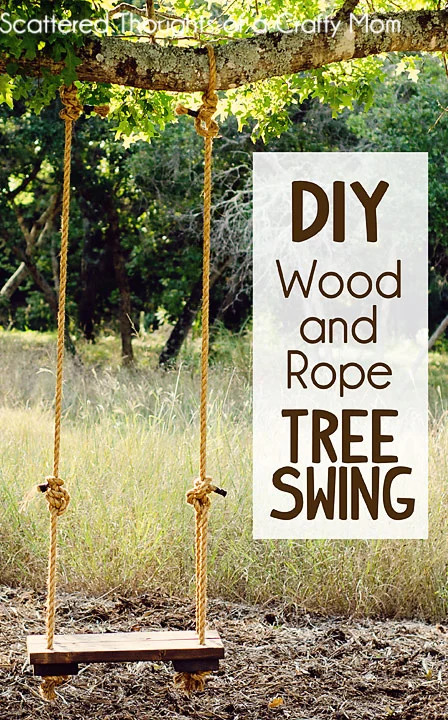 This old fashioned rustic swing is easy to make. Use some pallet wood and a strong rope. Paint the wood in the color or stain of your choice, reinforce it with some nails, and put the rope in the holes. Then hang it on the nearest tree. Imagine how our parents and grandparents had fun when they were young.
10. Tire Swing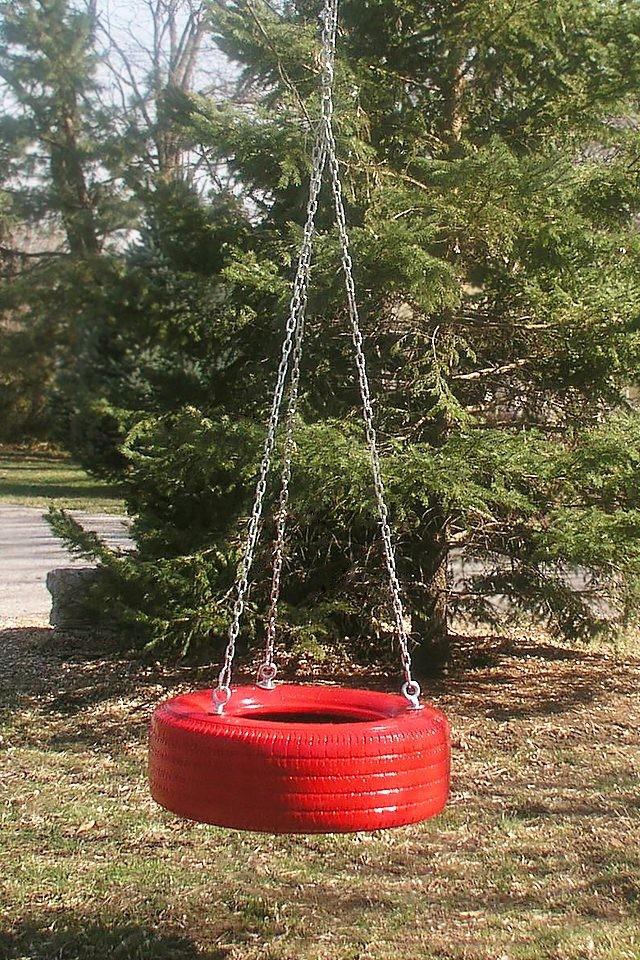 Here is an idea of how to re-purpose an old tire and not spend a fortune of your time and money. Simply, paint the tire in the color you like, insert some chains in the nuts, and hang it outside on the first tree in the garden. Now, enjoy it with your friends and family. It is fun for all.
11. Cozy Swing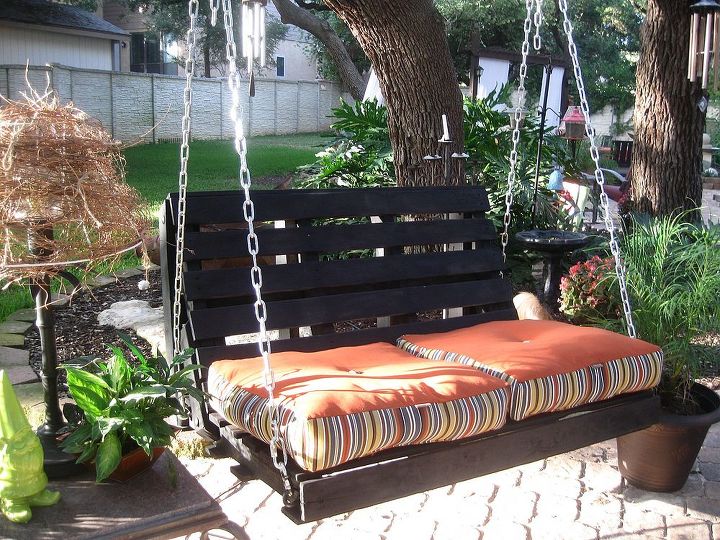 Make this cozy swing from old pallets. Stick them together, paint them in the color or stain that you like, and hang it with chains or ropes on the porch or a garden tree. It will complete the look of your outdoor patio or your backyard corner. It is cozy and fun for all your family and friends to enjoy.
12. Knitted Swing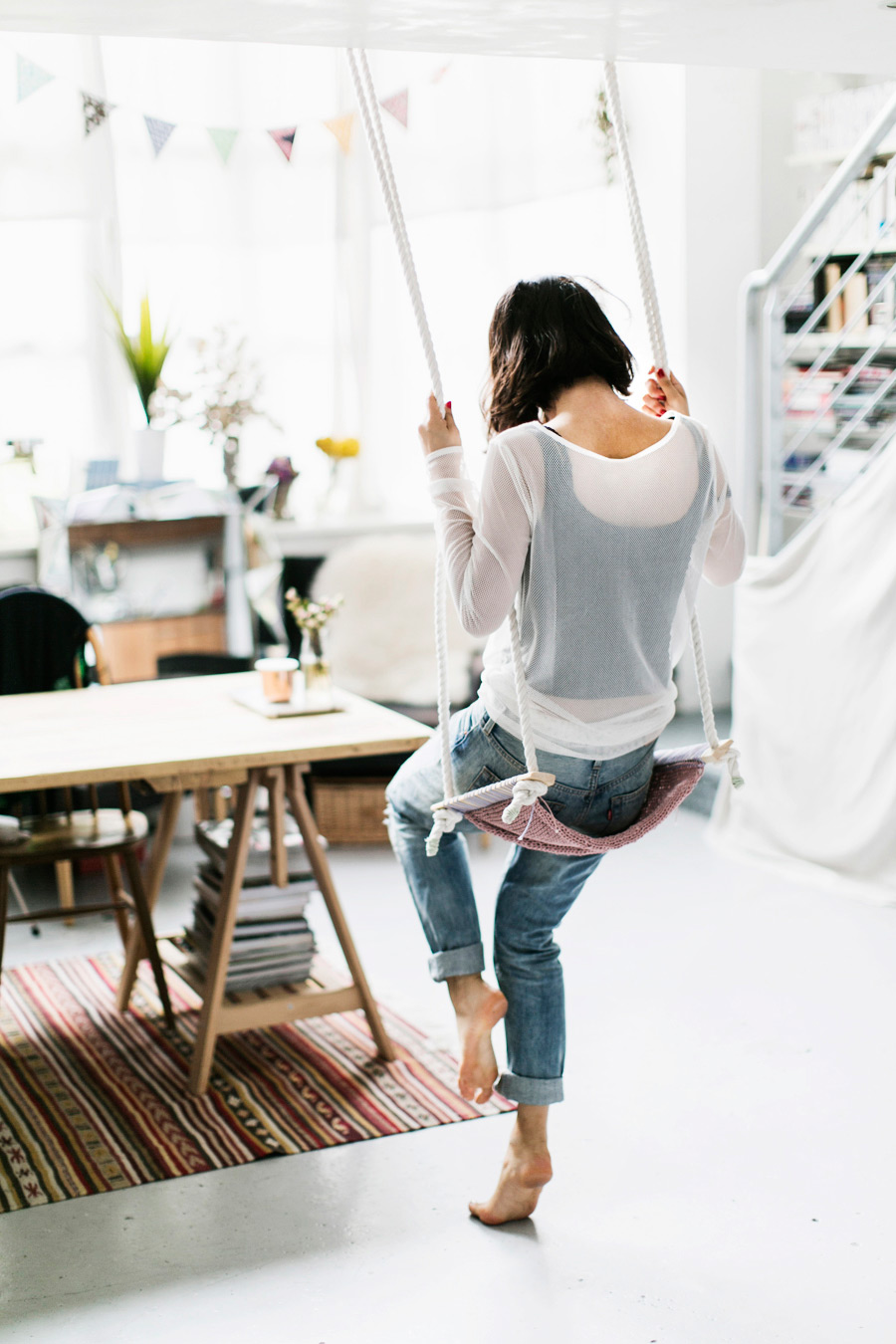 If you are a knitter, this swing is an easy project for you. It is also not difficult if you like to start knitting and become a pro. It is simple in style, easy to knit, and cool to have. Make sure you leave a place to put sticks to keep it strong and insert ropes to hang it on the ceiling inside, or the tree outside.
13. Plastic Case Swing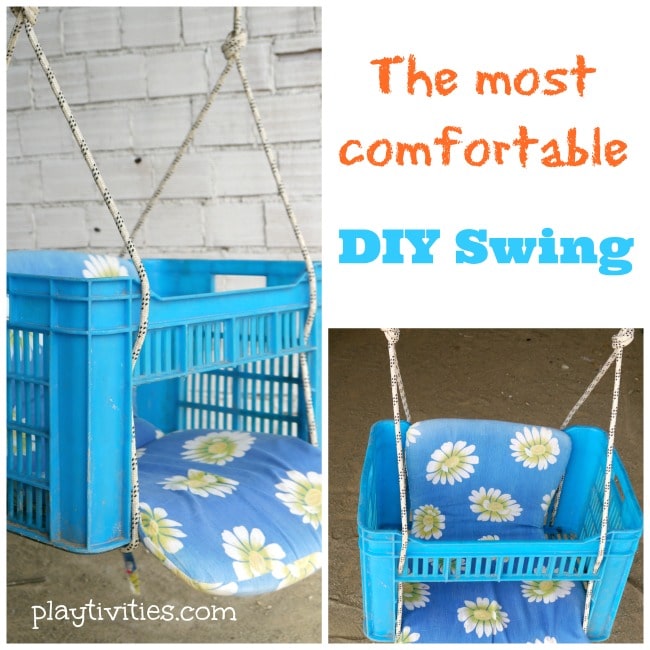 Make this lovely swing from an old plastic case. Cut a hole in the front, put some ropes, a chair cushion, and hang it in the yard. It is great for your toddler or a grown kid. They will enjoy it, and you will spend a penny to make it. If you include them in the making process, you will all enjoy it even more.
14. Skateboard Swing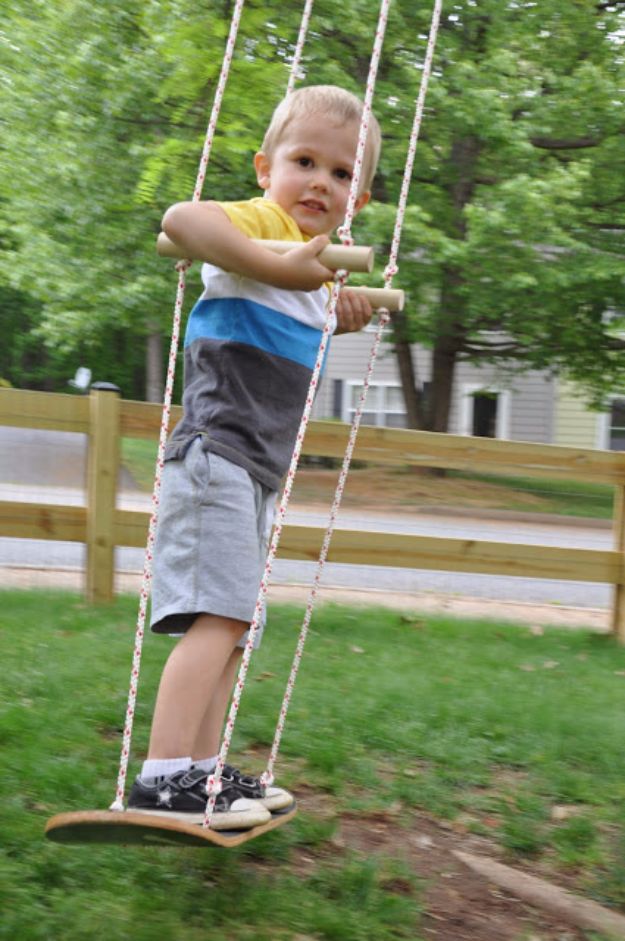 Do you have an old skateboard that cannot be mended? Don't throw it away. Turn it into a great swing for your kids. Take out the wheels, use the same holes to put in the rope, clean it a bit, and hang it on the tree in the yard. Your kids can swing standing up, sitting down, or any way they want. They will enjoy it to the max.
15. Old Door Swing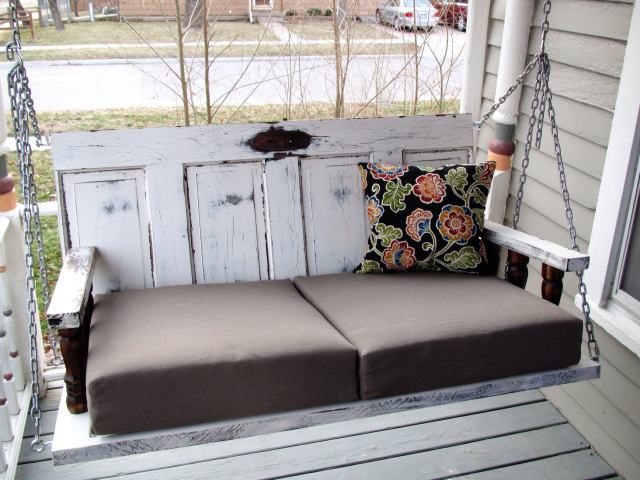 Combine an old door and a pallet to make this cozy swing for your porch. It is rustic and elegant and at the same time very cozy and relaxing. It will suit your vintage style, and if combined with sitting cushions and simple chain, it will turn into the most used item on the porch. Enjoy the warm summer nights with the ones you love, or cool winter mornings with a cup of hot chocolate.
16. Classy Swing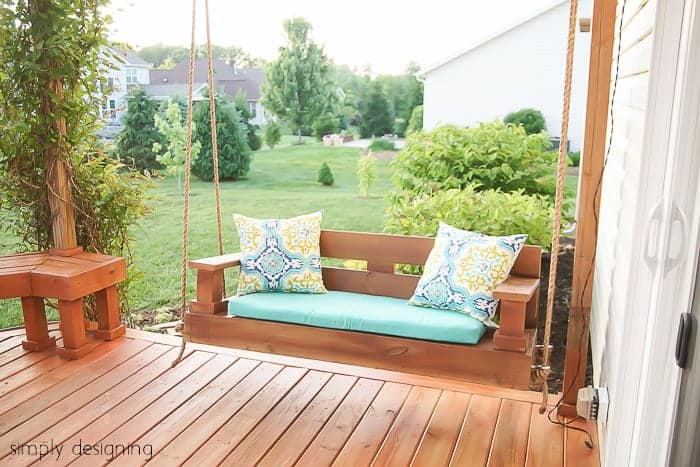 This classy swing is for the more skilled ones. However, if you are willing to work, it is not a difficult task. Made of pallets and stained in the right tone, it will perfectly complete the look of your porch and garden. Put a soft sponge and cushions to complete the look and coziness your new favorite item on the porch.
If you like our ideas or have some of your own, we would love to hear all about them, so please leave us a comment in the comment section below.