A firepit is a must for every modern backyard. If you want a modern and cool backyard, you need to spend a certain amount to have a fire pit. Or, if you are skillful enough you can make one yourself.
The firepit can be of any type of material, shape, or size. It can be round, square, rectangular, small, big, inground, or above ground. It can suit all your needs. Make it to warm yourself in the cold autumn evenings, or use it as a barbeque convertible or portable table or ground fire pit. Use stone, metal, concrete, even glass as a building material. Build it by yourself, or invite your friends to hang out and have fun while building it.
Below, we give you some ideas on how to build, install, recycle, and reuse firepits to make your backyard the coziest place on earth.
1. Portable Table Fire Pit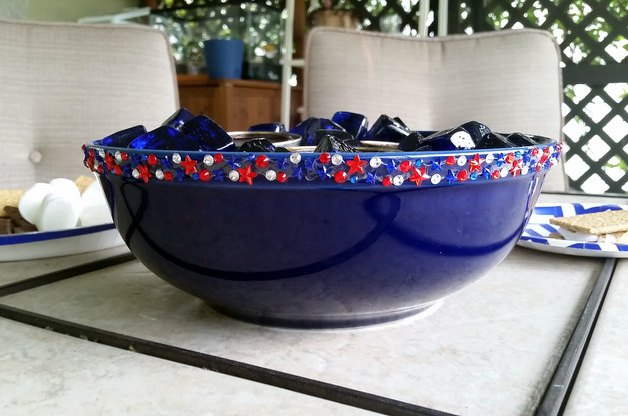 This unique portable table fire pit is made of ceramic salad bowl decorated with red, blue, and white star stones and filled with glass pebbles to complete the look. The fire is put in the middle and can be lit anytime you want. It is used for warming up or baking smores in the evenings.
2. Whiskey Barrel Fire Pit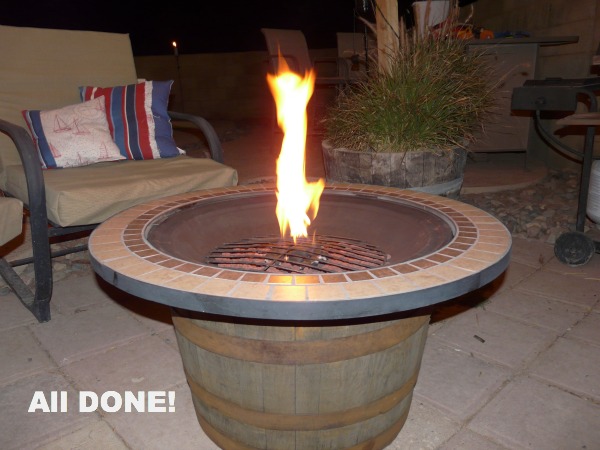 This fire pit is made of old and preserved whiskey barrel, cut in half and turned into a firepit. The top wider part is made of old baking pan decorated with small bricks. The fire in the middle is made of coal and can be easily converted into a barbeque. Enjoy it with your friends and family in your new backyard.
3. Cozy Fire Pit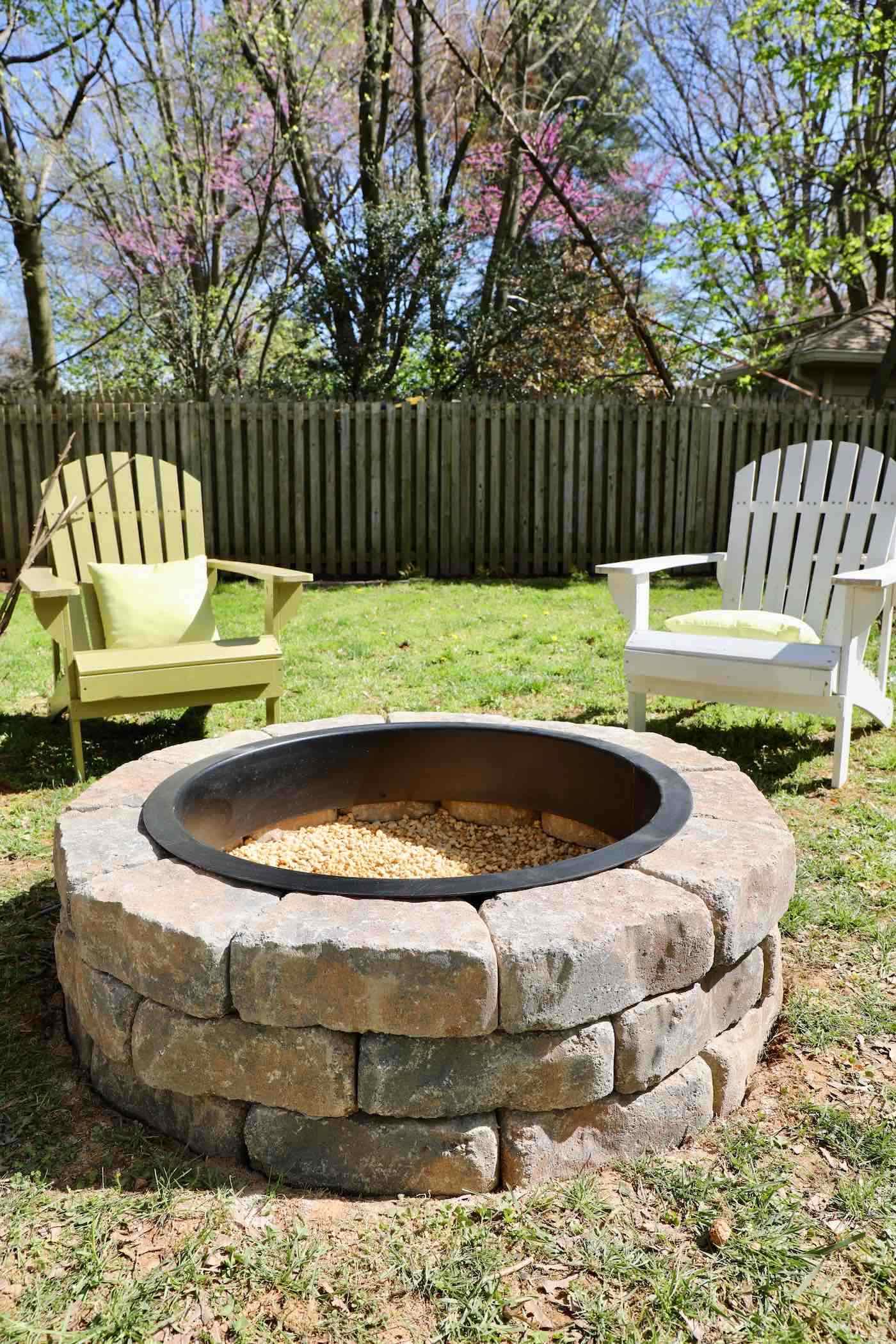 This is easy to make a fire pit, made of old brick stones and metal lining in the middle. It can be placed in the middle of the patio to make it even more enjoyable than it already is. Use it to warm yourself and your loved ones, turn it into a barbeque, or simply enjoy it while reading a book under the evening sky.
4. Recycled Fire Pit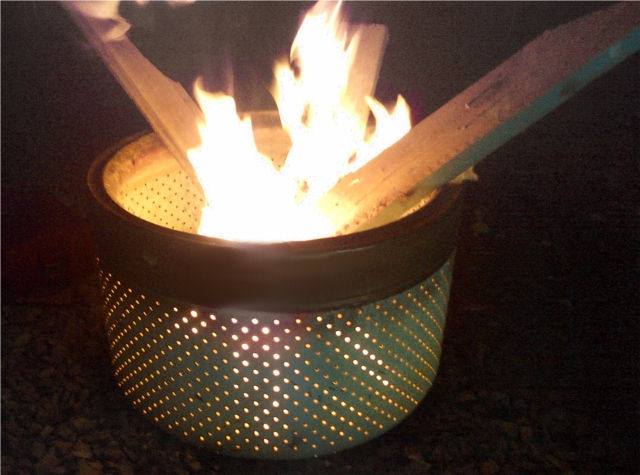 If you have an old washing machine basin, use it to make a fire pit. It should be well cleaned, painted with permanent color, and placed inside a bowl to make it look complete. The fire will glow through the holes on the sides and give it a bright light into the night. Enjoy it with your best friends.
5. Metal Fire Pit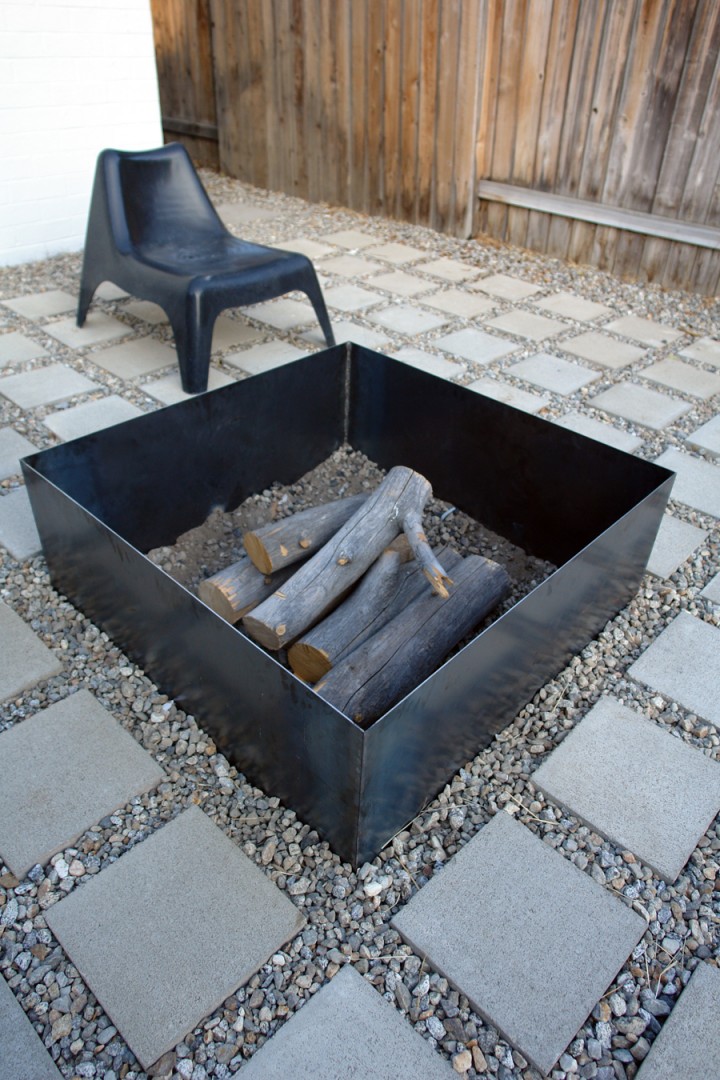 This ultra-modern metal fire pit is one of a kind. It is made of black metal and put in a sized hole in the ground to keep it simple and elegant. It will give the backyard a modern and unique look, and if paired with concrete tiles, it will be the ultra-modern backyard that everyone will envy about. So, don't hesitate to invite your friends over and enjoy it together.
6. Glass Table Fire Pit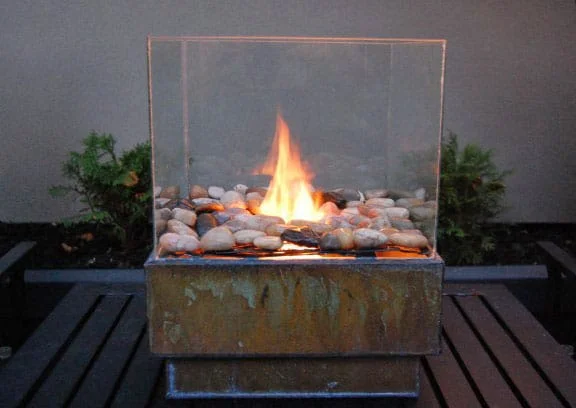 This is an idea for a smaller backyard or even a terrace. It is made of glass placed in a metal base and decorated with stones. It can be put on the table or in the corner to complete the space and keep it warm. It is beautiful to watch and enjoyable to be around.
7. Metal Barrel Fire Pit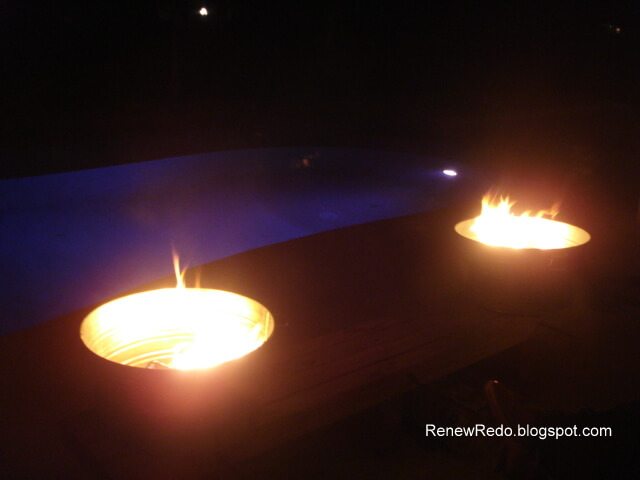 If you love vintage metal barrels, this is the right idea for you. Use old metal barrels to make this easy fire pit. Simply put wood inside the barrel and place it in the corner of your choice. You can even put it near the pool to feel fresh and warm at the same time, during the cold autumn nights. Enjoy it with your friends and family that you love the most.
8. Stone Fire Pit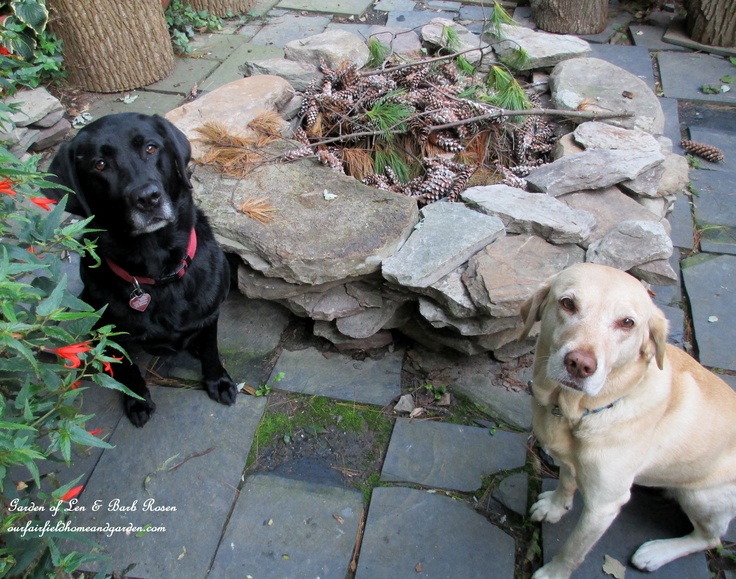 This is an idea for a refurbished, yet vintage backyard. It is made of stones simply layered on onto the other. It is above ground, yet firm and stable. You can use it as a fire pit, a barbeque, or a place to make smores. Complete with wooden chairs around it, it will be the perfect spot for an evening night out or a lovely romantic dinner.
9. Concrete Fire Pit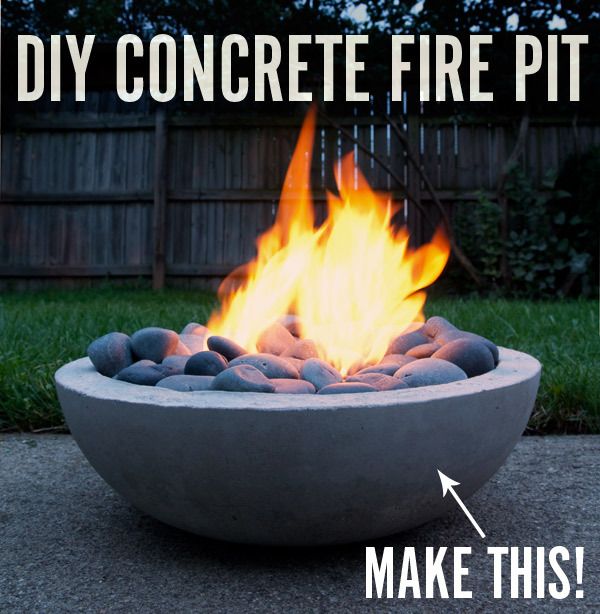 This concrete fire pit is made of a concrete bowl, filled with stones, or lumps of coal. It can be placed on the pavement or the tiles in the backyard to make it even cozier. Easy to make, does not cost a lot and it decorates your garden perfectly. Warming up in the cold autumn nights and hanging out with friends around it will be a real joy for all.
10. In-Ground Fire Pit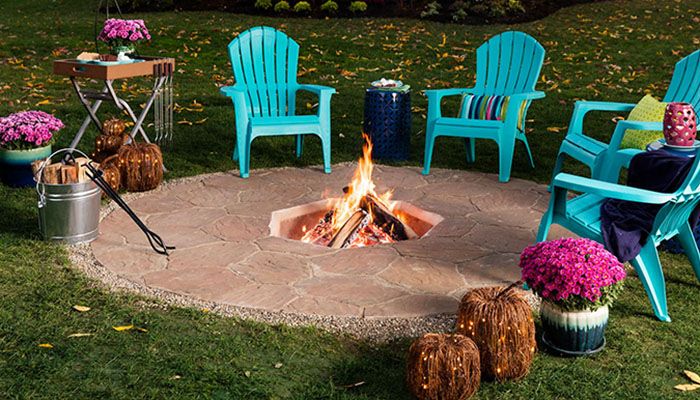 This is an idea for the more skillful ones. If you decide to have a separate small round patio, this is the perfect solution for you. This inground fire pit is most suitable for a large backyard. Dig in a hole, pave it with stones around it, and put wood or coal inside to light the fire. The chairs in vivid colors and the flowers will complete both the look and the enjoyment.
11. Table Smores Fire Pit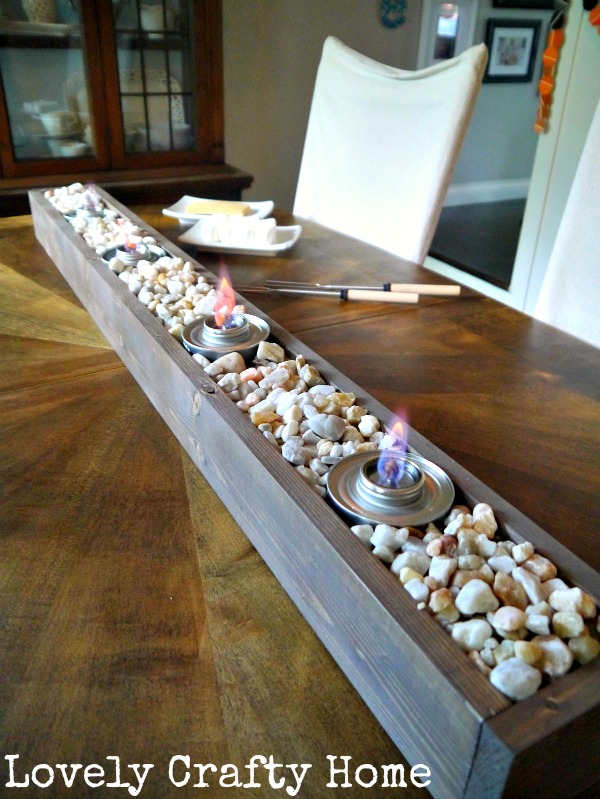 If you love smores and enjoy having them all year round, this idea will solve all your problems. Simply make this decorative table fire pit with pebbles and canned candlelights and put it in the middle of the table so you can use it from both sides. Painted in the color of your choice, and paired with white pebble stones, it will brighten up the room and give you real pleasure.
12. Pallet Fire Pit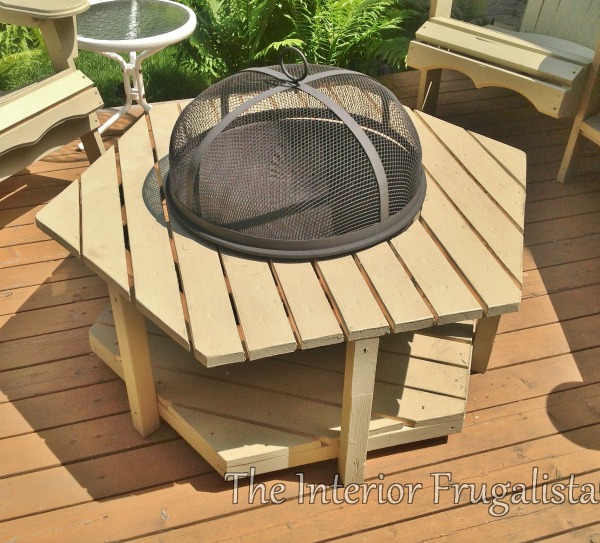 This unique fire pit is made of pallets and completed with a metal bowl in the middle. Put it on your patio or your terrace to have even more fun making barbeque or enjoying drinks around the fire. It is both useful and pleasant. Use the lower layer for storage and move it wherever you need it.
13. Cold Steel Fire Pit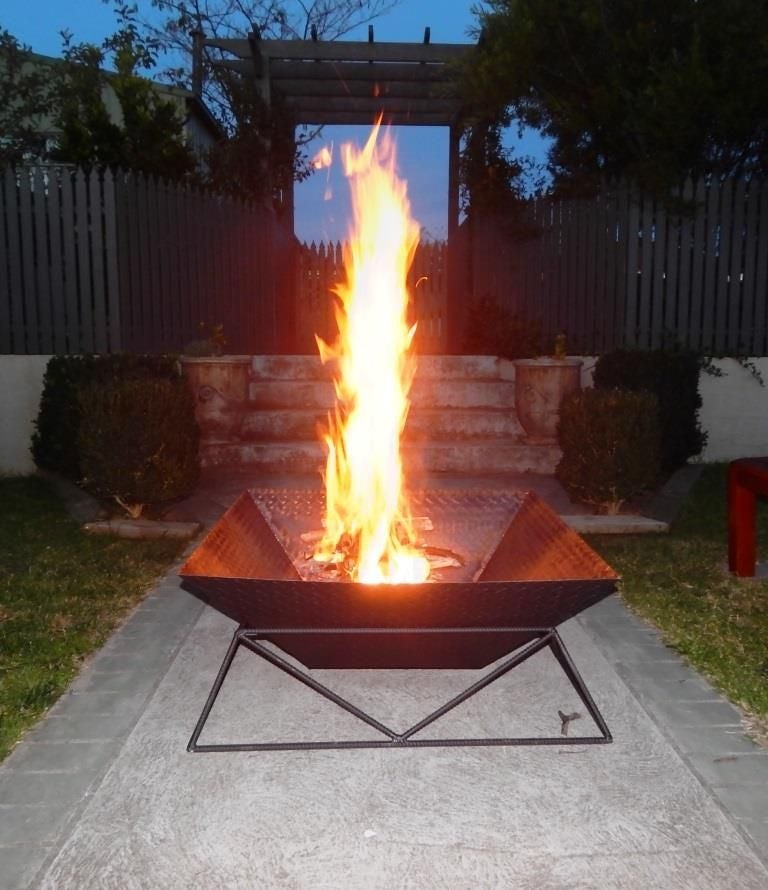 Here is an idea of how to make your garden look rustic and modern at the same time. This cold steel fire pit is made of a folded metal sheet and a steel base. It lasts long and doesn't cost a fortune. It is easy to make and fun to have. Make smores in it or bake sausages on a stick. It is all equally fun.
14. Terracotta Fire Pit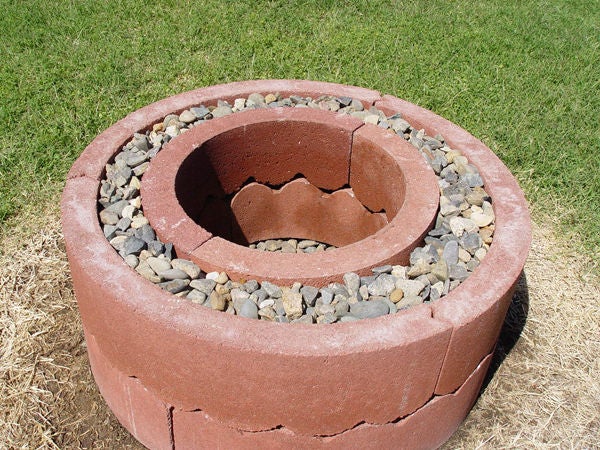 For all terracotta lovers, this fire pit is just the thing. It is made of terracotta in a semi-circular shape and filled with pebble stones. The middle part is lined with a metal casing for the fire, and it is placed wherever you wish to have it. It is fun and enjoyable for all, yet very practical. Pair it with cool garden furniture to complete the look.
15. Corner Teardrop Fire Pit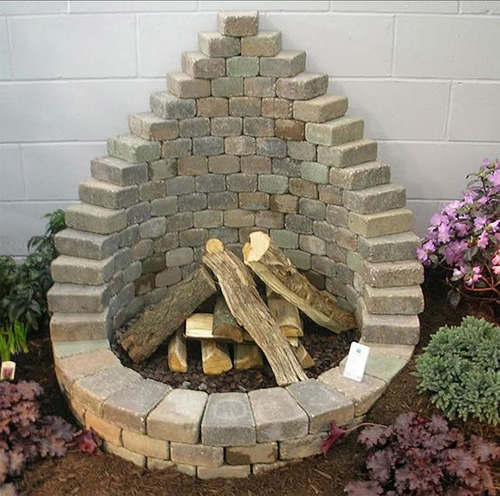 Here is an idea of how to make a corner firepit. This lovely teardrop firepit is easy to make and looks really cute in the corner of your yard. It can be put in among the flowers or right next to the outside wall to make the teardrop shape pop even more.
16. Lava Stone Fire Pit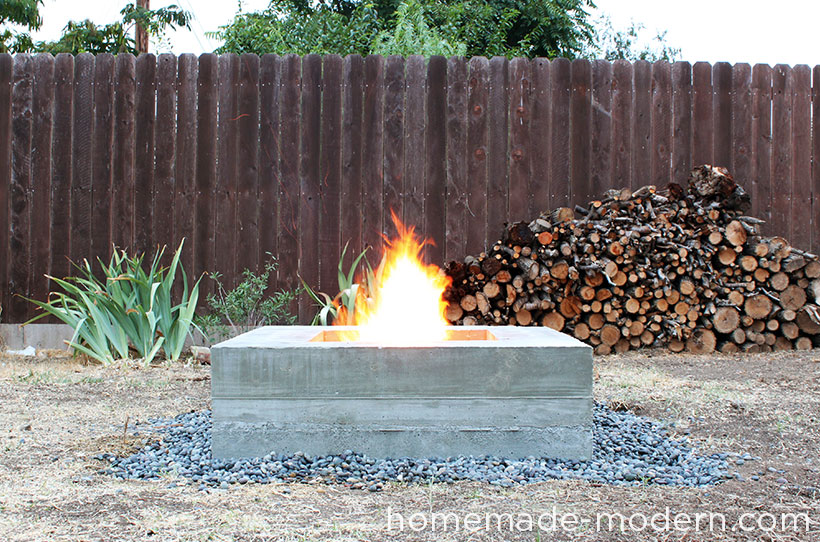 If you have a new backyard that needs to be landscaped from scratch make sure you plan to build this fire pit on the best location in the yard. It is made of concrete and filled with lava stones to make it even more durable. If you place it well, it can be the central point of the most enjoyable place in the house.
17. Flower Pot Fire Pit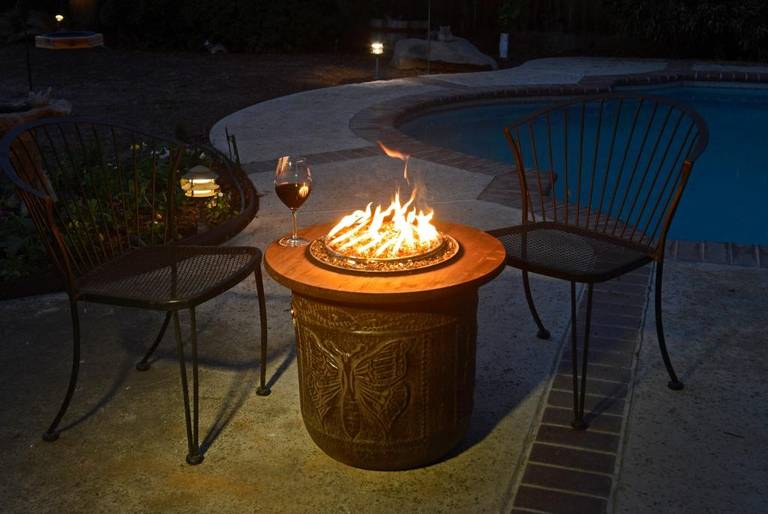 Use an old flower pot to make a fire pit for your backyard. Fill it with stones and dirt, cover it with a wooden and metal plate, and place the firepit in the middle. Use it both as a table and barbeque to enjoy the autumn evening around the pool. Pair it with stainless steel chairs to complete the look. Enjoy it with a glass of fine wine.
18. Brick Fire Pit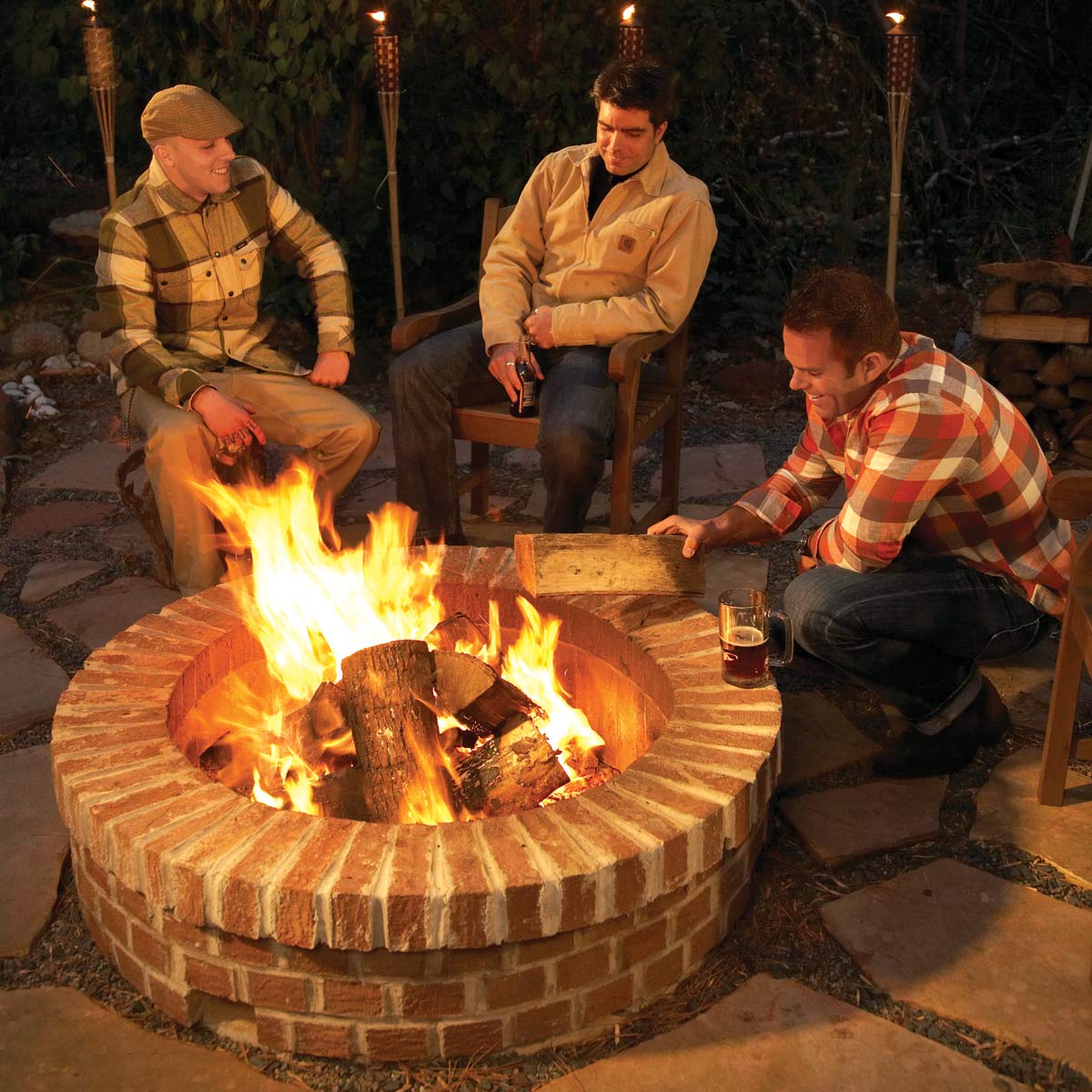 This fire pit is the best to make it with your friends. It is built of bricks connected with concrete and shaped in a circle with several layers. Gather your crafty friends and start working. You will have fun and build a unique fire pit to enjoy all your life. Bake barbeque, make smores, or simply have a beer around the fire.
19. Gas Fire Pit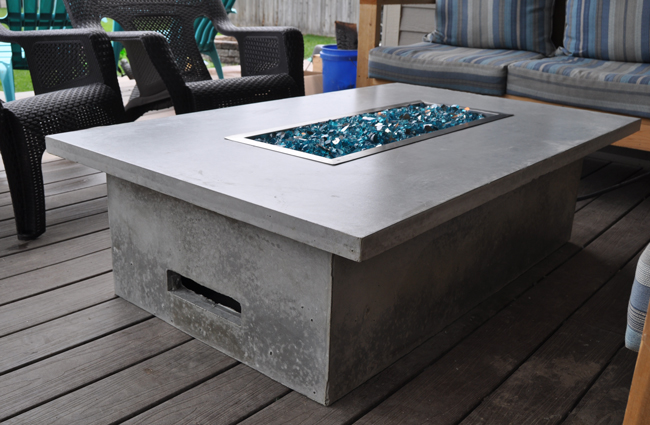 If you love gas more than wood, this is a perfect idea for you. Make a metal case, install the gas system inside, cover it with a tabletop, and decorate it with stones in different colors. Let the flame burn through the stones to make it even cozier and more elegant. Put it on the porch or on the patio and start enjoying it.
20. Old Tires Fire Pit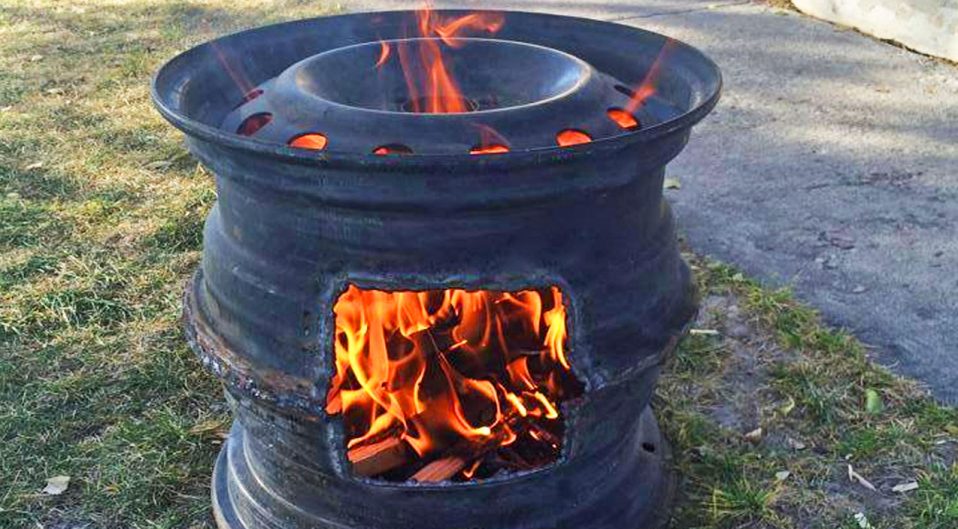 Don't throw away your old fire rims. Instead, use them to make a fire pit for your rustic backyard. It will not cost a fortune and will look cool wherever you put it. You can make barbeque on the top, bake sausages inside the fire and smores on the top. Or simply, you can warm up during the cool autumn and winter days.
This is all we have for you. Now, it's up to you to get inspired and start crafting. Make your backyard the coziest and most enjoyable place in your house. It is up to you. Spend as much as you can, but make sure you get the most out of it. And don't forget to leave a comment in the comment section below.