There is nothing better than hitting a nice, soft, cozy bed after a long and hard day. It is by far the most pleasant place in the house for some of us, and one that oozes with rest and relaxation. But getting to a good, well-built, and comfortable bed can be a tricky, and more often than not, expensive. Have you ever wondered whether it's possible to cut corners and costs, and still get an awesome result? Here are some ways to achieve that.
1. Bed Frame With Headboard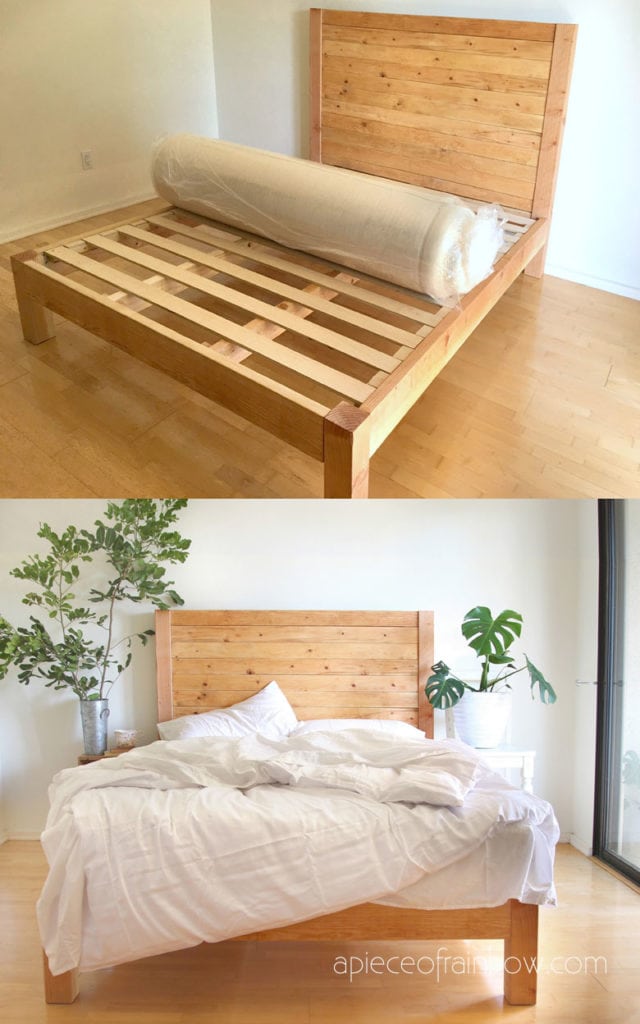 First and foremost of all, what every bedroom invariably needs is a bed with a headboard. A thought that maybe crosses your mind is that it is probably a difficult thing to add to the construction. Not if you make it a central part of it.
2. Wall Mounted Bed Frame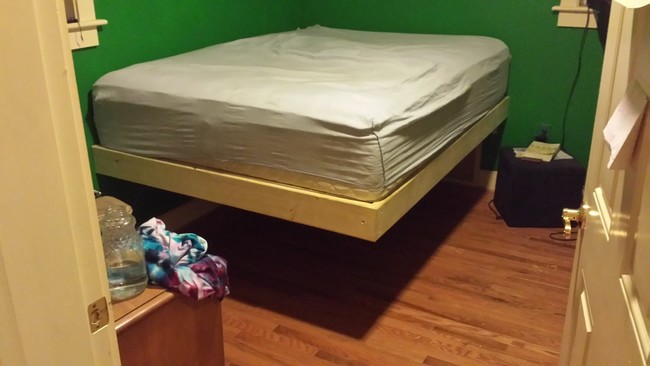 As much as everyone would like a big bedroom, alas, not every bedroom is big. Here is a practical tip for even a small bedroom to enjoy the luxury of a queen size bed. You will have to rely on the walls more than you would like, but that shouldn't be a problem.
3. Industrial Bunk Bed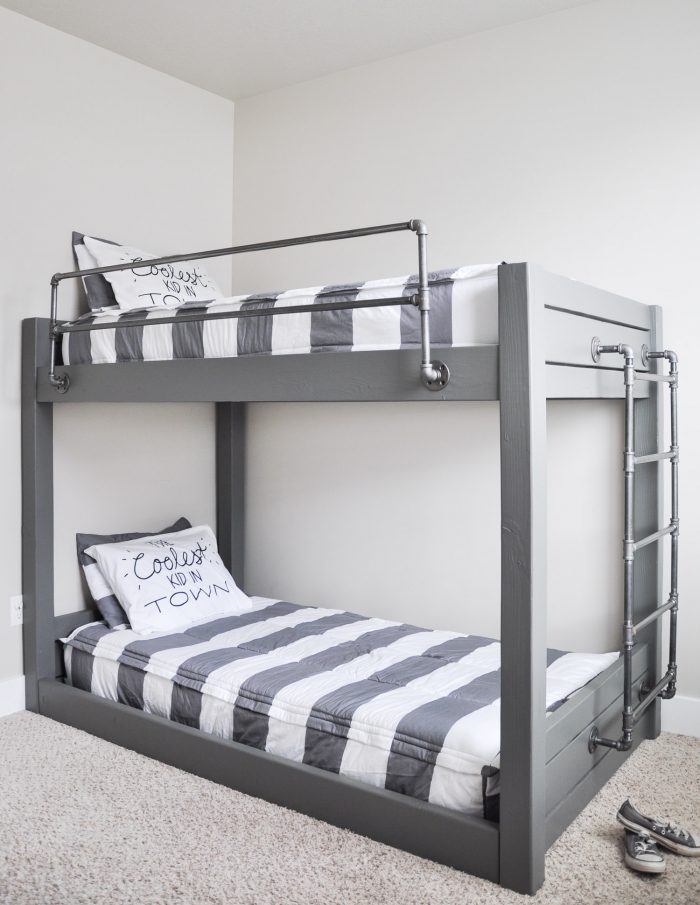 Here is a solution for the youngsters. Make use of the easy-to-build design that keeps the space simple and useful. Even if those bars look crude to you, they are super handy and safe. These are also a neat thing for a guest bedroom, or just about anywhere.
4. Twin Storage Bed Frame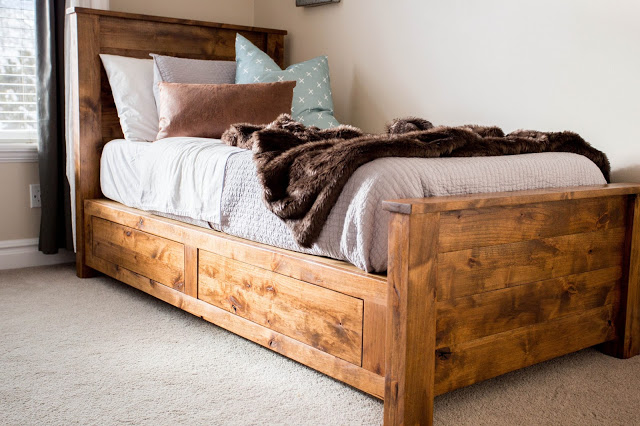 Now it's time to address the elephant in the room, that is, the huge amount of space under the bed that's usually wasted. So why not take advantage of it and install twin drawers? Not only does that save space, you avoid the awkwardness of something like a suitcase protruding or showing from underneath.
5. Raised Storage Platform Bed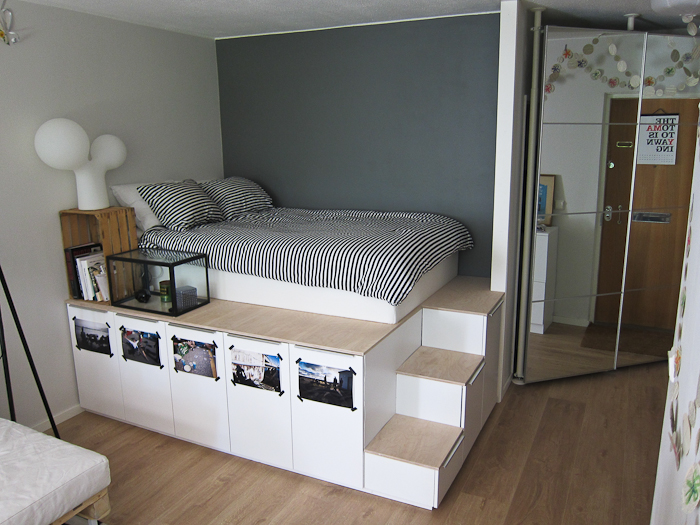 Speaking of that pesky little devil called storage, you can maximize your bed's utility by putting it on a raised platform. Not only does this take car of at least half the stuff in the house, but it also gives you a feeling of sleeping like royalty. Sweet dreams!
6. Pipe And Flange Bed Frame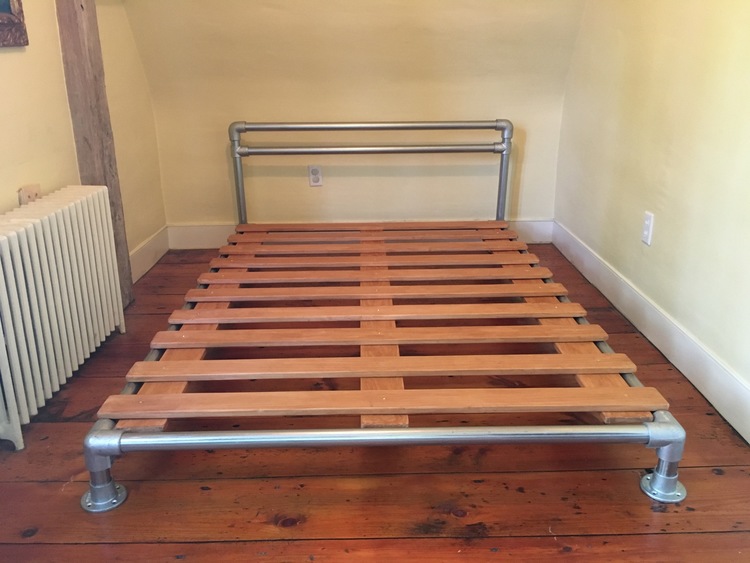 We showed you earlier how pipes can be used when constructing a bed. But they aren't just limited to bunk beds. In fact, their toughness works like quite the charm even for standard king or queen size beds. Again, it's not the best look, but it holds your bed like few other materials.
7. Murphy Bed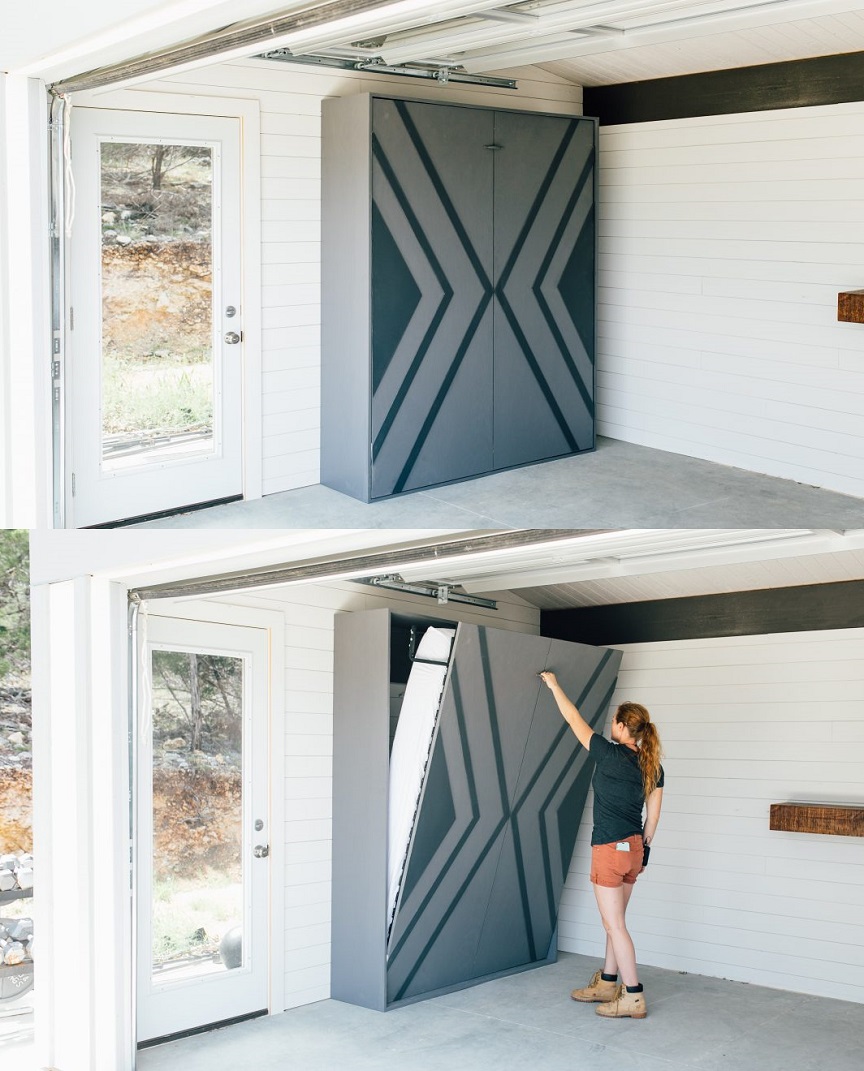 If you've been looking for real space-saving methods, give yourself a pat on the back, because you just hit the mother lode. Behold the Murphy bed, which only takes up a small amount of room when not in use. It's compactness at its finest.
8. Bed Frame With Floating Nightstands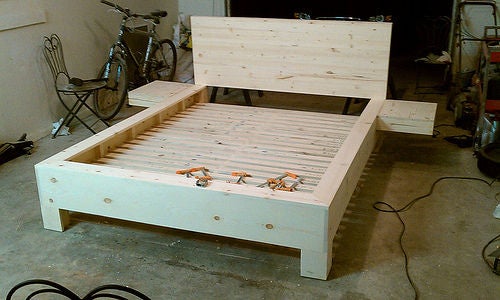 I bet one of the biggest headaches when choosing a bed is whether you would be able to find matching nightstands, or at least ones that go well with it. Why not make the nightstands a part of your bed? If nothing else, cleaning under them just got a whole lot easier.
9. Queen Size Storage Bed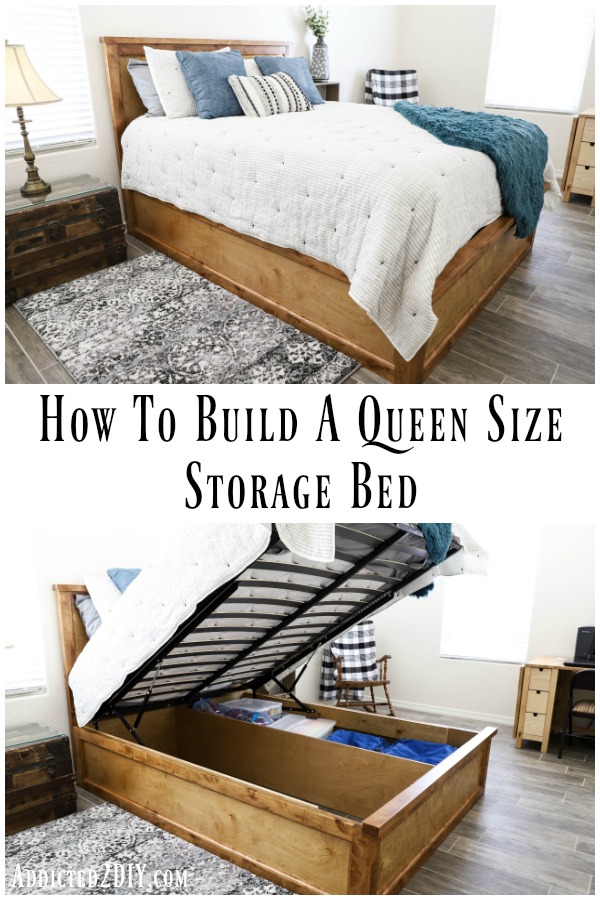 Here's another big gun in the 'good for storage' category. We know what you must be thinking. 'Do I really have to lift up my whole bed every time I want to store something?' Yes and no. The hydraulics ensure that all it takes is a minimum push for your bed to pop open easier than a seashell.
10. DIY Four Poster Canopy Bed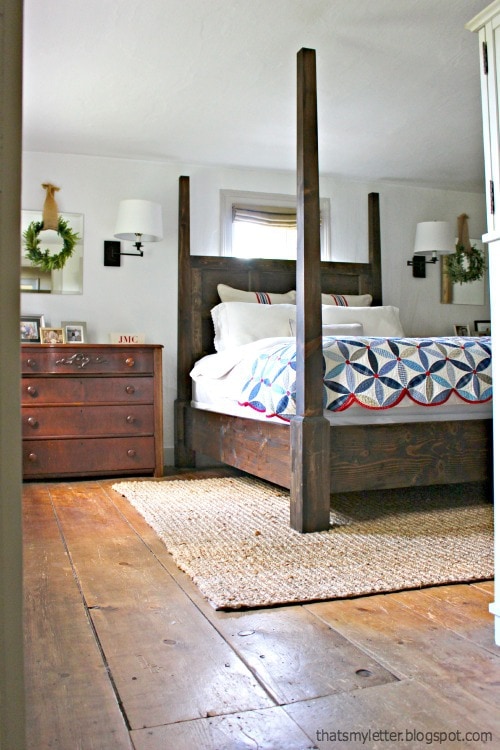 Back to the royal feeling, there is nothing more royal than a four poster canopy bed. And rather than having to pay a hefty, queen's ransom for it, we give you an easy way you could make it yourself with minimum fuss and expense. Enjoy your majestic sleeping.
11. Live Edge Bed Frame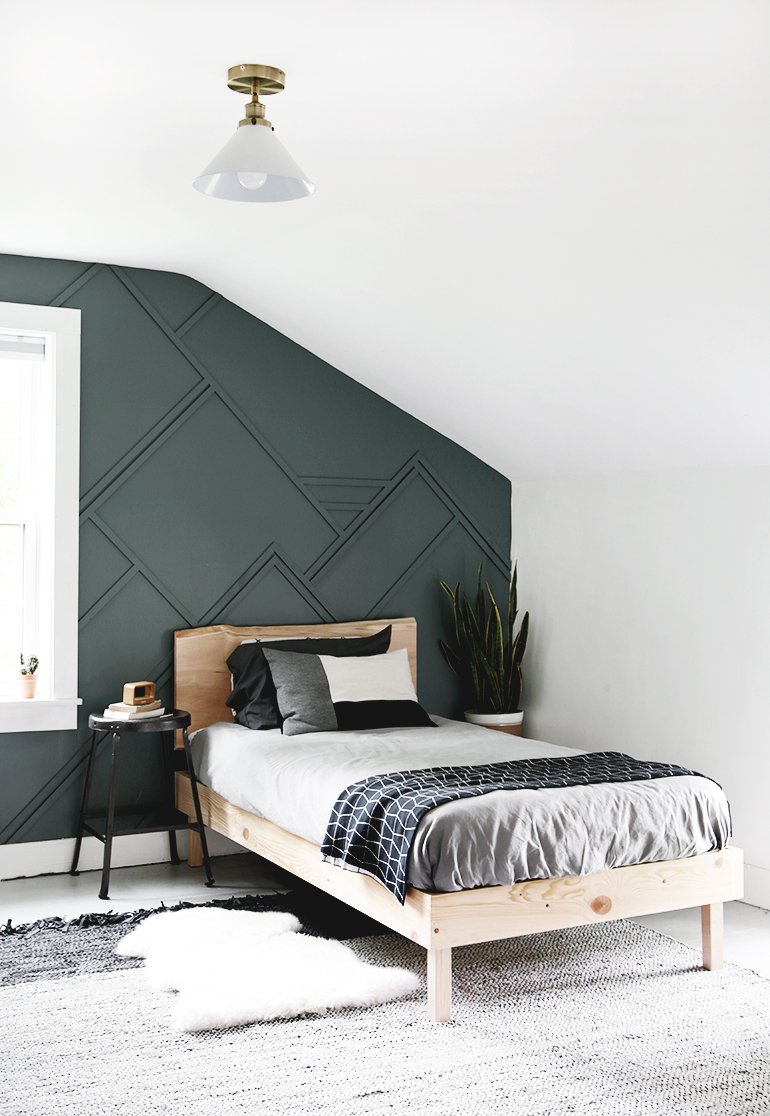 No one says that the edges of bed frames need to be straight or square. You can always mix it up with a live edge, which is just enough to give your bedroom a more extravagant and fancy look, and a warmer feeling for you. It can also give out a rustic feel.
12. Industrial Style Loft Bed Frame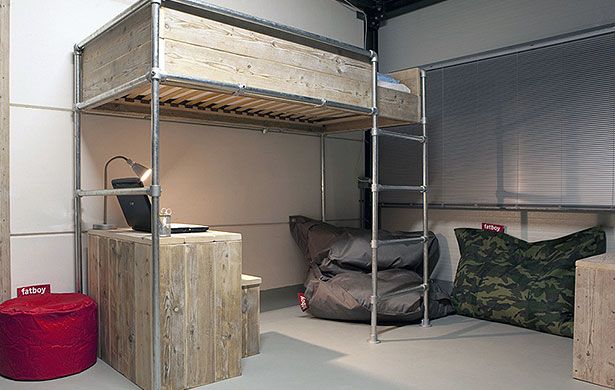 We saw a glimpse of the industrial style with the bunk beds further above, and if that's your cup of tea, then why not go for a loft bed while leaving room for a desk underneath it? It's not only hardcore, but it also saves tons of space in any given room.
13. Full Bed frame With Storage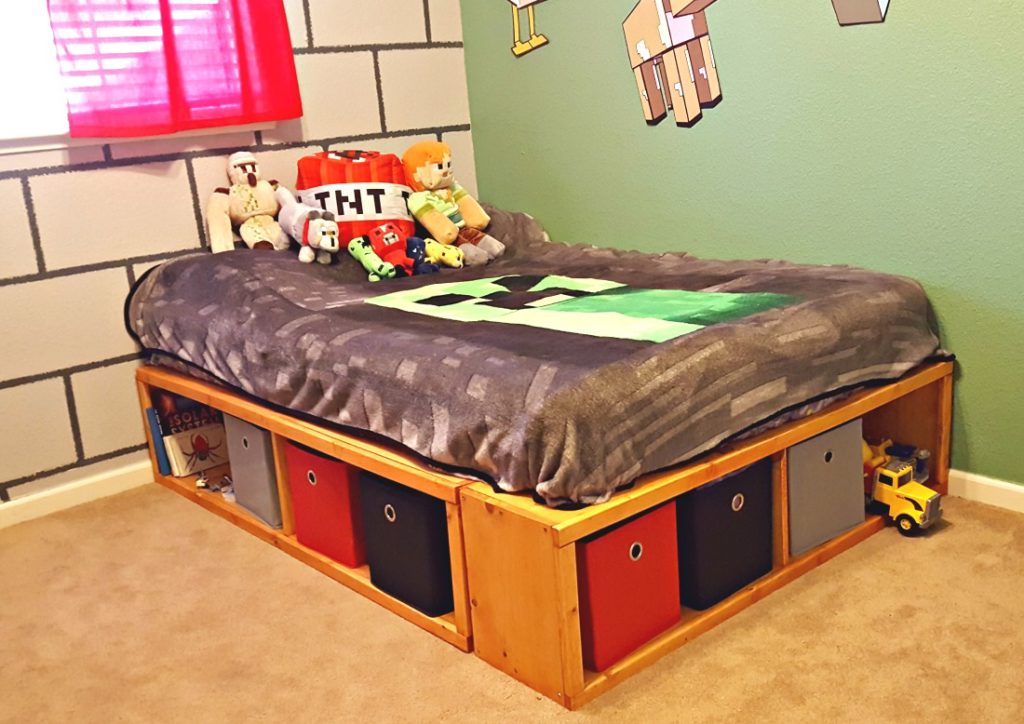 Complicated constructions aside, bed frames can sometimes be the simplest things ever. All it takes are a couple of easy-to-make storage elements put together, and voila! You get something that's super simple, yet super handy. Problems solved.
14. Floating Bed Frame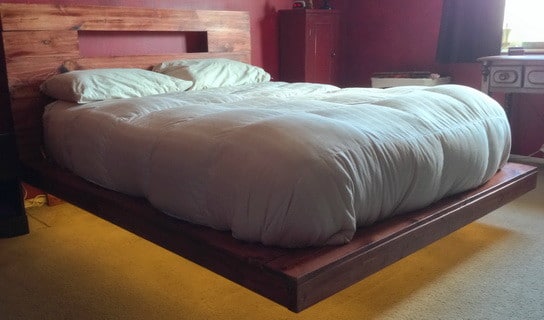 Brace yourselves, here's something you weren't really expecting to see. It's the floating bed frame, with no legs but the basic supports at the head of the bed. All it takes is a properly done support, and after that it's all a dream. Literally.
15. Kid's House Bed Frame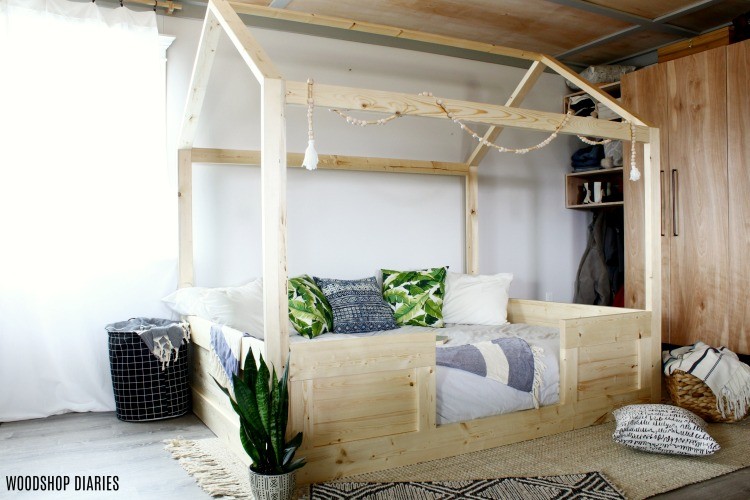 Are you one of the countless parents whose kids keep on begging them for a tree house? Yet we all know how dangerous those things can be, not least for the one making them. That's why we suggest turning your child's bed into a house within a house.
16. Hanging Bed Frame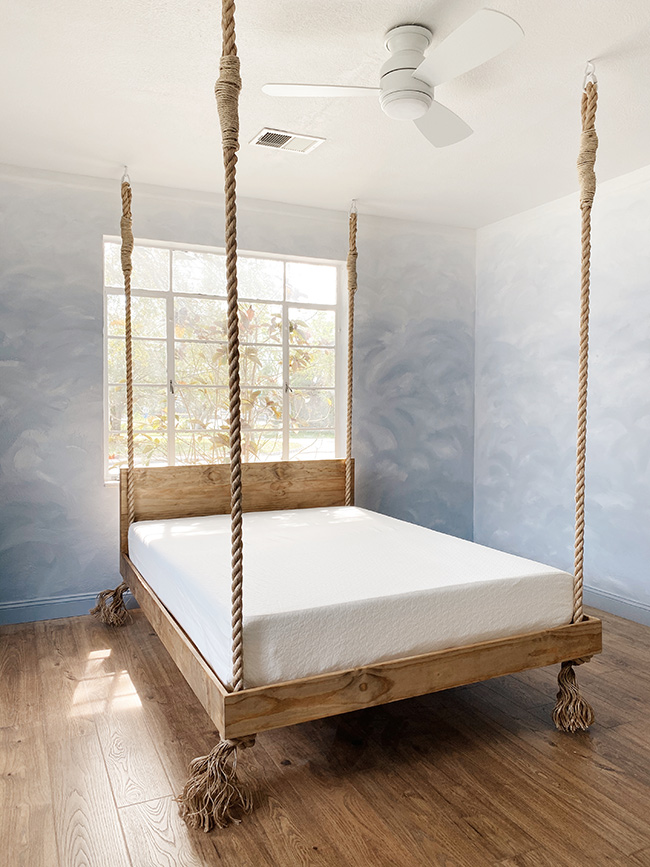 Prepare for another revolutionary idea. A bed doesn't necessarily have to be a piece of furniture that's supported from the floor up. It can actually be hanging suspended from the ceiling. Still, when the ceiling is holding something this heavy, it needs to be well fixed.
17. Farm House Storage Bed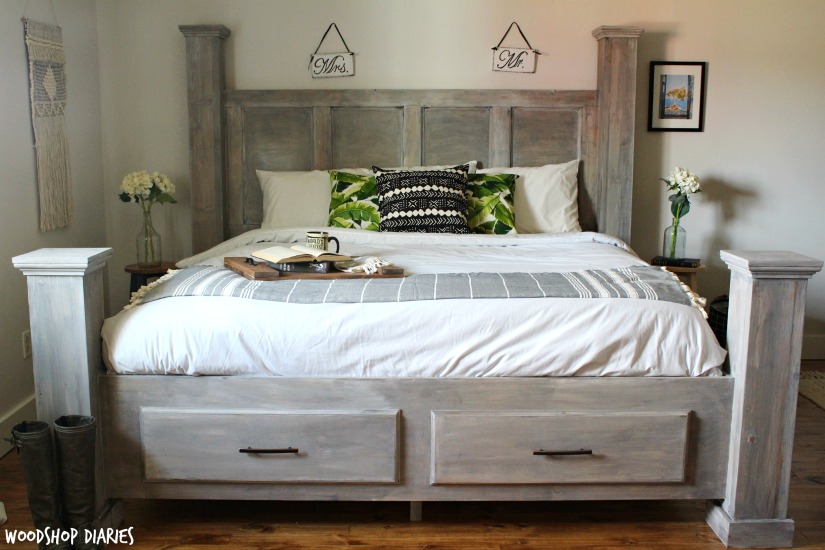 Raise your hand if you just love Chip and Joanna Gaines' irresistible farmhouse style. Here is a way where you could transfer some of that to at least one part of your home without having to spend a lot of money. Just the freshness of it means it's worth the trouble.
18. King Size Bed Frame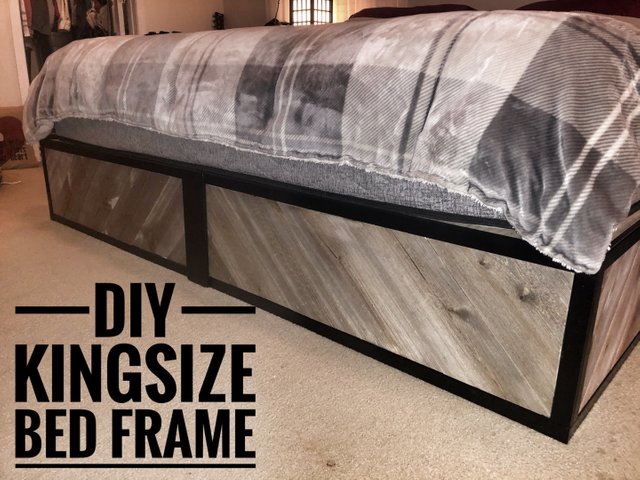 And last, but not least, we give you the mighty king size. Luckily, in this case, the name refers only to the size, and not the price. As ambitious as this project sounds, anyone can do it, so long as your bedroom can handle it. Other than that, go for it!
So, there you have it, folks. Are you ready to put your tools and elbow grease to work and make a sleeping rack yourself? If yes, then we definitely recommend the farmhouse style. What are your thoughts? Go right ahead and share them in the comments.