We all love the summer. It is warm and sunny and careless. And if there is a pool, it is even better.
For a pool, you need a backyard. If you have a backyard that is still empty and needs some work, you can make a pool in it. You don't have to dig anything, but make an above ground pool for you and your family. It can be wooden, plastic, concrete or brick pool, big or small, round or square… It all depends on your yard.
Now, to make a pool it might be costly, but if you are skilled enough you can make one yourself and save tons of money. Below, we give you a list of DIY above ground pools ideas to build your own pool according to your needs and your budget. Spend as much as you want, get as much as you need.
1.Recycled Old Water Silos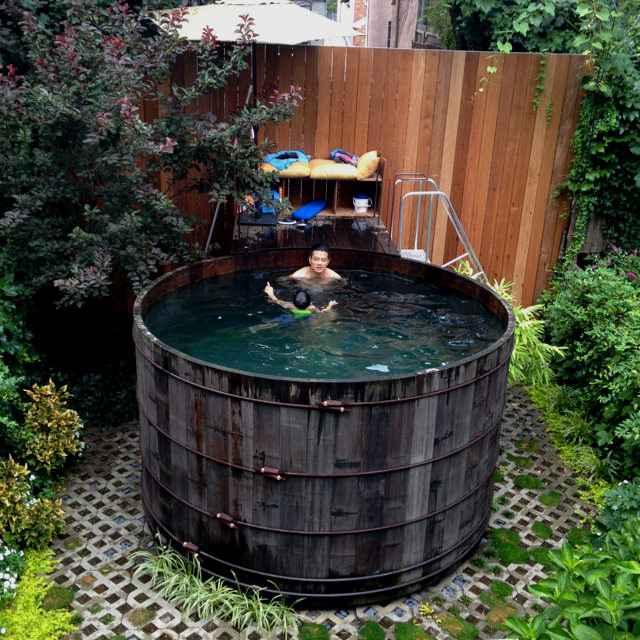 If you have a small yard and live near an old water station, this is a great idea to reuse the old water silos that are left lying around empty. Or you can buy one for a bargain price. Just put it in the yard, fill it with water, and enjoy it with your family. If it can hold water, why not make it a DIY swimming pool?
2. Shipping Container Pool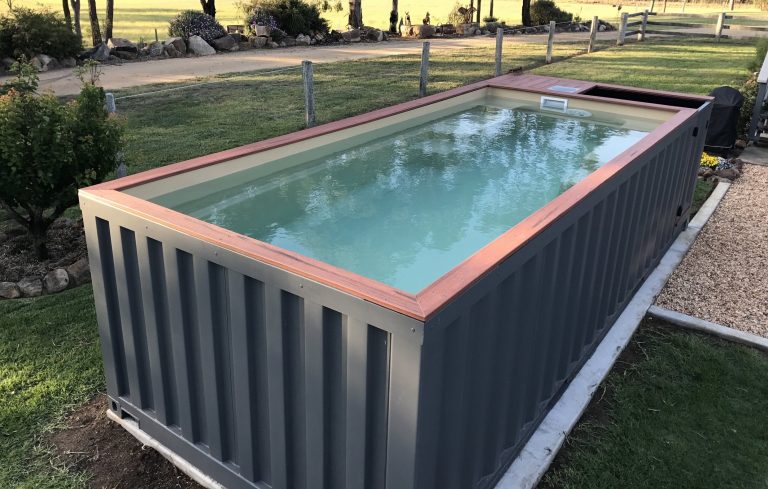 Use an old shipping container and turn it into a DIY pool for your yard. With a little bit of work, this shipping container can become a modern and chick pool for you and those that you love. Paint the outside with a vibrant color to pop from the surrounding, and paint the inside white to give it a contrast. Don't forget to leave space for the stairs. Enjoy.
3. Deck-sinking Pool
If you already have a pool but need to make it look better and tougher, this is a cool diy pool deck idea to make it yourself. Simply build a wooden deck around the pool and you will get the impression as if the pool sunk into the deck. Put some chairs on the deck and enjoy yourself with your friends and family.
4. Bale Hay Swimming Pool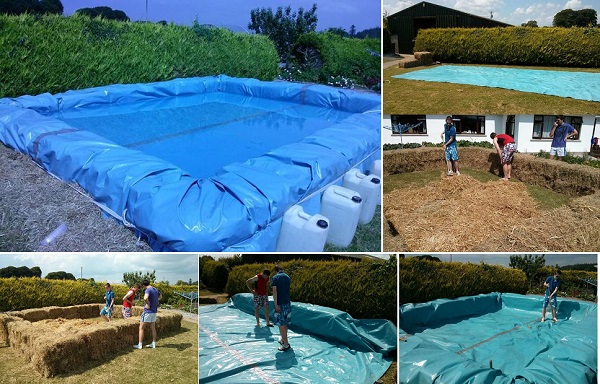 This swimming pool is ideal for a farmyard so that you don't ruin it and still enjoy the summer. Since there are plenty of hay bales there, use them to make the frame of the pool. Make it firmer with water tanks, put the pool cover over the bales, and strap it with a rope to keep it in place. Fill it with water and enjoy the summer.
If you need any more ground pool ideas, read on.
5. Jacuzzi Pool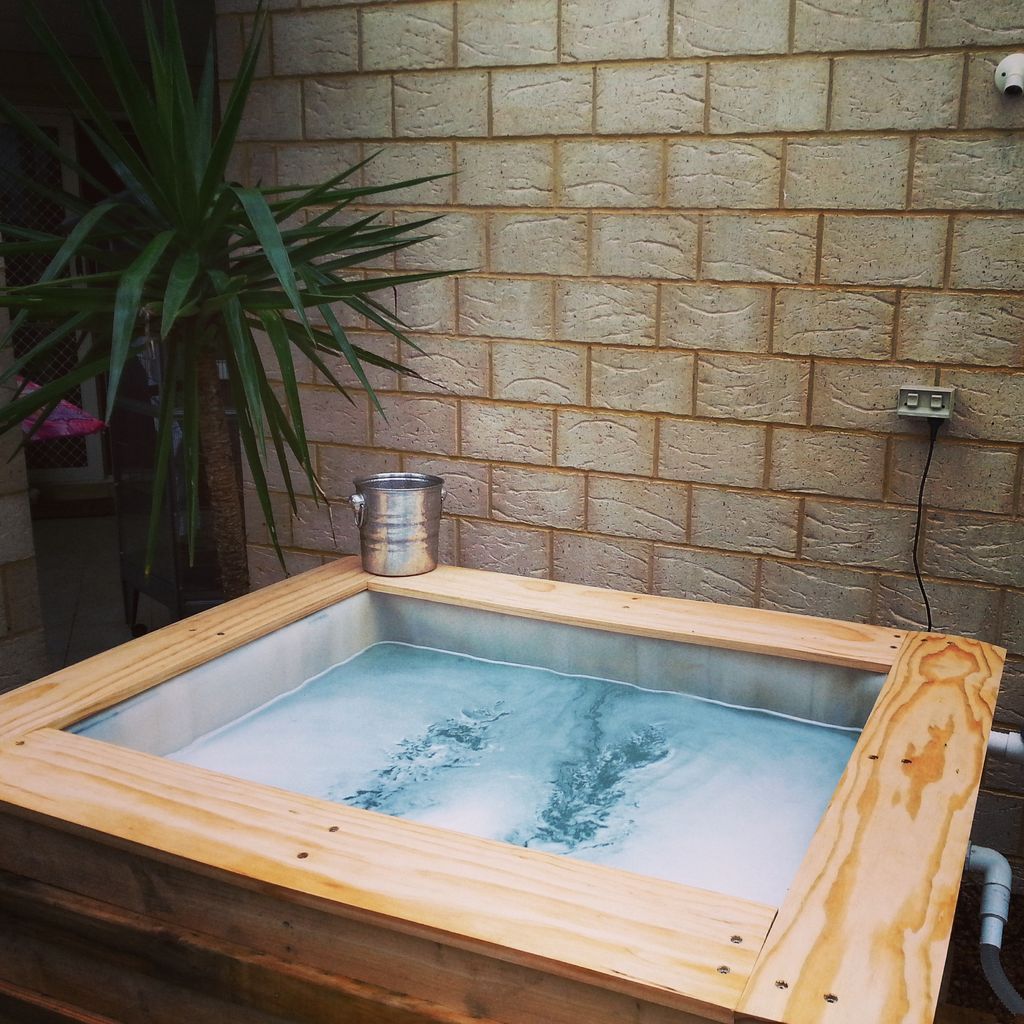 This DIY pool is perfect for a small garden or a terrace. It is tiny, yet deep enough to have a pleasant and relaxing bath. With the Jacuzzi system, it is quite a pleasure to be in. Made of pallets, it is cheap and still provides pleasure. If you turn off the Jacuzzi system, it will turn into a kids pool for your little ones to enjoy.
6. Water Tank Pool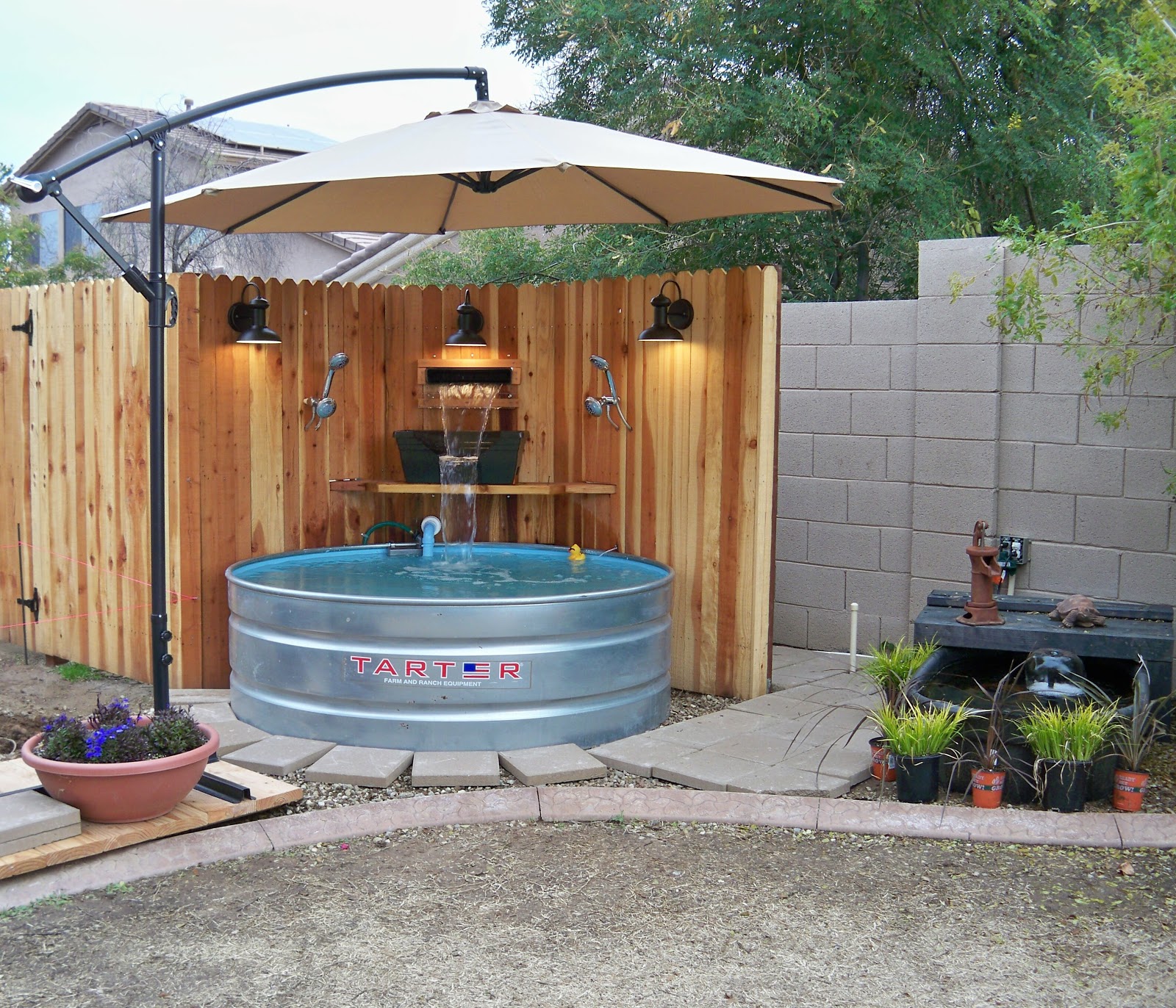 This is an idea to fill the corner of your backyard and not ruin your flower garden. Find a metal water tank, install piping and electricity in it and turn it into a cool diy swimming pool. Decorate the background with ship-lap and put a waterfall behind the pool for the perfect pleasure. Cover it with a big umbrella to protect it from the sun and enjoy the summer.
7. Natural Pool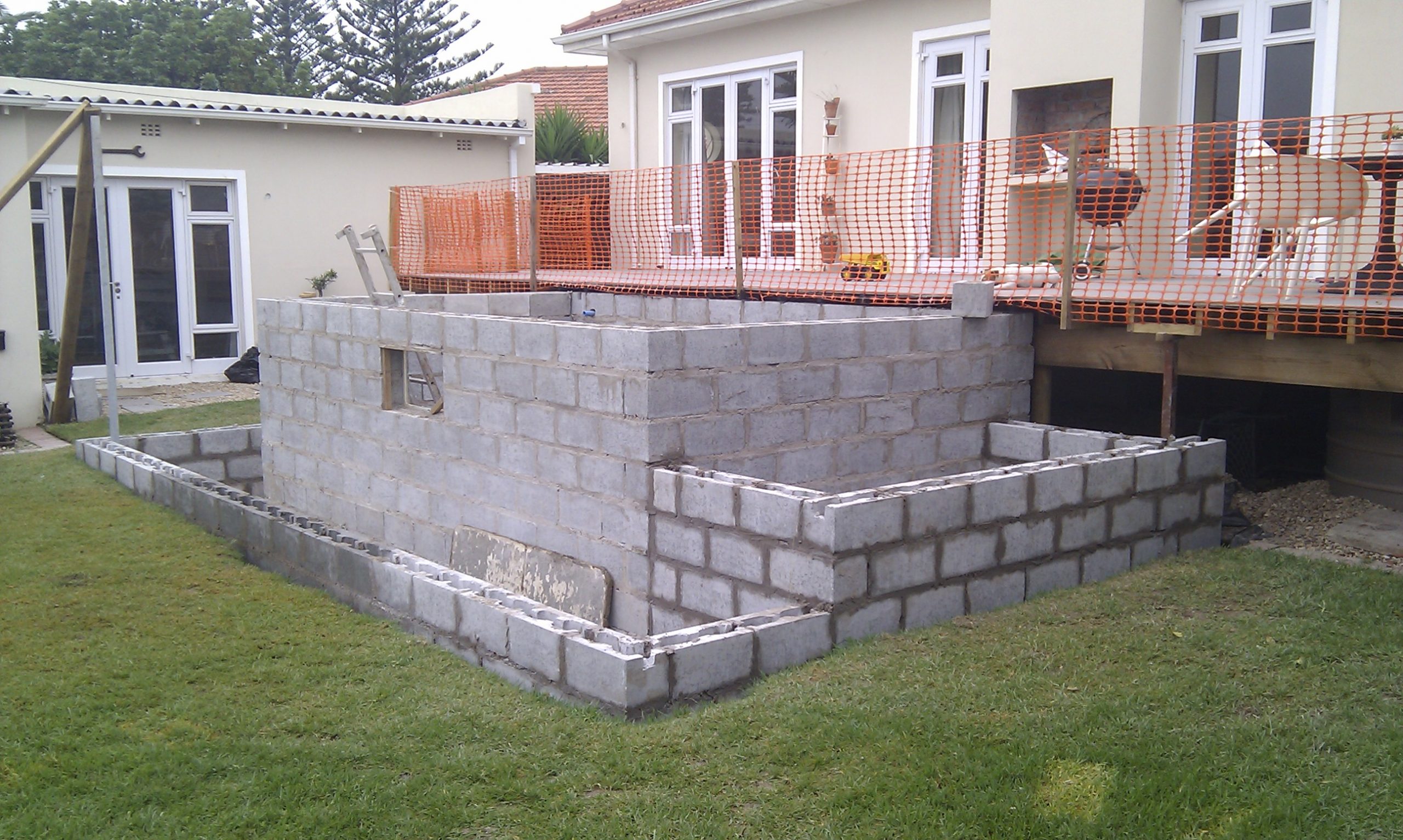 This is an idea of how to put your pool under your deck and preserve the environment. Make it of concrete bricks with basins on different levels to make the water flow from one into the other. Decorate it as you wish, put some flowers around it and feel fresh and relaxed in your backyard.
8. Decked Pool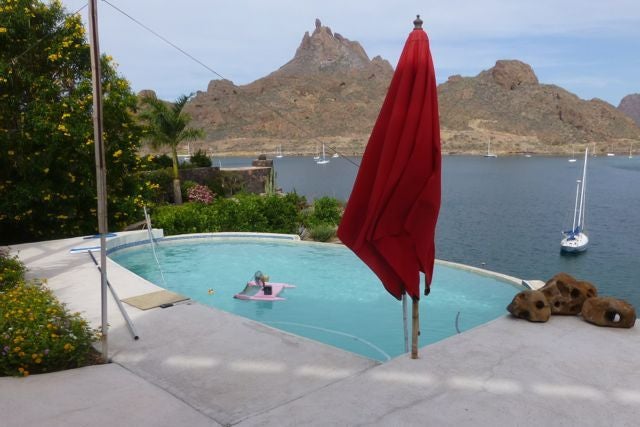 This outrageous pool may be costly, but it is worth every penny. Built on the dock of the hill, it gives you a great view to the sea and the ships and still keeps your privacy from the outer world. This above ground swimming pool has a concrete deck that makes it pop, and the light blue color of the water makes it cozy and pleasant to be in.
9. Dumpster Pool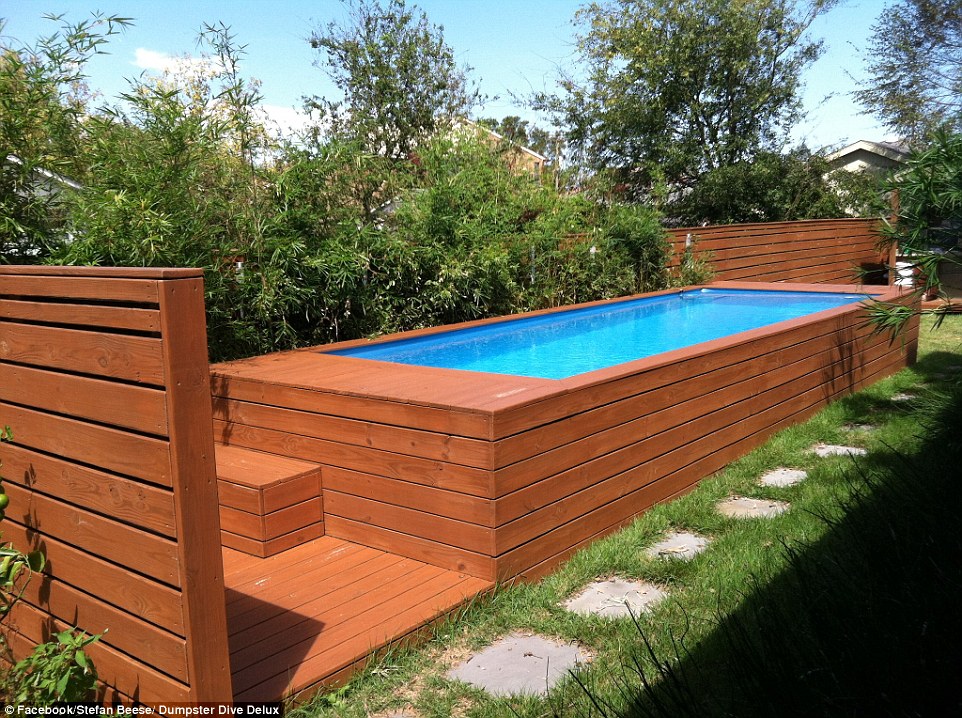 If you are creative, this is an idea for you. This backyard pool is made of a dumpster. Clean it and paint it, put plumbing and electricity, make a wooden platform and this dumpster can become the best pool area for your family and friends.
10. Metal Pool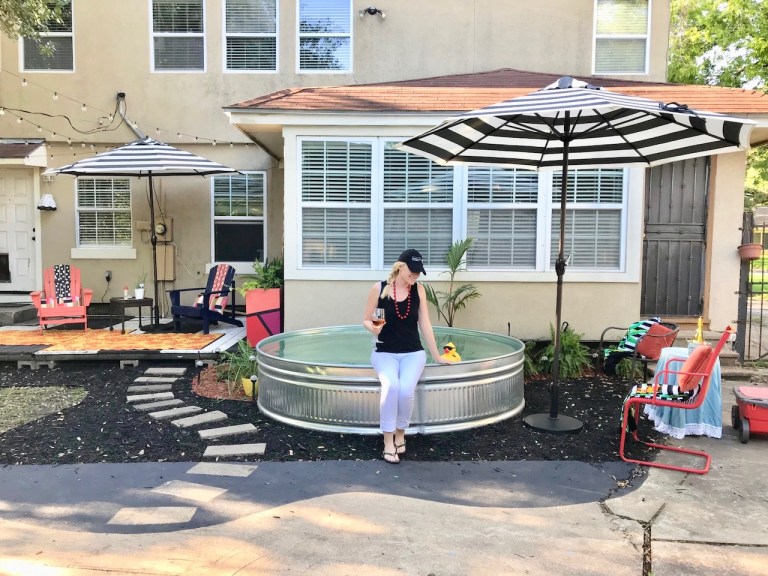 This is an idea for a smaller yard and a recycled water tank. It can be as deep as you want, just put it in the right spot, fill it with water, add some landscaping and your backyard will turn into a wonderful place to enjoy the summer. Invite your friends over for a wonderful evening, or your family for a great fun weekend, or enjoy wit your loved ones every day.
11. Paddling Pool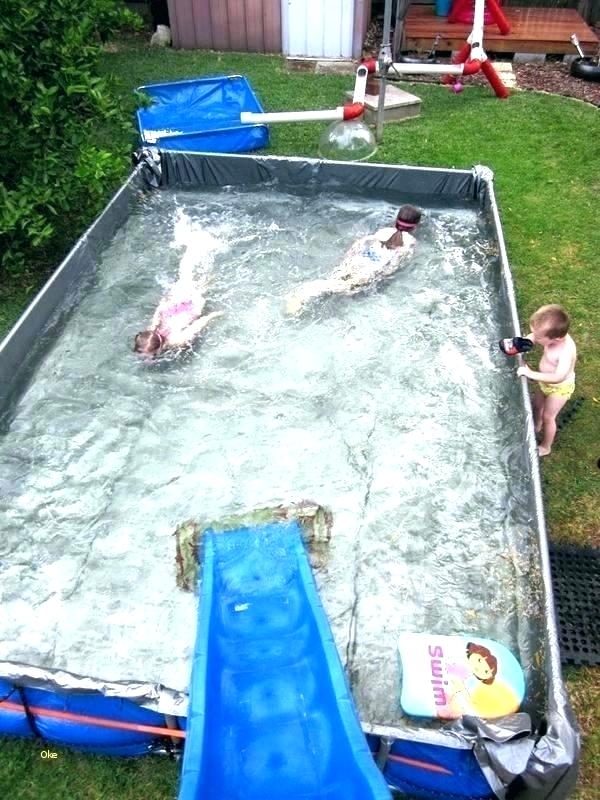 Here is a simple idea of how to turn your backyard into a fun summer playground for smaller and bigger kids. This backyard pool is made of metal planks, covered with nylon wrack, and fastened with an elastic rope. Add a slide to increase the joy for kids, and to let the grown-ups feel like kids again.
12. Round Pellet Pool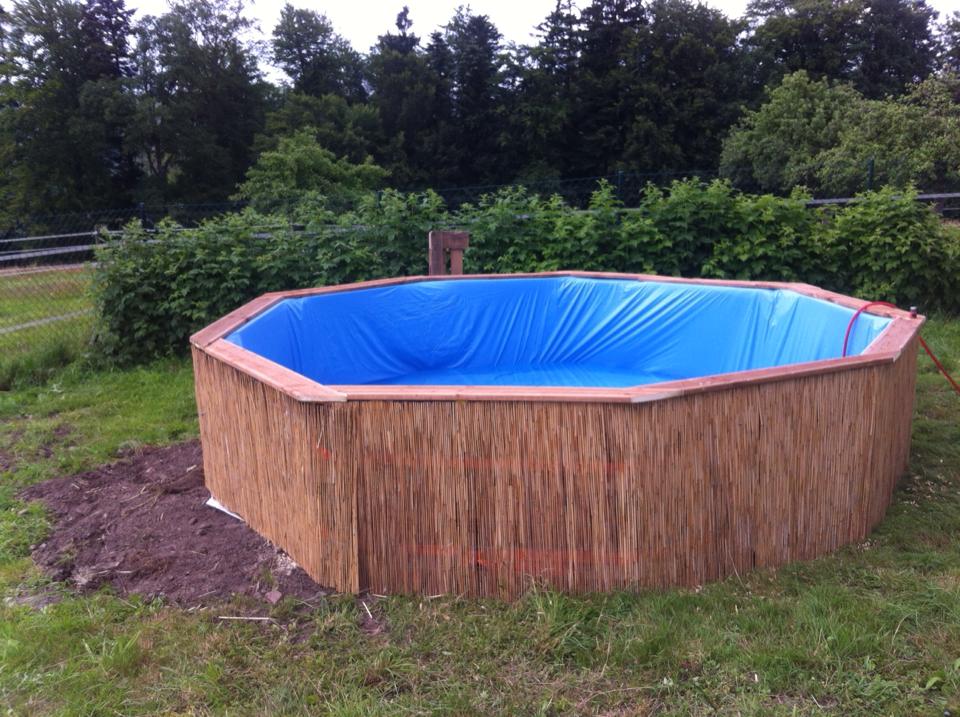 If you are a fan of round swimming pools, this idea is perfect for you. You can use your existing round pool and wrap it in pallets to make it firmer. Decorate the landscape with flowers to make it cozier or with white stones to make it cooler. Whatever you decide, you will enjoy it immensely.
13. Brick Pool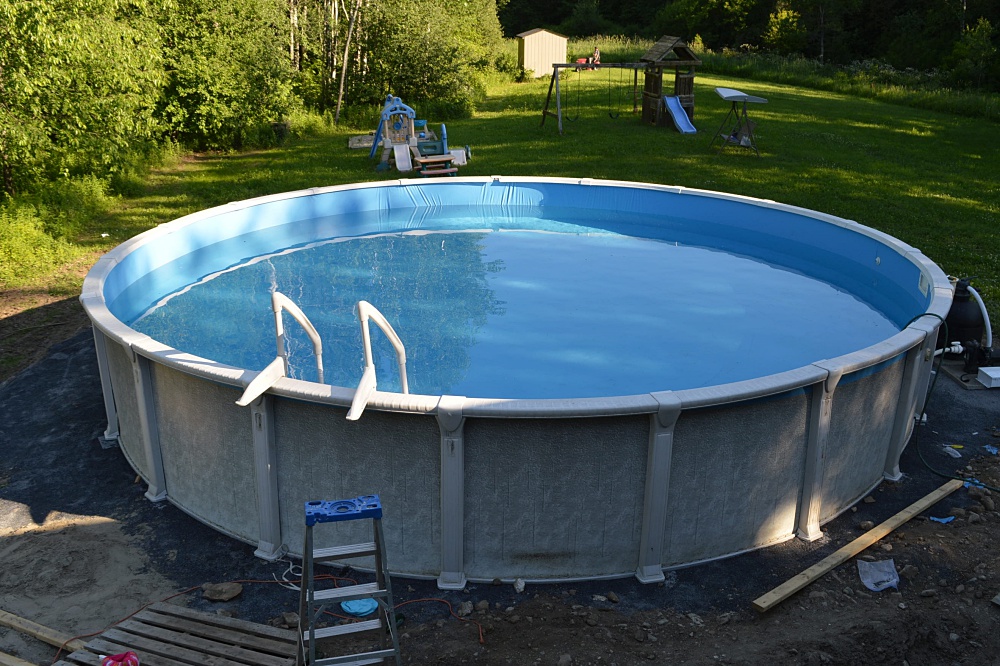 This brick pool is perfect for a large backyard. It is not very difficult to make and is perfect for the warm summer days. Surrounded by the greenery of nature, it will pop with its shades of blue and grey, making your backyard a perfect place to stay. Complete the look with the white, grey, and blue stairs and start swimming.
For this DIY project, all you need is a pool kit and you are ready to start.
14. Easy Pallet Pool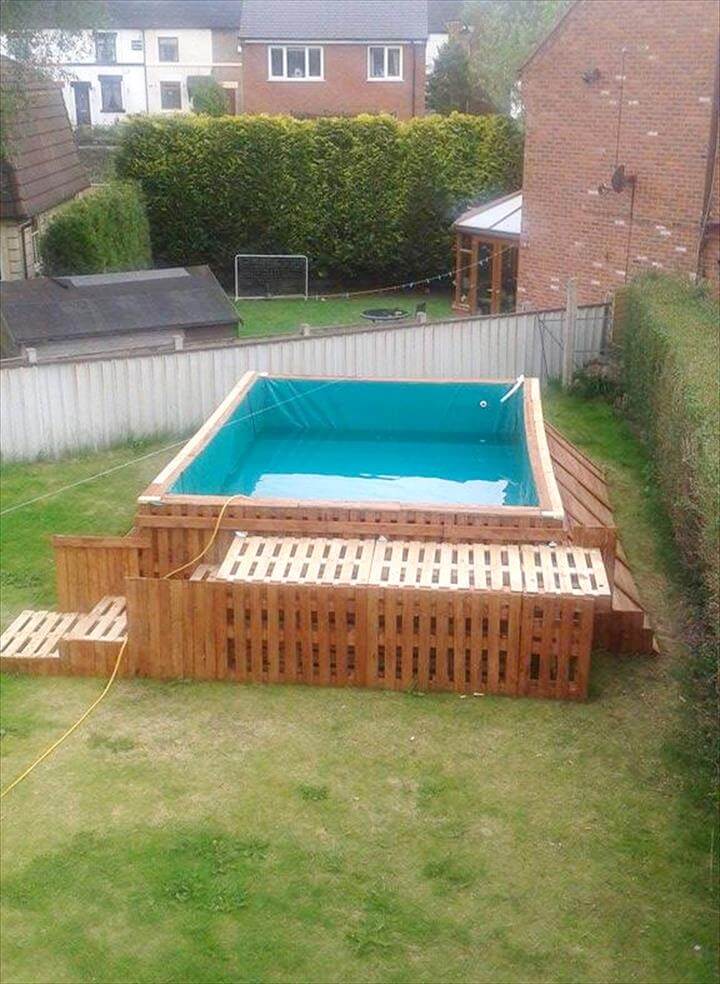 Take the pallets from your storage and start building your new DIY project. This easy to make pallet pool doesn't require a lot of skills and hard work. All you need are some nails and a hammer. Put together the pallets without changing them, line the bottom with nylon, and fill the pool with water. Don't forget to swim!
15. Green Pool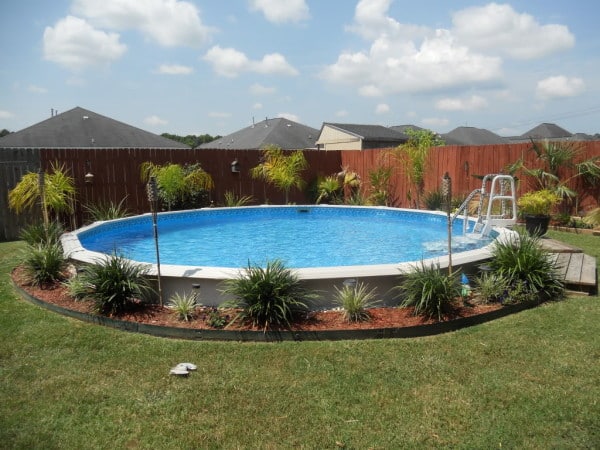 This pool pops out of the greenery with its blue and white colors. It is made specially to be rounded with greenery, and the easiness of the construction makes it perfect for DIY lovers. Complete the look with a wooden platform made of pallets and solar torches to have light at night. It id the perfect place to enjoy the summer.
If you like what you've seen on our list of DIY above ground pools, or if you have an idea of your own, please leave a comment below.