We don't know about you, but one of our favorite things about the changing seasons is that it gives us a chance to switch up our nail look. Like, matching our manicure to my favorite fuzzy winter coat? Um, yes, please.
There's just something fun about swapping your polish stash with the seasons to contrast or match with your cold-weather clothes. And because winter is practically here, we've rounded up the 15 trendiest winter nail ideas to try. Get ready for a lot of sparkles, moody blue, grays, and blacks, and lots and lots of snowflakes.
So why not blast some cheerful tunes while decorating your nails? Whether you want to do it yourself or get it done professionally, here are the best snowflake nail designs that you're sure to be complimented on.
1. Frosty Reindeer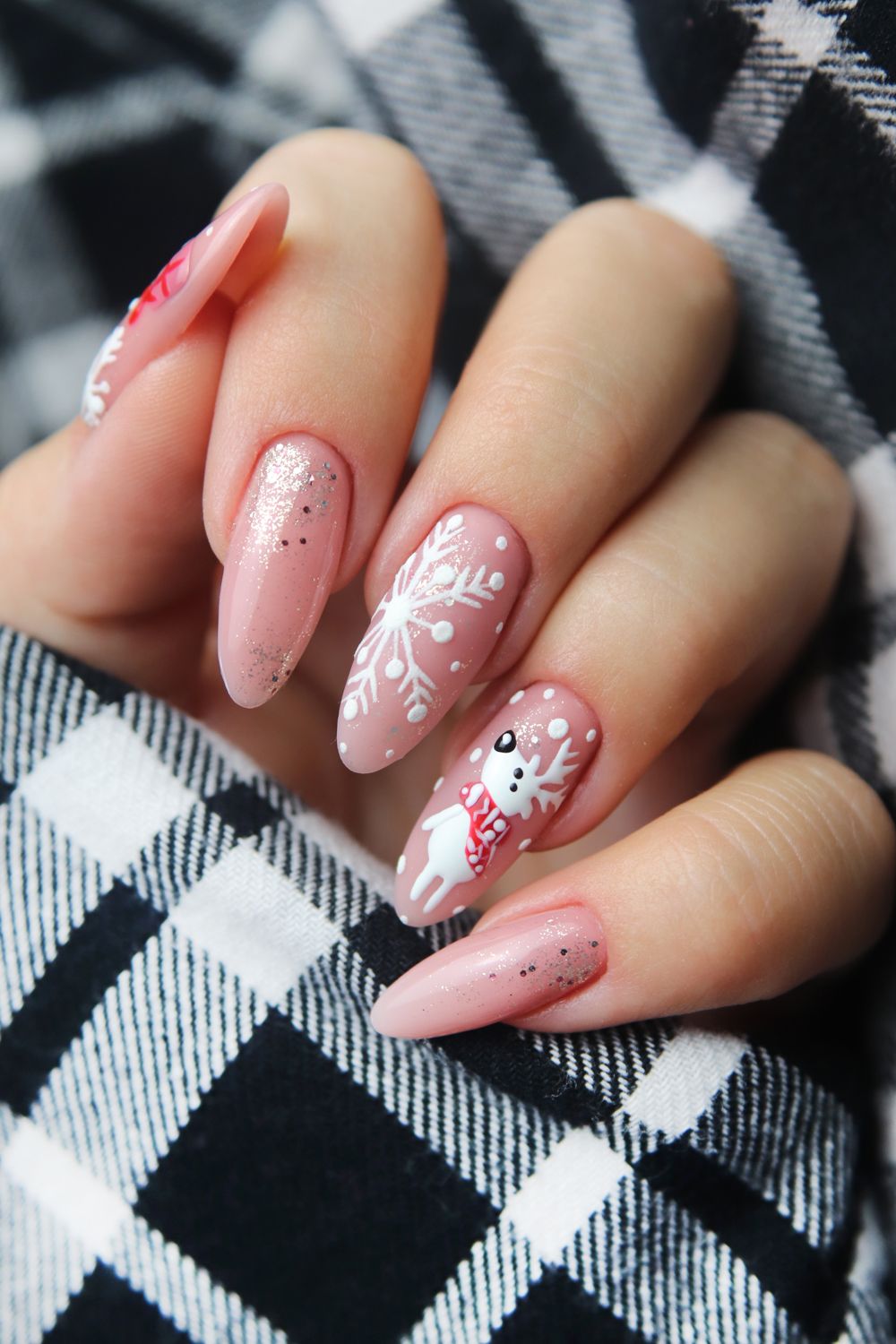 Spread Christmas magic onto your nails with this overly cute manicure design. Featuring a white reindeer, and his companion the snowflake as accent nails on a beautiful nude base. The nude color perfectly accentuates this Christmas art that hardly anyone can resist to it.
2. Cheerful candy canes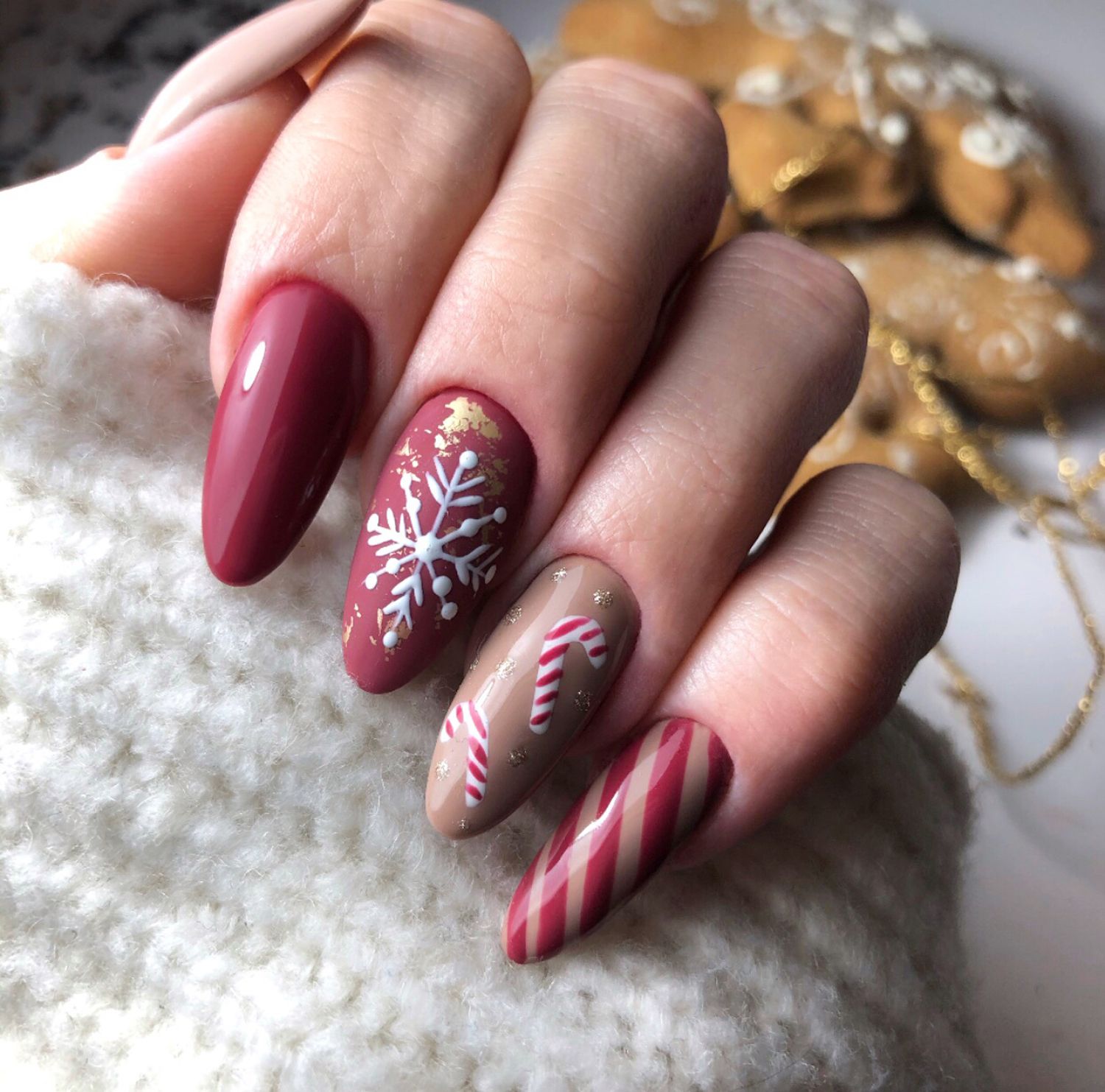 With Christmas on its way, it's time for festive manicure designs! This nail art is a statement look on its own, with beautiful raspberry red and nude colors. Draw this adorable snowflake with white nail polish, as well as cheerful candy canes with sparkling dots. Finish this Christmas look by drawing lines onto the last nail and start preparing for complements.
3. Bear & his snowflakes
Wear festive art on your nails this Christmas and welcome the holidays! Start with a nude/ soft pink base in order to better accentuate the snowflakes and this cute polar bear. Add a little festive luxury onto your nails with dazzling sparkles and let the compliments roll in!
4. Burgundy winter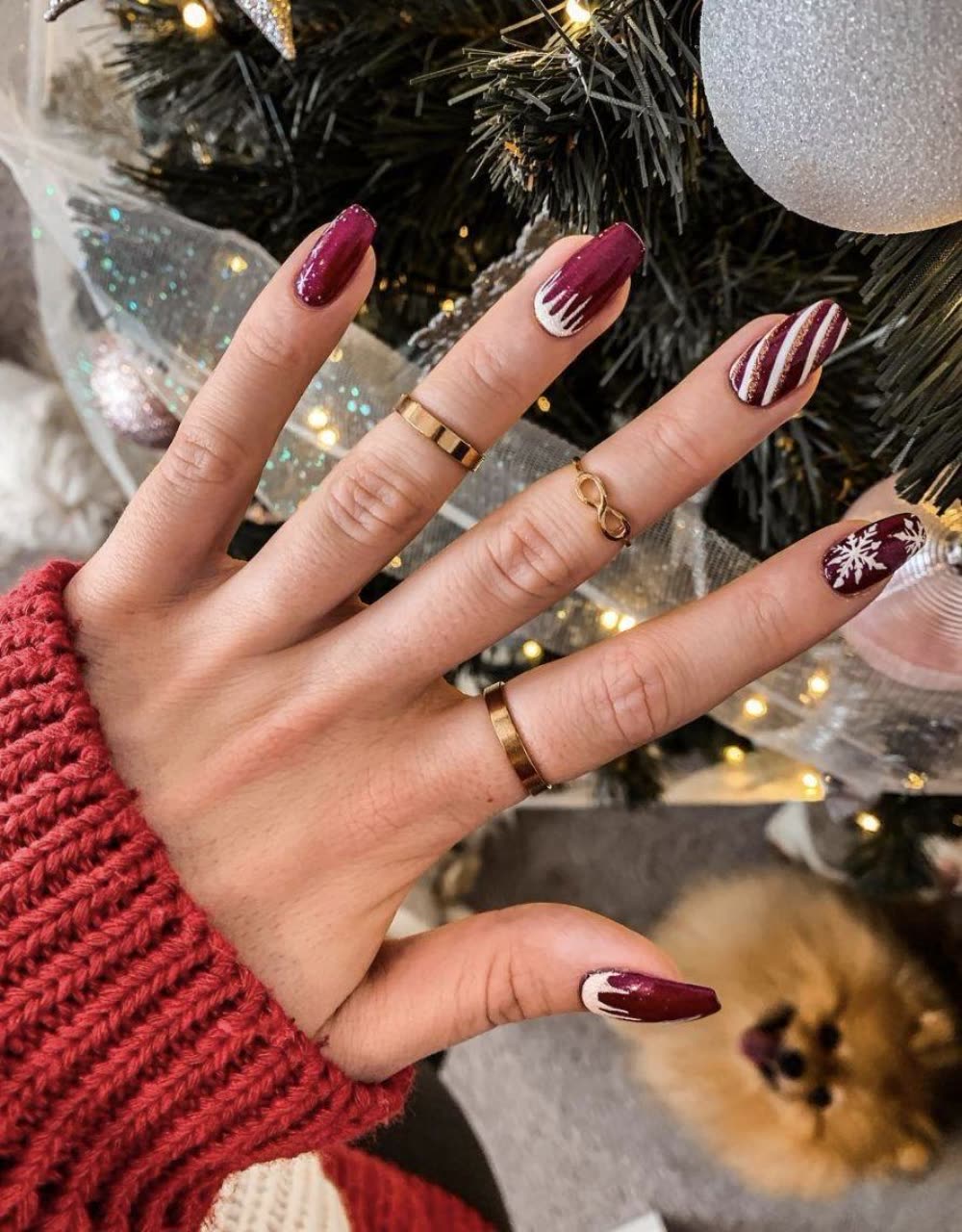 It's time for a frosty manicure everyone! Burgundy color is the perfect nail polish shade during the holidays, especially combined with white snowflake designs. It's time to execute an artsy aesthetic on your nails, draw snowflakes, lines, and icy details for a truly festive feel. Cool, right?
5. Candy snowflake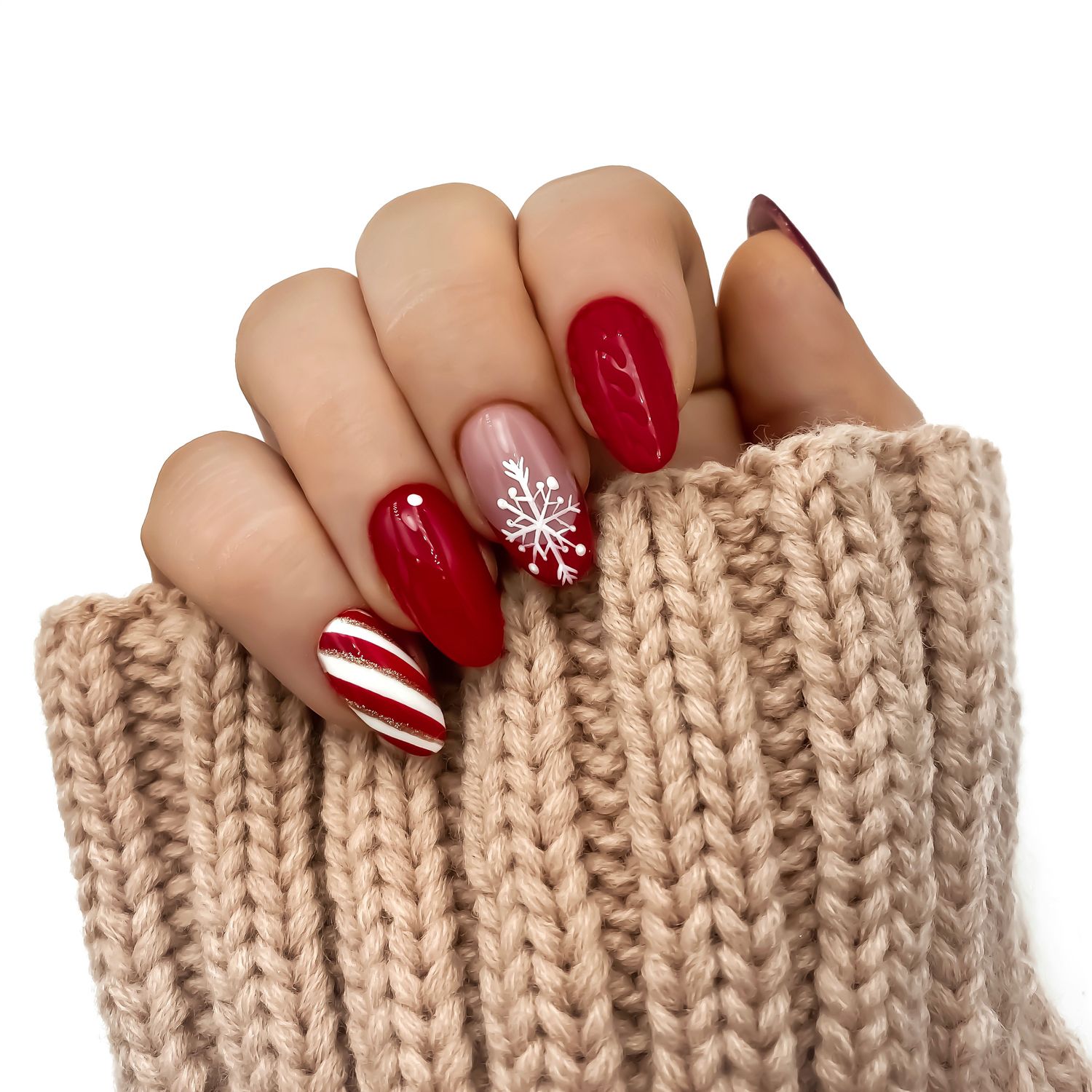 Make a festive statement this Christmas and perfect your snowflake-drawing skills. Paint a striking and sexy red nail polish on your nails, together with white and dazzling sparkles. The candy cane pattern is a great companion to the perfectly detailed snowflake. Try out this snowflake nail art this winter and prepare for pure magic results.
6. Pink & blue frostiness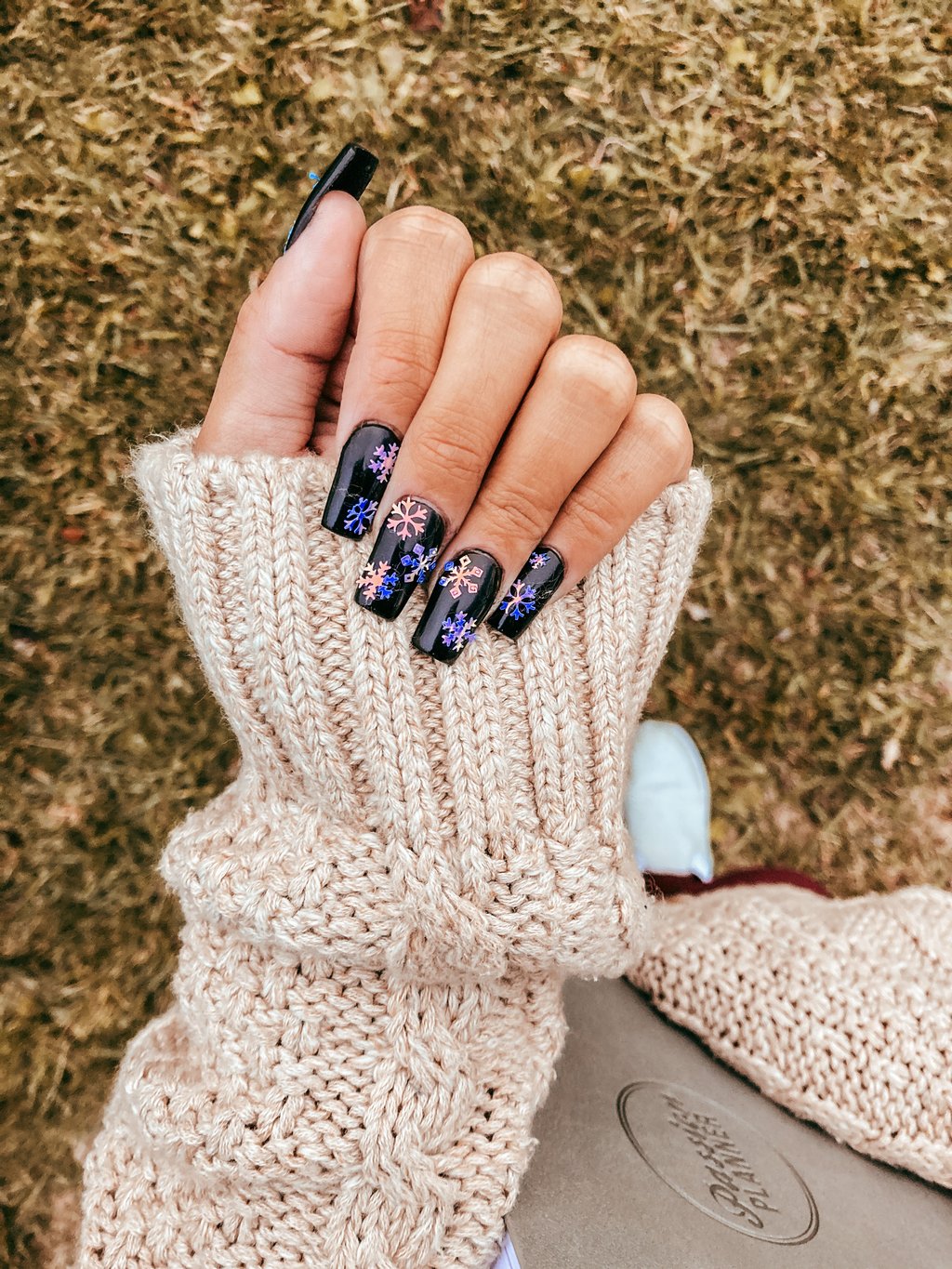 This is a little darker version of the snowflake nail art collection. They are surprisingly flattering with an awesome and undeniable edge. The base color is black, and the focal point is the snowflakes in blue and pink shades. This manicure idea will definitely stand out during the winter festivities, so feel free to try it out!
7. Rudolf with the snowflakes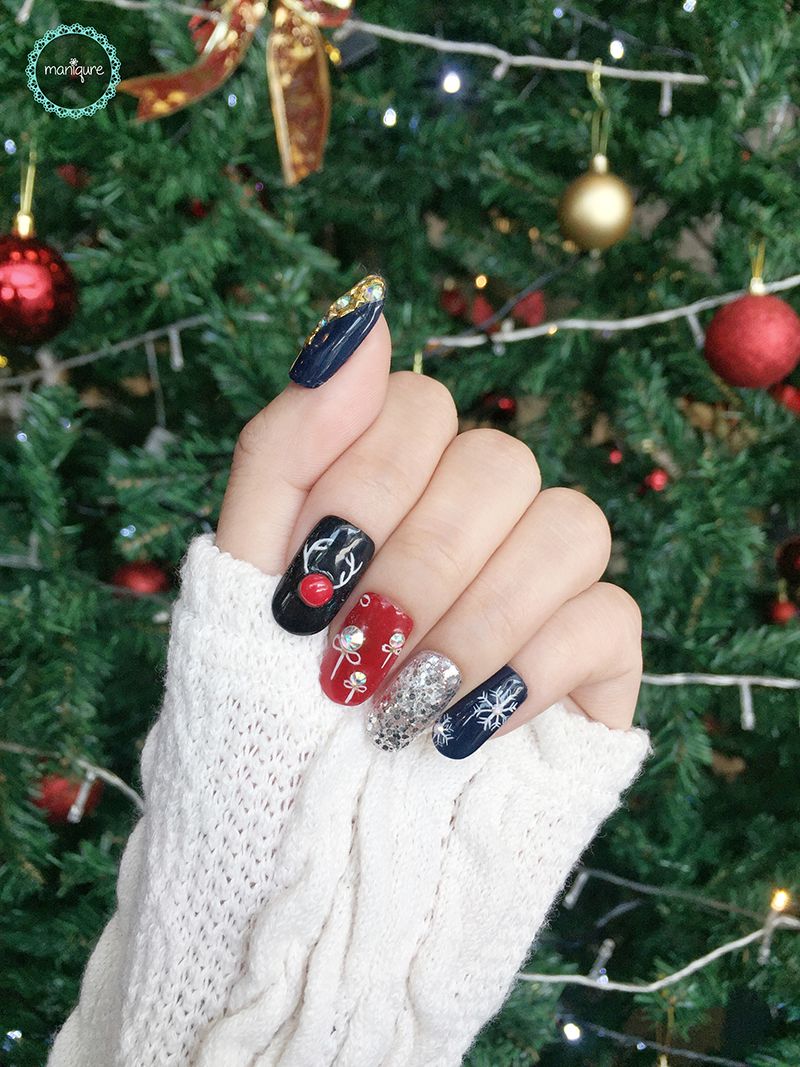 This manicure look has so much detail, it's hard to take our eyes off it. Starting with frosty snowflakes on a navy blue base, sparkling accent nail, lots and lots of diamonds, and of course the "Rudolph" nail. This manicure screams FESTIVITY. So, try out this manicure idea this winter and dazzle everyone!
8. Sweater weather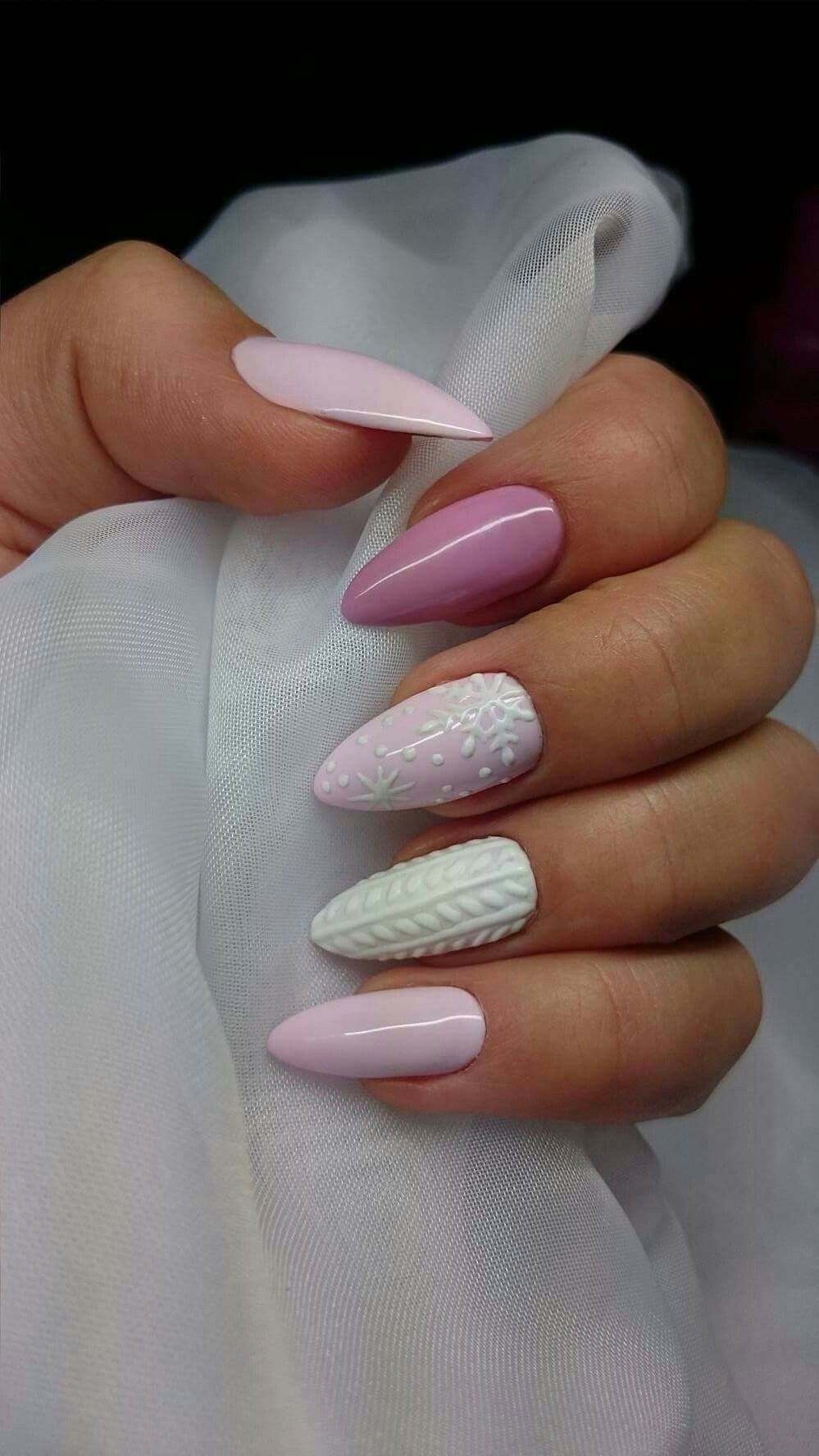 Here's another manicure idea featuring snowflake designs. This one is for the pinkish enthusiasts. This is a great idea to celebrate winter with a softer and more girly snowflake touch. Pick out your favorite soft pink shades, and try out this sweater accent nail design that is so trendy during winter. And don't forget to draw the snowflakes yall!
9. Pastel blue winter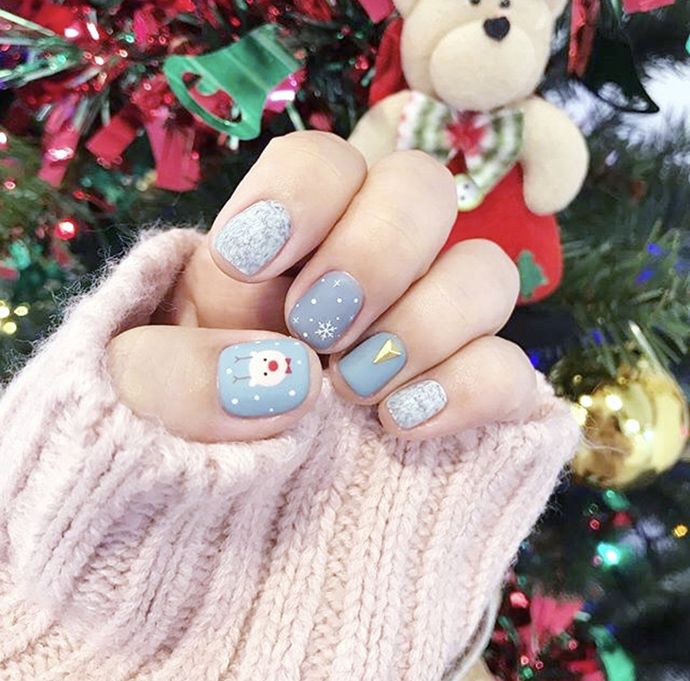 There are lots and lots of snowflake ideas on the Internet, and we've picked out the best for you! This pastel blue shade is so girly, soft, and fun, simply perfect for winter days. If you are a babe that is waiting for the festivities to begin, here's an idea to pass the time. Snowflakes, reindeer, and blue pastels… perfect combination, right?
10. Winter Wonderland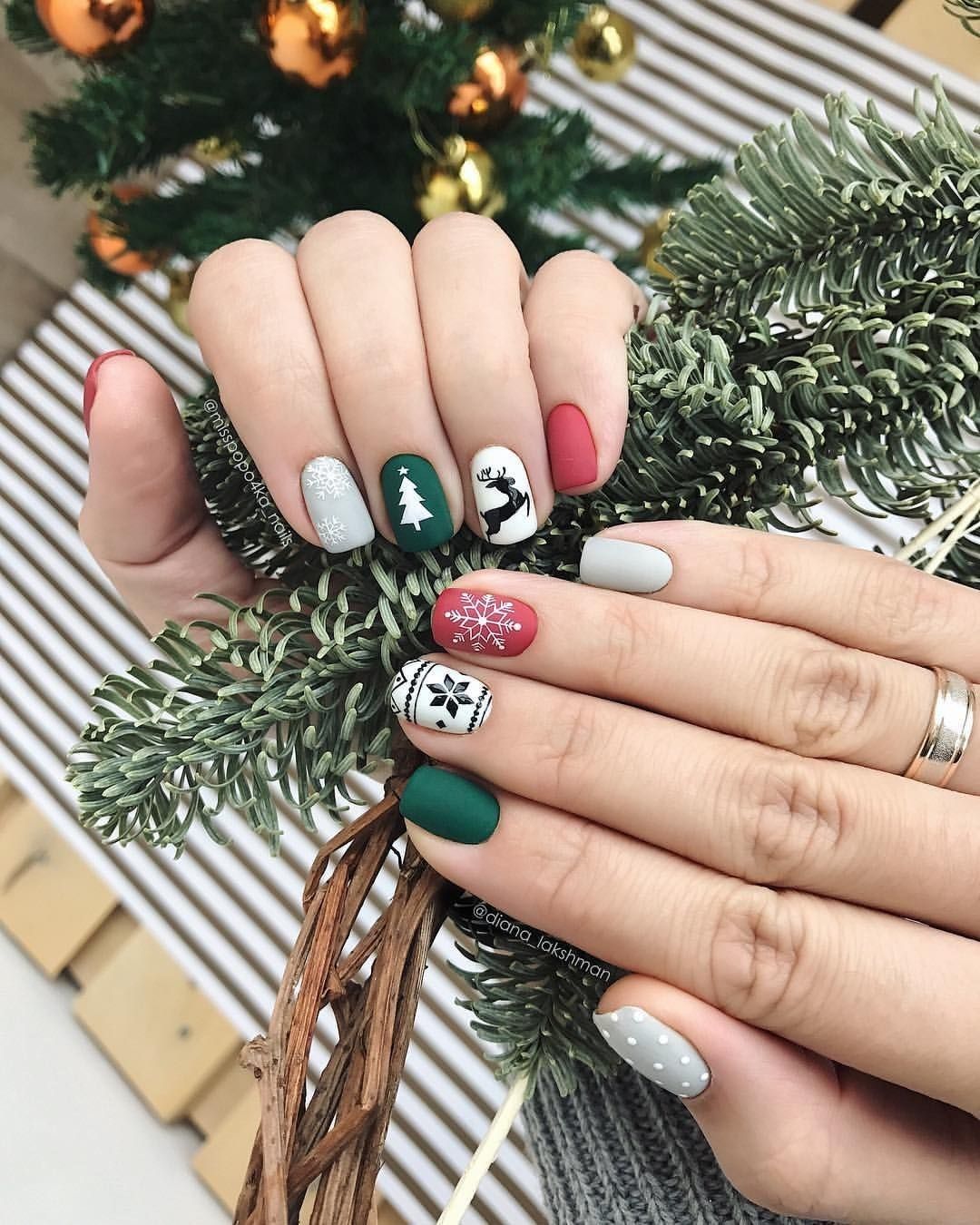 Who said that you can't create a mini winter wonderland on your nails? This manicure look is anything but boring and definitely overly-festive alright! The main nail shades are green, red, white, and grey. Polka dots, reindeers, snowflakes, Christmas trees, there's everything…everything that you wish for in a festive, winter manicure. Simply perfect!
11. Christmas bunny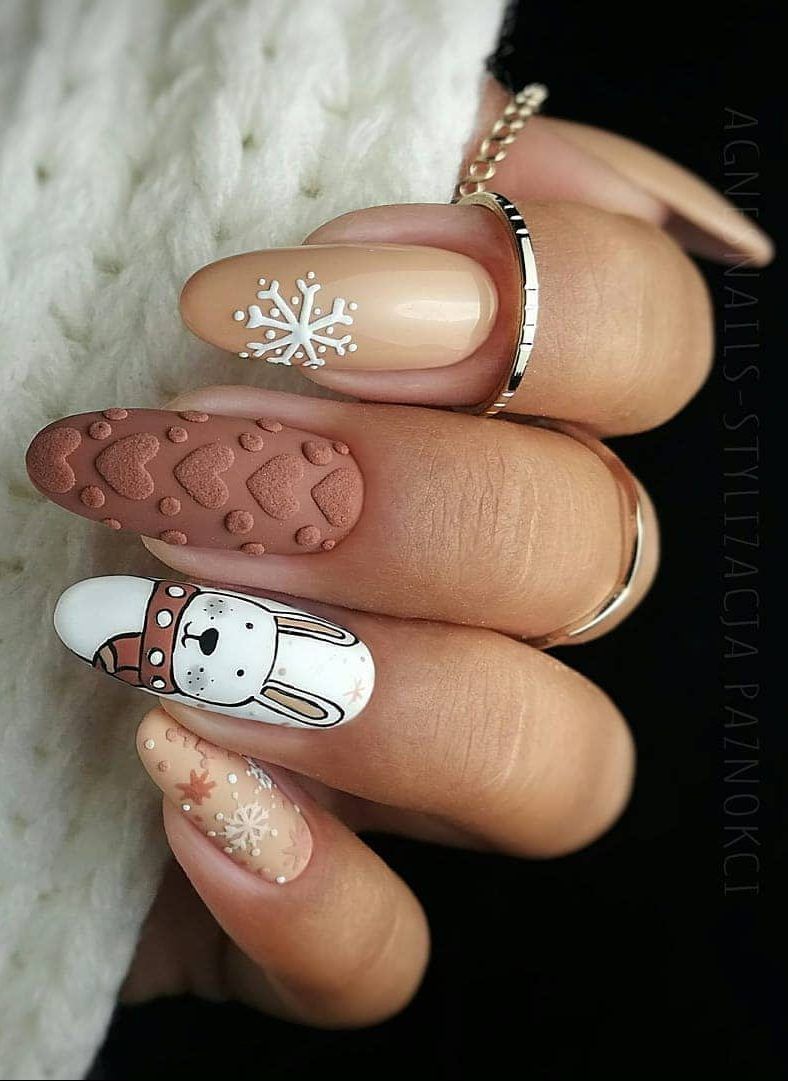 Soft, cute, girly, nude… what more could you wish for? This bunny illustration is a very fun idea for an accent nail that goes so well with the snowflakes and winter vibes. Although it's more complicated to create this on your own, you should totally need to test your drawing skills with this one, because the finished look is magical!
12. It's Snowflake time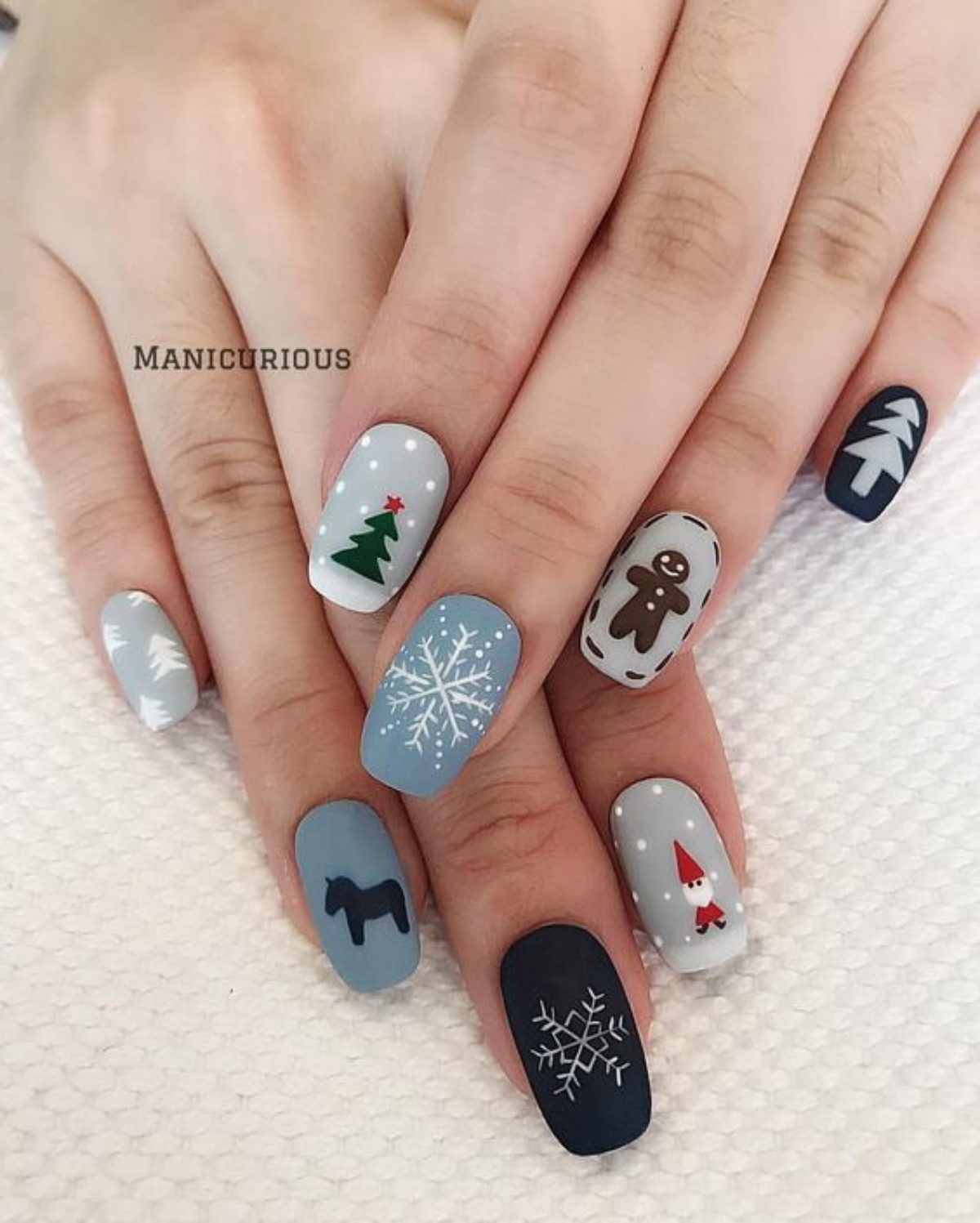 It's time to take your nail game to new levels and dedicate those little nail beds to the symbol of winter, a snowflake. However, if you want to take it up a notch, create unique pieces of art on each nail, like this nail idea on the picture. This manicure showcases snowflakes, a unicorn, Santa Clause, a Christmas tree, and a gingerbread cookie. Pick out several color shades like navy blue, pastel blue, and grey, and start your manicure magic!
13. Reindeers and romantic snowflakes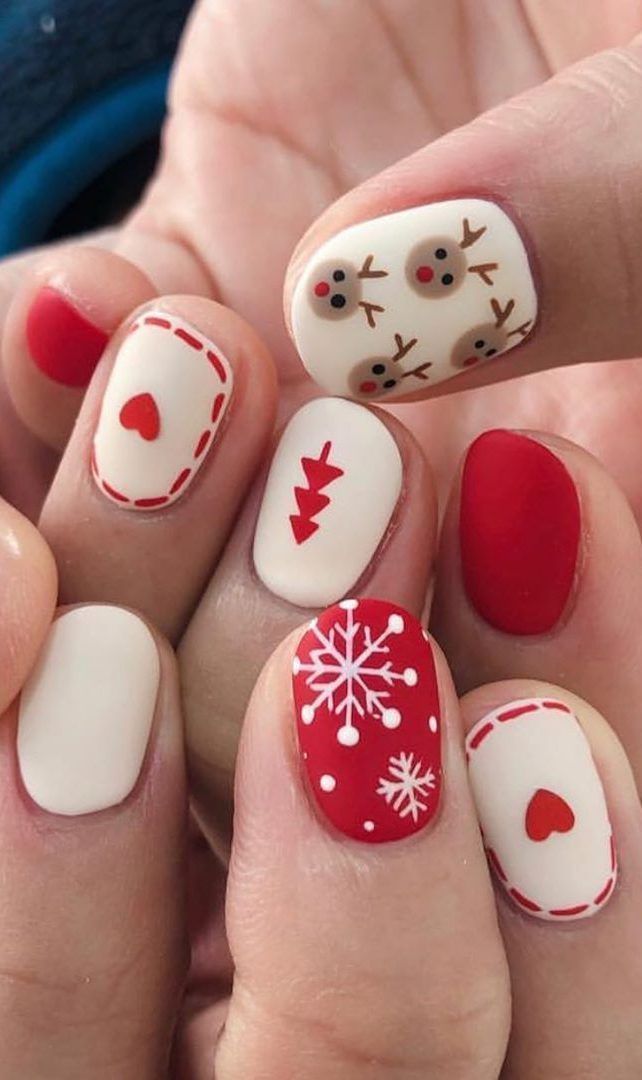 What a romantic idea to celebrate winter, right? Combine nude and red nail polish to create this look that perfectly showcases the snowflake theme of this list. A lot of raindeers for this one, but the fun doesn't stop there. Draw Christmas trees, hearts, and marvelous snowflakes for a true magic result.
14. Green sparkling magic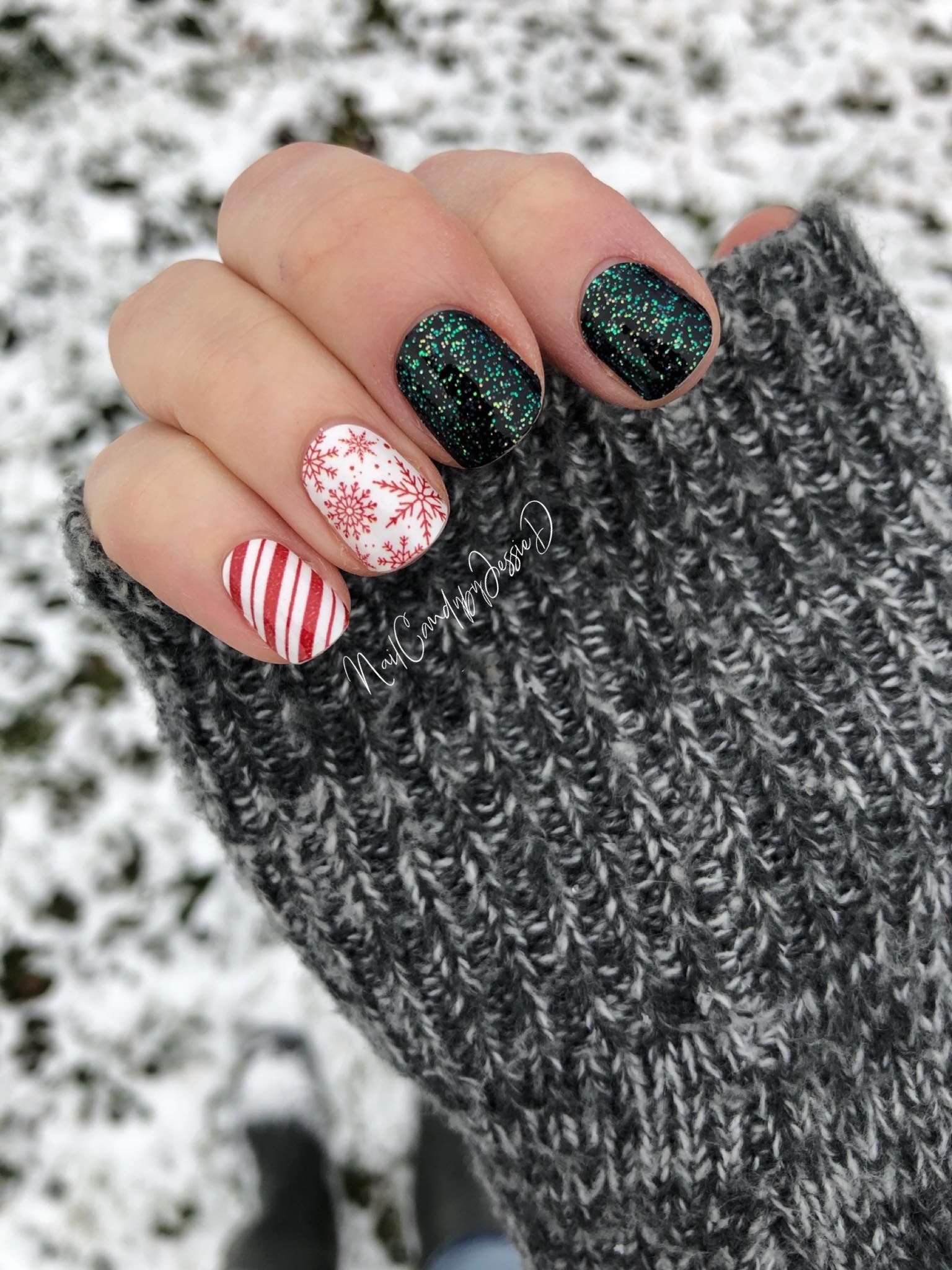 Why settle for one snowflake when you can create the effect of hundreds of them falling? And that's not all. To create an even more magical look, combine the snowflake design with green glitter, as well as candy cane patterns. And that's how you create a magical winter look, with a beautiful snowflake themed manicure idea.
15. Dazzling nudes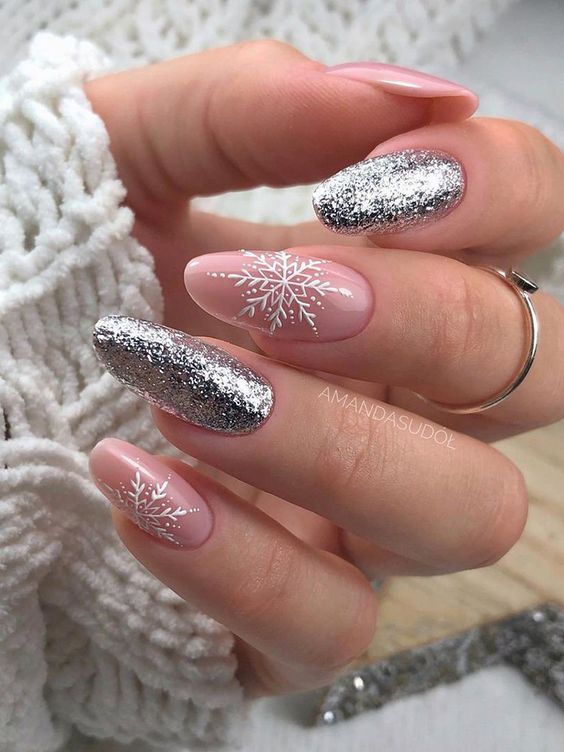 Is it even winter if you don't have a winter-themed manicure? Of course not. This is our final but not the least important snowflake-themed idea. Nudes, sparkles, and snowflakes… a perfect combination, right? Wait no longer, go ahead and try this out!
There's something magical and dreamy about snowflakes so it's really no wonder why it has become a regular holiday fixture. As we come closer to celebrating Christmas day, feel free to use some of these ideas for an ultra-festive manicure look. What's your favorite one? We can't wait to hear all about it in the comment section below! Have fun!