Of course, you all want to look fab for the Christmas party. Of course, nails are an important part of your style.
Lately, your nails have become The most important part of your style. Something like the make-up, but it is not complete without a great nail style. Did you simply choose the classic red or green shade or you're thinking outside the box with some fun glittery and shiny designs? Did you decorate your nails with snowflakes, Santa's hat, or maybe Christmas trees? Everything that is related to Christmas is perfect for the occasion, as long as it makes you feel special.
Have you ever thought about giving your nails a twist out of the Christmas tradition,  but still keeping them as festive as possible? No? Well, now is the time. Take a look at these gorgeous nail styles for your greatest Christmas party ever. They are cool, modern, fashionable, and still not strictly traditional Christmas nails. French manicure with a twist. Glitters, sparkles, ornaments, different shapes and shades, all for the purpose of making your greatest night of this weird year extremely special. And for the cat lovers, there is something special there for you as well. Don't worry, you can get Christmas inspired in everything Christmasy around you. So get inspired, and get preparing. Christmas is just around the corner.
1. Merry Christmas Nails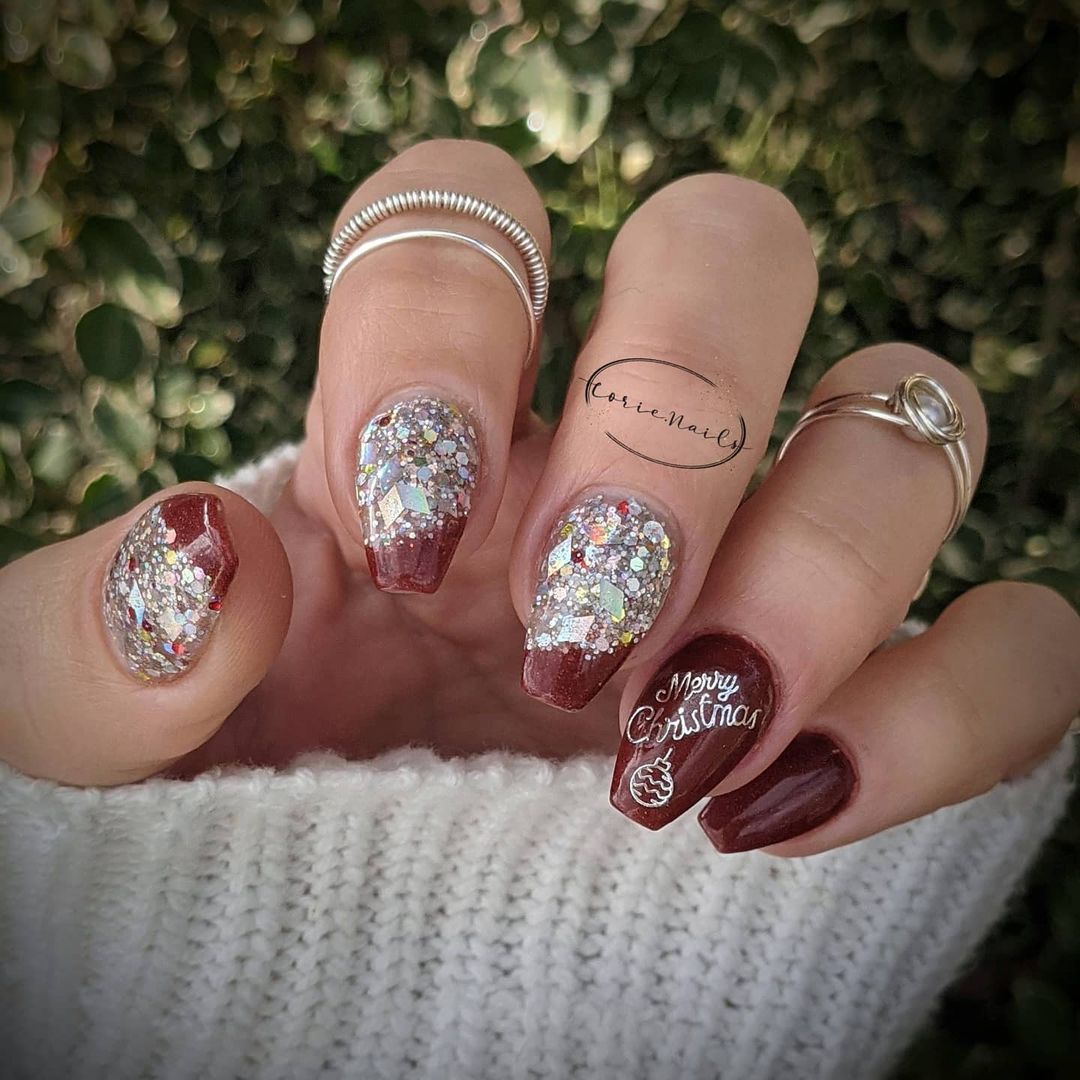 Red and glittery or glittery and red? However you put it, it will be fun. It will be even more fun if you write Merry Christmas and draw a little ornament on one of your nails. It will be a hidden surprise for everyone that will notice your nails. Instead of being just glitter, which is maybe a known thing, and a combination of red, the words written on the nail will give it the special treat you need to make you special on this special day.
2. Santa's Hat Nails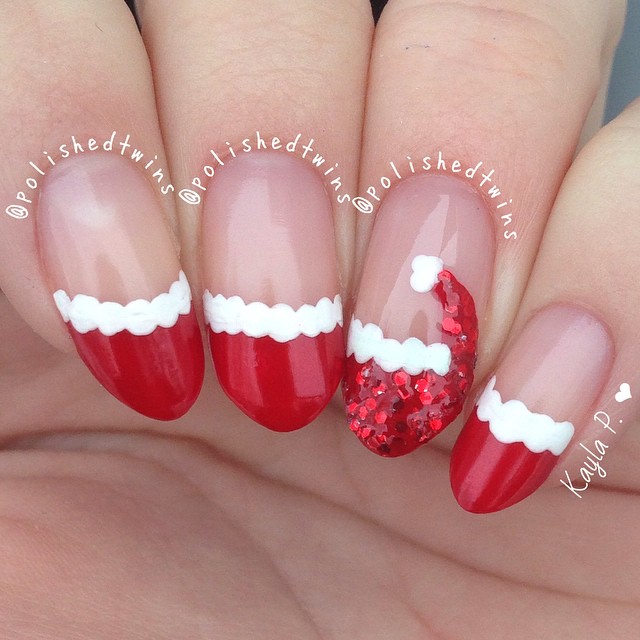 It is not only the kids that love Santa. Moms love it too. So, if you really love Santa, make a tribute to him with this Santa nail decoration. Use clear nail polish for the base, top it with a bright red shade, and decorate it with white condensed dots. Don't forget to make one nail glittery red, and add a long hat tail ending with a pom-pom. You'll love it.
3. Eye Candy Nails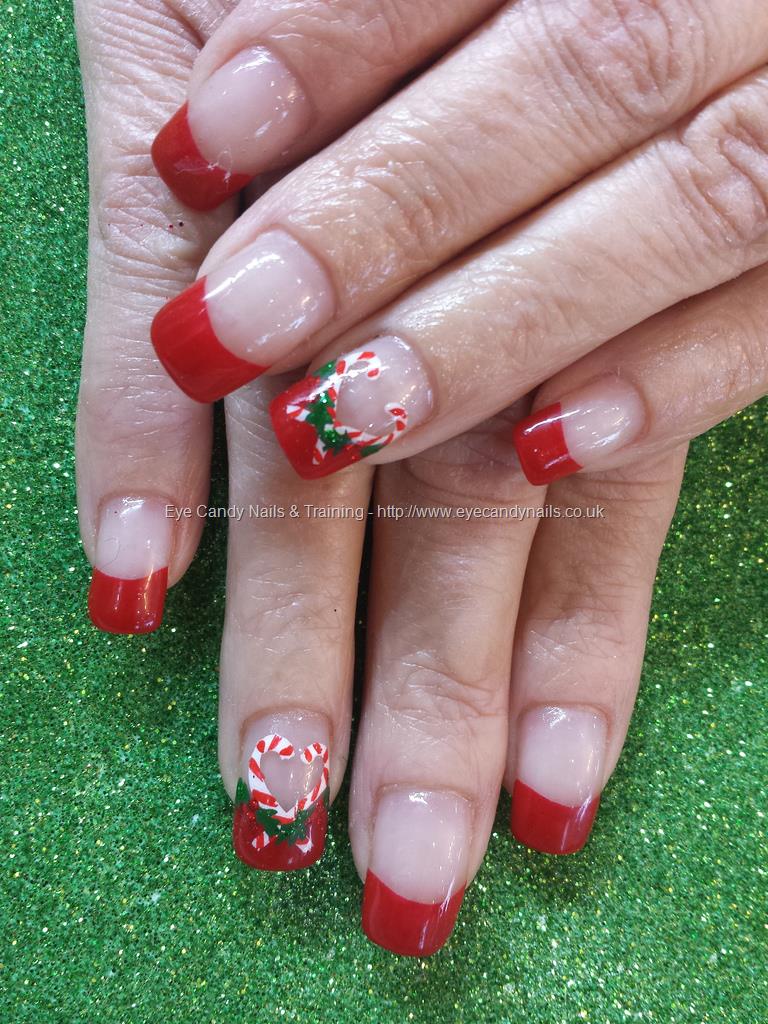 Yet another lovely Christmas manicure with a clear base. But this time, it is twisted with a red top and heart-shaped candy canes decorated with mistletoe details. It is perfect for teens that love the Christmas spirit, and young ladies with great style. They are festive and elegant, yet cool and special all at once. And what's Christmas more than that?
4. Snowy Christmas Nails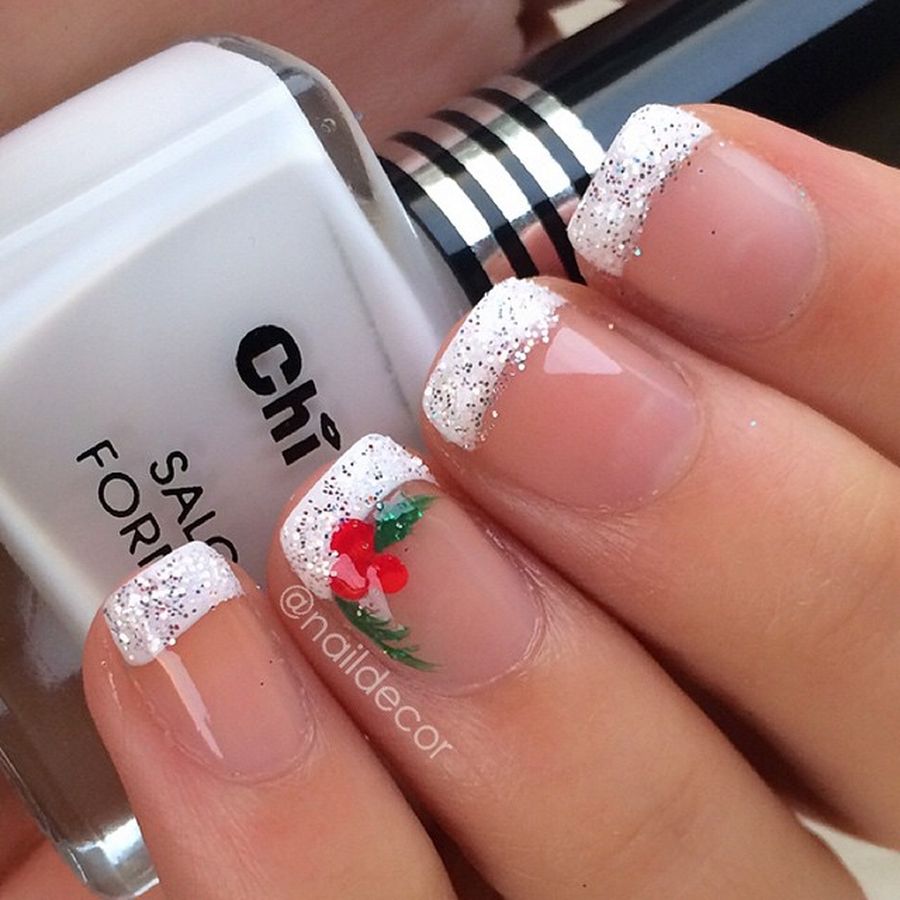 Classic French manicure turned Christmas decoration. This is a combination of clear nail polish topped with snow white and silver glitters. The mistletoe decoration on one nail gives it the Christmas look and the festive spirit it really needs for this time of the year. It is elegant, cute, and fun for your best Christmas ever.
5. Red and Green Canes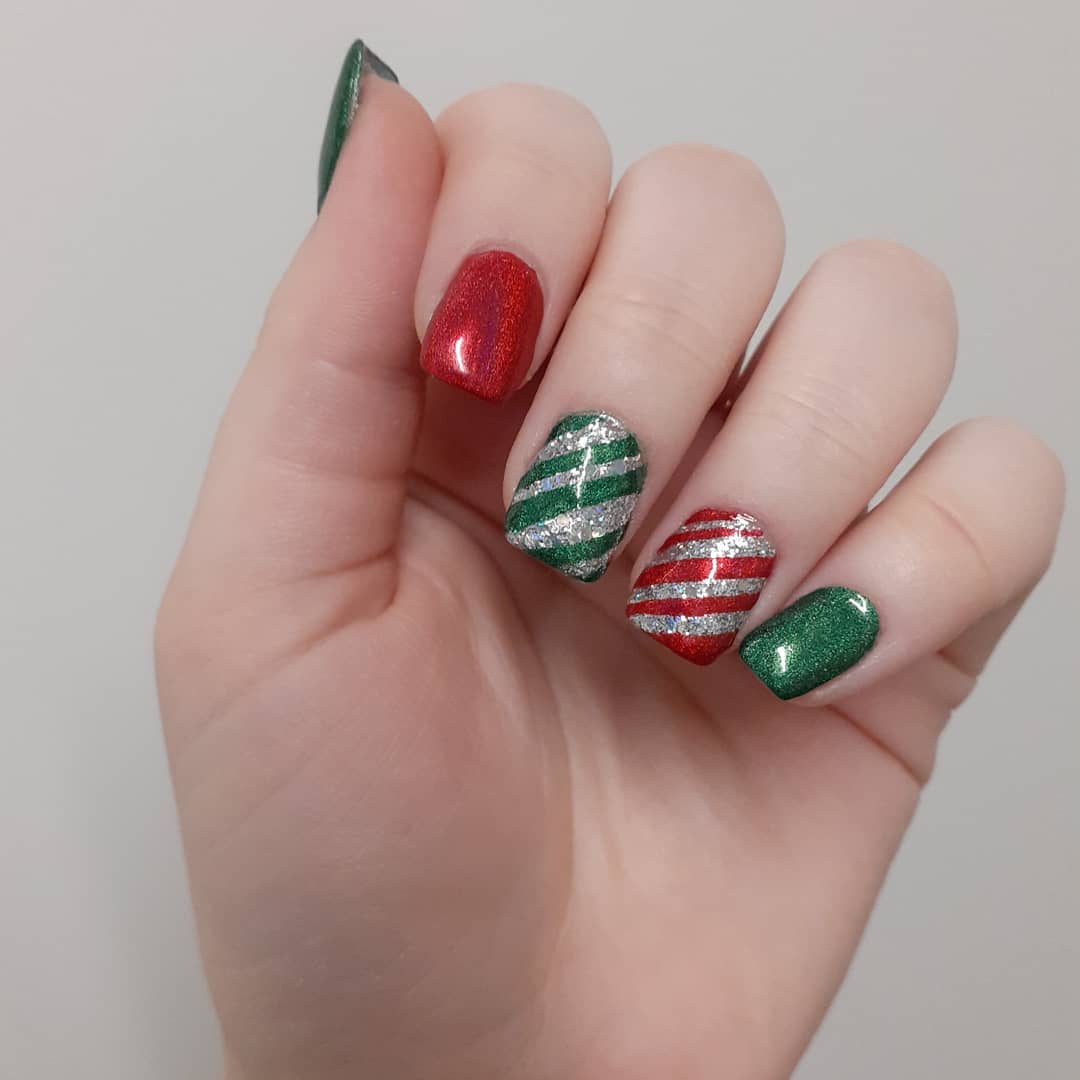 Love candy canes, but not really a fan of red? Well, no problem. Have a mint candy cane on your nails. Paint the nails in red and green polish, and decorate the middle two nails with silver linings. You will get the candy cane to look, and avoid the dull redness you don't like. It is a great way to play with colors, and still, get a great festive effect. Try it!
6. Red And Gold
Red, gold, and a reindeer. Yes, a nail polish style. Choose different shades of red, some gold glittery nail polish, and paint one nail nude. Then decorate the nude nail with a lovely Rudolf the Red-nose Reindeer. It will lighten your Christmas spirit and brighten up your holidays.
7. Christmas Decorations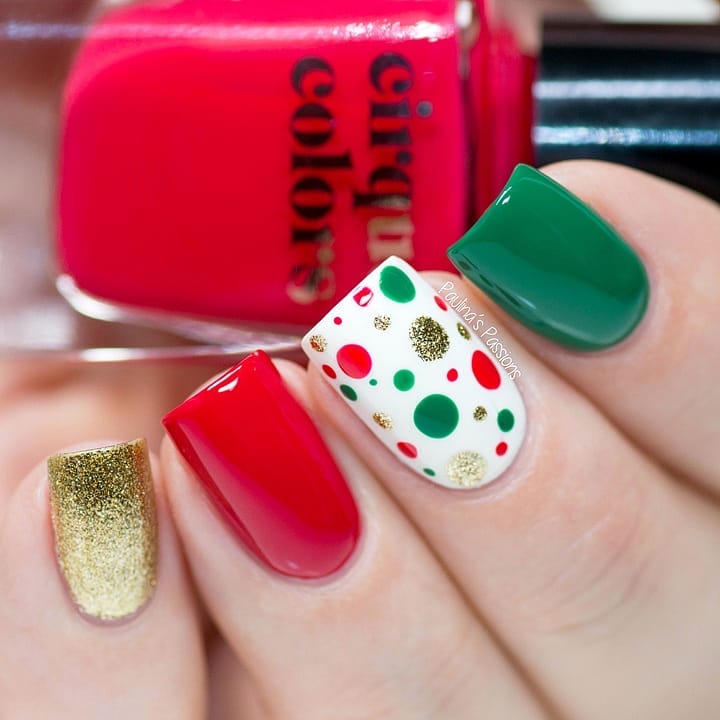 Christmas tree ornaments are for the tree only. Or are they? Well, not if you put them on your nails as well. This is to show you how. Paint each nail in a different color that shouts Christmas. Then decorate the white nail with smaller and bigger dots in the colors of the other nails. It will look like it has been decorated with Christmas ornament. Cool, right?
8. Twisted Candy Canes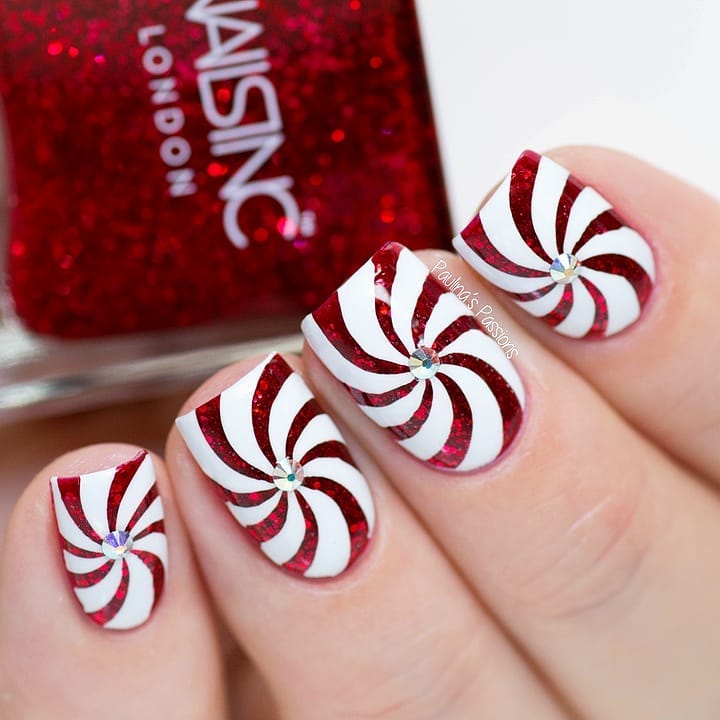 Another candy canes idea. This time a twisted one. Literally. Paint your nails in glittery red and snow white, but a bit swirled. Add a sparkling stone in the middle and have the best festive nails you can ever imagine. You know it's Christmas when the candy canes arrive. Let's enjoy them.
9. Christmas Cat Nails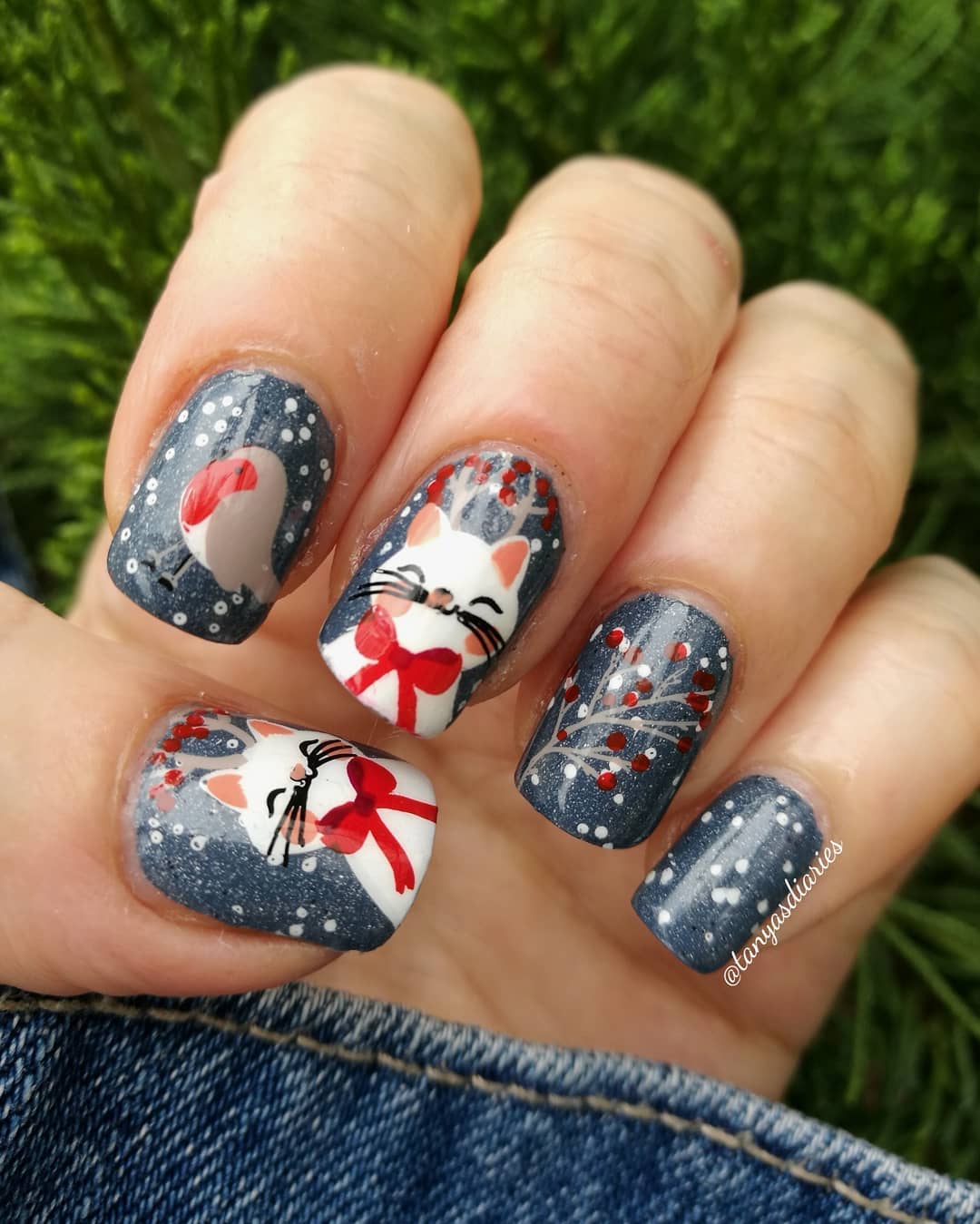 Hey, y'all cat lovers! This one's for you. You never thought you could get your loving cat on your nails for Christmas? Think again! White kitten on a navy blue base decorated with white snow dots and red tree ornaments makes it a perfect nail design for the holidays to come. And with this, you'll have your cat everywhere you go this Christmas.
10. Green-White-Red
If you got tired of red, but not of green, then this is the perfect combination for you. Paint two white nails, and the rest in green. Decorate the white nails with green mistletoe like Christmas trees and red Christmas ornaments under them. It is a Christmas tree, but not a Christmas tree, a mistletoe, but not a mistletoe. However, they are cool, elegant, and festive.
11. Glitter and Gold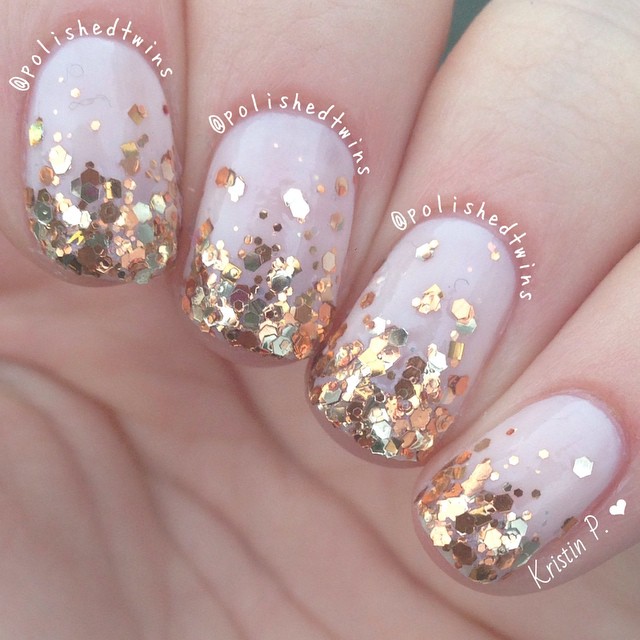 How about this twist to a classic French manicure? A combination of white as snow, and gold as the crown, this nail art is perfect for a posh and fun Christmas dinner or a special Christmas party at the end of this crazy 2020. You can choose the thickness of the glitters and the whiteness of the nail polish to better suit your overall style. Whatever you choose, make sure you enjoy it.
12. Raindeer And Candy Cane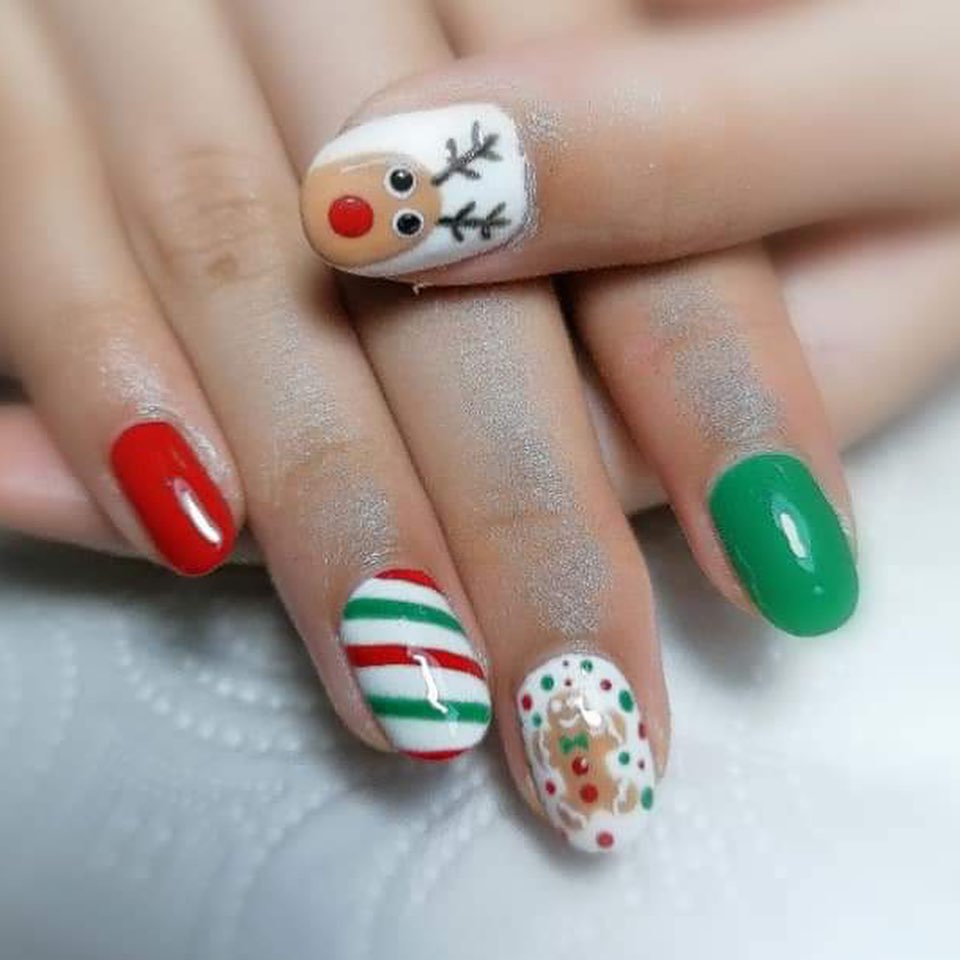 Those of you that can't decide which Christmas theme they like on their nails, they can put all of them one on each nail. Paint one nail red, one green, one candy cane with red and green, and one decorated with a gingerbread man and a reindeer. They will be fun, and you will love all Christmas themes on you for a great holiday.
13. Christmas Lights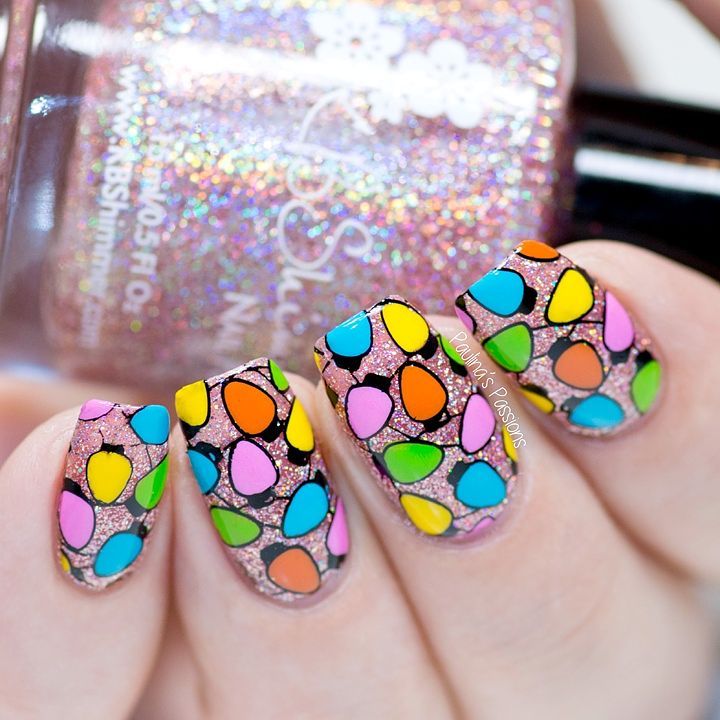 Who said that Christmas light should only be on the tree? Take a look at this idea. It really twinkles just like the lights on the Christmas tree. The base is glittery nail polish, and the foil over it is Christmas lights. It is fun, original, and cool, exactly what you need for the end of this year. If the year is not cool, it doesn't mean that you shouldn't be.
14. Mistletoe Nails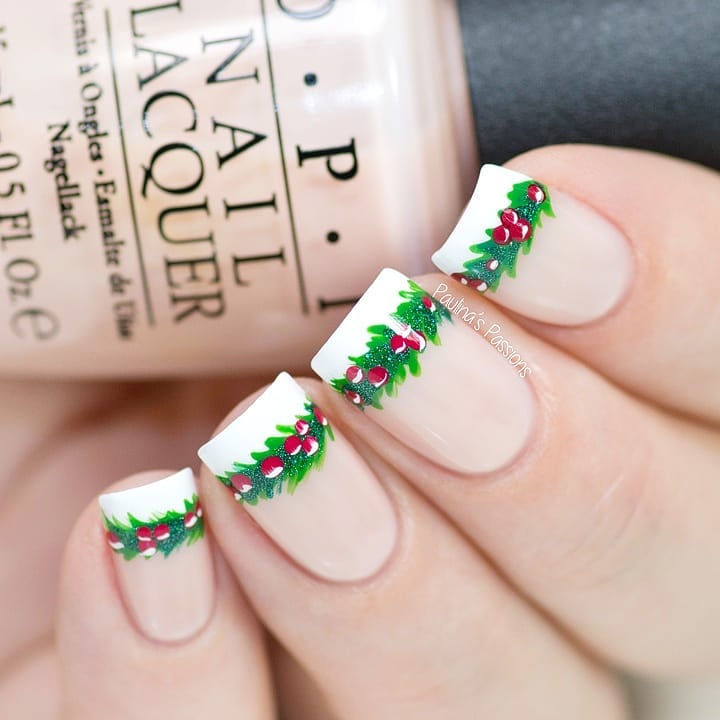 Mistletoe on your nails? Why not. This Christmas manicure is fun and elegant, yet shows the long Christmas tradition of mistletoe trees. Combine nude color for the base of the nail and snow white for the top and divide (decorate) them with a lovely mistletoe image of shiny green with red ornaments. Everyone will love it.
15. Green Trees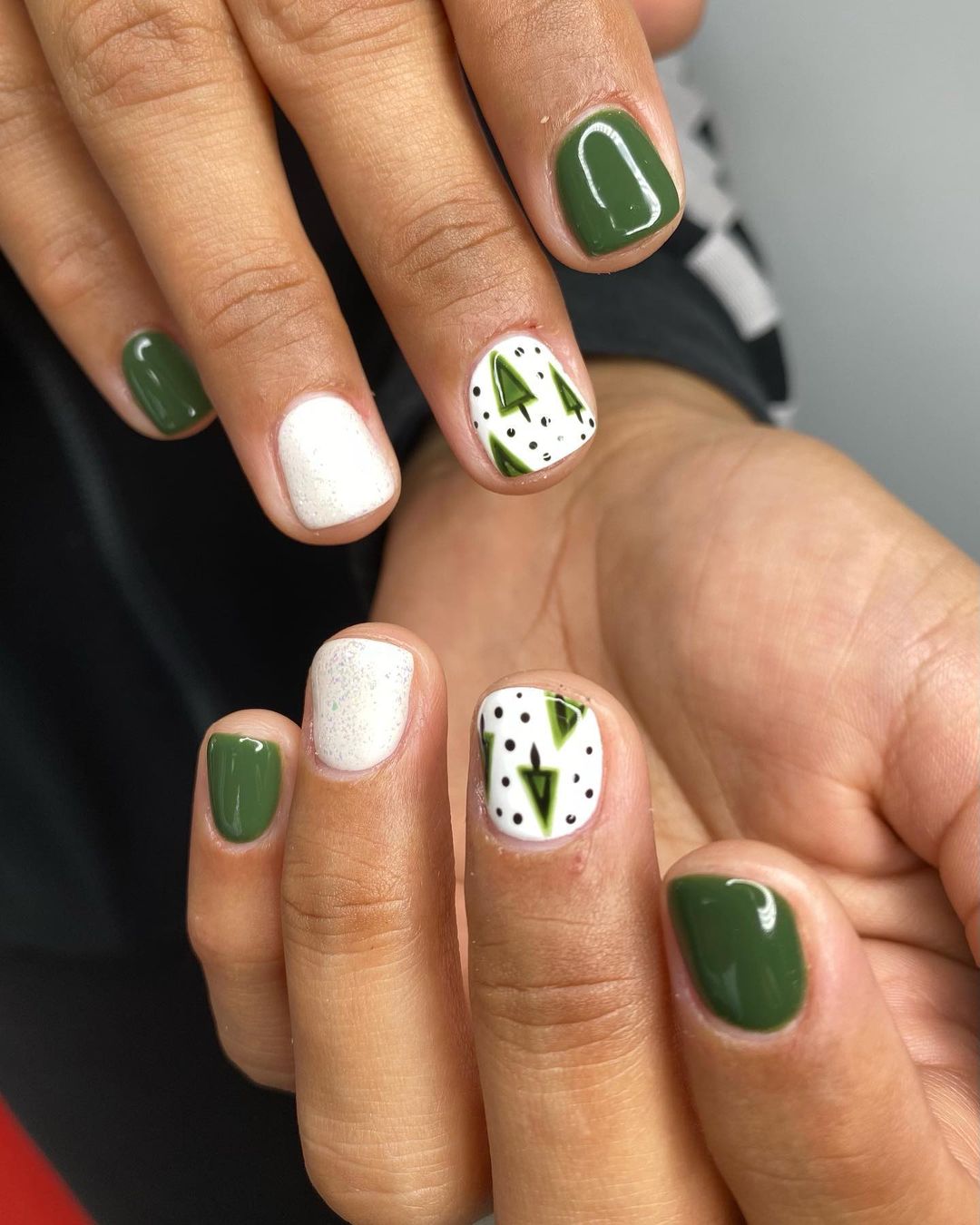 The Christmas tree, along with Santa, is the symbol of Christmas. So, if you are fed up with the red and green Christmas combination, here is an idea of how a nail decoration that you will love and enjoy. Paint your nails in different shadows of green and white, and decorate the white nails with tiny triangle shaped trees and some dots in between. Add some gold glitter to complete the look.
16. Sparkling Elegance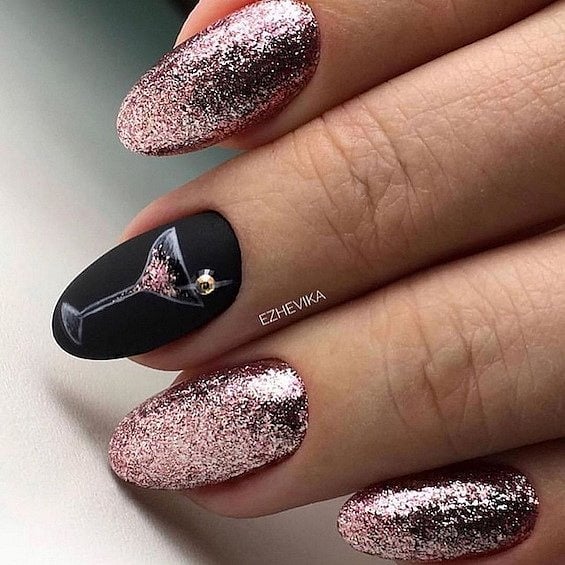 For those of you that like to be posh and elegant, but still festive, here is a good idea. Paint all nails in rose gold glitter nail polish, except one that will be black. On the black nail draw a cocktail glass or a Christmas ornament in rose gold glitter. See the elegance? Yes, it is elegant, classy, and cool for you to enjoy.
17.  Christmas is Money
I am not Santa, I am a dollar! Paint your nails glittery green, draw dollar signs on some of them, draw a Santa on one, and write a text on your middle nail. Then enjoy the Christmas party and hope that the year to come will bring you loads of money and wealth. Never give up hope!
18. Dark Green With Lights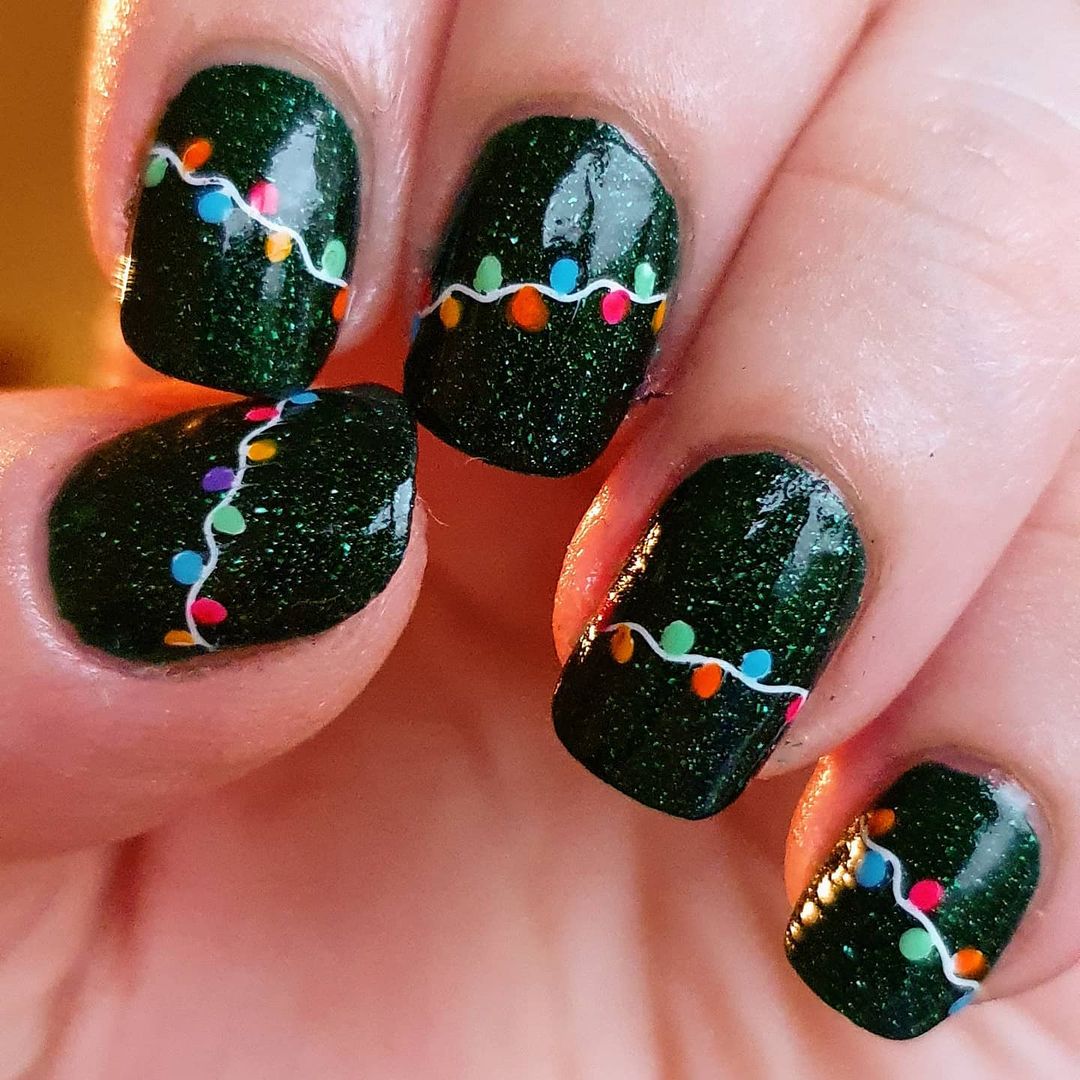 Love black nails, but want to satisfy your mom and not make them all black? Here's a hint. Paint the nail in black, top it with green glitters, and draw a string of Christmas lights across your nails. Your nails will sparkle, and the string of lights will make them fun and festive. Now, show them to your mom!
19. White And Gold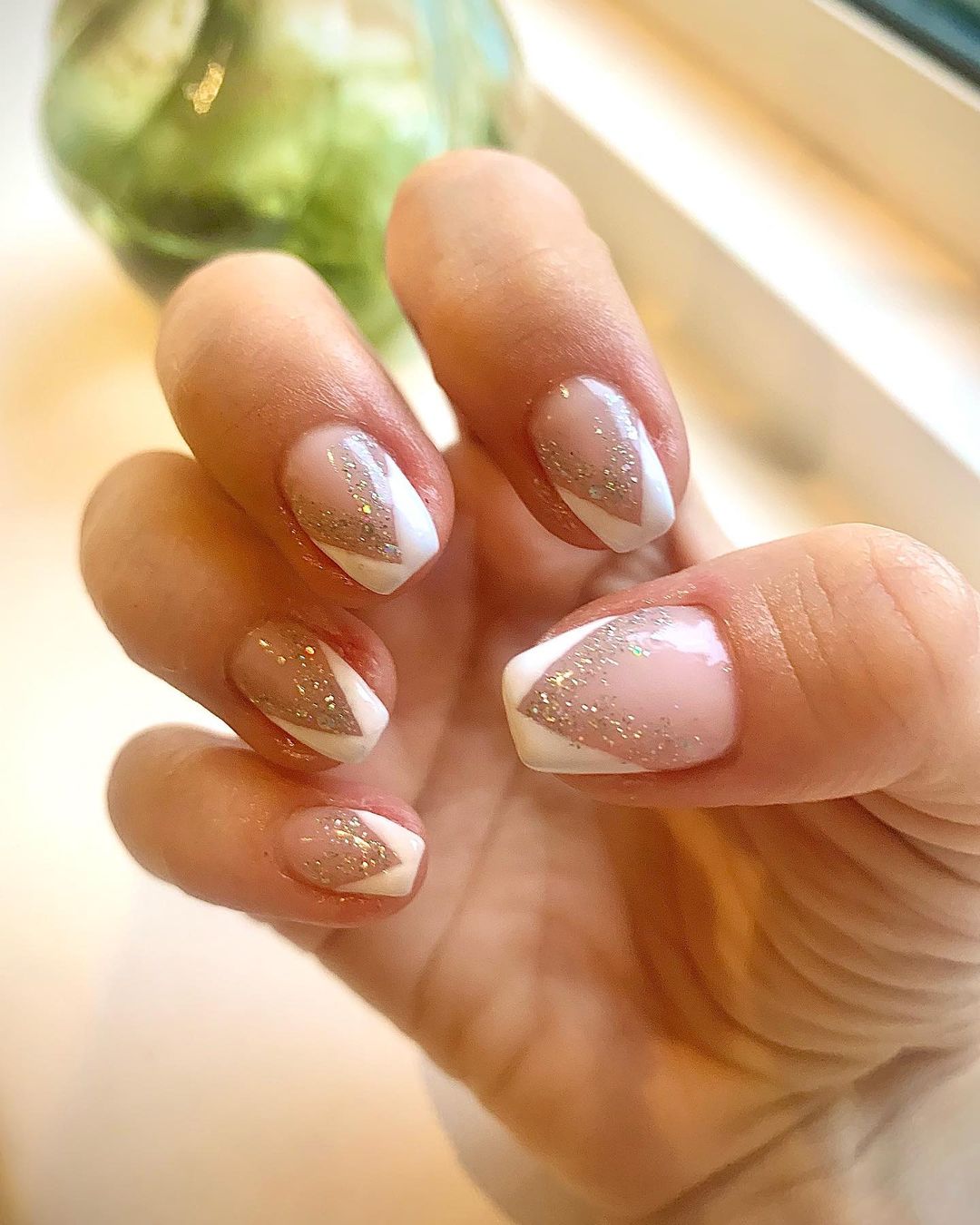 This last idea is about how to be posh and elegant. These nails are a creation that is suitable for any occasion, and since you want a Christmas with a twist, it is great for this time of the year as well. The base is nude, the tips are triangle-shaped white, and below is a Christmas tree-shaped gold glittery layer to give it a posh look. Combined with your best Christmas outfit, it will make you shine bright like a diamond.
The worldwide web is full of ideas on how to style your nails. These that we selected were some of the bests we found. They are only to get you inspired and give you a creative idea on the style. Whatever you choose, don't forget to let us know in the comment section below.