Raise your hand if you really enjoy getting your nails done. And who doesn't? Especially nowadays, when we have to wash our hands far more often than usual, or use alcohol-based disinfectant regularly, we are going through the nail painting motions a lot and we are practically draining the old nail polish bottle.
We understand that, when something that is traditionally enjoyable suddenly becomes extremely repetitive, it takes the pleasure out of it and turns it into a boring obligation, putting you in a rut. Well, that does not have to be the case. You always have the choice of mixing it up and add a little flair not just to your nails, but to your everyday routine as well. And we know how important that is in times like these. Hence, we hereby endow you with 20 designs for short nails that you should try out as soon as possible.
1. Baby Blue With Accent Gold Leaf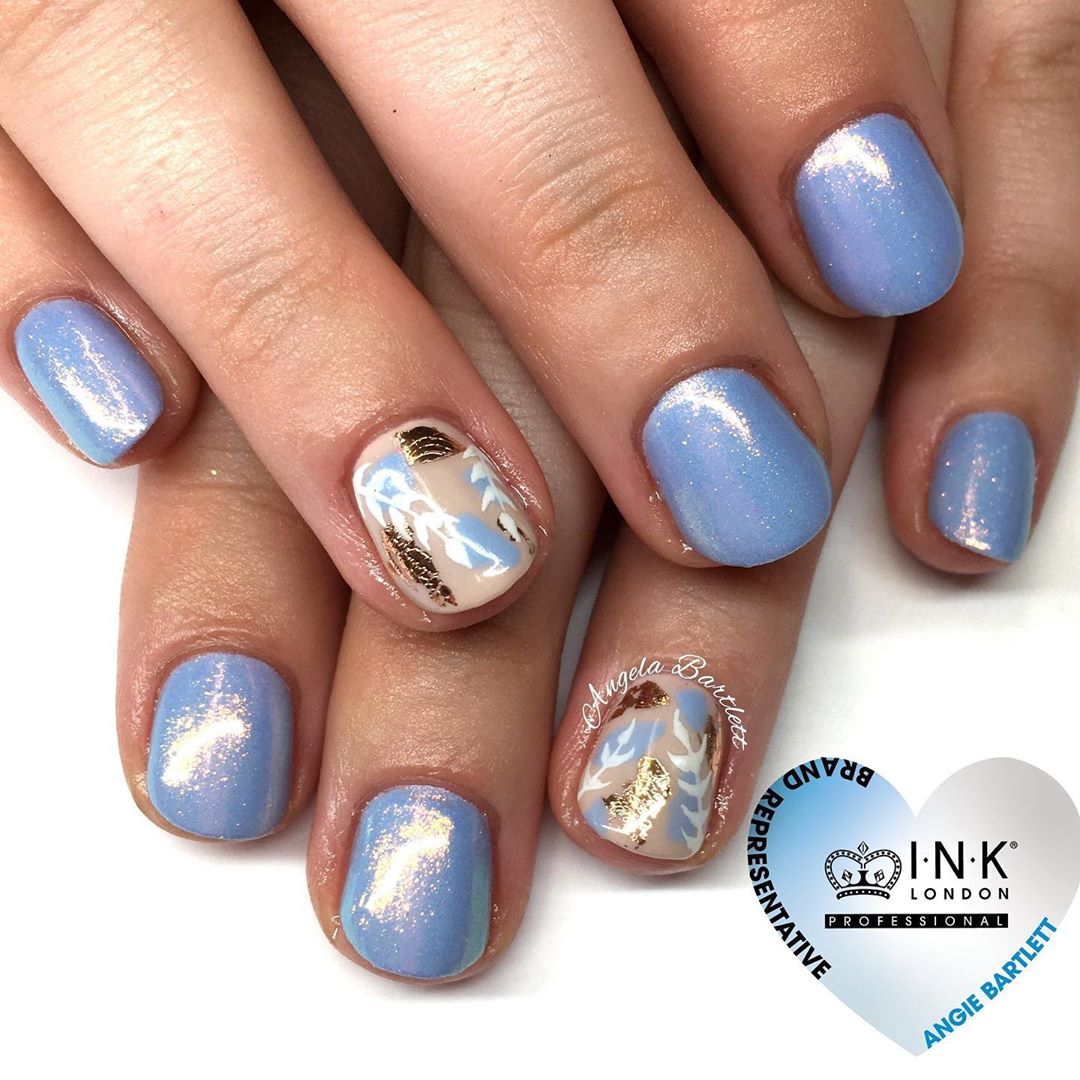 If you are feeling blue, then a little bit of baby blue might just do the trick for you. Yet this wonderful shade is complemented by the luscious gold leaf accent that crowns this design without letting you rest on your laurels.
2. Sunset Yellow With Clear Stars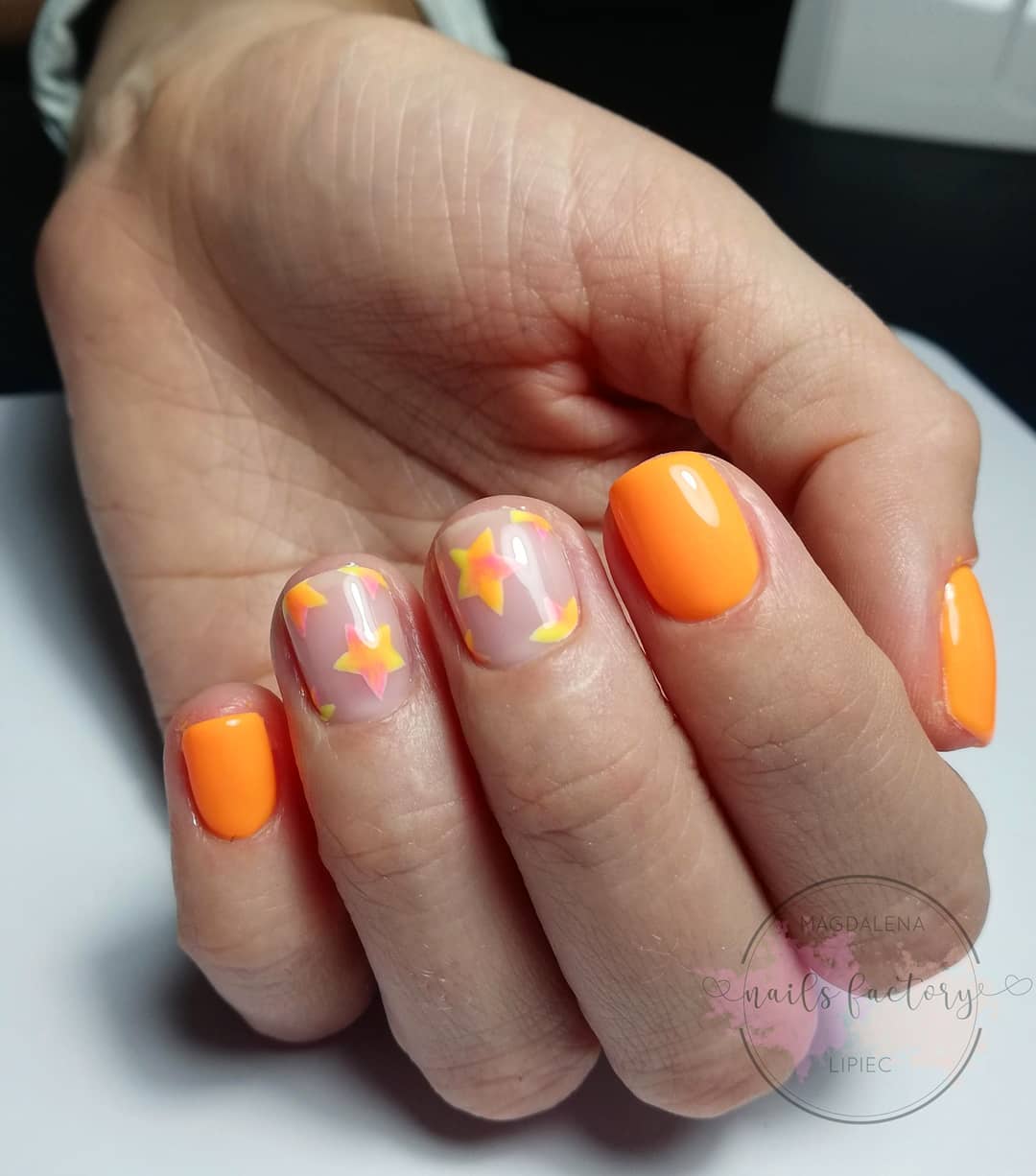 We know orange is not the most popular color right now, for obvious reasons. Nevertheless, such a style should not be shunned and usually goes well with fair skin. One way or another, you can't tell if or how good it would look on you if you don't try it.
3. Flower Tips On White Base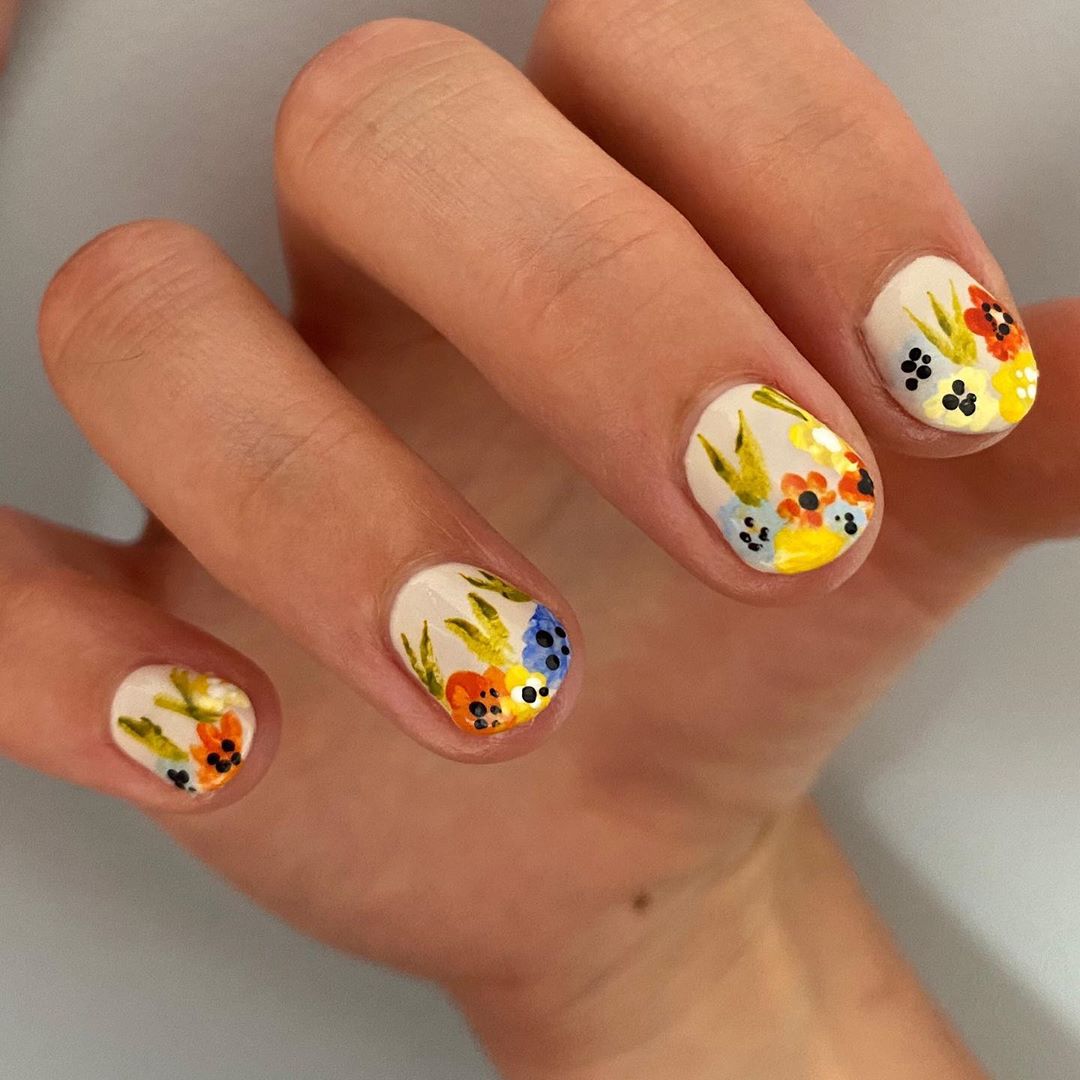 Instead of having a floral decoration on your hand that you need to fasten, or worse, hold all the time, flowers can just as easily be painted at the very tips of your fingers. Before you know it, you will be thanking a certain someone for the tip.
4. Powdered Rainbow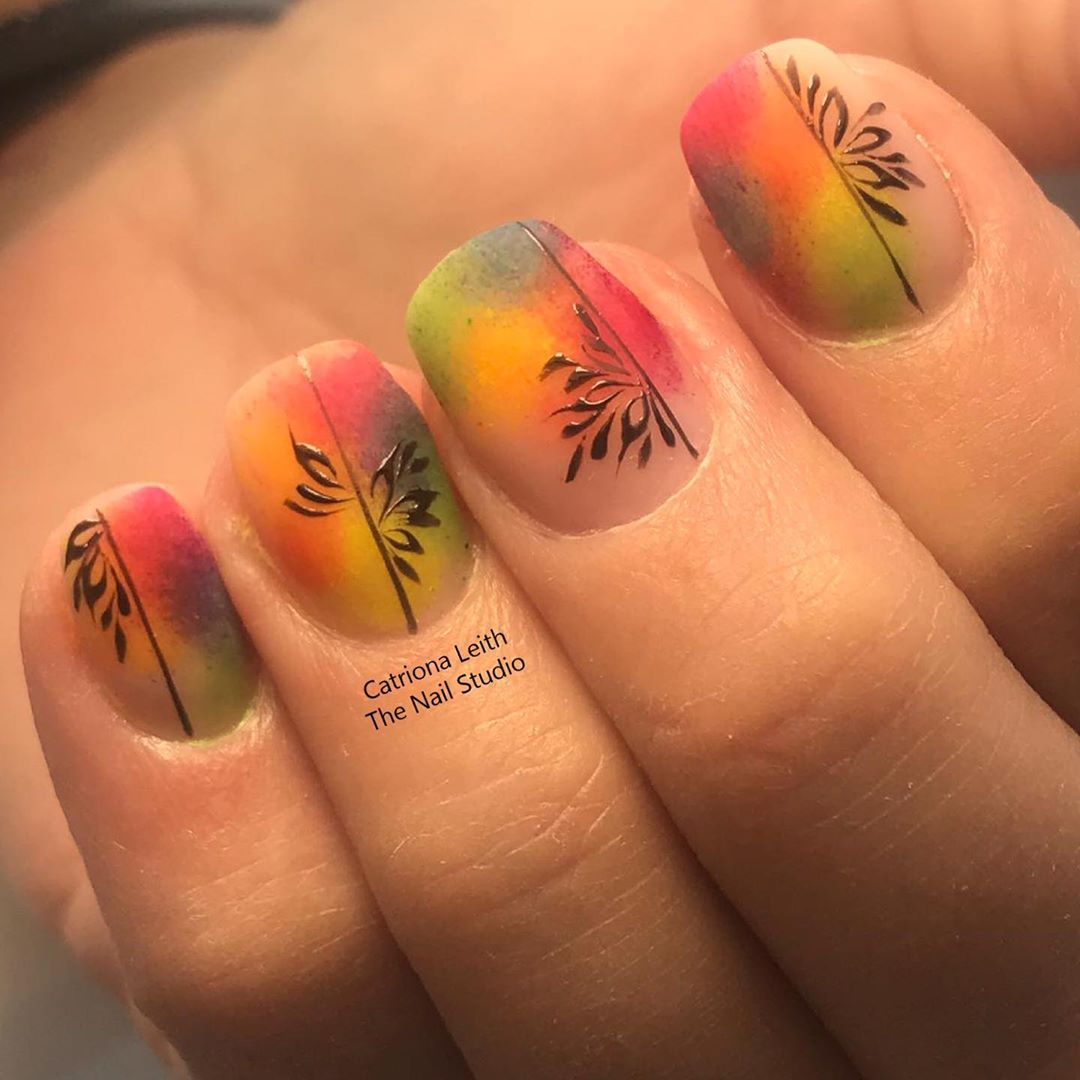 Life isn't all rainbows and unicorns. However, who's to say that the pot of gold at the end of the rainbow shouldn't be your nails? After blending all those lovely colors together, you shouldn't have any worries about anyone blaming you that you are always chasing rainbows.
5. Cute Animals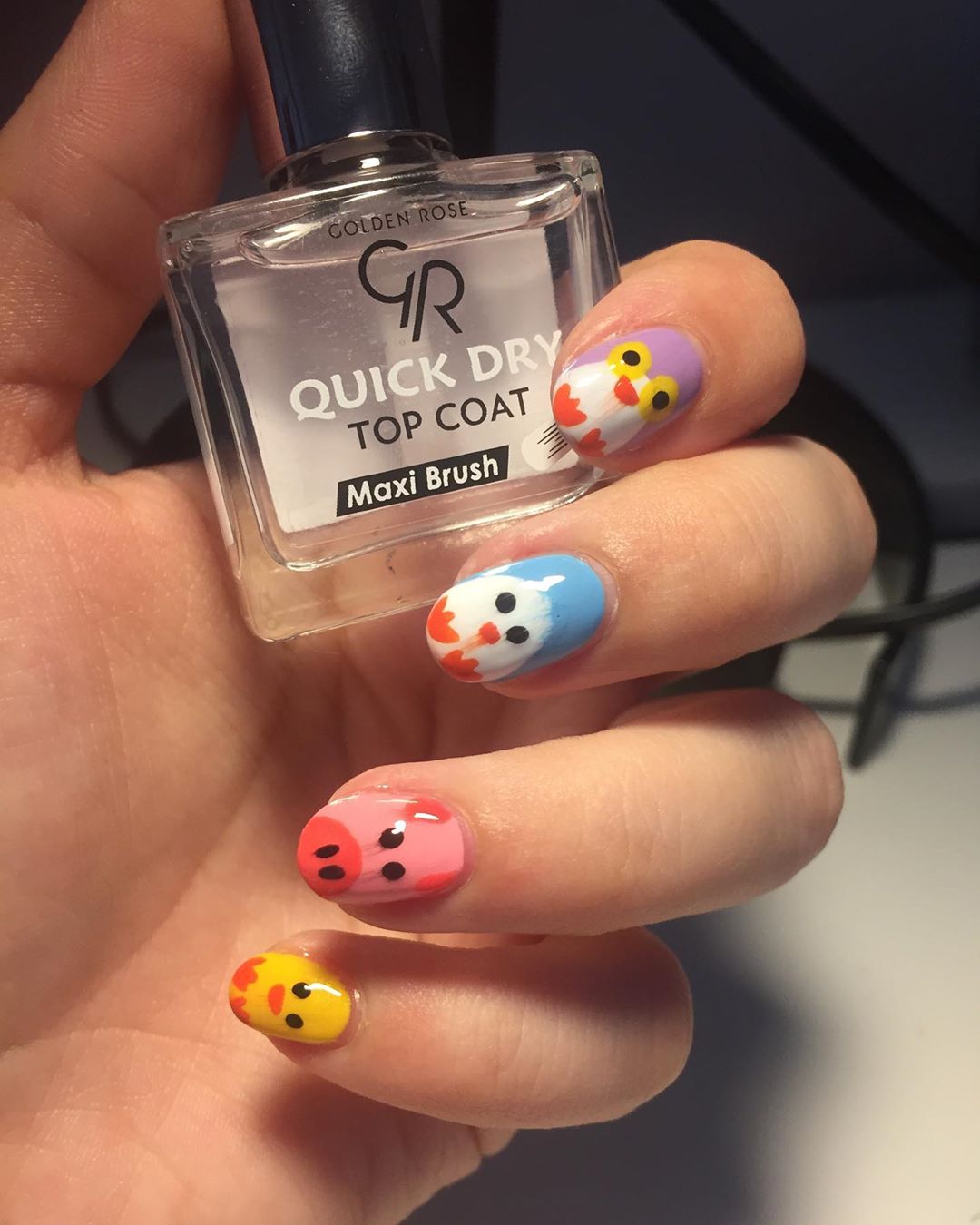 Drawing animals was probably a challenge for the lest artistically inclined of us when we were little, but with nail polish, this is a simple task that can be done by anyone. Rather than signing on Alec Baldwin's iconic dotted line, it's just a matter of adding a couple of dots.
6. Gray With Silver Glitter Line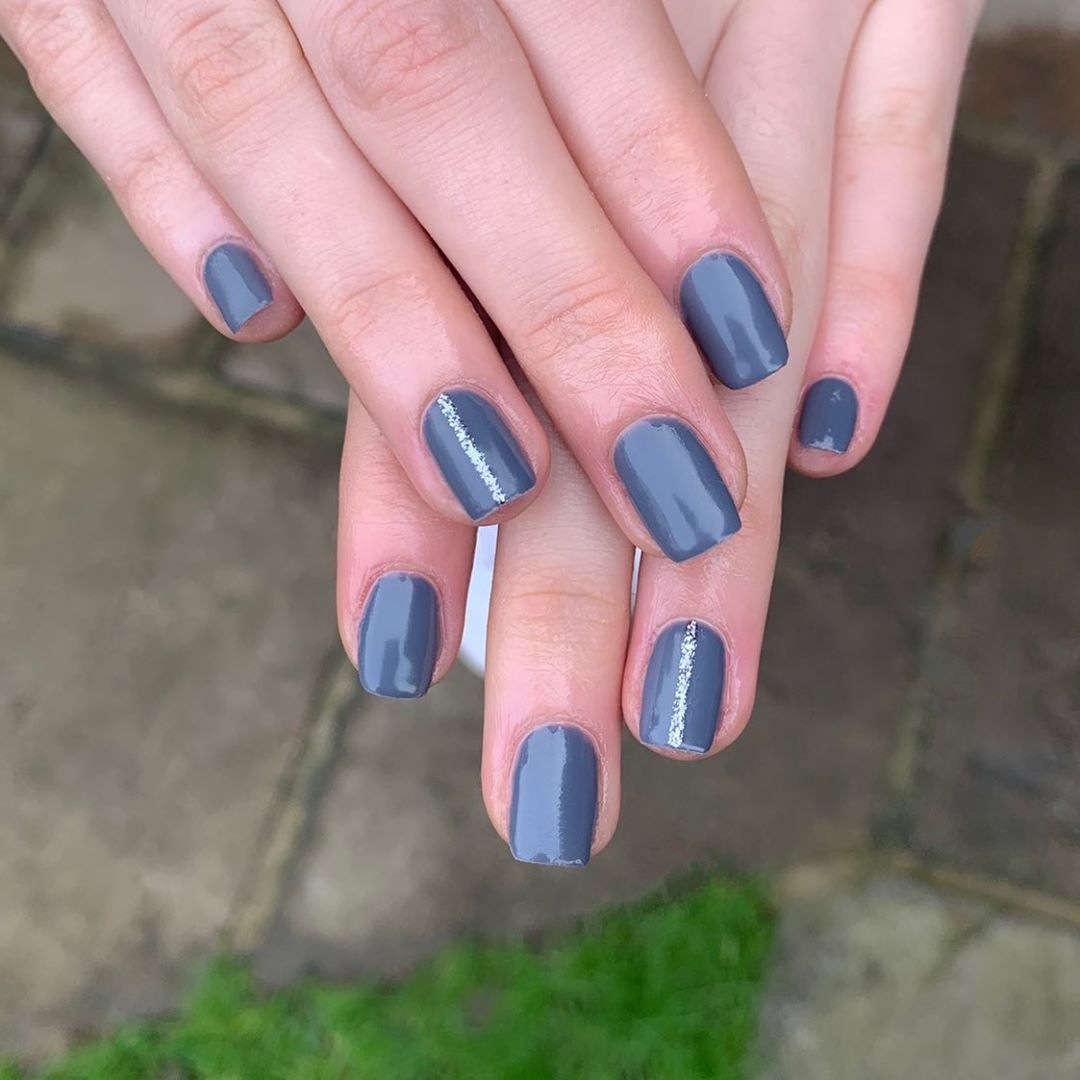 Speaking of lines, sometimes all it takes for adding another dimension to a plain monochromatic design is something as simple as a line. Some men might say it looks like a stereotypical Shelby Mustang (if they ever notice it), but why should boys and cars get all the fun?
7. Black Coffin Nails With Chevron Lines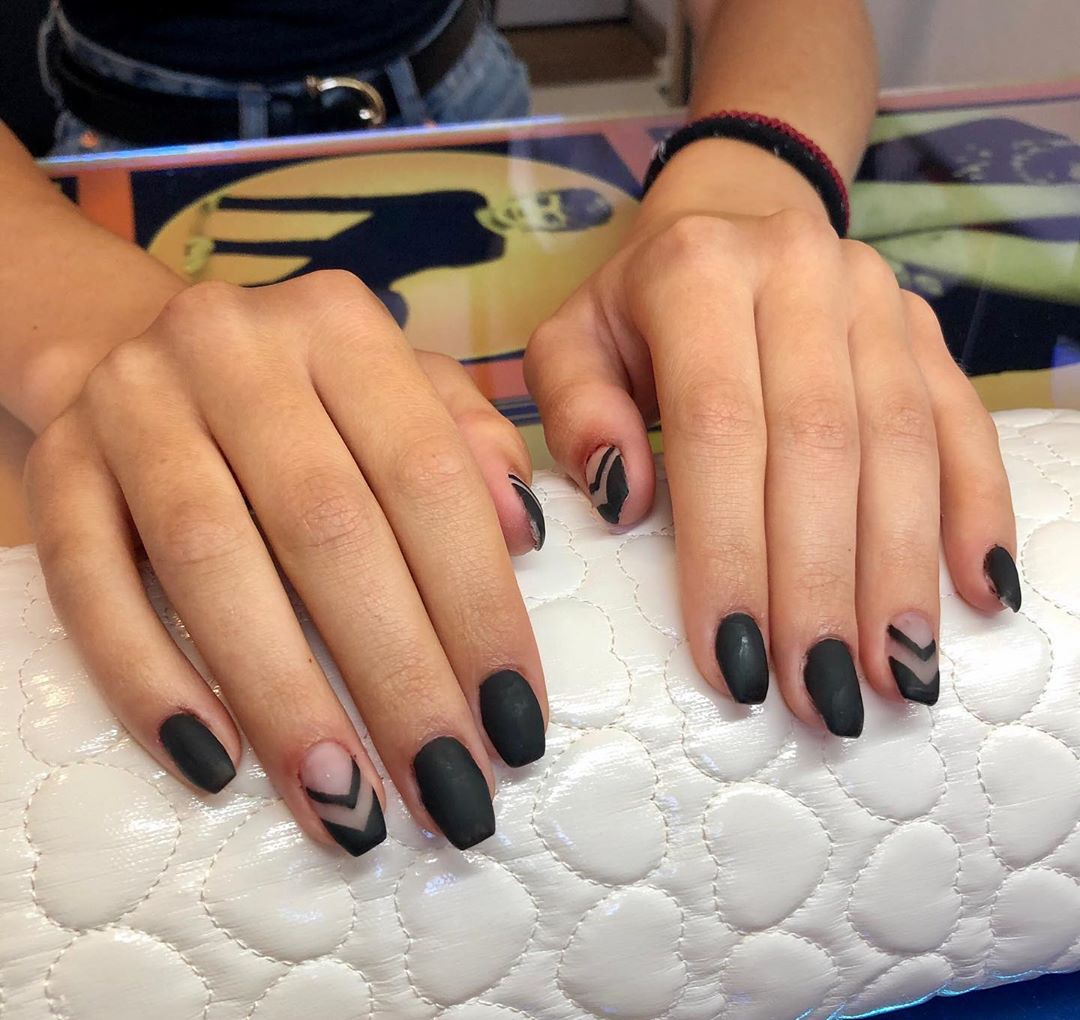 You ever see a red door and want to paint it black? Or a red fingernail, or a red anything. Whatever you're into, no doubt you have at some point wished to get back in black. Before you know it, that black velvet will get a lot of black suits coming.
8. Pearly Oval Nails With Gold Leaf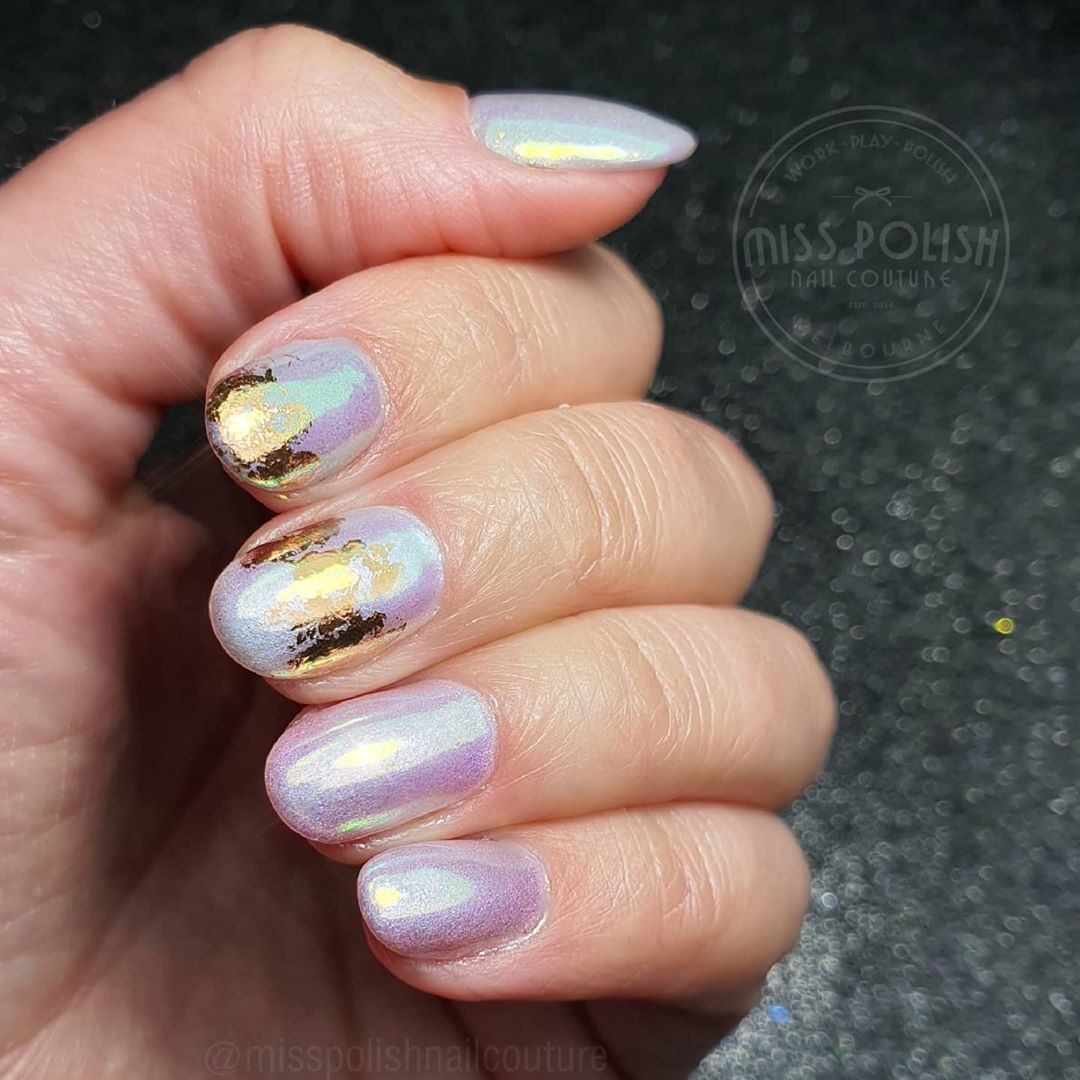 We mentioned above that in this time of intense hand washing, painted nails are more vulnerable than ever. A good remedy for that is the extra strength gel used for these pearly oval nails with gold leaf ornaments. Take that, you pesky soap and disinfectant!
9. Matte Orange And Spots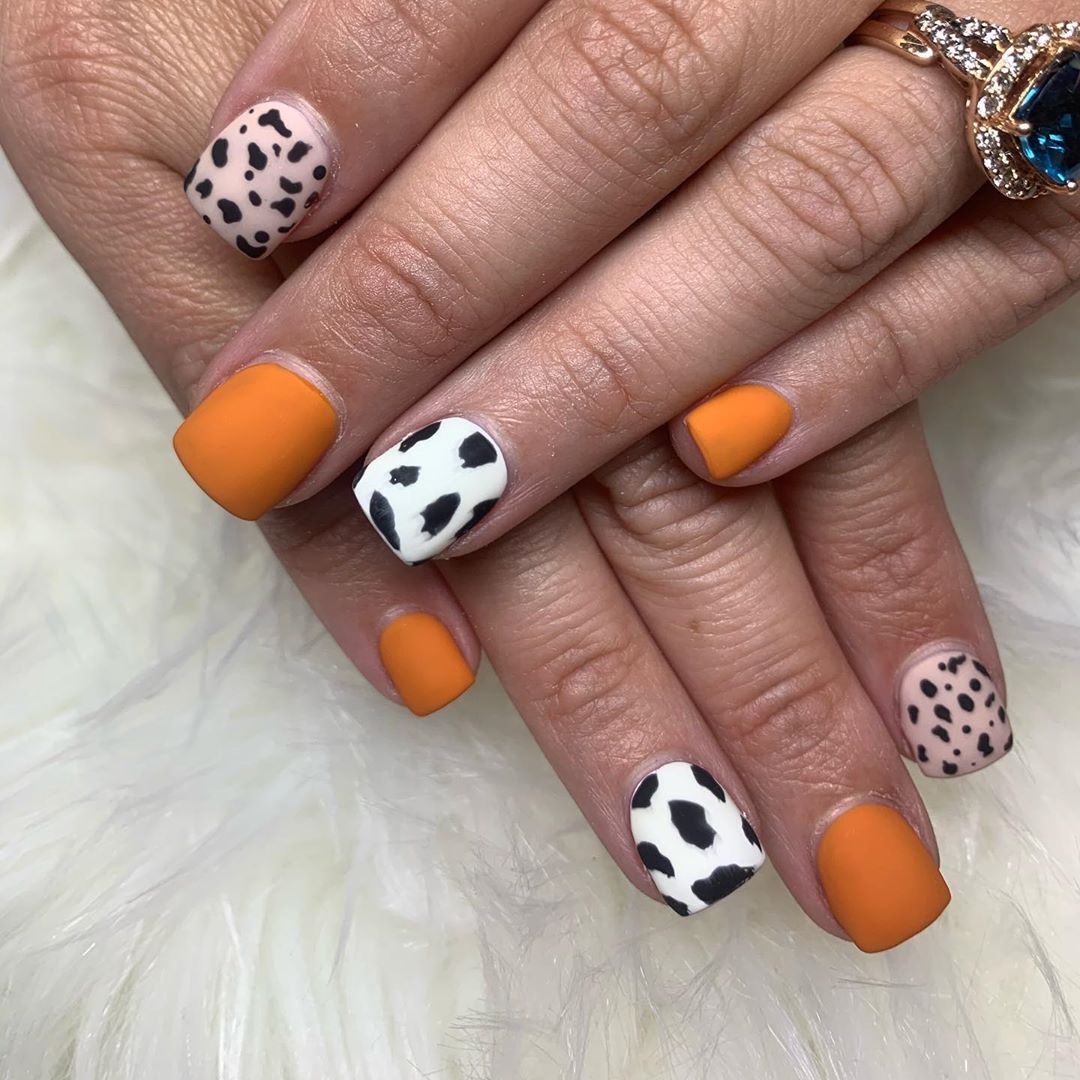 'Do I go for orange? Or maybe something spotty?' Well, here is a phrase we use often and cannot emphasize enough – why not both? Don't ever let your dilemmas stand in the way of your enjoying things in life, especially the little ones that enrich its beauty.
10. Square Glitter Pink With Shells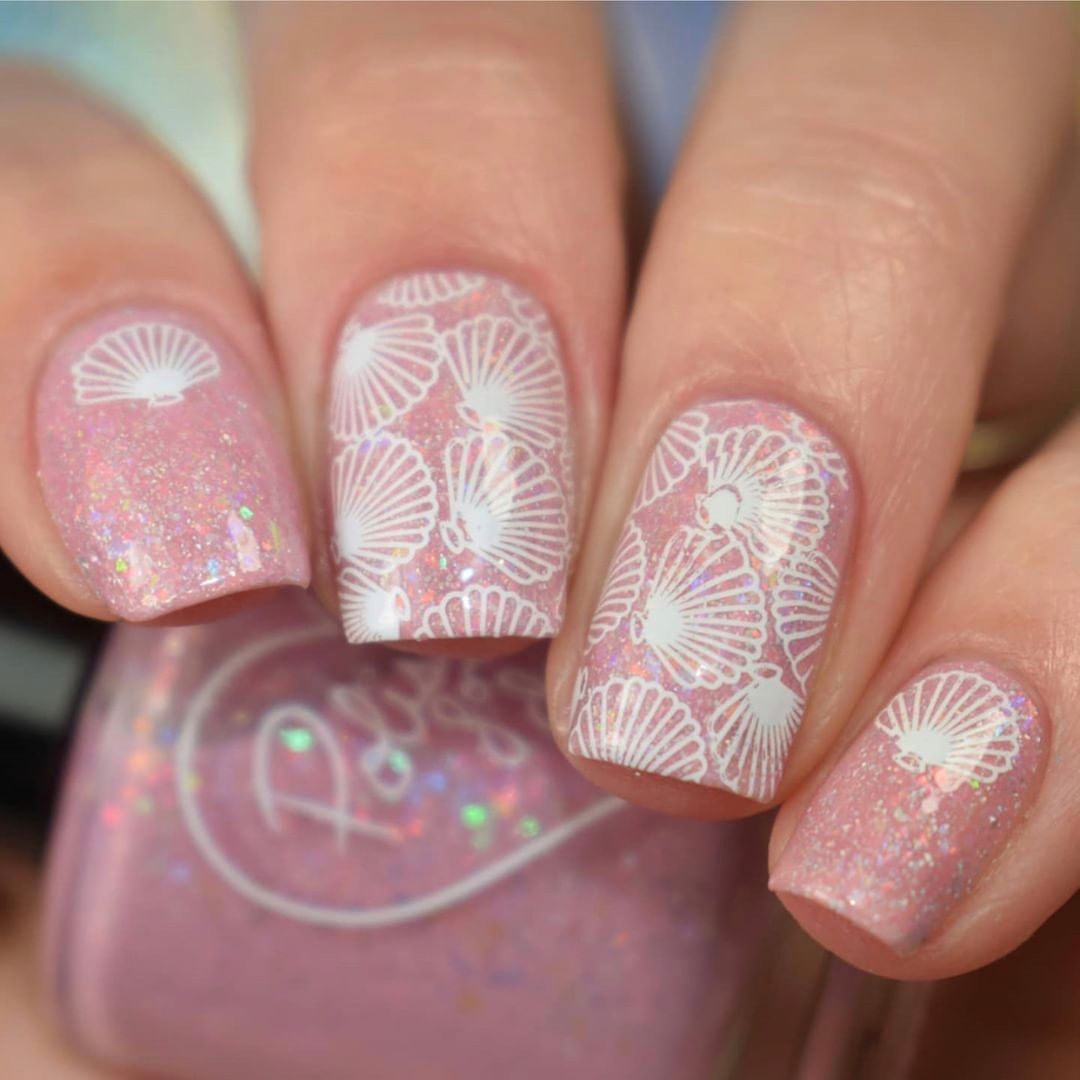 Now for the moment we have all been waiting for. Glitter! But there is no point in limiting yourself to this splendid way of decorating just about anything. Instead, it could easily be topped off by some shells that would make it sublime! Get the beach bag and sunscreen, and you're all set for summer.
11. Ocean And Sunshine Curves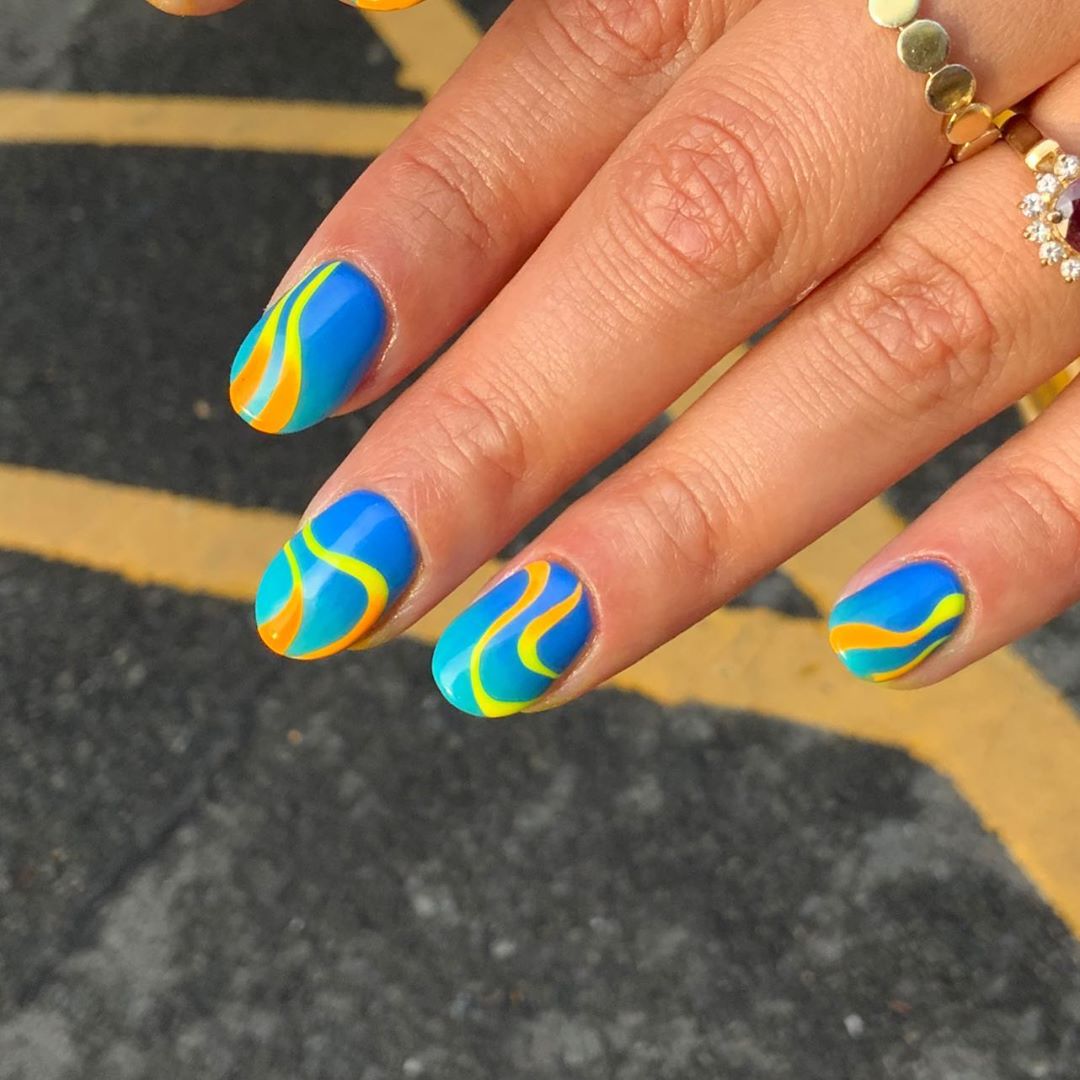 While we're on the topic of summer, beaches, and seas, here is a nail painting style brimming with ocean and sunshine curves. If you want to start making waves, this is how you do it. This will surely turn you into a lightning by the sea.
12. Purple And Lavender With Glitter Accent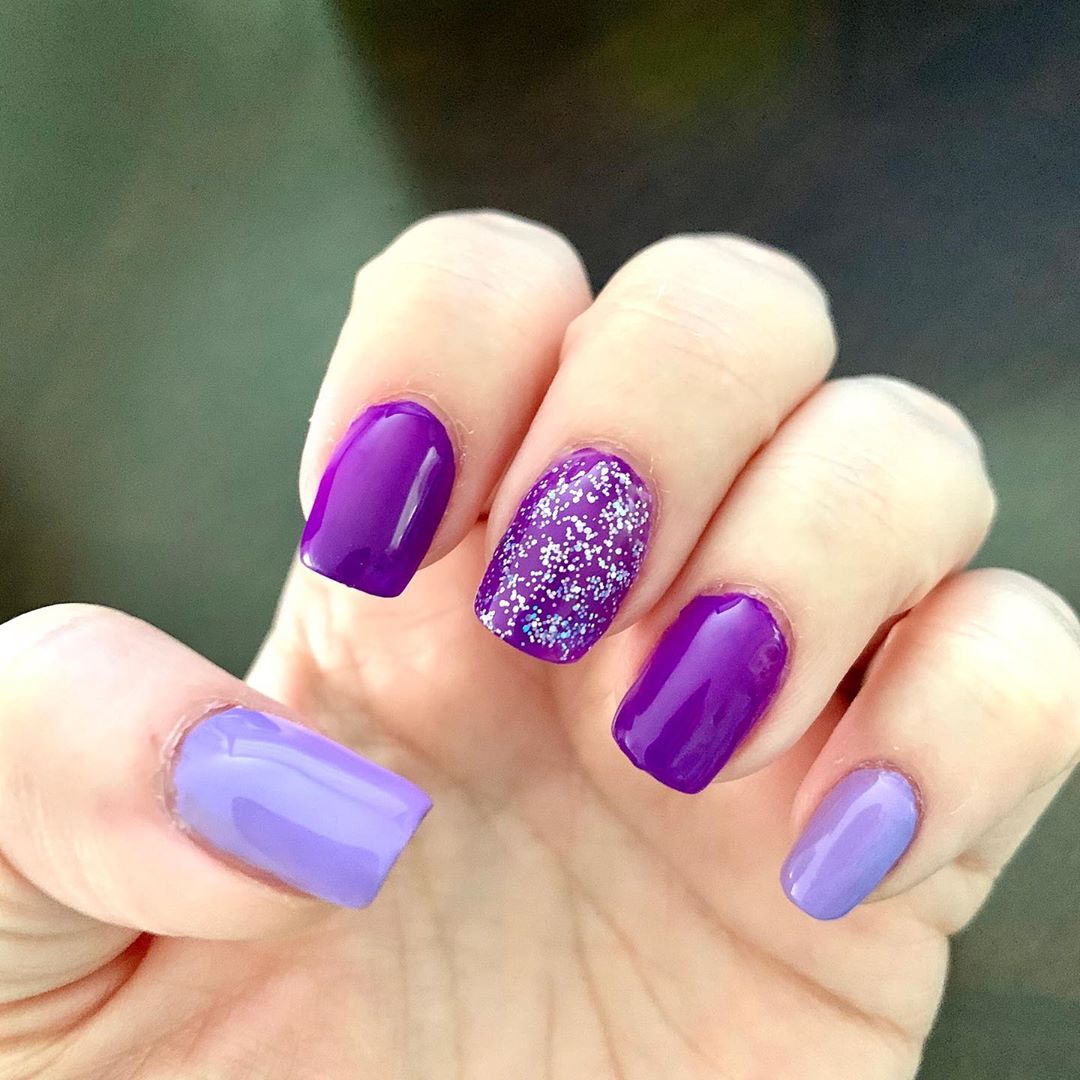 Going for a monochromatic theme does not necessarily mean you have to use only one color for every nail. Also, as fun as glitter is, it's not a bad idea to use it more sparingly. After all, the whole point of being creative is not to let limitations stand in your way.
13. Half Black Half Glitter Rainbow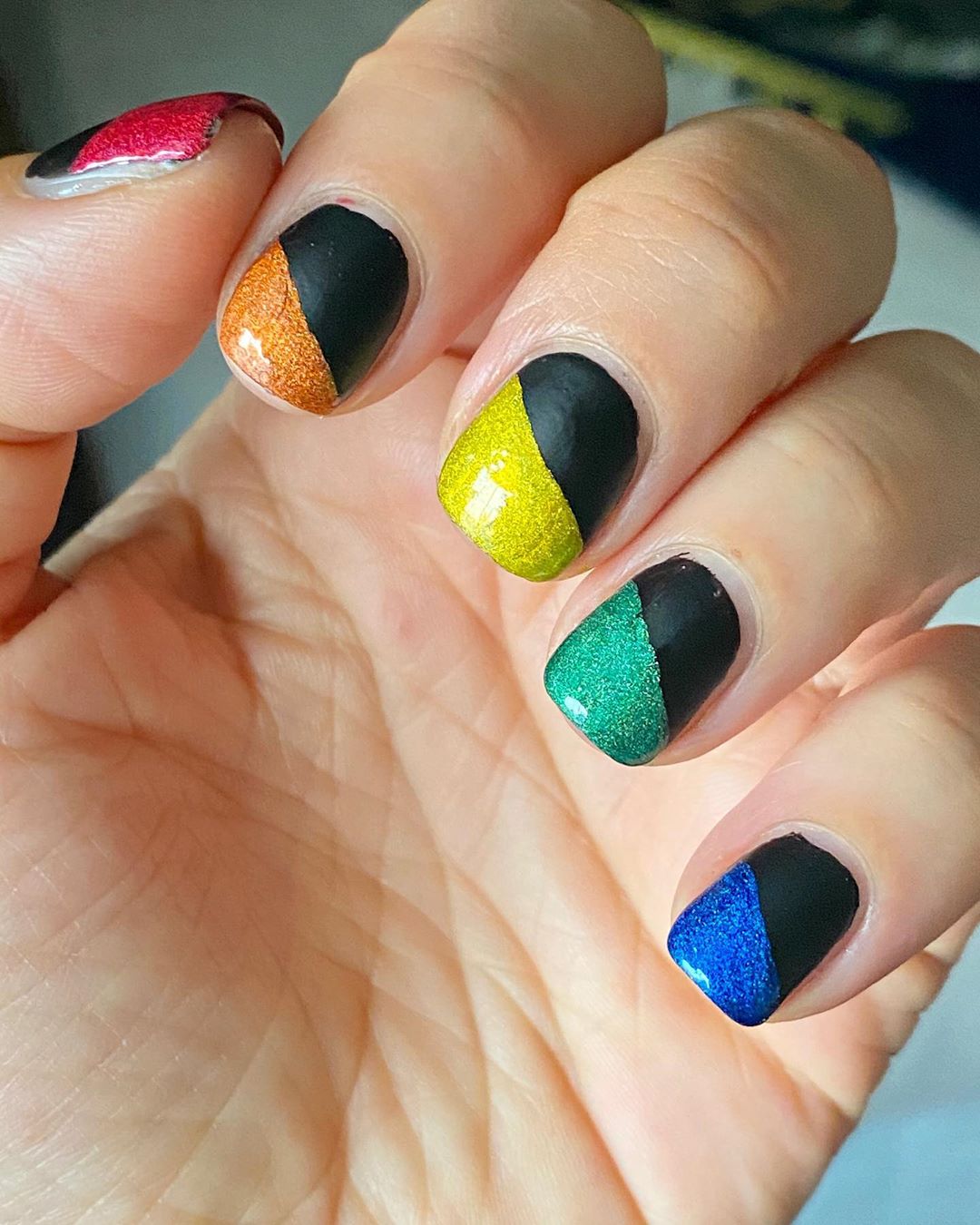 Yes, that's right. We said it once, and we will say it again. Limitations should not stand in your way of figuring out the perfect nail paint style, even if that means combining two or more techniques with the aim of getting a better result than others.
14. Pink Glammed Up Short Stiletto With Black Accent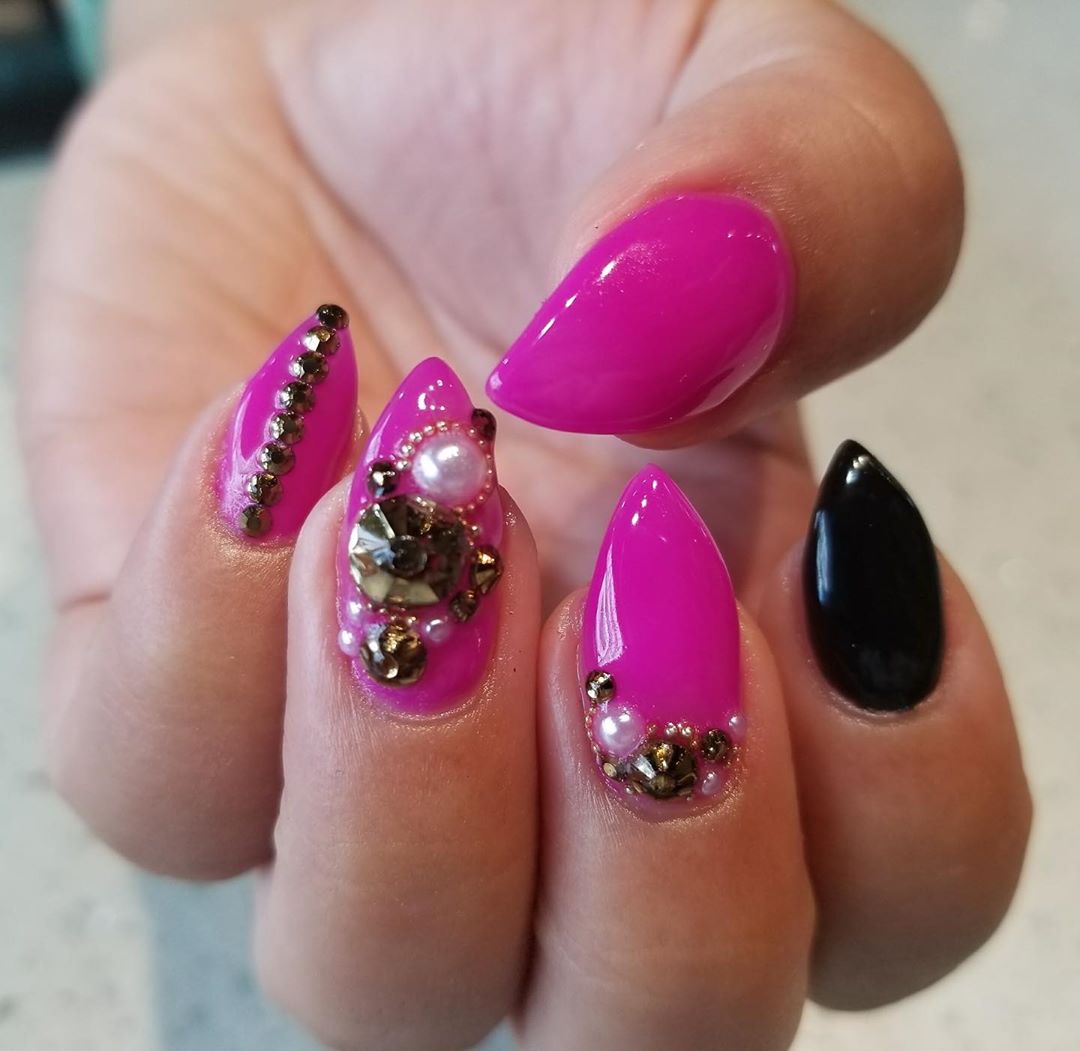 Pretty in pink, isn't it? Become the pink panther (or in your case, pantheress) with these glammed up short pink stiletto nails with a black accent. Get yourself on board with a manner that sits above plain mediocrity with its regal majesty.
15. Short Rounded Fire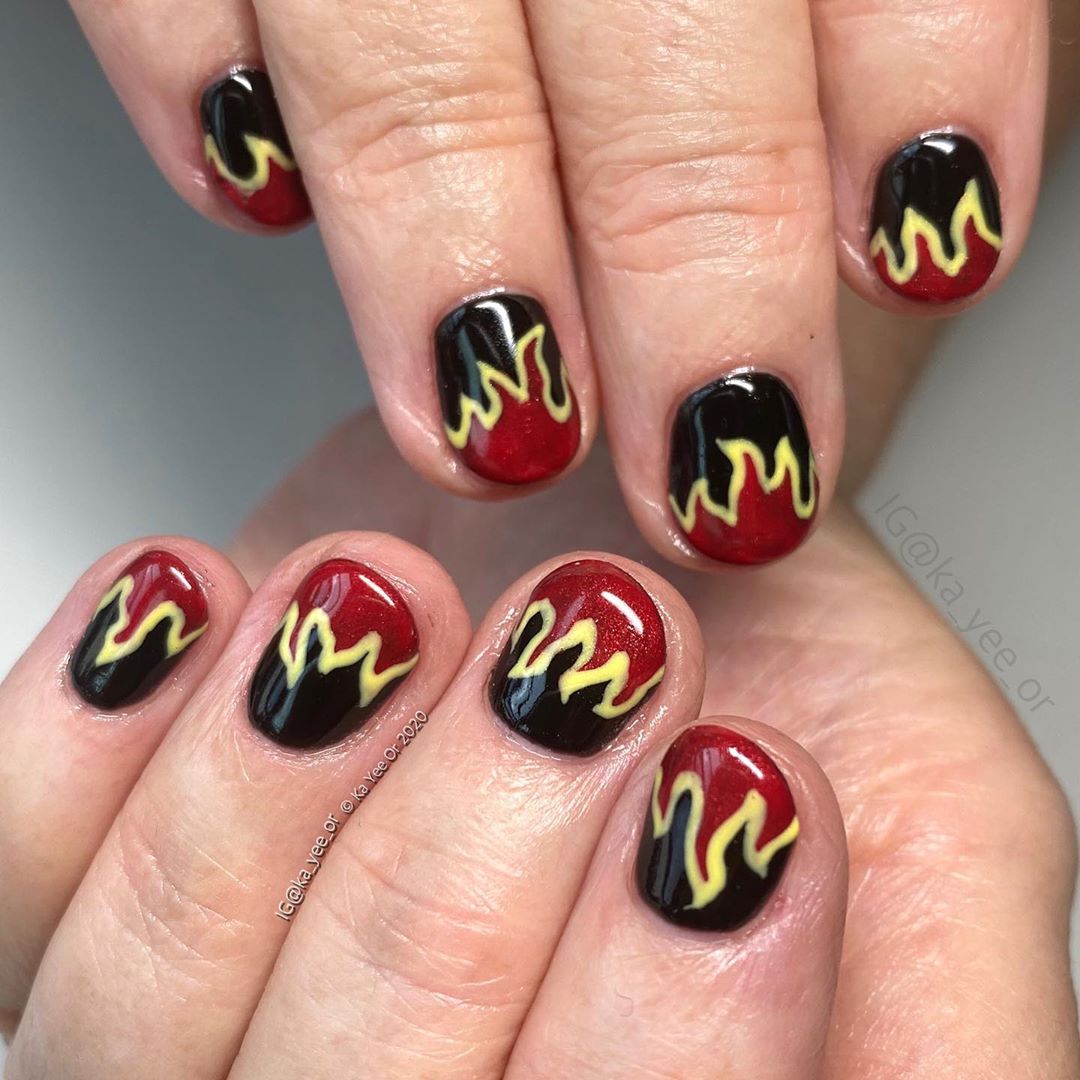 Doing the best thing you see fit means you are free to fire at will! Unlike Billy Joel, make sure everyone knows you are the one who started the fire. This is a surefire way to provoke everyone's envy and become the epitome of a girl on fire.
16. Baby Pink And Black Oval With Rose Gold Glitter Accent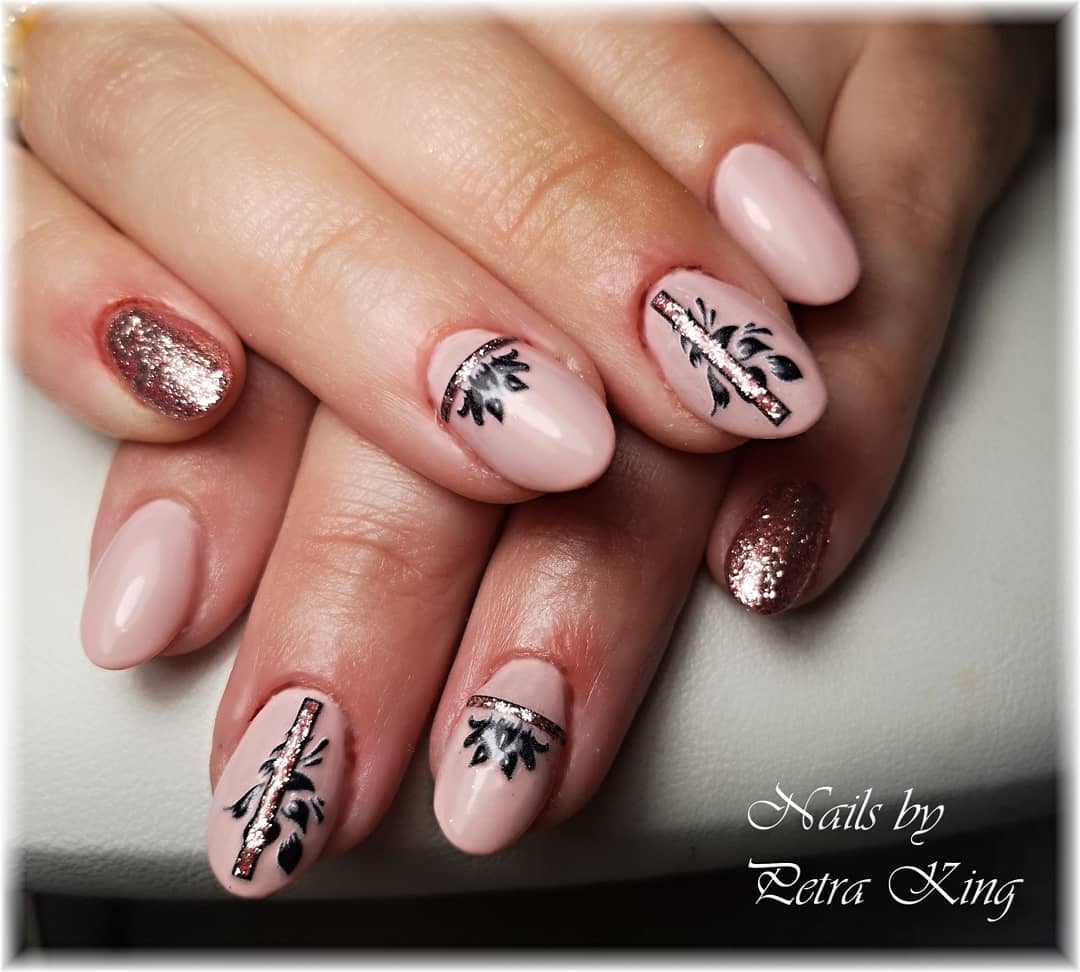 So far we had pink, blue, and baby blue, so now it is time for baby pink and black oval nails with rose gold glitter accent. We know the name is a bit of a mouthful, but the actual execution can be only as complicated as you want it to be. Express yourself.
17. The 80's Pattern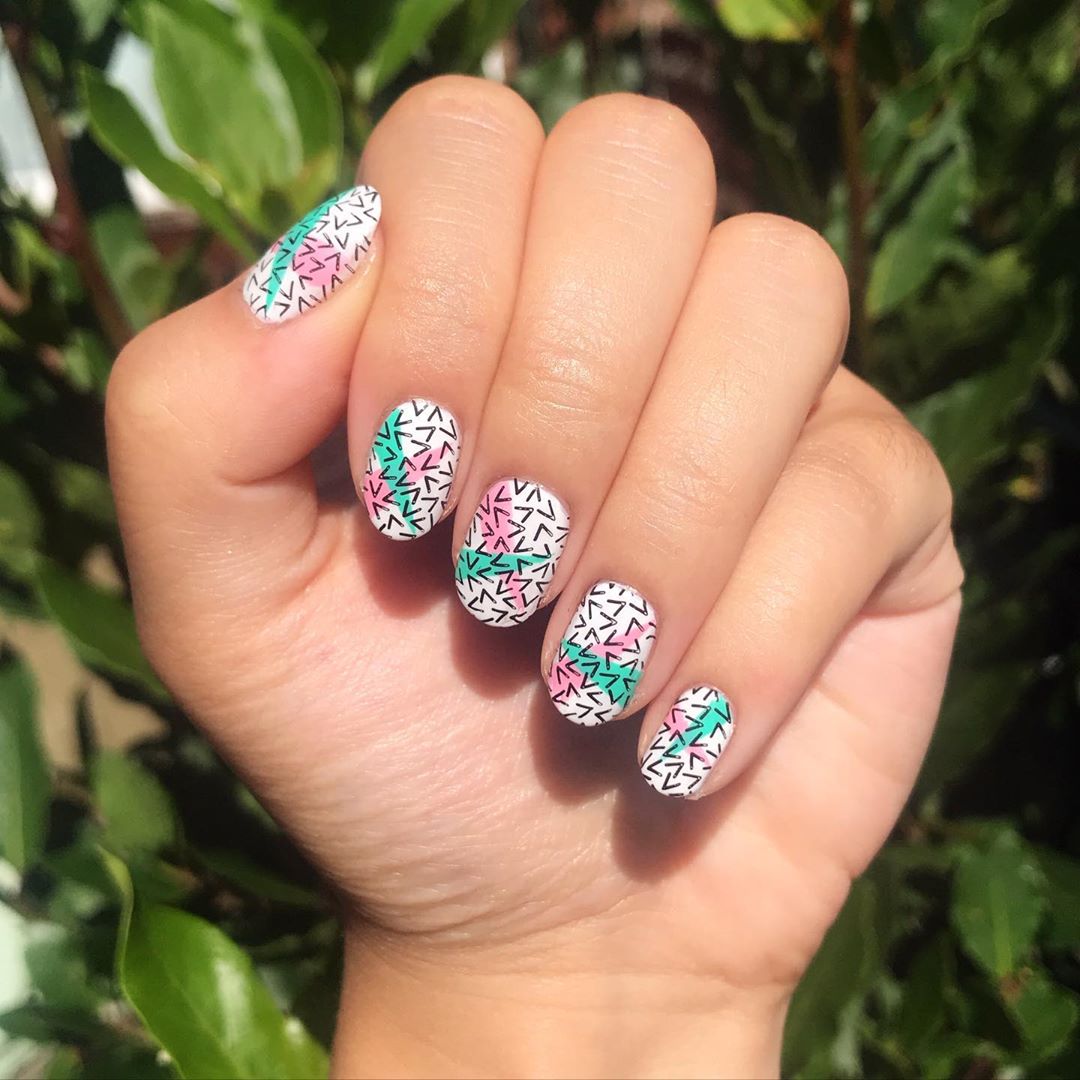 We are living in a material world, and we are all material girls. Now when it is not really advisable to go around the mall shopping, our nails are a great means of nurturing our 80's nostalgia and recapturing the magic of those days. It's a thriller!
18. Neon Green Square With Blue Vines On White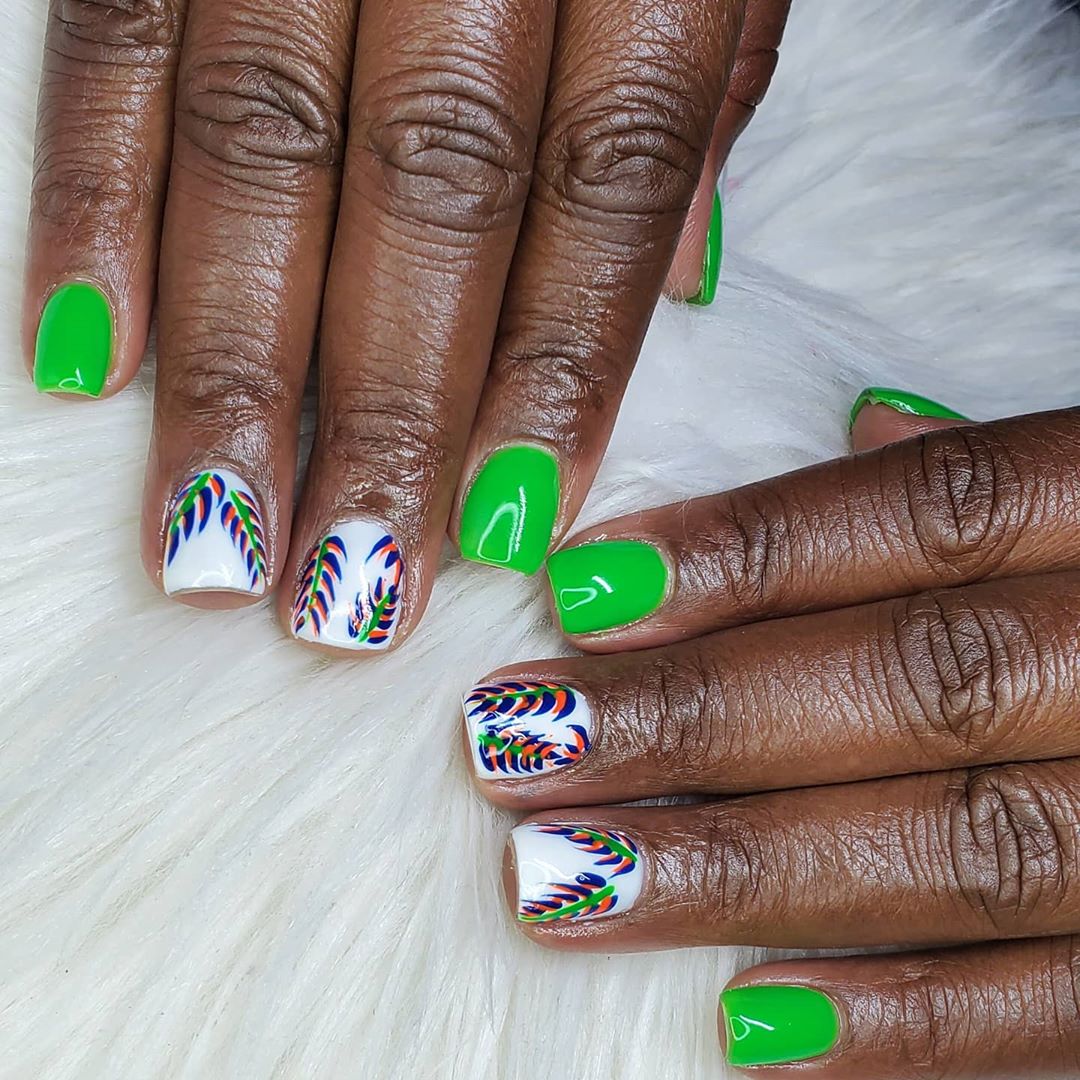 Whenever sometimes asks you if you are thinking of going green, you can finally say yes while showing them your fingernails. The neon green and blue vines on white will dazzle many a nail painting enthusiast, and make you queen of the manicure.
19. White Oval With Gold Flakes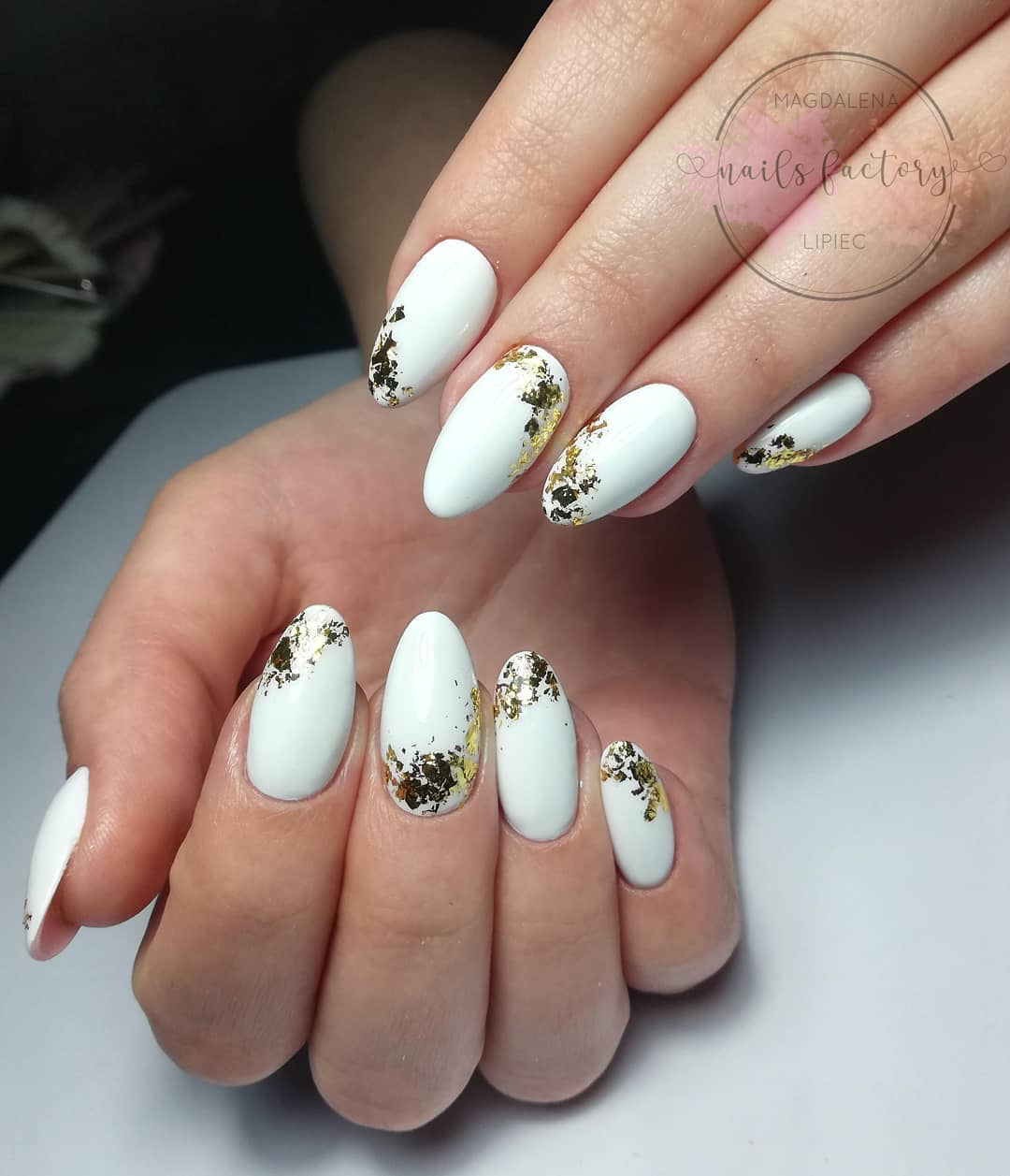 We have covered many colors so far, but hardly any white. This is us making up for it. These white oval nails with gold flakes will give your fingers the aura they deserve, because they are really magical fingers that manage to take care of everything and keep it together.
20. Burgundy Red Gold French Mani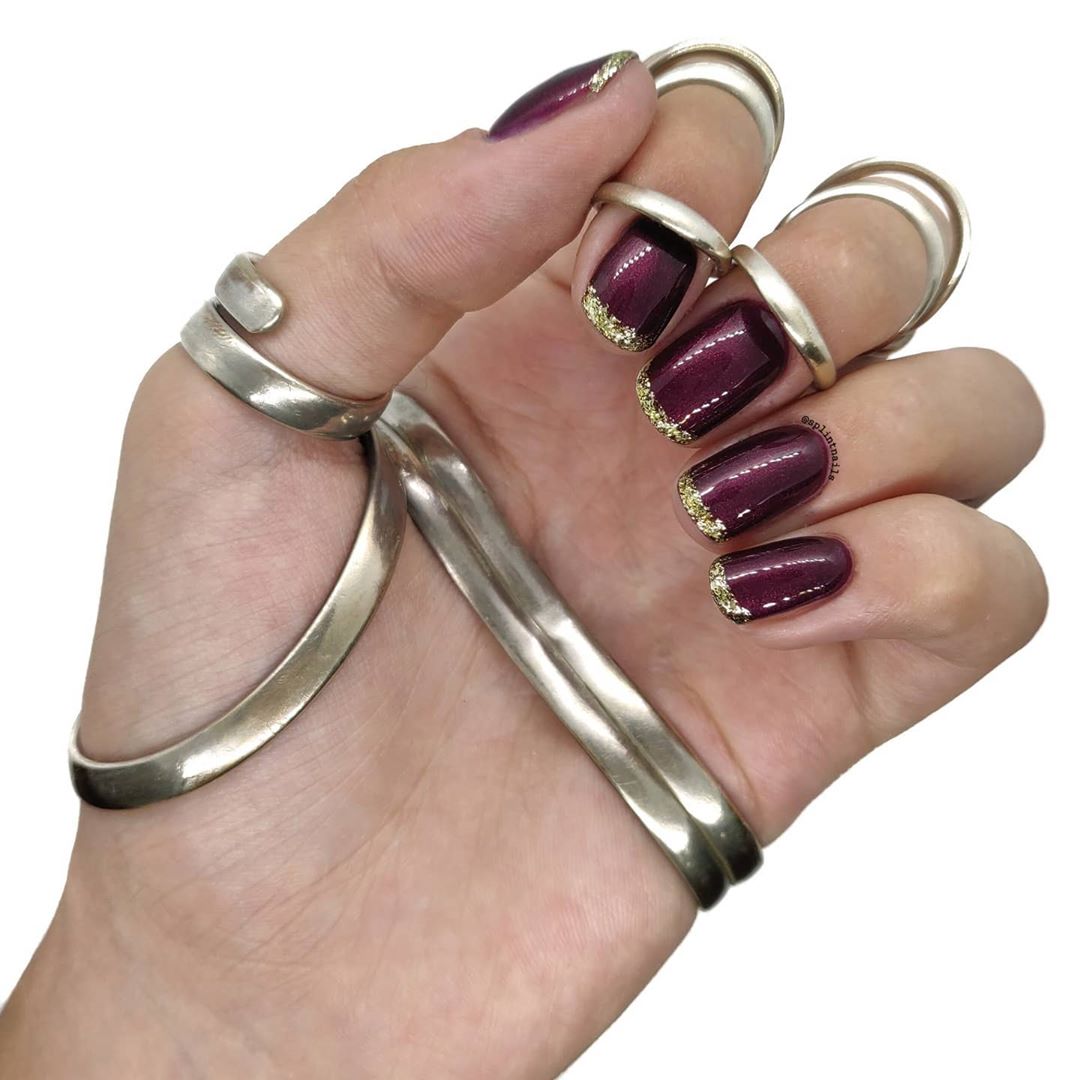 Last but not least, we present the French style manicure that would make even Marie Antoinette lose her head with envy. This is the cherry on top of the cake, mostly because it is a beautiful and splendid look, and yet incredibly easy to get right.
And there you have our selection of 20 nail painting styles that will make you fighting tooth and nail to wrench your hands free of newly found admirers. Anyway, we hope that at least one of them hits the nail on the head for you. What do you think about them? Would you like to add a suggestion, or maybe a particular technique combination? Go ahead and do so in the comments.