Braids have long been a lovely decorative way to keep your hair neat and out of the way, and there are different braids from different nations and origins. Here we'll talk a bit about box braids. Box braids are probably the most popular hairstyle for people of the African community which is among the trendiest protective hairstyles since they first blew up on the scene over three decades ago.
Today there is a pretty good variety of African braids to choose from, so how do we know what are the box braids hairstyle? This hairstyle has probably two prominent features: each braid is parted at the base in a square shape (although other shapes can be used as well) and the braid is a three-strand braid that always must have four sides, giving it the signature boxed look, that is the origin of the braids name as well.
This hairstyle is predominately worn by both women and men of the African-American community, but that doesn't mean others can't enjoy sporting this hairstyle just because of their race. Over the years we've seen many celebrities proudly wearing this hairstyle on shows, movies, music videos, and celebrity events, styled in a variety of ways with or without accessories.
In all honesty, box braids are perfect all on their own, but since you can do something extraordinary with your hairstyle, why not try it. Box braids can be done on short or long hair, and the thickness of the braids depends on how thick your hair is or how much hair extensions you'd be using.
So let's take a look at some of the popular box braids this year.
1. Classic Golden Box Braids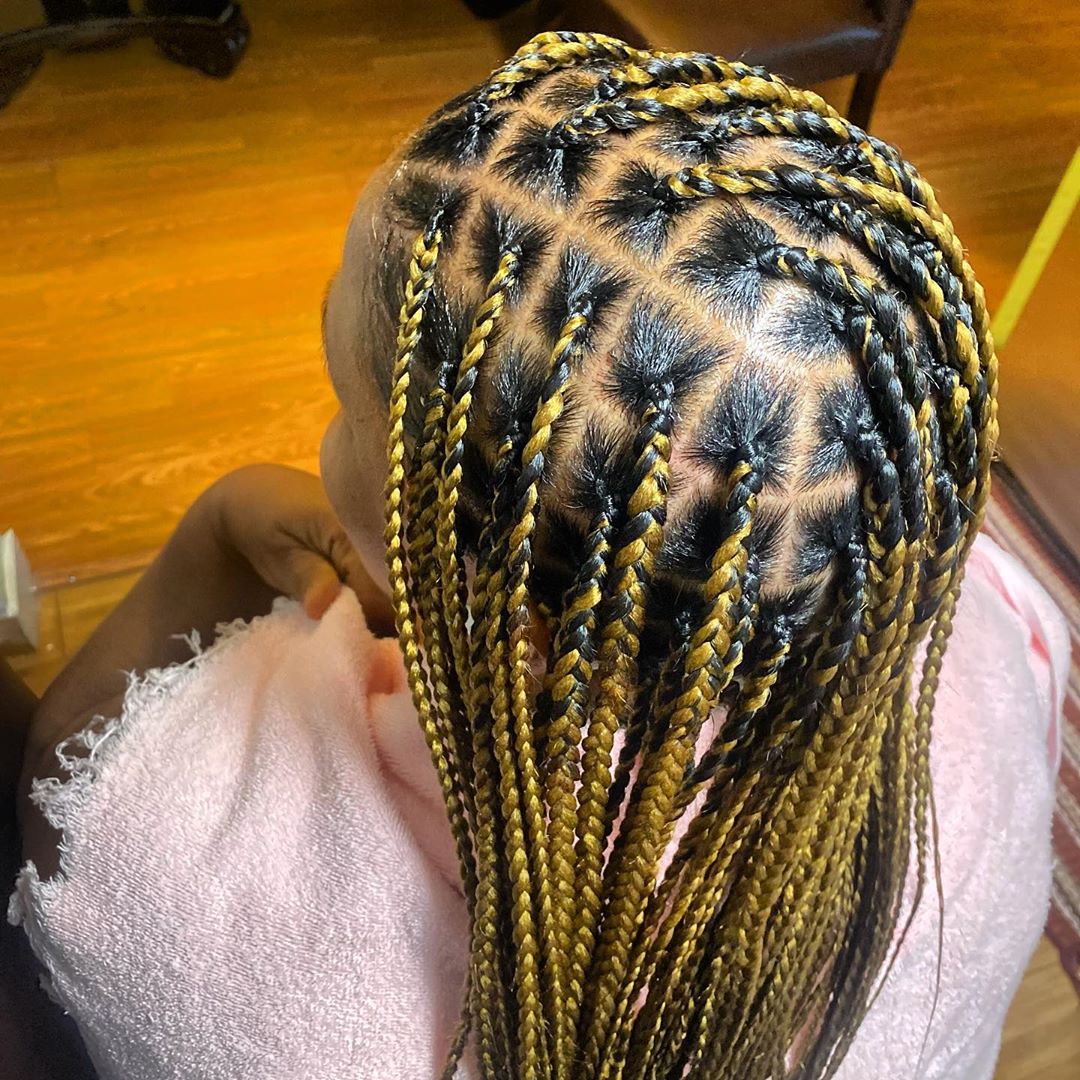 As we mentioned, box braids are amazing all on their own, and if you want to spice them up you can always go for different colors. Here's an example of parted box braids with dark gold extensions. Simple, yet lavish.
2. Triangle Box Braids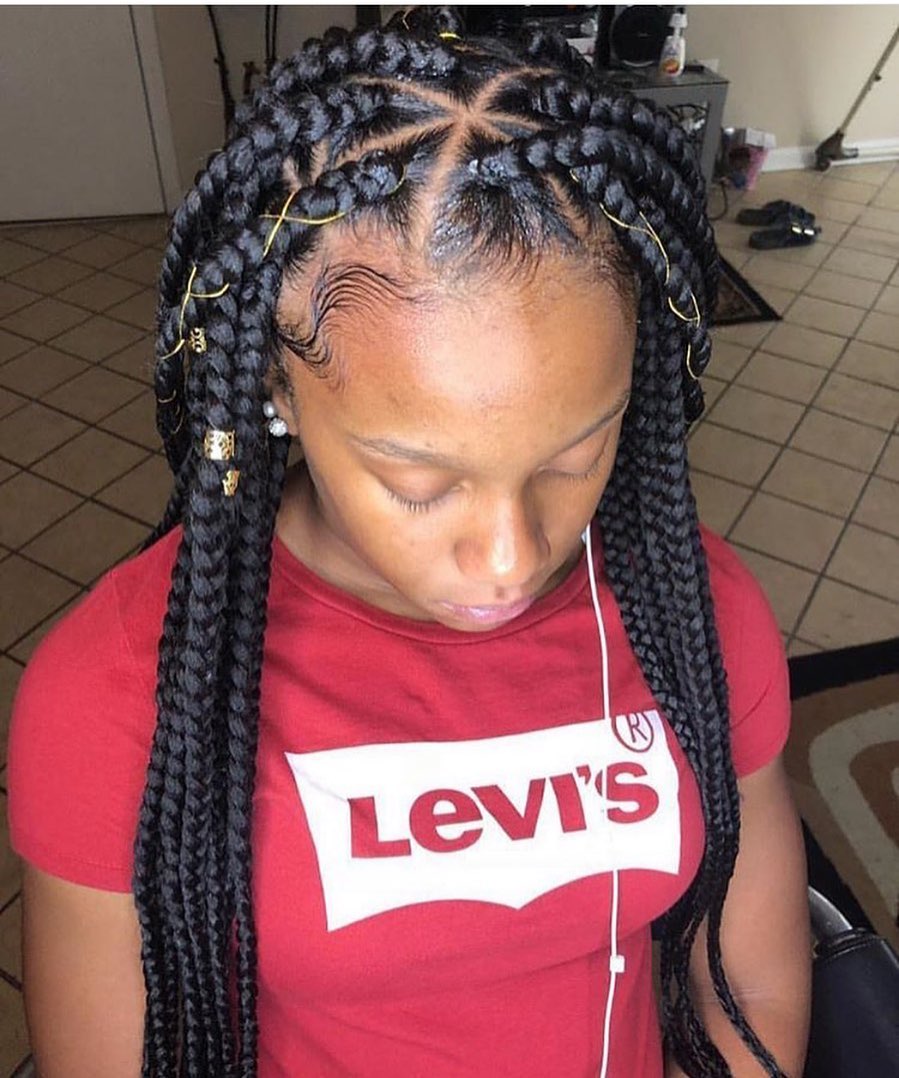 Square partition is one way to do box braids, and it is fun that you can play around with the shape and size of the partitions when doing this plait. Triangle partition, in the shape of pizza slices at the top of the head, is one of the ways to add even more depth to the look. These are the medium-sized box braids, with a few most common accessories, like gold threads and hair rings/clips.
3. Half And Half Cookies And Cream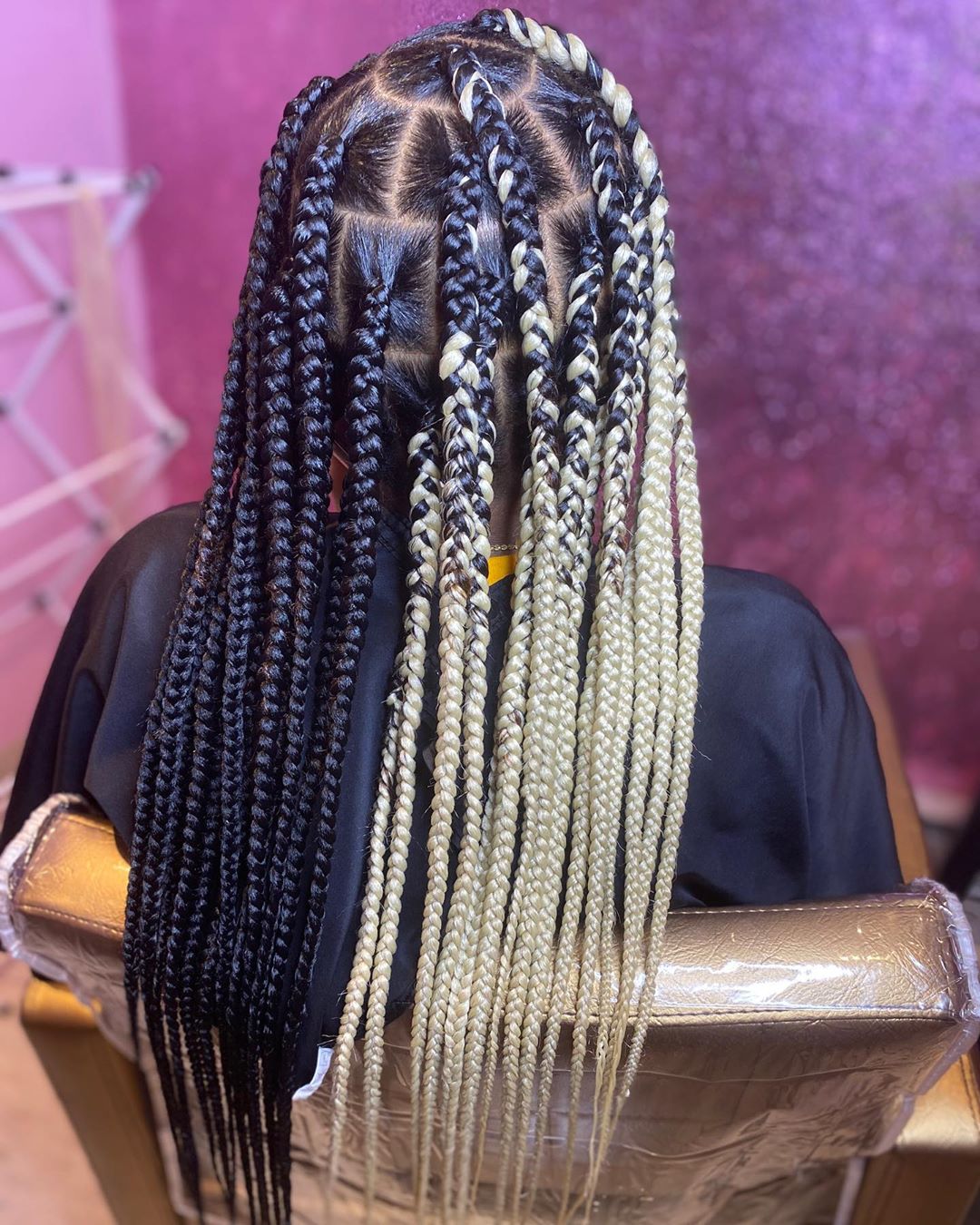 Blonde box braids are really popular, especially platinum blonde, while another popular hair trend this year is the half and half look. Here is a chance to combine both, half and half lack and platinum box braids, done with a small circle part up top spreading to the sides.
4. Top Bun and Scallop Box Braids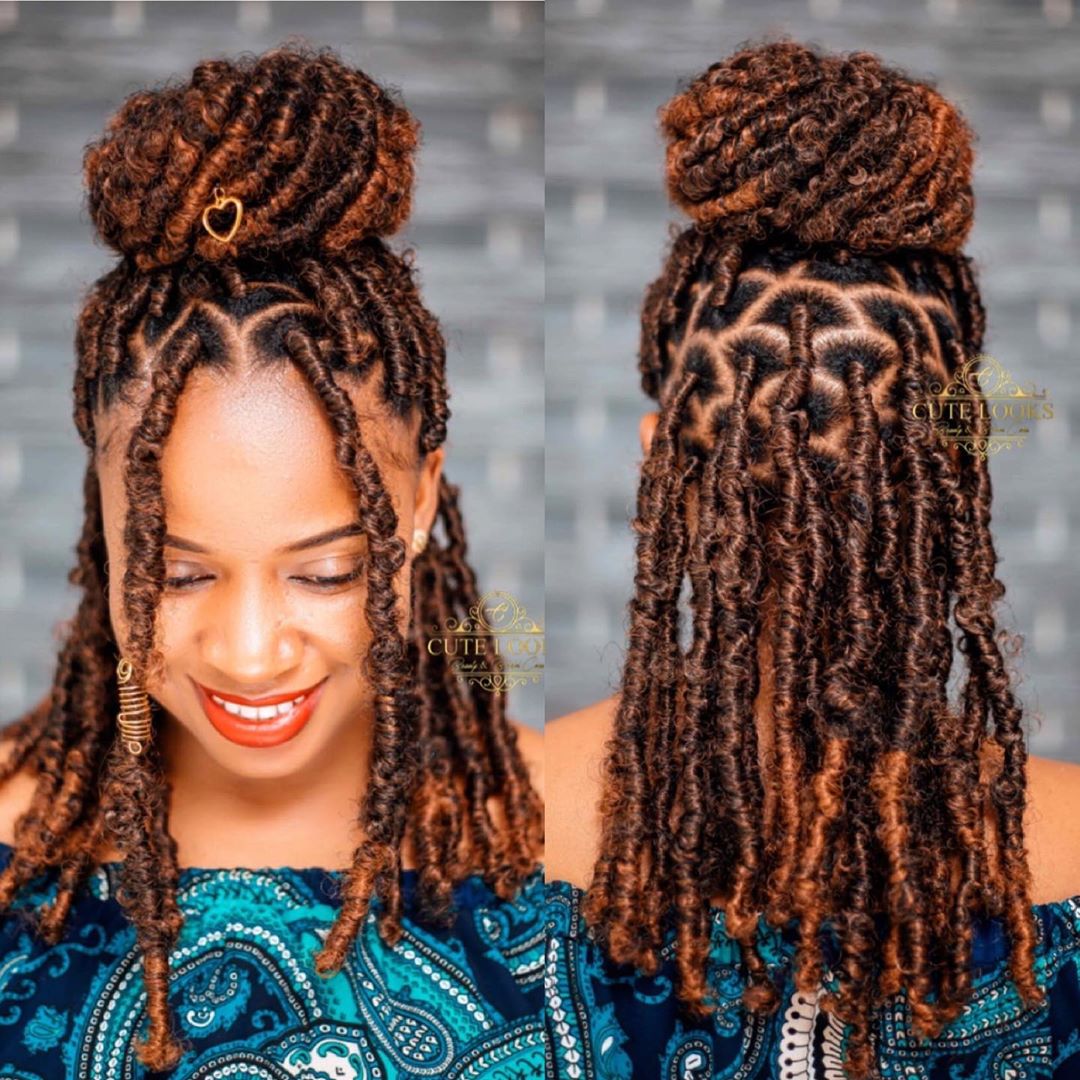 The large top bun is a pretty popular way to style box braids and other similar plants, but this one is a half-up half-down style and comes with a twist… literally. The parts are nicely evened scallop shapes and each braid is wrapped around, giving twisted braids look, with a nice ombre coloring towards the ends. Accessorize as you please.
5. Micro Side Box Braids with Cornrows Combo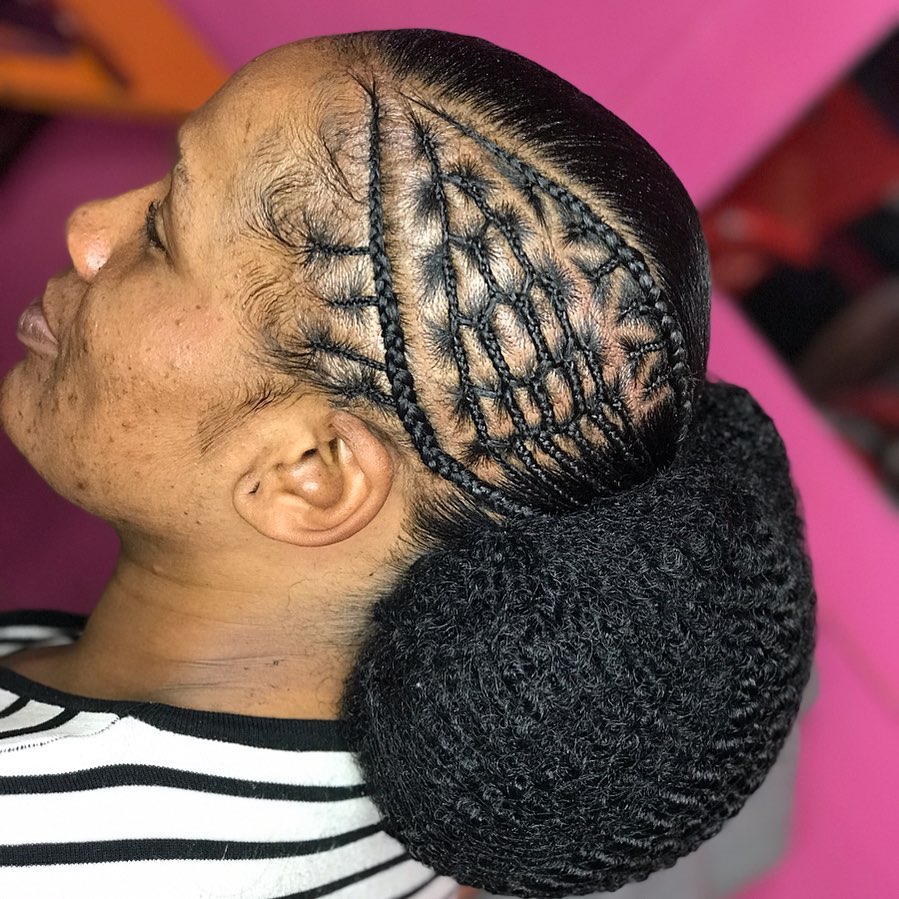 You can always start small if you aren't sure about a hairstyle, and you can't get smaller than this. While we're a bit skeptical that this can be classified as a box braid look, it certainly looks cool. Done only on one side, the micro box braids are connected and pulled back, and rimmed with teardrop-shaped cornrows, ending in a large natural bun. Sweet look.
6. Large Bun With Micro Box Braids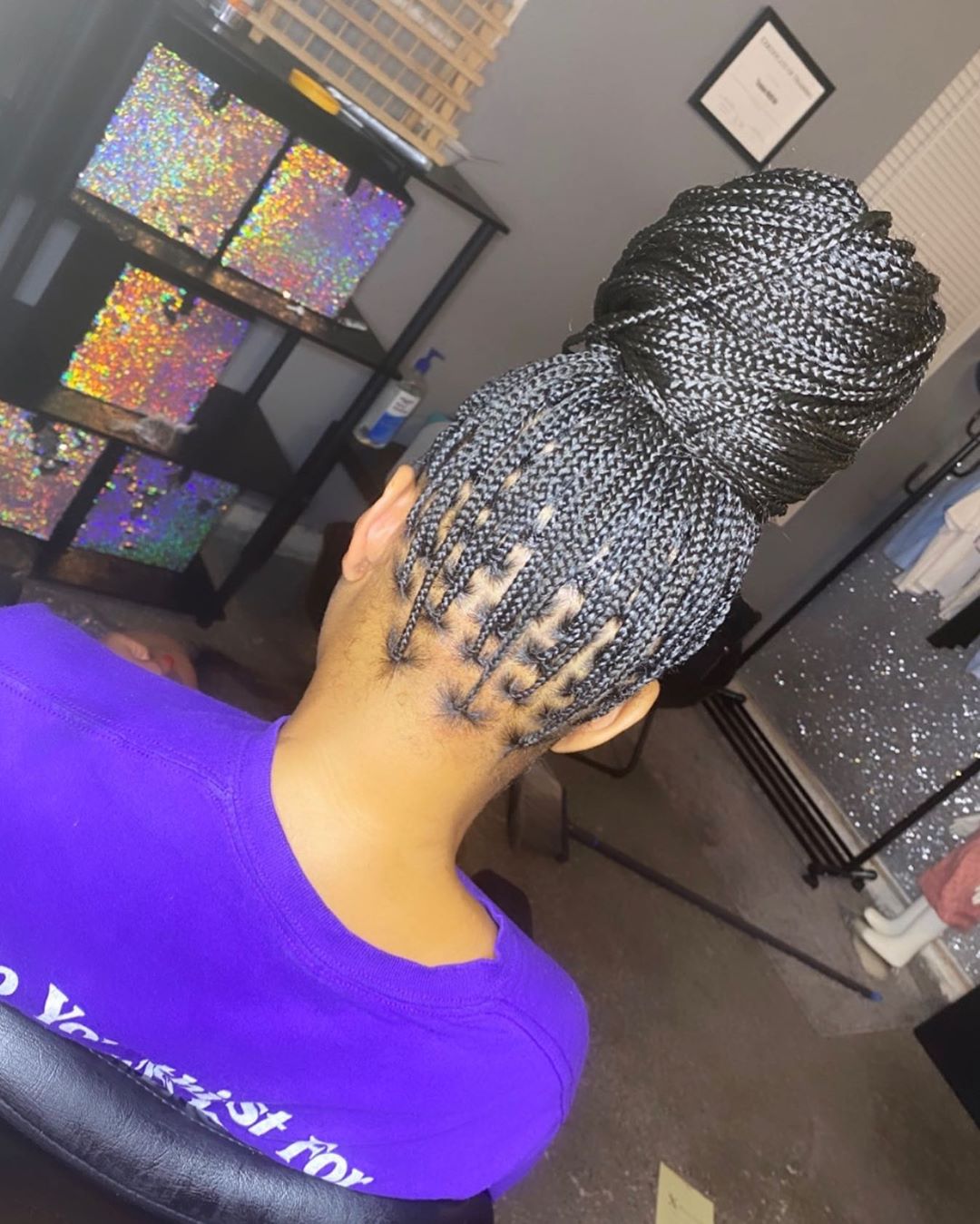 It is a shame not to try the top bun hairstyle if you have long box braids. This one is done with small box braids, showing off all tiny square pattern of knotless plaits underneath. And after having this hip-length hair move around all day, this updo gives your neck a nice break.
7. Wrapped Box Braid Bob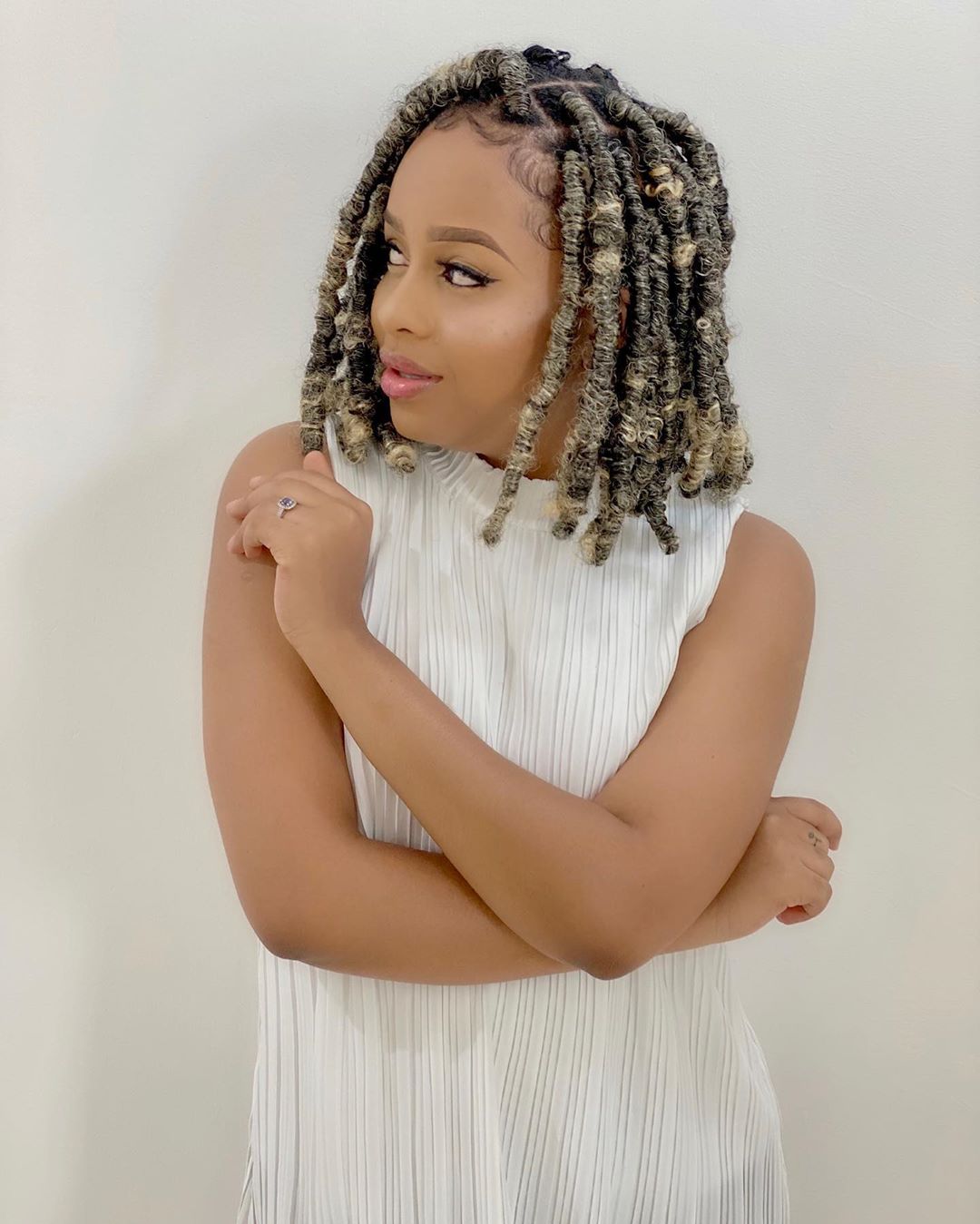 When we think of hair extensions, we automatically think that the end result is long luscious hair. Well, that's doesn't have to be the case. There are many gorgeous short length hairstyles you can achieve with extensions, and including box braids. One way to style short box braids is like this, straight bob with twisted locks, with different gradient colors. It creates a roguish kind of elegance, right?
8. Fiery Orange Bob Box Braid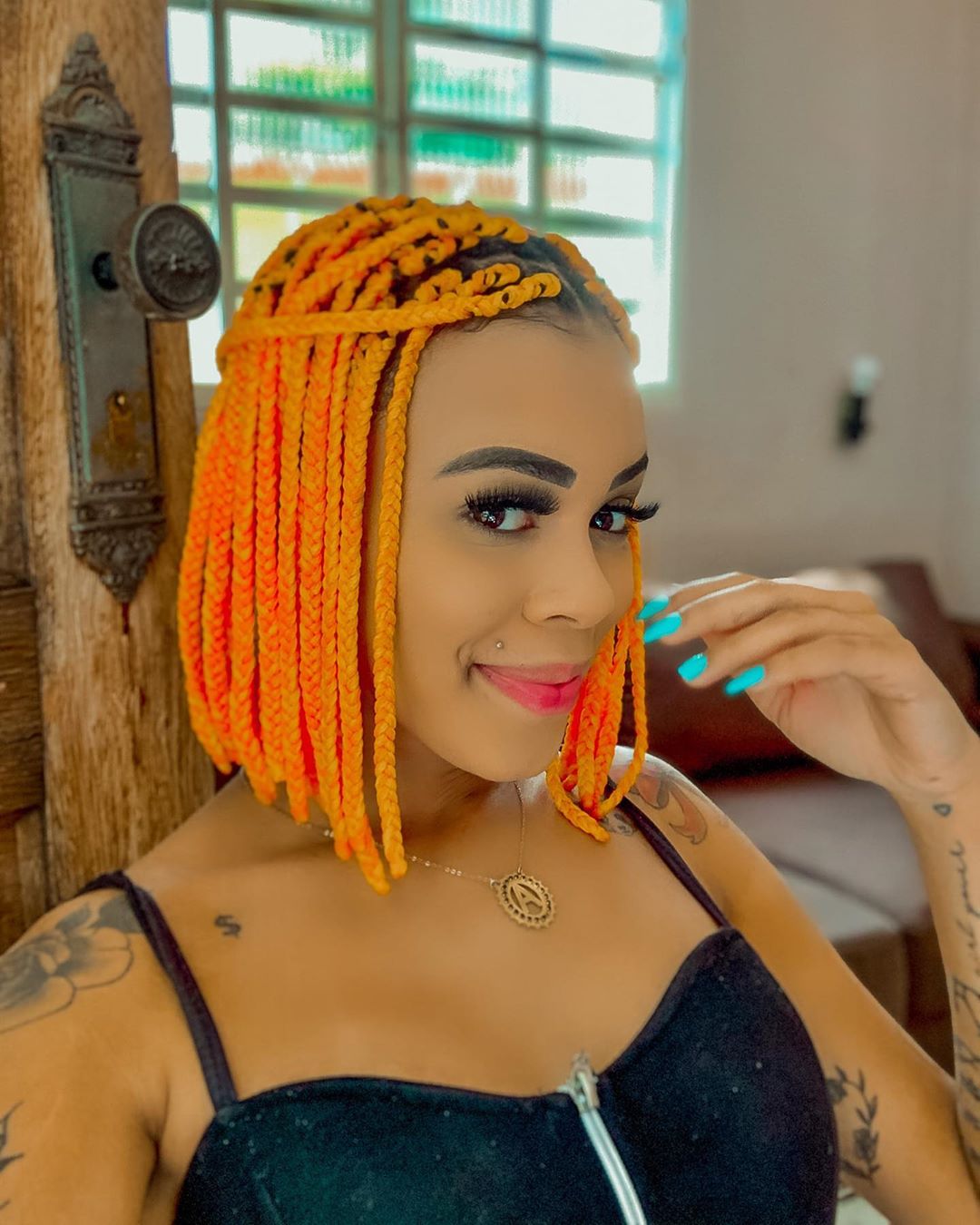 Keeping with the classic box braid look, the texture of the braids, combined with vivid neon colors can really set your style on fire. This neon orange box braid bob is a very vibrant hairstyle, even if it's on the short side. It just makes it that much more fun and edgy.
9. Large Diamond Box Braids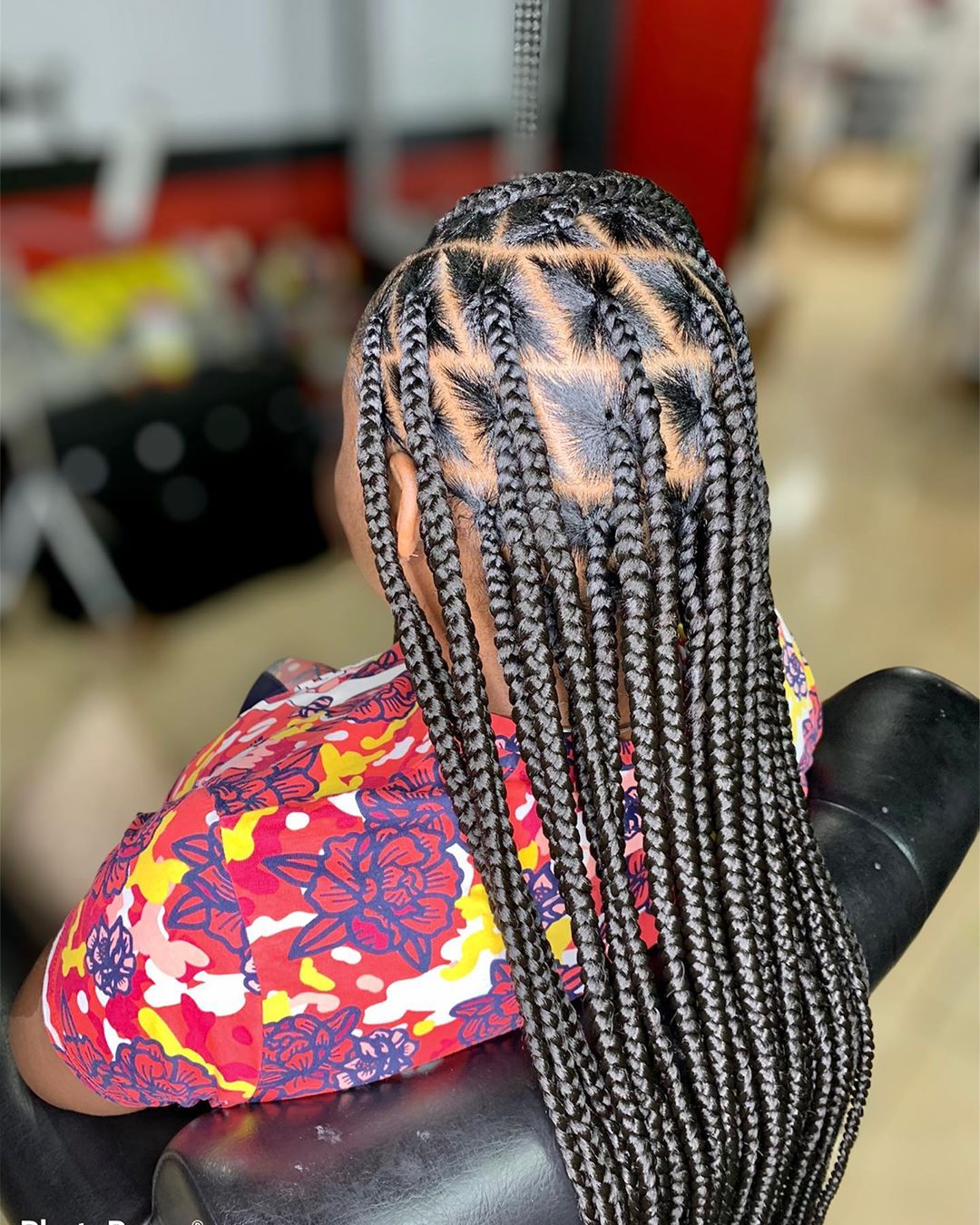 Diamond shapes are another popular way to part box braids since they're not so different from the square-shaped parts. Here you have the option to play around, and throw in some triangle parts as well, to give a more geometrically satisfying pattern.
10. Chunky Box Braids With Braided Parts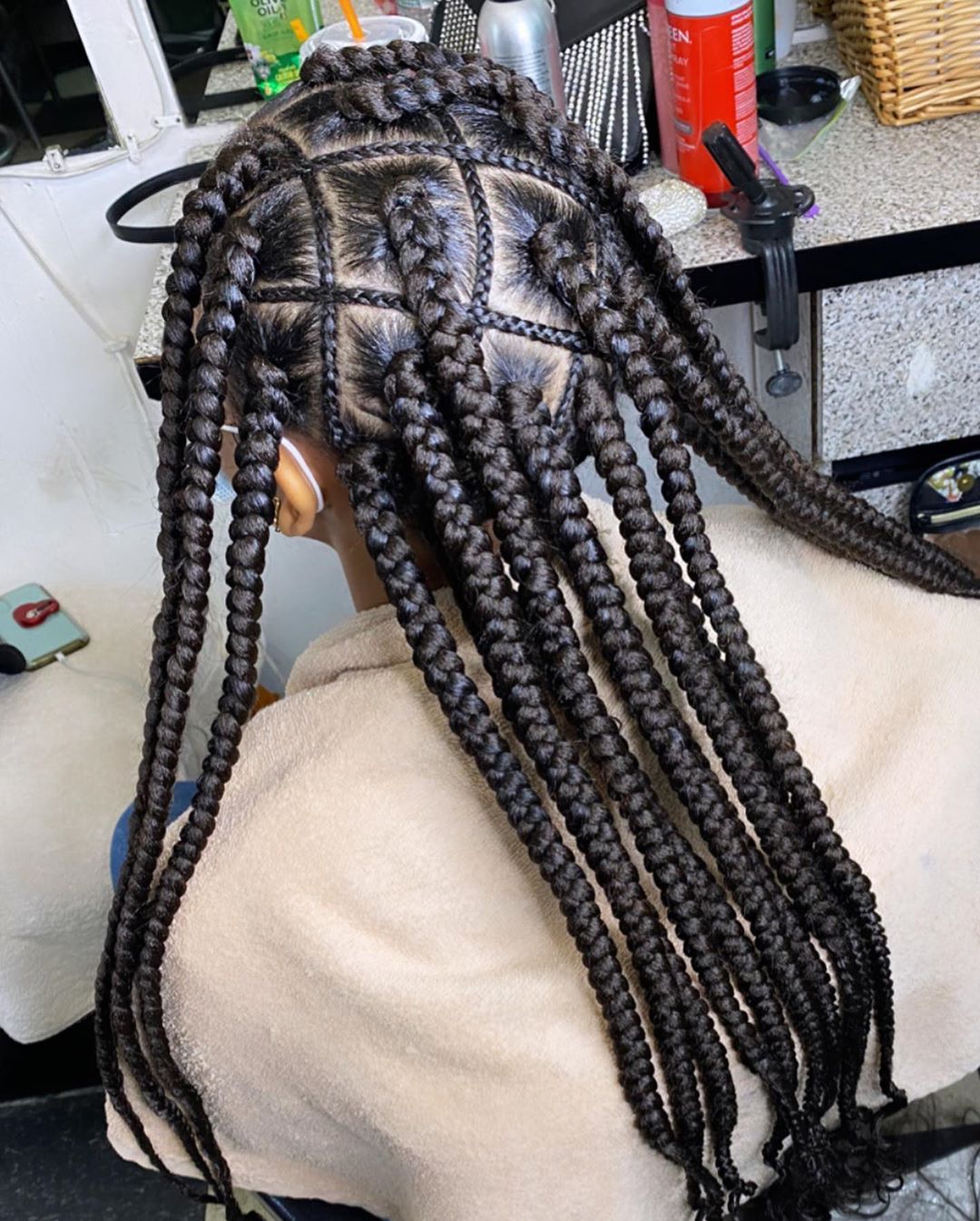 another way to make any pattern pop is to bold out the lines, which is fine when drawing, but how can you get that effect on hair? You criss-cross the edges of the parts it with some strategically laid out french braids in between. It works only on chunkier box braids, though, since they won't be visible between the many smaller box braids.
11. Spacey Bantu Box Braids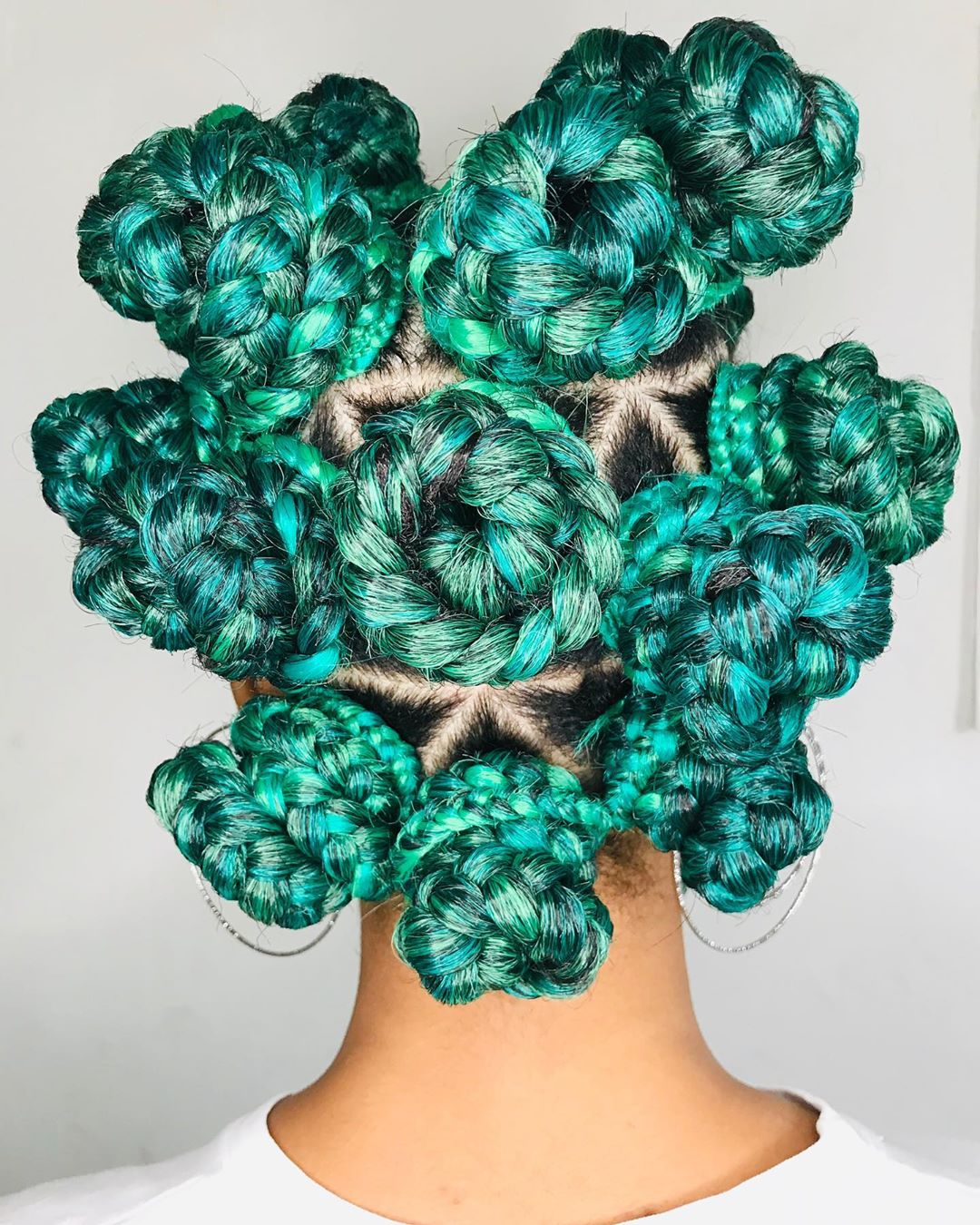 Bantu knots may be a more popular hairstyle choice for younger girls, but that doesn't mean you can't have fun wearing them, even when you think you've outgrown them. With box braids, the work for this hairstyle is already halfway down. Twist and knot up the box braids in small buns, and if you happen to have some unusual color to your braids, the end result will blow people away for sure.
12. Purple Pigtail Braided Box Braids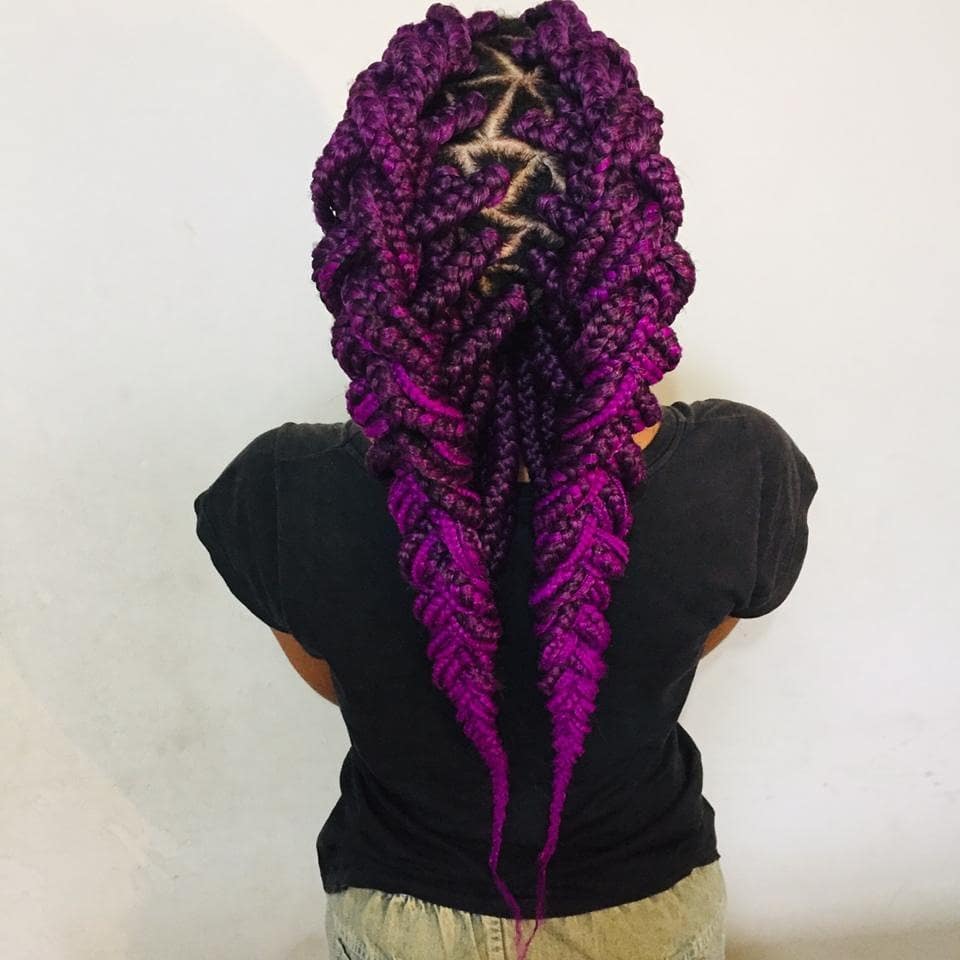 Since with the box braids, your hair is already separated into thicker, albeit more rigid strands, you can style them and braids them in whichever style you like. They're very manageable in that regard and it gives you a chance to play around and experiment with them more.
13. Blonde And Violet Triangle Part Box Braids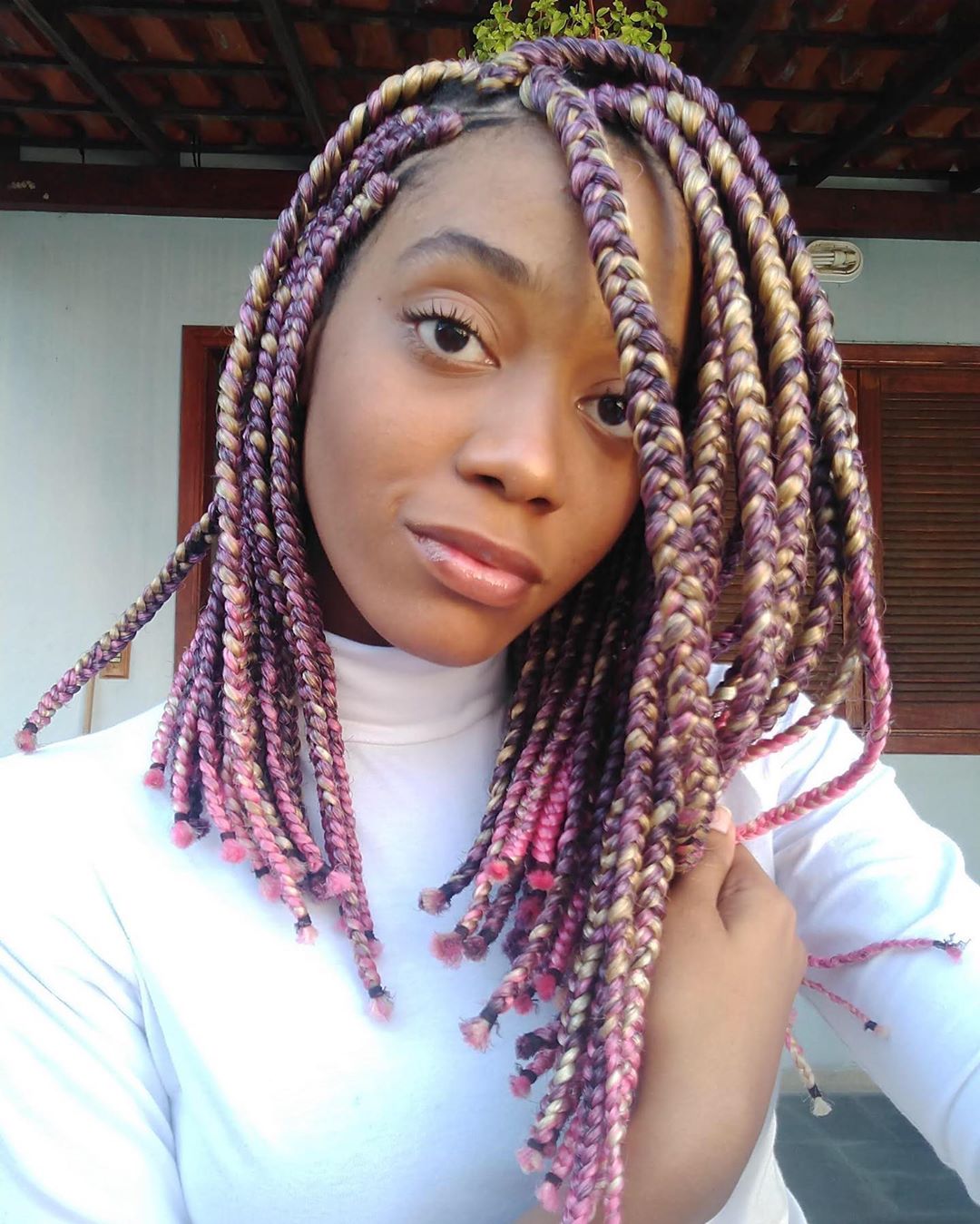 With the box braids, being a protective hairstyle, you have the freedom to experiment and mix different colors without damaging your hair. So you can do all kinds of color combos like this scrumptious blonde and violet lob, which is both casual and party-ready.
14. Wavy Square Box Braids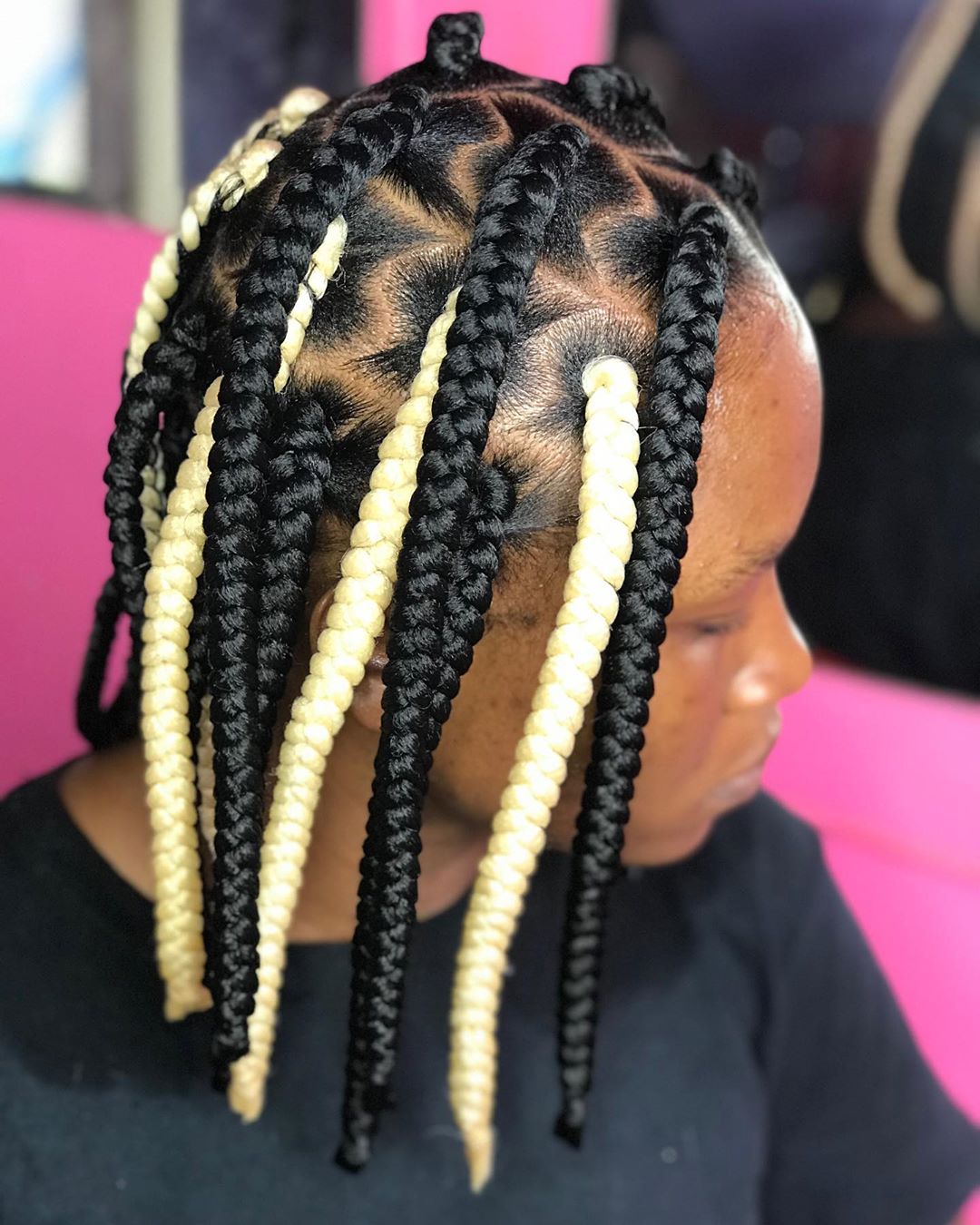 People can get really creative sometimes, constantly improving on age-old styles. Like when the triangle part came to be and took their place next to the box braids with square/diamond parts, now we have a new contender, the wavy square. And you simply must go with the chunky box braids here, so everyone can admire those curvy lines.
15. Space Buns With Loose Ends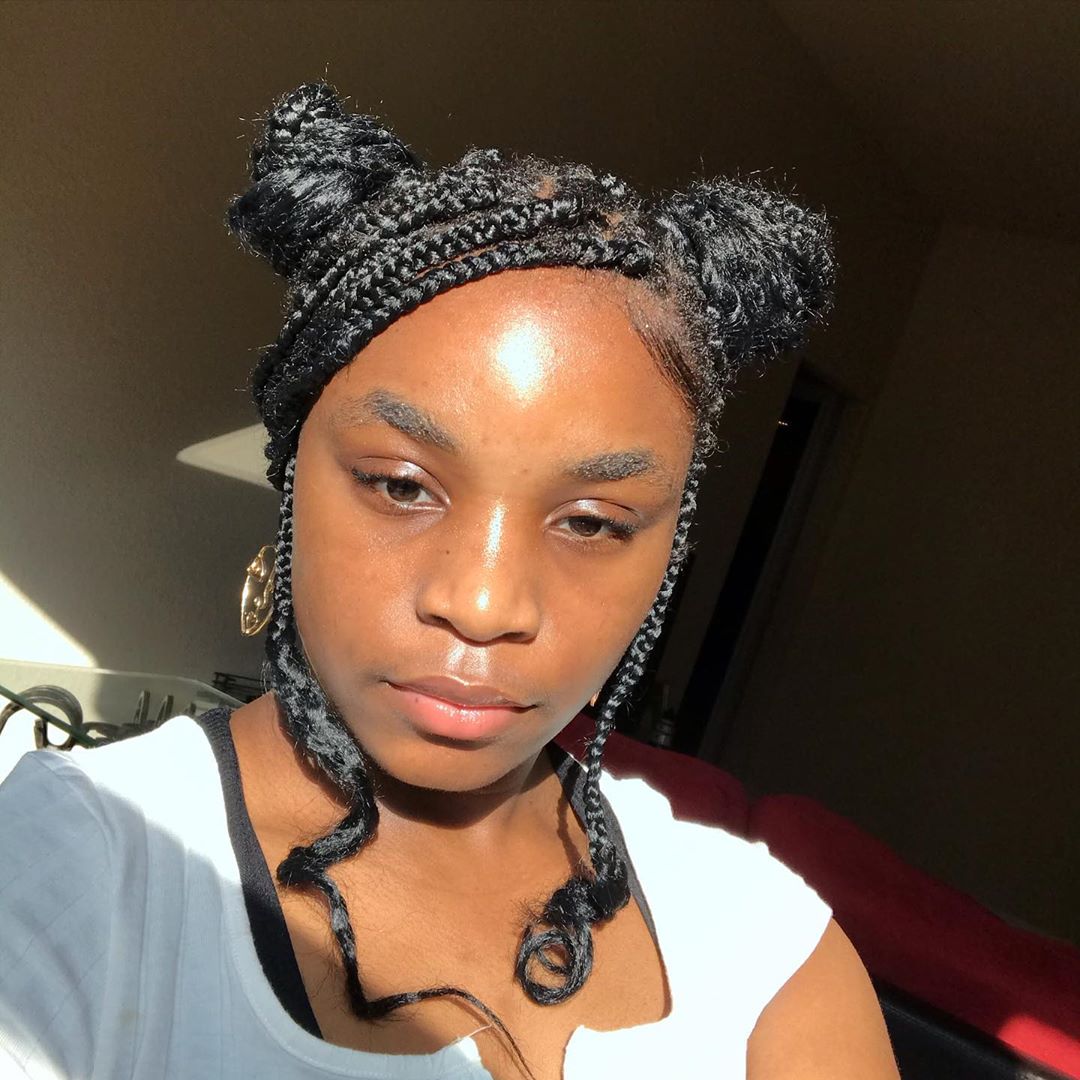 As we mentioned, box braids are very manageable for replicating other hairstyles with them, and here we have a sweet updo of space buns, with a few side-parted braids for the fringe, and some loose ended ones, for a bit more flair.
16. Deep Red Accent Box Braids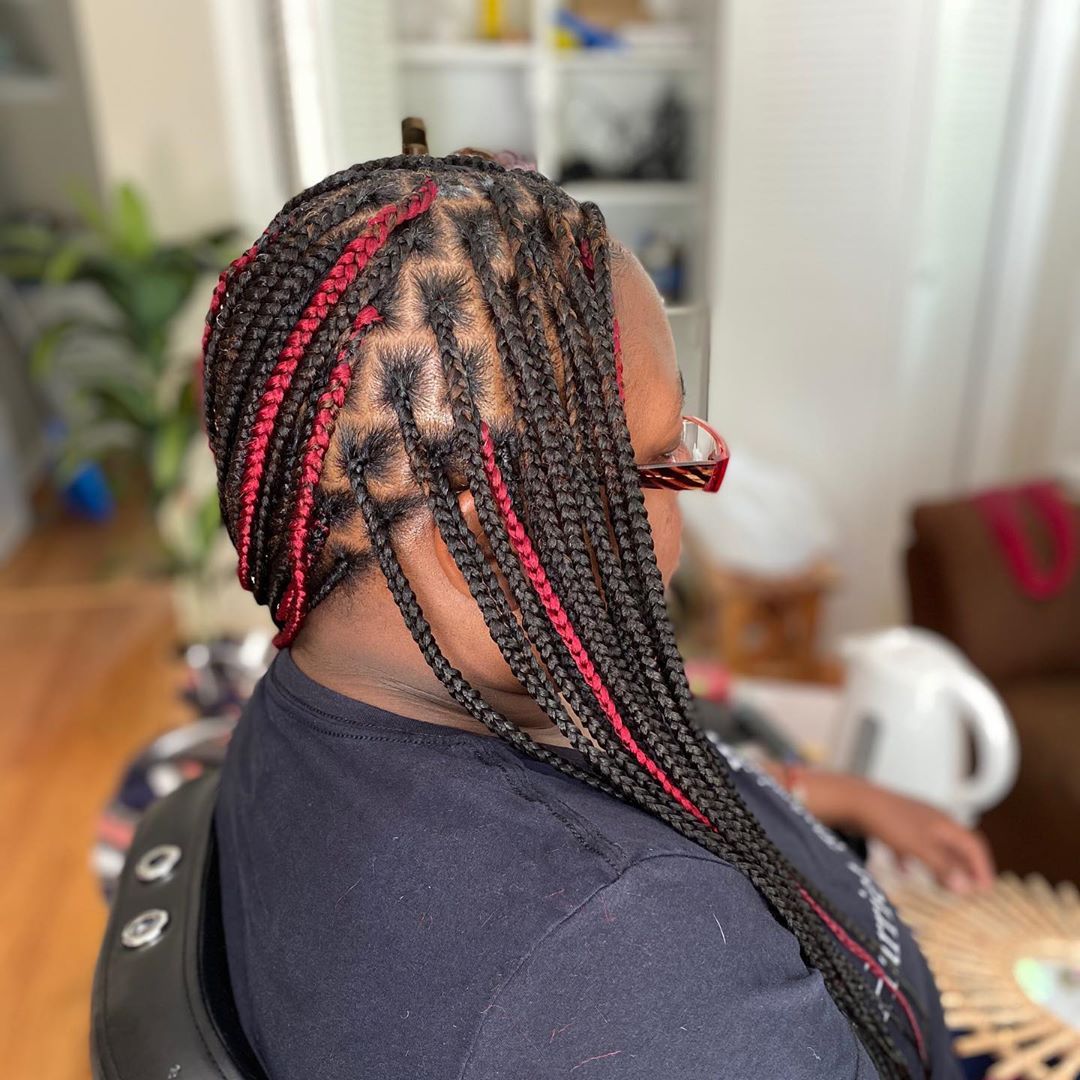 Not all of us want our hair color to be loud and bold, but rather show our big inner strength or rebelliousness in toned down ways. Scattering a few different colored box braids here and there is a fun way to achieve that.
17. Slim And Chunky Pattern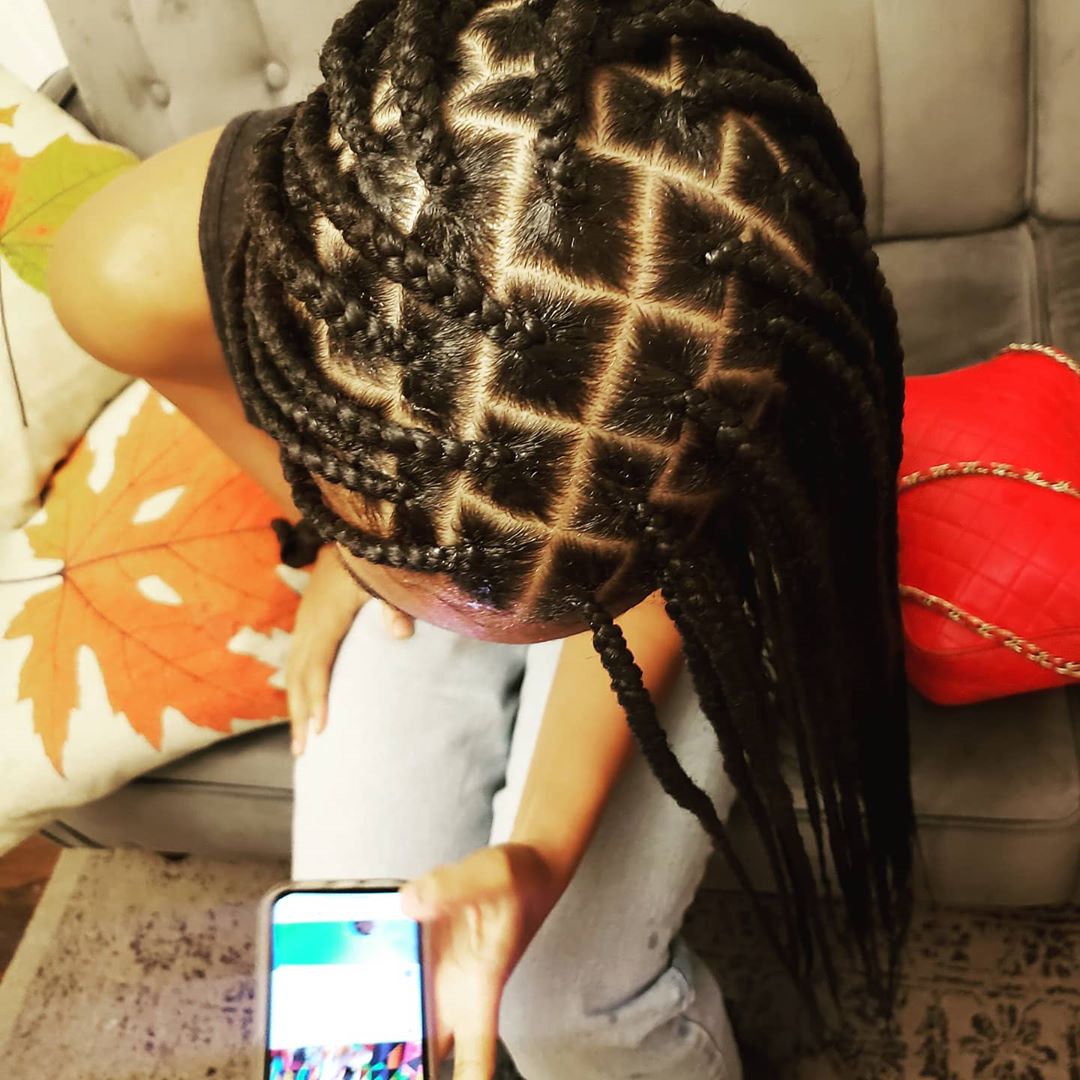 One of the many charms of the box braids is that they give you that uniformed geometric look, where the braids have a slight or no deviation in their size. But if you want you can have different sized box braids easily. It's just a manned of parting larger or smaller streaks of hair and make them work together, like in this funky hairstyle.
18. Blue Half-Up Space Buns Box Braids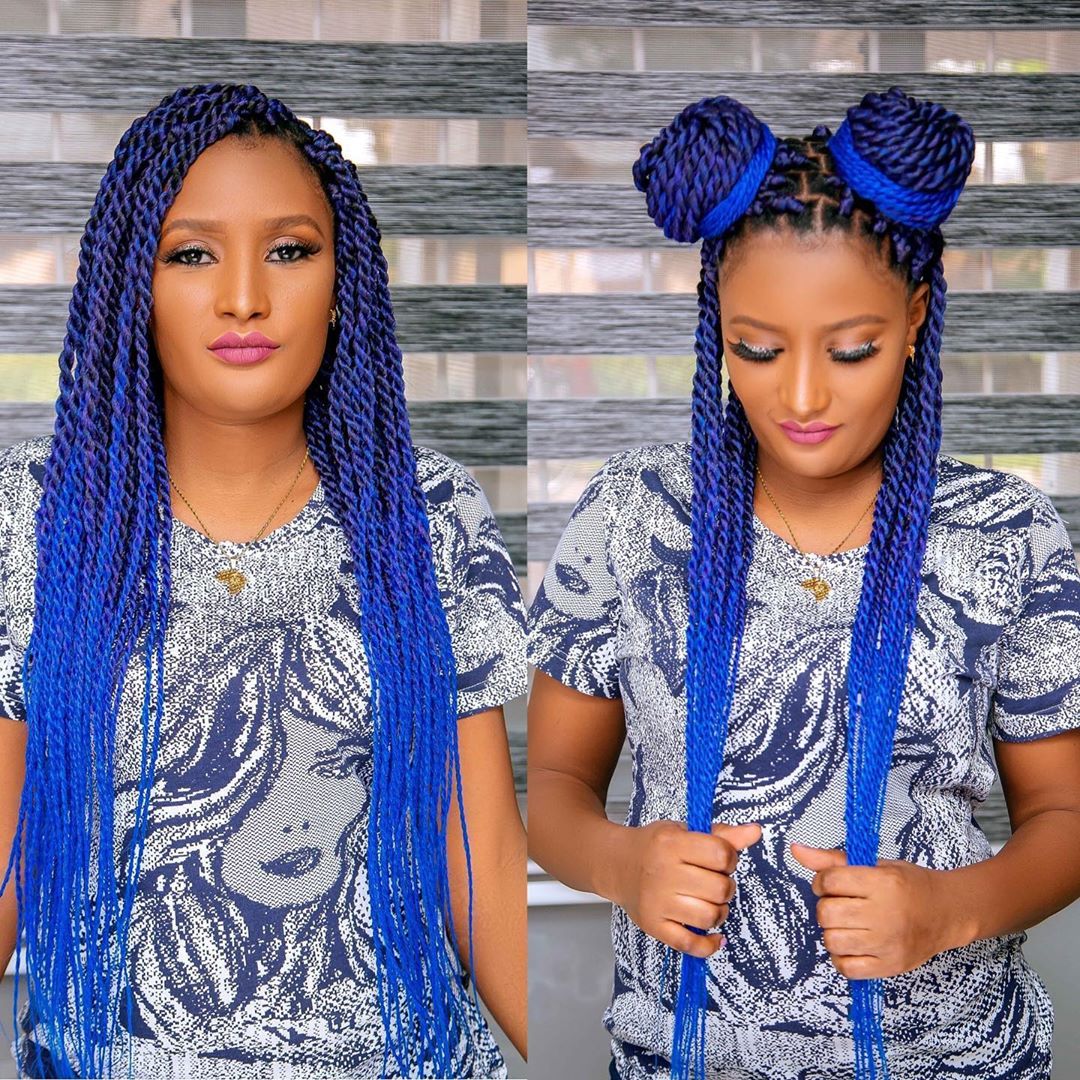 With the box braids, you can finally get your hair to be the color and length you've always wanted without waiting for ages or damage to your hair. Just look at how stunning this navy-sea blue box braids look. And done with half-up space buns.
19. Four-Tone on Black Box Braids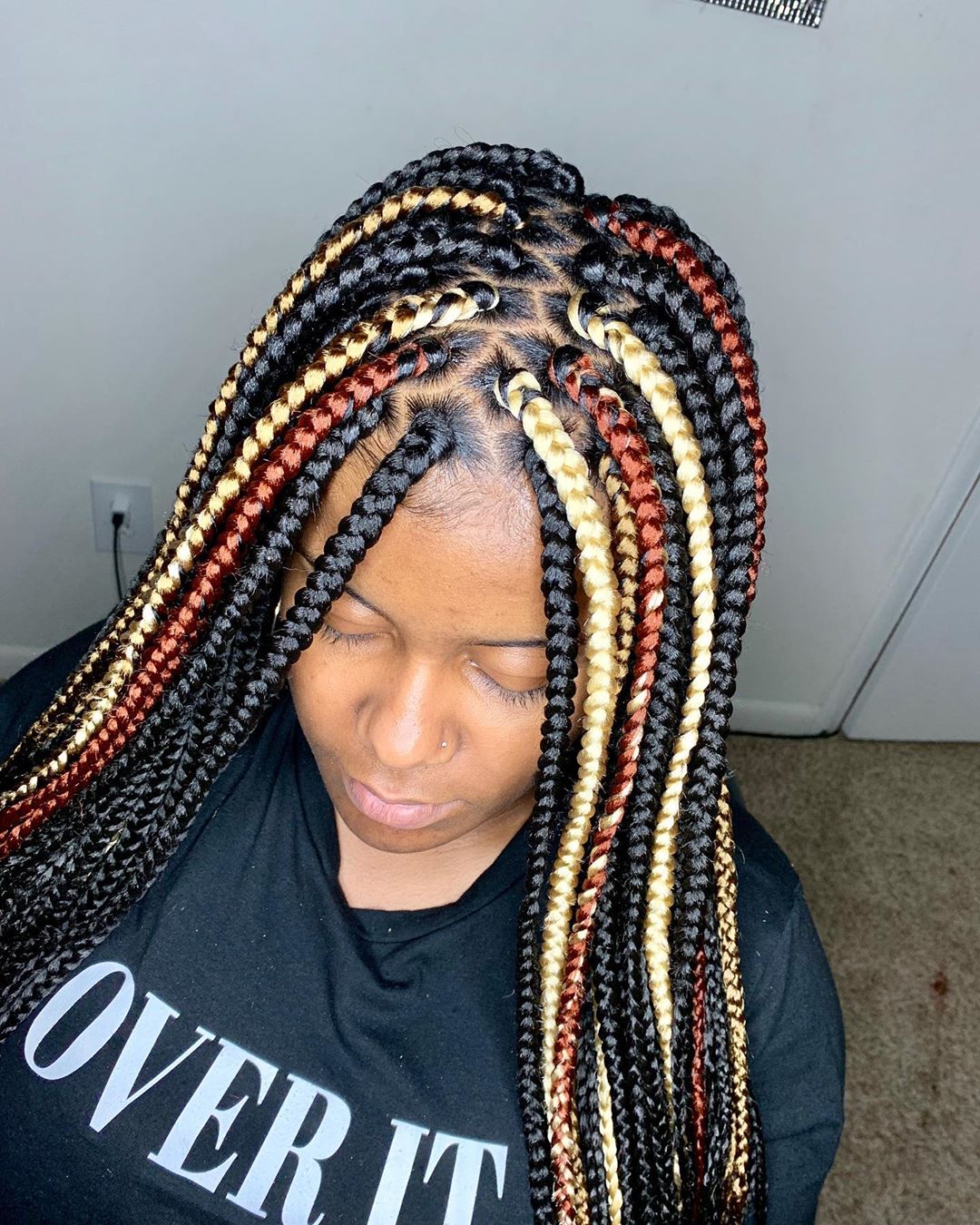 Another way to experiment with colors in box braids is to put all the same tone colors at once. Here is how a simple box braided look in four earthy colors can be turned into something more extraordinary.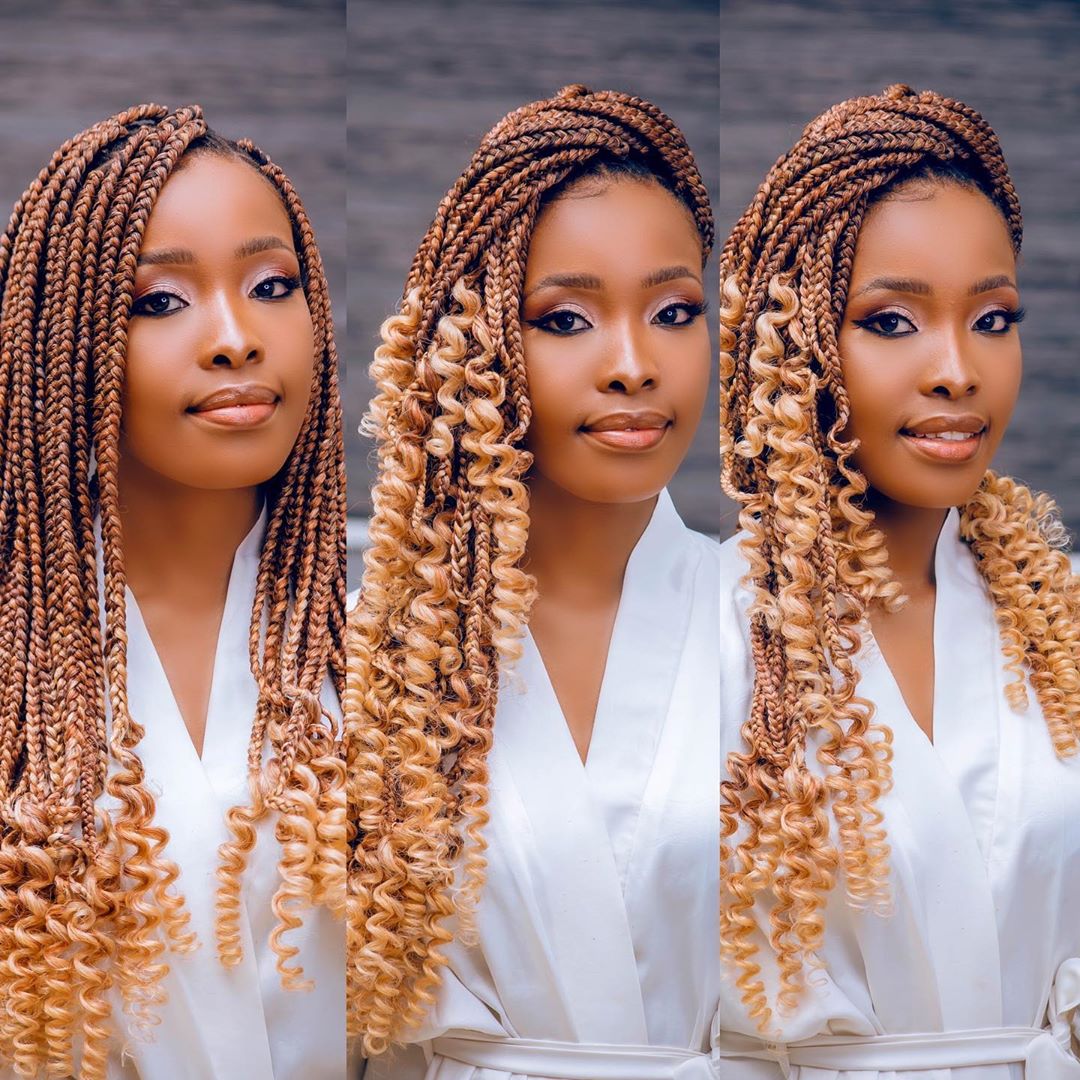 For our final suggestion, we have a majestic honey-blonde box braid hairstyle done with loose end done three ways. Doesn't this style look totally likable? What's your favorite box braids from this lineup?
That's all we have for now. If you've ever had any second thoughts about getting box braids, we hope this article pushed you closer to your final decision. Which is your favorite box braid look? Leave us your comments and thoughts in the section below.