Hair, hair, hair… It is the first thing that you notice on someone. A good hairstyle is the most impressive thing when you meet someone.
Some people think that medium hair is not good for braids. Well, we are here to prove them wrong. Braids are a trend in the last few seasons. Any kind of braids. French, Dutch, low, high, waterfall, ponytail, you name it. It's all about braids. They are stylish, elegant, sporty, clean, and cute. Girls wear them, teenagers wear them, brides wear them, even boys wear them. They are everywhere.
What if you have no idea how to style your medium hair with braids? Have a look at the photos below. They are meant to inspire you and show you that your medium hair can look posh and elegant with a braid in any style or position. And, what's best, you can make them yourself.
1. Braided Crown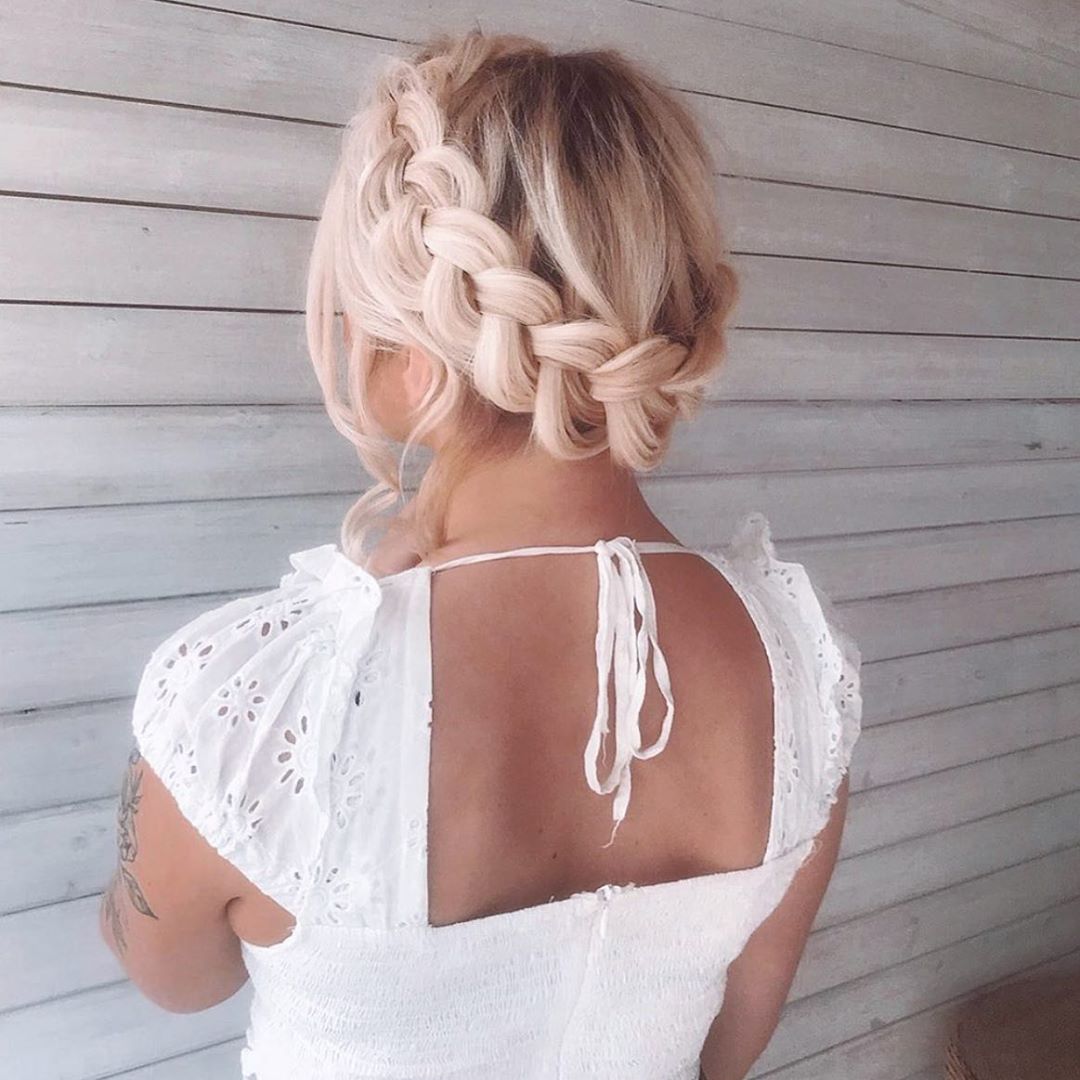 Ever thought that brides cannot wear braids? Well, think again. This is an idea of a bridal hairstyle crowned with a braid. Start from the top of your head, and braid all the way around your head. This way you will create a braided that will beautifully crown your head. Decorate it with pearls and small flowers to be even more elegant.
2. Sided Dutch Braid
Even when going on a picnic, you can look cool with this cool sided braid. The Dutch braid, also called boxer braid, is perfect for picnics and outings. It keeps your hair tidy and clean and gives it a glimpse of elegance into your sports style.
3. Low Braided Bun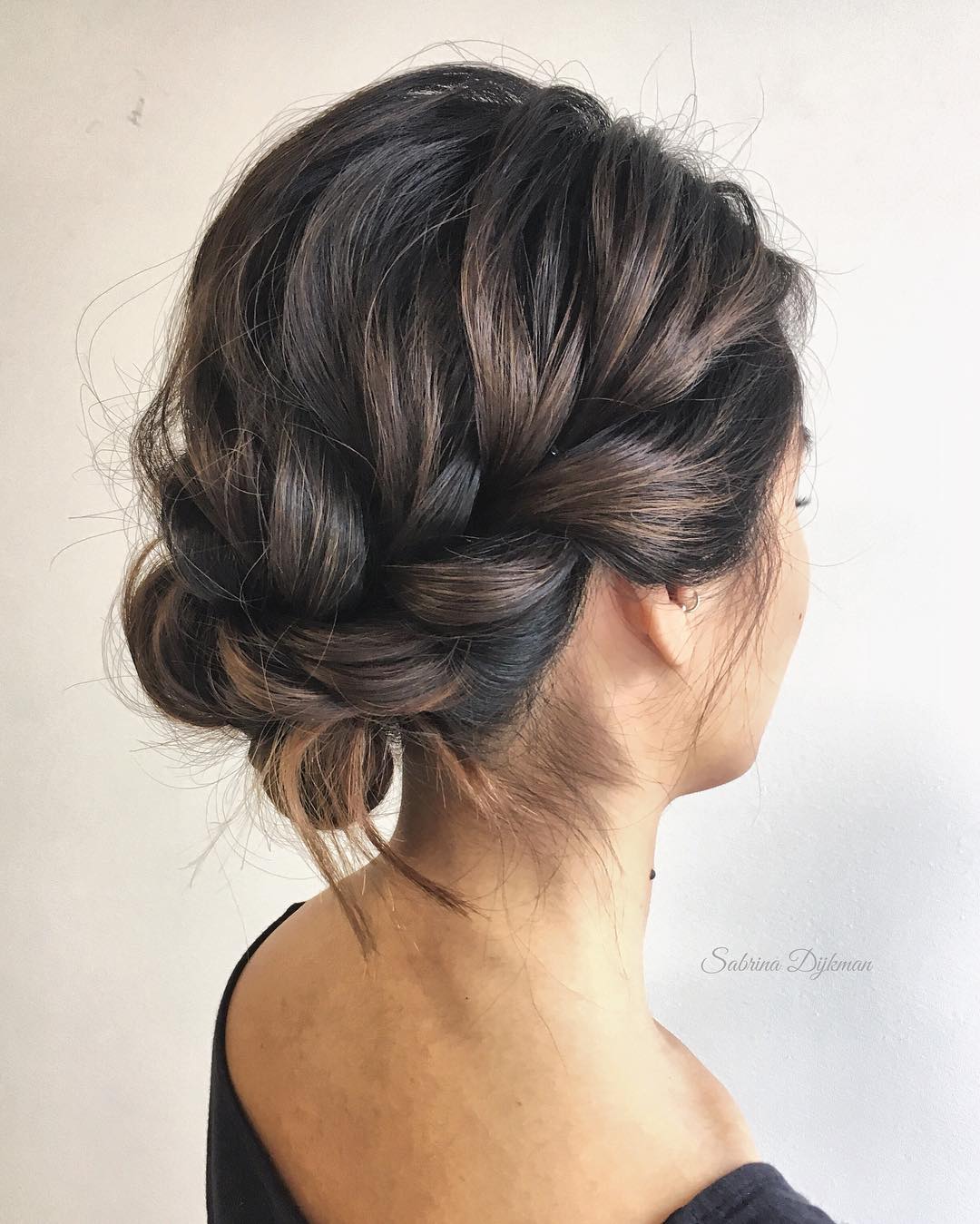 If you need a more elegant look, have a look at this style. It is a French braid braided low on the head and the ends are twisted in a low bun. Don't worry if some of the ends get loose. It will give the elegant messiness that is so trendy lately. If you don't like it, pull them up with a hairpin. Complete your style with lovely earrings and a gorgeous necklace.
4. Side Braided Bob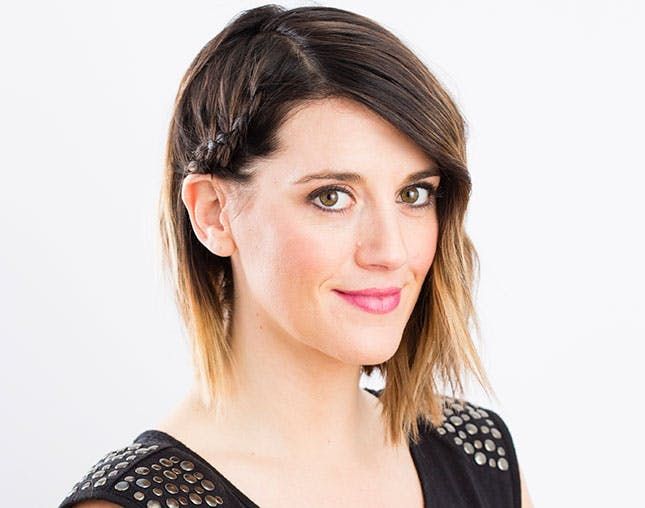 Those of you that need only a touch of elegance in their hairstyle, this is a perfect idea. A small French braid just above your ear that ends with loose hair is so elegant and posh, yet so discreet that will let you shine in any special occasion. It is also very practical to turn your daily look into a sophisticated night out look any time you need it.
5. Low Bun on Medium Hair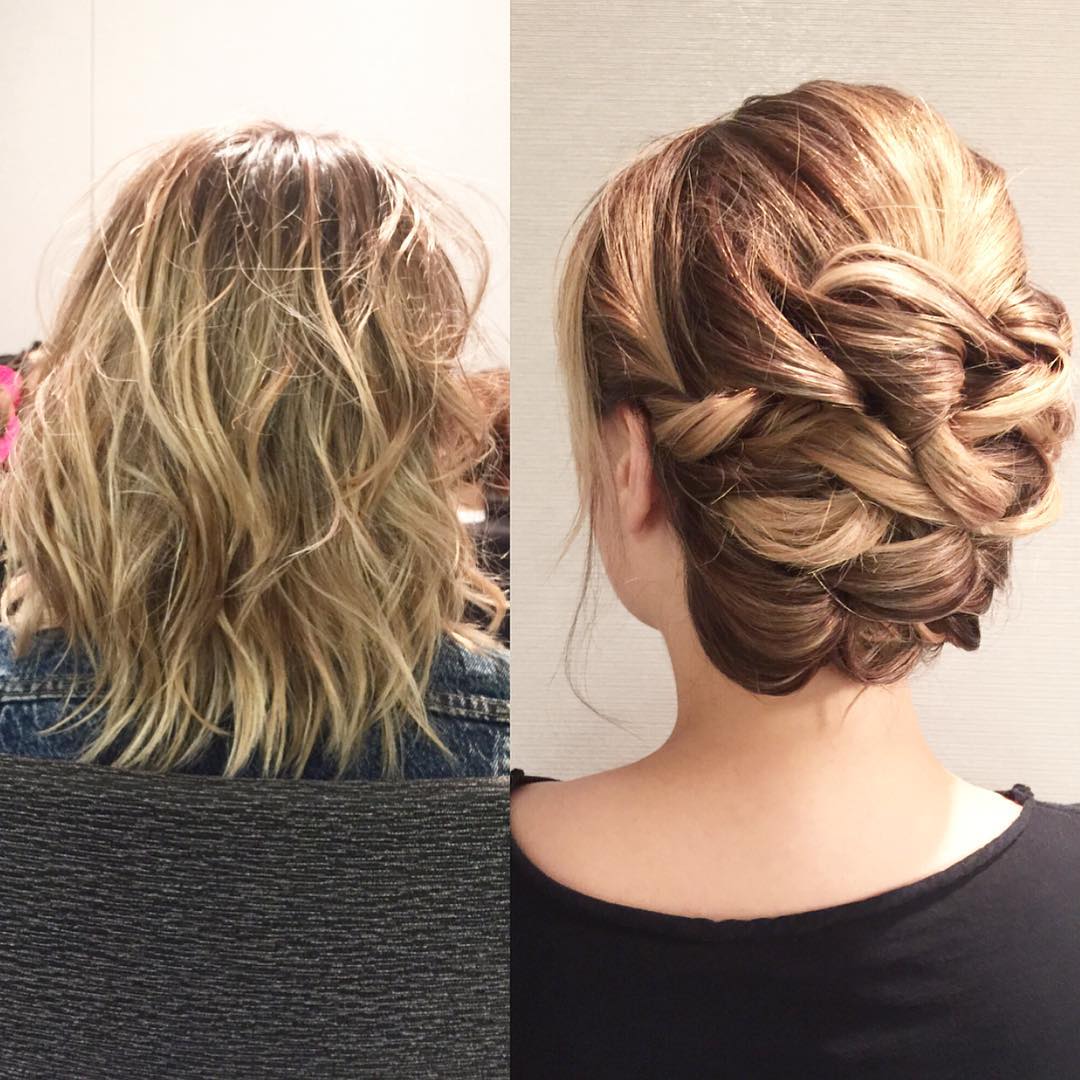 Many will say that a low bun is impossible to do on medium hair. Here is a style to prove it all wrong. If the hair is carefully braided and twisted in the right direction, it will be perfectly tided up into a low elegant bun. All you need is a great hairdresser and some hairpins and hairspray. Enjoy your elegance.
6. Semi-Waterfall Braid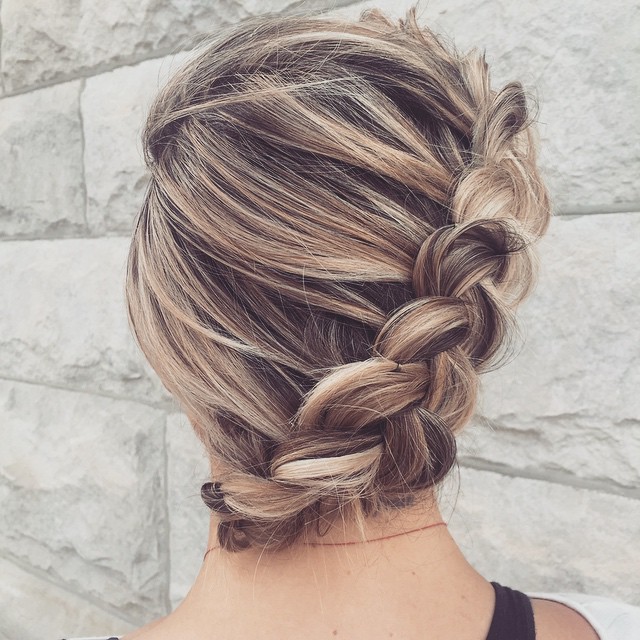 This braid can be considered a semi-waterfall braid because it is braided on the lower backside of the head. The hair that comes all the way from the other part of the head resembles a waterfall ending in an elegant braid. Decorated with the right jewels, it will be perfect for any occasion.
7. Head Top French Braid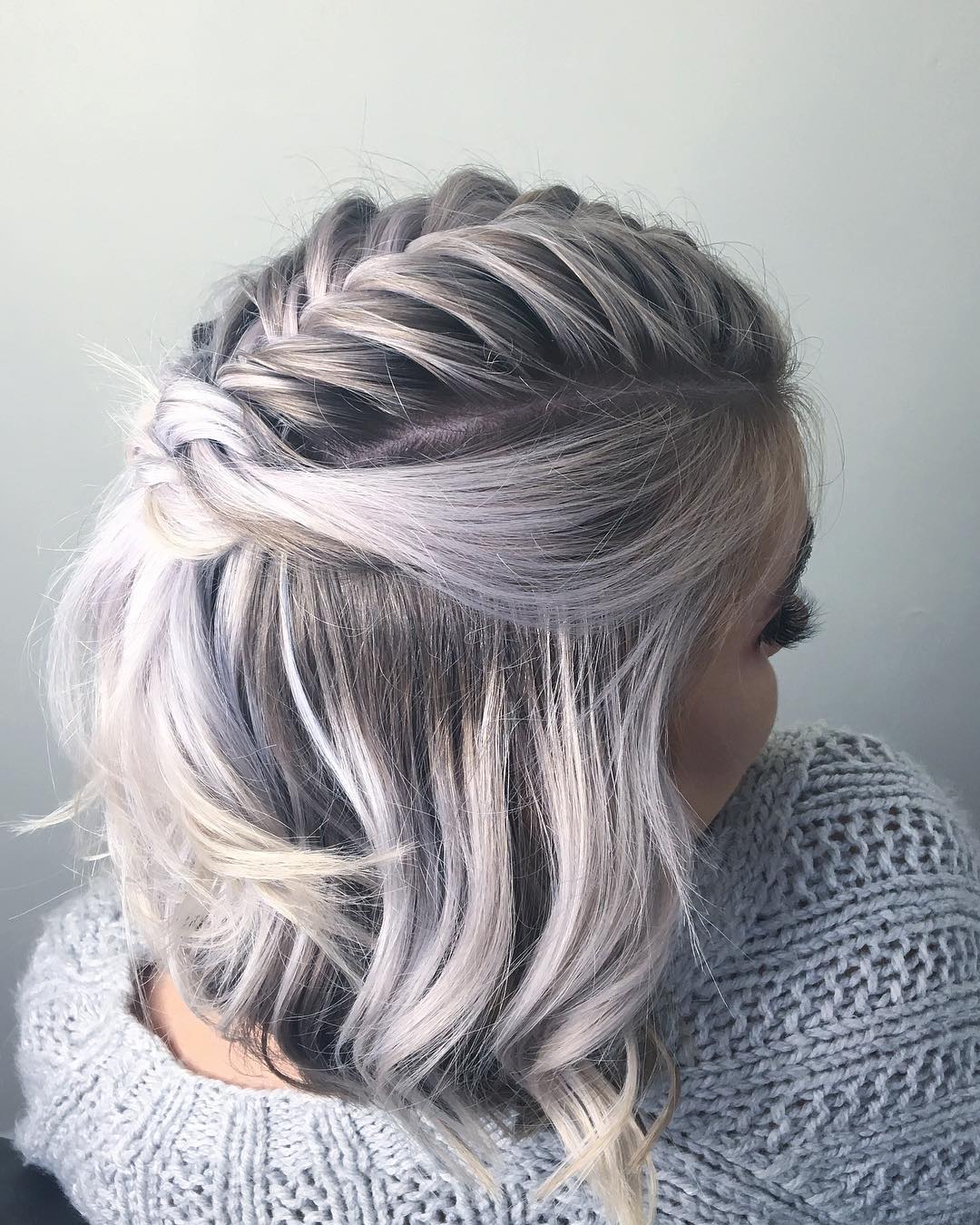 This braid is pretty convenient for those of you who like to have part of your hair down. Simply braid the top part of your hair into a French braid and let the bottom part loose to create an elegant and cool look. You can wear it with any style on any occasion.
8. Dutch Braids Ponytail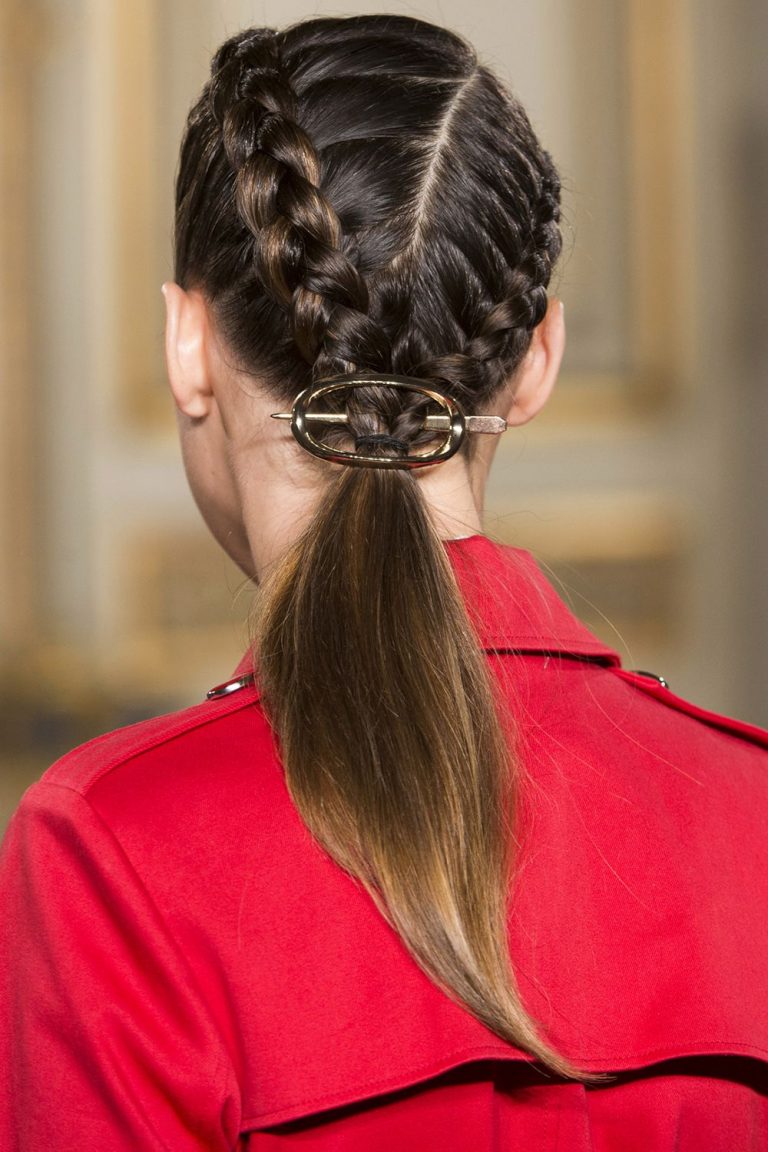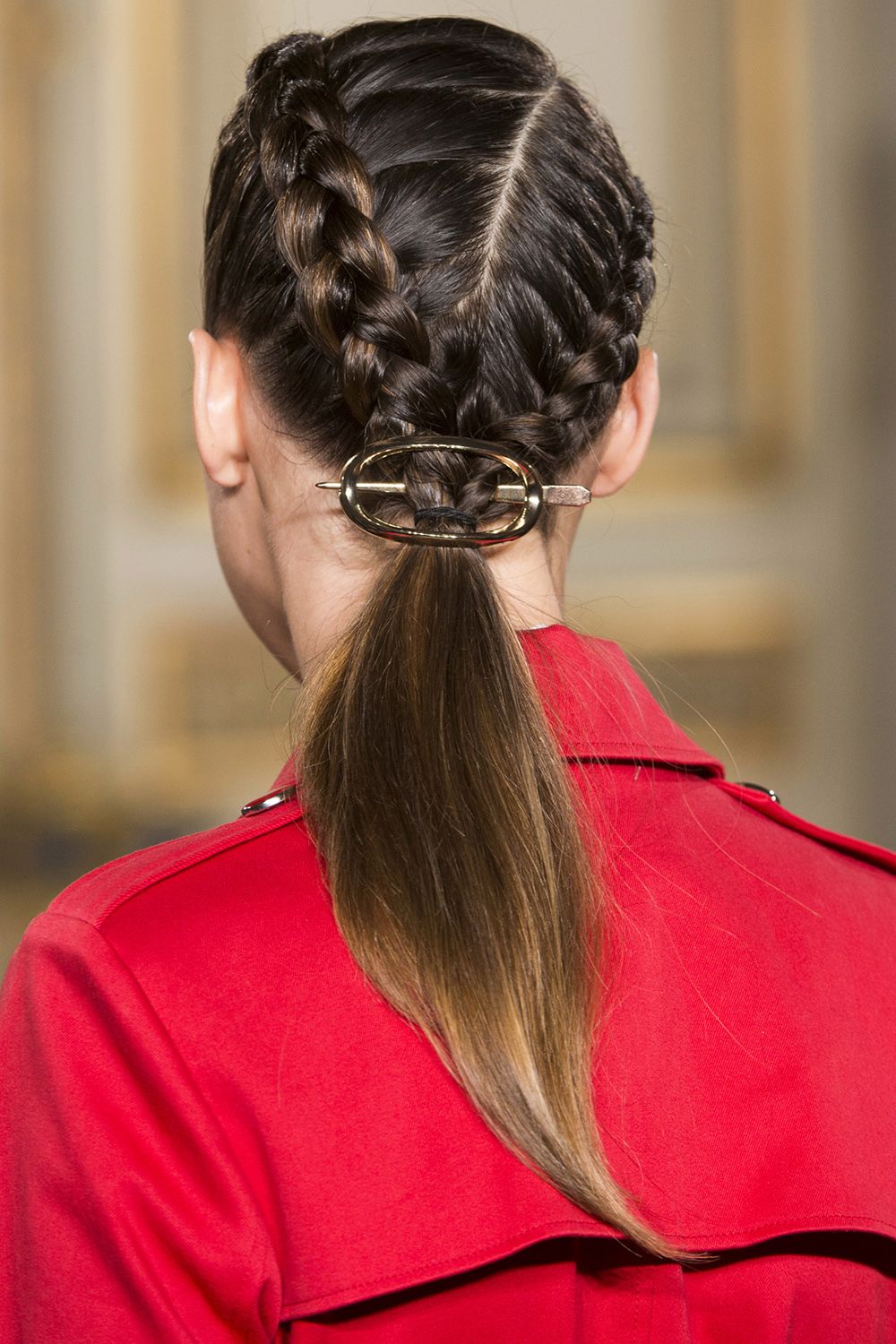 If you got tired of a simple ponytail and want to make it with a twist, yet not a simple braid, look at this idea. Divide your hair into unequal parts and braid to Dutch (or French) braids up to the end of your head. Join them together at the bottom and secure the single braid with a band. Let the rest of the hair loose in a ponytail. Decorate with a hairpin in matching style.
9. Four-Stran Braid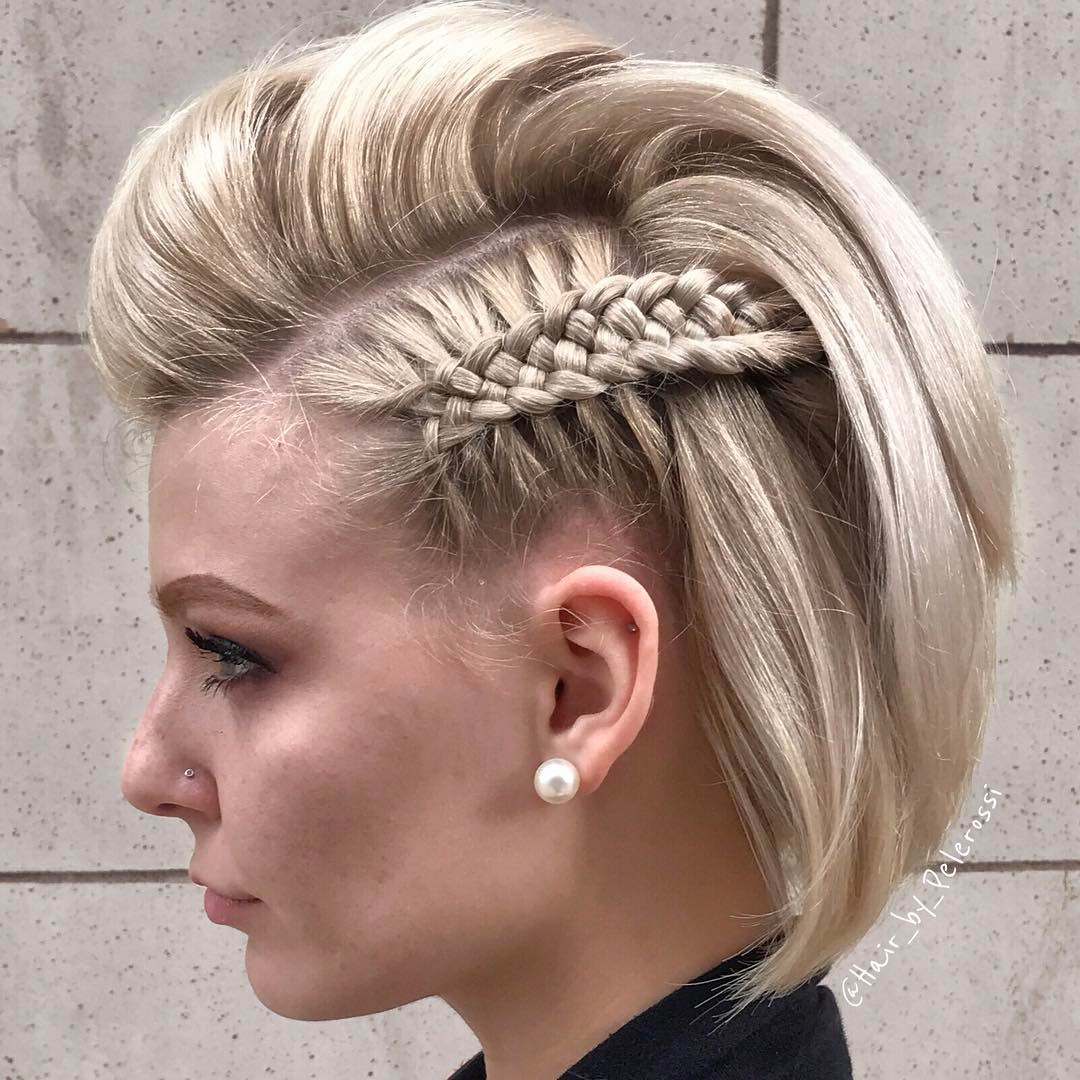 It is widely believed that bob-style is elegant enough by itself. But, for instance, if you are a bride you certainly need to decorate even your bob. Do it with this interesting and cool four-strain braid only on one side of the head. Add a headband or some pearls to make it even more elegant than it already is.
10. Front Side Braid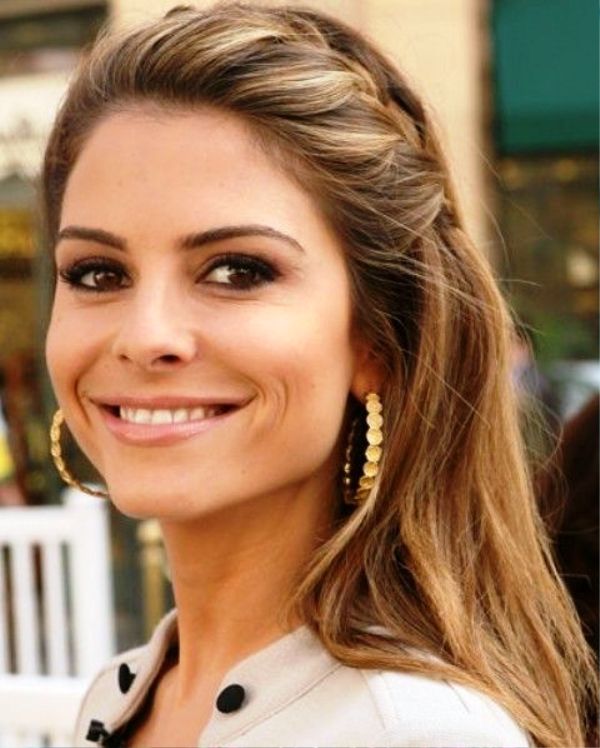 Bangs are a thing, but sometimes we simply get tired of them. If you are in the process of growing them out, this hairstyle might be very good for you to try. Braid the bangs into a French braid just above your forehead to make it as a tiara. It will keep your hair tidy and give you great natural hair decor.
11. Waterfall Bob Style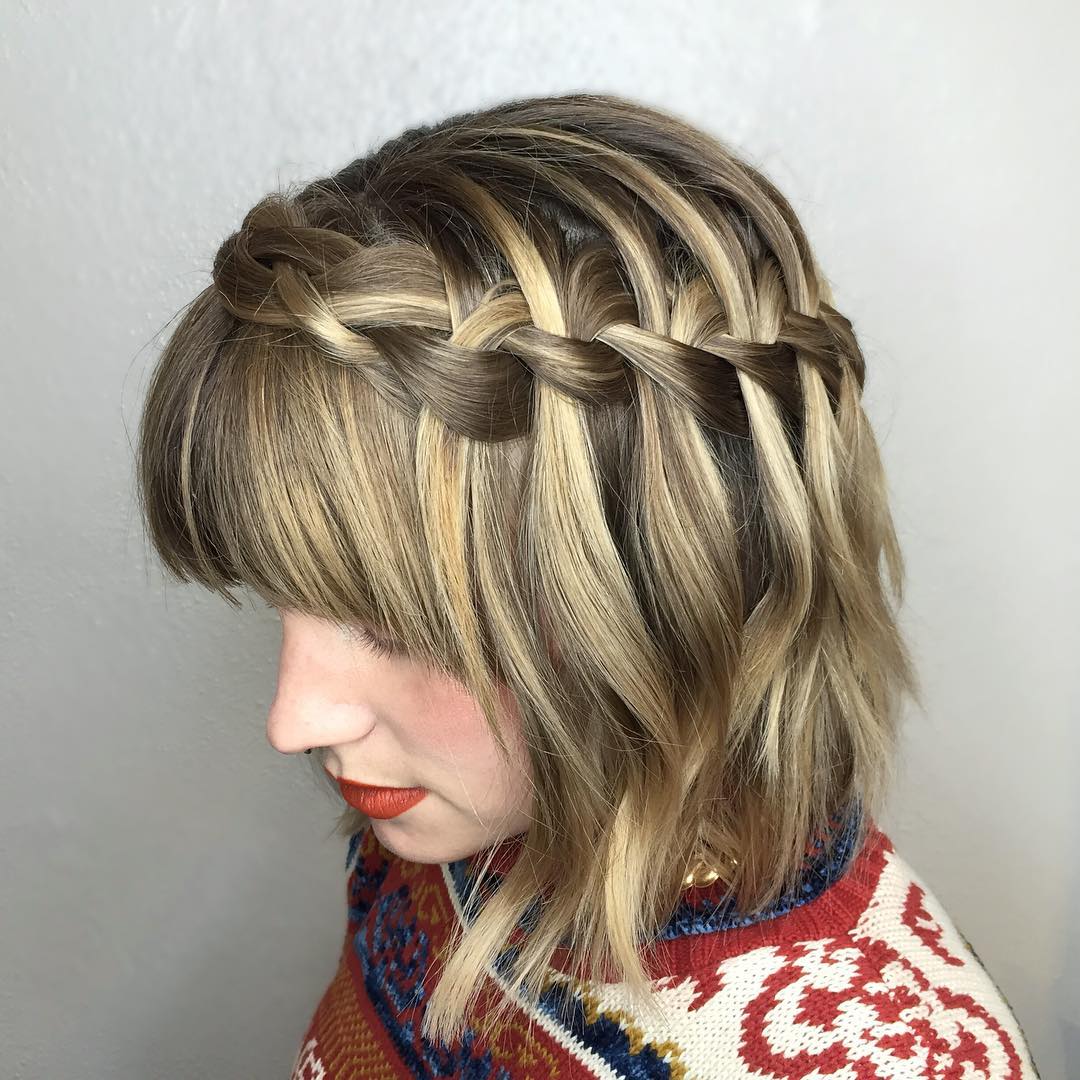 Waterfall braids are very popular in the last few years. They are perfect for medium hair girls that love to have some hair down and some hair up. Braided around the back of the head, it increases the volume of your hair and puts a decorative hairband to make you look elegant and stylish.
12. Braid Decorated Pony Tail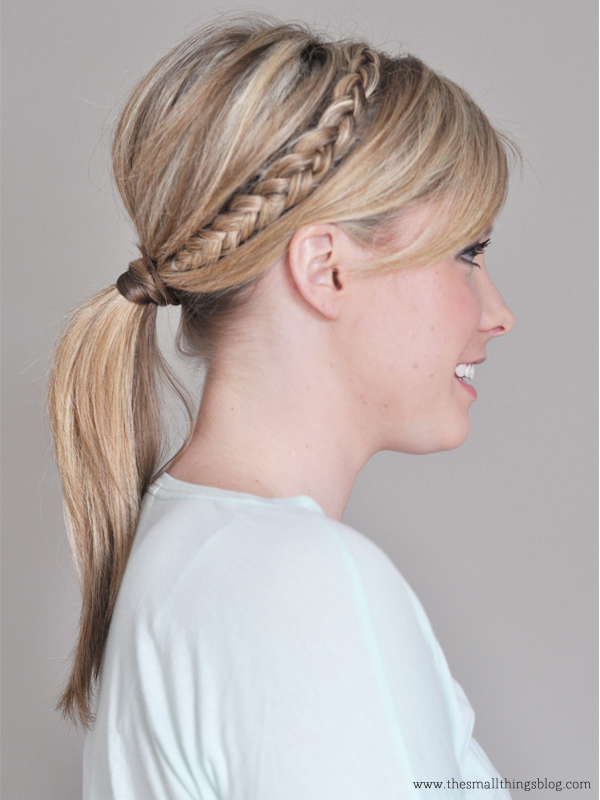 This is a simple braid to decorate your ordinary ponytail for an unplanned after-work party or a sudden night out. Simply braid a small braid on the side of your head, and tie it into the ponytail. It will give you elegance and style.
13. Messy Braid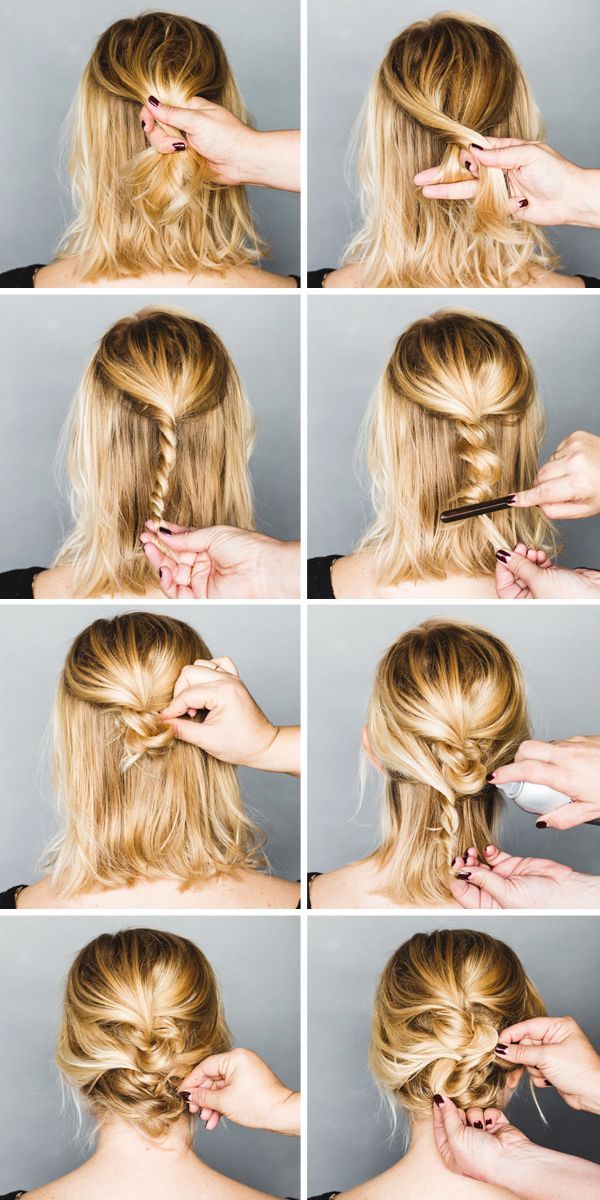 Messy is popular, messy is in. Messy bun, why not a messy braid too? Believe it or not, it is made with two strains and combed up to get the messy look. Then the rest of the hair is added and secured with hairpins. Who said that messy cannot be elegant?
14. French Braid Pony Tail
French braid and a ponytail? Why not. Elegant, posh, cool, rich, sexy, it is all in one. Braid the top part of your hair into a large French braid and pull the rest of the hair up into a ponytail. Secure it with a band and wrap a lack of your hair around the band to hide it and make it even more elegant than it already is.
15. Open Dutch Braid
We called this style an open Dutch braid, only because it resembles a braid. Actually, those are separate pigtails on the back of your head and the curliness makes them look like a braid. If you still want to have this look on straight hair, open each pigtail into a flower and secure it with hairpins one onto the other. Enjoy your great style.
These were the ideas we chose for you. There are many others around the net. If you liked our ideas, or have some of your own, please leave a comment in the comment section below. It's time to learn from you as well.