Bella Thorne might be called a body-positive queen if nothing else. She has bravely opened up about how stress was affecting her health and weight. Bella has always been super open about things in her life. She is one of the most confident actresses when it comes to showing off her body. Today, we will talk about Bella Thorne's weight gain.
What is the story behind it? How did Bella change? What was the reason for her transformation? We have all the answers. Read on!
Get To Know Bella
Born in October 1997 in Pembroke Pines, Florida, Bella is one of the younger actresses in Hollywood. She is an actress, singer, and entrepreneur. Fun fact: Bella Thorne is not her real name. She was born Annabella Avery Thorne and grew up in a family of mixed heritage. She has Cuban, Irish, and Italian roots from her mother's and father's side.
As a young girl, she showed a passion for performing and began her career in the entertainment industry early on.
Speaking of her educational background, Bella attended public school until she was 10. At that point, she switched to homeschooling. She was bullied at school, and her parents wanted to protect her from a traumatic experience. Despite facing challenges, Bella remained committed to her education, all while pursuing an acting career.
Bella made her first notable appearance as a child model. Early on, she landed small roles in television series like Entourage and The O.C. Her breakthrough came in 2010 when she was just entering her teenage years. At the time, Bella was 13 years old. She landed the role of CeCe Jones in the Disney Channel series Shake It Up.
The show became one of the more popular in the 2010s, and that made Bella a household name among audiences.
With her acting career going up, she decided to explore other creative avenues. Almost all Disney actresses also try themselves at singing, right? Well, Bella followed that path as well, releasing her debut single, Call it Whatever, in 2013. She then worked on other musical projects.
And she didn't stop there. The young talented artist published her first novel, Autumn Falls in 2014. It quickly became a New York Times bestseller.
Since then, Bella has released several books in the series and made her directorial debut with the movie Her and Him in 2019. She was only 22 years old at the time. Her movie premiered at the Oldenburg Film Festival.
Known as an actress primarily, she has appeared in movies like Blended, The DUFF, Habit, The Babysitter, You Get Me, I Still See You, Midnight Sun, and television series like Famous in Love.
As one of the more popular young actresses, she has been nominated for several awards and won some as well. The biggest is Your Artist Award, won in 2009 and 2011. The second one was for her performance in Shake it Up.
Her journey from a young Disney Channel star to a multitalented artist, author, and entrepreneur is certainly an inspiring one. It showcases her determination, creativity, and ambition.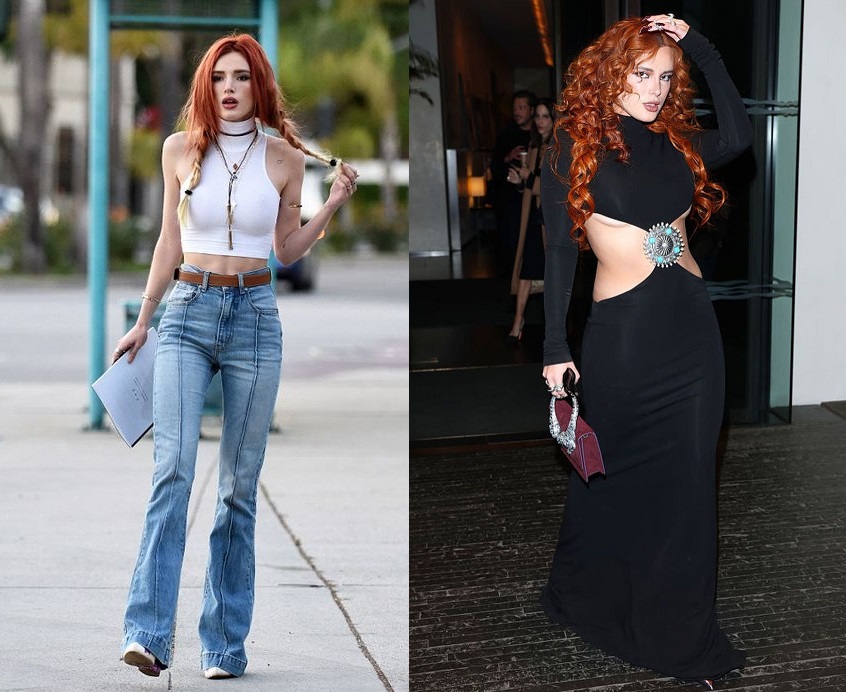 Encouraging People To Ditch The Scale
In 2021, when she was 24 years old, Bella Thorne went on Twitter and told her followers to "ditch the scale".
She was talking about her exercise routine, and said, "Almost every day I have been to the gym in the last 6 weeks. Turns out I only lost one pound of fat and gained one pound of muscle. Throw away your scales ladies because they don't mean s**t. As long as YOU feel better and u like the way u look that's all that matters".
The former Disney star, followed it up "Forget the Scale, F**K the Scale". Later on, the actress who also founded her own cannabis company, called Forbidden Followers, shared her routine on Instagram, including an intense ab workout with a medicine ball.
Her followers mostly agreed with her idea. One follower replied, "Those scales can be discouraging if you feel like you haven't made any progress. Every time I run, I feel like I'm losing weight yet I always look the same. Just wish that exercise is more encouraged for health rather than for appearances".
And another one added, "I've started going to the gym again, BUT this time I'm not weighing myself. I've damaged my mind with the scale so many times, I ain't doing that cycle anymore. Now all I care about is feeling good in my skin".
At the end of 2021, Thorne shared her New Year's resolution, which was mainly about health and physical and mental changes.
The young actress wrote on Instagram, "I will be healthier this year. I will take more care of my body. I will drink more water. I will pay more attention to my negative mental habits. I will work to change those. I will stop judging myself so harshly. I will be happy. I will work to understand what pushes my artist creativity further into the abyss. I will take more time off I will take more time for myself, to enjoy myself, to enjoy the person I am today, I will not just think about tomorrow or the next day or the next 5 years. I will do things that push my limits. I will challenge myself. I will not let my yearning for more do my soul injustice".
From XS To A Healthy Body
Now let's talk a bit about Bella Thorne's weight gain. As we said before, many fans consider her the body-positive queen. She bravely opened up about how stress affected her health and weight.
The young actress shared photos of her body in 2016 and 2017, showing how unhealthy and skinny she looked.
She wrote, "This is what I look like when I'm stressed. When I am stressed, it's hard for me to work up an appetite. I am all about being yourself, loving your body, yadayada… but these photos, they make me not love anything about it".
Bella continued, "2018 was about getting my health back. You know, I look at this picture and I am also proud. I am so f-king proud because this year I gained all my weight back and more!!!"
Looking Better Than Ever
In July 2022, Bella shared another post on Instagram about her weight and body. It was "bring your child to work day", and she celebrated in style.
She brought her adorable puppy to set, but all eyes were on her sexy outfit. In new photos shared on Instagram, Bella's toned abs and strong arms are on full display. She is no longer the skinny young girl. Instead, she looks healthy and better than ever.
And her followers agreed. Many of them shared messages and comments of encouragement, writing things like "WOWOWOWOW".
Over the years, Bella has been transparent about her health journey. In early 2022, she promised that would be the year she would take care of her body. And looking at her pictures of the summer of 2022, she definitely delivered on that promise.