Are you looking to lose weight over the summer and fit into that teeny-weeny polka-dot bikini? To look and feel your best on beach days, you'll need to exercise and change your diet to include healthier food. If you have a sweet tooth, fruit is a fantastic healthy alternative to replace processed sugars, dyes, and other unhealthy ingredients—a change that will help to improve your gut health, too.
If you're looking to lose weight, here are the best fruits to help you on your journey.
Bananas
Bananas are great for regulating weight, especially among people with diabetes. This fruit can help control insulin levels and is rich in nutrients like magnesium, fiber, and, famously, potassium. Though bananas have more calories than other fruits, they will keep you feeling full for longer so you don't start cheating on your healthy eating plan.
Grapefruit
Grapefruits are famous for their potential weight loss benefits. For instance, half of a grapefruit has only 39 calories while providing you with 44 percent of your daily vitamin C. In addition, grapefruit has a low glycemic index. That means the fruit will dissipate sugar slowly into your bloodstream, giving you a consistent stream of energy rather than in one burst.
Oranges
Oranges are healthy fruits that tend to be filling. Citrus fruits are high in vitamin C and fiber and low in calories. If you like the juice more than the whole orange, however, keep in mind that orange juice tends to leave people less full compared to the actual fruit, and often has added sugars.
Kiwis
Kiwis have plenty of healthy nutrients, such as vitamin E, vitamin C, fiber, and folate. One study of prediabetic subjects found a reduction in waist circumference of 1.2 inches in those who supplemented their diet with kiwifruit. Kiwis also improve cholesterol levels and better manage blood sugar.
You can add kiwis to your breakfast cereals, use them in a smoothie, or include them in some fruit salads. They're a funny little fruit, but they have a lot of versatility.
Berries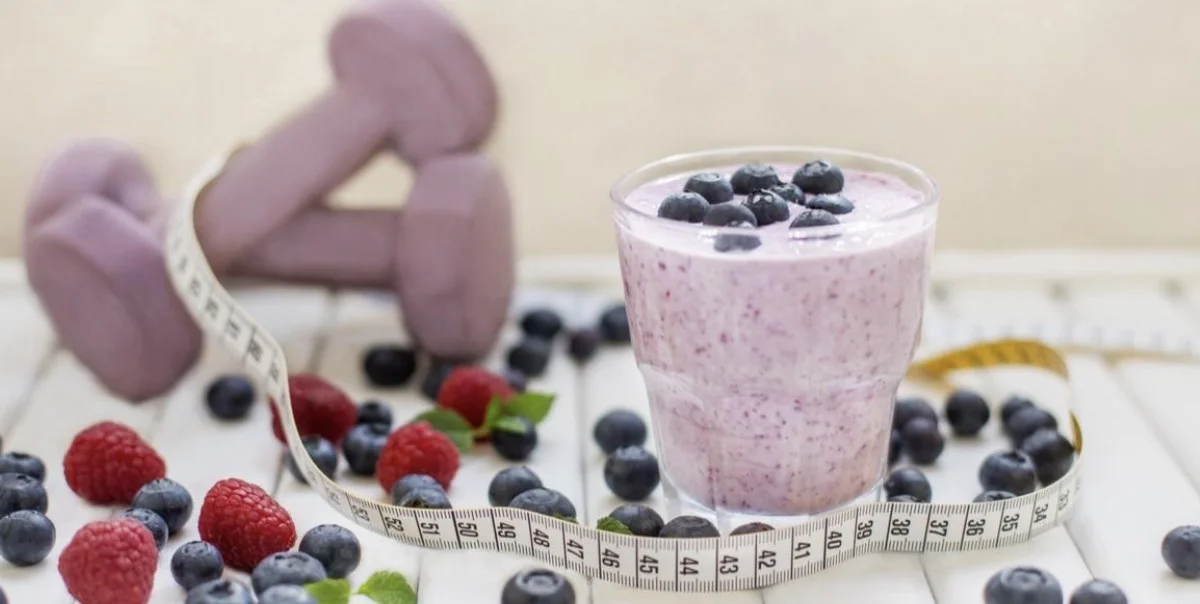 Berries are low in calories but have plenty of nutrients. For instance, blueberries have a high amount of vitamin C, vitamin K, and manganese. Berries are also more filling. Studies show that eating berries as an alternative to confectionary treats will leave you satisfied and less likely to munch your way to dinner. They work great in smoothies, too, giving you more ways to enjoy their fruity flavor while getting all those essential vitamins and nutrients.
Apples
Apples are an a-peel-ing snack at any time of day! The skin on apples is where most of the fruit's high fiber content is found. Pairing a chicken skewer or an egg with an apple is a fantastic snack that gives you protein and fiber all in one go. Best of all, you will feel full and be less likely to break your fitness goals.
Melons
Melons are low in calories and full of water, which helps you lose weight quickly. For instance, a cup of watermelon has anywhere from 46 to 61 calories, given that the majority of the fruit is water.
Melons are also high in antioxidants, potassium, and fiber. Best of all, they're in season during the summer! Grab yourself a slice of watermelon whenever you get a hankering for something sweet and you'll quickly satisfy your sweet tooth with a healthier option.
Pineapple
Do you like pina coladas? Pineapples have plenty of vitamins and nutrients. For example, the fruit has a good amount of vitamin C, antioxidants (flavonoids and phenolic acids), and manganese. They have an appetizing and sweet taste, making them a great snack any time of day. Add them to a fruit salad or toss them in a smoothie.
Pears
Fiber makes you feel full longer, which helps you stick to a healthy diet by curbing cravings. As such, pears are a perfect addition to your diet since they're full of fiber. Pears also have plenty of potassium, which can help your muscles when exercising. If you want to spice up your snack, make a pear salad or eat your pear slices with peanut butter.
Avocados
Avocados are a popular fruit for weight loss, and for good reason! They're full of healthy fats, which keep you feeling full for longer periods. If you're looking for a complete meal, try eating avocados with some healthy grains, such as putting them on whole-wheat toast or making some chips and guac!
Mangoes
Mangoes are a delicious low-calorie fruit you can enjoy as a snack or dessert. The fruit is full of fiber to keep you full as well as vitamin C and folate. Make a fruit platter or a sweet smoothie special with the addition of mangoes.
If you're looking for something quick, sweet, and healthy over the summer, fruit is a perfect choice! Many fruits are at their best during the summer months, and there's nothing better than enjoying a healthy, sweet treat before you hit the beach. If you keep healthy options on hand, losing weight will be easier than ever.
If you're not a meal-prep person, use an Edible Arrangements promo code and have your favorite fruits delivered to your doorstep to keep you refreshed and relaxed during the summer months.