Designing a kitchen can be difficult, especially when so many options are available. However, if you are looking to make a choice that will significantly alter the look of your kitchen, a kitchen island or breakfast bar worktop is a decision you will not regret making. A kitchen island has gained popularity among homeowners and designers due to its adaptability and functionality. In this article, we will look at the top five justifications for adding a kitchen island to your space.
01 It is stylish
Kitchen islands have become a staple in modern home design. They have become more than just a functional element in the kitchen; they serve as a focal point in the room.
The aesthetics of a kitchen island worktop can be the most significant decision you have ever made for your house.
One of the benefits of having a kitchen island is the design expression it gives homeowners. Kitchen islands can come in a variety of shapes and sizes, either off-the-shelf or customised to fit the specific needs of the homeowner. With the variety of cabinet and worktop materials available, you can incorporate them into virtually any interior style. You can choose the right colour and texture for your kitchen, as well as the level of technical sophistication of the island. With the right design, a kitchen island can become the central hub of activity in the kitchen.
Aside from being a stylish accent in the room, having a kitchen island can also increase the value of a home when it's sold. This is because it adds an extra element of functionality and design to the kitchen, making it more attractive to potential buyers.
02 It gives you extra space for the appliances
A kitchen island is more than just a stylish addition to your kitchen. It also adds significant functionality to your space. By incorporating a sink, stove, or wine cooler into your island, you create a multipurpose area that can handle various tasks. Imagine having all your utensils, pots, and pans right at your fingertips without having to move back and forth between different parts of the kitchen. With an island worktop, you can streamline your kitchen workflow and keep all the tools you need in one central location. From chopping vegetables to washing them in the sink and cooking them on the stove, the island offers a seamless cooking experience.
Additionally, you can customise your kitchen island with unique features that meet your specific needs. Meal preparation can be made even simpler with a built-in cutting board, and your island can be more useful with a small freezer or cooker hood.
03: There is never too much storage space.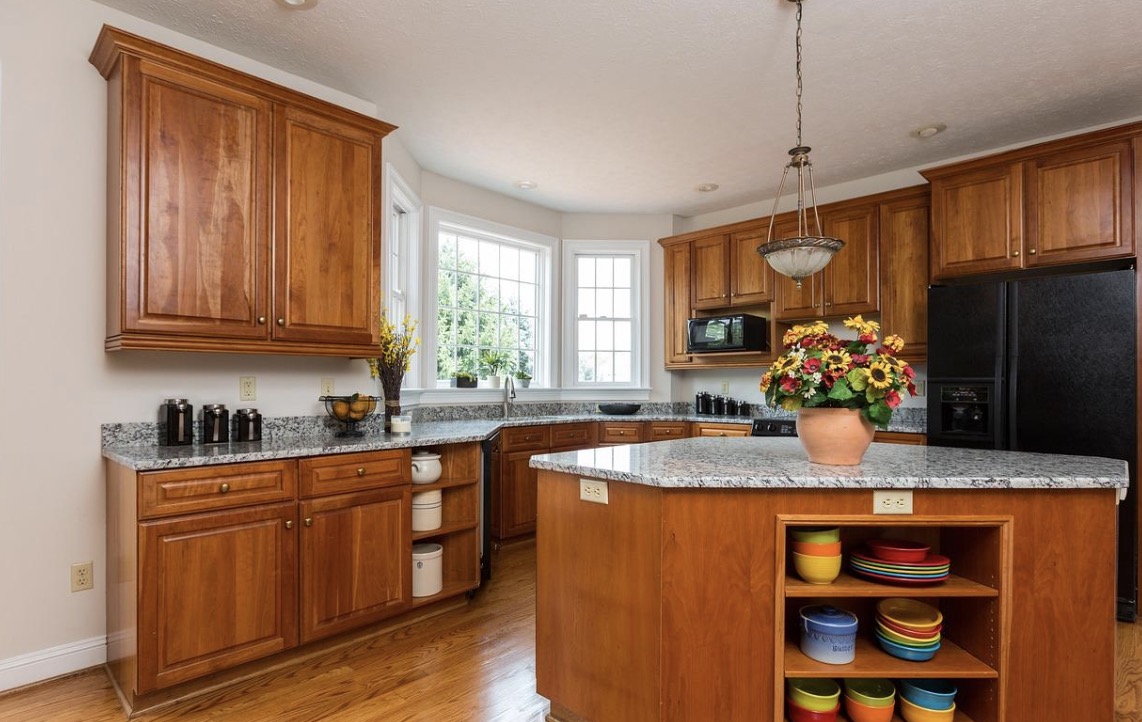 Transform your kitchen island into a multifunctional powerhouse with ample storage space. You can customise the base of your island to include many drawers and cabinets, giving you a convenient storage option for all of your kitchen necessities. As an alternative, choose open shelves for convenient access to frequently used items or a cabinet with several sections and niches created especially to hold your kitchen utensils. Make the most of your kitchen island by converting it into a flexible, effective, and useful addition.
04: Extra space for seating for a Breakfast Bar
Kitchen islands with seating, known as Breakfast bars are becoming increasingly popular among homeowners who want to create a cosy and inviting atmosphere in their kitchens. By opting for chairs around the breakfast bar worktop, you can add extra seating for family and guests. This creates a social hub where everyone can come together. Accessibility from any side is one of the main advantages of breakfast bars with seating. So, whether it is a cutting board, a prep sink, or a platter of food, you can easily access items on the island.
Kitchen islands with seating offer a relaxing and comfortable environment for eating and mingling, in addition to functionality and accessibility.
05: Not just a work surface and a storage space
A kitchen island or breakfast bar top can offer much more than just a surface for food preparation and storage. It can also function as a flexible workspace that can be applied to a variety of tasks. The large surface area of a kitchen island or breakfast bar top is one of its most important benefits. It is ideal for anyone who needs a quiet workplace because it has enough space to fit a laptop, a stack of books, or even a sewing machine. A kitchen island or breakfast bar top can make the perfect workspace, whether you are a professional working from home or a student looking for a place to study. A kitchen island or breakfast bar top can be a real lifesaver for parents of school-age children. With enough space for books, papers, and a computer, it's the perfect spot for children to complete their homework.
Choose a material that suits your cooking style and interior
When choosing a kitchen island worktop or a breakfast bar, you need to decide on a preferred material. It should suit the interior of your home as well as your living and cooking styles.
For example, wooden worktops are the right choice for classy interior design or rustic style. For fans of more modern trends, other materials are practical, good-looking, and can withstand the stresses of regular use, such as a compact laminate or solid-surface worktop.