Every one of us has imagined what our big day would look like since we were little girls. Even then, we could vividly imagine the glamour, the fanciness, the eyes of beloved people in our lives and relatives we've never met before equally trained on us. Each of us has her own vision of how everything should look like, some more specific, some less.
There are, of course, a few elements that most weddings have in common. The white dress, the bouquet, the altar, the groom not wearing a bowling shirt, etc. Despite the many other variations that exist, many people would say that most weddings are more or less the same. That's why some people opt for a type of wedding that stands out among the crowd. A great way to accomplish this is by going back to your roots and pulling off a rustic wedding. However, as this territory is not too well explored, you are probably wondering as to exactly how you want to go about it. Hence, we give you a few ideas to make your rustic big day as magical as possible!
1. DIY Hula Hoop Floral Canopy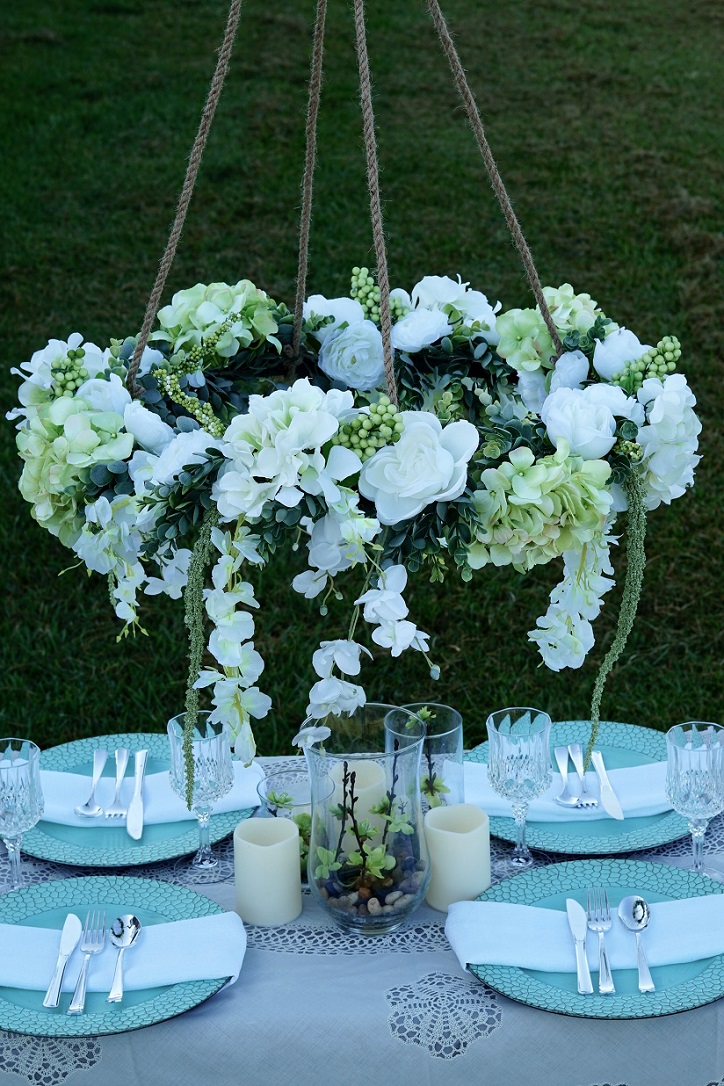 Floral arrangements are an aspect of weddings we pay quite a lot of attention, and often a bone of great contention. Not just about how they should look, but also where they should be. This is why we suggest implementing this neat solution that saves up space and elevates the beauty at the same time.
2. Rustic Boutonniere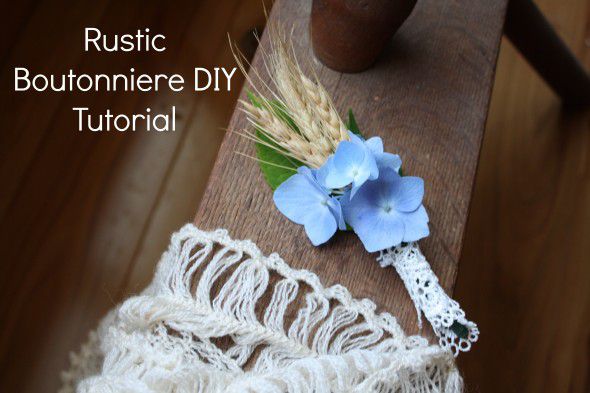 Even though we're still early on the list, we bet you asked yourself at least once how a boutonniere would fit into a rustic wedding, or if it would even fit at all. Behold the solution. Dried wheat allows you t have a perfect blend of the floral splendor, and the rustic element.
3. Baby's Breath Flower Crown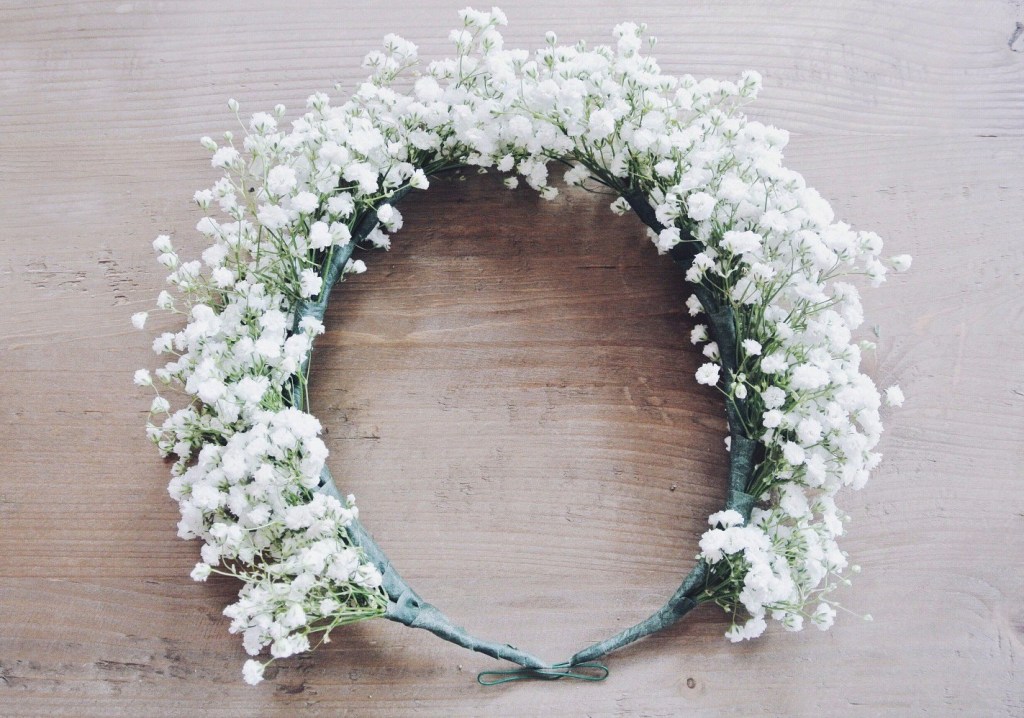 What would you say to a fairy-esque crown that would replace, supplant, and in every way upstage any veil in existence? The bright white color of baby's breath will make you look like the most magical creature ever in a slick and natural way.
4. DIY Flower Box Centerpiece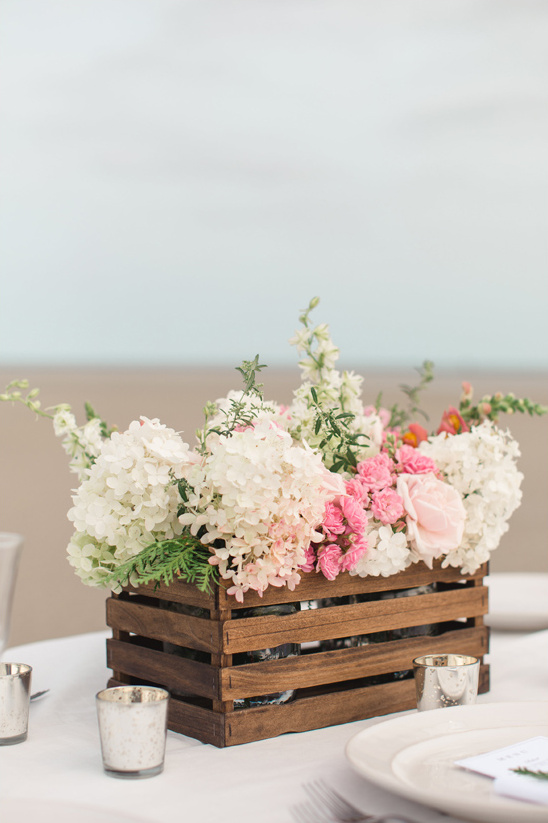 We mentioned above that it's a good idea to have overhanging floral arrangements. However, if you don't want your flowers to be overly susceptible to wind, swinging about and pieces of them falling all over the table and the guests, this might be an efficient way of keeping them more grounded.
5. Paper And Painted Place Mats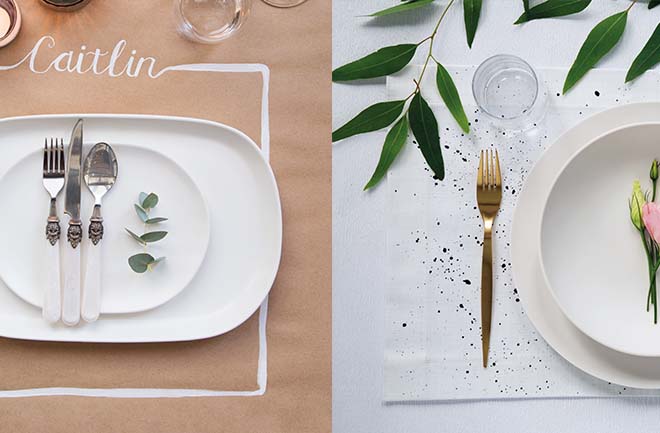 Next up, believe it or not, custom paper place mats are quite a thing now. Instead of having to contemplate printing, you can give them to your little nieces and nephews to unleash their sweet childish creativity on them. Even if they mess them up, no one is going to blame kids.
6. Burlap And Lace Chair Bow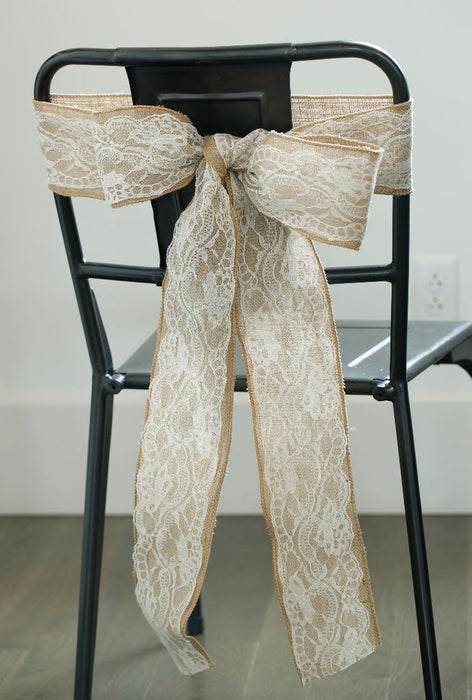 What if we told you that the cutest chair bows can be conjured up just by putting together some burlap and lace? Just the touch of lace decorates them in such a way that you wouldn't even imagine that they're made of the same material as sacks. Rustic, check. Fancy, check.
7. Test Tube Wedding Favors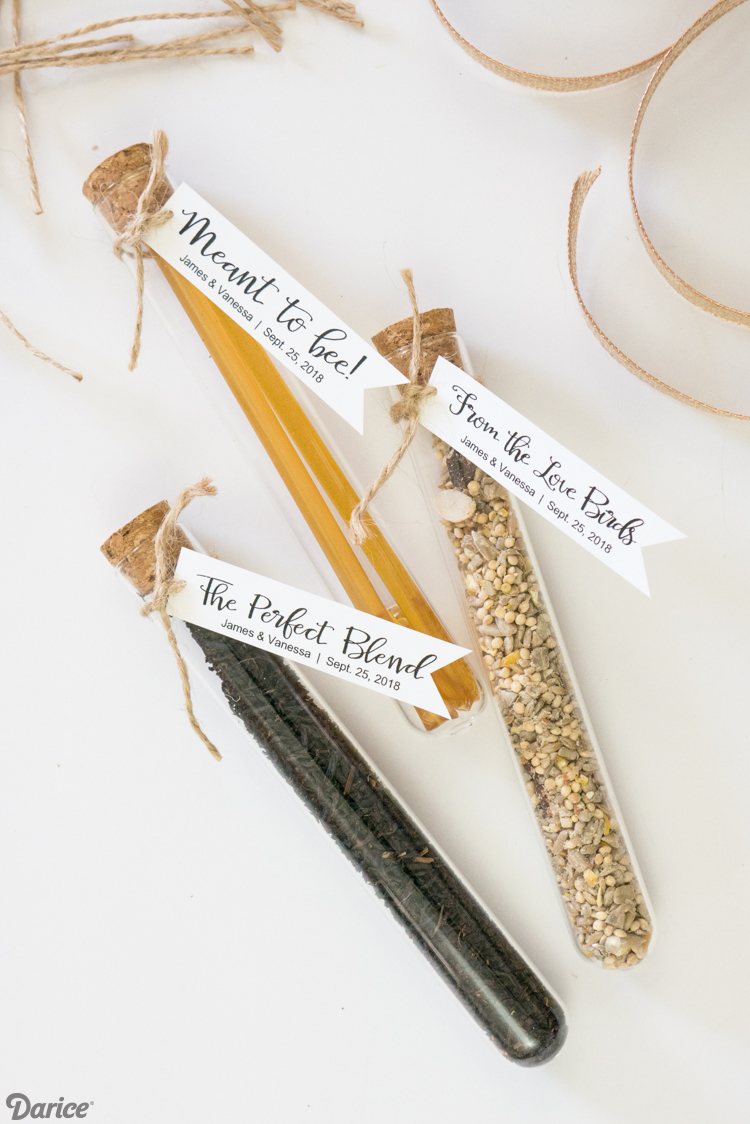 How would you like to spice up the mother of all special occasions with something that's special, unique, and most of all, environment-friendly? Give your guests a bit of nature's charming little biodegradable pieces that serve a host of purposes, so long as they don't throw out the test tubes.
8. Easy Bridal Bouquet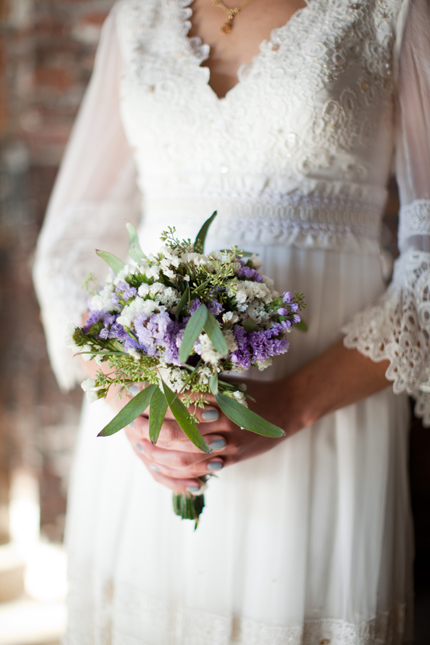 Your crown, or whatever veil you may choose to wear, is not the only bridal centerpiece at a wedding. This also includes the bouquet, which for a rustic wedding could and should consist of beautiful hand-picked flowers from a the glades near your home.
9. Roses And Eucalyptus Table Runner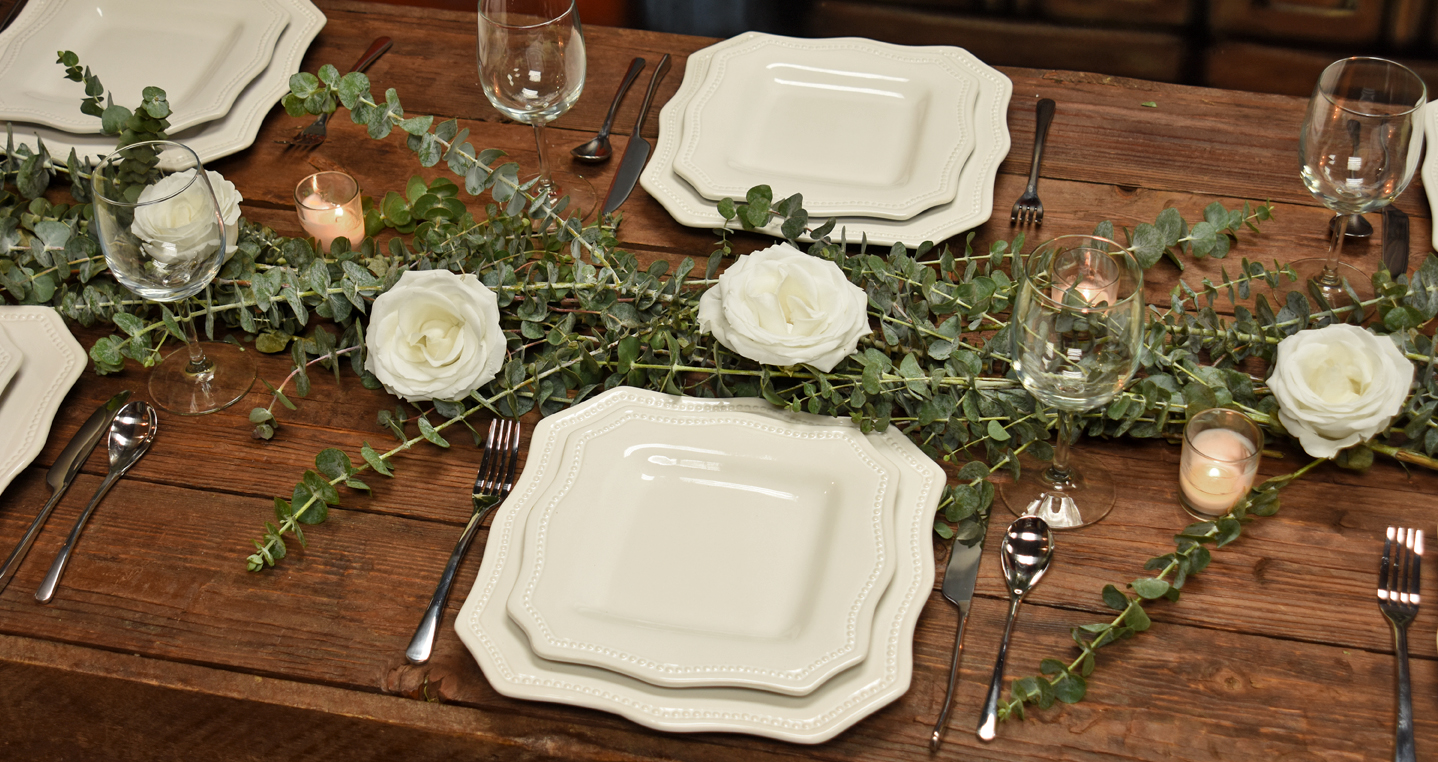 Of course, flowers (and the bit of wheat in the boutonniere) don't need to be the only plants featured in the wedding feast decorations. In fact, we can honestly say that the best possible table runner is a long stretch of interwoven roses and eucalyptus.
10. Pine Cone Fire Starter Wedding Favor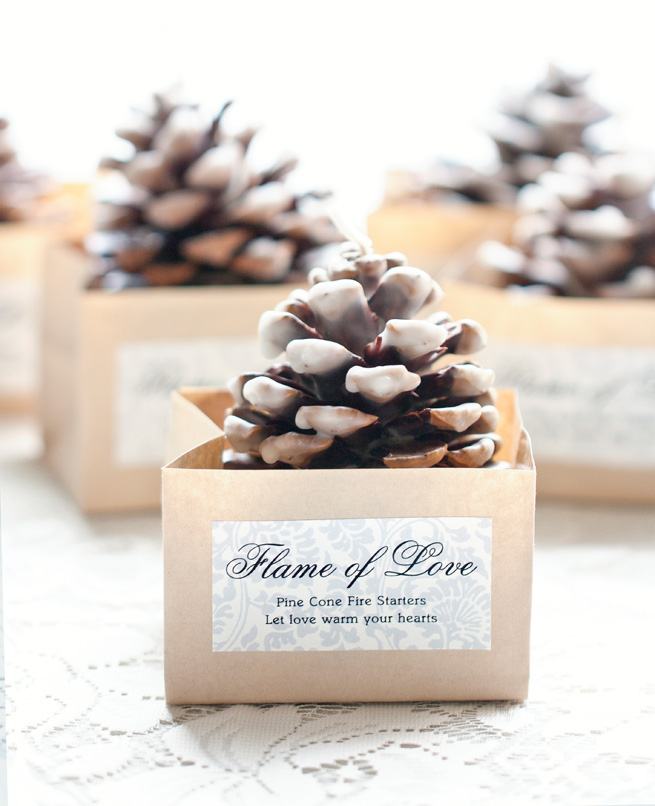 Your guests will no doubt admire the spark of your love while you're all celebrating it. But there's no need for love to be the only thing adding a spark to the event. So, you can also present them with these lovely pine cones that will stir up any fire.
11. Rustic Table Numbers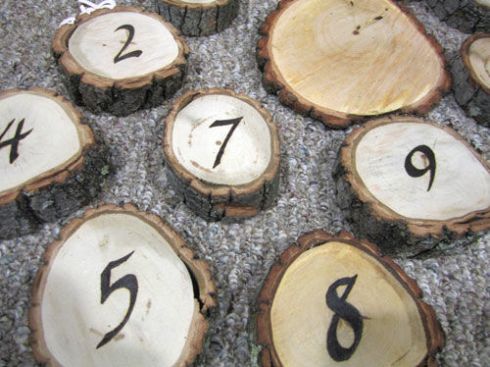 Are you tired of those same old cliched table numbers? Any tree limbs you or your friends or family are cutting down would make tremendous table number signposts if you turn them into slivers. The markings themselves are then a piece of cake and meant for the places where that cake is eaten!
12. Cloth Wrapped Napkin Place Setting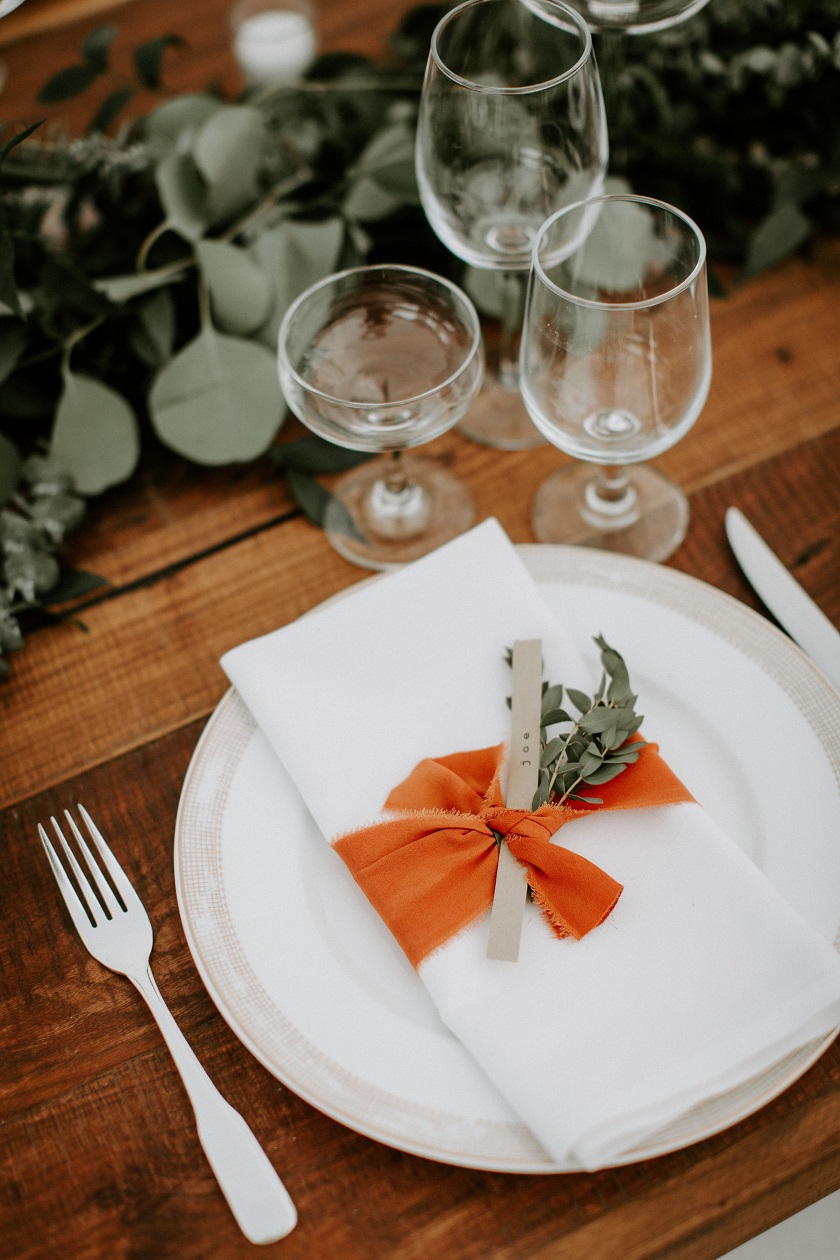 Cloth napkins are the epitome and apex of classiness. And don't think that a rustic wedding isn't or shouldn't be classy. Quite the contrary. You can even spruce it up with a little leaf branch and possibly a name tag for the guest. Let the dinner be served on a high note.
13. Colorblock Twig Vase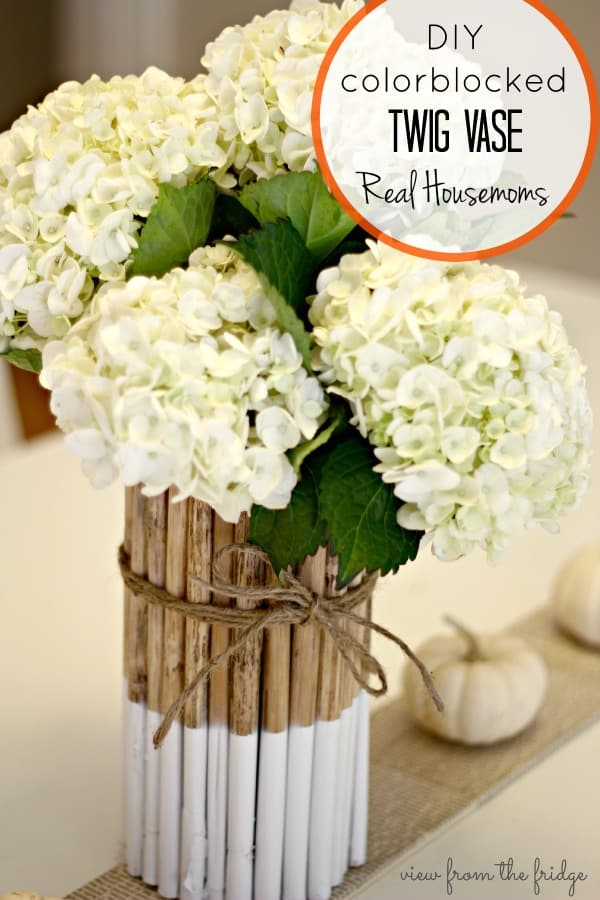 Here's another cute way to have your flowers held together without the immediate help of a human hand. From the looks of it, it seems as a good deal of hand crafting went into it, when all it actually takes is a few twigs and some spray paint.
14. Easy Bottle Garland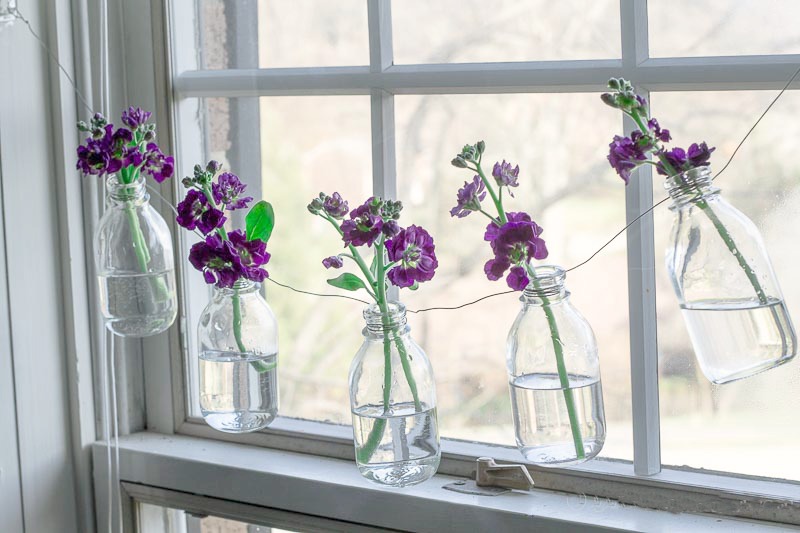 Yes, we know those look more like a string of bottles than anything else. And yes, garlands can be made of things like bottles. Yet, this pinnacle of simplicity adds some wonderful color to your window sill without cluttering it.
15. Rustic Wood Chandelier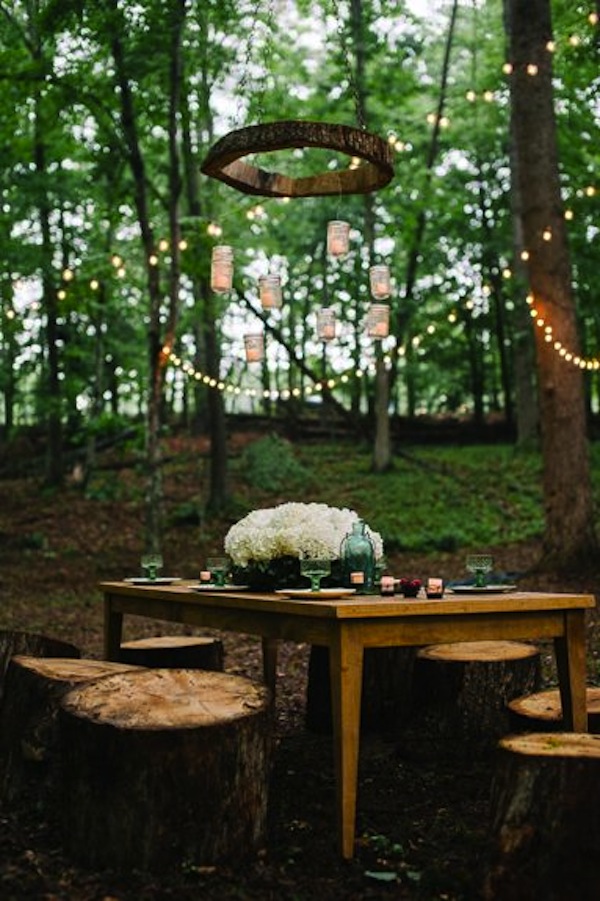 As for light fixtures, you certainly don't need to be heading out to a home supplies store to get some that fit your tastes. Instead, you can easily convert a wood bark ring into yet another forest-themed element that stands high above everyone.
16. Burlap Ring Bearer Pillow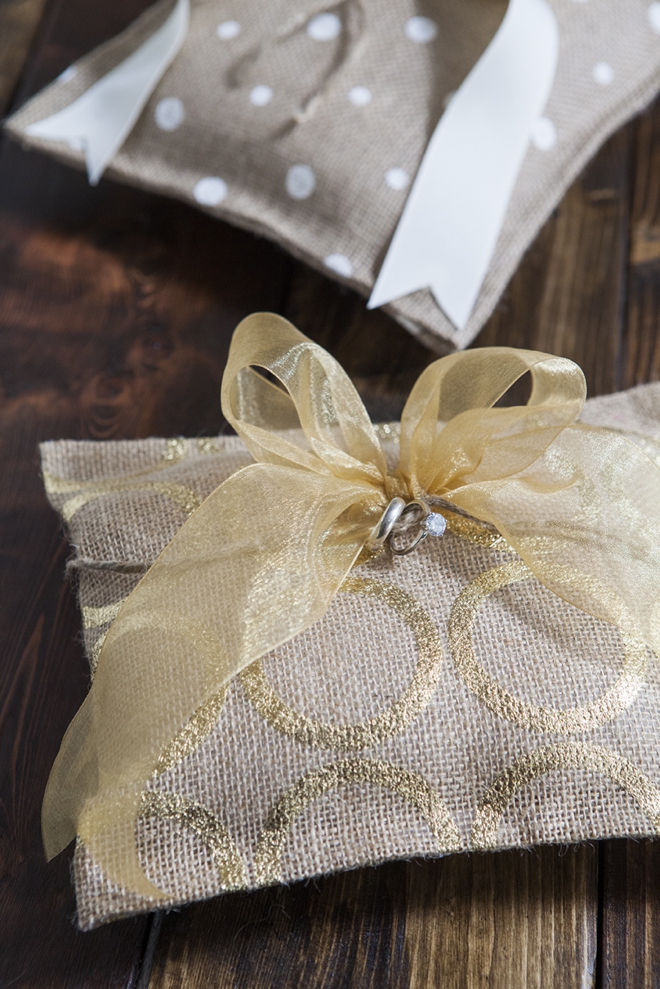 Burlap is really the most extraordinary thing ever. With just the tiniest bit of decorating, a piece of burlap can become an eye-catching ring bearer pillow that will awaken the admiration and envy of every soul present. Not to mention it's gorgeous!
17. Rustic Flower Pallet Backdrop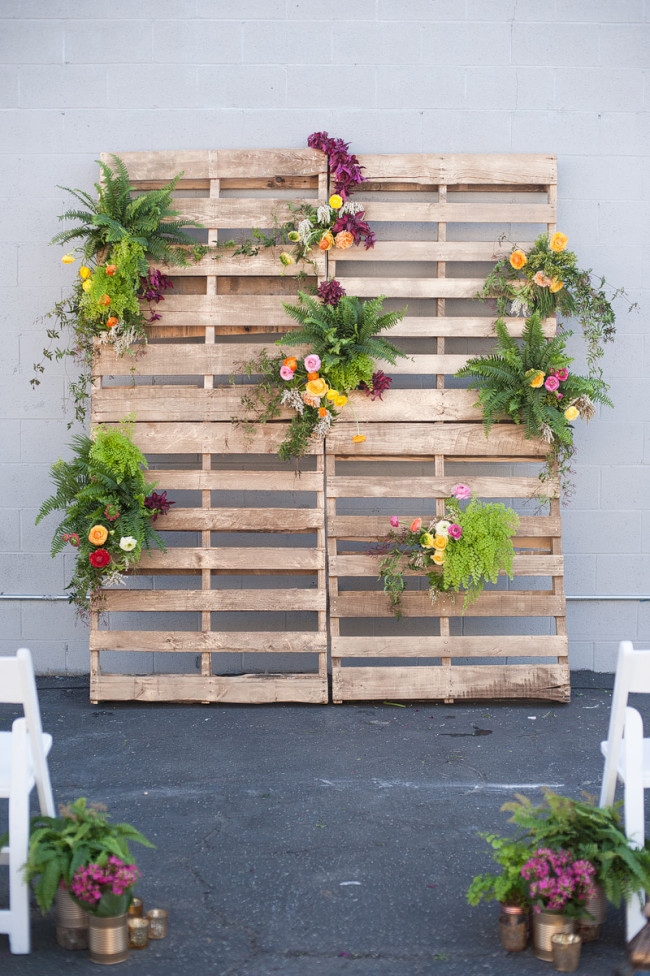 We know what you're thinking. Pallets have no place being anywhere near a wedding. But we are asking you to keep an open mind and bear with us a little. All they do is complement the prevalent wood theme. And they make for fantastic flower backdrops!
18. Ruffled Burlap Table Runner Or Garland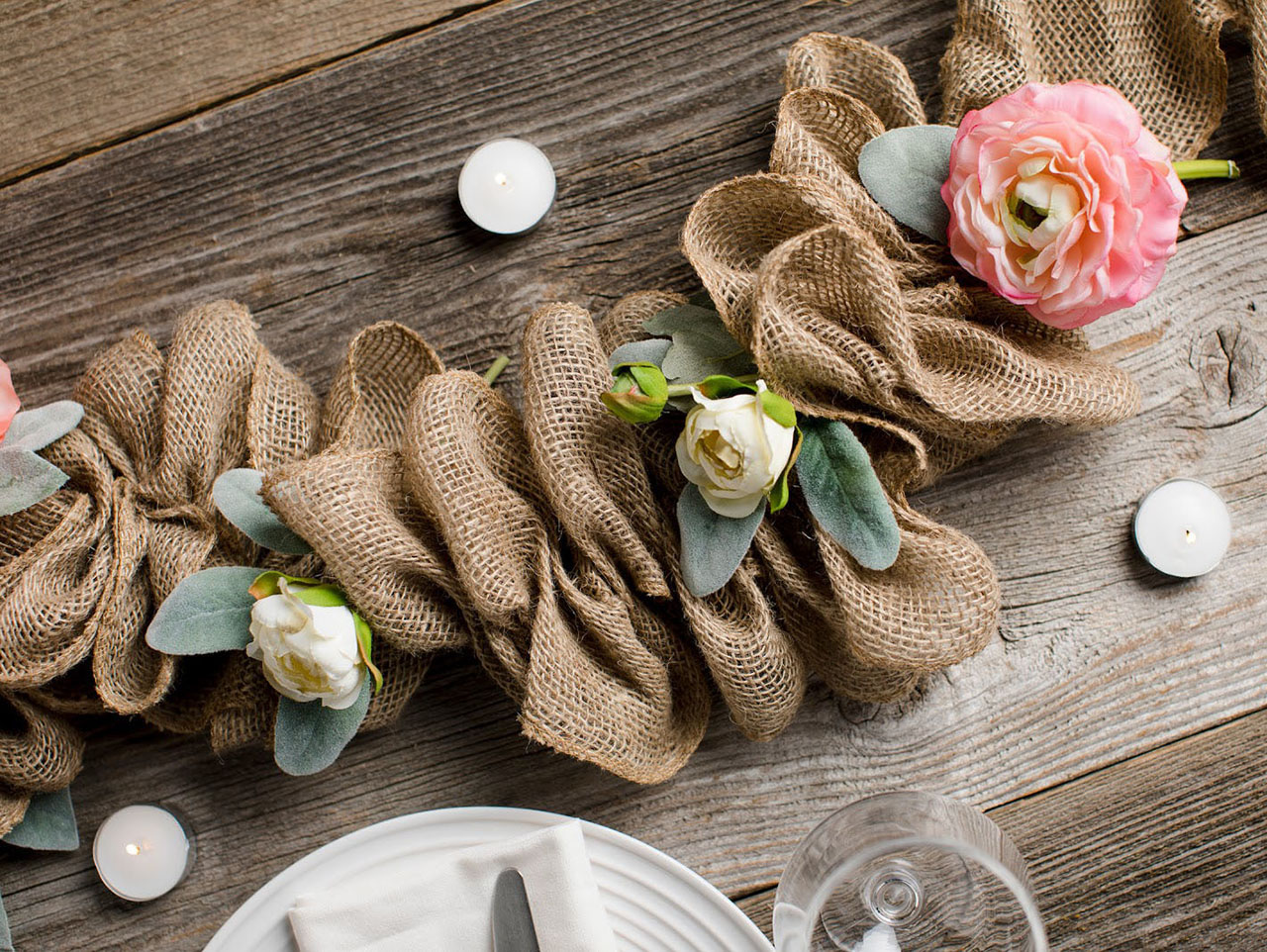 Yes, you read that right. It's burlap once again. And the so many things it can be also include a table runner or a garland. Of course, burlap at a dinner table isn't everyone's cup of tea, but at least it will show its usefulness whenever someone spills their drink.
19. Easy Rustic Centerpiece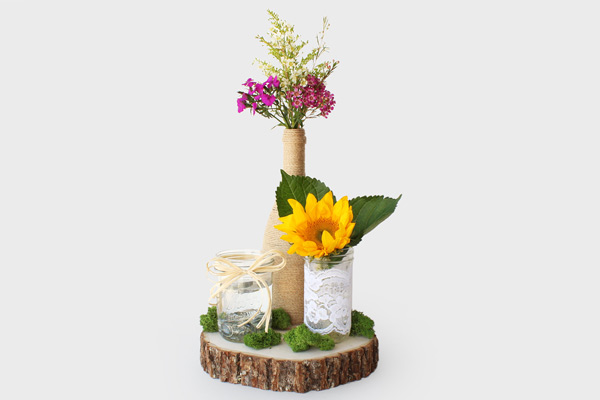 We've so far mentioned the bridal centerpieces, but not the decorative ones. So, if you're still looking for something with prominence to hold some space anywhere, here you have one of the easiest in the world. All you need is just a tinge of elbow grease.
20. Floral Photo Hoop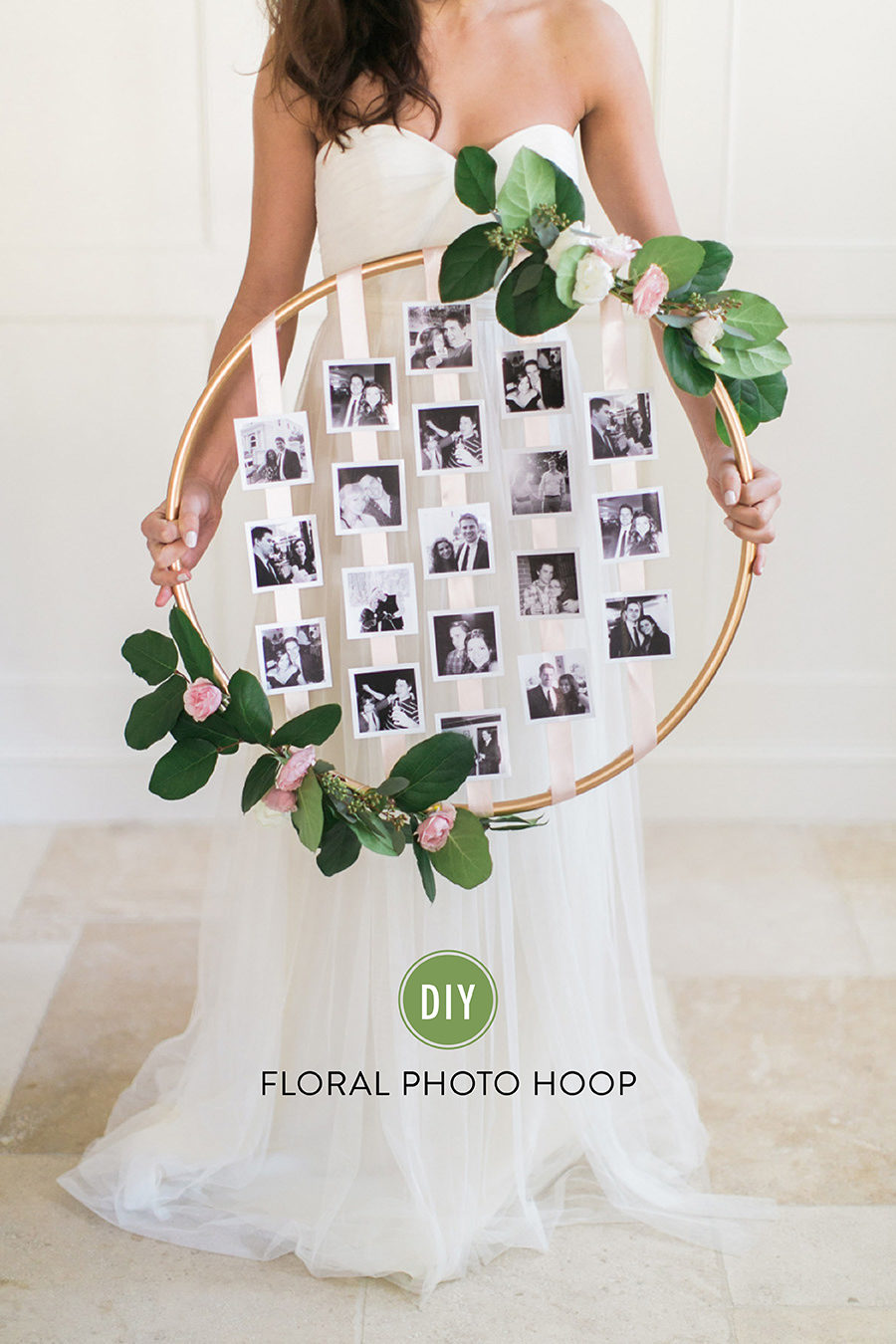 Last but not least, many weddings feature some sort of collage of photo memories. A good idea for the execution of this is a floral hoop with photos attached. It's light, fun, and can be put, used, and seen in any way, place or anyone who's come to celebrate the best day of your life.
And there you have it. We hope at least some of those items fill out any idea gaps you might have had. So, what do you think of our selection? Is there any option you find particularly eye-pleasing? We prefer a more woodland style, like the chandelier, or the baby's breath flower crown, but we also wouldn't mind a bit of wood sliver table numbers. Please feel free to speak your mind in the comments.