Cheers to the holidays! The gift-giving season is here, and with it come good tidings, great joy, and even better wine. Wine enthusiasts know that there's nothing better than indulging in their favorite blend, which means now is the time to give them the best gift of all: a gorgeously wrapped bottle of wine. Giving the gift of good alcohol is not only easy, but it's also much appreciated by the receiver. To make this present even more thoughtful, just step up your gifting game by wrapping each wine bottle in beautiful, festive, and effortless designs.
We all know that a bottle of wine and throwing it into a skinny, store-bought gift bag or just sticking a bow on top is pretty much our standard way to gift a bottle of wine to any party hosts, close friends, or special teachers this time of year. But with this post, you will rethink your gift wrap techniques because here we have so many creative, easy, and festive ways to wrap a bottle of wine for the holidays.
With the festive season in full swing, it is the perfect time to show you 15 different and quick wine gift wrap ideas. You might own most of the materials used, if not they are very easy to find in local craft stores. Have bubbly fun!
1. Classic Wrap With Cabana Stripes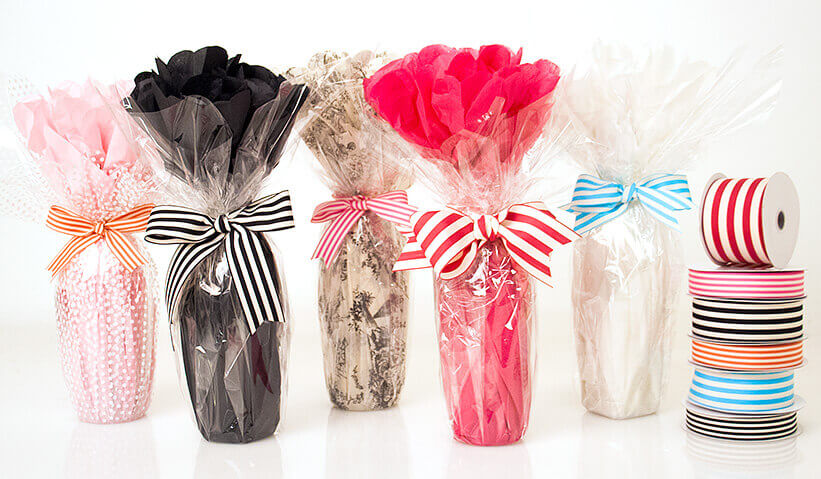 Wrapping gifts can be fun until you're faced with an awkward shape that's a pain to wrap. For example, wine bottles can be a nightmare to package, and we often just shove them in a wine bag to give to someone. But, don't worry because we've found an easy and cute way to paper-wrap your bottles. Here's how to expertly wrap a bottle, making it look beautiful.
2. Sock Wine Bottle Cover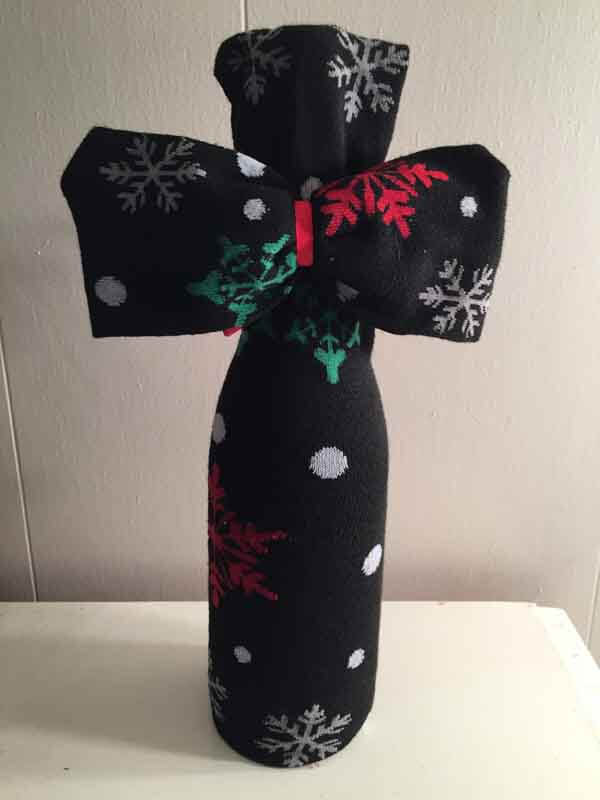 Slip your bottle of wine into a holiday-themed sock, then use its matching partner to create a cute bow. This clever gift wrap is sure to put a smile on anyone's face.
3. Pineapple Wine Bottle Gift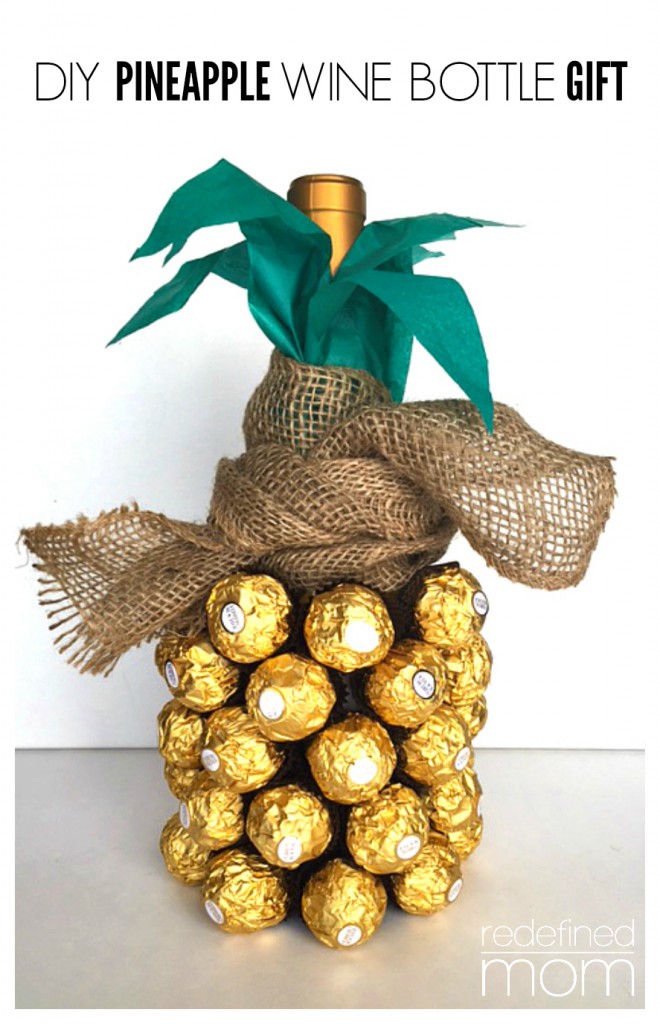 There's a tradition to give on New Year's Eve a box of chocolates and a bottle of sparkling wine to the host. But it would be definitely more fun to present this gift with this creative bottle wrapping design. If you decorate the bottle like a pineapple with chocolates, then the success of the gift would be undeniable. The bottle would also be a unique decor for the holiday table. and the candy – a treat for the well-behaved kids.
4. Wine Bottle Hat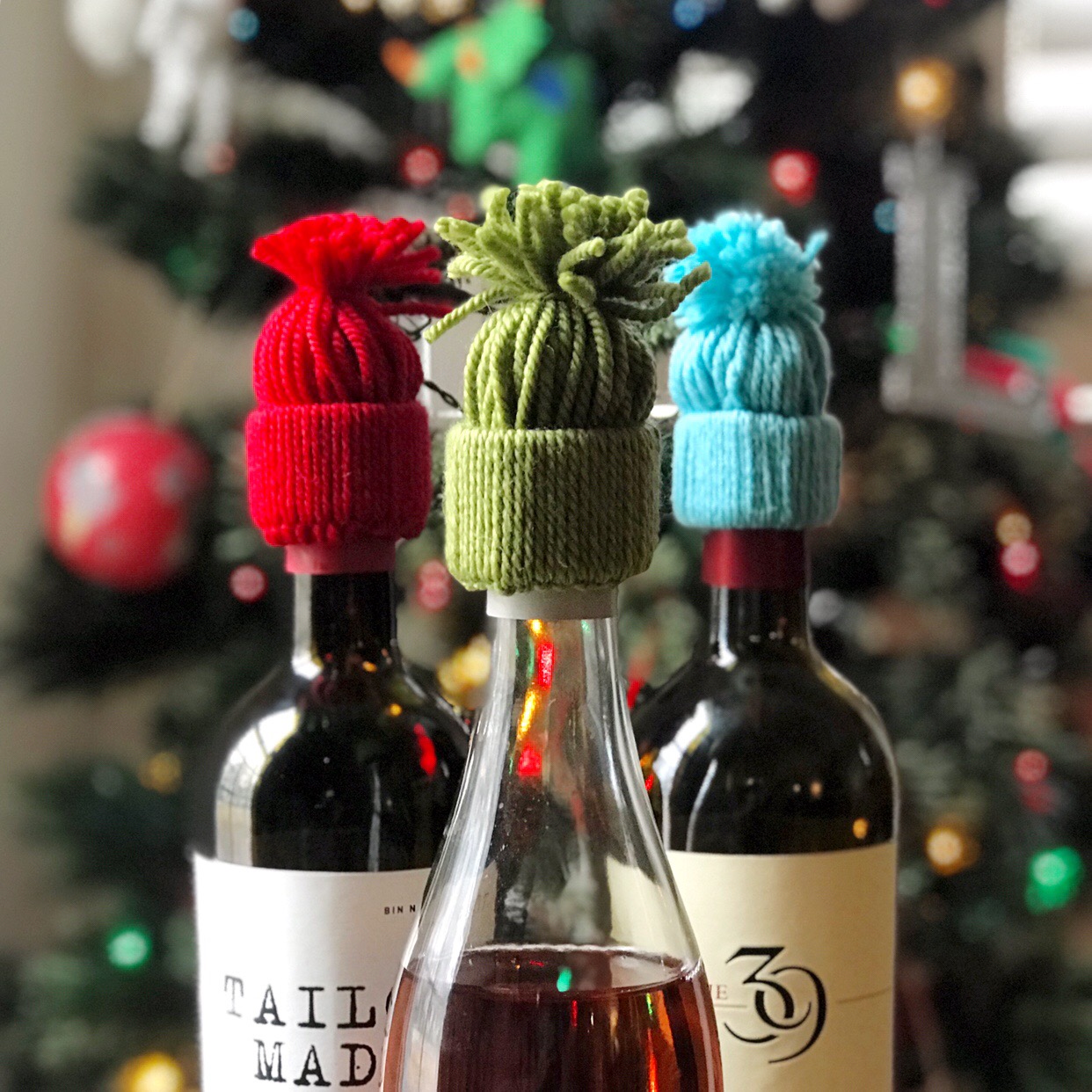 This gift idea is a free pattern for a wine hat that you can use to adorn bottles of wine or champagne for your favorite hostess over the holiday season.  We love this project so much because these are so fun to create and can be decorated in any combination of yarn colors. What is more festive than tiny hats for your wine bottles?
5. Wine Bottle Gift Bag With Handles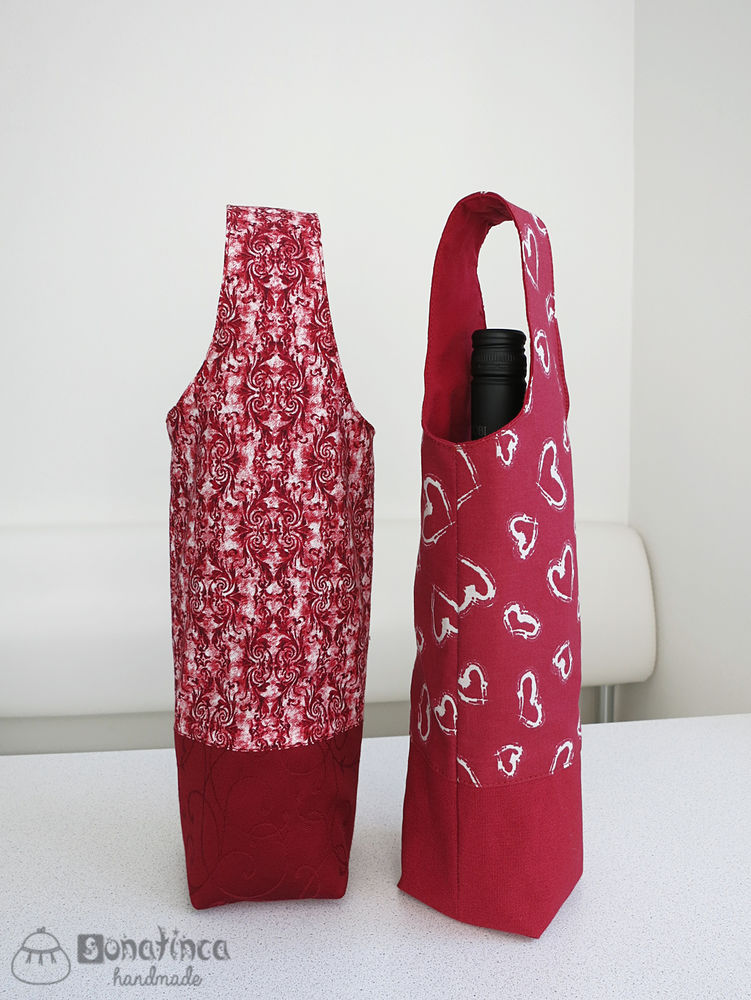 This DIY design is such an easy way to package a gift and great to reuse afterward. Everybody almost always tends to bring a bottle of wine to friends' houses when invited for dinner. These are so easy to make you could whip up a few and store them for random weekends where you need to quickly package a host or hostess gift. Enjoy the tutorial!
6. Ribbon Top Bottle Gift Wrap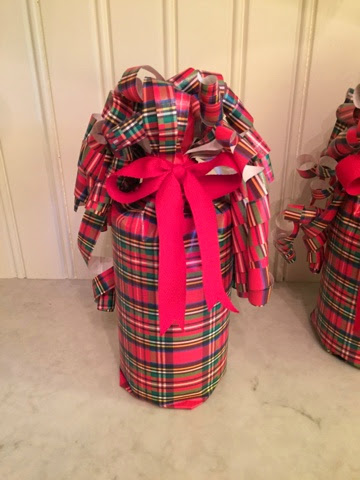 There's usually a piece at the end of a roll of wrapping paper that's not the right size to wrap anything, but those pieces can be cut into strips and turned into a cute little bow for the top of a package. Check out the tutorial to see how to make one!
7. Faux Fur Wine Bottle Bag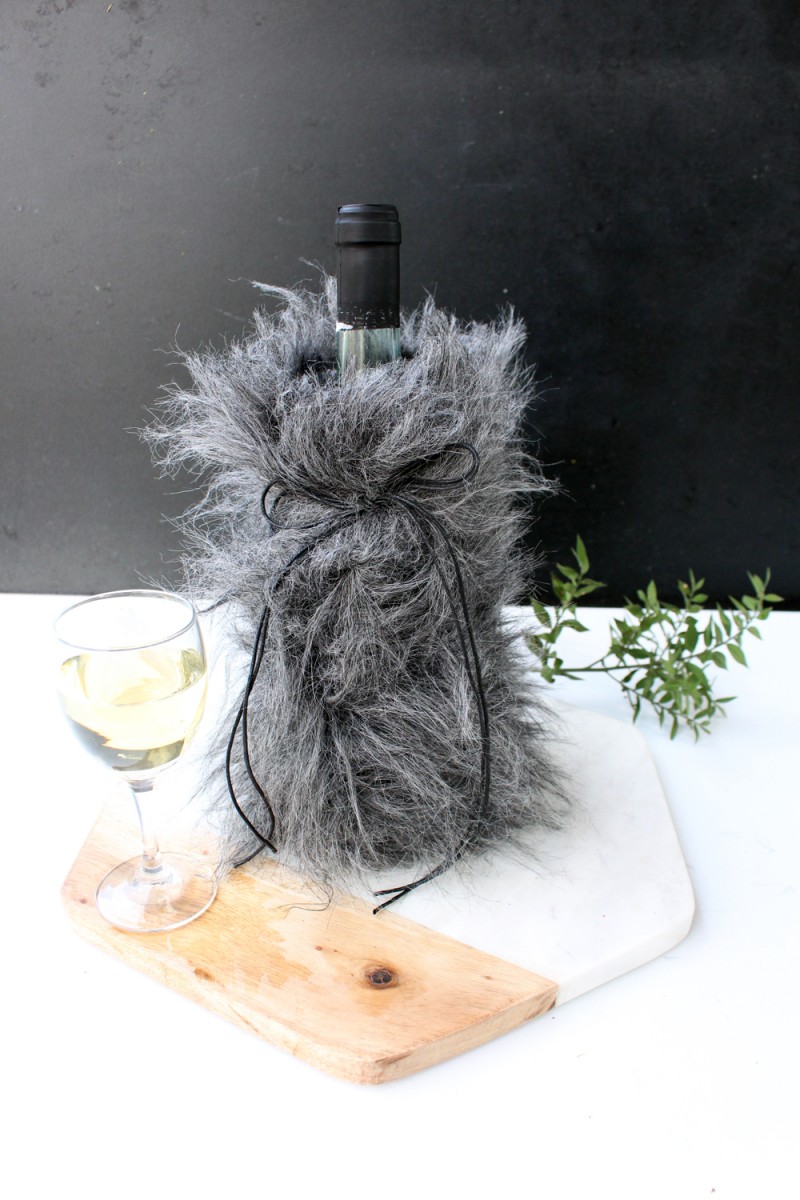 Here's a unique idea for you to try out! This is such a great way to wrap those bottles of wine you are bringing to the hosts or hostesses of all of your holiday parties. For the fashionista on your list, scour a vintage store for a faux fur collar. Then, give your bottle of wine a high-fashion makeover.
8. Furoshiki Japanese Fabric Wrapping
Have you ever wonder what to do when presenting a bottle of wine as a hostess gift? Or how to package it as a wedding shower present for the bride or even as lavish party favors for guests? Why not try out furoshiki!! It is the Japanese art of wrapping colorful fabric. Your gift recipient will surely be impressed!
9.  Sew Cheerful Bottle Gift Bag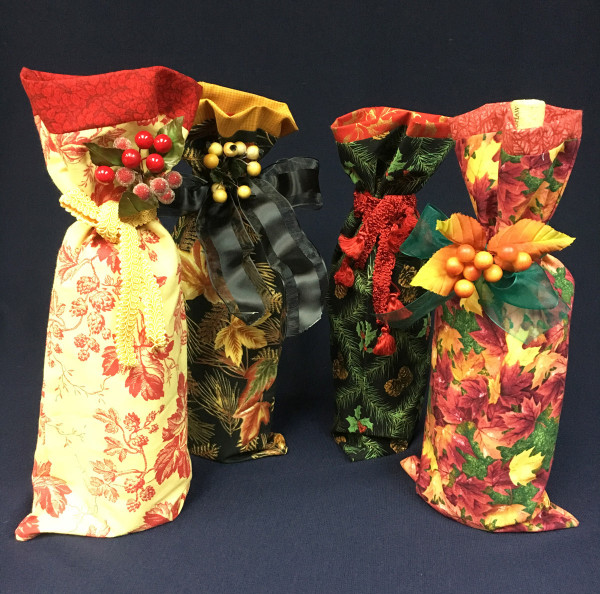 Wrap the wine bottle in tissue or fabric, and tie on silk flower, floral berries, or a small ornament to make it as eye-catching as ever. Check out the tutorial and create this wonderful design!
10. Stamped Wine Bottle Bag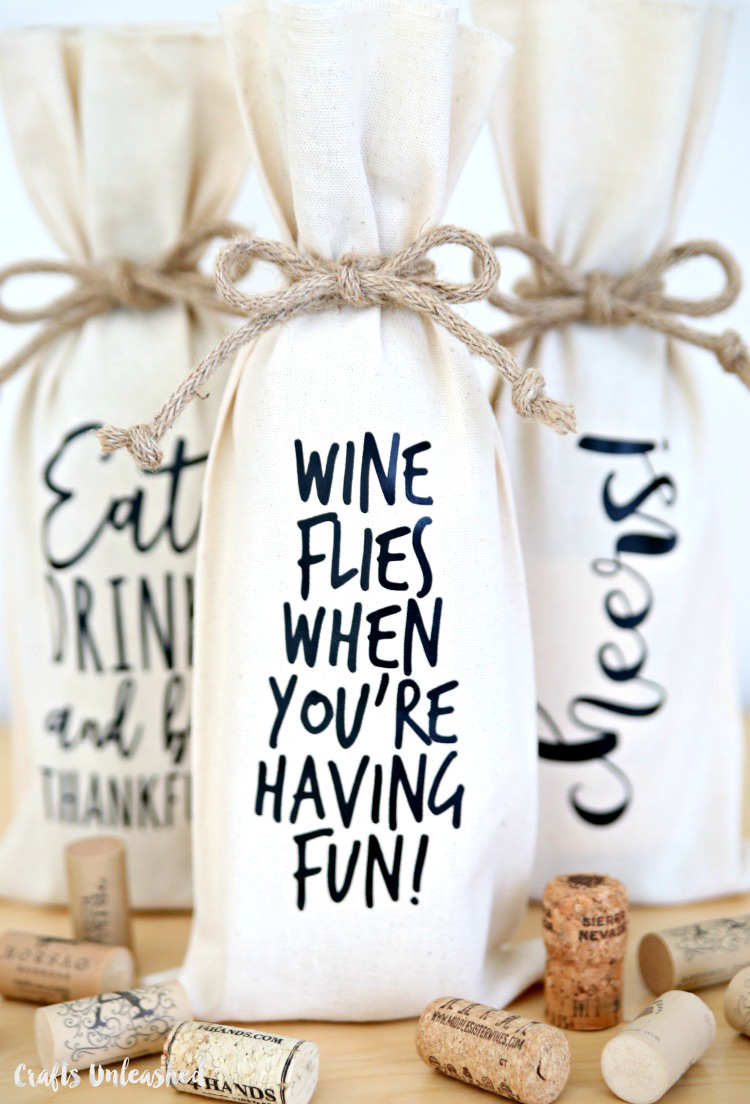 Want to really blow away your giftee? Check out this cool DIY tutorial. Feel free to get creative with this wrapping idea. Simply cover the bottle in tissue or wrapping paper, and glue on your favorite quote. This can be something personal that's printed out or an idea from the Internet. Add a bow to make it complete.
11. Fan Top Bottle Wrap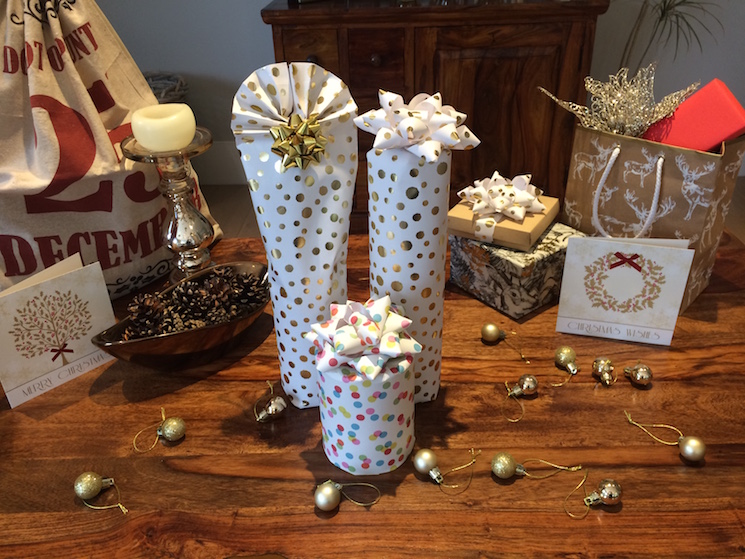 Colorful construction paper is the key to this creative solution. Wrap a bow around the top of the bottle and prior to that, wrap another piece of decorative paper around the bottle. Then, secure the bow around it, and your work here is done!
12. Macrame Wine Bottle Bag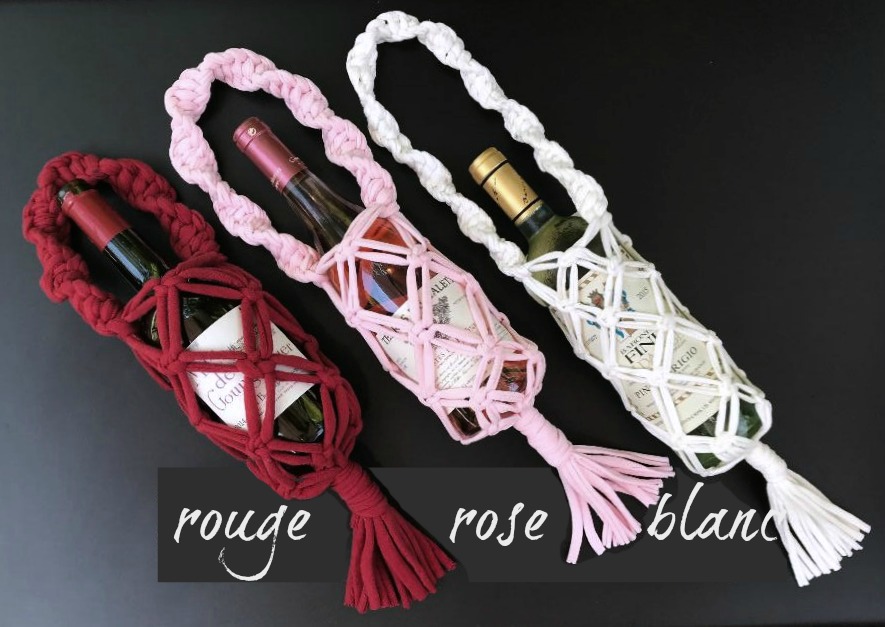 We love this idea because the bags can be reused for various purposes. They are quite simple to make. Don't be intimidated by all the looks of it. If you can tie a knot, you're halfway there.
13. Crepe Amarillis Gift Wrap Bottle
Wrap the bottle in a wine bag and add a touch of the outdoors to give it some flare. This is a bold packaging to spotlight the wine bottle. Create a flower display and make it extra enchanting. Enjoy!
14. Old Sweater Bottle Wrap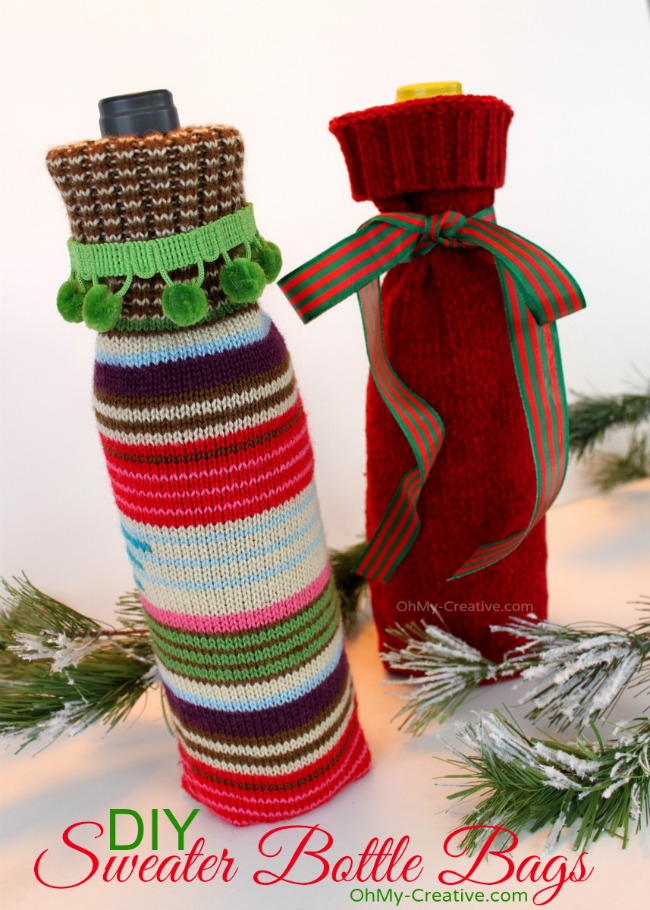 Before you toss that old Christmas sweater or the ones your kids have outgrown, take a look at this clever idea for bottle wrapping. Wrap the wine bottle in a cute upcycled sweater for a seasonal touch, have fun!
15. Flashy Two-Tone Bottle Wrap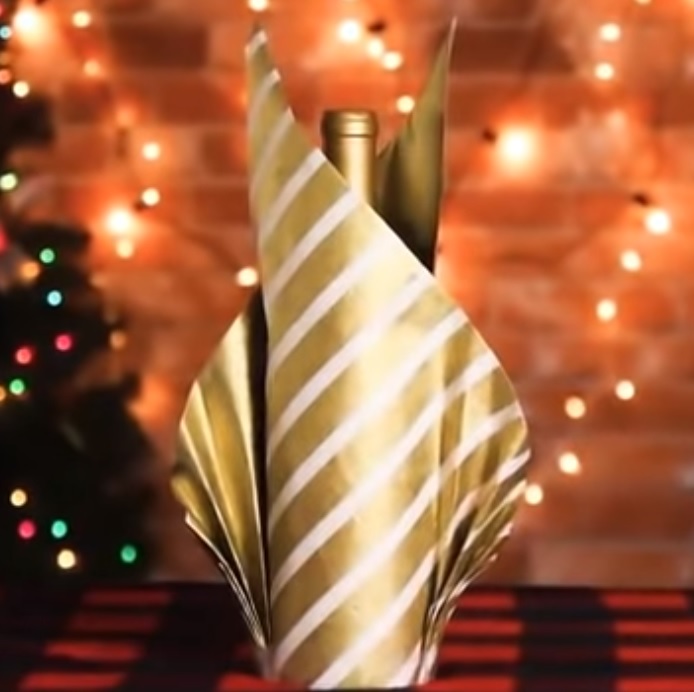 The whole point of gifting wine is that it's easy! (Well, and delicious.) The last thing most of us want to do is embark on a wild goose chase for specific wine-wrapping supplies. So we present our last DIY idea for you to enjoy and try out! Check out the steps!
All in all, anything in a wine bottle shape that you want to gift, we've got you covered! Feel free to leave a comment down below and share your favorite bottle-wrap idea from this list! Happy crafting!