Are you feeling creative? Because creativity is all about inventing, experimenting, and having fun. And we've prepared some brilliant project ideas waiting for someone to try them out. And what are those project ideas you ask? Well, with old cutlery, of course.
Silverware, whether new or old, serve a great purpose in every household. But sometimes, we grow tired of them and wish to treat ourselves with some new and completed set. However, don't throw away those lone forks, spoons, and knives.  Turns out silverware is one of the hottest new DIY trends. With a little creativity, they can be repurposed for creating super fun and useful home decor.
Here are 16 ides to reuse old cutlery into your household. Because creativity is more than just being different…Making the simple awesomely simple, that's creativity. Enjoy!
1. Wind Chimes From Old Cutlery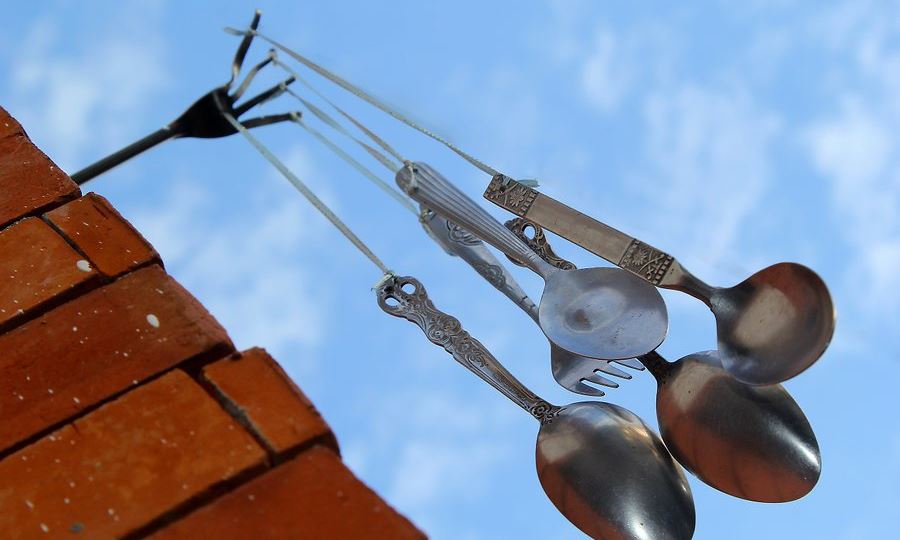 Wind chimes are such a great addition to every household. They make the most pleasant jiggling sound. They are music to the ears on spring or summer days while enjoying a time spent outside. And instead of buying one, you can create your own using old cutlery.
2. Sunburst Silverware Clock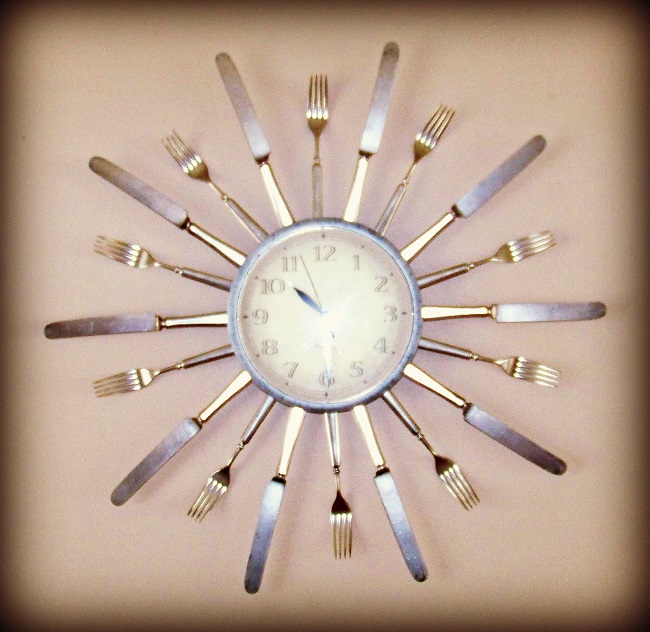 If you are a fan of vintage items? Well, this is a perfect idea for you. Such a cute design to brighten up your homes. If you are feeling creative, try out this lovely project and spice up your household.
3. Old Cutlery Hanging Lights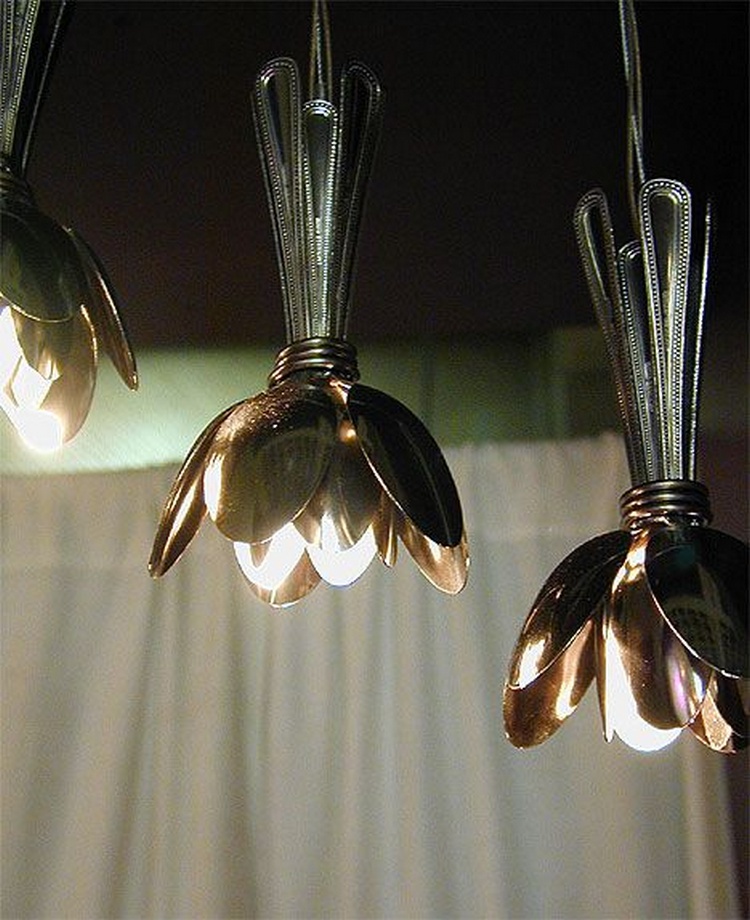 Go ahead and express yourself by making these hanging lights from old cutlery. Isn't these the most creative thing you've seen? Well, now you've can make them. It's time to add a little old cutlery spark into your kitchen, living room, or outdoors. Fun, right?
4. Egg Cup From A Repurposed Fork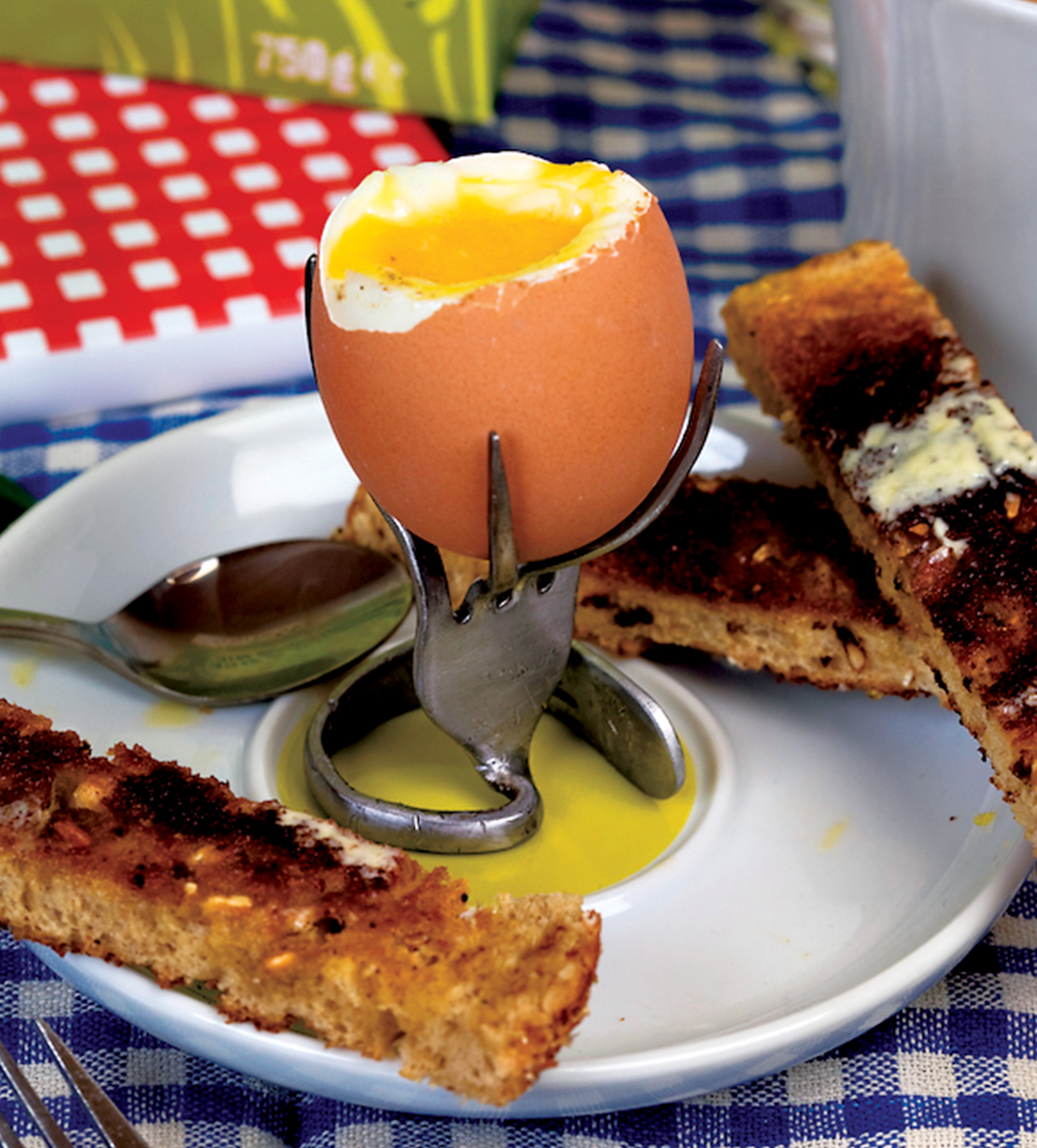 Here's another idea for reusing old cutlery. Don't give up on those lonely, random silverware. Because we have a solution for you. Make these fun egg cups and serve a glimpse of your creativity on a plate.
5. Old Cutlery Wine Holder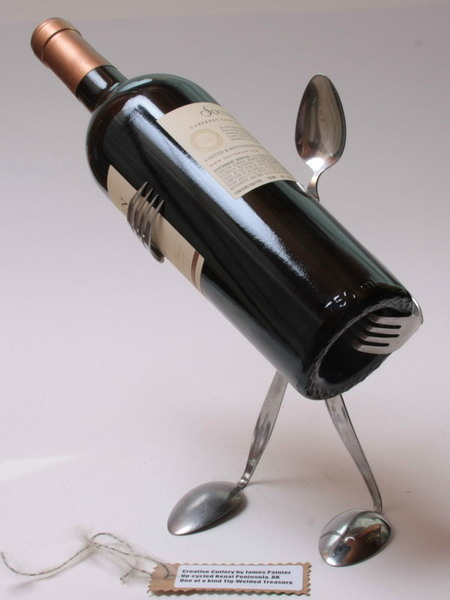 This is so cool, right? Check out this idea and try to create this wine holder. And what a fun way to use your old silverware. It serves as a great decoration idea, with its main purpose, holding the wine bottle. Literally holding it.
6.  Antique Kitchen Picture Out Of Silverware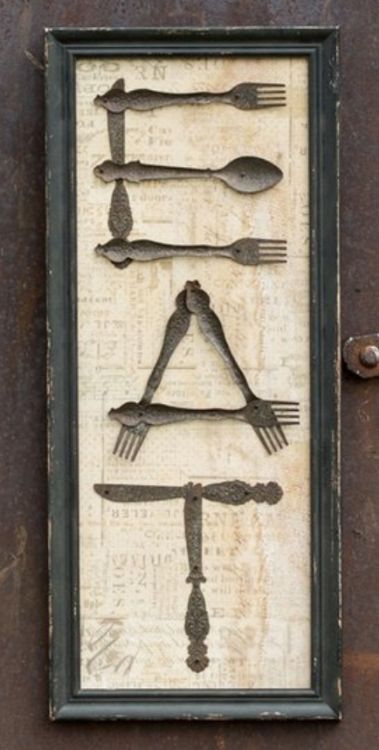 Decorate your kitchen wall with this innovative idea. This is a great way to use old cutlery. Why throw them away, when you can make this vintage picture? Be creative and show how skillful you can be!
7. Old Cutlery Hook Pallet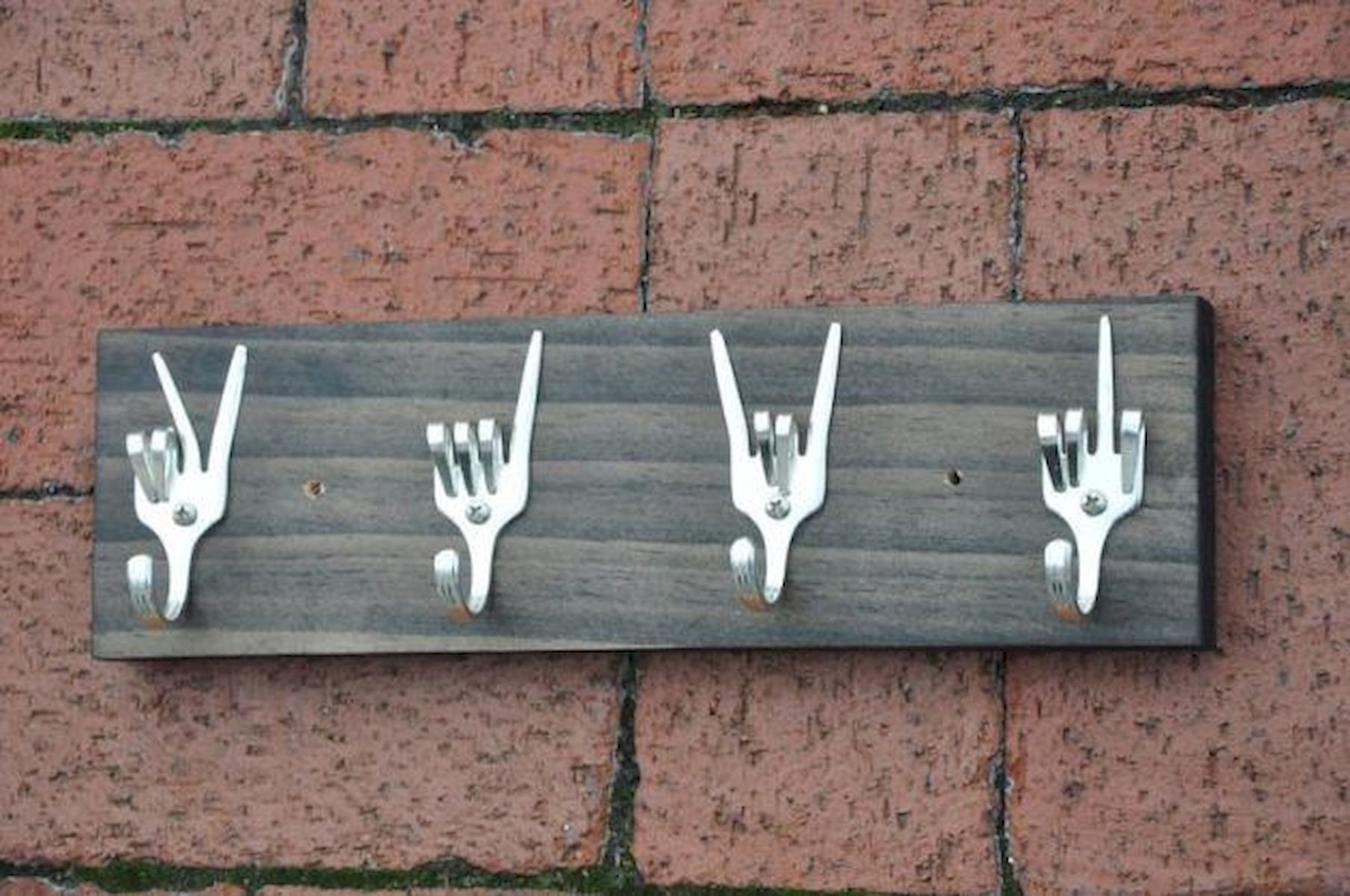 If you want to add little artsy details to your homes, here's a great idea for you. We present to you hook pallet out of old cutlery. You can place your keys and coats on this creative innovation. Why go to the store when you can create a great idea like this?
8. Old Cutlery Candle Holder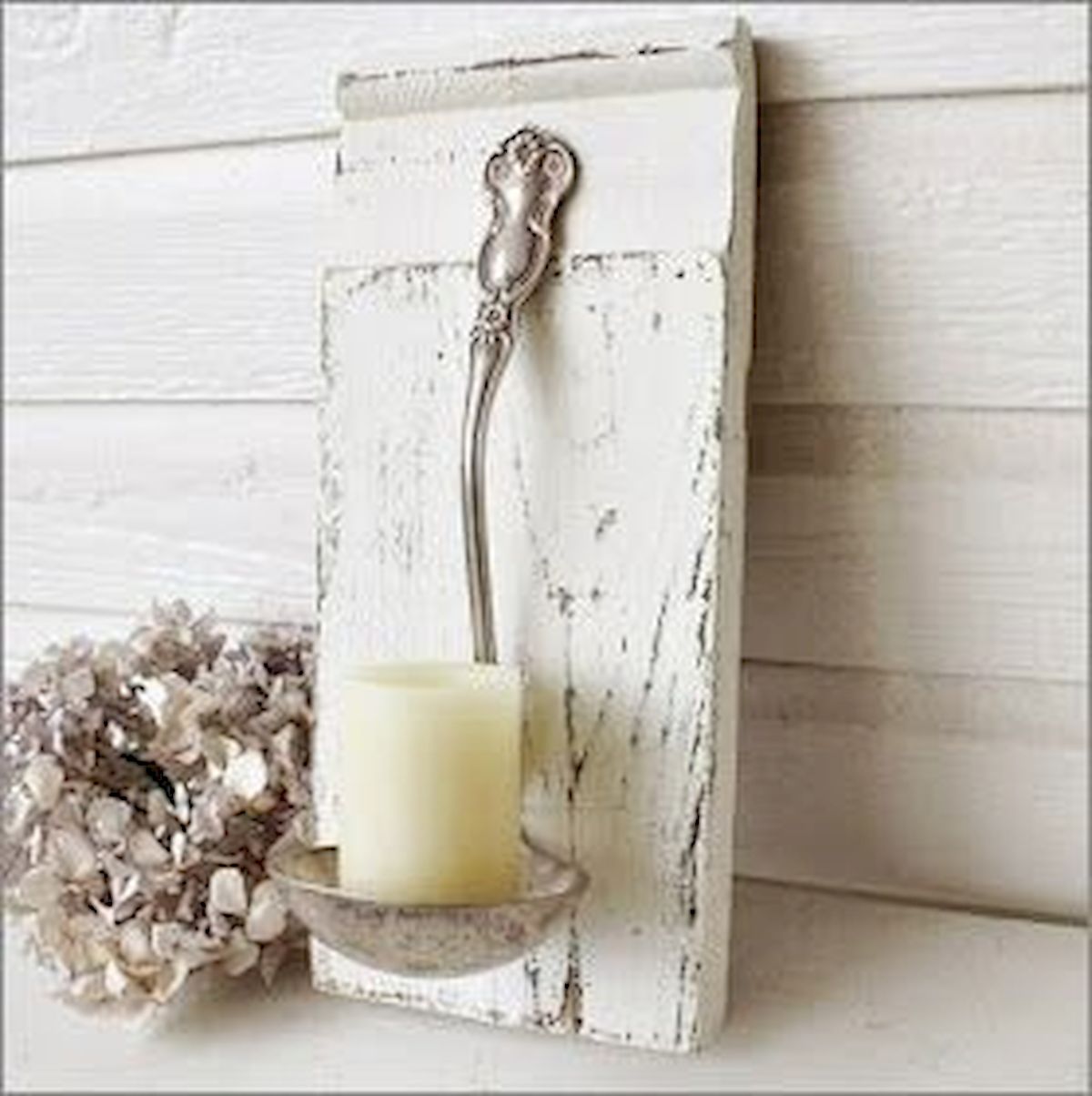 Wow, what a beautiful vintage design. It serves the purpose and looks great! What more can you wish for? This will go great in your bedroom. And the candle will provide a cozy atmosphere. Relax, let yourself go, and create this project.
9. Silverware Lamp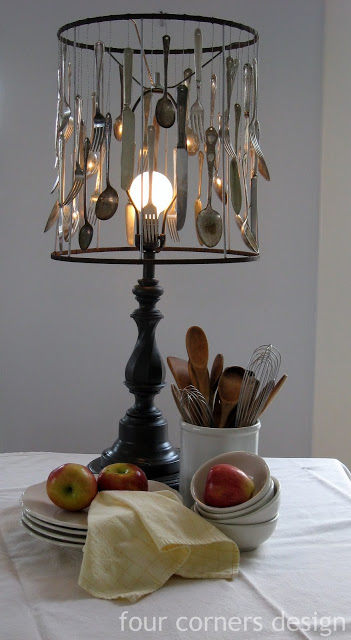 Who wouldn't want this artsy design into their homes, right? Such a great idea to use old cutlery. Don't throw away your old silverware, create this project, and be proud of it! It looks magnificent!
10. Old Cutlery Eagle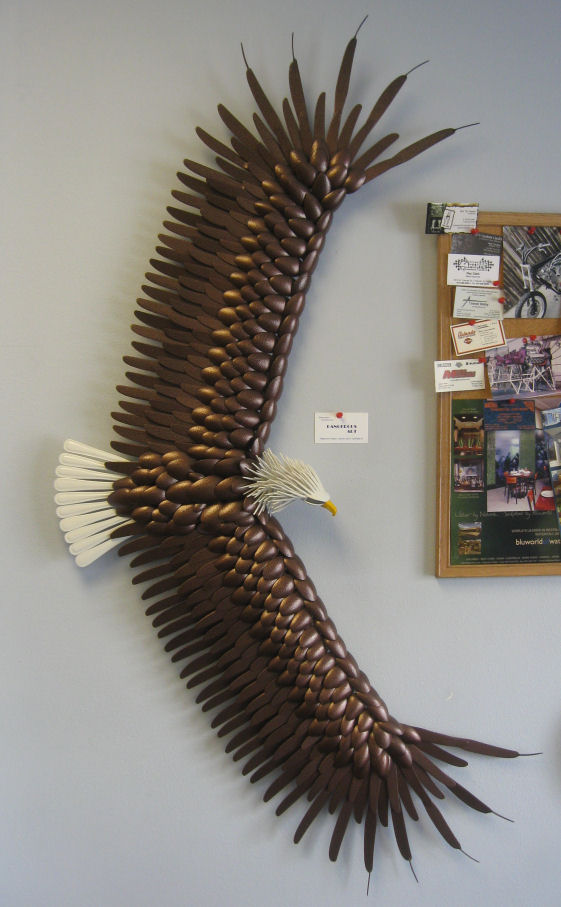 Look at this fine piece of art. Marvelous, right? A beautiful wall decor made from old cutlery. So, why don't you try out this idea? It made out of plastic spoons, can you believe it? It will be a beautiful accessory for your home. You won't take your eyes off it!
11. Old Cutlery Chandelier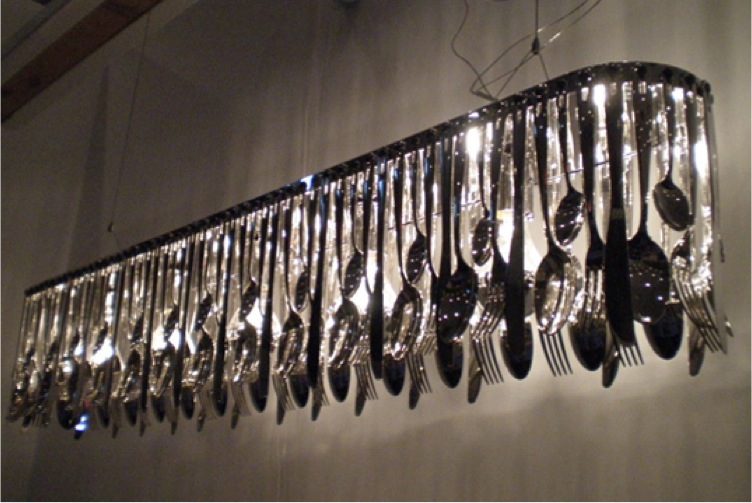 Are you a fan of industrial designs? Well here's a great idea for your taste. And the best part is that is made of repurposed old silverware. It looks great, makes a great ambiance, and gives a creative detail to your homes.
12. Fork Earrings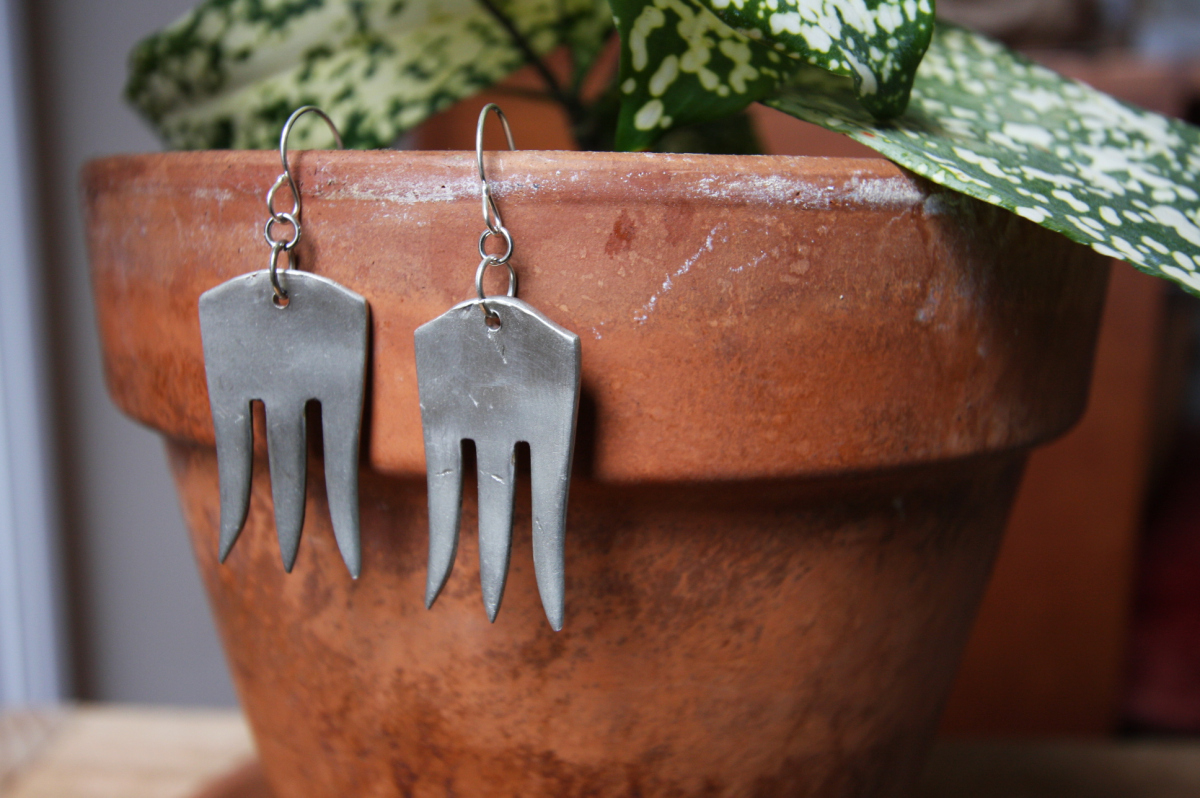 Here's a great idea for a jewelry item. You can make these earrings out of forks that you don't use anymore. Don't throw your old cutlery and make beautiful jewelry out of it. You will look artsy and unique!
13. Fork Photo Stand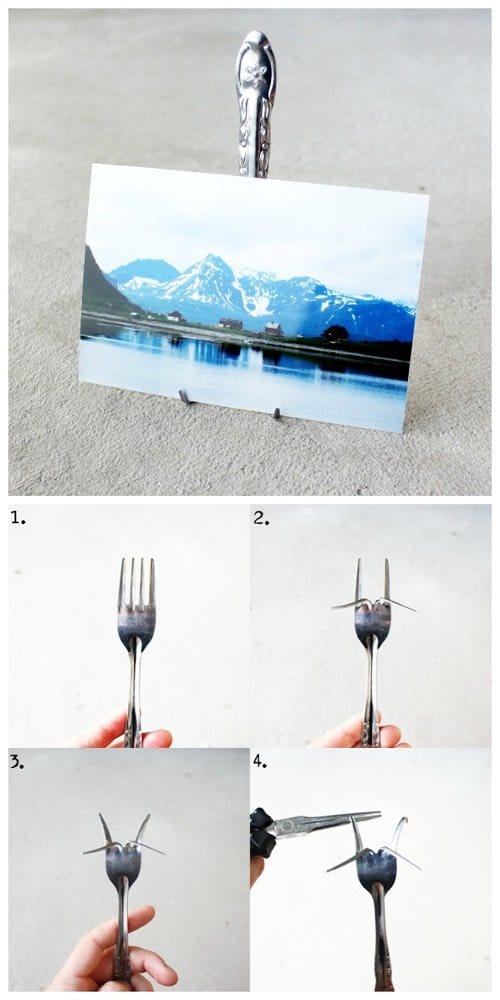 If you are a photographer, you'll love this idea. Such an interesting way to decorate your home with pictures that you've made or bought. And the most interesting part…it's made from a fork. Creative right? A beautiful decoration that everyone can make.
14. Spoon Door Handle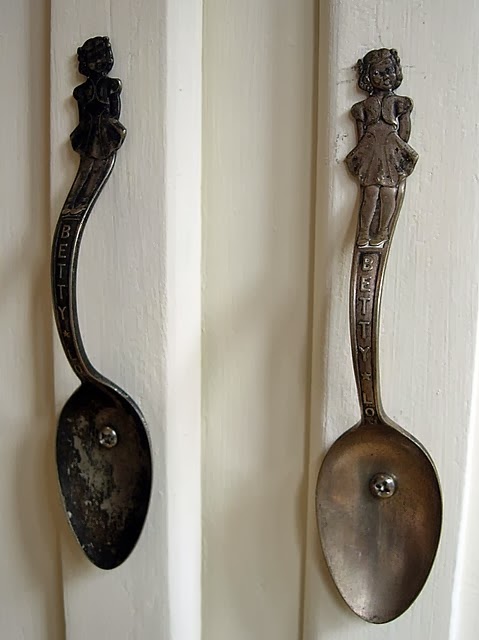 Why go to the store when you can make these artsy and vintage door handles? If you are feeling creative, use this idea and create this design. Your door will be a unique piece of art. It all about the details, right? So, don't throw away your old, random cutlery. Use them as door handles and see how great they look!
15. Colorful Spoons Wall Decor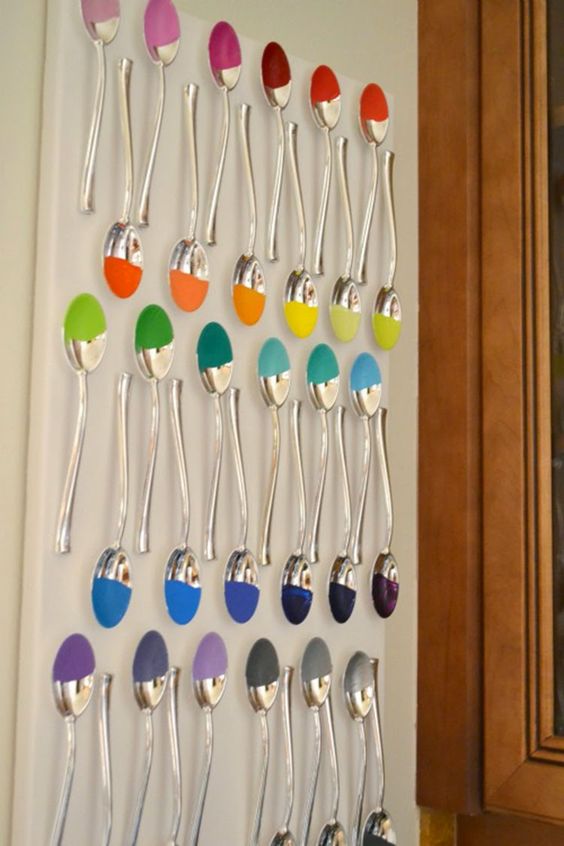 If you have an empty wall that needs to be decorated, use this idea. Take all of your silverware that you don't use and make a colorful DIY wall decor for your home. You will have a unique piece of art on your wall that everyone will compliment. For this project, you can use spoons, but forks and knives will also look great. The more the merrier, right? A beautiful combination of different kinds of cutlery for a unique piece of art.
Do you feel creative yet? We bet that we've sparked up your artistic side. With these ideas, it's all about having fun and expressing your uniqueness. Spare those old cutlery items. Don't throw away those random forks, spoons, and knives that don't have a pair. Pick your favorite idea from our list, and create something fantastic and one of a kind. So, speaking of our list of ideas, did you like them? Which one was your favorite? Feel free to leave a comment and share your thoughts about these old cutlery ideas.