If you are someone that loves to get glammed up and look your best with minimal effort and maintenance, then short acrylic nails will be your new best friend. Acrylic nails are an easy beauty process that will leave you with unique and eye-catching fingertips for everyone to look at. They are a highly popular beauty trend due to their longevity and diversity of designs, so you'll be ready just in time for the festive season. And if you prefer short nails, then this is just for you.
Long nails have been trending for a while, and Instagram is full of gorgeous lust-worthy pics of super long nails. But finally, we've come to a point when we've realized that more than anything, long nails just get in the way of life. While all of the celebrities and influencers on Instagram have you believing that extra-long nails are the only way to make a fashion statement on your fingers, we are here to show you otherwise.
Sure, long nails are nice, but a couple of weeks in and they can start to feel more high-maintenance than they're worth.  What's more is that short nails, even if they seem to be having less of a moment as of late, can still be super chic. Certain nail designs almost seem to lend themselves better to a shorter length than long.
Don't believe us? We scoured the Internet for 20 of the most eye-catching acrylic nail designs for short nails we've quite possibly ever seen and succeeded.
1. Metallic Short Nails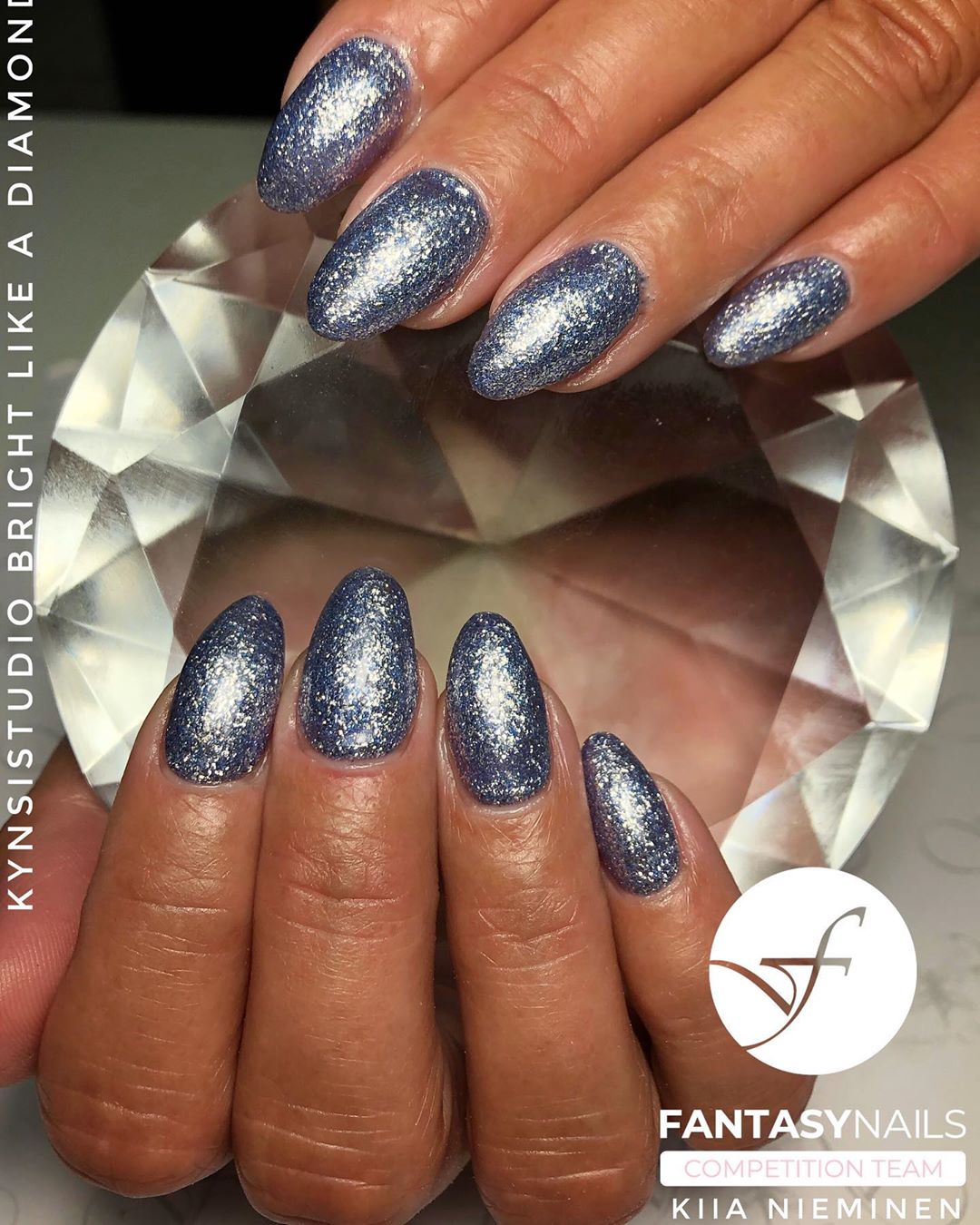 Metallic nails are having a moment this season. The funky craze is appearing all over Hollywood at the moment with many celebrities regularly rocking the style. The metallic trend works in just about any color, especially this silver one on the picture.
2. 80s Vibe Manicure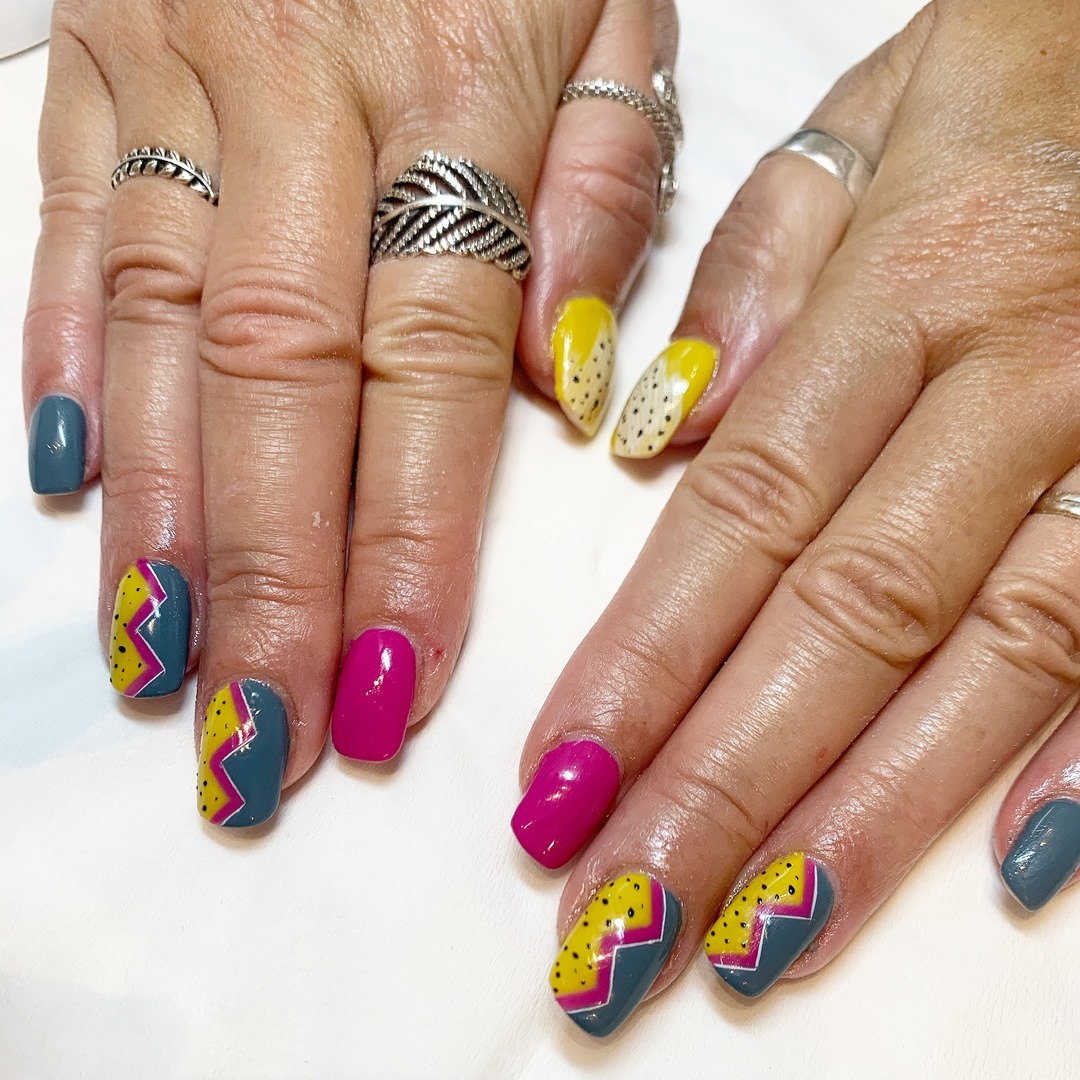 Just as the 80s fashion is having a comeback, the same is happening in the manicure world. A combination of wild colors and shapes, this short nails acrylic design is what every girl needs. Life is too short to have boring nails, right?
3. V-shaped Colorful French Mani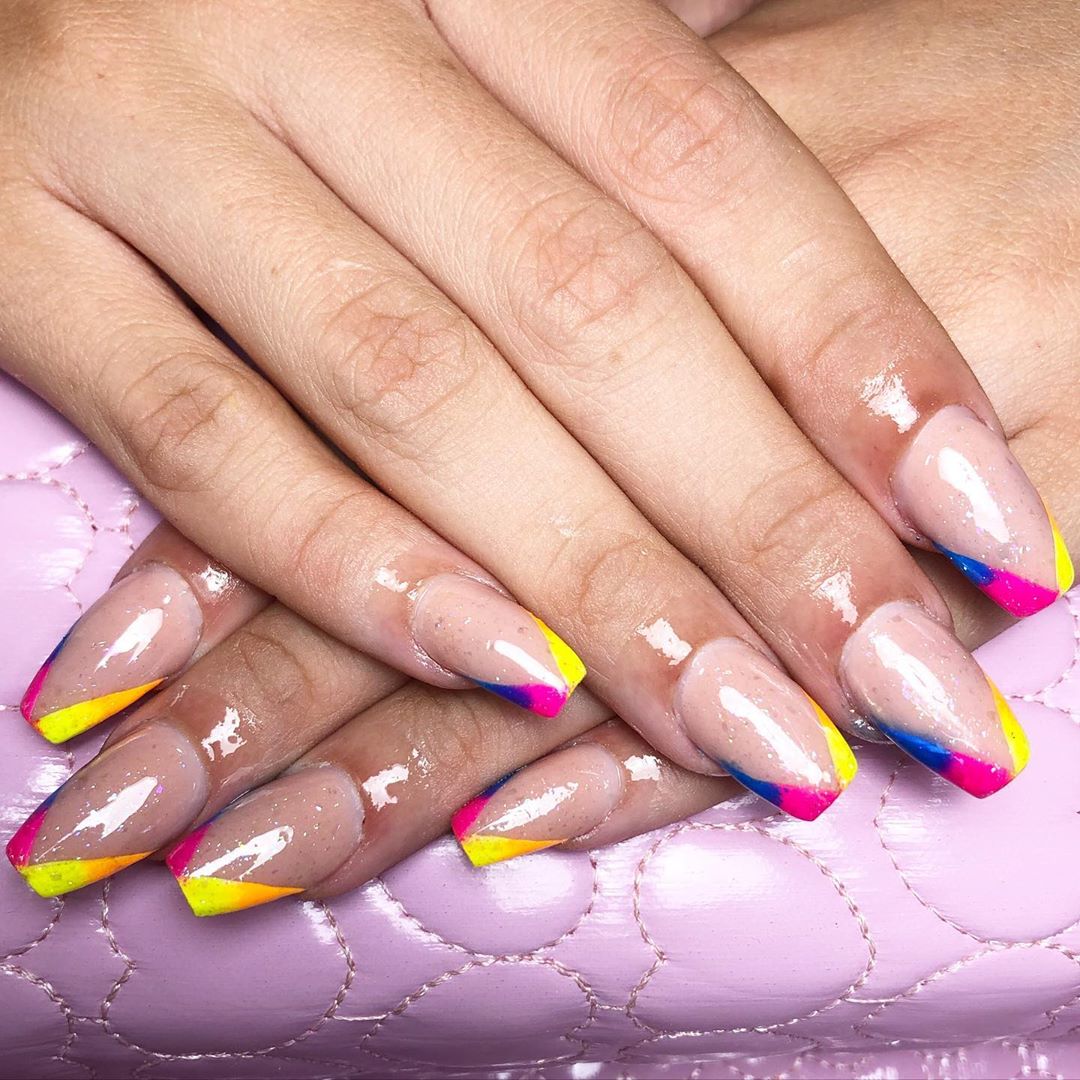 We are familiar with the all-time classic fashion of rocking a French manicure. So, why not spice it up into a colorful v-shape? They are fun and chic. You can wear this manicure for every occasion and every outfit possible. A little color never hurt anybody.
4. Gray nails With Geometric Designs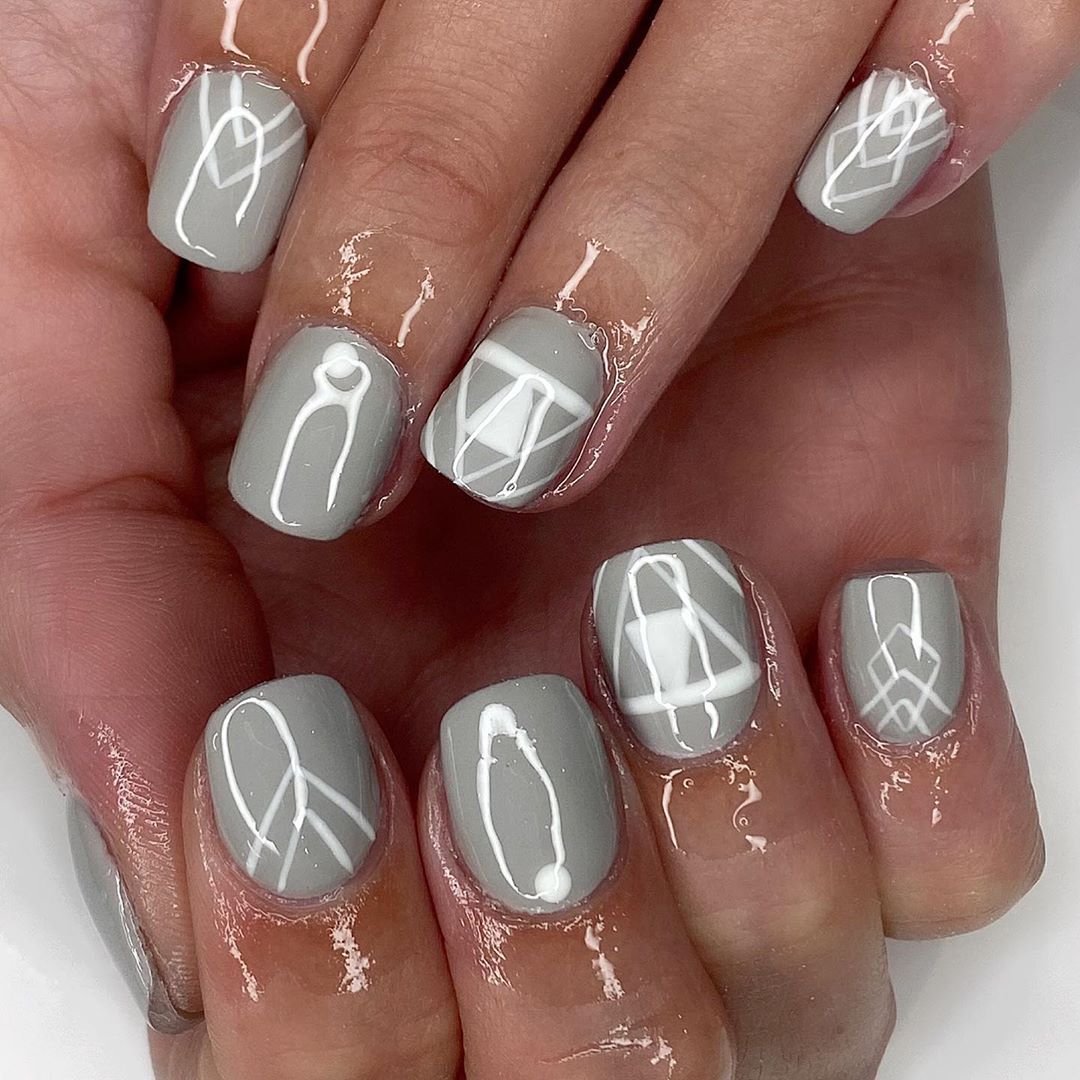 The great thing about geometric-shaped manicure is that even the most unskilled ones can achieve it. And if you are a lover of minimalistic fashion, these nails will perfectly complement your outfit! Give it a try, you'll love them.
5. Matte Red, Animal Print Nails
These nails speak glamour or what? If you want to keep your nails short and delicate, but still add a little sophistication to them, then this is a great idea for you. And we all know that the perfect companion of animal print is red color.
6. Holographic Nails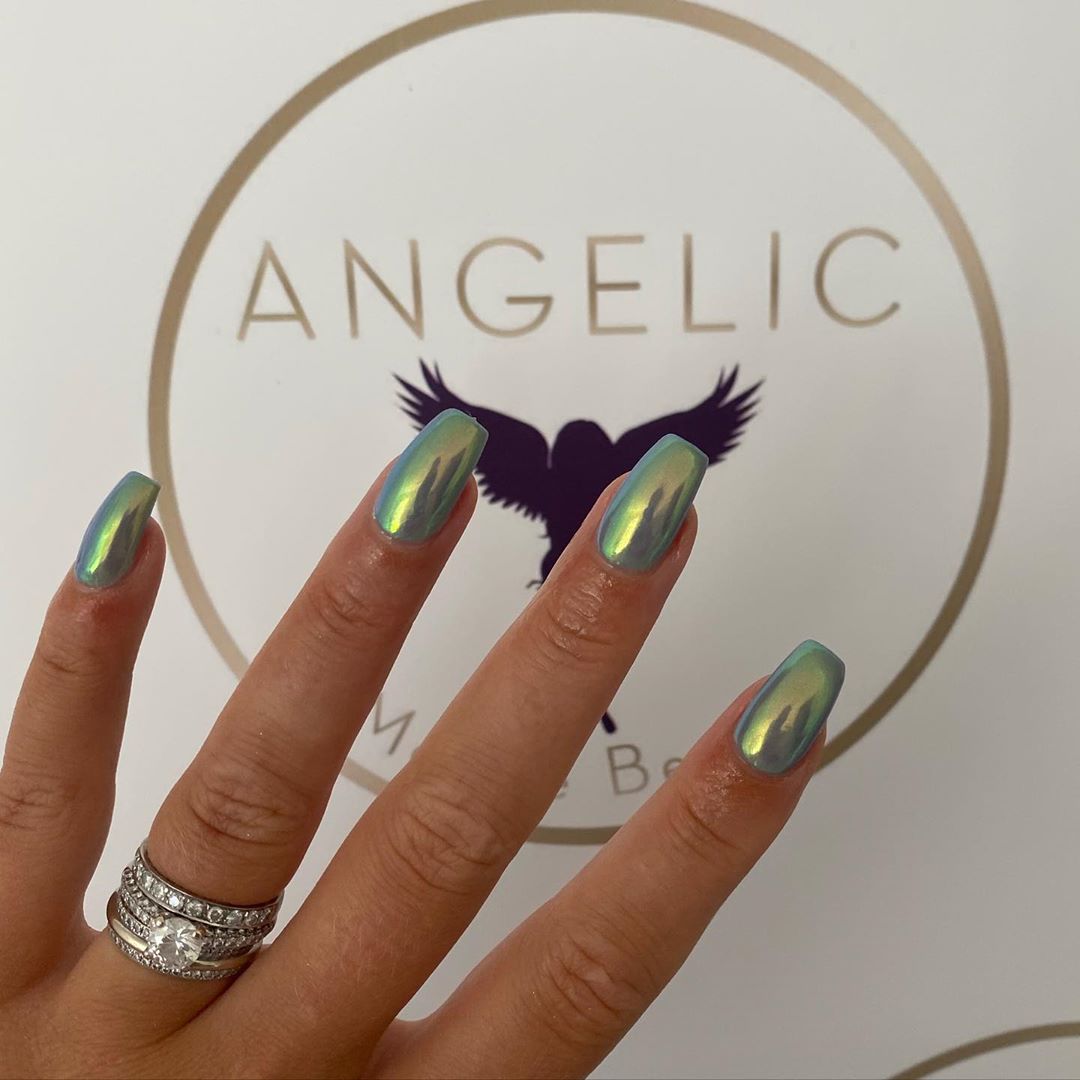 Make your short nails out-of-this-world and create this holographic design. Perfect for every occasion and outfit, this nail idea is just for you. Short nails can never be boring with this manicure design, and that's a fact.
7. Black And Gray With Polkadot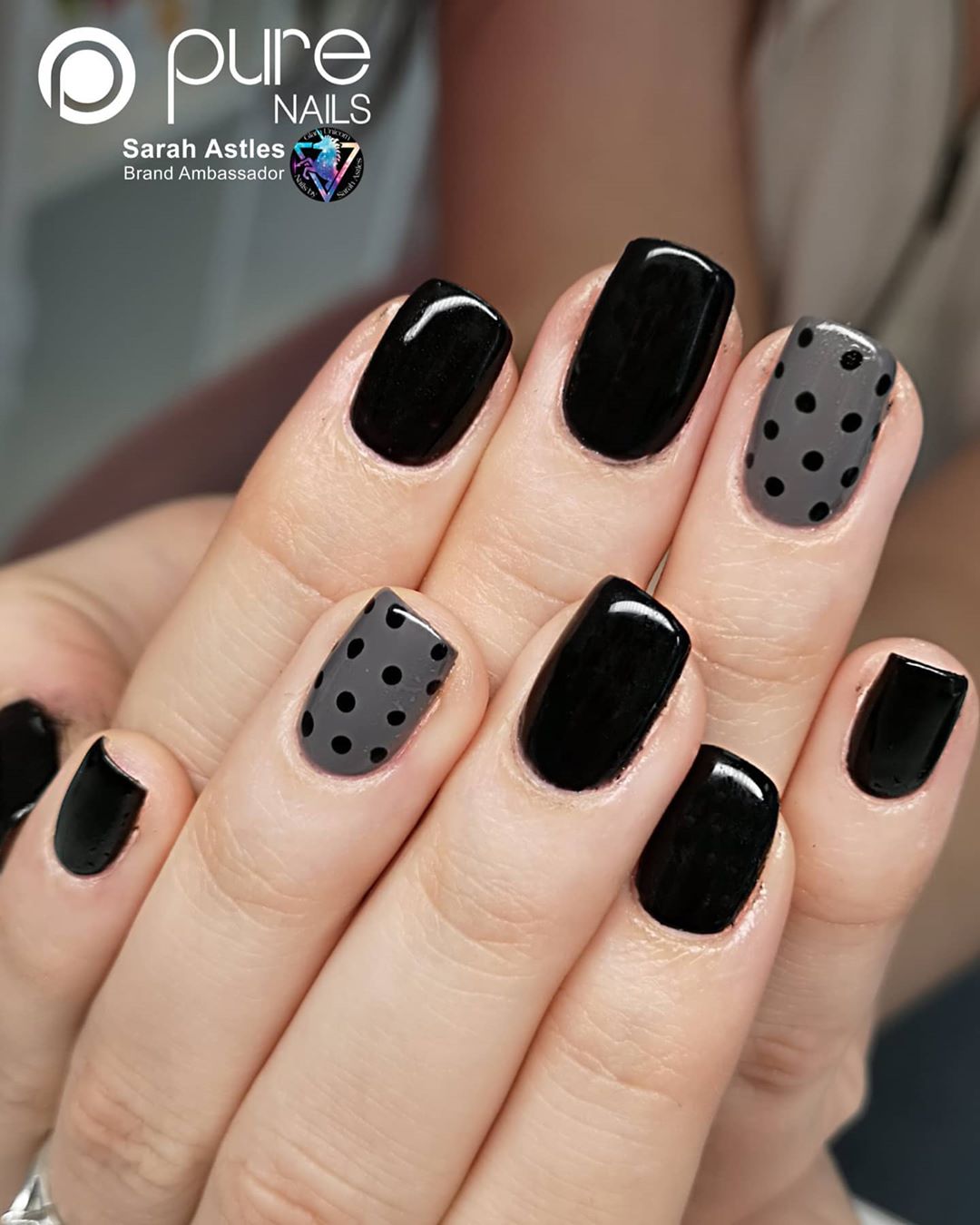 Are you having trouble finding the right manicure design for you? Why don't you try out this one? It's fun and fresh, with colors that go with every outfit and occasion. The polka dots are very easy to do and can be done by everyone. A great idea for an accent design, if you ask us.
8. Orange Glitter Stilletto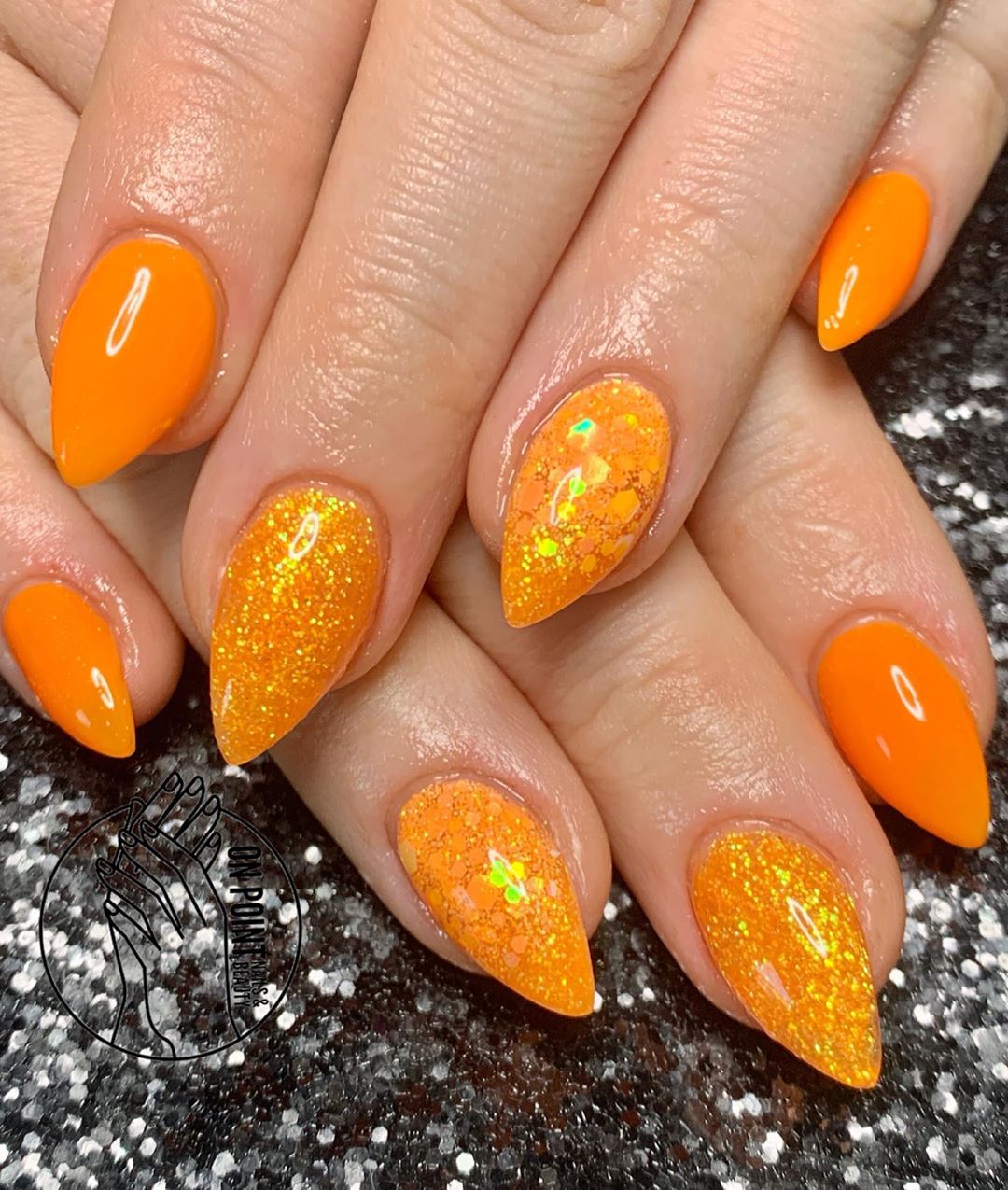 If you are a fan of the stiletto shape, this one's all for you. And yes, they look totally cute on short nails. Create this ultra-catchy and fabulous nail design with orange color as the main companion for this look. The glitter adds to the glamorous look and definitely wouldn't pass unnoticeable.
9. Blue Turquoise With White Dreamcatcher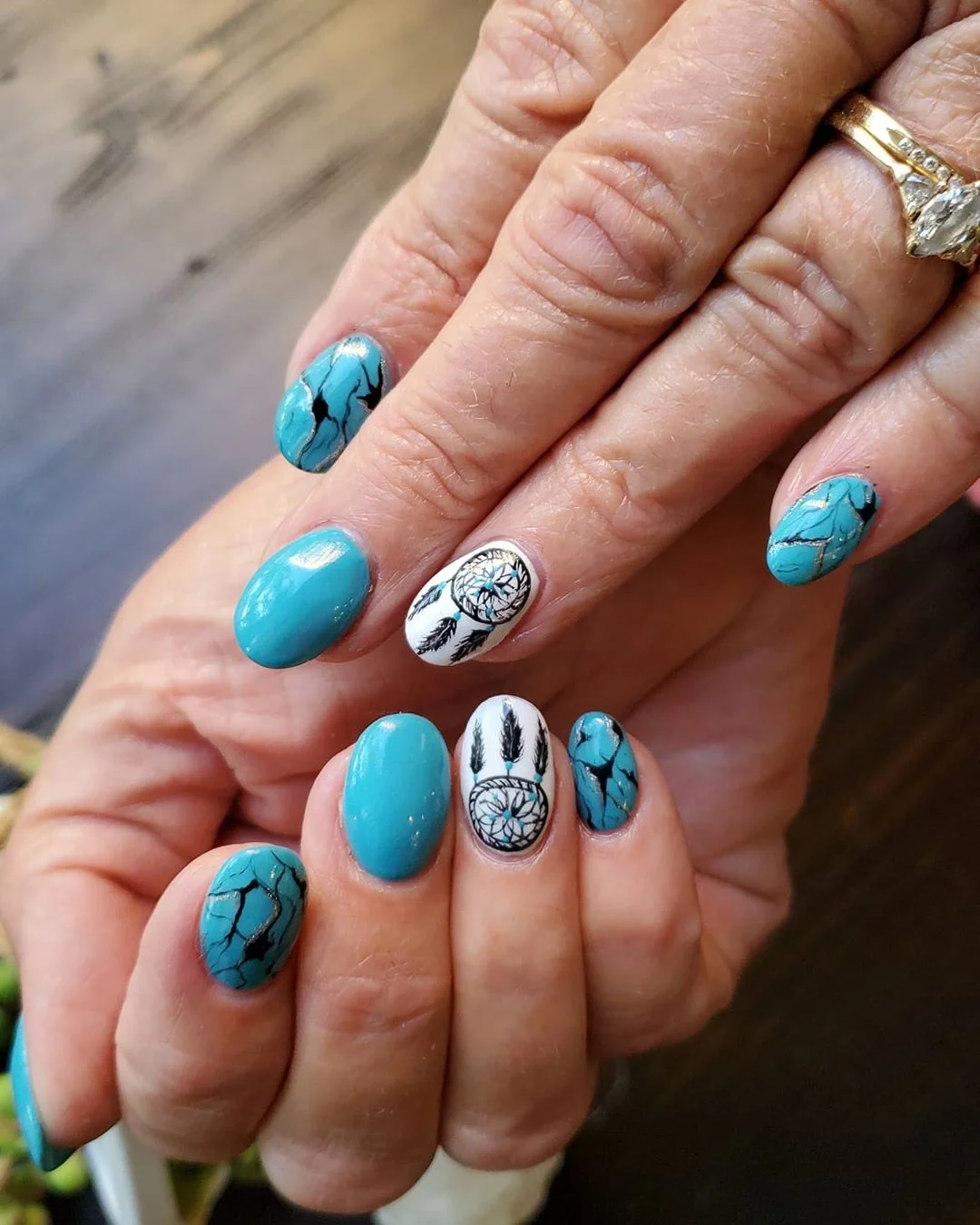 May you have a dreamy manicure like this one! This mani serves a lot on its plate, without looking over the top and "too much". The color-combination is very cute and fresh and the marble pattern is ultra-sophisticated. And the dream catcher is a piece of art that no one could resist it.
10. Floral Nails With Glitter Accent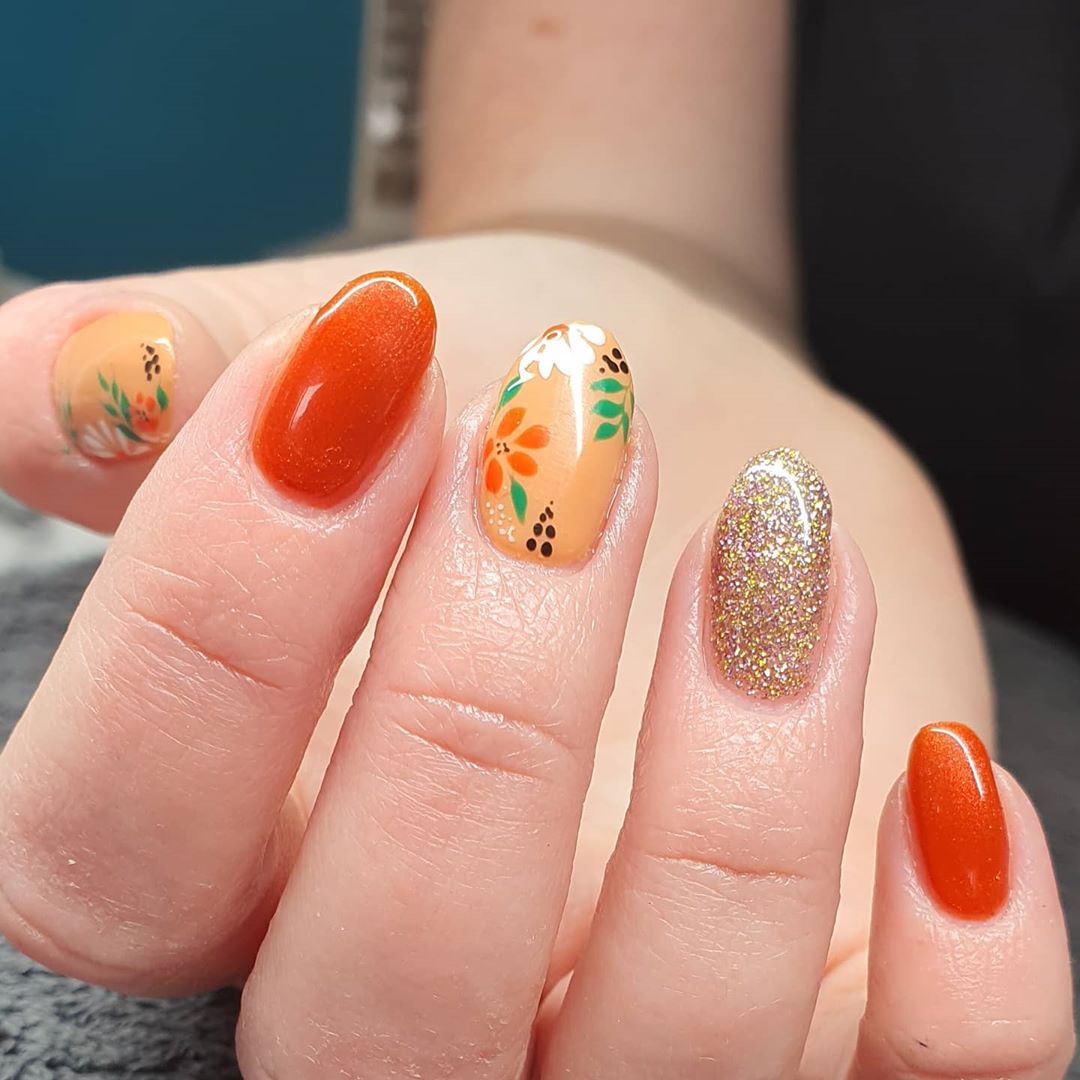 A great manicure is all about combining the right colors and designs. And the good thing about short nails is that you can make them colorful and glittery without looking over the top. This is a great manicure during the fall season, with a combination of orange color, floral shapes, and a touch of glitter.
11. Geometric Yellow, White, And Black Pattern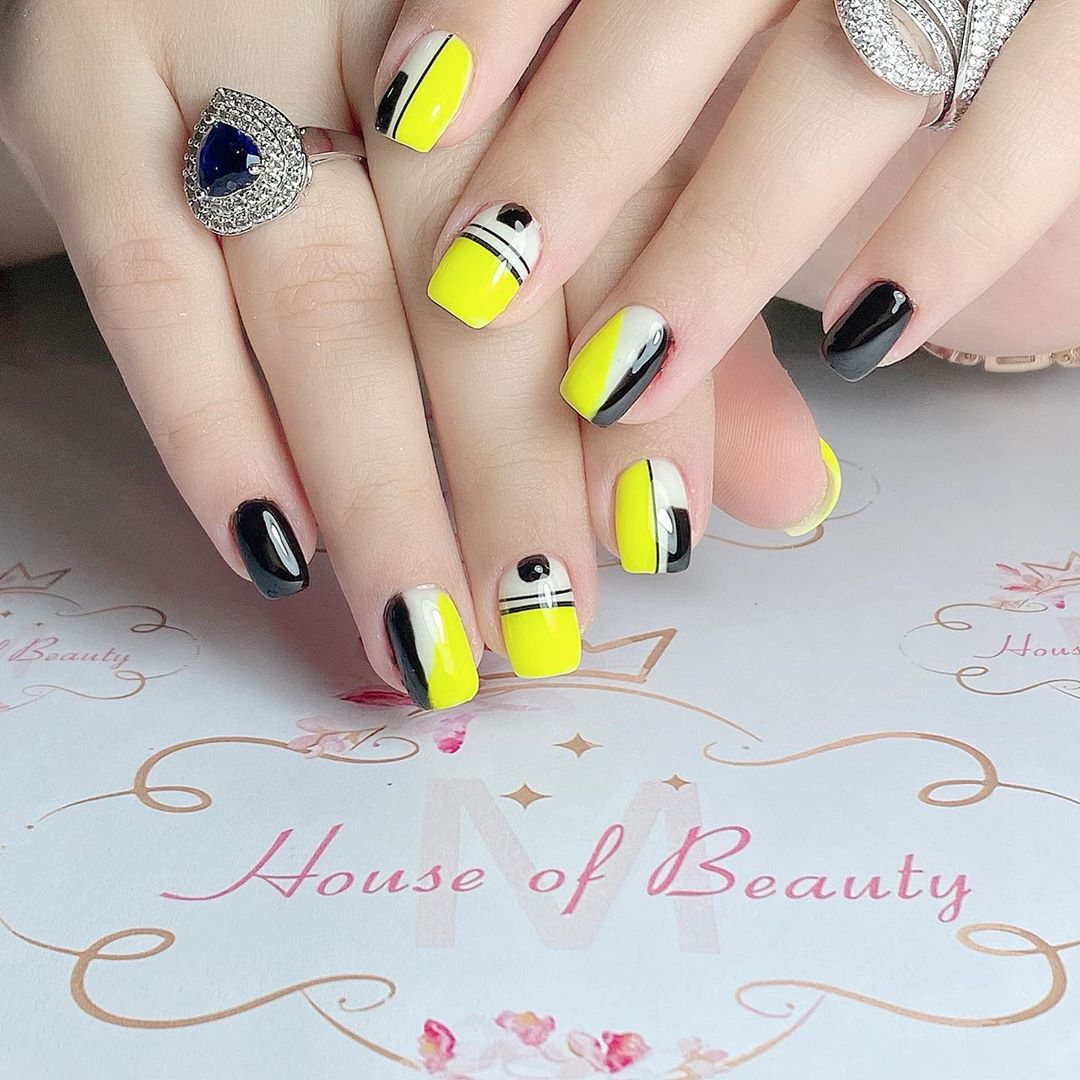 Geometric patterns are always a good idea to mix a variety of colors and shapes. Create a fun look for your short nails, and make them pop! The neon-yellow is a great color for adding a little diversity and spice alongside the white and blue. An eye-catching and unique design for you to try out.
12. Pop-Art Nail Designs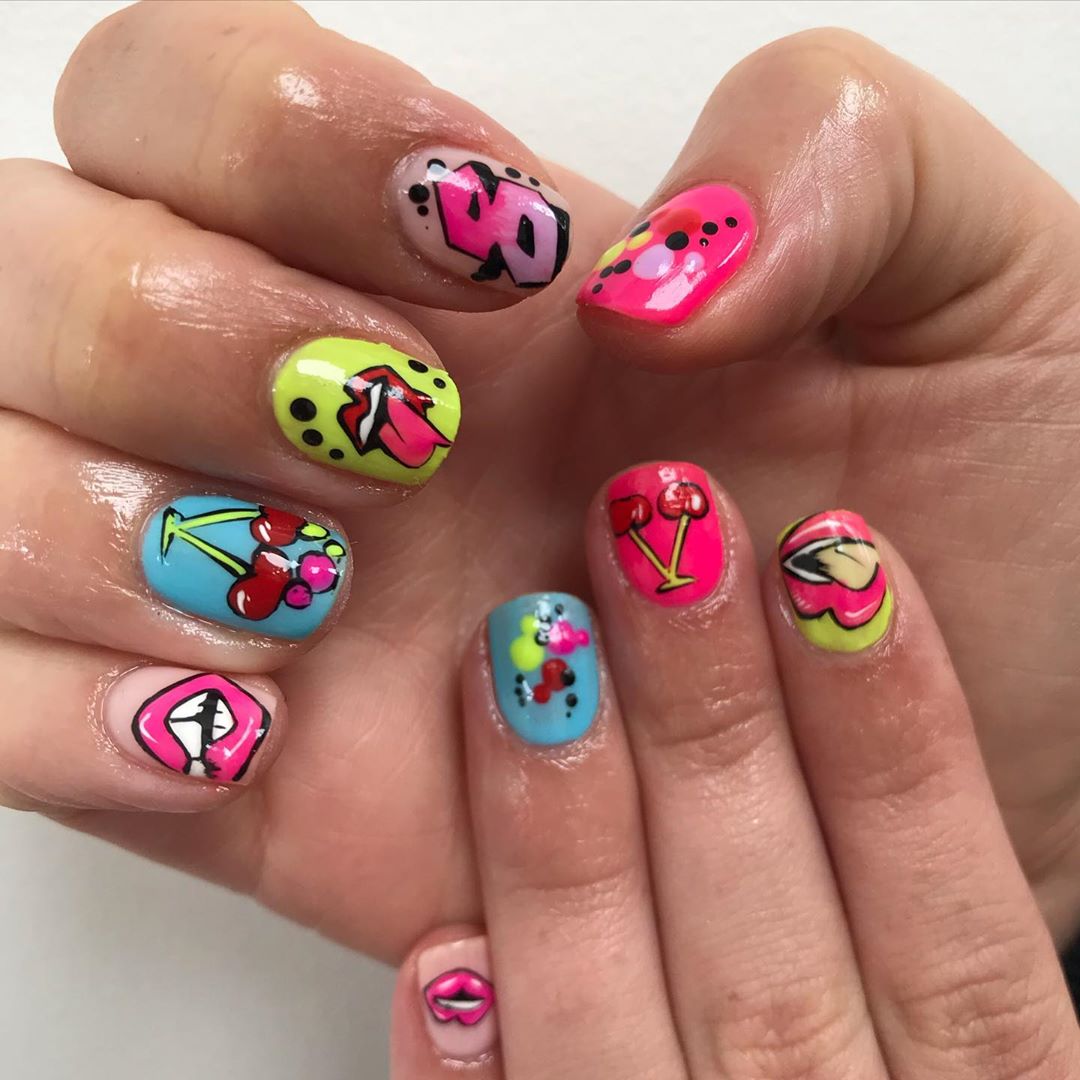 If you think that short nails are boring, we are here to prove to you otherwise. Create a little art-pieces on your short nails and share with the world how much of an artistic spirit you are. At the end of the day, who wouldn't want to feel unique and artsy, right?
13. Galactic Design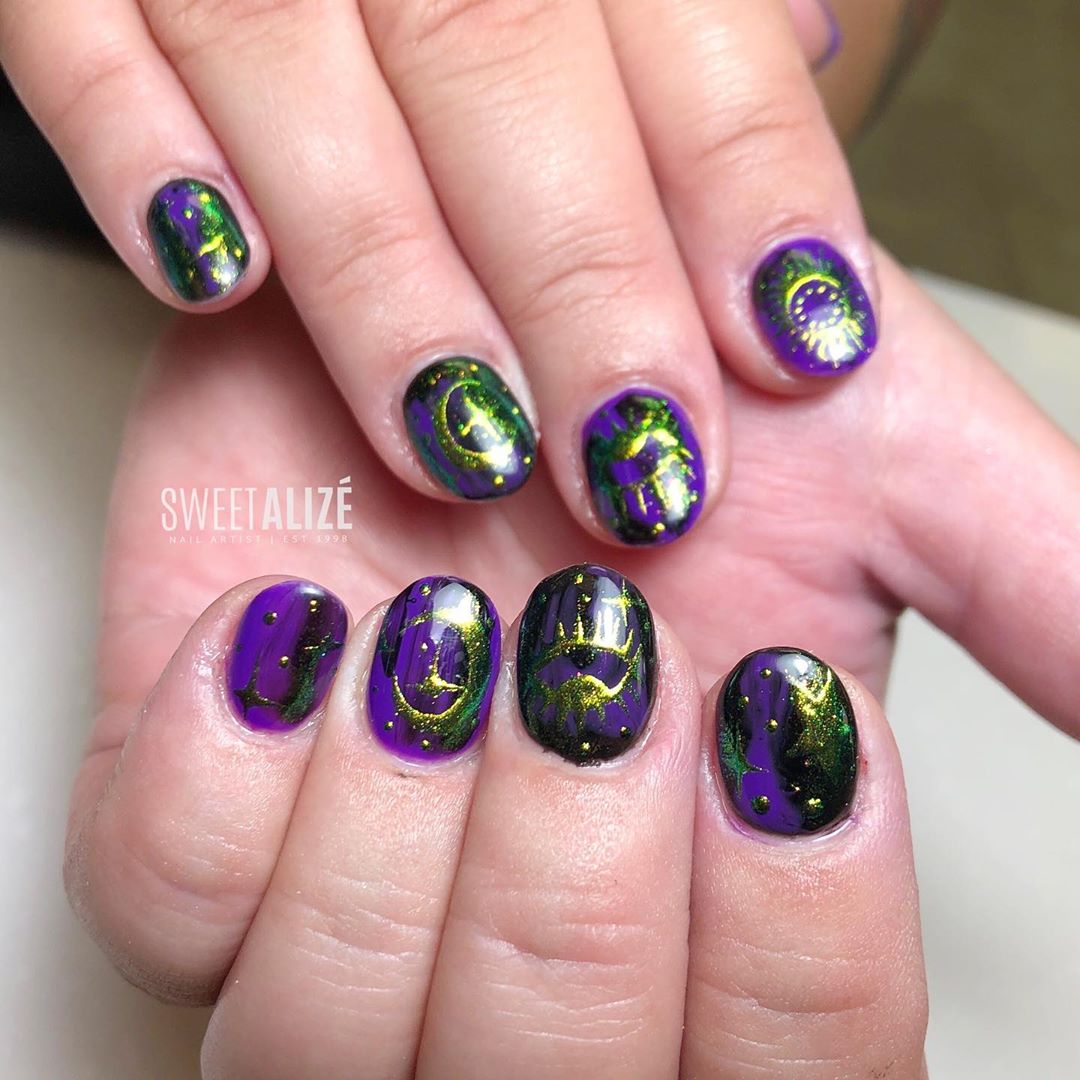 Create a little galaxy on your nails and try out this nail design. The combination of colors adds to the mysteriousness and deepness of the whole look and the gold glitter is enough to make them pop. Your short nails will be noticed and complimented.
14. Pink Butterfly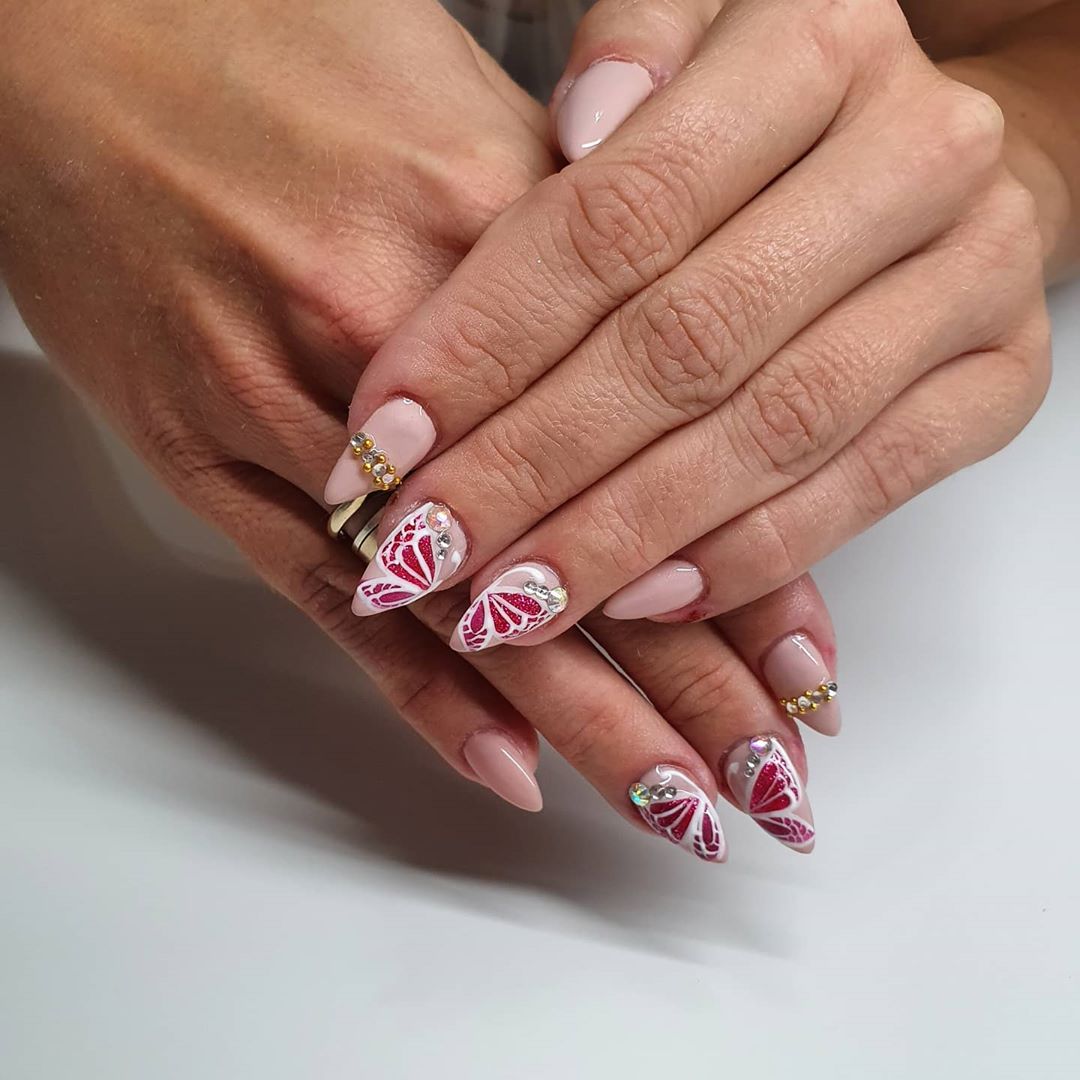 Create this fantasy-like nails that look like straight out of a fairytale. This nail design is great for celebrations and ceremonies, especially weddings. The butterflies create a dreamy look and the rhinestones give a touch of glamorous pop.
15. Pink and Purple Glitter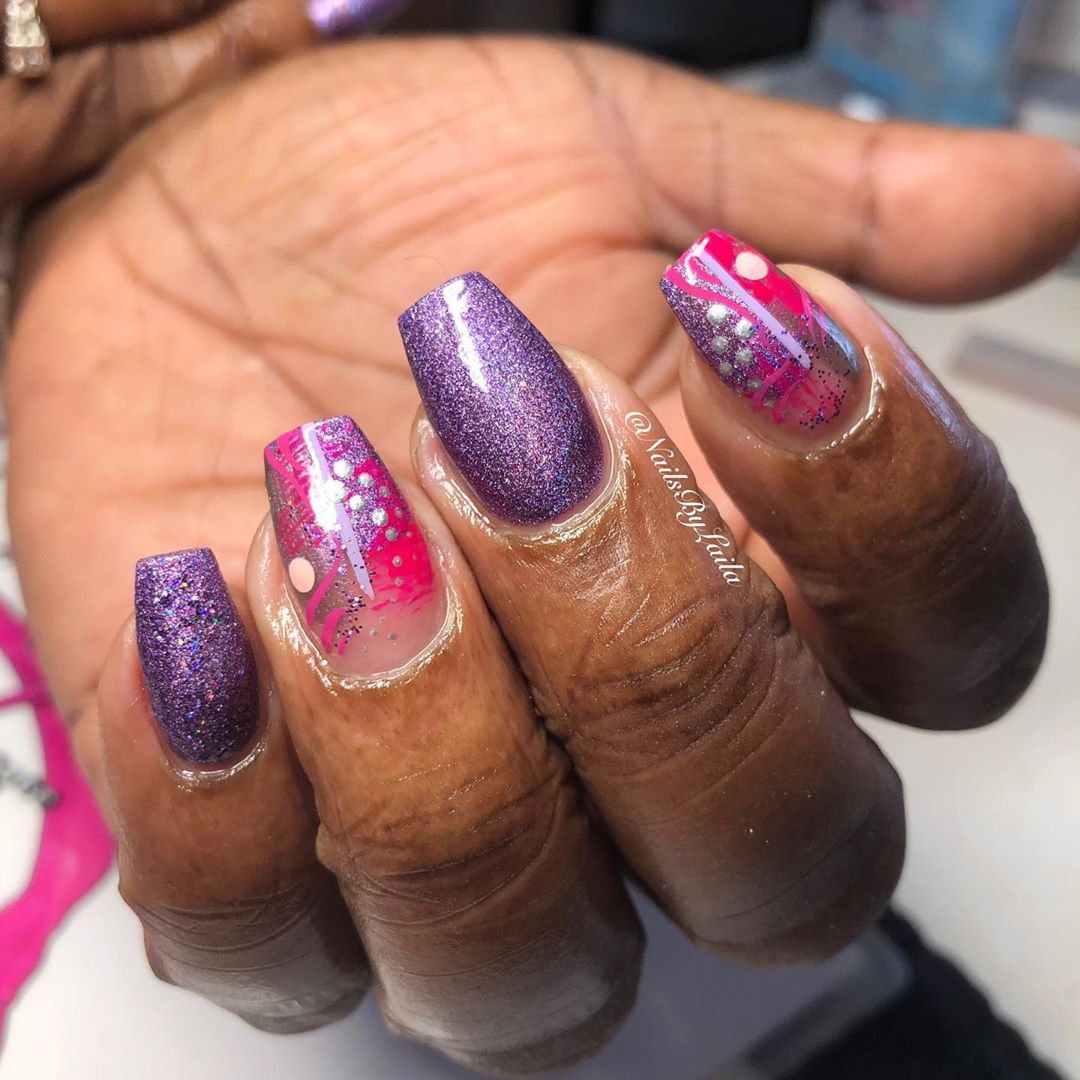 Pink and purple is a great color combination and this look is a perfect example of that. Your nails will look chic and modern and you will feel great about them! Try them out, there's zero chance that you won't like them.
16. Ombre Zebra Pattern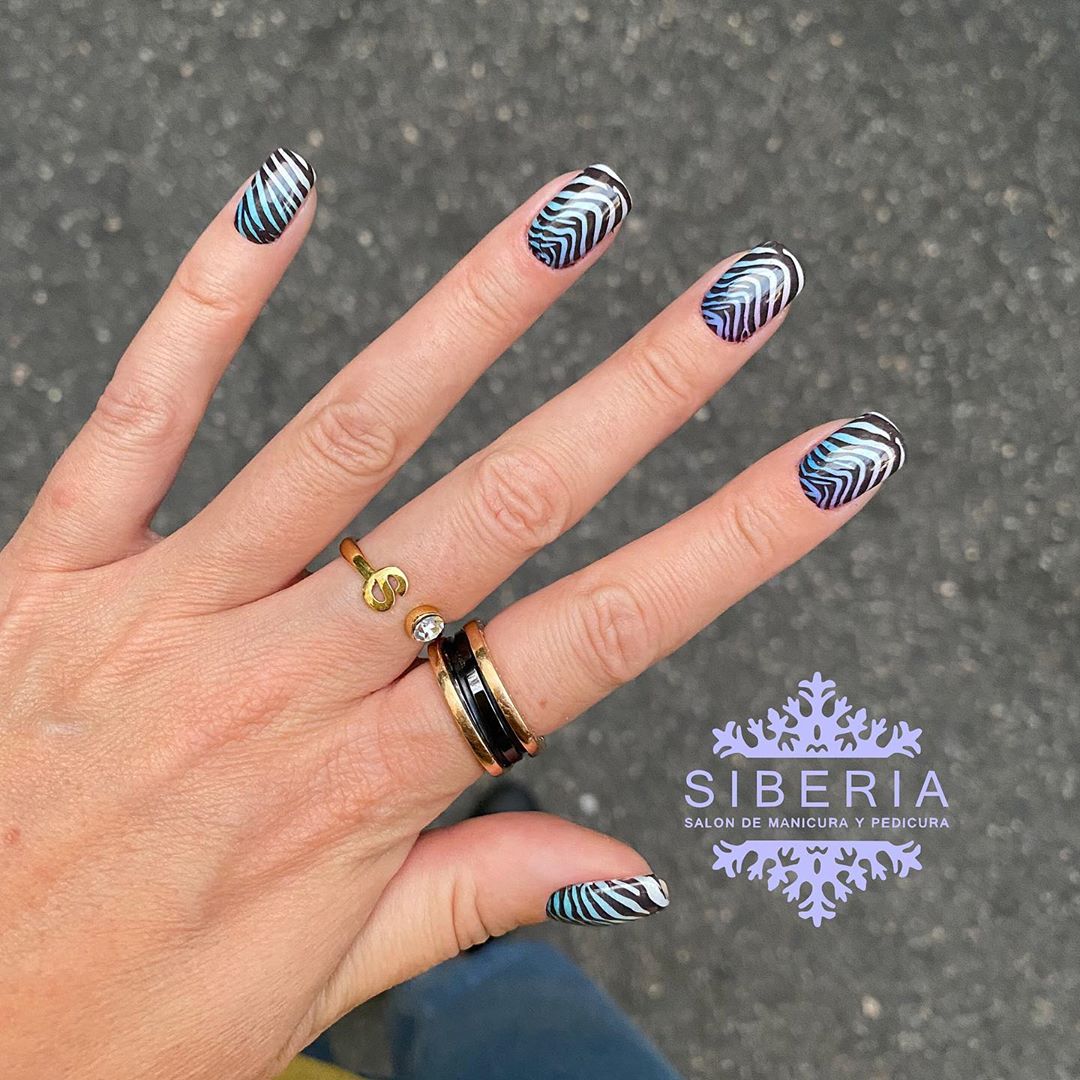 Animal print never goes out of style. On nails, it looks very catchy and bold. Do you know what adds to the boldness? Ombre, of course! Your short nails deserve to be noticed and complimented and you should try this out.
17. Summer Strips Pattern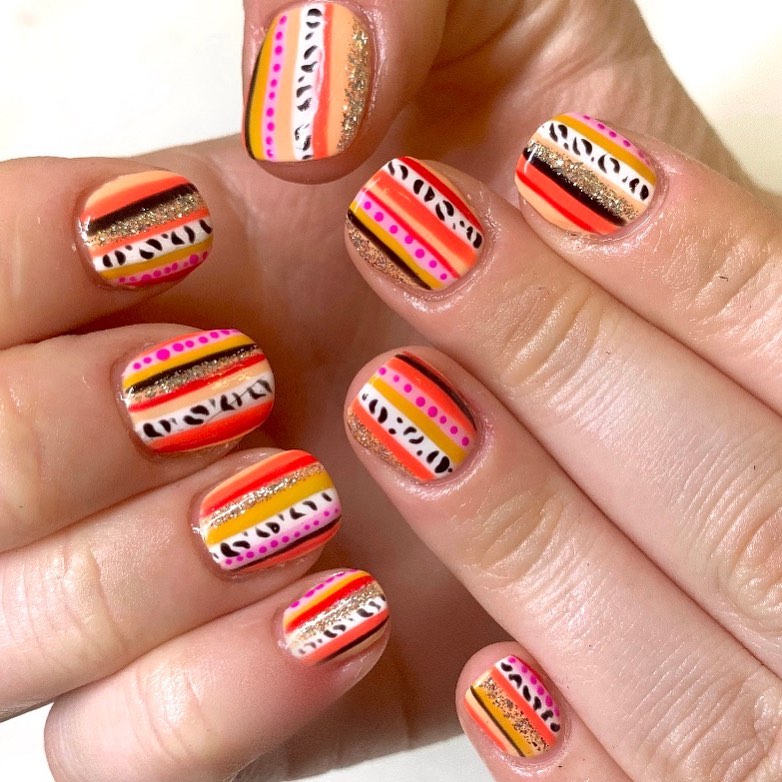 Are you one of those people that loves to wear colorful outfits? If so, this is a great idea for you. A large specter of colors, all intertwined in one manicure design. Create this look and show to the world that you are feeling rich and colorful on the outside like you are feeling on the inside.
18. Purple And Green Flowers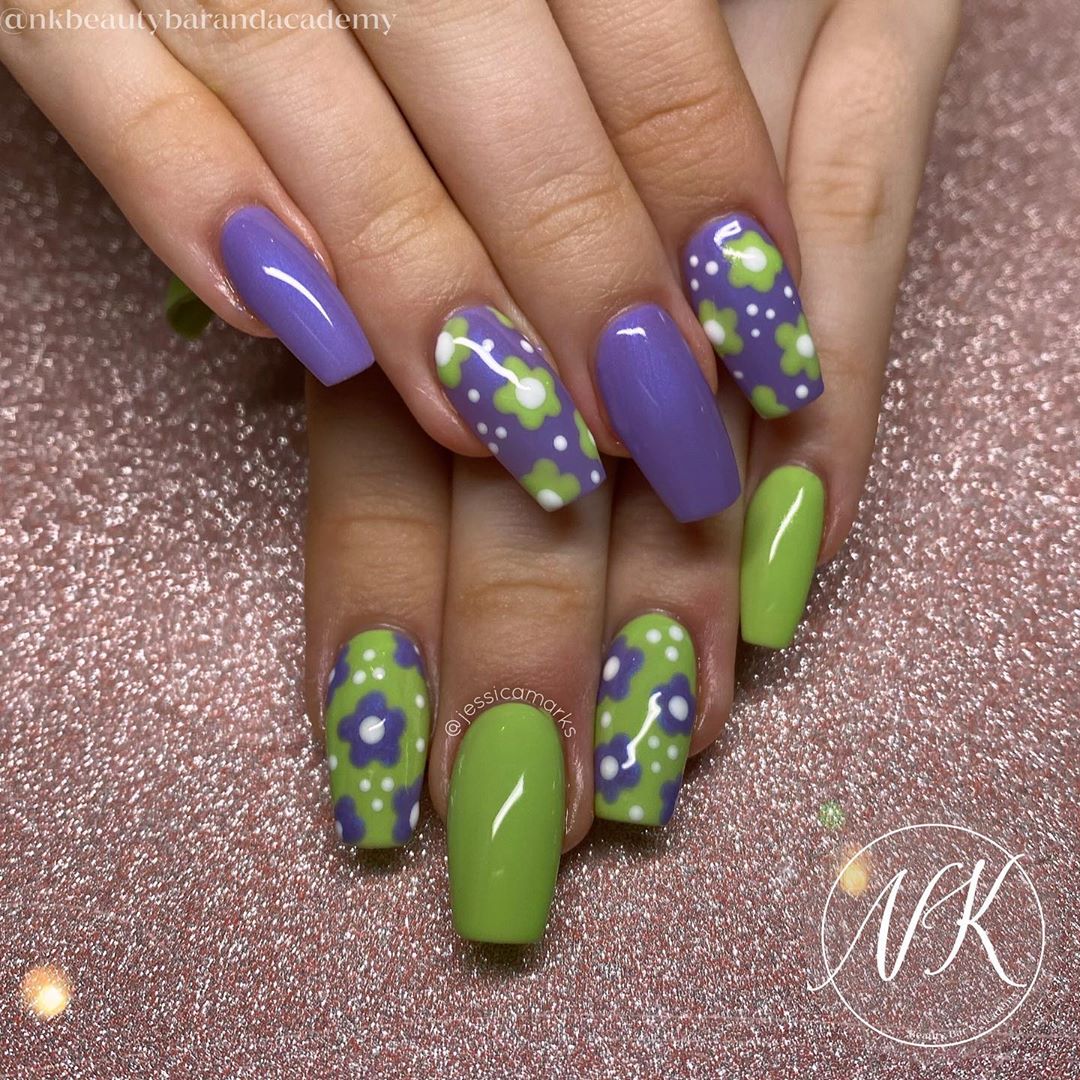 Feeling floral? Try out this manicure design and get in that floral mood. To spice up, switch up the colors like on the picture. If you don't like the color combination, don't worry. This nail design is open for other color combinations. Cute, right?
19. Nudes With Black Dotted Frame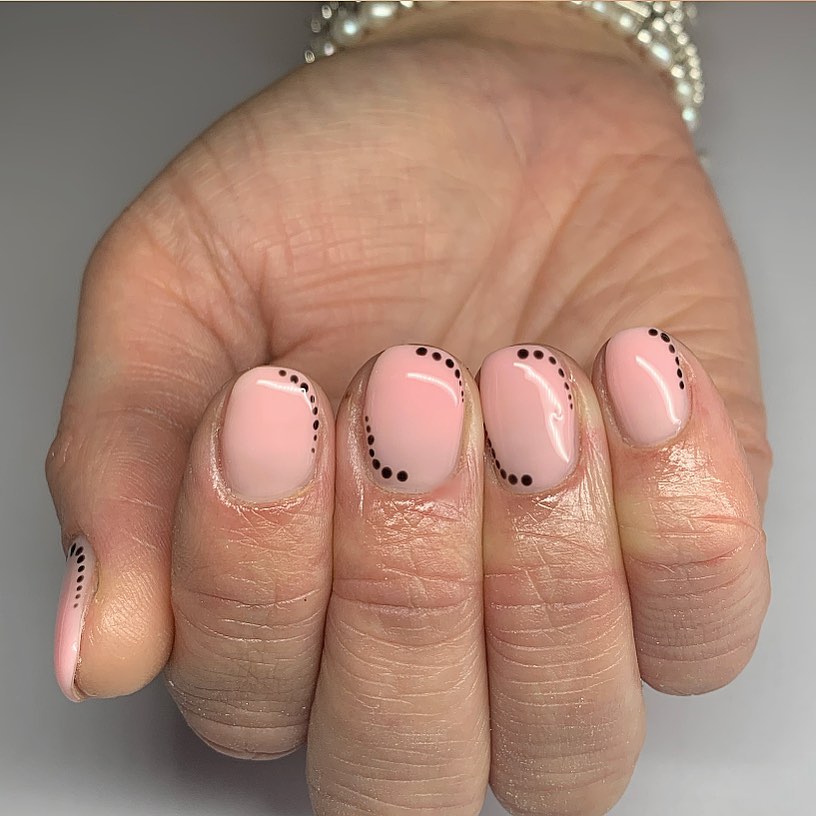 If you are a lover of nude, this one's definitely for you. However, nude colors can sometimes appear basic and boring. So, add a little touch of creativity on your nails and frame them with black dots. It makes all the difference in the world, right?
20. Grayish Purple And Yellowish Green Grid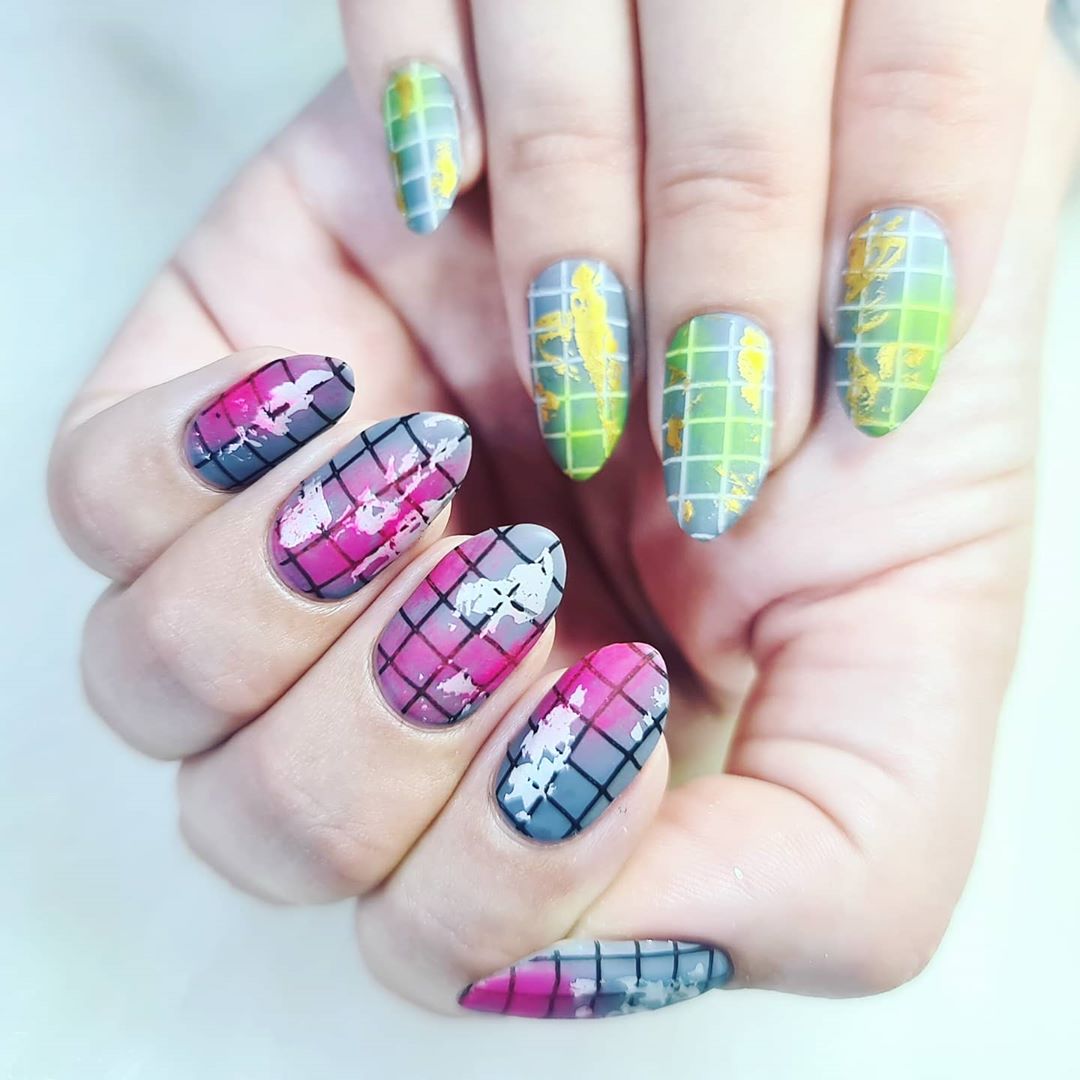 Your nails serve as a canvas, so let your imagination run wild and free. Who says you can't make two different designs on each hand? Well, here's proof that anything is possible. And with this nail look, you will never get bored of looking at them, and that's a fact!
Are you feeling inspired to create unique and fun acrylic designs on your short nails? Surely one of our ideas has caught your eye. So which one is it? Feel free to leave a comment!